Hydronix HDG-U2000-UF | Our#: 195500
2-Stage Undercounter Drinking Water Purification System, Ultrafiltration
Hydronix HDG-U2000-UF | Our#: 195500
Fast Shipping & Free Returns
100% Compatibility Guarantee
2-stage undercounter drinking water system
Includes dedicated faucet
Top quality, high performance system creates delicious drinking water
All-purpose system for kitchen, bathrooms, wet bars and more
Easy to install, includes all installation supplies
Includes .1 micron ultrafiltration filter and sediment pre-filter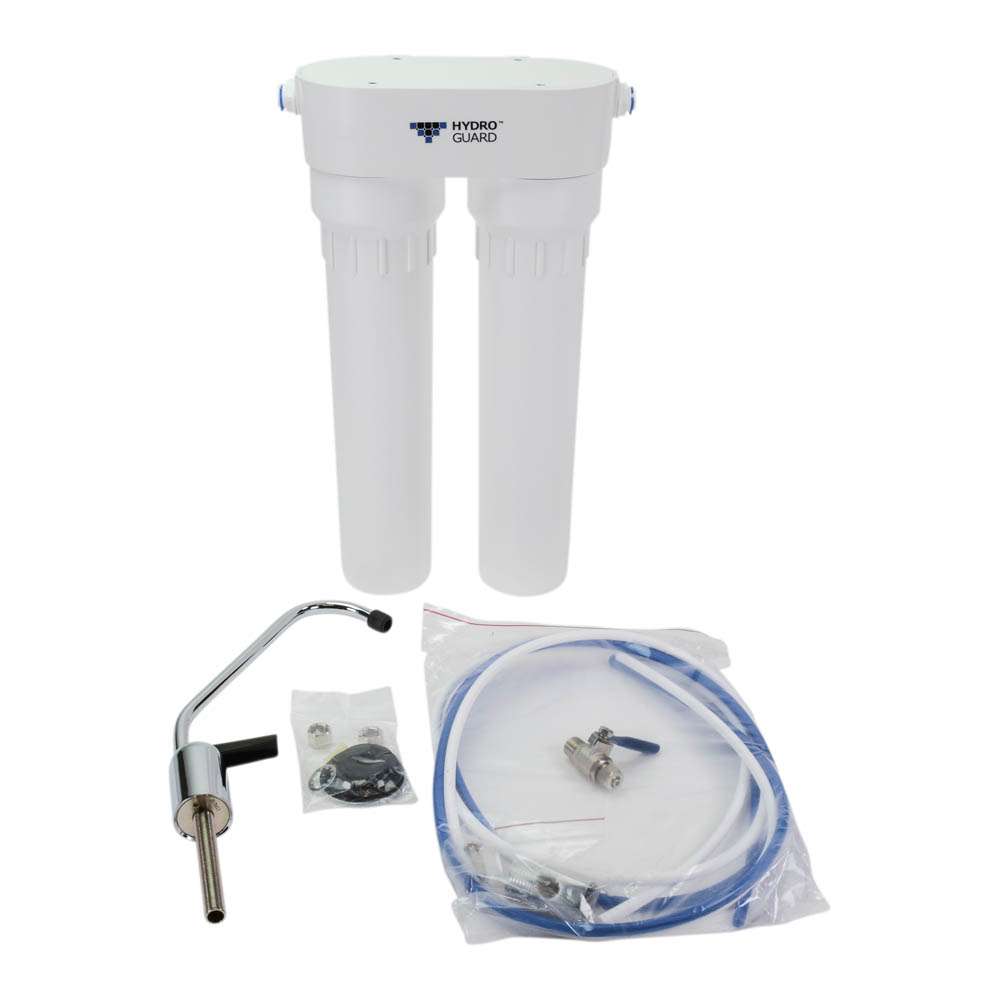 5 people in your area recently purchased this product!
Fast Shipping & Free Returns
100% Compatibility Guarantee
Frequently Purchased Together
Product Details
2-Stage Premium Undercounter Drinking Water System with faucet - Ultrafiltration

Are you sick of wasting money on bottled water? Make your own! This compact undercounter water purification helps you create delicious water for drinking and cooking. The Hydro Guard Total Care Water System is a top quality, high performance water filtration system designed to provide great tasting water and address a broad range of contaminants. The HDG-U2000-UF incorporates Microban® antimicrobial technology, which inhibits the growth of bacteria which can cause odors and the fouling of the filter surface. Any of the filters in the "HDG" line can be used in this system. Installation is easy and system contains the majority of the material needed for installation. A 1/4" hole in countertop or sink surround is needed to install the faucet. The hole for the existing soap dispenser can be used for faucet installation.
CARTRIDGE 1
The HDG-SED5 pre-filter is a high performance sediment filter design to give you high dirt-holding capacity, reduce sediment and rust particles, and extend the life of the downstream carbon block filter
CARTRIDGE 2
The HDG-UF filter is 3 filters in 1. Stage 1 - HydroGuard's radial flow filtration allows water to enter the cartridge through the radius of the filter allowing the outer layer to trap additional dirt, rust and sediment particles. The FDA CFR21 compliant fine web polypropelene fibers do not impart color, odor or chemicals into the water and are the ideal pre-filtration media. Stage 2 - Water then passes through the NSF certified coconut shell solid carbon block filter to reduce items of health concern. The carbon block micro-strains the water through it's 0.5 micron pores to trap micro-organisms and cysts. Then the carbon block's chemisorptive process effectively reduces volatile organic compounds (VOCs), PCBs, certain heavy metals such as lead as well as certain pesticides, herbicides, chloroform and other chlorination by-products. Stage 3 - In the final filtration process water passes through an array of sophisticated 0.01-0.1 micron UF ultrafiltration membrane allowing only fresh, clean water and dissolved minerals to pass through.
FEATURES:
Includes lead-free chrome faucet
Includes 3/8" X 3/8" X 1/4" compression feedwater tee adaptor with integral shutoff valve
1/4" Connection Tubing (2 sections) for inlet to system and outlet to faucet - 5 feet each
Includes HDG-SED5, 5 micron sediment pre-filter to reduce sediment, rust, particulate
Include HDG-UF Ultrafiltration + Microban® activated carbon filter - .1 microns
Reduces chlorine taste and odor, VOCs, Pesticides, Herbicides, and other contaminants to .1 microns
3-Year Limited Warranty
SPECIFICATIONS:
Rated Capacity - 800 gallons
Micron rating - .1
Flow rate - .75GPM @ 60 psi
Replacement Filters - HDG-SED5, HDG-UF
Max Pressure: 100 psi
Min Pressure: 30 psi
Max Temp: 100 F
Min Temp: 34 F
Height - 12.75"
Width - 9.38"
Depth - 4.56"
---
Specifications
Rated Capacity:
800 Gallons
Additional Information
---