ClearChoice CCB013-SYS | Our#: 198295
ClearChoice Undercounter Drinking Water System

1 review(s)
ClearChoice CCB013-SYS | Our#: 198295
Fast Shipping & Free Returns
100% Compatibility Guarantee
NSF/ANSI 42 & 53
A powerful water purification system at a great price
Your ideal solution to have clean filtered drinking water on tap
Reduces scale build-up and improves taste
DIY Installation
Easy to set up
Faucet not included
Made in the USA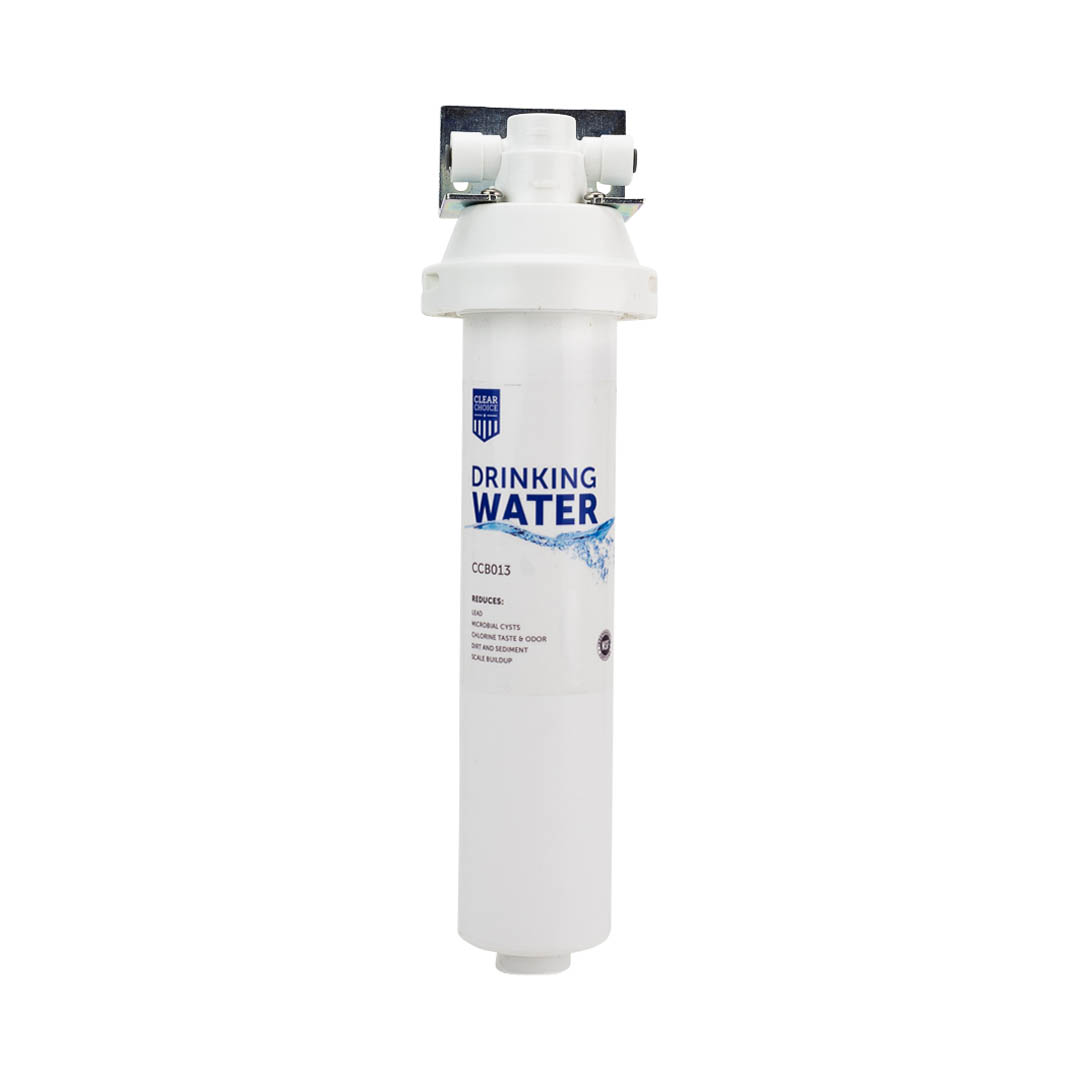 4 people in your area recently purchased this product!
In Stock
Ships in 24 hours
Fast Shipping & Free Returns
100% Compatibility Guarantee
NSF/ANSI 42 & 53
Frequently Purchased Together
Product Details
ClearChoice Undercounter Drinking Water System.

The ClearChoice CCB013-SYS drinking water systems provides superior filtration and removes lead, cysts, chlorine taste and odor, scale build-up and sediment. The system includes a high quality filter head with 1/4" push-in "quick connect" fittings for easy setup. Use the supplied stainless steel bracket and screws to mount the head under your sink or wherever filtered drinking water is needed. You supply a drinking water faucet that matches your decor (faucet not included with system).
FEATURES:
Includes CCB013 filter cartridge, filter head, metal bracket with mounting screws
Approximately 18" is required from the floor to the top of the mounting bracket. This provides the needed clearance to remove/replace the filter cartridge
Easy, no mess twist installation
Great alternative to expensive, complicated, and hard-to-maintain reverse osmosis (RO) systems
Reduces lead better than the federal action level of 15 ppb
Reduces particles as small as 1/2 micron and possible health contaminants such as cryptosporidium and giardia cysts
Built-in polyphosphate scale inhibitor reduces scale build-up on faucets and surfaces that water touches
Reduces volatile organic compounds including trihelomethane.
Made in USA

INSTRUCTIONS FOR USE:

Turn off cold water supply
Attach metal mounting bracket to head using supplied screws
Attach entire head assembly to wall under your sink/counter using supplied screws - making sure it is level and at least 18" from the ground to the top of the bracket
Using plumbing connection of your choice - connect a 1/4" water line to your cold water supply. We recommend an angle stop or similar shut off valve to isolate the system if needed. Recommended angle stop adapter is the John Guest ASVPP1LF or similar, available at most home improvement stores, Amazon, and plumbing supply houses.
Connect the incoming 1/4" water line to the inbound port on the head (note direction of arrow on the head) by simply pushing the line into the fitting on the head
Connect a 1/4" water line to the outbound port on the head by simply pushing the line into the fitting on the head
Connect the other end of the outbound water line to a drinking water faucet of your choice
Turn on cold water supply
Open drinking water faucet and let 2-3 gallons of water flush through the faucet, or until the water runs completely clear. You may see the water initially come out as milky or opaque. This is normal and not harmful
NOTE: Faucet, water line, and plumbing connections are not included with this kit. Cold water use only.
---
Specifications
Capacity:
1,500 Gallons
Certifications:
NSF/ANSI 42 & 53
Filter Dimensions:
13-1/2" Length x 3" Diameter
Max Pressure:
125 PSI
Max Temperature:
100 F
Micron Rating:
.5 Micron
Reduction Claims:
Lead, Cysts, Scale, Chlorine Taste & Odor, Sediment