British Berkefeld W9361136 | Our#: 199072
Stainless 1.5 Gallon Countertop Drinking Water Purification System with 2 Filters
British Berkefeld W9361136 | Our#: 199072
Fast Shipping & Free Returns
100% Compatibility Guarantee
British Berkefeld-branded 6 Liter / 1.58 Gallon gravity system
Your ideal solution to clean filtered drinking water on tap, away from home
2 combination ceramic / carbon filters included
All-purpose drinking water system for campers, survivaliists and ordinary families
Easy to set up
High quality - stainless steel construction
Made in England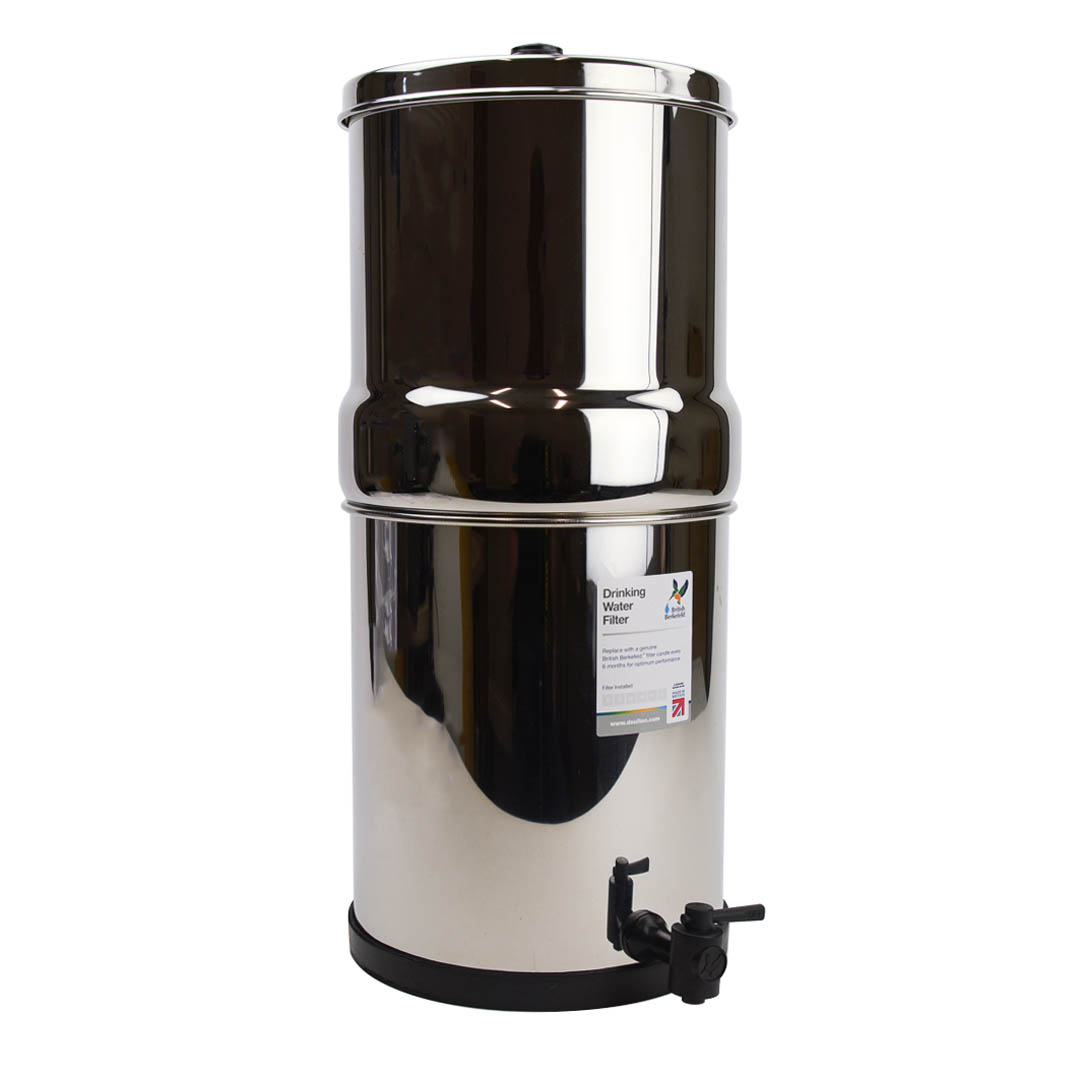 4 people in your area recently purchased this product!
Fast Shipping & Free Returns
100% Compatibility Guarantee
Frequently Purchased Together
Product Details
Stainless Countertop Drinking Water System - 6 liters (approximately 1-1/2 gallons)

The British Berkefeld 6L Gravity is a compact and portable gravity water filter system, complete with two ceramic filter candles for the reduction of common contaminants and chlorine. Your ideal solution to clean filtered drinking water on tap, away from home. Made from stainless steel, this gravity fed system consists of two containers which are super simple to operate and no plumbing is required. The upper chamber of the system is filled with untreated water which filters down into the lower chamber using the force of gravity, through a number of ceramic water filters.
The British Berkefeld Gravity filter system can house 2, 3 or 4 ceramic filter candles, depending on water quality and fill rates. 2, 7" Ultra Sterasyl filter candles are included. Stage 1 - Outer shell - Micro Filtration of bacteria, cysts and particles. Stage 2 - Anti-Bacterial formulation contains silver to inhibit microbiological growth within the ceramic element. Stage 3 - Granulated activated carbon takes out chlorine and organics improving taste and odor. Stage 4 - Heavy metal reduction media in the takes out toxic lead.

Gravity water filters are the ideal solution for providing filtered water whilst travelling in locations with an unreliable supply of safe drinking water - or where there is no reliable pressurised water supply. Take quality with you and have peace of mind that your drinking water is as clean as possible. This system is a perfect choice for emergency preparedness, camping, "off-grid" living, or normal home use.
FEATURES:
Designed to be free standing on a stable surface
Most compact system in the product line
Can be fitted with 2 or 4 ceramic filter elements (2 included)
Should only be used for the treatment of cold water
Designed to filter out harmful bacteria from water
Includes 2, 7" Ultra Sterasyl filter candles
Includes stainless top chamber, bottom chamber and lid
Includes bottom gasket to protect surfaces
Includes filter gaskets and wing nuts as well as spout
Filter capacity - 400 Gallons / 1,500 Liters
Dimensions - 9-1/4" Diameter. 19" High (14-1/2" High when chambers are nested for transport/storage)
Made in England
---
Additional Information
---