Filtrete Model 3US-AS01 Standard Faucet Water System
3M 3US-AS01 | Our#: 172621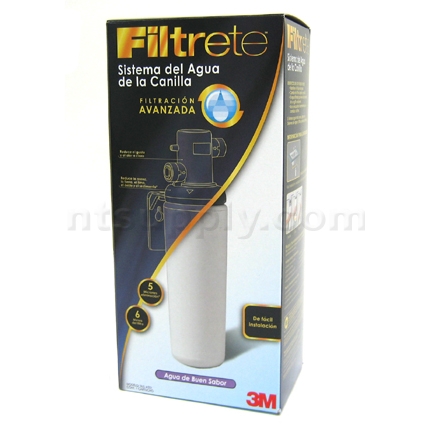 Description
---
CLICK HERE FOR REPLACEMENT FILTER CARTRIDGES

Click to View More Info and Video!

FiltreteT Model 3US-AS01 Standard Faucet Water System. Includes filter head assembly, mounting hardware, plumbing connectors and 2,000 gallon capacity water filter cartridge.

The FiltreteT Standard Faucet Water System fits neatly under the kitchen sink. It provides great tasting water and has a convenient shut-off valve for no mess filter replacement. The FiltreteT Standard Faucet Water Filter reduces sediment, including sand, silt, particulates and rust. It also reduces chlorine taste and odor. The system is tested and certified by NSF International against NSF/ANSI Standard 42 for the reduction of chlorine, taste and odor.
Features:

6 month filter life
Operating temperature - 40-100F
Operating pressure - 25-125 psi
Rated flow - 2 gpm
Capacity: 2,000 gallons
5 micron nominal removal - better sediment removal with lower micron rating
For cold water use only
Maintains water flow
Quick, no mess filter change - no tools required!
Filter directly from existing faucet
Overall system height - 12" - approximately 3" clearance needed below for filter change
Installation Details:




You will need an adjustable wrench and a screw driver.
* Turn off the cold water supply and remove supply line to faucet using wrench
* Install push-in fittings to faucet and cold water supply line
* Install filter mounting bracket to area under sink
* Install filter to mounting bracket
* Cut tubing "to length" to fit between filter and supply line and from filter to faucet
* Connect the tubing
* Turn on water supply and enjoy cleaner, better tasting water

3 people in your area have bought this product in the last day!

Save Your Furnace Tip #4:
MERV stands for Minimum Efficiency Reporting Value, and measures a filters' efficiency in removing small particles. The higher the MERV rating, the more particles the filter can remove.