HydroGuard HDG-SF-CH | Our#: 194068
Aqualux Dechlorinating Shower Filter System - Chrome, No Head
HydroGuard HDG-SF-CH | Our#: 194068
Fast Shipping & Free Returns
100% Compatibility Guarantee
Dechlorinating shower filter
4 stages of filtration
Makes hair and skin feel smooth and soft
Reduces harsh chlorine vapors
Use with your own, existing shower head (head not included)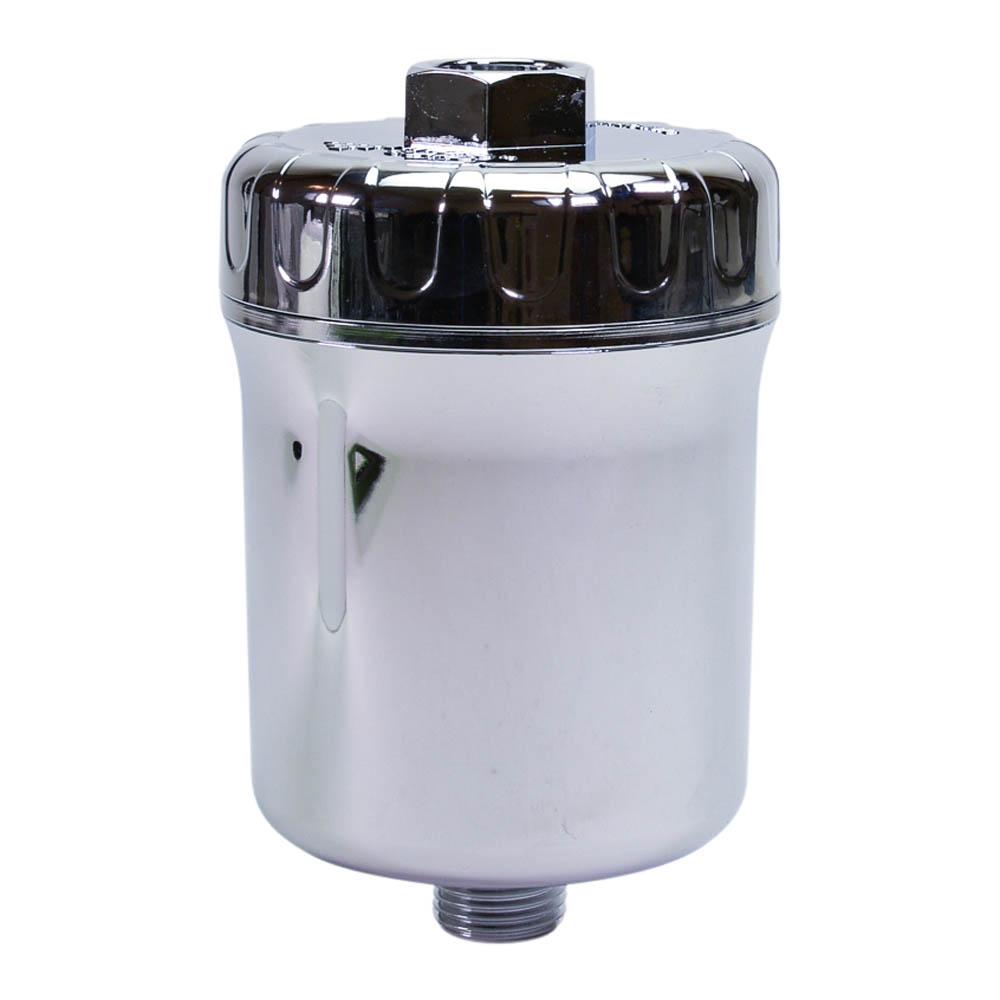 4 people in your area recently purchased this product!
In Stock
Ships in 24 hours
Fast Shipping & Free Returns
100% Compatibility Guarantee
Frequently Purchased Together
Product Details
Aqualux Dechlorinating Shower Filter System - Chrome, No Head
The HydroGuard Aqualux dechlorinating show filter reduces the harmful effects of chlorine and other contaminants, offering you a luxurious and invigorating shower. The HydroGuard Aqualux 4-Stage filtration process uses coconut shell carbon, KDF chlorine-scavenging media, bioceramic pH-balancing spheres and sediment filtration to give you an invigorating shower experience.

Scientific studies have linked chlorine exposure to potentially harmful health conditions. Chlorine vaporizes in hot water and when inhaled goes directly into the blood system. The Aqualux show filter reduces harsh chlorine vapors - so you and your family can breathe easier! The KDF media in the Aqualux filter reduces chlorine and water-soluble heavy metals.
This universal filter can be used along with any standard shower head. Unscrew your current head from supply pipe. Screw the Aqualux system to the male-threaded pipe, then screw the shower head onto the male threads on the Aqualux system.
Features & Benefits:
Soft, smooth skin
Healthy, silky hair
Reduces itchy skin or scalp
Improves comb-ability
Reduces frizz
Adjusts pH of water
Reduces chlorine absorption through skin
Reduces chlorine inhalation
Product Specifications:
Filter Capacity - 15,000 gallons (57,000 liters)
Max Flow - 1.3-2.5 GPM
Water Pressure Min/Max - 20/80 psi
Water Temp Min/Max - 41/100 degrees
Expected filter life - 4-6 months
Media - Polypropylene sediment pad, granular activated carbon, KDF media, bioceramic spheres
Housing material - ABS plastic
System dimensions - 5-1/2" H X 3" Diameter
---
Additional Information
---