Culligan ISH-100 Shower Filter System
Culligan ISH-100 | Our#: 175777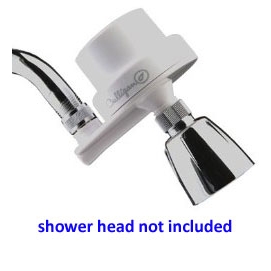 Description
---
Culligan ISH-100 Shower Filter System

The Culligan ISH-100 shower filter system reduces chlorine, scale, and sulfur odor from your water and leave you with cleaner skin and hair. This is an inline shower filter system that allows you to use your existing shower head. Comes packaged with the Culligan WHR-140 replacement filter cartridge, and both are easy to install (no tools required). The package also includes Teflon tape and a water filter cartridge change reminder sticker.

Uses Kinetic Degradation Fluxion (KDF) media. The KDF filter media is more advanced than standard carbon filters as it inhibits the growth of bacteria.

Compatible will all 1/2" thread shower arms. Replace the shower filter every 6 months or every 10,000 gallons of water.
Features:
Space-saving design allows installation without affecting the height or positioning of the showerhead
Prevent inhaling of and absorption of chlorine during showers
Prevents drying of skin and hair and prevents chlorine damage to hair texture and color-treated hair
Reduces sulphur and chlorine odor
DIY installation
NSF Certified
1 Year Warranty
Water Pressure Required: 30-125 psi (2.1-8.6 bar)
Water Temperature Required: 40-100°F (4.4-37.8°C)

Refrigerator Water Filter Tip #1:
When replacing a new filter, flush about 2 gallons of water through the filter before drinking the water. This will eliminate any carbon particles leftover from the manufacturing process.