Pentair TLC-24 | Our#: 176088
TFC 24 Gallon Per Day RO Membrane

2 review(s)
Pentair TLC-24 | Our#: 176088
Fast Shipping & Free Returns
100% Compatibility Guarantee
TFC 24 Gallon Per Day RO Membrane
Fit standard 1.8" X 12" membrane housings
Replaces Model TW30-1812-24D
4 people in your area recently purchased this product!
Fast Shipping & Free Returns
100% Compatibility Guarantee
Frequently Purchased Together
Product Details
Pentair Thin Film Composite TLC-24, 24 Gallon-Per-Day RO Membrane

This membrane rated at 24 Gallons Per Day. If you have chlorinated water, we recommend you use a Carbon / Sediment Pre Filter. The residual chlorine in municipal or " city " water will destroy the Thin Film Composite ( TFC ) membrane. The Pentair replaces Filmtec model TW30-1812-24D, which is no longer manufactured.
This TLC-24 reverse osmosis membrane element is for home drinking water. The industry's most reliable advanced membrane technology and automated fabrication, allow these elements to deliver consistent performance that equipment suppliers, water treatment dealers and residential customers can rely on.
Fits in standard 1.8" x 12" residential RO membrane housings.
The industry's most reliable for home drinking water is the Filmtec reverse osmosis membrane elements.
Advanced membrane technology and automated fabrication in the Filmtec reverese osmosis membrane allow these elements to deliver consistent performance for all customers.
This reverse osmosis membrane element is NSF/ANSI Standard 58 listed.
Filmtec home drinking water elements are rated at 50 psi and will purify about 20% more water than competitive elements rated at 60 psi.
Because of environmental factors actual production may vary
Replaces Omni brand OM1 / OM-1 R.O. Membranes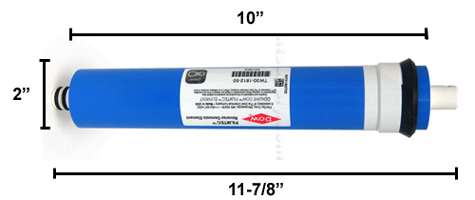 ---