Neo-Pure SQC-4-SET-MEM | Our#: 188235
Filter Set with Membrane for SQC4 Reverse Osmosis Systems

5 review(s)
Neo-Pure SQC-4-SET-MEM | Our#: 188235
Fast Shipping & Free Returns
100% Compatibility Guarantee

Filter Set with Membrane for SQC4 Reverse Omosis Systems

QTY (1) Stage 1 - Neo-Pure NP-SQC706 prefilter
QTY (1) Stage 2 - Neo-Pure NP-3M704 (formerly NP-SQC704) GAC prefilter
QTY (1) Stage 3 - Neo-Pure NP-3MM30 (formerly NP-SQCM30) membrane
QTY (1) Stage 4 - Neo-Pure NP-3M710 (formerly NP-SQC710) carbon block postfilter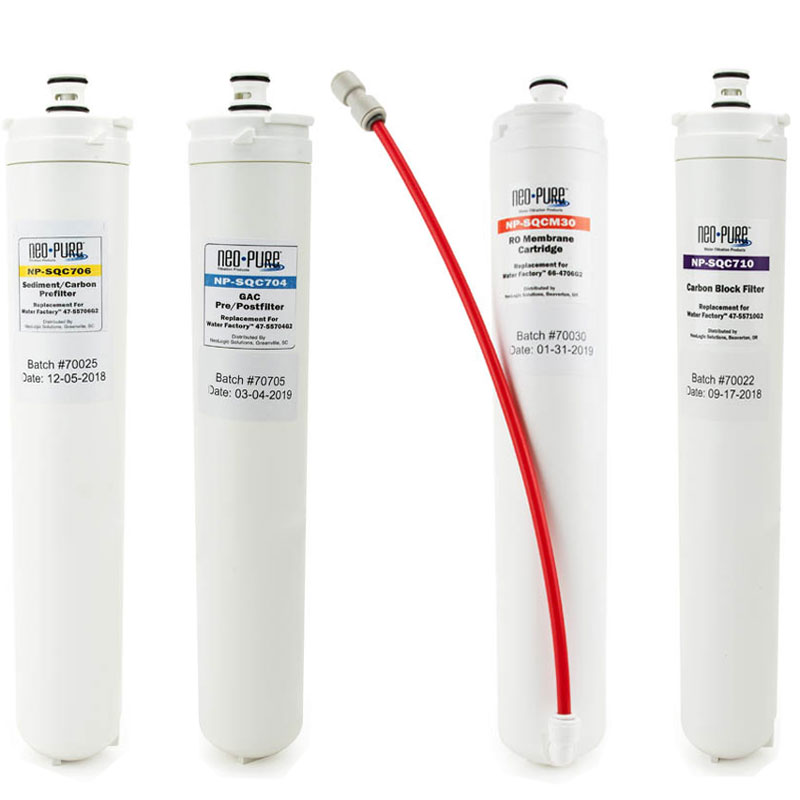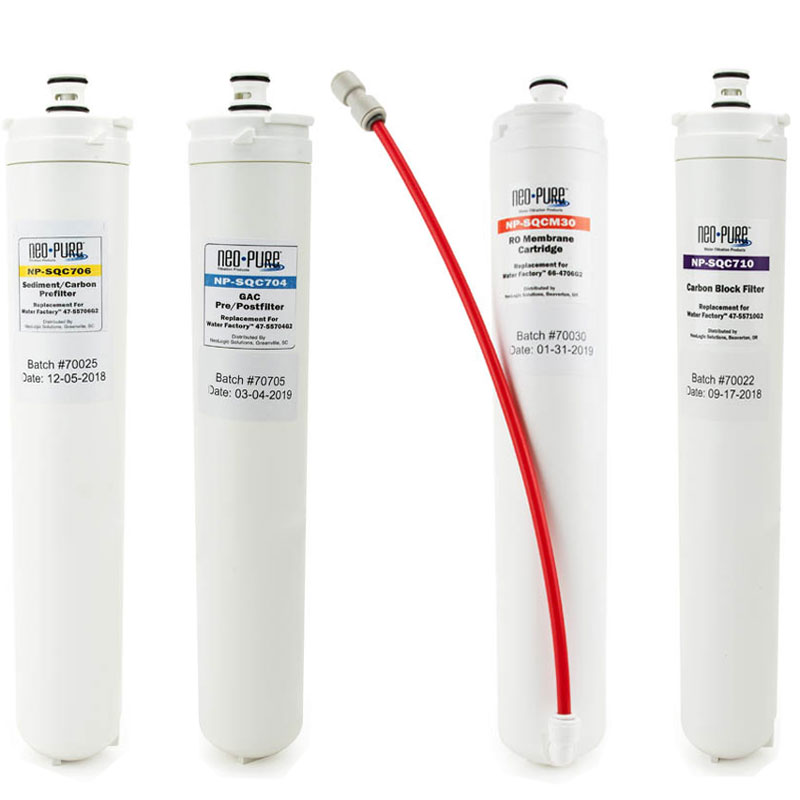 2 people in your area recently purchased this product!
Fast Shipping & Free Returns
100% Compatibility Guarantee
Frequently Purchased Together
Product Details
Filter Set with Membrane for SQC4 Reverse Osmosis Systems
NOTE: These filters are not designed to replace Shaklee Best Water Systems
This high quality set of replacement filters represents a complete overhaul of the filters in your Water Factory SQC 4 reverse osmosis filter system. This set includes 2 prefilters, membrane and post filter. All of the filters install with a simple twist.

Set includes:
QTY (1) Stage 1 - Neo-Pure NP-SQC706 "split carbon" sediment/carbon prefilter cartridge. Replaces part number 47-55706G2 or CSM5651
QTY (1) Stage 2 - Neo-Pure NP-3M704 (formerly NP-SQC704) granular activated carbon (GAC) prefilter cartridge. Replaces part number 47-55704G2 or CSM5640
QTY (1) Stage 3 - Neo-Pure NP-3MM30 (formerly NP-SQCM30) reverse osmosis membrane. Replaces part number 66-4706G2, 66-4703G2 (Discontinued), CSM5672 or 3MROM413. Includes threaded elbow and union connector and color coded water line for drain and supply
QTY (1) Stage 4 - Neo-Pure NP-3M710 (formerly NP-SQC710) carbon block postfilter cartridge. Replaces part number 47-55710G2, 47-9298G2, or CSM5621
All product names, logos, brands, trademarks and registered trademarks are property of their respective owners. All company, product and service names used on this page are for identification purposes only. DiscountFilters.com and National Trade Supply, LLC are not affiliated with these brands.
---
Replaces These Sets:
Water Factory Systems:
SQC4
Additional Information
---