Hydronix HDGT-45CP38 | Our#: 195777
4-Stage Premium Twist-In Reverse Osmosis System with Chrome Faucet
Hydronix HDGT-45CP38 | Our#: 195777
Fast Shipping & Free Returns
100% Compatibility Guarantee
4-Stage Premium Reverse Osmosis System
Includes no mess twist-in filters and membrane
Includes everything you need for installation
6 people in your area recently purchased this product!
Fast Shipping & Free Returns
100% Compatibility Guarantee
Frequently Purchased Together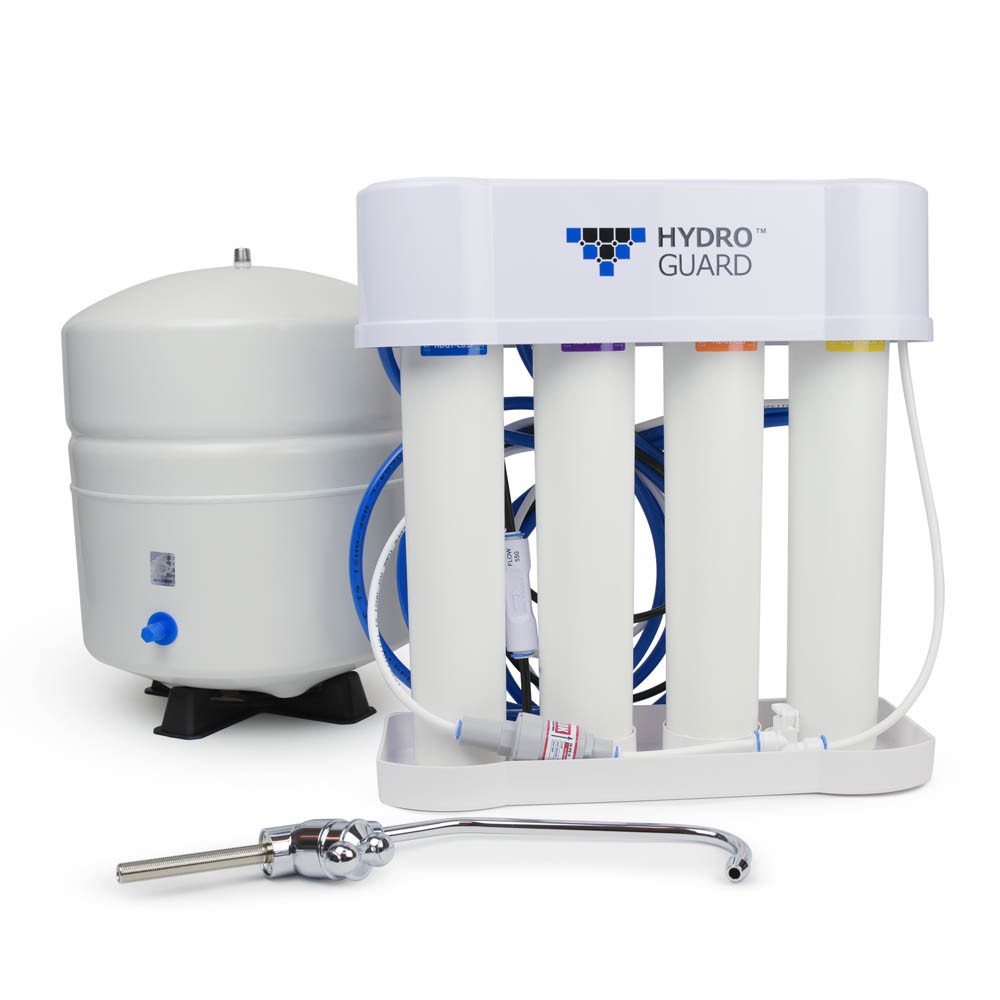 Product Details
4-Stage Premium Reverse Osmosis System with Twist-In Filters, Chrome Faucet

Once you install and use an "RO" system for drinking and cooking water - you'll wonder how you ever lived without one! Use RO water to make terrific tasting drinking water, ice cubes and coffee.
This residential Reverse Osmosis Drinking System by Hydronix is simple to install and even easier to maintain. The compact design and quick and easy cartridges make filter change outs eady and convenient. These R.O. Systems are completely assembled and are ready for installation. This Reverse Osmosis Drinking Water System comes complete with everything you need to install it yourself and includes NSF approved components. Quick disconnect fittings means you don't need any special plumbing skills to get your system up and running. The system is suited for private well water or chlorinated city water capability.
This is a 4 stage drinking water system. The 4 stages are comprised of:

( 1 ) 5 micron Sediment Pre Filter - prefilter reduces dirt, sand, silt, sediment and rust
( 2 ) 5 micron Carbon Block Pre Filter - coconut shell carbon block prefilter reduces chloramines, chlorine taste and odor and extends the life of membrane
( 3 ) TFC Membrane - Rated at 50 Gallons Per Day - semi permeable RO membrane for reduction of dissolved solids, including a wide range of toxic heavy metals, cysts and turbidity
( 4 ) 5-Micron Carbon Post/Polishing Filter - coconut shell carbon block/polishing filter works as a final stage filter for great-tasting, crystal-clear water

This system is easy to install !
4 Stage R.O. System includes:
Integrated System Mounting Bracket - this system does not need to be mounted on the wall of the cabinet if there is room for it to sit on the the floor
Automatic Shut Off ( ASO )
HDGT-SED5 - 5 micron Sediment Pre Filter
HDGT-CB5 - 5 micron Carbon Block Pre Filter
HDGT-TW50 - 50 GPD TFC Membrane
HDGT-CB5P - 5 micron Activated Carbon Post Filter
4.5 Gallon Water Holding Tank - NSF Approved
Drain Saddle w/ 1/4" connection
Water line feed adapter - 1/2" F X 1/2" M X 1/8" F
R.O. Faucet w/ Chrome Finish - non-air gap
Faucet adapter with 3/8" QC connection
Color-Coded Tubing
3/8" Shut Off Valve for the Holding Tank
SHOK BLOK - Filter Protection Valve
FLOWLOK - Leak Detector Water Shut Off Valve
Installation instructions
3 Year Limited Warranty
System dimensions - Approximately 15" H x 14.6" W x 4.6" D
Tank dimensions - Approximately 16" H x 11.5" Diameter
Faucet height - Approximately 8"
---
Specifications
Filter Type:
Standard 10" and Inline Granular Activated Carbon
Holding Tank Dimensions:
14.5" H X 11" Dia.
Inlet Tubing Size:
1/4" OD
Membrane Type:
Thin Film Composite
Outlet Tubing Size:
3/8" OD
Production Capacity:
50 GPD
Stages:
4
System Dimensions:
14.6" Wide X 15" Tall X 4.6" Deep
Tank Holding Capacity:
4.5 Gallons
Warranty:
One Year Limited
Additional Info
rmation
---