Filtration Manufacturing PP08-22222 | Our#: 176456
Practical Pleat 22" X 22" X 2" Return Grille Filter
Filtration Manufacturing PP08-22222 | Our#: 176456
Fast Shipping & Free Returns
100% Compatibility Guarantee
Practical Pleat 22" X 22" X 2" Return Grille Filter
3 people in your area recently purchased this product!
$

34.70
(

6

Filters for $

208.20

)
Fast Shipping & Free Returns
100% Compatibility Guarantee
Frequently Purchased Together
Product Details
Practical Pleat 22" x 22" x 2" Return Grille Filter - 6 Pack

Actual Dimensions across gasketing - 21-1/2" X 21-1/2"
Actual Dimensions across cardboard - 20-1/2" X 20-1/2"
Projection past gasket into duct - 7/8"


The problem:
1. Return grille filter only accommodates a one inch filter, causing you to have to retrofit your system.
2. One inch filter has a lower surface area and will need to be replaced often.
3. Restricting air flow, the higher efficiency one inch filters will low with dirt quickly.

The solution:
1. Without retrofitting, the practical pleat return grille filter will replace your existing one inch filter.
2. It contains a special gasket that will fit into the one inch filter slot with the excessive depth of the filter protruding into the duct system.
3. Offering a lower pressure drop and less strain on your HVAC unit, the deeper pleats of the practical pleat filter will also give you a longer filter life.


The Many Benefits of the Practical Pleat Filter:
Self-sealing flexible gasket eliminates air by-pass - a superior design to filters that use a rigid gasket (Honeywell FC40R).
Increased surface area provides extended lifetime.
Low-pressure drop reduces energy consumption and maintenance and extends useful lifetime of your HVAC system.
Filters last 2-3 times as long as one-inch filters.
MERV 8 efficiency rating means filter captures and removes fine particles to promote better indoor air quality (IAQ).
2" Practical Pleat filters fit shallow return grilles that can't accomodate 5" deep Practical Pleats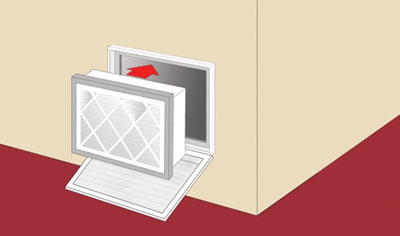 ---