Filtration Manufacturing PP08-15202 | Our#: 176443
Practical Pleat 15" X 20" X 2" Return Grille Filter
Filtration Manufacturing PP08-15202 | Our#: 176443
Fast Shipping & Free Returns
100% Compatibility Guarantee
Practical Pleat 15" X 20" X 2" Return Grille Filter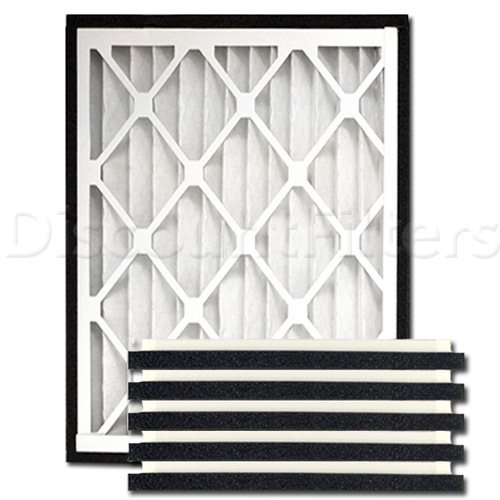 6 people in your area recently purchased this product!
$

32.74
(

6

Filters for $

196.45

)
Fast Shipping & Free Returns
100% Compatibility Guarantee
Frequently Purchased Together
Product Details
CLICK HERE TO SEE PRODUCT VIDEO

Practical Pleat 15" X 20" X 2" Return Grille Filter - 6 Pack

Actual Dimensions across gasketing - 14-1/2" X 19-1/2"
Actual Dimensions across cardboard - 13-1/2" X 18-1/2"
Projection past gasket into duct - 7/8"


The Many Benefits of the Practical Pleat Filter:
Self-sealing flexible gasket eliminates air by-pass - a superior design to filters that use a rigid gasket (Honeywell FC40R).
Increased surface area provides extended lifetime.
Low-pressure drop reduces energy consumption and maintenance and extends useful lifetime of your HVAC system.
Practical Pleats filters last 2-3 times as long as one-inch filters.
MERV 11 efficiency rating- filter captures and removes fine particles to promote better indoor air quality (IAQ).
2" Pratical Pleat filters fit shallow return grilles that can't accomodate 5" deep Practical Pleats
The issue:
Many homes across the country have filter grilles, located at the return air openings, that accommodate a one-inch filter. Because of the one-inch limitation homeowners are limited as to their choice of filters, without retrofitting their systems. A one-inch filter has low surface area and needs to be replaced often. Higher efficiency one-inch filters load with dirt and contaminants quickly and can restrict airflow.
The solution:
Practical Pleat 15x20x2" return grille filters are designed to replace the one-inch filter without any retrofitting. It's unique gasket fits into the one-inch filter slot with the excessive depth of the filter protruding in the duct system. The Practical Pleat offer lower pressure drop, less strain on HVAC equipment, and improved efficiency.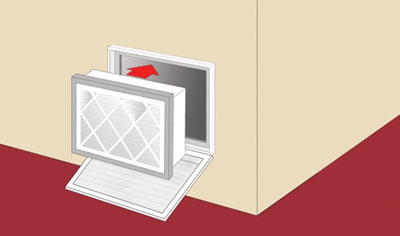 ---