Whirlpool EDR4RXD1 Refrigerator Water Filter (Filter4), 3-Pack
Whirlpool EDR4RXD1 | Our#: 180705
1 Year Purchase Guarantee - Free returns for a year, up to $1000 of purchase protection.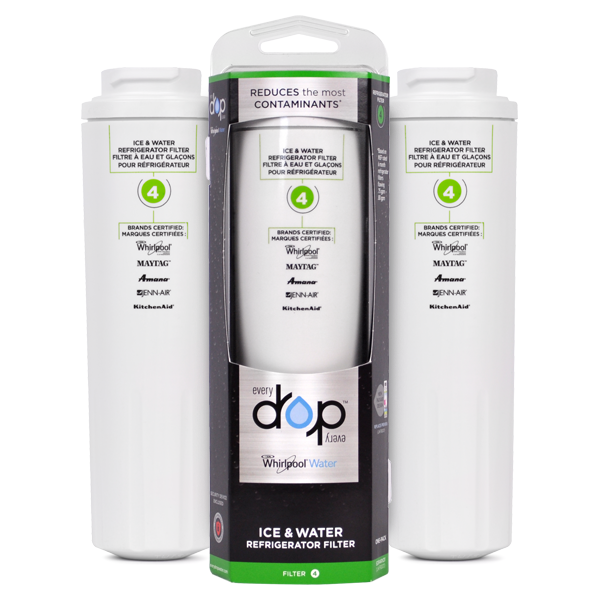 Description
---
Whirlpool EDR4RXD1 filter also known as the UKF8001 filter (Filter4)
The factory original Whirlpool EveryDrop EDR4RXD1 (AKA FILTER 4) takes over for the discount UKF8001 filter and is used in refrigerators by Whirlpool, KitchenAid, Maytag, Amana, Jenn-Air, Kenmore and others. The Whirlpool EDR4RXD1 filter creates better tasting water for drinking and making beverages as well as clean, clearer, healthy ice. As water travels to your home underground, it can pick up chemicals along the way such as oil, gasoline, pesticides/herbicides and many more which can contaminate your water. That's why replacing your fridge filter on a regular basis is critical.
The activated carbon in your water filter is made up of a porous material that acts like a vacuum to these harmful pollutants living in your water. A good fridge filter like the ukf8001 filter can greatly reduce those pollutants leaving you with cleaner, fresher, better tasting water and ice. This will not only help your drinking water taste better but anytime you cook use the water from your fridge instead of the sink. Be sure to replace your fridge filter every 6 months or sooner depending on usage. As always, we offer free shipping and free returns on all discount refrigerator water filters, plus a 100% money back guarantee if you're not satisfied.

Features:
Original Whirlpool product
Easy installation and operation
Helps reduce chlorine taste and odor
Helps reduce contaminants found in tap water and improves its quality
Tested by NSF International against Standard 42 for the reduction of chlorine taste and odor and particulate
Tested by NSF International against Standard 53 for the reduction of lead, cysts, turbidity and other chemicals and impurities
Replaces the popular UKF8001, 4396395, 46-9006 filters
Free shipping and returns on all refrigerator water filters
| | |
| --- | --- |
| ClearChoice | Whirlpool |
| $17.95 per filter | $54.95 per filter |
| 6 Month Filter | 6 Month Filter |
| 30-100 psi | 30-120 psi |
| 33 - 100 °F | 33 - 100 °F |
| 300 Gallon Capacity | 300 Gallon Capacity |
| 0.5 GPM Flow Rate | 0.8 GPM Flow Rate |
---
The Whirlpool EDR4RXD1 is compatible with the following obsolete or alternate filter part numbers:
101412
101412-B
101412-C
101412-D
101413-0610
1014130610
101414-B
101414B
101641-0610
101641-A
1016410610
101641A
12589201
12589203
12589206
12589208
12589210
13040210
4396395
4396395P
4396395T
46-9005
46-9005-750
46-9006
46-9006-200
46-9006-750
46-9084
46-9992
46-9992-100
4609005000
4609006000
469005
469005-750
469005750
469006
469006-200
469006-750
469006200
469006750
469084
469992
469992-100
67002269
67002671
67003523
67003523-750
67003526
67003527
67003528
67003591
67003640
67003727
67006467
67006470
67006474
67006475
67006476
67006633
67006637
67006639
8001
8001P
8171032
8171249
9005
9005P
9006
9006P
9992
9992P
AFF3
AP4343647
AQF-111MT
AQN8001P
BCF95
BL-40
C8001
CF5
CRL-UKF8001
DWF-9
EBL7770
EDR4RXD1
EFF-6007A
EP-UKF8001
EWRF1011
FILTER 4
FILTER4
FMM-2
GGN529-081A
GRE1004
HDX-FMM-2
MPF15090
OWF50
OWF50-NI300
OWF50-WI500
OWF51
PG-8001
PH21500
PRS-01
PS2326380
PS805431
PURICLEANII
RFC0900A
RWF1040
RWFFR
SGF-M10
SGF-M9
TPD21510
UFK-8001
UFK-8001AXX-750
UFK-8001AXXP
UFK-8001AXXT
UFK-8001P
UFK-8001T
UFK8001
UFK8001AXX
UFK8001AXX-750
UFK8001AXXP
UFK8001AXXT
UFK8001P
UFK8001T
UK8001
UKF-8001
UKF-8001AXX
UKF-8001AXX-750
UKF-8001AXXP
UKF-8001AXXT
UKF-8001P
UKF-8001T
UKF-9001
UKF80
UKF8001
UKF8001AAX
UKF8001AXX
UKF8001AXX-200
UKF8001AXX-750
UKF8001AXX200
UKF8001AXX750
UKF8001AXXP
UKF8001AXXT
UKF8001P
UKF8001T
UKF9001
UKF9001-AXX
UKF9001AXX
WD-UKF8001
WF-UKF8001
WF295
WF50
WF50-KNI300
WF50-KWI500
WF50-NI300
WF50-NI500
WF50-WI500
WF51
WSM-2
---
How To Install The Whirlpool EDR4RXD1 Filter:
The water filter cartridge is typically located in the back upper right corner of the refrigerator compartment. Release filter cover either by pushing button or pulling forward (depending on type of cover). The filter cover will hang down at an angle. The filter cartridge should be replaced when water change indicator says it's time to replace the filter or if the flow of water to the dispenser or icemaker decreases. For refrigerators without a filter change indicator, replace the filters every 6 months.
Remove old filter cartridge by grasping and gently turning counterclockwise until it releases from the filter head
Insert new filter into filter head and rotate clockwise until the filter stops. Close the filter cover
Run water continuously through dispenser for 4 gallons (approximately 5 minutes) until water runs steady and sputtering stops. NOTE: during initial use allow about a 1-2 minute delay in water dispersal to allow internal water tank to fill
Reset water filter change notification by following instructions in owners manual
Reviews
---
Whirlpool EDR4RXD1 Refrigerator Water Filter (Filter4), 3-Pack
Laurie B. 7 months ago
Great filters. Great service. Very easy to use.
Debra L. A. 18 days ago
IF you order from DiscountFilters.com they will take care of any issue with the product you have and the customer service person was great to deal with.
Patricia O. 3 months ago
Placed my order and it was delivered very quickly. Now I have clean water coming out of my refrigerator without missing a beat...
5 people in your area have bought this product in the last day!
FREE to join and you can easily cancel online at anytime
With auto delivery, you will always have a new filter on time (no need to remember to log on to place an order).
You control order frequency, delivery schedule, and quantity - all online!
Get email reminders before each delivery
---

Save Your Furnace Tip #1:
Make sure the airflow arrow is pointed in the direction that air flows through your system.