Whirlpool EDR3RXD1-3 | Our#: 180687
Whirlpool EDR3RXD1 Refrigerator Water Filter 3-Pack

191 review(s)
Whirlpool EDR3RXD1-3 | Our#: 180687
Fast Shipping & Free Returns
100% Compatibility Guarantee
Compatibility guaranteed! Free return shipping and 100% money back if there are any issues.
5 people in your area recently purchased this product!
$

67.20
(

3

Filters for $

201.59

)
Fast Shipping & Free Returns
100% Compatibility Guarantee
Frequently Purchased Together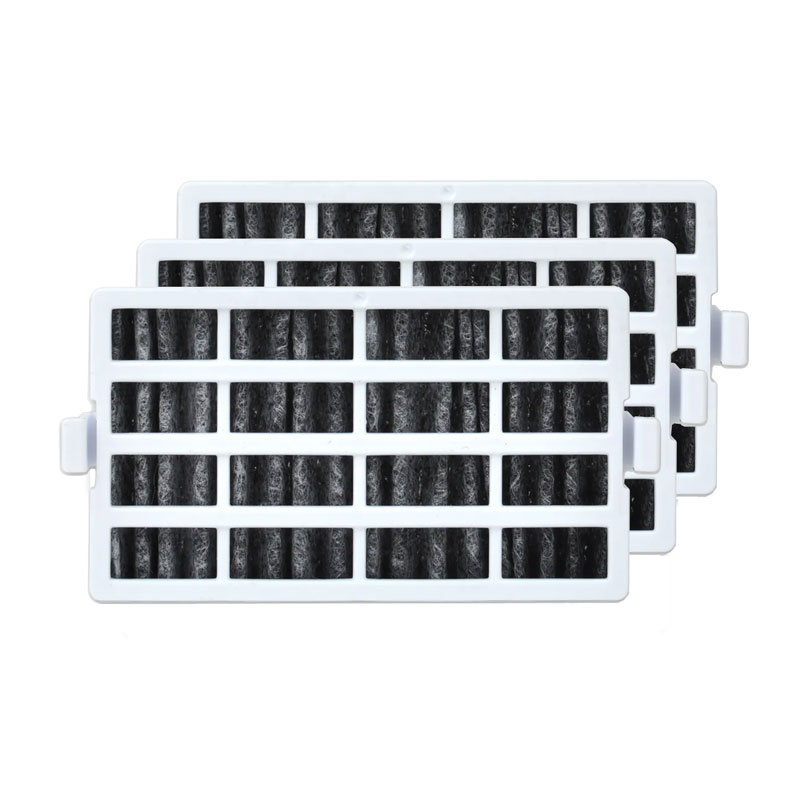 Product Details
The factory original Whirlpool EveryDrop EDR3RXD1 (AKA FILTER 3) takes over for the 4396710 and 4396841 filters and is used in side by side refrigerators by Whirlpool, KitchenAid, Maytag, Amana, Jenn-Air, Kenmore and others. The Whirlpool EDR3RXD1 filter creates better tasting water for drinking and making beverages as well as clean, clearer, healthy ice.

Features:
Original OEM product
Easy installation and operation
Helps reduce chlorine taste and odor
Helps reduce contaminants found in tap water and improves its quality
Tested by NSF International against Standard 42 for the reduction of chlorine taste and odor and particulate
Tested by NSF International against Standard 53 for the reduction of lead, cysts, turbidity and other chemicals and impurities
Replaces the popular 4396841 and 4396710 filters
---
Compatible Part
Numbers
#'s
Part number compatibility for the Whirlpool EDR3RXD1-3
Do you know your OEM part number? Use our search to cross-check it!
---
How To Install The Whirlpool EDR3RXD1-3 Filter:
How To Install Filter?
How To Install The 4396841 Filter:
Locate filter in the grille near the bottom of your refrigerator
Push button firmly until filter pops out
Remove cap from filter by twisting counter-clockwise
Reinstall cap on new filter and remove red caps from end of filter
Insert new filter in refrigerator and push in firmly until it clicks in place
---
Search by your filter part number or appliance model number to verify compatibility
Brand Name
Model Number
Type
Amana
ASD2520WRB00
Refrigerator
Amana
ASD2520WRW00
Refrigerator
Amana
ASD2522VRB00
Refrigerator
Amana
ASD2522VRB01
Refrigerator
Amana
ASD2522VRD00
Refrigerator
Amana
ASD2522VRD01
Refrigerator
Amana
ASD2522VRS00
Refrigerator
Amana
ASD2522VRS01
Refrigerator
Amana
ASD2522VRW00
Refrigerator
Amana
ASD2522VRW01
Refrigerator
Amana
ASD2522WEB00
Refrigerator
Amana
ASD2522WEB01
Refrigerator
Amana
ASD2522WED00
Refrigerator
Amana
ASD2522WED01
Refrigerator
Amana
ASD2522WES00
Refrigerator
Amana
ASD2522WES01
Refrigerator
Amana
ASD2522WEW00
Refrigerator
Amana
ASD2522WEW01
Refrigerator
amana
ASD2522WRB
Refrigerator
Amana
ASD2522WRB01
Refrigerator
Amana
ASD2522WRB02
Refrigerator
Amana
ASD2522WRB03
Refrigerator
Amana
ASD2522WRB04
Refrigerator
Amana
ASD2522WRD01
Refrigerator
Amana
ASD2522WRD02
Refrigerator
Amana
ASD2522WRD03
Refrigerator
Amana
ASD2522WRD04
Refrigerator
amana
ASD2522WRS
Refrigerator
Amana
ASD2522WRS01
Refrigerator
Amana
ASD2522WRS02
Refrigerator
Amana
ASD2522WRS03
Refrigerator
Amana
ASD2522WRS04
Refrigerator
Amana
ASD2522WRS07
Refrigerator
Amana
ASD2522WRW01
Refrigerator
Amana
ASD2522WRW02
Refrigerator
Amana
ASD2522WRW03
Refrigerator
Amana
ASD2522WRW04
Refrigerator
Amana
ASD2523WRB00
Refrigerator
Amana
ASD2523WRW00
Refrigerator
Amana
ASD2524VEB00
Refrigerator
Amana
ASD2524VEB01
Refrigerator
Amana
ASD2524VEB02
Refrigerator
Amana
ASD2524VES00
Refrigerator
Amana
ASD2524VES01
Refrigerator
Amana
ASD2524VES02
Refrigerator
Amana
ASD2524VEW00
Refrigerator
Amana
ASD2524VEW01
Refrigerator
Amana
ASD2524VEW02
Refrigerator
Amana
ASD2526VES00
Refrigerator
dacor
DYF42BIWS
Refrigerator
dacor
DYF42BNDI
Refrigerator
dacor
DYF48BIWS
Refrigerator
dacor
DYF48BNDI
Refrigerator
Ikea
ID3CHEXVQ00
Refrigerator
Ikea
ID3CHEXVS00
Refrigerator
Ikea
ID3CHEXWQ00
Refrigerator
Ikea
ID3CHEXWS00
Refrigerator
Ikea
ID3CHEXWS01
Refrigerator
Inglis
ITQ225300
Refrigerator
Inglis
ITQ225301
Refrigerator
Inglis
ITQ225800
Refrigerator
Inglis
ITQ225801
Refrigerator
Jenn-Air
JB36CXFXLB00
Refrigerator
Jenn-Air
JB36CXFXRB00
Refrigerator
Jenn-Air
JB36NXFXE
Refrigerator
Jenn-Air
JB36NXFXLE
Refrigerator
Jenn-Air
JB36NXFXLE00
Refrigerator
Jenn-Air
JB36NXFXLE01
Refrigerator
jenn-air
JB36NXFXLW
Refrigerator
Jenn-Air
JB36NXFXLW00
Refrigerator
Jenn-Air
JB36NXFXLW01
Refrigerator
Jenn-Air
JB36NXFXLW02
Refrigerator
Jenn-Air
JB36NXFXLW03
Refrigerator
Jenn-Air
JB36NXFXLW04
Refrigerator
Jenn-Air
JB36NXFXLW05
Refrigerator
Jenn-Air
JB36NXFXRE
Refrigerator
Jenn-Air
JB36NXFXRE00
Refrigerator
Jenn-Air
JB36NXFXRE01
Refrigerator
jenn-air
JB36NXFXRW
Refrigerator
Jenn-Air
JB36NXFXRW00
Refrigerator
Jenn-Air
JB36NXFXRW01
Refrigerator
Jenn-Air
JB36NXFXRW02
Refrigerator
Jenn-Air
JB36NXFXRW03
Refrigerator
Jenn-Air
JB36NXFXRW04
Refrigerator
Jenn-Air
JB36NXFXRW05
Refrigerator
Jenn-Air
JB36PPFXLB00
Refrigerator
Jenn-Air
JB36PPFXRB00
Refrigerator
Jenn-Air
JB36SEFXLB00
Refrigerator
Jenn-Air
JB36SEFXRB00
Refrigerator
jenn-air
JB36SSFXLA
Refrigerator
Jenn-Air
JB36SSFXLA00
Refrigerator
jenn-air
JB36SSFXRA
Refrigerator
Jenn-Air
JB36SSFXRA00
Refrigerator
Jenn-Air
JCB2488MTR00
Refrigerator
Jenn-Air
JCB2581WES00
Refrigerator
Jenn-Air
JCB2582WEF00
Refrigerator
Jenn-Air
JCB2582WEY00
Refrigerator
Jenn-Air
JCB2585WE
Refrigerator
Jenn-Air
JCB2585WEP00
Refrigerator
Jenn-Air
JCB2585WEP01
Refrigerator
Jenn-Air
JCB2585WES00
Refrigerator
Jenn-Air
JCB2585WES01
Refrigerator
Jenn-Air
JCB2588WER00
Refrigerator
Jenn-Air
JCD2395WES00
Refrigerator
Jenn-Air
JCD2395WES01
Refrigerator
Jenn-Air
JCD2395WES02
Refrigerator
Jenn-Air
JCD2591WES00
Refrigerator
Jenn-Air
JCD2595WEK00
Refrigerator
Jenn-Air
JCD2595WEK01
Refrigerator
Jenn-Air
JCD2595WEK02
Refrigerator
Jenn-Air
JCD2595WEP00
Refrigerator
Jenn-Air
JCD2595WEP01
Refrigerator
Jenn-Air
JCD2595WEP02
Refrigerator
Jenn-Air
JCD2595WES00
Refrigerator
Jenn-Air
JCD2595WES01
Refrigerator
Jenn-Air
JCD2595WES02
Refrigerator
Jenn-Air
JF36NXFXDE
Refrigerator
Jenn-Air
JF36NXFXDE00
Refrigerator
Jenn-Air
JF42CXFXDB00
Refrigerator
Jenn-Air
JF42CXFXDB01
Refrigerator
Jenn-Air
JF42NXFXDE
Refrigerator
Jenn-Air
JF42NXFXDE00
Refrigerator
Jenn-Air
JF42NXFXDE01
Refrigerator
Jenn-Air
JF42NXFXDW
Refrigerator
Jenn-Air
JF42NXFXDW00
Refrigerator
Jenn-Air
JF42NXFXDW01
Refrigerator
Jenn-Air
JF42NXFXDW02
Refrigerator
Jenn-Air
JF42NXFXDW03
Refrigerator
Jenn-Air
JF42NXFXDW04
Refrigerator
Jenn-Air
JF42NXFXDW05
Refrigerator
Jenn-Air
JF42PPFXDB00
Refrigerator
Jenn-Air
JF42PPFXDB01
Refrigerator
Jenn-Air
JF42SEFXDB00
Refrigerator
Jenn-Air
JF42SEFXDB01
Refrigerator
jenn-air
JF42SSFXDA
Refrigerator
Jenn-Air
JF42SSFXDA00
Refrigerator
Jenn-Air
JF42SSFXDA01
Refrigerator
Jenn-Air
JF42SSFXDA02
Refrigerator
Jenn-Air
JPK42SNXWSS
Refrigerator
Jenn-Air
JPK48SNXWPS
Refrigerator
Jenn-Air
JPK48SNXWSS
Refrigerator
Jenn-Air
JS42CXDBDB00
Refrigerator
Jenn-Air
JS42CXDUDB00
Refrigerator
Jenn-Air
JS42CXDUDB02
Refrigerator
Jenn-Air
JS42CXFXDB00
Refrigerator
Jenn-Air
JS42NXFXDE
Refrigerator
Jenn-Air
JS42NXFXDE00
Refrigerator
jenn-air
JS42NXFXDW
Refrigerator
Jenn-Air
JS42NXFXDW00
Refrigerator
Jenn-Air
JS42NXFXDW01
Refrigerator
Jenn-Air
JS42NXFXDW02
Refrigerator
Jenn-Air
JS42NXFXDW03
Refrigerator
Jenn-Air
JS42NXFXDW04
Refrigerator
Jenn-Air
JS42NXFXDW05
Refrigerator
Jenn-Air
JS42NXFXDW10
Refrigerator
Jenn-Air
JS42PPDUDB
Refrigerator
Jenn-Air
JS42PPDUDB00
Refrigerator
Jenn-Air
JS42PPDUDB01
Refrigerator
Jenn-Air
JS42PPDUDB02
Refrigerator
Jenn-Air
JS42PPDUDB14
Refrigerator
Jenn-Air
JS42PPDUDB15
Refrigerator
Jenn-Air
JS42PPDUDB16
Refrigerator
Jenn-Air
JS42PPDUDB20
Refrigerator
Jenn-Air
JS42PPDUDE
Refrigerator
Jenn-Air
JS42PPDUDE00
Refrigerator
Jenn-Air
JS42PPFXDB00
Refrigerator
Jenn-Air
JS42SEDUDB00
Refrigerator
Jenn-Air
JS42SEDUDB01
Refrigerator
Jenn-Air
JS42SEDUDW
Refrigerator
Jenn-Air
JS42SEDUDW00
Refrigerator
Jenn-Air
JS42SEDUDW01
Refrigerator
Jenn-Air
JS42SEDUDW12
Refrigerator
Jenn-Air
JS42SEDUDW13
Refrigerator
Jenn-Air
JS42SEDUDW14
Refrigerator
Jenn-Air
JS42SEDUDW15
Refrigerator
Jenn-Air
JS42SEDUDW20
Refrigerator
Jenn-Air
JS42SEFXDB00
Refrigerator
Jenn-Air
JS42SSDUDE
Refrigerator
Jenn-Air
JS42SSDUDE00
Refrigerator
Jenn-Air
JS48CXDBDB00
Refrigerator
Jenn-Air
JS48CXDBDB01
Refrigerator
Jenn-Air
JS48CXDBDB13
Refrigerator
Jenn-Air
JS48CXDUDB00
Refrigerator
Jenn-Air
JS48CXFXDB00
Refrigerator
Jenn-Air
JS48CXFXDB01
Refrigerator
Jenn-Air
JS48DUDE
Refrigerator
Jenn-Air
JS48NXFXDE
Refrigerator
Jenn-Air
JS48NXFXDE00
Refrigerator
Jenn-Air
JS48NXFXDW
Refrigerator
Jenn-Air
JS48NXFXDW00
Refrigerator
Jenn-Air
JS48NXFXDW01
Refrigerator
Jenn-Air
JS48NXFXDW02
Refrigerator
Jenn-Air
JS48NXFXDW03
Refrigerator
Jenn-Air
JS48NXFXDW04
Refrigerator
Jenn-Air
JS48NXFXDW05
Refrigerator
Jenn-Air
JS48PPDUDB
Refrigerator
Jenn-Air
JS48PPDUDB00
Refrigerator
Jenn-Air
JS48PPDUDB01
Refrigerator
Jenn-Air
JS48PPDUDB02
Refrigerator
Jenn-Air
JS48PPDUDB13
Refrigerator
Jenn-Air
JS48PPDUDB14
Refrigerator
Jenn-Air
JS48PPDUDB15
Refrigerator
Jenn-Air
JS48PPDUDB16
Refrigerator
Jenn-Air
JS48PPDUDB20
Refrigerator
Jenn-Air
JS48PPDUDE
Refrigerator
Jenn-Air
JS48PPDUDE00
Refrigerator
Jenn-Air
JS48PPFXDB00
Refrigerator
Jenn-Air
JS48SEDUDB00
Refrigerator
Jenn-Air
JS48SEDUDB01
Refrigerator
Jenn-Air
JS48SEDUDW
Refrigerator
Jenn-Air
JS48SEDUDW00
Refrigerator
Jenn-Air
JS48SEDUDW12
Refrigerator
Jenn-Air
JS48SEDUDW14
Refrigerator
Jenn-Air
JS48SEDUDW15
Refrigerator
Jenn-Air
JS48SEDUDW20
Refrigerator
Jenn-Air
JS48SEDUEA01
Refrigerator
Jenn-Air
JS48SEDUEA02
Refrigerator
Jenn-Air
JS48SEFXDB00
Refrigerator
Jenn-Air
JS48SSDUDE
Refrigerator
Jenn-Air
JS48SSDUDE00
Refrigerator
Jenn-Air
JS48SSDUDE01
Refrigerator
Kenmore
10641522500
Refrigerator
Kenmore
10641522500 Elite Side By Side Refrigerator
Refrigerator
Kenmore
10641523500
Refrigerator
Kenmore
10641523500 Elite Side By Side Refrigerator
Refrigerator
Kenmore
10641524500
Refrigerator
Kenmore
10641524500 Elite Side By Side Refrigerator
Refrigerator
Kenmore
10641529500
Refrigerator
Kenmore
10641529500 Elite Side By Side Refrigerator
Refrigerator
Kenmore
10644022600
Refrigerator
Kenmore
10644022600 Elite Refrigerator
Refrigerator
Kenmore
10644022601
Refrigerator
Kenmore
10644022601 Elite Refrigerator
Refrigerator
Kenmore
10644022602
Refrigerator
Kenmore
10644022602 Elite Refrigerator
Refrigerator
Kenmore
10644022603
Refrigerator
Kenmore
10644022603 Elite Side By Side Refrigerator
Refrigerator
Kenmore
10644023600
Refrigerator
Kenmore
10644023600 Elite Refrigerator
Refrigerator
Kenmore
10644023601
Refrigerator
Kenmore
10644023601 Elite Refrigerator
Refrigerator
Kenmore
10644023602
Refrigerator
Kenmore
10644023602 Elite Refrigerator
Refrigerator
Kenmore
10644023603
Refrigerator
Kenmore
10644023603 Elite Side By Side Refrigerator
Refrigerator
Kenmore
10644024600
Refrigerator
Kenmore
10644024600 Elite Refrigerator
Refrigerator
Kenmore
10644029600
Refrigerator
Kenmore
10644029600 Elite Refrigerator
Refrigerator
Kenmore
10644029601
Refrigerator
Kenmore
10644029601 Elite Refrigerator
Refrigerator
Kenmore
10644029602
Refrigerator
Kenmore
10644029602 Elite Refrigerator
Refrigerator
Kenmore
10644029603
Refrigerator
Kenmore
10644029603 Elite Side By Side Refrigerator
Refrigerator
Kenmore
10644032600
Refrigerator
Kenmore
10644032600 Elite Refrigerator
Refrigerator
Kenmore
10644032601
Refrigerator
Kenmore
10644032601 Elite Refrigerator
Refrigerator
Kenmore
10644032602
Refrigerator
Kenmore
10644032602 Elite Refrigerator
Refrigerator
Kenmore
10644032603
Refrigerator
Kenmore
10644032603 Elite Side By Side Refrigerator
Refrigerator
Kenmore
10644033600
Refrigerator
Kenmore
10644033600 Elite Refrigerator
Refrigerator
Kenmore
10644033601
Refrigerator
Kenmore
10644033601 Elite Refrigerator
Refrigerator
Kenmore
10644033602
Refrigerator
Kenmore
10644033602 Elite Refrigerator
Refrigerator
Kenmore
10644033603
Refrigerator
Kenmore
10644033603 Elite Side By Side Refrigerator
Refrigerator
Kenmore
10644034600
Refrigerator
Kenmore
10644034600 Elite Refrigerator
Refrigerator
Kenmore
10644039600
Refrigerator
Kenmore
10644039600 Elite Refrigerator
Refrigerator
Kenmore
10644039601
Refrigerator
Kenmore
10644039601 Elite Refrigerator
Refrigerator
Kenmore
10644039602
Refrigerator
Kenmore
10644039602 Elite Refrigerator
Refrigerator
Kenmore
10644039603
Refrigerator
Kenmore
10644039603 Elite Side By Side Refrigerator
Refrigerator
Kenmore
10644322400
Refrigerator
Kenmore
10644322400 Side By Side Refrigerator
Refrigerator
Kenmore
10644323400
Refrigerator
Kenmore
10644323400 Side By Side Refrigerator
Refrigerator
Kenmore
10644324400
Refrigerator
Kenmore
10644324400 Side By Side Refrigerator
Refrigerator
Kenmore
10644329400
Refrigerator
Kenmore
10644329400 Side By Side Refrigerator
Refrigerator
Kenmore
10644422600
Refrigerator
Kenmore
10644422600 Elite Refrigerator
Refrigerator
Kenmore
10644422601
Refrigerator
Kenmore
10644422601 Elite Refrigerator
Refrigerator
Kenmore
10644422602
Refrigerator
Kenmore
10644422602 Elite Refrigerator
Refrigerator
Kenmore
10644422603
Refrigerator
Kenmore
10644422603 Elite Refrigerator
Refrigerator
Kenmore
10644423600
Refrigerator
Kenmore
10644423600 Elite Refrigerator
Refrigerator
Kenmore
10644423601
Refrigerator
Kenmore
10644423601 Elite Refrigerator
Refrigerator
Kenmore
10644423602
Refrigerator
Kenmore
10644423602 Elite Refrigerator
Refrigerator
Kenmore
10644423603
Refrigerator
Kenmore
10644423603 Elite Refrigerator
Refrigerator
Kenmore
10644424600
Refrigerator
Kenmore
10644424600 Elite Refrigerator
Refrigerator
Kenmore
10644424601
Refrigerator
Kenmore
10644424601 Elite Refrigerator
Refrigerator
Kenmore
10644424602
Refrigerator
Kenmore
10644424602 Elite Refrigerator
Refrigerator
Kenmore
10644424603
Refrigerator
Kenmore
10644424603 Elite Refrigerator
Refrigerator
Kenmore
10644429600
Refrigerator
Kenmore
10644429600 Elite Refrigerator
Refrigerator
Kenmore
10644429601
Refrigerator
Kenmore
10644429601 Elite Refrigerator
Refrigerator
Kenmore
10644429602
Refrigerator
Kenmore
10644429602 Elite Refrigerator
Refrigerator
Kenmore
10644429603
Refrigerator
Kenmore
10644429603 Elite Refrigerator
Refrigerator
Kenmore
10644432600
Refrigerator
Kenmore
10644432600 Elite Refrigerator
Refrigerator
Kenmore
10644432601
Refrigerator
Kenmore
10644432601 Elite Refrigerator
Refrigerator
Kenmore
10644432602
Refrigerator
Kenmore
10644432602 Elite Refrigerator
Refrigerator
Kenmore
10644432603
Refrigerator
Kenmore
10644432603 Elite Refrigerator
Refrigerator
Kenmore
10644433600
Refrigerator
Kenmore
10644433600 Elite Refrigerator
Refrigerator
Kenmore
10644433601
Refrigerator
Kenmore
10644433601 Elite Refrigerator
Refrigerator
Kenmore
10644433602
Refrigerator
Kenmore
10644433602 Elite Refrigerator
Refrigerator
Kenmore
10644433603
Refrigerator
Kenmore
10644433603 Elite Refrigerator
Refrigerator
Kenmore
10644434600
Refrigerator
Kenmore
10644434600 Elite Refrigerator
Refrigerator
Kenmore
10644434601
Refrigerator
Kenmore
10644434601 Elite Refrigerator
Refrigerator
Kenmore
10644434602
Refrigerator
Kenmore
10644434602 Elite Refrigerator
Refrigerator
Kenmore
10644434603
Refrigerator
Kenmore
10644434603 Elite Refrigerator
Refrigerator
Kenmore
10644439600
Refrigerator
Kenmore
10644439600 Elite Refrigerator
Refrigerator
Kenmore
10644439601
Refrigerator
Kenmore
10644439601 Elite Refrigerator
Refrigerator
Kenmore
10644439602
Refrigerator
Kenmore
10644439602 Elite Refrigerator
Refrigerator
Kenmore
10644439603
Refrigerator
Kenmore
10644439603 Elite Refrigerator
Refrigerator
Kenmore
10645422800
Refrigerator
Kenmore
10645422800 Elite Side By Side Refrigerator
Refrigerator
Kenmore
10645422801
Refrigerator
Kenmore
10645422801
Refrigerator
Kenmore
10645422801 Elite Side By Side Refrigerator
Refrigerator
Kenmore
10645423800
Refrigerator
Kenmore
10645423800 Elite Side By Side Refrigerator
Refrigerator
Kenmore
10645423801
Refrigerator
Kenmore
10645423801
Refrigerator
Kenmore
10645423801 Elite Side By Side Refrigerator
Refrigerator
Kenmore
10645429800
Refrigerator
Kenmore
10645429800 Elite Side By Side Refrigerator
Refrigerator
Kenmore
10645429801
Refrigerator
Kenmore
10645429801
Refrigerator
Kenmore
10645429801 Elite Side By Side Refrigerator
Refrigerator
Kenmore
10645432800
Refrigerator
Kenmore
10645432800 Elite Side By Side Refrigerator
Refrigerator
Kenmore
10645432801
Refrigerator
Kenmore
10645432801
Refrigerator
Kenmore
10645432801 Elite Side By Side Refrigerator
Refrigerator
Kenmore
10645433800
Refrigerator
Kenmore
10645433800 Elite Side By Side Refrigerator
Refrigerator
Kenmore
10645433801
Refrigerator
Kenmore
10645433801
Refrigerator
Kenmore
10645433801 Elite Side By Side Refrigerator
Refrigerator
Kenmore
10645439800
Refrigerator
Kenmore
10645439800 Elite Side By Side Refrigerator
Refrigerator
Kenmore
10645439801
Refrigerator
Kenmore
10645439801
Refrigerator
Kenmore
10645439801 Elite Side By Side Refrigerator
Refrigerator
Kenmore
10646022800
Refrigerator
Kenmore
10646022800 Elite Refrigerator
Refrigerator
Kenmore
10646022801
Refrigerator
Kenmore
10646022801 Elite Refrigerator
Refrigerator
Kenmore
10646023800
Refrigerator
Kenmore
10646023800 Elite Refrigerator
Refrigerator
Kenmore
10646023801
Refrigerator
Kenmore
10646023801 Elite Refrigerator
Refrigerator
Kenmore
10646029800
Refrigerator
Kenmore
10646029800 Elite Refrigerator
Refrigerator
Kenmore
10646029801
Refrigerator
Kenmore
10646029801 Elite Refrigerator
Refrigerator
Kenmore
10646032800
Refrigerator
Kenmore
10646032800 Elite Refrigerator
Refrigerator
Kenmore
10646032801
Refrigerator
Kenmore
10646032801 Elite Refrigerator
Refrigerator
Kenmore
10646033800
Refrigerator
Kenmore
10646033800 Elite Refrigerator
Refrigerator
Kenmore
10646033801
Refrigerator
Kenmore
10646033801 Elite Refrigerator
Refrigerator
Kenmore
10646039800
Refrigerator
Kenmore
10646039800 Elite Refrigerator
Refrigerator
Kenmore
10646039801
Refrigerator
Kenmore
10646039801 Elite Refrigerator
Refrigerator
Kenmore
10650222010 Side By Side Refrigerator
Refrigerator
Kenmore
10650223010 Side By Side Refrigerator
Refrigerator
Kenmore
10650228010 Side By Side Refrigerator
Refrigerator
Kenmore
10650229010 Side By Side Refrigerator
Refrigerator
Kenmore
10650272010 Side By Side Refrigerator
Refrigerator
Kenmore
10650273010 Side By Side Refrigerator
Refrigerator
Kenmore
10650279010 Side By Side Refrigerator
Refrigerator
Kenmore
10650282010 Side By Side Refrigerator
Refrigerator
Kenmore
10650283010 Side By Side Refrigerator
Refrigerator
Kenmore
10650289010 Side By Side Refrigerator
Refrigerator
Kenmore
10650292010 Side By Side Refrigerator
Refrigerator
Kenmore
10650293010 Side By Side Refrigerator
Refrigerator
Kenmore
10650299010 Side By Side Refrigerator
Refrigerator
Kenmore
10650342010 Side By Side Refrigerator
Refrigerator
Kenmore
10650343010 Side By Side Refrigerator
Refrigerator
Kenmore
10650343011 Side By Side Refrigerator
Refrigerator
Kenmore
10650442900
Refrigerator
Kenmore
10650442900 Elite Refrigerator
Refrigerator
Kenmore
10650442901
Refrigerator
Kenmore
10650442901 Elite Refrigerator
Refrigerator
Kenmore
10650442902
Refrigerator
Kenmore
10650442902 Elite Refrigerator
Refrigerator
Kenmore
10650442903
Refrigerator
Kenmore
10650442903 Elite Refrigerator
Refrigerator
Kenmore
10650443900
Refrigerator
Kenmore
10650443900 Elite Refrigerator
Refrigerator
Kenmore
10650443901
Refrigerator
Kenmore
10650443901 Elite Refrigerator
Refrigerator
Kenmore
10650443902
Refrigerator
Kenmore
10650443902 Elite Refrigerator
Refrigerator
Kenmore
10650443903
Refrigerator
Kenmore
10650443903 Elite Refrigerator
Refrigerator
Kenmore
10650444900
Refrigerator
Kenmore
10650444900 Elite Refrigerator
Refrigerator
Kenmore
10650444901
Refrigerator
Kenmore
10650444901 Elite Refrigerator
Refrigerator
Kenmore
10650444902
Refrigerator
Kenmore
10650444902 Elite Refrigerator
Refrigerator
Kenmore
10650444903
Refrigerator
Kenmore
10650444903 Elite Refrigerator
Refrigerator
Kenmore
10650446900
Refrigerator
Kenmore
10650446900 Elite Refrigerator
Refrigerator
Kenmore
10650446901
Refrigerator
Kenmore
10650446901 Elite Refrigerator
Refrigerator
Kenmore
10650446902
Refrigerator
Kenmore
10650446902 Elite Refrigerator
Refrigerator
Kenmore
10650446903
Refrigerator
Kenmore
10650446903 Elite Refrigerator
Refrigerator
Kenmore
10650449900
Refrigerator
Kenmore
10650449900 Elite Refrigerator
Refrigerator
Kenmore
10650449901
Refrigerator
Kenmore
10650449901 Elite Refrigerator
Refrigerator
Kenmore
10650449902
Refrigerator
Kenmore
10650449902 Elite Refrigerator
Refrigerator
Kenmore
10650449903
Refrigerator
Kenmore
10650449903 Elite Refrigerator
Refrigerator
Kenmore
10650452900
Refrigerator
Kenmore
10650452900 Elite Refrigerator
Refrigerator
Kenmore
10650452901
Refrigerator
Kenmore
10650452901 Elite Refrigerator
Refrigerator
Kenmore
10650452902
Refrigerator
Kenmore
10650452902 Elite Refrigerator
Refrigerator
Kenmore
10650452903
Refrigerator
Kenmore
10650452903 Elite Refrigerator
Refrigerator
Kenmore
10650453900
Refrigerator
Kenmore
10650453900 Elite Refrigerator
Refrigerator
Kenmore
10650453901
Refrigerator
Kenmore
10650453901 Elite Refrigerator
Refrigerator
Kenmore
10650453902
Refrigerator
Kenmore
10650453902 Elite Refrigerator
Refrigerator
Kenmore
10650453903
Refrigerator
Kenmore
10650453903 Elite Refrigerator
Refrigerator
Kenmore
10650454900
Refrigerator
Kenmore
10650454900 Elite Refrigerator
Refrigerator
Kenmore
10650454901
Refrigerator
Kenmore
10650454901 Elite Refrigerator
Refrigerator
Kenmore
10650454902
Refrigerator
Kenmore
10650454902 Elite Refrigerator
Refrigerator
Kenmore
10650454903
Refrigerator
Kenmore
10650454903 Elite Refrigerator
Refrigerator
Kenmore
10650456900
Refrigerator
Kenmore
10650456900 Elite Refrigerator
Refrigerator
Kenmore
10650456901
Refrigerator
Kenmore
10650456901 Elite Refrigerator
Refrigerator
Kenmore
10650456902
Refrigerator
Kenmore
10650456902 Elite Refrigerator
Refrigerator
Kenmore
10650456903
Refrigerator
Kenmore
10650456903 Elite Refrigerator
Refrigerator
Kenmore
10650459900
Refrigerator
Kenmore
10650459900 Elite Refrigerator
Refrigerator
Kenmore
10650459901
Refrigerator
Kenmore
10650459901 Elite Refrigerator
Refrigerator
Kenmore
10650459902
Refrigerator
Kenmore
10650459902 Elite Refrigerator
Refrigerator
Kenmore
10650459903
Refrigerator
Kenmore
10650459903 Elite Refrigerator
Refrigerator
Kenmore
10651102110 Side By Side Refrigerator
Refrigerator
Kenmore
10651103110 Side By Side Refrigerator
Refrigerator
Kenmore
10651103111 Side By Side Refrigerator
Refrigerator
Kenmore
10651109110 Side By Side Refrigerator
Refrigerator
Kenmore
10651113210 Side By Side Refrigerator
Refrigerator
Kenmore
10651592010 Side By Side Refrigerator
Refrigerator
Kenmore
10651593010 Side By Side Refrigerator
Refrigerator
Kenmore
10651593011 Side By Side Refrigerator
Refrigerator
Kenmore
10651599010 Side By Side Refrigerator
Refrigerator
Kenmore
10654082400
Refrigerator
Kenmore
10654082400 Side By Side Refrigerator
Refrigerator
Kenmore
10654083400
Refrigerator
Kenmore
10654083400 Side By Side Refrigerator
Refrigerator
Kenmore
10654084400
Refrigerator
Kenmore
10654084400 Side By Side Refrigerator
Refrigerator
Kenmore
10654086400
Refrigerator
Kenmore
10654086400 Side By Side Refrigerator
Refrigerator
Kenmore
10654089400
Refrigerator
Kenmore
10654089400 Side By Side Refrigerator
Refrigerator
Kenmore
10654092400
Refrigerator
Kenmore
10654092400 Side By Side Refrigerator
Refrigerator
Kenmore
10654093400
Refrigerator
Kenmore
10654093400 Side By Side Refrigerator
Refrigerator
Kenmore
10654094400
Refrigerator
Kenmore
10654094400 Side By Side Refrigerator
Refrigerator
Kenmore
10654096400
Refrigerator
Kenmore
10654096400 Side By Side Refrigerator
Refrigerator
Kenmore
10654099400
Refrigerator
Kenmore
10654099400 Side By Side Refrigerator
Refrigerator
Kenmore
10654582400
Refrigerator
Kenmore
10654582400 Side By Side Refrigerator
Refrigerator
Kenmore
10654583400
Refrigerator
Kenmore
10654583400 Side By Side Refrigerator
Refrigerator
Kenmore
10654584400
Refrigerator
Kenmore
10654584400 Side By Side Refrigerator
Refrigerator
Kenmore
10654586400
Refrigerator
Kenmore
10654586400 Side By Side Refrigerator
Refrigerator
Kenmore
10654586401
Refrigerator
Kenmore
10654586401 Side By Side Refrigerator
Refrigerator
Kenmore
10654589400
Refrigerator
Kenmore
10654589400 Side By Side Refrigerator
Refrigerator
Kenmore
10654592400
Refrigerator
Kenmore
10654592400 Side By Side Refrigerator
Refrigerator
Kenmore
10654593400
Refrigerator
Kenmore
10654593400 Side By Side Refrigerator
Refrigerator
Kenmore
10654594400
Refrigerator
Kenmore
10654594400 Side By Side Refrigerator
Refrigerator
Kenmore
10654596400
Refrigerator
Kenmore
10654596400 Side By Side Refrigerator
Refrigerator
Kenmore
10654596401
Refrigerator
Kenmore
10654596401 Side By Side Refrigerator
Refrigerator
Kenmore
10654599400
Refrigerator
Kenmore
10654599400 Side By Side Refrigerator
Refrigerator
Kenmore
10654782800
Refrigerator
Kenmore
10654782800 Elite Side By Side Refrigerator
Refrigerator
Kenmore
10654782801
Refrigerator
Kenmore
10654782801 Elite Refrigerator
Refrigerator
Kenmore
10654782802
Refrigerator
Kenmore
10654782802 Elite Refrigerator
Refrigerator
Kenmore
10654782803
Refrigerator
Kenmore
10654782803 Elite Refrigerator
Refrigerator
Kenmore
10654782804
Refrigerator
Kenmore
10654782804 Elite Refrigerator
Refrigerator
Kenmore
10654783800
Refrigerator
Kenmore
10654783800 Elite Side By Side Refrigerator
Refrigerator
Kenmore
10654783801
Refrigerator
Kenmore
10654783801 Elite Refrigerator
Refrigerator
Kenmore
10654783802
Refrigerator
Kenmore
10654783802 Elite Refrigerator
Refrigerator
Kenmore
10654783803
Refrigerator
Kenmore
10654783803 Elite Refrigerator
Refrigerator
Kenmore
10654783804
Refrigerator
Kenmore
10654783804 Elite Refrigerator
Refrigerator
Kenmore
10654784800
Refrigerator
Kenmore
10654784800 Elite Side By Side Refrigerator
Refrigerator
Kenmore
10654784801
Refrigerator
Kenmore
10654784801 Elite Refrigerator
Refrigerator
Kenmore
10654784802
Refrigerator
Kenmore
10654784802 Elite Refrigerator
Refrigerator
Kenmore
10654784803
Refrigerator
Kenmore
10654784803 Elite Refrigerator
Refrigerator
Kenmore
10654784804
Refrigerator
Kenmore
10654784804 Elite Refrigerator
Refrigerator
Kenmore
10654786800
Refrigerator
Kenmore
10654786800 Elite Side By Side Refrigerator
Refrigerator
Kenmore
10654786801
Refrigerator
Kenmore
10654786801 Elite Refrigerator
Refrigerator
Kenmore
10654786802
Refrigerator
Kenmore
10654786802 Elite Refrigerator
Refrigerator
Kenmore
10654786803
Refrigerator
Kenmore
10654786803 Elite Refrigerator
Refrigerator
Kenmore
10654786804
Refrigerator
Kenmore
10654786804 Elite Refrigerator
Refrigerator
Kenmore
10654789800
Refrigerator
Kenmore
10654789800 Elite Side By Side Refrigerator
Refrigerator
Kenmore
10654789801
Refrigerator
Kenmore
10654789801 Elite Refrigerator
Refrigerator
Kenmore
10654789802
Refrigerator
Kenmore
10654789802 Elite Refrigerator
Refrigerator
Kenmore
10654789803
Refrigerator
Kenmore
10654789803 Elite Refrigerator
Refrigerator
Kenmore
10654789804
Refrigerator
Kenmore
10654789804 Elite Refrigerator
Refrigerator
Kenmore
10654790801
Refrigerator
Kenmore
10654790801 Elite Refrigerator
Refrigerator
Kenmore
10654792800
Refrigerator
Kenmore
10654792800 Elite Side By Side Refrigerator
Refrigerator
Kenmore
10654792801
Refrigerator
Kenmore
10654792801 Elite Refrigerator
Refrigerator
Kenmore
10654792802
Refrigerator
Kenmore
10654792802 Elite Refrigerator
Refrigerator
Kenmore
10654792803
Refrigerator
Kenmore
10654792803 Elite Refrigerator
Refrigerator
Kenmore
10654792804
Refrigerator
Kenmore
10654792804 Elite Refrigerator
Refrigerator
Kenmore
10654793800
Refrigerator
Kenmore
10654793800 Elite Side By Side Refrigerator
Refrigerator
Kenmore
10654793801
Refrigerator
Kenmore
10654793801 Elite Refrigerator
Refrigerator
Kenmore
10654793802
Refrigerator
Kenmore
10654793802 Elite Refrigerator
Refrigerator
Kenmore
10654793803
Refrigerator
Kenmore
10654793803 Elite Refrigerator
Refrigerator
Kenmore
10654793804
Refrigerator
Kenmore
10654793804 Elite Refrigerator
Refrigerator
Kenmore
10654794800
Refrigerator
Kenmore
10654794800 Elite Side By Side Refrigerator
Refrigerator
Kenmore
10654794801
Refrigerator
Kenmore
10654794801 Elite Refrigerator
Refrigerator
Kenmore
10654794802
Refrigerator
Kenmore
10654794802 Elite Refrigerator
Refrigerator
Kenmore
10654794803
Refrigerator
Kenmore
10654794803 Elite Refrigerator
Refrigerator
Kenmore
10654794804
Refrigerator
Kenmore
10654794804 Elite Refrigerator
Refrigerator
Kenmore
10654796800
Refrigerator
Kenmore
10654796800 Elite Side By Side Refrigerator
Refrigerator
Kenmore
10654796801
Refrigerator
Kenmore
10654796801 Elite Refrigerator
Refrigerator
Kenmore
10654796802
Refrigerator
Kenmore
10654796802 Elite Refrigerator
Refrigerator
Kenmore
10654796803
Refrigerator
Kenmore
10654796803 Elite Refrigerator
Refrigerator
Kenmore
10654796804
Refrigerator
Kenmore
10654796804 Elite Refrigerator
Refrigerator
Kenmore
10654799800
Refrigerator
Kenmore
10654799800 Elite Side By Side Refrigerator
Refrigerator
Kenmore
10654799801
Refrigerator
Kenmore
10654799801 Elite Refrigerator
Refrigerator
Kenmore
10654799802
Refrigerator
Kenmore
10654799802 Elite Refrigerator
Refrigerator
Kenmore
10654799803
Refrigerator
Kenmore
10654799803 Elite Refrigerator
Refrigerator
Kenmore
10654799804
Refrigerator
Kenmore
10654799804 Elite Refrigerator
Refrigerator
Kenmore
10655202400
Refrigerator
Kenmore
10655202400 Side By Side Refrigerator
Refrigerator
Kenmore
10655203400
Refrigerator
Kenmore
10655203400 Side By Side Refrigerator
Refrigerator
Kenmore
10655204400
Refrigerator
Kenmore
10655204400 Side By Side Refrigerator
Refrigerator
Kenmore
10655206400
Refrigerator
Kenmore
10655206400 Side By Side Refrigerator
Refrigerator
Kenmore
10655209400
Refrigerator
Kenmore
10655209400 Side By Side Refrigerator
Refrigerator
Kenmore
10655212400
Refrigerator
Kenmore
10655212400 Elite Side By Side Refrigerator
Refrigerator
Kenmore
10655213400
Refrigerator
Kenmore
10655213400 Elite Side By Side Refrigerator
Refrigerator
Kenmore
10655214400
Refrigerator
Kenmore
10655214400 Elite Side By Side Refrigerator
Refrigerator
Kenmore
10655216400
Refrigerator
Kenmore
10655216400 Elite Side By Side Refrigerator
Refrigerator
Kenmore
10655219400
Refrigerator
Kenmore
10655219400 Elite Side By Side Refrigerator
Refrigerator
Kenmore
10655222400
Refrigerator
Kenmore
10655222400 Side By Side Refrigerator
Refrigerator
Kenmore
10655223400
Refrigerator
Kenmore
10655223400 Side By Side Refrigerator
Refrigerator
Kenmore
10655224400
Refrigerator
Kenmore
10655224400 Side By Side Refrigerator
Refrigerator
Kenmore
10655226400
Refrigerator
Kenmore
10655226400 Side By Side Refrigerator
Refrigerator
Kenmore
10655229400
Refrigerator
Kenmore
10655229400 Side By Side Refrigerator
Refrigerator
Kenmore
10655232400
Refrigerator
Kenmore
10655232400 Side By Side Refrigerator
Refrigerator
Kenmore
10655233400
Refrigerator
Kenmore
10655233400 Side By Side Refrigerator
Refrigerator
Kenmore
10655234400
Refrigerator
Kenmore
10655234400 Side By Side Refrigerator
Refrigerator
Kenmore
10655236400
Refrigerator
Kenmore
10655236400 Side By Side Refrigerator
Refrigerator
Kenmore
10655239400
Refrigerator
Kenmore
10655239400 Side By Side Refrigerator
Refrigerator
Kenmore
10655382400
Refrigerator
Kenmore
10655382400 Side By Side Refrigerator
Refrigerator
Kenmore
10655383400
Refrigerator
Kenmore
10655383400 Side By Side Refrigerator
Refrigerator
Kenmore
10655384400
Refrigerator
Kenmore
10655384400 Side By Side Refrigerator
Refrigerator
Kenmore
10655386400
Refrigerator
Kenmore
10655386400 Side By Side Refrigerator
Refrigerator
Kenmore
10655386401 Side By Side Refrigerator
Refrigerator
Kenmore
10655389400
Refrigerator
Kenmore
10655389400 Side By Side Refrigerator
Refrigerator
Kenmore
10655392400
Refrigerator
Kenmore
10655392400 Side By Side Refrigerator
Refrigerator
Kenmore
10655393400
Refrigerator
Kenmore
10655393400 Side By Side Refrigerator
Refrigerator
Kenmore
10655394400
Refrigerator
Kenmore
10655394400 Side By Side Refrigerator
Refrigerator
Kenmore
10655396400
Refrigerator
Kenmore
10655396400 Side By Side Refrigerator
Refrigerator
Kenmore
10655396401 Side By Side Refrigerator
Refrigerator
Kenmore
10655399400
Refrigerator
Kenmore
10655399400 Side By Side Refrigerator
Refrigerator
Kenmore
10655522400
Refrigerator
Kenmore
10655522400 Side By Side Refrigerator
Refrigerator
Kenmore
10655523400
Refrigerator
Kenmore
10655523400 Side By Side Refrigerator
Refrigerator
Kenmore
10655524400
Refrigerator
Kenmore
10655524400 Side By Side Refrigerator
Refrigerator
Kenmore
10655526400
Refrigerator
Kenmore
10655526400 Side By Side Refrigerator
Refrigerator
Kenmore
10655529400
Refrigerator
Kenmore
10655529400 Side By Side Refrigerator
Refrigerator
Kenmore
10655532400
Refrigerator
Kenmore
10655532400 Side By Side Refrigerator
Refrigerator
Kenmore
10655533400
Refrigerator
Kenmore
10655533400 Side By Side Refrigerator
Refrigerator
Kenmore
10655534400
Refrigerator
Kenmore
10655534400 Side By Side Refrigerator
Refrigerator
Kenmore
10655536400
Refrigerator
Kenmore
10655536400 Side By Side Refrigerator
Refrigerator
Kenmore
10655539400
Refrigerator
Kenmore
10655539400 Side By Side Refrigerator
Refrigerator
Kenmore
10655602400
Refrigerator
Kenmore
10655602400 Elite Side By Side Refrigerator
Refrigerator
Kenmore
10655603400
Refrigerator
Kenmore
10655603400 Elite Side By Side Refrigerator
Refrigerator
Kenmore
10655604400
Refrigerator
Kenmore
10655604400 Elite Side By Side Refrigerator
Refrigerator
Kenmore
10655606400
Refrigerator
Kenmore
10655606400 Elite Side By Side Refrigerator
Refrigerator
Kenmore
10655609400
Refrigerator
Kenmore
10655609400 Elite Side By Side Refrigerator
Refrigerator
Kenmore
10655612400
Refrigerator
Kenmore
10655612400 Elite Side By Side Refrigerator
Refrigerator
Kenmore
10655613400
Refrigerator
Kenmore
10655613400 Elite Side By Side Refrigerator
Refrigerator
Kenmore
10655614400
Refrigerator
Kenmore
10655614400 Elite Side By Side Refrigerator
Refrigerator
Kenmore
10655616400
Refrigerator
Kenmore
10655616400 Elite Side By Side Refrigerator
Refrigerator
Kenmore
10655619400
Refrigerator
Kenmore
10655619400 Elite Side By Side Refrigerator
Refrigerator
Kenmore
10656162500
Refrigerator
Kenmore
10656162500 Side By Side Refrigerator
Refrigerator
Kenmore
10656163500
Refrigerator
Kenmore
10656163500 Side By Side Refrigerator
Refrigerator
Kenmore
10656164500
Refrigerator
Kenmore
10656164500 Side By Side Refrigerator
Refrigerator
Kenmore
10656166500
Refrigerator
Kenmore
10656166500 Side By Side Refrigerator
Refrigerator
Kenmore
10656166501 Side By Side Refrigerator
Refrigerator
Kenmore
10656169500
Refrigerator
Kenmore
10656169500 Side By Side Refrigerator
Refrigerator
Kenmore
10656172500
Refrigerator
Kenmore
10656172500 Side By Side Refrigerator
Refrigerator
Kenmore
10656173500
Refrigerator
Kenmore
10656173500 Side By Side Refrigerator
Refrigerator
Kenmore
10656174500
Refrigerator
Kenmore
10656174500 Side By Side Refrigerator
Refrigerator
Kenmore
10656176500
Refrigerator
Kenmore
10656176500 Side By Side Refrigerator
Refrigerator
Kenmore
10656176501 Side By Side Refrigerator
Refrigerator
Kenmore
10656179500
Refrigerator
Kenmore
10656179500 Side By Side Refrigerator
Refrigerator
Kenmore
10656182500
Refrigerator
Kenmore
10656182500 Side By Side Refrigerator
Refrigerator
Kenmore
10656184500
Refrigerator
Kenmore
10656184500 Side By Side Refrigerator
Refrigerator
Kenmore
10656186500
Refrigerator
Kenmore
10656186500 Side By Side Refrigerator
Refrigerator
Kenmore
10656186501 Side By Side Refrigerator
Refrigerator
Kenmore
10656189500
Refrigerator
Kenmore
10656189500 Side By Side Refrigerator
Refrigerator
Kenmore
10656192500
Refrigerator
Kenmore
10656192500 Side By Side Refrigerator
Refrigerator
Kenmore
10656194500
Refrigerator
Kenmore
10656194500 Side By Side Refrigerator
Refrigerator
Kenmore
10656196500
Refrigerator
Kenmore
10656196500 Side By Side Refrigerator
Refrigerator
Kenmore
10656196501 Side By Side Refrigerator
Refrigerator
Kenmore
10656199500
Refrigerator
Kenmore
10656199500 Side By Side Refrigerator
Refrigerator
Kenmore
10656232400
Refrigerator
Kenmore
10656232400 Side By Side Refrigerator
Refrigerator
Kenmore
10656233400
Refrigerator
Kenmore
10656233400 Side By Side Refrigerator
Refrigerator
Kenmore
10656234400
Refrigerator
Kenmore
10656234400 Side By Side Refrigerator
Refrigerator
Kenmore
10656236400
Refrigerator
Kenmore
10656236400 Side By Side Refrigerator
Refrigerator
Kenmore
10656236401 Side By Side Refrigerator
Refrigerator
Kenmore
10656239400
Refrigerator
Kenmore
10656239400 Side By Side Refrigerator
Refrigerator
Kenmore
10656242400
Refrigerator
Kenmore
10656242400 Side By Side Refrigerator
Refrigerator
Kenmore
10656243400
Refrigerator
Kenmore
10656243400 Side By Side Refrigerator
Refrigerator
Kenmore
10656244400
Refrigerator
Kenmore
10656244400 Side By Side Refrigerator
Refrigerator
Kenmore
10656246400
Refrigerator
Kenmore
10656246400 Side By Side Refrigerator
Refrigerator
Kenmore
10656246401 Side By Side Refrigerator
Refrigerator
Kenmore
10656249400
Refrigerator
Kenmore
10656249400 Side By Side Refrigerator
Refrigerator
Kenmore
10656362400
Refrigerator
Kenmore
10656362400 Side By Side Refrigerator
Refrigerator
Kenmore
10656363400
Refrigerator
Kenmore
10656363400 Side By Side Refrigerator
Refrigerator
Kenmore
10656364400
Refrigerator
Kenmore
10656364400 Side By Side Refrigerator
Refrigerator
Kenmore
10656366400
Refrigerator
Kenmore
10656366400 Side By Side Refrigerator
Refrigerator
Kenmore
10656369400
Refrigerator
Kenmore
10656369400 Side By Side Refrigerator
Refrigerator
Kenmore
10656372400
Refrigerator
Kenmore
10656372400 Side By Side Refrigerator
Refrigerator
Kenmore
10656373400
Refrigerator
Kenmore
10656373400 Side By Side Refrigerator
Refrigerator
Kenmore
10656374400
Refrigerator
Kenmore
10656374400 Side By Side Refrigerator
Refrigerator
Kenmore
10656376400
Refrigerator
Kenmore
10656376400 Side By Side Refrigerator
Refrigerator
Kenmore
10656379400
Refrigerator
Kenmore
10656379400 Side By Side Refrigerator
Refrigerator
Kenmore
10656382500
Refrigerator
Kenmore
10656382500 Side By Side Refrigerator
Refrigerator
Kenmore
10656382501
Refrigerator
Kenmore
10656382501 Elite Side By Side Refrigerator
Refrigerator
Kenmore
10656383500
Refrigerator
Kenmore
10656383500 Side By Side Refrigerator
Refrigerator
Kenmore
10656383501
Refrigerator
Kenmore
10656383501 Elite Side By Side Refrigerator
Refrigerator
Kenmore
10656384500
Refrigerator
Kenmore
10656384500 Side By Side Refrigerator
Refrigerator
Kenmore
10656384501
Refrigerator
Kenmore
10656384501 Elite Side By Side Refrigerator
Refrigerator
Kenmore
10656386500
Refrigerator
Kenmore
10656386500 Side By Side Refrigerator
Refrigerator
Kenmore
10656386501
Refrigerator
Kenmore
10656386501 Elite Side By Side Refrigerator
Refrigerator
Kenmore
10656389500
Refrigerator
Kenmore
10656389500 Side By Side Refrigerator
Refrigerator
Kenmore
10656389501
Refrigerator
Kenmore
10656389501 Elite Side By Side Refrigerator
Refrigerator
Kenmore
10656392501
Refrigerator
Kenmore
10656392501 Elite Side By Side Refrigerator
Refrigerator
Kenmore
10656393501
Refrigerator
Kenmore
10656393501 Elite Side By Side Refrigerator
Refrigerator
Kenmore
10656394501
Refrigerator
Kenmore
10656394501 Elite Side By Side Refrigerator
Refrigerator
Kenmore
10656396501
Refrigerator
Kenmore
10656396501 Elite Side By Side Refrigerator
Refrigerator
Kenmore
10656399501
Refrigerator
Kenmore
10656399501 Elite Side By Side Refrigerator
Refrigerator
Kenmore
10656532400
Refrigerator
Kenmore
10656532400 Side By Side Refrigerator
Refrigerator
Kenmore
10656533400
Refrigerator
Kenmore
10656533400 Side By Side Refrigerator
Refrigerator
Kenmore
10656534400
Refrigerator
Kenmore
10656534400 Side By Side Refrigerator
Refrigerator
Kenmore
10656536400
Refrigerator
Kenmore
10656536400 Side By Side Refrigerator
Refrigerator
Kenmore
10656536401
Refrigerator
Kenmore
10656536401 Side By Side Refrigerator
Refrigerator
Kenmore
10656539400
Refrigerator
Kenmore
10656539400 Side By Side Refrigerator
Refrigerator
Kenmore
10656542400
Refrigerator
Kenmore
10656542400 Side By Side Refrigerator
Refrigerator
Kenmore
10656543400
Refrigerator
Kenmore
10656543400 Side By Side Refrigerator
Refrigerator
Kenmore
10656544400
Refrigerator
Kenmore
10656544400 Side By Side Refrigerator
Refrigerator
Kenmore
10656546400
Refrigerator
Kenmore
10656546400 Side By Side Refrigerator
Refrigerator
Kenmore
10656546401
Refrigerator
Kenmore
10656546401 Side By Side Refrigerator
Refrigerator
Kenmore
10656549400
Refrigerator
Kenmore
10656549400 Side By Side Refrigerator
Refrigerator
Kenmore
10656562400
Refrigerator
Kenmore
10656562400 Side By Side Refrigerator
Refrigerator
Kenmore
10656563400
Refrigerator
Kenmore
10656563400 Side By Side Refrigerator
Refrigerator
Kenmore
10656564400
Refrigerator
Kenmore
10656564400 Side By Side Refrigerator
Refrigerator
Kenmore
10656566400
Refrigerator
Kenmore
10656566400 Side By Side Refrigerator
Refrigerator
Kenmore
10656569400
Refrigerator
Kenmore
10656569400 Side By Side Refrigerator
Refrigerator
Kenmore
10656572400
Refrigerator
Kenmore
10656572400 Side By Side Refrigerator
Refrigerator
Kenmore
10656573400
Refrigerator
Kenmore
10656573400 Side By Side Refrigerator
Refrigerator
Kenmore
10656574400
Refrigerator
Kenmore
10656574400 Side By Side Refrigerator
Refrigerator
Kenmore
10656576400
Refrigerator
Kenmore
10656576400 Side By Side Refrigerator
Refrigerator
Kenmore
10656579400
Refrigerator
Kenmore
10656579400 Side By Side Refrigerator
Refrigerator
Kenmore
10656582500
Refrigerator
Kenmore
10656582500 Side By Side Refrigerator
Refrigerator
Kenmore
10656584500
Refrigerator
Kenmore
10656584500 Side By Side Refrigerator
Refrigerator
Kenmore
10656586500
Refrigerator
Kenmore
10656586500 Side By Side Refrigerator
Refrigerator
Kenmore
10656586501
Refrigerator
Kenmore
10656586501 Side By Side Refrigerator
Refrigerator
Kenmore
10656589500
Refrigerator
Kenmore
10656589500 Side By Side Refrigerator
Refrigerator
Kenmore
10656592500
Refrigerator
Kenmore
10656592500 Side By Side Refrigerator
Refrigerator
Kenmore
10656594500
Refrigerator
Kenmore
10656594500 Side By Side Refrigerator
Refrigerator
Kenmore
10656596500
Refrigerator
Kenmore
10656596500 Side By Side Refrigerator
Refrigerator
Kenmore
10656596501
Refrigerator
Kenmore
10656596501 Side By Side Refrigerator
Refrigerator
Kenmore
10656599500
Refrigerator
Kenmore
10656599500 Side By Side Refrigerator
Refrigerator
Kenmore
10656662500
Refrigerator
Kenmore
10656662500 Side By Side Refrigerator
Refrigerator
Kenmore
10656662502 Side By Side Refrigerator
Refrigerator
Kenmore
10656663500
Refrigerator
Kenmore
10656663500 Side By Side Refrigerator
Refrigerator
Kenmore
10656663502 Side By Side Refrigerator
Refrigerator
Kenmore
10656664500
Refrigerator
Kenmore
10656664500 Side By Side Refrigerator
Refrigerator
Kenmore
10656664502 Side By Side Refrigerator
Refrigerator
Kenmore
10656666500
Refrigerator
Kenmore
10656666500 Side By Side Refrigerator
Refrigerator
Kenmore
10656666501
Refrigerator
Kenmore
10656666501 Side By Side Refrigerator
Refrigerator
Kenmore
10656666502 Side By Side Refrigerator
Refrigerator
Kenmore
10656669500
Refrigerator
Kenmore
10656669500 Side By Side Refrigerator
Refrigerator
Kenmore
10656669502 Side By Side Refrigerator
Refrigerator
Kenmore
10656672500
Refrigerator
Kenmore
10656672500 Side By Side Refrigerator
Refrigerator
Kenmore
10656672502 Side By Side Refrigerator
Refrigerator
Kenmore
10656673500
Refrigerator
Kenmore
10656673500 Side By Side Refrigerator
Refrigerator
Kenmore
10656673502 Side By Side Refrigerator
Refrigerator
Kenmore
10656674500
Refrigerator
Kenmore
10656674500 Side By Side Refrigerator
Refrigerator
Kenmore
10656674502 Side By Side Refrigerator
Refrigerator
Kenmore
10656676500
Refrigerator
Kenmore
10656676500 Side By Side Refrigerator
Refrigerator
Kenmore
10656676501
Refrigerator
Kenmore
10656676501 Side By Side Refrigerator
Refrigerator
Kenmore
10656676502 Side By Side Refrigerator
Refrigerator
Kenmore
10656679500
Refrigerator
Kenmore
10656679500 Side By Side Refrigerator
Refrigerator
Kenmore
10656679502 Side By Side Refrigerator
Refrigerator
Kenmore
10656682500
Refrigerator
Kenmore
10656682500 Side By Side Refrigerator
Refrigerator
Kenmore
10656682501
Refrigerator
Kenmore
10656682501 Elite Side By Side Refrigerator
Refrigerator
Kenmore
10656682502
Refrigerator
Kenmore
10656682502 Elite Side By Side Refrigerator
Refrigerator
Kenmore
10656683500
Refrigerator
Kenmore
10656683500 Side By Side Refrigerator
Refrigerator
Kenmore
10656683501
Refrigerator
Kenmore
10656683501 Elite Side By Side Refrigerator
Refrigerator
Kenmore
10656683502
Refrigerator
Kenmore
10656683502 Elite Side By Side Refrigerator
Refrigerator
Kenmore
10656684500
Refrigerator
Kenmore
10656684500 Side By Side Refrigerator
Refrigerator
Kenmore
10656684501
Refrigerator
Kenmore
10656684501 Elite Side By Side Refrigerator
Refrigerator
Kenmore
10656684502
Refrigerator
Kenmore
10656684502 Elite Side By Side Refrigerator
Refrigerator
Kenmore
10656686500
Refrigerator
Kenmore
10656686500 Elite Side By Side Refrigerator
Refrigerator
Kenmore
10656686501
Refrigerator
Kenmore
10656686501 Elite Side By Side Refrigerator
Refrigerator
Kenmore
10656686502
Refrigerator
Kenmore
10656686502 Elite Side By Side Refrigerator
Refrigerator
Kenmore
10656689500
Refrigerator
Kenmore
10656689500 Side By Side Refrigerator
Refrigerator
Kenmore
10656689501
Refrigerator
Kenmore
10656689501 Elite Side By Side Refrigerator
Refrigerator
Kenmore
10656689502
Refrigerator
Kenmore
10656689502 Elite Side By Side Refrigerator
Refrigerator
Kenmore
10656692501
Refrigerator
Kenmore
10656692501 Elite Side By Side Refrigerator
Refrigerator
Kenmore
10656692502
Refrigerator
Kenmore
10656692502 Elite Side By Side Refrigerator
Refrigerator
Kenmore
10656693501
Refrigerator
Kenmore
10656693501 Elite Side By Side Refrigerator
Refrigerator
Kenmore
10656693502
Refrigerator
Kenmore
10656693502 Elite Side By Side Refrigerator
Refrigerator
Kenmore
10656694501
Refrigerator
Kenmore
10656694501 Elite Side By Side Refrigerator
Refrigerator
Kenmore
10656694502
Refrigerator
Kenmore
10656694502 Elite Side By Side Refrigerator
Refrigerator
Kenmore
10656696501
Refrigerator
Kenmore
10656696501 Elite Side By Side Refrigerator
Refrigerator
Kenmore
10656696502
Refrigerator
Kenmore
10656696502 Elite Side By Side Refrigerator
Refrigerator
Kenmore
10656699501
Refrigerator
Kenmore
10656699501 Elite Side By Side Refrigerator
Refrigerator
Kenmore
10656699502
Refrigerator
Kenmore
10656699502 Elite Side By Side Refrigerator
Refrigerator
Kenmore
10656702500
Refrigerator
Kenmore
10656702500 Elite Side By Side Refrigerator
Refrigerator
Kenmore
10656703500
Refrigerator
Kenmore
10656703500 Elite Side By Side Refrigerator
Refrigerator
Kenmore
10656704500
Refrigerator
Kenmore
10656704500 Elite Side By Side Refrigerator
Refrigerator
Kenmore
10656706500
Refrigerator
Kenmore
10656706500 Elite Side By Side Refrigerator
Refrigerator
Kenmore
10656709500
Refrigerator
Kenmore
10656709500 Elite Side By Side Refrigerator
Refrigerator
Kenmore
10656712500
Refrigerator
Kenmore
10656712500 Elite Side By Side Refrigerator
Refrigerator
Kenmore
10656713500
Refrigerator
Kenmore
10656713500 Elite Side By Side Refrigerator
Refrigerator
Kenmore
10656714500
Refrigerator
Kenmore
10656714500 Elite Side By Side Refrigerator
Refrigerator
Kenmore
10656716500
Refrigerator
Kenmore
10656716500 Elite Side By Side Refrigerator
Refrigerator
Kenmore
10656719500
Refrigerator
Kenmore
10656719500 Elite Side By Side Refrigerator
Refrigerator
Kenmore
10656722600
Refrigerator
Kenmore
10656722600 Side By Side Refrigerator
Refrigerator
Kenmore
10656722602 Side By Side Refrigerator
Refrigerator
Kenmore
10656722603
Refrigerator
Kenmore
10656722604
Refrigerator
Kenmore
10656722604 Side By Side Refrigerator
Refrigerator
Kenmore
10656723600
Refrigerator
Kenmore
10656723600 Side By Side Refrigerator
Refrigerator
Kenmore
10656723602 Side By Side Refrigerator
Refrigerator
Kenmore
10656723603
Refrigerator
Kenmore
10656723603 Side By Side Refrigerator
Refrigerator
Kenmore
10656723604
Refrigerator
Kenmore
10656723604 Side By Side Refrigerator
Refrigerator
Kenmore
10656724600
Refrigerator
Kenmore
10656724600 Side By Side Refrigerator
Refrigerator
Kenmore
10656724602 Side By Side Refrigerator
Refrigerator
Kenmore
10656724603
Refrigerator
Kenmore
10656724603 Side By Side Refrigerator
Refrigerator
Kenmore
10656724604
Refrigerator
Kenmore
10656724604 Side By Side Refrigerator
Refrigerator
Kenmore
10656726600
Refrigerator
Kenmore
10656726600 Side By Side Refrigerator
Refrigerator
Kenmore
10656726601 Side By Side Refrigerator
Refrigerator
Kenmore
10656726602 Side By Side Refrigerator
Refrigerator
Kenmore
10656726603
Refrigerator
Kenmore
10656726603 Side By Side Refrigerator
Refrigerator
Kenmore
10656726604
Refrigerator
Kenmore
10656726604 Side By Side Refrigerator
Refrigerator
Kenmore
10656729600
Refrigerator
Kenmore
10656729600 Side By Side Refrigerator
Refrigerator
Kenmore
10656729602 Side By Side Refrigerator
Refrigerator
Kenmore
10656729603
Refrigerator
Kenmore
10656729603 Side By Side Refrigerator
Refrigerator
Kenmore
10656729604
Refrigerator
Kenmore
10656729604 Side By Side Refrigerator
Refrigerator
Kenmore
10656732600
Refrigerator
Kenmore
10656732600 Side By Side Refrigerator
Refrigerator
Kenmore
10656732602 Side By Side Refrigerator
Refrigerator
Kenmore
10656732603
Refrigerator
Kenmore
10656732603 Side By Side Refrigerator
Refrigerator
Kenmore
10656732604
Refrigerator
Kenmore
10656732604 Side By Side Refrigerator
Refrigerator
Kenmore
10656733600
Refrigerator
Kenmore
10656733600 Side By Side Refrigerator
Refrigerator
Kenmore
10656733602 Side By Side Refrigerator
Refrigerator
Kenmore
10656733603
Refrigerator
Kenmore
10656733603 Side By Side Refrigerator
Refrigerator
Kenmore
10656733604
Refrigerator
Kenmore
10656733604 Side By Side Refrigerator
Refrigerator
Kenmore
10656734600
Refrigerator
Kenmore
10656734600 Side By Side Refrigerator
Refrigerator
Kenmore
10656734602 Side By Side Refrigerator
Refrigerator
Kenmore
10656734603
Refrigerator
Kenmore
10656734603 Side By Side Refrigerator
Refrigerator
Kenmore
10656734604
Refrigerator
Kenmore
10656734604 Side By Side Refrigerator
Refrigerator
Kenmore
10656736600
Refrigerator
Kenmore
10656736600 Side By Side Refrigerator
Refrigerator
Kenmore
10656736601 Side By Side Refrigerator
Refrigerator
Kenmore
10656736602 Side By Side Refrigerator
Refrigerator
Kenmore
10656736603
Refrigerator
Kenmore
10656736603 Side By Side Refrigerator
Refrigerator
Kenmore
10656736604
Refrigerator
Kenmore
10656736604 Side By Side Refrigerator
Refrigerator
Kenmore
10656739600
Refrigerator
Kenmore
10656739600 Side By Side Refrigerator
Refrigerator
Kenmore
10656739602 Side By Side Refrigerator
Refrigerator
Kenmore
10656739603
Refrigerator
Kenmore
10656739603 Side By Side Refrigerator
Refrigerator
Kenmore
10656739604
Refrigerator
Kenmore
10656739604 Side By Side Refrigerator
Refrigerator
Kenmore
10656782600
Refrigerator
Kenmore
10656782600 Side By Side Refrigerator
Refrigerator
Kenmore
10656782603 Side By Side Refrigerator
Refrigerator
Kenmore
10656783600
Refrigerator
Kenmore
10656783600 Side By Side Refrigerator
Refrigerator
Kenmore
10656783603 Side By Side Refrigerator
Refrigerator
Kenmore
10656784600
Refrigerator
Kenmore
10656784600 Side By Side Refrigerator
Refrigerator
Kenmore
10656784603 Side By Side Refrigerator
Refrigerator
Kenmore
10656786600
Refrigerator
Kenmore
10656786600 Side By Side Refrigerator
Refrigerator
Kenmore
10656786601 Side By Side Refrigerator
Refrigerator
Kenmore
10656786603 Side By Side Refrigerator
Refrigerator
Kenmore
10656789600
Refrigerator
Kenmore
10656789600 Side By Side Refrigerator
Refrigerator
Kenmore
10656789603 Side By Side Refrigerator
Refrigerator
Kenmore
10656792600
Refrigerator
Kenmore
10656792600 Side By Side Refrigerator
Refrigerator
Kenmore
10656792603 Side By Side Refrigerator
Refrigerator
Kenmore
10656793600
Refrigerator
Kenmore
10656793600 Side By Side Refrigerator
Refrigerator
Kenmore
10656793603 Side By Side Refrigerator
Refrigerator
Kenmore
10656794600
Refrigerator
Kenmore
10656794600 Side By Side Refrigerator
Refrigerator
Kenmore
10656794603 Side By Side Refrigerator
Refrigerator
Kenmore
10656796600
Refrigerator
Kenmore
10656796600 Side By Side Refrigerator
Refrigerator
Kenmore
10656796601 Side By Side Refrigerator
Refrigerator
Kenmore
10656796603 Side By Side Refrigerator
Refrigerator
Kenmore
10656799600
Refrigerator
Kenmore
10656799600 Side By Side Refrigerator
Refrigerator
Kenmore
10656799603 Side By Side Refrigerator
Refrigerator
Kenmore
10656822600
Refrigerator
Kenmore
10656822600 Side By Side Refrigerator
Refrigerator
Kenmore
10656822601 Side By Side Refrigerator
Refrigerator
Kenmore
10656822603 Side By Side Refrigerator
Refrigerator
Kenmore
10656822604 Side By Side Refrigerator
Refrigerator
Kenmore
10656822605 Side By Side Refrigerator
Refrigerator
Kenmore
10656823600
Refrigerator
Kenmore
10656823600 Side By Side Refrigerator
Refrigerator
Kenmore
10656823601 Side By Side Refrigerator
Refrigerator
Kenmore
10656823603 Side By Side Refrigerator
Refrigerator
Kenmore
10656823604 Side By Side Refrigerator
Refrigerator
Kenmore
10656823605 Side By Side Refrigerator
Refrigerator
Kenmore
10656824600
Refrigerator
Kenmore
10656824600 Side By Side Refrigerator
Refrigerator
Kenmore
10656824601 Side By Side Refrigerator
Refrigerator
Kenmore
10656824603 Side By Side Refrigerator
Refrigerator
Kenmore
10656824604 Side By Side Refrigerator
Refrigerator
Kenmore
10656824605 Side By Side Refrigerator
Refrigerator
Kenmore
10656826600
Refrigerator
Kenmore
10656826600 Side By Side Refrigerator
Refrigerator
Kenmore
10656826601 Side By Side Refrigerator
Refrigerator
Kenmore
10656826602 Side By Side Refrigerator
Refrigerator
Kenmore
10656826603 Side By Side Refrigerator
Refrigerator
Kenmore
10656826604 Side By Side Refrigerator
Refrigerator
Kenmore
10656826605 Side By Side Refrigerator
Refrigerator
Kenmore
10656829600
Refrigerator
Kenmore
10656829600 Side By Side Refrigerator
Refrigerator
Kenmore
10656829601 Side By Side Refrigerator
Refrigerator
Kenmore
10656829603 Side By Side Refrigerator
Refrigerator
Kenmore
10656829604 Side By Side Refrigerator
Refrigerator
Kenmore
10656829605 Side By Side Refrigerator
Refrigerator
Kenmore
10656832600
Refrigerator
Kenmore
10656832600 Side By Side Refrigerator
Refrigerator
Kenmore
10656832601 Side By Side Refrigerator
Refrigerator
Kenmore
10656832603 Side By Side Refrigerator
Refrigerator
Kenmore
10656832604 Side By Side Refrigerator
Refrigerator
Kenmore
10656832605 Side By Side Refrigerator
Refrigerator
Kenmore
10656833600
Refrigerator
Kenmore
10656833600 Side By Side Refrigerator
Refrigerator
Kenmore
10656833601 Side By Side Refrigerator
Refrigerator
Kenmore
10656833603 Side By Side Refrigerator
Refrigerator
Kenmore
10656833604 Side By Side Refrigerator
Refrigerator
Kenmore
10656833605 Side By Side Refrigerator
Refrigerator
Kenmore
10656834600
Refrigerator
Kenmore
10656834600 Side By Side Refrigerator
Refrigerator
Kenmore
10656834601 Side By Side Refrigerator
Refrigerator
Kenmore
10656834603 Side By Side Refrigerator
Refrigerator
Kenmore
10656834604 Side By Side Refrigerator
Refrigerator
Kenmore
10656834605 Side By Side Refrigerator
Refrigerator
Kenmore
10656836600
Refrigerator
Kenmore
10656836600 Side By Side Refrigerator
Refrigerator
Kenmore
10656836601 Side By Side Refrigerator
Refrigerator
Kenmore
10656836602 Side By Side Refrigerator
Refrigerator
Kenmore
10656836603 Side By Side Refrigerator
Refrigerator
Kenmore
10656836604 Side By Side Refrigerator
Refrigerator
Kenmore
10656836605 Side By Side Refrigerator
Refrigerator
Kenmore
10656839600
Refrigerator
Kenmore
10656839600 Side By Side Refrigerator
Refrigerator
Kenmore
10656839601 Side By Side Refrigerator
Refrigerator
Kenmore
10656839603 Side By Side Refrigerator
Refrigerator
Kenmore
10656839604 Side By Side Refrigerator
Refrigerator
Kenmore
10656839605 Side By Side Refrigerator
Refrigerator
Kenmore
10656862600 Side By Side Refrigerator
Refrigerator
Kenmore
10656862601 Side By Side Refrigerator
Refrigerator
Kenmore
10656862602 Side By Side Refrigerator
Refrigerator
Kenmore
10656862603 Side By Side Refrigerator
Refrigerator
Kenmore
10656863600 Side By Side Refrigerator
Refrigerator
Kenmore
10656863601 Side By Side Refrigerator
Refrigerator
Kenmore
10656863602 Side By Side Refrigerator
Refrigerator
Kenmore
10656863603 Side By Side Refrigerator
Refrigerator
Kenmore
10656864600 Side By Side Refrigerator
Refrigerator
Kenmore
10656864601 Side By Side Refrigerator
Refrigerator
Kenmore
10656864602 Side By Side Refrigerator
Refrigerator
Kenmore
10656864603 Side By Side Refrigerator
Refrigerator
Kenmore
10656866600 Side By Side Refrigerator
Refrigerator
Kenmore
10656866601 Side By Side Refrigerator
Refrigerator
Kenmore
10656866602 Side By Side Refrigerator
Refrigerator
Kenmore
10656866603 Side By Side Refrigerator
Refrigerator
Kenmore
10656869600 Side By Side Refrigerator
Refrigerator
Kenmore
10656869601 Side By Side Refrigerator
Refrigerator
Kenmore
10656869602 Side By Side Refrigerator
Refrigerator
Kenmore
10656869603 Side By Side Refrigerator
Refrigerator
Kenmore
10656872600 Side By Side Refrigerator
Refrigerator
Kenmore
10656872601 Side By Side Refrigerator
Refrigerator
Kenmore
10656872602 Side By Side Refrigerator
Refrigerator
Kenmore
10656872603 Side By Side Refrigerator
Refrigerator
Kenmore
10656873600 Side By Side Refrigerator
Refrigerator
Kenmore
10656873601 Side By Side Refrigerator
Refrigerator
Kenmore
10656873602 Side By Side Refrigerator
Refrigerator
Kenmore
10656873603 Side By Side Refrigerator
Refrigerator
Kenmore
10656874600 Side By Side Refrigerator
Refrigerator
Kenmore
10656874601 Side By Side Refrigerator
Refrigerator
Kenmore
10656874602 Side By Side Refrigerator
Refrigerator
Kenmore
10656874603 Side By Side Refrigerator
Refrigerator
Kenmore
10656876600 Side By Side Refrigerator
Refrigerator
Kenmore
10656876601 Side By Side Refrigerator
Refrigerator
Kenmore
10656876602 Side By Side Refrigerator
Refrigerator
Kenmore
10656876603 Side By Side Refrigerator
Refrigerator
Kenmore
10656879600 Side By Side Refrigerator
Refrigerator
Kenmore
10656879601 Side By Side Refrigerator
Refrigerator
Kenmore
10656879602 Side By Side Refrigerator
Refrigerator
Kenmore
10656879603 Side By Side Refrigerator
Refrigerator
Kenmore
10656922600 Side By Side Refrigerator
Refrigerator
Kenmore
10656923600 Side By Side Refrigerator
Refrigerator
Kenmore
10656924600 Side By Side Refrigerator
Refrigerator
Kenmore
10656926600 Side By Side Refrigerator
Refrigerator
Kenmore
10656929600 Side By Side Refrigerator
Refrigerator
Kenmore
10656932600 Side By Side Refrigerator
Refrigerator
Kenmore
10656933600 Side By Side Refrigerator
Refrigerator
Kenmore
10656934600 Side By Side Refrigerator
Refrigerator
Kenmore
10656936600 Side By Side Refrigerator
Refrigerator
Kenmore
10656939600 Side By Side Refrigerator
Refrigerator
Kenmore
10656982600 Side By Side Refrigerator
Refrigerator
Kenmore
10656982601 Side By Side Refrigerator
Refrigerator
Kenmore
10656982602
Refrigerator
Kenmore
10656982602 Side By Side Refrigerator
Refrigerator
Kenmore
10656982603
Refrigerator
Kenmore
10656982603 Side By Side Refrigerator
Refrigerator
Kenmore
10656983600 Side By Side Refrigerator
Refrigerator
Kenmore
10656983601 Side By Side Refrigerator
Refrigerator
Kenmore
10656983602
Refrigerator
Kenmore
10656983602 Side By Side Refrigerator
Refrigerator
Kenmore
10656983603
Refrigerator
Kenmore
10656983603 Side By Side Refrigerator
Refrigerator
Kenmore
10656984600 Side By Side Refrigerator
Refrigerator
Kenmore
10656984601 Side By Side Refrigerator
Refrigerator
Kenmore
10656984602
Refrigerator
Kenmore
10656984602 Side By Side Refrigerator
Refrigerator
Kenmore
10656984603
Refrigerator
Kenmore
10656984603 Side By Side Refrigerator
Refrigerator
Kenmore
10656986600 Side By Side Refrigerator
Refrigerator
Kenmore
10656986601 Side By Side Refrigerator
Refrigerator
Kenmore
10656986602
Refrigerator
Kenmore
10656986602 Side By Side Refrigerator
Refrigerator
Kenmore
10656986603
Refrigerator
Kenmore
10656986603 Side By Side Refrigerator
Refrigerator
Kenmore
10656989600 Side By Side Refrigerator
Refrigerator
Kenmore
10656989601 Side By Side Refrigerator
Refrigerator
Kenmore
10656989602
Refrigerator
Kenmore
10656989602 Side By Side Refrigerator
Refrigerator
Kenmore
10656989603
Refrigerator
Kenmore
10656989603 Side By Side Refrigerator
Refrigerator
Kenmore
10656992600 Side By Side Refrigerator
Refrigerator
Kenmore
10656992601 Side By Side Refrigerator
Refrigerator
Kenmore
10656992602
Refrigerator
Kenmore
10656992602 Side By Side Refrigerator
Refrigerator
Kenmore
10656992603
Refrigerator
Kenmore
10656992603 Side By Side Refrigerator
Refrigerator
Kenmore
10656993600 Side By Side Refrigerator
Refrigerator
Kenmore
10656993601 Side By Side Refrigerator
Refrigerator
Kenmore
10656993602
Refrigerator
Kenmore
10656993602 Side By Side Refrigerator
Refrigerator
Kenmore
10656993603
Refrigerator
Kenmore
10656993603 Side By Side Refrigerator
Refrigerator
Kenmore
10656994600 Side By Side Refrigerator
Refrigerator
Kenmore
10656994601 Side By Side Refrigerator
Refrigerator
Kenmore
10656994602
Refrigerator
Kenmore
10656994602 Side By Side Refrigerator
Refrigerator
Kenmore
10656994603
Refrigerator
Kenmore
10656994603 Side By Side Refrigerator
Refrigerator
Kenmore
10656996600 Side By Side Refrigerator
Refrigerator
Kenmore
10656996602
Refrigerator
Kenmore
10656996602 Side By Side Refrigerator
Refrigerator
Kenmore
10656996603
Refrigerator
Kenmore
10656996603 Side By Side Refrigerator
Refrigerator
Kenmore
10656999600 Side By Side Refrigerator
Refrigerator
Kenmore
10656999601 Side By Side Refrigerator
Refrigerator
Kenmore
10656999602
Refrigerator
Kenmore
10656999602 Side By Side Refrigerator
Refrigerator
Kenmore
10656999603
Refrigerator
Kenmore
10656999603 Side By Side Refrigerator
Refrigerator
Kenmore
10657022600 Side By Side Refrigerator
Refrigerator
Kenmore
10657022601 Side By Side Refrigerator
Refrigerator
Kenmore
10657022602 Side By Side Refrigerator
Refrigerator
Kenmore
10657022603 Side By Side Refrigerator
Refrigerator
Kenmore
10657023600 Side By Side Refrigerator
Refrigerator
Kenmore
10657023601 Side By Side Refrigerator
Refrigerator
Kenmore
10657023602 Side By Side Refrigerator
Refrigerator
Kenmore
10657023603 Side By Side Refrigerator
Refrigerator
Kenmore
10657024600 Side By Side Refrigerator
Refrigerator
Kenmore
10657024601 Side By Side Refrigerator
Refrigerator
Kenmore
10657024602 Side By Side Refrigerator
Refrigerator
Kenmore
10657024603 Side By Side Refrigerator
Refrigerator
Kenmore
10657026600 Side By Side Refrigerator
Refrigerator
Kenmore
10657026601 Side By Side Refrigerator
Refrigerator
Kenmore
10657026602 Side By Side Refrigerator
Refrigerator
Kenmore
10657026603 Side By Side Refrigerator
Refrigerator
Kenmore
10657029600 Side By Side Refrigerator
Refrigerator
Kenmore
10657029601 Side By Side Refrigerator
Refrigerator
Kenmore
10657029602 Side By Side Refrigerator
Refrigerator
Kenmore
10657029603 Side By Side Refrigerator
Refrigerator
Kenmore
10657032600 Side By Side Refrigerator
Refrigerator
Kenmore
10657032601 Side By Side Refrigerator
Refrigerator
Kenmore
10657032602 Side By Side Refrigerator
Refrigerator
Kenmore
10657032603 Side By Side Refrigerator
Refrigerator
Kenmore
10657033600 Side By Side Refrigerator
Refrigerator
Kenmore
10657033601 Side By Side Refrigerator
Refrigerator
Kenmore
10657033602 Side By Side Refrigerator
Refrigerator
Kenmore
10657034600 Side By Side Refrigerator
Refrigerator
Kenmore
10657034601 Side By Side Refrigerator
Refrigerator
Kenmore
10657034602 Side By Side Refrigerator
Refrigerator
Kenmore
10657034603 Side By Side Refrigerator
Refrigerator
Kenmore
10657036600 Side By Side Refrigerator
Refrigerator
Kenmore
10657036601 Side By Side Refrigerator
Refrigerator
Kenmore
10657036602 Side By Side Refrigerator
Refrigerator
Kenmore
10657036603 Side By Side Refrigerator
Refrigerator
Kenmore
10657039600 Side By Side Refrigerator
Refrigerator
Kenmore
10657039601 Side By Side Refrigerator
Refrigerator
Kenmore
10657039602 Side By Side Refrigerator
Refrigerator
Kenmore
10657039603 Side By Side Refrigerator
Refrigerator
Kenmore
10657062600
Refrigerator
Kenmore
10657062600 Side By Side Refrigerator
Refrigerator
Kenmore
10657062601
Refrigerator
Kenmore
10657062601 Side By Side Refrigerator
Refrigerator
Kenmore
10657062602
Refrigerator
Kenmore
10657062602 Side By Side Refrigerator
Refrigerator
Kenmore
10657062603
Refrigerator
Kenmore
10657062603 Side By Side Refrigerator
Refrigerator
Kenmore
10657063600
Refrigerator
Kenmore
10657063600 Side By Side Refrigerator
Refrigerator
Kenmore
10657063601
Refrigerator
Kenmore
10657063601 Side By Side Refrigerator
Refrigerator
Kenmore
10657063602
Refrigerator
Kenmore
10657063602 Side By Side Refrigerator
Refrigerator
Kenmore
10657063603
Refrigerator
Kenmore
10657063603 Side By Side Refrigerator
Refrigerator
Kenmore
10657064600
Refrigerator
Kenmore
10657064600 Side By Side Refrigerator
Refrigerator
Kenmore
10657064601
Refrigerator
Kenmore
10657064601 Side By Side Refrigerator
Refrigerator
Kenmore
10657064602
Refrigerator
Kenmore
10657064602 Side By Side Refrigerator
Refrigerator
Kenmore
10657064603
Refrigerator
Kenmore
10657064603 Side By Side Refrigerator
Refrigerator
Kenmore
10657066600
Refrigerator
Kenmore
10657066600 Side By Side Refrigerator
Refrigerator
Kenmore
10657066601
Refrigerator
Kenmore
10657066601 Side By Side Refrigerator
Refrigerator
Kenmore
10657066602
Refrigerator
Kenmore
10657066602 Side By Side Refrigerator
Refrigerator
Kenmore
10657066603
Refrigerator
Kenmore
10657066603 Side By Side Refrigerator
Refrigerator
Kenmore
10657069600
Refrigerator
Kenmore
10657069600 Side By Side Refrigerator
Refrigerator
Kenmore
10657069601
Refrigerator
Kenmore
10657069601 Side By Side Refrigerator
Refrigerator
Kenmore
10657069602
Refrigerator
Kenmore
10657069602 Side By Side Refrigerator
Refrigerator
Kenmore
10657069603
Refrigerator
Kenmore
10657069603 Side By Side Refrigerator
Refrigerator
Kenmore
10657072600
Refrigerator
Kenmore
10657072600 Side By Side Refrigerator
Refrigerator
Kenmore
10657072601
Refrigerator
Kenmore
10657072601 Side By Side Refrigerator
Refrigerator
Kenmore
10657072602
Refrigerator
Kenmore
10657072602 Side By Side Refrigerator
Refrigerator
Kenmore
10657072603
Refrigerator
Kenmore
10657072603 Side By Side Refrigerator
Refrigerator
Kenmore
10657073600
Refrigerator
Kenmore
10657073600 Side By Side Refrigerator
Refrigerator
Kenmore
10657073601
Refrigerator
Kenmore
10657073601 Side By Side Refrigerator
Refrigerator
Kenmore
10657073602
Refrigerator
Kenmore
10657073602 Side By Side Refrigerator
Refrigerator
Kenmore
10657073603
Refrigerator
Kenmore
10657073603 Side By Side Refrigerator
Refrigerator
Kenmore
10657074600
Refrigerator
Kenmore
10657074600 Side By Side Refrigerator
Refrigerator
Kenmore
10657074601
Refrigerator
Kenmore
10657074601 Side By Side Refrigerator
Refrigerator
Kenmore
10657074602
Refrigerator
Kenmore
10657074602 Side By Side Refrigerator
Refrigerator
Kenmore
10657074603
Refrigerator
Kenmore
10657074603 Side By Side Refrigerator
Refrigerator
Kenmore
10657076600
Refrigerator
Kenmore
10657076600 Side By Side Refrigerator
Refrigerator
Kenmore
10657076601
Refrigerator
Kenmore
10657076601 Side By Side Refrigerator
Refrigerator
Kenmore
10657076602
Refrigerator
Kenmore
10657076602 Side By Side Refrigerator
Refrigerator
Kenmore
10657076603
Refrigerator
Kenmore
10657076603 Side By Side Refrigerator
Refrigerator
Kenmore
10657079600
Refrigerator
Kenmore
10657079600 Side By Side Refrigerator
Refrigerator
Kenmore
10657079601
Refrigerator
Kenmore
10657079601 Side By Side Refrigerator
Refrigerator
Kenmore
10657079602
Refrigerator
Kenmore
10657079602 Side By Side Refrigerator
Refrigerator
Kenmore
10657079603
Refrigerator
Kenmore
10657079603 Side By Side Refrigerator
Refrigerator
Kenmore
10657162700
Refrigerator
Kenmore
10657162700 Side By Side Refrigerator
Refrigerator
Kenmore
10657162701 Side By Side Refrigerator
Refrigerator
Kenmore
10657163700
Refrigerator
Kenmore
10657163700 Side By Side Refrigerator
Refrigerator
Kenmore
10657163701 Side By Side Refrigerator
Refrigerator
Kenmore
10657163702 Side By Side Refrigerator
Refrigerator
Kenmore
10657362700
Refrigerator
Kenmore
10657362701
Refrigerator
Kenmore
10657362701 Side By Side Refrigerator
Refrigerator
Kenmore
10657362702 Side By Side Refrigerator
Refrigerator
Kenmore
10657362703 Side By Side Refrigerator
Refrigerator
Kenmore
10657368700
Refrigerator
Kenmore
10657368700 Side By Side Refrigerator
Refrigerator
Kenmore
10657368701
Refrigerator
Kenmore
10657368701 Side By Side Refrigerator
Refrigerator
Kenmore
10657368702 Side By Side Refrigerator
Refrigerator
Kenmore
10657368703 Side By Side Refrigerator
Refrigerator
Kenmore
10657369700
Refrigerator
Kenmore
10657369700 Side By Side Refrigerator
Refrigerator
Kenmore
10657372700
Refrigerator
Kenmore
10657372700 Side By Side Refrigerator
Refrigerator
Kenmore
10657372701
Refrigerator
Kenmore
10657372701 Side By Side Refrigerator
Refrigerator
Kenmore
10657372702 Side By Side Refrigerator
Refrigerator
Kenmore
10657372703 Side By Side Refrigerator
Refrigerator
Kenmore
10657378700
Refrigerator
Kenmore
10657378700 Side By Side Refrigerator
Refrigerator
Kenmore
10657378701
Refrigerator
Kenmore
10657378701 Side By Side Refrigerator
Refrigerator
Kenmore
10657378702 Side By Side Refrigerator
Refrigerator
Kenmore
10657378703 Side By Side Refrigerator
Refrigerator
Kenmore
10657379700
Refrigerator
Kenmore
10657379700 Side By Side Refrigerator
Refrigerator
Kenmore
10657442700
Refrigerator
Kenmore
10657442700 Elite Refrigerator
Refrigerator
Kenmore
10657442701
Refrigerator
Kenmore
10657442701 Elite Refrigerator
Refrigerator
Kenmore
10657442702
Refrigerator
Kenmore
10657442702 Elite Refrigerator
Refrigerator
Kenmore
10657442703
Refrigerator
Kenmore
10657442703 Elite Refrigerator
Refrigerator
Kenmore
10657442704
Refrigerator
Kenmore
10657442704 Elite Refrigerator
Refrigerator
Kenmore
10657443700
Refrigerator
Kenmore
10657443700 Elite Refrigerator
Refrigerator
Kenmore
10657443701
Refrigerator
Kenmore
10657443701 Elite Refrigerator
Refrigerator
Kenmore
10657443702
Refrigerator
Kenmore
10657443702 Elite Refrigerator
Refrigerator
Kenmore
10657443703
Refrigerator
Kenmore
10657443703 Elite Refrigerator
Refrigerator
Kenmore
10657443704
Refrigerator
Kenmore
10657443704 Elite Refrigerator
Refrigerator
Kenmore
10657449700
Refrigerator
Kenmore
10657449700 Elite Refrigerator
Refrigerator
Kenmore
10657449701
Refrigerator
Kenmore
10657449701 Elite Refrigerator
Refrigerator
Kenmore
10657449702
Refrigerator
Kenmore
10657449702 Elite Refrigerator
Refrigerator
Kenmore
10657449703
Refrigerator
Kenmore
10657449703 Elite Refrigerator
Refrigerator
Kenmore
10657449704
Refrigerator
Kenmore
10657449704 Elite Refrigerator
Refrigerator
Kenmore
10657452700
Refrigerator
Kenmore
10657452700 Elite Refrigerator
Refrigerator
Kenmore
10657452701
Refrigerator
Kenmore
10657452701 Elite Refrigerator
Refrigerator
Kenmore
10657452702
Refrigerator
Kenmore
10657452702 Elite Refrigerator
Refrigerator
Kenmore
10657452703
Refrigerator
Kenmore
10657452703 Elite Refrigerator
Refrigerator
Kenmore
10657452704
Refrigerator
Kenmore
10657452704 Elite Refrigerator
Refrigerator
Kenmore
10657453700
Refrigerator
Kenmore
10657453700 Elite Refrigerator
Refrigerator
Kenmore
10657453701
Refrigerator
Kenmore
10657453701 Elite Refrigerator
Refrigerator
Kenmore
10657453702
Refrigerator
Kenmore
10657453702 Elite Refrigerator
Refrigerator
Kenmore
10657453703
Refrigerator
Kenmore
10657453703 Elite Refrigerator
Refrigerator
Kenmore
10657453704
Refrigerator
Kenmore
10657453704 Elite Refrigerator
Refrigerator
Kenmore
10657459700
Refrigerator
Kenmore
10657459700 Elite Refrigerator
Refrigerator
Kenmore
10657459701
Refrigerator
Kenmore
10657459701 Elite Refrigerator
Refrigerator
Kenmore
10657459702
Refrigerator
Kenmore
10657459702 Elite Refrigerator
Refrigerator
Kenmore
10657459703
Refrigerator
Kenmore
10657459703 Elite Refrigerator
Refrigerator
Kenmore
10657459704
Refrigerator
Kenmore
10657459704 Elite Refrigerator
Refrigerator
Kenmore
10657702700
Refrigerator
Kenmore
10657702700 Elite Refrigerator
Refrigerator
Kenmore
10657702701
Refrigerator
Kenmore
10657702701 Elite Refrigerator
Refrigerator
Kenmore
10657702702
Refrigerator
Kenmore
10657702702 Elite Refrigerator
Refrigerator
Kenmore
10657702703
Refrigerator
Kenmore
10657702703 Elite Refrigerator
Refrigerator
Kenmore
10657702704
Refrigerator
Kenmore
10657702704 Elite Refrigerator
Refrigerator
Kenmore
10657702705
Refrigerator
Kenmore
10657702705 Elite Refrigerator
Refrigerator
Kenmore
10657703700
Refrigerator
Kenmore
10657703700 Elite Refrigerator
Refrigerator
Kenmore
10657703701
Refrigerator
Kenmore
10657703701 Elite Refrigerator
Refrigerator
Kenmore
10657703702
Refrigerator
Kenmore
10657703702 Elite Refrigerator
Refrigerator
Kenmore
10657703703
Refrigerator
Kenmore
10657703703 Elite Refrigerator
Refrigerator
Kenmore
10657703704
Refrigerator
Kenmore
10657703704 Elite Refrigerator
Refrigerator
Kenmore
10657703705
Refrigerator
Kenmore
10657703705 Elite Refrigerator
Refrigerator
Kenmore
10657704700
Refrigerator
Kenmore
10657704700 Elite Refrigerator
Refrigerator
Kenmore
10657704701
Refrigerator
Kenmore
10657704701 Elite Refrigerator
Refrigerator
Kenmore
10657704702
Refrigerator
Kenmore
10657704702 Elite Refrigerator
Refrigerator
Kenmore
10657704703
Refrigerator
Kenmore
10657704703 Elite Refrigerator
Refrigerator
Kenmore
10657704704
Refrigerator
Kenmore
10657704704 Elite Refrigerator
Refrigerator
Kenmore
10657704705
Refrigerator
Kenmore
10657704705 Elite Refrigerator
Refrigerator
Kenmore
10657705700
Refrigerator
Kenmore
10657705700 Elite Refrigerator
Refrigerator
Kenmore
10657705701
Refrigerator
Kenmore
10657705701 Elite Refrigerator
Refrigerator
Kenmore
10657705702
Refrigerator
Kenmore
10657705702 Elite Refrigerator
Refrigerator
Kenmore
10657705703
Refrigerator
Kenmore
10657705703 Elite Refrigerator
Refrigerator
Kenmore
10657705704
Refrigerator
Kenmore
10657705704 Elite Refrigerator
Refrigerator
Kenmore
10657705705
Refrigerator
Kenmore
10657705705 Elite Refrigerator
Refrigerator
Kenmore
10657706700
Refrigerator
Kenmore
10657706700 Elite Refrigerator
Refrigerator
Kenmore
10657706701
Refrigerator
Kenmore
10657706701 Elite Refrigerator
Refrigerator
Kenmore
10657706702
Refrigerator
Kenmore
10657706702 Elite Refrigerator
Refrigerator
Kenmore
10657706703
Refrigerator
Kenmore
10657706703 Elite Refrigerator
Refrigerator
Kenmore
10657706704
Refrigerator
Kenmore
10657706704 Elite Refrigerator
Refrigerator
Kenmore
10657706705
Refrigerator
Kenmore
10657706705 Elite Refrigerator
Refrigerator
Kenmore
10657709700
Refrigerator
Kenmore
10657709700 Elite Refrigerator
Refrigerator
Kenmore
10657709701
Refrigerator
Kenmore
10657709701 Elite Refrigerator
Refrigerator
Kenmore
10657709702
Refrigerator
Kenmore
10657709702 Elite Refrigerator
Refrigerator
Kenmore
10657709703
Refrigerator
Kenmore
10657709703 Elite Refrigerator
Refrigerator
Kenmore
10657709704
Refrigerator
Kenmore
10657709704 Elite Refrigerator
Refrigerator
Kenmore
10657709705
Refrigerator
Kenmore
10657709705 Elite Refrigerator
Refrigerator
Kenmore
10657712700
Refrigerator
Kenmore
10657712700 Elite Refrigerator
Refrigerator
Kenmore
10657712701
Refrigerator
Kenmore
10657712701 Elite Refrigerator
Refrigerator
Kenmore
10657712702
Refrigerator
Kenmore
10657712702 Elite Refrigerator
Refrigerator
Kenmore
10657712703
Refrigerator
Kenmore
10657712703 Elite Refrigerator
Refrigerator
Kenmore
10657712704
Refrigerator
Kenmore
10657712704 Elite Refrigerator
Refrigerator
Kenmore
10657712705
Refrigerator
Kenmore
10657712705 Elite Refrigerator
Refrigerator
Kenmore
10657713700
Refrigerator
Kenmore
10657713700 Elite Refrigerator
Refrigerator
Kenmore
10657713701
Refrigerator
Kenmore
10657713701 Elite Refrigerator
Refrigerator
Kenmore
10657713702
Refrigerator
Kenmore
10657713702 Elite Refrigerator
Refrigerator
Kenmore
10657713703
Refrigerator
Kenmore
10657713703 Elite Refrigerator
Refrigerator
Kenmore
10657713704
Refrigerator
Kenmore
10657713704 Elite Refrigerator
Refrigerator
Kenmore
10657713705
Refrigerator
Kenmore
10657713705 Elite Refrigerator
Refrigerator
Kenmore
10657714700
Refrigerator
Kenmore
10657714700 Elite Refrigerator
Refrigerator
Kenmore
10657714701
Refrigerator
Kenmore
10657714701 Elite Refrigerator
Refrigerator
Kenmore
10657714702
Refrigerator
Kenmore
10657714702 Elite Refrigerator
Refrigerator
Kenmore
10657714703
Refrigerator
Kenmore
10657714703 Elite Refrigerator
Refrigerator
Kenmore
10657714704
Refrigerator
Kenmore
10657714704 Elite Refrigerator
Refrigerator
Kenmore
10657714705
Refrigerator
Kenmore
10657714705 Elite Refrigerator
Refrigerator
Kenmore
10657715700
Refrigerator
Kenmore
10657715700 Elite Refrigerator
Refrigerator
Kenmore
10657715701
Refrigerator
Kenmore
10657715701 Elite Refrigerator
Refrigerator
Kenmore
10657715702
Refrigerator
Kenmore
10657715702 Elite Refrigerator
Refrigerator
Kenmore
10657715703
Refrigerator
Kenmore
10657715703 Elite Refrigerator
Refrigerator
Kenmore
10657715704
Refrigerator
Kenmore
10657715704 Elite Refrigerator
Refrigerator
Kenmore
10657715705
Refrigerator
Kenmore
10657715705 Elite Refrigerator
Refrigerator
Kenmore
10657716700
Refrigerator
Kenmore
10657716700 Elite Refrigerator
Refrigerator
Kenmore
10657716701
Refrigerator
Kenmore
10657716701 Elite Refrigerator
Refrigerator
Kenmore
10657716702
Refrigerator
Kenmore
10657716702 Elite Refrigerator
Refrigerator
Kenmore
10657716703
Refrigerator
Kenmore
10657716703 Elite Refrigerator
Refrigerator
Kenmore
10657716704
Refrigerator
Kenmore
10657716704 Elite Refrigerator
Refrigerator
Kenmore
10657716705
Refrigerator
Kenmore
10657716705 Elite Refrigerator
Refrigerator
Kenmore
10657719700
Refrigerator
Kenmore
10657719700 Elite Refrigerator
Refrigerator
Kenmore
10657719701
Refrigerator
Kenmore
10657719701 Elite Refrigerator
Refrigerator
Kenmore
10657719702
Refrigerator
Kenmore
10657719702 Elite Refrigerator
Refrigerator
Kenmore
10657719703
Refrigerator
Kenmore
10657719703 Elite Refrigerator
Refrigerator
Kenmore
10657719704
Refrigerator
Kenmore
10657719704 Elite Refrigerator
Refrigerator
Kenmore
10657719705
Refrigerator
Kenmore
10657719705 Elite Refrigerator
Refrigerator
Kenmore
10657782700
Refrigerator
Kenmore
10657782700 Elite Refrigerator
Refrigerator
Kenmore
10657782701
Refrigerator
Kenmore
10657782701
Refrigerator
Kenmore
10657782701 Elite Side By Side Refrigerator
Refrigerator
Kenmore
10657782702
Refrigerator
Kenmore
10657782702
Refrigerator
Kenmore
10657782702 Elite Side By Side Refrigerator
Refrigerator
Kenmore
10657782703
Refrigerator
Kenmore
10657782703
Refrigerator
Kenmore
10657782703 Elite Side By Side Refrigerator
Refrigerator
Kenmore
10657782704
Refrigerator
Kenmore
10657782704
Refrigerator
Kenmore
10657782704 Elite Side By Side Refrigerator
Refrigerator
Kenmore
10657782705
Refrigerator
Kenmore
10657782705
Refrigerator
Kenmore
10657782705 Elite Side By Side Refrigerator
Refrigerator
Kenmore
10657783700
Refrigerator
Kenmore
10657783700 Elite Refrigerator
Refrigerator
Kenmore
10657783701
Refrigerator
Kenmore
10657783701
Refrigerator
Kenmore
10657783701 Elite Side By Side Refrigerator
Refrigerator
Kenmore
10657783702
Refrigerator
Kenmore
10657783702
Refrigerator
Kenmore
10657783702 Elite Side By Side Refrigerator
Refrigerator
Kenmore
10657783703
Refrigerator
Kenmore
10657783703
Refrigerator
Kenmore
10657783703 Elite Side By Side Refrigerator
Refrigerator
Kenmore
10657783704
Refrigerator
Kenmore
10657783704
Refrigerator
Kenmore
10657783704 Elite Side By Side Refrigerator
Refrigerator
Kenmore
10657783705
Refrigerator
Kenmore
10657783705
Refrigerator
Kenmore
10657783705 Elite Side By Side Refrigerator
Refrigerator
Kenmore
10657784700
Refrigerator
Kenmore
10657784700 Elite Refrigerator
Refrigerator
Kenmore
10657784701
Refrigerator
Kenmore
10657784701
Refrigerator
Kenmore
10657784701 Elite Side By Side Refrigerator
Refrigerator
Kenmore
10657784702
Refrigerator
Kenmore
10657784702
Refrigerator
Kenmore
10657784702 Elite Side By Side Refrigerator
Refrigerator
Kenmore
10657784703
Refrigerator
Kenmore
10657784703
Refrigerator
Kenmore
10657784703 Elite Side By Side Refrigerator
Refrigerator
Kenmore
10657784704
Refrigerator
Kenmore
10657784704
Refrigerator
Kenmore
10657784704 Elite Side By Side Refrigerator
Refrigerator
Kenmore
10657784705
Refrigerator
Kenmore
10657784705
Refrigerator
Kenmore
10657784705 Elite Side By Side Refrigerator
Refrigerator
Kenmore
10657786700
Refrigerator
Kenmore
10657786700 Elite Refrigerator
Refrigerator
Kenmore
10657786701
Refrigerator
Kenmore
10657786701
Refrigerator
Kenmore
10657786701 Elite Side By Side Refrigerator
Refrigerator
Kenmore
10657786702
Refrigerator
Kenmore
10657786702
Refrigerator
Kenmore
10657786702 Elite Side By Side Refrigerator
Refrigerator
Kenmore
10657786703
Refrigerator
Kenmore
10657786703
Refrigerator
Kenmore
10657786703 Elite Side By Side Refrigerator
Refrigerator
Kenmore
10657786704
Refrigerator
Kenmore
10657786704
Refrigerator
Kenmore
10657786704 Elite Side By Side Refrigerator
Refrigerator
Kenmore
10657786705
Refrigerator
Kenmore
10657786705
Refrigerator
Kenmore
10657786705 Elite Side By Side Refrigerator
Refrigerator
Kenmore
10657789700
Refrigerator
Kenmore
10657789700 Elite Refrigerator
Refrigerator
Kenmore
10657789701
Refrigerator
Kenmore
10657789701
Refrigerator
Kenmore
10657789701 Elite Side By Side Refrigerator
Refrigerator
Kenmore
10657789702
Refrigerator
Kenmore
10657789702
Refrigerator
Kenmore
10657789702 Elite Side By Side Refrigerator
Refrigerator
Kenmore
10657789703
Refrigerator
Kenmore
10657789703
Refrigerator
Kenmore
10657789703 Elite Side By Side Refrigerator
Refrigerator
Kenmore
10657789704
Refrigerator
Kenmore
10657789704
Refrigerator
Kenmore
10657789704 Elite Side By Side Refrigerator
Refrigerator
Kenmore
10657789705
Refrigerator
Kenmore
10657789705
Refrigerator
Kenmore
10657789705 Elite Side By Side Refrigerator
Refrigerator
Kenmore
10657792700
Refrigerator
Kenmore
10657792700 Elite Refrigerator
Refrigerator
Kenmore
10657792701
Refrigerator
Kenmore
10657792701
Refrigerator
Kenmore
10657792701 Elite Side By Side Refrigerator
Refrigerator
Kenmore
10657792702
Refrigerator
Kenmore
10657792702
Refrigerator
Kenmore
10657792702 Elite Side By Side Refrigerator
Refrigerator
Kenmore
10657792703
Refrigerator
Kenmore
10657792703
Refrigerator
Kenmore
10657792703 Elite Side By Side Refrigerator
Refrigerator
Kenmore
10657792704
Refrigerator
Kenmore
10657792704
Refrigerator
Kenmore
10657792704 Elite Side By Side Refrigerator
Refrigerator
Kenmore
10657792705
Refrigerator
Kenmore
10657792705
Refrigerator
Kenmore
10657792705 Elite Side By Side Refrigerator
Refrigerator
Kenmore
10657793700
Refrigerator
Kenmore
10657793700 Elite Refrigerator
Refrigerator
Kenmore
10657793701
Refrigerator
Kenmore
10657793701
Refrigerator
Kenmore
10657793701 Elite Side By Side Refrigerator
Refrigerator
Kenmore
10657793702
Refrigerator
Kenmore
10657793702
Refrigerator
Kenmore
10657793702 Elite Side By Side Refrigerator
Refrigerator
Kenmore
10657793703
Refrigerator
Kenmore
10657793703
Refrigerator
Kenmore
10657793703 Elite Side By Side Refrigerator
Refrigerator
Kenmore
10657793704
Refrigerator
Kenmore
10657793704
Refrigerator
Kenmore
10657793704 Elite Side By Side Refrigerator
Refrigerator
Kenmore
10657793705
Refrigerator
Kenmore
10657793705
Refrigerator
Kenmore
10657793705 Elite Side By Side Refrigerator
Refrigerator
Kenmore
10657794700
Refrigerator
Kenmore
10657794700 Elite Refrigerator
Refrigerator
Kenmore
10657794701
Refrigerator
Kenmore
10657794701
Refrigerator
Kenmore
10657794701 Elite Side By Side Refrigerator
Refrigerator
Kenmore
10657794702
Refrigerator
Kenmore
10657794702
Refrigerator
Kenmore
10657794702 Elite Side By Side Refrigerator
Refrigerator
Kenmore
10657794703
Refrigerator
Kenmore
10657794703
Refrigerator
Kenmore
10657794703 Elite Side By Side Refrigerator
Refrigerator
Kenmore
10657794704
Refrigerator
Kenmore
10657794704
Refrigerator
Kenmore
10657794704 Elite Side By Side Refrigerator
Refrigerator
Kenmore
10657794705
Refrigerator
Kenmore
10657794705
Refrigerator
Kenmore
10657794705 Elite Side By Side Refrigerator
Refrigerator
Kenmore
10657796700
Refrigerator
Kenmore
10657796700 Elite Refrigerator
Refrigerator
Kenmore
10657796701
Refrigerator
Kenmore
10657796701
Refrigerator
Kenmore
10657796701 Elite Side By Side Refrigerator
Refrigerator
Kenmore
10657796702
Refrigerator
Kenmore
10657796702
Refrigerator
Kenmore
10657796702 Elite Side By Side Refrigerator
Refrigerator
Kenmore
10657796703
Refrigerator
Kenmore
10657796703
Refrigerator
Kenmore
10657796703 Elite Side By Side Refrigerator
Refrigerator
Kenmore
10657796704
Refrigerator
Kenmore
10657796704
Refrigerator
Kenmore
10657796704 Elite Side By Side Refrigerator
Refrigerator
Kenmore
10657796705
Refrigerator
Kenmore
10657796705
Refrigerator
Kenmore
10657796705 Elite Side By Side Refrigerator
Refrigerator
Kenmore
10657799700
Refrigerator
Kenmore
10657799700 Elite Refrigerator
Refrigerator
Kenmore
10657799701
Refrigerator
Kenmore
10657799701
Refrigerator
Kenmore
10657799701 Elite Side By Side Refrigerator
Refrigerator
Kenmore
10657799702
Refrigerator
Kenmore
10657799702
Refrigerator
Kenmore
10657799702 Elite Side By Side Refrigerator
Refrigerator
Kenmore
10657799703
Refrigerator
Kenmore
10657799703
Refrigerator
Kenmore
10657799703 Elite Side By Side Refrigerator
Refrigerator
Kenmore
10657799704
Refrigerator
Kenmore
10657799704
Refrigerator
Kenmore
10657799704 Elite Side By Side Refrigerator
Refrigerator
Kenmore
10657799705
Refrigerator
Kenmore
10657799705
Refrigerator
Kenmore
10657799705 Elite Side By Side Refrigerator
Refrigerator
Kenmore
10657862800
Refrigerator
Kenmore
10657862800 Elite Refrigerator
Refrigerator
Kenmore
10657862801
Refrigerator
Kenmore
10657862801 Elite Refrigerator
Refrigerator
Kenmore
10657863800
Refrigerator
Kenmore
10657863800 Elite Refrigerator
Refrigerator
Kenmore
10657863801
Refrigerator
Kenmore
10657863801 Elite Refrigerator
Refrigerator
Kenmore
10657864800
Refrigerator
Kenmore
10657864800 Elite Refrigerator
Refrigerator
Kenmore
10657864801
Refrigerator
Kenmore
10657864801 Elite Refrigerator
Refrigerator
Kenmore
10657866800
Refrigerator
Kenmore
10657866800 Elite Refrigerator
Refrigerator
Kenmore
10657866801
Refrigerator
Kenmore
10657866801 Elite Refrigerator
Refrigerator
Kenmore
10657869800
Refrigerator
Kenmore
10657869800 Elite Refrigerator
Refrigerator
Kenmore
10657869801
Refrigerator
Kenmore
10657869801 Elite Refrigerator
Refrigerator
Kenmore
10657872800
Refrigerator
Kenmore
10657872800 Elite Refrigerator
Refrigerator
Kenmore
10657872801
Refrigerator
Kenmore
10657872801 Elite Refrigerator
Refrigerator
Kenmore
10657873800
Refrigerator
Kenmore
10657873800 Elite Refrigerator
Refrigerator
Kenmore
10657873801
Refrigerator
Kenmore
10657873801 Elite Refrigerator
Refrigerator
Kenmore
10657874800
Refrigerator
Kenmore
10657874800 Elite Refrigerator
Refrigerator
Kenmore
10657874801
Refrigerator
Kenmore
10657874801 Elite Refrigerator
Refrigerator
Kenmore
10657876800
Refrigerator
Kenmore
10657876800 Elite Refrigerator
Refrigerator
Kenmore
10657876801
Refrigerator
Kenmore
10657876801 Elite Refrigerator
Refrigerator
Kenmore
10657879800
Refrigerator
Kenmore
10657879800 Elite Refrigerator
Refrigerator
Kenmore
10657879801
Refrigerator
Kenmore
10657879801 Elite Refrigerator
Refrigerator
Kenmore
10657902700
Refrigerator
Kenmore
10657902700 Side By Side Refrigerator
Refrigerator
Kenmore
10657902701
Refrigerator
Kenmore
10657902701 Side By Side Refrigerator
Refrigerator
Kenmore
10657903700
Refrigerator
Kenmore
10657903700 Side By Side Refrigerator
Refrigerator
Kenmore
10657903701
Refrigerator
Kenmore
10657903701 Side By Side Refrigerator
Refrigerator
Kenmore
10657904700
Refrigerator
Kenmore
10657904700 Side By Side Refrigerator
Refrigerator
Kenmore
10657904701
Refrigerator
Kenmore
10657904701 Side By Side Refrigerator
Refrigerator
Kenmore
10657906700
Refrigerator
Kenmore
10657906700 Side By Side Refrigerator
Refrigerator
Kenmore
10657906701
Refrigerator
Kenmore
10657906701 Side By Side Refrigerator
Refrigerator
Kenmore
10657909700
Refrigerator
Kenmore
10657909700 Side By Side Refrigerator
Refrigerator
Kenmore
10657909701
Refrigerator
Kenmore
10657909701 Side By Side Refrigerator
Refrigerator
Kenmore
10657912700
Refrigerator
Kenmore
10657912700 Side By Side Refrigerator
Refrigerator
Kenmore
10657912701
Refrigerator
Kenmore
10657912701 Side By Side Refrigerator
Refrigerator
Kenmore
10657913700
Refrigerator
Kenmore
10657913700 Side By Side Refrigerator
Refrigerator
Kenmore
10657913701
Refrigerator
Kenmore
10657913701 Side By Side Refrigerator
Refrigerator
Kenmore
10657914700
Refrigerator
Kenmore
10657914700 Side By Side Refrigerator
Refrigerator
Kenmore
10657914701
Refrigerator
Kenmore
10657914701 Side By Side Refrigerator
Refrigerator
Kenmore
10657916700
Refrigerator
Kenmore
10657916700 Side By Side Refrigerator
Refrigerator
Kenmore
10657916701
Refrigerator
Kenmore
10657916701 Side By Side Refrigerator
Refrigerator
Kenmore
10657919700
Refrigerator
Kenmore
10657919700 Side By Side Refrigerator
Refrigerator
Kenmore
10657919701
Refrigerator
Kenmore
10657919701 Side By Side Refrigerator
Refrigerator
Kenmore
10657943700
Refrigerator
Kenmore
10657943700 Side By Side Refrigerator
Refrigerator
Kenmore
10657953700
Refrigerator
Kenmore
10657953700 Side By Side Refrigerator
Refrigerator
Kenmore
10657962700 Side By Side Refrigerator
Refrigerator
Kenmore
10657963700 Side By Side Refrigerator
Refrigerator
Kenmore
10657964700 Side By Side Refrigerator
Refrigerator
Kenmore
10657966700 Side By Side Refrigerator
Refrigerator
Kenmore
10657969700 Side By Side Refrigerator
Refrigerator
Kenmore
10657972700 Side By Side Refrigerator
Refrigerator
Kenmore
10657973700 Side By Side Refrigerator
Refrigerator
Kenmore
10657974700 Side By Side Refrigerator
Refrigerator
Kenmore
10657976700 Side By Side Refrigerator
Refrigerator
Kenmore
10657979700 Side By Side Refrigerator
Refrigerator
Kenmore
10657982700
Refrigerator
Kenmore
10657982700 Side By Side Refrigerator
Refrigerator
Kenmore
10657982701
Refrigerator
Kenmore
10657982701 Side By Side Refrigerator
Refrigerator
Kenmore
10657983700
Refrigerator
Kenmore
10657983700 Side By Side Refrigerator
Refrigerator
Kenmore
10657983701
Refrigerator
Kenmore
10657983701 Side By Side Refrigerator
Refrigerator
Kenmore
10657984700
Refrigerator
Kenmore
10657984700 Side By Side Refrigerator
Refrigerator
Kenmore
10657984701
Refrigerator
Kenmore
10657984701 Side By Side Refrigerator
Refrigerator
Kenmore
10657986700
Refrigerator
Kenmore
10657986700 Side By Side Refrigerator
Refrigerator
Kenmore
10657986701
Refrigerator
Kenmore
10657986701 Side By Side Refrigerator
Refrigerator
Kenmore
10657989700
Refrigerator
Kenmore
10657989700 Side By Side Refrigerator
Refrigerator
Kenmore
10657989701
Refrigerator
Kenmore
10657989701 Side By Side Refrigerator
Refrigerator
Kenmore
10657992700
Refrigerator
Kenmore
10657992700 Side By Side Refrigerator
Refrigerator
Kenmore
10657992701
Refrigerator
Kenmore
10657992701 Side By Side Refrigerator
Refrigerator
Kenmore
10657993700
Refrigerator
Kenmore
10657993700 Side By Side Refrigerator
Refrigerator
Kenmore
10657993701
Refrigerator
Kenmore
10657993701 Side By Side Refrigerator
Refrigerator
Kenmore
10657994700
Refrigerator
Kenmore
10657994700 Side By Side Refrigerator
Refrigerator
Kenmore
10657994701
Refrigerator
Kenmore
10657994701 Side By Side Refrigerator
Refrigerator
Kenmore
10657996700
Refrigerator
Kenmore
10657996700 Side By Side Refrigerator
Refrigerator
Kenmore
10657996701
Refrigerator
Kenmore
10657996701 Side By Side Refrigerator
Refrigerator
Kenmore
10657999700
Refrigerator
Kenmore
10657999700 Side By Side Refrigerator
Refrigerator
Kenmore
10657999701
Refrigerator
Kenmore
10657999701 Side By Side Refrigerator
Refrigerator
Kenmore
10658022800
Refrigerator
Kenmore
10658022800 Side By Side Refrigerator
Refrigerator
Kenmore
10658022801 Side By Side Refrigerator
Refrigerator
Kenmore
10658022802 Side By Side Refrigerator
Refrigerator
Kenmore
10658022803 Side By Side Refrigerator
Refrigerator
Kenmore
10658023800
Refrigerator
Kenmore
10658023800 Side By Side Refrigerator
Refrigerator
Kenmore
10658023801 Side By Side Refrigerator
Refrigerator
Kenmore
10658023802 Side By Side Refrigerator
Refrigerator
Kenmore
10658023803 Side By Side Refrigerator
Refrigerator
Kenmore
10658024800
Refrigerator
Kenmore
10658024800 Side By Side Refrigerator
Refrigerator
Kenmore
10658024801 Side By Side Refrigerator
Refrigerator
Kenmore
10658024802 Side By Side Refrigerator
Refrigerator
Kenmore
10658024803 Side By Side Refrigerator
Refrigerator
Kenmore
10658026800
Refrigerator
Kenmore
10658026800 Side By Side Refrigerator
Refrigerator
Kenmore
10658026801 Side By Side Refrigerator
Refrigerator
Kenmore
10658026802 Side By Side Refrigerator
Refrigerator
Kenmore
10658026803 Side By Side Refrigerator
Refrigerator
Kenmore
10658029800
Refrigerator
Kenmore
10658029800 Side By Side Refrigerator
Refrigerator
Kenmore
10658029801 Side By Side Refrigerator
Refrigerator
Kenmore
10658029802 Side By Side Refrigerator
Refrigerator
Kenmore
10658029803 Side By Side Refrigerator
Refrigerator
Kenmore
10658032800
Refrigerator
Kenmore
10658032800 Side By Side Refrigerator
Refrigerator
Kenmore
10658032801 Side By Side Refrigerator
Refrigerator
Kenmore
10658032802 Side By Side Refrigerator
Refrigerator
Kenmore
10658032803 Side By Side Refrigerator
Refrigerator
Kenmore
10658033800
Refrigerator
Kenmore
10658033800 Side By Side Refrigerator
Refrigerator
Kenmore
10658033801 Side By Side Refrigerator
Refrigerator
Kenmore
10658033802 Side By Side Refrigerator
Refrigerator
Kenmore
10658033803 Side By Side Refrigerator
Refrigerator
Kenmore
10658034800
Refrigerator
Kenmore
10658034800 Side By Side Refrigerator
Refrigerator
Kenmore
10658034801 Side By Side Refrigerator
Refrigerator
Kenmore
10658034802 Side By Side Refrigerator
Refrigerator
Kenmore
10658034803 Side By Side Refrigerator
Refrigerator
Kenmore
10658036800
Refrigerator
Kenmore
10658036800 Side By Side Refrigerator
Refrigerator
Kenmore
10658036801 Side By Side Refrigerator
Refrigerator
Kenmore
10658036802 Side By Side Refrigerator
Refrigerator
Kenmore
10658036803 Side By Side Refrigerator
Refrigerator
Kenmore
10658039800
Refrigerator
Kenmore
10658039800 Side By Side Refrigerator
Refrigerator
Kenmore
10658039801 Side By Side Refrigerator
Refrigerator
Kenmore
10658039802 Side By Side Refrigerator
Refrigerator
Kenmore
10658039803 Side By Side Refrigerator
Refrigerator
Kenmore
10658122700
Refrigerator
Kenmore
10658122700 Side By Side Refrigerator
Refrigerator
Kenmore
10658122701 Side By Side Refrigerator
Refrigerator
Kenmore
10658123700
Refrigerator
Kenmore
10658123700 Side By Side Refrigerator
Refrigerator
Kenmore
10658123701 Side By Side Refrigerator
Refrigerator
Kenmore
10658124700
Refrigerator
Kenmore
10658124700 Side By Side Refrigerator
Refrigerator
Kenmore
10658124701 Side By Side Refrigerator
Refrigerator
Kenmore
10658126700
Refrigerator
Kenmore
10658126700 Side By Side Refrigerator
Refrigerator
Kenmore
10658126701 Side By Side Refrigerator
Refrigerator
Kenmore
10658129700
Refrigerator
Kenmore
10658129700 Side By Side Refrigerator
Refrigerator
Kenmore
10658129701 Side By Side Refrigerator
Refrigerator
Kenmore
10658132700
Refrigerator
Kenmore
10658132700 Side By Side Refrigerator
Refrigerator
Kenmore
10658132701 Side By Side Refrigerator
Refrigerator
Kenmore
10658133700
Refrigerator
Kenmore
10658133701 Side By Side Refrigerator
Refrigerator
Kenmore
10658134700
Refrigerator
Kenmore
10658134700 Side By Side Refrigerator
Refrigerator
Kenmore
10658134701 Side By Side Refrigerator
Refrigerator
Kenmore
10658136700
Refrigerator
Kenmore
10658136700 Side By Side Refrigerator
Refrigerator
Kenmore
10658136701 Side By Side Refrigerator
Refrigerator
Kenmore
10658139700
Refrigerator
Kenmore
10658139700 Side By Side Refrigerator
Refrigerator
Kenmore
10658139701 Side By Side Refrigerator
Refrigerator
Kenmore
10658142800
Refrigerator
Kenmore
10658142800 Side By Side Refrigerator
Refrigerator
Kenmore
10658142801 Side By Side Refrigerator
Refrigerator
Kenmore
10658143800
Refrigerator
Kenmore
10658143800 Side By Side Refrigerator
Refrigerator
Kenmore
10658143801 Side By Side Refrigerator
Refrigerator
Kenmore
10658144800
Refrigerator
Kenmore
10658144800 Side By Side Refrigerator
Refrigerator
Kenmore
10658144801 Side By Side Refrigerator
Refrigerator
Kenmore
10658146800
Refrigerator
Kenmore
10658146800 Side By Side Refrigerator
Refrigerator
Kenmore
10658146801 Side By Side Refrigerator
Refrigerator
Kenmore
10658149800
Refrigerator
Kenmore
10658149800 Side By Side Refrigerator
Refrigerator
Kenmore
10658149801 Side By Side Refrigerator
Refrigerator
Kenmore
10658152800
Refrigerator
Kenmore
10658152800 Side By Side Refrigerator
Refrigerator
Kenmore
10658152801 Side By Side Refrigerator
Refrigerator
Kenmore
10658153800
Refrigerator
Kenmore
10658153800 Side By Side Refrigerator
Refrigerator
Kenmore
10658153801 Side By Side Refrigerator
Refrigerator
Kenmore
10658154800
Refrigerator
Kenmore
10658154800 Side By Side Refrigerator
Refrigerator
Kenmore
10658154801 Side By Side Refrigerator
Refrigerator
Kenmore
10658156800
Refrigerator
Kenmore
10658156800 Side By Side Refrigerator
Refrigerator
Kenmore
10658156801 Side By Side Refrigerator
Refrigerator
Kenmore
10658159800
Refrigerator
Kenmore
10658159800 Side By Side Refrigerator
Refrigerator
Kenmore
10658159801 Side By Side Refrigerator
Refrigerator
Kenmore
10658162700
Refrigerator
Kenmore
10658162700 Elite Side By Side Refrigerator
Refrigerator
Kenmore
10658162701
Refrigerator
Kenmore
10658162701 Elite Refrigerator
Refrigerator
Kenmore
10658162702
Refrigerator
Kenmore
10658162702 Elite Refrigerator
Refrigerator
Kenmore
10658162703
Refrigerator
Kenmore
10658162703 Elite Side By Side Refrigerator
Refrigerator
Kenmore
10658162704
Refrigerator
Kenmore
10658162704 Elite Side By Side Refrigerator
Refrigerator
Kenmore
10658163700
Refrigerator
Kenmore
10658163700 Elite Side By Side Refrigerator
Refrigerator
Kenmore
10658163701
Refrigerator
Kenmore
10658163701 Elite Refrigerator
Refrigerator
Kenmore
10658163702
Refrigerator
Kenmore
10658163702 Elite Refrigerator
Refrigerator
Kenmore
10658163703
Refrigerator
Kenmore
10658163703 Elite Side By Side Refrigerator
Refrigerator
Kenmore
10658163704
Refrigerator
Kenmore
10658163704 Elite Side By Side Refrigerator
Refrigerator
Kenmore
10658164700
Refrigerator
Kenmore
10658164700 Elite Side By Side Refrigerator
Refrigerator
Kenmore
10658164701
Refrigerator
Kenmore
10658164701 Elite Refrigerator
Refrigerator
Kenmore
10658164702
Refrigerator
Kenmore
10658164702 Elite Refrigerator
Refrigerator
Kenmore
10658164703
Refrigerator
Kenmore
10658164703 Elite Side By Side Refrigerator
Refrigerator
Kenmore
10658164704
Refrigerator
Kenmore
10658164704 Elite Side By Side Refrigerator
Refrigerator
Kenmore
10658166700
Refrigerator
Kenmore
10658166700 Elite Side By Side Refrigerator
Refrigerator
Kenmore
10658166701
Refrigerator
Kenmore
10658166701 Elite Refrigerator
Refrigerator
Kenmore
10658166702
Refrigerator
Kenmore
10658166702 Elite Refrigerator
Refrigerator
Kenmore
10658166703
Refrigerator
Kenmore
10658166703 Elite Side By Side Refrigerator
Refrigerator
Kenmore
10658166704
Refrigerator
Kenmore
10658166704 Elite Side By Side Refrigerator
Refrigerator
Kenmore
10658169700
Refrigerator
Kenmore
10658169700 Elite Side By Side Refrigerator
Refrigerator
Kenmore
10658169701
Refrigerator
Kenmore
10658169701 Elite Refrigerator
Refrigerator
Kenmore
10658169702
Refrigerator
Kenmore
10658169702 Elite Refrigerator
Refrigerator
Kenmore
10658169703
Refrigerator
Kenmore
10658169703 Elite Side By Side Refrigerator
Refrigerator
Kenmore
10658169704
Refrigerator
Kenmore
10658169704 Elite Side By Side Refrigerator
Refrigerator
Kenmore
10658172700
Refrigerator
Kenmore
10658172700 Elite Side By Side Refrigerator
Refrigerator
Kenmore
10658172701
Refrigerator
Kenmore
10658172701 Elite Refrigerator
Refrigerator
Kenmore
10658172702
Refrigerator
Kenmore
10658172702 Elite Refrigerator
Refrigerator
Kenmore
10658172703
Refrigerator
Kenmore
10658172703 Elite Side By Side Refrigerator
Refrigerator
Kenmore
10658172704
Refrigerator
Kenmore
10658172704 Elite Side By Side Refrigerator
Refrigerator
Kenmore
10658173700
Refrigerator
Kenmore
10658173700 Elite Side By Side Refrigerator
Refrigerator
Kenmore
10658173701
Refrigerator
Kenmore
10658173701 Elite Refrigerator
Refrigerator
Kenmore
10658173702
Refrigerator
Kenmore
10658173702 Elite Refrigerator
Refrigerator
Kenmore
10658173703
Refrigerator
Kenmore
10658173703 Elite Side By Side Refrigerator
Refrigerator
Kenmore
10658173704
Refrigerator
Kenmore
10658173704 Elite Side By Side Refrigerator
Refrigerator
Kenmore
10658174700
Refrigerator
Kenmore
10658174700 Elite Side By Side Refrigerator
Refrigerator
Kenmore
10658174701
Refrigerator
Kenmore
10658174701 Elite Refrigerator
Refrigerator
Kenmore
10658174702
Refrigerator
Kenmore
10658174702 Elite Refrigerator
Refrigerator
Kenmore
10658174703
Refrigerator
Kenmore
10658174703 Elite Side By Side Refrigerator
Refrigerator
Kenmore
10658174704
Refrigerator
Kenmore
10658174704 Elite Side By Side Refrigerator
Refrigerator
Kenmore
10658176700
Refrigerator
Kenmore
10658176700 Elite Side By Side Refrigerator
Refrigerator
Kenmore
10658176701
Refrigerator
Kenmore
10658176701 Elite Refrigerator
Refrigerator
Kenmore
10658176702
Refrigerator
Kenmore
10658176702 Elite Refrigerator
Refrigerator
Kenmore
10658176703
Refrigerator
Kenmore
10658176703 Elite Side By Side Refrigerator
Refrigerator
Kenmore
10658176704
Refrigerator
Kenmore
10658176704 Elite Side By Side Refrigerator
Refrigerator
Kenmore
10658179700
Refrigerator
Kenmore
10658179700 Elite Side By Side Refrigerator
Refrigerator
Kenmore
10658179701
Refrigerator
Kenmore
10658179701 Elite Refrigerator
Refrigerator
Kenmore
10658179702
Refrigerator
Kenmore
10658179702 Elite Refrigerator
Refrigerator
Kenmore
10658179703
Refrigerator
Kenmore
10658179703 Elite Side By Side Refrigerator
Refrigerator
Kenmore
10658179704
Refrigerator
Kenmore
10658179704 Elite Side By Side Refrigerator
Refrigerator
Kenmore
10658222700
Refrigerator
Kenmore
10658222700 Side By Side Refrigerator
Refrigerator
Kenmore
10658224700
Refrigerator
Kenmore
10658224700 Side By Side Refrigerator
Refrigerator
Kenmore
10658226700
Refrigerator
Kenmore
10658226700 Side By Side Refrigerator
Refrigerator
Kenmore
10658228700
Refrigerator
Kenmore
10658228700 Side By Side Refrigerator
Refrigerator
Kenmore
10658229700
Refrigerator
Kenmore
10658229700 Side By Side Refrigerator
Refrigerator
Kenmore
10658232700
Refrigerator
Kenmore
10658232700 Side By Side Refrigerator
Refrigerator
Kenmore
10658234700
Refrigerator
Kenmore
10658234700 Side By Side Refrigerator
Refrigerator
Kenmore
10658236700
Refrigerator
Kenmore
10658236700 Side By Side Refrigerator
Refrigerator
Kenmore
10658238700
Refrigerator
Kenmore
10658238700 Side By Side Refrigerator
Refrigerator
Kenmore
10658239700
Refrigerator
Kenmore
10658239700 Side By Side Refrigerator
Refrigerator
Kenmore
10658272800
Refrigerator
Kenmore
10658272800 Side By Side Refrigerator
Refrigerator
Kenmore
10658272801 Side By Side Refrigerator
Refrigerator
Kenmore
10658273800
Refrigerator
Kenmore
10658273800 Side By Side Refrigerator
Refrigerator
Kenmore
10658273801 Side By Side Refrigerator
Refrigerator
Kenmore
10658279800
Refrigerator
Kenmore
10658279800 Side By Side Refrigerator
Refrigerator
Kenmore
10658279801 Side By Side Refrigerator
Refrigerator
Kenmore
10658322800
Refrigerator
Kenmore
10658322800 Side By Side Refrigerator
Refrigerator
Kenmore
10658322801 Side By Side Refrigerator
Refrigerator
Kenmore
10658323800
Refrigerator
Kenmore
10658323800 Side By Side Refrigerator
Refrigerator
Kenmore
10658323801 Side By Side Refrigerator
Refrigerator
Kenmore
10658329800
Refrigerator
Kenmore
10658329800 Side By Side Refrigerator
Refrigerator
Kenmore
10658329801 Side By Side Refrigerator
Refrigerator
Kenmore
10658422700
Refrigerator
Kenmore
10658422700 Side By Side Refrigerator
Refrigerator
Kenmore
10658424700
Refrigerator
Kenmore
10658424700 Side By Side Refrigerator
Refrigerator
Kenmore
10658426700
Refrigerator
Kenmore
10658426700 Side By Side Refrigerator
Refrigerator
Kenmore
10658429700
Refrigerator
Kenmore
10658429700 Side By Side Refrigerator
Refrigerator
Kenmore
10658432700
Refrigerator
Kenmore
10658432700 Side By Side Refrigerator
Refrigerator
Kenmore
10658434700
Refrigerator
Kenmore
10658434700 Side By Side Refrigerator
Refrigerator
Kenmore
10658436700
Refrigerator
Kenmore
10658436700 Side By Side Refrigerator
Refrigerator
Kenmore
10658439700
Refrigerator
Kenmore
10658439700 Side By Side Refrigerator
Refrigerator
Kenmore
10658502800
Refrigerator
Kenmore
10658502800 Side By Side Refrigerator
Refrigerator
Kenmore
10658502801 Side By Side Refrigerator
Refrigerator
Kenmore
10658504800
Refrigerator
Kenmore
10658504800 Side By Side Refrigerator
Refrigerator
Kenmore
10658504801 Side By Side Refrigerator
Refrigerator
Kenmore
10658506800
Refrigerator
Kenmore
10658506800 Side By Side Refrigerator
Refrigerator
Kenmore
10658506801 Side By Side Refrigerator
Refrigerator
Kenmore
10658509800
Refrigerator
Kenmore
10658509800 Side By Side Refrigerator
Refrigerator
Kenmore
10658509801 Side By Side Refrigerator
Refrigerator
Kenmore
10658512800
Refrigerator
Kenmore
10658512800 Side By Side Refrigerator
Refrigerator
Kenmore
10658512801 Side By Side Refrigerator
Refrigerator
Kenmore
10658514800
Refrigerator
Kenmore
10658514800 Side By Side Refrigerator
Refrigerator
Kenmore
10658514801 Side By Side Refrigerator
Refrigerator
Kenmore
10658516800
Refrigerator
Kenmore
10658516800 Side By Side Refrigerator
Refrigerator
Kenmore
10658516801 Side By Side Refrigerator
Refrigerator
Kenmore
10658519800
Refrigerator
Kenmore
10658519800 Side By Side Refrigerator
Refrigerator
Kenmore
10658519801 Side By Side Refrigerator
Refrigerator
Kenmore
10658522700
Refrigerator
Kenmore
10658522700 Side By Side Refrigerator
Refrigerator
Kenmore
10658524700
Refrigerator
Kenmore
10658524700 Side By Side Refrigerator
Refrigerator
Kenmore
10658526700
Refrigerator
Kenmore
10658526700 Side By Side Refrigerator
Refrigerator
Kenmore
10658529700
Refrigerator
Kenmore
10658529700 Side By Side Refrigerator
Refrigerator
Kenmore
10658532700
Refrigerator
Kenmore
10658532700 Side By Side Refrigerator
Refrigerator
Kenmore
10658534700
Refrigerator
Kenmore
10658534700 Side By Side Refrigerator
Refrigerator
Kenmore
10658536700
Refrigerator
Kenmore
10658536700 Side By Side Refrigerator
Refrigerator
Kenmore
10658539700
Refrigerator
Kenmore
10658539700 Side By Side Refrigerator
Refrigerator
Kenmore
10658702800
Refrigerator
Kenmore
10658702800 Elite Side By Side Refrigerator
Refrigerator
Kenmore
10658702801
Refrigerator
Kenmore
10658702801 Elite Side By Side Refrigerator
Refrigerator
Kenmore
10658702802
Refrigerator
Kenmore
10658702802 Elite Side By Side Refrigerator
Refrigerator
Kenmore
10658702803
Refrigerator
Kenmore
10658702803 Elite Side By Side Refrigerator
Refrigerator
Kenmore
10658703800
Refrigerator
Kenmore
10658703800 Elite Side By Side Refrigerator
Refrigerator
Kenmore
10658703801
Refrigerator
Kenmore
10658703801 Elite Side By Side Refrigerator
Refrigerator
Kenmore
10658703802
Refrigerator
Kenmore
10658703802 Elite Side By Side Refrigerator
Refrigerator
Kenmore
10658703803
Refrigerator
Kenmore
10658703803 Elite Side By Side Refrigerator
Refrigerator
Kenmore
10658704800
Refrigerator
Kenmore
10658704800 Elite Side By Side Refrigerator
Refrigerator
Kenmore
10658704801
Refrigerator
Kenmore
10658704801 Elite Side By Side Refrigerator
Refrigerator
Kenmore
10658704802
Refrigerator
Kenmore
10658704802 Elite Side By Side Refrigerator
Refrigerator
Kenmore
10658704803
Refrigerator
Kenmore
10658704803 Elite Side By Side Refrigerator
Refrigerator
Kenmore
10658706800
Refrigerator
Kenmore
10658706800 Elite Side By Side Refrigerator
Refrigerator
Kenmore
10658706801
Refrigerator
Kenmore
10658706801 Elite Side By Side Refrigerator
Refrigerator
Kenmore
10658706802
Refrigerator
Kenmore
10658706802 Elite Side By Side Refrigerator
Refrigerator
Kenmore
10658706803
Refrigerator
Kenmore
10658706803 Elite Side By Side Refrigerator
Refrigerator
Kenmore
10658709800
Refrigerator
Kenmore
10658709800 Elite Side By Side Refrigerator
Refrigerator
Kenmore
10658709801
Refrigerator
Kenmore
10658709801 Elite Side By Side Refrigerator
Refrigerator
Kenmore
10658709802
Refrigerator
Kenmore
10658709802 Elite Side By Side Refrigerator
Refrigerator
Kenmore
10658709803
Refrigerator
Kenmore
10658709803 Elite Side By Side Refrigerator
Refrigerator
Kenmore
10658712800
Refrigerator
Kenmore
10658712800 Elite Side By Side Refrigerator
Refrigerator
Kenmore
10658712801
Refrigerator
Kenmore
10658712801 Elite Side By Side Refrigerator
Refrigerator
Kenmore
10658712802
Refrigerator
Kenmore
10658712802 Elite Side By Side Refrigerator
Refrigerator
Kenmore
10658712803
Refrigerator
Kenmore
10658712803 Elite Side By Side Refrigerator
Refrigerator
Kenmore
10658713800
Refrigerator
Kenmore
10658713800 Elite Side By Side Refrigerator
Refrigerator
Kenmore
10658713801
Refrigerator
Kenmore
10658713801 Elite Side By Side Refrigerator
Refrigerator
Kenmore
10658713802
Refrigerator
Kenmore
10658713802 Elite Side By Side Refrigerator
Refrigerator
Kenmore
10658713803
Refrigerator
Kenmore
10658713803 Elite Side By Side Refrigerator
Refrigerator
Kenmore
10658714800
Refrigerator
Kenmore
10658714800 Elite Side By Side Refrigerator
Refrigerator
Kenmore
10658714801
Refrigerator
Kenmore
10658714801 Elite Side By Side Refrigerator
Refrigerator
Kenmore
10658714802
Refrigerator
Kenmore
10658714802 Elite Side By Side Refrigerator
Refrigerator
Kenmore
10658714803
Refrigerator
Kenmore
10658714803 Elite Side By Side Refrigerator
Refrigerator
Kenmore
10658716800
Refrigerator
Kenmore
10658716800 Elite Side By Side Refrigerator
Refrigerator
Kenmore
10658716801
Refrigerator
Kenmore
10658716801 Elite Side By Side Refrigerator
Refrigerator
Kenmore
10658716802
Refrigerator
Kenmore
10658716802 Elite Side By Side Refrigerator
Refrigerator
Kenmore
10658716803
Refrigerator
Kenmore
10658716803 Elite Side By Side Refrigerator
Refrigerator
Kenmore
10658719800
Refrigerator
Kenmore
10658719800 Elite Side By Side Refrigerator
Refrigerator
Kenmore
10658719801
Refrigerator
Kenmore
10658719801 Elite Side By Side Refrigerator
Refrigerator
Kenmore
10658719802
Refrigerator
Kenmore
10658719802 Elite Side By Side Refrigerator
Refrigerator
Kenmore
10658719803
Refrigerator
Kenmore
10658719803 Elite Side By Side Refrigerator
Refrigerator
Kenmore
10658722800
Refrigerator
Kenmore
10658722800 Side By Side Refrigerator
Refrigerator
Kenmore
10658722801
Refrigerator
Kenmore
10658722801 Side By Side Refrigerator
Refrigerator
Kenmore
10658722802
Refrigerator
Kenmore
10658722802 Side By Side Refrigerator
Refrigerator
Kenmore
10658723800
Refrigerator
Kenmore
10658723800 Side By Side Refrigerator
Refrigerator
Kenmore
10658723801
Refrigerator
Kenmore
10658723801 Side By Side Refrigerator
Refrigerator
Kenmore
10658723802
Refrigerator
Kenmore
10658723802 Side By Side Refrigerator
Refrigerator
Kenmore
10658724800
Refrigerator
Kenmore
10658724800 Side By Side Refrigerator
Refrigerator
Kenmore
10658724801
Refrigerator
Kenmore
10658724801 Side By Side Refrigerator
Refrigerator
Kenmore
10658724802
Refrigerator
Kenmore
10658724802 Side By Side Refrigerator
Refrigerator
Kenmore
10658726800
Refrigerator
Kenmore
10658726800 Side By Side Refrigerator
Refrigerator
Kenmore
10658726801
Refrigerator
Kenmore
10658726801 Side By Side Refrigerator
Refrigerator
Kenmore
10658726802
Refrigerator
Kenmore
10658726802 Side By Side Refrigerator
Refrigerator
Kenmore
10658729800
Refrigerator
Kenmore
10658729800 Side By Side Refrigerator
Refrigerator
Kenmore
10658729801
Refrigerator
Kenmore
10658729801 Side By Side Refrigerator
Refrigerator
Kenmore
10658729802
Refrigerator
Kenmore
10658729802 Side By Side Refrigerator
Refrigerator
Kenmore
10658732800
Refrigerator
Kenmore
10658732800 Side By Side Refrigerator
Refrigerator
Kenmore
10658732801
Refrigerator
Kenmore
10658732801 Side By Side Refrigerator
Refrigerator
Kenmore
10658732802
Refrigerator
Kenmore
10658732802 Side By Side Refrigerator
Refrigerator
Kenmore
10658733800
Refrigerator
Kenmore
10658733800 Side By Side Refrigerator
Refrigerator
Kenmore
10658733801
Refrigerator
Kenmore
10658733801 Side By Side Refrigerator
Refrigerator
Kenmore
10658733802
Refrigerator
Kenmore
10658733802 Side By Side Refrigerator
Refrigerator
Kenmore
10658734800
Refrigerator
Kenmore
10658734800 Side By Side Refrigerator
Refrigerator
Kenmore
10658734801
Refrigerator
Kenmore
10658734801 Side By Side Refrigerator
Refrigerator
Kenmore
10658734802
Refrigerator
Kenmore
10658734802 Side By Side Refrigerator
Refrigerator
Kenmore
10658736800
Refrigerator
Kenmore
10658736800 Side By Side Refrigerator
Refrigerator
Kenmore
10658736801
Refrigerator
Kenmore
10658736801 Side By Side Refrigerator
Refrigerator
Kenmore
10658736802
Refrigerator
Kenmore
10658736802 Side By Side Refrigerator
Refrigerator
Kenmore
10658739800
Refrigerator
Kenmore
10658739800 Side By Side Refrigerator
Refrigerator
Kenmore
10658739801
Refrigerator
Kenmore
10658739801 Side By Side Refrigerator
Refrigerator
Kenmore
10658739802
Refrigerator
Kenmore
10658739802 Side By Side Refrigerator
Refrigerator
Kenmore
10658902800
Refrigerator
Kenmore
10658902800 Side By Side Refrigerator
Refrigerator
Kenmore
10658902801
Refrigerator
Kenmore
10658902801 Side By Side Refrigerator
Refrigerator
Kenmore
10658902802
Refrigerator
Kenmore
10658902802 Side By Side Refrigerator
Refrigerator
Kenmore
10658903800
Refrigerator
Kenmore
10658903800 Side By Side Refrigerator
Refrigerator
Kenmore
10658903801
Refrigerator
Kenmore
10658903801 Side By Side Refrigerator
Refrigerator
Kenmore
10658903802
Refrigerator
Kenmore
10658903802 Side By Side Refrigerator
Refrigerator
Kenmore
10658904800
Refrigerator
Kenmore
10658904800 Side By Side Refrigerator
Refrigerator
Kenmore
10658904801
Refrigerator
Kenmore
10658904801 Side By Side Refrigerator
Refrigerator
Kenmore
10658904802
Refrigerator
Kenmore
10658904802 Side By Side Refrigerator
Refrigerator
Kenmore
10658906800
Refrigerator
Kenmore
10658906800 Side By Side Refrigerator
Refrigerator
Kenmore
10658906801
Refrigerator
Kenmore
10658906801 Side By Side Refrigerator
Refrigerator
Kenmore
10658906802
Refrigerator
Kenmore
10658906802 Side By Side Refrigerator
Refrigerator
Kenmore
10658909800
Refrigerator
Kenmore
10658909800 Side By Side Refrigerator
Refrigerator
Kenmore
10658909801
Refrigerator
Kenmore
10658909801 Side By Side Refrigerator
Refrigerator
Kenmore
10658909802
Refrigerator
Kenmore
10658909802 Side By Side Refrigerator
Refrigerator
Kenmore
10658912800
Refrigerator
Kenmore
10658912800 Side By Side Refrigerator
Refrigerator
Kenmore
10658912801
Refrigerator
Kenmore
10658912801 Side By Side Refrigerator
Refrigerator
Kenmore
10658912802
Refrigerator
Kenmore
10658912802 Side By Side Refrigerator
Refrigerator
Kenmore
10658913800
Refrigerator
Kenmore
10658913800 Side By Side Refrigerator
Refrigerator
Kenmore
10658913801
Refrigerator
Kenmore
10658913801 Side By Side Refrigerator
Refrigerator
Kenmore
10658913802
Refrigerator
Kenmore
10658913802 Side By Side Refrigerator
Refrigerator
Kenmore
10658914800
Refrigerator
Kenmore
10658914800 Side By Side Refrigerator
Refrigerator
Kenmore
10658914801
Refrigerator
Kenmore
10658914801 Side By Side Refrigerator
Refrigerator
Kenmore
10658914802
Refrigerator
Kenmore
10658914802 Side By Side Refrigerator
Refrigerator
Kenmore
10658916800
Refrigerator
Kenmore
10658916800 Side By Side Refrigerator
Refrigerator
Kenmore
10658916801
Refrigerator
Kenmore
10658916801 Side By Side Refrigerator
Refrigerator
Kenmore
10658916802
Refrigerator
Kenmore
10658916802 Side By Side Refrigerator
Refrigerator
Kenmore
10658919800
Refrigerator
Kenmore
10658919800 Side By Side Refrigerator
Refrigerator
Kenmore
10658919801
Refrigerator
Kenmore
10658919801 Side By Side Refrigerator
Refrigerator
Kenmore
10658919802
Refrigerator
Kenmore
10658919802 Side By Side Refrigerator
Refrigerator
Kenmore
10658943800 Side By Side Refrigerator
Refrigerator
Kenmore
10658943801 Side By Side Refrigerator
Refrigerator
Kenmore
10658943802 Side By Side Refrigerator
Refrigerator
Kenmore
10658943803 Side By Side Refrigerator
Refrigerator
Kenmore
10658953800 Side By Side Refrigerator
Refrigerator
Kenmore
10658953801 Side By Side Refrigerator
Refrigerator
Kenmore
10658953802 Side By Side Refrigerator
Refrigerator
Kenmore
10658962700
Refrigerator
Kenmore
10658962700 Elite Refrigerator
Refrigerator
Kenmore
10658962701
Refrigerator
Kenmore
10658962701 Elite Side By Side Refrigerator
Refrigerator
Kenmore
10658962702
Refrigerator
Kenmore
10658962702 Elite Side By Side Refrigerator
Refrigerator
Kenmore
10658962703
Refrigerator
Kenmore
10658962703 Elite Side By Side Refrigerator
Refrigerator
Kenmore
10658962704
Refrigerator
Kenmore
10658962704 Elite Refrigerator
Refrigerator
Kenmore
10658962705
Refrigerator
Kenmore
10658962705 Elite Refrigerator
Refrigerator
Kenmore
10658963700
Refrigerator
Kenmore
10658963700 Elite Refrigerator
Refrigerator
Kenmore
10658963701
Refrigerator
Kenmore
10658963701 Elite Side By Side Refrigerator
Refrigerator
Kenmore
10658963702
Refrigerator
Kenmore
10658963702 Elite Side By Side Refrigerator
Refrigerator
Kenmore
10658963703
Refrigerator
Kenmore
10658963703 Elite Side By Side Refrigerator
Refrigerator
Kenmore
10658963704
Refrigerator
Kenmore
10658963704 Elite Refrigerator
Refrigerator
Kenmore
10658963705
Refrigerator
Kenmore
10658963705 Elite Refrigerator
Refrigerator
Kenmore
10658964700
Refrigerator
Kenmore
10658964700 Elite Refrigerator
Refrigerator
Kenmore
10658964701
Refrigerator
Kenmore
10658964701 Elite Side By Side Refrigerator
Refrigerator
Kenmore
10658964702
Refrigerator
Kenmore
10658964702 Elite Side By Side Refrigerator
Refrigerator
Kenmore
10658964703
Refrigerator
Kenmore
10658964703 Elite Side By Side Refrigerator
Refrigerator
Kenmore
10658964704
Refrigerator
Kenmore
10658964704 Elite Refrigerator
Refrigerator
Kenmore
10658964705
Refrigerator
Kenmore
10658964705 Elite Refrigerator
Refrigerator
Kenmore
10658966700
Refrigerator
Kenmore
10658966700 Elite Refrigerator
Refrigerator
Kenmore
10658966701
Refrigerator
Kenmore
10658966701 Elite Side By Side Refrigerator
Refrigerator
Kenmore
10658966702
Refrigerator
Kenmore
10658966702 Elite Side By Side Refrigerator
Refrigerator
Kenmore
10658966703
Refrigerator
Kenmore
10658966703 Elite Side By Side Refrigerator
Refrigerator
Kenmore
10658966704
Refrigerator
Kenmore
10658966704 Elite Refrigerator
Refrigerator
Kenmore
10658966705
Refrigerator
Kenmore
10658966705 Elite Refrigerator
Refrigerator
Kenmore
10658969700
Refrigerator
Kenmore
10658969700 Elite Refrigerator
Refrigerator
Kenmore
10658969701
Refrigerator
Kenmore
10658969701 Elite Side By Side Refrigerator
Refrigerator
Kenmore
10658969702
Refrigerator
Kenmore
10658969702 Elite Side By Side Refrigerator
Refrigerator
Kenmore
10658969703
Refrigerator
Kenmore
10658969703 Elite Side By Side Refrigerator
Refrigerator
Kenmore
10658969704
Refrigerator
Kenmore
10658969704 Elite Refrigerator
Refrigerator
Kenmore
10658969705
Refrigerator
Kenmore
10658969705 Elite Refrigerator
Refrigerator
Kenmore
10658972700
Refrigerator
Kenmore
10658972700 Elite Refrigerator
Refrigerator
Kenmore
10658972701
Refrigerator
Kenmore
10658972701 Elite Side By Side Refrigerator
Refrigerator
Kenmore
10658972702
Refrigerator
Kenmore
10658972702 Elite Side By Side Refrigerator
Refrigerator
Kenmore
10658972703
Refrigerator
Kenmore
10658972703 Elite Side By Side Refrigerator
Refrigerator
Kenmore
10658972704
Refrigerator
Kenmore
10658972704 Elite Refrigerator
Refrigerator
Kenmore
10658972705
Refrigerator
Kenmore
10658972705 Elite Refrigerator
Refrigerator
Kenmore
10658973700
Refrigerator
Kenmore
10658973700 Elite Refrigerator
Refrigerator
Kenmore
10658973701
Refrigerator
Kenmore
10658973701 Elite Side By Side Refrigerator
Refrigerator
Kenmore
10658973702
Refrigerator
Kenmore
10658973702 Elite Side By Side Refrigerator
Refrigerator
Kenmore
10658973703
Refrigerator
Kenmore
10658973703 Elite Side By Side Refrigerator
Refrigerator
Kenmore
10658973704
Refrigerator
Kenmore
10658973704 Elite Refrigerator
Refrigerator
Kenmore
10658973705
Refrigerator
Kenmore
10658973705 Elite Refrigerator
Refrigerator
Kenmore
10658974700
Refrigerator
Kenmore
10658974700 Elite Refrigerator
Refrigerator
Kenmore
10658974701
Refrigerator
Kenmore
10658974701 Elite Side By Side Refrigerator
Refrigerator
Kenmore
10658974702
Refrigerator
Kenmore
10658974702 Elite Side By Side Refrigerator
Refrigerator
Kenmore
10658974703
Refrigerator
Kenmore
10658974703 Elite Side By Side Refrigerator
Refrigerator
Kenmore
10658974704
Refrigerator
Kenmore
10658974704 Elite Refrigerator
Refrigerator
Kenmore
10658974705
Refrigerator
Kenmore
10658974705 Elite Refrigerator
Refrigerator
Kenmore
10658976700
Refrigerator
Kenmore
10658976700 Elite Refrigerator
Refrigerator
Kenmore
10658976701
Refrigerator
Kenmore
10658976701 Elite Side By Side Refrigerator
Refrigerator
Kenmore
10658976702
Refrigerator
Kenmore
10658976702 Elite Side By Side Refrigerator
Refrigerator
Kenmore
10658976703
Refrigerator
Kenmore
10658976703 Elite Side By Side Refrigerator
Refrigerator
Kenmore
10658976704
Refrigerator
Kenmore
10658976704 Elite Refrigerator
Refrigerator
Kenmore
10658976705
Refrigerator
Kenmore
10658976705 Elite Refrigerator
Refrigerator
Kenmore
10658979700
Refrigerator
Kenmore
10658979700 Elite Refrigerator
Refrigerator
Kenmore
10658979701
Refrigerator
Kenmore
10658979701 Elite Side By Side Refrigerator
Refrigerator
Kenmore
10658979702
Refrigerator
Kenmore
10658979702 Elite Side By Side Refrigerator
Refrigerator
Kenmore
10658979703
Refrigerator
Kenmore
10658979703 Elite Side By Side Refrigerator
Refrigerator
Kenmore
10658979704
Refrigerator
Kenmore
10658979704 Elite Refrigerator
Refrigerator
Kenmore
10658979705
Refrigerator
Kenmore
10658979705 Elite Refrigerator
Refrigerator
Kenmore
10658982800
Refrigerator
Kenmore
10658982800 Side By Side Refrigerator
Refrigerator
Kenmore
10658982801
Refrigerator
Kenmore
10658983800
Refrigerator
Kenmore
10658983800 Side By Side Refrigerator
Refrigerator
Kenmore
10658983801
Refrigerator
Kenmore
10658984800
Refrigerator
Kenmore
10658984800 Side By Side Refrigerator
Refrigerator
Kenmore
10658984801
Refrigerator
Kenmore
10658986800
Refrigerator
Kenmore
10658986800 Side By Side Refrigerator
Refrigerator
Kenmore
10658986801
Refrigerator
Kenmore
10658989800
Refrigerator
Kenmore
10658989800 Side By Side Refrigerator
Refrigerator
Kenmore
10658989801
Refrigerator
Kenmore
10658992800
Refrigerator
Kenmore
10658992800 Side By Side Refrigerator
Refrigerator
Kenmore
10658992801
Refrigerator
Kenmore
10658993800
Refrigerator
Kenmore
10658993800 Side By Side Refrigerator
Refrigerator
Kenmore
10658993801
Refrigerator
Kenmore
10658994800
Refrigerator
Kenmore
10658994800 Side By Side Refrigerator
Refrigerator
Kenmore
10658994801
Refrigerator
Kenmore
10658996800
Refrigerator
Kenmore
10658996800 Side By Side Refrigerator
Refrigerator
Kenmore
10658996801
Refrigerator
Kenmore
10658999800
Refrigerator
Kenmore
10658999800 Side By Side Refrigerator
Refrigerator
Kenmore
10658999801
Refrigerator
Kenmore
10659122800 Side By Side Refrigerator
Refrigerator
Kenmore
10659122801 Side By Side Refrigerator
Refrigerator
Kenmore
10659123800 Side By Side Refrigerator
Refrigerator
Kenmore
10659123801 Side By Side Refrigerator
Refrigerator
Kenmore
10659124800 Side By Side Refrigerator
Refrigerator
Kenmore
10659124801 Side By Side Refrigerator
Refrigerator
Kenmore
10659126800 Side By Side Refrigerator
Refrigerator
Kenmore
10659126801 Side By Side Refrigerator
Refrigerator
Kenmore
10659128800 Side By Side Refrigerator
Refrigerator
Kenmore
10659128801 Side By Side Refrigerator
Refrigerator
Kenmore
10659129800 Side By Side Refrigerator
Refrigerator
Kenmore
10659129801 Side By Side Refrigerator
Refrigerator
Kenmore
10659132800 Side By Side Refrigerator
Refrigerator
Kenmore
10659132801 Side By Side Refrigerator
Refrigerator
Kenmore
10659133800 Side By Side Refrigerator
Refrigerator
Kenmore
10659133801 Side By Side Refrigerator
Refrigerator
Kenmore
10659134800 Side By Side Refrigerator
Refrigerator
Kenmore
10659134801 Side By Side Refrigerator
Refrigerator
Kenmore
10659136800 Side By Side Refrigerator
Refrigerator
Kenmore
10659136801 Side By Side Refrigerator
Refrigerator
Kenmore
10659138800 Side By Side Refrigerator
Refrigerator
Kenmore
10659138801 Side By Side Refrigerator
Refrigerator
Kenmore
10659139800 Side By Side Refrigerator
Refrigerator
Kenmore
10659139801 Side By Side Refrigerator
Refrigerator
Kenmore
10659422800
Refrigerator
Kenmore
10659422800 Side By Side Refrigerator
Refrigerator
Kenmore
10659422801 Side By Side Refrigerator
Refrigerator
Kenmore
10659429800
Refrigerator
Kenmore
10659429800 Side By Side Refrigerator
Refrigerator
Kenmore
10659429801 Side By Side Refrigerator
Refrigerator
Kenmore
10659432800
Refrigerator
Kenmore
10659432801 Side By Side Refrigerator
Refrigerator
Kenmore
10659439800
Refrigerator
Kenmore
10659439800 Side By Side Refrigerator
Refrigerator
Kenmore
10659439801 Side By Side Refrigerator
Refrigerator
Kenmore
10659962800
Refrigerator
Kenmore
10659962800 Elite Side By Side Refrigerator
Refrigerator
Kenmore
10659962801
Refrigerator
Kenmore
10659962801 Elite Refrigerator
Refrigerator
Kenmore
10659962802
Refrigerator
Kenmore
10659962802 Elite Refrigerator
Refrigerator
Kenmore
10659962803
Refrigerator
Kenmore
10659962803 Elite Refrigerator
Refrigerator
Kenmore
10659962804
Refrigerator
Kenmore
10659962804 Elite Refrigerator
Refrigerator
Kenmore
10659962805
Refrigerator
Kenmore
10659962805 Elite Refrigerator
Refrigerator
Kenmore
10659963800
Refrigerator
Kenmore
10659963800 Elite Side By Side Refrigerator
Refrigerator
Kenmore
10659963801
Refrigerator
Kenmore
10659963801 Elite Refrigerator
Refrigerator
Kenmore
10659963802
Refrigerator
Kenmore
10659963802 Elite Refrigerator
Refrigerator
Kenmore
10659963803
Refrigerator
Kenmore
10659963803 Elite Refrigerator
Refrigerator
Kenmore
10659963804
Refrigerator
Kenmore
10659963804 Elite Refrigerator
Refrigerator
Kenmore
10659963805
Refrigerator
Kenmore
10659963805 Elite Refrigerator
Refrigerator
Kenmore
10659964800
Refrigerator
Kenmore
10659964800 Elite Side By Side Refrigerator
Refrigerator
Kenmore
10659964801
Refrigerator
Kenmore
10659964801 Elite Refrigerator
Refrigerator
Kenmore
10659964802
Refrigerator
Kenmore
10659964802 Elite Refrigerator
Refrigerator
Kenmore
10659964803
Refrigerator
Kenmore
10659964803 Elite Refrigerator
Refrigerator
Kenmore
10659964804
Refrigerator
Kenmore
10659964804 Elite Refrigerator
Refrigerator
Kenmore
10659964805
Refrigerator
Kenmore
10659964805 Elite Refrigerator
Refrigerator
Kenmore
10659966800
Refrigerator
Kenmore
10659966800 Elite Side By Side Refrigerator
Refrigerator
Kenmore
10659966801
Refrigerator
Kenmore
10659966801 Elite Refrigerator
Refrigerator
Kenmore
10659966802
Refrigerator
Kenmore
10659966802 Elite Refrigerator
Refrigerator
Kenmore
10659966803
Refrigerator
Kenmore
10659966803 Elite Refrigerator
Refrigerator
Kenmore
10659966804
Refrigerator
Kenmore
10659966804 Elite Refrigerator
Refrigerator
Kenmore
10659966805
Refrigerator
Kenmore
10659966805 Elite Refrigerator
Refrigerator
Kenmore
10659969800
Refrigerator
Kenmore
10659969800 Elite Side By Side Refrigerator
Refrigerator
Kenmore
10659969801
Refrigerator
Kenmore
10659969801 Elite Refrigerator
Refrigerator
Kenmore
10659969802
Refrigerator
Kenmore
10659969802 Elite Refrigerator
Refrigerator
Kenmore
10659969803
Refrigerator
Kenmore
10659969803 Elite Refrigerator
Refrigerator
Kenmore
10659969804
Refrigerator
Kenmore
10659969804 Elite Refrigerator
Refrigerator
Kenmore
10659969805
Refrigerator
Kenmore
10659969805 Elite Refrigerator
Refrigerator
Kenmore
10659972800
Refrigerator
Kenmore
10659972800 Elite Side By Side Refrigerator
Refrigerator
Kenmore
10659972801
Refrigerator
Kenmore
10659972801 Elite Refrigerator
Refrigerator
Kenmore
10659972802
Refrigerator
Kenmore
10659972802 Elite Refrigerator
Refrigerator
Kenmore
10659972803
Refrigerator
Kenmore
10659972803 Elite Refrigerator
Refrigerator
Kenmore
10659972804
Refrigerator
Kenmore
10659972804 Elite Refrigerator
Refrigerator
Kenmore
10659972805
Refrigerator
Kenmore
10659972805 Elite Refrigerator
Refrigerator
Kenmore
10659973800
Refrigerator
Kenmore
10659973800 Elite Side By Side Refrigerator
Refrigerator
Kenmore
10659973801
Refrigerator
Kenmore
10659973801 Elite Refrigerator
Refrigerator
Kenmore