Smart Choice SCWFTCTO2 | Our#: 198112
Smart Choice Replacement for EPTWFU01 Water Filter

49 review(s)
Smart Choice SCWFTCTO2 | Our#: 198112
Fast Shipping & Free Returns
100% Compatibility Guarantee
Compatibility guaranteed! Free return shipping and 100% money back if there are any issues.
Your purchase will help Support American jobs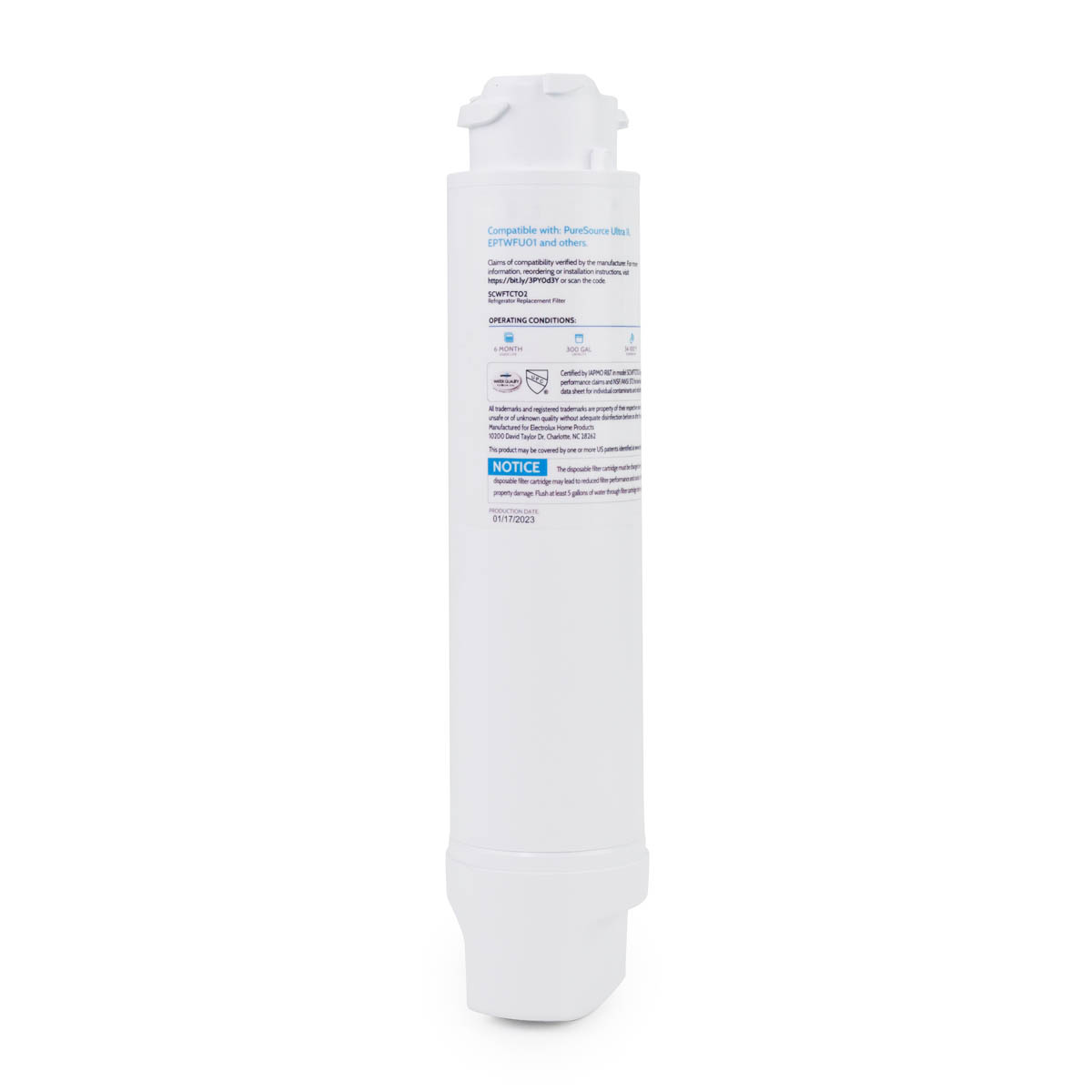 10 people in your area recently purchased this product!
In Stock
Ships in 24 hours
Fast Shipping & Free Returns
100% Compatibility Guarantee
Frequently Purchased Together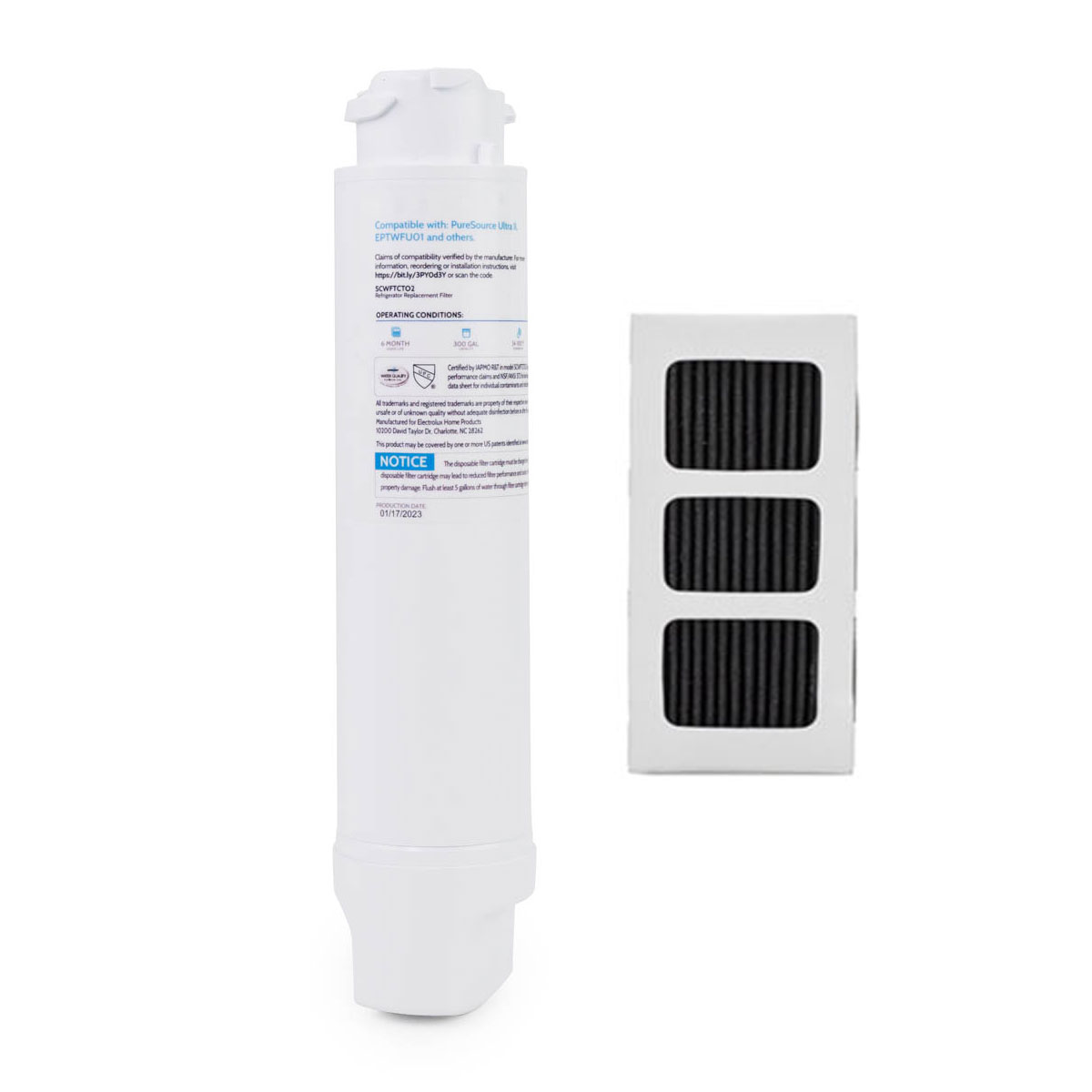 Product Details
The Smart Choice SCWFTCTO2 is a compatible filter replacement for the Frigidaire EPTWFU01 and Electrolux EWF02 - AKA PureSource Ultra II. It fits refrigerators from Frigidaire and Electrolux. This filter uses its activated carbon technology to deliver healthier and refreshing water and ice. The SCWFTCTO2 needs to be changed every six months or 300 gallons (whichever comes first).
Features:
Replacement filter for part number EPTWFU01, EWF02, PureSource Ultra II
Smart Choice water filters are certified by Frigidaire to work with your refrigerator as a trusted value replacement for EPTWFU01 & EWF02 filters
Reduces Chlorine Taste & Odor
Reduces Class II Particulates
Test and certified to NSF/ANSI Standard 42 for reduction of the claims on the performance data sheet
300 Gallon Capacity
---
Popular Part Numbers
---
Installation Instructions
Installation Instructions:
Turn off the icemaker power switch
Remove the old filter by rotating it counterclockwise (to the left) 90 degrees to release it
Slide the new filter into the filter housing as far as it will go with the grip end horizontal and push lightly inward on the filter while rotating it clockwise (to the right)
Rotate the filter 90 degrees until it stops and the grip end is vertical
Press and hold the Water Filter reset button on the control panel for three seconds. When the display changes from Red to Green, the status has been reset
After replacing the water filter, flush the new filter by running water through the new filters for 3 minutes, then turn on the icemaker power switch
---
Compatible Part Numbers
Search by your filter part number or appliance model number to verify compatibility
| Model or Part Number | Type |
| --- | --- |
| Electrolux E23BC69SP | Refrigerator |
| FRIGIDAIRE 20462151B | Refrigerator |
| FRIGIDAIRE 90462157B | Refrigerator |
| Frigidaire CFEH272ITD0 | Refrigerator |
| Frigidaire CFEH272ITD1 | Refrigerator |
| Frigidaire CFEH272ITS0 | Refrigerator |
| Frigidaire CFEH272ITS1 | Refrigerator |
| Frigidaire CFEH272ITW1 | Refrigerator |
| Frigidaire DGHD2361TF | Refrigerator |
| Frigidaire DGHD2361TF0 | Refrigerator |
| Frigidaire DGHD2361TF1 | Refrigerator |
| Frigidaire DGHD2361TF2 | Refrigerator |
| Frigidaire DGHD2361TF3 | Refrigerator |
| Frigidaire DGHK2355TF | Refrigerator |
| Frigidaire DGHK2355TF0 | Refrigerator |
| Frigidaire DGHX2655TF | Refrigerator |
| Frigidaire DGHX2655TF0 | Refrigerator |
| Frigidaire DGHX2655TF5 | Refrigerator |
| Frigidaire DGHX2655TF6 | Refrigerator |
| FRIGIDAIRE DGHX2655TF8 | Refrigerator |
| FRIGIDAIRE DGHX2655TF9 | Refrigerator |
| FRIGIDAIRE DGHX2655TFA | Refrigerator |
| FRIGIDAIRE DGHX2655TFB | Refrigerator |
| FRIGIDAIRE DGHX2655TFC | Refrigerator |
| Frigidaire FFBN1721TV | Refrigerator |
| Frigidaire FFBN1721TV0 | Refrigerator |
| Frigidaire FFHB2750TD | Refrigerator |
| Frigidaire FFHB2750TD0 | Refrigerator |
| Frigidaire FFHB2750TD1 | Refrigerator |
| Frigidaire FFHB2750TD2 | Refrigerator |
| Frigidaire FFHB2750TD3 | Refrigerator |
| Frigidaire FFHB2750TD4 | Refrigerator |
| Frigidaire FFHB2750TD5 | Refrigerator |
| FRIGIDAIRE FFHB2750TD6 | Refrigerator |
| Frigidaire FFHB2750TD7 | Refrigerator |
| FRIGIDAIRE FFHB2750TD8 | Refrigerator |
| Frigidaire FFHB2750TE | Refrigerator |
| Frigidaire FFHB2750TE0 | Refrigerator |
| Frigidaire FFHB2750TE1 | Refrigerator |
| Frigidaire FFHB2750TE2 | Refrigerator |
| Frigidaire FFHB2750TE3 | Refrigerator |
| Frigidaire FFHB2750TE5 | Refrigerator |
| FRIGIDAIRE FFHB2750TE6 | Refrigerator |
| FRIGIDAIRE FFHB2750TE7 | Refrigerator |
| FRIGIDAIRE FFHB2750TE8 | Refrigerator |
| Frigidaire FFHB2750TP | Refrigerator |
| Frigidaire FFHB2750TP0 | Refrigerator |
| Frigidaire FFHB2750TP1 | Refrigerator |
| Frigidaire FFHB2750TP2 | Refrigerator |
| Frigidaire FFHB2750TP3 | Refrigerator |
| Frigidaire FFHB2750TP4 | Refrigerator |
| Frigidaire FFHB2750TP5 | Refrigerator |
| FRIGIDAIRE FFHB2750TP6 | Refrigerator |
| FRIGIDAIRE FFHB2750TP7 | Refrigerator |
| FRIGIDAIRE FFHB2750TP8 | Refrigerator |
| Frigidaire FFHB2750TS | Refrigerator |
| Frigidaire FFHB2750TS0 | Refrigerator |
| Frigidaire FFHB2750TS1 | Refrigerator |
| Frigidaire FFHB2750TS2 | Refrigerator |
| Frigidaire FFHB2750TS3 | Refrigerator |
| Frigidaire FFHB2750TS5 | Refrigerator |
| Frigidaire FFHB2750TS6 | Refrigerator |
| FRIGIDAIRE FFHB2750TS7 | Refrigerator |
| FRIGIDAIRE FFHB2750TS8 | Refrigerator |
| FRIGIDAIRE FFHB2750TS9 | Refrigerator |
| Frigidaire FFHD2250TD | Refrigerator |
| Frigidaire FFHD2250TD0 | Refrigerator |
| Frigidaire FFHD2250TD1 | Refrigerator |
| Frigidaire FFHD2250TD3 | Refrigerator |
| Frigidaire FFHD2250TD4 | Refrigerator |
| Frigidaire FFHD2250TD5 | Refrigerator |
| Frigidaire FFHD2250TS | Refrigerator |
| Frigidaire FFHD2250TS0 | Refrigerator |
| Frigidaire FFHD2250TS1 | Refrigerator |
| Frigidaire FFHD2250TS2 | Refrigerator |
| Frigidaire FFHD2250TS3 | Refrigerator |
| Frigidaire FFHD2250TS4 | Refrigerator |
| Frigidaire FFHD2250TS5 | Refrigerator |
| FRIGIDAIRE FFHD2250TS6 | Refrigerator |
| FRIGIDAIRE FFHD2250TS7 | Refrigerator |
| FRIGIDAIRE FFHD2250TS8 | Refrigerator |
| Frigidaire FFHG2250TD | Refrigerator |
| Frigidaire FFHG2250TD0 | Refrigerator |
| Frigidaire FFHG2250TD1 | Refrigerator |
| Frigidaire FFHG2250TS | Refrigerator |
| Frigidaire FFHG2250TS0 | Refrigerator |
| Frigidaire FFHG2250TS1 | Refrigerator |
| Frigidaire FFHG2250TS2 | Refrigerator |
| Frigidaire FFHN2750TD | Refrigerator |
| Frigidaire FFHN2750TD0 | Refrigerator |
| Frigidaire FFHN2750TD1 | Refrigerator |
| Frigidaire FFHN2750TD2 | Refrigerator |
| Frigidaire FFHN2750TS | Refrigerator |
| Frigidaire FFHN2750TS0 | Refrigerator |
| Frigidaire FFHN2750TS1 | Refrigerator |
| Frigidaire FFHN2750TS2 | Refrigerator |
| Frigidaire FFHN2750TS3 | Refrigerator |
| FRIGIDAIRE FFHN2750TS4 | Refrigerator |
| FRIGIDAIRE FFHN2750TS5 | Refrigerator |
| FRIGIDAIRE FFHN2750TS6 | Refrigerator |
| FRIGIDAIRE FFHN2750TS7 | Refrigerator |
| Frigidaire FFSC2323TS | Refrigerator |
| Frigidaire FFSC2323TS0 | Refrigerator |
| Frigidaire FFSC2323TS3 | Refrigerator |
| Frigidaire FFSC2323TS4 | Refrigerator |
| FRIGIDAIRE FFSC2323TS6 | Refrigerator |
| FRIGIDAIRE FFSC2323TS7 | Refrigerator |
| FRIGIDAIRE FFSC2323TS8 | Refrigerator |
| FRIGIDAIRE FFSC2323TS9 | Refrigerator |
| FRIGIDAIRE FFSC2323TSA | Refrigerator |
| FRIGIDAIRE FG4H2272UF | Refrigerator |
| Frigidaire FG4H2272UF  | Refrigerator |
| Frigidaire FGHB2868TD | Refrigerator |
| Frigidaire FGHB2868TD0 | Refrigerator |
| Frigidaire FGHB2868TD1 | Refrigerator |
| Frigidaire FGHB2868TD2 | Refrigerator |
| Frigidaire FGHB2868TD3 | Refrigerator |
| Frigidaire FGHB2868TD4 | Refrigerator |
| FRIGIDAIRE FGHB2868TD5 | Refrigerator |
| FRIGIDAIRE FGHB2868TD6 | Refrigerator |
| FRIGIDAIRE FGHB2868TD8 | Refrigerator |
| Frigidaire FGHB2868TE | Refrigerator |
| Frigidaire FGHB2868TE0 | Refrigerator |
| Frigidaire FGHB2868TE1 | Refrigerator |
| Frigidaire FGHB2868TE2 | Refrigerator |
| Frigidaire FGHB2868TE3 | Refrigerator |
| Frigidaire FGHB2868TE4 | Refrigerator |
| FRIGIDAIRE FGHB2868TE5 | Refrigerator |
| Frigidaire FGHB2868TF | Refrigerator |
| Frigidaire FGHB2868TF0 | Refrigerator |
| Frigidaire FGHB2868TF1 | Refrigerator |
| Frigidaire FGHB2868TF2 | Refrigerator |
| Frigidaire FGHB2868TF3 | Refrigerator |
| Frigidaire FGHB2868TF4 | Refrigerator |
| Frigidaire FGHB2868TF5 | Refrigerator |
| FRIGIDAIRE FGHB2868TF6 | Refrigerator |
| FRIGIDAIRE FGHB2868TF7 | Refrigerator |
| Frigidaire FGHB2868TP | Refrigerator |
| Frigidaire FGHB2868TP0 | Refrigerator |
| Frigidaire FGHB2868TP1 | Refrigerator |
| Frigidaire FGHB2868TP2 | Refrigerator |
| Frigidaire FGHB2868TP3 | Refrigerator |
| Frigidaire FGHB2868TP4 | Refrigerator |
| FRIGIDAIRE FGHB2868TP5 | Refrigerator |
| Frigidaire FGHB2868TR2 | Refrigerator |
| Frigidaire FGHD2368TD | Refrigerator |
| Frigidaire FGHD2368TD0 | Refrigerator |
| Frigidaire FGHD2368TD1 | Refrigerator |
| Frigidaire FGHD2368TD2 | Refrigerator |
| Frigidaire FGHD2368TD3 | Refrigerator |
| Frigidaire FGHD2368TD4 | Refrigerator |
| Frigidaire FGHD2368TD5 | Refrigerator |
| FRIGIDAIRE FGHD2368TD6 | Refrigerator |
| FRIGIDAIRE FGHD2368TD7 | Refrigerator |
| FRIGIDAIRE FGHD2368TD8 | Refrigerator |
| Frigidaire FGHD2368TF | Refrigerator |
| Frigidaire FGHD2368TF0 | Refrigerator |
| Frigidaire FGHD2368TF1 | Refrigerator |
| Frigidaire FGHD2368TF2 | Refrigerator |
| Frigidaire FGHD2368TF3 | Refrigerator |
| Frigidaire FGHD2368TF4 | Refrigerator |
| Frigidaire FGHD2368TF5 | Refrigerator |
| Frigidaire FGHD2368TF6 | Refrigerator |
| Frigidaire FGHD2368TF7 | Refrigerator |
| FRIGIDAIRE FGHD2368TF8 | Refrigerator |
| Frigidaire FGHG2368TF | Refrigerator |
| Frigidaire FGHG2368TF0 | Refrigerator |
| Frigidaire FGHG2368TF1 | Refrigerator |
| Frigidaire FGHG2368TF2 | Refrigerator |
| Frigidaire FGHG2368TF3 | Refrigerator |
| FRIGIDAIRE FGHG2368TF4 | Refrigerator |
| FRIGIDAIRE FGHG2368TF5 | Refrigerator |
| FRIGIDAIRE FGHG2368TF6 | Refrigerator |
| Frigidaire FGHN2868TE | Refrigerator |
| Frigidaire FGHN2868TE0 | Refrigerator |
| Frigidaire FGHN2868TE1 | Refrigerator |
| Frigidaire FGHN2868TE2 | Refrigerator |
| Frigidaire FGHN2868TF | Refrigerator |
| Frigidaire FGHN2868TF0 | Refrigerator |
| Frigidaire FGHN2868TF1 | Refrigerator |
| Frigidaire FGHN2868TF2 | Refrigerator |
| FRIGIDAIRE FGHN2868TF3 | Refrigerator |
| FRIGIDAIRE FGHN2868TF4 | Refrigerator |
| FRIGIDAIRE FGHN2868TF5 | Refrigerator |
| FRIGIDAIRE FGHN2868TF6 | Refrigerator |
| Frigidaire FGHN2868TP | Refrigerator |
| Frigidaire FGHN2868TP0 | Refrigerator |
| Frigidaire FGHN2868TP2 | Refrigerator |
| Frigidaire FGSC2335TD | Refrigerator |
| Frigidaire FGSC2335TD0 | Refrigerator |
| Frigidaire FGSC2335TD0  | Refrigerator |
| Frigidaire FGSC2335TD4 | Refrigerator |
| Frigidaire FGSC2335TD5 | Refrigerator |
| Frigidaire FGSC2335TD7 | Refrigerator |
| FRIGIDAIRE FGSC2335TD8 | Refrigerator |
| FRIGIDAIRE FGSC2335TD9 | Refrigerator |
| FRIGIDAIRE FGSC2335TDA | Refrigerator |
| FRIGIDAIRE FGSC2335TDB | Refrigerator |
| Frigidaire FGSC2335TF | Refrigerator |
| Frigidaire FGSC2335TF0 | Refrigerator |
| Frigidaire FGSC2335TF4 | Refrigerator |
| Frigidaire FGSC2335TF5 | Refrigerator |
| Frigidaire FGSC2335TF7 | Refrigerator |
| FRIGIDAIRE FGSC2335TF8 | Refrigerator |
| FRIGIDAIRE FGSC2335TF9 | Refrigerator |
| FRIGIDAIRE FGSC2335TFA | Refrigerator |
| FRIGIDAIRE FGSC2335TFB | Refrigerator |
| Frigidaire FGSS2635TD | Refrigerator |
| Frigidaire FGSS2635TD0 | Refrigerator |
| Frigidaire FGSS2635TD4 | Refrigerator |
| Frigidaire FGSS2635TD5 | Refrigerator |
| FRIGIDAIRE FGSS2635TD6 | Refrigerator |
| FRIGIDAIRE FGSS2635TD7 | Refrigerator |
| FRIGIDAIRE FGSS2635TD8 | Refrigerator |
| FRIGIDAIRE FGSS2635TD9 | Refrigerator |
| Frigidaire FGSS2635TE | Refrigerator |
| Frigidaire FGSS2635TE0 | Refrigerator |
| Frigidaire FGSS2635TE4 | Refrigerator |
| Frigidaire FGSS2635TE5 | Refrigerator |
| FRIGIDAIRE FGSS2635TE6 | Refrigerator |
| FRIGIDAIRE FGSS2635TE7 | Refrigerator |
| FRIGIDAIRE FGSS2635TE8 | Refrigerator |
| Frigidaire FGSS2635TF | Refrigerator |
| Frigidaire FGSS2635TF0 | Refrigerator |
| Frigidaire FGSS2635TF1 | Refrigerator |
| Frigidaire FGSS2635TF5 | Refrigerator |
| Frigidaire FGSS2635TF6 | Refrigerator |
| FRIGIDAIRE FGSS2635TF7 | Refrigerator |
| FRIGIDAIRE FGSS2635TF8 | Refrigerator |
| FRIGIDAIRE FGSS2635TF9 | Refrigerator |
| FRIGIDAIRE FGSS2635TFA | Refrigerator |
| Frigidaire FGSS2635TFB | Refrigerator |
| Frigidaire FGSS2635TP | Refrigerator |
| Frigidaire FGSS2635TP0 | Refrigerator |
| Frigidaire FGSS2635TP4 | Refrigerator |
| Frigidaire FGSS2635TP5 | Refrigerator |
| FRIGIDAIRE FGSS2635TP6 | Refrigerator |
| FRIGIDAIRE FGSS2635TP7 | Refrigerator |
| FRIGIDAIRE FGSS2635TP8 | Refrigerator |
| Frigidaire FPBC2277RF | Refrigerator |
| Frigidaire FPBC2277RF0 | Refrigerator |
| Frigidaire FPBC2277RF1 | Refrigerator |
| Frigidaire FPBC2277RF2 | Refrigerator |
| Frigidaire FPBC2277RF3 | Refrigerator |
| Frigidaire FPBC2277RF4 | Refrigerator |
| Frigidaire FPBC2277RF5 | Refrigerator |
| Frigidaire FPBC2277RF7 | Refrigerator |
| Frigidaire FPBC2277RF8 | Refrigerator |
| Frigidaire FPBC2277RF9 | Refrigerator |
| Frigidaire FPBC2277RFA | Refrigerator |
| Frigidaire FPBC2277RFB | Refrigerator |
| Frigidaire FPBC2277RFC | Refrigerator |
| Frigidaire FPBC2277RFD | Refrigerator |
| Frigidaire FPBC2277RFG | Refrigerator |
| Frigidaire FPBC2277RFH | Refrigerator |
| Frigidaire FPBC2277RFJ | Refrigerator |
| FRIGIDAIRE FPBC2277RFK | Refrigerator |
| Frigidaire FPBC2278UF | Refrigerator |
| Frigidaire FPBC2278UF1 | Refrigerator |
| FRIGIDAIRE FPBC2278UF3 | Refrigerator |
| FRIGIDAIRE FPBC2278UF4 | Refrigerator |
| FRIGIDAIRE FPBC2278UF5 | Refrigerator |
| FRIGIDAIRE FPBC2278UF7 | Refrigerator |
| Frigidaire FPBG2277RF | Refrigerator |
| Frigidaire FPBG2277RF0 | Refrigerator |
| Frigidaire FPBG2277RF1 | Refrigerator |
| Frigidaire FPBG2277RF2 | Refrigerator |
| Frigidaire FPBG2277RF3 | Refrigerator |
| Frigidaire FPBG2277RF4 | Refrigerator |
| Frigidaire FPBG2277RF5 | Refrigerator |
| Frigidaire FPBG2277RF6 | Refrigerator |
| Frigidaire FPBG2277RF7 | Refrigerator |
| Frigidaire FPBG2277RF8 | Refrigerator |
| Frigidaire FPBG2277RF9 | Refrigerator |
| Frigidaire FPBG2278UF | Refrigerator |
| Frigidaire FPBG2278UF1 | Refrigerator |
| FRIGIDAIRE FPBG2278UF2 | Refrigerator |
| FRIGIDAIRE FPBG2278UF3 | Refrigerator |
| FRIGIDAIRE FPBG2278UF4 | Refrigerator |
| FRIGIDAIRE FPBG2278UF5 | Refrigerator |
| Frigidaire FPBS2777RF | Refrigerator |
| Frigidaire FPBS2777RF0 | Refrigerator |
| Frigidaire FPBS2777RF1 | Refrigerator |
| Frigidaire FPBS2777RF2 | Refrigerator |
| Frigidaire FPBS2777RF3 | Refrigerator |
| Frigidaire FPBS2777RF4 | Refrigerator |
| Frigidaire FPBS2777RF6 | Refrigerator |
| Frigidaire FPBS2777RF9 | Refrigerator |
| Frigidaire FPBS2777RFA | Refrigerator |
| Frigidaire FPBS2777RFB | Refrigerator |
| Frigidaire FPBS2777RFC | Refrigerator |
| Frigidaire FPBS2777RFD | Refrigerator |
| Frigidaire FPBS2777RFE | Refrigerator |
| Frigidaire FPBS2777RFF | Refrigerator |
| Frigidaire FPBS2777RFH | Refrigerator |
| Frigidaire FPBS2777RFK | Refrigerator |
| Frigidaire FPBS2778UF | Refrigerator |
| Frigidaire FPBS2778UF1 | Refrigerator |
| Frigidaire FPBS2778UF1  | Refrigerator |
| FRIGIDAIRE FPBS2778UF3 | Refrigerator |
| FRIGIDAIRE FPBS2778UF4 | Refrigerator |
| FRIGIDAIRE FPBS2778UF5 | Refrigerator |
| FRIGIDAIRE FPBS2778UF6 | Refrigerator |
| FRIGIDAIRE FPBS2778UF7 | Refrigerator |
| FRIGIDAIRE FPBS2778UF8 | Refrigerator |
| FRIGIDAIRE FPBS2778UF9 | Refrigerator |
| Frigidaire FPSC2277RF | Refrigerator |
| Frigidaire FPSC2277RF0 | Refrigerator |
| Frigidaire FPSC2277RF1 | Refrigerator |
| Frigidaire FPSC2277RF2 | Refrigerator |
| Frigidaire FPSC2277RF5 | Refrigerator |
| FRIGIDAIRE FPSC2277RFB | Refrigerator |
| Frigidaire FPSC2278UF | Refrigerator |
| Frigidaire FPSC2278UF1 | Refrigerator |
| Frigidaire FPSC2278UF1  | Refrigerator |
| Frigidaire FPSC2278UF5 | Refrigerator |
| FRIGIDAIRE FPSC2278UF6 | Refrigerator |
| FRIGIDAIRE FPSC2278UF7 | Refrigerator |
| FRIGIDAIRE FPSC2278UF8 | Refrigerator |
| FRIGIDAIRE FPSC2278UFA | Refrigerator |
| Frigidaire FPSS2677RF | Refrigerator |
| Frigidaire FPSS2677RF0 | Refrigerator |
| Frigidaire FPSS2677RF1 | Refrigerator |
| Frigidaire FRFG1723AV | Refrigerator |
| FRIGIDAIRE GRQC2255AF | Refrigerator |
| Frigidaire LFHB2751TF | Refrigerator |
| Frigidaire LFHB2751TF0 | Refrigerator |
| Frigidaire LFHB2751TF1 | Refrigerator |
| Frigidaire LFHB2751TF2 | Refrigerator |
| Frigidaire LFHB2751TF3 | Refrigerator |
| Frigidaire LFHB2751TF4 | Refrigerator |
| Frigidaire LFHB2751TF5 | Refrigerator |
| FRIGIDAIRE LFHB2751TF6 | Refrigerator |
| Frigidaire LFHB2751TF7 | Refrigerator |
| FRIGIDAIRE LFHB2751TF8 | Refrigerator |
| Frigidaire LFHD2251TF | Refrigerator |
| FRIGIDAIRE LFHD2251TF4 | Refrigerator |
| Frigidaire LFHD2251TF5 | Refrigerator |
| FRIGIDAIRE LFHD2251TF7 | Refrigerator |
| FRIGIDAIRE LFHD2251TF8 | Refrigerator |
| Frigidaire LFHG2251TF | Refrigerator |
| Frigidaire LFHG2251TF0 | Refrigerator |
| Frigidaire LFHG2251TF2 | Refrigerator |
| Frigidaire LFHG2251TF3 | Refrigerator |
| FRIGIDAIRE LFHG2251TF4 | Refrigerator |
| FRIGIDAIRE LFHG2251TF5 | Refrigerator |
| FRIGIDAIRE LFHG2251TF6 | Refrigerator |
| Frigidaire LFSC2324VF | Refrigerator |
| Frigidaire LFSC2324VF0 | Refrigerator |
| Frigidaire LFSC2324VF1 | Refrigerator |
| FRIGIDAIRE LFSC2324VF2 | Refrigerator |
| FRIGIDAIRE LFSC2324VF3 | Refrigerator |
| FRIGIDAIRE LFSC2324VF4 | Refrigerator |
| FRIGIDAIRE LFSC2324VF5 | Refrigerator |
| FRIGIDAIRE LFSC2324VF6 | Refrigerator |
| Frigidaire LGHB2869TD0 | Refrigerator |
| Frigidaire LGHB2869TD1 | Refrigerator |
| Frigidaire LGHB2869TF | Refrigerator |
| Frigidaire LGHB2869TF0 | Refrigerator |
| Frigidaire LGHB2869TF1 | Refrigerator |
| Frigidaire LGHB2869TF3 | Refrigerator |
| Frigidaire LGHB2869TF4 | Refrigerator |
| Frigidaire LGHB2869TF5 | Refrigerator |
| FRIGIDAIRE LGHB2869TF6 | Refrigerator |
| Frigidaire LGHB2869TF7 | Refrigerator |
| FRIGIDAIRE LGHB2869TF8 | Refrigerator |
| FRIGIDAIRE LGHB2869TF9 | Refrigerator |
| Frigidaire LGHB2869TFS | Refrigerator |
| Frigidaire LGHD2369TD0 | Refrigerator |
| Frigidaire LGHD2369TD2 | Refrigerator |
| Frigidaire LGHD2369TD3 | Refrigerator |
| Frigidaire LGHD2369TF | Refrigerator |
| Frigidaire LGHD2369TF0 | Refrigerator |
| Frigidaire LGHD2369TF1 | Refrigerator |
| Frigidaire LGHD2369TF2 | Refrigerator |
| Frigidaire LGHD2369TF3 | Refrigerator |
| Frigidaire LGHD2369TF4 | Refrigerator |
| Frigidaire LGHD2369TF5 | Refrigerator |
| FRIGIDAIRE LGHD2369TF6 | Refrigerator |
| FRIGIDAIRE LGHD2369TF7 | Refrigerator |
| FRIGIDAIRE LGHD2369TF8 | Refrigerator |
| Frigidaire LGHK2336TD | Refrigerator |
| FRIGIDAIRE LGHK2336TD5 | Refrigerator |
| FRIGIDAIRE LGHK2336TD6 | Refrigerator |
| Frigidaire LGHK2336TF | Refrigerator |
| Frigidaire LGHK2336TF0 | Refrigerator |
| Frigidaire LGHK2336TF3 | Refrigerator |
| Frigidaire LGHK2336TF4 | Refrigerator |
| FRIGIDAIRE LGHK2336TF5 | Refrigerator |
| FRIGIDAIRE LGHK2336TF6 | Refrigerator |
| FRIGIDAIRE LGHK2336TF7 | Refrigerator |
| FRIGIDAIRE LGHK2336TF8 | Refrigerator |
| Frigidaire LGHX236TF0 | Refrigerator |
| Frigidaire LGHX2636T | Refrigerator |
| Frigidaire LGHX2636TD | Refrigerator |
| Frigidaire LGHX2636TD0 | Refrigerator |
| FRIGIDAIRE LGHX2636TD8 | Refrigerator |
| FRIGIDAIRE LGHX2636TD9 | Refrigerator |
| Frigidaire LGHX2636TF | Refrigerator |
| Frigidaire LGHX2636TF0 | Refrigerator |
| Frigidaire LGHX2636TF1 | Refrigerator |
| Frigidaire LGHX2636TF2 | Refrigerator |
| Frigidaire LGHX2636TF3 | Refrigerator |
| Frigidaire LGHX2636TF4 | Refrigerator |
| Frigidaire LGHX2636TF5 | Refrigerator |
| Frigidaire LGHX2636TF7 | Refrigerator |
| Frigidaire LGHX2636TF8 | Refrigerator |
| Frigidaire LGHX2636TF9 | Refrigerator |
| FRIGIDAIRE LGHX2636TFA | Refrigerator |
| Frigidaire LGHX2636TFB | Refrigerator |
| FRIGIDAIRE PRMC2285AF | Refrigerator |
| 1003049868 | Filter |
| 304492642 | Filter |
| 34-8719-1468-4 | Filter |
| 807946701 | Filter |
| CLCH128 | Filter |
| EPTWFU01 | Filter |
| EWF02 | Filter |
| GP006 | Filter |
| OPFF2-RF300 | Filter |
| PURESOURCE ULTRA II | Filter |
| SCWFTCT01 | Filter |
| SCWFTCT02 | Filter |
| SCWFTCTO1 | Filter |
| SCWFTCTO2 | Filter |
Additional Information
---