Smart Choice SCWF3CTO | Our#: 198184
Smart Choice Replacement for ULTRAWF Water Filter

34 review(s)
Smart Choice SCWF3CTO | Our#: 198184
Fast Shipping & Free Returns
100% Compatibility Guarantee
Compatibility guaranteed! Free return shipping and 100% money back if there are any issues.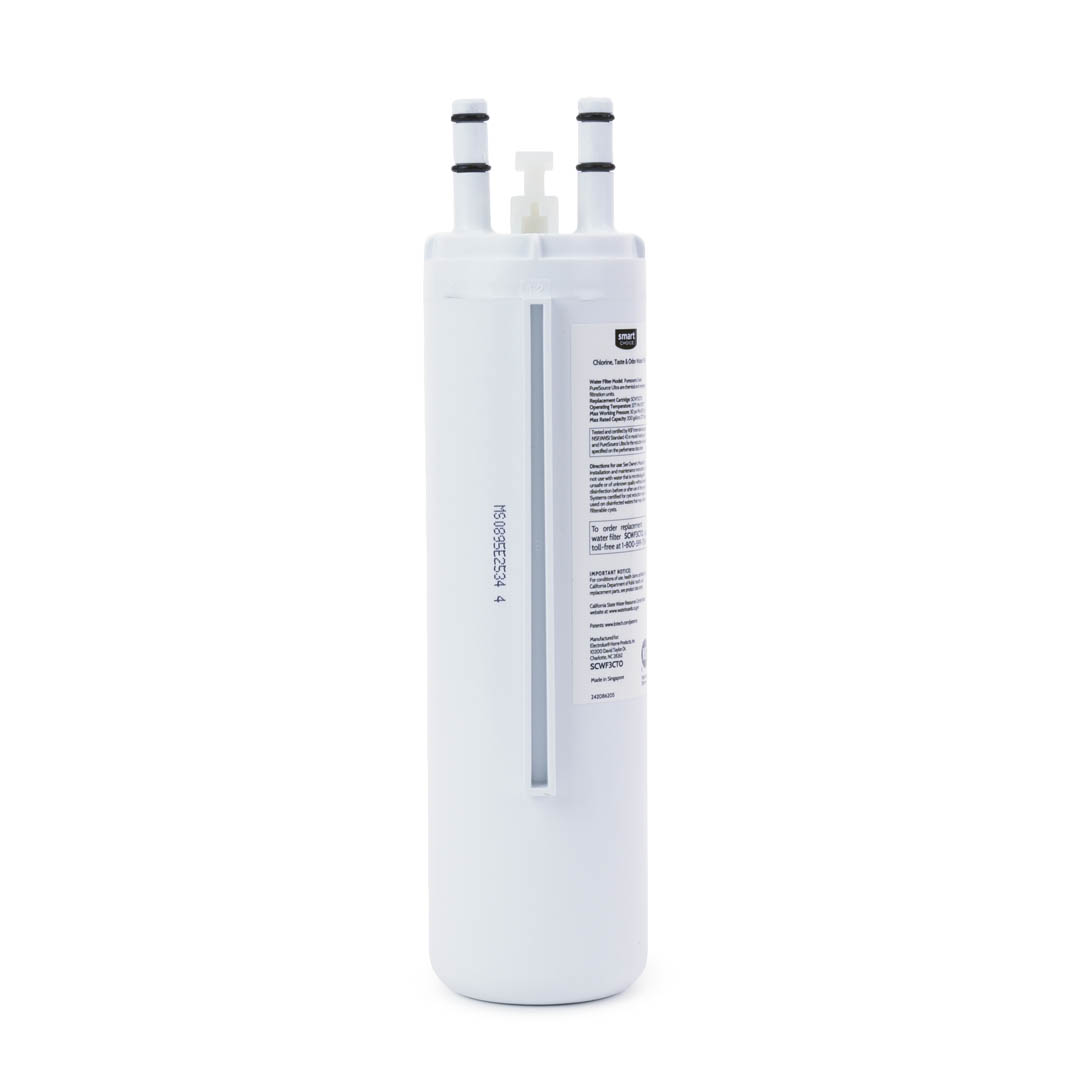 21 people in your area recently purchased this product!
In Stock
Ships in 24 hours
Fast Shipping & Free Returns
100% Compatibility Guarantee
Frequently Purchased Together
Product Details
The Smart Choice SCWF3CTO is a compatible filter replacement for the Frigidaire ULTRAWF and WF3CB - AKA PureSource Ultra / PureSource3. It fits refrigerators from Frigidaire and Electrolux. This filter uses its activated carbon technology to deliver healthier and refreshing water and ice. The SCWF3CTO needs to be changed every six months or 200 gallons (whichever comes first).
Features:
Filter for part numbers ULTRAWF and WF3CB - AKA PureSource Ultra / PureSource3
Smart Choice water filters are certified by Frigidaire to work with your refrigerator as a trusted value replacement for ULTRAWF & WF3CB filters
Reduces Chlorine Taste & Odor
Reduces Class II Particulates
Test and certified to NSF/ANSI Standard 42 for reduction of the claims on the performance data sheet
200 Gallon Capacity
Easy installation - just slide it in and push until you hear a "click"
Can be used in Sears, Frigidaire, and Kenmore refrigerators
NOTE: This filter is approximately 9" in length and will be shorter than the original ULTRAWF. This will not affect fit or function
---
Popular Part Numbers
---
Installation Instructions
Installation Instructions:
Turn Off the ice maker by raising the wire signal arm.
Remove the filter by pushing on the end/face of the filter.
Slide the old water filter cartridge straight out of the housing and discard it.
Using the alignment guide, slide the new filter gently into the filter housing. Push the filter in slowly until you hear the first "click." Once you hear the "click" stop pushing and the filter should lock in place.
Turn On the ice maker by lowering the wire signal arm.
Press and hold the Water Filter button on the Ice & Water Dispenser control panel for three seconds. When the display changes from Red to Green, the status has been reset.
After replacing the water filter and in order for the ice maker to work properly, it is necessary to clear air from water filter tubing. Once ice maker begins making ice, allow the bucket to fill completely, then discard the first TWO FULL buckets of ice. It will take at least two days to completely fill the bucket on regular ice making mode or 1 1/2 days on fast ice mode.
---
Compatible Part Numbers
Search by your filter part number or appliance model number to verify compatibility
| Model or Part Number | Type |
| --- | --- |
| Crosley CFD26SDS0 | Refrigerator |
| Crosley CFD26WIS0 | Refrigerator |
| Crosley CFD26WIS1 | Refrigerator |
| Crosley CFD26WIS3 | Refrigerator |
| Crosley CFD26WIS4 | Refrigerator |
| Crosley CFD26WIS5 | Refrigerator |
| Crosley CFD26WIS6 | Refrigerator |
| Crosley CFD27SDPS0 | Refrigerator |
| Crosley CFD27WIPB2 | Refrigerator |
| Crosley CFD27WIPB3 | Refrigerator |
| Crosley CFD27WIPS2 | Refrigerator |
| Crosley CFD27WIPS3 | Refrigerator |
| Crosley CFD27WIPW2 | Refrigerator |
| Crosley CFD27WIPW3 | Refrigerator |
| Crosley CFD28SDQS0 | Refrigerator |
| Crosley CFD28SDS1 | Refrigerator |
| Crosley CFD28SDS6 | Refrigerator |
| Crosley CFD28SDS9 | Refrigerator |
| Crosley CFD28WIB5 | Refrigerator |
| Crosley CFD28WIB6 | Refrigerator |
| Crosley CFD28WIB8 | Refrigerator |
| Crosley CFD28WIB9 | Refrigerator |
| Crosley CFD28WIBA | Refrigerator |
| Crosley CFD28WIBB | Refrigerator |
| Crosley CFD28WIBC | Refrigerator |
| Crosley CFD28WIQB0 | Refrigerator |
| Crosley CFD28WIQB1 | Refrigerator |
| Crosley CFD28WIQB6 | Refrigerator |
| Crosley CFD28WIQS0 | Refrigerator |
| Crosley CFD28WIQS1 | Refrigerator |
| Crosley CFD28WIQS6 | Refrigerator |
| Crosley CFD28WIQW0 | Refrigerator |
| Crosley CFD28WIQW1 | Refrigerator |
| Crosley CFD28WIQW6 | Refrigerator |
| Crosley CFD28WIS0 | Refrigerator |
| Crosley CFD28WIS1 | Refrigerator |
| Crosley CFD28WIS2 | Refrigerator |
| Crosley CFD28WIS3 | Refrigerator |
| Crosley CFD28WIS5 | Refrigerator |
| Crosley CFD28WIS6 | Refrigerator |
| Crosley CFD28WIS8 | Refrigerator |
| Crosley CFD28WIS9 | Refrigerator |
| Crosley CFD28WISA | Refrigerator |
| Crosley CFD28WISB | Refrigerator |
| Crosley CFD28WISC | Refrigerator |
| Crosley CFD28WIW5 | Refrigerator |
| Crosley CFD28WIW6 | Refrigerator |
| Crosley CFD28WIW8 | Refrigerator |
| Crosley CFD28WIW9 | Refrigerator |
| Crosley CFD28WIWA | Refrigerator |
| Crosley CFD28WIWB | Refrigerator |
| Crosley CFD28WIWC | Refrigerator |
| Frigidaire BGHS2634KE0 | Refrigerator |
| Frigidaire BGHS2634KE1 | Refrigerator |
| Frigidaire BGHS2634KE2 | Refrigerator |
| Frigidaire BGHS2634KP0 | Refrigerator |
| Frigidaire BGHS2634KP1 | Refrigerator |
| Frigidaire BGHS2634KP2 | Refrigerator |
| Frigidaire BGHS2644KF0 | Refrigerator |
| Frigidaire BGHS2644KF1 | Refrigerator |
| Frigidaire BGHS2644KF2 | Refrigerator |
| FRIGIDAIRE CFD26SDS0 | Refrigerator |
| FRIGIDAIRE CFD26WIS0 | Refrigerator |
| FRIGIDAIRE CFD26WIS1 | Refrigerator |
| FRIGIDAIRE CFD26WIS3 | Refrigerator |
| FRIGIDAIRE CFD26WIS4 | Refrigerator |
| FRIGIDAIRE CFD26WIS5 | Refrigerator |
| FRIGIDAIRE CFD26WIS6 | Refrigerator |
| FRIGIDAIRE CFD27SDPS0 | Refrigerator |
| FRIGIDAIRE CFD27WIPB2 | Refrigerator |
| FRIGIDAIRE CFD27WIPB3 | Refrigerator |
| FRIGIDAIRE CFD27WIPS2 | Refrigerator |
| FRIGIDAIRE CFD27WIPS3 | Refrigerator |
| FRIGIDAIRE CFD27WIPW2 | Refrigerator |
| FRIGIDAIRE CFD27WIPW3 | Refrigerator |
| FRIGIDAIRE CFD28SDQS0 | Refrigerator |
| FRIGIDAIRE CFD28SDS1 | Refrigerator |
| FRIGIDAIRE CFD28SDS6 | Refrigerator |
| FRIGIDAIRE CFD28SDS9 | Refrigerator |
| FRIGIDAIRE CFD28WIB5 | Refrigerator |
| FRIGIDAIRE CFD28WIB6 | Refrigerator |
| FRIGIDAIRE CFD28WIB8 | Refrigerator |
| FRIGIDAIRE CFD28WIB9 | Refrigerator |
| FRIGIDAIRE CFD28WIBA | Refrigerator |
| FRIGIDAIRE CFD28WIBB | Refrigerator |
| FRIGIDAIRE CFD28WIBC | Refrigerator |
| FRIGIDAIRE CFD28WIQB0 | Refrigerator |
| FRIGIDAIRE CFD28WIQB1 | Refrigerator |
| FRIGIDAIRE CFD28WIQB6 | Refrigerator |
| FRIGIDAIRE CFD28WIQB8 | Refrigerator |
| FRIGIDAIRE CFD28WIQB9 | Refrigerator |
| FRIGIDAIRE CFD28WIQBA | Refrigerator |
| FRIGIDAIRE CFD28WIQBC | Refrigerator |
| FRIGIDAIRE CFD28WIQBE | Refrigerator |
| FRIGIDAIRE CFD28WIQBF | Refrigerator |
| FRIGIDAIRE CFD28WIQS0 | Refrigerator |
| FRIGIDAIRE CFD28WIQS1 | Refrigerator |
| FRIGIDAIRE CFD28WIQS6 | Refrigerator |
| FRIGIDAIRE CFD28WIQS8 | Refrigerator |
| FRIGIDAIRE CFD28WIQS9 | Refrigerator |
| FRIGIDAIRE CFD28WIQSA | Refrigerator |
| FRIGIDAIRE CFD28WIQSC | Refrigerator |
| FRIGIDAIRE CFD28WIQSE | Refrigerator |
| FRIGIDAIRE CFD28WIQW0 | Refrigerator |
| FRIGIDAIRE CFD28WIQW1 | Refrigerator |
| FRIGIDAIRE CFD28WIQW6 | Refrigerator |
| FRIGIDAIRE CFD28WIQW8 | Refrigerator |
| FRIGIDAIRE CFD28WIQW9 | Refrigerator |
| FRIGIDAIRE CFD28WIQWA | Refrigerator |
| FRIGIDAIRE CFD28WIQWC | Refrigerator |
| FRIGIDAIRE CFD28WIQWE | Refrigerator |
| FRIGIDAIRE CFD28WIQWF | Refrigerator |
| FRIGIDAIRE CFD28WIS0 | Refrigerator |
| FRIGIDAIRE CFD28WIS1 | Refrigerator |
| FRIGIDAIRE CFD28WIS2 | Refrigerator |
| FRIGIDAIRE CFD28WIS3 | Refrigerator |
| FRIGIDAIRE CFD28WIS5 | Refrigerator |
| FRIGIDAIRE CFD28WIS6 | Refrigerator |
| FRIGIDAIRE CFD28WIS8 | Refrigerator |
| FRIGIDAIRE CFD28WIS9 | Refrigerator |
| FRIGIDAIRE CFD28WISA | Refrigerator |
| FRIGIDAIRE CFD28WISB | Refrigerator |
| FRIGIDAIRE CFD28WISC | Refrigerator |
| FRIGIDAIRE CFD28WIW5 | Refrigerator |
| FRIGIDAIRE CFD28WIW6 | Refrigerator |
| FRIGIDAIRE CFD28WIW8 | Refrigerator |
| FRIGIDAIRE CFD28WIW9 | Refrigerator |
| FRIGIDAIRE CFD28WIWA | Refrigerator |
| FRIGIDAIRE CFD28WIWB | Refrigerator |
| FRIGIDAIRE CFD28WIWC | Refrigerator |
| Frigidaire DGHF2360PF | Refrigerator |
| Frigidaire DGHF2360PF0 | Refrigerator |
| Frigidaire DGHF2360PF1 | Refrigerator |
| Frigidaire DGHF2360PF2A | Refrigerator |
| Frigidaire DGHF2360PF3A | Refrigerator |
| Frigidaire DGHF2360PF4A | Refrigerator |
| Frigidaire DGHF2360PF5A | Refrigerator |
| Frigidaire DGHF2360PF6A | Refrigerator |
| Frigidaire DGHF2360PF7A | Refrigerator |
| Frigidaire DGHF2360PF8A | Refrigerator |
| FRIGIDAIRE DGHF2360PF9A | Refrigerator |
| Frigidaire DGHF2360PFAA | Refrigerator |
| FRIGIDAIRE DGHF2360PFBA | Refrigerator |
| Frigidaire DGHS2634KB0 | Refrigerator |
| Frigidaire DGHS2634KB2 | Refrigerator |
| Frigidaire DGHS2634KB3 | Refrigerator |
| Frigidaire DGHS2634KE1 | Refrigerator |
| Frigidaire DGHS2634KE2 | Refrigerator |
| Frigidaire DGHS2634KE3 | Refrigerator |
| Frigidaire DGHS2634KP1 | Refrigerator |
| Frigidaire DGHS2634KP2 | Refrigerator |
| Frigidaire DGHS2634KP3 | Refrigerator |
| Frigidaire DGHS2634KW0 | Refrigerator |
| Frigidaire DGHS2634KW2 | Refrigerator |
| Frigidaire DGHS2634KW3 | Refrigerator |
| Frigidaire DGHS2644KF1 | Refrigerator |
| Frigidaire DGHS2644KF2 | Refrigerator |
| Frigidaire DGHS2644KF3 | Refrigerator |
| Frigidaire DGHS2665KF | Refrigerator |
| Frigidaire DGHS2665KF0 | Refrigerator |
| Frigidaire DGHS2665KF2 | Refrigerator |
| Frigidaire DGHX2355TF | Refrigerator |
| FRIGIDAIRE DGHX2355TF0 | Refrigerator |
| FRIGIDAIRE DGHX2355TF4 | Refrigerator |
| FRIGIDAIRE DGHX2355TF5 | Refrigerator |
| Frigidaire FDBC2250SS | Refrigerator |
| FRIGIDAIRE FDBC2250SS0 | Refrigerator |
| Frigidaire FDBG2250SS | Refrigerator |
| FRIGIDAIRE FDBG2250SS0 | Refrigerator |
| FRIGIDAIRE FDBN2750SS2 | Refrigerator |
| FRIGIDAIRE FDBN2750SS3 | Refrigerator |
| FRIGIDAIRE FDBN2750SS4 | Refrigerator |
| Frigidaire FDBS2750SS | Refrigerator |
| FRIGIDAIRE FDBS2750SS0 | Refrigerator |
| FRIGIDAIRE FDBS2750SS1 | Refrigerator |
| Frigidaire FFED2322QS | Refrigerator |
| Frigidaire FFEG2322QS | Refrigerator |
| Frigidaire FFEN2822QS | Refrigerator |
| frigidaire FFHB2740PE | Refrigerator |
| Frigidaire FFHB2740PE0 | Refrigerator |
| Frigidaire FFHB2740PE1 | Refrigerator |
| Frigidaire FFHB2740PE2 | Refrigerator |
| Frigidaire FFHB2740PE3 | Refrigerator |
| Frigidaire FFHB2740PE4 | Refrigerator |
| Frigidaire FFHB2740PE5A | Refrigerator |
| Frigidaire FFHB2740PE6A | Refrigerator |
| Frigidaire FFHB2740PE7A | Refrigerator |
| Frigidaire FFHB2740PE8A | Refrigerator |
| Frigidaire FFHB2740PE9A | Refrigerator |
| Frigidaire FFHB2740PEAA | Refrigerator |
| Frigidaire FFHB2740PEBA | Refrigerator |
| FRIGIDAIRE FFHB2740PECA | Refrigerator |
| FRIGIDAIRE FFHB2740PEDA | Refrigerator |
| frigidaire FFHB2740PP | Refrigerator |
| Frigidaire FFHB2740PP0 | Refrigerator |
| Frigidaire FFHB2740PP1 | Refrigerator |
| Frigidaire FFHB2740PP2 | Refrigerator |
| Frigidaire FFHB2740PP3 | Refrigerator |
| Frigidaire FFHB2740PP4 | Refrigerator |
| Frigidaire FFHB2740PP5A | Refrigerator |
| Frigidaire FFHB2740PP6A | Refrigerator |
| Frigidaire FFHB2740PP7A | Refrigerator |
| Frigidaire FFHB2740PP8A | Refrigerator |
| Frigidaire FFHB2740PP9A | Refrigerator |
| Frigidaire FFHB2740PPAA | Refrigerator |
| Frigidaire FFHB2740PPBA | Refrigerator |
| FRIGIDAIRE FFHB2740PPCA | Refrigerator |
| FRIGIDAIRE FFHB2740PPDA | Refrigerator |
| frigidaire FFHB2740PS | Refrigerator |
| Frigidaire FFHB2740PS0 | Refrigerator |
| Frigidaire FFHB2740PS1 | Refrigerator |
| Frigidaire FFHB2740PS2 | Refrigerator |
| Frigidaire FFHB2740PS3 | Refrigerator |
| Frigidaire FFHB2740PS4 | Refrigerator |
| Frigidaire FFHB2740PS5 | Refrigerator |
| Frigidaire FFHB2740PS6A | Refrigerator |
| Frigidaire FFHB2740PS7A | Refrigerator |
| Frigidaire FFHB2740PS8A | Refrigerator |
| Frigidaire FFHB2740PS9A | Refrigerator |
| Frigidaire FFHB2740PSAA | Refrigerator |
| Frigidaire FFHB2740PSBA | Refrigerator |
| Frigidaire FFHB2740PSCA | Refrigerator |
| FRIGIDAIRE FFHB2740PSDA | Refrigerator |
| FRIGIDAIRE FFHB2740PSEA | Refrigerator |
| frigidaire FFHN2740PE | Refrigerator |
| Frigidaire FFHN2740PE0 | Refrigerator |
| Frigidaire FFHN2740PE1 | Refrigerator |
| Frigidaire FFHN2740PE2A | Refrigerator |
| Frigidaire FFHN2740PE3A | Refrigerator |
| Frigidaire FFHN2740PE4A | Refrigerator |
| Frigidaire FFHN2740PE5A | Refrigerator |
| Frigidaire FFHN2740PE6A | Refrigerator |
| Frigidaire FFHN2740PE8A | Refrigerator |
| Frigidaire FFHN2740PE9A | Refrigerator |
| Frigidaire FFHN2740PEAA | Refrigerator |
| FRIGIDAIRE FFHN2740PECA | Refrigerator |
| frigidaire FFHN2740PP | Refrigerator |
| Frigidaire FFHN2740PP0 | Refrigerator |
| Frigidaire FFHN2740PP1 | Refrigerator |
| Frigidaire FFHN2740PP2A | Refrigerator |
| Frigidaire FFHN2740PP3A | Refrigerator |
| Frigidaire FFHN2740PP4A | Refrigerator |
| Frigidaire FFHN2740PP5A | Refrigerator |
| Frigidaire FFHN2740PP6A | Refrigerator |
| Frigidaire FFHN2740PP8A | Refrigerator |
| Frigidaire FFHN2740PP9A | Refrigerator |
| Frigidaire FFHN2740PPAA | Refrigerator |
| FRIGIDAIRE FFHN2740PPCA | Refrigerator |
| frigidaire FFHN2740PS | Refrigerator |
| Frigidaire FFHN2740PS0 | Refrigerator |
| Frigidaire FFHN2740PS1 | Refrigerator |
| Frigidaire FFHN2740PS2A | Refrigerator |
| Frigidaire FFHN2740PS3A | Refrigerator |
| Frigidaire FFHN2740PS4A | Refrigerator |
| Frigidaire FFHN2740PS5A | Refrigerator |
| Frigidaire FFHN2740PS6A | Refrigerator |
| Frigidaire FFHN2740PS8A | Refrigerator |
| Frigidaire FFHN2740PS9A | Refrigerator |
| Frigidaire FFHN2740PSAA | Refrigerator |
| FRIGIDAIRE FFHN2740PSCA | Refrigerator |
| frigidaire FFHS2313LE | Refrigerator |
| frigidaire FFHS2313LM | Refrigerator |
| frigidaire FFHS2313LP | Refrigerator |
| frigidaire FFHS2313LS | Refrigerator |
| frigidaire FFHS2611PF | Refrigerator |
| frigidaire FFHT2117LB | Refrigerator |
| frigidaire FFHT2126LB | Refrigerator |
| frigidaire FFSC2323LE | Refrigerator |
| frigidaire FFSC2323LP | Refrigerator |
| frigidaire FFUS2613LE | Refrigerator |
| frigidaire FFUS2613LP | Refrigerator |
| frigidaire FFUS2613LS | Refrigerator |
| Frigidaire FGEB28D7QF | Refrigerator |
| FRIGIDAIRE FGEB28D7QF0 | Refrigerator |
| Frigidaire FGEB28D7RF | Refrigerator |
| FRIGIDAIRE FGEB28D7RF0 | Refrigerator |
| FRIGIDAIRE FGEB28D7RF2 | Refrigerator |
| Frigidaire FGEX26D6QF | Refrigerator |
| FRIGIDAIRE FGEX26D6QF0 | Refrigerator |
| Frigidaire FGHB2735NE | Refrigerator |
| Frigidaire FGHB2735NE2 | Refrigerator |
| Frigidaire FGHB2735NE3 | Refrigerator |
| Frigidaire FGHB2735NF | Refrigerator |
| Frigidaire FGHB2735NF0 | Refrigerator |
| Frigidaire FGHB2735NF2 | Refrigerator |
| Frigidaire FGHB2735NF3 | Refrigerator |
| Frigidaire FGHB2735NP | Refrigerator |
| Frigidaire FGHB2735NP2 | Refrigerator |
| Frigidaire FGHB2735NP3 | Refrigerator |
| frigidaire FGHB2844LE | Refrigerator |
| Frigidaire FGHB2844LE1 | Refrigerator |
| Frigidaire FGHB2844LE2 | Refrigerator |
| Frigidaire FGHB2844LE3 | Refrigerator |
| Frigidaire FGHB2844LE5 | Refrigerator |
| Frigidaire FGHB2844LE6 | Refrigerator |
| Frigidaire FGHB2844LE7 | Refrigerator |
| Frigidaire FGHB2844LE8 | Refrigerator |
| Frigidaire FGHB2844LEB | Refrigerator |
| Frigidaire FGHB2844LEC | Refrigerator |
| Frigidaire FGHB2844LED | Refrigerator |
| Frigidaire FGHB2844LEG | Refrigerator |
| Frigidaire FGHB2844LEH | Refrigerator |
| Frigidaire FGHB2844LEJ | Refrigerator |
| frigidaire FGHB2844LF | Refrigerator |
| Frigidaire FGHB2844LF1 | Refrigerator |
| Frigidaire FGHB2844LF2 | Refrigerator |
| Frigidaire FGHB2844LF3 | Refrigerator |
| Frigidaire FGHB2844LF4 | Refrigerator |
| Frigidaire FGHB2844LF5 | Refrigerator |
| Frigidaire FGHB2844LF6 | Refrigerator |
| Frigidaire FGHB2844LF7 | Refrigerator |
| Frigidaire FGHB2844LF8 | Refrigerator |
| Frigidaire FGHB2844LFA | Refrigerator |
| Frigidaire FGHB2844LFB | Refrigerator |
| Frigidaire FGHB2844LFC | Refrigerator |
| Frigidaire FGHB2844LFD | Refrigerator |
| Frigidaire FGHB2844LFE | Refrigerator |
| Frigidaire FGHB2844LFG | Refrigerator |
| Frigidaire FGHB2844LM | Refrigerator |
| Frigidaire FGHB2844LM1 | Refrigerator |
| Frigidaire FGHB2844LM2 | Refrigerator |
| Frigidaire FGHB2844LM3 | Refrigerator |
| Frigidaire FGHB2844LM5 | Refrigerator |
| Frigidaire FGHB2844LM6 | Refrigerator |
| Frigidaire FGHB2844LM7 | Refrigerator |
| Frigidaire FGHB2844LM8 | Refrigerator |
| Frigidaire FGHB2844LMB | Refrigerator |
| frigidaire FGHB2844LP | Refrigerator |
| Frigidaire FGHB2844LP1 | Refrigerator |
| Frigidaire FGHB2844LP2 | Refrigerator |
| Frigidaire FGHB2844LP3 | Refrigerator |
| Frigidaire FGHB2844LP5 | Refrigerator |
| Frigidaire FGHB2844LP6 | Refrigerator |
| Frigidaire FGHB2844LP7 | Refrigerator |
| Frigidaire FGHB2844LP8 | Refrigerator |
| Frigidaire FGHB2844LPB | Refrigerator |
| Frigidaire FGHB2844LPC | Refrigerator |
| Frigidaire FGHB2844LPD | Refrigerator |
| Frigidaire FGHB2844LPE | Refrigerator |
| Frigidaire FGHB2844LPF | Refrigerator |
| Frigidaire FGHB2844LPG | Refrigerator |
| Frigidaire FGHB2846LF | Refrigerator |
| Frigidaire FGHB2846LF1 | Refrigerator |
| Frigidaire FGHB2846LF2 | Refrigerator |
| Frigidaire FGHB2846LF3 | Refrigerator |
| Frigidaire FGHB2846LF5 | Refrigerator |
| Frigidaire FGHB2846LF7 | Refrigerator |
| Frigidaire FGHB2846LF8 | Refrigerator |
| Frigidaire FGHB2846LF9 | Refrigerator |
| Frigidaire FGHB2846LM | Refrigerator |
| Frigidaire FGHB2846LM1 | Refrigerator |
| Frigidaire FGHB2846LM2 | Refrigerator |
| Frigidaire FGHB2846LM5 | Refrigerator |
| Frigidaire FGHB2846LM7 | Refrigerator |
| frigidaire FGHB2866PE | Refrigerator |
| Frigidaire FGHB2866PE0 | Refrigerator |
| Frigidaire FGHB2866PE1 | Refrigerator |
| Frigidaire FGHB2866PE2 | Refrigerator |
| Frigidaire FGHB2866PE3 | Refrigerator |
| Frigidaire FGHB2866PE4 | Refrigerator |
| Frigidaire FGHB2866PE5A | Refrigerator |
| Frigidaire FGHB2866PE6A | Refrigerator |
| Frigidaire FGHB2866PE7A | Refrigerator |
| Frigidaire FGHB2866PE9A | Refrigerator |
| Frigidaire FGHB2866PEAA | Refrigerator |
| Frigidaire FGHB2866PEBA | Refrigerator |
| Frigidaire FGHB2866PECA | Refrigerator |
| Frigidaire FGHB2866PEDA | Refrigerator |
| Frigidaire FGHB2866PEEA | Refrigerator |
| FRIGIDAIRE FGHB2866PEHA | Refrigerator |
| Frigidaire FGHB2866PF | Refrigerator |
| Frigidaire FGHB2866PF0 | Refrigerator |
| Frigidaire FGHB2866PF1 | Refrigerator |
| Frigidaire FGHB2866PF2 | Refrigerator |
| Frigidaire FGHB2866PF3 | Refrigerator |
| Frigidaire FGHB2866PF4 | Refrigerator |
| Frigidaire FGHB2866PF6 | Refrigerator |
| Frigidaire FGHB2866PF7A | Refrigerator |
| Frigidaire FGHB2866PF9A | Refrigerator |
| Frigidaire FGHB2866PFAA | Refrigerator |
| Frigidaire FGHB2866PFBA | Refrigerator |
| Frigidaire FGHB2866PFCA | Refrigerator |
| Frigidaire FGHB2866PFDA | Refrigerator |
| Frigidaire FGHB2866PFEA | Refrigerator |
| Frigidaire FGHB2866PFFA | Refrigerator |
| Frigidaire FGHB2866PFGA | Refrigerator |
| Frigidaire FGHB2866PFJA | Refrigerator |
| FRIGIDAIRE FGHB2866PFLA | Refrigerator |
| FRIGIDAIRE FGHB2866PFMA | Refrigerator |
| FRIGIDAIRE FGHB2866PFNA | Refrigerator |
| frigidaire FGHB2866PP | Refrigerator |
| Frigidaire FGHB2866PP0 | Refrigerator |
| Frigidaire FGHB2866PP1 | Refrigerator |
| Frigidaire FGHB2866PP2 | Refrigerator |
| Frigidaire FGHB2866PP3 | Refrigerator |
| Frigidaire FGHB2866PP4 | Refrigerator |
| Frigidaire FGHB2866PP5A | Refrigerator |
| Frigidaire FGHB2866PP6A | Refrigerator |
| Frigidaire FGHB2866PP7A | Refrigerator |
| Frigidaire FGHB2866PP9A | Refrigerator |
| Frigidaire FGHB2866PPAA | Refrigerator |
| Frigidaire FGHB2866PPBA | Refrigerator |
| Frigidaire FGHB2866PPCA | Refrigerator |
| Frigidaire FGHB2866PPDA | Refrigerator |
| Frigidaire FGHB2866PPEA | Refrigerator |
| FRIGIDAIRE FGHB2866PPFA | Refrigerator |
| FRIGIDAIRE FGHB2866PPHA | Refrigerator |
| Frigidaire FGHB2867TD | Refrigerator |
| FRIGIDAIRE FGHB2867TD0 | Refrigerator |
| FRIGIDAIRE FGHB2867TD1 | Refrigerator |
| FRIGIDAIRE FGHB2867TD2 | Refrigerator |
| FRIGIDAIRE FGHB2867TD3 | Refrigerator |
| Frigidaire FGHB2867TF | Refrigerator |
| FRIGIDAIRE FGHB2867TF0 | Refrigerator |
| FRIGIDAIRE FGHB2867TF3 | Refrigerator |
| Frigidaire FGHB2869LE | Refrigerator |
| Frigidaire FGHB2869LE1 | Refrigerator |
| Frigidaire FGHB2869LE2 | Refrigerator |
| Frigidaire FGHB2869LE4 | Refrigerator |
| Frigidaire FGHB2869LE6 | Refrigerator |
| Frigidaire FGHB2869LE7 | Refrigerator |
| Frigidaire FGHB2869LE8 | Refrigerator |
| frigidaire FGHB2869LF | Refrigerator |
| Frigidaire FGHB2869LF1 | Refrigerator |
| Frigidaire FGHB2869LF2 | Refrigerator |
| Frigidaire FGHB2869LF3 | Refrigerator |
| Frigidaire FGHB2869LF4 | Refrigerator |
| Frigidaire FGHB2869LF6 | Refrigerator |
| Frigidaire FGHB2869LF7 | Refrigerator |
| Frigidaire FGHB2869LF8 | Refrigerator |
| Frigidaire FGHB2869LF9 | Refrigerator |
| Frigidaire FGHB2869LFA | Refrigerator |
| Frigidaire FGHB2869LFB | Refrigerator |
| Frigidaire FGHB2869LFC | Refrigerator |
| Frigidaire FGHB2869LP | Refrigerator |
| Frigidaire FGHB2869LP1 | Refrigerator |
| Frigidaire FGHB2869LP2 | Refrigerator |
| Frigidaire FGHB2869LP4 | Refrigerator |
| Frigidaire FGHB2869LP6 | Refrigerator |
| Frigidaire FGHB2869LP7 | Refrigerator |
| Frigidaire FGHB2869LP8 | Refrigerator |
| Frigidaire FGHB2878LE | Refrigerator |
| Frigidaire FGHB2878LE1 | Refrigerator |
| Frigidaire FGHB2878LE2 | Refrigerator |
| Frigidaire FGHB2878LE3 | Refrigerator |
| Frigidaire FGHB2878LP | Refrigerator |
| Frigidaire FGHB2878LP1 | Refrigerator |
| Frigidaire FGHB2878LP2 | Refrigerator |
| Frigidaire FGHB2878LP3 | Refrigerator |
| frigidaire FGHC2331PF | Refrigerator |
| Frigidaire FGHC2331PF0 | Refrigerator |
| Frigidaire FGHC2331PF2 | Refrigerator |
| Frigidaire FGHC2331PF4 | Refrigerator |
| Frigidaire FGHC2331PF5 | Refrigerator |
| Frigidaire FGHC2331PF6 | Refrigerator |
| Frigidaire FGHC2331PF7 | Refrigerator |
| Frigidaire FGHC2331PF8 | Refrigerator |
| Frigidaire FGHC2331PFAA | Refrigerator |
| FRIGIDAIRE FGHC2331PFCA | Refrigerator |
| Frigidaire FGHC2334KE | Refrigerator |
| Frigidaire FGHC2334KE0 | Refrigerator |
| Frigidaire FGHC2334KE1 | Refrigerator |
| Frigidaire FGHC2334KE2 | Refrigerator |
| Frigidaire FGHC2334KP | Refrigerator |
| Frigidaire FGHC2334KP0 | Refrigerator |
| Frigidaire FGHC2334KP1 | Refrigerator |
| Frigidaire FGHC2334KP2 | Refrigerator |
| frigidaire FGHC2342LF | Refrigerator |
| Frigidaire FGHC2342LF0 | Refrigerator |
| Frigidaire FGHC2342LF1 | Refrigerator |
| Frigidaire FGHC2342LF2 | Refrigerator |
| Frigidaire FGHC2342LF3 | Refrigerator |
| Frigidaire FGHC2344KF | Refrigerator |
| Frigidaire FGHC2344KF0 | Refrigerator |
| Frigidaire FGHC2344KF1 | Refrigerator |
| Frigidaire FGHC2344KF2 | Refrigerator |
| frigidaire FGHC2345LF | Refrigerator |
| frigidaire FGHC2355PF | Refrigerator |
| Frigidaire FGHC2355PF | Refrigerator |
| Frigidaire FGHC2355PF0 | Refrigerator |
| Frigidaire FGHC2355PF0 | Refrigerator |
| Frigidaire FGHC2355PF3 | Refrigerator |
| Frigidaire FGHC2355PF3 | Refrigerator |
| Frigidaire FGHC2355PF4 | Refrigerator |
| Frigidaire FGHC2355PF4 | Refrigerator |
| Frigidaire FGHC2355PF5 | Refrigerator |
| Frigidaire FGHC2355PF5 | Refrigerator |
| Frigidaire FGHC2355PF7 | Refrigerator |
| Frigidaire FGHC2355PF7 | Refrigerator |
| Frigidaire FGHC2355PF8 | Refrigerator |
| Frigidaire FGHC2355PF8 | Refrigerator |
| Frigidaire FGHC2355PF9A | Refrigerator |
| Frigidaire FGHC2355PF9A | Refrigerator |
| Frigidaire FGHC2355PFAB | Refrigerator |
| Frigidaire FGHC2355PFAB | Refrigerator |
| Frigidaire FGHC2355PFBB | Refrigerator |
| Frigidaire FGHC2355PFBB | Refrigerator |
| Frigidaire FGHC2355PFCC | Refrigerator |
| Frigidaire FGHC2369KE | Refrigerator |
| Frigidaire FGHC2369KE0 | Refrigerator |
| Frigidaire FGHC2369KE1 | Refrigerator |
| Frigidaire FGHC2369KE2 | Refrigerator |
| Frigidaire FGHC2369KP | Refrigerator |
| Frigidaire FGHC2369KP0 | Refrigerator |
| Frigidaire FGHC2369KP1 | Refrigerator |
| Frigidaire FGHC2369KP2 | Refrigerator |
| Frigidaire FGHC2378LE | Refrigerator |
| Frigidaire FGHC2378LE1 | Refrigerator |
| Frigidaire FGHC2378LE3 | Refrigerator |
| Frigidaire FGHC2378LP | Refrigerator |
| Frigidaire FGHC2378LP1 | Refrigerator |
| Frigidaire FGHC2378LP3 | Refrigerator |
| Frigidaire FGHC2379KE | Refrigerator |
| Frigidaire FGHC2379KE0 | Refrigerator |
| Frigidaire FGHC2379KE1 | Refrigerator |
| Frigidaire FGHC2379KE2 | Refrigerator |
| Frigidaire FGHC2379KP | Refrigerator |
| Frigidaire FGHC2379KP0 | Refrigerator |
| Frigidaire FGHC2379KP1 | Refrigerator |
| Frigidaire FGHC2379KP2 | Refrigerator |
| Frigidaire FGHF2344ME | Refrigerator |
| Frigidaire FGHF2344ME0 | Refrigerator |
| Frigidaire FGHF2344ME1 | Refrigerator |
| Frigidaire FGHF2344ME2 | Refrigerator |
| Frigidaire FGHF2344ME3 | Refrigerator |
| Frigidaire FGHF2344ME4 | Refrigerator |
| frigidaire FGHF2344MF | Refrigerator |
| Frigidaire FGHF2344MF0 | Refrigerator |
| Frigidaire FGHF2344MF1 | Refrigerator |
| Frigidaire FGHF2344MF2 | Refrigerator |
| Frigidaire FGHF2344MF3 | Refrigerator |
| Frigidaire FGHF2344MF4 | Refrigerator |
| Frigidaire FGHF2344MF5 | Refrigerator |
| Frigidaire FGHF2344MF6 | Refrigerator |
| Frigidaire FGHF2344MF7 | Refrigerator |
| Frigidaire FGHF2344MP | Refrigerator |
| Frigidaire FGHF2344MP0 | Refrigerator |
| Frigidaire FGHF2344MP1 | Refrigerator |
| Frigidaire FGHF2344MP2 | Refrigerator |
| Frigidaire FGHF2344MP3 | Refrigerator |
| Frigidaire FGHF2344MP4 | Refrigerator |
| frigidaire FGHF2366PF | Refrigerator |
| Frigidaire FGHF2366PF0 | Refrigerator |
| Frigidaire FGHF2366PF1 | Refrigerator |
| Frigidaire FGHF2366PF2 | Refrigerator |
| Frigidaire FGHF2366PF3 | Refrigerator |
| Frigidaire FGHF2366PF5A | Refrigerator |
| Frigidaire FGHF2366PF6A | Refrigerator |
| Frigidaire FGHF2366PF7A | Refrigerator |
| Frigidaire FGHF2366PF8A | Refrigerator |
| Frigidaire FGHF2366PF9A | Refrigerator |
| Frigidaire FGHF2366PFAA | Refrigerator |
| Frigidaire FGHF2366PFBA | Refrigerator |
| FRIGIDAIRE FGHF2366PFDA | Refrigerator |
| FRIGIDAIRE FGHF2366PFEA | Refrigerator |
| FRIGIDAIRE FGHF2366PFFA | Refrigerator |
| FRIGIDAIRE FGHF2366PFHA | Refrigerator |
| Frigidaire FGHF2367TD | Refrigerator |
| FRIGIDAIRE FGHF2367TD0 | Refrigerator |
| FRIGIDAIRE FGHF2367TD1 | Refrigerator |
| Frigidaire FGHF2367TF | Refrigerator |
| FRIGIDAIRE FGHF2367TF0 | Refrigerator |
| FRIGIDAIRE FGHF2367TF1 | Refrigerator |
| Frigidaire FGHF2369ME | Refrigerator |
| Frigidaire FGHF2369ME0 | Refrigerator |
| Frigidaire FGHF2369ME2 | Refrigerator |
| Frigidaire FGHF2369ME3 | Refrigerator |
| Frigidaire FGHF2369ME4 | Refrigerator |
| frigidaire FGHF2369MF | Refrigerator |
| Frigidaire FGHF2369MF0 | Refrigerator |
| Frigidaire FGHF2369MF2 | Refrigerator |
| Frigidaire FGHF2369MF3 | Refrigerator |
| Frigidaire FGHF2369MF4 | Refrigerator |
| Frigidaire FGHF2369MF5 | Refrigerator |
| Frigidaire FGHF2369MF6 | Refrigerator |
| Frigidaire FGHF2369MF7 | Refrigerator |
| Frigidaire FGHF2369MP | Refrigerator |
| Frigidaire FGHF2369MP0 | Refrigerator |
| Frigidaire FGHF2369MP2 | Refrigerator |
| Frigidaire FGHF2369MP3 | Refrigerator |
| Frigidaire FGHF2369MP4 | Refrigerator |
| Frigidaire FGHF2378ME | Refrigerator |
| Frigidaire FGHF2378ME0 | Refrigerator |
| Frigidaire FGHF2378MP | Refrigerator |
| Frigidaire FGHF2378MP0 | Refrigerator |
| Frigidaire FGHG2344ME | Refrigerator |
| Frigidaire FGHG2344ME0 | Refrigerator |
| Frigidaire FGHG2344ME1 | Refrigerator |
| Frigidaire FGHG2344ME2 | Refrigerator |
| Frigidaire FGHG2344ME3 | Refrigerator |
| Frigidaire FGHG2344ME4 | Refrigerator |
| frigidaire FGHG2344MF | Refrigerator |
| Frigidaire FGHG2344MF0 | Refrigerator |
| Frigidaire FGHG2344MF1 | Refrigerator |
| Frigidaire FGHG2344MF2 | Refrigerator |
| Frigidaire FGHG2344MF3 | Refrigerator |
| Frigidaire FGHG2344MF4 | Refrigerator |
| Frigidaire FGHG2344MF5 | Refrigerator |
| Frigidaire FGHG2344MF6 | Refrigerator |
| Frigidaire FGHG2344MF7 | Refrigerator |
| Frigidaire FGHG2344MP | Refrigerator |
| Frigidaire FGHG2344MP0 | Refrigerator |
| Frigidaire FGHG2344MP1 | Refrigerator |
| Frigidaire FGHG2344MP2 | Refrigerator |
| Frigidaire FGHG2344MP3 | Refrigerator |
| Frigidaire FGHG2344MP4 | Refrigerator |
| frigidaire FGHG2366PF | Refrigerator |
| Frigidaire FGHG2366PF0 | Refrigerator |
| Frigidaire FGHG2366PF1A | Refrigerator |
| Frigidaire FGHG2366PF2A | Refrigerator |
| Frigidaire FGHG2366PF3A | Refrigerator |
| Frigidaire FGHG2366PF4A | Refrigerator |
| Frigidaire FGHG2366PF6A | Refrigerator |
| Frigidaire FGHG2366PF7A | Refrigerator |
| FRIGIDAIRE FGHG2366PFAA | Refrigerator |
| FRIGIDAIRE FGHG2366PFBA | Refrigerator |
| FRIGIDAIRE FGHG2366PFCA | Refrigerator |
| frigidaire FGHN2844LE | Refrigerator |
| Frigidaire FGHN2844LE0 | Refrigerator |
| Frigidaire FGHN2844LE1 | Refrigerator |
| Frigidaire FGHN2844LE3 | Refrigerator |
| Frigidaire FGHN2844LE4 | Refrigerator |
| Frigidaire FGHN2844LE5 | Refrigerator |
| Frigidaire FGHN2844LE6 | Refrigerator |
| Frigidaire FGHN2844LE7 | Refrigerator |
| Frigidaire FGHN2844LE8 | Refrigerator |
| Frigidaire FGHN2844LE9 | Refrigerator |
| Frigidaire FGHN2844LEA | Refrigerator |
| Frigidaire FGHN2844LF | Refrigerator |
| Frigidaire FGHN2844LF0 | Refrigerator |
| Frigidaire FGHN2844LF1 | Refrigerator |
| Frigidaire FGHN2844LF2 | Refrigerator |
| Frigidaire FGHN2844LF3 | Refrigerator |
| Frigidaire FGHN2844LF4 | Refrigerator |
| Frigidaire FGHN2844LF5 | Refrigerator |
| Frigidaire FGHN2844LF6 | Refrigerator |
| Frigidaire FGHN2844LF7 | Refrigerator |
| Frigidaire FGHN2844LF8 | Refrigerator |
| Frigidaire FGHN2844LF9 | Refrigerator |
| Frigidaire FGHN2844LFA | Refrigerator |
| Frigidaire FGHN2844LM | Refrigerator |
| Frigidaire FGHN2844LM0 | Refrigerator |
| Frigidaire FGHN2844LM1 | Refrigerator |
| Frigidaire FGHN2844LM3 | Refrigerator |
| Frigidaire FGHN2844LM4 | Refrigerator |
| frigidaire FGHN2844LP | Refrigerator |
| Frigidaire FGHN2844LP0 | Refrigerator |
| Frigidaire FGHN2844LP1 | Refrigerator |
| Frigidaire FGHN2844LP3 | Refrigerator |
| Frigidaire FGHN2844LP4 | Refrigerator |
| Frigidaire FGHN2844LP5 | Refrigerator |
| Frigidaire FGHN2844LP6 | Refrigerator |
| Frigidaire FGHN2844LP7 | Refrigerator |
| Frigidaire FGHN2844LP8 | Refrigerator |
| Frigidaire FGHN2844LP9 | Refrigerator |
| Frigidaire FGHN2844LPA | Refrigerator |
| frigidaire FGHN2866PE | Refrigerator |
| Frigidaire FGHN2866PE0 | Refrigerator |
| Frigidaire FGHN2866PE1 | Refrigerator |
| Frigidaire FGHN2866PE3A | Refrigerator |
| Frigidaire FGHN2866PE6A | Refrigerator |
| Frigidaire FGHN2866PE7A | Refrigerator |
| FRIGIDAIRE FGHN2866PEAA | Refrigerator |
| Frigidaire FGHN2866PEDA | Refrigerator |
| FRIGIDAIRE FGHN2866PEEA | Refrigerator |
| frigidaire FGHN2866PF | Refrigerator |
| Frigidaire FGHN2866PF0 | Refrigerator |
| Frigidaire FGHN2866PF1 | Refrigerator |
| Frigidaire FGHN2866PF2 | Refrigerator |
| Frigidaire FGHN2866PF4A | Refrigerator |
| Frigidaire FGHN2866PF5A | Refrigerator |
| Frigidaire FGHN2866PF6A | Refrigerator |
| Frigidaire FGHN2866PF7A | Refrigerator |
| Frigidaire FGHN2866PF8A | Refrigerator |
| Frigidaire FGHN2866PFBA | Refrigerator |
| Frigidaire FGHN2866PFDA | Refrigerator |
| FRIGIDAIRE FGHN2866PFEA | Refrigerator |
| FRIGIDAIRE FGHN2866PFFA | Refrigerator |
| FRIGIDAIRE FGHN2866PFGA | Refrigerator |
| FRIGIDAIRE FGHN2866PFHA | Refrigerator |
| FRIGIDAIRE FGHN2866PFJA | Refrigerator |
| frigidaire FGHN2866PP | Refrigerator |
| Frigidaire FGHN2866PP0 | Refrigerator |
| Frigidaire FGHN2866PP1 | Refrigerator |
| Frigidaire FGHN2866PP2 | Refrigerator |
| Frigidaire FGHN2866PP3A | Refrigerator |
| Frigidaire FGHN2866PP6A | Refrigerator |
| Frigidaire FGHN2866PP7A | Refrigerator |
| FRIGIDAIRE FGHN2866PPAA | Refrigerator |
| FRIGIDAIRE FGHN2866PPEA | Refrigerator |
| frigidaire FGHS2332LE | Refrigerator |
| frigidaire FGHS2332LP | Refrigerator |
| Frigidaire FGHS2334KB | Refrigerator |
| Frigidaire FGHS2334KB0 | Refrigerator |
| Frigidaire FGHS2334KB1 | Refrigerator |
| Frigidaire FGHS2334KB2 | Refrigerator |
| Frigidaire FGHS2334KB3 | Refrigerator |
| Frigidaire FGHS2334KB4 | Refrigerator |
| Frigidaire FGHS2334KB5 | Refrigerator |
| Frigidaire FGHS2334KE | Refrigerator |
| Frigidaire FGHS2334KE0 | Refrigerator |
| Frigidaire FGHS2334KE2 | Refrigerator |
| Frigidaire FGHS2334KE3 | Refrigerator |
| Frigidaire FGHS2334KE4 | Refrigerator |
| Frigidaire FGHS2334KP | Refrigerator |
| Frigidaire FGHS2334KP0 | Refrigerator |
| Frigidaire FGHS2334KP2 | Refrigerator |
| Frigidaire FGHS2334KP3 | Refrigerator |
| Frigidaire FGHS2334KP4 | Refrigerator |
| Frigidaire FGHS2334KQ0 | Refrigerator |
| Frigidaire FGHS2334KQ2 | Refrigerator |
| Frigidaire FGHS2334KQ3 | Refrigerator |
| Frigidaire FGHS2334KQ4 | Refrigerator |
| Frigidaire FGHS2334KW | Refrigerator |
| Frigidaire FGHS2334KW0 | Refrigerator |
| Frigidaire FGHS2334KW1 | Refrigerator |
| Frigidaire FGHS2334KW2 | Refrigerator |
| Frigidaire FGHS2334KW3 | Refrigerator |
| Frigidaire FGHS2334KW4 | Refrigerator |
| frigidaire FGHS2342LF | Refrigerator |
| Frigidaire FGHS2344KF | Refrigerator |
| Frigidaire FGHS2344KF0 | Refrigerator |
| Frigidaire FGHS2344KF1 | Refrigerator |
| Frigidaire FGHS2344KF2 | Refrigerator |
| Frigidaire FGHS2344KF3 | Refrigerator |
| Frigidaire FGHS2344KF4 | Refrigerator |
| Frigidaire FGHS2355KE | Refrigerator |
| Frigidaire FGHS2355KE1 | Refrigerator |
| Frigidaire FGHS2355KE2 | Refrigerator |
| Frigidaire FGHS2355KE4 | Refrigerator |
| Frigidaire FGHS2355KP | Refrigerator |
| Frigidaire FGHS2355KP1 | Refrigerator |
| Frigidaire FGHS2355KP2 | Refrigerator |
| Frigidaire FGHS2355KP4 | Refrigerator |
| frigidaire FGHS2355PF | Refrigerator |
| Frigidaire FGHS2355PF0 | Refrigerator |
| Frigidaire FGHS2355PF1 | Refrigerator |
| Frigidaire FGHS2355PF2 | Refrigerator |
| Frigidaire FGHS2355PF4 | Refrigerator |
| Frigidaire FGHS2355PF5A | Refrigerator |
| Frigidaire FGHS2355PF6B | Refrigerator |
| Frigidaire FGHS2365KF | Refrigerator |
| Frigidaire FGHS2365KF1 | Refrigerator |
| Frigidaire FGHS2365KF2 | Refrigerator |
| Frigidaire FGHS2365KF4 | Refrigerator |
| Frigidaire FGHS2365KF5 | Refrigerator |
| Frigidaire FGHS2367KB | Refrigerator |
| Frigidaire FGHS2367KB1 | Refrigerator |
| Frigidaire FGHS2367KB2 | Refrigerator |
| Frigidaire FGHS2367KB3 | Refrigerator |
| Frigidaire FGHS2367KB4 | Refrigerator |
| Frigidaire FGHS2367KE | Refrigerator |
| Frigidaire FGHS2367KE1 | Refrigerator |
| Frigidaire FGHS2367KE2 | Refrigerator |
| Frigidaire FGHS2367KE3 | Refrigerator |
| Frigidaire FGHS2367KE4 | Refrigerator |
| Frigidaire FGHS2367KP | Refrigerator |
| Frigidaire FGHS2367KP1 | Refrigerator |
| Frigidaire FGHS2367KP2 | Refrigerator |
| Frigidaire FGHS2367KP3 | Refrigerator |
| Frigidaire FGHS2367KP4 | Refrigerator |
| Frigidaire FGHS2367KW | Refrigerator |
| Frigidaire FGHS2367KW1 | Refrigerator |
| Frigidaire FGHS2367KW2 | Refrigerator |
| Frigidaire FGHS2367KW3 | Refrigerator |
| Frigidaire FGHS2367KW4 | Refrigerator |
| Frigidaire FGHS2368LE | Refrigerator |
| Frigidaire FGHS2368LE0 | Refrigerator |
| Frigidaire FGHS2368LE2 | Refrigerator |
| Frigidaire FGHS2368LE3 | Refrigerator |
| Frigidaire FGHS2368LP | Refrigerator |
| Frigidaire FGHS2368LP0 | Refrigerator |
| Frigidaire FGHS2368LP1 | Refrigerator |
| Frigidaire FGHS2368LP2 | Refrigerator |
| Frigidaire FGHS2368LP3 | Refrigerator |
| Frigidaire FGHS2368LP4 | Refrigerator |
| Frigidaire FGHS2369KE | Refrigerator |
| Frigidaire FGHS2369KE1 | Refrigerator |
| Frigidaire FGHS2369KE2 | Refrigerator |
| Frigidaire FGHS2369KE4 | Refrigerator |
| Frigidaire FGHS2369KP | Refrigerator |
| Frigidaire FGHS2369KP1 | Refrigerator |
| Frigidaire FGHS2369KP2 | Refrigerator |
| Frigidaire FGHS2369KP4 | Refrigerator |
| Frigidaire FGHS2631FP4A | Refrigerator |
| frigidaire FGHS2631PE | Refrigerator |
| Frigidaire FGHS2631PE0 | Refrigerator |
| Frigidaire FGHS2631PE1 | Refrigerator |
| Frigidaire FGHS2631PE2 | Refrigerator |
| Frigidaire FGHS2631PE3 | Refrigerator |
| Frigidaire FGHS2631PE4A | Refrigerator |
| frigidaire FGHS2631PF | Refrigerator |
| Frigidaire FGHS2631PF | Refrigerator |
| Frigidaire FGHS2631PF0 | Refrigerator |
| Frigidaire FGHS2631PF0 | Refrigerator |
| Frigidaire FGHS2631PF1 | Refrigerator |
| Frigidaire FGHS2631PF1 | Refrigerator |
| Frigidaire FGHS2631PF2 | Refrigerator |
| Frigidaire FGHS2631PF2 | Refrigerator |
| Frigidaire FGHS2631PF3 | Refrigerator |
| Frigidaire FGHS2631PF3 | Refrigerator |
| Frigidaire FGHS2631PF4A | Refrigerator |
| Frigidaire FGHS2631PF4A | Refrigerator |
| Frigidaire FGHS2631PF5A | Refrigerator |
| Frigidaire FGHS2631PP | Refrigerator |
| frigidaire FGHS2631PP | Refrigerator |
| Frigidaire FGHS2631PP0 | Refrigerator |
| Frigidaire FGHS2631PP0 | Refrigerator |
| Frigidaire FGHS2631PP1 | Refrigerator |
| Frigidaire FGHS2631PP1 | Refrigerator |
| Frigidaire FGHS2631PP2 | Refrigerator |
| Frigidaire FGHS2631PP2 | Refrigerator |
| Frigidaire FGHS2631PP3 | Refrigerator |
| Frigidaire FGHS2631PP3 | Refrigerator |
| Frigidaire FGHS2631PP4A | Refrigerator |
| Frigidaire FGHS2631PP4A | Refrigerator |
| Frigidaire FGHS2634KB | Refrigerator |
| Frigidaire FGHS2634KB0 | Refrigerator |
| Frigidaire FGHS2634KB1 | Refrigerator |
| Frigidaire FGHS2634KB2 | Refrigerator |
| Frigidaire FGHS2634KE | Refrigerator |
| Frigidaire FGHS2634KE0 | Refrigerator |
| Frigidaire FGHS2634KE1 | Refrigerator |
| Frigidaire FGHS2634KE2 | Refrigerator |
| Frigidaire FGHS2634KP | Refrigerator |
| Frigidaire FGHS2634KP0 | Refrigerator |
| Frigidaire FGHS2634KP1 | Refrigerator |
| Frigidaire FGHS2634KP2 | Refrigerator |
| Frigidaire FGHS2634KQ | Refrigerator |
| Frigidaire FGHS2634KQ0 | Refrigerator |
| Frigidaire FGHS2634KQ1 | Refrigerator |
| Frigidaire FGHS2634KQ2 | Refrigerator |
| Frigidaire FGHS2634KW | Refrigerator |
| Frigidaire FGHS2634KW0 | Refrigerator |
| Frigidaire FGHS2634KW1 | Refrigerator |
| Frigidaire FGHS2634KW2 | Refrigerator |
| Frigidaire FGHS2644KF | Refrigerator |
| Frigidaire FGHS2644KF0 | Refrigerator |
| Frigidaire FGHS2644KF1 | Refrigerator |
| Frigidaire FGHS2644KF2 | Refrigerator |
| Frigidaire FGHS2644KF3 | Refrigerator |
| Frigidaire FGHS2644KM0 | Refrigerator |
| Frigidaire FGHS2644KM1 | Refrigerator |
| Frigidaire FGHS2644KM2 | Refrigerator |
| Frigidaire FGHS2644KM3 | Refrigerator |
| Frigidaire FGHS2655KE | Refrigerator |
| Frigidaire FGHS2655KE0 | Refrigerator |
| Frigidaire FGHS2655KE1 | Refrigerator |
| Frigidaire FGHS2655KE2 | Refrigerator |
| Frigidaire FGHS2655KP | Refrigerator |
| Frigidaire FGHS2655KP0 | Refrigerator |
| Frigidaire FGHS2655KP1 | Refrigerator |
| Frigidaire FGHS2655KP2 | Refrigerator |
| frigidaire FGHS2655PF | Refrigerator |
| Frigidaire FGHS2655PF | Refrigerator |
| Frigidaire FGHS2655PF0 | Refrigerator |
| Frigidaire FGHS2655PF0 | Refrigerator |
| Frigidaire FGHS2655PF1 | Refrigerator |
| Frigidaire FGHS2655PF1 | Refrigerator |
| Frigidaire FGHS2655PF2 | Refrigerator |
| Frigidaire FGHS2655PF2 | Refrigerator |
| Frigidaire FGHS2655PF4 | Refrigerator |
| Frigidaire FGHS2655PF4 | Refrigerator |
| Frigidaire FGHS2655PF5A | Refrigerator |
| Frigidaire FGHS2655PF5A | Refrigerator |
| Frigidaire FGHS2655PF6B | Refrigerator |
| Frigidaire FGHS2655PF6B | Refrigerator |
| Frigidaire FGHS2665KF | Refrigerator |
| Frigidaire FGHS2665KF0 | Refrigerator |
| Frigidaire FGHS2665KF1 | Refrigerator |
| Frigidaire FGHS2665KF2 | Refrigerator |
| Frigidaire FGHS2665KF3 | Refrigerator |
| Frigidaire FGHS2667KB | Refrigerator |
| Frigidaire FGHS2667KB0 | Refrigerator |
| Frigidaire FGHS2667KB1 | Refrigerator |
| Frigidaire FGHS2667KB2 | Refrigerator |
| Frigidaire FGHS2667KB3 | Refrigerator |
| Frigidaire FGHS2667KB4 | Refrigerator |
| Frigidaire FGHS2667KE | Refrigerator |
| Frigidaire FGHS2667KE0 | Refrigerator |
| Frigidaire FGHS2667KE1 | Refrigerator |
| Frigidaire FGHS2667KE2 | Refrigerator |
| Frigidaire FGHS2667KE3 | Refrigerator |
| Frigidaire FGHS2667KE4 | Refrigerator |
| Frigidaire FGHS2667KP | Refrigerator |
| Frigidaire FGHS2667KP0 | Refrigerator |
| Frigidaire FGHS2667KP1 | Refrigerator |
| Frigidaire FGHS2667KP2 | Refrigerator |
| Frigidaire FGHS2667KP3 | Refrigerator |
| Frigidaire FGHS2667KP4 | Refrigerator |
| Frigidaire FGHS2667KW | Refrigerator |
| Frigidaire FGHS2667KW0 | Refrigerator |
| Frigidaire FGHS2667KW1 | Refrigerator |
| Frigidaire FGHS2667KW2 | Refrigerator |
| Frigidaire FGHS2667KW3 | Refrigerator |
| Frigidaire FGHS2667KW4 | Refrigerator |
| Frigidaire FGHS2669KE | Refrigerator |
| Frigidaire FGHS2669KE0 | Refrigerator |
| Frigidaire FGHS2669KE1 | Refrigerator |
| Frigidaire FGHS2669KE2 | Refrigerator |
| Frigidaire FGHS2669KE3 | Refrigerator |
| Frigidaire FGHS2669KE4 | Refrigerator |
| Frigidaire FGHS2669KP | Refrigerator |
| Frigidaire FGHS2669KP0 | Refrigerator |
| Frigidaire FGHS2669KP1 | Refrigerator |
| Frigidaire FGHS2669KP2 | Refrigerator |
| Frigidaire FGHS2669KP3 | Refrigerator |
| Frigidaire FGHS2669KP4 | Refrigerator |
| Frigidaire FGHS2679KE | Refrigerator |
| Frigidaire FGHS2679KE0 | Refrigerator |
| Frigidaire FGHS2679KE1 | Refrigerator |
| Frigidaire FGHS2679KE2 | Refrigerator |
| Frigidaire FGHS2679KE3 | Refrigerator |
| Frigidaire FGHS2679KP | Refrigerator |
| Frigidaire FGHS2679KP0 | Refrigerator |
| Frigidaire FGHS2679KP1 | Refrigerator |
| Frigidaire FGHS2679KP2 | Refrigerator |
| Frigidaire FGHS2679KP3 | Refrigerator |
| Frigidaire FGSS2335TF | Refrigerator |
| Frigidaire FGSS2335TF0 | Refrigerator |
| Frigidaire FGSS2335TF1 | Refrigerator |
| Frigidaire FGSS2335TF3 | Refrigerator |
| FRIGIDAIRE FGSS2335TF4 | Refrigerator |
| FRIGIDAIRE FGSS2335TF5 | Refrigerator |
| FRIGIDAIRE FGSS2335TF6 | Refrigerator |
| FRIGIDAIRE FGSS2335TF7 | Refrigerator |
| FRIGIDAIRE FGSS2335TF9 | Refrigerator |
| FRIGIDAIRE FGSS2335TFA | Refrigerator |
| Frigidaire FGUB2642LE | Refrigerator |
| Frigidaire FGUB2642LE0 | Refrigerator |
| Frigidaire FGUB2642LE1 | Refrigerator |
| Frigidaire FGUB2642LE2 | Refrigerator |
| Frigidaire FGUB2642LE4 | Refrigerator |
| Frigidaire FGUB2642LE5 | Refrigerator |
| Frigidaire FGUB2642LE6 | Refrigerator |
| Frigidaire FGUB2642LE7 | Refrigerator |
| Frigidaire FGUB2642LE8 | Refrigerator |
| Frigidaire FGUB2642LE9 | Refrigerator |
| frigidaire FGUB2642LF | Refrigerator |
| Frigidaire FGUB2642LF0 | Refrigerator |
| Frigidaire FGUB2642LF1 | Refrigerator |
| Frigidaire FGUB2642LF2 | Refrigerator |
| Frigidaire FGUB2642LF4 | Refrigerator |
| Frigidaire FGUB2642LF5 | Refrigerator |
| Frigidaire FGUB2642LF6 | Refrigerator |
| Frigidaire FGUB2642LF7 | Refrigerator |
| Frigidaire FGUB2642LF8 | Refrigerator |
| Frigidaire FGUB2642LF9 | Refrigerator |
| frigidaire FGUB2642LP | Refrigerator |
| Frigidaire FGUB2642LP0 | Refrigerator |
| Frigidaire FGUB2642LP1 | Refrigerator |
| Frigidaire FGUB2642LP2 | Refrigerator |
| Frigidaire FGUB2642LP4 | Refrigerator |
| Frigidaire FGUB2642LP5 | Refrigerator |
| Frigidaire FGUB2642LP6 | Refrigerator |
| Frigidaire FGUB2642LP7 | Refrigerator |
| Frigidaire FGUB2642LP8 | Refrigerator |
| Frigidaire FGUB2642LP9 | Refrigerator |
| Frigidaire FGUN2642LE | Refrigerator |
| Frigidaire FGUN2642LE0 | Refrigerator |
| Frigidaire FGUN2642LE1 | Refrigerator |
| Frigidaire FGUN2642LE2 | Refrigerator |
| Frigidaire FGUN2642LE3 | Refrigerator |
| Frigidaire FGUN2642LE4 | Refrigerator |
| Frigidaire FGUN2642LE5 | Refrigerator |
| Frigidaire FGUN2642LE6 | Refrigerator |
| Frigidaire FGUN2642LE8 | Refrigerator |
| frigidaire FGUN2642LF | Refrigerator |
| Frigidaire FGUN2642LF0 | Refrigerator |
| Frigidaire FGUN2642LF1 | Refrigerator |
| Frigidaire FGUN2642LF2 | Refrigerator |
| Frigidaire FGUN2642LF3 | Refrigerator |
| Frigidaire FGUN2642LF4 | Refrigerator |
| Frigidaire FGUN2642LF5 | Refrigerator |
| Frigidaire FGUN2642LF6 | Refrigerator |
| Frigidaire FGUN2642LF8 | Refrigerator |
| Frigidaire FGUN2642LP | Refrigerator |
| Frigidaire FGUN2642LP0 | Refrigerator |
| Frigidaire FGUN2642LP1 | Refrigerator |
| Frigidaire FGUN2642LP2 | Refrigerator |
| Frigidaire FGUN2642LP3 | Refrigerator |
| Frigidaire FGUN2642LP4 | Refrigerator |
| Frigidaire FGUN2642LP5 | Refrigerator |
| Frigidaire FGUN2642LP6 | Refrigerator |
| Frigidaire FGUN2642LP8 | Refrigerator |
| frigidaire FGUS2632LE | Refrigerator |
| frigidaire FGUS2632LP | Refrigerator |
| Frigidaire FGUS2637LE | Refrigerator |
| Frigidaire FGUS2637LE0 | Refrigerator |
| Frigidaire FGUS2637LE1 | Refrigerator |
| Frigidaire FGUS2637LE2 | Refrigerator |
| Frigidaire FGUS2637LP | Refrigerator |
| Frigidaire FGUS2637LP0 | Refrigerator |
| Frigidaire FGUS2637LP1 | Refrigerator |
| Frigidaire FGUS2637LP2 | Refrigerator |
| frigidaire FGUS2642LF | Refrigerator |
| frigidaire FGUS2645LF | Refrigerator |
| Frigidaire FGUS2647LF | Refrigerator |
| Frigidaire FGUS2647LF0 | Refrigerator |
| Frigidaire FGUS2647LF1 | Refrigerator |
| Frigidaire FGUS2647LF2 | Refrigerator |
| Frigidaire FGUS2647LF3 | Refrigerator |
| Frigidaire FGUS2666LE0 | Refrigerator |
| Frigidaire FGUS2666LP0 | Refrigerator |
| Frigidaire FGUS2676LE | Refrigerator |
| Frigidaire FGUS2676LE0 | Refrigerator |
| Frigidaire FGUS2676LE1 | Refrigerator |
| Frigidaire FGUS2676LP | Refrigerator |
| Frigidaire FGUS2676LP0 | Refrigerator |
| Frigidaire FGUS2676LP1 | Refrigerator |
| Frigidaire FPHB2899LF | Refrigerator |
| Frigidaire FPHB2899LF1 | Refrigerator |
| Frigidaire FPHB2899LF2 | Refrigerator |
| Frigidaire FPHB2899LF3 | Refrigerator |
| Frigidaire FPHB2899LF4 | Refrigerator |
| Frigidaire FPHB2899LF5 | Refrigerator |
| Frigidaire FPHB2899LF6 | Refrigerator |
| Frigidaire FPHB2899LF7 | Refrigerator |
| Frigidaire FPHB2899LF8 | Refrigerator |
| Frigidaire FPHB2899LF9 | Refrigerator |
| Frigidaire FPHB2899LFA | Refrigerator |
| Frigidaire FPHB2899LFB | Refrigerator |
| Frigidaire FPHB2899LFC | Refrigerator |
| Frigidaire FPHB2899LFD | Refrigerator |
| frigidaire FPHB2899PF | Refrigerator |
| Frigidaire FPHB2899PF0 | Refrigerator |
| Frigidaire FPHB2899PF1 | Refrigerator |
| Frigidaire FPHB2899PF2 | Refrigerator |
| Frigidaire FPHB2899PF3 | Refrigerator |
| Frigidaire FPHB2899PF4 | Refrigerator |
| Frigidaire FPHB2899PF5 | Refrigerator |
| Frigidaire FPHB2899PF6A | Refrigerator |
| Frigidaire FPHB2899PF7A | Refrigerator |
| Frigidaire FPHB2899PF8A | Refrigerator |
| frigidaire FPHC2398LF | Refrigerator |
| Frigidaire FPHC2398LF1 | Refrigerator |
| Frigidaire FPHC2398LF2 | Refrigerator |
| Frigidaire FPHC2398LF3 | Refrigerator |
| Frigidaire FPHC2398LF4 | Refrigerator |
| Frigidaire FPHC2398LF5 | Refrigerator |
| Frigidaire FPHC2399KF | Refrigerator |
| Frigidaire FPHC2399KF0 | Refrigerator |
| Frigidaire FPHC2399KF1 | Refrigerator |
| Frigidaire FPHC2399KF2 | Refrigerator |
| Frigidaire FPHC2399KF3 | Refrigerator |
| Frigidaire FPHC2399KF4 | Refrigerator |
| Frigidaire FPHC2399KF6 | Refrigerator |
| frigidaire FPHC2399PF | Refrigerator |
| Frigidaire FPHC2399PF0 | Refrigerator |
| Frigidaire FPHC2399PF3 | Refrigerator |
| Frigidaire FPHC2399PF4 | Refrigerator |
| Frigidaire FPHC2399PF5 | Refrigerator |
| Frigidaire FPHC2399PF7A | Refrigerator |
| frigidaire FPHF2399MF | Refrigerator |
| Frigidaire FPHF2399MF0 | Refrigerator |
| Frigidaire FPHF2399MF1 | Refrigerator |
| Frigidaire FPHF2399MF2 | Refrigerator |
| Frigidaire FPHF2399MF3 | Refrigerator |
| Frigidaire FPHF2399MF4 | Refrigerator |
| Frigidaire FPHF2399MF5 | Refrigerator |
| Frigidaire FPHF2399MF6 | Refrigerator |
| Frigidaire FPHF2399MF7 | Refrigerator |
| frigidaire FPHF2399PF | Refrigerator |
| Frigidaire FPHF2399PF0 | Refrigerator |
| Frigidaire FPHF2399PF1 | Refrigerator |
| Frigidaire FPHF2399PF2 | Refrigerator |
| Frigidaire FPHF2399PF3 | Refrigerator |
| Frigidaire FPHF2399PF4 | Refrigerator |
| Frigidaire FPHF2399PF5 | Refrigerator |
| Frigidaire FPHF2399PF6 | Refrigerator |
| FRIGIDAIRE FPHF2399PF7A | Refrigerator |
| frigidaire FPHG2399MF | Refrigerator |
| Frigidaire FPHG2399MF0 | Refrigerator |
| Frigidaire FPHG2399MF1 | Refrigerator |
| Frigidaire FPHG2399MF2 | Refrigerator |
| Frigidaire FPHG2399MF3 | Refrigerator |
| Frigidaire FPHG2399MF4 | Refrigerator |
| Frigidaire FPHG2399MF5 | Refrigerator |
| Frigidaire FPHG2399MF6 | Refrigerator |
| Frigidaire FPHG2399MF7 | Refrigerator |
| frigidaire FPHG2399PF | Refrigerator |
| Frigidaire FPHG2399PF0 | Refrigerator |
| Frigidaire FPHG2399PF1 | Refrigerator |
| Frigidaire FPHG2399PF2A | Refrigerator |
| frigidaire FPHN2899LF | Refrigerator |
| Frigidaire FPHN2899LF0 | Refrigerator |
| Frigidaire FPHN2899LF1 | Refrigerator |
| Frigidaire FPHN2899LF2 | Refrigerator |
| Frigidaire FPHN2899LF3 | Refrigerator |
| Frigidaire FPHN2899LF4 | Refrigerator |
| Frigidaire FPHN2899LF5 | Refrigerator |
| Frigidaire FPHN2899LF6 | Refrigerator |
| Frigidaire FPHN2899LF7 | Refrigerator |
| Frigidaire FPHN2899LF9 | Refrigerator |
| frigidaire FPHS2386LF | Refrigerator |
| Frigidaire FPHS2386LF0 | Refrigerator |
| Frigidaire FPHS2386LF1 | Refrigerator |
| Frigidaire FPHS2386LF2 | Refrigerator |
| Frigidaire FPHS2386LF3 | Refrigerator |
| Frigidaire FPHS2386LF4 | Refrigerator |
| Frigidaire FPHS2386LF5 | Refrigerator |
| Frigidaire FPHS2386LF6 | Refrigerator |
| Frigidaire FPHS2386LF7 | Refrigerator |
| Frigidaire FPHS2387KF | Refrigerator |
| Frigidaire FPHS2387KF1 | Refrigerator |
| Frigidaire FPHS2387KF2 | Refrigerator |
| Frigidaire FPHS2387KF3 | Refrigerator |
| Frigidaire FPHS2387KF4 | Refrigerator |
| Frigidaire FPHS2387KF5 | Refrigerator |
| Frigidaire FPHS2387KF6 | Refrigerator |
| Frigidaire FPHS2399KF | Refrigerator |
| Frigidaire FPHS2399KF1 | Refrigerator |
| Frigidaire FPHS2399KF2 | Refrigerator |
| Frigidaire FPHS2399KF3 | Refrigerator |
| Frigidaire FPHS2399KF4 | Refrigerator |
| Frigidaire FPHS2399KF5 | Refrigerator |
| frigidaire FPHS2399PF | Refrigerator |
| Frigidaire FPHS2399PF0 | Refrigerator |
| Frigidaire FPHS2399PF2 | Refrigerator |
| Frigidaire FPHS2399PF3 | Refrigerator |
| Frigidaire FPHS2399PF4A | Refrigerator |
| Frigidaire FPHS2687KF | Refrigerator |
| Frigidaire FPHS2687KF0 | Refrigerator |
| Frigidaire FPHS2687KF1 | Refrigerator |
| Frigidaire FPHS2687KF2 | Refrigerator |
| Frigidaire FPHS2687KF3 | Refrigerator |
| Frigidaire FPHS2687KF4 | Refrigerator |
| Frigidaire FPHS2699KF | Refrigerator |
| Frigidaire FPHS2699KF0 | Refrigerator |
| Frigidaire FPHS2699KF1 | Refrigerator |
| Frigidaire FPHS2699KF2 | Refrigerator |
| Frigidaire FPHS2699KF3 | Refrigerator |
| Frigidaire FPHS2699KF4 | Refrigerator |
| frigidaire FPHS2699PF | Refrigerator |
| Frigidaire FPHS2699PF0 | Refrigerator |
| Frigidaire FPHS2699PF1 | Refrigerator |
| Frigidaire FPHS2699PF2 | Refrigerator |
| Frigidaire FPHS2699PF3 | Refrigerator |
| frigidaire FPUS2686LF | Refrigerator |
| FRIGIDAIRE FPUS2686LF0 | Refrigerator |
| FRIGIDAIRE FPUS2686LF1 | Refrigerator |
| FRIGIDAIRE FPUS2686LF2 | Refrigerator |
| FRIGIDAIRE FPUS2686LF3 | Refrigerator |
| frigidaire FPUS2698LF | Refrigerator |
| FRIGIDAIRE FPUS2698LF0 | Refrigerator |
| FRIGIDAIRE FPUS2698LF1 | Refrigerator |
| FRIGIDAIRE FPUS2698LF2 | Refrigerator |
| FRIGIDAIRE FPUS2698LF3 | Refrigerator |
| Frigidaire LFHB2741PE0 | Refrigerator |
| Frigidaire LFHB2741PE1 | Refrigerator |
| frigidaire LFHB2741PF | Refrigerator |
| Frigidaire LFHB2741PF0 | Refrigerator |
| Frigidaire LFHB2741PF1 | Refrigerator |
| Frigidaire LFHB2741PF2 | Refrigerator |
| Frigidaire LFHB2741PF3 | Refrigerator |
| Frigidaire LFHB2741PF4 | Refrigerator |
| Frigidaire LFHB2741PF5A | Refrigerator |
| Frigidaire LFHB2741PF6A | Refrigerator |
| Frigidaire LFHB2741PF7A | Refrigerator |
| Frigidaire LFHB2741PF8A | Refrigerator |
| Frigidaire LFHB2741PF9A | Refrigerator |
| Frigidaire LFHB2741PFAA | Refrigerator |
| Frigidaire LFHB2741PFBA | Refrigerator |
| FRIGIDAIRE LFHB2741PFCA | Refrigerator |
| FRIGIDAIRE LFHB2741PFDA | Refrigerator |
| Frigidaire LFHB2741PP0 | Refrigerator |
| Frigidaire LFHB2741PP1 | Refrigerator |
| Frigidaire LFHN2741PE0 | Refrigerator |
| Frigidaire LFHN2741PF0 | Refrigerator |
| Frigidaire LFHN2741PP0 | Refrigerator |
| frigidaire LGHB2867PF | Refrigerator |
| Frigidaire LGHB2867PF0 | Refrigerator |
| Frigidaire LGHB2867PF2 | Refrigerator |
| Frigidaire LGHB2867PF3 | Refrigerator |
| Frigidaire LGHB2867PF4 | Refrigerator |
| Frigidaire LGHB2867PF5 | Refrigerator |
| Frigidaire LGHB2867PF6A | Refrigerator |
| Frigidaire LGHB2867PF7A | Refrigerator |
| Frigidaire LGHB2867PF8A | Refrigerator |
| Frigidaire LGHB2867PFAA | Refrigerator |
| Frigidaire LGHB2867PFBA | Refrigerator |
| Frigidaire LGHB2867PFCA | Refrigerator |
| Frigidaire LGHB2867PFDA | Refrigerator |
| Frigidaire LGHB2867PFEA | Refrigerator |
| Frigidaire LGHB2867PFGA | Refrigerator |
| Frigidaire LGHB2867PFHA | Refrigerator |
| FRIGIDAIRE LGHB2867PFIA | Refrigerator |
| FRIGIDAIRE LGHB2867PFJA | Refrigerator |
| FRIGIDAIRE LGHB2867PFLA | Refrigerator |
| Frigidaire LGHB2867TD | Refrigerator |
| FRIGIDAIRE LGHB2867TD0 | Refrigerator |
| Frigidaire LGHB2869LF | Refrigerator |
| Frigidaire LGHB2869LF1 | Refrigerator |
| Frigidaire LGHB2869LF3 | Refrigerator |
| Frigidaire LGHB2869LF4 | Refrigerator |
| Frigidaire LGHB2869LF5 | Refrigerator |
| frigidaire LGHC2342LE | Refrigerator |
| Frigidaire LGHC2342LE1 | Refrigerator |
| Frigidaire LGHC2342LE2 | Refrigerator |
| Frigidaire LGHC2342LF | Refrigerator |
| Frigidaire LGHC2342LF0 | Refrigerator |
| Frigidaire LGHC2342LF1 | Refrigerator |
| Frigidaire LGHC2342LF2 | Refrigerator |
| Frigidaire LGHC2342LF3 | Refrigerator |
| Frigidaire LGHC2342LP | Refrigerator |
| Frigidaire LGHC2342LP1 | Refrigerator |
| Frigidaire LGHC2342LP2 | Refrigerator |
| frigidaire LGHN2844ME | Refrigerator |
| Frigidaire LGHN2844ME0 | Refrigerator |
| Frigidaire LGHN2844ME1 | Refrigerator |
| Frigidaire LGHN2844ME2 | Refrigerator |
| Frigidaire LGHN2844ME4 | Refrigerator |
| Frigidaire LGHN2844ME5 | Refrigerator |
| frigidaire LGHN2844MF | Refrigerator |
| Frigidaire LGHN2844MF0 | Refrigerator |
| Frigidaire LGHN2844MF1 | Refrigerator |
| Frigidaire LGHN2844MF2 | Refrigerator |
| Frigidaire LGHN2844MF4 | Refrigerator |
| Frigidaire LGHN2844MF5 | Refrigerator |
| frigidaire LGHN2844MP | Refrigerator |
| Frigidaire LGHN2844MP0 | Refrigerator |
| Frigidaire LGHN2844MP1 | Refrigerator |
| Frigidaire LGHN2844MP2 | Refrigerator |
| Frigidaire LGHN2844MP4 | Refrigerator |
| Frigidaire LGHN2844MP5 | Refrigerator |
| Frigidaire LGHS2634KE0 | Refrigerator |
| Frigidaire LGHS2634KE1 | Refrigerator |
| Frigidaire LGHS2634KE2 | Refrigerator |
| Frigidaire LGHS2634KP0 | Refrigerator |
| Frigidaire LGHS2634KP1 | Refrigerator |
| Frigidaire LGHS2634KP2 | Refrigerator |
| Frigidaire LGHS2644KM0 | Refrigerator |
| Frigidaire LGHS2644KM1 | Refrigerator |
| Frigidaire LGHS2644KM2 | Refrigerator |
| Frigidaire LGHS2655KE0 | Refrigerator |
| Frigidaire LGHS2655KE1 | Refrigerator |
| Frigidaire LGHS2655KE2 | Refrigerator |
| Frigidaire LGHS2655KP0 | Refrigerator |
| Frigidaire LGHS2655KP1 | Refrigerator |
| Frigidaire LGHS2655KP2 | Refrigerator |
| Frigidaire LGHS2665KF0 | Refrigerator |
| Frigidaire LGHS2665KF1 | Refrigerator |
| Frigidaire LGHS2665KF2 | Refrigerator |
| Frigidaire LGHS2667KE | Refrigerator |
| Frigidaire LGHS2667KE0 | Refrigerator |
| Frigidaire LGHS2667KP0 | Refrigerator |
| frigidaire LGUB2642LE | Refrigerator |
| Frigidaire LGUB2642LE3 | Refrigerator |
| Frigidaire LGUB2642LE4 | Refrigerator |
| Frigidaire LGUB2642LE5 | Refrigerator |
| Frigidaire LGUB2642LE8 | Refrigerator |
| Frigidaire LGUB2642LE9 | Refrigerator |
| frigidaire LGUB2642LF | Refrigerator |
| Frigidaire LGUB2642LF0 | Refrigerator |
| Frigidaire LGUB2642LF1 | Refrigerator |
| Frigidaire LGUB2642LF2 | Refrigerator |
| Frigidaire LGUB2642LF3 | Refrigerator |
| Frigidaire LGUB2642LF4 | Refrigerator |
| Frigidaire LGUB2642LF5 | Refrigerator |
| Frigidaire LGUB2642LF8 | Refrigerator |
| Frigidaire LGUB2642LF9 | Refrigerator |
| Frigidaire LGUB2642LP | Refrigerator |
| Frigidaire LGUB2642LP3 | Refrigerator |
| Frigidaire LGUB2642LP4 | Refrigerator |
| Frigidaire LGUB2642LP5 | Refrigerator |
| Frigidaire LGUB2642LP8 | Refrigerator |
| Frigidaire LGUB2642LP9 | Refrigerator |
| Frigidaire LGUS2646LE | Refrigerator |
| Frigidaire LGUS2646LE0 | Refrigerator |
| Frigidaire LGUS2646LF | Refrigerator |
| Frigidaire LGUS2646LF0 | Refrigerator |
| Frigidaire LGUS2646LP | Refrigerator |
| Frigidaire LGUS2646LP0 | Refrigerator |
| FRIGIDAIRE LPHS2687KF0 | Refrigerator |
| FRIGIDAIRE LPHS2687KF1 | Refrigerator |
| FRIGIDAIRE LPHS2687KF2 | Refrigerator |
| FRIGIDAIRE LPHS2687KF4 | Refrigerator |
| Frigidaire LPUS2686LF | Refrigerator |
| FRIGIDAIRE LPUS2686LF0 | Refrigerator |
| FRIGIDAIRE LPUS2686LF1 | Refrigerator |
| FRIGIDAIRE XGHS2645KF1 | Refrigerator |
| FRIGIDAIRE XGHS2645KF2 | Refrigerator |
| Kenmore 253.7034341A | Refrigerator |
| Kenmore 253.70413419 | Refrigerator |
| Kenmore 253.7041941 | Refrigerator |
| Kenmore 253.7041941A | Refrigerator |
| Kenmore 253.7041941B | Refrigerator |
| Kenmore 253.7041941C | Refrigerator |
| Kenmore 253.7041941D | Refrigerator |
| Kenmore 253.70443210 | Refrigerator |
| Kenmore 253.70443410 | Refrigerator |
| Kenmore 253.70443411 | Refrigerator |
| Kenmore 253.70443412 | Refrigerator |
| Kenmore 253.70443413 | Refrigerator |
| Kenmore 253.70443414 | Refrigerator |
| Kenmore 253.70443415 | Refrigerator |
| Kenmore 253.70443416 | Refrigerator |
| Kenmore 253.70443417 | Refrigerator |
| Kenmore 253.70443418 | Refrigerator |
| Kenmore 253.70443419 | Refrigerator |
| Kenmore 253.7044341A | Refrigerator |
| Kenmore 253.7044341C | Refrigerator |
| Kenmore 253.7044341D | Refrigerator |
| Kenmore 253.7044341E | Refrigerator |
| Kenmore 25370312214 | Refrigerator |
| Kenmore 25370313214 | Refrigerator |
| Kenmore 25370319214 | Refrigerator |
| Kenmore 2537034 | Refrigerator |
| Kenmore 25370343419 | Refrigerator |
| Kenmore 25370443410 | Refrigerator |
| Kenmore 25370443411 | Refrigerator |
| Kenmore 25370443412 | Refrigerator |
| Kenmore 25370443413 | Refrigerator |
| Kenmore 25370443414 | Refrigerator |
| Kenmore 2537044341C | Refrigerator |
| Kenmore 25370447411 | Refrigerator |
| kenmore 70342 | Refrigerator |
| kenmore 70343 | Refrigerator |
| kenmore 70349 | Refrigerator |
| kenmore 70412 | Refrigerator |
| kenmore 70413 | Refrigerator |
| kenmore 70419 | Refrigerator |
| kenmore 70423 | Refrigerator |
| kenmore 70443 | Refrigerator |
| 1000472026 | Filter |
| 203618461 | Filter |
| 242017800 | Filter |
| 242017801 | Filter |
| 242017802 | Filter |
| 242069601 | Filter |
| 3957684 | Filter |
| 46-9919 | Filter |
| 46-9999 | Filter |
| 469999 | Filter |
| 9919 | Filter |
| 9999 | Filter |
| A0094E28261 | Filter |
| CF1 | Filter |
| CLCH121 | Filter |
| CW-ULTRAWF | Filter |
| EMD | Filter |
| OPFE1-RF300 | Filter |
| PS2364646 | Filter |
| RF-02 | Filter |
| RWF1180 | Filter |
| SCWF3CTO | Filter |
| SCWF5CT0 | Filter |
| SCWF5CTO | Filter |
| ULTRA-WF | Filter |
| ULTRAWF | Filter |
| WFC4401 | Filter |
Additional Information
---