Samsung DA97-17376B | Our#: 184825
Samsung Refrigerator Water Filter HAF-QIN/EXP (DA97-17376B)

10 review(s)
Samsung DA97-17376B | Our#: 184825
Fast Shipping & Free Returns
100% Compatibility Guarantee
Compatibility guaranteed! Free return shipping and 100% money back if there are any issues.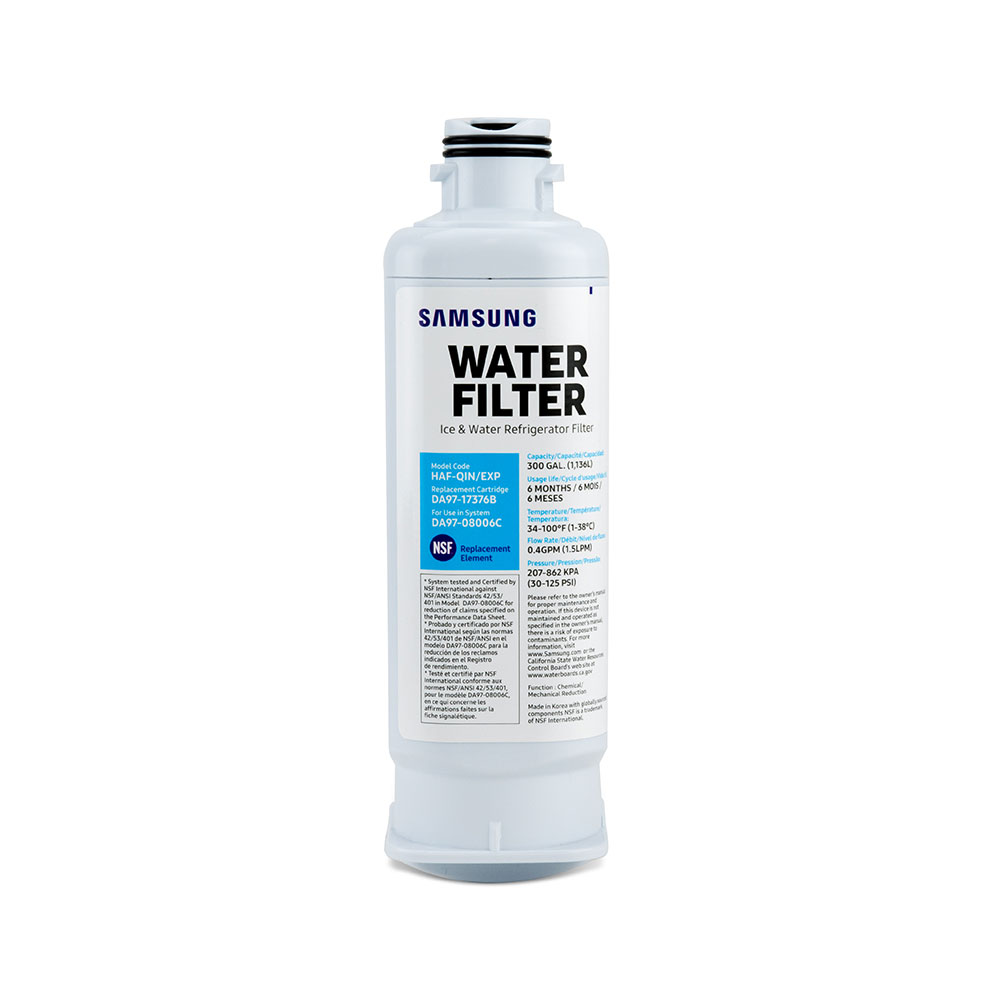 5 people in your area recently purchased this product!
Fast Shipping & Free Returns
100% Compatibility Guarantee
Frequently Purchased Together
Product Details
The factory original Samsung filter (DA97-17376B) is used in French Door and Side-by-Side refrigerators by Samsung and others. The DA97-17376B filter creates better tasting water for drinking and making beverages as well as clean, clearer, healthy ice.
Features:
Original OEM product
Easy installation and operation
PART # DA97-17376B / MODEL # HAF-QIN/EXP / FOR USE IN SYSTEM # DA97-08006C
Helps reduce chlorine taste and odor
Helps reduce contaminants found in tap water and improves its quality
Tested by NSF International against Standard 42 for the reduction of chlorine taste and odor and particulate
Tested by NSF International against Standard 53 for the reduction of lead, cysts, turbidity and other chemicals and impurities
---
Popular Part Numbers
---
Installation Instructions
How to Install the DA97-17376B Filter:

Remove old cartridge by grasping the filter knob and turning ¼ turn counterclockwise
Insert new cartridge into filter receiver and turn ¼ turn clockwise until it locks into place. The handle with "LOCK" text will now be in a vertical orientation
Run water through the dispenser for 3 minutes to purge air and any loose carbon from the system
Reset your filter replacement indicator light if your refrigerator has one
---
Compatible Part Numbers
Search by your filter part number or appliance model number to verify compatibility
| Model or Part Number | Type |
| --- | --- |
| Samsung BRF365200AP/AA | Refrigerator |
| Samsung BRF425200AP/AA | Refrigerator |
| Samsung DA97-17376B/00 | Refrigerator |
| Samsung RF18A5101WW/AA | Refrigerator |
| Samsung RF220NCTAWW | Refrigerator |
| Samsung RF22A4121SR | Refrigerator |
| Samsung RF22A4121SR/AA | Refrigerator |
| Samsung RF22R7351DT | Refrigerator |
| Samsung RF22R7351DT/AA | Refrigerator |
| Samsung RF22R7351SG | Refrigerator |
| Samsung RF22R7351SG/AA | Refrigerator |
| Samsung RF22R7351SR | Refrigerator |
| Samsung RF22R7351SR/AA | Refrigerator |
| Samsung RF22R7551DT | Refrigerator |
| Samsung RF22R7551DT/AA | Refrigerator |
| Samsung RF22R7551SG | Refrigerator |
| Samsung RF22R7551SG/AA | Refrigerator |
| Samsung RF22R7551SR | Refrigerator |
| Samsung RF22R7551SR/AA | Refrigerator |
| Samsung RF23A9071SG | Refrigerator |
| Samsung RF23A9071SG/AA | Refrigerator |
| Samsung RF23A9071SR | Refrigerator |
| Samsung RF23A9071SR/AA | Refrigerator |
| Samsung RF23A9671SG | Refrigerator |
| Samsung RF23A9671SG/AA | Refrigerator |
| Samsung RF23A9671SR | Refrigerator |
| Samsung RF23A9671SR/AA | Refrigerator |
| Samsung RF23A967541 | Refrigerator |
| Samsung RF23A9675MT | Refrigerator |
| Samsung RF23A9771SG | Refrigerator |
| Samsung RF23A9771SG/AA | Refrigerator |
| Samsung RF23A9771SR | Refrigerator |
| Samsung RF23A9771SR/AA | Refrigerator |
| Samsung RF23M8070DT | Refrigerator |
| Samsung RF23M8070DT/AA | Refrigerator |
| Samsung RF23M8070SG/AA | Refrigerator |
| Samsung RF23M8070SR | Refrigerator |
| Samsung RF23M8070SR/AA | Refrigerator |
| Samsung RF23M8070SR/AA | Refrigerator |
| Samsung RF23M8090SG/AA | Refrigerator |
| Samsung RF23M8090SR/AA | Refrigerator |
| Samsung RF23M8570SG/AA | Refrigerator |
| Samsung RF23M8570SR/AA | Refrigerator |
| Samsung RF23M8590SG/AA | Refrigerator |
| Samsung RF23M8590SR/AA | Refrigerator |
| Samsung RF23M8960MT/AA | Refrigerator |
| Samsung RF23M8960S4/AA | Refrigerator |
| Samsung RF23R6201DT | Refrigerator |
| Samsung RF23R6201DT/AA | Refrigerator |
| Samsung RF23R6201SG | Refrigerator |
| Samsung RF23R6201SG/AA | Refrigerator |
| Samsung RF23R6201SR | Refrigerator |
| Samsung RF23R6201SR/AA | Refrigerator |
| Samsung RF23R6201WW | Refrigerator |
| Samsung RF23R6201WW/AA | Refrigerator |
| Samsung RF23R6301SR | Refrigerator |
| Samsung RF23R6301SR/AA | Refrigerator |
| Samsung RF24R7201DT | Refrigerator |
| Samsung RF24R7201DT/AA | Refrigerator |
| Samsung RF24R7201SG | Refrigerator |
| Samsung RF24R7201SG/AA | Refrigerator |
| Samsung RF24R7201SR | Refrigerator |
| Samsung RF27T5201SG | Refrigerator |
| Samsung RF27T5201SG/AA | Refrigerator |
| Samsung RF27T5201SR | Refrigerator |
| Samsung RF27T5201SR/AA | Refrigerator |
| Samsung RF27T5201WW | Refrigerator |
| Samsung RF27T5241SG | Refrigerator |
| Samsung RF27T5241SG/AA | Refrigerator |
| Samsung RF27T5241SR | Refrigerator |
| Samsung RF27T5241SR/AA | Refrigerator |
| Samsung RF27T5501SG | Refrigerator |
| Samsung RF27T5501SG/AA | Refrigerator |
| Samsung RF27T5501SR | Refrigerator |
| Samsung RF27T5501SR/AA | Refrigerator |
| Samsung RF28R6201DT | Refrigerator |
| Samsung RF28R6201DT/AA | Refrigerator |
| Samsung RF28R6201SG | Refrigerator |
| Samsung RF28R6201SG/AA | Refrigerator |
| Samsung RF28R6202WW | Refrigerator |
| Samsung RF28R6202WW/AA | Refrigerator |
| Samsung RF28R6221SR | Refrigerator |
| Samsung RF28R6221SR/AA | Refrigerator |
| Samsung RF28R6222WW | Refrigerator |
| Samsung RF28R6222WW/AA | Refrigerator |
| Samsung RF28R6241SR | Refrigerator |
| Samsung RF28R6241SR/AA | Refrigerator |
| Samsung RF28R6301DT | Refrigerator |
| Samsung RF28R6301SG | Refrigerator |
| Samsung RF28R6301SG/AA | Refrigerator |
| Samsung RF28R6301SR | Refrigerator |
| Samsung RF28R7201DT | Refrigerator |
| Samsung RF28R7201DT/AA | Refrigerator |
| Samsung RF28R7201SG | Refrigerator |
| Samsung RF28R7201SG/AA | Refrigerator |
| Samsung RF28R7201SR | Refrigerator |
| Samsung RF28R7201SR/AA | Refrigerator |
| Samsung RF28R7351DT | Refrigerator |
| Samsung RF28R7351DT/AA | Refrigerator |
| Samsung RF28R7351SG | Refrigerator |
| Samsung RF28R7351SG/AA | Refrigerator |
| Samsung RF28R7351SG/AA-00 | Refrigerator |
| Samsung RF28R7351SR | Refrigerator |
| Samsung RF28R7351SR/AA | Refrigerator |
| Samsung RF28R7551DT | Refrigerator |
| Samsung RF28R7551DT/AA | Refrigerator |
| Samsung RF28R7551SG | Refrigerator |
| Samsung RF28R7551SG/AA | Refrigerator |
| Samsung RF28R7551SR | Refrigerator |
| Samsung RF28R7551SR/AA | Refrigerator |
| Samsung RF28T5001SG | Refrigerator |
| Samsung RF28T5001SG/AA | Refrigerator |
| Samsung RF28T5001SR | Refrigerator |
| Samsung RF28T5001SR/AA | Refrigerator |
| Samsung RF28T5001WW | Refrigerator |
| Samsung RF28T5001WW/AA | Refrigerator |
| Samsung RF28T5021SG | Refrigerator |
| Samsung RF28T5021SG/AA | Refrigerator |
| Samsung RF28T5021SR | Refrigerator |
| Samsung RF28T5021SR/AA | Refrigerator |
| Samsung RF28T5101SG | Refrigerator |
| Samsung RF28T5101SG/AA | Refrigerator |
| Samsung RF28T5101SR | Refrigerator |
| Samsung RF28T5101SR/AA | Refrigerator |
| Samsung RF28T5101WW | Refrigerator |
| Samsung RF28T5101WW/AA | Refrigerator |
| Samsung RF28T5F01SG | Refrigerator |
| Samsung RF28T5F01SG/AA | Refrigerator |
| Samsung RF28T5F01SR | Refrigerator |
| Samsung RF28T5F01SR/AA | Refrigerator |
| Samsung RF29A9071SG | Refrigerator |
| Samsung RF29A9071SG/AA | Refrigerator |
| Samsung RF29A9071SR | Refrigerator |
| Samsung RF29A9071SR/AA | Refrigerator |
| Samsung RF29A9671SG | Refrigerator |
| Samsung RF29A9671SG/AA | Refrigerator |
| Samsung RF29A9671SR | Refrigerator |
| Samsung RF29A9671SR/AA | Refrigerator |
| Samsung RF29A967541 | Refrigerator |
| Samsung RF29A9675AP | Refrigerator |
| Samsung RF29A9675MT | Refrigerator |
| Samsung RF29A9771SG | Refrigerator |
| Samsung RF29A9771SR | Refrigerator |
| Samsung RF29BB820012 | Refrigerator |
| Samsung RF29BB820012/00 | Refrigerator |
| Samsung RF29BB820012/AA | Refrigerator |
| Samsung RF29BB820012/AA-00 | Refrigerator |
| Samsung RF29BB820012/OO | Refrigerator |
| Samsung RF29BB86004M | Refrigerator |
| Samsung RF29BB8600QL | Refrigerator |
| Samsung RF29BB89008M | Refrigerator |
| Samsung RF30BB6200QL | Refrigerator |
| Samsung RF30BB6600QL | Refrigerator |
| Samsung RS22T5201SG | Refrigerator |
| Samsung RS22T5201SG/AA | Refrigerator |
| Samsung RS22T5201SR | Refrigerator |
| Samsung RS22T5201SR/AA | Refrigerator |
| Samsung RS22T5561SG | Refrigerator |
| Samsung RS22T5561SG/AA | Refrigerator |
| Samsung RS22T5561SR | Refrigerator |
| Samsung RS22T5561SR/AA | Refrigerator |
| Samsung RS23A500ASG | Refrigerator |
| Samsung RS23A500ASG/AA | Refrigerator |
| Samsung RS23A500ASR | Refrigerator |
| Samsung RS23A500ASR/AA | Refrigerator |
| Samsung RS27T5200SG | Refrigerator |
| Samsung RS27T5200SG/AA | Refrigerator |
| Samsung RS27T5200SR | Refrigerator |
| Samsung RS27T5200WW | Refrigerator |
| Samsung RS27T5200WW/AA | Refrigerator |
| Samsung RS27T5201SR | Refrigerator |
| Samsung RS27T5201SR/AA | Refrigerator |
| Samsung RS27T5561SG | Refrigerator |
| Samsung RS27T5561SG/AA | Refrigerator |
| Samsung RS27T5561SR | Refrigerator |
| Samsung RS28A500ASG | Refrigerator |
| Samsung RS28A500ASG/AA | Refrigerator |
| Samsung RS28A500ASR | Refrigerator |
| Samsung RS28A500ASR/AA | Refrigerator |
| Samsung RS28A5F61SG | Refrigerator |
| Samsung RS28A5F61SG/AA | Refrigerator |
| Samsung RS28A5F61SR | Refrigerator |
| Samsung RS28A5F61SR/AA | Refrigerator |
| 3846785 | Filter |
| AQF-DA97-17376B | Filter |
| DA97-08006C | Filter |
| DA97-17376B | Filter |
| EFF-6045A | Filter |
| FL-RF45 | Filter |
| HAF-QIN | Filter |
| HAF-QIN/EXP | Filter |
| HAF-QINS | Filter |
| S-4-2 | Filter |
| WD-DA97-17376B | Filter |
| WS645A | Filter |