Samsung DA29-00003G | Our#: 177380
Samsung Aqua-Pure Plus Refrigerator Water Filter (DA29-00003G)

94 review(s)
Samsung DA29-00003G | Our#: 177380
Fast Shipping & Free Returns
100% Compatibility Guarantee
Compatibility guaranteed! Free return shipping and 100% money back if there are any issues.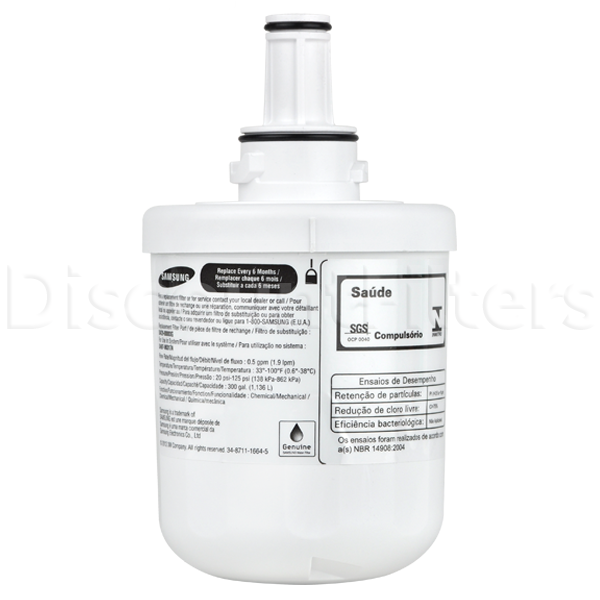 3 people in your area recently purchased this product!
Fast Shipping & Free Returns
100% Compatibility Guarantee
Frequently Purchased Together
Product Details
The factory original Samsung Aqua-Pure Plus Water Filter (DA29-00003G) is used in refrigerators by Samsung, Kenmore and others. The DA29-00003G filter creates better tasting water for drinking and making beverages as well as clean, clearer, healthy ice. The DA29-00003G can replace part numbers DA29-00003A, DA29-00003B, DA29-00003F, and offers the highest level of purification.
Features:
Original OEM product
Easy installation and operation
Helps reduce chlorine taste and odor
Helps reduce contaminants found in tap water and improves its quality
Tested by NSF/ANSI International against Standard 42 for the reduction of chlorine taste and odor and particulate
Tested by NSF/ANSI International against Standard 53 for the reduction of Cysts, Turbidity, Lead, Asbestos, Benzene, Carbofuran, p-Dichlorobenzene and Mercury.
---
Popular Part Numbers
---
Installation Instructions
How To Install The DA29-00003G Filter:
Remove old filter cartridge by grasping and turning to the left about 1/4 turn
Apply the month sticker (included) to the cartridge as a reminder to replace the filter with 6 months and remove red cap
Align unlabeled side of filter with the indictor line so that it can be inserted into the filter cover
Turn the cartridge 1/4 turn to the right to lock it into place - you will feel a stop and the locked symbol should now be lined up with the indicator line
Run water through the dispenser for 5 minutes to purge the system
Press and hold ice type and child lock button simultaneously to reset filter indicator if your fridge has one
---
Compatible Part Numbers
Search by your filter part number or appliance model number to verify compatibility
| Model or Part Number | Type |
| --- | --- |
| Kenmore 40140483800 | Refrigerator |
| Kenmore 40141003010 | Refrigerator |
| Samsung GSE4820SS | Refrigerator |
| samsung RB195ACBP | Refrigerator |
| Samsung RB195BSSB | Refrigerator |
| Samsung RB195BSSB/AA | Refrigerator |
| Samsung RB195BSSB/XAA | Refrigerator |
| samsung RF221NCTABC | Refrigerator |
| samsung RF221NCTASP | Refrigerator |
| samsung RF221NCTASR | Refrigerator |
| samsung RF221NCTAWW | Refrigerator |
| Samsung RF237AARS | Refrigerator |
| Samsung RF237AARS/XAA | Refrigerator |
| Samsung RF263AEBP | Refrigerator |
| Samsung RF263AEBP/AA | Refrigerator |
| Samsung RF263AEBP/XAA | Refrigerator |
| Samsung RF263AEPN | Refrigerator |
| Samsung RF263AEPN/AA | Refrigerator |
| Samsung RF263AEPN/XAA | Refrigerator |
| Samsung RF263AERS | Refrigerator |
| Samsung RF263AERS/AA | Refrigerator |
| Samsung RF263AERS/XAA | Refrigerator |
| Samsung RF263AERS/XAC | Refrigerator |
| Samsung RF263AEWP | Refrigerator |
| Samsung RF263AEWP/AA | Refrigerator |
| Samsung RF263AEWP/XAA | Refrigerator |
| Samsung RF263AFBP | Refrigerator |
| Samsung RF263AFBP/AA | Refrigerator |
| Samsung RF263AFRS | Refrigerator |
| Samsung RF263AFRS/AA | Refrigerator |
| Samsung RF263AFWP | Refrigerator |
| Samsung RF263AFWP/AA | Refrigerator |
| Samsung RF263AFWP/XAC | Refrigerator |
| Samsung RF265AABP | Refrigerator |
| Samsung RF265AABP/AA | Refrigerator |
| Samsung RF265AABP/XAA | Refrigerator |
| Samsung RF265AABP/XAC | Refrigerator |
| Samsung RF265AARS | Refrigerator |
| Samsung RF265AARS/AA | Refrigerator |
| Samsung RF265AARS/XAA | Refrigerator |
| Samsung RF265AARS/XAC | Refrigerator |
| Samsung RF265AASH | Refrigerator |
| Samsung RF265AASH/AA | Refrigerator |
| Samsung RF265AASH/XAA | Refrigerator |
| Samsung RF265AAWP | Refrigerator |
| Samsung RF265AAWP/AA | Refrigerator |
| Samsung RF265AAWP/XAA | Refrigerator |
| Samsung RF265AAWP/XAC | Refrigerator |
| Samsung RF265ABBP | Refrigerator |
| Samsung RF265ABBP/AA | Refrigerator |
| Samsung RF265ABBP/XAA | Refrigerator |
| Samsung RF265ABBP/XAC | Refrigerator |
| Samsung RF265ABPN | Refrigerator |
| Samsung RF265ABPN/AA | Refrigerator |
| Samsung RF265ABPN/XAA | Refrigerator |
| Samsung RF265ABPN/XAC | Refrigerator |
| Samsung RF265ABRS | Refrigerator |
| Samsung RF265ABRS/AA | Refrigerator |
| Samsung RF265ABRS/XAC | Refrigerator |
| Samsung RF265ABWP | Refrigerator |
| Samsung RF265ABWP/AA | Refrigerator |
| Samsung RF265ABWP/XAA | Refrigerator |
| Samsung RF265ABWP/XAC | Refrigerator |
| Samsung RF265ACWP | Refrigerator |
| Samsung RF265ACWP/XAA | Refrigerator |
| Samsung RF265ACWP/XAC | Refrigerator |
| Samsung RF266AABP | Refrigerator |
| Samsung RF266AABP/AA | Refrigerator |
| Samsung RF266AABP/XAA | Refrigerator |
| Samsung RF266AARS | Refrigerator |
| Samsung RF266AARS/AA | Refrigerator |
| Samsung RF266AARS/XAA | Refrigerator |
| Samsung RF266AASH | Refrigerator |
| Samsung RF266AASH/AA | Refrigerator |
| Samsung RF266AASH/XAA | Refrigerator |
| Samsung RF266AAWP | Refrigerator |
| Samsung RF266AAWP/AA | Refrigerator |
| Samsung RF266AAWP/XAA | Refrigerator |
| Samsung RF266AB | Refrigerator |
| Samsung RF266ABBP | Refrigerator |
| Samsung RF266ABBP/AA | Refrigerator |
| Samsung RF266ABBP/XAA | Refrigerator |
| Samsung RF266ABPN | Refrigerator |
| Samsung RF266ABPN/AA | Refrigerator |
| Samsung RF266ABPN/XAA | Refrigerator |
| Samsung RF266ABRS | Refrigerator |
| Samsung RF266ABRS/AA | Refrigerator |
| Samsung RF266ABRS/XAA | Refrigerator |
| Samsung RF266ABWP | Refrigerator |
| Samsung RF266ABWP/AA | Refrigerator |
| Samsung RF266ABWP/XAA | Refrigerator |
| Samsung RF266ACPN | Refrigerator |
| Samsung RF266ACPN/XAA | Refrigerator |
| Samsung RF266AEBP | Refrigerator |
| Samsung RF266AEBP/AA | Refrigerator |
| Samsung RF266AEBP/XAA | Refrigerator |
| Samsung RF266AEPN | Refrigerator |
| Samsung RF266AEPN/AA | Refrigerator |
| Samsung RF266AEPN/XAA | Refrigerator |
| Samsung RF266AERS | Refrigerator |
| Samsung RF266AERS/AA | Refrigerator |
| Samsung RF266AERS/XAA | Refrigerator |
| Samsung RF266AEWP | Refrigerator |
| Samsung RF266AEWP/AA | Refrigerator |
| Samsung RF266AEWP/XAA | Refrigerator |
| Samsung RF266AFRS | Refrigerator |
| Samsung RF266AFRS/AA | Refrigerator |
| Samsung RF267AABP | Refrigerator |
| Samsung RF267AABP/AA | Refrigerator |
| Samsung RF267AABP/XAA | Refrigerator |
| Samsung RF267AABP/XAC | Refrigerator |
| Samsung RF267AARS | Refrigerator |
| Samsung RF267AARS/AA | Refrigerator |
| Samsung RF267AARS/XAA | Refrigerator |
| Samsung RF267AARS/XAC | Refrigerator |
| Samsung RF267AASH | Refrigerator |
| Samsung RF267AASH/AA | Refrigerator |
| Samsung RF267AASH/XAA | Refrigerator |
| Samsung RF267AAWP | Refrigerator |
| Samsung RF267AAWP/AA | Refrigerator |
| Samsung RF267AAWP/XAA | Refrigerator |
| Samsung RF267AAWP/XAC | Refrigerator |
| Samsung RF267ABBP | Refrigerator |
| Samsung RF267ABBP/AA | Refrigerator |
| Samsung RF267ABBP/XAA | Refrigerator |
| Samsung RF267ABBP/XAC | Refrigerator |
| Samsung RF267ABPN | Refrigerator |
| Samsung RF267ABPN/AA | Refrigerator |
| Samsung RF267ABPN/XAA | Refrigerator |
| Samsung RF267ABRS | Refrigerator |
| Samsung RF267ABRS/AA | Refrigerator |
| Samsung RF267ABRS/XAA | Refrigerator |
| Samsung RF267ABRS/XAC | Refrigerator |
| Samsung RF267ABRS/ZAA | Refrigerator |
| Samsung RF267ABWP | Refrigerator |
| Samsung RF267ABWP/AA | Refrigerator |
| Samsung RF267ABWP/XAA | Refrigerator |
| Samsung RF267ABWP/XAC | Refrigerator |
| Samsung RF267AE | Refrigerator |
| Samsung RF267AEBP | Refrigerator |
| Samsung RF267AEBP/AA | Refrigerator |
| Samsung RF267AEBP/XAA | Refrigerator |
| Samsung RF267AEPN | Refrigerator |
| Samsung RF267AEPN/AA | Refrigerator |
| Samsung RF267AEPN/XAA | Refrigerator |
| Samsung RF267AERS | Refrigerator |
| Samsung RF267AERS/AA | Refrigerator |
| Samsung RF267AERS/XAA | Refrigerator |
| Samsung RF267AEWP | Refrigerator |
| Samsung RF267AEWP/AA | Refrigerator |
| Samsung RF267AEWP/XAA | Refrigerator |
| Samsung RF267AFBP | Refrigerator |
| Samsung RF267AFBP/AA | Refrigerator |
| Samsung RF267AFRS | Refrigerator |
| Samsung RF267AFRS/AA | Refrigerator |
| Samsung RF267AFWP | Refrigerator |
| Samsung RF267AFWP/AA | Refrigerator |
| Samsung RF267HERS | Refrigerator |
| Samsung RF267HERS/AA | Refrigerator |
| Samsung RF268ABBP | Refrigerator |
| Samsung RF268ABBP/AA | Refrigerator |
| Samsung RF268ABBP/XAA | Refrigerator |
| Samsung RF268ABPN | Refrigerator |
| Samsung RF268ABPN/AA | Refrigerator |
| Samsung RF268ABPN/XAA | Refrigerator |
| Samsung RF268ABRS | Refrigerator |
| Samsung RF268ABRS/AA | Refrigerator |
| Samsung RF268ABRS/XAA | Refrigerator |
| Samsung RF268ABRSXAA | Refrigerator |
| Samsung RF268ABWP | Refrigerator |
| Samsung RF268ABWP/AA | Refrigerator |
| Samsung RF268ABWP/XAA | Refrigerator |
| Samsung RF26DEPN | Refrigerator |
| Samsung RF26DEPN/AA | Refrigerator |
| Samsung RF26DEPN1/XAP | Refrigerator |
| Samsung RF26DEPN2/XAP | Refrigerator |
| Samsung RF26VABBP | Refrigerator |
| Samsung RF26VABBP/AA | Refrigerator |
| Samsung RF26VABBP/XAA | Refrigerator |
| Samsung RF26VABPN | Refrigerator |
| Samsung RF26VABPN/AA | Refrigerator |
| Samsung RF26VABPN/XAA | Refrigerator |
| Samsung RF26VABWP | Refrigerator |
| Samsung RF26VABWP/AA | Refrigerator |
| Samsung RF26VABWP/XAA | Refrigerator |
| Samsung RF26XAEBP | Refrigerator |
| Samsung RF26XAEBP/AA | Refrigerator |
| Samsung RF26XAEBP/XAA | Refrigerator |
| Samsung RF26XAEPN | Refrigerator |
| Samsung RF26XAEPN/AA | Refrigerator |
| Samsung RF26XAEPN/XAA | Refrigerator |
| Samsung RF26XAERS | Refrigerator |
| Samsung RF26XAERS/AA | Refrigerator |
| Samsung RF26XAERS/XAA | Refrigerator |
| Samsung RF26XAEWP | Refrigerator |
| Samsung RF26XAEWP/AA | Refrigerator |
| Samsung RF26XAEWP/XAA | Refrigerator |
| samsung RF293HABP | Refrigerator |
| Samsung RFG237AABP | Refrigerator |
| Samsung RFG237AABP/AA | Refrigerator |
| Samsung RFG237AABP/XAA | Refrigerator |
| Samsung RFG237AAPN | Refrigerator |
| Samsung RFG237AAPN/AA | Refrigerator |
| Samsung RFG237AAPN/XAA | Refrigerator |
| Samsung RFG237AARS | Refrigerator |
| Samsung RFG237AARS/AA | Refrigerator |
| Samsung RFG237AARS/XAA | Refrigerator |
| Samsung RFG237AARS/XAC | Refrigerator |
| Samsung RFG237AAWP | Refrigerator |
| Samsung RFG237AAWP/AA | Refrigerator |
| Samsung RFG237AAWP/XAA | Refrigerator |
| Samsung RFG237ACRS | Refrigerator |
| Samsung RFG237ACRS/AA | Refrigerator |
| Samsung RFG237ACRS/XAC | Refrigerator |
| Samsung RFG238AABP | Refrigerator |
| Samsung RFG238AABP/AA | Refrigerator |
| Samsung RFG238AABP/XAA | Refrigerator |
| Samsung RFG238AAPN | Refrigerator |
| Samsung RFG238AAPN/AA | Refrigerator |
| Samsung RFG238AAPN/XAA | Refrigerator |
| Samsung RFG238AARS | Refrigerator |
| Samsung RFG238AARS/AA | Refrigerator |
| Samsung RFG238AARS/XAA | Refrigerator |
| Samsung RFG238AAWP | Refrigerator |
| Samsung RFG238AAWP/AA | Refrigerator |
| Samsung RFG238AAWP/XAA | Refrigerator |
| samsung RFG23UEBP | Refrigerator |
| samsung RFG23UERS | Refrigerator |
| Samsung RFG295AABP | Refrigerator |
| Samsung RFG295AABP/AA | Refrigerator |
| Samsung RFG295AABP/XAA | Refrigerator |
| Samsung RFG295AABP/XAC | Refrigerator |
| Samsung RFG295AAPN | Refrigerator |
| Samsung RFG295AAPN/AA | Refrigerator |
| Samsung RFG295AAPN/XAA | Refrigerator |
| Samsung RFG295AARS | Refrigerator |
| Samsung RFG295AARS/AA | Refrigerator |
| Samsung RFG295AARS/XAA | Refrigerator |
| Samsung RFG295AARS/XAC | Refrigerator |
| Samsung RFG295AAWP | Refrigerator |
| Samsung RFG295AAWP/AA | Refrigerator |
| Samsung RFG295AAWP/XAA | Refrigerator |
| Samsung RFG295AAWP/XAC | Refrigerator |
| Samsung RFG297 | Refrigerator |
| Samsung RFG297AABP | Refrigerator |
| Samsung RFG297AABP/AA | Refrigerator |
| Samsung RFG297AABP/XAA | Refrigerator |
| Samsung RFG297AABP/XAC | Refrigerator |
| Samsung RFG297AAPN | Refrigerator |
| Samsung RFG297AAPN/AA | Refrigerator |
| Samsung RFG297AAPN/XAA | Refrigerator |
| Samsung RFG297AARS | Refrigerator |
| Samsung RFG297AARS/AA | Refrigerator |
| Samsung RFG297AARS/XAA | Refrigerator |
| Samsung RFG297AARS/XAC | Refrigerator |
| Samsung RFG297AAWP | Refrigerator |
| Samsung RFG297AAWP/AA | Refrigerator |
| Samsung RFG297AAWP/XAA | Refrigerator |
| Samsung RFG297AAWP/XAC | Refrigerator |
| Samsung RFG297ACBP | Refrigerator |
| Samsung RFG297ACBP/AA | Refrigerator |
| Samsung RFG297ACBP/XAC | Refrigerator |
| Samsung RFG297ACRS | Refrigerator |
| Samsung RFG297ACRS/AA | Refrigerator |
| Samsung RFG297ACRS/XAC | Refrigerator |
| Samsung RFG297ACWP | Refrigerator |
| Samsung RFG297ACWP/AA | Refrigerator |
| Samsung RFG297ACWP/XAC | Refrigerator |
| Samsung RFG298AABP | Refrigerator |
| Samsung RFG298AABP/AA | Refrigerator |
| Samsung RFG298AABP/XAA | Refrigerator |
| Samsung RFG298AAPN | Refrigerator |
| Samsung RFG298AAPN/AA | Refrigerator |
| Samsung RFG298AAPN/XAA | Refrigerator |
| Samsung RFG298AARS | Refrigerator |
| Samsung RFG298AARS/AA | Refrigerator |
| Samsung RFG298AARS/XAA | Refrigerator |
| Samsung RFG298AAWP | Refrigerator |
| Samsung RFG298AAWP/AA | Refrigerator |
| Samsung RFG298AAWP/XAA | Refrigerator |
| Samsung RFG299AARS | Refrigerator |
| Samsung RFG299AARS/AA | Refrigerator |
| Samsung RFG299AARS/XXA | Refrigerator |
| Samsung RH269LBSH | Refrigerator |
| Samsung RH269LBSH/AA | Refrigerator |
| Samsung RH269LBSH/XAA | Refrigerator |
| Samsung RM257ABBP | Refrigerator |
| Samsung RM257ABBP/AA | Refrigerator |
| Samsung RM257ABBP/XAA | Refrigerator |
| Samsung RM257ABRS | Refrigerator |
| Samsung RM257ABRS/AA | Refrigerator |
| Samsung RM257ABRS/XAA | Refrigerator |
| Samsung RM257ACPN | Refrigerator |
| Samsung RM257ACPN/AA | Refrigerator |
| Samsung RM257ACPN/XAA | Refrigerator |
| Samsung RM257ACRS | Refrigerator |
| Samsung RM257ACRS/AA | Refrigerator |
| Samsung RM257ACRS/XAA | Refrigerator |
| Samsung RM257ACRS/XAC | Refrigerator |
| Samsung RS21HKLBG | Refrigerator |
| Samsung RS21HKLBG/AA | Refrigerator |
| Samsung RS21HKLBG1/XAP | Refrigerator |
| Samsung RS21HKLBG1/XEM | Refrigerator |
| Samsung RS21HKLMR | Refrigerator |
| Samsung RS21HKLMR/AA | Refrigerator |
| Samsung RS21HKLMR1/XAP | Refrigerator |
| Samsung RS21HKLMR1/XEM | Refrigerator |
| Samsung RS22HDHPNBC | Refrigerator |
| Samsung RS22HDHPNBC/AA | Refrigerator |
| Samsung RS22HDHPNSR | Refrigerator |
| Samsung RS22HDHPNSR/AA | Refrigerator |
| Samsung RS22HDHPNWW | Refrigerator |
| Samsung RS22HDHPNWW/AA | Refrigerator |
| Samsung RS2520SW | Refrigerator |
| Samsung RS2520SW/AA | Refrigerator |
| Samsung RS2520SW/XAA | Refrigerator |
| Samsung RS2530BBP | Refrigerator |
| Samsung RS2530BBP/AA | Refrigerator |
| Samsung RS2530BBP/XAA | Refrigerator |
| Samsung RS2530BSH | Refrigerator |
| Samsung RS2530BSH/AA | Refrigerator |
| Samsung RS2530BSH/XAA | Refrigerator |
| Samsung RS2530BSH/XAC | Refrigerator |
| Samsung RS2530BWP | Refrigerator |
| Samsung RS2530BWP/AA | Refrigerator |
| Samsung RS2530BWP/XAA | Refrigerator |
| Samsung RS2530BWP/XAC | Refrigerator |
| Samsung RS2531SW | Refrigerator |
| Samsung RS2531SW/AA | Refrigerator |
| Samsung RS2531SW/XAA | Refrigerator |
| Samsung RS2533BB/XAA | Refrigerator |
| Samsung RS2533SW | Refrigerator |
| Samsung RS2533SW/AA | Refrigerator |
| Samsung RS2533SW/XAA | Refrigerator |
| Samsung RS2533SW/XAC | Refrigerator |
| Samsung RS2533VK/XAA | Refrigerator |
| Samsung RS2533VQ | Refrigerator |
| Samsung RS2533VQ/AA | Refrigerator |
| Samsung RS2533VQ/XAA | Refrigerator |
| Samsung RS2534BB | Refrigerator |
| Samsung RS2534BB/AA | Refrigerator |
| Samsung RS2534BB/XAA | Refrigerator |
| Samsung RS2534VQ | Refrigerator |
| Samsung RS2534VQ/AA | Refrigerator |
| Samsung RS2534VQ/XAA | Refrigerator |
| Samsung RS2534WW | Refrigerator |
| Samsung RS2534WW/AA | Refrigerator |
| Samsung RS2534WW/XAA | Refrigerator |
| Samsung RS253BABB | Refrigerator |
| Samsung RS253BABB/AA | Refrigerator |
| Samsung RS253BABB/XAA | Refrigerator |
| Samsung RS253BASB | Refrigerator |
| Samsung RS253BASB/AA | Refrigerator |
| Samsung RS253BASB/XAA | Refrigerator |
| Samsung RS253BAVQ | Refrigerator |
| Samsung RS253BAVQ/AA | Refrigerator |
| Samsung RS253BAVQ/XAA | Refrigerator |
| Samsung RS253BAWW | Refrigerator |
| Samsung RS253BAWW/AA | Refrigerator |
| Samsung RS253BAWW/XAA | Refrigerator |
| Samsung RS2542SH | Refrigerator |
| Samsung RS2542SH/AA | Refrigerator |
| Samsung RS2542SH/XAA | Refrigerator |
| Samsung RS2544SL | Refrigerator |
| Samsung RS2544SL/AA | Refrigerator |
| Samsung RS2544SL/XAA | Refrigerator |
| Samsung RS2545SH | Refrigerator |
| Samsung RS2545SH/AA | Refrigerator |
| Samsung RS2545SH/XAA | Refrigerator |
| Samsung RS2545SH/XEM | Refrigerator |
| Samsung RS2555BB | Refrigerator |
| Samsung RS2555BB/AA | Refrigerator |
| Samsung RS2555BB/XAA | Refrigerator |
| Samsung RS2555SL | Refrigerator |
| Samsung RS2555SL/AA | Refrigerator |
| Samsung RS2555SL/XAA | Refrigerator |
| Samsung RS2555SL/XAC | Refrigerator |
| Samsung RS2555SW | Refrigerator |
| Samsung RS2555SW/AA | Refrigerator |
| Samsung RS2555SW/XAA | Refrigerator |
| Samsung RS2556BB | Refrigerator |
| Samsung RS2556BB/AA | Refrigerator |
| Samsung RS2556BB/XAA | Refrigerator |
| Samsung RS2556SH | Refrigerator |
| Samsung RS2556SH/AA | Refrigerator |
| Samsung RS2556SH/XAA | Refrigerator |
| Samsung RS2556SW | Refrigerator |
| Samsung RS2556SW/XAA | Refrigerator |
| Samsung RS2556WW | Refrigerator |
| Samsung RS2556WW/AA | Refrigerator |
| Samsung RS2556WW/XAA | Refrigerator |
| Samsung RS255BABB | Refrigerator |
| Samsung RS255BABB/AA | Refrigerator |
| Samsung RS255BABB/XAA | Refrigerator |
| Samsung RS255BABB/XAC | Refrigerator |
| Samsung RS255BASB | Refrigerator |
| Samsung RS255BASB/AA | Refrigerator |
| Samsung RS255BASB/XAA | Refrigerator |
| Samsung RS255BAWW | Refrigerator |
| Samsung RS2577BB | Refrigerator |
| Samsung RS2577BB/AA | Refrigerator |
| Samsung RS2577BB/XAA | Refrigerator |
| Samsung RS2577SL | Refrigerator |
| Samsung RS2577SL/AA | Refrigerator |
| Samsung RS2577SL/XAA | Refrigerator |
| Samsung RS2577SW | Refrigerator |
| Samsung RS2577SW/AA | Refrigerator |
| Samsung RS2577SW/XAA | Refrigerator |
| Samsung RS2578BB | Refrigerator |
| Samsung RS2578BB/AA | Refrigerator |
| Samsung RS2578BB/XAA | Refrigerator |
| Samsung RS2578SH | Refrigerator |
| Samsung RS2578SH/AA | Refrigerator |
| Samsung RS2578SH/XAA | Refrigerator |
| Samsung RS2578WW | Refrigerator |
| Samsung RS2578WW/AA | Refrigerator |
| Samsung RS2578WW/XAA | Refrigerator |
| Samsung RS257BARB | Refrigerator |
| Samsung RS257BARB/AA | Refrigerator |
| Samsung RS257BARB/XAA | Refrigerator |
| Samsung RS257BARB/XAC | Refrigerator |
| Samsung RS2621SH | Refrigerator |
| Samsung RS2621SH/XAC | Refrigerator |
| Samsung RS2621SW | Refrigerator |
| Samsung RS2621SW/XAA | Refrigerator |
| Samsung RS2621SW/XAC | Refrigerator |
| Samsung RS2622SW | Refrigerator |
| Samsung RS2622SW/AA | Refrigerator |
| Samsung RS2622SW/XAA | Refrigerator |
| Samsung RS2623BB | Refrigerator |
| Samsung RS2623SL | Refrigerator |
| Samsung RS2623SL/AA | Refrigerator |
| Samsung RS2623SL/XAA | Refrigerator |
| Samsung RS2623VQ | Refrigerator |
| Samsung RS2623VQ/AA | Refrigerator |
| Samsung RS2623VQ/XAA | Refrigerator |
| Samsung RS2623WW | Refrigerator |
| Samsung RS2623WW/AA | Refrigerator |
| Samsung RS2623WW/XAA | Refrigerator |
| Samsung RS2624WW | Refrigerator |
| Samsung RS2630ASH | Refrigerator |
| Samsung RS2630ASH/AA | Refrigerator |
| Samsung RS2630ASH/XAA | Refrigerator |
| Samsung RS2630AWW | Refrigerator |
| Samsung RS2630AWW/AA | Refrigerator |
| Samsung RS2630AWW/XAA | Refrigerator |
| Samsung RS2630SH | Refrigerator |
| Samsung RS2630SH/AA | Refrigerator |
| Samsung RS2630SH/XAA | Refrigerator |
| Samsung RS2630SHX/XAC | Refrigerator |
| Samsung RS2630SW | Refrigerator |
| Samsung RS2630SW/XAA | Refrigerator |
| Samsung RS2630WW | Refrigerator |
| Samsung RS2630WW/AA | Refrigerator |
| Samsung RS2630WW/XAA | Refrigerator |
| Samsung RS2630WW/XAC | Refrigerator |
| Samsung RS263BBSH | Refrigerator |
| Samsung RS263BBSH/AA | Refrigerator |
| Samsung RS263BBSH/XAA | Refrigerator |
| Samsung RS263BBWP | Refrigerator |
| Samsung RS263BBWP/AA | Refrigerator |
| Samsung RS263BBWP/XAA | Refrigerator |
| Samsung RS2644SL | Refrigerator |
| Samsung RS2644SL/AA | Refrigerator |
| Samsung RS2644SL/XAA | Refrigerator |
| Samsung RS2644SW | Refrigerator |
| Samsung RS2644SW/XAA | Refrigerator |
| Samsung RS264ABBP | Refrigerator |
| Samsung RS264ABBP/AA | Refrigerator |
| Samsung RS264ABBP/XAA | Refrigerator |
| Samsung RS264ABRS | Refrigerator |
| Samsung RS264ABRS/AA | Refrigerator |
| Samsung RS264ABRS/XAA | Refrigerator |
| Samsung RS264ABSH | Refrigerator |
| Samsung RS264ABSH/AA | Refrigerator |
| Samsung RS264ABSH/XAA | Refrigerator |
| Samsung RS264ABWP | Refrigerator |
| Samsung RS264ABWP/AA | Refrigerator |
| Samsung RS264ABWP/XAA | Refrigerator |
| Samsung RS265BBWP | Refrigerator |
| Samsung RS265BBWP/AA | Refrigerator |
| Samsung RS265BBWP/XAA | Refrigerator |
| Samsung RS265LABP | Refrigerator |
| Samsung RS265LABP/AA | Refrigerator |
| Samsung RS265LABP/XAA | Refrigerator |
| Samsung RS265LBBP | Refrigerator |
| Samsung RS265LBBP/AA | Refrigerator |
| Samsung RS265LBBP/XAA | Refrigerator |
| Samsung RS265LBWP | Refrigerator |
| Samsung RS265LBWP/AA | Refrigerator |
| Samsung RS265LBWP/XAA | Refrigerator |
| Samsung RS2666SL | Refrigerator |
| Samsung RS2666SL/XAA | Refrigerator |
| Samsung RS2666SW | Refrigerator |
| Samsung RS2666SW/AA | Refrigerator |
| Samsung RS2666SW/XAA | Refrigerator |
| Samsung RS267BBBB | Refrigerator |
| Samsung RS267BBBB/AA | Refrigerator |
| Samsung RS267BBBB/XAA | Refrigerator |
| Samsung RS267BBRS | Refrigerator |
| Samsung RS267BBRS/AA | Refrigerator |
| Samsung RS267BBRS/XAA | Refrigerator |
| Samsung RS267BBSH | Refrigerator |
| Samsung RS267BBSH/AA | Refrigerator |
| Samsung RS267BBSH/XAA | Refrigerator |
| Samsung RS267BBWP | Refrigerator |
| Samsung RS267BBWP/AA | Refrigerator |
| Samsung RS267BBWP/XAA | Refrigerator |
| Samsung RS267LABB | Refrigerator |
| Samsung RS267LABB/AA | Refrigerator |
| Samsung RS267LABB/XAA | Refrigerator |
| Samsung RS267LABP | Refrigerator |
| Samsung RS267LABP/AA | Refrigerator |
| Samsung RS267LABP/XAA | Refrigerator |
| Samsung RS267LABP/XAC | Refrigerator |
| Samsung RS267LARS | Refrigerator |
| Samsung RS267LARS/AA | Refrigerator |
| Samsung RS267LARS/XAA | Refrigerator |
| Samsung RS267LASH | Refrigerator |
| Samsung RS267LASH/AA | Refrigerator |
| Samsung RS267LASH/XAA | Refrigerator |
| Samsung RS267LASH/XAC | Refrigerator |
| Samsung RS267LAWP | Refrigerator |
| Samsung RS267LAWP/AA | Refrigerator |
| Samsung RS267LAWP/XAA | Refrigerator |
| Samsung RS267LAWP/XAC | Refrigerator |
| Samsung RS267LAWW | Refrigerator |
| Samsung RS267LAWW/AA | Refrigerator |
| Samsung RS267LAWW/XAA | Refrigerator |
| Samsung RS267LBBP | Refrigerator |
| Samsung RS267LBBP/AA | Refrigerator |
| Samsung RS267LBBP/XAA | Refrigerator |
| Samsung RS267LBBP/XAC | Refrigerator |
| Samsung RS267LBRS | Refrigerator |
| Samsung RS267LBRS/AA | Refrigerator |
| Samsung RS267LBRS/XAA | Refrigerator |
| Samsung RS267LBRS/XAC | Refrigerator |
| Samsung RS267LBSH | Refrigerator |
| Samsung RS267LBSH/AA | Refrigerator |
| Samsung RS267LBSH/XAA | Refrigerator |
| Samsung RS269LARS | Refrigerator |
| Samsung RS269LARS/AA | Refrigerator |
| Samsung RS269LARS/XAA | Refrigerator |
| Samsung RS269LARS/XAC | Refrigerator |
| Samsung RS26XUSW | Refrigerator |
| Samsung RS26XUSW/AA | Refrigerator |
| Samsung RS26XUSW1/XEM | Refrigerator |
| Samsung RS275ACBP | Refrigerator |
| Samsung RS275ACBP/AA | Refrigerator |
| Samsung RS275ACBP/XAA | Refrigerator |
| Samsung RS275ACPN | Refrigerator |
| Samsung RS275ACPN/AA | Refrigerator |
| Samsung RS275ACRS | Refrigerator |
| Samsung RS275ACRS/AA | Refrigerator |
| Samsung RS275ACRS/XAA | Refrigerator |
| Samsung RS275ACWP | Refrigerator |
| Samsung RS275ACWP/AA | Refrigerator |
| Samsung RS275ACWP/XAA | Refrigerator |
| Samsung RS2777SL | Refrigerator |
| Samsung RS2777SL/AA | Refrigerator |
| Samsung RS2777SL/XAA | Refrigerator |
| Samsung RS277ACBP | Refrigerator |
| Samsung RS277ACBP/AA | Refrigerator |
| Samsung RS277ACBP/XAA | Refrigerator |
| Samsung RS277ACPN | Refrigerator |
| Samsung RS277ACPN/AA | Refrigerator |
| Samsung RS277ACPN/XXA | Refrigerator |
| Samsung RS277ACRS | Refrigerator |
| Samsung RS277ACRS/AA | Refrigerator |
| Samsung RS277ACRS/XAA | Refrigerator |
| Samsung RS277ACRS/XAC | Refrigerator |
| Samsung RS277ACWP | Refrigerator |
| Samsung RS277ACWP/AA | Refrigerator |
| Samsung RS277ACWP/XAA | Refrigerator |
| Samsung RS277ACWP/XAC | Refrigerator |
| Samsung RS27FDBTNSR | Refrigerator |
| Samsung RS27FDBTNSR/AA | Refrigerator |
| Samsung RS27FDBTNSR/AC | Refrigerator |
| Samsung RS27KGRS | Refrigerator |
| Samsung RS27KGRS/AA | Refrigerator |
| Samsung RSC6FWRS | Refrigerator |
| Samsung RSC6FWRS/AA | Refrigerator |
| Samsung RSC6FWRS1/XAP | Refrigerator |
| Samsung RSC6FWSH | Refrigerator |
| Samsung RSC6FWSH/AA | Refrigerator |
| Samsung RSC6FWSH1/XAP | Refrigerator |
| Samsung RSC6JWSH | Refrigerator |
| Samsung RSC6JWSH/AA | Refrigerator |
| Samsung RSC6JWSH1/XAP | Refrigerator |
| Samsung RSC6JWSH1/XEM | Refrigerator |
| Samsung RSC6JWWP | Refrigerator |
| Samsung RSC6JWWP/AA | Refrigerator |
| Samsung RSC6JWWP1/XAP | Refrigerator |
| Samsung RSC6JWWP1/XEM | Refrigerator |
| Samsung RSC6KWRS | Refrigerator |
| Samsung RSC6KWRS/AA | Refrigerator |
| Samsung RSC6KWRS1/XAP | Refrigerator |
| Samsung RSC6KWRS1/XEM | Refrigerator |
| Samsung RSG257AA | Refrigerator |
| Samsung RSG257AABP | Refrigerator |
| Samsung RSG257AABP/AA | Refrigerator |
| Samsung RSG257AABP/XAA | Refrigerator |
| Samsung RSG257AABP/XAC | Refrigerator |
| Samsung RSG257AAPN | Refrigerator |
| Samsung RSG257AAPN/AA | Refrigerator |
| Samsung RSG257AAPN/XAA | Refrigerator |
| Samsung RSG257AARS | Refrigerator |
| Samsung RSG257AARS/AA | Refrigerator |
| Samsung RSG257AARS/XAA | Refrigerator |
| Samsung RSG257AARS/XAC | Refrigerator |
| Samsung RSG257AAWP | Refrigerator |
| Samsung RSG257AAWP/AA | Refrigerator |
| Samsung RSG257AAWP/XAA | Refrigerator |
| Samsung RSG257AAWP/XAC | Refrigerator |
| Samsung RSG5FURS | Refrigerator |
| Samsung RSG5FURS/AA | Refrigerator |
| Samsung RSH1KLBG | Refrigerator |
| Samsung RSH1KLBG1/XAP | Refrigerator |
| Samsung RSH1KLBG1/XEM | Refrigerator |
| Samsung RSH1KLMR | Refrigerator |
| Samsung RSH1KLMR1/XAP | Refrigerator |
| Samsung RSH1KLMR1/XEM | Refrigerator |
| Samsung RSH3KTPE | Refrigerator |
| Samsung RSH3KTPE1/XAP | Refrigerator |
| Samsung RSH3KTRS | Refrigerator |
| Samsung RSH3KTRS1/XAP | Refrigerator |
| Samsung RSH3KTSW | Refrigerator |
| Samsung RSH3KTSW1/XAP | Refrigerator |
| Samsung SRT768VFHW | Refrigerator |
| Samsung SRT768VFHW/AA | Refrigerator |
| Samsung TS48WLUS | Refrigerator |
| Samsung TS48WLUS/AA | Refrigerator |
| AFC-RF-S1 | Filter |
| AMDA29-00003G | Filter |
| AP4444333 | Filter |
| APF-0100 | Filter |
| AQF-DA29-00003G | Filter |
| CLCH103 | Filter |
| CW-S1 | Filter |
| CWMF022 | Filter |
| DA29-00002 | Filter |
| DA29-000028 | Filter |
| DA29-00002A | Filter |
| DA29-00002A-8 | Filter |
| DA29-00002A-B | Filter |
| DA29-00003 | Filter |
| DA29-000038 | Filter |
| DA29-00003A | Filter |
| DA29-00003A-8 | Filter |
| DA29-00003A-B | Filter |
| DA29-00003B | Filter |
| DA29-00003F | Filter |
| DA29-00003G | Filter |
| DA29-00003H | Filter |
| DA29-0002 | Filter |
| DA29-00028 | Filter |
| DA29-0002B | Filter |
| DA29-0003 | Filter |
| DA29-00038 | Filter |
| DA29-0003B | Filter |
| DA29-0003G | Filter |
| DA2900002 | Filter |
| DA29000028 | Filter |
| DA2900002A | Filter |
| DA2900002B | Filter |
| DA2900003 | Filter |
| DA29000038 | Filter |
| DA2900003A | Filter |
| DA2900003B | Filter |
| DA2900003G | Filter |
| DA2900003H | Filter |
| DA290002 | Filter |
| DA2900028 | Filter |
| DA290002B | Filter |
| DA290003 | Filter |
| DA2900038 | Filter |
| DA290003B | Filter |
| DA290003G | Filter |
| DA61-00159 | Filter |
| DA61-00159A | Filter |
| DA61-00159A-8 | Filter |
| DA61-00159A-B | Filter |
| DA61-00159G | Filter |
| DA61-159 | Filter |
| DA61159 | Filter |
| DA97-06317A | Filter |
| DSB30 | Filter |
| DWF-11 | Filter |
| EAP4138214 | Filter |
| EFF-6011A | Filter |
| ES-1 | Filter |
| FA-0083U | Filter |
| FL-293G | Filter |
| FMS-1 | Filter |
| GGN726-003A | Filter |
| HAFCU1 | Filter |
| HAFCUI | Filter |
| HAFIN1/EXP | Filter |
| HAFIN2 | Filter |
| OPFS-RF300 | Filter |
| PF04 | Filter |
| PH21300 | Filter |
| PP1003 | Filter |
| PS1012513 | Filter |
| PS2123057 | Filter |
| PS2507074 | Filter |
| PS2509506 | Filter |
| PUR-03 | Filter |
| R-003 | Filter |
| RF-S1A | Filter |
| RF11SS2 | Filter |
| RFC1100A | Filter |
| RWF1010 | Filter |
| S-1-2 | Filter |
| SGF-DSB30 | Filter |
| SW-S1 | Filter |
| TADA29-000038 | Filter |
| TADA29-00003A | Filter |
| TADA29-00003B | Filter |
| W10132126 | Filter |
| WD-DA29-00003G | Filter |
| WF-289 | Filter |
| WF289 | Filter |
| WFBRFSA1 | Filter |
| WFC2201 | Filter |
| WSS-1 | Filter |
Additional Information
---