Replacement Refrigerator Filters for DW2042FR-09
Installation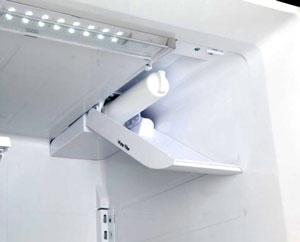 How To Install The DW2042FR-09 Filter:
The water filter cartridge is located in the upper right corner of the refrigerator compartment. The filter cartridge should be replaced when the replacement indicator light turns red or if the flow of water to the dispenser or icemaker decreases. For refrigerators without an indicator light - replace the filters every 6 months.
Shut off water supply
Rotate the old cartridge counter clockwise 1/4 turn and remove
Remove protective cap from the new water filter
Insert the new filter into the filter head and twist the filter clockwise 1/4 turn
Turn on the water supply and check for leaks
Run water from the dispenser for 5 minutes (about 1-1/2 gallons) to clear the system and prevent sputtering
Reset the "Filter Indicator" light by pressing the Ice Maker Lock button for 3 seconds or more
Cross-Compatibility
The filters below are 100% compatible with part number DW2042FR-09
6
compatible alternative filter models below.
Product Comparison
Marvel at the specifications of our DW2042FR-09 compatible filter.
The DiscountFilters.com Difference
Free Shipping (Same Day)
Free Returns For 1 Year
100% Compatibility Guarantee
Made With Care in Indiana USA