LG LT800P | Our#: 178457
LG Refrigerator Water Filter (ADQ73613401, LT800P), 3-Pack

2 review(s)
LG LT800P | Our#: 178457
Fast Shipping & Free Returns
100% Compatibility Guarantee
Compatibility guaranteed! Free return shipping and 100% money back if there are any issues.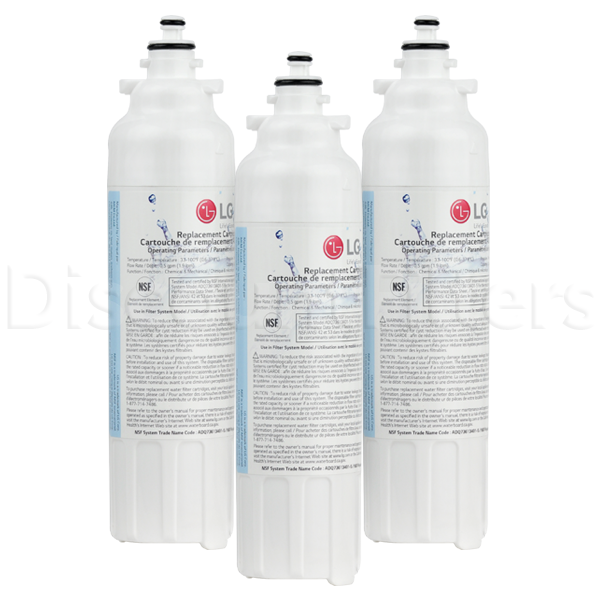 2 people in your area recently purchased this product!
$

64.77
(

3

Filters for $

194.30

)
Fast Shipping & Free Returns
100% Compatibility Guarantee
Frequently Purchased Together
Product Details
Foreign contaminants can enter your water supply on its journey from its natural sources, through the water treatment facility, and on the way to your home. How can one remove these health-endangering substances from entering their home? The LG LT800P fridge filter (ADQ73612401) works to remove these contaminants and provide your home with clean, refreshing, healthy water.
As water enters your fridge from the water line, the chamber in the LG refrigerator water filter is filled. Inside this chamber, the water flows through a carbon-filled compartment. The carbon removes the impurities found in the water supply. Bacteria, chlorine, rust, and many other undesirable substances are filtered out by the carbon and clean, clear water is provided to your home. To reduce the risk of causing damage to your personal health, install a LG LT800P fridge filter in your home to provide yourself access to clean, healthy water at all times.
To optimize the efficacy of your refrigerator's ability to provide clean, filtered water, make sure to routinely change your LG refrigerator water filter. The carbon that filters the water in your fridge filter becomes less effective at filtering out undesirable substances from your water supply. Making routine filter changes can ensure that your household can have access to clean, clear water whenever you desire.
---
Popular Part Numbers
---
Installation Instructions
For Upper Left Fridge Compartment Installations
Push the ends of filter cover to open it
Swing cover downward
Move the old cartridge downward and then twist the cartridge counterclockwise
Pull old filter cartridge out of the filter receiver and discard
Push the new filter cartridge into the receiver and rotate clockwise until it stops
Raise and close the cover
Run water continuously through dispenser until water runs clear and sputtering stops
For Door Installations
Lift up and remove the lower door bin
Swing the right end of the water filter out of the compartment
Rotate the old filter cartridge counterclockwise and remove
Push the new filter cartridge into the receiver and rotate clockwise until it stops
Replace door bin
Run water continuously through dispenser until water runs clear and sputtering stops
---
Compatible Part Numbers
Search by your filter part number or appliance model number to verify compatibility
| Model or Part Number | Type |
| --- | --- |
| amana ASD2275BRB | Refrigerator |
| amana ASD2575BRB | Refrigerator |
| fisher & paykel RF175WCRW1 | Refrigerator |
| fisher & paykel RF175WCRX1 | Refrigerator |
| fisher & paykel RF195ADUX | Refrigerator |
| ge DFE29JMDES | Refrigerator |
| ge DSE26JSESS | Refrigerator |
| ge DSHF6VGBWW | Refrigerator |
| kenmore 10672002013 | Refrigerator |
| kenmore 10672013017 | Refrigerator |
| kenmore 25350682000 | Refrigerator |
| kenmore 25350682001 | Refrigerator |
| kenmore 25350682002 | Refrigerator |
| kenmore 25350684000 | Refrigerator |
| kenmore 25350684001 | Refrigerator |
| kenmore 25350684002 | Refrigerator |
| kenmore 25350689000 | Refrigerator |
| kenmore 25350689001 | Refrigerator |
| kenmore 25350689002 | Refrigerator |
| kenmore 25357672791 | Refrigerator |
| kenmore 25357677791 | Refrigerator |
| kenmore 25358082892 | Refrigerator |
| kenmore 25358082893 | Refrigerator |
| kenmore 25358082894 | Refrigerator |
| kenmore 25358082895 | Refrigerator |
| kenmore 25358082897 | Refrigerator |
| kenmore 25358082898 | Refrigerator |
| kenmore 25358082899 | Refrigerator |
| kenmore 2535808289A | Refrigerator |
| kenmore 2535808289B | Refrigerator |
| kenmore 25358085892 | Refrigerator |
| kenmore 25358085893 | Refrigerator |
| kenmore 25358085894 | Refrigerator |
| kenmore 25358085895 | Refrigerator |
| kenmore 25358085897 | Refrigerator |
| kenmore 25358085898 | Refrigerator |
| kenmore 25358085899 | Refrigerator |
| kenmore 2535808589A | Refrigerator |
| kenmore 2535808589B | Refrigerator |
| kenmore 25358087892 | Refrigerator |
| kenmore 25358087893 | Refrigerator |
| kenmore 25358087894 | Refrigerator |
| kenmore 25358087895 | Refrigerator |
| kenmore 25358087897 | Refrigerator |
| kenmore 25358087898 | Refrigerator |
| kenmore 25358087899 | Refrigerator |
| kenmore 2535808789A | Refrigerator |
| kenmore 2535808789B | Refrigerator |
| kenmore 25358672894 | Refrigerator |
| kenmore 25358682895 | Refrigerator |
| kenmore 25358682897 | Refrigerator |
| kenmore 25358685895 | Refrigerator |
| kenmore 25358685897 | Refrigerator |
| kenmore 25358687895 | Refrigerator |
| kenmore 25359482990 | Refrigerator |
| kenmore 25359482991 | Refrigerator |
| kenmore 25359482993 | Refrigerator |
| kenmore 25359487990 | Refrigerator |
| kenmore 25359487991 | Refrigerator |
| kenmore 25359487993 | Refrigerator |
| kenmore 25359489990 | Refrigerator |
| kenmore 25359489991 | Refrigerator |
| kenmore 25359489993 | Refrigerator |
| kenmore 25359682990 | Refrigerator |
| kenmore 25359682991 | Refrigerator |
| kenmore 25359682992 | Refrigerator |
| kenmore 25359682993 | Refrigerator |
| kenmore 25359682994 | Refrigerator |
| kenmore 25359682995 | Refrigerator |
| kenmore 25359687990 | Refrigerator |
| kenmore 25359687991 | Refrigerator |
| kenmore 25359687992 | Refrigerator |
| kenmore 25359687993 | Refrigerator |
| kenmore 25359687994 | Refrigerator |
| kenmore 25359687995 | Refrigerator |
| kenmore 25359689990 | Refrigerator |
| kenmore 25359689991 | Refrigerator |
| kenmore 25359689992 | Refrigerator |
| kenmore 25359689993 | Refrigerator |
| kenmore 25359689994 | Refrigerator |
| kenmore 25359689995 | Refrigerator |
| Kenmore 51812 | Refrigerator |
| Kenmore 51813 | Refrigerator |
| Kenmore 51814 | Refrigerator |
| Kenmore 51819 | Refrigerator |
| Kenmore 51822 | Refrigerator |
| Kenmore 51823 | Refrigerator |
| Kenmore 51829 | Refrigerator |
| Kenmore 51832 | Refrigerator |
| Kenmore 51833 | Refrigerator |
| Kenmore 51839 | Refrigerator |
| Kenmore 51862 | Refrigerator |
| Kenmore 51863 | Refrigerator |
| Kenmore 51867 | Refrigerator |
| Kenmore 51869 | Refrigerator |
| Kenmore 72482 | Refrigerator |
| Kenmore 72483 | Refrigerator |
| Kenmore 72489 | Refrigerator |
| Kenmore 79551812410 | Refrigerator |
| Kenmore 79551813410 | Refrigerator |
| Kenmore 79551814410 | Refrigerator |
| Kenmore 79551819410 | Refrigerator |
| Kenmore 79551822410 | Refrigerator |
| Kenmore 79551822411 | Refrigerator |
| Kenmore 79551823410 | Refrigerator |
| Kenmore 79551823411 | Refrigerator |
| Kenmore 79551829410 | Refrigerator |
| Kenmore 79551829411 | Refrigerator |
| Kenmore 79551832410 | Refrigerator |
| Kenmore 79551832412 | Refrigerator |
| Kenmore 79551833410 | Refrigerator |
| Kenmore 79551833411 | Refrigerator |
| Kenmore 79551833412 | Refrigerator |
| Kenmore 79551839410 | Refrigerator |
| Kenmore 79551839412 | Refrigerator |
| Kenmore 79551862610 | Refrigerator |
| Kenmore 79551863610 | Refrigerator |
| Kenmore 79551867610 | Refrigerator |
| Kenmore 79551867611 | Refrigerator |
| Kenmore 79551869610 | Refrigerator |
| Kenmore 79572482410 | Refrigerator |
| Kenmore 79572482411 | Refrigerator |
| Kenmore 79572483410 | Refrigerator |
| Kenmore 79572483411 | Refrigerator |
| Kenmore 79572489410 | Refrigerator |
| Kenmore 79572489411 | Refrigerator |
| LG LMXC23746D | Refrigerator |
| lg LMXC23746S | Refrigerator |
| lg LMXS30746S | Refrigerator |
| lg LMXS30756S | Refrigerator |
| LG LMXS30776D | Refrigerator |
| lg LMXS30776S | Refrigerator |
| lg LMXS30786S | Refrigerator |
| LG LNXC23726S | Refrigerator |
| LG LNXC23766D | Refrigerator |
| LG LNXS30866D | Refrigerator |
| LG LPXS30866D | Refrigerator |
| LG LPXS30866S | Refrigerator |
| LG LPXS30876D | Refrigerator |
| lg LSC22991ST | Refrigerator |
| LG LSXC22326S | Refrigerator |
| LG LSXC22336S | Refrigerator |
| LG LSXC22386D | Refrigerator |
| LG LSXC22386S | Refrigerator |
| LG LSXC22426D | Refrigerator |
| LG LSXC22426S | Refrigerator |
| LG LSXC22486D | Refrigerator |
| LG LSXC22486S | Refrigerator |
| lg LSXS22423B | Refrigerator |
| lg LSXS22423S | Refrigerator |
| lg LSXS22423W | Refrigerator |
| lg LSXS26326B | Refrigerator |
| lg LSXS26326S | Refrigerator |
| lg LSXS26326W | Refrigerator |
| LG LSXS26336V | Refrigerator |
| LG LSXS26366D | Refrigerator |
| lg LSXS26366S | Refrigerator |
| LG LSXS26386D | Refrigerator |
| lg LSXS26386S | Refrigerator |
| LG LSXS26466D | Refrigerator |
| lg LSXS26466S | Refrigerator |
| LG LUPXC2386N | Refrigerator |
| LG URNTC2306N | Refrigerator |
| LG URNTS3106N | Refrigerator |
| maytag MFF2055YEW | Refrigerator |
| maytag MFT2672AEB | Refrigerator |
| maytag MFT2672AEM | Refrigerator |
| maytag MFT2672AEW | Refrigerator |
| maytag MFT2976AEW | Refrigerator |
| maytag MFW2055YEM | Refrigerator |
| maytag MSB27C2XAW | Refrigerator |
| maytag MSF22D4XAM | Refrigerator |
| whirlpool GX5FHTXVB | Refrigerator |
| whirlpool WRL767SIAM | Refrigerator |
| whirlpool WRS325FNAE | Refrigerator |
| whirlpool WRS325FNAH | Refrigerator |
| whirlpool WRS537SIAF | Refrigerator |
| 04609490000 | Filter |
| 46-9490 | Filter |
| 469490 | Filter |
| ADQ-73613401 | Filter |
| ADQ32617703 | Filter |
| ADQ32617801 | Filter |
| ADQ73613401 | Filter |
| ADQ73613401-S | Filter |
| ADQ73613402 | Filter |
| ADQ73613403 | Filter |
| ADQ73613408 | Filter |
| AQF-LT800P | Filter |
| BM-LP8 | Filter |
| CF14 | Filter |
| CLCH108 | Filter |
| CW-L4 | Filter |
| DWF-35 | Filter |
| EP-LT800P | Filter |
| LGGEN11042FR-08 | Filter |
| LGM7251242FR-06 | Filter |
| LT800P | Filter |
| MPF16095 | Filter |
| R-9490 | Filter |
| RFC3500A | Filter |
| RWF1160 | Filter |
| RWF3500A | Filter |
| SW-L4 | Filter |
| WD-LT800P | Filter |
| WF-1040A | Filter |
| WF-LT800P | Filter |
| WF800 | Filter |
Additional Information
---