LG LT600P | Our#: 111307
LG Refrigerator Water Filter (5231JA2006B, LT600P)

5 review(s)
LG LT600P | Our#: 111307
Fast Shipping & Free Returns
100% Compatibility Guarantee
Compatibility guaranteed! Free return shipping and 100% money back if there are any issues.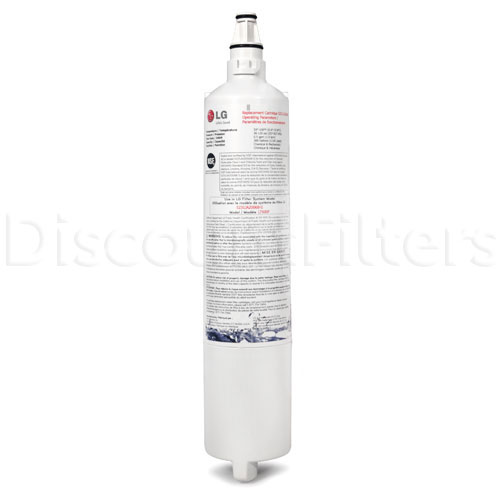 This product is currently unavailable.
The LG LT600P that you're looking for is so popular right now, it is not available at the moment. Enter your email address and we'll keep you updated when it's in stock.
Fast Shipping & Free Returns
100% Compatibility Guarantee
Frequently Purchased Together
Product Details
For clean water and ice, replace your refrigerator's water filter regularly. Dirt, chemicals, chlorine and cysts make the water taste and smell bad. These unwanted particulates can also make you sick. The LG 5231JA2006B filter meets NSF/ANSI International Standards 42 and 53 as it traps a variety of contaminants that might be present in your well or municipal water. Additionally, it delivers water at a flow rate of half a gallon per minute, and it processes up to 300 gallons of water in its lifetime. Protect your family by changing the filter every six months according to the instructions on the replacement filte's packaging.
removes cysts, chlorine, chemicals, dirt and other contaminants as it meets NSF/ANSI International Standards 42 and 53
requires 30 - 120 PSI and 33 - 100 °F
300 gallon filtration capacity
0.5 GPM flow rate
OEM part
easy to replace every 6 months
---
Popular Part Numbers
---
Installation Instructions
How To Install The 5231JA2006B Filter:

Remove old filter cartridge by grasping and turning counter clockwise about 1/4 turn - discard
Push new filter into the filter head until it stops
Turn the new filter 1/4 turn clockwise until it stops
Flush new cartridge by dispensing water for about 5 minutes
Replace cartridge once every 6 months
Press and hold reset water filter button if your fridge has one
---
Compatible Part Numbers
Search by your filter part number or appliance model number to verify compatibility
| Model or Part Number | Type |
| --- | --- |
| Kenmore 39113 | Refrigerator |
| kenmore 51372 | Refrigerator |
| kenmore 51374 | Refrigerator |
| kenmore 51379 | Refrigerator |
| Kenmore 57757 | Refrigerator |
| Kenmore 71012 | Refrigerator |
| Kenmore 71013 | Refrigerator |
| Kenmore 71014 | Refrigerator |
| Kenmore 71016 | Refrigerator |
| Kenmore 71019 | Refrigerator |
| Kenmore 71022 | Refrigerator |
| Kenmore 71023 | Refrigerator |
| Kenmore 71024 | Refrigerator |
| Kenmore 71026 | Refrigerator |
| Kenmore 71029 | Refrigerator |
| Kenmore 71082 | Refrigerator |
| Kenmore 71083 | Refrigerator |
| Kenmore 71089 | Refrigerator |
| Kenmore 75192 | Refrigerator |
| Kenmore 75193 | Refrigerator |
| Kenmore 75194 | Refrigerator |
| Kenmore 75196 | Refrigerator |
| Kenmore 75199 | Refrigerator |
| Kenmore 75542 | Refrigerator |
| Kenmore 75543 | Refrigerator |
| Kenmore 75544 | Refrigerator |
| Kenmore 75546 | Refrigerator |
| Kenmore 75549 | Refrigerator |
| Kenmore 75552 | Refrigerator |
| Kenmore 75553 | Refrigerator |
| Kenmore 75554 | Refrigerator |
| Kenmore 75556 | Refrigerator |
| Kenmore 75559 | Refrigerator |
| Kenmore 77192 | Refrigerator |
| Kenmore 77193 | Refrigerator |
| Kenmore 77194 | Refrigerator |
| Kenmore 77196 | Refrigerator |
| Kenmore 77199 | Refrigerator |
| Kenmore 77242 | Refrigerator |
| Kenmore 77243 | Refrigerator |
| Kenmore 77244 | Refrigerator |
| Kenmore 77249 | Refrigerator |
| Kenmore 77252 | Refrigerator |
| Kenmore 77253 | Refrigerator |
| Kenmore 77542 | Refrigerator |
| Kenmore 77543 | Refrigerator |
| Kenmore 77544 | Refrigerator |
| Kenmore 77546 | Refrigerator |
| Kenmore 77549 | Refrigerator |
| Kenmore 77552 | Refrigerator |
| Kenmore 77553 | Refrigerator |
| Kenmore 77554 | Refrigerator |
| Kenmore 77556 | Refrigerator |
| Kenmore 77559 | Refrigerator |
| Kenmore 77562 | Refrigerator |
| Kenmore 77563 | Refrigerator |
| Kenmore 77564 | Refrigerator |
| Kenmore 77569 | Refrigerator |
| Kenmore 77572 | Refrigerator |
| Kenmore 77573 | Refrigerator |
| Kenmore 77579 | Refrigerator |
| Kenmore 77712 | Refrigerator |
| Kenmore 77713 | Refrigerator |
| Kenmore 77719 | Refrigerator |
| Kenmore 77729 | Refrigerator |
| Kenmore 78342 | Refrigerator |
| Kenmore 78343 | Refrigerator |
| Kenmore 78344 | Refrigerator |
| Kenmore 78346 | Refrigerator |
| Kenmore 78349 | Refrigerator |
| Kenmore 78352 | Refrigerator |
| Kenmore 78353 | Refrigerator |
| Kenmore 78354 | Refrigerator |
| Kenmore 78356 | Refrigerator |
| Kenmore 78359 | Refrigerator |
| Kenmore 78402 | Refrigerator |
| Kenmore 78403 | Refrigerator |
| Kenmore 78406 | Refrigerator |
| Kenmore 78409 | Refrigerator |
| Kenmore 78412 | Refrigerator |
| Kenmore 78413 | Refrigerator |
| Kenmore 78416 | Refrigerator |
| Kenmore 78419 | Refrigerator |
| Kenmore 78502 | Refrigerator |
| Kenmore 78503 | Refrigerator |
| Kenmore 78506 | Refrigerator |
| Kenmore 78509 | Refrigerator |
| Kenmore 78512 | Refrigerator |
| Kenmore 78513 | Refrigerator |
| Kenmore 78516 | Refrigerator |
| Kenmore 78519 | Refrigerator |
| Kenmore 78542 | Refrigerator |
| Kenmore 78543 | Refrigerator |
| Kenmore 78544 | Refrigerator |
| Kenmore 78546 | Refrigerator |
| Kenmore 78549 | Refrigerator |
| Kenmore 78552 | Refrigerator |
| Kenmore 78553 | Refrigerator |
| Kenmore 78554 | Refrigerator |
| Kenmore 78556 | Refrigerator |
| Kenmore 78559 | Refrigerator |
| Kenmore 78712 | Refrigerator |
| Kenmore 78713 | Refrigerator |
| Kenmore 78719 | Refrigerator |
| Kenmore 78722 | Refrigerator |
| Kenmore 78723 | Refrigerator |
| Kenmore 78729 | Refrigerator |
| Kenmore 78733 | Refrigerator |
| Kenmore 78739 | Refrigerator |
| Kenmore 78743 | Refrigerator |
| Kenmore 78749 | Refrigerator |
| Kenmore 78752 | Refrigerator |
| Kenmore 78753 | Refrigerator |
| Kenmore 78754 | Refrigerator |
| Kenmore 78759 | Refrigerator |
| Kenmore 78762 | Refrigerator |
| Kenmore 78763 | Refrigerator |
| Kenmore 78764 | Refrigerator |
| Kenmore 78769 | Refrigerator |
| Kenmore 78773 | Refrigerator |
| Kenmore 78779 | Refrigerator |
| Kenmore 78783 | Refrigerator |
| Kenmore 78789 | Refrigerator |
| Kenmore 79012 | Refrigerator |
| Kenmore 79013 | Refrigerator |
| Kenmore 79014 | Refrigerator |
| Kenmore 79019 | Refrigerator |
| Kenmore 79304 | Refrigerator |
| Kenmore 79539113600 | Refrigerator |
| Kenmore 79571012010 | Refrigerator |
| Kenmore 79571012011 | Refrigerator |
| Kenmore 79571012012 | Refrigerator |
| Kenmore 79571013010 | Refrigerator |
| Kenmore 79571013011 | Refrigerator |
| Kenmore 79571013012 | Refrigerator |
| Kenmore 79571014010 | Refrigerator |
| Kenmore 79571014011 | Refrigerator |
| Kenmore 79571014012 | Refrigerator |
| Kenmore 79571016010 | Refrigerator |
| Kenmore 79571016011 | Refrigerator |
| Kenmore 79571016012 | Refrigerator |
| Kenmore 79571019010 | Refrigerator |
| Kenmore 79571019011 | Refrigerator |
| Kenmore 79571019012 | Refrigerator |
| Kenmore 79571022010 | Refrigerator |
| Kenmore 79571022011 | Refrigerator |
| Kenmore 79571022012 | Refrigerator |
| Kenmore 79571023010 | Refrigerator |
| Kenmore 79571023011 | Refrigerator |
| Kenmore 79571023012 | Refrigerator |
| Kenmore 79571024010 | Refrigerator |
| Kenmore 79571024011 | Refrigerator |
| Kenmore 79571024012 | Refrigerator |
| Kenmore 79571026010 | Refrigerator |
| Kenmore 79571026011 | Refrigerator |
| Kenmore 79571026012 | Refrigerator |
| Kenmore 79571029010 | Refrigerator |
| Kenmore 79571029011 | Refrigerator |
| Kenmore 79571029012 | Refrigerator |
| Kenmore 79571082010 | Refrigerator |
| Kenmore 79571082011 | Refrigerator |
| Kenmore 79571083010 | Refrigerator |
| Kenmore 79571083011 | Refrigerator |
| Kenmore 79571083015 | Refrigerator |
| Kenmore 79571083016 | Refrigerator |
| Kenmore 79571089010 | Refrigerator |
| Kenmore 79571089011 | Refrigerator |
| Kenmore 79575192400 | Refrigerator |
| Kenmore 79575192401 | Refrigerator |
| Kenmore 79575193400 | Refrigerator |
| Kenmore 79575193401 | Refrigerator |
| Kenmore 79575194400 | Refrigerator |
| Kenmore 79575194401 | Refrigerator |
| Kenmore 79575196400 | Refrigerator |
| Kenmore 79575196401 | Refrigerator |
| Kenmore 79575199400 | Refrigerator |
| Kenmore 79575199401 | Refrigerator |
| Kenmore 79575542400 | Refrigerator |
| Kenmore 79575542401 | Refrigerator |
| Kenmore 79575543400 | Refrigerator |
| Kenmore 79575543401 | Refrigerator |
| Kenmore 79575544400 | Refrigerator |
| Kenmore 79575544401 | Refrigerator |
| Kenmore 79575546400 | Refrigerator |
| Kenmore 79575546401 | Refrigerator |
| Kenmore 79575549400 | Refrigerator |
| Kenmore 79575549401 | Refrigerator |
| Kenmore 79575552400 | Refrigerator |
| Kenmore 79575552401 | Refrigerator |
| Kenmore 79575553400 | Refrigerator |
| Kenmore 79575553401 | Refrigerator |
| Kenmore 79575554400 | Refrigerator |
| Kenmore 79575554401 | Refrigerator |
| Kenmore 79575556400 | Refrigerator |
| Kenmore 79575556401 | Refrigerator |
| Kenmore 79575559400 | Refrigerator |
| Kenmore 79575559401 | Refrigerator |
| Kenmore 79577192600 | Refrigerator |
| Kenmore 79577193600 | Refrigerator |
| Kenmore 79577194600 | Refrigerator |
| Kenmore 79577196600 | Refrigerator |
| Kenmore 79577199600 | Refrigerator |
| Kenmore 79577242600 | Refrigerator |
| Kenmore 79577243600 | Refrigerator |
| Kenmore 79577244600 | Refrigerator |
| Kenmore 79577249600 | Refrigerator |
| Kenmore 79577253600 | Refrigerator |
| Kenmore 79577542600 | Refrigerator |
| Kenmore 79577543600 | Refrigerator |
| Kenmore 79577544600 | Refrigerator |
| Kenmore 79577546600 | Refrigerator |
| Kenmore 79577549600 | Refrigerator |
| Kenmore 79577552600 | Refrigerator |
| Kenmore 79577553600 | Refrigerator |
| Kenmore 79577554600 | Refrigerator |
| Kenmore 79577556600 | Refrigerator |
| Kenmore 79577559600 | Refrigerator |
| Kenmore 79577562600 | Refrigerator |
| Kenmore 79577563600 | Refrigerator |
| Kenmore 79577564600 | Refrigerator |
| Kenmore 79577569600 | Refrigerator |
| Kenmore 79577572600 | Refrigerator |
| Kenmore 79577573600 | Refrigerator |
| Kenmore 79577579600 | Refrigerator |
| Kenmore 79577712700 | Refrigerator |
| Kenmore 79577713700 | Refrigerator |
| Kenmore 79577719700 | Refrigerator |
| Kenmore 79577729700 | Refrigerator |
| Kenmore 79578502800 | Refrigerator |
| Kenmore 79578502803 | Refrigerator |
| Kenmore 79578502804 | Refrigerator |
| Kenmore 79578503800 | Refrigerator |
| Kenmore 79578503801 | Refrigerator |
| Kenmore 79578503802 | Refrigerator |
| Kenmore 79578503803 | Refrigerator |
| Kenmore 79578503804 | Refrigerator |
| Kenmore 79578506800 | Refrigerator |
| Kenmore 79578506801 | Refrigerator |
| Kenmore 79578506803 | Refrigerator |
| Kenmore 79578506804 | Refrigerator |
| Kenmore 79578509800 | Refrigerator |
| Kenmore 79578509801 | Refrigerator |
| Kenmore 79578509803 | Refrigerator |
| Kenmore 79578509804 | Refrigerator |
| Kenmore 79578512800 | Refrigerator |
| Kenmore 79578512801 | Refrigerator |
| Kenmore 79578513800 | Refrigerator |
| Kenmore 79578516800 | Refrigerator |
| Kenmore 79578516801 | Refrigerator |
| Kenmore 79578519800 | Refrigerator |
| Kenmore 79578519801 | Refrigerator |
| Kenmore 79578542800 | Refrigerator |
| Kenmore 79578542801 | Refrigerator |
| Kenmore 79578542804 | Refrigerator |
| Kenmore 79578542805 | Refrigerator |
| Kenmore 79578542807 | Refrigerator |
| Kenmore 79578543800 | Refrigerator |
| Kenmore 79578543801 | Refrigerator |
| Kenmore 79578543802 | Refrigerator |
| Kenmore 79578543803 | Refrigerator |
| Kenmore 79578543804 | Refrigerator |
| Kenmore 79578543805 | Refrigerator |
| Kenmore 79578543806 | Refrigerator |
| Kenmore 79578543807 | Refrigerator |
| Kenmore 79578544800 | Refrigerator |
| Kenmore 79578544801 | Refrigerator |
| Kenmore 79578544802 | Refrigerator |
| Kenmore 79578544803 | Refrigerator |
| Kenmore 79578544804 | Refrigerator |
| Kenmore 79578544805 | Refrigerator |
| Kenmore 79578544807 | Refrigerator |
| Kenmore 79578546800 | Refrigerator |
| Kenmore 79578546801 | Refrigerator |
| Kenmore 79578546803 | Refrigerator |
| Kenmore 79578546804 | Refrigerator |
| Kenmore 79578546805 | Refrigerator |
| Kenmore 79578546806 | Refrigerator |
| Kenmore 79578546807 | Refrigerator |
| Kenmore 79578549800 | Refrigerator |
| Kenmore 79578549802 | Refrigerator |
| Kenmore 79578549803 | Refrigerator |
| Kenmore 79578549804 | Refrigerator |
| Kenmore 79578549805 | Refrigerator |
| Kenmore 79578549807 | Refrigerator |
| Kenmore 79578552800 | Refrigerator |
| Kenmore 79578552801 | Refrigerator |
| Kenmore 79578552803 | Refrigerator |
| Kenmore 79578552805 | Refrigerator |
| Kenmore 79578553800 | Refrigerator |
| Kenmore 79578553803 | Refrigerator |
| Kenmore 79578554800 | Refrigerator |
| Kenmore 79578554803 | Refrigerator |
| Kenmore 79578554805 | Refrigerator |
| Kenmore 79578556800 | Refrigerator |
| Kenmore 79578559800 | Refrigerator |
| Kenmore 79578712800 | Refrigerator |
| Kenmore 79578713800 | Refrigerator |
| Kenmore 79578713801 | Refrigerator |
| Kenmore 79578713802 | Refrigerator |
| Kenmore 79578713803 | Refrigerator |
| Kenmore 79578719800 | Refrigerator |
| Kenmore 79578722800 | Refrigerator |
| Kenmore 79578723800 | Refrigerator |
| Kenmore 79578729800 | Refrigerator |
| Kenmore 79578733800 | Refrigerator |
| Kenmore 79578733801 | Refrigerator |
| Kenmore 79578733802 | Refrigerator |
| Kenmore 79578733805 | Refrigerator |
| Kenmore 79578733806 | Refrigerator |
| Kenmore 79578739800 | Refrigerator |
| Kenmore 79578739802 | Refrigerator |
| Kenmore 79578739805 | Refrigerator |
| Kenmore 79578743800 | Refrigerator |
| Kenmore 79578743801 | Refrigerator |
| Kenmore 79578743802 | Refrigerator |
| Kenmore 79578749800 | Refrigerator |
| Kenmore 79578749802 | Refrigerator |
| Kenmore 79578752800 | Refrigerator |
| Kenmore 79578752802 | Refrigerator |
| Kenmore 79578753800 | Refrigerator |
| Kenmore 79578753801 | Refrigerator |
| Kenmore 79578753802 | Refrigerator |
| Kenmore 79578754800 | Refrigerator |
| Kenmore 79578759800 | Refrigerator |
| Kenmore 79578762800 | Refrigerator |
| Kenmore 79578762802 | Refrigerator |
| Kenmore 79578763800 | Refrigerator |
| Kenmore 79578763802 | Refrigerator |
| Kenmore 79578764800 | Refrigerator |
| Kenmore 79578764802 | Refrigerator |
| Kenmore 79578769800 | Refrigerator |
| Kenmore 79578769802 | Refrigerator |
| Kenmore 79578773800 | Refrigerator |
| Kenmore 79578773801 | Refrigerator |
| Kenmore 79578773802 | Refrigerator |
| Kenmore 79578779800 | Refrigerator |
| Kenmore 79578779801 | Refrigerator |
| Kenmore 79578779802 | Refrigerator |
| Kenmore 79578783800 | Refrigerator |
| Kenmore 79578783801 | Refrigerator |
| Kenmore 79578783802 | Refrigerator |
| Kenmore 79578789800 | Refrigerator |
| Kenmore 79578789801 | Refrigerator |
| Kenmore 79578789802 | Refrigerator |
| Kenmore 79579013900 | Refrigerator |
| Kenmore 79579732900 | Refrigerator |
| Kenmore 79579732903 | Refrigerator |
| Kenmore 79579733900 | Refrigerator |
| Kenmore 79579733903 | Refrigerator |
| Kenmore 79579733904 | Refrigerator |
| Kenmore 79579737900 | Refrigerator |
| Kenmore 79579737903 | Refrigerator |
| Kenmore 79579737904 | Refrigerator |
| Kenmore 79579742900 | Refrigerator |
| Kenmore 79579743900 | Refrigerator |
| Kenmore 79579747900 | Refrigerator |
| Kenmore 79579752900 | Refrigerator |
| Kenmore 79579752904 | Refrigerator |
| Kenmore 79579752905 | Refrigerator |
| Kenmore 79579753900 | Refrigerator |
| Kenmore 79579753901 | Refrigerator |
| Kenmore 79579753902 | Refrigerator |
| Kenmore 79579753903 | Refrigerator |
| Kenmore 79579753904 | Refrigerator |
| Kenmore 79579753905 | Refrigerator |
| Kenmore 79579754900 | Refrigerator |
| Kenmore 79579754904 | Refrigerator |
| Kenmore 79579754905 | Refrigerator |
| Kenmore 79579757900 | Refrigerator |
| Kenmore 79579757904 | Refrigerator |
| Kenmore 79579757905 | Refrigerator |
| Kenmore 79579759900 | Refrigerator |
| Kenmore 79579759904 | Refrigerator |
| Kenmore 79579759905 | Refrigerator |
| Kenmore 79579762900 | Refrigerator |
| Kenmore 79579763900 | Refrigerator |
| Kenmore 79579763904 | Refrigerator |
| Kenmore 79579763905 | Refrigerator |
| Kenmore 79579764900 | Refrigerator |
| Kenmore 79579769900 | Refrigerator |
| Kenmore 79579772900 | Refrigerator |
| Kenmore 79579772901 | Refrigerator |
| Kenmore 79579772902 | Refrigerator |
| Kenmore 79579772903 | Refrigerator |
| Kenmore 79579773900 | Refrigerator |
| Kenmore 79579773901 | Refrigerator |
| Kenmore 79579773902 | Refrigerator |
| Kenmore 79579773903 | Refrigerator |
| Kenmore 79579779900 | Refrigerator |
| Kenmore 79579779901 | Refrigerator |
| Kenmore 79579779902 | Refrigerator |
| Kenmore 79579779903 | Refrigerator |
| Kenmore 79579782900 | Refrigerator |
| Kenmore 79579782901 | Refrigerator |
| Kenmore 79579782902 | Refrigerator |
| Kenmore 79579783900 | Refrigerator |
| Kenmore 79579783901 | Refrigerator |
| Kenmore 79579783902 | Refrigerator |
| Kenmore 79579789900 | Refrigerator |
| Kenmore 79579789901 | Refrigerator |
| Kenmore 79579789902 | Refrigerator |
| Kenmore 79732 | Refrigerator |
| Kenmore 79733 | Refrigerator |
| Kenmore 79737 | Refrigerator |
| Kenmore 79742 | Refrigerator |
| Kenmore 79743 | Refrigerator |
| Kenmore 79747 | Refrigerator |
| Kenmore 79752 | Refrigerator |
| Kenmore 79753 | Refrigerator |
| Kenmore 79754 | Refrigerator |
| Kenmore 79757 | Refrigerator |
| Kenmore 79759 | Refrigerator |
| Kenmore 79762 | Refrigerator |
| Kenmore 79763 | Refrigerator |
| Kenmore 79764 | Refrigerator |
| Kenmore 79769 | Refrigerator |
| Kenmore 79772 | Refrigerator |
| Kenmore 79773 | Refrigerator |
| Kenmore 79779 | Refrigerator |
| Kenmore 79782 | Refrigerator |
| Kenmore 79783 | Refrigerator |
| Kenmore 79789 | Refrigerator |
| lg LSC24971ST | Refrigerator |
| lg LSC27937SB | Refrigerator |
| lg LSC27937ST | Refrigerator |
| lg LSC27937SW | Refrigerator |
| lg LSMX211ST | Refrigerator |
| 5231JA2006B | Filter |
| 5231JA2006B-S | Filter |
| CLCH104 | Filter |
| EFF-6004A | Filter |
| LT600P | Filter |
| SGF-LB60 | Filter |
Additional Information
---