Frigidaire WF2CB | Our#: 111509
Frigidaire PureSource2 Refrigerator Water Filter (FC-100, WF2CB), 3-Pack

230 review(s)
Frigidaire WF2CB | Our#: 111509
Fast Shipping & Free Returns
100% Compatibility Guarantee
Compatibility guaranteed! Free return shipping and 100% money back if there are any issues.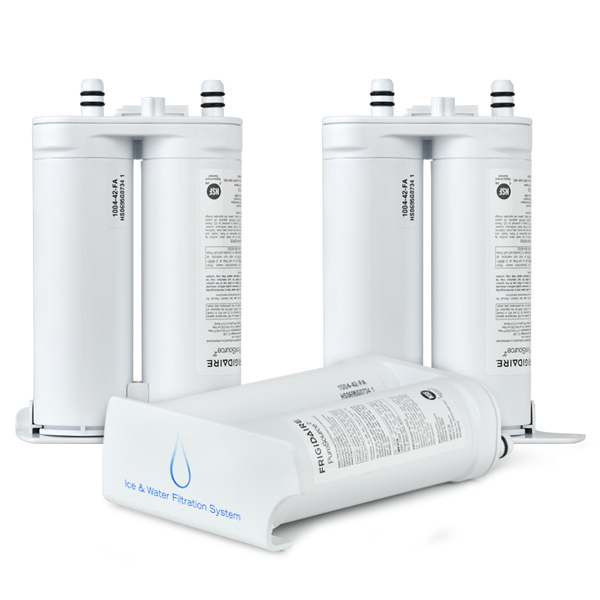 5 people in your area recently purchased this product!
$

48.20
(

3

Filters for $

144.61

)
Fast Shipping & Free Returns
100% Compatibility Guarantee
Frequently Purchased Together
Product Details
The Frigidaire WF2CB works in filters made by Frigidaire, Electrolux and Kenmore. It is compatible with a variety of alternate part numbers. The Frigidaire WF2CB refrigerator water filter works in Pure Advantage and PureSource2 filtration systems. It will not work in other filtration systems. The Frigidaire WF2CB, also known as FC-100, is the factory original product. It holds the NSF/ANSI international standards 42 and 53. The Frigidaire WF2CB reduces harmful impurities that may be present in the water supply. Change out the filter every 6 months to ensure good flow and quality. DiscountFilters.com offers a 1, 2 or 3 pack of the Frigidaire WF2CB. You could be set for up to 18 months when ordering the highest quantity. The Frigidaire WF2CB 3-pack gives you the best value per filter. You can also sign up for auto-delivery. This product, Frigidaire WF2CB filter is sold with fast and free shipping.
---
Popular Part Numbers
---
Installation Instructions
How To Install The WF2CB Filter:

Turn off the icemaker using the power switch
Press the filter release button adjacent to the old filter - discard old filter
Push the new filter straight into the filter receiver until you hear a double "click"
Turn the power back on to the icemaker
Reset the change water indicator by referring to instructions in your owners manual
Replace the filter once every 6 months
---
Compatible Part Numbers
Search by your filter part number or appliance model number to verify compatibility
Model or Part Number
Type
Frigidaire CRSE266FB0
Refrigerator
Frigidaire CRSE266FB3
Refrigerator
Frigidaire CRSE266FSS0
Refrigerator
Frigidaire CRSE266FSS3
Refrigerator
Frigidaire CRSE266FW0
Refrigerator
Frigidaire CRSE266FW3
Refrigerator
frigidaire E23BC78IPSF
Refrigerator
frigidaire E32AR75FPS0
Refrigerator
frigidaire E32AR75FPS1
Refrigerator
frigidaire E32AR75FPS2
Refrigerator
frigidaire E32AR75FPS3
Refrigerator
frigidaire E32AR75FPS4
Refrigerator
frigidaire E32AR75FPS5
Refrigerator
frigidaire E42BS75ETT
Refrigerator
frigidaire EI23BC36IB5
Refrigerator
frigidaire EI23BC36IB6
Refrigerator
frigidaire EI23BC36IB7
Refrigerator
frigidaire EI23BC36IS5
Refrigerator
frigidaire EI23BC36IS6
Refrigerator
frigidaire EI23BC36IS7
Refrigerator
frigidaire EI23BC36IW5
Refrigerator
frigidaire EI23BC36IW6
Refrigerator
frigidaire EI23BC36IW7
Refrigerator
frigidaire EI23BC51IB5
Refrigerator
frigidaire EI23BC51IB6
Refrigerator
frigidaire EI23BC51IS5
Refrigerator
frigidaire EI23BC51IS6
Refrigerator
frigidaire EI23BC51IW5
Refrigerator
frigidaire EI23BC51IW6
Refrigerator
frigidaire EI23BC56IB9
Refrigerator
frigidaire EI23BC56IBA
Refrigerator
frigidaire EI23BC56IBB
Refrigerator
frigidaire EI23BC56IBC
Refrigerator
frigidaire EI23BC56IBD
Refrigerator
frigidaire EI23BC56IS9
Refrigerator
frigidaire EI23BC56ISA
Refrigerator
frigidaire EI23BC56ISB
Refrigerator
frigidaire EI23BC56ISC
Refrigerator
frigidaire EI23BC56ISD
Refrigerator
frigidaire EI23BC56IW9
Refrigerator
frigidaire EI23BC56IWA
Refrigerator
frigidaire EI23BC56IWB
Refrigerator
frigidaire EI23BC56IWC
Refrigerator
frigidaire EI23BC56IWD
Refrigerator
frigidaire EI27BS16JB8
Refrigerator
frigidaire EI27BS16JS8
Refrigerator
frigidaire EI28BS51IB6
Refrigerator
frigidaire EI28BS51IS6
Refrigerator
frigidaire EI28BS51IW6
Refrigerator
frigidaire EI28BS56IBD
Refrigerator
frigidaire EI28BS56IBE
Refrigerator
frigidaire EI28BS56ISD
Refrigerator
frigidaire EI28BS56ISE
Refrigerator
frigidaire EI28BS56ISF
Refrigerator
frigidaire EI28BS56IWD
Refrigerator
frigidaire EI28BS56IWE
Refrigerator
frigidaire EW23BC71IB9
Refrigerator
frigidaire EW23BC71IBA
Refrigerator
frigidaire EW23BC71IS9
Refrigerator
frigidaire EW23BC71ISA
Refrigerator
frigidaire EW23BC71ISB
Refrigerator
frigidaire EW23BC71ISC
Refrigerator
frigidaire EW23BC71IW9
Refrigerator
frigidaire EW23BC71IWA
Refrigerator
frigidaire EW28BS71IBC
Refrigerator
frigidaire EW28BS71ISC
Refrigerator
frigidaire EW28BS71ISD
Refrigerator
frigidaire EW28BS71ISE
Refrigerator
frigidaire EW28BS71ISF
Refrigerator
frigidaire EW28BS71IWC
Refrigerator
frigidaire EW28BS85KS3
Refrigerator
frigidaire EW28BS85KS4
Refrigerator
frigidaire EW28BS85KS5
Refrigerator
frigidaire EW28BS85KS6
Refrigerator
frigidaire EW28BS85KS7
Refrigerator
frigidaire EW28BS85KS8
Refrigerator
Frigidaire FFSS26D8RS0
Refrigerator
Frigidaire FGTC2349KS
Refrigerator
Frigidaire FGTC2349KS1
Refrigerator
Frigidaire FGTC2349KS2
Refrigerator
Frigidaire FLSC238DB0
Refrigerator
Frigidaire FLSC238DB1
Refrigerator
Frigidaire FLSC238DB2
Refrigerator
Frigidaire FLSC238DB4
Refrigerator
Frigidaire FLSC238DB6
Refrigerator
Frigidaire FLSC238DBB
Refrigerator
Frigidaire FLSC238DS0
Refrigerator
Frigidaire FLSC238DS1
Refrigerator
Frigidaire FLSC238DS2
Refrigerator
Frigidaire FLSC238DS3
Refrigerator
Frigidaire FLSC238DS4
Refrigerator
Frigidaire FLSC238DS5
Refrigerator
Frigidaire FLSC238DS6
Refrigerator
Frigidaire FLSC238DS7
Refrigerator
Frigidaire FLSC238DS8
Refrigerator
Frigidaire FLSC238DS9
Refrigerator
Frigidaire FLSC238DSA
Refrigerator
Frigidaire FLSC238DSB
Refrigerator
Frigidaire FLSC238DSN
Refrigerator
Frigidaire FLSC238DW0
Refrigerator
Frigidaire FLSC238DW1
Refrigerator
Frigidaire FLSC238DW2
Refrigerator
Frigidaire FLSC238DW4
Refrigerator
Frigidaire FLSC238DW6
Refrigerator
Frigidaire FLSC238DWB
Refrigerator
Frigidaire FLSC238JS0
Refrigerator
Frigidaire FLSC238JS1
Refrigerator
Frigidaire FLSC238JS2
Refrigerator
Frigidaire FLSC23F6DB1
Refrigerator
Frigidaire FLSC23F6DB2
Refrigerator
Frigidaire FLSC23F6DB3
Refrigerator
Frigidaire FLSC23F6DB5
Refrigerator
Frigidaire FLSC23F6DS1
Refrigerator
Frigidaire FLSC23F6DS2
Refrigerator
Frigidaire FLSC23F6DS3
Refrigerator
Frigidaire FLSC23F6DS4
Refrigerator
Frigidaire FLSC23F6DS5
Refrigerator
Frigidaire FLSC23F6DS7
Refrigerator
Frigidaire FLSC23F6DSN
Refrigerator
Frigidaire FLSC23F6DW0
Refrigerator
Frigidaire FLSC23F6DW1
Refrigerator
Frigidaire FLSC23F6DW2
Refrigerator
Frigidaire FRS23BH5CB0
Refrigerator
Frigidaire FRS23BH5CB1
Refrigerator
Frigidaire FRS23BH5CQ0
Refrigerator
Frigidaire FRS23BH5CQ1
Refrigerator
Frigidaire FRS23BH5CW0
Refrigerator
Frigidaire FRS23BH5CW1
Refrigerator
Frigidaire FRS23BH6CB0
Refrigerator
Frigidaire FRS23BH6CB1
Refrigerator
Frigidaire FRS23BH6CQ0
Refrigerator
Frigidaire FRS23BH6CS0
Refrigerator
Frigidaire FRS23BH6CS1
Refrigerator
Frigidaire FRS23BH6CS2
Refrigerator
Frigidaire FRS23BH6CW0
Refrigerator
Frigidaire FRS23F4CB0
Refrigerator
Frigidaire FRS23F4CB2
Refrigerator
Frigidaire FRS23F4CB3
Refrigerator
Frigidaire FRS23F4CB4
Refrigerator
Frigidaire FRS23F4CB5
Refrigerator
Frigidaire FRS23F4CQ0
Refrigerator
Frigidaire FRS23F4CQ2
Refrigerator
Frigidaire FRS23F4CQ3
Refrigerator
Frigidaire FRS23F4CQ4
Refrigerator
Frigidaire FRS23F4CQ5
Refrigerator
Frigidaire FRS23F4CW0
Refrigerator
Frigidaire FRS23F4CW2
Refrigerator
Frigidaire FRS23F4CW3
Refrigerator
Frigidaire FRS23F4CW4
Refrigerator
Frigidaire FRS23F4CW5
Refrigerator
Frigidaire FRS23F4DB2
Refrigerator
Frigidaire FRS23F4DB4
Refrigerator
Frigidaire FRS23F4DQ1
Refrigerator
Frigidaire FRS23F4DQ2
Refrigerator
Frigidaire FRS23F4DQ4
Refrigerator
Frigidaire FRS23F4DW1
Refrigerator
Frigidaire FRS23F4DW2
Refrigerator
Frigidaire FRS23F4DW3
Refrigerator
Frigidaire FRS23F4DW4
Refrigerator
Frigidaire FRS23F5AB1
Refrigerator
Frigidaire FRS23F5AB2
Refrigerator
Frigidaire FRS23F5AB3
Refrigerator
Frigidaire FRS23F5AB4
Refrigerator
Frigidaire FRS23F5AB5
Refrigerator
Frigidaire FRS23F5AB6
Refrigerator
Frigidaire FRS23F5AB7
Refrigerator
Frigidaire FRS23F5AQ1
Refrigerator
Frigidaire FRS23F5AQ2
Refrigerator
Frigidaire FRS23F5AQ3
Refrigerator
Frigidaire FRS23F5AQ4
Refrigerator
Frigidaire FRS23F5AQ5
Refrigerator
Frigidaire FRS23F5AQ6
Refrigerator
Frigidaire FRS23F5AQ7
Refrigerator
Frigidaire FRS23F5AW1
Refrigerator
Frigidaire FRS23F5AW2
Refrigerator
Frigidaire FRS23F5AW3
Refrigerator
Frigidaire FRS23F5AW4
Refrigerator
Frigidaire FRS23F5AW5
Refrigerator
Frigidaire FRS23F5AW6
Refrigerator
Frigidaire FRS23F5AW7
Refrigerator
Frigidaire FRS23FCDB0
Refrigerator
Frigidaire FRS23FCDQ0
Refrigerator
Frigidaire FRS23FCDW0
Refrigerator
Frigidaire FRS23H5ASB0
Refrigerator
Frigidaire FRS23H5ASB1
Refrigerator
Frigidaire FRS23H5ASB3
Refrigerator
Frigidaire FRS23H5ASB4
Refrigerator
Frigidaire FRS23H5ASB5
Refrigerator
Frigidaire FRS23H5ASB6
Refrigerator
Frigidaire FRS23H5ASB7
Refrigerator
Frigidaire FRS23H5ASB8
Refrigerator
Frigidaire FRS23H5ASB9
Refrigerator
Frigidaire FRS23H5DSB
Refrigerator
Frigidaire FRS23H5DSB0
Refrigerator
Frigidaire FRS23H5DSB1
Refrigerator
Frigidaire FRS23H5DSB2
Refrigerator
Frigidaire FRS23H5DSB3
Refrigerator
Frigidaire FRS23H5DSB4
Refrigerator
Frigidaire FRS23H5DSB5
Refrigerator
Frigidaire FRS23H5DSB6
Refrigerator
Frigidaire FRS23H5DSB8
Refrigerator
Frigidaire FRS23H5DSB9
Refrigerator
Frigidaire FRS23H5DSBA
Refrigerator
Frigidaire FRS23H7CB
Refrigerator
Frigidaire FRS23H7CB0
Refrigerator
Frigidaire FRS23H7CB1
Refrigerator
Frigidaire FRS23H7CB2
Refrigerator
Frigidaire FRS23H7CQ
Refrigerator
Frigidaire FRS23H7CQ0
Refrigerator
Frigidaire FRS23H7CQ1
Refrigerator
Frigidaire FRS23H7CQ2
Refrigerator
Frigidaire FRS23H7CSB0
Refrigerator
Frigidaire FRS23H7CSB1
Refrigerator
Frigidaire FRS23H7CSB2
Refrigerator
Frigidaire FRS23H7CSB4
Refrigerator
Frigidaire FRS23H7CSB5
Refrigerator
Frigidaire FRS23H7CW
Refrigerator
Frigidaire FRS23H7CW0
Refrigerator
Frigidaire FRS23H7CW1
Refrigerator
Frigidaire FRS23H7CW2
Refrigerator
Frigidaire FRS23HF5AB1
Refrigerator
Frigidaire FRS23HF5AB2
Refrigerator
Frigidaire FRS23HF5AB3
Refrigerator
Frigidaire FRS23HF5AB4
Refrigerator
Frigidaire FRS23HF5AB5
Refrigerator
Frigidaire FRS23HF5AQ1
Refrigerator
Frigidaire FRS23HF5AQ2
Refrigerator
Frigidaire FRS23HF5AQ3
Refrigerator
Frigidaire FRS23HF5AQ4
Refrigerator
Frigidaire FRS23HF5AQ5
Refrigerator
Frigidaire FRS23HF5AW1
Refrigerator
Frigidaire FRS23HF5AW2
Refrigerator
Frigidaire FRS23HF5AW3
Refrigerator
Frigidaire FRS23HF5AW4
Refrigerator
Frigidaire FRS23HF5AW5
Refrigerator
Frigidaire FRS23KF5CB0
Refrigerator
Frigidaire FRS23KF5CB2
Refrigerator
Frigidaire FRS23KF5CB3
Refrigerator
Frigidaire FRS23KF5CB5
Refrigerator
Frigidaire FRS23KF5CQ0
Refrigerator
Frigidaire FRS23KF5CQ2
Refrigerator
Frigidaire FRS23KF5CQ3
Refrigerator
Frigidaire FRS23KF5CQ5
Refrigerator
Frigidaire FRS23KF5CS0
Refrigerator
Frigidaire FRS23KF5CS2
Refrigerator
Frigidaire FRS23KF5CW0
Refrigerator
Frigidaire FRS23KF5CW2
Refrigerator
Frigidaire FRS23KF5CW3
Refrigerator
Frigidaire FRS23KF5CW5
Refrigerator
Frigidaire FRS23KF5DB0
Refrigerator
Frigidaire FRS23KF5DB1
Refrigerator
Frigidaire FRS23KF5DB2
Refrigerator
Frigidaire FRS23KF5DB4
Refrigerator
Frigidaire FRS23KF5DB7
Refrigerator
Frigidaire FRS23KF5DQ0
Refrigerator
Frigidaire FRS23KF5DQ1
Refrigerator
Frigidaire FRS23KF5DQ2
Refrigerator
Frigidaire FRS23KF5DQ4
Refrigerator
Frigidaire FRS23KF5DQ7
Refrigerator
Frigidaire FRS23KF5DS0
Refrigerator
Frigidaire FRS23KF5DS1
Refrigerator
Frigidaire FRS23KF5DS2
Refrigerator
Frigidaire FRS23KF5DS4
Refrigerator
Frigidaire FRS23KF5DW0
Refrigerator
Frigidaire FRS23KF5DW1
Refrigerator
Frigidaire FRS23KF5DW2
Refrigerator
Frigidaire FRS23KF5DW3
Refrigerator
Frigidaire FRS23KF5DW4
Refrigerator
Frigidaire FRS23KF5DW7
Refrigerator
Frigidaire FRS23KF6CB0
Refrigerator
Frigidaire FRS23KF6CB1
Refrigerator
Frigidaire FRS23KF6CB2
Refrigerator
Frigidaire FRS23KF6CQ0
Refrigerator
Frigidaire FRS23KF6CQ1
Refrigerator
Frigidaire FRS23KF6CQ2
Refrigerator
Frigidaire FRS23KF6CW0
Refrigerator
Frigidaire FRS23KF6CW1
Refrigerator
Frigidaire FRS23KF6CW2
Refrigerator
Frigidaire FRS23KF6DB0
Refrigerator
Frigidaire FRS23KF6DB1
Refrigerator
Frigidaire FRS23KF6DB2
Refrigerator
Frigidaire FRS23KF6DB5
Refrigerator
Frigidaire FRS23KF6DB8
Refrigerator
Frigidaire FRS23KF6DQ0
Refrigerator
Frigidaire FRS23KF6DQ1
Refrigerator
Frigidaire FRS23KF6DQ2
Refrigerator
Frigidaire FRS23KF6DQ8
Refrigerator
Frigidaire FRS23KF6DW0
Refrigerator
Frigidaire FRS23KF6DW1
Refrigerator
Frigidaire FRS23KF6DW2
Refrigerator
Frigidaire FRS23KF6DW4
Refrigerator
Frigidaire FRS23KF6DW8
Refrigerator
Frigidaire FRS23KF6EB0
Refrigerator
Frigidaire FRS23KF6EB1
Refrigerator
Frigidaire FRS23KF6EB2
Refrigerator
Frigidaire FRS23KF6EB3
Refrigerator
Frigidaire FRS23KF6EB4
Refrigerator
Frigidaire FRS23KF6EB5
Refrigerator
Frigidaire FRS23KF6EB6
Refrigerator
Frigidaire FRS23KF6EB7
Refrigerator
Frigidaire FRS23KF6EB8
Refrigerator
Frigidaire FRS23KF6EBA
Refrigerator
Frigidaire FRS23KF6EBB
Refrigerator
Frigidaire FRS23KF6EBC
Refrigerator
Frigidaire FRS23KF6EBD
Refrigerator
Frigidaire FRS23KF6EBE
Refrigerator
Frigidaire FRS23KF6EM0
Refrigerator
Frigidaire FRS23KF6EM1
Refrigerator
Frigidaire FRS23KF6EM2
Refrigerator
Frigidaire FRS23KF6EM3
Refrigerator
Frigidaire FRS23KF6EM4
Refrigerator
Frigidaire FRS23KF6EM5
Refrigerator
Frigidaire FRS23KF6EM6
Refrigerator
Frigidaire FRS23KF6EM7
Refrigerator
Frigidaire FRS23KF6EM8
Refrigerator
Frigidaire FRS23KF6EMA
Refrigerator
Frigidaire FRS23KF6EMB
Refrigerator
Frigidaire FRS23KF6EMC
Refrigerator
Frigidaire FRS23KF6EMD
Refrigerator
Frigidaire FRS23KF6EME
Refrigerator
Frigidaire FRS23KF6EW0
Refrigerator
Frigidaire FRS23KF6EW1
Refrigerator
Frigidaire FRS23KF6EW2
Refrigerator
Frigidaire FRS23KF6EW3
Refrigerator
Frigidaire FRS23KF6EW4
Refrigerator
Frigidaire FRS23KF6EW5
Refrigerator
Frigidaire FRS23KF6EW6
Refrigerator
Frigidaire FRS23KF6EW7
Refrigerator
Frigidaire FRS23KF6EW8
Refrigerator
Frigidaire FRS23KF6EW9
Refrigerator
Frigidaire FRS23KF6EWA
Refrigerator
Frigidaire FRS23KF6EWB
Refrigerator
Frigidaire FRS23KF6EWC
Refrigerator
Frigidaire FRS23KF6EWD
Refrigerator
Frigidaire FRS23KF6EWE
Refrigerator
Frigidaire FRS23KF7AB0
Refrigerator
Frigidaire FRS23KF7AB1
Refrigerator
Frigidaire FRS23KF7AB2
Refrigerator
Frigidaire FRS23KF7AB3
Refrigerator
Frigidaire FRS23KF7AB4
Refrigerator
Frigidaire FRS23KF7AB5
Refrigerator
Frigidaire FRS23KF7AB6
Refrigerator
Frigidaire FRS23KF7AB7
Refrigerator
Frigidaire FRS23KF7AQ0
Refrigerator
Frigidaire FRS23KF7AQ1
Refrigerator
Frigidaire FRS23KF7AQ2
Refrigerator
Frigidaire FRS23KF7AQ3
Refrigerator
Frigidaire FRS23KF7AQ4
Refrigerator
Frigidaire FRS23KF7AQ5
Refrigerator
Frigidaire FRS23KF7AQ6
Refrigerator
Frigidaire FRS23KF7AQ7
Refrigerator
Frigidaire FRS23KF7AW0
Refrigerator
Frigidaire FRS23KF7AW1
Refrigerator
Frigidaire FRS23KF7AW2
Refrigerator
Frigidaire FRS23KF7AW3
Refrigerator
Frigidaire FRS23KF7AW4
Refrigerator
Frigidaire FRS23KF7AW5
Refrigerator
Frigidaire FRS23KF7AW6
Refrigerator
Frigidaire FRS23KF7AW7
Refrigerator
Frigidaire FRS23X5AW0
Refrigerator
Frigidaire FRS23X5AW1
Refrigerator
Frigidaire FRS26BH5CB0
Refrigerator
Frigidaire FRS26BH5CB2
Refrigerator
Frigidaire FRS26BH5CQ0
Refrigerator
Frigidaire FRS26BH5CQ2
Refrigerator
Frigidaire FRS26BH5CW0
Refrigerator
Frigidaire FRS26BH5CW2
Refrigerator
Frigidaire FRS26BH6CB0
Refrigerator
Frigidaire FRS26BH6CB1
Refrigerator
Frigidaire FRS26BH6CB2
Refrigerator
Frigidaire FRS26BH6CB3
Refrigerator
Frigidaire FRS26BH6CB4
Refrigerator
Frigidaire FRS26BH6CQ0
Refrigerator
Frigidaire FRS26BH6CQ2
Refrigerator
Frigidaire FRS26BH6CQ3
Refrigerator
Frigidaire FRS26BH6CQ4
Refrigerator
Frigidaire FRS26BH6CS0
Refrigerator
Frigidaire FRS26BH6CS1
Refrigerator
Frigidaire FRS26BH6CS2
Refrigerator
Frigidaire FRS26BH6CS3
Refrigerator
Frigidaire FRS26BH6CS4
Refrigerator
Frigidaire FRS26BH6CS5
Refrigerator
Frigidaire FRS26BH6CW0
Refrigerator
Frigidaire FRS26BH6CW2
Refrigerator
Frigidaire FRS26BH6CW3
Refrigerator
Frigidaire FRS26BH6CW4
Refrigerator
Frigidaire FRS26DR7DS0
Refrigerator
Frigidaire FRS26DR7DS2
Refrigerator
Frigidaire FRS26DR7DS3
Refrigerator
Frigidaire FRS26DR7DS4
Refrigerator
Frigidaire FRS26DR7DS5
Refrigerator
Frigidaire FRS26DR7DS6
Refrigerator
Frigidaire FRS26DR7DS7
Refrigerator
Frigidaire FRS26F4CB0
Refrigerator
Frigidaire FRS26F4CB1
Refrigerator
Frigidaire FRS26F4CB2
Refrigerator
Frigidaire FRS26F4CB3
Refrigerator
Frigidaire FRS26F4CQ0
Refrigerator
Frigidaire FRS26F4CQ1
Refrigerator
Frigidaire FRS26F4CQ2
Refrigerator
Frigidaire FRS26F4CQ3
Refrigerator
Frigidaire FRS26F4CW
Refrigerator
Frigidaire FRS26F4CW0
Refrigerator
Frigidaire FRS26F4CW1
Refrigerator
Frigidaire FRS26F4CW2
Refrigerator
Frigidaire FRS26F4CW3
Refrigerator
Frigidaire FRS26F4DB2
Refrigerator
Frigidaire FRS26F4DB3
Refrigerator
Frigidaire FRS26F4DB5
Refrigerator
Frigidaire FRS26F4DQ2
Refrigerator
Frigidaire FRS26F4DQ3
Refrigerator
Frigidaire FRS26F4DQ5
Refrigerator
Frigidaire FRS26F4DW2
Refrigerator
Frigidaire FRS26F4DW3
Refrigerator
Frigidaire FRS26F4DW5
Refrigerator
Frigidaire FRS26F5AB0
Refrigerator
Frigidaire FRS26F5AB1
Refrigerator
Frigidaire FRS26F5AB2
Refrigerator
Frigidaire FRS26F5AB3
Refrigerator
Frigidaire FRS26F5AB4
Refrigerator
Frigidaire FRS26F5AB5
Refrigerator
Frigidaire FRS26F5AB6
Refrigerator
Frigidaire FRS26F5AQ0
Refrigerator
Frigidaire FRS26F5AQ1
Refrigerator
Frigidaire FRS26F5AQ2
Refrigerator
Frigidaire FRS26F5AQ3
Refrigerator
Frigidaire FRS26F5AQ4
Refrigerator
Frigidaire FRS26F5AQ5
Refrigerator
Frigidaire FRS26F5AQ6
Refrigerator
Frigidaire FRS26F5AW0
Refrigerator
Frigidaire FRS26F5AW1
Refrigerator
Frigidaire FRS26F5AW2
Refrigerator
Frigidaire FRS26F5AW3
Refrigerator
Frigidaire FRS26F5AW4
Refrigerator
Frigidaire FRS26F5AW5
Refrigerator
Frigidaire FRS26F5AW6
Refrigerator
Frigidaire FRS26FCDB0
Refrigerator
Frigidaire FRS26FCDB3
Refrigerator
Frigidaire FRS26FCDB4
Refrigerator
Frigidaire FRS26FCDB5
Refrigerator
Frigidaire FRS26FCDB6
Refrigerator
Frigidaire FRS26FCDB7
Refrigerator
Frigidaire FRS26FCDQ0
Refrigerator
Frigidaire FRS26FCDQ3
Refrigerator
Frigidaire FRS26FCDQ4
Refrigerator
Frigidaire FRS26FCDQ5
Refrigerator
Frigidaire FRS26FCDW0
Refrigerator
Frigidaire FRS26FCDW1
Refrigerator
Frigidaire FRS26FCDW2
Refrigerator
Frigidaire FRS26FCDW3
Refrigerator
Frigidaire FRS26FCDW4
Refrigerator
Frigidaire FRS26FCDW5
Refrigerator
Frigidaire FRS26H5ASB0
Refrigerator
Frigidaire FRS26H5ASB1
Refrigerator
Frigidaire FRS26H5ASB3
Refrigerator
Frigidaire FRS26H5ASB4
Refrigerator
Frigidaire FRS26H5ASB5
Refrigerator
Frigidaire FRS26H5ASB6
Refrigerator
Frigidaire FRS26H5ASB7
Refrigerator
Frigidaire FRS26H5ASB8
Refrigerator
Frigidaire FRS26H5ASB9
Refrigerator
Frigidaire FRS26H5ASBA
Refrigerator
Frigidaire FRS26H5DSB
Refrigerator
Frigidaire FRS26H5DSB0
Refrigerator
Frigidaire FRS26H5DSB1
Refrigerator
Frigidaire FRS26H5DSB2
Refrigerator
Frigidaire FRS26H5DSB3
Refrigerator
Frigidaire FRS26H5DSB4
Refrigerator
Frigidaire FRS26H5DSB5
Refrigerator
Frigidaire FRS26H5DSB9
Refrigerator
Frigidaire FRS26H5DSBN
Refrigerator
Frigidaire FRS26H7CB
Refrigerator
Frigidaire FRS26H7CB0
Refrigerator
Frigidaire FRS26H7CB1
Refrigerator
Frigidaire FRS26H7CB2
Refrigerator
Frigidaire FRS26H7CB3
Refrigerator
Frigidaire FRS26H7CB4
Refrigerator
Frigidaire FRS26H7CQ
Refrigerator
Frigidaire FRS26H7CQ0
Refrigerator
Frigidaire FRS26H7CQ1
Refrigerator
Frigidaire FRS26H7CQ2
Refrigerator
Frigidaire FRS26H7CQ3
Refrigerator
Frigidaire FRS26H7CQ4
Refrigerator
Frigidaire FRS26H7CSB
Refrigerator
Frigidaire FRS26H7CSB0
Refrigerator
Frigidaire FRS26H7CSB1
Refrigerator
Frigidaire FRS26H7CSB2
Refrigerator
Frigidaire FRS26H7CSB3
Refrigerator
Frigidaire FRS26H7CSB4
Refrigerator
Frigidaire FRS26H7CW
Refrigerator
Frigidaire FRS26H7CW0
Refrigerator
Frigidaire FRS26H7CW1
Refrigerator
Frigidaire FRS26H7CW2
Refrigerator
Frigidaire FRS26H7CW3
Refrigerator
Frigidaire FRS26H7CW4
Refrigerator
Frigidaire FRS26HBBSB0
Refrigerator
Frigidaire FRS26HBBSB1
Refrigerator
Frigidaire FRS26HBBSB2
Refrigerator
Frigidaire FRS26HBBSB3
Refrigerator
Frigidaire FRS26HF5AB0
Refrigerator
Frigidaire FRS26HF5AB1
Refrigerator
Frigidaire FRS26HF5AB2
Refrigerator
Frigidaire FRS26HF5AB3
Refrigerator
Frigidaire FRS26HF5AB4
Refrigerator
Frigidaire FRS26HF5AB5
Refrigerator
Frigidaire FRS26HF5AQ0
Refrigerator
Frigidaire FRS26HF5AQ1
Refrigerator
Frigidaire FRS26HF5AQ2
Refrigerator
Frigidaire FRS26HF5AQ3
Refrigerator
Frigidaire FRS26HF5AQ4
Refrigerator
Frigidaire FRS26HF5AQ5
Refrigerator
Frigidaire FRS26HF5AW0
Refrigerator
Frigidaire FRS26HF5AW1
Refrigerator
Frigidaire FRS26HF5AW2
Refrigerator
Frigidaire FRS26HF5AW3
Refrigerator
Frigidaire FRS26HF5AW4
Refrigerator
Frigidaire FRS26HF5AW5
Refrigerator
Frigidaire FRS26HF6BB0
Refrigerator
Frigidaire FRS26HF6BB1
Refrigerator
Frigidaire FRS26HF6BB2
Refrigerator
Frigidaire FRS26HF6BB3
Refrigerator
Frigidaire FRS26HF6BB4
Refrigerator
Frigidaire FRS26HF6BB6
Refrigerator
Frigidaire FRS26HF6BQ0
Refrigerator
Frigidaire FRS26HF6BQ1
Refrigerator
Frigidaire FRS26HF6BQ2
Refrigerator
Frigidaire FRS26HF6BQ3
Refrigerator
Frigidaire FRS26HF6BQ4
Refrigerator
Frigidaire FRS26HF6BQ6
Refrigerator
Frigidaire FRS26HF6BW0
Refrigerator
Frigidaire FRS26HF6BW1
Refrigerator
Frigidaire FRS26HF6BW2
Refrigerator
Frigidaire FRS26HF6BW3
Refrigerator
Frigidaire FRS26HF6BW4
Refrigerator
Frigidaire FRS26HF6BW6
Refrigerator
Frigidaire FRS26HF7BB0
Refrigerator
Frigidaire FRS26HF7BB1
Refrigerator
Frigidaire FRS26HF7BB2
Refrigerator
Frigidaire FRS26HF7BB3
Refrigerator
Frigidaire FRS26HF7BB4
Refrigerator
Frigidaire FRS26HF7BQ0
Refrigerator
Frigidaire FRS26HF7BQ1
Refrigerator
Frigidaire FRS26HF7BQ2
Refrigerator
Frigidaire FRS26HF7BQ3
Refrigerator
Frigidaire FRS26HF7BQ4
Refrigerator
Frigidaire FRS26HF7BW0
Refrigerator
Frigidaire FRS26HF7BW1
Refrigerator
Frigidaire FRS26HF7BW2
Refrigerator
Frigidaire FRS26HF7BW3
Refrigerator
Frigidaire FRS26HF7BW4
Refrigerator
Frigidaire FRS26KF5CB0
Refrigerator
Frigidaire FRS26KF5CB1
Refrigerator
Frigidaire FRS26KF5CB3
Refrigerator
Frigidaire FRS26KF5CQ0
Refrigerator
Frigidaire FRS26KF5CQ1
Refrigerator
Frigidaire FRS26KF5CQ3
Refrigerator
Frigidaire FRS26KF5CS0
Refrigerator
Frigidaire FRS26KF5CS2
Refrigerator
Frigidaire FRS26KF5CW0
Refrigerator
Frigidaire FRS26KF5CW1
Refrigerator
Frigidaire FRS26KF5CW3
Refrigerator
Frigidaire FRS26KF5DB0
Refrigerator
Frigidaire FRS26KF5DB1
Refrigerator
Frigidaire FRS26KF5DB2
Refrigerator
Frigidaire FRS26KF5DB3
Refrigerator
Frigidaire FRS26KF5DB5
Refrigerator
Frigidaire FRS26KF5DB7
Refrigerator
Frigidaire FRS26KF5DB9
Refrigerator
Frigidaire FRS26KF5DQ0
Refrigerator
Frigidaire FRS26KF5DQ1
Refrigerator
Frigidaire FRS26KF5DQ2
Refrigerator
Frigidaire FRS26KF5DQ3
Refrigerator
Frigidaire FRS26KF5DS0
Refrigerator
Frigidaire FRS26KF5DS2
Refrigerator
Frigidaire FRS26KF5DS3
Refrigerator
Frigidaire FRS26KF5DS4
Refrigerator
Frigidaire FRS26KF5DS5
Refrigerator
Frigidaire FRS26KF5DW0
Refrigerator
Frigidaire FRS26KF5DW1
Refrigerator
Frigidaire FRS26KF5DW2
Refrigerator
Frigidaire FRS26KF5DW3
Refrigerator
Frigidaire FRS26KF5DW5
Refrigerator
Frigidaire FRS26KF6CB0
Refrigerator
Frigidaire FRS26KF6CB1
Refrigerator
Frigidaire FRS26KF6CB2
Refrigerator
Frigidaire FRS26KF6CB3
Refrigerator
Frigidaire FRS26KF6CB4
Refrigerator
Frigidaire FRS26KF6CQ0
Refrigerator
Frigidaire FRS26KF6CQ1
Refrigerator
Frigidaire FRS26KF6CQ2
Refrigerator
Frigidaire FRS26KF6CQ3
Refrigerator
Frigidaire FRS26KF6CQ4
Refrigerator
Frigidaire FRS26KF6CW0
Refrigerator
Frigidaire FRS26KF6CW1
Refrigerator
Frigidaire FRS26KF6CW2
Refrigerator
Frigidaire FRS26KF6CW3
Refrigerator
Frigidaire FRS26KF6CW4
Refrigerator
Frigidaire FRS26KF6DB0
Refrigerator
Frigidaire FRS26KF6DB1
Refrigerator
Frigidaire FRS26KF6DB2
Refrigerator
Frigidaire FRS26KF6DB3
Refrigerator
Frigidaire FRS26KF6DB5
Refrigerator
Frigidaire FRS26KF6DB7
Refrigerator
Frigidaire FRS26KF6DB9
Refrigerator
Frigidaire FRS26KF6DQ0
Refrigerator
Frigidaire FRS26KF6DQ1
Refrigerator
Frigidaire FRS26KF6DQ2
Refrigerator
Frigidaire FRS26KF6DQ3
Refrigerator
Frigidaire FRS26KF6DQ5
Refrigerator
Frigidaire FRS26KF6DW0
Refrigerator
Frigidaire FRS26KF6DW1
Refrigerator
Frigidaire FRS26KF6DW2
Refrigerator
Frigidaire FRS26KF6DW3
Refrigerator
Frigidaire FRS26KF6DW5
Refrigerator
Frigidaire FRS26KF6EB
Refrigerator
Frigidaire FRS26KF6EB0
Refrigerator
Frigidaire FRS26KF6EB2
Refrigerator
Frigidaire FRS26KF6EB3
Refrigerator
Frigidaire FRS26KF6EB4
Refrigerator
Frigidaire FRS26KF6EB5
Refrigerator
Frigidaire FRS26KF6EB6
Refrigerator
Frigidaire FRS26KF6EB7
Refrigerator
Frigidaire FRS26KF6EB8
Refrigerator
Frigidaire FRS26KF6EB9
Refrigerator
Frigidaire FRS26KF6EBA
Refrigerator
Frigidaire FRS26KF6EBB
Refrigerator
Frigidaire FRS26KF6EBC
Refrigerator
Frigidaire FRS26KF6EBE
Refrigerator
Frigidaire FRS26KF6EBF
Refrigerator
Frigidaire FRS26KF6EBG
Refrigerator
Frigidaire FRS26KF6EBJ
Refrigerator
Frigidaire FRS26KF6EBK
Refrigerator
Frigidaire FRS26KF6EM
Refrigerator
Frigidaire FRS26KF6EM0
Refrigerator
Frigidaire FRS26KF6EM1
Refrigerator
Frigidaire FRS26KF6EM2
Refrigerator
Frigidaire FRS26KF6EM3
Refrigerator
Frigidaire FRS26KF6EM4
Refrigerator
Frigidaire FRS26KF6EM5
Refrigerator
Frigidaire FRS26KF6EM6
Refrigerator
Frigidaire FRS26KF6EM7
Refrigerator
Frigidaire FRS26KF6EM8
Refrigerator
Frigidaire FRS26KF6EM9
Refrigerator
Frigidaire FRS26KF6EMA
Refrigerator
Frigidaire FRS26KF6EMB
Refrigerator
Frigidaire FRS26KF6EMC
Refrigerator
Frigidaire FRS26KF6EMD
Refrigerator
Frigidaire FRS26KF6EME
Refrigerator
Frigidaire FRS26KF6EMF
Refrigerator
Frigidaire FRS26KF6EMG
Refrigerator
Frigidaire FRS26KF6EMJ
Refrigerator
Frigidaire FRS26KF6EMK
Refrigerator
Frigidaire FRS26KF6EW0
Refrigerator
Frigidaire FRS26KF6EW2
Refrigerator
Frigidaire FRS26KF6EW3
Refrigerator
Frigidaire FRS26KF6EW4
Refrigerator
Frigidaire FRS26KF6EW5
Refrigerator
Frigidaire FRS26KF6EW6
Refrigerator
Frigidaire FRS26KF6EW7
Refrigerator
Frigidaire FRS26KF6EW8
Refrigerator
Frigidaire FRS26KF6EW9
Refrigerator
Frigidaire FRS26KF6EWA
Refrigerator
Frigidaire FRS26KF6EWB
Refrigerator
Frigidaire FRS26KF6EWC
Refrigerator
Frigidaire FRS26KF6EWE
Refrigerator
Frigidaire FRS26KF6EWF
Refrigerator
Frigidaire FRS26KF6EWG
Refrigerator
Frigidaire FRS26KF6EWH
Refrigerator
Frigidaire FRS26KF6EWJ
Refrigerator
Frigidaire FRS26KF6EWK
Refrigerator
Frigidaire FRS26KF7AB0
Refrigerator
Frigidaire FRS26KF7AB1
Refrigerator
Frigidaire FRS26KF7AB3
Refrigerator
Frigidaire FRS26KF7AB4
Refrigerator
Frigidaire FRS26KF7AB5
Refrigerator
Frigidaire FRS26KF7AB6
Refrigerator
Frigidaire FRS26KF7AQ0
Refrigerator
Frigidaire FRS26KF7AQ1
Refrigerator
Frigidaire FRS26KF7AQ3
Refrigerator
Frigidaire FRS26KF7AQ4
Refrigerator
Frigidaire FRS26KF7AQ5
Refrigerator
Frigidaire FRS26KF7AQ6
Refrigerator
Frigidaire FRS26KF7AW0
Refrigerator
Frigidaire FRS26KF7AW1
Refrigerator
Frigidaire FRS26KF7AW3
Refrigerator
Frigidaire FRS26KF7AW4
Refrigerator
Frigidaire FRS26KF7AW5
Refrigerator
Frigidaire FRS26KF7AW6
Refrigerator
Frigidaire FRS26LF7DS0
Refrigerator
Frigidaire FRS26LF7DS1
Refrigerator
Frigidaire FRS26LF7DS2
Refrigerator
Frigidaire FRS26LF7DS4
Refrigerator
Frigidaire FRS26LF7DS5
Refrigerator
Frigidaire FRS26LF7DS6
Refrigerator
Frigidaire FRS26LF7DS7
Refrigerator
Frigidaire FRS26LF7DS9
Refrigerator
Frigidaire FRS26LF7DSA
Refrigerator
Frigidaire FRS26LF7DSB
Refrigerator
Frigidaire FRS26LF7DSN
Refrigerator
Frigidaire FRS26LF7DSP
Refrigerator
Frigidaire FRS26LF7DSR
Refrigerator
Frigidaire FRS26LF8CB0
Refrigerator
Frigidaire FRS26LF8CB1
Refrigerator
Frigidaire FRS26LF8CB2
Refrigerator
Frigidaire FRS26LF8CB3
Refrigerator
Frigidaire FRS26LF8CQ0
Refrigerator
Frigidaire FRS26LF8CQ1
Refrigerator
Frigidaire FRS26LF8CQ2
Refrigerator
Frigidaire FRS26LF8CQ3
Refrigerator
Frigidaire FRS26LF8CS0
Refrigerator
Frigidaire FRS26LF8CS1
Refrigerator
Frigidaire FRS26LF8CS2
Refrigerator
Frigidaire FRS26LF8CS3
Refrigerator
Frigidaire FRS26LF8CS4
Refrigerator
Frigidaire FRS26LF8CS5
Refrigerator
Frigidaire FRS26LF8CS6
Refrigerator
Frigidaire FRS26LF8CS7
Refrigerator
Frigidaire FRS26LF8CS8
Refrigerator
Frigidaire FRS26LF8CS9
Refrigerator
Frigidaire FRS26LF8CSN
Refrigerator
Frigidaire FRS26LF8CW0
Refrigerator
Frigidaire FRS26LF8CW1
Refrigerator
Frigidaire FRS26LF8CW2
Refrigerator
Frigidaire FRS26LF8CW3
Refrigerator
Frigidaire FRS26LF8CW4
Refrigerator
Frigidaire FRS26TS6DW1
Refrigerator
Frigidaire FRS26TS6DW2
Refrigerator
Frigidaire FRS26TS6DW3
Refrigerator
Frigidaire FRS26TS6DW5
Refrigerator
Frigidaire FRS26TS7DB0
Refrigerator
Frigidaire FRS26TS7DB1
Refrigerator
Frigidaire FRS26TS7DB2
Refrigerator
Frigidaire FRS26TS7DB3
Refrigerator
Frigidaire FRS26TS7DB5
Refrigerator
Frigidaire FRS26TS7DW0
Refrigerator
Frigidaire FRS26TS7DW1
Refrigerator
Frigidaire FRS26TS7DW2
Refrigerator
Frigidaire FRS26TS7DW3
Refrigerator
Frigidaire FRS26TS7DW5
Refrigerator
Frigidaire FRS3HF55KB
Refrigerator
Frigidaire FRS3HF55KB0
Refrigerator
Frigidaire FRS3HF55KB1
Refrigerator
Frigidaire FRS3HF55KB2
Refrigerator
Frigidaire FRS3HF55KM
Refrigerator
Frigidaire FRS3HF55KM0
Refrigerator
Frigidaire FRS3HF55KM1
Refrigerator
Frigidaire FRS3HF55KM2
Refrigerator
Frigidaire FRS3HF55KQ
Refrigerator
Frigidaire FRS3HF55KQ0
Refrigerator
Frigidaire FRS3HF55KQ1
Refrigerator
Frigidaire FRS3HF55KQ2
Refrigerator
Frigidaire FRS3HF55KS
Refrigerator
Frigidaire FRS3HF55KS0
Refrigerator
Frigidaire FRS3HF55KS1
Refrigerator
Frigidaire FRS3HF55KS2
Refrigerator
Frigidaire FRS3HF55KW
Refrigerator
Frigidaire FRS3HF55KW0
Refrigerator
Frigidaire FRS3HF55KW1
Refrigerator
Frigidaire FRS3HF55KW2
Refrigerator
Frigidaire FRS3HF6JB
Refrigerator
Frigidaire FRS3HF6JB0
Refrigerator
Frigidaire FRS3HF6JB1
Refrigerator
Frigidaire FRS3HF6JQ
Refrigerator
Frigidaire FRS3HF6JQ0
Refrigerator
Frigidaire FRS3HF6JQ1
Refrigerator
Frigidaire FRS3HF6JSB
Refrigerator
Frigidaire FRS3HF6JSB0
Refrigerator
Frigidaire FRS3HF6JSB1
Refrigerator
Frigidaire FRS3HF6JW
Refrigerator
Frigidaire FRS3HF6JW0
Refrigerator
Frigidaire FRS3HF6JW1
Refrigerator
Frigidaire FRS6B6EEB
Refrigerator
Frigidaire FRS6B6EEB0
Refrigerator
Frigidaire FRS6B6EEB1
Refrigerator
Frigidaire FRS6B6EEB3
Refrigerator
Frigidaire FRS6B6EEB5
Refrigerator
Frigidaire FRS6B6EEB7
Refrigerator
Frigidaire FRS6B6EEW
Refrigerator
Frigidaire FRS6B6EEW0
Refrigerator
Frigidaire FRS6B6EEW1
Refrigerator
Frigidaire FRS6B6EEW3
Refrigerator
Frigidaire FRS6B6EEW7
Refrigerator
Frigidaire FRS6B7EESB1
Refrigerator
Frigidaire FRS6B7EESB5
Refrigerator
Frigidaire FRS6B7EESB8
Refrigerator
Frigidaire FRS6B7EESB9
Refrigerator
Frigidaire FRS6B7EESBN
Refrigerator
Frigidaire FRS6HF55KB
Refrigerator
Frigidaire FRS6HF55KB0
Refrigerator
Frigidaire FRS6HF55KB1
Refrigerator
Frigidaire FRS6HF55KM
Refrigerator
Frigidaire FRS6HF55KM0
Refrigerator
Frigidaire FRS6HF55KM1
Refrigerator
Frigidaire FRS6HF55KQ
Refrigerator
Frigidaire FRS6HF55KQ0
Refrigerator
Frigidaire FRS6HF55KQ1
Refrigerator
Frigidaire FRS6HF55KS
Refrigerator
Frigidaire FRS6HF55KS0
Refrigerator
Frigidaire FRS6HF55KS1
Refrigerator
Frigidaire FRS6HF55KW
Refrigerator
Frigidaire FRS6HF55KW0
Refrigerator
Frigidaire FRS6HF55KW1
Refrigerator
Frigidaire FRS6HF6JB
Refrigerator
Frigidaire FRS6HF6JB0
Refrigerator
Frigidaire FRS6HF6JQ
Refrigerator
Frigidaire FRS6HF6JQ0
Refrigerator
Frigidaire FRS6HF6JSB
Refrigerator
Frigidaire FRS6HF6JSB0
Refrigerator
Frigidaire FRS6HF6JW
Refrigerator
Frigidaire FRS6HF6JW0
Refrigerator
Frigidaire FRS6L7EES1
Refrigerator
Frigidaire FRS6L7EES5
Refrigerator
Frigidaire FRS6L7EES9
Refrigerator
Frigidaire FRS6L7EESN
Refrigerator
Frigidaire FRS6L7EFS0
Refrigerator
Frigidaire FRS6L9EESS1
Refrigerator
Frigidaire FRS6L9EESS5
Refrigerator
Frigidaire FRS6L9EESS9
Refrigerator
Frigidaire FRS6L9EESSN
Refrigerator
Frigidaire FRS6L9EFSS0
Refrigerator
Frigidaire FRS6L9EFSS2
Refrigerator
Frigidaire FRS6L9EFSS3
Refrigerator
Frigidaire FRS6L9EFSS4
Refrigerator
Frigidaire FRS6L9EFSS5
Refrigerator
Frigidaire FRS6L9EFSS6
Refrigerator
Frigidaire FRS6L9EFSS7
Refrigerator
Frigidaire FRS6LC8FS0
Refrigerator
Frigidaire FRS6LC8FS1
Refrigerator
Frigidaire FRS6LC8FS2
Refrigerator
Frigidaire FRS6LC8FS3
Refrigerator
Frigidaire FRS6LC8FS4
Refrigerator
Frigidaire FRS6LC8FS5
Refrigerator
Frigidaire FRS6LC8FS6
Refrigerator
Frigidaire FRS6LF7FB0
Refrigerator
Frigidaire FRS6LF7FB2
Refrigerator
Frigidaire FRS6LF7FB3
Refrigerator
Frigidaire FRS6LF7FB4
Refrigerator
Frigidaire FRS6LF7FB5
Refrigerator
Frigidaire FRS6LF7FB6
Refrigerator
Frigidaire FRS6LF7FB7
Refrigerator
Frigidaire FRS6LF7FB8
Refrigerator
Frigidaire FRS6LF7FB9
Refrigerator
Frigidaire FRS6LF7FBA
Refrigerator
Frigidaire FRS6LF7FBB
Refrigerator
Frigidaire FRS6LF7FBC
Refrigerator
Frigidaire FRS6LF7FM0
Refrigerator
Frigidaire FRS6LF7FM2
Refrigerator
Frigidaire FRS6LF7FM3
Refrigerator
Frigidaire FRS6LF7FM4
Refrigerator
Frigidaire FRS6LF7FM6
Refrigerator
Frigidaire FRS6LF7FM7
Refrigerator
Frigidaire FRS6LF7FM8
Refrigerator
Frigidaire FRS6LF7FM9
Refrigerator
Frigidaire FRS6LF7FMA
Refrigerator
Frigidaire FRS6LF7FMB
Refrigerator
Frigidaire FRS6LF7FMC
Refrigerator
Frigidaire FRS6LF7FQ0
Refrigerator
Frigidaire FRS6LF7FQ2
Refrigerator
Frigidaire FRS6LF7FQ3
Refrigerator
Frigidaire FRS6LF7FQ4
Refrigerator
Frigidaire FRS6LF7FQ6
Refrigerator
Frigidaire FRS6LF7FQ7
Refrigerator
Frigidaire FRS6LF7FQ8
Refrigerator
Frigidaire FRS6LF7FQ9
Refrigerator
Frigidaire FRS6LF7FQA
Refrigerator
Frigidaire FRS6LF7FQB
Refrigerator
Frigidaire FRS6LF7FQC
Refrigerator
Frigidaire FRS6LF7FS0
Refrigerator
Frigidaire FRS6LF7FS2
Refrigerator
Frigidaire FRS6LF7FS3
Refrigerator
Frigidaire FRS6LF7FS4
Refrigerator
Frigidaire FRS6LF7FS6
Refrigerator
Frigidaire FRS6LF7FS7
Refrigerator
Frigidaire FRS6LF7FS8
Refrigerator
Frigidaire FRS6LF7FS9
Refrigerator
Frigidaire FRS6LF7FSA
Refrigerator
Frigidaire FRS6LF7FSB
Refrigerator
Frigidaire FRS6LF7FSC
Refrigerator
Frigidaire FRS6LF7FW0
Refrigerator
Frigidaire FRS6LF7FW2
Refrigerator
Frigidaire FRS6LF7FW3
Refrigerator
Frigidaire FRS6LF7FW4
Refrigerator
Frigidaire FRS6LF7FW6
Refrigerator
Frigidaire FRS6LF7FW7
Refrigerator
Frigidaire FRS6LF7FW8
Refrigerator
Frigidaire FRS6LF7FW9
Refrigerator
Frigidaire FRS6LF7FWA
Refrigerator
Frigidaire FRS6LF7FWB
Refrigerator
Frigidaire FRS6LF7FWC
Refrigerator
Frigidaire FRS6LF7GS0
Refrigerator
Frigidaire FRS6LF7GS1
Refrigerator
Frigidaire FRS6LF7GS2
Refrigerator
Frigidaire FRS6LF7GS3
Refrigerator
Frigidaire FRS6LF7GS4
Refrigerator
Frigidaire FRS6LF7GS5
Refrigerator
Frigidaire FRS6LF7JB0
Refrigerator
Frigidaire FRS6LF7JB1
Refrigerator
Frigidaire FRS6LF7JB2
Refrigerator
Frigidaire FRS6LF7JB3
Refrigerator
Frigidaire FRS6LF7JB5
Refrigerator
Frigidaire FRS6LF7JB6
Refrigerator
Frigidaire FRS6LF7JM0
Refrigerator
Frigidaire FRS6LF7JM1
Refrigerator
Frigidaire FRS6LF7JM2
Refrigerator
Frigidaire FRS6LF7JM3
Refrigerator
Frigidaire FRS6LF7JM5
Refrigerator
Frigidaire FRS6LF7JM6
Refrigerator
Frigidaire FRS6LF7JQ0
Refrigerator
Frigidaire FRS6LF7JS0
Refrigerator
Frigidaire FRS6LF7JS2
Refrigerator
Frigidaire FRS6LF7JS3
Refrigerator
Frigidaire FRS6LF7JS5
Refrigerator
Frigidaire FRS6LF7JS6
Refrigerator
Frigidaire FRS6LF7JS7
Refrigerator
Frigidaire FRS6LF7JS8
Refrigerator
Frigidaire FRS6LF7JW0
Refrigerator
Frigidaire FRS6LF7JW2
Refrigerator
Frigidaire FRS6LF7JW3
Refrigerator
Frigidaire FRS6LF7JW5
Refrigerator
Frigidaire FRS6LF7JW6
Refrigerator
Frigidaire FRS6LF8FS0
Refrigerator
Frigidaire FRS6LF8FS1
Refrigerator
Frigidaire FRS6LF8FS2
Refrigerator
Frigidaire FRSHB5EHPB1
Refrigerator
Frigidaire FRSHB5EHPB2
Refrigerator
Frigidaire FRSHB5EHPB3
Refrigerator
Frigidaire FRSHB5EHPB4
Refrigerator
Frigidaire FRSHB5EHPW1
Refrigerator
Frigidaire FRSHB5EHPW2
Refrigerator
Frigidaire FRSHB5EHPW3
Refrigerator
Frigidaire FRSHB5EHPW4
Refrigerator
Frigidaire FRSHB5EHSB1
Refrigerator
Frigidaire FRSHB5EHSB2
Refrigerator
Frigidaire FRSHB5EHSB3
Refrigerator
Frigidaire FRSHB5EHSB4
Refrigerator
Frigidaire FRSHS5EFB0
Refrigerator
Frigidaire FRSHS5EFW0
Refrigerator
Frigidaire FRSHT5EFB0
Refrigerator
Frigidaire FRSHT5EFB2
Refrigerator
Frigidaire FRSHT5EFB3
Refrigerator
Frigidaire FRSHT5EFB4
Refrigerator
Frigidaire FRSHT5EFSB0
Refrigerator
Frigidaire FRSHT5EFSB2
Refrigerator
Frigidaire FRSHT5EFSB3
Refrigerator
Frigidaire FRSHT5EFSB4
Refrigerator
Frigidaire FRSHT5EFW0
Refrigerator
Frigidaire FRSHT5EFW2
Refrigerator
Frigidaire FRSHT5EFW3
Refrigerator
Frigidaire FRSHT5EFW4
Refrigerator
Frigidaire FSC23BBDSB0
Refrigerator
Frigidaire FSC23BBDSB1
Refrigerator
Frigidaire FSC23BBDSB2
Refrigerator
Frigidaire FSC23BBDSB3
Refrigerator
Frigidaire FSC23BBDSB5
Refrigerator
Frigidaire FSC23F7DB
Refrigerator
Frigidaire FSC23F7DB0
Refrigerator
Frigidaire FSC23F7DB1
Refrigerator
Frigidaire FSC23F7DB2
Refrigerator
Frigidaire FSC23F7DB3
Refrigerator
Frigidaire FSC23F7DB4
Refrigerator
Frigidaire FSC23F7DB5
Refrigerator
Frigidaire FSC23F7DB6
Refrigerator
Frigidaire FSC23F7DB7
Refrigerator
Frigidaire FSC23F7DB8
Refrigerator
Frigidaire FSC23F7DB9
Refrigerator
Frigidaire FSC23F7DBA
Refrigerator
Frigidaire FSC23F7DBC
Refrigerator
Frigidaire FSC23F7DSB
Refrigerator
Frigidaire FSC23F7DSB0
Refrigerator
Frigidaire FSC23F7DSB1
Refrigerator
Frigidaire FSC23F7DSB2
Refrigerator
Frigidaire FSC23F7DSB3
Refrigerator
Frigidaire FSC23F7DSB4
Refrigerator
Frigidaire FSC23F7DSB5
Refrigerator
Frigidaire FSC23F7DSB6
Refrigerator
Frigidaire FSC23F7DSB7
Refrigerator
Frigidaire FSC23F7DSB8
Refrigerator
Frigidaire FSC23F7DSB9
Refrigerator
Frigidaire FSC23F7DSBA
Refrigerator
Frigidaire FSC23F7DSBB
Refrigerator
Frigidaire FSC23F7DSBC
Refrigerator
Frigidaire FSC23F7DSBE
Refrigerator
Frigidaire FSC23F7DSBN
Refrigerator
Frigidaire FSC23F7DSBP
Refrigerator
Frigidaire FSC23F7DW
Refrigerator
Frigidaire FSC23F7DW0
Refrigerator
Frigidaire FSC23F7DW3
Refrigerator
Frigidaire FSC23F7DW4
Refrigerator
Frigidaire FSC23F7DW5
Refrigerator
Frigidaire FSC23F7DW6
Refrigerator
Frigidaire FSC23F7DW7
Refrigerator
Frigidaire FSC23F7DW8
Refrigerator
Frigidaire FSC23F7DW9
Refrigerator
Frigidaire FSC23F7DWA
Refrigerator
Frigidaire FSC23F7DWC
Refrigerator
frigidaire FSC23F7FB0
Refrigerator
frigidaire FSC23F7FSB0
Refrigerator
frigidaire FSC23F7FW0
Refrigerator
Frigidaire FSC23F7HB
Refrigerator
Frigidaire FSC23F7HB1
Refrigerator
Frigidaire FSC23F7HB3
Refrigerator
Frigidaire FSC23F7HB4
Refrigerator
Frigidaire FSC23F7HB5
Refrigerator
Frigidaire FSC23F7HB6
Refrigerator
Frigidaire FSC23F7HB7
Refrigerator
Frigidaire FSC23F7HB8
Refrigerator
Frigidaire FSC23F7HB9
Refrigerator
Frigidaire FSC23F7HBA
Refrigerator
Frigidaire FSC23F7HSB
Refrigerator
Frigidaire FSC23F7HSB1
Refrigerator
Frigidaire FSC23F7HSB3
Refrigerator
Frigidaire FSC23F7HSB4
Refrigerator
Frigidaire FSC23F7HSB5
Refrigerator
Frigidaire FSC23F7HSB6
Refrigerator
Frigidaire FSC23F7HSB7
Refrigerator
Frigidaire FSC23F7HSB8
Refrigerator
Frigidaire FSC23F7HSB9
Refrigerator
Frigidaire FSC23F7HSBA
Refrigerator
Frigidaire FSC23F7HSBB
Refrigerator
Frigidaire FSC23F7HW
Refrigerator
Frigidaire FSC23F7HW1
Refrigerator
Frigidaire FSC23F7HW3
Refrigerator
Frigidaire FSC23F7HW4
Refrigerator
Frigidaire FSC23F7HW5
Refrigerator
Frigidaire FSC23F7HW6
Refrigerator
Frigidaire FSC23F7HW7
Refrigerator
Frigidaire FSC23F7HW8
Refrigerator
Frigidaire FSC23F7HW9
Refrigerator
Frigidaire FSC23F7HWA
Refrigerator
Frigidaire FSC23F7TDB
Refrigerator
Frigidaire FSC23F7TDB0
Refrigerator
Frigidaire FSC23F7TDB1
Refrigerator
Frigidaire FSC23F7TDB3
Refrigerator
Frigidaire FSC23F7TDB5
Refrigerator
Frigidaire FSC23F7TDB7
Refrigerator
Frigidaire FSC23F7TDS
Refrigerator
Frigidaire FSC23F7TDS0
Refrigerator
Frigidaire FSC23F7TDS1
Refrigerator
Frigidaire FSC23F7TDS3
Refrigerator
Frigidaire FSC23F7TDS5
Refrigerator
Frigidaire FSC23F7TDS7
Refrigerator
Frigidaire FSC23F7TDW
Refrigerator
Frigidaire FSC23F7TDW0
Refrigerator
Frigidaire FSC23F7TDW1
Refrigerator
Frigidaire FSC23F7TDW3
Refrigerator
Frigidaire FSC23F7TDW5
Refrigerator
Frigidaire GHSC239DB
Refrigerator
Frigidaire GHSC239DB0
Refrigerator
Frigidaire GHSC239DB1
Refrigerator
Frigidaire GHSC239DB3
Refrigerator
Frigidaire GHSC239DB5
Refrigerator
Frigidaire GHSC239DW
Refrigerator
Frigidaire GHSC239DW0
Refrigerator
Frigidaire GHSC239DW1
Refrigerator
Frigidaire GHSC239DW3
Refrigerator
Frigidaire GHSC239DW5
Refrigerator
Frigidaire GHSC239TDB
Refrigerator
Frigidaire GHSC239TDB0
Refrigerator
Frigidaire GHSC239TDB1
Refrigerator
Frigidaire GHSC239TDB3
Refrigerator
Frigidaire GHSC239TDB5
Refrigerator
Frigidaire GHSC239TDS
Refrigerator
Frigidaire GHSC239TDS0
Refrigerator
Frigidaire GHSC239TDS1
Refrigerator
Frigidaire GHSC239TDS3
Refrigerator
Frigidaire GHSC239TDS5
Refrigerator
Frigidaire GHSC239TDW
Refrigerator
Frigidaire GHSC239TDW0
Refrigerator
Frigidaire GHSC239TDW1
Refrigerator
Frigidaire GHSC239TDW3
Refrigerator
Frigidaire GHSC239TDW5
Refrigerator
Frigidaire GHSC39EEPB
Refrigerator
Frigidaire GHSC39EEPB0
Refrigerator
Frigidaire GHSC39EEPB1
Refrigerator
Frigidaire GHSC39EEPB3
Refrigerator
Frigidaire GHSC39EEPW
Refrigerator
Frigidaire GHSC39EEPW0
Refrigerator
Frigidaire GHSC39EEPW1
Refrigerator
Frigidaire GHSC39EEPW3
Refrigerator
frigidaire GHSC39EFPB0
Refrigerator
frigidaire GHSC39EFPW0
Refrigerator
Frigidaire GHSC39EGPB
Refrigerator
Frigidaire GHSC39EGPB0
Refrigerator
Frigidaire GHSC39EGPB1
Refrigerator
Frigidaire GHSC39EGPB2
Refrigerator
Frigidaire GHSC39EGPB3
Refrigerator
Frigidaire GHSC39EGPW
Refrigerator
Frigidaire GHSC39EGPW0
Refrigerator
Frigidaire GHSC39EGPW1
Refrigerator
Frigidaire GHSC39EGPW2
Refrigerator
Frigidaire GHSC39EGPW3
Refrigerator
Frigidaire GHSC39EHPB
Refrigerator
Frigidaire GHSC39EHPB0
Refrigerator
Frigidaire GHSC39EHPB1
Refrigerator
Frigidaire GHSC39EHPB2
Refrigerator
Frigidaire GHSC39EHPW
Refrigerator
Frigidaire GHSC39EHPW0
Refrigerator
Frigidaire GHSC39EHPW1
Refrigerator
Frigidaire GHSC39EHPW2
Refrigerator
Frigidaire GHSC39EJPB
Refrigerator
Frigidaire GHSC39EJPB0
Refrigerator
Frigidaire GHSC39EJPB1
Refrigerator
Frigidaire GHSC39EJPB2
Refrigerator
Frigidaire GHSC39EJPB3
Refrigerator
Frigidaire GHSC39EJPW
Refrigerator
Frigidaire GHSC39EJPW0
Refrigerator
Frigidaire GHSC39EJPW1
Refrigerator
Frigidaire GHSC39EJPW2
Refrigerator
Frigidaire GHSC39EJPW3
Refrigerator
Frigidaire GHSC39ETEB
Refrigerator
Frigidaire GHSC39ETEB0
Refrigerator
Frigidaire GHSC39ETEB1
Refrigerator
Frigidaire GHSC39ETEB2
Refrigerator
Frigidaire GHSC39ETES
Refrigerator
Frigidaire GHSC39ETES0
Refrigerator
Frigidaire GHSC39ETES1
Refrigerator
Frigidaire GHSC39ETES2
Refrigerator
Frigidaire GHSC39ETES3
Refrigerator
Frigidaire GHSC39ETEW
Refrigerator
Frigidaire GHSC39ETEW0
Refrigerator
Frigidaire GHSC39ETEW1
Refrigerator
Frigidaire GHSC39ETEW2
Refrigerator
Frigidaire GHSC39ETEW3
Refrigerator
Frigidaire GHSC39ETHB
Refrigerator
Frigidaire GHSC39ETHB0
Refrigerator
Frigidaire GHSC39ETHB1
Refrigerator
Frigidaire GHSC39ETHB2
Refrigerator
Frigidaire GHSC39ETHS
Refrigerator
Frigidaire GHSC39ETHS0
Refrigerator
Frigidaire GHSC39ETHS1
Refrigerator
Frigidaire GHSC39ETHS2
Refrigerator
Frigidaire GHSC39ETHSS
Refrigerator
Frigidaire GHSC39ETHW
Refrigerator
Frigidaire GHSC39ETHW0
Refrigerator
Frigidaire GHSC39ETHW1
Refrigerator
Frigidaire GHSC39ETHW2
Refrigerator
Frigidaire GHSC39ETJB
Refrigerator
Frigidaire GHSC39ETJB0
Refrigerator
Frigidaire GHSC39ETJB1
Refrigerator
Frigidaire GHSC39ETJB2
Refrigerator
Frigidaire GHSC39ETJB3
Refrigerator
Frigidaire GHSC39ETJS
Refrigerator
Frigidaire GHSC39ETJS0
Refrigerator
Frigidaire GHSC39ETJS1
Refrigerator
Frigidaire GHSC39ETJS2
Refrigerator
Frigidaire GHSC39ETJS3
Refrigerator
Frigidaire GHSC39ETJW
Refrigerator
Frigidaire GHSC39ETJW0
Refrigerator
Frigidaire GHSC39ETJW1
Refrigerator
Frigidaire GHSC39ETJW2
Refrigerator
Frigidaire GHSC39ETJW3
Refrigerator
frigidaire GHSC39FTEB0
Refrigerator
frigidaire GHSC39FTES0
Refrigerator
frigidaire GHSC39FTEW0
Refrigerator
Frigidaire GLHS234ZAB1
Refrigerator
Frigidaire GLHS234ZAQ1
Refrigerator
Frigidaire GLHS234ZAW1
Refrigerator
Frigidaire GLHS237ZAB1
Refrigerator
Frigidaire GLHS237ZAB5
Refrigerator
Frigidaire GLHS237ZAB6
Refrigerator
Frigidaire GLHS237ZAQ1
Refrigerator
Frigidaire GLHS237ZAQ5
Refrigerator
Frigidaire GLHS237ZAQ6
Refrigerator
Frigidaire GLHS237ZAW1
Refrigerator
Frigidaire GLHS237ZAW5
Refrigerator
Frigidaire GLHS237ZAW6
Refrigerator
Frigidaire GLHS237ZCB0
Refrigerator
Frigidaire GLHS237ZCB1
Refrigerator
Frigidaire GLHS237ZCB2
Refrigerator
Frigidaire GLHS237ZCQ0
Refrigerator
Frigidaire GLHS237ZCQ1
Refrigerator
Frigidaire GLHS237ZCQ2
Refrigerator
Frigidaire GLHS237ZCW0
Refrigerator
Frigidaire GLHS237ZCW1
Refrigerator
Frigidaire GLHS237ZCW2
Refrigerator
Frigidaire GLHS238ZDB
Refrigerator
Frigidaire GLHS238ZDB0
Refrigerator
Frigidaire GLHS238ZDB1
Refrigerator
Frigidaire GLHS238ZDB2
Refrigerator
Frigidaire GLHS238ZDB3
Refrigerator
Frigidaire GLHS238ZDB4
Refrigerator
Frigidaire GLHS238ZDB5
Refrigerator
Frigidaire GLHS238ZDB6
Refrigerator
Frigidaire GLHS238ZDB7
Refrigerator
Frigidaire GLHS238ZDB8
Refrigerator
Frigidaire GLHS238ZDQ0
Refrigerator
Frigidaire GLHS238ZDQ1
Refrigerator
Frigidaire GLHS238ZDQ2
Refrigerator
Frigidaire GLHS238ZDQ5
Refrigerator
Frigidaire GLHS238ZDQ7
Refrigerator
Frigidaire GLHS238ZDQ8
Refrigerator
Frigidaire GLHS238ZDS
Refrigerator
Frigidaire GLHS238ZDS0
Refrigerator
Frigidaire GLHS238ZDS1
Refrigerator
Frigidaire GLHS238ZDS2
Refrigerator
Frigidaire GLHS238ZDS3
Refrigerator
Frigidaire GLHS238ZDS4
Refrigerator
Frigidaire GLHS238ZDS5
Refrigerator
Frigidaire GLHS238ZDS6
Refrigerator
Frigidaire GLHS238ZDS7
Refrigerator
Frigidaire GLHS238ZDS8
Refrigerator
Frigidaire GLHS238ZDS9
Refrigerator
Frigidaire GLHS238ZDSA
Refrigerator
Frigidaire GLHS238ZDW0
Refrigerator
Frigidaire GLHS238ZDW1
Refrigerator
Frigidaire GLHS238ZDW2
Refrigerator
Frigidaire GLHS238ZDW3
Refrigerator
Frigidaire GLHS238ZDW5
Refrigerator
Frigidaire GLHS238ZDW6
Refrigerator
Frigidaire GLHS238ZDW7
Refrigerator
Frigidaire GLHS238ZDW8
Refrigerator
Frigidaire GLHS239ZCB0
Refrigerator
Frigidaire GLHS239ZCW0
Refrigerator
Frigidaire GLHS264ZAB0
Refrigerator
Frigidaire GLHS264ZAB3
Refrigerator
Frigidaire GLHS264ZAB4
Refrigerator
Frigidaire GLHS264ZAQ0
Refrigerator
Frigidaire GLHS264ZAQ3
Refrigerator
Frigidaire GLHS264ZAQ4
Refrigerator
Frigidaire GLHS264ZAW0
Refrigerator
Frigidaire GLHS264ZAW3
Refrigerator
Frigidaire GLHS264ZAW4
Refrigerator
Frigidaire GLHS267ZAB0
Refrigerator
Frigidaire GLHS267ZAB3
Refrigerator
Frigidaire GLHS267ZAB4
Refrigerator
Frigidaire GLHS267ZAB5
Refrigerator
Frigidaire GLHS267ZAQ0
Refrigerator
Frigidaire GLHS267ZAQ3
Refrigerator
Frigidaire GLHS267ZAQ4
Refrigerator
Frigidaire GLHS267ZAQ5
Refrigerator
Frigidaire GLHS267ZAW0
Refrigerator
Frigidaire GLHS267ZAW3
Refrigerator
Frigidaire GLHS267ZAW4
Refrigerator
Frigidaire GLHS267ZAW5
Refrigerator
Frigidaire GLHS268ZDB
Refrigerator
Frigidaire GLHS268ZDB0
Refrigerator
Frigidaire GLHS268ZDB1
Refrigerator
Frigidaire GLHS268ZDB2
Refrigerator
Frigidaire GLHS268ZDB3
Refrigerator
Frigidaire GLHS268ZDB5
Refrigerator
Frigidaire GLHS268ZDQ
Refrigerator
Frigidaire GLHS268ZDQ0
Refrigerator
Frigidaire GLHS268ZDQ1
Refrigerator
Frigidaire GLHS268ZDQ2
Refrigerator
Frigidaire GLHS268ZDQ3
Refrigerator
Frigidaire GLHS268ZDQ5
Refrigerator
Frigidaire GLHS268ZDS
Refrigerator
Frigidaire GLHS268ZDS0
Refrigerator
Frigidaire GLHS268ZDS1
Refrigerator
Frigidaire GLHS268ZDS2
Refrigerator
Frigidaire GLHS268ZDS3
Refrigerator
Frigidaire GLHS268ZDS4
Refrigerator
Frigidaire GLHS268ZDS5
Refrigerator
Frigidaire GLHS268ZDS6
Refrigerator
Frigidaire GLHS268ZDS7
Refrigerator
Frigidaire GLHS268ZDW
Refrigerator
Frigidaire GLHS268ZDW0
Refrigerator
Frigidaire GLHS268ZDW1
Refrigerator
Frigidaire GLHS268ZDW2
Refrigerator
Frigidaire GLHS268ZDW3
Refrigerator
Frigidaire GLHS268ZDW5
Refrigerator
Frigidaire GLHS269FPB0
Refrigerator
Frigidaire GLHS269FPB1
Refrigerator
Frigidaire GLHS269FPW0
Refrigerator
Frigidaire GLHS269FPW1
Refrigerator
Frigidaire GLHS269ZCB
Refrigerator
Frigidaire GLHS269ZCB0
Refrigerator
Frigidaire GLHS269ZCB2
Refrigerator
Frigidaire GLHS269ZCB3
Refrigerator
Frigidaire GLHS269ZCB4
Refrigerator
Frigidaire GLHS269ZCQ
Refrigerator
Frigidaire GLHS269ZCQ0
Refrigerator
Frigidaire GLHS269ZCQ2
Refrigerator
Frigidaire GLHS269ZCQ3
Refrigerator
Frigidaire GLHS269ZCQ4
Refrigerator
Frigidaire GLHS269ZCW
Refrigerator
Frigidaire GLHS269ZCW0
Refrigerator
Frigidaire GLHS269ZCW2
Refrigerator
Frigidaire GLHS269ZCW3
Refrigerator
Frigidaire GLHS269ZCW4
Refrigerator
Frigidaire GLHS269ZDB0
Refrigerator
Frigidaire GLHS269ZDB1
Refrigerator
Frigidaire GLHS269ZDB2
Refrigerator
Frigidaire GLHS269ZDB5
Refrigerator
Frigidaire GLHS269ZDB7
Refrigerator
Frigidaire GLHS269ZDQ0
Refrigerator
Frigidaire GLHS269ZDQ1
Refrigerator
Frigidaire GLHS269ZDQ2
Refrigerator
Frigidaire GLHS269ZDQ7
Refrigerator
Frigidaire GLHS269ZDW
Refrigerator
Frigidaire GLHS269ZDW0
Refrigerator
Frigidaire GLHS269ZDW1
Refrigerator
Frigidaire GLHS269ZDW2
Refrigerator
Frigidaire GLHS269ZDW4
Refrigerator
Frigidaire GLHS269ZDW5
Refrigerator
Frigidaire GLHS269ZDW7
Refrigerator
Frigidaire GLHS280ZAB3
Refrigerator
Frigidaire GLHS280ZAB4
Refrigerator
Frigidaire GLHS280ZAB5
Refrigerator
Frigidaire GLHS280ZAB6
Refrigerator
Frigidaire GLHS280ZAQ3
Refrigerator
Frigidaire GLHS280ZAQ4
Refrigerator
Frigidaire GLHS280ZAQ5
Refrigerator
Frigidaire GLHS280ZAQ6
Refrigerator
Frigidaire GLHS280ZAW3
Refrigerator
Frigidaire GLHS280ZAW4
Refrigerator
Frigidaire GLHS280ZAW5
Refrigerator
Frigidaire GLHS280ZAW6
Refrigerator
Frigidaire GLHS35EHB
Refrigerator
Frigidaire GLHS35EHB1
Refrigerator
Frigidaire GLHS35EHB3
Refrigerator
Frigidaire GLHS35EHB4
Refrigerator
Frigidaire GLHS35EHB5
Refrigerator
Frigidaire GLHS35EHB6
Refrigerator
Frigidaire GLHS35EHS
Refrigerator
Frigidaire GLHS35EHSB
Refrigerator
Frigidaire GLHS35EHSB1
Refrigerator
Frigidaire GLHS35EHSB3
Refrigerator
Frigidaire GLHS35EHSB4
Refrigerator
Frigidaire GLHS35EHSB5
Refrigerator
Frigidaire GLHS35EHSB6
Refrigerator
Frigidaire GLHS35EHW
Refrigerator
Frigidaire GLHS35EHW1
Refrigerator
Frigidaire GLHS35EHW3
Refrigerator
Frigidaire GLHS35EHW4
Refrigerator
Frigidaire GLHS35EHW5
Refrigerator
Frigidaire GLHS35EHW6
Refrigerator
Frigidaire GLHS36EEB
Refrigerator
Frigidaire GLHS36EEB0
Refrigerator
Frigidaire GLHS36EEB1
Refrigerator
Frigidaire GLHS36EEB2
Refrigerator
Frigidaire GLHS36EEB5
Refrigerator
Frigidaire GLHS36EEB6
Refrigerator
Frigidaire GLHS36EEB7
Refrigerator
Frigidaire GLHS36EEB8
Refrigerator
Frigidaire GLHS36EEQ
Refrigerator
Frigidaire GLHS36EEQ0
Refrigerator
Frigidaire GLHS36EEQ1
Refrigerator
Frigidaire GLHS36EEQ2
Refrigerator
Frigidaire GLHS36EEQ3
Refrigerator
Frigidaire GLHS36EEQ5
Refrigerator
Frigidaire GLHS36EEQ6
Refrigerator
Frigidaire GLHS36EEQ7
Refrigerator
Frigidaire GLHS36EEQ8
Refrigerator
Frigidaire GLHS36EESB
Refrigerator
Frigidaire GLHS36EESB0
Refrigerator
Frigidaire GLHS36EESB1
Refrigerator
Frigidaire GLHS36EESB2
Refrigerator
Frigidaire GLHS36EESB3
Refrigerator
Frigidaire GLHS36EESB4
Refrigerator
Frigidaire GLHS36EESB5
Refrigerator
Frigidaire GLHS36EESB7
Refrigerator
Frigidaire GLHS36EEW
Refrigerator
Frigidaire GLHS36EEW0
Refrigerator
Frigidaire GLHS36EEW1
Refrigerator
Frigidaire GLHS36EEW2
Refrigerator
Frigidaire GLHS36EEW3
Refrigerator
Frigidaire GLHS36EEW5
Refrigerator
Frigidaire GLHS36EEW6
Refrigerator
Frigidaire GLHS36EEW7
Refrigerator
Frigidaire GLHS36EEW8
Refrigerator
Frigidaire GLHS36EFSB
Refrigerator
Frigidaire GLHS36EFSB0
Refrigerator
Frigidaire GLHS36EFSB1
Refrigerator
Frigidaire GLHS36EFSB2
Refrigerator
Frigidaire GLHS36EFSB4
Refrigerator
Frigidaire GLHS36EHB
Refrigerator
Frigidaire GLHS36EHQ
Refrigerator
Frigidaire GLHS36EHW
Refrigerator
Frigidaire GLHS36EJB
Refrigerator
Frigidaire GLHS36EJB0
Refrigerator
Frigidaire GLHS36EJB1
Refrigerator
Frigidaire GLHS36EJSB
Refrigerator
Frigidaire GLHS36EJSB0
Refrigerator
Frigidaire GLHS36EJSB1
Refrigerator
Frigidaire GLHS36EJW
Refrigerator
Frigidaire GLHS36EJW0
Refrigerator
Frigidaire GLHS36EJW1
Refrigerator
Frigidaire GLHS37EHB
Refrigerator
Frigidaire GLHS37EHB1
Refrigerator
Frigidaire GLHS37EHB2
Refrigerator
Frigidaire GLHS37EHB3
Refrigerator
Frigidaire GLHS37EHB4
Refrigerator
Frigidaire GLHS37EHB5
Refrigerator
Frigidaire GLHS37EHQ
Refrigerator
Frigidaire GLHS37EHQ1
Refrigerator
Frigidaire GLHS37EHQ2
Refrigerator
Frigidaire GLHS37EHQ3
Refrigerator
Frigidaire GLHS37EHQ4
Refrigerator
Frigidaire GLHS37EHQ5
Refrigerator
Frigidaire GLHS37EHS
Refrigerator
Frigidaire GLHS37EHSB
Refrigerator
Frigidaire GLHS37EHSB1
Refrigerator
Frigidaire GLHS37EHSB2
Refrigerator
Frigidaire GLHS37EHSB3
Refrigerator
Frigidaire GLHS37EHSB4
Refrigerator
Frigidaire GLHS37EHSB5
Refrigerator
Frigidaire GLHS37EHSB6
Refrigerator
Frigidaire GLHS37EHSB7
Refrigerator
Frigidaire GLHS37EHSB8
Refrigerator
Frigidaire GLHS37EHSB9
Refrigerator
Frigidaire GLHS37EHW
Refrigerator
Frigidaire GLHS37EHW1
Refrigerator
Frigidaire GLHS37EHW2
Refrigerator
Frigidaire GLHS37EHW3
Refrigerator
Frigidaire GLHS37EHW4
Refrigerator
Frigidaire GLHS37EHW5
Refrigerator
Frigidaire GLHS38EEPB
Refrigerator
Frigidaire GLHS38EEPB0
Refrigerator
Frigidaire GLHS38EEPB1
Refrigerator
Frigidaire GLHS38EEPB2
Refrigerator
Frigidaire GLHS38EEPB5
Refrigerator
Frigidaire GLHS38EEPW
Refrigerator
Frigidaire GLHS38EEPW0
Refrigerator
Frigidaire GLHS38EEPW1
Refrigerator
Frigidaire GLHS38EEPW2
Refrigerator
Frigidaire GLHS38EEPW3
Refrigerator
Frigidaire GLHS38EEPW5
Refrigerator
Frigidaire GLHS38EEQ0
Refrigerator
Frigidaire GLHS38EEQ1
Refrigerator
Frigidaire GLHS38EEQ2
Refrigerator
Frigidaire GLHS38EESB0
Refrigerator
Frigidaire GLHS38EESB1
Refrigerator
Frigidaire GLHS38EESB2
Refrigerator
Frigidaire GLHS38EESB3
Refrigerator
Frigidaire GLHS38EESB5
Refrigerator
Frigidaire GLHS38EESB7
Refrigerator
Frigidaire GLHS38EESB9
Refrigerator
Frigidaire GLHS38EEW0
Refrigerator
Frigidaire GLHS38EEW1
Refrigerator
Frigidaire GLHS38EEW2
Refrigerator
Frigidaire GLHS38EGPB0
Refrigerator
Frigidaire GLHS38EGPB1
Refrigerator
Frigidaire GLHS38EGPB3
Refrigerator
Frigidaire GLHS38EGPB4
Refrigerator
Frigidaire GLHS38EGPB5
Refrigerator
Frigidaire GLHS38EGPB6
Refrigerator
Frigidaire GLHS38EGPW0
Refrigerator
Frigidaire GLHS38EGPW1
Refrigerator
Frigidaire GLHS38EGPW3
Refrigerator
Frigidaire GLHS38EGPW4
Refrigerator
Frigidaire GLHS38EGPW5
Refrigerator
Frigidaire GLHS38EGPW6
Refrigerator
Frigidaire GLHS38EGQ0
Refrigerator
Frigidaire GLHS38EGQ1
Refrigerator
Frigidaire GLHS38EGQ3
Refrigerator
Frigidaire GLHS38EGQ4
Refrigerator
Frigidaire GLHS38EGQ5
Refrigerator
Frigidaire GLHS38EGQ6
Refrigerator
Frigidaire GLHS38EGSB0
Refrigerator
Frigidaire GLHS38EGSB1
Refrigerator
Frigidaire GLHS38EGSB2
Refrigerator
Frigidaire GLHS38EGSB3
Refrigerator
Frigidaire GLHS38EGSB4
Refrigerator
Frigidaire GLHS38EGSB5
Refrigerator
Frigidaire GLHS38EGSB6
Refrigerator
Frigidaire GLHS38EGW0
Refrigerator
Frigidaire GLHS38EGW1
Refrigerator
Frigidaire GLHS38EGW3
Refrigerator
Frigidaire GLHS38EGW4
Refrigerator
Frigidaire GLHS38EGW5
Refrigerator
Frigidaire GLHS38EGW6
Refrigerator
Frigidaire GLHS38EJB
Refrigerator
Frigidaire GLHS38EJB0
Refrigerator
Frigidaire GLHS38EJB1
Refrigerator
Frigidaire GLHS38EJPB
Refrigerator
Frigidaire GLHS38EJPB0
Refrigerator
Frigidaire GLHS38EJPB1
Refrigerator
Frigidaire GLHS38EJPW
Refrigerator
Frigidaire GLHS38EJPW0
Refrigerator
Frigidaire GLHS38EJPW1
Refrigerator
Frigidaire GLHS38EJQ
Refrigerator
Frigidaire GLHS38EJQ0
Refrigerator
Frigidaire GLHS38EJQ1
Refrigerator
Frigidaire GLHS38EJW
Refrigerator
Frigidaire GLHS38EJW0
Refrigerator
Frigidaire GLHS38EJW1
Refrigerator
Frigidaire GLHS39EH
Refrigerator
Frigidaire GLHS39EHB
Refrigerator
Frigidaire GLHS39EHB1
Refrigerator
Frigidaire GLHS39EHB2
Refrigerator
Frigidaire GLHS39EHB3
Refrigerator
Frigidaire GLHS39EHB4
Refrigerator
Frigidaire GLHS39EHPB
Refrigerator
Frigidaire GLHS39EHPB1
Refrigerator
Frigidaire GLHS39EHPB2
Refrigerator
Frigidaire GLHS39EHPB3
Refrigerator
Frigidaire GLHS39EHPB4
Refrigerator
Frigidaire GLHS39EHPW
Refrigerator
Frigidaire GLHS39EHPW1
Refrigerator
Frigidaire GLHS39EHPW2
Refrigerator
Frigidaire GLHS39EHPW3
Refrigerator
Frigidaire GLHS39EHPW4
Refrigerator
Frigidaire GLHS39EHS
Refrigerator
Frigidaire GLHS39EHSB
Refrigerator
Frigidaire GLHS39EHSB1
Refrigerator
Frigidaire GLHS39EHSB2
Refrigerator
Frigidaire GLHS39EHSB3
Refrigerator
Frigidaire GLHS39EHSB4
Refrigerator
Frigidaire GLHS39EHW
Refrigerator
Frigidaire GLHS39EHW1
Refrigerator
Frigidaire GLHS39EHW2
Refrigerator
Frigidaire GLHS39EHW3
Refrigerator
Frigidaire GLHS39EHW4
Refrigerator
Frigidaire GLHS39EJPB
Refrigerator
Frigidaire GLHS39EJPB0
Refrigerator
Frigidaire GLHS39EJPB1
Refrigerator
Frigidaire GLHS39EJPW
Refrigerator
Frigidaire GLHS39EJPW0
Refrigerator
Frigidaire GLHS39EJPW1
Refrigerator
Frigidaire GLHS65EHB
Refrigerator
Frigidaire GLHS65EHB0
Refrigerator
Frigidaire GLHS65EHB1
Refrigerator
Frigidaire GLHS65EHB2
Refrigerator
Frigidaire GLHS65EHB3
Refrigerator
Frigidaire GLHS65EHB4
Refrigerator
Frigidaire GLHS65EHB5
Refrigerator
Frigidaire GLHS65EHB6
Refrigerator
Frigidaire GLHS65EHB7
Refrigerator
Frigidaire GLHS65EHQ
Refrigerator
Frigidaire GLHS65EHQ0
Refrigerator
Frigidaire GLHS65EHQ1
Refrigerator
Frigidaire GLHS65EHQ2
Refrigerator
Frigidaire GLHS65EHQ3
Refrigerator
Frigidaire GLHS65EHQ4
Refrigerator
Frigidaire GLHS65EHQ5
Refrigerator
Frigidaire GLHS65EHQ6
Refrigerator
Frigidaire GLHS65EHS
Refrigerator
Frigidaire GLHS65EHSB
Refrigerator
Frigidaire GLHS65EHSB0
Refrigerator
Frigidaire GLHS65EHSB1
Refrigerator
Frigidaire GLHS65EHSB2
Refrigerator
Frigidaire GLHS65EHSB3
Refrigerator
Frigidaire GLHS65EHSB4
Refrigerator
Frigidaire GLHS65EHSB5
Refrigerator
Frigidaire GLHS65EHSB6
Refrigerator
Frigidaire GLHS65EHSB7
Refrigerator
Frigidaire GLHS65EHW
Refrigerator
Frigidaire GLHS65EHW0
Refrigerator
Frigidaire GLHS65EHW1
Refrigerator
Frigidaire GLHS65EHW2
Refrigerator
Frigidaire GLHS65EHW3
Refrigerator
Frigidaire GLHS65EHW4
Refrigerator
Frigidaire GLHS65EHW5
Refrigerator
Frigidaire GLHS65EHW6
Refrigerator
Frigidaire GLHS66EEB
Refrigerator
Frigidaire GLHS66EEB0
Refrigerator
Frigidaire GLHS66EEB1
Refrigerator
Frigidaire GLHS66EEB2
Refrigerator
Frigidaire GLHS66EEB3
Refrigerator
Frigidaire GLHS66EEB4
Refrigerator
Frigidaire GLHS66EEB5
Refrigerator
Frigidaire GLHS66EEB7
Refrigerator
Frigidaire GLHS66EEB8
Refrigerator
Frigidaire GLHS66EEB9
Refrigerator
Frigidaire GLHS66EEBA
Refrigerator
Frigidaire GLHS66EEBB
Refrigerator
Frigidaire GLHS66EEBC
Refrigerator
Frigidaire GLHS66EEQ
Refrigerator
Frigidaire GLHS66EEQ0
Refrigerator
Frigidaire GLHS66EEQ1
Refrigerator
Frigidaire GLHS66EEQ4
Refrigerator
Frigidaire GLHS66EEQ5
Refrigerator
Frigidaire GLHS66EEQ7
Refrigerator
Frigidaire GLHS66EEQ9
Refrigerator
Frigidaire GLHS66EEQA
Refrigerator
Frigidaire GLHS66EEQB
Refrigerator
Frigidaire GLHS66EEQC
Refrigerator
Frigidaire GLHS66EESB
Refrigerator
Frigidaire GLHS66EESB0
Refrigerator
Frigidaire GLHS66EESB1
Refrigerator
Frigidaire GLHS66EESB4
Refrigerator
Frigidaire GLHS66EESB5
Refrigerator
Frigidaire GLHS66EESB7
Refrigerator
Frigidaire GLHS66EESB8
Refrigerator
Frigidaire GLHS66EESB9
Refrigerator
Frigidaire GLHS66EESBA
Refrigerator
Frigidaire GLHS66EESBC
Refrigerator
Frigidaire GLHS66EEW
Refrigerator
Frigidaire GLHS66EEW0
Refrigerator
Frigidaire GLHS66EEW1
Refrigerator
Frigidaire GLHS66EEW3
Refrigerator
Frigidaire GLHS66EEW4
Refrigerator
Frigidaire GLHS66EEW5
Refrigerator
Frigidaire GLHS66EEW7
Refrigerator
Frigidaire GLHS66EEW9
Refrigerator
Frigidaire GLHS66EEWB
Refrigerator
Frigidaire GLHS66EEWC
Refrigerator
Frigidaire GLHS66EFSB
Refrigerator
Frigidaire GLHS66EFSB0
Refrigerator
Frigidaire GLHS66EFSB1
Refrigerator
Frigidaire GLHS66EFSB2
Refrigerator
Frigidaire GLHS66EFSB3
Refrigerator
Frigidaire GLHS66EFSB4
Refrigerator
Frigidaire GLHS66EFSB5
Refrigerator
Frigidaire GLHS66EFSB6
Refrigerator
Frigidaire GLHS66EJB
Refrigerator
Frigidaire GLHS66EJB0
Refrigerator
Frigidaire GLHS66EJB1
Refrigerator
Frigidaire GLHS66EJSB
Refrigerator
Frigidaire GLHS66EJSB0
Refrigerator
Frigidaire GLHS66EJSB1
Refrigerator
Frigidaire GLHS66EJW
Refrigerator
Frigidaire GLHS66EJW0
Refrigerator
Frigidaire GLHS67EEPB
Refrigerator
Frigidaire GLHS67EEPB0
Refrigerator
Frigidaire GLHS67EEPB1
Refrigerator
Frigidaire GLHS67EEPB4
Refrigerator
Frigidaire GLHS67EEPQ
Refrigerator
Frigidaire GLHS67EEPQ0
Refrigerator
Frigidaire GLHS67EEPQ1
Refrigerator
Frigidaire GLHS67EEPQ4
Refrigerator
Frigidaire GLHS67EEPW
Refrigerator
Frigidaire GLHS67EEPW0
Refrigerator
Frigidaire GLHS67EEPW1
Refrigerator
Frigidaire GLHS67EEPW4
Refrigerator
frigidaire GLHS67EFPB0
Refrigerator
frigidaire GLHS67EFPB1
Refrigerator
frigidaire GLHS67EFPW0
Refrigerator
frigidaire GLHS67EFPW1
Refrigerator
Frigidaire GLHS67EHB
Refrigerator
Frigidaire GLHS67EHB0
Refrigerator
Frigidaire GLHS67EHB1
Refrigerator
Frigidaire GLHS67EHB2
Refrigerator
Frigidaire GLHS67EHB3
Refrigerator
Frigidaire GLHS67EHB4
Refrigerator
Frigidaire GLHS67EHB5
Refrigerator
Frigidaire GLHS67EHB6
Refrigerator
Frigidaire GLHS67EHQ
Refrigerator
Frigidaire GLHS67EHQ0
Refrigerator
Frigidaire GLHS67EHQ1
Refrigerator
Frigidaire GLHS67EHQ2
Refrigerator
Frigidaire GLHS67EHQ3
Refrigerator
Frigidaire GLHS67EHQ4
Refrigerator
Frigidaire GLHS67EHQ5
Refrigerator
Frigidaire GLHS67EHQ6
Refrigerator
Frigidaire GLHS67EHS
Refrigerator
Frigidaire GLHS67EHSB
Refrigerator
Frigidaire GLHS67EHSB0
Refrigerator
Frigidaire GLHS67EHSB1
Refrigerator
Frigidaire GLHS67EHSB2
Refrigerator
Frigidaire GLHS67EHSB3
Refrigerator
Frigidaire GLHS67EHSB4
Refrigerator
Frigidaire GLHS67EHSB5
Refrigerator
Frigidaire GLHS67EHSB6
Refrigerator
Frigidaire GLHS67EHSB7
Refrigerator
Frigidaire GLHS67EHW
Refrigerator
Frigidaire GLHS67EHW0
Refrigerator
Frigidaire GLHS67EHW1
Refrigerator
Frigidaire GLHS67EHW2
Refrigerator
Frigidaire GLHS67EHW3
Refrigerator
Frigidaire GLHS67EHW4
Refrigerator
Frigidaire GLHS67EHW5
Refrigerator
Frigidaire GLHS67EHW6
Refrigerator
Frigidaire GLHS67ESFB
Refrigerator
Frigidaire GLHS67ESFB0
Refrigerator
Frigidaire GLHS67ESFB1
Refrigerator
Frigidaire GLHS67ESFB2
Refrigerator
Frigidaire GLHS67ESFW
Refrigerator
Frigidaire GLHS67ESFW0
Refrigerator
Frigidaire GLHS67ESFW1
Refrigerator
Frigidaire GLHS67ESFW2
Refrigerator
Frigidaire GLHS67SEPB0
Refrigerator
Frigidaire GLHS67SEPW0
Refrigerator
Frigidaire GLHS68EEB0
Refrigerator
Frigidaire GLHS68EEB1
Refrigerator
Frigidaire GLHS68EEB2
Refrigerator
Frigidaire GLHS68EEB4
Refrigerator
Frigidaire GLHS68EEB6
Refrigerator
Frigidaire GLHS68EEB7
Refrigerator
Frigidaire GLHS68EEPB
Refrigerator
Frigidaire GLHS68EEPB0
Refrigerator
Frigidaire GLHS68EEPB1
Refrigerator
Frigidaire GLHS68EEPB4
Refrigerator
Frigidaire GLHS68EEPB5
Refrigerator
Frigidaire GLHS68EEPB6
Refrigerator
Frigidaire GLHS68EEPB7
Refrigerator
Frigidaire GLHS68EEPW
Refrigerator
Frigidaire GLHS68EEPW0
Refrigerator
Frigidaire GLHS68EEPW1
Refrigerator
Frigidaire GLHS68EEPW4
Refrigerator
Frigidaire GLHS68EEPW5
Refrigerator
Frigidaire GLHS68EEPW7
Refrigerator
Frigidaire GLHS68EEQ0
Refrigerator
Frigidaire GLHS68EEQ1
Refrigerator
Frigidaire GLHS68EEQ2
Refrigerator
Frigidaire GLHS68EEQ4
Refrigerator
Frigidaire GLHS68EEQ6
Refrigerator
Frigidaire GLHS68EEQ7
Refrigerator
Frigidaire GLHS68EESB
Refrigerator
Frigidaire GLHS68EESB0
Refrigerator
Frigidaire GLHS68EESB2
Refrigerator
Frigidaire GLHS68EESB3
Refrigerator
Frigidaire GLHS68EESB4
Refrigerator
Frigidaire GLHS68EESB5
Refrigerator
Frigidaire GLHS68EESB7
Refrigerator
Frigidaire GLHS68EESB9
Refrigerator
Frigidaire GLHS68EEW
Refrigerator
Frigidaire GLHS68EEW0
Refrigerator
Frigidaire GLHS68EEW1
Refrigerator
Frigidaire GLHS68EEW2
Refrigerator
Frigidaire GLHS68EEW4
Refrigerator
Frigidaire GLHS68EEW6
Refrigerator
Frigidaire GLHS68EEW7
Refrigerator
frigidaire GLHS68EFB0
Refrigerator
frigidaire GLHS68EFB1
Refrigerator
frigidaire GLHS68EFB2
Refrigerator
frigidaire GLHS68EFPB0
Refrigerator
frigidaire GLHS68EFPB1
Refrigerator
frigidaire GLHS68EFPB2
Refrigerator
frigidaire GLHS68EFPW0
Refrigerator
frigidaire GLHS68EFPW1
Refrigerator
frigidaire GLHS68EFPW2
Refrigerator
frigidaire GLHS68EFQ0
Refrigerator
frigidaire GLHS68EFQ1
Refrigerator
frigidaire GLHS68EFQ2
Refrigerator
frigidaire GLHS68EFSB0
Refrigerator
frigidaire GLHS68EFSB2
Refrigerator
frigidaire GLHS68EFW0
Refrigerator
frigidaire GLHS68EFW1
Refrigerator
frigidaire GLHS68EFW2
Refrigerator
Frigidaire GLHS68EGB
Refrigerator
Frigidaire GLHS68EGB0
Refrigerator
Frigidaire GLHS68EGB1
Refrigerator
Frigidaire GLHS68EGB2
Refrigerator
Frigidaire GLHS68EGB3
Refrigerator
Frigidaire GLHS68EGB5
Refrigerator
Frigidaire GLHS68EGB6
Refrigerator
Frigidaire GLHS68EGB9
Refrigerator
Frigidaire GLHS68EGPB0
Refrigerator
Frigidaire GLHS68EGPB1
Refrigerator
Frigidaire GLHS68EGPB2
Refrigerator
Frigidaire GLHS68EGPB4
Refrigerator
Frigidaire GLHS68EGPB5
Refrigerator
Frigidaire GLHS68EGPB6
Refrigerator
Frigidaire GLHS68EGPB9
Refrigerator
Frigidaire GLHS68EGPW
Refrigerator
Frigidaire GLHS68EGPW0
Refrigerator
Frigidaire GLHS68EGPW1
Refrigerator
Frigidaire GLHS68EGPW2
Refrigerator
Frigidaire GLHS68EGPW3
Refrigerator
Frigidaire GLHS68EGPW4
Refrigerator
Frigidaire GLHS68EGPW5
Refrigerator
Frigidaire GLHS68EGPW6
Refrigerator
Frigidaire GLHS68EGPW9
Refrigerator
Frigidaire GLHS68EGQ
Refrigerator
Frigidaire GLHS68EGQ0
Refrigerator
Frigidaire GLHS68EGQ1
Refrigerator
Frigidaire GLHS68EGQ2
Refrigerator
Frigidaire GLHS68EGQ4
Refrigerator
Frigidaire GLHS68EGQ5
Refrigerator
Frigidaire GLHS68EGQ6
Refrigerator
Frigidaire GLHS68EGQ9
Refrigerator
Frigidaire GLHS68EGSB
Refrigerator
Frigidaire GLHS68EGSB0
Refrigerator
Frigidaire GLHS68EGSB1
Refrigerator
Frigidaire GLHS68EGSB2
Refrigerator
Frigidaire GLHS68EGSB5
Refrigerator
Frigidaire GLHS68EGSB6
Refrigerator
Frigidaire GLHS68EGSB9
Refrigerator
Frigidaire GLHS68EGW
Refrigerator
Frigidaire GLHS68EGW0
Refrigerator
Frigidaire GLHS68EGW1
Refrigerator
Frigidaire GLHS68EGW2
Refrigerator
Frigidaire GLHS68EGW3
Refrigerator
Frigidaire GLHS68EGW5
Refrigerator
Frigidaire GLHS68EGW6
Refrigerator
Frigidaire GLHS68EGW9
Refrigerator
Frigidaire GLHS68EJB
Refrigerator
Frigidaire GLHS68EJB0
Refrigerator
Frigidaire GLHS68EJB1
Refrigerator
Frigidaire GLHS68EJPB
Refrigerator
Frigidaire GLHS68EJPB0
Refrigerator
Frigidaire GLHS68EJPB1
Refrigerator
Frigidaire GLHS68EJPW
Refrigerator
Frigidaire GLHS68EJPW0
Refrigerator
Frigidaire GLHS68EJPW1
Refrigerator
Frigidaire GLHS68EJQ
Refrigerator
Frigidaire GLHS68EJQ0
Refrigerator
Frigidaire GLHS68EJSB
Refrigerator
Frigidaire GLHS68EJSB0
Refrigerator
Frigidaire GLHS68EJSB1
Refrigerator
Frigidaire GLHS68EJW
Refrigerator
Frigidaire GLHS68EJW0
Refrigerator
Frigidaire GLHS68EJW1
Refrigerator
Frigidaire GLHS69EEPB
Refrigerator
Frigidaire GLHS69EEPB1
Refrigerator
Frigidaire GLHS69EEPB2
Refrigerator
Frigidaire GLHS69EEPB3
Refrigerator
Frigidaire GLHS69EEPB5
Refrigerator
Frigidaire GLHS69EEPB7
Refrigerator
Frigidaire GLHS69EEPW
Refrigerator
Frigidaire GLHS69EEPW1
Refrigerator
Frigidaire GLHS69EEPW2
Refrigerator
Frigidaire GLHS69EEPW3
Refrigerator
Frigidaire GLHS69EEPW5
Refrigerator
Frigidaire GLHS69EEPW7
Refrigerator
frigidaire GLHS69EFPB0
Refrigerator
frigidaire GLHS69EFPB1
Refrigerator
frigidaire GLHS69EFPW0
Refrigerator
frigidaire GLHS69EFPW1
Refrigerator
Frigidaire GLHS69EHB
Refrigerator
Frigidaire GLHS69EHB0
Refrigerator
Frigidaire GLHS69EHB1
Refrigerator
Frigidaire GLHS69EHB2
Refrigerator
Frigidaire GLHS69EHB3
Refrigerator
Frigidaire GLHS69EHPB
Refrigerator
Frigidaire GLHS69EHPB0
Refrigerator
Frigidaire GLHS69EHPB1
Refrigerator
Frigidaire GLHS69EHPB2
Refrigerator
Frigidaire GLHS69EHPB3
Refrigerator
Frigidaire GLHS69EHPW
Refrigerator
Frigidaire GLHS69EHPW0
Refrigerator
Frigidaire GLHS69EHPW1
Refrigerator
Frigidaire GLHS69EHPW2
Refrigerator
Frigidaire GLHS69EHPW3
Refrigerator
Frigidaire GLHS69EHQ
Refrigerator
Frigidaire GLHS69EHQ0
Refrigerator
Frigidaire GLHS69EHQ1
Refrigerator
Frigidaire GLHS69EHQ2
Refrigerator
Frigidaire GLHS69EHQ3
Refrigerator
Frigidaire GLHS69EHSB
Refrigerator
Frigidaire GLHS69EHSB0
Refrigerator
Frigidaire GLHS69EHSB1
Refrigerator
Frigidaire GLHS69EHSB2
Refrigerator
Frigidaire GLHS69EHSB3
Refrigerator
Frigidaire GLHS69EHW
Refrigerator
Frigidaire GLHS69EHW0
Refrigerator
Frigidaire GLHS69EHW1
Refrigerator
Frigidaire GLHS69EHW2
Refrigerator
Frigidaire GLHS69EHW3
Refrigerator
Frigidaire GLHS69EJB0
Refrigerator
Frigidaire GLHS69EJB2
Refrigerator
Frigidaire GLHS69EJPB
Refrigerator
Frigidaire GLHS69EJPB0
Refrigerator
Frigidaire GLHS69EJPB1
Refrigerator
Frigidaire GLHS69EJPB2
Refrigerator
Frigidaire GLHS69EJPW
Refrigerator
Frigidaire GLHS69EJPW0
Refrigerator
Frigidaire GLHS69EJPW2
Refrigerator
Frigidaire GLHS69EJW0
Refrigerator
Frigidaire GLHS69EJW2
Refrigerator
Frigidaire GLRS233ZDB0
Refrigerator
Frigidaire GLRS233ZDB1
Refrigerator
Frigidaire GLRS233ZDB2
Refrigerator
Frigidaire GLRS233ZDB4
Refrigerator
Frigidaire GLRS233ZDQ0
Refrigerator
Frigidaire GLRS233ZDQ1
Refrigerator
Frigidaire GLRS233ZDQ2
Refrigerator
Frigidaire GLRS233ZDQ4
Refrigerator
Frigidaire GLRS233ZDW0
Refrigerator
Frigidaire GLRS233ZDW1
Refrigerator
Frigidaire GLRS233ZDW2
Refrigerator
Frigidaire GLRS233ZDW3
Refrigerator
Frigidaire GLRS233ZDW4
Refrigerator
Frigidaire GLRS234ZAB0
Refrigerator
Frigidaire GLRS234ZAB1
Refrigerator
Frigidaire GLRS234ZAB2
Refrigerator
Frigidaire GLRS234ZAB3
Refrigerator
Frigidaire GLRS234ZAB4
Refrigerator
Frigidaire GLRS234ZAB5
Refrigerator
Frigidaire GLRS234ZAQ0
Refrigerator
Frigidaire GLRS234ZAQ1
Refrigerator
Frigidaire GLRS234ZAQ2
Refrigerator
Frigidaire GLRS234ZAQ3
Refrigerator
Frigidaire GLRS234ZAQ4
Refrigerator
Frigidaire GLRS234ZAQ5
Refrigerator
Frigidaire GLRS234ZAW0
Refrigerator
Frigidaire GLRS234ZAW1
Refrigerator
Frigidaire GLRS234ZAW2
Refrigerator
Frigidaire GLRS234ZAW3
Refrigerator
Frigidaire GLRS234ZAW4
Refrigerator
Frigidaire GLRS234ZAW5
Refrigerator
Frigidaire GLRS237ZAB0
Refrigerator
Frigidaire GLRS237ZAB1
Refrigerator
Frigidaire GLRS237ZAB2
Refrigerator
Frigidaire GLRS237ZAB3
Refrigerator
Frigidaire GLRS237ZAB4
Refrigerator
Frigidaire GLRS237ZAB5
Refrigerator
Frigidaire GLRS237ZAB6
Refrigerator
Frigidaire GLRS237ZAB7
Refrigerator
Frigidaire GLRS237ZAQ0
Refrigerator
Frigidaire GLRS237ZAQ1
Refrigerator
Frigidaire GLRS237ZAQ2
Refrigerator
Frigidaire GLRS237ZAQ3
Refrigerator
Frigidaire GLRS237ZAQ4
Refrigerator
Frigidaire GLRS237ZAQ5
Refrigerator
Frigidaire GLRS237ZAQ6
Refrigerator
Frigidaire GLRS237ZAQ7
Refrigerator
Frigidaire GLRS237ZAW0
Refrigerator
Frigidaire GLRS237ZAW1
Refrigerator
Frigidaire GLRS237ZAW2
Refrigerator
Frigidaire GLRS237ZAW3
Refrigerator
Frigidaire GLRS237ZAW4
Refrigerator
Frigidaire GLRS237ZAW5
Refrigerator
Frigidaire GLRS237ZAW6
Refrigerator
Frigidaire GLRS237ZAW7
Refrigerator
Frigidaire GLRS237ZCB
Refrigerator
Frigidaire GLRS237ZCB0
Refrigerator
Frigidaire GLRS237ZCB2
Refrigerator
Frigidaire GLRS237ZCB3
Refrigerator
Frigidaire GLRS237ZCB4
Refrigerator
Frigidaire GLRS237ZCB5
Refrigerator
Frigidaire GLRS237ZCB7
Refrigerator
Frigidaire GLRS237ZCQ
Refrigerator
Frigidaire GLRS237ZCQ0
Refrigerator
Frigidaire GLRS237ZCQ2
Refrigerator
Frigidaire GLRS237ZCQ3
Refrigerator
Frigidaire GLRS237ZCQ4
Refrigerator
Frigidaire GLRS237ZCQ5
Refrigerator
Frigidaire GLRS237ZCQ7
Refrigerator
Frigidaire GLRS237ZCW
Refrigerator
Frigidaire GLRS237ZCW0
Refrigerator
Frigidaire GLRS237ZCW2
Refrigerator
Frigidaire GLRS237ZCW3
Refrigerator
Frigidaire GLRS237ZCW4
Refrigerator
Frigidaire GLRS237ZCW5
Refrigerator
Frigidaire GLRS237ZCW7
Refrigerator
Frigidaire GLRS237ZDB
Refrigerator
Frigidaire GLRS237ZDB0
Refrigerator
Frigidaire GLRS237ZDB1
Refrigerator
Frigidaire GLRS237ZDB2
Refrigerator
Frigidaire GLRS237ZDB3
Refrigerator
Frigidaire GLRS237ZDB4
Refrigerator
Frigidaire GLRS237ZDQ
Refrigerator
Frigidaire GLRS237ZDQ0
Refrigerator
Frigidaire GLRS237ZDQ1
Refrigerator
Frigidaire GLRS237ZDQ2
Refrigerator
Frigidaire GLRS237ZDQ4
Refrigerator
Frigidaire GLRS237ZDW
Refrigerator
Frigidaire GLRS237ZDW0
Refrigerator
Frigidaire GLRS237ZDW1
Refrigerator
Frigidaire GLRS237ZDW2
Refrigerator
Frigidaire GLRS237ZDW3
Refrigerator
Frigidaire GLRS237ZDW4
Refrigerator
Frigidaire GLRS263ZDB
Refrigerator
Frigidaire GLRS263ZDB0
Refrigerator
Frigidaire GLRS263ZDB1
Refrigerator
Frigidaire GLRS263ZDB2
Refrigerator
Frigidaire GLRS263ZDB4
Refrigerator
Frigidaire GLRS263ZDB5
Refrigerator
Frigidaire GLRS263ZDB6
Refrigerator
Frigidaire GLRS263ZDQ
Refrigerator
Frigidaire GLRS263ZDQ0
Refrigerator
Frigidaire GLRS263ZDQ1
Refrigerator
Frigidaire GLRS263ZDQ2
Refrigerator
Frigidaire GLRS263ZDQ4
Refrigerator
Frigidaire GLRS263ZDQ5
Refrigerator
Frigidaire GLRS263ZDQ6
Refrigerator
Frigidaire GLRS263ZDW
Refrigerator
Frigidaire GLRS263ZDW0
Refrigerator
Frigidaire GLRS263ZDW1
Refrigerator
Frigidaire GLRS263ZDW2
Refrigerator
Frigidaire GLRS263ZDW4
Refrigerator
Frigidaire GLRS263ZDW5
Refrigerator
Frigidaire GLRS263ZDW6
Refrigerator
Frigidaire GLRS264ZAB0
Refrigerator
Frigidaire GLRS264ZAB1
Refrigerator
Frigidaire GLRS264ZAB2
Refrigerator
Frigidaire GLRS264ZAB3
Refrigerator
Frigidaire GLRS264ZAB4
Refrigerator
Frigidaire GLRS264ZAB5
Refrigerator
Frigidaire GLRS264ZAB6
Refrigerator
Frigidaire GLRS264ZAQ0
Refrigerator
Frigidaire GLRS264ZAQ1
Refrigerator
Frigidaire GLRS264ZAQ2
Refrigerator
Frigidaire GLRS264ZAQ3
Refrigerator
Frigidaire GLRS264ZAQ4
Refrigerator
Frigidaire GLRS264ZAQ5
Refrigerator
Frigidaire GLRS264ZAQ6
Refrigerator
Frigidaire GLRS264ZAW0
Refrigerator
Frigidaire GLRS264ZAW1
Refrigerator
Frigidaire GLRS264ZAW2
Refrigerator
Frigidaire GLRS264ZAW3
Refrigerator
Frigidaire GLRS264ZAW4
Refrigerator
Frigidaire GLRS264ZAW5
Refrigerator
Frigidaire GLRS264ZAW6
Refrigerator
Frigidaire GLRS267MDQ0
Refrigerator
Frigidaire GLRS267MDW0
Refrigerator
Frigidaire GLRS267MDW1
Refrigerator
Frigidaire GLRS267ZAB0
Refrigerator
Frigidaire GLRS267ZAB1
Refrigerator
Frigidaire GLRS267ZAB2
Refrigerator
Frigidaire GLRS267ZAB3
Refrigerator
Frigidaire GLRS267ZAB4
Refrigerator
Frigidaire GLRS267ZAB5
Refrigerator
Frigidaire GLRS267ZAB6
Refrigerator
Frigidaire GLRS267ZAQ0
Refrigerator
Frigidaire GLRS267ZAQ1
Refrigerator
Frigidaire GLRS267ZAQ2
Refrigerator
Frigidaire GLRS267ZAQ3
Refrigerator
Frigidaire GLRS267ZAQ4
Refrigerator
Frigidaire GLRS267ZAQ5
Refrigerator
Frigidaire GLRS267ZAQ6
Refrigerator
Frigidaire GLRS267ZAW0
Refrigerator
Frigidaire GLRS267ZAW1
Refrigerator
Frigidaire GLRS267ZAW2
Refrigerator
Frigidaire GLRS267ZAW3
Refrigerator
Frigidaire GLRS267ZAW4
Refrigerator
Frigidaire GLRS267ZAW5
Refrigerator
Frigidaire GLRS267ZAW6
Refrigerator
Frigidaire GLRS267ZCB
Refrigerator
Frigidaire GLRS267ZCB0
Refrigerator
Frigidaire GLRS267ZCB1
Refrigerator
Frigidaire GLRS267ZCB2
Refrigerator
Frigidaire GLRS267ZCB3
Refrigerator
Frigidaire GLRS267ZCQ
Refrigerator
Frigidaire GLRS267ZCQ0
Refrigerator
Frigidaire GLRS267ZCQ1
Refrigerator
Frigidaire GLRS267ZCQ2
Refrigerator
Frigidaire GLRS267ZCQ3
Refrigerator
Frigidaire GLRS267ZCW
Refrigerator
Frigidaire GLRS267ZCW0
Refrigerator
Frigidaire GLRS267ZCW1
Refrigerator
Frigidaire GLRS267ZCW2
Refrigerator
Frigidaire GLRS267ZCW3
Refrigerator
Frigidaire GLRS267ZDB
Refrigerator
Frigidaire GLRS267ZDB0
Refrigerator
Frigidaire GLRS267ZDB1
Refrigerator
Frigidaire GLRS267ZDB2
Refrigerator
Frigidaire GLRS267ZDB3
Refrigerator
Frigidaire GLRS267ZDB4
Refrigerator
Frigidaire GLRS267ZDB5
Refrigerator
Frigidaire GLRS267ZDQ
Refrigerator
Frigidaire GLRS267ZDQ0
Refrigerator
Frigidaire GLRS267ZDQ1
Refrigerator
Frigidaire GLRS267ZDQ2
Refrigerator
Frigidaire GLRS267ZDQ3
Refrigerator
Frigidaire GLRS267ZDQ4
Refrigerator
Frigidaire GLRS267ZDQ5
Refrigerator
Frigidaire GLRS267ZDW
Refrigerator
Frigidaire GLRS267ZDW0
Refrigerator
Frigidaire GLRS267ZDW1
Refrigerator
Frigidaire GLRS267ZDW2
Refrigerator
Frigidaire GLRS267ZDW3
Refrigerator
Frigidaire GLRS267ZDW4
Refrigerator
Frigidaire GLRS267ZDW5
Refrigerator
Frigidaire GLRS64ZEB
Refrigerator
Frigidaire GLRS64ZEB0
Refrigerator
Frigidaire GLRS64ZEB2
Refrigerator
Frigidaire GLRS64ZEB3
Refrigerator
Frigidaire GLRS64ZEB4
Refrigerator
Frigidaire GLRS64ZEB5
Refrigerator
Frigidaire GLRS64ZEB6
Refrigerator
Frigidaire GLRS64ZEB7
Refrigerator
Frigidaire GLRS64ZEB8
Refrigerator
Frigidaire GLRS64ZEB9
Refrigerator
Frigidaire GLRS64ZEBA
Refrigerator
Frigidaire GLRS64ZEQ
Refrigerator
Frigidaire GLRS64ZEQ0
Refrigerator
Frigidaire GLRS64ZEQ2
Refrigerator
Frigidaire GLRS64ZEQ3
Refrigerator
Frigidaire GLRS64ZEQ4
Refrigerator
Frigidaire GLRS64ZEQ5
Refrigerator
Frigidaire GLRS64ZEQ6
Refrigerator
Frigidaire GLRS64ZEQ7
Refrigerator
Frigidaire GLRS64ZEQ8
Refrigerator
Frigidaire GLRS64ZEQ9
Refrigerator
Frigidaire GLRS64ZEQA
Refrigerator
Frigidaire GLRS64ZEW
Refrigerator
Frigidaire GLRS64ZEW0
Refrigerator
Frigidaire GLRS64ZEW2
Refrigerator
Frigidaire GLRS64ZEW3
Refrigerator
Frigidaire GLRS64ZEW4
Refrigerator
Frigidaire GLRS64ZEW5
Refrigerator
Frigidaire GLRS64ZEW6
Refrigerator
Frigidaire GLRS64ZEW7
Refrigerator
Frigidaire GLRS64ZEW8
Refrigerator
Frigidaire GLRS64ZEW9
Refrigerator
Frigidaire GLRS64ZEWA
Refrigerator
Frigidaire GRS23F5AQ0
Refrigerator
Frigidaire GRS23F5AQ1
Refrigerator
Frigidaire GRS23F5AQ3
Refrigerator
Frigidaire GRS23F5AQ4
Refrigerator
Frigidaire GRS23F5AQ5
Refrigerator
Frigidaire GRS23F5AQ6
Refrigerator
Frigidaire GRS23F5AW0
Refrigerator
Frigidaire GRS23F5AW1
Refrigerator
Frigidaire GRS23F5AW3
Refrigerator
Frigidaire GRS23F5AW4
Refrigerator
Frigidaire GRS23F5AW5
Refrigerator
Frigidaire GRS23F5AW6
Refrigerator
Frigidaire GRS26F5AQ0
Refrigerator
Frigidaire GRS26F5AQ1
Refrigerator
Frigidaire GRS26F5AQ4
Refrigerator
Frigidaire GRS26F5AQ5
Refrigerator
Frigidaire GRS26F5AQ6
Refrigerator
Frigidaire GRS26F5AW0
Refrigerator
Frigidaire GRS26F5AW1
Refrigerator
Frigidaire GRS26F5AW4
Refrigerator
Frigidaire GRS26F5AW5
Refrigerator
Frigidaire GRS26F5AW6
Refrigerator
Frigidaire GS23HSZBB0
Refrigerator
Frigidaire GS23HSZBB1
Refrigerator
Frigidaire GS23HSZBB2
Refrigerator
Frigidaire GS23HSZBC0
Refrigerator
Frigidaire GS23HSZBC1
Refrigerator
Frigidaire GS23HSZBC2
Refrigerator
Frigidaire GS23HSZBC3
Refrigerator
Frigidaire GS23HSZBQ0
Refrigerator
Frigidaire GS23HSZBQ1
Refrigerator
Frigidaire GS23HSZBQ2
Refrigerator
Frigidaire GS23HSZBW0
Refrigerator
Frigidaire GS23HSZBW1
Refrigerator
Frigidaire GS23HSZBW2
Refrigerator
Frigidaire GS23HSZCB0
Refrigerator
Frigidaire GS23HSZCB1
Refrigerator
Frigidaire GS23HSZCB2
Refrigerator
Frigidaire GS23HSZCB4
Refrigerator
Frigidaire GS23HSZCB5
Refrigerator
Frigidaire GS23HSZCB6
Refrigerator
Frigidaire GS23HSZCC0
Refrigerator
Frigidaire GS23HSZCC1
Refrigerator
Frigidaire GS23HSZCC2
Refrigerator
Frigidaire GS23HSZCC3
Refrigerator
Frigidaire GS23HSZCC4
Refrigerator
Frigidaire GS23HSZCC6
Refrigerator
Frigidaire GS23HSZCCA
Refrigerator
Frigidaire GS23HSZCQ0
Refrigerator
Frigidaire GS23HSZCQ1
Refrigerator
Frigidaire GS23HSZCQ2
Refrigerator
Frigidaire GS23HSZCQ4
Refrigerator
Frigidaire GS23HSZCQ5
Refrigerator
Frigidaire GS23HSZCW0
Refrigerator
Frigidaire GS23HSZCW1
Refrigerator
Frigidaire GS23HSZCW2
Refrigerator
Frigidaire GS23HSZCW3
Refrigerator
Frigidaire GS23HSZCW4
Refrigerator
Frigidaire GS23HSZCW5
Refrigerator
Frigidaire GS23HSZCW6
Refrigerator
Frigidaire GS23HSZDC0
Refrigerator
Frigidaire GS23HSZDC2
Refrigerator
Frigidaire GS23HSZDC3
Refrigerator
Frigidaire GS23HSZDC4
Refrigerator
Frigidaire GS23HSZDC6
Refrigerator
Frigidaire GS23HSZDC9
Refrigerator
Frigidaire GS23HSZDPB1
Refrigerator
Frigidaire GS23HSZDPB6
Refrigerator
Frigidaire GS23HSZDPW1
Refrigerator
Frigidaire GS23HSZDPW6
Refrigerator
Frigidaire GS23HSZDQ0
Refrigerator
Frigidaire GS23HSZDQ2
Refrigerator
Frigidaire GS23HSZDQ3
Refrigerator
Frigidaire GS23HSZDQ4
Refrigerator
Frigidaire GS23HSZDQ5
Refrigerator
Frigidaire GS23HSZDW0
Refrigerator
Frigidaire GS23HSZDW1
Refrigerator
Frigidaire GS23HSZDW2
Refrigerator
Frigidaire GS23HSZDW3
Refrigerator
Frigidaire GS23HSZDW4
Refrigerator
Frigidaire GS23HSZDW5
Refrigerator
Frigidaire GS23HSZDW6
Refrigerator
Frigidaire GS23HSZDW7
Refrigerator
Frigidaire GS23HSZDW8
Refrigerator
Frigidaire GS23HSZDW9
Refrigerator
Frigidaire GS26HSZBB0
Refrigerator
Frigidaire GS26HSZBB1
Refrigerator
Frigidaire GS26HSZBB2
Refrigerator
Frigidaire GS26HSZBC0
Refrigerator
Frigidaire GS26HSZBC2
Refrigerator
Frigidaire GS26HSZBC3
Refrigerator
Frigidaire GS26HSZBQ0
Refrigerator
Frigidaire GS26HSZBQ1
Refrigerator
Frigidaire GS26HSZBQ2
Refrigerator
Frigidaire GS26HSZBW0
Refrigerator
Frigidaire GS26HSZBW1
Refrigerator
Frigidaire GS26HSZBW2
Refrigerator
Frigidaire GS26HSZCB0
Refrigerator
Frigidaire GS26HSZCB1
Refrigerator
Frigidaire GS26HSZCB2
Refrigerator
Frigidaire GS26HSZCB3
Refrigerator
Frigidaire GS26HSZCB4
Refrigerator
Frigidaire GS26HSZCB6
Refrigerator
Frigidaire GS26HSZCC0
Refrigerator
Frigidaire GS26HSZCC1
Refrigerator
Frigidaire GS26HSZCC2
Refrigerator
Frigidaire GS26HSZCC3
Refrigerator
Frigidaire GS26HSZCC4
Refrigerator
Frigidaire GS26HSZCC5
Refrigerator
Frigidaire GS26HSZCC6
Refrigerator
Frigidaire GS26HSZCC7
Refrigerator
Frigidaire GS26HSZCQ0
Refrigerator
Frigidaire GS26HSZCQ1
Refrigerator
Frigidaire GS26HSZCQ2
Refrigerator
Frigidaire GS26HSZCQ3
Refrigerator
Frigidaire GS26HSZCQ4
Refrigerator
Frigidaire GS26HSZCQ6
Refrigerator
Frigidaire GS26HSZCW0
Refrigerator
Frigidaire GS26HSZCW1
Refrigerator
Frigidaire GS26HSZCW2
Refrigerator
Frigidaire GS26HSZCW3
Refrigerator
Frigidaire GS26HSZCW4
Refrigerator
Frigidaire GS26HSZCW6
Refrigerator
Frigidaire GS26HSZDC0
Refrigerator
Frigidaire GS26HSZDC2
Refrigerator
Frigidaire GS26HSZDC4
Refrigerator
Frigidaire GS26HSZDC5
Refrigerator
Frigidaire GS26HSZDC7
Refrigerator
Frigidaire GS26HSZDPB1
Refrigerator
Frigidaire GS26HSZDPB2
Refrigerator
Frigidaire GS26HSZDPB3
Refrigerator
Frigidaire GS26HSZDPB5
Refrigerator
Frigidaire GS26HSZDPW1
Refrigerator
Frigidaire GS26HSZDPW3
Refrigerator
Frigidaire GS26HSZDPW4
Refrigerator
Frigidaire GS26HSZDPW5
Refrigerator
Frigidaire GS26HSZDPW6
Refrigerator
Frigidaire GS26HSZDQ0
Refrigerator
Frigidaire GS26HSZDQ1
Refrigerator
Frigidaire GS26HSZDQ2
Refrigerator
Frigidaire GS26HSZDQ3
Refrigerator
Frigidaire GS26HSZDQ5
Refrigerator
Frigidaire GS26HSZDW0
Refrigerator
Frigidaire GS26HSZDW2
Refrigerator
Frigidaire GS26HSZDW3
Refrigerator
Frigidaire LECR23EFE0
Refrigerator
Frigidaire LECR23EFE1
Refrigerator
Frigidaire LECR23EFE2
Refrigerator
Frigidaire LECR23EFE3
Refrigerator
Frigidaire LESR26EFE0
Refrigerator
Frigidaire LESR26EFE3
Refrigerator
Frigidaire LESR26EFE4
Refrigerator
Frigidaire LESR26EFE5
Refrigerator
Frigidaire LESR26EFE6
Refrigerator
Frigidaire LESR26EFE7
Refrigerator
Frigidaire NGS23ZZAB1
Refrigerator
Frigidaire NGS23ZZAB2
Refrigerator
Frigidaire NGS23ZZAB3
Refrigerator
Frigidaire NGS23ZZAB4
Refrigerator
Frigidaire NGS23ZZAQ1
Refrigerator
Frigidaire NGS23ZZAQ2
Refrigerator
Frigidaire NGS23ZZAQ3
Refrigerator
Frigidaire NGS23ZZAQ4
Refrigerator
Frigidaire NGS23ZZAW1
Refrigerator
Frigidaire NGS23ZZAW2
Refrigerator
Frigidaire NGS23ZZAW3
Refrigerator
Frigidaire NGS23ZZAW4
Refrigerator
Frigidaire NGS26ZZAB0
Refrigerator
Frigidaire NGS26ZZAB1
Refrigerator
Frigidaire NGS26ZZAB3
Refrigerator
Frigidaire NGS26ZZAB4
Refrigerator
Frigidaire NGS26ZZAB5
Refrigerator
Frigidaire NGS26ZZAQ0
Refrigerator
Frigidaire NGS26ZZAQ1
Refrigerator
Frigidaire NGS26ZZAQ3
Refrigerator
Frigidaire NGS26ZZAQ4
Refrigerator
Frigidaire NGS26ZZAQ5
Refrigerator
Frigidaire NGS26ZZAW0
Refrigerator
Frigidaire NGS26ZZAW1
Refrigerator
Frigidaire NGS26ZZAW3
Refrigerator
Frigidaire NGS26ZZAW4
Refrigerator
Frigidaire NGS26ZZAW5
Refrigerator
Frigidaire PHS37EHS
Refrigerator
Frigidaire PHS37EHSB
Refrigerator
Frigidaire PHS37EHSB2
Refrigerator
Frigidaire PHS37EHSB3
Refrigerator
Frigidaire PHS37EHSB4
Refrigerator
Frigidaire PHS37EHSB5
Refrigerator
Frigidaire PHS38EJSB
Refrigerator
Frigidaire PHS38EJSB0
Refrigerator
Frigidaire PHS38EJSB1
Refrigerator
Frigidaire PHS38EJSB2
Refrigerator
Frigidaire PHS39EHSS
Refrigerator
Frigidaire PHS39EHSS2
Refrigerator
Frigidaire PHS39EHSS3
Refrigerator
Frigidaire PHS39EHSS4
Refrigerator
Frigidaire PHS39EHSS5
Refrigerator
Frigidaire PHS39EJSS
Refrigerator
Frigidaire PHS39EJSS0
Refrigerator
Frigidaire PHS39EJSS1
Refrigerator
Frigidaire PHS39EJSS2
Refrigerator
Frigidaire PHS66EJSB
Refrigerator
Frigidaire PHS66EJSB0
Refrigerator
Frigidaire PHS67EHS
Refrigerator
Frigidaire PHS67EHSB
Refrigerator
Frigidaire PHS67EHSB1
Refrigerator
Frigidaire PHS67EHSB2
Refrigerator
Frigidaire PHS67EHSB3
Refrigerator
Frigidaire PHS67EHSB4
Refrigerator
Frigidaire PHS67EHSB5
Refrigerator
Frigidaire PHS67EHSB6
Refrigerator
Frigidaire PHS67EHSB7
Refrigerator
Frigidaire PHS68EJSB
Refrigerator
Frigidaire PHS68EJSB0
Refrigerator
Frigidaire PHS69EHSS
Refrigerator
Frigidaire PHS69EHSS1
Refrigerator
Frigidaire PHS69EHSS2
Refrigerator
Frigidaire PHS69EHSS3
Refrigerator
Frigidaire PHS69EJSS
Refrigerator
Frigidaire PHS69EJSS0
Refrigerator
Frigidaire PHS69EJSS1
Refrigerator
Frigidaire PHS69EJSS2
Refrigerator
Frigidaire PHS6LE6HSB
Refrigerator
Frigidaire PHS6LE6HSB0
Refrigerator
Frigidaire PHS6LE6HSB1
Refrigerator
Frigidaire PHS6LE6HSB2
Refrigerator
Frigidaire PHS6LE6HSB3
Refrigerator
Frigidaire PHS6LE6HSB4
Refrigerator
Frigidaire PHS6LE6HSB5
Refrigerator
Frigidaire PHS6LE6HSB6
Refrigerator
Frigidaire PHSB37EHSB0
Refrigerator
Frigidaire PHSB37EHSB1
Refrigerator
Frigidaire PHSB37EHSB3
Refrigerator
Frigidaire PHSB67EHSB0
Refrigerator
Frigidaire PHSB67EHSB1
Refrigerator
Frigidaire PHSB67EHSB3
Refrigerator
Frigidaire PHSB67EJSB0
Refrigerator
Frigidaire PHSC239DSB
Refrigerator
Frigidaire PHSC239DSB0
Refrigerator
Frigidaire PHSC239DSB1
Refrigerator
Frigidaire PHSC239DSB2
Refrigerator
Frigidaire PHSC239DSB3
Refrigerator
Frigidaire PHSC239DSB5
Refrigerator
Frigidaire PHSC239DSB7
Refrigerator
Frigidaire PHSC39EESS
Refrigerator
Frigidaire PHSC39EESS0
Refrigerator
Frigidaire PHSC39EESS1
Refrigerator
Frigidaire PHSC39EESS3
Refrigerator
Frigidaire PHSC39EESS5
Refrigerator
Frigidaire PHSC39EGSS
Refrigerator
Frigidaire PHSC39EGSS0
Refrigerator
Frigidaire PHSC39EGSS1
Refrigerator
Frigidaire PHSC39EGSS2
Refrigerator
Frigidaire PHSC39EHSS
Refrigerator
Frigidaire PHSC39EHSS0
Refrigerator
Frigidaire PHSC39EHSS1
Refrigerator
Frigidaire PHSC39EHSS2
Refrigerator
Frigidaire PHSC39EJSS
Refrigerator
Frigidaire PHSC39EJSS0
Refrigerator
Frigidaire PHSC39EJSS1
Refrigerator
Frigidaire PHSC39EJSS2
Refrigerator
Frigidaire PHSC39EJSS3
Refrigerator
Frigidaire PLHS237ZAB0
Refrigerator
Frigidaire PLHS237ZAB1
Refrigerator
Frigidaire PLHS237ZAB2
Refrigerator
Frigidaire PLHS237ZAB3
Refrigerator
Frigidaire PLHS237ZAB4
Refrigerator
Frigidaire PLHS237ZAB5
Refrigerator
Frigidaire PLHS237ZAB6
Refrigerator
Frigidaire PLHS237ZCB
Refrigerator
Frigidaire PLHS237ZCB0
Refrigerator
Frigidaire PLHS237ZCB1
Refrigerator
Frigidaire PLHS237ZCB2
Refrigerator
Frigidaire PLHS237ZDB
Refrigerator
Frigidaire PLHS237ZDB0
Refrigerator
Frigidaire PLHS237ZDB1
Refrigerator
Frigidaire PLHS237ZDB2
Refrigerator
Frigidaire PLHS237ZDB3
Refrigerator
Frigidaire PLHS237ZDB6
Refrigerator
Frigidaire PLHS237ZDB7
Refrigerator
Frigidaire PLHS237ZDB8
Refrigerator
Frigidaire PLHS237ZDB9
Refrigerator
Frigidaire PLHS237ZDBA
Refrigerator
Frigidaire PLHS238ZCB0
Refrigerator
Frigidaire PLHS238ZCB1
Refrigerator
Frigidaire PLHS239ZCB
Refrigerator
Frigidaire PLHS239ZCB0
Refrigerator
Frigidaire PLHS239ZCB1
Refrigerator
Frigidaire PLHS239ZCB2
Refrigerator
Frigidaire PLHS239ZDB
Refrigerator
Frigidaire PLHS239ZDB0
Refrigerator
Frigidaire PLHS239ZDB1
Refrigerator
Frigidaire PLHS239ZDB2
Refrigerator
Frigidaire PLHS239ZDB3
Refrigerator
Frigidaire PLHS239ZDB6
Refrigerator
Frigidaire PLHS239ZDB7
Refrigerator
Frigidaire PLHS239ZDB8
Refrigerator
Frigidaire PLHS239ZDB9
Refrigerator
Frigidaire PLHS239ZDBA
Refrigerator
Frigidaire PLHS239ZDBB
Refrigerator
Frigidaire PLHS239ZDBD
Refrigerator
Frigidaire PLHS239ZDBF
Refrigerator
Frigidaire PLHS239ZDBG
Refrigerator
Frigidaire PLHS239ZDBH
Refrigerator
Frigidaire PLHS239ZDBJ
Refrigerator
Frigidaire PLHS239ZDBP
Refrigerator
Frigidaire PLHS239ZDBR
Refrigerator
Frigidaire PLHS239ZDBS
Refrigerator
Frigidaire PLHS267ZAB0
Refrigerator
Frigidaire PLHS267ZAB1
Refrigerator
Frigidaire PLHS267ZAB2
Refrigerator
Frigidaire PLHS267ZAB3
Refrigerator
Frigidaire PLHS267ZAB4
Refrigerator
Frigidaire PLHS267ZAB5
Refrigerator
Frigidaire PLHS267ZAB6
Refrigerator
Frigidaire PLHS267ZCB
Refrigerator
Frigidaire PLHS267ZCB0
Refrigerator
Frigidaire PLHS267ZCB1
Refrigerator
Frigidaire PLHS267ZCB2
Refrigerator
Frigidaire PLHS267ZCB4
Refrigerator
Frigidaire PLHS267ZDB
Refrigerator
Frigidaire PLHS267ZDB0
Refrigerator
Frigidaire PLHS267ZDB1
Refrigerator
Frigidaire PLHS267ZDB2
Refrigerator
Frigidaire PLHS267ZDB3
Refrigerator
Frigidaire PLHS267ZDB4
Refrigerator
Frigidaire PLHS267ZDB5
Refrigerator
Frigidaire PLHS267ZDB6
Refrigerator
Frigidaire PLHS267ZDB7
Refrigerator
Frigidaire PLHS268ZCB0
Refrigerator
Frigidaire PLHS268ZCB1
Refrigerator
Frigidaire PLHS268ZCB2
Refrigerator
Frigidaire PLHS268ZCB3
Refrigerator
Frigidaire PLHS268ZCB4
Refrigerator
Frigidaire PLHS269ZCB
Refrigerator
Frigidaire PLHS269ZCB0
Refrigerator
Frigidaire PLHS269ZCB1
Refrigerator
Frigidaire PLHS269ZCB2
Refrigerator
Frigidaire PLHS269ZCB3
Refrigerator
Frigidaire PLHS269ZCB4
Refrigerator
Frigidaire PLHS269ZDB
Refrigerator
Frigidaire PLHS269ZDB0
Refrigerator
Frigidaire PLHS269ZDB1
Refrigerator
Frigidaire PLHS269ZDB2
Refrigerator
Frigidaire PLHS269ZDB3
Refrigerator
Frigidaire PLHS269ZDB4
Refrigerator
Frigidaire PLHS269ZDB5
Refrigerator
Frigidaire PLHS269ZDB7
Refrigerator
Frigidaire PLHS269ZDB9
Refrigerator
Frigidaire PLHS269ZDBA
Refrigerator
Frigidaire PLHS269ZDBB
Refrigerator
Frigidaire PLHS269ZDBC
Refrigerator
Frigidaire PLHS269ZDBD
Refrigerator
Frigidaire PLHS269ZDBE
Refrigerator
Frigidaire PLHS269ZDBF
Refrigerator
Frigidaire PLHS269ZDBG
Refrigerator
Frigidaire PLHS269ZDBH
Refrigerator
Frigidaire PLHS269ZDBJ
Refrigerator
Frigidaire PLHS269ZDBK
Refrigerator
Frigidaire PLHS269ZDBN
Refrigerator
Frigidaire PLHS269ZDBP
Refrigerator
Frigidaire PLHS280ZAB3
Refrigerator
Frigidaire PLHS280ZAB4
Refrigerator
Frigidaire PLHS280ZAB5
Refrigerator
Frigidaire PLHS37EESB
Refrigerator
Frigidaire PLHS37EESB0
Refrigerator
Frigidaire PLHS37EESB1
Refrigerator
Frigidaire PLHS37EESB2
Refrigerator
Frigidaire PLHS37EESB3
Refrigerator
Frigidaire PLHS37EESB5
Refrigerator
Frigidaire PLHS37EESB7
Refrigerator
Frigidaire PLHS37EESB9
Refrigerator
Frigidaire PLHS37EESBN
Refrigerator
frigidaire PLHS37EFSB0
Refrigerator
Frigidaire PLHS37EGSB0
Refrigerator
Frigidaire PLHS37EGSB1
Refrigerator
Frigidaire PLHS37EGSB2
Refrigerator
Frigidaire PLHS37EGSB3
Refrigerator
Frigidaire PLHS39EESS
Refrigerator
Frigidaire PLHS39EESS0
Refrigerator
Frigidaire PLHS39EESS1
Refrigerator
Frigidaire PLHS39EESS2
Refrigerator
Frigidaire PLHS39EESS3
Refrigerator
Frigidaire PLHS39EESS5
Refrigerator
Frigidaire PLHS39EESS6
Refrigerator
Frigidaire PLHS39EESS7
Refrigerator
Frigidaire PLHS39EESS9
Refrigerator
Frigidaire PLHS39EESSN
Refrigerator
Frigidaire PLHS67EESB
Refrigerator
Frigidaire PLHS67EESB0
Refrigerator
Frigidaire PLHS67EESB3
Refrigerator
Frigidaire PLHS67EESB4
Refrigerator
Frigidaire PLHS67EESB5
Refrigerator
Frigidaire PLHS67EESB7
Refrigerator
Frigidaire PLHS67EESB8
Refrigerator
Frigidaire PLHS67EESB9
Refrigerator
frigidaire PLHS67EFSB0
Refrigerator
frigidaire PLHS67EFSB1
Refrigerator
Frigidaire PLHS67EGSB
Refrigerator
Frigidaire PLHS67EGSB0
Refrigerator
Frigidaire PLHS67EGSB1
Refrigerator
Frigidaire PLHS67EGSB2
Refrigerator
Frigidaire PLHS67EGSB3
Refrigerator
Frigidaire PLHS67EGSB4
Refrigerator
Frigidaire PLHS67EGSB5
Refrigerator
Frigidaire PLHS67EGSB6
Refrigerator
Frigidaire PLHS68EESB
Refrigerator
Frigidaire PLHS68EESB1
Refrigerator
Frigidaire PLHS68EESB2
Refrigerator
Frigidaire PLHS68EESB5
Refrigerator
Frigidaire PLHS68EESB6
Refrigerator
Frigidaire PLHS68EESB8
Refrigerator
Frigidaire PLHS68EESB9
Refrigerator
Frigidaire PLHS68EESBA
Refrigerator
frigidaire PLHS68EFSB0
Refrigerator
frigidaire PLHS68EFSB1
Refrigerator
frigidaire PLHS69EESS
Refrigerator
Frigidaire PLHS69EESS1
Refrigerator
Frigidaire PLHS69EESS2
Refrigerator
Frigidaire PLHS69EESS5
Refrigerator
Frigidaire PLHS69EESS7
Refrigerator
Frigidaire PLHS69EESS9
Refrigerator
Frigidaire PLHS69EESSN
Refrigerator
frigidaire PLHS69EFSS0
Refrigerator
frigidaire PLHS69EFSS1
Refrigerator
Frigidaire PLHS69EFSS2
Refrigerator
Frigidaire PLHS69EGSS
Refrigerator
Frigidaire PLHS69EGSS1
Refrigerator
Frigidaire PLHS69EGSS2
Refrigerator
Frigidaire PLHS69EGSS3
Refrigerator
Frigidaire PLHS69EGSS4
Refrigerator
Frigidaire PLHS69EGSS5
Refrigerator
Frigidaire PLHS69EGSS6
Refrigerator
Frigidaire PLHS69EGSS7
Refrigerator
Frigidaire PLHS69EGSS8
Refrigerator
Frigidaire PLHS69EGSSB
Refrigerator
Frigidaire PLRS237ZAB1
Refrigerator
Frigidaire PLRS237ZAB2
Refrigerator
Frigidaire PLRS237ZAB3
Refrigerator
Frigidaire PLRS237ZAB4
Refrigerator
Frigidaire PLRS267ZAB0
Refrigerator
Frigidaire PLRS267ZAB1
Refrigerator
Frigidaire PLRS267ZAB3
Refrigerator
Frigidaire PLRS267ZAB5
Refrigerator
Frigidaire PLRS267ZAB6
Refrigerator
Frigidaire PLRS267ZAB7
Refrigerator
Frigidaire PLRS267ZAB8
Refrigerator
Frigidaire WRS23MF5AS1
Refrigerator
Frigidaire WRS23MF5AS3
Refrigerator
Frigidaire WRS23MF5AS4
Refrigerator
Frigidaire WRS23MF5AS5
Refrigerator
Frigidaire WRS23MF5AS8
Refrigerator
Frigidaire WRS23MF5AS9
Refrigerator
Frigidaire WRS23MF5ASA
Refrigerator
Frigidaire WRS23MF5ASB
Refrigerator
Frigidaire WRS23MF5ASC
Refrigerator
Frigidaire WRS23MF5ASD
Refrigerator
Frigidaire WRS23MF5ASE
Refrigerator
Frigidaire WRS23MF5ASF
Refrigerator
frigidaire WRS23MF5ASG
Refrigerator
frigidaire WRS23MF5ASH
Refrigerator
frigidaire WRS23MF5ASI
Refrigerator
frigidaire WRS23MF5ASJ
Refrigerator
frigidaire WRS23MF5ASK
Refrigerator
frigidaire WRS23MF5ASL
Refrigerator
frigidaire WRS23MF5ASM
Refrigerator
Frigidaire WRS23MF5ASP
Refrigerator
Frigidaire WRS23MF5ASR
Refrigerator
Frigidaire WRS23MF5ASS
Refrigerator
frigidaire WRS23MF5AST
Refrigerator
frigidaire WRS23MF5ASU
Refrigerator
frigidaire WRS23MF5ASW
Refrigerator
frigidaire WRS23MF5ASX
Refrigerator
frigidaire WRS23MF5ASY
Refrigerator
Frigidaire WRS26MF5AQ1
Refrigerator
Frigidaire WRS26MF5AQ3
Refrigerator
Frigidaire WRS26MF5AQ4
Refrigerator
Frigidaire WRS26MF5AQ5
Refrigerator
frigidaire WRS26MF5AQG
Refrigerator
frigidaire WRS26MF5AQI
Refrigerator
frigidaire WRS26MF5AQJ
Refrigerator
frigidaire WRS26MF5AQK
Refrigerator
frigidaire WRS26MF5AQL
Refrigerator
frigidaire WRS26MF5AQM
Refrigerator
frigidaire WRS26MF5AQQ
Refrigerator
frigidaire WRS26MF5AQW
Refrigerator
frigidaire WRS26MF5AQZ
Refrigerator
Frigidaire WRS26MF5AS2
Refrigerator
Frigidaire WRS26MF5AS4
Refrigerator
Frigidaire WRS26MF5AS5
Refrigerator
Frigidaire WRS26MF5AS6
Refrigerator
Frigidaire WRS26MF5AS8
Refrigerator
Frigidaire WRS26MF5ASA
Refrigerator
Frigidaire WRS26MF5ASB
Refrigerator
Frigidaire WRS26MF5ASC
Refrigerator
Frigidaire WRS26MF5ASD
Refrigerator
Frigidaire WRS26MF5ASF
Refrigerator
Frigidaire WRS26MF5ASG
Refrigerator
frigidaire WRS26MF5ASH
Refrigerator
frigidaire WRS26MF5ASI
Refrigerator
frigidaire WRS26MF5ASJ
Refrigerator
frigidaire WRS26MF5ASK
Refrigerator
frigidaire WRS26MF5ASL
Refrigerator
frigidaire WRS26MF5ASM
Refrigerator
frigidaire WRS26MF5ASO
Refrigerator
frigidaire WRS26MF5ASQ
Refrigerator
Frigidaire WRS26MF5ASR
Refrigerator
Frigidaire WRS26MF5ASS
Refrigerator
Frigidaire WRS26MF5AST
Refrigerator
frigidaire WRS26MF5ASU
Refrigerator
frigidaire WRS26MF5ASW
Refrigerator
frigidaire WRS26MF5ASZ
Refrigerator
Frigidaire WRS26MF5AW1
Refrigerator
Frigidaire WRS26MF5AW3
Refrigerator
Frigidaire WRS26MF5AW4
Refrigerator
Frigidaire WRS26MF5AW5
Refrigerator
Frigidaire WRS26MF5AW6
Refrigerator
Frigidaire WRS26MF5AW7
Refrigerator
Frigidaire WRS26MF5AW8
Refrigerator
Frigidaire WRS26MF5AW9
Refrigerator
Frigidaire WRS26MF5AWB
Refrigerator
Frigidaire WRS26MF5AWD
Refrigerator
Frigidaire WRS26MF5AWE
Refrigerator
Frigidaire WRS26MF5AWF
Refrigerator
frigidaire WRS26MF5AWG
Refrigerator
frigidaire WRS26MF5AWI
Refrigerator
frigidaire WRS26MF5AWJ
Refrigerator
frigidaire WRS26MF5AWK
Refrigerator
frigidaire WRS26MF5AWL
Refrigerator
frigidaire WRS26MF5AWM
Refrigerator
Frigidaire WRS26MF5AWP
Refrigerator
frigidaire WRS26MF5AWQ
Refrigerator
Frigidaire WRS26MF5AWR
Refrigerator
frigidaire WRS26MF5AWW
Refrigerator
frigidaire WRS26MF5AWZ
Refrigerator
frigidaire WRS26MF6JM1
Refrigerator
frigidaire WRS26MF8JS0
Refrigerator
frigidaire WRS26MF8JS1
Refrigerator
frigidaire WRS26MF8JS2
Refrigerator
Kenmore 1197048210
Refrigerator
Kenmore 1197048310
Refrigerator
Kenmore 1197058210
Refrigerator
Kenmore 1197058310
Refrigerator
Kenmore 1197728310
Refrigerator
Kenmore 25344333600
Refrigerator
Kenmore 25344333600
Refrigerator
Kenmore 25344333601
Refrigerator
Kenmore 25344333601
Refrigerator
Kenmore 25344333602
Refrigerator
Kenmore 25344333602
Refrigerator
Kenmore 25344333603
Refrigerator
Kenmore 25344333603
Refrigerator
Kenmore 25344333604
Refrigerator
Kenmore 25344333604
Refrigerator
Kenmore 25344333605
Refrigerator
Kenmore 25344333605
Refrigerator
Kenmore 25344333606
Refrigerator
Kenmore 25344333606
Refrigerator
Kenmore 25344333607
Refrigerator
Kenmore 25344333607
Refrigerator
Kenmore 25344333608
Refrigerator
Kenmore 25344333608
Refrigerator
Kenmore 25344333609
Refrigerator
Kenmore 25344333609
Refrigerator
Kenmore 2534433360A
Refrigerator
Kenmore 2534433360A
Refrigerator
Kenmore 25351392101
Refrigerator
Kenmore 25351392102
Refrigerator
Kenmore 25351392103
Refrigerator
Kenmore 25351392104
Refrigerator
Kenmore 25351392105
Refrigerator
Kenmore 25351392106
Refrigerator
Kenmore 25351394101
Refrigerator
Kenmore 25351394102
Refrigerator
Kenmore 25351394103
Refrigerator
Kenmore 25351394104
Refrigerator
Kenmor