Frigidaire WF1CB | Our#: 111512
Frigidaire PureSource Refrigerator Water Filter (RG-100, WF1CB), 3-Pack

20 review(s)
Frigidaire WF1CB | Our#: 111512
Fast Shipping & Free Returns
100% Compatibility Guarantee
Compatibility guaranteed! Free return shipping and 100% money back if there are any issues.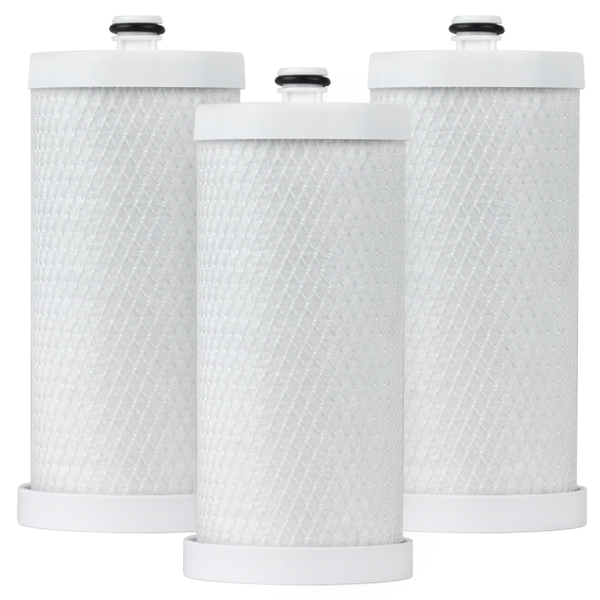 3 people in your area recently purchased this product!
$

36.39
(

3

Filters for $

109.18

)
In Stock
Ships in 24 hours
Fast Shipping & Free Returns
100% Compatibility Guarantee
Frequently Purchased Together
Product Details
Before they dispense water and make ice, refrigerators use a filter to remove any impurities. All PureSource refrigerators manufactured since April 2001 use factory original Frigidaire filter model WF1CB. The WF1CB filter meets NSF/ANSI International Standard 42 for chlorine odor and reduction. Additionally, the filter processes up to 400 gallons of water and distributes water at a flow rate of 0.5 gallons per minute. Every six months or when the flow rate or water quality decreases, change the filter and access a steady supply of clean and refreshing water and ice.
fits all PureSource refrigerators manufactured since April 2001
meets NSF/ANSI International Standard 42 for chlorine odor and taste reduction
reduces cysts, particulates and other contaminants
handles water temperatures between 33 - 100 °F
filters up to 400 gallons
produces water at a flow rate of 0.5 GPM
requires replacement at least once every 6 months
OEM part
convenient three pack
---
The Frigidaire WF1CB is compatible with the following obsolete or alternate filter part numbers:
---
Popular Part Numbers
---
Installation Instructions
How To Install The WF1CB Filter:

Unscrew filter cup by turning gently counterclockwise.  Emtpy water in cup
Pull the old filter straight down and discard
Place the new filter in the filter cup - with side with O-rings facing up
Push filter/filter cup assemby into filter head
Twist assembly clockwise to tighten into housing
Run water from the dispenser for 3 minutes (about 1-1/2 gallons) to clear the system and prevent sputtering
Press and hold reset water filter button if your fridge has one
Replace filter every 6 months
---
Compatible Part Numbers
Search by your filter part number or appliance model number to verify compatibility
| Model or Part Number | Type |
| --- | --- |
| Crosley CRSE234FB0 | Refrigerator |
| Crosley CRSE234FB2 | Refrigerator |
| Crosley CRSE234FQ0 | Refrigerator |
| Crosley CRSE234FQ2 | Refrigerator |
| Crosley CRSE234FSM0 | Refrigerator |
| Crosley CRSE234FSM2 | Refrigerator |
| Crosley CRSE234FW0 | Refrigerator |
| Crosley CRSE234FW2 | Refrigerator |
| Crosley CRSE234JB0 | Refrigerator |
| Crosley CRSE234JB1 | Refrigerator |
| Crosley CRSE234JQ0 | Refrigerator |
| Crosley CRSE234JQ1 | Refrigerator |
| Crosley CRSE234JSM0 | Refrigerator |
| Crosley CRSE234JSM1 | Refrigerator |
| Crosley CRSE234JW0 | Refrigerator |
| Crosley CRSE234JW1 | Refrigerator |
| Crosley CRSE264FB0 | Refrigerator |
| Crosley CRSE264FB1 | Refrigerator |
| Crosley CRSE264FQ0 | Refrigerator |
| Crosley CRSE264FQ1 | Refrigerator |
| Crosley CRSE264FSS0 | Refrigerator |
| Crosley CRSE264FSS1 | Refrigerator |
| Crosley CRSE264FW0 | Refrigerator |
| Crosley CRSE264FW1 | Refrigerator |
| Crosley CRSE264JB0 | Refrigerator |
| Crosley CRSE264JB1 | Refrigerator |
| Crosley CRSE264JQ0 | Refrigerator |
| Crosley CRSE264JQ1 | Refrigerator |
| Crosley CRSE264JSS0 | Refrigerator |
| Crosley CRSE264JSS1 | Refrigerator |
| Crosley CRSE264JW0 | Refrigerator |
| Crosley CRSE264JW1 | Refrigerator |
| FRIGIDAIRE CRSE230KW0 | Refrigerator |
| FRIGIDAIRE CRSE234FB0 | Refrigerator |
| FRIGIDAIRE CRSE234FB1 | Refrigerator |
| FRIGIDAIRE CRSE234FB2 | Refrigerator |
| FRIGIDAIRE CRSE234FB3 | Refrigerator |
| FRIGIDAIRE CRSE234FB4 | Refrigerator |
| FRIGIDAIRE CRSE234FQ0 | Refrigerator |
| FRIGIDAIRE CRSE234FQ1 | Refrigerator |
| FRIGIDAIRE CRSE234FQ2 | Refrigerator |
| FRIGIDAIRE CRSE234FQ3 | Refrigerator |
| FRIGIDAIRE CRSE234FQ4 | Refrigerator |
| FRIGIDAIRE CRSE234FSM0 | Refrigerator |
| FRIGIDAIRE CRSE234FSM1 | Refrigerator |
| FRIGIDAIRE CRSE234FSM2 | Refrigerator |
| FRIGIDAIRE CRSE234FSM3 | Refrigerator |
| FRIGIDAIRE CRSE234FSM4 | Refrigerator |
| FRIGIDAIRE CRSE234FW0 | Refrigerator |
| FRIGIDAIRE CRSE234FW1 | Refrigerator |
| FRIGIDAIRE CRSE234FW2 | Refrigerator |
| FRIGIDAIRE CRSE234FW3 | Refrigerator |
| FRIGIDAIRE CRSE234FW4 | Refrigerator |
| FRIGIDAIRE CRSE234JB0 | Refrigerator |
| FRIGIDAIRE CRSE234JB1 | Refrigerator |
| FRIGIDAIRE CRSE234JB2 | Refrigerator |
| FRIGIDAIRE CRSE234JB3 | Refrigerator |
| FRIGIDAIRE CRSE234JQ0 | Refrigerator |
| FRIGIDAIRE CRSE234JQ1 | Refrigerator |
| FRIGIDAIRE CRSE234JQ2 | Refrigerator |
| FRIGIDAIRE CRSE234JQ3 | Refrigerator |
| FRIGIDAIRE CRSE234JSM0 | Refrigerator |
| FRIGIDAIRE CRSE234JSM1 | Refrigerator |
| FRIGIDAIRE CRSE234JSM2 | Refrigerator |
| FRIGIDAIRE CRSE234JSM3 | Refrigerator |
| FRIGIDAIRE CRSE234JW0 | Refrigerator |
| FRIGIDAIRE CRSE234JW1 | Refrigerator |
| FRIGIDAIRE CRSE234JW2 | Refrigerator |
| FRIGIDAIRE CRSE234JW3 | Refrigerator |
| FRIGIDAIRE CRSE264FB0 | Refrigerator |
| FRIGIDAIRE CRSE264FB1 | Refrigerator |
| FRIGIDAIRE CRSE264FB3 | Refrigerator |
| FRIGIDAIRE CRSE264FQ0 | Refrigerator |
| FRIGIDAIRE CRSE264FQ1 | Refrigerator |
| FRIGIDAIRE CRSE264FQ3 | Refrigerator |
| FRIGIDAIRE CRSE264FSS0 | Refrigerator |
| FRIGIDAIRE CRSE264FSS1 | Refrigerator |
| FRIGIDAIRE CRSE264FSS3 | Refrigerator |
| FRIGIDAIRE CRSE264FW0 | Refrigerator |
| FRIGIDAIRE CRSE264FW1 | Refrigerator |
| FRIGIDAIRE CRSE264FW3 | Refrigerator |
| FRIGIDAIRE CRSE264JB0 | Refrigerator |
| FRIGIDAIRE CRSE264JB1 | Refrigerator |
| FRIGIDAIRE CRSE264JB2 | Refrigerator |
| FRIGIDAIRE CRSE264JQ0 | Refrigerator |
| FRIGIDAIRE CRSE264JQ1 | Refrigerator |
| FRIGIDAIRE CRSE264JQ2 | Refrigerator |
| FRIGIDAIRE CRSE264JSS0 | Refrigerator |
| FRIGIDAIRE CRSE264JSS1 | Refrigerator |
| FRIGIDAIRE CRSE264JSS2 | Refrigerator |
| FRIGIDAIRE CRSE264JW0 | Refrigerator |
| FRIGIDAIRE CRSE264JW1 | Refrigerator |
| FRIGIDAIRE CRSE264JW2 | Refrigerator |
| FRIGIDAIRE ERL6296SK4 | Refrigerator |
| Frigidaire F45ZR24JD0 | Refrigerator |
| Frigidaire F45ZR24JD1 | Refrigerator |
| Frigidaire F45ZR24JQ1 | Refrigerator |
| Frigidaire F45ZR24JW0 | Refrigerator |
| Frigidaire F45ZR24JW1 | Refrigerator |
| Frigidaire FLS26Z2GKB0 | Refrigerator |
| Frigidaire FLS26Z2GKB1 | Refrigerator |
| Frigidaire FLS26Z2GKB2 | Refrigerator |
| Frigidaire FLS26Z2GKB3 | Refrigerator |
| Frigidaire FLS26Z2GKB5 | Refrigerator |
| Frigidaire FLS26Z2GKB6 | Refrigerator |
| Frigidaire FLS26Z2GKW0 | Refrigerator |
| Frigidaire FLS26Z2GKW1 | Refrigerator |
| Frigidaire FLS26Z2GKW2 | Refrigerator |
| Frigidaire FLS26Z2GKW3 | Refrigerator |
| Frigidaire FLS26Z2GKW4 | Refrigerator |
| Frigidaire FLS26Z2GKW5 | Refrigerator |
| Frigidaire FLS26Z2GKW6 | Refrigerator |
| Frigidaire FRS20ZGFB0 | Refrigerator |
| Frigidaire FRS20ZGFD0 | Refrigerator |
| Frigidaire FRS20ZGFW0 | Refrigerator |
| Frigidaire FRS20ZGGB0 | Refrigerator |
| Frigidaire FRS20ZGGB1 | Refrigerator |
| Frigidaire FRS20ZGGB2 | Refrigerator |
| Frigidaire FRS20ZGGB3 | Refrigerator |
| Frigidaire FRS20ZGGD0 | Refrigerator |
| Frigidaire FRS20ZGGD1 | Refrigerator |
| Frigidaire FRS20ZGGD2 | Refrigerator |
| Frigidaire FRS20ZGGD3 | Refrigerator |
| Frigidaire FRS20ZGGW0 | Refrigerator |
| Frigidaire FRS20ZGGW1 | Refrigerator |
| Frigidaire FRS20ZGGW2 | Refrigerator |
| Frigidaire FRS20ZGGW3 | Refrigerator |
| Frigidaire FRS20ZGH | Refrigerator |
| Frigidaire FRS20ZGJB0 | Refrigerator |
| Frigidaire FRS20ZGJB1 | Refrigerator |
| Frigidaire FRS20ZGJB2 | Refrigerator |
| Frigidaire FRS20ZGJD0 | Refrigerator |
| Frigidaire FRS20ZGJD1 | Refrigerator |
| Frigidaire FRS20ZGJD2 | Refrigerator |
| Frigidaire FRS20ZGJW0 | Refrigerator |
| Frigidaire FRS20ZGJW1 | Refrigerator |
| Frigidaire FRS20ZGJW2 | Refrigerator |
| Frigidaire FRS20ZRGB1 | Refrigerator |
| Frigidaire FRS20ZRGB2 | Refrigerator |
| Frigidaire FRS20ZRGB3 | Refrigerator |
| Frigidaire FRS20ZRGB4 | Refrigerator |
| Frigidaire FRS20ZRGB5 | Refrigerator |
| Frigidaire FRS20ZRGB6 | Refrigerator |
| Frigidaire FRS20ZRGB7 | Refrigerator |
| Frigidaire FRS20ZRGB8 | Refrigerator |
| Frigidaire FRS20ZRGB9 | Refrigerator |
| Frigidaire FRS20ZRGBA | Refrigerator |
| Frigidaire FRS20ZRGD0 | Refrigerator |
| Frigidaire FRS20ZRGD1 | Refrigerator |
| Frigidaire FRS20ZRGD2 | Refrigerator |
| Frigidaire FRS20ZRGD3 | Refrigerator |
| Frigidaire FRS20ZRGD4 | Refrigerator |
| Frigidaire FRS20ZRGD5 | Refrigerator |
| Frigidaire FRS20ZRGD6 | Refrigerator |
| Frigidaire FRS20ZRGD7 | Refrigerator |
| Frigidaire FRS20ZRGD8 | Refrigerator |
| Frigidaire FRS20ZRGD9 | Refrigerator |
| Frigidaire FRS20ZRGDA | Refrigerator |
| Frigidaire FRS20ZRGW0 | Refrigerator |
| Frigidaire FRS20ZRGW1 | Refrigerator |
| Frigidaire FRS20ZRGW2 | Refrigerator |
| Frigidaire FRS20ZRGW4 | Refrigerator |
| Frigidaire FRS20ZRGW5 | Refrigerator |
| Frigidaire FRS20ZRGW6 | Refrigerator |
| Frigidaire FRS20ZRGW7 | Refrigerator |
| Frigidaire FRS20ZRGW8 | Refrigerator |
| Frigidaire FRS20ZRGW9 | Refrigerator |
| Frigidaire FRS20ZRGWA | Refrigerator |
| Frigidaire FRS20ZSFB0 | Refrigerator |
| Frigidaire FRS20ZSFW0 | Refrigerator |
| Frigidaire FRS20ZSGB0 | Refrigerator |
| Frigidaire FRS20ZSGB1 | Refrigerator |
| Frigidaire FRS20ZSGB2 | Refrigerator |
| Frigidaire FRS20ZSHB0 | Refrigerator |
| Frigidaire FRS20ZSHB1 | Refrigerator |
| Frigidaire FRS20ZSHB3 | Refrigerator |
| Frigidaire FRS20ZSHB4 | Refrigerator |
| Frigidaire FRS20ZSHB5 | Refrigerator |
| Frigidaire FRS22AGED2 | Refrigerator |
| Frigidaire FRS22ZGEB0 | Refrigerator |
| Frigidaire FRS22ZGEB1 | Refrigerator |
| Frigidaire FRS22ZGEB2 | Refrigerator |
| Frigidaire FRS22ZGED0 | Refrigerator |
| Frigidaire FRS22ZGED1 | Refrigerator |
| Frigidaire FRS22ZGEW0 | Refrigerator |
| Frigidaire FRS22ZGEW1 | Refrigerator |
| Frigidaire FRS22ZGEW2 | Refrigerator |
| Frigidaire FRS22ZGGB0 | Refrigerator |
| Frigidaire FRS22ZGGB1 | Refrigerator |
| Frigidaire FRS22ZGGB2 | Refrigerator |
| Frigidaire FRS22ZGGB4 | Refrigerator |
| Frigidaire FRS22ZGGD0 | Refrigerator |
| Frigidaire FRS22ZGGD1 | Refrigerator |
| Frigidaire FRS22ZGGD2 | Refrigerator |
| Frigidaire FRS22ZGGD4 | Refrigerator |
| Frigidaire FRS22ZGGW0 | Refrigerator |
| Frigidaire FRS22ZGGW1 | Refrigerator |
| Frigidaire FRS22ZGGW2 | Refrigerator |
| Frigidaire FRS22ZGHB0 | Refrigerator |
| Frigidaire FRS22ZGHB1 | Refrigerator |
| Frigidaire FRS22ZGHB2 | Refrigerator |
| Frigidaire FRS22ZGHB3 | Refrigerator |
| Frigidaire FRS22ZGHB4 | Refrigerator |
| Frigidaire FRS22ZGHB5 | Refrigerator |
| Frigidaire FRS22ZGHB6 | Refrigerator |
| Frigidaire FRS22ZGHD0 | Refrigerator |
| Frigidaire FRS22ZGHD1 | Refrigerator |
| Frigidaire FRS22ZGHD2 | Refrigerator |
| Frigidaire FRS22ZGHD3 | Refrigerator |
| Frigidaire FRS22ZGHD4 | Refrigerator |
| Frigidaire FRS22ZGHD5 | Refrigerator |
| Frigidaire FRS22ZGHD6 | Refrigerator |
| Frigidaire FRS22ZGHW1 | Refrigerator |
| Frigidaire FRS22ZGHW2 | Refrigerator |
| Frigidaire FRS22ZGHW3 | Refrigerator |
| Frigidaire FRS22ZGHW4 | Refrigerator |
| Frigidaire FRS22ZGHW5 | Refrigerator |
| Frigidaire FRS22ZGHW6 | Refrigerator |
| Frigidaire FRS22ZNFD0 | Refrigerator |
| Frigidaire FRS22ZNFW0 | Refrigerator |
| Frigidaire FRS22ZRFD0 | Refrigerator |
| Frigidaire FRS22ZRFD1 | Refrigerator |
| Frigidaire FRS22ZRFD2 | Refrigerator |
| Frigidaire FRS22ZRFD3 | Refrigerator |
| Frigidaire FRS22ZRFW0 | Refrigerator |
| Frigidaire FRS22ZRFW1 | Refrigerator |
| Frigidaire FRS22ZRFW2 | Refrigerator |
| Frigidaire FRS22ZRFW3 | Refrigerator |
| Frigidaire FRS22ZRGB1 | Refrigerator |
| Frigidaire FRS22ZRGB2 | Refrigerator |
| Frigidaire FRS22ZRGB3 | Refrigerator |
| Frigidaire FRS22ZRGD0 | Refrigerator |
| Frigidaire FRS22ZRGD1 | Refrigerator |
| Frigidaire FRS22ZRGD2 | Refrigerator |
| Frigidaire FRS22ZRGD3 | Refrigerator |
| Frigidaire FRS22ZRGW0 | Refrigerator |
| Frigidaire FRS22ZRGW2 | Refrigerator |
| Frigidaire FRS22ZRHD0 | Refrigerator |
| Frigidaire FRS22ZRHD1 | Refrigerator |
| Frigidaire FRS22ZRHD2 | Refrigerator |
| Frigidaire FRS22ZRHD3 | Refrigerator |
| Frigidaire FRS22ZRHW3 | Refrigerator |
| Frigidaire FRS23KR4A | Refrigerator |
| Frigidaire FRS23KR4AB0 | Refrigerator |
| Frigidaire FRS23KR4AB1 | Refrigerator |
| Frigidaire FRS23KR4AB2 | Refrigerator |
| Frigidaire FRS23KR4AB3 | Refrigerator |
| Frigidaire FRS23KR4AB4 | Refrigerator |
| Frigidaire FRS23KR4AB5 | Refrigerator |
| Frigidaire FRS23KR4AB6 | Refrigerator |
| Frigidaire FRS23KR4AB7 | Refrigerator |
| Frigidaire FRS23KR4AQ0 | Refrigerator |
| Frigidaire FRS23KR4AQ1 | Refrigerator |
| Frigidaire FRS23KR4AQ2 | Refrigerator |
| Frigidaire FRS23KR4AQ3 | Refrigerator |
| Frigidaire FRS23KR4AQ4 | Refrigerator |
| Frigidaire FRS23KR4AQ5 | Refrigerator |
| Frigidaire FRS23KR4AQ6 | Refrigerator |
| Frigidaire FRS23KR4AQ7 | Refrigerator |
| Frigidaire FRS23KR4AW0 | Refrigerator |
| Frigidaire FRS23KR4AW1 | Refrigerator |
| Frigidaire FRS23KR4AW2 | Refrigerator |
| Frigidaire FRS23KR4AW3 | Refrigerator |
| Frigidaire FRS23KR4AW4 | Refrigerator |
| Frigidaire FRS23KR4AW5 | Refrigerator |
| Frigidaire FRS23KR4AW6 | Refrigerator |
| Frigidaire FRS23KR4AW7 | Refrigerator |
| Frigidaire FRS23LH5DB0 | Refrigerator |
| Frigidaire FRS23LH5DB1 | Refrigerator |
| Frigidaire FRS23LH5DB2 | Refrigerator |
| Frigidaire FRS23LH5DB3 | Refrigerator |
| Frigidaire FRS23LH5DB4 | Refrigerator |
| Frigidaire FRS23LH5DB6 | Refrigerator |
| Frigidaire FRS23LH5DB7 | Refrigerator |
| Frigidaire FRS23LH5DB8 | Refrigerator |
| Frigidaire FRS23LH5DB9 | Refrigerator |
| Frigidaire FRS23LH5DBN | Refrigerator |
| Frigidaire FRS23LH5DQ0 | Refrigerator |
| Frigidaire FRS23LH5DQ1 | Refrigerator |
| Frigidaire FRS23LH5DQ2 | Refrigerator |
| Frigidaire FRS23LH5DQ3 | Refrigerator |
| Frigidaire FRS23LH5DQ4 | Refrigerator |
| Frigidaire FRS23LH5DQ6 | Refrigerator |
| Frigidaire FRS23LH5DQ7 | Refrigerator |
| Frigidaire FRS23LH5DQ8 | Refrigerator |
| Frigidaire FRS23LH5DQ9 | Refrigerator |
| Frigidaire FRS23LH5DQN | Refrigerator |
| Frigidaire FRS23LH5DS0 | Refrigerator |
| Frigidaire FRS23LH5DS1 | Refrigerator |
| Frigidaire FRS23LH5DS2 | Refrigerator |
| Frigidaire FRS23LH5DS3 | Refrigerator |
| Frigidaire FRS23LH5DS4 | Refrigerator |
| Frigidaire FRS23LH5DS6 | Refrigerator |
| Frigidaire FRS23LH5DS7 | Refrigerator |
| Frigidaire FRS23LH5DS8 | Refrigerator |
| Frigidaire FRS23LH5DS9 | Refrigerator |
| Frigidaire FRS23LH5DSA | Refrigerator |
| Frigidaire FRS23LH5DSN | Refrigerator |
| Frigidaire FRS23LH5DSP | Refrigerator |
| Frigidaire FRS23LH5DSR | Refrigerator |
| Frigidaire FRS23LH5DSS | Refrigerator |
| Frigidaire FRS23LH5DST | Refrigerator |
| Frigidaire FRS23LH5DW0 | Refrigerator |
| Frigidaire FRS23LH5DW1 | Refrigerator |
| Frigidaire FRS23LH5DW2 | Refrigerator |
| Frigidaire FRS23LH5DW3 | Refrigerator |
| Frigidaire FRS23LH5DW4 | Refrigerator |
| Frigidaire FRS23LH5DW5 | Refrigerator |
| Frigidaire FRS23LH5DW6 | Refrigerator |
| Frigidaire FRS23LH5DW8 | Refrigerator |
| Frigidaire FRS23LH5DW9 | Refrigerator |
| Frigidaire FRS23LH5DWN | Refrigerator |
| Frigidaire FRS23R3A | Refrigerator |
| Frigidaire FRS23R3AW0 | Refrigerator |
| Frigidaire FRS23R3AW1 | Refrigerator |
| Frigidaire FRS23R4A | Refrigerator |
| Frigidaire FRS23R4AB0 | Refrigerator |
| Frigidaire FRS23R4AB1 | Refrigerator |
| Frigidaire FRS23R4AB2 | Refrigerator |
| Frigidaire FRS23R4AB3 | Refrigerator |
| Frigidaire FRS23R4AB4 | Refrigerator |
| Frigidaire FRS23R4AB5 | Refrigerator |
| Frigidaire FRS23R4AB6 | Refrigerator |
| Frigidaire FRS23R4AB7 | Refrigerator |
| Frigidaire FRS23R4AQ0 | Refrigerator |
| Frigidaire FRS23R4AQ1 | Refrigerator |
| Frigidaire FRS23R4AQ2 | Refrigerator |
| Frigidaire FRS23R4AQ3 | Refrigerator |
| Frigidaire FRS23R4AQ4 | Refrigerator |
| Frigidaire FRS23R4AQ5 | Refrigerator |
| Frigidaire FRS23R4AQ6 | Refrigerator |
| Frigidaire FRS23R4AQ7 | Refrigerator |
| Frigidaire FRS23R4AW0 | Refrigerator |
| Frigidaire FRS23R4AW1 | Refrigerator |
| Frigidaire FRS23R4AW2 | Refrigerator |
| Frigidaire FRS23R4AW3 | Refrigerator |
| Frigidaire FRS23R4AW4 | Refrigerator |
| Frigidaire FRS23R4AW5 | Refrigerator |
| Frigidaire FRS23R4AW6 | Refrigerator |
| Frigidaire FRS23R4AW7 | Refrigerator |
| Frigidaire FRS23R4AW8 | Refrigerator |
| Frigidaire FRS23R4AW9 | Refrigerator |
| Frigidaire FRS23R4CB0 | Refrigerator |
| Frigidaire FRS23R4CB2 | Refrigerator |
| Frigidaire FRS23R4CB3 | Refrigerator |
| Frigidaire FRS23R4CB4 | Refrigerator |
| Frigidaire FRS23R4CB5 | Refrigerator |
| Frigidaire FRS23R4CB6 | Refrigerator |
| Frigidaire FRS23R4CB7 | Refrigerator |
| Frigidaire FRS23R4CB8 | Refrigerator |
| Frigidaire FRS23R4CB9 | Refrigerator |
| Frigidaire FRS23R4CQ0 | Refrigerator |
| Frigidaire FRS23R4CQ2 | Refrigerator |
| Frigidaire FRS23R4CQ3 | Refrigerator |
| Frigidaire FRS23R4CQ4 | Refrigerator |
| Frigidaire FRS23R4CQ5 | Refrigerator |
| Frigidaire FRS23R4CQ6 | Refrigerator |
| Frigidaire FRS23R4CQ7 | Refrigerator |
| Frigidaire FRS23R4CQ8 | Refrigerator |
| Frigidaire FRS23R4CQ9 | Refrigerator |
| Frigidaire FRS23R4CW0 | Refrigerator |
| Frigidaire FRS23R4CW2 | Refrigerator |
| Frigidaire FRS23R4CW3 | Refrigerator |
| Frigidaire FRS23R4CW4 | Refrigerator |
| Frigidaire FRS23R4CW5 | Refrigerator |
| Frigidaire FRS23R4CW6 | Refrigerator |
| Frigidaire FRS23R4CW7 | Refrigerator |
| Frigidaire FRS23R4CW8 | Refrigerator |
| Frigidaire FRS23R4CW9 | Refrigerator |
| Frigidaire FRS23SM4AW0 | Refrigerator |
| Frigidaire FRS23X3AQ0 | Refrigerator |
| Frigidaire FRS23X3AW0 | Refrigerator |
| Frigidaire FRS23ZTJB0 | Refrigerator |
| Frigidaire FRS23ZTJB1 | Refrigerator |
| Frigidaire FRS23ZTJB2 | Refrigerator |
| Frigidaire FRS23ZTJQ0 | Refrigerator |
| Frigidaire FRS23ZTJQ1 | Refrigerator |
| Frigidaire FRS23ZTJQ2 | Refrigerator |
| Frigidaire FRS23ZTJW0 | Refrigerator |
| Frigidaire FRS23ZTJW1 | Refrigerator |
| Frigidaire FRS23ZTJW2 | Refrigerator |
| Frigidaire FRS24MWGW3 | Refrigerator |
| Frigidaire FRS24MWGW4 | Refrigerator |
| Frigidaire FRS24ZGEB0 | Refrigerator |
| Frigidaire FRS24ZGEB2 | Refrigerator |
| Frigidaire FRS24ZGED0 | Refrigerator |
| Frigidaire FRS24ZGED2 | Refrigerator |
| Frigidaire FRS24ZGEW0 | Refrigerator |
| Frigidaire FRS24ZGEW2 | Refrigerator |
| Frigidaire FRS24ZGGB0 | Refrigerator |
| Frigidaire FRS24ZGGB1 | Refrigerator |
| Frigidaire FRS24ZGGB2 | Refrigerator |
| Frigidaire FRS24ZGGB3 | Refrigerator |
| Frigidaire FRS24ZGGB4 | Refrigerator |
| Frigidaire FRS24ZGGD0 | Refrigerator |
| Frigidaire FRS24ZGGD1 | Refrigerator |
| Frigidaire FRS24ZGGD2 | Refrigerator |
| Frigidaire FRS24ZGGD3 | Refrigerator |
| Frigidaire FRS24ZGGD4 | Refrigerator |
| Frigidaire FRS24ZGGW0 | Refrigerator |
| Frigidaire FRS24ZGGW1 | Refrigerator |
| Frigidaire FRS24ZGGW2 | Refrigerator |
| Frigidaire FRS24ZGGW3 | Refrigerator |
| Frigidaire FRS24ZGHB0 | Refrigerator |
| Frigidaire FRS24ZGHB2 | Refrigerator |
| Frigidaire FRS24ZGHB3 | Refrigerator |
| Frigidaire FRS24ZGHD0 | Refrigerator |
| Frigidaire FRS24ZGHD2 | Refrigerator |
| Frigidaire FRS24ZGHD3 | Refrigerator |
| Frigidaire FRS24ZGHW3 | Refrigerator |
| Frigidaire FRS24ZRGB0 | Refrigerator |
| Frigidaire FRS24ZRGD0 | Refrigerator |
| Frigidaire FRS24ZRGD1 | Refrigerator |
| Frigidaire FRS24ZRGW0 | Refrigerator |
| Frigidaire FRS24ZRGW1 | Refrigerator |
| Frigidaire FRS24ZRHB0 | Refrigerator |
| Frigidaire FRS24ZRHB1 | Refrigerator |
| Frigidaire FRS24ZRHB2 | Refrigerator |
| Frigidaire FRS24ZRHB3 | Refrigerator |
| Frigidaire FRS24ZRHB4 | Refrigerator |
| Frigidaire FRS24ZRHB5 | Refrigerator |
| Frigidaire FRS24ZRHD0 | Refrigerator |
| Frigidaire FRS24ZRHD1 | Refrigerator |
| Frigidaire FRS24ZRHD2 | Refrigerator |
| Frigidaire FRS24ZRHD3 | Refrigerator |
| Frigidaire FRS24ZRHD4 | Refrigerator |
| Frigidaire FRS24ZRHD5 | Refrigerator |
| Frigidaire FRS24ZRHW3 | Refrigerator |
| Frigidaire FRS24ZRHW4 | Refrigerator |
| Frigidaire FRS24ZRHW5 | Refrigerator |
| Frigidaire FRS24ZSFB0 | Refrigerator |
| Frigidaire FRS24ZSFB1 | Refrigerator |
| Frigidaire FRS24ZSFW0 | Refrigerator |
| Frigidaire FRS24ZSGB0 | Refrigerator |
| Frigidaire FRS24ZSGB1 | Refrigerator |
| Frigidaire FRS24ZSGB2 | Refrigerator |
| Frigidaire FRS24ZSGB3 | Refrigerator |
| Frigidaire FRS24ZSGB4 | Refrigerator |
| Frigidaire FRS266ZDSB0 | Refrigerator |
| Frigidaire FRS266ZDSB1 | Refrigerator |
| Frigidaire FRS266ZDSB2 | Refrigerator |
| Frigidaire FRS266ZDSB3 | Refrigerator |
| Frigidaire FRS266ZDSB4 | Refrigerator |
| Frigidaire FRS266ZDSB5 | Refrigerator |
| Frigidaire FRS266ZDSB7 | Refrigerator |
| Frigidaire FRS266ZDSB8 | Refrigerator |
| Frigidaire FRS266ZDSB9 | Refrigerator |
| Frigidaire FRS266ZDSBA | Refrigerator |
| Frigidaire FRS266ZDSBN | Refrigerator |
| Frigidaire FRS26BRDSB1 | Refrigerator |
| Frigidaire FRS26BRDSB2 | Refrigerator |
| Frigidaire FRS26BRDSB3 | Refrigerator |
| Frigidaire FRS26BRDSB4 | Refrigerator |
| Frigidaire FRS26BRDSB5 | Refrigerator |
| Frigidaire FRS26BRDSB7 | Refrigerator |
| Frigidaire FRS26BRDSB9 | Refrigerator |
| Frigidaire FRS26BRDSBN | Refrigerator |
| Frigidaire FRS26BRDSBP | Refrigerator |
| Frigidaire FRS26HR4A | Refrigerator |
| Frigidaire FRS26HR4AB0 | Refrigerator |
| Frigidaire FRS26HR4AB1 | Refrigerator |
| Frigidaire FRS26HR4AB3 | Refrigerator |
| Frigidaire FRS26HR4AQ0 | Refrigerator |
| Frigidaire FRS26HR4AQ1 | Refrigerator |
| Frigidaire FRS26HR4AQ3 | Refrigerator |
| Frigidaire FRS26HR4AW0 | Refrigerator |
| Frigidaire FRS26HR4AW1 | Refrigerator |
| Frigidaire FRS26HR4AW3 | Refrigerator |
| Frigidaire FRS26HR4DB0 | Refrigerator |
| Frigidaire FRS26HR4DB2 | Refrigerator |
| Frigidaire FRS26HR4DB4 | Refrigerator |
| Frigidaire FRS26HR4DB5 | Refrigerator |
| Frigidaire FRS26HR4DB6 | Refrigerator |
| Frigidaire FRS26HR4DB9 | Refrigerator |
| Frigidaire FRS26HR4DQ0 | Refrigerator |
| Frigidaire FRS26HR4DQ2 | Refrigerator |
| Frigidaire FRS26HR4DQ3 | Refrigerator |
| Frigidaire FRS26HR4DQ4 | Refrigerator |
| Frigidaire FRS26HR4DQ5 | Refrigerator |
| Frigidaire FRS26HR4DQ6 | Refrigerator |
| Frigidaire FRS26HR4DQ7 | Refrigerator |
| Frigidaire FRS26HR4DQ9 | Refrigerator |
| Frigidaire FRS26HR4DW0 | Refrigerator |
| Frigidaire FRS26HR4DW1 | Refrigerator |
| Frigidaire FRS26HR4DW2 | Refrigerator |
| Frigidaire FRS26HR4DW3 | Refrigerator |
| Frigidaire FRS26HR4DW4 | Refrigerator |
| Frigidaire FRS26HR4DW5 | Refrigerator |
| Frigidaire FRS26HR4DW6 | Refrigerator |
| Frigidaire FRS26HR4DW7 | Refrigerator |
| Frigidaire FRS26HR4DW8 | Refrigerator |
| Frigidaire FRS26HR4DW9 | Refrigerator |
| Frigidaire FRS26HR4DWB | Refrigerator |
| Frigidaire FRS26KR4A | Refrigerator |
| Frigidaire FRS26KR4AB0 | Refrigerator |
| Frigidaire FRS26KR4AB1 | Refrigerator |
| Frigidaire FRS26KR4AB3 | Refrigerator |
| Frigidaire FRS26KR4AB4 | Refrigerator |
| Frigidaire FRS26KR4AB5 | Refrigerator |
| Frigidaire FRS26KR4AB6 | Refrigerator |
| Frigidaire FRS26KR4AQ0 | Refrigerator |
| Frigidaire FRS26KR4AQ1 | Refrigerator |
| Frigidaire FRS26KR4AQ3 | Refrigerator |
| Frigidaire FRS26KR4AQ4 | Refrigerator |
| Frigidaire FRS26KR4AQ5 | Refrigerator |
| Frigidaire FRS26KR4AQ6 | Refrigerator |
| Frigidaire FRS26KR4AW0 | Refrigerator |
| Frigidaire FRS26KR4AW1 | Refrigerator |
| Frigidaire FRS26KR4AW3 | Refrigerator |
| Frigidaire FRS26KR4AW4 | Refrigerator |
| Frigidaire FRS26KR4AW5 | Refrigerator |
| Frigidaire FRS26KR4AW6 | Refrigerator |
| Frigidaire FRS26KR4CB0 | Refrigerator |
| Frigidaire FRS26KR4CB1 | Refrigerator |
| Frigidaire FRS26KR4CB3 | Refrigerator |
| Frigidaire FRS26KR4CQ0 | Refrigerator |
| Frigidaire FRS26KR4CQ1 | Refrigerator |
| Frigidaire FRS26KR4CQ3 | Refrigerator |
| Frigidaire FRS26KR4CW0 | Refrigerator |
| Frigidaire FRS26KR4CW1 | Refrigerator |
| Frigidaire FRS26KR4CW3 | Refrigerator |
| Frigidaire FRS26KR4DB0 | Refrigerator |
| Frigidaire FRS26KR4DB1 | Refrigerator |
| Frigidaire FRS26KR4DB2 | Refrigerator |
| Frigidaire FRS26KR4DB3 | Refrigerator |
| Frigidaire FRS26KR4DB6 | Refrigerator |
| Frigidaire FRS26KR4DB7 | Refrigerator |
| Frigidaire FRS26KR4DB8 | Refrigerator |
| Frigidaire FRS26KR4DBB | Refrigerator |
| Frigidaire FRS26KR4DBC | Refrigerator |
| Frigidaire FRS26KR4DQ0 | Refrigerator |
| Frigidaire FRS26KR4DQ1 | Refrigerator |
| Frigidaire FRS26KR4DQ2 | Refrigerator |
| Frigidaire FRS26KR4DQ3 | Refrigerator |
| Frigidaire FRS26KR4DQ6 | Refrigerator |
| Frigidaire FRS26KR4DQ7 | Refrigerator |
| Frigidaire FRS26KR4DQ8 | Refrigerator |
| Frigidaire FRS26KR4DQB | Refrigerator |
| Frigidaire FRS26KR4DQC | Refrigerator |
| Frigidaire FRS26KR4DQN | Refrigerator |
| Frigidaire FRS26KR4DS0 | Refrigerator |
| Frigidaire FRS26KR4DS1 | Refrigerator |
| Frigidaire FRS26KR4DS2 | Refrigerator |
| Frigidaire FRS26KR4DS3 | Refrigerator |
| Frigidaire FRS26KR4DS4 | Refrigerator |
| Frigidaire FRS26KR4DS6 | Refrigerator |
| Frigidaire FRS26KR4DW0 | Refrigerator |
| Frigidaire FRS26KR4DW1 | Refrigerator |
| Frigidaire FRS26KR4DW2 | Refrigerator |
| Frigidaire FRS26KR4DW3 | Refrigerator |
| Frigidaire FRS26KR4DW4 | Refrigerator |
| Frigidaire FRS26KR4DW5 | Refrigerator |
| Frigidaire FRS26KR4DW6 | Refrigerator |
| Frigidaire FRS26KR4DW7 | Refrigerator |
| Frigidaire FRS26KR4DW8 | Refrigerator |
| Frigidaire FRS26KR4DWB | Refrigerator |
| Frigidaire FRS26KR4DWC | Refrigerator |
| Frigidaire FRS26LH5DB0 | Refrigerator |
| Frigidaire FRS26LH5DB2 | Refrigerator |
| Frigidaire FRS26LH5DB4 | Refrigerator |
| Frigidaire FRS26LH5DB5 | Refrigerator |
| Frigidaire FRS26LH5DB7 | Refrigerator |
| Frigidaire FRS26LH5DQ0 | Refrigerator |
| Frigidaire FRS26LH5DQ1 | Refrigerator |
| Frigidaire FRS26LH5DQ2 | Refrigerator |
| Frigidaire FRS26LH5DQ4 | Refrigerator |
| Frigidaire FRS26LH5DQ5 | Refrigerator |
| Frigidaire FRS26LH5DQ7 | Refrigerator |
| Frigidaire FRS26LH5DS0 | Refrigerator |
| Frigidaire FRS26LH5DS1 | Refrigerator |
| Frigidaire FRS26LH5DS2 | Refrigerator |
| Frigidaire FRS26LH5DS3 | Refrigerator |
| Frigidaire FRS26LH5DS4 | Refrigerator |
| Frigidaire FRS26LH5DS5 | Refrigerator |
| Frigidaire FRS26LH5DS6 | Refrigerator |
| Frigidaire FRS26LH5DS9 | Refrigerator |
| Frigidaire FRS26LH5DSA | Refrigerator |
| Frigidaire FRS26LH5DSB | Refrigerator |
| Frigidaire FRS26LH5DSC | Refrigerator |
| Frigidaire FRS26LH5DSP | Refrigerator |
| Frigidaire FRS26LH5DSR | Refrigerator |
| Frigidaire FRS26LH5DW0 | Refrigerator |
| Frigidaire FRS26LH5DW1 | Refrigerator |
| Frigidaire FRS26LH5DW2 | Refrigerator |
| Frigidaire FRS26LH5DW3 | Refrigerator |
| Frigidaire FRS26LH5DW4 | Refrigerator |
| Frigidaire FRS26LH5DW5 | Refrigerator |
| Frigidaire FRS26LH5DW7 | Refrigerator |
| Frigidaire FRS26LR5CB0 | Refrigerator |
| Frigidaire FRS26LR5CQ0 | Refrigerator |
| Frigidaire FRS26LR5CW0 | Refrigerator |
| Frigidaire FRS26LR5CW2 | Refrigerator |
| Frigidaire FRS26MRLES0 | Refrigerator |
| Frigidaire FRS26R2A | Refrigerator |
| Frigidaire FRS26R2AQ0 | Refrigerator |
| Frigidaire FRS26R2AQ1 | Refrigerator |
| Frigidaire FRS26R2AQ2 | Refrigerator |
| Frigidaire FRS26R2AQ3 | Refrigerator |
| Frigidaire FRS26R2AQ4 | Refrigerator |
| Frigidaire FRS26R2AQ5 | Refrigerator |
| Frigidaire FRS26R2AQ6 | Refrigerator |
| Frigidaire FRS26R2AQ7 | Refrigerator |
| Frigidaire FRS26R2AQ8 | Refrigerator |
| Frigidaire FRS26R2AQ9 | Refrigerator |
| Frigidaire FRS26R2AQA | Refrigerator |
| Frigidaire FRS26R2AQB | Refrigerator |
| Frigidaire FRS26R2AQC | Refrigerator |
| Frigidaire FRS26R2AQD | Refrigerator |
| Frigidaire FRS26R2AQE | Refrigerator |
| Frigidaire FRS26R2AQF | Refrigerator |
| Frigidaire FRS26R2AQI | Refrigerator |
| Frigidaire FRS26R2AW0 | Refrigerator |
| Frigidaire FRS26R2AW1 | Refrigerator |
| Frigidaire FRS26R2AW2 | Refrigerator |
| Frigidaire FRS26R2AW3 | Refrigerator |
| Frigidaire FRS26R2AW4 | Refrigerator |
| Frigidaire FRS26R2AW5 | Refrigerator |
| Frigidaire FRS26R2AW6 | Refrigerator |
| Frigidaire FRS26R2AW7 | Refrigerator |
| Frigidaire FRS26R2AW8 | Refrigerator |
| Frigidaire FRS26R2AW9 | Refrigerator |
| Frigidaire FRS26R2AWA | Refrigerator |
| Frigidaire FRS26R2AWB | Refrigerator |
| Frigidaire FRS26R2AWC | Refrigerator |
| Frigidaire FRS26R2AWD | Refrigerator |
| Frigidaire FRS26R2AWE | Refrigerator |
| Frigidaire FRS26R2AWF | Refrigerator |
| Frigidaire FRS26R2AWG | Refrigerator |
| Frigidaire FRS26R2AWH | Refrigerator |
| Frigidaire FRS26R2AWI | Refrigerator |
| Frigidaire FRS26R3A | Refrigerator |
| Frigidaire FRS26R4A | Refrigerator |
| Frigidaire FRS26R4AB0 | Refrigerator |
| Frigidaire FRS26R4AB1 | Refrigerator |
| Frigidaire FRS26R4AB2 | Refrigerator |
| Frigidaire FRS26R4AB3 | Refrigerator |
| Frigidaire FRS26R4AB4 | Refrigerator |
| Frigidaire FRS26R4AB5 | Refrigerator |
| Frigidaire FRS26R4AB6 | Refrigerator |
| Frigidaire FRS26R4AB7 | Refrigerator |
| Frigidaire FRS26R4AQ0 | Refrigerator |
| Frigidaire FRS26R4AQ1 | Refrigerator |
| Frigidaire FRS26R4AQ2 | Refrigerator |
| Frigidaire FRS26R4AQ3 | Refrigerator |
| Frigidaire FRS26R4AQ4 | Refrigerator |
| Frigidaire FRS26R4AQ5 | Refrigerator |
| Frigidaire FRS26R4AQ6 | Refrigerator |
| Frigidaire FRS26R4AQ7 | Refrigerator |
| Frigidaire FRS26R4AW0 | Refrigerator |
| Frigidaire FRS26R4AW1 | Refrigerator |
| Frigidaire FRS26R4AW2 | Refrigerator |
| Frigidaire FRS26R4AW3 | Refrigerator |
| Frigidaire FRS26R4AW4 | Refrigerator |
| Frigidaire FRS26R4AW5 | Refrigerator |
| Frigidaire FRS26R4AW6 | Refrigerator |
| Frigidaire FRS26R4AW7 | Refrigerator |
| Frigidaire FRS26R4CB0 | Refrigerator |
| Frigidaire FRS26R4CB1 | Refrigerator |
| Frigidaire FRS26R4CB2 | Refrigerator |
| Frigidaire FRS26R4CB3 | Refrigerator |
| Frigidaire FRS26R4CB4 | Refrigerator |
| Frigidaire FRS26R4CB5 | Refrigerator |
| Frigidaire FRS26R4CB6 | Refrigerator |
| Frigidaire FRS26R4CB7 | Refrigerator |
| Frigidaire FRS26R4CB8 | Refrigerator |
| Frigidaire FRS26R4CBA | Refrigerator |
| Frigidaire FRS26R4CBB | Refrigerator |
| Frigidaire FRS26R4CBC | Refrigerator |
| Frigidaire FRS26R4CBD | Refrigerator |
| Frigidaire FRS26R4CBE | Refrigerator |
| Frigidaire FRS26R4CBR | Refrigerator |
| Frigidaire FRS26R4CBS | Refrigerator |
| Frigidaire FRS26R4CQ0 | Refrigerator |
| Frigidaire FRS26R4CQ1 | Refrigerator |
| Frigidaire FRS26R4CQ2 | Refrigerator |
| Frigidaire FRS26R4CQ3 | Refrigerator |
| Frigidaire FRS26R4CQ4 | Refrigerator |
| Frigidaire FRS26R4CQ5 | Refrigerator |
| Frigidaire FRS26R4CQ6 | Refrigerator |
| Frigidaire FRS26R4CQ7 | Refrigerator |
| Frigidaire FRS26R4CQ8 | Refrigerator |
| Frigidaire FRS26R4CQB | Refrigerator |
| Frigidaire FRS26R4CQC | Refrigerator |
| Frigidaire FRS26R4CQD | Refrigerator |
| Frigidaire FRS26R4CQE | Refrigerator |
| Frigidaire FRS26R4CQS | Refrigerator |
| Frigidaire FRS26R4CW0 | Refrigerator |
| Frigidaire FRS26R4CW1 | Refrigerator |
| Frigidaire FRS26R4CW2 | Refrigerator |
| Frigidaire FRS26R4CW3 | Refrigerator |
| Frigidaire FRS26R4CW4 | Refrigerator |
| Frigidaire FRS26R4CW5 | Refrigerator |
| Frigidaire FRS26R4CW6 | Refrigerator |
| Frigidaire FRS26R4CW7 | Refrigerator |
| Frigidaire FRS26R4CW8 | Refrigerator |
| Frigidaire FRS26R4CW9 | Refrigerator |
| Frigidaire FRS26R4CWA | Refrigerator |
| Frigidaire FRS26R4CWB | Refrigerator |
| Frigidaire FRS26R4CWC | Refrigerator |
| Frigidaire FRS26R4CWD | Refrigerator |
| Frigidaire FRS26R4CWE | Refrigerator |
| Frigidaire FRS26R4CWR | Refrigerator |
| Frigidaire FRS26R4CWS | Refrigerator |
| Frigidaire FRS26RBB | Refrigerator |
| Frigidaire FRS26RBBW0 | Refrigerator |
| Frigidaire FRS26RBBW1 | Refrigerator |
| Frigidaire FRS26RBCW0 | Refrigerator |
| Frigidaire FRS26RBCW1 | Refrigerator |
| Frigidaire FRS26RBCW2 | Refrigerator |
| Frigidaire FRS26RBCW3 | Refrigerator |
| Frigidaire FRS26RBCW4 | Refrigerator |
| Frigidaire FRS26RBCW5 | Refrigerator |
| Frigidaire FRS26RBCW6 | Refrigerator |
| Frigidaire FRS26RBCW8 | Refrigerator |
| Frigidaire FRS26RBCW9 | Refrigerator |
| Frigidaire FRS26RBCWA | Refrigerator |
| Frigidaire FRS26RC3JS0 | Refrigerator |
| Frigidaire FRS26RC3JS1 | Refrigerator |
| Frigidaire FRS26RC3JS2 | Refrigerator |
| Frigidaire FRS26RC3JS3 | Refrigerator |
| Frigidaire FRS26RLECS0 | Refrigerator |
| Frigidaire FRS26RLECS1 | Refrigerator |
| Frigidaire FRS26RLECS2 | Refrigerator |
| Frigidaire FRS26RLECS3 | Refrigerator |
| Frigidaire FRS26RLECS4 | Refrigerator |
| Frigidaire FRS26RLECS6 | Refrigerator |
| Frigidaire FRS26RLECS7 | Refrigerator |
| Frigidaire FRS26RLECS8 | Refrigerator |
| Frigidaire FRS26RLECS9 | Refrigerator |
| Frigidaire FRS26RLECSA | Refrigerator |
| Frigidaire FRS26RLECSB | Refrigerator |
| Frigidaire FRS26RLECSC | Refrigerator |
| Frigidaire FRS26RLECSE | Refrigerator |
| Frigidaire FRS26RLECSF | Refrigerator |
| Frigidaire FRS26RLECSG | Refrigerator |
| Frigidaire FRS26RLECSH | Refrigerator |
| Frigidaire FRS26RLECSN | Refrigerator |
| Frigidaire FRS26RLECSP | Refrigerator |
| Frigidaire FRS26RLECSR | Refrigerator |
| Frigidaire FRS26RLECSS | Refrigerator |
| Frigidaire FRS26RLECST | Refrigerator |
| Frigidaire FRS26SM4AW0 | Refrigerator |
| Frigidaire FRS26SM4AW2 | Refrigerator |
| Frigidaire FRS26SM4AW3 | Refrigerator |
| Frigidaire FRS26XABQ0 | Refrigerator |
| Frigidaire FRS26XABQ1 | Refrigerator |
| Frigidaire FRS26XABW0 | Refrigerator |
| Frigidaire FRS26XABW1 | Refrigerator |
| Frigidaire FRS26ZGEB0 | Refrigerator |
| Frigidaire FRS26ZGEB1 | Refrigerator |
| Frigidaire FRS26ZGEB2 | Refrigerator |
| Frigidaire FRS26ZGEB3 | Refrigerator |
| Frigidaire FRS26ZGEB4 | Refrigerator |
| Frigidaire FRS26ZGED0 | Refrigerator |
| Frigidaire FRS26ZGED1 | Refrigerator |
| Frigidaire FRS26ZGED2 | Refrigerator |
| Frigidaire FRS26ZGED3 | Refrigerator |
| Frigidaire FRS26ZGED4 | Refrigerator |
| Frigidaire FRS26ZGEW0 | Refrigerator |
| Frigidaire FRS26ZGEW1 | Refrigerator |
| Frigidaire FRS26ZGEW2 | Refrigerator |
| Frigidaire FRS26ZGEW3 | Refrigerator |
| Frigidaire FRS26ZGEW4 | Refrigerator |
| Frigidaire FRS26ZGGB0 | Refrigerator |
| Frigidaire FRS26ZGGB1 | Refrigerator |
| Frigidaire FRS26ZGGB2 | Refrigerator |
| Frigidaire FRS26ZGGB3 | Refrigerator |
| Frigidaire FRS26ZGGB4 | Refrigerator |
| Frigidaire FRS26ZGGB5 | Refrigerator |
| Frigidaire FRS26ZGGB6 | Refrigerator |
| Frigidaire FRS26ZGGD0 | Refrigerator |
| Frigidaire FRS26ZGGD1 | Refrigerator |
| Frigidaire FRS26ZGGD2 | Refrigerator |
| Frigidaire FRS26ZGGD3 | Refrigerator |
| Frigidaire FRS26ZGGD4 | Refrigerator |
| Frigidaire FRS26ZGGD5 | Refrigerator |
| Frigidaire FRS26ZGGD6 | Refrigerator |
| Frigidaire FRS26ZGGW0 | Refrigerator |
| Frigidaire FRS26ZGGW1 | Refrigerator |
| Frigidaire FRS26ZGGW2 | Refrigerator |
| Frigidaire FRS26ZGGW3 | Refrigerator |
| Frigidaire FRS26ZGGW4 | Refrigerator |
| Frigidaire FRS26ZGGW5 | Refrigerator |
| Frigidaire FRS26ZGGW6 | Refrigerator |
| Frigidaire FRS26ZGHB0 | Refrigerator |
| Frigidaire FRS26ZGHB1 | Refrigerator |
| Frigidaire FRS26ZGHB2 | Refrigerator |
| Frigidaire FRS26ZGHB3 | Refrigerator |
| Frigidaire FRS26ZGHB4 | Refrigerator |
| Frigidaire FRS26ZGHB5 | Refrigerator |
| Frigidaire FRS26ZGHD0 | Refrigerator |
| Frigidaire FRS26ZGHD1 | Refrigerator |
| Frigidaire FRS26ZGHD2 | Refrigerator |
| Frigidaire FRS26ZGHD3 | Refrigerator |
| Frigidaire FRS26ZGHD4 | Refrigerator |
| Frigidaire FRS26ZGHD5 | Refrigerator |
| Frigidaire FRS26ZGHW1 | Refrigerator |
| Frigidaire FRS26ZGHW2 | Refrigerator |
| Frigidaire FRS26ZGHW3 | Refrigerator |
| Frigidaire FRS26ZGHW4 | Refrigerator |
| Frigidaire FRS26ZGHW5 | Refrigerator |
| Frigidaire FRS26ZNHB0 | Refrigerator |
| Frigidaire FRS26ZNHB1 | Refrigerator |
| Frigidaire FRS26ZNHB2 | Refrigerator |
| Frigidaire FRS26ZNHB5 | Refrigerator |
| Frigidaire FRS26ZNHD0 | Refrigerator |
| Frigidaire FRS26ZNHD1 | Refrigerator |
| Frigidaire FRS26ZNHD2 | Refrigerator |
| Frigidaire FRS26ZNHD5 | Refrigerator |
| Frigidaire FRS26ZNHQ2 | Refrigerator |
| Frigidaire FRS26ZNHQ5 | Refrigerator |
| Frigidaire FRS26ZNHW1 | Refrigerator |
| Frigidaire FRS26ZNHW2 | Refrigerator |
| Frigidaire FRS26ZNHW5 | Refrigerator |
| Frigidaire FRS26ZNJSB0 | Refrigerator |
| Frigidaire FRS26ZNJSB1 | Refrigerator |
| Frigidaire FRS26ZNJSB2 | Refrigerator |
| Frigidaire FRS26ZPHB0 | Refrigerator |
| Frigidaire FRS26ZPHB1 | Refrigerator |
| Frigidaire FRS26ZPHB2 | Refrigerator |
| Frigidaire FRS26ZPHB3 | Refrigerator |
| Frigidaire FRS26ZPHB4 | Refrigerator |
| Frigidaire FRS26ZPHD0 | Refrigerator |
| Frigidaire FRS26ZPHD1 | Refrigerator |
| Frigidaire FRS26ZPHD2 | Refrigerator |
| Frigidaire FRS26ZPHD3 | Refrigerator |
| Frigidaire FRS26ZPHD4 | Refrigerator |
| Frigidaire FRS26ZPHQ2 | Refrigerator |
| Frigidaire FRS26ZPHQ3 | Refrigerator |
| Frigidaire FRS26ZPHQ4 | Refrigerator |
| Frigidaire FRS26ZPHW1 | Refrigerator |
| Frigidaire FRS26ZPHW2 | Refrigerator |
| Frigidaire FRS26ZPHW3 | Refrigerator |
| Frigidaire FRS26ZPHW4 | Refrigerator |
| Frigidaire FRS26ZRFB3 | Refrigerator |
| Frigidaire FRS26ZRFD0 | Refrigerator |
| Frigidaire FRS26ZRFD1 | Refrigerator |
| Frigidaire FRS26ZRFD2 | Refrigerator |
| Frigidaire FRS26ZRFD3 | Refrigerator |
| Frigidaire FRS26ZRFW0 | Refrigerator |
| Frigidaire FRS26ZRFW1 | Refrigerator |
| Frigidaire FRS26ZRFW2 | Refrigerator |
| Frigidaire FRS26ZRFW3 | Refrigerator |
| Frigidaire FRS26ZRGB0 | Refrigerator |
| Frigidaire FRS26ZRGB1 | Refrigerator |
| Frigidaire FRS26ZRGB2 | Refrigerator |
| Frigidaire FRS26ZRGB3 | Refrigerator |
| Frigidaire FRS26ZRGB4 | Refrigerator |
| Frigidaire FRS26ZRGB5 | Refrigerator |
| Frigidaire FRS26ZRGB6 | Refrigerator |
| Frigidaire FRS26ZRGB7 | Refrigerator |
| Frigidaire FRS26ZRGB8 | Refrigerator |
| Frigidaire FRS26ZRGB9 | Refrigerator |
| Frigidaire FRS26ZRGBA | Refrigerator |
| Frigidaire FRS26ZRGBB | Refrigerator |
| Frigidaire FRS26ZRGBC | Refrigerator |
| Frigidaire FRS26ZRGD0 | Refrigerator |
| Frigidaire FRS26ZRGD1 | Refrigerator |
| Frigidaire FRS26ZRGD2 | Refrigerator |
| Frigidaire FRS26ZRGD3 | Refrigerator |
| Frigidaire FRS26ZRGD4 | Refrigerator |
| Frigidaire FRS26ZRGD5 | Refrigerator |
| Frigidaire FRS26ZRGD6 | Refrigerator |
| Frigidaire FRS26ZRGD7 | Refrigerator |
| Frigidaire FRS26ZRGD8 | Refrigerator |
| Frigidaire FRS26ZRGD9 | Refrigerator |
| Frigidaire FRS26ZRGDA | Refrigerator |
| Frigidaire FRS26ZRGDB | Refrigerator |
| Frigidaire FRS26ZRGDC | Refrigerator |
| Frigidaire FRS26ZRGW0 | Refrigerator |
| Frigidaire FRS26ZRGW1 | Refrigerator |
| Frigidaire FRS26ZRGW2 | Refrigerator |
| Frigidaire FRS26ZRGW3 | Refrigerator |
| Frigidaire FRS26ZRGW4 | Refrigerator |
| FRIGIDAIRE FRS26ZRGW5 | Refrigerator |
| FRIGIDAIRE FRS26ZRGW6 | Refrigerator |
| Frigidaire FRS26ZRGW7 | Refrigerator |
| Frigidaire FRS26ZRGW8 | Refrigerator |
| Frigidaire FRS26ZRGW9 | Refrigerator |
| Frigidaire FRS26ZRGWA | Refrigerator |
| Frigidaire FRS26ZRGWB | Refrigerator |
| Frigidaire FRS26ZRGWC | Refrigerator |
| Frigidaire FRS26ZSEB0 | Refrigerator |
| Frigidaire FRS26ZSEB1 | Refrigerator |
| Frigidaire FRS26ZSEB3 | Refrigerator |
| Frigidaire FRS26ZSEB4 | Refrigerator |
| Frigidaire FRS26ZSEW0 | Refrigerator |
| Frigidaire FRS26ZSEW1 | Refrigerator |
| Frigidaire FRS26ZSEW3 | Refrigerator |
| Frigidaire FRS26ZSEW4 | Refrigerator |
| Frigidaire FRS26ZSGB0 | Refrigerator |
| Frigidaire FRS26ZSGB2 | Refrigerator |
| Frigidaire FRS26ZSGB3 | Refrigerator |
| Frigidaire FRS26ZSGB4 | Refrigerator |
| Frigidaire FRS26ZSGW0 | Refrigerator |
| Frigidaire FRS26ZSGW2 | Refrigerator |
| Frigidaire FRS26ZSGW3 | Refrigerator |
| Frigidaire FRS26ZSGW4 | Refrigerator |
| Frigidaire FRS26ZSH | Refrigerator |
| Frigidaire FRS26ZSHB0 | Refrigerator |
| Frigidaire FRS26ZSHB1 | Refrigerator |
| Frigidaire FRS26ZSHB2 | Refrigerator |
| Frigidaire FRS26ZSHB3 | Refrigerator |
| Frigidaire FRS26ZSHB4 | Refrigerator |
| Frigidaire FRS26ZSHB5 | Refrigerator |
| Frigidaire FRS26ZSHW0 | Refrigerator |
| Frigidaire FRS26ZSHW1 | Refrigerator |
| Frigidaire FRS26ZSHW2 | Refrigerator |
| Frigidaire FRS26ZSHW3 | Refrigerator |
| Frigidaire FRS26ZSHW4 | Refrigerator |
| Frigidaire FRS26ZSHW5 | Refrigerator |
| Frigidaire FRS26ZTHB0 | Refrigerator |
| Frigidaire FRS26ZTHB1 | Refrigerator |
| Frigidaire FRS26ZTHB2 | Refrigerator |
| Frigidaire FRS26ZTHB3 | Refrigerator |
| Frigidaire FRS26ZTHB4 | Refrigerator |
| Frigidaire FRS26ZTHB5 | Refrigerator |
| Frigidaire FRS26ZTHD0 | Refrigerator |
| Frigidaire FRS26ZTHD1 | Refrigerator |
| Frigidaire FRS26ZTHD2 | Refrigerator |
| Frigidaire FRS26ZTHD3 | Refrigerator |
| Frigidaire FRS26ZTHD4 | Refrigerator |
| Frigidaire FRS26ZTHD5 | Refrigerator |
| Frigidaire FRS26ZTHQ3 | Refrigerator |
| Frigidaire FRS26ZTHQ4 | Refrigerator |
| Frigidaire FRS26ZTHQ5 | Refrigerator |
| Frigidaire FRS26ZTHW2 | Refrigerator |
| Frigidaire FRS26ZTHW3 | Refrigerator |
| Frigidaire FRS26ZTHW4 | Refrigerator |
| Frigidaire FRS26ZTHW5 | Refrigerator |
| Frigidaire FRS26ZXHD0 | Refrigerator |
| Frigidaire FRS26ZXHD1 | Refrigerator |
| Frigidaire FRS26ZXHD2 | Refrigerator |
| Frigidaire FRS26ZXHW0 | Refrigerator |
| Frigidaire FRS26ZXHW1 | Refrigerator |
| Frigidaire FRS26ZXHW2 | Refrigerator |
| Frigidaire FRS28ZGEB0 | Refrigerator |
| Frigidaire FRS28ZGEB1 | Refrigerator |
| Frigidaire FRS28ZGEB3 | Refrigerator |
| Frigidaire FRS28ZGED0 | Refrigerator |
| Frigidaire FRS28ZGED1 | Refrigerator |
| Frigidaire FRS28ZGED3 | Refrigerator |
| Frigidaire FRS28ZGEW0 | Refrigerator |
| Frigidaire FRS28ZGEW1 | Refrigerator |
| Frigidaire FRS28ZGEW3 | Refrigerator |
| Frigidaire FRS28ZRFD0 | Refrigerator |
| Frigidaire FRS28ZRFW0 | Refrigerator |
| Frigidaire FRS28ZRGD0 | Refrigerator |
| Frigidaire FRS28ZRGD1 | Refrigerator |
| Frigidaire FRS28ZRGD2 | Refrigerator |
| Frigidaire FRS28ZRGD3 | Refrigerator |
| Frigidaire FRS28ZRGW0 | Refrigerator |
| Frigidaire FRS28ZRGW1 | Refrigerator |
| Frigidaire FRS28ZRGW2 | Refrigerator |
| Frigidaire FRS28ZRGW3 | Refrigerator |
| Frigidaire FRS3HR35KB0 | Refrigerator |
| Frigidaire FRS3HR35KB1 | Refrigerator |
| Frigidaire FRS3HR35KB2 | Refrigerator |
| Frigidaire FRS3HR35KB3 | Refrigerator |
| Frigidaire FRS3HR35KB4 | Refrigerator |
| Frigidaire FRS3HR35KM0 | Refrigerator |
| Frigidaire FRS3HR35KM1 | Refrigerator |
| Frigidaire FRS3HR35KM2 | Refrigerator |
| Frigidaire FRS3HR35KM3 | Refrigerator |
| Frigidaire FRS3HR35KM4 | Refrigerator |
| Frigidaire FRS3HR35KS0 | Refrigerator |
| Frigidaire FRS3HR35KS1 | Refrigerator |
| Frigidaire FRS3HR35KS2 | Refrigerator |
| Frigidaire FRS3HR35KS3 | Refrigerator |
| Frigidaire FRS3HR35KS4 | Refrigerator |
| Frigidaire FRS3HR35KS5 | Refrigerator |
| Frigidaire FRS3HR35KW0 | Refrigerator |
| Frigidaire FRS3HR35KW1 | Refrigerator |
| Frigidaire FRS3HR35KW2 | Refrigerator |
| Frigidaire FRS3HR35KW3 | Refrigerator |
| Frigidaire FRS3HR35KW4 | Refrigerator |
| Frigidaire FRS3HR5HB | Refrigerator |
| Frigidaire FRS3HR5HB0 | Refrigerator |
| Frigidaire FRS3HR5HB1 | Refrigerator |
| Frigidaire FRS3HR5HB2 | Refrigerator |
| Frigidaire FRS3HR5HB3 | Refrigerator |
| Frigidaire FRS3HR5HB4 | Refrigerator |
| Frigidaire FRS3HR5HB5 | Refrigerator |
| Frigidaire FRS3HR5HM5 | Refrigerator |
| Frigidaire FRS3HR5HMB | Refrigerator |
| Frigidaire FRS3HR5HMB0 | Refrigerator |
| Frigidaire FRS3HR5HMB1 | Refrigerator |
| Frigidaire FRS3HR5HMB2 | Refrigerator |
| Frigidaire FRS3HR5HMB3 | Refrigerator |
| Frigidaire FRS3HR5HMB4 | Refrigerator |
| Frigidaire FRS3HR5HMB5 | Refrigerator |
| Frigidaire FRS3HR5HQ | Refrigerator |
| Frigidaire FRS3HR5HQ0 | Refrigerator |
| Frigidaire FRS3HR5HQ1 | Refrigerator |
| Frigidaire FRS3HR5HQ2 | Refrigerator |
| Frigidaire FRS3HR5HQ3 | Refrigerator |
| Frigidaire FRS3HR5HQ4 | Refrigerator |
| Frigidaire FRS3HR5HQ5 | Refrigerator |
| Frigidaire FRS3HR5HW | Refrigerator |
| Frigidaire FRS3HR5HW0 | Refrigerator |
| Frigidaire FRS3HR5HW1 | Refrigerator |
| Frigidaire FRS3HR5HW2 | Refrigerator |
| Frigidaire FRS3HR5HW3 | Refrigerator |
| Frigidaire FRS3HR5HW4 | Refrigerator |
| Frigidaire FRS3HR5HW5 | Refrigerator |
| Frigidaire FRS3HR5JB0 | Refrigerator |
| Frigidaire FRS3HR5JB1 | Refrigerator |
| Frigidaire FRS3HR5JB2 | Refrigerator |
| Frigidaire FRS3HR5JB3 | Refrigerator |
| Frigidaire FRS3HR5JB5 | Refrigerator |
| Frigidaire FRS3HR5JMB0 | Refrigerator |
| Frigidaire FRS3HR5JMB1 | Refrigerator |
| Frigidaire FRS3HR5JMB2 | Refrigerator |
| Frigidaire FRS3HR5JMB3 | Refrigerator |
| Frigidaire FRS3HR5JQ0 | Refrigerator |
| Frigidaire FRS3HR5JQ1 | Refrigerator |
| Frigidaire FRS3HR5JQ2 | Refrigerator |
| Frigidaire FRS3HR5JQ3 | Refrigerator |
| Frigidaire FRS3HR5JQ5 | Refrigerator |
| Frigidaire FRS3HR5JSB0 | Refrigerator |
| Frigidaire FRS3HR5JSB1 | Refrigerator |
| Frigidaire FRS3HR5JSB2 | Refrigerator |
| Frigidaire FRS3HR5JSB3 | Refrigerator |
| Frigidaire FRS3HR5JW0 | Refrigerator |
| Frigidaire FRS3HR5JW1 | Refrigerator |
| Frigidaire FRS3HR5JW2 | Refrigerator |
| Frigidaire FRS3HR5JW3 | Refrigerator |
| Frigidaire FRS3HR5JW5 | Refrigerator |
| Frigidaire FRS3LR5EM0 | Refrigerator |
| Frigidaire FRS3LR5EM1 | Refrigerator |
| Frigidaire FRS3LR5EM2 | Refrigerator |
| Frigidaire FRS3LR5ES0 | Refrigerator |
| Frigidaire FRS3LR5ES1 | Refrigerator |
| Frigidaire FRS3LR5ES2 | Refrigerator |
| Frigidaire FRS3R2FW0 | Refrigerator |
| Frigidaire FRS3R3EW0 | Refrigerator |
| Frigidaire FRS3R3EW1 | Refrigerator |
| Frigidaire FRS3R3EW2 | Refrigerator |
| Frigidaire FRS3R3EW4 | Refrigerator |
| Frigidaire FRS3R3EW5 | Refrigerator |
| Frigidaire FRS3R3EW6 | Refrigerator |
| Frigidaire FRS3R3EW7 | Refrigerator |
| Frigidaire FRS3R3EW9 | Refrigerator |
| Frigidaire FRS3R3JB0 | Refrigerator |
| Frigidaire FRS3R3JB1 | Refrigerator |
| Frigidaire FRS3R3JB2 | Refrigerator |
| Frigidaire FRS3R3JB3 | Refrigerator |
| Frigidaire FRS3R3JB4 | Refrigerator |
| Frigidaire FRS3R3JB5 | Refrigerator |
| Frigidaire FRS3R3JW0 | Refrigerator |
| Frigidaire FRS3R3JW1 | Refrigerator |
| Frigidaire FRS3R3JW2 | Refrigerator |
| Frigidaire FRS3R3JW3 | Refrigerator |
| Frigidaire FRS3R3JW4 | Refrigerator |
| Frigidaire FRS3R3JW5 | Refrigerator |
| Frigidaire FRS3R4EB0 | Refrigerator |
| Frigidaire FRS3R4EB1 | Refrigerator |
| Frigidaire FRS3R4EB2 | Refrigerator |
| Frigidaire FRS3R4EB3 | Refrigerator |
| Frigidaire FRS3R4EB4 | Refrigerator |
| Frigidaire FRS3R4EB5 | Refrigerator |
| Frigidaire FRS3R4EB8 | Refrigerator |
| Frigidaire FRS3R4EB9 | Refrigerator |
| Frigidaire FRS3R4EBA | Refrigerator |
| Frigidaire FRS3R4EBB | Refrigerator |
| Frigidaire FRS3R4EBC | Refrigerator |
| Frigidaire FRS3R4EBD | Refrigerator |
| Frigidaire FRS3R4EBE | Refrigerator |
| Frigidaire FRS3R4EQ0 | Refrigerator |
| Frigidaire FRS3R4EQ1 | Refrigerator |
| Frigidaire FRS3R4EQ2 | Refrigerator |
| Frigidaire FRS3R4EQ3 | Refrigerator |
| Frigidaire FRS3R4EQ4 | Refrigerator |
| Frigidaire FRS3R4EQ5 | Refrigerator |
| Frigidaire FRS3R4EQ8 | Refrigerator |
| Frigidaire FRS3R4EQA | Refrigerator |
| Frigidaire FRS3R4EQB | Refrigerator |
| Frigidaire FRS3R4EQC | Refrigerator |
| Frigidaire FRS3R4EQD | Refrigerator |
| Frigidaire FRS3R4EQE | Refrigerator |
| Frigidaire FRS3R4EW0 | Refrigerator |
| Frigidaire FRS3R4EW1 | Refrigerator |
| Frigidaire FRS3R4EW2 | Refrigerator |
| Frigidaire FRS3R4EW3 | Refrigerator |
| Frigidaire FRS3R4EW4 | Refrigerator |
| Frigidaire FRS3R4EW5 | Refrigerator |
| Frigidaire FRS3R4EW8 | Refrigerator |
| Frigidaire FRS3R4EW9 | Refrigerator |
| Frigidaire FRS3R4EWA | Refrigerator |
| Frigidaire FRS3R4EWB | Refrigerator |
| Frigidaire FRS3R4EWC | Refrigerator |
| Frigidaire FRS3R4EWD | Refrigerator |
| Frigidaire FRS3R4EWE | Refrigerator |
| Frigidaire FRS3R5EMB | Refrigerator |
| Frigidaire FRS3R5EMB0 | Refrigerator |
| Frigidaire FRS3R5EMB1 | Refrigerator |
| Frigidaire FRS3R5EMB2 | Refrigerator |
| Frigidaire FRS3R5EMB3 | Refrigerator |
| Frigidaire FRS3R5EMB4 | Refrigerator |
| Frigidaire FRS3R5EMB5 | Refrigerator |
| Frigidaire FRS3R5EMB6 | Refrigerator |
| Frigidaire FRS3R5EMB7 | Refrigerator |
| Frigidaire FRS3R5EMB8 | Refrigerator |
| Frigidaire FRS3R5EMB9 | Refrigerator |
| Frigidaire FRS3R5EMBA | Refrigerator |
| Frigidaire FRS3R5EMBB | Refrigerator |
| Frigidaire FRS3R5EMBC | Refrigerator |
| Frigidaire FRS3R5EMBD | Refrigerator |
| Frigidaire FRS3R5EMBE | Refrigerator |
| Frigidaire FRS3R5EMBF | Refrigerator |
| Frigidaire FRS3R5EMBG | Refrigerator |
| Frigidaire FRS3R5EMBJ | Refrigerator |
| Frigidaire FRS3R5EMBK | Refrigerator |
| Frigidaire FRS3R5EMBL | Refrigerator |
| Frigidaire FRS3R5ESB | Refrigerator |
| Frigidaire FRS3R5ESB0 | Refrigerator |
| Frigidaire FRS3R5ESB1 | Refrigerator |
| Frigidaire FRS3R5ESB2 | Refrigerator |
| Frigidaire FRS3R5ESB3 | Refrigerator |
| Frigidaire FRS3R5ESB4 | Refrigerator |
| Frigidaire FRS3R5ESB5 | Refrigerator |
| Frigidaire FRS3R5ESB6 | Refrigerator |
| Frigidaire FRS3R5ESB7 | Refrigerator |
| Frigidaire FRS3R5ESB8 | Refrigerator |
| Frigidaire FRS3R5ESB9 | Refrigerator |
| Frigidaire FRS3R5ESBA | Refrigerator |
| Frigidaire FRS6B5EEQ1 | Refrigerator |
| Frigidaire FRS6B5EEQ2 | Refrigerator |
| Frigidaire FRS6B5EEQ3 | Refrigerator |
| Frigidaire FRS6B5EEQ5 | Refrigerator |
| Frigidaire FRS6B5EEQ7 | Refrigerator |
| Frigidaire FRS6B5EEW1 | Refrigerator |
| Frigidaire FRS6B5EEW2 | Refrigerator |
| Frigidaire FRS6B5EEW3 | Refrigerator |
| Frigidaire FRS6B5EEW5 | Refrigerator |
| Frigidaire FRS6B5EEW7 | Refrigerator |
| Frigidaire FRS6HR35KB0 | Refrigerator |
| Frigidaire FRS6HR35KB1 | Refrigerator |
| Frigidaire FRS6HR35KB2 | Refrigerator |
| Frigidaire FRS6HR35KM0 | Refrigerator |
| Frigidaire FRS6HR35KM1 | Refrigerator |
| Frigidaire FRS6HR35KM2 | Refrigerator |
| Frigidaire FRS6HR35KS0 | Refrigerator |
| Frigidaire FRS6HR35KS1 | Refrigerator |
| Frigidaire FRS6HR35KS2 | Refrigerator |
| Frigidaire FRS6HR35KW0 | Refrigerator |
| Frigidaire FRS6HR35KW1 | Refrigerator |
| Frigidaire FRS6HR35KW2 | Refrigerator |
| Frigidaire FRS6HR35KWO | Refrigerator |
| Frigidaire FRS6HR43KS0 | Refrigerator |
| Frigidaire FRS6HR45KB0 | Refrigerator |
| Frigidaire FRS6HR45KB2 | Refrigerator |
| Frigidaire FRS6HR45KS0 | Refrigerator |
| Frigidaire FRS6HR45KS1 | Refrigerator |
| Frigidaire FRS6HR45KS2 | Refrigerator |
| Frigidaire FRS6HR45KS3 | Refrigerator |
| FRIGIDAIRE FRS6HR45KS4 | Refrigerator |
| FRIGIDAIRE FRS6HR45KS5 | Refrigerator |
| FRIGIDAIRE FRS6HR45KS6 | Refrigerator |
| FRIGIDAIRE FRS6HR45KS7 | Refrigerator |
| Frigidaire FRS6HR45KW0 | Refrigerator |
| Frigidaire FRS6HR45KW2 | Refrigerator |
| Frigidaire FRS6HR4HB | Refrigerator |
| Frigidaire FRS6HR4HB1 | Refrigerator |
| Frigidaire FRS6HR4HB2 | Refrigerator |
| Frigidaire FRS6HR4HB3 | Refrigerator |
| Frigidaire FRS6HR4HB4 | Refrigerator |
| Frigidaire FRS6HR4HB5 | Refrigerator |
| Frigidaire FRS6HR4HB6 | Refrigerator |
| Frigidaire FRS6HR4HW | Refrigerator |
| Frigidaire FRS6HR4HW1 | Refrigerator |
| Frigidaire FRS6HR4HW2 | Refrigerator |
| Frigidaire FRS6HR4HW3 | Refrigerator |
| Frigidaire FRS6HR4HW4 | Refrigerator |
| Frigidaire FRS6HR4HW5 | Refrigerator |
| Frigidaire FRS6HR4HW6 | Refrigerator |
| Frigidaire FRS6HR5HB | Refrigerator |
| Frigidaire FRS6HR5HB1 | Refrigerator |
| Frigidaire FRS6HR5HB2 | Refrigerator |
| Frigidaire FRS6HR5HB3 | Refrigerator |
| Frigidaire FRS6HR5HB4 | Refrigerator |
| Frigidaire FRS6HR5HB5 | Refrigerator |
| Frigidaire FRS6HR5HB6 | Refrigerator |
| Frigidaire FRS6HR5HMB | Refrigerator |
| Frigidaire FRS6HR5HMB1 | Refrigerator |
| Frigidaire FRS6HR5HMB2 | Refrigerator |
| Frigidaire FRS6HR5HMB3 | Refrigerator |
| Frigidaire FRS6HR5HMB4 | Refrigerator |
| Frigidaire FRS6HR5HMB5 | Refrigerator |
| Frigidaire FRS6HR5HMB6 | Refrigerator |
| Frigidaire FRS6HR5HQ | Refrigerator |
| Frigidaire FRS6HR5HQ1 | Refrigerator |
| Frigidaire FRS6HR5HQ2 | Refrigerator |
| Frigidaire FRS6HR5HQ3 | Refrigerator |
| Frigidaire FRS6HR5HQ4 | Refrigerator |
| Frigidaire FRS6HR5HQ5 | Refrigerator |
| Frigidaire FRS6HR5HQ6 | Refrigerator |
| Frigidaire FRS6HR5HS | Refrigerator |
| Frigidaire FRS6HR5HSB1 | Refrigerator |
| Frigidaire FRS6HR5HSB2 | Refrigerator |
| Frigidaire FRS6HR5HSB3 | Refrigerator |
| Frigidaire FRS6HR5HSB4 | Refrigerator |
| Frigidaire FRS6HR5HSB5 | Refrigerator |
| Frigidaire FRS6HR5HSB6 | Refrigerator |
| Frigidaire FRS6HR5HW | Refrigerator |
| Frigidaire FRS6HR5HW1 | Refrigerator |
| Frigidaire FRS6HR5HW2 | Refrigerator |
| Frigidaire FRS6HR5HW3 | Refrigerator |
| Frigidaire FRS6HR5HW4 | Refrigerator |
| Frigidaire FRS6HR5HW5 | Refrigerator |
| Frigidaire FRS6HR5HW6 | Refrigerator |
| Frigidaire FRS6HR5JB0 | Refrigerator |
| Frigidaire FRS6HR5JB1 | Refrigerator |
| Frigidaire FRS6HR5JB2 | Refrigerator |
| Frigidaire FRS6HR5JB3 | Refrigerator |
| Frigidaire FRS6HR5JB4 | Refrigerator |
| Frigidaire FRS6HR5JMB0 | Refrigerator |
| Frigidaire FRS6HR5JMB1 | Refrigerator |
| Frigidaire FRS6HR5JMB2 | Refrigerator |
| Frigidaire FRS6HR5JMB3 | Refrigerator |
| Frigidaire FRS6HR5JMB4 | Refrigerator |
| Frigidaire FRS6HR5JQ0 | Refrigerator |
| Frigidaire FRS6HR5JQ1 | Refrigerator |
| Frigidaire FRS6HR5JQ3 | Refrigerator |
| Frigidaire FRS6HR5JQ4 | Refrigerator |
| Frigidaire FRS6HR5JSB0 | Refrigerator |
| Frigidaire FRS6HR5JSB1 | Refrigerator |
| Frigidaire FRS6HR5JSB3 | Refrigerator |
| Frigidaire FRS6HR5JSB4 | Refrigerator |
| Frigidaire FRS6HR5JW0 | Refrigerator |
| Frigidaire FRS6HR5JW1 | Refrigerator |
| Frigidaire FRS6HR5JW2 | Refrigerator |
| Frigidaire FRS6HR5JW3 | Refrigerator |
| Frigidaire FRS6HR5JW4 | Refrigerator |
| Frigidaire FRS6KA5HPB0 | Refrigerator |
| Frigidaire FRS6KA5HPW0 | Refrigerator |
| Frigidaire FRS6KR5JSB0 | Refrigerator |
| Frigidaire FRS6KR5JSB1 | Refrigerator |
| Frigidaire FRS6KR5JSB2 | Refrigerator |
| Frigidaire FRS6KR5JSB3 | Refrigerator |
| Frigidaire FRS6KR5JSB4 | Refrigerator |
| Frigidaire FRS6KR5JSB5 | Refrigerator |
| Frigidaire FRS6KR5JSB6 | Refrigerator |
| Frigidaire FRS6LE4FB0 | Refrigerator |
| Frigidaire FRS6LE4FB1 | Refrigerator |
| Frigidaire FRS6LE4FB2 | Refrigerator |
| Frigidaire FRS6LE4FB3 | Refrigerator |
| Frigidaire FRS6LE4FB5 | Refrigerator |
| Frigidaire FRS6LE4FB6 | Refrigerator |
| Frigidaire FRS6LE4FB7 | Refrigerator |
| Frigidaire FRS6LE4FBB | Refrigerator |
| Frigidaire FRS6LE4FQ0 | Refrigerator |
| Frigidaire FRS6LE4FQ1 | Refrigerator |
| Frigidaire FRS6LE4FQ2 | Refrigerator |
| Frigidaire FRS6LE4FQ3 | Refrigerator |
| Frigidaire FRS6LE4FQ4 | Refrigerator |
| Frigidaire FRS6LE4FQ5 | Refrigerator |
| Frigidaire FRS6LE4FQ6 | Refrigerator |
| Frigidaire FRS6LE4FQ7 | Refrigerator |
| Frigidaire FRS6LE4FQB | Refrigerator |
| Frigidaire FRS6LE4FW0 | Refrigerator |
| Frigidaire FRS6LE4FW1 | Refrigerator |
| Frigidaire FRS6LE4FW2 | Refrigerator |
| Frigidaire FRS6LE4FW3 | Refrigerator |
| Frigidaire FRS6LE4FW5 | Refrigerator |
| Frigidaire FRS6LE4FW6 | Refrigerator |
| Frigidaire FRS6LE4FW7 | Refrigerator |
| Frigidaire FRS6LE4FWB | Refrigerator |
| Frigidaire FRS6LE5HSB0 | Refrigerator |
| Frigidaire FRS6LE5HSB1 | Refrigerator |
| Frigidaire FRS6LE5HSB2 | Refrigerator |
| Frigidaire FRS6LE5HSB3 | Refrigerator |
| Frigidaire FRS6LR5EB2 | Refrigerator |
| Frigidaire FRS6LR5EB3 | Refrigerator |
| Frigidaire FRS6LR5EB6 | Refrigerator |
| Frigidaire FRS6LR5EB7 | Refrigerator |
| Frigidaire FRS6LR5EM0 | Refrigerator |
| Frigidaire FRS6LR5EM2 | Refrigerator |
| Frigidaire FRS6LR5EM3 | Refrigerator |
| Frigidaire FRS6LR5EM5 | Refrigerator |
| Frigidaire FRS6LR5EM6 | Refrigerator |
| Frigidaire FRS6LR5EM7 | Refrigerator |
| Frigidaire FRS6LR5EM8 | Refrigerator |
| Frigidaire FRS6LR5EQ2 | Refrigerator |
| Frigidaire FRS6LR5EQ3 | Refrigerator |
| Frigidaire FRS6LR5EQ4 | Refrigerator |
| Frigidaire FRS6LR5ES2 | Refrigerator |
| Frigidaire FRS6LR5ES3 | Refrigerator |
| Frigidaire FRS6LR5ES5 | Refrigerator |
| Frigidaire FRS6LR5ES6 | Refrigerator |
| Frigidaire FRS6LR5ES7 | Refrigerator |
| Frigidaire FRS6LR5EW2 | Refrigerator |
| Frigidaire FRS6LR5EW3 | Refrigerator |
| Frigidaire FRS6LR5EW5 | Refrigerator |
| Frigidaire FRS6LR5EW6 | Refrigerator |
| Frigidaire FRS6R2FB0 | Refrigerator |
| Frigidaire FRS6R2FB1 | Refrigerator |
| Frigidaire FRS6R2FB2 | Refrigerator |
| Frigidaire FRS6R2FB3 | Refrigerator |
| Frigidaire FRS6R2FB4 | Refrigerator |
| Frigidaire FRS6R2FB5 | Refrigerator |
| Frigidaire FRS6R2FB6 | Refrigerator |
| Frigidaire FRS6R3EW0 | Refrigerator |
| Frigidaire FRS6R3EW1 | Refrigerator |
| Frigidaire FRS6R3EW2 | Refrigerator |
| Frigidaire FRS6R3EW3 | Refrigerator |
| Frigidaire FRS6R3EW4 | Refrigerator |
| Frigidaire FRS6R3EW5 | Refrigerator |
| Frigidaire FRS6R3EW6 | Refrigerator |
| Frigidaire FRS6R3EW7 | Refrigerator |
| Frigidaire FRS6R3EW8 | Refrigerator |
| Frigidaire FRS6R3EW9 | Refrigerator |
| Frigidaire FRS6R3JB0 | Refrigerator |
| Frigidaire FRS6R3JB1 | Refrigerator |
| Frigidaire FRS6R3JB2 | Refrigerator |
| Frigidaire FRS6R3JB3 | Refrigerator |
| Frigidaire FRS6R3JB4 | Refrigerator |
| Frigidaire FRS6R3JB5 | Refrigerator |
| Frigidaire FRS6R3JB6 | Refrigerator |
| Frigidaire FRS6R3JB7 | Refrigerator |
| Frigidaire FRS6R3JW0 | Refrigerator |
| Frigidaire FRS6R3JW1 | Refrigerator |
| Frigidaire FRS6R3JW2 | Refrigerator |
| Frigidaire FRS6R3JW3 | Refrigerator |
| Frigidaire FRS6R3JW4 | Refrigerator |
| Frigidaire FRS6R3JW5 | Refrigerator |
| Frigidaire FRS6R3JW6 | Refrigerator |
| Frigidaire FRS6R3JW7 | Refrigerator |
| Frigidaire FRS6R4EB0 | Refrigerator |
| Frigidaire FRS6R4EB1 | Refrigerator |
| Frigidaire FRS6R4EB2 | Refrigerator |
| Frigidaire FRS6R4EB3 | Refrigerator |
| Frigidaire FRS6R4EB4 | Refrigerator |
| Frigidaire FRS6R4EB5 | Refrigerator |
| Frigidaire FRS6R4EB6 | Refrigerator |
| Frigidaire FRS6R4EB7 | Refrigerator |
| Frigidaire FRS6R4EB9 | Refrigerator |
| Frigidaire FRS6R4EBA | Refrigerator |
| Frigidaire FRS6R4EBB | Refrigerator |
| Frigidaire FRS6R4EBC | Refrigerator |
| Frigidaire FRS6R4EBD | Refrigerator |
| Frigidaire FRS6R4EQ0 | Refrigerator |
| Frigidaire FRS6R4EQ1 | Refrigerator |
| Frigidaire FRS6R4EQ2 | Refrigerator |
| Frigidaire FRS6R4EQ3 | Refrigerator |
| Frigidaire FRS6R4EQ4 | Refrigerator |
| Frigidaire FRS6R4EQ5 | Refrigerator |
| Frigidaire FRS6R4EQ6 | Refrigerator |
| Frigidaire FRS6R4EQ7 | Refrigerator |
| Frigidaire FRS6R4EQA | Refrigerator |
| Frigidaire FRS6R4EQB | Refrigerator |
| Frigidaire FRS6R4EQC | Refrigerator |
| Frigidaire FRS6R4EW0 | Refrigerator |
| Frigidaire FRS6R4EW1 | Refrigerator |
| Frigidaire FRS6R4EW2 | Refrigerator |
| Frigidaire FRS6R4EW3 | Refrigerator |
| Frigidaire FRS6R4EW4 | Refrigerator |
| Frigidaire FRS6R4EW5 | Refrigerator |
| Frigidaire FRS6R4EW6 | Refrigerator |
| Frigidaire FRS6R4EW7 | Refrigerator |
| Frigidaire FRS6R4EW9 | Refrigerator |
| Frigidaire FRS6R4EWA | Refrigerator |
| Frigidaire FRS6R4EWB | Refrigerator |
| Frigidaire FRS6R4EWC | Refrigerator |
| Frigidaire FRS6R5EMB | Refrigerator |
| Frigidaire FRS6R5EMB0 | Refrigerator |
| Frigidaire FRS6R5EMB1 | Refrigerator |
| Frigidaire FRS6R5EMB2 | Refrigerator |
| Frigidaire FRS6R5EMB3 | Refrigerator |
| Frigidaire FRS6R5EMB4 | Refrigerator |
| Frigidaire FRS6R5EMB6 | Refrigerator |
| Frigidaire FRS6R5EMB7 | Refrigerator |
| Frigidaire FRS6R5EMB8 | Refrigerator |
| Frigidaire FRS6R5EMBA | Refrigerator |
| Frigidaire FRS6R5EMBB | Refrigerator |
| Frigidaire FRS6R5EMBC | Refrigerator |
| Frigidaire FRS6R5EMBD | Refrigerator |
| Frigidaire FRS6R5EMBF | Refrigerator |
| Frigidaire FRS6R5EMBG | Refrigerator |
| Frigidaire FRS6R5EMBH | Refrigerator |
| Frigidaire FRS6R5EMBJ | Refrigerator |
| Frigidaire FRS6R5EMBK | Refrigerator |
| Frigidaire FRS6R5EMBL | Refrigerator |
| Frigidaire FRS6R5EMBN | Refrigerator |
| Frigidaire FRS6R5EMBP | Refrigerator |
| Frigidaire FRS6R5EMBR | Refrigerator |
| Frigidaire FRS6R5EMBS | Refrigerator |
| Frigidaire FRS6R5EMBT | Refrigerator |
| Frigidaire FRS6R5EMBU | Refrigerator |
| Frigidaire FRS6R5EMBV | Refrigerator |
| Frigidaire FRS6R5ESB | Refrigerator |
| Frigidaire FRS6R5ESB0 | Refrigerator |
| Frigidaire FRS6R5ESB2 | Refrigerator |
| Frigidaire FRS6R5ESB4 | Refrigerator |
| Frigidaire FRS6R5ESB5 | Refrigerator |
| Frigidaire FRS6R5ESB6 | Refrigerator |
| Frigidaire FRS6R5ESB7 | Refrigerator |
| Frigidaire FRS6R5ESB8 | Refrigerator |
| Frigidaire FRS6R5ESB9 | Refrigerator |
| Frigidaire FRS6R5ESBA | Refrigerator |
| Frigidaire FRS6R5ESBB | Refrigerator |
| Frigidaire FRS6R5ESBC | Refrigerator |
| Frigidaire FRS6R5ESBD | Refrigerator |
| Frigidaire FRS6R5ESBE | Refrigerator |
| Frigidaire FRS6R5ESBF | Refrigerator |
| Frigidaire FRS6R5ESBG | Refrigerator |
| Frigidaire FRS6R5ESBH | Refrigerator |
| Frigidaire FRS6R5ESBJ | Refrigerator |
| Frigidaire FRS6R5ESBK | Refrigerator |
| Frigidaire FRS6R5ESBL | Refrigerator |
| Frigidaire FRS6R5ESBM | Refrigerator |
| Frigidaire FRS6R5ESBN | Refrigerator |
| Frigidaire FRS6R5ESBP | Refrigerator |
| Frigidaire FRS6R5ESBR | Refrigerator |
| Frigidaire FRS6R5ESBS | Refrigerator |
| Frigidaire FRS6R5ESBU | Refrigerator |
| Frigidaire FRS6R5ESBV | Refrigerator |
| Frigidaire FRSH6KR5JB0 | Refrigerator |
| Frigidaire FRSH6KR5JB1 | Refrigerator |
| Frigidaire FRSH6KR5JW0 | Refrigerator |
| Frigidaire FRSH6KR5JW1 | Refrigerator |
| Frigidaire FRSH6R4HB1 | Refrigerator |
| Frigidaire FRT21BW8DB0 | Refrigerator |
| Frigidaire FRT21BW8DB1 | Refrigerator |
| Frigidaire FRT21BW8DB3 | Refrigerator |
| Frigidaire FRT21BW8DW0 | Refrigerator |
| Frigidaire FRT8WR6EB0 | Refrigerator |
| Frigidaire FRT8WR6EB2 | Refrigerator |
| Frigidaire FRT8WR6EB4 | Refrigerator |
| Frigidaire FRT8WR6EB6 | Refrigerator |
| Frigidaire FRT8WR6EB8 | Refrigerator |
| Frigidaire FRT8WR6EB9 | Refrigerator |
| Frigidaire FRT8WR6EL4 | Refrigerator |
| Frigidaire FRT8WR6EL6 | Refrigerator |
| Frigidaire FRT8WR6EL8 | Refrigerator |
| Frigidaire FRT8WR6EL9 | Refrigerator |
| Frigidaire FRT8WR6EW0 | Refrigerator |
| Frigidaire FRT8WR6EW2 | Refrigerator |
| Frigidaire FRT8WR6EW4 | Refrigerator |
| Frigidaire FRT8WR6EW6 | Refrigerator |
| Frigidaire FRT8WR6EW8 | Refrigerator |
| Frigidaire FRT8WR6EW9 | Refrigerator |
| Frigidaire FRT8WR6EZ4 | Refrigerator |
| Frigidaire FRT8WR6EZ6 | Refrigerator |
| Frigidaire FRT8WR6EZ8 | Refrigerator |
| Frigidaire FRT8WR6EZ9 | Refrigerator |
| Frigidaire FSC23LR5JM0 | Refrigerator |
| Frigidaire FSC23LR5JM1 | Refrigerator |
| Frigidaire FSC23LR5JM2 | Refrigerator |
| Frigidaire FSC23R5D | Refrigerator |
| Frigidaire FSC23R5DB | Refrigerator |
| Frigidaire FSC23R5DB0 | Refrigerator |
| Frigidaire FSC23R5DB1 | Refrigerator |
| Frigidaire FSC23R5DB5 | Refrigerator |
| Frigidaire FSC23R5DB6 | Refrigerator |
| Frigidaire FSC23R5DB7 | Refrigerator |
| Frigidaire FSC23R5DB8 | Refrigerator |
| Frigidaire FSC23R5DB9 | Refrigerator |
| Frigidaire FSC23R5DBB | Refrigerator |
| Frigidaire FSC23R5DBC | Refrigerator |
| Frigidaire FSC23R5DBD | Refrigerator |
| Frigidaire FSC23R5DBE | Refrigerator |
| Frigidaire FSC23R5DBF | Refrigerator |
| Frigidaire FSC23R5DBG | Refrigerator |
| Frigidaire FSC23R5DBH | Refrigerator |
| Frigidaire FSC23R5DBJ | Refrigerator |
| Frigidaire FSC23R5DBL | Refrigerator |
| Frigidaire FSC23R5DBM | Refrigerator |
| Frigidaire FSC23R5DSB | Refrigerator |
| Frigidaire FSC23R5DSB1 | Refrigerator |
| Frigidaire FSC23R5DSB2 | Refrigerator |
| Frigidaire FSC23R5DSB3 | Refrigerator |
| Frigidaire FSC23R5DSB4 | Refrigerator |
| Frigidaire FSC23R5DSB5 | Refrigerator |
| Frigidaire FSC23R5DSB6 | Refrigerator |
| Frigidaire FSC23R5DSB7 | Refrigerator |
| Frigidaire FSC23R5DSB8 | Refrigerator |
| Frigidaire FSC23R5DSB9 | Refrigerator |
| Frigidaire FSC23R5DSBA | Refrigerator |
| Frigidaire FSC23R5DSBB | Refrigerator |
| Frigidaire FSC23R5DSBC | Refrigerator |
| Frigidaire FSC23R5DSBD | Refrigerator |
| Frigidaire FSC23R5DSBE | Refrigerator |
| Frigidaire FSC23R5DSBF | Refrigerator |
| Frigidaire FSC23R5DSBG | Refrigerator |
| Frigidaire FSC23R5DSBH | Refrigerator |
| Frigidaire FSC23R5DSBJ | Refrigerator |
| Frigidaire FSC23R5DSBK | Refrigerator |
| Frigidaire FSC23R5DSBL | Refrigerator |
| Frigidaire FSC23R5DSBN | Refrigerator |
| Frigidaire FSC23R5DW | Refrigerator |
| Frigidaire FSC23R5DW0 | Refrigerator |
| Frigidaire FSC23R5DW1 | Refrigerator |
| Frigidaire FSC23R5DW5 | Refrigerator |
| Frigidaire FSC23R5DW6 | Refrigerator |
| Frigidaire FSC23R5DW7 | Refrigerator |
| Frigidaire FSC23R5DW8 | Refrigerator |
| Frigidaire FSC23R5DW9 | Refrigerator |
| Frigidaire FSC23R5DWB | Refrigerator |
| Frigidaire FSC23R5DWC | Refrigerator |
| Frigidaire FSC23R5DWD | Refrigerator |
| Frigidaire FSC23R5DWE | Refrigerator |
| Frigidaire FSC23R5DWF | Refrigerator |
| Frigidaire FSC23R5DWG | Refrigerator |
| Frigidaire FSC23R5DWH | Refrigerator |
| Frigidaire FSC23R5DWJ | Refrigerator |
| Frigidaire FSC23R5DWL | Refrigerator |
| Frigidaire FSC23R5DWM | Refrigerator |
| Frigidaire GLHT188WHB1 | Refrigerator |
| Frigidaire GLHT188WHB2 | Refrigerator |
| Frigidaire GLHT188WHB3 | Refrigerator |
| Frigidaire GLHT188WHW1 | Refrigerator |
| Frigidaire GLHT188WHW2 | Refrigerator |
| Frigidaire GLHT188WHW3 | Refrigerator |
| FRIGIDAIRE GLHT218WHB1 | Refrigerator |
| Frigidaire GLHT218WHB2 | Refrigerator |
| FRIGIDAIRE GLHT218WHW1 | Refrigerator |
| Frigidaire GLHT218WHW2 | Refrigerator |
| Frigidaire GLRSF236JB0 | Refrigerator |
| Frigidaire GLRSF236JB1 | Refrigerator |
| Frigidaire GLRSF236JB2 | Refrigerator |
| Frigidaire GLRSF236JD0 | Refrigerator |
| Frigidaire GLRSF236JD1 | Refrigerator |
| Frigidaire GLRSF236JD2 | Refrigerator |
| Frigidaire GLRSF236JW0 | Refrigerator |
| Frigidaire GLRSF236JW1 | Refrigerator |
| Frigidaire GLRSF236JW2 | Refrigerator |
| Frigidaire GLRSF266JB0 | Refrigerator |
| Frigidaire GLRSF266JB1 | Refrigerator |
| Frigidaire GLRSF266JB2 | Refrigerator |
| Frigidaire GLRSF266JD0 | Refrigerator |
| Frigidaire GLRSF266JD1 | Refrigerator |
| Frigidaire GLRSF266JD2 | Refrigerator |
| Frigidaire GLRSF266JW0 | Refrigerator |
| Frigidaire GLRSF266JW1 | Refrigerator |
| Frigidaire GLRSF266JW2 | Refrigerator |
| Frigidaire GLRT188WDB1 | Refrigerator |
| Frigidaire GLRT188WDB2 | Refrigerator |
| Frigidaire GLRT188WDB3 | Refrigerator |
| Frigidaire GLRT188WDB4 | Refrigerator |
| Frigidaire GLRT188WDB6 | Refrigerator |
| Frigidaire GLRT188WDB8 | Refrigerator |
| Frigidaire GLRT188WDBA | Refrigerator |
| Frigidaire GLRT188WDBB | Refrigerator |
| Frigidaire GLRT188WDBC | Refrigerator |
| Frigidaire GLRT188WDK2 | Refrigerator |
| Frigidaire GLRT188WDK4 | Refrigerator |
| Frigidaire GLRT188WDK6 | Refrigerator |
| Frigidaire GLRT188WDK8 | Refrigerator |
| Frigidaire GLRT188WDKA | Refrigerator |
| Frigidaire GLRT188WDKB | Refrigerator |
| Frigidaire GLRT188WDKC | Refrigerator |
| Frigidaire GLRT188WDL2 | Refrigerator |
| Frigidaire GLRT188WDL3 | Refrigerator |
| Frigidaire GLRT188WDL4 | Refrigerator |
| Frigidaire GLRT188WDL5 | Refrigerator |
| Frigidaire GLRT188WDL6 | Refrigerator |
| Frigidaire GLRT188WDL8 | Refrigerator |
| Frigidaire GLRT188WDLA | Refrigerator |
| Frigidaire GLRT188WDLB | Refrigerator |
| Frigidaire GLRT188WDS0 | Refrigerator |
| Frigidaire GLRT188WDS2 | Refrigerator |
| Frigidaire GLRT188WDS4 | Refrigerator |
| Frigidaire GLRT188WDS6 | Refrigerator |
| Frigidaire GLRT188WDS8 | Refrigerator |
| Frigidaire GLRT188WDSA | Refrigerator |
| Frigidaire GLRT188WDSB | Refrigerator |
| Frigidaire GLRT188WDSC | Refrigerator |
| Frigidaire GLRT188WDW0 | Refrigerator |
| Frigidaire GLRT188WDW2 | Refrigerator |
| Frigidaire GLRT188WDW4 | Refrigerator |
| Frigidaire GLRT188WDW6 | Refrigerator |
| Frigidaire GLRT188WDW8 | Refrigerator |
| Frigidaire GLRT188WDWA | Refrigerator |
| Frigidaire GLRT188WDWB | Refrigerator |
| Frigidaire GLRT188WDWC | Refrigerator |
| Frigidaire GLRT188WDZ0 | Refrigerator |
| Frigidaire GLRT188WDZ2 | Refrigerator |
| Frigidaire GLRT188WDZ6 | Refrigerator |
| Frigidaire GLRT188WDZ8 | Refrigerator |
| Frigidaire GLRT188WDZA | Refrigerator |
| Frigidaire GLRT188WDZB | Refrigerator |
| Frigidaire GLRT188WJB0 | Refrigerator |
| Frigidaire GLRT188WJB1 | Refrigerator |
| Frigidaire GLRT188WJW0 | Refrigerator |
| Frigidaire GLRT188WJW1 | Refrigerator |
| Frigidaire GLRT218WDB0 | Refrigerator |
| Frigidaire GLRT218WDB2 | Refrigerator |
| Frigidaire GLRT218WDB3 | Refrigerator |
| Frigidaire GLRT218WDB4 | Refrigerator |
| Frigidaire GLRT218WDB5 | Refrigerator |
| Frigidaire GLRT218WDB6 | Refrigerator |
| Frigidaire GLRT218WDB7 | Refrigerator |
| Frigidaire GLRT218WDB9 | Refrigerator |
| Frigidaire GLRT218WDBB | Refrigerator |
| Frigidaire GLRT218WDK3 | Refrigerator |
| Frigidaire GLRT218WDK4 | Refrigerator |
| Frigidaire GLRT218WDK5 | Refrigerator |
| Frigidaire GLRT218WDK6 | Refrigerator |
| Frigidaire GLRT218WDK7 | Refrigerator |
| Frigidaire GLRT218WDK9 | Refrigerator |
| Frigidaire GLRT218WDKB | Refrigerator |
| Frigidaire GLRT218WDKP | Refrigerator |
| Frigidaire GLRT218WDL0 | Refrigerator |
| Frigidaire GLRT218WDL2 | Refrigerator |
| Frigidaire GLRT218WDL7 | Refrigerator |
| Frigidaire GLRT218WDLP | Refrigerator |
| Frigidaire GLRT218WDQ0 | Refrigerator |
| Frigidaire GLRT218WDQ2 | Refrigerator |
| Frigidaire GLRT218WDQ7 | Refrigerator |
| Frigidaire GLRT218WDQ9 | Refrigerator |
| Frigidaire GLRT218WDS1 | Refrigerator |
| Frigidaire GLRT218WDS3 | Refrigerator |
| Frigidaire GLRT218WDS4 | Refrigerator |
| Frigidaire GLRT218WDS5 | Refrigerator |
| Frigidaire GLRT218WDS6 | Refrigerator |
| Frigidaire GLRT218WDS7 | Refrigerator |
| Frigidaire GLRT218WDS9 | Refrigerator |
| Frigidaire GLRT218WDSB | Refrigerator |
| Frigidaire GLRT218WDSP | Refrigerator |
| Frigidaire GLRT218WDW0 | Refrigerator |
| Frigidaire GLRT218WDW2 | Refrigerator |
| Frigidaire GLRT218WDW3 | Refrigerator |
| Frigidaire GLRT218WDW4 | Refrigerator |
| Frigidaire GLRT218WDW5 | Refrigerator |
| Frigidaire GLRT218WDW6 | Refrigerator |
| Frigidaire GLRT218WDW7 | Refrigerator |
| Frigidaire GLRT218WDW9 | Refrigerator |
| Frigidaire GLRT218WDWB | Refrigerator |
| Frigidaire GLRT218WDZ0 | Refrigerator |
| Frigidaire GLRT218WDZ2 | Refrigerator |
| Frigidaire GLRT218WDZ3 | Refrigerator |
| Frigidaire GLRT218WDZ5 | Refrigerator |
| Frigidaire GLRT218WDZ7 | Refrigerator |
| Frigidaire GLRT218WDZP | Refrigerator |
| Frigidaire GRS20ZRHD8 | Refrigerator |
| Frigidaire GRS20ZRHW8 | Refrigerator |
| Frigidaire GRS23R4CQ2 | Refrigerator |
| Frigidaire GRS23R4CQ3 | Refrigerator |
| Frigidaire GRS23R4CQ5 | Refrigerator |
| Frigidaire GRS23R4CQ7 | Refrigerator |
| Frigidaire GRS23R4CW2 | Refrigerator |
| Frigidaire GRS23R4CW3 | Refrigerator |
| Frigidaire GRS23R4CW5 | Refrigerator |
| Frigidaire GRS23R4CW7 | Refrigerator |
| Frigidaire GRS26R4CQ0 | Refrigerator |
| Frigidaire GRS26R4CQ1 | Refrigerator |
| Frigidaire GRS26R4CQ3 | Refrigerator |
| Frigidaire GRS26R4CQ5 | Refrigerator |
| Frigidaire GRS26R4CW0 | Refrigerator |
| Frigidaire GRS26R4CW1 | Refrigerator |
| Frigidaire GRS26R4CW3 | Refrigerator |
| Frigidaire GRS26R4CW5 | Refrigerator |
| Frigidaire GRS26ZRHD6 | Refrigerator |
| Frigidaire GRS26ZRHW6 | Refrigerator |
| Frigidaire MRS26LGJB0 | Refrigerator |
| Frigidaire MRS26LGJB1 | Refrigerator |
| Frigidaire MRS26LGJB2 | Refrigerator |
| Frigidaire MRS26LGJB3 | Refrigerator |
| Frigidaire MRS26LGJC0 | Refrigerator |
| Frigidaire MRS26LGJC1 | Refrigerator |
| Frigidaire MRS26LGJC2 | Refrigerator |
| Frigidaire MRS26LGJQ1 | Refrigerator |
| Frigidaire MRS26LGJQ2 | Refrigerator |
| Frigidaire MRS26LGJQ3 | Refrigerator |
| Frigidaire MRS26LGJW0 | Refrigerator |
| Frigidaire MRS26LGJW2 | Refrigerator |
| Frigidaire MRS26LGJW3 | Refrigerator |
| Frigidaire MRSR25V4A | Refrigerator |
| Frigidaire MRSR25V5A | Refrigerator |
| Frigidaire MRSR25X8A | Refrigerator |
| Frigidaire MRSZ28X8A | Refrigerator |
| Frigidaire NMGSS263KS0 | Refrigerator |
| Frigidaire NMGSS263KS1 | Refrigerator |
| Frigidaire OEMF3-FRS26ZXHD1 | Refrigerator |
| Frigidaire OEMF3-FRS26ZXHD2 | Refrigerator |
| Frigidaire OEMF3-FRS26ZXHW1 | Refrigerator |
| Frigidaire OEMF3-FRS26ZXHW2 | Refrigerator |
| Frigidaire PHS6KR5JSB0 | Refrigerator |
| Frigidaire PHS6KR5JSB1 | Refrigerator |
| Frigidaire PHT189WHKM1 | Refrigerator |
| Frigidaire PHT189WHKM2 | Refrigerator |
| Frigidaire PHT189WHKM3 | Refrigerator |
| Frigidaire PHT189WHSM1 | Refrigerator |
| Frigidaire PHT189WHSM2 | Refrigerator |
| Frigidaire PHT189WHSM3 | Refrigerator |
| Frigidaire PHT219WHKM1 | Refrigerator |
| Frigidaire PHT219WHKM2 | Refrigerator |
| Frigidaire PHT219WHSM1 | Refrigerator |
| Frigidaire PHT219WHSM2 | Refrigerator |
| Frigidaire PLHT19WEB1 | Refrigerator |
| Frigidaire PLHT19WEB4 | Refrigerator |
| Frigidaire PLHT19WEB5 | Refrigerator |
| Frigidaire PLHT19WEB6 | Refrigerator |
| Frigidaire PLHT19WEB7 | Refrigerator |
| Frigidaire PLHT19WEB9 | Refrigerator |
| Frigidaire PLHT19WEK1 | Refrigerator |
| Frigidaire PLHT19WEK4 | Refrigerator |
| Frigidaire PLHT19WEK6 | Refrigerator |
| Frigidaire PLHT19WEK7 | Refrigerator |
| Frigidaire PLHT19WEK9 | Refrigerator |
| Frigidaire PLHT219TDB1 | Refrigerator |
| Frigidaire PLT189WJKM0 | Refrigerator |
| Frigidaire PLT189WJKM1 | Refrigerator |
| Frigidaire PLT189WJKM2 | Refrigerator |
| Frigidaire PLT189WJKM3 | Refrigerator |
| Frigidaire PLT189WJSM0 | Refrigerator |
| Frigidaire PLT189WJSM1 | Refrigerator |
| Frigidaire PLT189WJSM2 | Refrigerator |
| Frigidaire PLT189WJSM3 | Refrigerator |
| Frigidaire PLT219WJKM0 | Refrigerator |
| Frigidaire PLT219WJKM1 | Refrigerator |
| Frigidaire PLT219WJSM0 | Refrigerator |
| Frigidaire PLT219WJSM1 | Refrigerator |
| FRIGIDAIRE WRS26MF8JS2 | Refrigerator |
| FRIGIDAIRE WRS26MR4JB0 | Refrigerator |
| FRIGIDAIRE WRS26MR4JB2 | Refrigerator |
| FRIGIDAIRE WRS26MR4JB4 | Refrigerator |
| FRIGIDAIRE WRS26MR4JB5 | Refrigerator |
| FRIGIDAIRE WRS26MR4JB6 | Refrigerator |
| FRIGIDAIRE WRS26MR4JS0 | Refrigerator |
| FRIGIDAIRE WRS26MR4JS1 | Refrigerator |
| FRIGIDAIRE WRS26MR4JS2 | Refrigerator |
| FRIGIDAIRE WRS26MR4JS4 | Refrigerator |
| FRIGIDAIRE WRS26MR4JS5 | Refrigerator |
| FRIGIDAIRE WRS26MR4JS6 | Refrigerator |
| FRIGIDAIRE WRS26MR4JS8 | Refrigerator |
| FRIGIDAIRE WRS26MR4JW0 | Refrigerator |
| FRIGIDAIRE WRS26MR4JW1 | Refrigerator |
| FRIGIDAIRE WRS26MR4JW2 | Refrigerator |
| FRIGIDAIRE WRS26MR4JW4 | Refrigerator |
| FRIGIDAIRE WRS26MR4JW5 | Refrigerator |
| FRIGIDAIRE WRS26MR4JW6 | Refrigerator |
| Frigidaire WRS26MZRHD0 | Refrigerator |
| Frigidaire WRS26MZRHD1 | Refrigerator |
| Frigidaire WRS26MZRHW0 | Refrigerator |
| Frigidaire WRS26MZRHW1 | Refrigerator |
| Frigidaire WRS3R3EW0 | Refrigerator |
| Frigidaire WRS3R3EW1 | Refrigerator |
| FRIGIDAIRE WRS3R3EW2 | Refrigerator |
| Frigidaire WRS3R3EW3 | Refrigerator |
| FRIGIDAIRE WRS3R3EW4 | Refrigerator |
| FRIGIDAIRE WRS3R3EW6 | Refrigerator |
| FRIGIDAIRE WRS3R3EW7 | Refrigerator |
| FRIGIDAIRE WRS3R3EW9 | Refrigerator |
| FRIGIDAIRE WRS3R3EWA | Refrigerator |
| FRIGIDAIRE WRS3R3EWB | Refrigerator |
| FRIGIDAIRE WRS3R3EWC | Refrigerator |
| FRIGIDAIRE WRS3R3EWD | Refrigerator |
| FRIGIDAIRE WRS3R3EWE | Refrigerator |
| FRIGIDAIRE WRS3R3EWG | Refrigerator |
| FRIGIDAIRE WRS6MR5FMB0 | Refrigerator |
| Frigidaire WRS6R3EW0 | Refrigerator |
| Frigidaire WRS6R3EW1 | Refrigerator |
| Frigidaire WRS6R3EW2 | Refrigerator |
| Frigidaire WRS6R3EW4 | Refrigerator |
| Frigidaire WRS6R3EW6 | Refrigerator |
| FRIGIDAIRE WRS6R3EW7 | Refrigerator |
| FRIGIDAIRE WRS6R3EW8 | Refrigerator |
| FRIGIDAIRE WRS6R3EW9 | Refrigerator |
| FRIGIDAIRE WRS6R3EWA | Refrigerator |
| FRIGIDAIRE WWSS2601KS0 | Refrigerator |
| FRIGIDAIRE WWSS2601KS1 | Refrigerator |
| FRIGIDAIRE WWSS2601KS3 | Refrigerator |
| FRIGIDAIRE WWSS2601KS4 | Refrigerator |
| FRIGIDAIRE WWSS2601KW0 | Refrigerator |
| FRIGIDAIRE WWSS2601KW1 | Refrigerator |
| FRIGIDAIRE WWSS2601KW2 | Refrigerator |
| FRIGIDAIRE WWSS2601KW3 | Refrigerator |
| FRIGIDAIRE WWSS2601KW4 | Refrigerator |
| FRIGIDAIRE WWSS2601KW5 | Refrigerator |
| FRIGIDAIRE WWSS2601KW6 | Refrigerator |
| FRIGIDAIRE WWSS2601KW7 | Refrigerator |
| FRIGIDAIRE WWSS2601NE1 | Refrigerator |
| Gibson GRS20ZRHD0 | Refrigerator |
| Gibson GRS20ZRHD1 | Refrigerator |
| Gibson GRS20ZRHD2 | Refrigerator |
| Gibson GRS20ZRHD3 | Refrigerator |
| Gibson GRS20ZRHD4 | Refrigerator |
| Gibson GRS20ZRHD5 | Refrigerator |
| Gibson GRS20ZRHD6 | Refrigerator |
| Gibson GRS20ZRHD7 | Refrigerator |
| Gibson GRS20ZRHW0 | Refrigerator |
| Gibson GRS20ZRHW1 | Refrigerator |
| Gibson GRS20ZRHW2 | Refrigerator |
| Gibson GRS20ZRHW3 | Refrigerator |
| Gibson GRS20ZRHW4 | Refrigerator |
| Gibson GRS20ZRHW5 | Refrigerator |
| Gibson GRS20ZRHW6 | Refrigerator |
| Gibson GRS20ZRHW7 | Refrigerator |
| Gibson GRS26ZRGD0 | Refrigerator |
| Gibson GRS26ZRGD1 | Refrigerator |
| Gibson GRS26ZRGD2 | Refrigerator |
| Gibson GRS26ZRGD5 | Refrigerator |
| Gibson GRS26ZRGW0 | Refrigerator |
| Gibson GRS26ZRGW1 | Refrigerator |
| Gibson GRS26ZRGW2 | Refrigerator |
| Gibson GRS26ZRGW5 | Refrigerator |
| Gibson GRS26ZRHD0 | Refrigerator |
| Gibson GRS26ZRHD1 | Refrigerator |
| Gibson GRS26ZRHD2 | Refrigerator |
| Gibson GRS26ZRHD3 | Refrigerator |
| Gibson GRS26ZRHD4 | Refrigerator |
| Gibson GRS26ZRHD5 | Refrigerator |
| Gibson GRS26ZRHW0 | Refrigerator |
| Gibson GRS26ZRHW1 | Refrigerator |
| Gibson GRS26ZRHW2 | Refrigerator |
| Gibson GRS26ZRHW3 | Refrigerator |
| Gibson GRS26ZRHW4 | Refrigerator |
| Gibson GRS26ZRHW5 | Refrigerator |
| Kenmore 253.44352400 | Refrigerator |
| Kenmore 253.44352401 | Refrigerator |
| Kenmore 253.44352403 | Refrigerator |
| Kenmore 253.44352404 | Refrigerator |
| Kenmore 253.44352405 | Refrigerator |
| Kenmore 253.44352406 | Refrigerator |
| Kenmore 253.44352407 | Refrigerator |
| Kenmore 253.44352408 | Refrigerator |
| Kenmore 253.44352409 | Refrigerator |
| Kenmore 253.44353400 | Refrigerator |
| Kenmore 253.44353401 | Refrigerator |
| Kenmore 253.44353402 | Refrigerator |
| Kenmore 253.44353403 | Refrigerator |
| Kenmore 253.44353404 | Refrigerator |
| Kenmore 253.44353405 | Refrigerator |
| Kenmore 253.44353406 | Refrigerator |
| Kenmore 253.44353407 | Refrigerator |
| Kenmore 253.44353408 | Refrigerator |
| Kenmore 253.44353409 | Refrigerator |
| Kenmore 253.44354400 | Refrigerator |
| Kenmore 253.44354401 | Refrigerator |
| Kenmore 253.44354403 | Refrigerator |
| Kenmore 253.44354404 | Refrigerator |
| Kenmore 253.44354405 | Refrigerator |
| Kenmore 253.44354406 | Refrigerator |
| Kenmore 253.44354407 | Refrigerator |
| Kenmore 253.44354408 | Refrigerator |
| Kenmore 253.44354409 | Refrigerator |
| Kenmore 253.44359400 | Refrigerator |
| Kenmore 253.44359401 | Refrigerator |
| Kenmore 253.44359403 | Refrigerator |
| Kenmore 253.44359404 | Refrigerator |
| Kenmore 253.44359405 | Refrigerator |
| Kenmore 253.44359406 | Refrigerator |
| Kenmore 253.44359407 | Refrigerator |
| Kenmore 253.44359408 | Refrigerator |
| Kenmore 253.44359409 | Refrigerator |
| Kenmore 253.44362500 | Refrigerator |
| Kenmore 253.44362501 | Refrigerator |
| Kenmore 253.44362502 | Refrigerator |
| Kenmore 253.44502600 | Refrigerator |
| Kenmore 253.44502601 | Refrigerator |
| Kenmore 253.44502602 | Refrigerator |
| Kenmore 253.44502603 | Refrigerator |
| Kenmore 253.44502604 | Refrigerator |
| Kenmore 253.44502605 | Refrigerator |
| Kenmore 253.44502606 | Refrigerator |
| Kenmore 253.44502607 | Refrigerator |
| Kenmore 253.44502608 | Refrigerator |
| Kenmore 253.44502609 | Refrigerator |
| Kenmore 253.4450260A | Refrigerator |
| Kenmore 253.4450260C | Refrigerator |
| Kenmore 253.44503600 | Refrigerator |
| Kenmore 253.44503601 | Refrigerator |
| Kenmore 253.44503602 | Refrigerator |
| Kenmore 253.44503603 | Refrigerator |
| Kenmore 253.44503604 | Refrigerator |
| Kenmore 253.44503605 | Refrigerator |
| Kenmore 253.44503606 | Refrigerator |
| Kenmore 253.44503607 | Refrigerator |
| Kenmore 253.44503608 | Refrigerator |
| Kenmore 253.44503609 | Refrigerator |
| Kenmore 253.4450360A | Refrigerator |
| Kenmore 253.4450360B | Refrigerator |
| Kenmore 253.4450360C | Refrigerator |
| Kenmore 253.44509600 | Refrigerator |
| Kenmore 253.44509601 | Refrigerator |
| Kenmore 253.44509602 | Refrigerator |
| Kenmore 253.44509603 | Refrigerator |
| Kenmore 253.44509604 | Refrigerator |
| Kenmore 253.44509605 | Refrigerator |
| Kenmore 253.44509606 | Refrigerator |
| Kenmore 253.44509607 | Refrigerator |
| Kenmore 253.44509608 | Refrigerator |
| Kenmore 253.44509609 | Refrigerator |
| Kenmore 253.4450960A | Refrigerator |
| Kenmore 253.4450960C | Refrigerator |
| Kenmore 253.44512600 | Refrigerator |
| Kenmore 253.44512601 | Refrigerator |
| Kenmore 253.44512602 | Refrigerator |
| Kenmore 253.44512603 | Refrigerator |
| Kenmore 253.44512604 | Refrigerator |
| Kenmore 253.44512605 | Refrigerator |
| Kenmore 253.44512606 | Refrigerator |
| Kenmore 253.44512607 | Refrigerator |
| Kenmore 253.44512608 | Refrigerator |
| Kenmore 253.44512609 | Refrigerator |
| Kenmore 253.4451260A | Refrigerator |
| Kenmore 253.4451260B | Refrigerator |
| Kenmore 253.44513600 | Refrigerator |
| Kenmore 253.44513601 | Refrigerator |
| Kenmore 253.44513602 | Refrigerator |
| Kenmore 253.44513603 | Refrigerator |
| Kenmore 253.44513604 | Refrigerator |
| Kenmore 253.44513605 | Refrigerator |
| Kenmore 253.44513606 | Refrigerator |
| Kenmore 253.44513607 | Refrigerator |
| Kenmore 253.44513608 | Refrigerator |
| Kenmore 253.44513609 | Refrigerator |
| Kenmore 253.4451360A | Refrigerator |
| Kenmore 253.44519600 | Refrigerator |
| Kenmore 253.44519601 | Refrigerator |
| Kenmore 253.44519602 | Refrigerator |
| Kenmore 253.44519603 | Refrigerator |
| Kenmore 253.44519604 | Refrigerator |
| Kenmore 253.44519605 | Refrigerator |
| Kenmore 253.44519606 | Refrigerator |
| Kenmore 253.44519607 | Refrigerator |
| Kenmore 253.44519608 | Refrigerator |
| Kenmore 253.44519609 | Refrigerator |
| Kenmore 253.4451960A | Refrigerator |
| Kenmore 253.50682000 | Refrigerator |
| Kenmore 253.50682001 | Refrigerator |
| Kenmore 253.50682002 | Refrigerator |
| Kenmore 253.50683000 | Refrigerator |
| Kenmore 253.50683001 | Refrigerator |
| Kenmore 253.50683002 | Refrigerator |
| Kenmore 253.50684000 | Refrigerator |
| Kenmore 253.50684001 | Refrigerator |
| Kenmore 253.50684002 | Refrigerator |
| Kenmore 253.50689000 | Refrigerator |
| Kenmore 253.50689001 | Refrigerator |
| Kenmore 253.50689002 | Refrigerator |
| Kenmore 253.51232101 | Refrigerator |
| Kenmore 253.51232102 | Refrigerator |
| Kenmore 253.51232103 | Refrigerator |
| Kenmore 253.51232104 | Refrigerator |
| Kenmore 253.51232105 | Refrigerator |
| Kenmore 253.51232106 | Refrigerator |
| Kenmore 253.51234101 | Refrigerator |
| Kenmore 253.51234102 | Refrigerator |
| Kenmore 253.51234103 | Refrigerator |
| Kenmore 253.51234104 | Refrigerator |
| Kenmore 253.51234105 | Refrigerator |
| Kenmore 253.51234106 | Refrigerator |
| Kenmore 253.51622100 | Refrigerator |
| Kenmore 253.51622101 | Refrigerator |
| Kenmore 253.51622102 | Refrigerator |
| Kenmore 253.51622103 | Refrigerator |
| Kenmore 253.51622104 | Refrigerator |
| Kenmore 253.51624100 | Refrigerator |
| Kenmore 253.51624101 | Refrigerator |
| Kenmore 253.51624102 | Refrigerator |
| Kenmore 253.51624103 | Refrigerator |
| Kenmore 253.51624104 | Refrigerator |
| Kenmore 253.52322201 | Refrigerator |
| Kenmore 253.52322202 | Refrigerator |
| Kenmore 253.52322203 | Refrigerator |
| Kenmore 253.52324200 | Refrigerator |
| Kenmore 253.52324201 | Refrigerator |
| Kenmore 253.52324202 | Refrigerator |
| Kenmore 253.52324203 | Refrigerator |
| Kenmore 253.52612200 | Refrigerator |
| Kenmore 253.52612201 | Refrigerator |
| Kenmore 253.52612202 | Refrigerator |
| Kenmore 253.52614200 | Refrigerator |
| Kenmore 253.52614201 | Refrigerator |
| Kenmore 253.52614202 | Refrigerator |
| Kenmore 253.52622200 | Refrigerator |
| Kenmore 253.52622201 | Refrigerator |
| Kenmore 253.52622202 | Refrigerator |
| Kenmore 253.52624200 | Refrigerator |
| Kenmore 253.52624201 | Refrigerator |
| Kenmore 253.52624202 | Refrigerator |
| Kenmore 253.53612300 | Refrigerator |
| Kenmore 253.53612301 | Refrigerator |
| Kenmore 253.53612302 | Refrigerator |
| Kenmore 253.53612303 | Refrigerator |
| Kenmore 253.53614300 | Refrigerator |
| Kenmore 253.53614301 | Refrigerator |
| Kenmore 253.53614302 | Refrigerator |
| Kenmore 253.53614303 | Refrigerator |
| Kenmore 253.53682300 | Refrigerator |
| Kenmore 253.53684300 | Refrigerator |
| Kenmore 253.54622400 | Refrigerator |
| Kenmore 253.54622401 | Refrigerator |
| Kenmore 253.54622402 | Refrigerator |
| Kenmore 253.54622406 | Refrigerator |
| Kenmore 253.54622407 | Refrigerator |
| Kenmore 253.54622408 | Refrigerator |
| Kenmore 253.54622409 | Refrigerator |
| Kenmore 253.5462240A | Refrigerator |
| Kenmore 253.5462240B | Refrigerator |
| Kenmore 253.5462240N | Refrigerator |
| Kenmore 253.54623400 | Refrigerator |
| Kenmore 253.54623401 | Refrigerator |
| Kenmore 253.54623402 | Refrigerator |
| Kenmore 253.54623403 | Refrigerator |
| Kenmore 253.54623406 | Refrigerator |
| Kenmore 253.54623407 | Refrigerator |
| Kenmore 253.54623408 | Refrigerator |
| Kenmore 253.54623409 | Refrigerator |
| Kenmore 253.5462340A | Refrigerator |
| Kenmore 253.5462340B | Refrigerator |
| Kenmore 253.5462340N | Refrigerator |
| Kenmore 253.54624400 | Refrigerator |
| Kenmore 253.54624401 | Refrigerator |
| Kenmore 253.54624402 | Refrigerator |
| Kenmore 253.54624406 | Refrigerator |
| Kenmore 253.54624407 | Refrigerator |
| Kenmore 253.54624408 | Refrigerator |
| Kenmore 253.54624409 | Refrigerator |
| Kenmore 253.5462440A | Refrigerator |
| Kenmore 253.5462440B | Refrigerator |
| Kenmore 253.5462440N | Refrigerator |
| Kenmore 253.54628501 | Refrigerator |
| Kenmore 253.54628503 | Refrigerator |
| Kenmore 253.54628504 | Refrigerator |
| Kenmore 253.54628505 | Refrigerator |
| Kenmore 253.54628506 | Refrigerator |
| Kenmore 253.54629400 | Refrigerator |
| Kenmore 253.54629401 | Refrigerator |
| Kenmore 253.54629402 | Refrigerator |
| Kenmore 253.54629406 | Refrigerator |
| Kenmore 253.54629407 | Refrigerator |
| Kenmore 253.54629408 | Refrigerator |
| Kenmore 253.54629409 | Refrigerator |
| Kenmore 253.5462940A | Refrigerator |
| Kenmore 253.5462940B | Refrigerator |
| Kenmore 253.5462940N | Refrigerator |
| Kenmore 253.54632500 | Refrigerator |
| Kenmore 253.54632502 | Refrigerator |
| Kenmore 253.54633500 | Refrigerator |
| Kenmore 253.54633502 | Refrigerator |
| Kenmore 253.54639500 | Refrigerator |
| Kenmore 253.54639502 | Refrigerator |
| Kenmore 253.54703400 | Refrigerator |
| Kenmore 253.54703401 | Refrigerator |
| Kenmore 253.54703402 | Refrigerator |
| Kenmore 253.54703403 | Refrigerator |
| Kenmore 253.54703404 | Refrigerator |
| Kenmore 253.54703405 | Refrigerator |
| Kenmore 253.54703406 | Refrigerator |
| Kenmore 253.54703407 | Refrigerator |
| Kenmore 253.54703408 | Refrigerator |
| Kenmore 253.54703409 | Refrigerator |
| Kenmore 253.5470340A | Refrigerator |
| Kenmore 253.54713500 | Refrigerator |
| Kenmore 253.54713502 | Refrigerator |
| Kenmore 253.56512400 | Refrigerator |
| Kenmore 253.56512401 | Refrigerator |
| Kenmore 253.56512402 | Refrigerator |
| Kenmore 253.56514400 | Refrigerator |
| Kenmore 253.56514401 | Refrigerator |
| Kenmore 253.56514402 | Refrigerator |
| Kenmore 253.56519400 | Refrigerator |
| Kenmore 253.56519401 | Refrigerator |
| Kenmore 253.56519402 | Refrigerator |
| Kenmore 253.56522400 | Refrigerator |
| Kenmore 253.56522401 | Refrigerator |
| Kenmore 253.56522403 | Refrigerator |
| Kenmore 253.56524400 | Refrigerator |
| Kenmore 253.56524401 | Refrigerator |
| Kenmore 253.56524403 | Refrigerator |
| Kenmore 253.56529400 | Refrigerator |
| Kenmore 253.56529401 | Refrigerator |
| Kenmore 253.56529403 | Refrigerator |
| Kenmore 253.56602400 | Refrigerator |
| Kenmore 253.56602401 | Refrigerator |
| Kenmore 253.56602402 | Refrigerator |
| Kenmore 253.56943600 | Refrigerator |
| Kenmore 253.56943601 | Refrigerator |
| Kenmore 253.56943602 | Refrigerator |
| Kenmore 253.56953600 | Refrigerator |
| Kenmore 253.56953601 | Refrigerator |
| Kenmore 253.56953602 | Refrigerator |
| Kenmore 253.57182600 | Refrigerator |
| Kenmore 253.57182601 | Refrigerator |
| Kenmore 253.57182603 | Refrigerator |
| Kenmore 253.57184600 | Refrigerator |
| Kenmore 253.57184601 | Refrigerator |
| Kenmore 253.57184603 | Refrigerator |
| Kenmore 253.57188600 | Refrigerator |
| Kenmore 253.57188601 | Refrigerator |
| Kenmore 253.57188603 | Refrigerator |
| Kenmore 253.57188604 | Refrigerator |
| Kenmore 253.57189600 | Refrigerator |
| Kenmore 253.57189601 | Refrigerator |
| Kenmore 253.57189603 | Refrigerator |
| Kenmore 253.57192600 | Refrigerator |
| Kenmore 253.57194600 | Refrigerator |
| Kenmore 253.57198600 | Refrigerator |
| Kenmore 253.57199600 | Refrigerator |
| Kenmore 253.57382600 | Refrigerator |
| Kenmore 253.57382601 | Refrigerator |
| Kenmore 253.57382602 | Refrigerator |
| Kenmore 253.57384600 | Refrigerator |
| Kenmore 253.57384601 | Refrigerator |
| Kenmore 253.57384602 | Refrigerator |
| Kenmore 253.57388600 | Refrigerator |
| Kenmore 253.57388601 | Refrigerator |
| Kenmore 253.57388602 | Refrigerator |
| Kenmore 253.57389600 | Refrigerator |
| Kenmore 253.57389601 | Refrigerator |
| Kenmore 253.57389602 | Refrigerator |
| Kenmore 253.57392600 | Refrigerator |
| Kenmore 253.57392601 | Refrigerator |
| Kenmore 253.57392602 | Refrigerator |
| Kenmore 253.57394600 | Refrigerator |
| Kenmore 253.57394601 | Refrigerator |
| Kenmore 253.57394602 | Refrigerator |
| Kenmore 253.57398600 | Refrigerator |
| Kenmore 253.57398601 | Refrigerator |
| Kenmore 253.57398602 | Refrigerator |
| Kenmore 253.57399600 | Refrigerator |
| Kenmore 253.57399601 | Refrigerator |
| Kenmore 253.57399602 | Refrigerator |
| Kenmore 253.57672790 | Refrigerator |
| Kenmore 253.57672791 | Refrigerator |
| Kenmore 253.57677790 | Refrigerator |
| Kenmore 253.57677791 | Refrigerator |
| Kenmore 253.57682790 | Refrigerator |
| Kenmore 253.57682791 | Refrigerator |
| Kenmore 253.57685790 | Refrigerator |
| Kenmore 253.57685791 | Refrigerator |
| Kenmore 253.57687790 | Refrigerator |
| Kenmore 253.57687791 | Refrigerator |
| Kenmore 253.58082890 | Refrigerator |
| Kenmore 253.58082891 | Refrigerator |
| Kenmore 253.58082892 | Refrigerator |
| Kenmore 253.58082893 | Refrigerator |
| Kenmore 253.58082894 | Refrigerator |
| Kenmore 253.58082895 | Refrigerator |
| Kenmore 253.58082897 | Refrigerator |
| Kenmore 253.58082898 | Refrigerator |
| Kenmore 253.58082899 | Refrigerator |
| Kenmore 253.5808289A | Refrigerator |
| Kenmore 253.5808289B | Refrigerator |
| Kenmore 253.58085890 | Refrigerator |
| Kenmore 253.58085891 | Refrigerator |
| Kenmore 253.58085892 | Refrigerator |
| Kenmore 253.58085893 | Refrigerator |
| Kenmore 253.58085894 | Refrigerator |
| Kenmore 253.58085895 | Refrigerator |
| Kenmore 253.58085897 | Refrigerator |
| Kenmore 253.58085898 | Refrigerator |
| Kenmore 253.58085899 | Refrigerator |
| Kenmore 253.5808589A | Refrigerator |
| Kenmore 253.5808589B | Refrigerator |
| Kenmore 253.58087890 | Refrigerator |
| Kenmore 253.58087891 | Refrigerator |
| Kenmore 253.58087892 | Refrigerator |
| Kenmore 253.58087893 | Refrigerator |
| Kenmore 253.58087894 | Refrigerator |
| Kenmore 253.58087895 | Refrigerator |
| Kenmore 253.58087897 | Refrigerator |
| Kenmore 253.58087898 | Refrigerator |
| Kenmore 253.58087899 | Refrigerator |
| Kenmore 253.5808789A | Refrigerator |
| Kenmore 253.5808789B | Refrigerator |
| Kenmore 253.58672890 | Refrigerator |
| Kenmore 253.58672891 | Refrigerator |
| Kenmore 253.58672892 | Refrigerator |
| Kenmore 253.58672893 | Refrigerator |
| Kenmore 253.58672894 | Refrigerator |
| Kenmore 253.58672895 | Refrigerator |
| Kenmore 253.58672896 | Refrigerator |
| Kenmore 253.58677890 | Refrigerator |
| Kenmore 253.58677891 | Refrigerator |
| Kenmore 253.58677892 | Refrigerator |
| Kenmore 253.58677893 | Refrigerator |
| Kenmore 253.58677894 | Refrigerator |
| Kenmore 253.58677895 | Refrigerator |
| Kenmore 253.58677896 | Refrigerator |
| Kenmore 253.58682890 | Refrigerator |
| Kenmore 253.58682891 | Refrigerator |
| Kenmore 253.58682892 | Refrigerator |
| Kenmore 253.58682893 | Refrigerator |
| Kenmore 253.58682894 | Refrigerator |
| Kenmore 253.58682895 | Refrigerator |
| Kenmore 253.58682897 | Refrigerator |
| Kenmore 253.58685890 | Refrigerator |
| Kenmore 253.58685891 | Refrigerator |
| Kenmore 253.58685892 | Refrigerator |
| Kenmore 253.58685893 | Refrigerator |
| Kenmore 253.58685894 | Refrigerator |
| Kenmore 253.58685895 | Refrigerator |
| Kenmore 253.58685897 | Refrigerator |
| Kenmore 253.58687890 | Refrigerator |
| Kenmore 253.58687891 | Refrigerator |
| Kenmore 253.58687892 | Refrigerator |
| Kenmore 253.58687893 | Refrigerator |
| Kenmore 253.58687894 | Refrigerator |
| Kenmore 253.58687895 | Refrigerator |
| Kenmore 253.58687897 | Refrigerator |
| Kenmore 253.58689890 | Refrigerator |
| Kenmore 253.58689891 | Refrigerator |
| Kenmore 253.58689892 | Refrigerator |
| Kenmore 253.58689893 | Refrigerator |
| Kenmore 253.58689894 | Refrigerator |
| Kenmore 253.58689895 | Refrigerator |
| Kenmore 253.59482990 | Refrigerator |
| Kenmore 253.59482991 | Refrigerator |
| Kenmore 253.59482993 | Refrigerator |
| Kenmore 253.59487990 | Refrigerator |
| Kenmore 253.59487991 | Refrigerator |
| Kenmore 253.59487993 | Refrigerator |
| Kenmore 253.59489990 | Refrigerator |
| Kenmore 253.59489991 | Refrigerator |
| Kenmore 253.59489993 | Refrigerator |
| Kenmore 253.59682990 | Refrigerator |
| Kenmore 253.59682991 | Refrigerator |
| Kenmore 253.59682992 | Refrigerator |
| Kenmore 253.59682993 | Refrigerator |
| Kenmore 253.59682994 | Refrigerator |
| Kenmore 253.59682995 | Refrigerator |
| Kenmore 253.59683990 | Refrigerator |
| Kenmore 253.59683991 | Refrigerator |
| Kenmore 253.59683992 | Refrigerator |
| Kenmore 253.59687990 | Refrigerator |
| Kenmore 253.59687991 | Refrigerator |
| Kenmore 253.59687992 | Refrigerator |
| Kenmore 253.59687993 | Refrigerator |
| Kenmore 253.59687994 | Refrigerator |
| Kenmore 253.59687995 | Refrigerator |
| Kenmore 253.59689990 | Refrigerator |
| Kenmore 253.59689991 | Refrigerator |
| Kenmore 253.59689992 | Refrigerator |
| Kenmore 253.59689993 | Refrigerator |
| Kenmore 253.59689994 | Refrigerator |
| Kenmore 253.59689995 | Refrigerator |
| Kenmore 253.74220700 | Refrigerator |
| Kenmore 253.74220701 | Refrigerator |
| Kenmore 253.74220702 | Refrigerator |
| Kenmore 253.74220703 | Refrigerator |
| Kenmore 253.74220704 | Refrigerator |
| Kenmore 253.74220705 | Refrigerator |
| Kenmore 253.74221700 | Refrigerator |
| Kenmore 253.74221701 | Refrigerator |
| Kenmore 253.74221702 | Refrigerator |
| Kenmore 253.74221703 | Refrigerator |
| Kenmore 253.74221704 | Refrigerator |
| Kenmore 253.74221705 | Refrigerator |
| Kenmore 253.74222700 | Refrigerator |
| Kenmore 253.74222701 | Refrigerator |
| Kenmore 253.74222702 | Refrigerator |
| Kenmore 253.74222703 | Refrigerator |
| Kenmore 253.74222704 | Refrigerator |
| Kenmore 253.74222705 | Refrigerator |
| Kenmore 253.74223700 | Refrigerator |
| Kenmore 253.74223701 | Refrigerator |
| Kenmore 253.74223702 | Refrigerator |
| Kenmore 253.74223703 | Refrigerator |
| Kenmore 253.74223704 | Refrigerator |
| Kenmore 253.74223705 | Refrigerator |
| Kenmore 253.74224700 | Refrigerator |
| Kenmore 253.74224701 | Refrigerator |
| Kenmore 253.74224702 | Refrigerator |
| Kenmore 253.74224703 | Refrigerator |
| Kenmore 253.74224704 | Refrigerator |
| Kenmore 253.74224705 | Refrigerator |
| Kenmore 253.74225700 | Refrigerator |
| Kenmore 253.74225701 | Refrigerator |
| Kenmore 253.74225702 | Refrigerator |
| Kenmore 253.74225703 | Refrigerator |
| Kenmore 253.74225704 | Refrigerator |
| Kenmore 253.74227700 | Refrigerator |
| Kenmore 253.74227701 | Refrigerator |
| Kenmore 253.74227702 | Refrigerator |
| Kenmore 253.74227703 | Refrigerator |
| Kenmore 253.74227704 | Refrigerator |
| Kenmore 253.74229700 | Refrigerator |
| Kenmore 253.74229701 | Refrigerator |
| Kenmore 253.74229702 | Refrigerator |
| Kenmore 253.74229703 | Refrigerator |
| Kenmore 253.74229704 | Refrigerator |
| Kenmore 253.74229705 | Refrigerator |
| Kenmore 253.74272700 | Refrigerator |
| Kenmore 253.74272701 | Refrigerator |
| Kenmore 253.74272702 | Refrigerator |
| Kenmore 253.74272703 | Refrigerator |
| Kenmore 253.74273700 | Refrigerator |
| Kenmore 253.74273701 | Refrigerator |
| Kenmore 253.74273702 | Refrigerator |
| Kenmore 253.74273703 | Refrigerator |
| Kenmore 253.74274700 | Refrigerator |
| Kenmore 253.74274701 | Refrigerator |
| Kenmore 253.74274702 | Refrigerator |
| Kenmore 253.74274703 | Refrigerator |
| Kenmore 253.74279700 | Refrigerator |
| Kenmore 253.74279701 | Refrigerator |
| Kenmore 253.74279702 | Refrigerator |
| Kenmore 253.74279703 | Refrigerator |
| Kenmore 253.74920700 | Refrigerator |
| Kenmore 253.74920701 | Refrigerator |
| Kenmore 253.74920702 | Refrigerator |
| Kenmore 253.74920703 | Refrigerator |
| Kenmore 253.74920704 | Refrigerator |
| Kenmore 253.74921700 | Refrigerator |
| Kenmore 253.74921701 | Refrigerator |
| Kenmore 253.74921702 | Refrigerator |
| Kenmore 253.74921703 | Refrigerator |
| Kenmore 253.74921704 | Refrigerator |
| Kenmore 253.74922700 | Refrigerator |
| Kenmore 253.74922701 | Refrigerator |
| Kenmore 253.74922702 | Refrigerator |
| Kenmore 253.74922703 | Refrigerator |
| Kenmore 253.74922704 | Refrigerator |
| Kenmore 253.74923700 | Refrigerator |
| Kenmore 253.74923701 | Refrigerator |
| Kenmore 253.74923702 | Refrigerator |
| Kenmore 253.74923703 | Refrigerator |
| Kenmore 253.74923704 | Refrigerator |
| Kenmore 253.74924700 | Refrigerator |
| Kenmore 253.74924701 | Refrigerator |
| Kenmore 253.74924702 | Refrigerator |
| Kenmore 253.74924703 | Refrigerator |
| Kenmore 253.74924704 | Refrigerator |
| Kenmore 253.74925700 | Refrigerator |
| Kenmore 253.74925701 | Refrigerator |
| Kenmore 253.74925702 | Refrigerator |
| Kenmore 253.74925703 | Refrigerator |
| Kenmore 253.74925704 | Refrigerator |
| Kenmore 253.74927700 | Refrigerator |
| Kenmore 253.74927701 | Refrigerator |
| Kenmore 253.74927702 | Refrigerator |
| Kenmore 253.74927703 | Refrigerator |
| Kenmore 253.74927704 | Refrigerator |
| Kenmore 253.74929700 | Refrigerator |
| Kenmore 253.74929701 | Refrigerator |
| Kenmore 253.74929702 | Refrigerator |
| Kenmore 253.74929703 | Refrigerator |
| Kenmore 253.74929704 | Refrigerator |
| Kenmore 253.74972700 | Refrigerator |
| Kenmore 253.74972701 | Refrigerator |
| Kenmore 253.74972702 | Refrigerator |
| Kenmore 253.74972703 | Refrigerator |
| Kenmore 253.74973700 | Refrigerator |
| Kenmore 253.74973701 | Refrigerator |
| Kenmore 253.74973702 | Refrigerator |
| Kenmore 253.74973703 | Refrigerator |
| Kenmore 253.74974700 | Refrigerator |
| Kenmore 253.74974701 | Refrigerator |
| Kenmore 253.74974702 | Refrigerator |
| Kenmore 253.74974703 | Refrigerator |
| Kenmore 253.74979700 | Refrigerator |
| Kenmore 253.74979701 | Refrigerator |
| Kenmore 253.74979702 | Refrigerator |
| Kenmore 253.74979703 | Refrigerator |
| Kenmore 253.76122400 | Refrigerator |
| Kenmore 253.76122401 | Refrigerator |
| Kenmore 253.76122403 | Refrigerator |
| Kenmore 253.76122405 | Refrigerator |
| Kenmore 253.76122407 | Refrigerator |
| Kenmore 253.76122409 | Refrigerator |
| Kenmore 253.76123400 | Refrigerator |
| Kenmore 253.76123401 | Refrigerator |
| Kenmore 253.76123403 | Refrigerator |
| Kenmore 253.76123405 | Refrigerator |
| Kenmore 253.76123407 | Refrigerator |
| Kenmore 253.76123409 | Refrigerator |
| Kenmore 253.76124400 | Refrigerator |
| Kenmore 253.76124401 | Refrigerator |
| Kenmore 253.76124403 | Refrigerator |
| Kenmore 253.76124405 | Refrigerator |
| Kenmore 253.76124407 | Refrigerator |
| Kenmore 253.76124409 | Refrigerator |
| Kenmore 253.76129400 | Refrigerator |
| Kenmore 253.76129401 | Refrigerator |
| Kenmore 253.76129403 | Refrigerator |
| Kenmore 253.76129405 | Refrigerator |
| Kenmore 253.76129407 | Refrigerator |
| Kenmore 253.76129409 | Refrigerator |
| Kenmore 253.76132400 | Refrigerator |
| Kenmore 253.76132401 | Refrigerator |
| Kenmore 253.76132403 | Refrigerator |
| Kenmore 253.76133400 | Refrigerator |
| Kenmore 253.76133401 | Refrigerator |
| Kenmore 253.76133403 | Refrigerator |
| Kenmore 253.76134400 | Refrigerator |
| Kenmore 253.76134401 | Refrigerator |
| Kenmore 253.76134403 | Refrigerator |
| Kenmore 253.76139400 | Refrigerator |
| Kenmore 253.76139401 | Refrigerator |
| Kenmore 253.76139403 | Refrigerator |
| Kenmore 253.76822400 | Refrigerator |
| Kenmore 253.76822401 | Refrigerator |
| Kenmore 253.76822402 | Refrigerator |
| Kenmore 253.76822403 | Refrigerator |
| Kenmore 253.76822404 | Refrigerator |
| Kenmore 253.76822405 | Refrigerator |
| Kenmore 253.76822406 | Refrigerator |
| Kenmore 253.76822408 | Refrigerator |
| Kenmore 253.7682240A | Refrigerator |
| Kenmore 253.76823400 | Refrigerator |
| Kenmore 253.76823402 | Refrigerator |
| Kenmore 253.76823404 | Refrigerator |
| Kenmore 253.76823406 | Refrigerator |
| Kenmore 253.76823408 | Refrigerator |
| Kenmore 253.7682340A | Refrigerator |
| Kenmore 253.7682340B | Refrigerator |
| Kenmore 253.76824400 | Refrigerator |
| Kenmore 253.76824401 | Refrigerator |
| Kenmore 253.76824402 | Refrigerator |
| Kenmore 253.76824403 | Refrigerator |
| Kenmore 253.76824404 | Refrigerator |
| Kenmore 253.76824405 | Refrigerator |
| Kenmore 253.76824406 | Refrigerator |
| Kenmore 253.76824408 | Refrigerator |
| Kenmore 253.7682440A | Refrigerator |
| Kenmore 253.76829400 | Refrigerator |
| Kenmore 253.76829401 | Refrigerator |
| Kenmore 253.76829402 | Refrigerator |
| Kenmore 253.76829403 | Refrigerator |
| Kenmore 253.76829404 | Refrigerator |
| Kenmore 253.76829405 | Refrigerator |
| Kenmore 253.76829406 | Refrigerator |
| Kenmore 253.76829408 | Refrigerator |
| Kenmore 253.7682940A | Refrigerator |
| Kenmore 253.76832400 | Refrigerator |
| Kenmore 253.76832401 | Refrigerator |
| Kenmore 253.76832402 | Refrigerator |
| Kenmore 253.76832403 | Refrigerator |
| Kenmore 253.76832404 | Refrigerator |
| Kenmore 253.76832406 | Refrigerator |
| Kenmore 253.76833400 | Refrigerator |
| Kenmore 253.76833402 | Refrigerator |
| Kenmore 253.76833404 | Refrigerator |
| Kenmore 253.76833406 | Refrigerator |
| Kenmore 253.76834400 | Refrigerator |
| Kenmore 253.76834401 | Refrigerator |
| Kenmore 253.76834402 | Refrigerator |
| Kenmore 253.76834403 | Refrigerator |
| Kenmore 253.76834404 | Refrigerator |
| Kenmore 253.76834406 | Refrigerator |
| Kenmore 253.76839400 | Refrigerator |
| Kenmore 253.76839401 | Refrigerator |
| Kenmore 253.76839402 | Refrigerator |
| Kenmore 253.76839403 | Refrigerator |
| Kenmore 253.76839404 | Refrigerator |
| Kenmore 253.76839406 | Refrigerator |
| Kenmore 25344352400 | Refrigerator |
| Kenmore 25344352401 | Refrigerator |
| Kenmore 25344352403 | Refrigerator |
| Kenmore 25344352404 | Refrigerator |
| Kenmore 25344352405 | Refrigerator |
| Kenmore 25344352406 | Refrigerator |
| Kenmore 25344352407 | Refrigerator |
| Kenmore 25344352408 | Refrigerator |
| Kenmore 25344352409 | Refrigerator |
| Kenmore 25344353400 | Refrigerator |
| Kenmore 25344353401 | Refrigerator |
| Kenmore 25344353402 | Refrigerator |
| Kenmore 25344353403 | Refrigerator |
| Kenmore 25344353404 | Refrigerator |
| Kenmore 25344353405 | Refrigerator |
| Kenmore 25344353406 | Refrigerator |
| Kenmore 25344353407 | Refrigerator |
| Kenmore 25344353408 | Refrigerator |
| Kenmore 25344353409 | Refrigerator |
| Kenmore 25344354400 | Refrigerator |
| Kenmore 25344354401 | Refrigerator |
| Kenmore 25344354403 | Refrigerator |
| Kenmore 25344354404 | Refrigerator |
| Kenmore 25344354405 | Refrigerator |
| Kenmore 25344354406 | Refrigerator |
| Kenmore 25344354407 | Refrigerator |
| Kenmore 25344354408 | Refrigerator |
| Kenmore 25344354409 | Refrigerator |
| Kenmore 25344359400 | Refrigerator |
| Kenmore 25344359401 | Refrigerator |
| Kenmore 25344359403 | Refrigerator |
| Kenmore 25344359404 | Refrigerator |
| Kenmore 25344359405 | Refrigerator |
| Kenmore 25344359406 | Refrigerator |
| Kenmore 25344359407 | Refrigerator |
| Kenmore 25344359408 | Refrigerator |
| Kenmore 25344359409 | Refrigerator |
| Kenmore 25344362500 | Refrigerator |
| Kenmore 25344362501 | Refrigerator |
| Kenmore 25344362502 | Refrigerator |
| Kenmore 25344502600 | Refrigerator |
| Kenmore 25344502601 | Refrigerator |
| Kenmore 25344502602 | Refrigerator |
| Kenmore 25344502603 | Refrigerator |
| Kenmore 25344502604 | Refrigerator |
| Kenmore 25344502605 | Refrigerator |
| Kenmore 25344502606 | Refrigerator |
| Kenmore 25344502607 | Refrigerator |
| Kenmore 25344502608 | Refrigerator |
| Kenmore 25344502609 | Refrigerator |
| Kenmore 2534450260A | Refrigerator |
| Kenmore 2534450260C | Refrigerator |
| Kenmore 25344503600 | Refrigerator |
| Kenmore 25344503601 | Refrigerator |
| Kenmore 25344503602 | Refrigerator |
| Kenmore 25344503603 | Refrigerator |
| Kenmore 25344503604 | Refrigerator |
| Kenmore 25344503605 | Refrigerator |
| Kenmore 25344503606 | Refrigerator |
| Kenmore 25344503607 | Refrigerator |
| Kenmore 25344503608 | Refrigerator |
| Kenmore 25344503609 | Refrigerator |
| Kenmore 2534450360A | Refrigerator |
| Kenmore 2534450360B | Refrigerator |
| Kenmore 2534450360C | Refrigerator |
| Kenmore 25344509600 | Refrigerator |
| Kenmore 25344509601 | Refrigerator |
| Kenmore 25344509602 | Refrigerator |
| Kenmore 25344509603 | Refrigerator |
| Kenmore 25344509604 | Refrigerator |
| Kenmore 25344509605 | Refrigerator |
| Kenmore 25344509606 | Refrigerator |
| Kenmore 25344509607 | Refrigerator |
| Kenmore 25344509608 | Refrigerator |
| Kenmore 25344509609 | Refrigerator |
| Kenmore 2534450960A | Refrigerator |
| Kenmore 2534450960C | Refrigerator |
| Kenmore 25344512600 | Refrigerator |
| Kenmore 25344512601 | Refrigerator |
| Kenmore 25344512602 | Refrigerator |
| Kenmore 25344512603 | Refrigerator |
| Kenmore 25344512604 | Refrigerator |
| Kenmore 25344512605 | Refrigerator |
| Kenmore 25344512606 | Refrigerator |
| Kenmore 25344512607 | Refrigerator |
| Kenmore 25344512608 | Refrigerator |
| Kenmore 25344512609 | Refrigerator |
| Kenmore 2534451260A | Refrigerator |
| Kenmore 2534451260B | Refrigerator |
| Kenmore 25344513600 | Refrigerator |
| Kenmore 25344513601 | Refrigerator |
| Kenmore 25344513602 | Refrigerator |
| Kenmore 25344513603 | Refrigerator |
| Kenmore 25344513604 | Refrigerator |
| Kenmore 25344513605 | Refrigerator |
| Kenmore 25344513606 | Refrigerator |
| Kenmore 25344513607 | Refrigerator |
| Kenmore 25344513608 | Refrigerator |
| Kenmore 25344513609 | Refrigerator |
| Kenmore 2534451360A | Refrigerator |
| Kenmore 25344519600 | Refrigerator |
| Kenmore 25344519601 | Refrigerator |
| Kenmore 25344519602 | Refrigerator |
| Kenmore 25344519603 | Refrigerator |
| Kenmore 25344519604 | Refrigerator |
| Kenmore 25344519605 | Refrigerator |
| Kenmore 25344519606 | Refrigerator |
| Kenmore 25344519607 | Refrigerator |
| Kenmore 25344519608 | Refrigerator |
| Kenmore 25344519609 | Refrigerator |
| Kenmore 2534451960A | Refrigerator |
| Kenmore 25350683000 | Refrigerator |
| Kenmore 25350683001 | Refrigerator |
| Kenmore 25350683002 | Refrigerator |
| Kenmore 25351232101 | Refrigerator |
| Kenmore 25351232102 | Refrigerator |
| Kenmore 25351232103 | Refrigerator |
| Kenmore 25351232104 | Refrigerator |
| Kenmore 25351232105 | Refrigerator |
| Kenmore 25351232106 | Refrigerator |
| Kenmore 25351234101 | Refrigerator |
| Kenmore 25351234102 | Refrigerator |
| Kenmore 25351234103 | Refrigerator |
| Kenmore 25351234104 | Refrigerator |
| Kenmore 25351234105 | Refrigerator |
| Kenmore 25351234106 | Refrigerator |
| Kenmore 25351622100 | Refrigerator |
| Kenmore 25351622101 | Refrigerator |
| Kenmore 25351622102 | Refrigerator |
| Kenmore 25351622103 | Refrigerator |
| Kenmore 25351622104 | Refrigerator |
| Kenmore 25351624100 | Refrigerator |
| Kenmore 25351624101 | Refrigerator |
| Kenmore 25351624102 | Refrigerator |
| Kenmore 25351624103 | Refrigerator |
| Kenmore 25351624104 | Refrigerator |
| Kenmore 25352322201 | Refrigerator |
| Kenmore 25352322202 | Refrigerator |
| Kenmore 25352322203 | Refrigerator |
| Kenmore 25352324200 | Refrigerator |
| Kenmore 25352324201 | Refrigerator |
| Kenmore 25352324202 | Refrigerator |
| Kenmore 25352324203 | Refrigerator |
| Kenmore 25352612200 | Refrigerator |
| Kenmore 25352612201 | Refrigerator |
| Kenmore 25352612202 | Refrigerator |
| Kenmore 25352614200 | Refrigerator |
| Kenmore 25352614201 | Refrigerator |
| Kenmore 25352614202 | Refrigerator |
| Kenmore 25352622200 | Refrigerator |
| Kenmore 25352622201 | Refrigerator |
| Kenmore 25352622202 | Refrigerator |
| Kenmore 25352624200 | Refrigerator |
| Kenmore 25352624201 | Refrigerator |
| Kenmore 25352624202 | Refrigerator |
| Kenmore 25353612300 | Refrigerator |
| Kenmore 25353612301 | Refrigerator |
| Kenmore 25353612302 | Refrigerator |
| Kenmore 25353612303 | Refrigerator |
| Kenmore 25353614300 | Refrigerator |
| Kenmore 25353614301 | Refrigerator |
| Kenmore 25353614302 | Refrigerator |
| Kenmore 25353614303 | Refrigerator |
| Kenmore 25353682300 | Refrigerator |
| Kenmore 25353684300 | Refrigerator |
| Kenmore 25354622400 | Refrigerator |
| Kenmore 25354622401 | Refrigerator |
| Kenmore 25354622402 | Refrigerator |
| Kenmore 25354622406 | Refrigerator |
| Kenmore 25354622407 | Refrigerator |
| Kenmore 25354622408 | Refrigerator |
| Kenmore 25354622409 | Refrigerator |
| Kenmore 2535462240A | Refrigerator |
| Kenmore 2535462240B | Refrigerator |
| Kenmore 2535462240N | Refrigerator |
| Kenmore 25354623400 | Refrigerator |
| Kenmore 25354623401 | Refrigerator |
| Kenmore 25354623402 | Refrigerator |
| Kenmore 25354623403 | Refrigerator |
| Kenmore 25354623406 | Refrigerator |
| Kenmore 25354623407 | Refrigerator |
| Kenmore 25354623408 | Refrigerator |