Frigidaire WF1CB | Our#: 177263
Frigidaire PureSource Refrigerator Water Filter (RG-100, WF1CB), 2-Pack

1 review(s)
Frigidaire WF1CB | Our#: 177263
Fast Shipping & Free Returns
100% Compatibility Guarantee
Compatibility guaranteed! Free return shipping and 100% money back if there are any issues.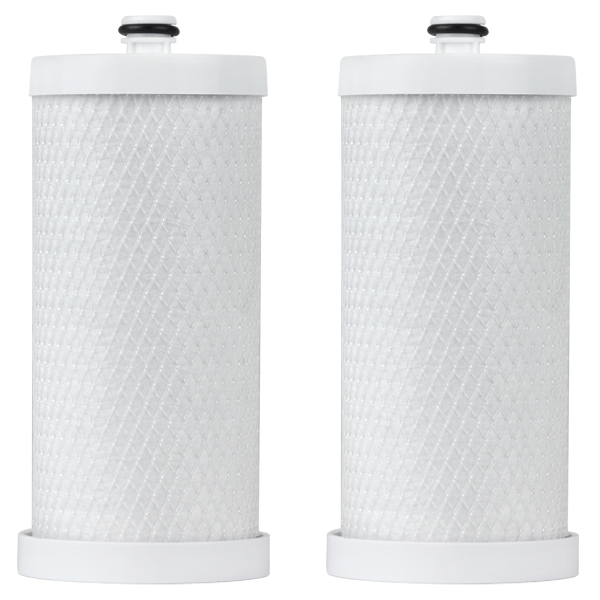 This product is currently unavailable.
The Frigidaire WF1CB that you're looking for is so popular right now, it is not available at the moment. Enter your email address and we'll keep you updated when it's in stock.
Fast Shipping & Free Returns
100% Compatibility Guarantee
Frequently Purchased Together
Product Details
The factory original Frigidaire PureSourcePlus WF1CB Filter is used in refrigerators by Frigidaire, Kenmore and others. The WF1CB filter creates better tasting water for drinking and making beverages as well as clean, clearer, healthy ice. This filter fits all PureSource equipped refrigerators manufactured after April 2001.

Features:
Original OEM product
Easy installation and operation
Helps reduce chlorine taste and odor
Helps reduce contaminants found in tap water and improves its quality
Tested by NSF/ANSI International against Standard 42 for the reduction of chlorine taste and odor and particulate
---
Popular Part Numbers
---
Installation Instructions
How To Install The WF1CB Filter:

Unscrew filter cup by turning gently counterclockwise.  Emtpy water in cup
Pull the old filter straight down and discard
Place the new filter in the filter cup - with side with O-rings facing up
Push filter/filter cup assemby into filter head
Twist assembly clockwise to tighten into housing
Run water from the dispenser for 3 minutes (about 1-1/2 gallons) to clear the system and prevent sputtering
Press and hold reset water filter button if your fridge has one
Replace filter every 6 months
---
Compatible Part Numbers
Search by your filter part number or appliance model number to verify compatibility
Model or Part Number
Type
Crosley CRSE234FB0
Refrigerator
Crosley CRSE234FB2
Refrigerator
Crosley CRSE234FQ0
Refrigerator
Crosley CRSE234FQ2
Refrigerator
Crosley CRSE234FSM0
Refrigerator
Crosley CRSE234FSM2
Refrigerator
Crosley CRSE234FW0
Refrigerator
Crosley CRSE234FW2
Refrigerator
Crosley CRSE234JB0
Refrigerator
Crosley CRSE234JB1
Refrigerator
Crosley CRSE234JQ0
Refrigerator
Crosley CRSE234JQ1
Refrigerator
Crosley CRSE234JSM0
Refrigerator
Crosley CRSE234JSM1
Refrigerator
Crosley CRSE234JW0
Refrigerator
Crosley CRSE234JW1
Refrigerator
Crosley CRSE264FB0
Refrigerator
Crosley CRSE264FB1
Refrigerator
Crosley CRSE264FQ0
Refrigerator
Crosley CRSE264FQ1
Refrigerator
Crosley CRSE264FSS0
Refrigerator
Crosley CRSE264FSS1
Refrigerator
Crosley CRSE264FW0
Refrigerator
Crosley CRSE264FW1
Refrigerator
Crosley CRSE264JB0
Refrigerator
Crosley CRSE264JB1
Refrigerator
Crosley CRSE264JQ0
Refrigerator
Crosley CRSE264JQ1
Refrigerator
Crosley CRSE264JSS0
Refrigerator
Crosley CRSE264JSS1
Refrigerator
Crosley CRSE264JW0
Refrigerator
Crosley CRSE264JW1
Refrigerator
FRIGIDAIRE CRSE230KW0
Refrigerator
FRIGIDAIRE CRSE234FB0
Refrigerator
FRIGIDAIRE CRSE234FB1
Refrigerator
FRIGIDAIRE CRSE234FB2
Refrigerator
FRIGIDAIRE CRSE234FB3
Refrigerator
FRIGIDAIRE CRSE234FB4
Refrigerator
FRIGIDAIRE CRSE234FQ0
Refrigerator
FRIGIDAIRE CRSE234FQ1
Refrigerator
FRIGIDAIRE CRSE234FQ2
Refrigerator
FRIGIDAIRE CRSE234FQ3
Refrigerator
FRIGIDAIRE CRSE234FQ4
Refrigerator
FRIGIDAIRE CRSE234FSM0
Refrigerator
FRIGIDAIRE CRSE234FSM1
Refrigerator
FRIGIDAIRE CRSE234FSM2
Refrigerator
FRIGIDAIRE CRSE234FSM3
Refrigerator
FRIGIDAIRE CRSE234FSM4
Refrigerator
FRIGIDAIRE CRSE234FW0
Refrigerator
FRIGIDAIRE CRSE234FW1
Refrigerator
FRIGIDAIRE CRSE234FW2
Refrigerator
FRIGIDAIRE CRSE234FW3
Refrigerator
FRIGIDAIRE CRSE234FW4
Refrigerator
FRIGIDAIRE CRSE234JB0
Refrigerator
FRIGIDAIRE CRSE234JB1
Refrigerator
FRIGIDAIRE CRSE234JB2
Refrigerator
FRIGIDAIRE CRSE234JB3
Refrigerator
FRIGIDAIRE CRSE234JQ0
Refrigerator
FRIGIDAIRE CRSE234JQ1
Refrigerator
FRIGIDAIRE CRSE234JQ2
Refrigerator
FRIGIDAIRE CRSE234JQ3
Refrigerator
FRIGIDAIRE CRSE234JSM0
Refrigerator
FRIGIDAIRE CRSE234JSM1
Refrigerator
FRIGIDAIRE CRSE234JSM2
Refrigerator
FRIGIDAIRE CRSE234JSM3
Refrigerator
FRIGIDAIRE CRSE234JW0
Refrigerator
FRIGIDAIRE CRSE234JW1
Refrigerator
FRIGIDAIRE CRSE234JW2
Refrigerator
FRIGIDAIRE CRSE234JW3
Refrigerator
FRIGIDAIRE CRSE264FB0
Refrigerator
FRIGIDAIRE CRSE264FB1
Refrigerator
FRIGIDAIRE CRSE264FB3
Refrigerator
FRIGIDAIRE CRSE264FQ0
Refrigerator
FRIGIDAIRE CRSE264FQ1
Refrigerator
FRIGIDAIRE CRSE264FQ3
Refrigerator
FRIGIDAIRE CRSE264FSS0
Refrigerator
FRIGIDAIRE CRSE264FSS1
Refrigerator
FRIGIDAIRE CRSE264FSS3
Refrigerator
FRIGIDAIRE CRSE264FW0
Refrigerator
FRIGIDAIRE CRSE264FW1
Refrigerator
FRIGIDAIRE CRSE264FW3
Refrigerator
FRIGIDAIRE CRSE264JB0
Refrigerator
FRIGIDAIRE CRSE264JB1
Refrigerator
FRIGIDAIRE CRSE264JB2
Refrigerator
FRIGIDAIRE CRSE264JQ0
Refrigerator
FRIGIDAIRE CRSE264JQ1
Refrigerator
FRIGIDAIRE CRSE264JQ2
Refrigerator
FRIGIDAIRE CRSE264JSS0
Refrigerator
FRIGIDAIRE CRSE264JSS1
Refrigerator
FRIGIDAIRE CRSE264JSS2
Refrigerator
FRIGIDAIRE CRSE264JW0
Refrigerator
FRIGIDAIRE CRSE264JW1
Refrigerator
FRIGIDAIRE CRSE264JW2
Refrigerator
FRIGIDAIRE ERL6296SK4
Refrigerator
Frigidaire F45ZR24JD0
Refrigerator
Frigidaire F45ZR24JD1
Refrigerator
Frigidaire F45ZR24JQ1
Refrigerator
Frigidaire F45ZR24JW0
Refrigerator
Frigidaire F45ZR24JW1
Refrigerator
Frigidaire FLS26Z2GKB0
Refrigerator
Frigidaire FLS26Z2GKB1
Refrigerator
Frigidaire FLS26Z2GKB2
Refrigerator
Frigidaire FLS26Z2GKB3
Refrigerator
Frigidaire FLS26Z2GKB5
Refrigerator
Frigidaire FLS26Z2GKB6
Refrigerator
Frigidaire FLS26Z2GKW0
Refrigerator
Frigidaire FLS26Z2GKW1
Refrigerator
Frigidaire FLS26Z2GKW2
Refrigerator
Frigidaire FLS26Z2GKW3
Refrigerator
Frigidaire FLS26Z2GKW4
Refrigerator
Frigidaire FLS26Z2GKW5
Refrigerator
Frigidaire FLS26Z2GKW6
Refrigerator
Frigidaire FRS20ZGFB0
Refrigerator
Frigidaire FRS20ZGFD0
Refrigerator
Frigidaire FRS20ZGFW0
Refrigerator
Frigidaire FRS20ZGGB0
Refrigerator
Frigidaire FRS20ZGGB1
Refrigerator
Frigidaire FRS20ZGGB2
Refrigerator
Frigidaire FRS20ZGGB3
Refrigerator
Frigidaire FRS20ZGGD0
Refrigerator
Frigidaire FRS20ZGGD1
Refrigerator
Frigidaire FRS20ZGGD2
Refrigerator
Frigidaire FRS20ZGGD3
Refrigerator
Frigidaire FRS20ZGGW0
Refrigerator
Frigidaire FRS20ZGGW1
Refrigerator
Frigidaire FRS20ZGGW2
Refrigerator
Frigidaire FRS20ZGGW3
Refrigerator
Frigidaire FRS20ZGH
Refrigerator
Frigidaire FRS20ZGJB0
Refrigerator
Frigidaire FRS20ZGJB1
Refrigerator
Frigidaire FRS20ZGJB2
Refrigerator
Frigidaire FRS20ZGJD0
Refrigerator
Frigidaire FRS20ZGJD1
Refrigerator
Frigidaire FRS20ZGJD2
Refrigerator
Frigidaire FRS20ZGJW0
Refrigerator
Frigidaire FRS20ZGJW1
Refrigerator
Frigidaire FRS20ZGJW2
Refrigerator
Frigidaire FRS20ZRGB1
Refrigerator
Frigidaire FRS20ZRGB2
Refrigerator
Frigidaire FRS20ZRGB3
Refrigerator
Frigidaire FRS20ZRGB4
Refrigerator
Frigidaire FRS20ZRGB5
Refrigerator
Frigidaire FRS20ZRGB6
Refrigerator
Frigidaire FRS20ZRGB7
Refrigerator
Frigidaire FRS20ZRGB8
Refrigerator
Frigidaire FRS20ZRGB9
Refrigerator
Frigidaire FRS20ZRGBA
Refrigerator
Frigidaire FRS20ZRGD0
Refrigerator
Frigidaire FRS20ZRGD1
Refrigerator
Frigidaire FRS20ZRGD2
Refrigerator
Frigidaire FRS20ZRGD3
Refrigerator
Frigidaire FRS20ZRGD4
Refrigerator
Frigidaire FRS20ZRGD5
Refrigerator
Frigidaire FRS20ZRGD6
Refrigerator
Frigidaire FRS20ZRGD7
Refrigerator
Frigidaire FRS20ZRGD8
Refrigerator
Frigidaire FRS20ZRGD9
Refrigerator
Frigidaire FRS20ZRGDA
Refrigerator
Frigidaire FRS20ZRGW0
Refrigerator
Frigidaire FRS20ZRGW1
Refrigerator
Frigidaire FRS20ZRGW2
Refrigerator
Frigidaire FRS20ZRGW4
Refrigerator
Frigidaire FRS20ZRGW5
Refrigerator
Frigidaire FRS20ZRGW6
Refrigerator
Frigidaire FRS20ZRGW7
Refrigerator
Frigidaire FRS20ZRGW8
Refrigerator
Frigidaire FRS20ZRGW9
Refrigerator
Frigidaire FRS20ZRGWA
Refrigerator
Frigidaire FRS20ZSFB0
Refrigerator
Frigidaire FRS20ZSFW0
Refrigerator
Frigidaire FRS20ZSGB0
Refrigerator
Frigidaire FRS20ZSGB1
Refrigerator
Frigidaire FRS20ZSGB2
Refrigerator
Frigidaire FRS20ZSHB0
Refrigerator
Frigidaire FRS20ZSHB1
Refrigerator
Frigidaire FRS20ZSHB3
Refrigerator
Frigidaire FRS20ZSHB4
Refrigerator
Frigidaire FRS20ZSHB5
Refrigerator
Frigidaire FRS22AGED2
Refrigerator
Frigidaire FRS22ZGEB0
Refrigerator
Frigidaire FRS22ZGEB1
Refrigerator
Frigidaire FRS22ZGEB2
Refrigerator
Frigidaire FRS22ZGED0
Refrigerator
Frigidaire FRS22ZGED1
Refrigerator
Frigidaire FRS22ZGEW0
Refrigerator
Frigidaire FRS22ZGEW1
Refrigerator
Frigidaire FRS22ZGEW2
Refrigerator
Frigidaire FRS22ZGGB0
Refrigerator
Frigidaire FRS22ZGGB1
Refrigerator
Frigidaire FRS22ZGGB2
Refrigerator
Frigidaire FRS22ZGGB4
Refrigerator
Frigidaire FRS22ZGGD0
Refrigerator
Frigidaire FRS22ZGGD1
Refrigerator
Frigidaire FRS22ZGGD2
Refrigerator
Frigidaire FRS22ZGGD4
Refrigerator
Frigidaire FRS22ZGGW0
Refrigerator
Frigidaire FRS22ZGGW1
Refrigerator
Frigidaire FRS22ZGGW2
Refrigerator
Frigidaire FRS22ZGHB0
Refrigerator
Frigidaire FRS22ZGHB1
Refrigerator
Frigidaire FRS22ZGHB2
Refrigerator
Frigidaire FRS22ZGHB3
Refrigerator
Frigidaire FRS22ZGHB4
Refrigerator
Frigidaire FRS22ZGHB5
Refrigerator
Frigidaire FRS22ZGHB6
Refrigerator
Frigidaire FRS22ZGHD0
Refrigerator
Frigidaire FRS22ZGHD1
Refrigerator
Frigidaire FRS22ZGHD2
Refrigerator
Frigidaire FRS22ZGHD3
Refrigerator
Frigidaire FRS22ZGHD4
Refrigerator
Frigidaire FRS22ZGHD5
Refrigerator
Frigidaire FRS22ZGHD6
Refrigerator
Frigidaire FRS22ZGHW1
Refrigerator
Frigidaire FRS22ZGHW2
Refrigerator
Frigidaire FRS22ZGHW3
Refrigerator
Frigidaire FRS22ZGHW4
Refrigerator
Frigidaire FRS22ZGHW5
Refrigerator
Frigidaire FRS22ZGHW6
Refrigerator
Frigidaire FRS22ZNFD0
Refrigerator
Frigidaire FRS22ZNFW0
Refrigerator
Frigidaire FRS22ZRFD0
Refrigerator
Frigidaire FRS22ZRFD1
Refrigerator
Frigidaire FRS22ZRFD2
Refrigerator
Frigidaire FRS22ZRFD3
Refrigerator
Frigidaire FRS22ZRFW0
Refrigerator
Frigidaire FRS22ZRFW1
Refrigerator
Frigidaire FRS22ZRFW2
Refrigerator
Frigidaire FRS22ZRFW3
Refrigerator
Frigidaire FRS22ZRGB1
Refrigerator
Frigidaire FRS22ZRGB2
Refrigerator
Frigidaire FRS22ZRGB3
Refrigerator
Frigidaire FRS22ZRGD0
Refrigerator
Frigidaire FRS22ZRGD1
Refrigerator
Frigidaire FRS22ZRGD2
Refrigerator
Frigidaire FRS22ZRGD3
Refrigerator
Frigidaire FRS22ZRGW0
Refrigerator
Frigidaire FRS22ZRGW2
Refrigerator
Frigidaire FRS22ZRHD0
Refrigerator
Frigidaire FRS22ZRHD1
Refrigerator
Frigidaire FRS22ZRHD2
Refrigerator
Frigidaire FRS22ZRHD3
Refrigerator
Frigidaire FRS22ZRHW3
Refrigerator
Frigidaire FRS23KR4A
Refrigerator
Frigidaire FRS23KR4AB0
Refrigerator
Frigidaire FRS23KR4AB1
Refrigerator
Frigidaire FRS23KR4AB2
Refrigerator
Frigidaire FRS23KR4AB3
Refrigerator
Frigidaire FRS23KR4AB4
Refrigerator
Frigidaire FRS23KR4AB5
Refrigerator
Frigidaire FRS23KR4AB6
Refrigerator
Frigidaire FRS23KR4AB7
Refrigerator
Frigidaire FRS23KR4AQ0
Refrigerator
Frigidaire FRS23KR4AQ1
Refrigerator
Frigidaire FRS23KR4AQ2
Refrigerator
Frigidaire FRS23KR4AQ3
Refrigerator
Frigidaire FRS23KR4AQ4
Refrigerator
Frigidaire FRS23KR4AQ5
Refrigerator
Frigidaire FRS23KR4AQ6
Refrigerator
Frigidaire FRS23KR4AQ7
Refrigerator
Frigidaire FRS23KR4AW0
Refrigerator
Frigidaire FRS23KR4AW1
Refrigerator
Frigidaire FRS23KR4AW2
Refrigerator
Frigidaire FRS23KR4AW3
Refrigerator
Frigidaire FRS23KR4AW4
Refrigerator
Frigidaire FRS23KR4AW5
Refrigerator
Frigidaire FRS23KR4AW6
Refrigerator
Frigidaire FRS23KR4AW7
Refrigerator
Frigidaire FRS23LH5DB0
Refrigerator
Frigidaire FRS23LH5DB1
Refrigerator
Frigidaire FRS23LH5DB2
Refrigerator
Frigidaire FRS23LH5DB3
Refrigerator
Frigidaire FRS23LH5DB4
Refrigerator
Frigidaire FRS23LH5DB6
Refrigerator
Frigidaire FRS23LH5DB7
Refrigerator
Frigidaire FRS23LH5DB8
Refrigerator
Frigidaire FRS23LH5DB9
Refrigerator
Frigidaire FRS23LH5DBN
Refrigerator
Frigidaire FRS23LH5DQ0
Refrigerator
Frigidaire FRS23LH5DQ1
Refrigerator
Frigidaire FRS23LH5DQ2
Refrigerator
Frigidaire FRS23LH5DQ3
Refrigerator
Frigidaire FRS23LH5DQ4
Refrigerator
Frigidaire FRS23LH5DQ6
Refrigerator
Frigidaire FRS23LH5DQ7
Refrigerator
Frigidaire FRS23LH5DQ8
Refrigerator
Frigidaire FRS23LH5DQ9
Refrigerator
Frigidaire FRS23LH5DQN
Refrigerator
Frigidaire FRS23LH5DS0
Refrigerator
Frigidaire FRS23LH5DS1
Refrigerator
Frigidaire FRS23LH5DS2
Refrigerator
Frigidaire FRS23LH5DS3
Refrigerator
Frigidaire FRS23LH5DS4
Refrigerator
Frigidaire FRS23LH5DS6
Refrigerator
Frigidaire FRS23LH5DS7
Refrigerator
Frigidaire FRS23LH5DS8
Refrigerator
Frigidaire FRS23LH5DS9
Refrigerator
Frigidaire FRS23LH5DSA
Refrigerator
Frigidaire FRS23LH5DSN
Refrigerator
Frigidaire FRS23LH5DSP
Refrigerator
Frigidaire FRS23LH5DSR
Refrigerator
Frigidaire FRS23LH5DSS
Refrigerator
Frigidaire FRS23LH5DST
Refrigerator
Frigidaire FRS23LH5DW0
Refrigerator
Frigidaire FRS23LH5DW1
Refrigerator
Frigidaire FRS23LH5DW2
Refrigerator
Frigidaire FRS23LH5DW3
Refrigerator
Frigidaire FRS23LH5DW4
Refrigerator
Frigidaire FRS23LH5DW5
Refrigerator
Frigidaire FRS23LH5DW6
Refrigerator
Frigidaire FRS23LH5DW8
Refrigerator
Frigidaire FRS23LH5DW9
Refrigerator
Frigidaire FRS23LH5DWN
Refrigerator
Frigidaire FRS23R3A
Refrigerator
Frigidaire FRS23R3AW0
Refrigerator
Frigidaire FRS23R3AW1
Refrigerator
Frigidaire FRS23R4A
Refrigerator
Frigidaire FRS23R4AB0
Refrigerator
Frigidaire FRS23R4AB1
Refrigerator
Frigidaire FRS23R4AB2
Refrigerator
Frigidaire FRS23R4AB3
Refrigerator
Frigidaire FRS23R4AB4
Refrigerator
Frigidaire FRS23R4AB5
Refrigerator
Frigidaire FRS23R4AB6
Refrigerator
Frigidaire FRS23R4AB7
Refrigerator
Frigidaire FRS23R4AQ0
Refrigerator
Frigidaire FRS23R4AQ1
Refrigerator
Frigidaire FRS23R4AQ2
Refrigerator
Frigidaire FRS23R4AQ3
Refrigerator
Frigidaire FRS23R4AQ4
Refrigerator
Frigidaire FRS23R4AQ5
Refrigerator
Frigidaire FRS23R4AQ6
Refrigerator
Frigidaire FRS23R4AQ7
Refrigerator
Frigidaire FRS23R4AW0
Refrigerator
Frigidaire FRS23R4AW1
Refrigerator
Frigidaire FRS23R4AW2
Refrigerator
Frigidaire FRS23R4AW3
Refrigerator
Frigidaire FRS23R4AW4
Refrigerator
Frigidaire FRS23R4AW5
Refrigerator
Frigidaire FRS23R4AW6
Refrigerator
Frigidaire FRS23R4AW7
Refrigerator
Frigidaire FRS23R4AW8
Refrigerator
Frigidaire FRS23R4AW9
Refrigerator
Frigidaire FRS23R4CB0
Refrigerator
Frigidaire FRS23R4CB2
Refrigerator
Frigidaire FRS23R4CB3
Refrigerator
Frigidaire FRS23R4CB4
Refrigerator
Frigidaire FRS23R4CB5
Refrigerator
Frigidaire FRS23R4CB6
Refrigerator
Frigidaire FRS23R4CB7
Refrigerator
Frigidaire FRS23R4CB8
Refrigerator
Frigidaire FRS23R4CB9
Refrigerator
Frigidaire FRS23R4CQ0
Refrigerator
Frigidaire FRS23R4CQ2
Refrigerator
Frigidaire FRS23R4CQ3
Refrigerator
Frigidaire FRS23R4CQ4
Refrigerator
Frigidaire FRS23R4CQ5
Refrigerator
Frigidaire FRS23R4CQ6
Refrigerator
Frigidaire FRS23R4CQ7
Refrigerator
Frigidaire FRS23R4CQ8
Refrigerator
Frigidaire FRS23R4CQ9
Refrigerator
Frigidaire FRS23R4CW0
Refrigerator
Frigidaire FRS23R4CW2
Refrigerator
Frigidaire FRS23R4CW3
Refrigerator
Frigidaire FRS23R4CW4
Refrigerator
Frigidaire FRS23R4CW5
Refrigerator
Frigidaire FRS23R4CW6
Refrigerator
Frigidaire FRS23R4CW7
Refrigerator
Frigidaire FRS23R4CW8
Refrigerator
Frigidaire FRS23R4CW9
Refrigerator
Frigidaire FRS23SM4AW0
Refrigerator
Frigidaire FRS23X3AQ0
Refrigerator
Frigidaire FRS23X3AW0
Refrigerator
Frigidaire FRS23ZTJB0
Refrigerator
Frigidaire FRS23ZTJB1
Refrigerator
Frigidaire FRS23ZTJB2
Refrigerator
Frigidaire FRS23ZTJQ0
Refrigerator
Frigidaire FRS23ZTJQ1
Refrigerator
Frigidaire FRS23ZTJQ2
Refrigerator
Frigidaire FRS23ZTJW0
Refrigerator
Frigidaire FRS23ZTJW1
Refrigerator
Frigidaire FRS23ZTJW2
Refrigerator
Frigidaire FRS24MWGW3
Refrigerator
Frigidaire FRS24MWGW4
Refrigerator
Frigidaire FRS24ZGEB0
Refrigerator
Frigidaire FRS24ZGEB2
Refrigerator
Frigidaire FRS24ZGED0
Refrigerator
Frigidaire FRS24ZGED2
Refrigerator
Frigidaire FRS24ZGEW0
Refrigerator
Frigidaire FRS24ZGEW2
Refrigerator
Frigidaire FRS24ZGGB0
Refrigerator
Frigidaire FRS24ZGGB1
Refrigerator
Frigidaire FRS24ZGGB2
Refrigerator
Frigidaire FRS24ZGGB3
Refrigerator
Frigidaire FRS24ZGGB4
Refrigerator
Frigidaire FRS24ZGGD0
Refrigerator
Frigidaire FRS24ZGGD1
Refrigerator
Frigidaire FRS24ZGGD2
Refrigerator
Frigidaire FRS24ZGGD3
Refrigerator
Frigidaire FRS24ZGGD4
Refrigerator
Frigidaire FRS24ZGGW0
Refrigerator
Frigidaire FRS24ZGGW1
Refrigerator
Frigidaire FRS24ZGGW2
Refrigerator
Frigidaire FRS24ZGGW3
Refrigerator
Frigidaire FRS24ZGHB0
Refrigerator
Frigidaire FRS24ZGHB2
Refrigerator
Frigidaire FRS24ZGHB3
Refrigerator
Frigidaire FRS24ZGHD0
Refrigerator
Frigidaire FRS24ZGHD2
Refrigerator
Frigidaire FRS24ZGHD3
Refrigerator
Frigidaire FRS24ZGHW3
Refrigerator
Frigidaire FRS24ZRGB0
Refrigerator
Frigidaire FRS24ZRGD0
Refrigerator
Frigidaire FRS24ZRGD1
Refrigerator
Frigidaire FRS24ZRGW0
Refrigerator
Frigidaire FRS24ZRGW1
Refrigerator
Frigidaire FRS24ZRHB0
Refrigerator
Frigidaire FRS24ZRHB1
Refrigerator
Frigidaire FRS24ZRHB2
Refrigerator
Frigidaire FRS24ZRHB3
Refrigerator
Frigidaire FRS24ZRHB4
Refrigerator
Frigidaire FRS24ZRHB5
Refrigerator
Frigidaire FRS24ZRHD0
Refrigerator
Frigidaire FRS24ZRHD1
Refrigerator
Frigidaire FRS24ZRHD2
Refrigerator
Frigidaire FRS24ZRHD3
Refrigerator
Frigidaire FRS24ZRHD4
Refrigerator
Frigidaire FRS24ZRHD5
Refrigerator
Frigidaire FRS24ZRHW3
Refrigerator
Frigidaire FRS24ZRHW4
Refrigerator
Frigidaire FRS24ZRHW5
Refrigerator
Frigidaire FRS24ZSFB0
Refrigerator
Frigidaire FRS24ZSFB1
Refrigerator
Frigidaire FRS24ZSFW0
Refrigerator
Frigidaire FRS24ZSGB0
Refrigerator
Frigidaire FRS24ZSGB1
Refrigerator
Frigidaire FRS24ZSGB2
Refrigerator
Frigidaire FRS24ZSGB3
Refrigerator
Frigidaire FRS24ZSGB4
Refrigerator
Frigidaire FRS266ZDSB0
Refrigerator
Frigidaire FRS266ZDSB1
Refrigerator
Frigidaire FRS266ZDSB2
Refrigerator
Frigidaire FRS266ZDSB3
Refrigerator
Frigidaire FRS266ZDSB4
Refrigerator
Frigidaire FRS266ZDSB5
Refrigerator
Frigidaire FRS266ZDSB7
Refrigerator
Frigidaire FRS266ZDSB8
Refrigerator
Frigidaire FRS266ZDSB9
Refrigerator
Frigidaire FRS266ZDSBA
Refrigerator
Frigidaire FRS266ZDSBN
Refrigerator
Frigidaire FRS26BRDSB1
Refrigerator
Frigidaire FRS26BRDSB2
Refrigerator
Frigidaire FRS26BRDSB3
Refrigerator
Frigidaire FRS26BRDSB4
Refrigerator
Frigidaire FRS26BRDSB5
Refrigerator
Frigidaire FRS26BRDSB7
Refrigerator
Frigidaire FRS26BRDSB9
Refrigerator
Frigidaire FRS26BRDSBN
Refrigerator
Frigidaire FRS26BRDSBP
Refrigerator
Frigidaire FRS26HR4A
Refrigerator
Frigidaire FRS26HR4AB0
Refrigerator
Frigidaire FRS26HR4AB1
Refrigerator
Frigidaire FRS26HR4AB3
Refrigerator
Frigidaire FRS26HR4AQ0
Refrigerator
Frigidaire FRS26HR4AQ1
Refrigerator
Frigidaire FRS26HR4AQ3
Refrigerator
Frigidaire FRS26HR4AW0
Refrigerator
Frigidaire FRS26HR4AW1
Refrigerator
Frigidaire FRS26HR4AW3
Refrigerator
Frigidaire FRS26HR4DB0
Refrigerator
Frigidaire FRS26HR4DB2
Refrigerator
Frigidaire FRS26HR4DB4
Refrigerator
Frigidaire FRS26HR4DB5
Refrigerator
Frigidaire FRS26HR4DB6
Refrigerator
Frigidaire FRS26HR4DB9
Refrigerator
Frigidaire FRS26HR4DQ0
Refrigerator
Frigidaire FRS26HR4DQ2
Refrigerator
Frigidaire FRS26HR4DQ3
Refrigerator
Frigidaire FRS26HR4DQ4
Refrigerator
Frigidaire FRS26HR4DQ5
Refrigerator
Frigidaire FRS26HR4DQ6
Refrigerator
Frigidaire FRS26HR4DQ7
Refrigerator
Frigidaire FRS26HR4DQ9
Refrigerator
Frigidaire FRS26HR4DW0
Refrigerator
Frigidaire FRS26HR4DW1
Refrigerator
Frigidaire FRS26HR4DW2
Refrigerator
Frigidaire FRS26HR4DW3
Refrigerator
Frigidaire FRS26HR4DW4
Refrigerator
Frigidaire FRS26HR4DW5
Refrigerator
Frigidaire FRS26HR4DW6
Refrigerator
Frigidaire FRS26HR4DW7
Refrigerator
Frigidaire FRS26HR4DW8
Refrigerator
Frigidaire FRS26HR4DW9
Refrigerator
Frigidaire FRS26HR4DWB
Refrigerator
Frigidaire FRS26KR4A
Refrigerator
Frigidaire FRS26KR4AB0
Refrigerator
Frigidaire FRS26KR4AB1
Refrigerator
Frigidaire FRS26KR4AB3
Refrigerator
Frigidaire FRS26KR4AB4
Refrigerator
Frigidaire FRS26KR4AB5
Refrigerator
Frigidaire FRS26KR4AB6
Refrigerator
Frigidaire FRS26KR4AQ0
Refrigerator
Frigidaire FRS26KR4AQ1
Refrigerator
Frigidaire FRS26KR4AQ3
Refrigerator
Frigidaire FRS26KR4AQ4
Refrigerator
Frigidaire FRS26KR4AQ5
Refrigerator
Frigidaire FRS26KR4AQ6
Refrigerator
Frigidaire FRS26KR4AW0
Refrigerator
Frigidaire FRS26KR4AW1
Refrigerator
Frigidaire FRS26KR4AW3
Refrigerator
Frigidaire FRS26KR4AW4
Refrigerator
Frigidaire FRS26KR4AW5
Refrigerator
Frigidaire FRS26KR4AW6
Refrigerator
Frigidaire FRS26KR4CB0
Refrigerator
Frigidaire FRS26KR4CB1
Refrigerator
Frigidaire FRS26KR4CB3
Refrigerator
Frigidaire FRS26KR4CQ0
Refrigerator
Frigidaire FRS26KR4CQ1
Refrigerator
Frigidaire FRS26KR4CQ3
Refrigerator
Frigidaire FRS26KR4CW0
Refrigerator
Frigidaire FRS26KR4CW1
Refrigerator
Frigidaire FRS26KR4CW3
Refrigerator
Frigidaire FRS26KR4DB0
Refrigerator
Frigidaire FRS26KR4DB1
Refrigerator
Frigidaire FRS26KR4DB2
Refrigerator
Frigidaire FRS26KR4DB3
Refrigerator
Frigidaire FRS26KR4DB6
Refrigerator
Frigidaire FRS26KR4DB7
Refrigerator
Frigidaire FRS26KR4DB8
Refrigerator
Frigidaire FRS26KR4DBB
Refrigerator
Frigidaire FRS26KR4DBC
Refrigerator
Frigidaire FRS26KR4DQ0
Refrigerator
Frigidaire FRS26KR4DQ1
Refrigerator
Frigidaire FRS26KR4DQ2
Refrigerator
Frigidaire FRS26KR4DQ3
Refrigerator
Frigidaire FRS26KR4DQ6
Refrigerator
Frigidaire FRS26KR4DQ7
Refrigerator
Frigidaire FRS26KR4DQ8
Refrigerator
Frigidaire FRS26KR4DQB
Refrigerator
Frigidaire FRS26KR4DQC
Refrigerator
Frigidaire FRS26KR4DQN
Refrigerator
Frigidaire FRS26KR4DS0
Refrigerator
Frigidaire FRS26KR4DS1
Refrigerator
Frigidaire FRS26KR4DS2
Refrigerator
Frigidaire FRS26KR4DS3
Refrigerator
Frigidaire FRS26KR4DS4
Refrigerator
Frigidaire FRS26KR4DS6
Refrigerator
Frigidaire FRS26KR4DW0
Refrigerator
Frigidaire FRS26KR4DW1
Refrigerator
Frigidaire FRS26KR4DW2
Refrigerator
Frigidaire FRS26KR4DW3
Refrigerator
Frigidaire FRS26KR4DW4
Refrigerator
Frigidaire FRS26KR4DW5
Refrigerator
Frigidaire FRS26KR4DW6
Refrigerator
Frigidaire FRS26KR4DW7
Refrigerator
Frigidaire FRS26KR4DW8
Refrigerator
Frigidaire FRS26KR4DWB
Refrigerator
Frigidaire FRS26KR4DWC
Refrigerator
Frigidaire FRS26LH5DB0
Refrigerator
Frigidaire FRS26LH5DB2
Refrigerator
Frigidaire FRS26LH5DB4
Refrigerator
Frigidaire FRS26LH5DB5
Refrigerator
Frigidaire FRS26LH5DB7
Refrigerator
Frigidaire FRS26LH5DQ0
Refrigerator
Frigidaire FRS26LH5DQ1
Refrigerator
Frigidaire FRS26LH5DQ2
Refrigerator
Frigidaire FRS26LH5DQ4
Refrigerator
Frigidaire FRS26LH5DQ5
Refrigerator
Frigidaire FRS26LH5DQ7
Refrigerator
Frigidaire FRS26LH5DS0
Refrigerator
Frigidaire FRS26LH5DS1
Refrigerator
Frigidaire FRS26LH5DS2
Refrigerator
Frigidaire FRS26LH5DS3
Refrigerator
Frigidaire FRS26LH5DS4
Refrigerator
Frigidaire FRS26LH5DS5
Refrigerator
Frigidaire FRS26LH5DS6
Refrigerator
Frigidaire FRS26LH5DS9
Refrigerator
Frigidaire FRS26LH5DSA
Refrigerator
Frigidaire FRS26LH5DSB
Refrigerator
Frigidaire FRS26LH5DSC
Refrigerator
Frigidaire FRS26LH5DSP
Refrigerator
Frigidaire FRS26LH5DSR
Refrigerator
Frigidaire FRS26LH5DW0
Refrigerator
Frigidaire FRS26LH5DW1
Refrigerator
Frigidaire FRS26LH5DW2
Refrigerator
Frigidaire FRS26LH5DW3
Refrigerator
Frigidaire FRS26LH5DW4
Refrigerator
Frigidaire FRS26LH5DW5
Refrigerator
Frigidaire FRS26LH5DW7
Refrigerator
Frigidaire FRS26LR5CB0
Refrigerator
Frigidaire FRS26LR5CQ0
Refrigerator
Frigidaire FRS26LR5CW0
Refrigerator
Frigidaire FRS26LR5CW2
Refrigerator
Frigidaire FRS26MRLES0
Refrigerator
Frigidaire FRS26R2A
Refrigerator
Frigidaire FRS26R2AQ0
Refrigerator
Frigidaire FRS26R2AQ1
Refrigerator
Frigidaire FRS26R2AQ2
Refrigerator
Frigidaire FRS26R2AQ3
Refrigerator
Frigidaire FRS26R2AQ4
Refrigerator
Frigidaire FRS26R2AQ5
Refrigerator
Frigidaire FRS26R2AQ6
Refrigerator
Frigidaire FRS26R2AQ7
Refrigerator
Frigidaire FRS26R2AQ8
Refrigerator
Frigidaire FRS26R2AQ9
Refrigerator
Frigidaire FRS26R2AQA
Refrigerator
Frigidaire FRS26R2AQB
Refrigerator
Frigidaire FRS26R2AQC
Refrigerator
Frigidaire FRS26R2AQD
Refrigerator
Frigidaire FRS26R2AQE
Refrigerator
Frigidaire FRS26R2AQF
Refrigerator
Frigidaire FRS26R2AQI
Refrigerator
Frigidaire FRS26R2AW0
Refrigerator
Frigidaire FRS26R2AW1
Refrigerator
Frigidaire FRS26R2AW2
Refrigerator
Frigidaire FRS26R2AW3
Refrigerator
Frigidaire FRS26R2AW4
Refrigerator
Frigidaire FRS26R2AW5
Refrigerator
Frigidaire FRS26R2AW6
Refrigerator
Frigidaire FRS26R2AW7
Refrigerator
Frigidaire FRS26R2AW8
Refrigerator
Frigidaire FRS26R2AW9
Refrigerator
Frigidaire FRS26R2AWA
Refrigerator
Frigidaire FRS26R2AWB
Refrigerator
Frigidaire FRS26R2AWC
Refrigerator
Frigidaire FRS26R2AWD
Refrigerator
Frigidaire FRS26R2AWE
Refrigerator
Frigidaire FRS26R2AWF
Refrigerator
Frigidaire FRS26R2AWG
Refrigerator
Frigidaire FRS26R2AWH
Refrigerator
Frigidaire FRS26R2AWI
Refrigerator
Frigidaire FRS26R3A
Refrigerator
Frigidaire FRS26R4A
Refrigerator
Frigidaire FRS26R4AB0
Refrigerator
Frigidaire FRS26R4AB1
Refrigerator
Frigidaire FRS26R4AB2
Refrigerator
Frigidaire FRS26R4AB3
Refrigerator
Frigidaire FRS26R4AB4
Refrigerator
Frigidaire FRS26R4AB5
Refrigerator
Frigidaire FRS26R4AB6
Refrigerator
Frigidaire FRS26R4AB7
Refrigerator
Frigidaire FRS26R4AQ0
Refrigerator
Frigidaire FRS26R4AQ1
Refrigerator
Frigidaire FRS26R4AQ2
Refrigerator
Frigidaire FRS26R4AQ3
Refrigerator
Frigidaire FRS26R4AQ4
Refrigerator
Frigidaire FRS26R4AQ5
Refrigerator
Frigidaire FRS26R4AQ6
Refrigerator
Frigidaire FRS26R4AQ7
Refrigerator
Frigidaire FRS26R4AW0
Refrigerator
Frigidaire FRS26R4AW1
Refrigerator
Frigidaire FRS26R4AW2
Refrigerator
Frigidaire FRS26R4AW3
Refrigerator
Frigidaire FRS26R4AW4
Refrigerator
Frigidaire FRS26R4AW5
Refrigerator
Frigidaire FRS26R4AW6
Refrigerator
Frigidaire FRS26R4AW7
Refrigerator
Frigidaire FRS26R4CB0
Refrigerator
Frigidaire FRS26R4CB1
Refrigerator
Frigidaire FRS26R4CB2
Refrigerator
Frigidaire FRS26R4CB3
Refrigerator
Frigidaire FRS26R4CB4
Refrigerator
Frigidaire FRS26R4CB5
Refrigerator
Frigidaire FRS26R4CB6
Refrigerator
Frigidaire FRS26R4CB7
Refrigerator
Frigidaire FRS26R4CB8
Refrigerator
Frigidaire FRS26R4CBA
Refrigerator
Frigidaire FRS26R4CBB
Refrigerator
Frigidaire FRS26R4CBC
Refrigerator
Frigidaire FRS26R4CBD
Refrigerator
Frigidaire FRS26R4CBE
Refrigerator
Frigidaire FRS26R4CBR
Refrigerator
Frigidaire FRS26R4CBS
Refrigerator
Frigidaire FRS26R4CQ0
Refrigerator
Frigidaire FRS26R4CQ1
Refrigerator
Frigidaire FRS26R4CQ2
Refrigerator
Frigidaire FRS26R4CQ3
Refrigerator
Frigidaire FRS26R4CQ4
Refrigerator
Frigidaire FRS26R4CQ5
Refrigerator
Frigidaire FRS26R4CQ6
Refrigerator
Frigidaire FRS26R4CQ7
Refrigerator
Frigidaire FRS26R4CQ8
Refrigerator
Frigidaire FRS26R4CQB
Refrigerator
Frigidaire FRS26R4CQC
Refrigerator
Frigidaire FRS26R4CQD
Refrigerator
Frigidaire FRS26R4CQE
Refrigerator
Frigidaire FRS26R4CQS
Refrigerator
Frigidaire FRS26R4CW0
Refrigerator
Frigidaire FRS26R4CW1
Refrigerator
Frigidaire FRS26R4CW2
Refrigerator
Frigidaire FRS26R4CW3
Refrigerator
Frigidaire FRS26R4CW4
Refrigerator
Frigidaire FRS26R4CW5
Refrigerator
Frigidaire FRS26R4CW6
Refrigerator
Frigidaire FRS26R4CW7
Refrigerator
Frigidaire FRS26R4CW8
Refrigerator
Frigidaire FRS26R4CW9
Refrigerator
Frigidaire FRS26R4CWA
Refrigerator
Frigidaire FRS26R4CWB
Refrigerator
Frigidaire FRS26R4CWC
Refrigerator
Frigidaire FRS26R4CWD
Refrigerator
Frigidaire FRS26R4CWE
Refrigerator
Frigidaire FRS26R4CWR
Refrigerator
Frigidaire FRS26R4CWS
Refrigerator
Frigidaire FRS26RBB
Refrigerator
Frigidaire FRS26RBBW0
Refrigerator
Frigidaire FRS26RBBW1
Refrigerator
Frigidaire FRS26RBCW0
Refrigerator
Frigidaire FRS26RBCW1
Refrigerator
Frigidaire FRS26RBCW2
Refrigerator
Frigidaire FRS26RBCW3
Refrigerator
Frigidaire FRS26RBCW4
Refrigerator
Frigidaire FRS26RBCW5
Refrigerator
Frigidaire FRS26RBCW6
Refrigerator
Frigidaire FRS26RBCW8
Refrigerator
Frigidaire FRS26RBCW9
Refrigerator
Frigidaire FRS26RBCWA
Refrigerator
Frigidaire FRS26RC3JS0
Refrigerator
Frigidaire FRS26RC3JS1
Refrigerator
Frigidaire FRS26RC3JS2
Refrigerator
Frigidaire FRS26RC3JS3
Refrigerator
Frigidaire FRS26RLECS0
Refrigerator
Frigidaire FRS26RLECS1
Refrigerator
Frigidaire FRS26RLECS2
Refrigerator
Frigidaire FRS26RLECS3
Refrigerator
Frigidaire FRS26RLECS4
Refrigerator
Frigidaire FRS26RLECS6
Refrigerator
Frigidaire FRS26RLECS7
Refrigerator
Frigidaire FRS26RLECS8
Refrigerator
Frigidaire FRS26RLECS9
Refrigerator
Frigidaire FRS26RLECSA
Refrigerator
Frigidaire FRS26RLECSB
Refrigerator
Frigidaire FRS26RLECSC
Refrigerator
Frigidaire FRS26RLECSE
Refrigerator
Frigidaire FRS26RLECSF
Refrigerator
Frigidaire FRS26RLECSG
Refrigerator
Frigidaire FRS26RLECSH
Refrigerator
Frigidaire FRS26RLECSN
Refrigerator
Frigidaire FRS26RLECSP
Refrigerator
Frigidaire FRS26RLECSR
Refrigerator
Frigidaire FRS26RLECSS
Refrigerator
Frigidaire FRS26RLECST
Refrigerator
Frigidaire FRS26SM4AW0
Refrigerator
Frigidaire FRS26SM4AW2
Refrigerator
Frigidaire FRS26SM4AW3
Refrigerator
Frigidaire FRS26XABQ0
Refrigerator
Frigidaire FRS26XABQ1
Refrigerator
Frigidaire FRS26XABW0
Refrigerator
Frigidaire FRS26XABW1
Refrigerator
Frigidaire FRS26ZGEB0
Refrigerator
Frigidaire FRS26ZGEB1
Refrigerator
Frigidaire FRS26ZGEB2
Refrigerator
Frigidaire FRS26ZGEB3
Refrigerator
Frigidaire FRS26ZGEB4
Refrigerator
Frigidaire FRS26ZGED0
Refrigerator
Frigidaire FRS26ZGED1
Refrigerator
Frigidaire FRS26ZGED2
Refrigerator
Frigidaire FRS26ZGED3
Refrigerator
Frigidaire FRS26ZGED4
Refrigerator
Frigidaire FRS26ZGEW0
Refrigerator
Frigidaire FRS26ZGEW1
Refrigerator
Frigidaire FRS26ZGEW2
Refrigerator
Frigidaire FRS26ZGEW3
Refrigerator
Frigidaire FRS26ZGEW4
Refrigerator
Frigidaire FRS26ZGGB0
Refrigerator
Frigidaire FRS26ZGGB1
Refrigerator
Frigidaire FRS26ZGGB2
Refrigerator
Frigidaire FRS26ZGGB3
Refrigerator
Frigidaire FRS26ZGGB4
Refrigerator
Frigidaire FRS26ZGGB5
Refrigerator
Frigidaire FRS26ZGGB6
Refrigerator
Frigidaire FRS26ZGGD0
Refrigerator
Frigidaire FRS26ZGGD1
Refrigerator
Frigidaire FRS26ZGGD2
Refrigerator
Frigidaire FRS26ZGGD3
Refrigerator
Frigidaire FRS26ZGGD4
Refrigerator
Frigidaire FRS26ZGGD5
Refrigerator
Frigidaire FRS26ZGGD6
Refrigerator
Frigidaire FRS26ZGGW0
Refrigerator
Frigidaire FRS26ZGGW1
Refrigerator
Frigidaire FRS26ZGGW2
Refrigerator
Frigidaire FRS26ZGGW3
Refrigerator
Frigidaire FRS26ZGGW4
Refrigerator
Frigidaire FRS26ZGGW5
Refrigerator
Frigidaire FRS26ZGGW6
Refrigerator
Frigidaire FRS26ZGHB0
Refrigerator
Frigidaire FRS26ZGHB1
Refrigerator
Frigidaire FRS26ZGHB2
Refrigerator
Frigidaire FRS26ZGHB3
Refrigerator
Frigidaire FRS26ZGHB4
Refrigerator
Frigidaire FRS26ZGHB5
Refrigerator
Frigidaire FRS26ZGHD0
Refrigerator
Frigidaire FRS26ZGHD1
Refrigerator
Frigidaire FRS26ZGHD2
Refrigerator
Frigidaire FRS26ZGHD3
Refrigerator
Frigidaire FRS26ZGHD4
Refrigerator
Frigidaire FRS26ZGHD5
Refrigerator
Frigidaire FRS26ZGHW1
Refrigerator
Frigidaire FRS26ZGHW2
Refrigerator
Frigidaire FRS26ZGHW3
Refrigerator
Frigidaire FRS26ZGHW4
Refrigerator
Frigidaire FRS26ZGHW5
Refrigerator
Frigidaire FRS26ZNHB0
Refrigerator
Frigidaire FRS26ZNHB1
Refrigerator
Frigidaire FRS26ZNHB2
Refrigerator
Frigidaire FRS26ZNHB5
Refrigerator
Frigidaire FRS26ZNHD0
Refrigerator
Frigidaire FRS26ZNHD1
Refrigerator
Frigidaire FRS26ZNHD2
Refrigerator
Frigidaire FRS26ZNHD5
Refrigerator
Frigidaire FRS26ZNHQ2
Refrigerator
Frigidaire FRS26ZNHQ5
Refrigerator
Frigidaire FRS26ZNHW1
Refrigerator
Frigidaire FRS26ZNHW2
Refrigerator
Frigidaire FRS26ZNHW5
Refrigerator
Frigidaire FRS26ZNJSB0
Refrigerator
Frigidaire FRS26ZNJSB1
Refrigerator
Frigidaire FRS26ZNJSB2
Refrigerator
Frigidaire FRS26ZPHB0
Refrigerator
Frigidaire FRS26ZPHB1
Refrigerator
Frigidaire FRS26ZPHB2
Refrigerator
Frigidaire FRS26ZPHB3
Refrigerator
Frigidaire FRS26ZPHB4
Refrigerator
Frigidaire FRS26ZPHD0
Refrigerator
Frigidaire FRS26ZPHD1
Refrigerator
Frigidaire FRS26ZPHD2
Refrigerator
Frigidaire FRS26ZPHD3
Refrigerator
Frigidaire FRS26ZPHD4
Refrigerator
Frigidaire FRS26ZPHQ2
Refrigerator
Frigidaire FRS26ZPHQ3
Refrigerator
Frigidaire FRS26ZPHQ4
Refrigerator
Frigidaire FRS26ZPHW1
Refrigerator
Frigidaire FRS26ZPHW2
Refrigerator
Frigidaire FRS26ZPHW3
Refrigerator
Frigidaire FRS26ZPHW4
Refrigerator
Frigidaire FRS26ZRFB3
Refrigerator
Frigidaire FRS26ZRFD0
Refrigerator
Frigidaire FRS26ZRFD1
Refrigerator
Frigidaire FRS26ZRFD2
Refrigerator
Frigidaire FRS26ZRFD3
Refrigerator
Frigidaire FRS26ZRFW0
Refrigerator
Frigidaire FRS26ZRFW1
Refrigerator
Frigidaire FRS26ZRFW2
Refrigerator
Frigidaire FRS26ZRFW3
Refrigerator
Frigidaire FRS26ZRGB0
Refrigerator
Frigidaire FRS26ZRGB1
Refrigerator
Frigidaire FRS26ZRGB2
Refrigerator
Frigidaire FRS26ZRGB3
Refrigerator
Frigidaire FRS26ZRGB4
Refrigerator
Frigidaire FRS26ZRGB5
Refrigerator
Frigidaire FRS26ZRGB6
Refrigerator
Frigidaire FRS26ZRGB7
Refrigerator
Frigidaire FRS26ZRGB8
Refrigerator
Frigidaire FRS26ZRGB9
Refrigerator
Frigidaire FRS26ZRGBA
Refrigerator
Frigidaire FRS26ZRGBB
Refrigerator
Frigidaire FRS26ZRGBC
Refrigerator
Frigidaire FRS26ZRGD0
Refrigerator
Frigidaire FRS26ZRGD1
Refrigerator
Frigidaire FRS26ZRGD2
Refrigerator
Frigidaire FRS26ZRGD3
Refrigerator
Frigidaire FRS26ZRGD4
Refrigerator
Frigidaire FRS26ZRGD5
Refrigerator
Frigidaire FRS26ZRGD6
Refrigerator
Frigidaire FRS26ZRGD7
Refrigerator
Frigidaire FRS26ZRGD8
Refrigerator
Frigidaire FRS26ZRGD9
Refrigerator
Frigidaire FRS26ZRGDA
Refrigerator
Frigidaire FRS26ZRGDB
Refrigerator
Frigidaire FRS26ZRGDC
Refrigerator
Frigidaire FRS26ZRGW0
Refrigerator
Frigidaire FRS26ZRGW1
Refrigerator
Frigidaire FRS26ZRGW2
Refrigerator
Frigidaire FRS26ZRGW3
Refrigerator
Frigidaire FRS26ZRGW4
Refrigerator
FRIGIDAIRE FRS26ZRGW5
Refrigerator
FRIGIDAIRE FRS26ZRGW6
Refrigerator
Frigidaire FRS26ZRGW7
Refrigerator
Frigidaire FRS26ZRGW8
Refrigerator
Frigidaire FRS26ZRGW9
Refrigerator
Frigidaire FRS26ZRGWA
Refrigerator
Frigidaire FRS26ZRGWB
Refrigerator
Frigidaire FRS26ZRGWC
Refrigerator
Frigidaire FRS26ZSEB0
Refrigerator
Frigidaire FRS26ZSEB1
Refrigerator
Frigidaire FRS26ZSEB3
Refrigerator
Frigidaire FRS26ZSEB4
Refrigerator
Frigidaire FRS26ZSEW0
Refrigerator
Frigidaire FRS26ZSEW1
Refrigerator
Frigidaire FRS26ZSEW3
Refrigerator
Frigidaire FRS26ZSEW4
Refrigerator
Frigidaire FRS26ZSGB0
Refrigerator
Frigidaire FRS26ZSGB2
Refrigerator
Frigidaire FRS26ZSGB3
Refrigerator
Frigidaire FRS26ZSGB4
Refrigerator
Frigidaire FRS26ZSGW0
Refrigerator
Frigidaire FRS26ZSGW2
Refrigerator
Frigidaire FRS26ZSGW3
Refrigerator
Frigidaire FRS26ZSGW4
Refrigerator
Frigidaire FRS26ZSH
Refrigerator
Frigidaire FRS26ZSHB0
Refrigerator
Frigidaire FRS26ZSHB1
Refrigerator
Frigidaire FRS26ZSHB2
Refrigerator
Frigidaire FRS26ZSHB3
Refrigerator
Frigidaire FRS26ZSHB4
Refrigerator
Frigidaire FRS26ZSHB5
Refrigerator
Frigidaire FRS26ZSHW0
Refrigerator
Frigidaire FRS26ZSHW1
Refrigerator
Frigidaire FRS26ZSHW2
Refrigerator
Frigidaire FRS26ZSHW3
Refrigerator
Frigidaire FRS26ZSHW4
Refrigerator
Frigidaire FRS26ZSHW5
Refrigerator
Frigidaire FRS26ZTHB0
Refrigerator
Frigidaire FRS26ZTHB1
Refrigerator
Frigidaire FRS26ZTHB2
Refrigerator
Frigidaire FRS26ZTHB3
Refrigerator
Frigidaire FRS26ZTHB4
Refrigerator
Frigidaire FRS26ZTHB5
Refrigerator
Frigidaire FRS26ZTHD0
Refrigerator
Frigidaire FRS26ZTHD1
Refrigerator
Frigidaire FRS26ZTHD2
Refrigerator
Frigidaire FRS26ZTHD3
Refrigerator
Frigidaire FRS26ZTHD4
Refrigerator
Frigidaire FRS26ZTHD5
Refrigerator
Frigidaire FRS26ZTHQ3
Refrigerator
Frigidaire FRS26ZTHQ4
Refrigerator
Frigidaire FRS26ZTHQ5
Refrigerator
Frigidaire FRS26ZTHW2
Refrigerator
Frigidaire FRS26ZTHW3
Refrigerator
Frigidaire FRS26ZTHW4
Refrigerator
Frigidaire FRS26ZTHW5
Refrigerator
Frigidaire FRS26ZXHD0
Refrigerator
Frigidaire FRS26ZXHD1
Refrigerator
Frigidaire FRS26ZXHD2
Refrigerator
Frigidaire FRS26ZXHW0
Refrigerator
Frigidaire FRS26ZXHW1
Refrigerator
Frigidaire FRS26ZXHW2
Refrigerator
Frigidaire FRS28ZGEB0
Refrigerator
Frigidaire FRS28ZGEB1
Refrigerator
Frigidaire FRS28ZGEB3
Refrigerator
Frigidaire FRS28ZGED0
Refrigerator
Frigidaire FRS28ZGED1
Refrigerator
Frigidaire FRS28ZGED3
Refrigerator
Frigidaire FRS28ZGEW0
Refrigerator
Frigidaire FRS28ZGEW1
Refrigerator
Frigidaire FRS28ZGEW3
Refrigerator
Frigidaire FRS28ZRFD0
Refrigerator
Frigidaire FRS28ZRFW0
Refrigerator
Frigidaire FRS28ZRGD0
Refrigerator
Frigidaire FRS28ZRGD1
Refrigerator
Frigidaire FRS28ZRGD2
Refrigerator
Frigidaire FRS28ZRGD3
Refrigerator
Frigidaire FRS28ZRGW0
Refrigerator
Frigidaire FRS28ZRGW1
Refrigerator
Frigidaire FRS28ZRGW2
Refrigerator
Frigidaire FRS28ZRGW3
Refrigerator
Frigidaire FRS3HR35KB0
Refrigerator
Frigidaire FRS3HR35KB1
Refrigerator
Frigidaire FRS3HR35KB2
Refrigerator
Frigidaire FRS3HR35KB3
Refrigerator
Frigidaire FRS3HR35KB4
Refrigerator
Frigidaire FRS3HR35KM0
Refrigerator
Frigidaire FRS3HR35KM1
Refrigerator
Frigidaire FRS3HR35KM2
Refrigerator
Frigidaire FRS3HR35KM3
Refrigerator
Frigidaire FRS3HR35KM4
Refrigerator
Frigidaire FRS3HR35KS0
Refrigerator
Frigidaire FRS3HR35KS1
Refrigerator
Frigidaire FRS3HR35KS2
Refrigerator
Frigidaire FRS3HR35KS3
Refrigerator
Frigidaire FRS3HR35KS4
Refrigerator
Frigidaire FRS3HR35KS5
Refrigerator
Frigidaire FRS3HR35KW0
Refrigerator
Frigidaire FRS3HR35KW1
Refrigerator
Frigidaire FRS3HR35KW2
Refrigerator
Frigidaire FRS3HR35KW3
Refrigerator
Frigidaire FRS3HR35KW4
Refrigerator
Frigidaire FRS3HR5HB
Refrigerator
Frigidaire FRS3HR5HB0
Refrigerator
Frigidaire FRS3HR5HB1
Refrigerator
Frigidaire FRS3HR5HB2
Refrigerator
Frigidaire FRS3HR5HB3
Refrigerator
Frigidaire FRS3HR5HB4
Refrigerator
Frigidaire FRS3HR5HB5
Refrigerator
Frigidaire FRS3HR5HM5
Refrigerator
Frigidaire FRS3HR5HMB
Refrigerator
Frigidaire FRS3HR5HMB0
Refrigerator
Frigidaire FRS3HR5HMB1
Refrigerator
Frigidaire FRS3HR5HMB2
Refrigerator
Frigidaire FRS3HR5HMB3
Refrigerator
Frigidaire FRS3HR5HMB4
Refrigerator
Frigidaire FRS3HR5HMB5
Refrigerator
Frigidaire FRS3HR5HQ
Refrigerator
Frigidaire FRS3HR5HQ0
Refrigerator
Frigidaire FRS3HR5HQ1
Refrigerator
Frigidaire FRS3HR5HQ2
Refrigerator
Frigidaire FRS3HR5HQ3
Refrigerator
Frigidaire FRS3HR5HQ4
Refrigerator
Frigidaire FRS3HR5HQ5
Refrigerator
Frigidaire FRS3HR5HW
Refrigerator
Frigidaire FRS3HR5HW0
Refrigerator
Frigidaire FRS3HR5HW1
Refrigerator
Frigidaire FRS3HR5HW2
Refrigerator
Frigidaire FRS3HR5HW3
Refrigerator
Frigidaire FRS3HR5HW4
Refrigerator
Frigidaire FRS3HR5HW5
Refrigerator
Frigidaire FRS3HR5JB0
Refrigerator
Frigidaire FRS3HR5JB1
Refrigerator
Frigidaire FRS3HR5JB2
Refrigerator
Frigidaire FRS3HR5JB3
Refrigerator
Frigidaire FRS3HR5JB5
Refrigerator
Frigidaire FRS3HR5JMB0
Refrigerator
Frigidaire FRS3HR5JMB1
Refrigerator
Frigidaire FRS3HR5JMB2
Refrigerator
Frigidaire FRS3HR5JMB3
Refrigerator
Frigidaire FRS3HR5JQ0
Refrigerator
Frigidaire FRS3HR5JQ1
Refrigerator
Frigidaire FRS3HR5JQ2
Refrigerator
Frigidaire FRS3HR5JQ3
Refrigerator
Frigidaire FRS3HR5JQ5
Refrigerator
Frigidaire FRS3HR5JSB0
Refrigerator
Frigidaire FRS3HR5JSB1
Refrigerator
Frigidaire FRS3HR5JSB2
Refrigerator
Frigidaire FRS3HR5JSB3
Refrigerator
Frigidaire FRS3HR5JW0
Refrigerator
Frigidaire FRS3HR5JW1
Refrigerator
Frigidaire FRS3HR5JW2
Refrigerator
Frigidaire FRS3HR5JW3
Refrigerator
Frigidaire FRS3HR5JW5
Refrigerator
Frigidaire FRS3LR5EM0
Refrigerator
Frigidaire FRS3LR5EM1
Refrigerator
Frigidaire FRS3LR5EM2
Refrigerator
Frigidaire FRS3LR5ES0
Refrigerator
Frigidaire FRS3LR5ES1
Refrigerator
Frigidaire FRS3LR5ES2
Refrigerator
Frigidaire FRS3R2FW0
Refrigerator
Frigidaire FRS3R3EW0
Refrigerator
Frigidaire FRS3R3EW1
Refrigerator
Frigidaire FRS3R3EW2
Refrigerator
Frigidaire FRS3R3EW4
Refrigerator
Frigidaire FRS3R3EW5
Refrigerator
Frigidaire FRS3R3EW6
Refrigerator
Frigidaire FRS3R3EW7
Refrigerator
Frigidaire FRS3R3EW9
Refrigerator
Frigidaire FRS3R3JB0
Refrigerator
Frigidaire FRS3R3JB1
Refrigerator
Frigidaire FRS3R3JB2
Refrigerator
Frigidaire FRS3R3JB3
Refrigerator
Frigidaire FRS3R3JB4
Refrigerator
Frigidaire FRS3R3JB5
Refrigerator
Frigidaire FRS3R3JW0
Refrigerator
Frigidaire FRS3R3JW1
Refrigerator
Frigidaire FRS3R3JW2
Refrigerator
Frigidaire FRS3R3JW3
Refrigerator
Frigidaire FRS3R3JW4
Refrigerator
Frigidaire FRS3R3JW5
Refrigerator
Frigidaire FRS3R4EB0
Refrigerator
Frigidaire FRS3R4EB1
Refrigerator
Frigidaire FRS3R4EB2
Refrigerator
Frigidaire FRS3R4EB3
Refrigerator
Frigidaire FRS3R4EB4
Refrigerator
Frigidaire FRS3R4EB5
Refrigerator
Frigidaire FRS3R4EB8
Refrigerator
Frigidaire FRS3R4EB9
Refrigerator
Frigidaire FRS3R4EBA
Refrigerator
Frigidaire FRS3R4EBB
Refrigerator
Frigidaire FRS3R4EBC
Refrigerator
Frigidaire FRS3R4EBD
Refrigerator
Frigidaire FRS3R4EBE
Refrigerator
Frigidaire FRS3R4EQ0
Refrigerator
Frigidaire FRS3R4EQ1
Refrigerator
Frigidaire FRS3R4EQ2
Refrigerator
Frigidaire FRS3R4EQ3
Refrigerator
Frigidaire FRS3R4EQ4
Refrigerator
Frigidaire FRS3R4EQ5
Refrigerator
Frigidaire FRS3R4EQ8
Refrigerator
Frigidaire FRS3R4EQA
Refrigerator
Frigidaire FRS3R4EQB
Refrigerator
Frigidaire FRS3R4EQC
Refrigerator
Frigidaire FRS3R4EQD
Refrigerator
Frigidaire FRS3R4EQE
Refrigerator
Frigidaire FRS3R4EW0
Refrigerator
Frigidaire FRS3R4EW1
Refrigerator
Frigidaire FRS3R4EW2
Refrigerator
Frigidaire FRS3R4EW3
Refrigerator
Frigidaire FRS3R4EW4
Refrigerator
Frigidaire FRS3R4EW5
Refrigerator
Frigidaire FRS3R4EW8
Refrigerator
Frigidaire FRS3R4EW9
Refrigerator
Frigidaire FRS3R4EWA
Refrigerator
Frigidaire FRS3R4EWB
Refrigerator
Frigidaire FRS3R4EWC
Refrigerator
Frigidaire FRS3R4EWD
Refrigerator
Frigidaire FRS3R4EWE
Refrigerator
Frigidaire FRS3R5EMB
Refrigerator
Frigidaire FRS3R5EMB0
Refrigerator
Frigidaire FRS3R5EMB1
Refrigerator
Frigidaire FRS3R5EMB2
Refrigerator
Frigidaire FRS3R5EMB3
Refrigerator
Frigidaire FRS3R5EMB4
Refrigerator
Frigidaire FRS3R5EMB5
Refrigerator
Frigidaire FRS3R5EMB6
Refrigerator
Frigidaire FRS3R5EMB7
Refrigerator
Frigidaire FRS3R5EMB8
Refrigerator
Frigidaire FRS3R5EMB9
Refrigerator
Frigidaire FRS3R5EMBA
Refrigerator
Frigidaire FRS3R5EMBB
Refrigerator
Frigidaire FRS3R5EMBC
Refrigerator
Frigidaire FRS3R5EMBD
Refrigerator
Frigidaire FRS3R5EMBE
Refrigerator
Frigidaire FRS3R5EMBF
Refrigerator
Frigidaire FRS3R5EMBG
Refrigerator
Frigidaire FRS3R5EMBJ
Refrigerator
Frigidaire FRS3R5EMBK
Refrigerator
Frigidaire FRS3R5EMBL
Refrigerator
Frigidaire FRS3R5ESB
Refrigerator
Frigidaire FRS3R5ESB0
Refrigerator
Frigidaire FRS3R5ESB1
Refrigerator
Frigidaire FRS3R5ESB2
Refrigerator
Frigidaire FRS3R5ESB3
Refrigerator
Frigidaire FRS3R5ESB4
Refrigerator
Frigidaire FRS3R5ESB5
Refrigerator
Frigidaire FRS3R5ESB6
Refrigerator
Frigidaire FRS3R5ESB7
Refrigerator
Frigidaire FRS3R5ESB8
Refrigerator
Frigidaire FRS3R5ESB9
Refrigerator
Frigidaire FRS3R5ESBA
Refrigerator
Frigidaire FRS6B5EEQ1
Refrigerator
Frigidaire FRS6B5EEQ2
Refrigerator
Frigidaire FRS6B5EEQ3
Refrigerator
Frigidaire FRS6B5EEQ5
Refrigerator
Frigidaire FRS6B5EEQ7
Refrigerator
Frigidaire FRS6B5EEW1
Refrigerator
Frigidaire FRS6B5EEW2
Refrigerator
Frigidaire FRS6B5EEW3
Refrigerator
Frigidaire FRS6B5EEW5
Refrigerator
Frigidaire FRS6B5EEW7
Refrigerator
Frigidaire FRS6HR35KB0
Refrigerator
Frigidaire FRS6HR35KB1
Refrigerator
Frigidaire FRS6HR35KB2
Refrigerator
Frigidaire FRS6HR35KM0
Refrigerator
Frigidaire FRS6HR35KM1
Refrigerator
Frigidaire FRS6HR35KM2
Refrigerator
Frigidaire FRS6HR35KS0
Refrigerator
Frigidaire FRS6HR35KS1
Refrigerator
Frigidaire FRS6HR35KS2
Refrigerator
Frigidaire FRS6HR35KW0
Refrigerator
Frigidaire FRS6HR35KW1
Refrigerator
Frigidaire FRS6HR35KW2
Refrigerator
Frigidaire FRS6HR35KWO
Refrigerator
Frigidaire FRS6HR43KS0
Refrigerator
Frigidaire FRS6HR45KB0
Refrigerator
Frigidaire FRS6HR45KB2
Refrigerator
Frigidaire FRS6HR45KS0
Refrigerator
Frigidaire FRS6HR45KS1
Refrigerator
Frigidaire FRS6HR45KS2
Refrigerator
Frigidaire FRS6HR45KS3
Refrigerator
FRIGIDAIRE FRS6HR45KS4
Refrigerator
FRIGIDAIRE FRS6HR45KS5
Refrigerator
FRIGIDAIRE FRS6HR45KS6
Refrigerator
FRIGIDAIRE FRS6HR45KS7
Refrigerator
Frigidaire FRS6HR45KW0
Refrigerator
Frigidaire FRS6HR45KW2
Refrigerator
Frigidaire FRS6HR4HB
Refrigerator
Frigidaire FRS6HR4HB1
Refrigerator
Frigidaire FRS6HR4HB2
Refrigerator
Frigidaire FRS6HR4HB3
Refrigerator
Frigidaire FRS6HR4HB4
Refrigerator
Frigidaire FRS6HR4HB5
Refrigerator
Frigidaire FRS6HR4HB6
Refrigerator
Frigidaire FRS6HR4HW
Refrigerator
Frigidaire FRS6HR4HW1
Refrigerator
Frigidaire FRS6HR4HW2
Refrigerator
Frigidaire FRS6HR4HW3
Refrigerator
Frigidaire FRS6HR4HW4
Refrigerator
Frigidaire FRS6HR4HW5
Refrigerator
Frigidaire FRS6HR4HW6
Refrigerator
Frigidaire FRS6HR5HB
Refrigerator
Frigidaire FRS6HR5HB1
Refrigerator
Frigidaire FRS6HR5HB2
Refrigerator
Frigidaire FRS6HR5HB3
Refrigerator
Frigidaire FRS6HR5HB4
Refrigerator
Frigidaire FRS6HR5HB5
Refrigerator
Frigidaire FRS6HR5HB6
Refrigerator
Frigidaire FRS6HR5HMB
Refrigerator
Frigidaire FRS6HR5HMB1
Refrigerator
Frigidaire FRS6HR5HMB2
Refrigerator
Frigidaire FRS6HR5HMB3
Refrigerator
Frigidaire FRS6HR5HMB4
Refrigerator
Frigidaire FRS6HR5HMB5
Refrigerator
Frigidaire FRS6HR5HMB6
Refrigerator
Frigidaire FRS6HR5HQ
Refrigerator
Frigidaire FRS6HR5HQ1
Refrigerator
Frigidaire FRS6HR5HQ2
Refrigerator
Frigidaire FRS6HR5HQ3
Refrigerator
Frigidaire FRS6HR5HQ4
Refrigerator
Frigidaire FRS6HR5HQ5
Refrigerator
Frigidaire FRS6HR5HQ6
Refrigerator
Frigidaire FRS6HR5HS
Refrigerator
Frigidaire FRS6HR5HSB1
Refrigerator
Frigidaire FRS6HR5HSB2
Refrigerator
Frigidaire FRS6HR5HSB3
Refrigerator
Frigidaire FRS6HR5HSB4
Refrigerator
Frigidaire FRS6HR5HSB5
Refrigerator
Frigidaire FRS6HR5HSB6
Refrigerator
Frigidaire FRS6HR5HW
Refrigerator
Frigidaire FRS6HR5HW1
Refrigerator
Frigidaire FRS6HR5HW2
Refrigerator
Frigidaire FRS6HR5HW3
Refrigerator
Frigidaire FRS6HR5HW4
Refrigerator
Frigidaire FRS6HR5HW5
Refrigerator
Frigidaire FRS6HR5HW6
Refrigerator
Frigidaire FRS6HR5JB0
Refrigerator
Frigidaire FRS6HR5JB1
Refrigerator
Frigidaire FRS6HR5JB2
Refrigerator
Frigidaire FRS6HR5JB3
Refrigerator
Frigidaire FRS6HR5JB4
Refrigerator
Frigidaire FRS6HR5JMB0
Refrigerator
Frigidaire FRS6HR5JMB1
Refrigerator
Frigidaire FRS6HR5JMB2
Refrigerator
Frigidaire FRS6HR5JMB3
Refrigerator
Frigidaire FRS6HR5JMB4
Refrigerator
Frigidaire FRS6HR5JQ0
Refrigerator
Frigidaire FRS6HR5JQ1
Refrigerator
Frigidaire FRS6HR5JQ3
Refrigerator
Frigidaire FRS6HR5JQ4
Refrigerator
Frigidaire FRS6HR5JSB0
Refrigerator
Frigidaire FRS6HR5JSB1
Refrigerator
Frigidaire FRS6HR5JSB3
Refrigerator
Frigidaire FRS6HR5JSB4
Refrigerator
Frigidaire FRS6HR5JW0
Refrigerator
Frigidaire FRS6HR5JW1
Refrigerator
Frigidaire FRS6HR5JW2
Refrigerator
Frigidaire FRS6HR5JW3
Refrigerator
Frigidaire FRS6HR5JW4
Refrigerator
Frigidaire FRS6KA5HPB0
Refrigerator
Frigidaire FRS6KA5HPW0
Refrigerator
Frigidaire FRS6KR5JSB0
Refrigerator
Frigidaire FRS6KR5JSB1
Refrigerator
Frigidaire FRS6KR5JSB2
Refrigerator
Frigidaire FRS6KR5JSB3
Refrigerator
Frigidaire FRS6KR5JSB4
Refrigerator
Frigidaire FRS6KR5JSB5
Refrigerator
Frigidaire FRS6KR5JSB6
Refrigerator
Frigidaire FRS6LE4FB0
Refrigerator
Frigidaire FRS6LE4FB1
Refrigerator
Frigidaire FRS6LE4FB2
Refrigerator
Frigidaire FRS6LE4FB3
Refrigerator
Frigidaire FRS6LE4FB5
Refrigerator
Frigidaire FRS6LE4FB6
Refrigerator
Frigidaire FRS6LE4FB7
Refrigerator
Frigidaire FRS6LE4FBB
Refrigerator
Frigidaire FRS6LE4FQ0
Refrigerator
Frigidaire FRS6LE4FQ1
Refrigerator
Frigidaire FRS6LE4FQ2
Refrigerator
Frigidaire FRS6LE4FQ3
Refrigerator
Frigidaire FRS6LE4FQ4
Refrigerator
Frigidaire FRS6LE4FQ5
Refrigerator
Frigidaire FRS6LE4FQ6
Refrigerator
Frigidaire FRS6LE4FQ7
Refrigerator
Frigidaire FRS6LE4FQB
Refrigerator
Frigidaire FRS6LE4FW0
Refrigerator
Frigidaire FRS6LE4FW1
Refrigerator
Frigidaire FRS6LE4FW2
Refrigerator
Frigidaire FRS6LE4FW3
Refrigerator
Frigidaire FRS6LE4FW5
Refrigerator
Frigidaire FRS6LE4FW6
Refrigerator
Frigidaire FRS6LE4FW7
Refrigerator
Frigidaire FRS6LE4FWB
Refrigerator
Frigidaire FRS6LE5HSB0
Refrigerator
Frigidaire FRS6LE5HSB1
Refrigerator
Frigidaire FRS6LE5HSB2
Refrigerator
Frigidaire FRS6LE5HSB3
Refrigerator
Frigidaire FRS6LR5EB2
Refrigerator
Frigidaire FRS6LR5EB3
Refrigerator
Frigidaire FRS6LR5EB6
Refrigerator
Frigidaire FRS6LR5EB7
Refrigerator
Frigidaire FRS6LR5EM0
Refrigerator
Frigidaire FRS6LR5EM2
Refrigerator
Frigidaire FRS6LR5EM3
Refrigerator
Frigidaire FRS6LR5EM5
Refrigerator
Frigidaire FRS6LR5EM6
Refrigerator
Frigidaire FRS6LR5EM7
Refrigerator
Frigidaire FRS6LR5EM8
Refrigerator
Frigidaire FRS6LR5EQ2
Refrigerator
Frigidaire FRS6LR5EQ3
Refrigerator
Frigidaire FRS6LR5EQ4
Refrigerator
Frigidaire FRS6LR5ES2
Refrigerator
Frigidaire FRS6LR5ES3
Refrigerator
Frigidaire FRS6LR5ES5
Refrigerator
Frigidaire FRS6LR5ES6
Refrigerator
Frigidaire FRS6LR5ES7
Refrigerator
Frigidaire FRS6LR5EW2
Refrigerator
Frigidaire FRS6LR5EW3
Refrigerator
Frigidaire FRS6LR5EW5
Refrigerator
Frigidaire FRS6LR5EW6
Refrigerator
Frigidaire FRS6R2FB0
Refrigerator
Frigidaire FRS6R2FB1
Refrigerator
Frigidaire FRS6R2FB2
Refrigerator
Frigidaire FRS6R2FB3
Refrigerator
Frigidaire FRS6R2FB4
Refrigerator
Frigidaire FRS6R2FB5
Refrigerator
Frigidaire FRS6R2FB6
Refrigerator
Frigidaire FRS6R3EW0
Refrigerator
Frigidaire FRS6R3EW1
Refrigerator
Frigidaire FRS6R3EW2
Refrigerator
Frigidaire FRS6R3EW3
Refrigerator
Frigidaire FRS6R3EW4
Refrigerator
Frigidaire FRS6R3EW5
Refrigerator
Frigidaire FRS6R3EW6
Refrigerator
Frigidaire FRS6R3EW7
Refrigerator
Frigidaire FRS6R3EW8
Refrigerator
Frigidaire FRS6R3EW9
Refrigerator
Frigidaire FRS6R3JB0
Refrigerator
Frigidaire FRS6R3JB1
Refrigerator
Frigidaire FRS6R3JB2
Refrigerator
Frigidaire FRS6R3JB3
Refrigerator
Frigidaire FRS6R3JB4
Refrigerator
Frigidaire FRS6R3JB5
Refrigerator
Frigidaire FRS6R3JB6
Refrigerator
Frigidaire FRS6R3JB7
Refrigerator
Frigidaire FRS6R3JW0
Refrigerator
Frigidaire FRS6R3JW1
Refrigerator
Frigidaire FRS6R3JW2
Refrigerator
Frigidaire FRS6R3JW3
Refrigerator
Frigidaire FRS6R3JW4
Refrigerator
Frigidaire FRS6R3JW5
Refrigerator
Frigidaire FRS6R3JW6
Refrigerator
Frigidaire FRS6R3JW7
Refrigerator
Frigidaire FRS6R4EB0
Refrigerator
Frigidaire FRS6R4EB1
Refrigerator
Frigidaire FRS6R4EB2
Refrigerator
Frigidaire FRS6R4EB3
Refrigerator
Frigidaire FRS6R4EB4
Refrigerator
Frigidaire FRS6R4EB5
Refrigerator
Frigidaire FRS6R4EB6
Refrigerator
Frigidaire FRS6R4EB7
Refrigerator
Frigidaire FRS6R4EB9
Refrigerator
Frigidaire FRS6R4EBA
Refrigerator
Frigidaire FRS6R4EBB
Refrigerator
Frigidaire FRS6R4EBC
Refrigerator
Frigidaire FRS6R4EBD
Refrigerator
Frigidaire FRS6R4EQ0
Refrigerator
Frigidaire FRS6R4EQ1
Refrigerator
Frigidaire FRS6R4EQ2
Refrigerator
Frigidaire FRS6R4EQ3
Refrigerator
Frigidaire FRS6R4EQ4
Refrigerator
Frigidaire FRS6R4EQ5
Refrigerator
Frigidaire FRS6R4EQ6
Refrigerator
Frigidaire FRS6R4EQ7
Refrigerator
Frigidaire FRS6R4EQA
Refrigerator
Frigidaire FRS6R4EQB
Refrigerator
Frigidaire FRS6R4EQC
Refrigerator
Frigidaire FRS6R4EW0
Refrigerator
Frigidaire FRS6R4EW1
Refrigerator
Frigidaire FRS6R4EW2
Refrigerator
Frigidaire FRS6R4EW3
Refrigerator
Frigidaire FRS6R4EW4
Refrigerator
Frigidaire FRS6R4EW5
Refrigerator
Frigidaire FRS6R4EW6
Refrigerator
Frigidaire FRS6R4EW7
Refrigerator
Frigidaire FRS6R4EW9
Refrigerator
Frigidaire FRS6R4EWA
Refrigerator
Frigidaire FRS6R4EWB
Refrigerator
Frigidaire FRS6R4EWC
Refrigerator
Frigidaire FRS6R5EMB
Refrigerator
Frigidaire FRS6R5EMB0
Refrigerator
Frigidaire FRS6R5EMB1
Refrigerator
Frigidaire FRS6R5EMB2
Refrigerator
Frigidaire FRS6R5EMB3
Refrigerator
Frigidaire FRS6R5EMB4
Refrigerator
Frigidaire FRS6R5EMB6
Refrigerator
Frigidaire FRS6R5EMB7
Refrigerator
Frigidaire FRS6R5EMB8
Refrigerator
Frigidaire FRS6R5EMBA
Refrigerator
Frigidaire FRS6R5EMBB
Refrigerator
Frigidaire FRS6R5EMBC
Refrigerator
Frigidaire FRS6R5EMBD
Refrigerator
Frigidaire FRS6R5EMBF
Refrigerator
Frigidaire FRS6R5EMBG
Refrigerator
Frigidaire FRS6R5EMBH
Refrigerator
Frigidaire FRS6R5EMBJ
Refrigerator
Frigidaire FRS6R5EMBK
Refrigerator
Frigidaire FRS6R5EMBL
Refrigerator
Frigidaire FRS6R5EMBN
Refrigerator
Frigidaire FRS6R5EMBP
Refrigerator
Frigidaire FRS6R5EMBR
Refrigerator
Frigidaire FRS6R5EMBS
Refrigerator
Frigidaire FRS6R5EMBT
Refrigerator
Frigidaire FRS6R5EMBU
Refrigerator
Frigidaire FRS6R5EMBV
Refrigerator
Frigidaire FRS6R5ESB
Refrigerator
Frigidaire FRS6R5ESB0
Refrigerator
Frigidaire FRS6R5ESB2
Refrigerator
Frigidaire FRS6R5ESB4
Refrigerator
Frigidaire FRS6R5ESB5
Refrigerator
Frigidaire FRS6R5ESB6
Refrigerator
Frigidaire FRS6R5ESB7
Refrigerator
Frigidaire FRS6R5ESB8
Refrigerator
Frigidaire FRS6R5ESB9
Refrigerator
Frigidaire FRS6R5ESBA
Refrigerator
Frigidaire FRS6R5ESBB
Refrigerator
Frigidaire FRS6R5ESBC
Refrigerator
Frigidaire FRS6R5ESBD
Refrigerator
Frigidaire FRS6R5ESBE
Refrigerator
Frigidaire FRS6R5ESBF
Refrigerator
Frigidaire FRS6R5ESBG
Refrigerator
Frigidaire FRS6R5ESBH
Refrigerator
Frigidaire FRS6R5ESBJ
Refrigerator
Frigidaire FRS6R5ESBK
Refrigerator
Frigidaire FRS6R5ESBL
Refrigerator
Frigidaire FRS6R5ESBM
Refrigerator
Frigidaire FRS6R5ESBN
Refrigerator
Frigidaire FRS6R5ESBP
Refrigerator
Frigidaire FRS6R5ESBR
Refrigerator
Frigidaire FRS6R5ESBS
Refrigerator
Frigidaire FRS6R5ESBU
Refrigerator
Frigidaire FRS6R5ESBV
Refrigerator
Frigidaire FRSH6KR5JB0
Refrigerator
Frigidaire FRSH6KR5JB1
Refrigerator
Frigidaire FRSH6KR5JW0
Refrigerator
Frigidaire FRSH6KR5JW1
Refrigerator
Frigidaire FRSH6R4HB1
Refrigerator
Frigidaire FRT21BW8DB0
Refrigerator
Frigidaire FRT21BW8DB1
Refrigerator
Frigidaire FRT21BW8DB3
Refrigerator
Frigidaire FRT21BW8DW0
Refrigerator
Frigidaire FRT8WR6EB0
Refrigerator
Frigidaire FRT8WR6EB2
Refrigerator
Frigidaire FRT8WR6EB4
Refrigerator
Frigidaire FRT8WR6EB6
Refrigerator
Frigidaire FRT8WR6EB8
Refrigerator
Frigidaire FRT8WR6EB9
Refrigerator
Frigidaire FRT8WR6EL4
Refrigerator
Frigidaire FRT8WR6EL6
Refrigerator
Frigidaire FRT8WR6EL8
Refrigerator
Frigidaire FRT8WR6EL9
Refrigerator
Frigidaire FRT8WR6EW0
Refrigerator
Frigidaire FRT8WR6EW2
Refrigerator
Frigidaire FRT8WR6EW4
Refrigerator
Frigidaire FRT8WR6EW6
Refrigerator
Frigidaire FRT8WR6EW8
Refrigerator
Frigidaire FRT8WR6EW9
Refrigerator
Frigidaire FRT8WR6EZ4
Refrigerator
Frigidaire FRT8WR6EZ6
Refrigerator
Frigidaire FRT8WR6EZ8
Refrigerator
Frigidaire FRT8WR6EZ9
Refrigerator
Frigidaire FSC23LR5JM0
Refrigerator
Frigidaire FSC23LR5JM1
Refrigerator
Frigidaire FSC23LR5JM2
Refrigerator
Frigidaire FSC23R5D
Refrigerator
Frigidaire FSC23R5DB
Refrigerator
Frigidaire FSC23R5DB0
Refrigerator
Frigidaire FSC23R5DB1
Refrigerator
Frigidaire FSC23R5DB5
Refrigerator
Frigidaire FSC23R5DB6
Refrigerator
Frigidaire FSC23R5DB7
Refrigerator
Frigidaire FSC23R5DB8
Refrigerator
Frigidaire FSC23R5DB9
Refrigerator
Frigidaire FSC23R5DBB
Refrigerator
Frigidaire FSC23R5DBC
Refrigerator
Frigidaire FSC23R5DBD
Refrigerator
Frigidaire FSC23R5DBE
Refrigerator
Frigidaire FSC23R5DBF
Refrigerator
Frigidaire FSC23R5DBG
Refrigerator
Frigidaire FSC23R5DBH
Refrigerator
Frigidaire FSC23R5DBJ
Refrigerator
Frigidaire FSC23R5DBL
Refrigerator
Frigidaire FSC23R5DBM
Refrigerator
Frigidaire FSC23R5DSB
Refrigerator
Frigidaire FSC23R5DSB1
Refrigerator
Frigidaire FSC23R5DSB2
Refrigerator
Frigidaire FSC23R5DSB3
Refrigerator
Frigidaire FSC23R5DSB4
Refrigerator
Frigidaire FSC23R5DSB5
Refrigerator
Frigidaire FSC23R5DSB6
Refrigerator
Frigidaire FSC23R5DSB7
Refrigerator
Frigidaire FSC23R5DSB8
Refrigerator
Frigidaire FSC23R5DSB9
Refrigerator
Frigidaire FSC23R5DSBA
Refrigerator
Frigidaire FSC23R5DSBB
Refrigerator
Frigidaire FSC23R5DSBC
Refrigerator
Frigidaire FSC23R5DSBD
Refrigerator
Frigidaire FSC23R5DSBE
Refrigerator
Frigidaire FSC23R5DSBF
Refrigerator
Frigidaire FSC23R5DSBG
Refrigerator
Frigidaire FSC23R5DSBH
Refrigerator
Frigidaire FSC23R5DSBJ
Refrigerator
Frigidaire FSC23R5DSBK
Refrigerator
Frigidaire FSC23R5DSBL
Refrigerator
Frigidaire FSC23R5DSBN
Refrigerator
Frigidaire FSC23R5DW
Refrigerator
Frigidaire FSC23R5DW0
Refrigerator
Frigidaire FSC23R5DW1
Refrigerator
Frigidaire FSC23R5DW5
Refrigerator
Frigidaire FSC23R5DW6
Refrigerator
Frigidaire FSC23R5DW7
Refrigerator
Frigidaire FSC23R5DW8
Refrigerator
Frigidaire FSC23R5DW9
Refrigerator
Frigidaire FSC23R5DWB
Refrigerator
Frigidaire FSC23R5DWC
Refrigerator
Frigidaire FSC23R5DWD
Refrigerator
Frigidaire FSC23R5DWE
Refrigerator
Frigidaire FSC23R5DWF
Refrigerator
Frigidaire FSC23R5DWG
Refrigerator
Frigidaire FSC23R5DWH
Refrigerator
Frigidaire FSC23R5DWJ
Refrigerator
Frigidaire FSC23R5DWL
Refrigerator
Frigidaire FSC23R5DWM
Refrigerator
Frigidaire GLHT188WHB1
Refrigerator
Frigidaire GLHT188WHB2
Refrigerator
Frigidaire GLHT188WHB3
Refrigerator
Frigidaire GLHT188WHW1
Refrigerator
Frigidaire GLHT188WHW2
Refrigerator
Frigidaire GLHT188WHW3
Refrigerator
FRIGIDAIRE GLHT218WHB1
Refrigerator
Frigidaire GLHT218WHB2
Refrigerator
FRIGIDAIRE GLHT218WHW1
Refrigerator
Frigidaire GLHT218WHW2
Refrigerator
Frigidaire GLRSF236JB0
Refrigerator
Frigidaire GLRSF236JB1
Refrigerator
Frigidaire GLRSF236JB2
Refrigerator
Frigidaire GLRSF236JD0
Refrigerator
Frigidaire GLRSF236JD1
Refrigerator
Frigidaire GLRSF236JD2
Refrigerator
Frigidaire GLRSF236JW0
Refrigerator
Frigidaire GLRSF236JW1
Refrigerator
Frigidaire GLRSF236JW2
Refrigerator
Frigidaire GLRSF266JB0
Refrigerator
Frigidaire GLRSF266JB1
Refrigerator
Frigidaire GLRSF266JB2
Refrigerator
Frigidaire GLRSF266JD0
Refrigerator
Frigidaire GLRSF266JD1
Refrigerator
Frigidaire GLRSF266JD2
Refrigerator
Frigidaire GLRSF266JW0
Refrigerator
Frigidaire GLRSF266JW1
Refrigerator
Frigidaire GLRSF266JW2
Refrigerator
Frigidaire GLRT188WDB1
Refrigerator
Frigidaire GLRT188WDB2
Refrigerator
Frigidaire GLRT188WDB3
Refrigerator
Frigidaire GLRT188WDB4
Refrigerator
Frigidaire GLRT188WDB6
Refrigerator
Frigidaire GLRT188WDB8
Refrigerator
Frigidaire GLRT188WDBA
Refrigerator
Frigidaire GLRT188WDBB
Refrigerator
Frigidaire GLRT188WDBC
Refrigerator
Frigidaire GLRT188WDK2
Refrigerator
Frigidaire GLRT188WDK4
Refrigerator
Frigidaire GLRT188WDK6
Refrigerator
Frigidaire GLRT188WDK8
Refrigerator
Frigidaire GLRT188WDKA
Refrigerator
Frigidaire GLRT188WDKB
Refrigerator
Frigidaire GLRT188WDKC
Refrigerator
Frigidaire GLRT188WDL2
Refrigerator
Frigidaire GLRT188WDL3
Refrigerator
Frigidaire GLRT188WDL4
Refrigerator
Frigidaire GLRT188WDL5
Refrigerator
Frigidaire GLRT188WDL6
Refrigerator
Frigidaire GLRT188WDL8
Refrigerator
Frigidaire GLRT188WDLA
Refrigerator
Frigidaire GLRT188WDLB
Refrigerator
Frigidaire GLRT188WDS0
Refrigerator
Frigidaire GLRT188WDS2
Refrigerator
Frigidaire GLRT188WDS4
Refrigerator
Frigidaire GLRT188WDS6
Refrigerator
Frigidaire GLRT188WDS8
Refrigerator
Frigidaire GLRT188WDSA
Refrigerator
Frigidaire GLRT188WDSB
Refrigerator
Frigidaire GLRT188WDSC
Refrigerator
Frigidaire GLRT188WDW0
Refrigerator
Frigidaire GLRT188WDW2
Refrigerator
Frigidaire GLRT188WDW4
Refrigerator
Frigidaire GLRT188WDW6
Refrigerator
Frigidaire GLRT188WDW8
Refrigerator
Frigidaire GLRT188WDWA
Refrigerator
Frigidaire GLRT188WDWB
Refrigerator
Frigidaire GLRT188WDWC
Refrigerator
Frigidaire GLRT188WDZ0
Refrigerator
Frigidaire GLRT188WDZ2
Refrigerator
Frigidaire GLRT188WDZ6
Refrigerator
Frigidaire GLRT188WDZ8
Refrigerator
Frigidaire GLRT188WDZA
Refrigerator
Frigidaire GLRT188WDZB
Refrigerator
Frigidaire GLRT188WJB0
Refrigerator
Frigidaire GLRT188WJB1
Refrigerator
Frigidaire GLRT188WJW0
Refrigerator
Frigidaire GLRT188WJW1
Refrigerator
Frigidaire GLRT218WDB0
Refrigerator
Frigidaire GLRT218WDB2
Refrigerator
Frigidaire GLRT218WDB3
Refrigerator
Frigidaire GLRT218WDB4
Refrigerator
Frigidaire GLRT218WDB5
Refrigerator
Frigidaire GLRT218WDB6
Refrigerator
Frigidaire GLRT218WDB7
Refrigerator
Frigidaire GLRT218WDB9
Refrigerator
Frigidaire GLRT218WDBB
Refrigerator
Frigidaire GLRT218WDK3
Refrigerator
Frigidaire GLRT218WDK4
Refrigerator
Frigidaire GLRT218WDK5
Refrigerator
Frigidaire GLRT218WDK6
Refrigerator
Frigidaire GLRT218WDK7
Refrigerator
Frigidaire GLRT218WDK9
Refrigerator
Frigidaire GLRT218WDKB
Refrigerator
Frigidaire GLRT218WDKP
Refrigerator
Frigidaire GLRT218WDL0
Refrigerator
Frigidaire GLRT218WDL2
Refrigerator
Frigidaire GLRT218WDL7
Refrigerator
Frigidaire GLRT218WDLP
Refrigerator
Frigidaire GLRT218WDQ0
Refrigerator
Frigidaire GLRT218WDQ2
Refrigerator
Frigidaire GLRT218WDQ7
Refrigerator
Frigidaire GLRT218WDQ9
Refrigerator
Frigidaire GLRT218WDS1
Refrigerator
Frigidaire GLRT218WDS3
Refrigerator
Frigidaire GLRT218WDS4
Refrigerator
Frigidaire GLRT218WDS5
Refrigerator
Frigidaire GLRT218WDS6
Refrigerator
Frigidaire GLRT218WDS7
Refrigerator
Frigidaire GLRT218WDS9
Refrigerator
Frigidaire GLRT218WDSB
Refrigerator
Frigidaire GLRT218WDSP
Refrigerator
Frigidaire GLRT218WDW0
Refrigerator
Frigidaire GLRT218WDW2
Refrigerator
Frigidaire GLRT218WDW3
Refrigerator
Frigidaire GLRT218WDW4
Refrigerator
Frigidaire GLRT218WDW5
Refrigerator
Frigidaire GLRT218WDW6
Refrigerator
Frigidaire GLRT218WDW7
Refrigerator
Frigidaire GLRT218WDW9
Refrigerator
Frigidaire GLRT218WDWB
Refrigerator
Frigidaire GLRT218WDZ0
Refrigerator
Frigidaire GLRT218WDZ2
Refrigerator
Frigidaire GLRT218WDZ3
Refrigerator
Frigidaire GLRT218WDZ5
Refrigerator
Frigidaire GLRT218WDZ7
Refrigerator
Frigidaire GLRT218WDZP
Refrigerator
Frigidaire GRS20ZRHD8
Refrigerator
Frigidaire GRS20ZRHW8
Refrigerator
Frigidaire GRS23R4CQ2
Refrigerator
Frigidaire GRS23R4CQ3
Refrigerator
Frigidaire GRS23R4CQ5
Refrigerator
Frigidaire GRS23R4CQ7
Refrigerator
Frigidaire GRS23R4CW2
Refrigerator
Frigidaire GRS23R4CW3
Refrigerator
Frigidaire GRS23R4CW5
Refrigerator
Frigidaire GRS23R4CW7
Refrigerator
Frigidaire GRS26R4CQ0
Refrigerator
Frigidaire GRS26R4CQ1
Refrigerator
Frigidaire GRS26R4CQ3
Refrigerator
Frigidaire GRS26R4CQ5
Refrigerator
Frigidaire GRS26R4CW0
Refrigerator
Frigidaire GRS26R4CW1
Refrigerator
Frigidaire GRS26R4CW3
Refrigerator
Frigidaire GRS26R4CW5
Refrigerator
Frigidaire GRS26ZRHD6
Refrigerator
Frigidaire GRS26ZRHW6
Refrigerator
Frigidaire MRS26LGJB0
Refrigerator
Frigidaire MRS26LGJB1
Refrigerator
Frigidaire MRS26LGJB2
Refrigerator
Frigidaire MRS26LGJB3
Refrigerator
Frigidaire MRS26LGJC0
Refrigerator
Frigidaire MRS26LGJC1
Refrigerator
Frigidaire MRS26LGJC2
Refrigerator
Frigidaire MRS26LGJQ1
Refrigerator
Frigidaire MRS26LGJQ2
Refrigerator
Frigidaire MRS26LGJQ3
Refrigerator
Frigidaire MRS26LGJW0
Refrigerator
Frigidaire MRS26LGJW2
Refrigerator
Frigidaire MRS26LGJW3
Refrigerator
Frigidaire MRSR25V4A
Refrigerator
Frigidaire MRSR25V5A
Refrigerator
Frigidaire MRSR25X8A
Refrigerator
Frigidaire MRSZ28X8A
Refrigerator
Frigidaire NMGSS263KS0
Refrigerator
Frigidaire NMGSS263KS1
Refrigerator
Frigidaire OEMF3-FRS26ZXHD1
Refrigerator
Frigidaire OEMF3-FRS26ZXHD2
Refrigerator
Frigidaire OEMF3-FRS26ZXHW1
Refrigerator
Frigidaire OEMF3-FRS26ZXHW2
Refrigerator
Frigidaire PHS6KR5JSB0
Refrigerator
Frigidaire PHS6KR5JSB1
Refrigerator
Frigidaire PHT189WHKM1
Refrigerator
Frigidaire PHT189WHKM2
Refrigerator
Frigidaire PHT189WHKM3
Refrigerator
Frigidaire PHT189WHSM1
Refrigerator
Frigidaire PHT189WHSM2
Refrigerator
Frigidaire PHT189WHSM3
Refrigerator
Frigidaire PHT219WHKM1
Refrigerator
Frigidaire PHT219WHKM2
Refrigerator
Frigidaire PHT219WHSM1
Refrigerator
Frigidaire PHT219WHSM2
Refrigerator
Frigidaire PLHT19WEB1
Refrigerator
Frigidaire PLHT19WEB4
Refrigerator
Frigidaire PLHT19WEB5
Refrigerator
Frigidaire PLHT19WEB6
Refrigerator
Frigidaire PLHT19WEB7
Refrigerator
Frigidaire PLHT19WEB9
Refrigerator
Frigidaire PLHT19WEK1
Refrigerator
Frigidaire PLHT19WEK4
Refrigerator
Frigidaire PLHT19WEK6
Refrigerator
Frigidaire PLHT19WEK7
Refrigerator
Frigidaire PLHT19WEK9
Refrigerator
Frigidaire PLHT219TDB1
Refrigerator
Frigidaire PLT189WJKM0
Refrigerator
Frigidaire PLT189WJKM1
Refrigerator
Frigidaire PLT189WJKM2
Refrigerator
Frigidaire PLT189WJKM3
Refrigerator
Frigidaire PLT189WJSM0
Refrigerator
Frigidaire PLT189WJSM1
Refrigerator
Frigidaire PLT189WJSM2
Refrigerator
Frigidaire PLT189WJSM3
Refrigerator
Frigidaire PLT219WJKM0
Refrigerator
Frigidaire PLT219WJKM1
Refrigerator
Frigidaire PLT219WJSM0
Refrigerator
Frigidaire PLT219WJSM1
Refrigerator
FRIGIDAIRE WRS26MF8JS2
Refrigerator
FRIGIDAIRE WRS26MR4JB0
Refrigerator
FRIGIDAIRE WRS26MR4JB2
Refrigerator
FRIGIDAIRE WRS26MR4JB4
Refrigerator
FRIGIDAIRE WRS26MR4JB5
Refrigerator
FRIGIDAIRE WRS26MR4JB6
Refrigerator
FRIGIDAIRE WRS26MR4JS0
Refrigerator
FRIGIDAIRE WRS26MR4JS1
Refrigerator
FRIGIDAIRE WRS26MR4JS2
Refrigerator
FRIGIDAIRE WRS26MR4JS4
Refrigerator
FRIGIDAIRE WRS26MR4JS5
Refrigerator
FRIGIDAIRE WRS26MR4JS6
Refrigerator
FRIGIDAIRE WRS26MR4JS8
Refrigerator
FRIGIDAIRE WRS26MR4JW0
Refrigerator
FRIGIDAIRE WRS26MR4JW1
Refrigerator
FRIGIDAIRE WRS26MR4JW2
Refrigerator
FRIGIDAIRE WRS26MR4JW4
Refrigerator
FRIGIDAIRE WRS26MR4JW5
Refrigerator
FRIGIDAIRE WRS26MR4JW6
Refrigerator
Frigidaire WRS26MZRHD0
Refrigerator
Frigidaire WRS26MZRHD1
Refrigerator
Frigidaire WRS26MZRHW0
Refrigerator
Frigidaire WRS26MZRHW1
Refrigerator
Frigidaire WRS3R3EW0
Refrigerator
Frigidaire WRS3R3EW1
Refrigerator
FRIGIDAIRE WRS3R3EW2
Refrigerator
Frigidaire WRS3R3EW3
Refrigerator
FRIGIDAIRE WRS3R3EW4
Refrigerator
FRIGIDAIRE WRS3R3EW6
Refrigerator
FRIGIDAIRE WRS3R3EW7
Refrigerator
FRIGIDAIRE WRS3R3EW9
Refrigerator
FRIGIDAIRE WRS3R3EWA
Refrigerator
FRIGIDAIRE WRS3R3EWB
Refrigerator
FRIGIDAIRE WRS3R3EWC
Refrigerator
FRIGIDAIRE WRS3R3EWD
Refrigerator
FRIGIDAIRE WRS3R3EWE
Refrigerator
FRIGIDAIRE WRS3R3EWG
Refrigerator
FRIGIDAIRE WRS6MR5FMB0
Refrigerator
Frigidaire WRS6R3EW0
Refrigerator
Frigidaire WRS6R3EW1
Refrigerator
Frigidaire WRS6R3EW2
Refrigerator
Frigidaire WRS6R3EW4
Refrigerator
Frigidaire WRS6R3EW6
Refrigerator
FRIGIDAIRE WRS6R3EW7
Refrigerator
FRIGIDAIRE WRS6R3EW8
Refrigerator
FRIGIDAIRE WRS6R3EW9
Refrigerator
FRIGIDAIRE WRS6R3EWA
Refrigerator
FRIGIDAIRE WWSS2601KS0
Refrigerator
FRIGIDAIRE WWSS2601KS1
Refrigerator
FRIGIDAIRE WWSS2601KS3
Refrigerator
FRIGIDAIRE WWSS2601KS4
Refrigerator
FRIGIDAIRE WWSS2601KW0
Refrigerator
FRIGIDAIRE WWSS2601KW1
Refrigerator
FRIGIDAIRE WWSS2601KW2
Refrigerator
FRIGIDAIRE WWSS2601KW3
Refrigerator
FRIGIDAIRE WWSS2601KW4
Refrigerator
FRIGIDAIRE WWSS2601KW5
Refrigerator
FRIGIDAIRE WWSS2601KW6
Refrigerator
FRIGIDAIRE WWSS2601KW7
Refrigerator
FRIGIDAIRE WWSS2601NE1
Refrigerator
Gibson GRS20ZRHD0
Refrigerator
Gibson GRS20ZRHD1
Refrigerator
Gibson GRS20ZRHD2
Refrigerator
Gibson GRS20ZRHD3
Refrigerator
Gibson GRS20ZRHD4
Refrigerator
Gibson GRS20ZRHD5
Refrigerator
Gibson GRS20ZRHD6
Refrigerator
Gibson GRS20ZRHD7
Refrigerator
Gibson GRS20ZRHW0
Refrigerator
Gibson GRS20ZRHW1
Refrigerator
Gibson GRS20ZRHW2
Refrigerator
Gibson GRS20ZRHW3
Refrigerator
Gibson GRS20ZRHW4
Refrigerator
Gibson GRS20ZRHW5
Refrigerator
Gibson GRS20ZRHW6
Refrigerator
Gibson GRS20ZRHW7
Refrigerator
Gibson GRS26ZRGD0
Refrigerator
Gibson GRS26ZRGD1
Refrigerator
Gibson GRS26ZRGD2
Refrigerator
Gibson GRS26ZRGD5
Refrigerator
Gibson GRS26ZRGW0
Refrigerator
Gibson GRS26ZRGW1
Refrigerator
Gibson GRS26ZRGW2
Refrigerator
Gibson GRS26ZRGW5
Refrigerator
Gibson GRS26ZRHD0
Refrigerator
Gibson GRS26ZRHD1
Refrigerator
Gibson GRS26ZRHD2
Refrigerator
Gibson GRS26ZRHD3
Refrigerator
Gibson GRS26ZRHD4
Refrigerator
Gibson GRS26ZRHD5
Refrigerator
Gibson GRS26ZRHW0
Refrigerator
Gibson GRS26ZRHW1
Refrigerator
Gibson GRS26ZRHW2
Refrigerator
Gibson GRS26ZRHW3
Refrigerator
Gibson GRS26ZRHW4
Refrigerator
Gibson GRS26ZRHW5
Refrigerator
Kenmore 253.44352400
Refrigerator
Kenmore 253.44352401
Refrigerator
Kenmore 253.44352403
Refrigerator
Kenmore 253.44352404
Refrigerator
Kenmore 253.44352405
Refrigerator
Kenmore 253.44352406
Refrigerator
Kenmore 253.44352407
Refrigerator
Kenmore 253.44352408
Refrigerator
Kenmore 253.44352409
Refrigerator
Kenmore 253.44353400
Refrigerator
Kenmore 253.44353401
Refrigerator
Kenmore 253.44353402
Refrigerator
Kenmore 253.44353403
Refrigerator
Kenmore 253.44353404
Refrigerator
Kenmore 253.44353405
Refrigerator
Kenmore 253.44353406
Refrigerator
Kenmore 253.44353407
Refrigerator
Kenmore 253.44353408
Refrigerator
Kenmore 253.44353409
Refrigerator
Kenmore 253.44354400
Refrigerator
Kenmore 253.44354401
Refrigerator
Kenmore 253.44354403
Refrigerator
Kenmore 253.44354404
Refrigerator
Kenmore 253.44354405
Refrigerator
Kenmore 253.44354406
Refrigerator
Kenmore 253.44354407
Refrigerator
Kenmore 253.44354408
Refrigerator
Kenmore 253.44354409
Refrigerator
Kenmore 253.44359400
Refrigerator
Kenmore 253.44359401
Refrigerator
Kenmore 253.44359403
Refrigerator
Kenmore 253.44359404
Refrigerator
Kenmore 253.44359405
Refrigerator
Kenmore 253.44359406
Refrigerator
Kenmore 253.44359407
Refrigerator
Kenmore 253.44359408
Refrigerator
Kenmore 253.44359409
Refrigerator
Kenmore 253.44362500
Refrigerator
Kenmore 253.44362501
Refrigerator
Kenmore 253.44362502
Refrigerator
Kenmore 253.44502600
Refrigerator
Kenmore 253.44502601
Refrigerator
Kenmore 253.44502602
Refrigerator
Kenmore 253.44502603
Refrigerator
Kenmore 253.44502604
Refrigerator
Kenmore 253.44502605
Refrigerator
Kenmore 253.44502606
Refrigerator
Kenmore 253.44502607
Refrigerator
Kenmore 253.44502608
Refrigerator
Kenmore 253.44502609
Refrigerator
Kenmore 253.4450260A
Refrigerator
Kenmore 253.4450260C
Refrigerator
Kenmore 253.44503600
Refrigerator
Kenmore 253.44503601
Refrigerator
Kenmore 253.44503602
Refrigerator
Kenmore 253.44503603
Refrigerator
Kenmore 253.44503604
Refrigerator
Kenmore 253.44503605
Refrigerator
Kenmore 253.44503606
Refrigerator
Kenmore 253.44503607
Refrigerator
Kenmore 253.44503608
Refrigerator
Kenmore 253.44503609
Refrigerator
Kenmore 253.4450360A
Refrigerator
Kenmore 253.4450360B
Refrigerator
Kenmore 253.4450360C
Refrigerator
Kenmore 253.44509600
Refrigerator
Kenmore 253.44509601
Refrigerator
Kenmore 253.44509602
Refrigerator
Kenmore 253.44509603
Refrigerator
Kenmore 253.44509604
Refrigerator
Kenmore 253.44509605
Refrigerator
Kenmore 253.44509606
Refrigerator
Kenmore 253.44509607
Refrigerator
Kenmore 253.44509608
Refrigerator
Kenmore 253.44509609
Refrigerator
Kenmore 253.4450960A
Refrigerator
Kenmore 253.4450960C
Refrigerator
Kenmore 253.44512600
Refrigerator
Kenmore 253.44512601
Refrigerator
Kenmore 253.44512602
Refrigerator
Kenmore 253.44512603
Refrigerator
Kenmore 253.44512604
Refrigerator
Kenmore 253.44512605
Refrigerator
Kenmore 253.44512606
Refrigerator
Kenmore 253.44512607
Refrigerator
Kenmore 253.44512608
Refrigerator
Kenmore 253.44512609
Refrigerator
Kenmore 253.4451260A
Refrigerator
Kenmore 253.4451260B
Refrigerator
Kenmore 253.44513600
Refrigerator
Kenmore 253.44513601
Refrigerator
Kenmore 253.44513602
Refrigerator
Kenmore 253.44513603
Refrigerator
Kenmore 253.44513604
Refrigerator
Kenmore 253.44513605
Refrigerator
Kenmore 253.44513606
Refrigerator
Kenmore 253.44513607
Refrigerator
Kenmore 253.44513608
Refrigerator
Kenmore 253.44513609
Refrigerator
Kenmore 253.4451360A
Refrigerator
Kenmore 253.44519600
Refrigerator
Kenmore 253.44519601
Refrigerator
Kenmore 253.44519602
Refrigerator
Kenmore 253.44519603
Refrigerator
Kenmore 253.44519604
Refrigerator
Kenmore 253.44519605
Refrigerator
Kenmore 253.44519606
Refrigerator
Kenmore 253.44519607
Refrigerator
Kenmore 253.44519608
Refrigerator
Kenmore 253.44519609
Refrigerator
Kenmore 253.4451960A
Refrigerator
Kenmore 253.50682000
Refrigerator
Kenmore 253.50682001
Refrigerator
Kenmore 253.50682002
Refrigerator
Kenmore 253.50683000
Refrigerator
Kenmore 253.50683001
Refrigerator
Kenmore 253.50683002
Refrigerator
Kenmore 253.50684000
Refrigerator
Kenmore 253.50684001
Refrigerator
Kenmore 253.50684002
Refrigerator
Kenmore 253.50689000
Refrigerator
Kenmore 253.50689001
Refrigerator
Kenmore 253.50689002
Refrigerator
Kenmore 253.51232101
Refrigerator
Kenmore 253.51232102
Refrigerator
Kenmore 253.51232103
Refrigerator
Kenmore 253.51232104
Refrigerator
Kenmore 253.51232105
Refrigerator
Kenmore 253.51232106
Refrigerator
Kenmore 253.51234101
Refrigerator
Kenmore 253.51234102
Refrigerator
Kenmore 253.51234103
Refrigerator
Kenmore 253.51234104
Refrigerator
Kenmore 253.51234105
Refrigerator
Kenmore 253.51234106
Refrigerator
Kenmore 253.51622100
Refrigerator
Kenmore 253.51622101
Refrigerator
Kenmore 253.51622102
Refrigerator
Kenmore 253.51622103
Refrigerator
Kenmore 253.51622104
Refrigerator
Kenmore 253.51624100
Refrigerator
Kenmore 253.51624101
Refrigerator
Kenmore 253.51624102
Refrigerator
Kenmore 253.51624103
Refrigerator
Kenmore 253.51624104
Refrigerator
Kenmore 253.52322201
Refrigerator
Kenmore 253.52322202
Refrigerator
Kenmore 253.52322203
Refrigerator
Kenmore 253.52324200
Refrigerator
Kenmore 253.52324201
Refrigerator
Kenmore 253.52324202
Refrigerator
Kenmore 253.52324203
Refrigerator
Kenmore 253.52612200
Refrigerator
Kenmore 253.52612201
Refrigerator
Kenmore 253.52612202
Refrigerator
Kenmore 253.52614200
Refrigerator
Kenmore 253.52614201
Refrigerator
Kenmore 253.52614202
Refrigerator
Kenmore 253.52622200
Refrigerator
Kenmore 253.52622201
Refrigerator
Kenmore 253.52622202
Refrigerator
Kenmore 253.52624200
Refrigerator
Kenmore 253.52624201
Refrigerator
Kenmore 253.52624202
Refrigerator
Kenmore 253.53612300
Refrigerator
Kenmore 253.53612301
Refrigerator
Kenmore 253.53612302
Refrigerator
Kenmore 253.53612303
Refrigerator
Kenmore 253.53614300
Refrigerator
Kenmore 253.53614301
Refrigerator
Kenmore 253.53614302
Refrigerator
Kenmore 253.53614303
Refrigerator
Kenmore 253.53682300
Refrigerator
Kenmore 253.53684300
Refrigerator
Kenmore 253.54622400
Refrigerator
Kenmore 253.54622401
Refrigerator
Kenmore 253.54622402
Refrigerator
Kenmore 253.54622406
Refrigerator
Kenmore 253.54622407
Refrigerator
Kenmore 253.54622408
Refrigerator
Kenmore 253.54622409
Refrigerator
Kenmore 253.5462240A
Refrigerator
Kenmore 253.5462240B
Refrigerator
Kenmore 253.5462240N
Refrigerator
Kenmore 253.54623400
Refrigerator
Kenmore 253.54623401
Refrigerator
Kenmore 253.54623402
Refrigerator
Kenmore 253.54623403
Refrigerator
Kenmore 253.54623406
Refrigerator
Kenmore 253.54623407
Refrigerator
Kenmore 253.54623408
Refrigerator
Kenmore 253.54623409
Refrigerator
Kenmore 253.5462340A
Refrigerator
Kenmore 253.5462340B
Refrigerator
Kenmore 253.5462340N
Refrigerator
Kenmore 253.54624400
Refrigerator
Kenmore 253.54624401
Refrigerator
Kenmore 253.54624402
Refrigerator
Kenmore 253.54624406
Refrigerator
Kenmore 253.54624407
Refrigerator
Kenmore 253.54624408
Refrigerator
Kenmore 253.54624409
Refrigerator
Kenmore 253.5462440A
Refrigerator
Kenmore 253.5462440B
Refrigerator
Kenmore 253.5462440N
Refrigerator
Kenmore 253.54628501
Refrigerator
Kenmore 253.54628503
Refrigerator
Kenmore 253.54628504
Refrigerator
Kenmore 253.54628505
Refrigerator
Kenmore 253.54628506
Refrigerator
Kenmore 253.54629400
Refrigerator
Kenmore 253.54629401
Refrigerator
Kenmore 253.54629402
Refrigerator
Kenmore 253.54629406
Refrigerator
Kenmore 253.54629407
Refrigerator
Kenmore 253.54629408
Refrigerator
Kenmore 253.54629409
Refrigerator
Kenmore 253.5462940A
Refrigerator
Kenmore 253.5462940B
Refrigerator
Kenmore 253.5462940N
Refrigerator
Kenmore 253.54632500
Refrigerator
Kenmore 253.54632502
Refrigerator
Kenmore 253.54633500
Refrigerator
Kenmore 253.54633502
Refrigerator
Kenmore 253.54639500
Refrigerator
Kenmore 253.54639502
Refrigerator
Kenmore 253.54703400
Refrigerator
Kenmore 253.54703401
Refrigerator
Kenmore 253.54703402
Refrigerator
Kenmore 253.54703403
Refrigerator
Kenmore 253.54703404
Refrigerator
Kenmore 253.54703405
Refrigerator
Kenmore 253.54703406
Refrigerator
Kenmore 253.54703407
Refrigerator
Kenmore 253.54703408
Refrigerator
Kenmore 253.54703409
Refrigerator
Kenmore 253.5470340A
Refrigerator
Kenmore 253.54713500
Refrigerator
Kenmore 253.54713502
Refrigerator
Kenmore 253.56512400
Refrigerator
Kenmore 253.56512401
Refrigerator
Kenmore 253.56512402
Refrigerator
Kenmore 253.56514400
Refrigerator
Kenmore 253.56514401
Refrigerator
Kenmore 253.56514402
Refrigerator
Kenmore 253.56519400
Refrigerator
Kenmore 253.56519401
Refrigerator
Kenmore 253.56519402
Refrigerator
Kenmore 253.56522400
Refrigerator
Kenmore 253.56522401
Refrigerator
Kenmore 253.56522403
Refrigerator
Kenmore 253.56524400
Refrigerator
Kenmore 253.56524401
Refrigerator
Kenmore 253.56524403
Refrigerator
Kenmore 253.56529400
Refrigerator
Kenmore 253.56529401
Refrigerator
Kenmore 253.56529403
Refrigerator
Kenmore 253.56602400
Refrigerator
Kenmore 253.56602401
Refrigerator
Kenmore 253.56602402
Refrigerator
Kenmore 253.56943600
Refrigerator
Kenmore 253.56943601
Refrigerator
Kenmore 253.56943602
Refrigerator
Kenmore 253.56953600
Refrigerator
Kenmore 253.56953601
Refrigerator
Kenmore 253.56953602
Refrigerator
Kenmore 253.57182600
Refrigerator
Kenmore 253.57182601
Refrigerator
Kenmore 253.57182603
Refrigerator
Kenmore 253.57184600
Refrigerator
Kenmore 253.57184601
Refrigerator
Kenmore 253.57184603
Refrigerator
Kenmore 253.57188600
Refrigerator
Kenmore 253.57188601
Refrigerator
Kenmore 253.57188603
Refrigerator
Kenmore 253.57188604
Refrigerator
Kenmore 253.57189600
Refrigerator
Kenmore 253.57189601
Refrigerator
Kenmore 253.57189603
Refrigerator
Kenmore 253.57192600
Refrigerator
Kenmore 253.57194600
Refrigerator
Kenmore 253.57198600
Refrigerator
Kenmore 253.57199600
Refrigerator
Kenmore 253.57382600
Refrigerator
Kenmore 253.57382601
Refrigerator
Kenmore 253.57382602
Refrigerator
Kenmore 253.57384600
Refrigerator
Kenmore 253.57384601
Refrigerator
Kenmore 253.57384602
Refrigerator
Kenmore 253.57388600
Refrigerator
Kenmore 253.57388601
Refrigerator
Kenmore 253.57388602
Refrigerator
Kenmore 253.57389600
Refrigerator
Kenmore 253.57389601
Refrigerator
Kenmore 253.57389602
Refrigerator
Kenmore 253.57392600
Refrigerator
Kenmore 253.57392601
Refrigerator
Kenmore 253.57392602
Refrigerator
Kenmore 253.57394600
Refrigerator
Kenmore 253.57394601
Refrigerator
Kenmore 253.57394602
Refrigerator
Kenmore 253.57398600
Refrigerator
Kenmore 253.57398601
Refrigerator
Kenmore 253.57398602
Refrigerator
Kenmore 253.57399600
Refrigerator
Kenmore 253.57399601
Refrigerator
Kenmore 253.57399602
Refrigerator
Kenmore 253.57672790
Refrigerator
Kenmore 253.57672791
Refrigerator
Kenmore 253.57677790
Refrigerator
Kenmore 253.57677791
Refrigerator
Kenmore 253.57682790
Refrigerator
Kenmore 253.57682791
Refrigerator
Kenmore 253.57685790
Refrigerator
Kenmore 253.57685791
Refrigerator
Kenmore 253.57687790
Refrigerator
Kenmore 253.57687791
Refrigerator
Kenmore 253.58082890
Refrigerator
Kenmore 253.58082891
Refrigerator
Kenmore 253.58082892
Refrigerator
Kenmore 253.58082893
Refrigerator
Kenmore 253.58082894
Refrigerator
Kenmore 253.58082895
Refrigerator
Kenmore 253.58082897
Refrigerator
Kenmore 253.58082898
Refrigerator
Kenmore 253.58082899
Refrigerator
Kenmore 253.5808289A
Refrigerator
Kenmore 253.5808289B
Refrigerator
Kenmore 253.58085890
Refrigerator
Kenmore 253.58085891
Refrigerator
Kenmore 253.58085892
Refrigerator
Kenmore 253.58085893
Refrigerator
Kenmore 253.58085894
Refrigerator
Kenmore 253.58085895
Refrigerator
Kenmore 253.58085897
Refrigerator
Kenmore 253.58085898
Refrigerator
Kenmore 253.58085899
Refrigerator
Kenmore 253.5808589A
Refrigerator
Kenmore 253.5808589B
Refrigerator
Kenmore 253.58087890
Refrigerator
Kenmore 253.58087891
Refrigerator
Kenmore 253.58087892
Refrigerator
Kenmore 253.58087893
Refrigerator
Kenmore 253.58087894
Refrigerator
Kenmore 253.58087895
Refrigerator
Kenmore 253.58087897
Refrigerator
Kenmore 253.58087898
Refrigerator
Kenmore 253.58087899
Refrigerator
Kenmore 253.5808789A
Refrigerator
Kenmore 253.5808789B
Refrigerator
Kenmore 253.58672890
Refrigerator
Kenmore 253.58672891
Refrigerator
Kenmore 253.58672892
Refrigerator
Kenmore 253.58672893
Refrigerator
Kenmore 253.58672894
Refrigerator
Kenmore 253.58672895
Refrigerator
Kenmore 253.58672896
Refrigerator
Kenmore 253.58677890
Refrigerator
Kenmore 253.58677891
Refrigerator
Kenmore 253.58677892
Refrigerator
Kenmore 253.58677893
Refrigerator
Kenmore 253.58677894
Refrigerator
Kenmore 253.58677895
Refrigerator
Kenmore 253.58677896
Refrigerator
Kenmore 253.58682890
Refrigerator
Kenmore 253.58682891
Refrigerator
Kenmore 253.58682892
Refrigerator
Kenmore 253.58682893
Refrigerator
Kenmore 253.58682894
Refrigerator
Kenmore 253.58682895
Refrigerator
Kenmore 253.58682897
Refrigerator
Kenmore 253.58685890
Refrigerator
Kenmore 253.58685891
Refrigerator
Kenmore 253.58685892
Refrigerator
Kenmore 253.58685893
Refrigerator
Kenmore 253.58685894
Refrigerator
Kenmore 253.58685895
Refrigerator
Kenmore 253.58685897
Refrigerator
Kenmore 253.58687890
Refrigerator
Kenmore 253.58687891
Refrigerator
Kenmore 253.58687892
Refrigerator
Kenmore 253.58687893
Refrigerator
Kenmore 253.58687894
Refrigerator
Kenmore 253.58687895
Refrigerator
Kenmore 253.58687897
Refrigerator
Kenmore 253.58689890
Refrigerator
Kenmore 253.58689891
Refrigerator
Kenmore 253.58689892
Refrigerator
Kenmore 253.58689893
Refrigerator
Kenmore 253.58689894
Refrigerator
Kenmore 253.58689895
Refrigerator
Kenmore 253.59482990
Refrigerator
Kenmore 253.59482991
Refrigerator
Kenmore 253.59482993
Refrigerator
Kenmore 253.59487990
Refrigerator
Kenmore 253.59487991
Refrigerator
Kenmore 253.59487993
Refrigerator
Kenmore 253.59489990
Refrigerator
Kenmore 253.59489991
Refrigerator
Kenmore 253.59489993
Refrigerator
Kenmore 253.59682990
Refrigerator
Kenmore 253.59682991
Refrigerator
Kenmore 253.59682992
Refrigerator
Kenmore 253.59682993
Refrigerator
Kenmore 253.59682994
Refrigerator
Kenmore 253.59682995
Refrigerator
Kenmore 253.59683990
Refrigerator
Kenmore 253.59683991
Refrigerator
Kenmore 253.59683992
Refrigerator
Kenmore 253.59687990
Refrigerator
Kenmore 253.59687991
Refrigerator
Kenmore 253.59687992
Refrigerator
Kenmore 253.59687993
Refrigerator
Kenmore 253.59687994
Refrigerator
Kenmore 253.59687995
Refrigerator
Kenmore 253.59689990
Refrigerator
Kenmore 253.59689991
Refrigerator
Kenmore 253.59689992
Refrigerator
Kenmore 253.59689993
Refrigerator
Kenmore 253.59689994
Refrigerator
Kenmore 253.59689995
Refrigerator
Kenmore 253.74220700
Refrigerator
Kenmore 253.74220701
Refrigerator
Kenmore 253.74220702
Refrigerator
Kenmore 253.74220703
Refrigerator
Kenmore 253.74220704
Refrigerator
Kenmore 253.74220705
Refrigerator
Kenmore 253.74221700
Refrigerator
Kenmore 253.74221701
Refrigerator
Kenmore 253.74221702
Refrigerator
Kenmore 253.74221703
Refrigerator
Kenmore 253.74221704
Refrigerator
Kenmore 253.74221705
Refrigerator
Kenmore 253.74222700
Refrigerator
Kenmore 253.74222701
Refrigerator
Kenmore 253.74222702
Refrigerator
Kenmore 253.74222703
Refrigerator
Kenmore 253.74222704
Refrigerator
Kenmore 253.74222705
Refrigerator
Kenmore 253.74223700
Refrigerator
Kenmore 253.74223701
Refrigerator
Kenmore 253.74223702
Refrigerator
Kenmore 253.74223703
Refrigerator
Kenmore 253.74223704
Refrigerator
Kenmore 253.74223705
Refrigerator
Kenmore 253.74224700
Refrigerator
Kenmore 253.74224701
Refrigerator
Kenmore 253.74224702
Refrigerator
Kenmore 253.74224703
Refrigerator
Kenmore 253.74224704
Refrigerator
Kenmore 253.74224705
Refrigerator
Kenmore 253.74225700
Refrigerator
Kenmore 253.74225701
Refrigerator
Kenmore 253.74225702
Refrigerator
Kenmore 253.74225703
Refrigerator
Kenmore 253.74225704
Refrigerator
Kenmore 253.74227700
Refrigerator
Kenmore 253.74227701
Refrigerator
Kenmore 253.74227702
Refrigerator
Kenmore 253.74227703
Refrigerator
Kenmore 253.74227704
Refrigerator
Kenmore 253.74229700
Refrigerator
Kenmore 253.74229701
Refrigerator
Kenmore 253.74229702
Refrigerator
Kenmore 253.74229703
Refrigerator
Kenmore 253.74229704
Refrigerator
Kenmore 253.74229705
Refrigerator
Kenmore 253.74272700
Refrigerator
Kenmore 253.74272701
Refrigerator
Kenmore 253.74272702
Refrigerator
Kenmore 253.74272703
Refrigerator
Kenmore 253.74273700
Refrigerator
Kenmore 253.74273701
Refrigerator
Kenmore 253.74273702
Refrigerator
Kenmore 253.74273703
Refrigerator
Kenmore 253.74274700
Refrigerator
Kenmore 253.74274701
Refrigerator
Kenmore 253.74274702
Refrigerator
Kenmore 253.74274703
Refrigerator
Kenmore 253.74279700
Refrigerator
Kenmore 253.74279701
Refrigerator
Kenmore 253.74279702
Refrigerator
Kenmore 253.74279703
Refrigerator
Kenmore 253.74920700
Refrigerator
Kenmore 253.74920701
Refrigerator
Kenmore 253.74920702
Refrigerator
Kenmore 253.74920703
Refrigerator
Kenmore 253.74920704
Refrigerator
Kenmore 253.74921700
Refrigerator
Kenmore 253.74921701
Refrigerator
Kenmore 253.74921702
Refrigerator
Kenmore 253.74921703
Refrigerator
Kenmore 253.74921704
Refrigerator
Kenmore 253.74922700
Refrigerator
Kenmore 253.74922701
Refrigerator
Kenmore 253.74922702
Refrigerator
Kenmore 253.74922703
Refrigerator
Kenmore 253.74922704
Refrigerator
Kenmore 253.74923700
Refrigerator
Kenmore 253.74923701
Refrigerator
Kenmore 253.74923702
Refrigerator
Kenmore 253.74923703
Refrigerator
Kenmore 253.74923704
Refrigerator
Kenmore 253.74924700
Refrigerator
Kenmore 253.74924701
Refrigerator
Kenmore 253.74924702
Refrigerator
Kenmore 253.74924703
Refrigerator
Kenmore 253.74924704
Refrigerator
Kenmore 253.74925700
Refrigerator
Kenmore 253.74925701
Refrigerator
Kenmore 253.74925702
Refrigerator
Kenmore 253.74925703
Refrigerator
Kenmore 253.74925704
Refrigerator
Kenmore 253.74927700
Refrigerator
Kenmore 253.74927701
Refrigerator
Kenmore 253.74927702
Refrigerator
Kenmore 253.74927703
Refrigerator
Kenmore 253.74927704
Refrigerator
Kenmore 253.74929700
Refrigerator
Kenmore 253.74929701
Refrigerator
Kenmore 253.74929702
Refrigerator
Kenmore 253.74929703
Refrigerator
Kenmore 253.74929704
Refrigerator
Kenmore 253.74972700
Refrigerator
Kenmore 253.74972701
Refrigerator
Kenmore 253.74972702
Refrigerator
Kenmore 253.74972703
Refrigerator
Kenmore 253.74973700
Refrigerator
Kenmore 253.74973701
Refrigerator
Kenmore 253.74973702
Refrigerator
Kenmore 253.74973703
Refrigerator
Kenmore 253.74974700
Refrigerator
Kenmore 253.74974701
Refrigerator
Kenmore 253.74974702
Refrigerator
Kenmore 253.74974703
Refrigerator
Kenmore 253.74979700
Refrigerator
Kenmore 253.74979701
Refrigerator
Kenmore 253.74979702
Refrigerator
Kenmore 253.74979703
Refrigerator
Kenmore 253.76122400
Refrigerator
Kenmore 253.76122401
Refrigerator
Kenmore 253.76122403
Refrigerator
Kenmore 253.76122405
Refrigerator
Kenmore 253.76122407
Refrigerator
Kenmore 253.76122409
Refrigerator
Kenmore 253.76123400
Refrigerator
Kenmore 253.76123401
Refrigerator
Kenmore 253.76123403
Refrigerator
Kenmore 253.76123405
Refrigerator
Kenmore 253.76123407
Refrigerator
Kenmore 253.76123409
Refrigerator
Kenmore 253.76124400
Refrigerator
Kenmore 253.76124401
Refrigerator
Kenmore 253.76124403
Refrigerator
Kenmore 253.76124405
Refrigerator
Kenmore 253.76124407
Refrigerator
Kenmore 253.76124409
Refrigerator
Kenmore 253.76129400
Refrigerator
Kenmore 253.76129401
Refrigerator
Kenmore 253.76129403
Refrigerator
Kenmore 253.76129405
Refrigerator
Kenmore 253.76129407
Refrigerator
Kenmore 253.76129409
Refrigerator
Kenmore 253.76132400
Refrigerator
Kenmore 253.76132401
Refrigerator
Kenmore 253.76132403
Refrigerator
Kenmore 253.76133400
Refrigerator
Kenmore 253.76133401
Refrigerator
Kenmore 253.76133403
Refrigerator
Kenmore 253.76134400
Refrigerator
Kenmore 253.76134401
Refrigerator
Kenmore 253.76134403
Refrigerator
Kenmore 253.76139400
Refrigerator
Kenmore 253.76139401
Refrigerator
Kenmore 253.76139403
Refrigerator
Kenmore 253.76822400
Refrigerator
Kenmore 253.76822401
Refrigerator
Kenmore 253.76822402
Refrigerator
Kenmore 253.76822403
Refrigerator
Kenmore 253.76822404
Refrigerator
Kenmore 253.76822405
Refrigerator
Kenmore 253.76822406
Refrigerator
Kenmore 253.76822408
Refrigerator
Kenmore 253.7682240A
Refrigerator
Kenmore 253.76823400
Refrigerator
Kenmore 253.76823402
Refrigerator
Kenmore 253.76823404
Refrigerator
Kenmore 253.76823406
Refrigerator
Kenmore 253.76823408
Refrigerator
Kenmore 253.7682340A
Refrigerator
Kenmore 253.7682340B
Refrigerator
Kenmore 253.76824400
Refrigerator
Kenmore 253.76824401
Refrigerator
Kenmore 253.76824402
Refrigerator
Kenmore 253.76824403
Refrigerator
Kenmore 253.76824404
Refrigerator
Kenmore 253.76824405
Refrigerator
Kenmore 253.76824406
Refrigerator
Kenmore 253.76824408
Refrigerator
Kenmore 253.7682440A
Refrigerator
Kenmore 253.76829400
Refrigerator
Kenmore 253.76829401
Refrigerator
Kenmore 253.76829402
Refrigerator
Kenmore 253.76829403
Refrigerator
Kenmore 253.76829404
Refrigerator
Kenmore 253.76829405
Refrigerator
Kenmore 253.76829406
Refrigerator
Kenmore 253.76829408
Refrigerator
Kenmore 253.7682940A
Refrigerator
Kenmore 253.76832400
Refrigerator
Kenmore 253.76832401
Refrigerator
Kenmore 253.76832402
Refrigerator
Kenmore 253.76832403
Refrigerator
Kenmore 253.76832404
Refrigerator
Kenmore 253.76832406
Refrigerator
Kenmore 253.76833400
Refrigerator
Kenmore 253.76833402
Refrigerator
Kenmore 253.76833404
Refrigerator
Kenmore 253.76833406
Refrigerator
Kenmore 253.76834400
Refrigerator
Kenmore 253.76834401
Refrigerator
Kenmore 253.76834402
Refrigerator
Kenmore 253.76834403
Refrigerator
Kenmore 253.76834404
Refrigerator
Kenmore 253.76834406
Refrigerator
Kenmore 253.76839400
Refrigerator
Kenmore 253.76839401
Refrigerator
Kenmore 253.76839402
Refrigerator
Kenmore 253.76839403
Refrigerator
Kenmore 253.76839404
Refrigerator
Kenmore 253.76839406
Refrigerator
Kenmore 25344352400
Refrigerator
Kenmore 25344352401
Refrigerator
Kenmore 25344352403
Refrigerator
Kenmore 25344352404
Refrigerator
Kenmore 25344352405
Refrigerator
Kenmore 25344352406
Refrigerator
Kenmore 25344352407
Refrigerator
Kenmore 25344352408
Refrigerator
Kenmore 25344352409
Refrigerator
Kenmore 25344353400
Refrigerator
Kenmore 25344353401
Refrigerator
Kenmore 25344353402
Refrigerator
Kenmore 25344353403
Refrigerator
Kenmore 25344353404
Refrigerator
Kenmore 25344353405
Refrigerator
Kenmore 25344353406
Refrigerator
Kenmore 25344353407
Refrigerator
Kenmore 25344353408
Refrigerator
Kenmore 25344353409
Refrigerator
Kenmore 25344354400
Refrigerator
Kenmore 25344354401
Refrigerator
Kenmore 25344354403
Refrigerator
Kenmore 25344354404
Refrigerator
Kenmore 25344354405
Refrigerator
Kenmore 25344354406
Refrigerator
Kenmore 25344354407
Refrigerator
Kenmore 25344354408
Refrigerator
Kenmore 25344354409
Refrigerator
Kenmore 25344359400
Refrigerator
Kenmore 25344359401
Refrigerator
Kenmore 25344359403
Refrigerator
Kenmore 25344359404
Refrigerator
Kenmore 25344359405
Refrigerator
Kenmore 25344359406
Refrigerator
Kenmore 25344359407
Refrigerator
Kenmore 25344359408
Refrigerator
Kenmore 25344359409
Refrigerator
Kenmore 25344362500
Refrigerator
Kenmore 25344362501
Refrigerator
Kenmore 25344362502
Refrigerator
Kenmore 25344502600
Refrigerator
Kenmore 25344502601
Refrigerator
Kenmore 25344502602
Refrigerator
Kenmore 25344502603
Refrigerator
Kenmore 25344502604
Refrigerator
Kenmore 25344502605
Refrigerator
Kenmore 25344502606
Refrigerator
Kenmore 25344502607
Refrigerator
Kenmore 25344502608
Refrigerator
Kenmore 25344502609
Refrigerator
Kenmore 2534450260A
Refrigerator
Kenmore 2534450260C
Refrigerator
Kenmore 25344503600
Refrigerator
Kenmore 25344503601
Refrigerator
Kenmore 25344503602
Refrigerator
Kenmore 25344503603
Refrigerator
Kenmore 25344503604
Refrigerator
Kenmore 25344503605
Refrigerator
Kenmore 25344503606
Refrigerator
Kenmore 25344503607
Refrigerator
Kenmore 25344503608
Refrigerator
Kenmore 25344503609
Refrigerator
Kenmore 2534450360A
Refrigerator
Kenmore 2534450360B
Refrigerator
Kenmore 2534450360C
Refrigerator
Kenmore 25344509600
Refrigerator
Kenmore 25344509601
Refrigerator
Kenmore 25344509602
Refrigerator
Kenmore 25344509603
Refrigerator
Kenmore 25344509604
Refrigerator
Kenmore 25344509605
Refrigerator
Kenmore 25344509606
Refrigerator
Kenmore 25344509607
Refrigerator
Kenmore 25344509608
Refrigerator
Kenmore 25344509609
Refrigerator
Kenmore 2534450960A
Refrigerator
Kenmore 2534450960C
Refrigerator
Kenmore 25344512600
Refrigerator
Kenmore 25344512601
Refrigerator
Kenmore 25344512602
Refrigerator
Kenmore 25344512603
Refrigerator
Kenmore 25344512604
Refrigerator
Kenmore 25344512605
Refrigerator
Kenmore 25344512606
Refrigerator
Kenmore 25344512607
Refrigerator
Kenmore 25344512608
Refrigerator
Kenmore 25344512609
Refrigerator
Kenmore 2534451260A
Refrigerator
Kenmore 2534451260B
Refrigerator
Kenmore 25344513600
Refrigerator
Kenmore 25344513601
Refrigerator
Kenmore 25344513602
Refrigerator
Kenmore 25344513603
Refrigerator
Kenmore 25344513604
Refrigerator
Kenmore 25344513605
Refrigerator
Kenmore 25344513606
Refrigerator
Kenmore 25344513607
Refrigerator
Kenmore 25344513608
Refrigerator
Kenmore 25344513609
Refrigerator
Kenmore 2534451360A
Refrigerator
Kenmore 25344519600
Refrigerator
Kenmore 25344519601
Refrigerator
Kenmore 25344519602
Refrigerator
Kenmore 25344519603
Refrigerator
Kenmore 25344519604
Refrigerator
Kenmore 25344519605
Refrigerator
Kenmore 25344519606
Refrigerator
Kenmore 25344519607
Refrigerator
Kenmore 25344519608
Refrigerator
Kenmore 25344519609
Refrigerator
Kenmore 2534451960A
Refrigerator
Kenmore 25350683000
Refrigerator
Kenmore 25350683001
Refrigerator
Kenmore 25350683002
Refrigerator
Kenmore 25351232101
Refrigerator
Kenmore 25351232102
Refrigerator
Kenmore 25351232103
Refrigerator
Kenmore 25351232104
Refrigerator
Kenmore 25351232105
Refrigerator
Kenmore 25351232106
Refrigerator
Kenmore 25351234101
Refrigerator
Kenmore 25351234102
Refrigerator
Kenmore 25351234103
Refrigerator
Kenmore 25351234104
Refrigerator
Kenmore 25351234105
Refrigerator
Kenmore 25351234106
Refrigerator
Kenmore 25351622100
Refrigerator
Kenmore 25351622101
Refrigerator
Kenmore 25351622102
Refrigerator
Kenmore 25351622103
Refrigerator
Kenmore 25351622104
Refrigerator
Kenmore 25351624100
Refrigerator
Kenmore 25351624101
Refrigerator
Kenmore 25351624102
Refrigerator
Kenmore 25351624103
Refrigerator
Kenmore 25351624104
Refrigerator
Kenmore 25352322201
Refrigerator
Kenmore 25352322202
Refrigerator
Kenmore 25352322203
Refrigerator
Kenmore 25352324200
Refrigerator
Kenmore 25352324201
Refrigerator
Kenmore 25352324202
Refrigerator
Kenmore 25352324203
Refrigerator
Kenmore 25352612200
Refrigerator
Kenmore 25352612201
Refrigerator
Kenmore 25352612202
Refrigerator
Kenmore 25352614200
Refrigerator
Kenmore 25352614201
Refrigerator
Kenmore 25352614202
Refrigerator
Kenmore 25352622200
Refrigerator
Kenmore 25352622201
Refrigerator
Kenmore 25352622202
Refrigerator
Kenmore 25352624200
Refrigerator
Kenmore 25352624201
Refrigerator
Kenmore 25352624202
Refrigerator
Kenmore 25353612300
Refrigerator
Kenmore 25353612301
Refrigerator
Kenmore 25353612302
Refrigerator
Kenmore 25353612303
Refrigerator
Kenmore 25353614300
Refrigerator
Kenmore 25353614301
Refrigerator
Kenmore 25353614302
Refrigerator
Kenmore 25353614303
Refrigerator
Kenmore 25353682300
Refrigerator
Kenmore 25353684300
Refrigerator
Kenmore 25354622400
Refrigerator
Kenmore 25354622401
Refrigerator
Kenmore 25354622402
Refrigerator
Kenmore 25354622406
Refrigerator
Kenmore 25354622407
Refrigerator
Kenmore 25354622408
Refrigerator
Kenmore 25354622409
Refrigerator
Kenmore 2535462240A
Refrigerator
Kenmore 2535462240B
Refrigerator
Kenmore 2535462240N
Refrigerator
Kenmore 25354623400
Refrigerator
Kenmore 25354623401
Refrigerator
Kenmore 25354623402
Refrigerator
Kenmore 25354623403
Refrigerator
Kenmore 25354623406
Refrigerator
Kenmore 25354623407
Refrigerator
Kenmore 25354623408
Refrigerator
Kenmore 25354623409
Refrigerator
Kenmore 2535462340A
Refrigerator
Kenmore 2535462340B
Refrigerator
Kenmore 2535462340N
Refrigerator
Kenmore 25354624400
Refrigerator
Kenmore 25354624401
Refrigerator
Kenmore 25354624402
Refrigerator
Kenmore 25354624406
Refrigerator
Kenmore 25354624407
Refrigerator
Kenmore 25354624408
Refrigerator
Kenmore 25354624409
Refrigerator
Kenmore 2535462440A
Refrigerator
Kenmore 2535462440B
Refrigerator
Kenmore 2535462440N
Refrigerator
Kenmore 25354628501
Refrigerator
Kenmore 25354628503
Refrigerator
Kenmore 25354628504
Refrigerator
Kenmore 25354628505
Refrigerator
Kenmore 25354628506
Refrigerator
Kenmore 25354629400
Refrigerator
Kenmore 25354629401
Refrigerator
Kenmore 25354629402
Refrigerator
Kenmore 25354629406
Refrigerator
Kenmore 25354629407
Refrigerator
Kenmore 25354629408
Refrigerator
Kenmore 25354629409
Refrigerator
Kenmore 2535462940A
Refrigerator
Kenmore 2535462940B
Refrigerator
Kenmore 2535462940N
Refrigerator
Kenmore 25354632500
Refrigerator
Kenmore 25354632502
Refrigerator
Kenmore 25354633500
Refrigerator
Kenmore 25354633502
Refrigerator
Kenmore 25354639500
Refrigerator
Kenmore 25354639502
Refrigerator
Kenmore 25354703400
Refrigerator
Kenmore 25354703401
Refrigerator
Kenmore 25354703402
Refrigerator
Kenmore 25354703403
Refrigerator
Kenmore 25354703404