Electrolux EWF2CBPA | Our#: 176946
Electrolux Pure Advantage EWF2CBPA Refrigerator Filter

15 review(s)
Electrolux EWF2CBPA | Our#: 176946
Fast Shipping & Free Returns
100% Compatibility Guarantee
Compatibility guaranteed! Free return shipping and 100% money back if there are any issues.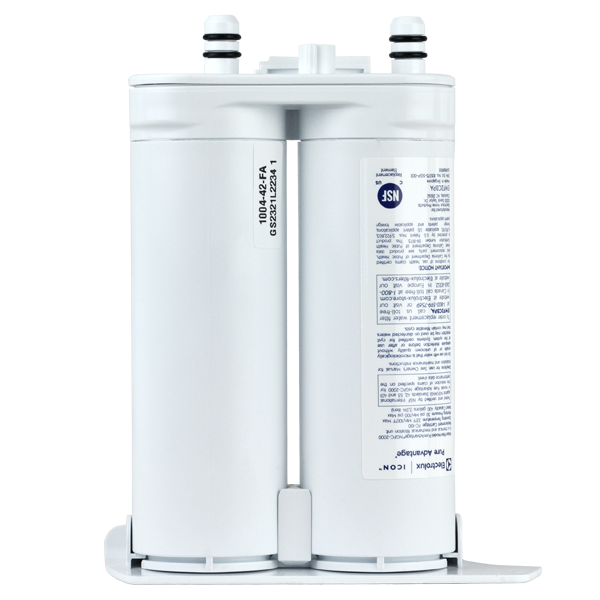 3 people in your area recently purchased this product!
Fast Shipping & Free Returns
100% Compatibility Guarantee
Frequently Purchased Together
Product Details
The factory original Electrolux EWF2CBPA Filter fit refrigerators by Electrolux with the Pure Advantage Ice and Water Fitration System. This filter will fit all ICON side-by-side models.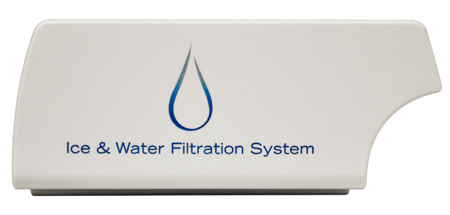 Features:
Original OEM product
Easy installation and operation
Helps reduce chlorine taste and odor
Helps reduce contaminants found in tap water and improves its quality
Tested by NSF/ANSI International against Standard 42 for the reduction of chlorine taste and odor and particulate
Tested by NSF/ANSI International against Standard 53 for the reduction of lead, cysts, turbidity and other chemicals and impurities
---
Popular Part Numbers
---
Installation Instructions
How To Install The EWF2CBPA Filter:

Turn off the icemaker using the power switch
Press the filter release button adjacent to the old filter - discard old filter
Push the new filter straight into the filter receiver until you hear a double "click"
Turn the power back on to the icemaker
Reset the change water indicator by referring to instructions in your owners manual
Replace the filter once every 6 months
---
Compatible Part Numbers
Search by your filter part number or appliance model number to verify compatibility
| Model or Part Number | Type |
| --- | --- |
| ELECTROLUX E23CS75DSS1 | Refrigerator |
| Electrolux E23CS75DSS1 | Refrigerator |
| Electrolux E23CS75DSS2 | Refrigerator |
| ELECTROLUX E23CS75DSS2 | Refrigerator |
| Electrolux E23CS75DSS3 | Refrigerator |
| ELECTROLUX E23CS75DSS3 | Refrigerator |
| ELECTROLUX E23CS75DSS4 | Refrigerator |
| ELECTROLUX E23CS75DSS5 | Refrigerator |
| Electrolux E23CS75DSS5 | Refrigerator |
| Electrolux E23CS75DSS6 | Refrigerator |
| ELECTROLUX E23CS75DSS6 | Refrigerator |
| ELECTROLUX E23CS75DSS7 | Refrigerator |
| ELECTROLUX E23CS75DSS8 | Refrigerator |
| ELECTROLUX E23CS75DSS9 | Refrigerator |
| ELECTROLUX E23CS75DSSA | Refrigerator |
| Electrolux E23CS75DSSC | Refrigerator |
| ELECTROLUX E23CS75DSSC | Refrigerator |
| ELECTROLUX E23CS75DSSE | Refrigerator |
| Electrolux E23CS75DSSE | Refrigerator |
| ELECTROLUX E23CS75DSSF | Refrigerator |
| Electrolux E23CS75DSSF | Refrigerator |
| ELECTROLUX E23CS75DSSG | Refrigerator |
| Electrolux E23CS75DSSG | Refrigerator |
| ELECTROLUX E23CS75DSSH | Refrigerator |
| Electrolux E23CS75DSSH | Refrigerator |
| ELECTROLUX E23CS78DSS0 | Refrigerator |
| ELECTROLUX E23CS78DSS1 | Refrigerator |
| ELECTROLUX E23CS78DSS3 | Refrigerator |
| ELECTROLUX E23CS78EPS0 | Refrigerator |
| Electrolux E23CS78EPS0 | Refrigerator |
| ELECTROLUX E23CS78EPS1 | Refrigerator |
| ELECTROLUX E23CS78EPS2 | Refrigerator |
| Electrolux E23CS78EPS2 | Refrigerator |
| ELECTROLUX E23CS78EPS3 | Refrigerator |
| Electrolux E23CS78EPS3 | Refrigerator |
| ELECTROLUX E23CS78EPS4 | Refrigerator |
| Electrolux E23CS78EPS4 | Refrigerator |
| ELECTROLUX E23CS78ESS0 | Refrigerator |
| Electrolux E23CS78ESS0 | Refrigerator |
| ELECTROLUX E23CS78ESS1 | Refrigerator |
| Electrolux E23CS78ESS2 | Refrigerator |
| ELECTROLUX E23CS78ESS2 | Refrigerator |
| Electrolux E23CS78GPS0 | Refrigerator |
| ELECTROLUX E23CS78GPS0 | Refrigerator |
| Electrolux E23CS78GPS1 | Refrigerator |
| ELECTROLUX E23CS78GPS1 | Refrigerator |
| Electrolux E23CS78GPS2 | Refrigerator |
| ELECTROLUX E23CS78GPS2 | Refrigerator |
| ELECTROLUX E23CS78GPS3 | Refrigerator |
| Electrolux E23CS78GPS3 | Refrigerator |
| Electrolux E23CS78GPS4 | Refrigerator |
| ELECTROLUX E23CS78GPS4 | Refrigerator |
| Electrolux E23CS78GSS1 | Refrigerator |
| ELECTROLUX E23CS78GSS1 | Refrigerator |
| ELECTROLUX E23CS78GSS2 | Refrigerator |
| Electrolux E23CS78GSS2 | Refrigerator |
| ELECTROLUX E23CS78GSS3 | Refrigerator |
| Electrolux E23CS78GSS3 | Refrigerator |
| ELECTROLUX E23CS78GSS4 | Refrigerator |
| Electrolux E23CS78GSS4 | Refrigerator |
| ELECTROLUX E23CS78HPS0 | Refrigerator |
| ELECTROLUX E23CS78HPS1 | Refrigerator |
| ELECTROLUX E23CS78HPS2 | Refrigerator |
| ELECTROLUX E23CS78HPS3 | Refrigerator |
| ELECTROLUX E23CS78HPS5 | Refrigerator |
| ELECTROLUX E23CS78HPS6 | Refrigerator |
| ELECTROLUX E23CS78HSS0 | Refrigerator |
| ELECTROLUX E23CS78HSS1 | Refrigerator |
| ELECTROLUX E23CS78HSS2 | Refrigerator |
| ELECTROLUX E23CS78HSS3 | Refrigerator |
| ELECTROLUX E23CS78HSS4 | Refrigerator |
| ELECTROLUX E23CS78HSS5 | Refrigerator |
| ELECTROLUX E32AR75FPS0 | Refrigerator |
| ELECTROLUX E32AR75FPS1 | Refrigerator |
| ELECTROLUX E32AR75FPS2 | Refrigerator |
| ELECTROLUX E32AR75FPS3 | Refrigerator |
| ELECTROLUX E32AR75FPS4 | Refrigerator |
| ELECTROLUX E32AR75FPS5 | Refrigerator |
| ELECTROLUX E32AR75GTT0 | Refrigerator |
| ELECTROLUX E42BS75EPS | Refrigerator |
| ELECTROLUX E42BS75ETT | Refrigerator |
| 1159140 | Filter |
| 218732310D | Filter |
| 240396405 | Filter |
| AP3868710 | Filter |
| EWF2CBPA | Filter |
| NGFC-2000 | Filter |
| NGFC2000 | Filter |
| PS1148409 | Filter |
Additional Information
---