EcoAqua EFF-6045A | Our#: 189363
EcoAqua Replacement for Samsung HAF-QIN/EXP (DA97-17376B), 3-Pack

154 review(s)
EcoAqua EFF-6045A | Our#: 189363
Fast Shipping & Free Returns
100% Compatibility Guarantee
Compatibility guaranteed! Free return shipping and 100% money back if there are any issues.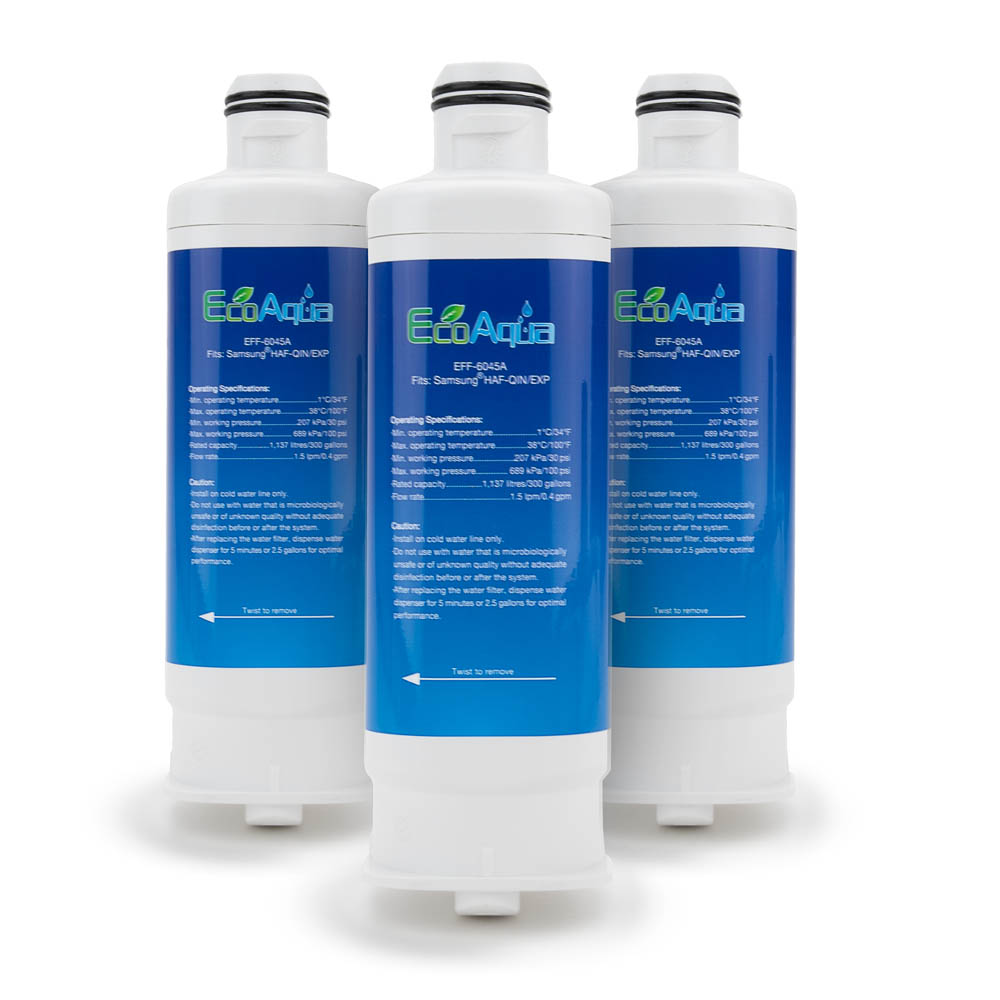 20 people in your area recently purchased this product!
$

27.98
(

3

Filters for $

83.95

)
Fast Shipping & Free Returns
100% Compatibility Guarantee
Frequently Purchased Together
Product Details
The EcoAqua EFF-6045A filter replaces Samsung part number DA97-17376B. It is used in French Door and Side-by-Side refrigerators by Samsung and others. The EFF-6045A filter creates better tasting water for drinking and making beverages as well as clean, clearer, healthy ice.
Features:
Inexpensive alternative to OEM product
Easy installation and operation
Replaces PART # DA97-17376B / MODEL # HAF-QIN/EXP / FOR USE IN SYSTEM # DA97-08006C
Helps reduce chlorine taste and odor
Helps reduce contaminants found in tap water and improves its quality
---
Popular Part Numbers
---
Installation Instructions
How to Install the DA97-17376B Filter:
Remove old cartridge by grasping the filter knob and turning ¼ turn counterclockwise
Insert new cartridge into filter receiver and turn ¼ turn clockwise until it locks into place. The handle with "LOCK" text will now be in a vertical orientation
Run water through the dispenser for 3 minutes to purge air and any loose carbon from the system
Reset your filter replacement indicator light if your refrigerator has one
---
Compatible Part Numbers
Search by your filter part number or appliance model number to verify compatibility
| Model or Part Number | Type |
| --- | --- |
| Samsung BRF365200AP/AA | Refrigerator |
| Samsung BRF425200AP/AA | Refrigerator |
| Samsung DA97-17376B/00 | Refrigerator |
| Samsung RF18A5101WW/AA | Refrigerator |
| Samsung RF220NCTAWW | Refrigerator |
| Samsung RF22A4121SR | Refrigerator |
| Samsung RF22A4121SR/AA | Refrigerator |
| Samsung RF22R7351DT | Refrigerator |
| Samsung RF22R7351DT/AA | Refrigerator |
| Samsung RF22R7351SG | Refrigerator |
| Samsung RF22R7351SG/AA | Refrigerator |
| Samsung RF22R7351SR | Refrigerator |
| Samsung RF22R7351SR/AA | Refrigerator |
| Samsung RF22R7551DT | Refrigerator |
| Samsung RF22R7551DT/AA | Refrigerator |
| Samsung RF22R7551SG | Refrigerator |
| Samsung RF22R7551SG/AA | Refrigerator |
| Samsung RF22R7551SR | Refrigerator |
| Samsung RF22R7551SR/AA | Refrigerator |
| Samsung RF23A9071SG | Refrigerator |
| Samsung RF23A9071SG/AA | Refrigerator |
| Samsung RF23A9071SR | Refrigerator |
| Samsung RF23A9071SR/AA | Refrigerator |
| Samsung RF23A9671SG | Refrigerator |
| Samsung RF23A9671SG/AA | Refrigerator |
| Samsung RF23A9671SR | Refrigerator |
| Samsung RF23A9671SR/AA | Refrigerator |
| Samsung RF23A967541 | Refrigerator |
| Samsung RF23A9675MT | Refrigerator |
| Samsung RF23A9771SG | Refrigerator |
| Samsung RF23A9771SG/AA | Refrigerator |
| Samsung RF23A9771SR | Refrigerator |
| Samsung RF23A9771SR/AA | Refrigerator |
| Samsung RF23M8070DT | Refrigerator |
| Samsung RF23M8070DT/AA | Refrigerator |
| Samsung RF23M8070SG/AA | Refrigerator |
| Samsung RF23M8070SR | Refrigerator |
| Samsung RF23M8070SR/AA | Refrigerator |
| Samsung RF23M8070SR/AA | Refrigerator |
| Samsung RF23M8090SG/AA | Refrigerator |
| Samsung RF23M8090SR/AA | Refrigerator |
| Samsung RF23M8570SG/AA | Refrigerator |
| Samsung RF23M8570SR/AA | Refrigerator |
| Samsung RF23M8590SG/AA | Refrigerator |
| Samsung RF23M8590SR/AA | Refrigerator |
| Samsung RF23M8960MT/AA | Refrigerator |
| Samsung RF23M8960S4/AA | Refrigerator |
| Samsung RF23R6201DT | Refrigerator |
| Samsung RF23R6201DT/AA | Refrigerator |
| Samsung RF23R6201SG | Refrigerator |
| Samsung RF23R6201SG/AA | Refrigerator |
| Samsung RF23R6201SR | Refrigerator |
| Samsung RF23R6201SR/AA | Refrigerator |
| Samsung RF23R6201WW | Refrigerator |
| Samsung RF23R6201WW/AA | Refrigerator |
| Samsung RF23R6301SR | Refrigerator |
| Samsung RF23R6301SR/AA | Refrigerator |
| Samsung RF24R7201DT | Refrigerator |
| Samsung RF24R7201DT/AA | Refrigerator |
| Samsung RF24R7201SG | Refrigerator |
| Samsung RF24R7201SG/AA | Refrigerator |
| Samsung RF24R7201SR | Refrigerator |
| Samsung RF27T5201SG | Refrigerator |
| Samsung RF27T5201SG/AA | Refrigerator |
| Samsung RF27T5201SR | Refrigerator |
| Samsung RF27T5201SR/AA | Refrigerator |
| Samsung RF27T5201WW | Refrigerator |
| Samsung RF27T5241SG | Refrigerator |
| Samsung RF27T5241SG/AA | Refrigerator |
| Samsung RF27T5241SR | Refrigerator |
| Samsung RF27T5241SR/AA | Refrigerator |
| Samsung RF27T5501SG | Refrigerator |
| Samsung RF27T5501SG/AA | Refrigerator |
| Samsung RF27T5501SR | Refrigerator |
| Samsung RF27T5501SR/AA | Refrigerator |
| Samsung RF28R6201DT | Refrigerator |
| Samsung RF28R6201DT/AA | Refrigerator |
| Samsung RF28R6201SG | Refrigerator |
| Samsung RF28R6201SG/AA | Refrigerator |
| Samsung RF28R6202WW | Refrigerator |
| Samsung RF28R6202WW/AA | Refrigerator |
| Samsung RF28R6221SR | Refrigerator |
| Samsung RF28R6221SR/AA | Refrigerator |
| Samsung RF28R6222WW | Refrigerator |
| Samsung RF28R6222WW/AA | Refrigerator |
| Samsung RF28R6241SR | Refrigerator |
| Samsung RF28R6241SR/AA | Refrigerator |
| Samsung RF28R6301DT | Refrigerator |
| Samsung RF28R6301SG | Refrigerator |
| Samsung RF28R6301SG/AA | Refrigerator |
| Samsung RF28R6301SR | Refrigerator |
| Samsung RF28R7201DT | Refrigerator |
| Samsung RF28R7201DT/AA | Refrigerator |
| Samsung RF28R7201SG | Refrigerator |
| Samsung RF28R7201SG/AA | Refrigerator |
| Samsung RF28R7201SR | Refrigerator |
| Samsung RF28R7201SR/AA | Refrigerator |
| Samsung RF28R7351DT | Refrigerator |
| Samsung RF28R7351DT/AA | Refrigerator |
| Samsung RF28R7351SG | Refrigerator |
| Samsung RF28R7351SG/AA | Refrigerator |
| Samsung RF28R7351SG/AA-00 | Refrigerator |
| Samsung RF28R7351SR | Refrigerator |
| Samsung RF28R7351SR/AA | Refrigerator |
| Samsung RF28R7551DT | Refrigerator |
| Samsung RF28R7551DT/AA | Refrigerator |
| Samsung RF28R7551SG | Refrigerator |
| Samsung RF28R7551SG/AA | Refrigerator |
| Samsung RF28R7551SR | Refrigerator |
| Samsung RF28R7551SR/AA | Refrigerator |
| Samsung RF28T5001SG | Refrigerator |
| Samsung RF28T5001SG/AA | Refrigerator |
| Samsung RF28T5001SR | Refrigerator |
| Samsung RF28T5001SR/AA | Refrigerator |
| Samsung RF28T5001WW | Refrigerator |
| Samsung RF28T5001WW/AA | Refrigerator |
| Samsung RF28T5021SG | Refrigerator |
| Samsung RF28T5021SG/AA | Refrigerator |
| Samsung RF28T5021SR | Refrigerator |
| Samsung RF28T5021SR/AA | Refrigerator |
| Samsung RF28T5101SG | Refrigerator |
| Samsung RF28T5101SG/AA | Refrigerator |
| Samsung RF28T5101SR | Refrigerator |
| Samsung RF28T5101SR/AA | Refrigerator |
| Samsung RF28T5101WW | Refrigerator |
| Samsung RF28T5101WW/AA | Refrigerator |
| Samsung RF28T5F01SG | Refrigerator |
| Samsung RF28T5F01SG/AA | Refrigerator |
| Samsung RF28T5F01SR | Refrigerator |
| Samsung RF28T5F01SR/AA | Refrigerator |
| Samsung RF29A9071SG | Refrigerator |
| Samsung RF29A9071SG/AA | Refrigerator |
| Samsung RF29A9071SR | Refrigerator |
| Samsung RF29A9071SR/AA | Refrigerator |
| Samsung RF29A9671SG | Refrigerator |
| Samsung RF29A9671SG/AA | Refrigerator |
| Samsung RF29A9671SR | Refrigerator |
| Samsung RF29A9671SR/AA | Refrigerator |
| Samsung RF29A967541 | Refrigerator |
| Samsung RF29A9675AP | Refrigerator |
| Samsung RF29A9675MT | Refrigerator |
| Samsung RF29A9771SG | Refrigerator |
| Samsung RF29A9771SR | Refrigerator |
| Samsung RF29BB820012 | Refrigerator |
| Samsung RF29BB820012/00 | Refrigerator |
| Samsung RF29BB820012/AA | Refrigerator |
| Samsung RF29BB820012/AA-00 | Refrigerator |
| Samsung RF29BB820012/OO | Refrigerator |
| Samsung RF29BB86004M | Refrigerator |
| Samsung RF29BB8600QL | Refrigerator |
| Samsung RF29BB89008M | Refrigerator |
| Samsung RF30BB6200QL | Refrigerator |
| Samsung RF30BB6600QL | Refrigerator |
| Samsung RS22T5201SG | Refrigerator |
| Samsung RS22T5201SG/AA | Refrigerator |
| Samsung RS22T5201SR | Refrigerator |
| Samsung RS22T5201SR/AA | Refrigerator |
| Samsung RS22T5561SG | Refrigerator |
| Samsung RS22T5561SG/AA | Refrigerator |
| Samsung RS22T5561SR | Refrigerator |
| Samsung RS22T5561SR/AA | Refrigerator |
| Samsung RS23A500ASG | Refrigerator |
| Samsung RS23A500ASG/AA | Refrigerator |
| Samsung RS23A500ASR | Refrigerator |
| Samsung RS23A500ASR/AA | Refrigerator |
| Samsung RS27T5200SG | Refrigerator |
| Samsung RS27T5200SG/AA | Refrigerator |
| Samsung RS27T5200SR | Refrigerator |
| Samsung RS27T5200WW | Refrigerator |
| Samsung RS27T5200WW/AA | Refrigerator |
| Samsung RS27T5201SR | Refrigerator |
| Samsung RS27T5201SR/AA | Refrigerator |
| Samsung RS27T5561SG | Refrigerator |
| Samsung RS27T5561SG/AA | Refrigerator |
| Samsung RS27T5561SR | Refrigerator |
| Samsung RS28A500ASG | Refrigerator |
| Samsung RS28A500ASG/AA | Refrigerator |
| Samsung RS28A500ASR | Refrigerator |
| Samsung RS28A500ASR/AA | Refrigerator |
| Samsung RS28A5F61SG | Refrigerator |
| Samsung RS28A5F61SG/AA | Refrigerator |
| Samsung RS28A5F61SR | Refrigerator |
| Samsung RS28A5F61SR/AA | Refrigerator |
| 3846785 | Filter |
| AQF-DA97-17376B | Filter |
| DA97-08006C | Filter |
| DA97-17376B | Filter |
| EFF-6045A | Filter |
| FL-RF45 | Filter |
| HAF-QIN | Filter |
| HAF-QIN/EXP | Filter |
| HAF-QINS | Filter |
| S-4-2 | Filter |
| WD-DA97-17376B | Filter |
| WS645A | Filter |