EcoAqua EFF-6026A | Our#: 181068
EcoAqua Replacement Filter for Bosch 640565 Refrigerator Filter, 3-Pack

26 review(s)
EcoAqua EFF-6026A | Our#: 181068
Fast Shipping & Free Returns
100% Compatibility Guarantee
NSF/ANSI 42
Compatibility guaranteed! Free return shipping and 100% money back if there are any issues.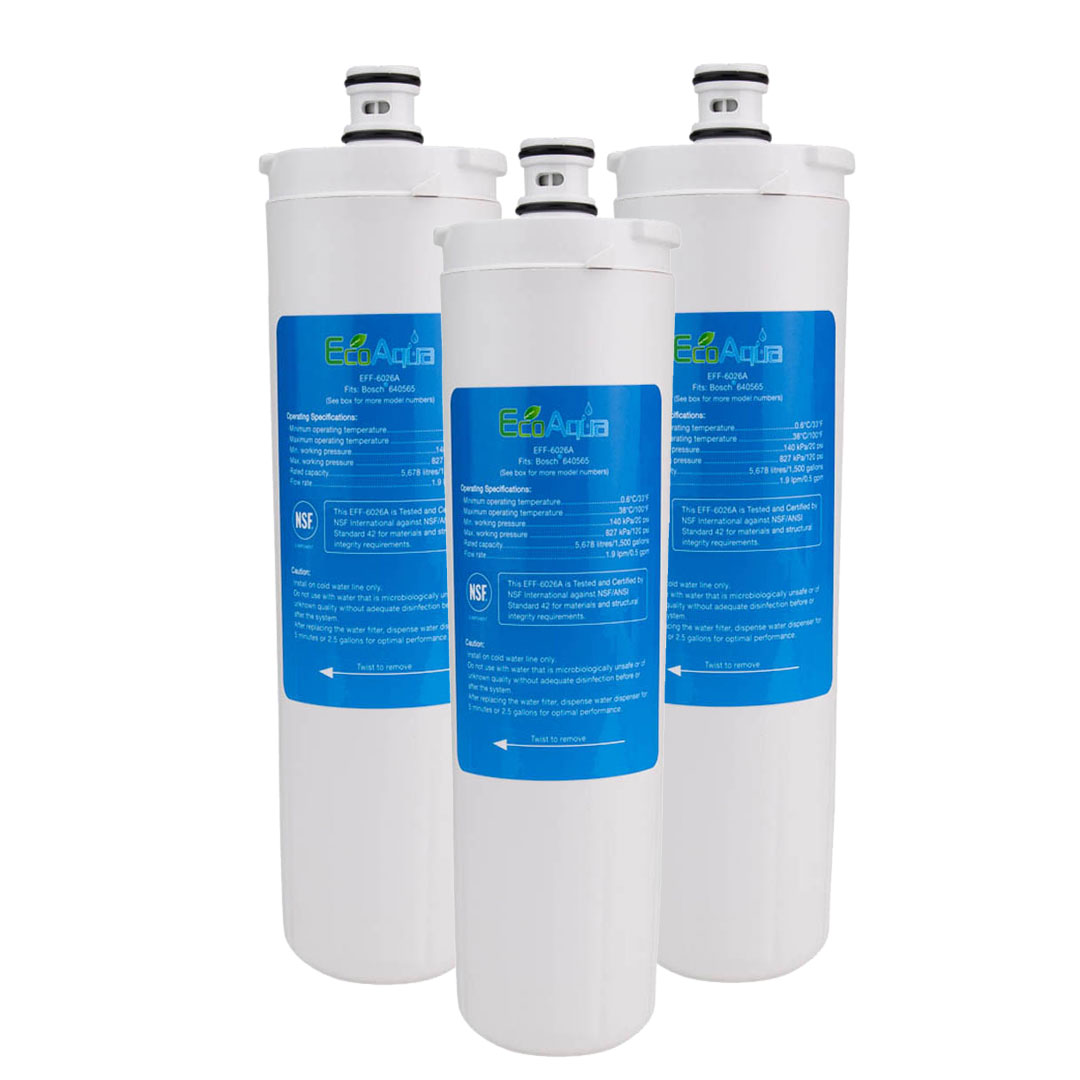 4 people in your area recently purchased this product!
$

21.59
(

3

Filters for $

64.76

)
Fast Shipping & Free Returns
100% Compatibility Guarantee
NSF/ANSI 42
Frequently Purchased Together
Product Details
The aftermarket EcoAqua EFF-6026A Premium Ice & Water Filter is used in refrigerators by Bosch and others. The EFF-6026A is designed to replace the Bosch 640565 filter. It creates better tasting water for drinking and making beverages as well as clean, clearer, healthy ice.
Features:
High quality, inexpensive alternative to factory original filter
Helps reduce chlorine taste and odor
Helps reduce contaminants found in tap water and improves its quality
---
Popular Part Numbers
---
Installation Instructions
How To Install The EVOLFLTR10 Filter:
Disconnect the refrigerator water supply and unplug the refrigerator
Push the button at the top of the filter case and remove the case from the compartment
Twist the old filter a quarter-turn counterclockwise
Pull the filter straight out and discard
Remove the protective cap from the new filter
Push the new filter into the fridge until it stops
Twist the new filter a quarter-turn clockwise
Replace the filter case back into the compartment
Reconnect the refrigerator water supply and plug the refrigerator back in
---
Specifications
Capacity:
400 Gallons
Certifications:
NSF/ANSI 42
Chlorine Reduction:
86%
Flow Rate:
0.5 Gallon Per Minute
Micron Rating:
5
Reduction Claims:
Chlorine, Sediment
Compatible Part Numbers
Search by your filter part number or appliance model number to verify compatibility
| Model or Part Number | Type |
| --- | --- |
| Bosch B20CS5 | Refrigerator |
| Bosch B20CS50SN | Refrigerator |
| Bosch B20CS50SNB | Refrigerator |
| Bosch B20CS50SNB 01 | Refrigerator |
| Bosch B20CS50SNB-01 | Refrigerator |
| Bosch B20CS50SNB/01 | Refrigerator |
| Bosch B20CS50SNB/02 | Refrigerator |
| Bosch B20CS50SNB01 | Refrigerator |
| Bosch B20CS50SNI | Refrigerator |
| Bosch B20CS50SNI-01 | Refrigerator |
| Bosch B20CS50SNI/01 | Refrigerator |
| Bosch B20CS50SNI/02 | Refrigerator |
| Bosch B20CS50SNS | Refrigerator |
| Bosch B20CS50SNS-01 | Refrigerator |
| Bosch B20CS50SNS/01 | Refrigerator |
| Bosch B20CS50SNS/02 | Refrigerator |
| Bosch B20CS50SNW | Refrigerator |
| Bosch B20CS50SNW-01 | Refrigerator |
| Bosch B20CS50SNW/01 | Refrigerator |
| Bosch B20CS50SNW/02 | Refrigerator |
| Bosch B20CS51SNB | Refrigerator |
| Bosch B20CS51SNB-01 | Refrigerator |
| Bosch B20CS51SNB/01 | Refrigerator |
| Bosch B20CS51SNB/02 | Refrigerator |
| Bosch B20CS51SNI | Refrigerator |
| Bosch B20CS51SNI-01 | Refrigerator |
| Bosch B20CS51SNI-02 | Refrigerator |
| Bosch B20CS51SNI/01 | Refrigerator |
| Bosch B20CS51SNI/02 | Refrigerator |
| Bosch B20CS51SNS | Refrigerator |
| Bosch B20CS51SNS-01 | Refrigerator |
| Bosch B20CS51SNS-02 | Refrigerator |
| Bosch B20CS51SNS/01 | Refrigerator |
| Bosch B20CS51SNS/02 | Refrigerator |
| Bosch B20CS51SNSB | Refrigerator |
| Bosch B20CS51SNW-01 | Refrigerator |
| Bosch B20CS51SNW-02 | Refrigerator |
| Bosch B20CS51SNW/01 | Refrigerator |
| Bosch B20CS51SNW/02 | Refrigerator |
| Bosch B20CS8 | Refrigerator |
| Bosch B20CS80SN | Refrigerator |
| Bosch B20CS80SNB | Refrigerator |
| Bosch B20CS80SNB-01 | Refrigerator |
| Bosch B20CS80SNB/01 | Refrigerator |
| Bosch B20CS80SNB/02 | Refrigerator |
| Bosch B20CS80SNS | Refrigerator |
| Bosch B20CS80SNS-01 | Refrigerator |
| Bosch B20CS80SNS/01 | Refrigerator |
| Bosch B20CS80SNS/02 | Refrigerator |
| Bosch B20CS80SNW | Refrigerator |
| Bosch B20CS80SNW-01 | Refrigerator |
| Bosch B20CS80SNW/01 | Refrigerator |
| Bosch B20CS80SNW/02 | Refrigerator |
| Bosch B20CS81SNB | Refrigerator |
| Bosch B20CS81SNB-01 | Refrigerator |
| Bosch B20CS81SNB-02 | Refrigerator |
| Bosch B20CS81SNB/01 | Refrigerator |
| Bosch B20CS81SNB/02 | Refrigerator |
| Bosch B20CS81SNS | Refrigerator |
| Bosch B20CS81SNS-01 | Refrigerator |
| Bosch B20CS81SNS-02 | Refrigerator |
| Bosch B20CS81SNS/01 | Refrigerator |
| Bosch B20CS81SNS/02 | Refrigerator |
| Bosch B20CS81SNW | Refrigerator |
| Bosch B20CS81SNW-01 | Refrigerator |
| Bosch B20CS81SNW/01 | Refrigerator |
| Bosch B20CS81SNW/02 | Refrigerator |
| Bosch B20CSC81SNS | Refrigerator |
| Bosch B20CSS0SN | Refrigerator |
| 1257074 | Filter |
| 2168701 | Filter |
| 55866-05 | Filter |
| 55866-06 | Filter |
| 5586605 | Filter |
| 5586606 | Filter |
| 56932 | Filter |
| 640565 | Filter |
| 70020002518 | Filter |
| AP3961137 | Filter |
| CS-450 | Filter |
| CS-451 | Filter |
| CS-452 | Filter |
| CS-51 | Filter |
| CS-52 | Filter |
| CS450 | Filter |
| CS451 | Filter |
| CS452 | Filter |
| CS51 | Filter |
| CS52 | Filter |
| CW-BQ1 | Filter |
| EFF-6026A | Filter |
| EVOLFLTR10 | Filter |
| RFC1800A | Filter |
| RWF1100 | Filter |
| RWF2700A | Filter |
| SGF-BO52 | Filter |
| W1085590 | Filter |
| WD-640565 | Filter |
| WHCFR-PLUS | Filter |
| WHFK-R-PLUS | Filter |
| WSB-1 | Filter |
| WSQ-1 | Filter |