EcoAqua Replacement for GE MWF Filter, 3-Pack
EcoAqua EFF-6013A | Our#: 177154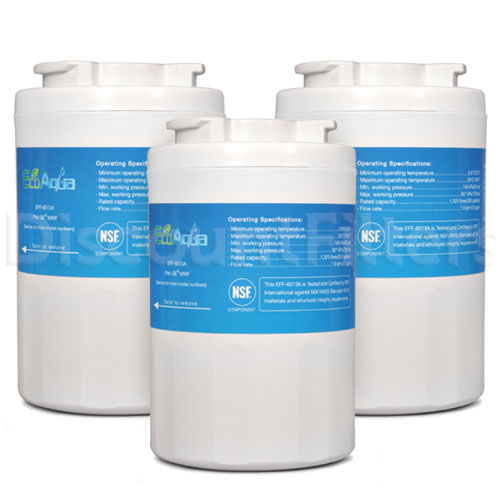 Description
---
Low Cost EcoAqua EFF-6013A Replacement for the GE MWF Water Filter
The aftermarket EcoAqua EFF-6013A is used in refrigerators by GE, Amana, Hotpoint, Kenmore and others. It is designed to replace the MWF SmartWater filter from GE. The EFF-6013A filter creates better tasting water for drinking and making beverages as well as clean, clearer, healthy ice. See below for important info on compatible filter models as well as installation instructions. There are a lot of pollutants that can get into your drinking water like chlorine, sand, dirt. Replacing your fridge filter regularly can greatly reduce those contaminants keeping your water cleaner and better tasting. Our current process is using a form of activated carbon to filter out these unwanted pollutants. It's an extremely effective process but overtime you will need to replace you filter. We recommend every 6 months or sooner, depending on how much you're using the water from your refrigerator. Buy the Eff-6013A / MWF filter today and save with free shipping and free returns.

Features:
High quality, cost-effective alternative to factory original
Easy installation and operation
Helps reduce chlorine taste and odor
Helps reduce contaminants found in tap water and improves its quality
100% Free Shipping and Returns
Money back guarantee
---
The EcoAqua EFF-6013A is compatible with the following obsolete or alternate filter part numbers:
RFC0600A
101057-A
101057A
101300-0110
101300-A
101300A
197D6321P001
46-9991
46-9996
469991
469996
9991
9996
AB-1501
AL-1180
AP3859302
AP3967843
AQF-MWF
BF-G01
CMWF
DWF-6
EBL7771
EFF-6013A
EG-1
FMG-1
GERF-100
GWF
GWF01
GWF06
GWFA
GWFDS
HWF
HWFA
MPF15020
MWF
MWF3PK
MWFA
MWFAP
MWFDS
MWFINT
MWFP
OPFG-RF300
PC40677
PC61278A
PG-MWF
PH21100
PHGMWF01
PL-100
PS981638
PS983115
PT11577906
R-MWF
RF-G1
RFC-600A
RFC0600A
RFC2500A
RPF-MWF
RWF1060
SGF-G1
SGF-G9
TPD35026
WD-MWF
WF287
WFC1201
WFI-1
WLF-GE01
WR02X11020
WR02X11287
WR02X11290
WR17S12
WR2M3552
WSG-1
---
How To Install The EcoAqua EFF-6013A Filter:
The water filter cartridge is located in the back upper right corner of the refrigerator compartment. The filter cartridge should be replaced when the replacement indicator light turns red or if the flow of water to the dispenser or icemaker decreases. For refrigerators without an indicator light - replace the filters every 6 months.
Remove old filter cartridge by grasping and turning to the left about 1/2 turn
Fill the replacement filter with water from the tap to allow for better flow immediately after installation
Place the top of the new cartridge up inside the cartridge holder
Slowly turn the filter until the filter cartridge stops. Do not over tighten. As you turn the cartridge it will automatically raise itself into position. The cartridge will move about 1/2 turn
Run water from the dispenser for 3 minutes (about 1-1/2 gallons) to clear the system and prevent sputtering
Press and hold reset water filter button if your fridge has one
Reviews
---
EcoAqua Replacement for GE MWF Filter, 3-Pack
Darel G. 10 months ago
I AM VERY HAPPY AND YOU HAVE A NEW CUSTOMER.
Norbert M. 1 month ago
Great filters! I would recommend them to everyone who uses GE filters.
Pam J. 3 months ago
The first time I ordered the filters had no problems. I recently ordered the same filters getting a musty smell, the water and ice smell musty. I have already changed out to the 2nd filter and getting the same smell.
Cindy G. 3 months ago
This is the 2nd time I order these and will order them again when I run out. Can't tell the difference But the price is a lot better
David D. 4 months ago
A great substitute for the high priced filter. LOVE THIS COMPANY. Customer for life.
Alan C. 4 months ago
Received the product I ordered in a very timely manner. I had ordered these through a different online site and they sent me the wrong filters and didn't have these in stock. Glad you had them.
Nan T. 4 months ago
We have purchased these filters more than once and are very pleased with them. Customer service is excellent.
Nanci L. P. 4 months ago
Terrific, quick service and great tasting water with these filters. Appreciate the email reminders when it's time to order more.
Michele M. 4 months ago
Always great service and price on refrig filters super
6 people in your area have bought this product in the last day!
FREE to join and you can easily cancel online at anytime
With auto delivery, you will always have a new filter on time (no need to remember to log on to place an order).
You control order frequency, delivery schedule, and quantity - all online!
Get email reminders before each delivery
---

Save Your Furnace Tip #11:
For better indoor air quality (IAQ) consider running your system fan continuously, or install a thermostat that has a "circulation" or programmable fan function.