EcoAqua EFF-6012A | Our#: 190203
EcoAqua Replacement for Daewoo / Kenmore DW2042FR-09 Refrigerator Filter

23 review(s)
EcoAqua EFF-6012A | Our#: 190203
Fast Shipping & Free Returns
100% Compatibility Guarantee
Compatibility guaranteed! Free return shipping and 100% money back if there are any issues.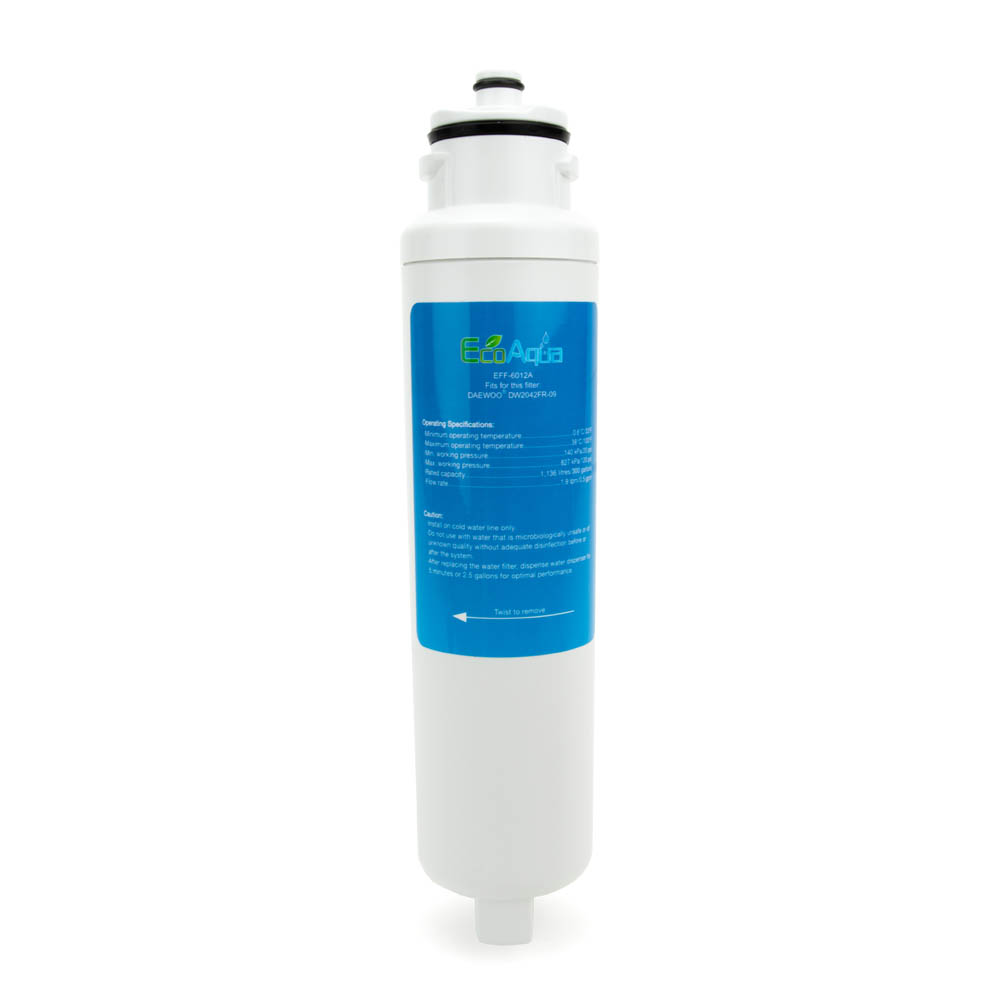 3 people in your area recently purchased this product!
In Stock
Ships in 24 hours
Fast Shipping & Free Returns
100% Compatibility Guarantee
Frequently Purchased Together
Product Details
EcoAqua Replacement for Daewoo / Kenmore DW2042FR-09 Refrigerator Filter
The DW2042FR-09 filter is a newcomer to the US market and fits in some Kenmore and Hisense french door refrigerators. It is also known as Kenmore 46-9130 and part number 60199-0006802-02. It is also sold under the "Aqua Crystal" Brand. The EFF-6012A creates better tasting water for drinking and making beverages as well as clean, clearer, healthy ice.

Features:
Cost-effective alternative to the factory original filter
Easy installation and operation
Helps reduce chlorine taste and odor
Helps reduce contaminants found in tap water and improves its quality
---
Popular Part Numbers
---
Installation Instructions
How To Install The DW2042FR-09 Filter:
The water filter cartridge is located in the upper right corner of the refrigerator compartment. The filter cartridge should be replaced when the replacement indicator light turns red or if the flow of water to the dispenser or icemaker decreases. For refrigerators without an indicator light - replace the filters every 6 months.
Shut off water supply
Rotate the old cartridge counter clockwise 1/4 turn and remove
Remove protective cap from the new water filter
Insert the new filter into the filter head and twist the filter clockwise 1/4 turn
Turn on the water supply and check for leaks
Run water from the dispenser for 5 minutes (about 1-1/2 gallons) to clear the system and prevent sputtering
Reset the "Filter Indicator" light by pressing the Ice Maker Lock button for 3 seconds or more
---
Compatible Part Numbers
Search by your filter part number or appliance model number to verify compatibility
| Model or Part Number | Type |
| --- | --- |
| Kenmore 111.72695911 | Refrigerator |
| Kenmore 11172695911 | Refrigerator |
| Kenmore 11173042610 | Refrigerator |
| Kenmore 11173045610 | Refrigerator |
| Kenmore 11173049610 | Refrigerator |
| Kenmore 11173305910 | Refrigerator |
| Kenmore 73042 | Refrigerator |
| Kenmore 73045 | Refrigerator |
| Kenmore 73049 | Refrigerator |
| 3019986700 | Filter |
| 46 9130 | Filter |
| 46-9130 | Filter |
| 46130 | Filter |
| 60199-0006802-00 | Filter |
| 60199-0006802-00 9130 | Filter |
| 60199-0006802-02 | Filter |
| 9130 | Filter |
| AFC-RF-K1 | Filter |
| AQF-DW2042FR | Filter |
| AS-DW2042FR-06 | Filter |
| DW2042FB | Filter |
| DW2042FR-06 | Filter |
| DW2042FR-09 | Filter |
| DW2042FR09 | Filter |
| FRNY225D2V | Filter |
| FRNY22D2W | Filter |
| FRNY22F2VI | Filter |
| NS-WF26FD9-1 | Filter |
| RWF1300A | Filter |
| SS-DW2042FR-09 | Filter |
| TITAN 4 | Filter |
| WF26FD9 | Filter |
| WF26FD9-1 | Filter |
| ZWFK1-RF300 | Filter |