EcoAqua EFF-6001A | Our#: 177940
EcoAqua Replacement for Whirlpool 4396701 Filter

197 review(s)
EcoAqua EFF-6001A | Our#: 177940
Fast Shipping & Free Returns
100% Compatibility Guarantee
Compatibility guaranteed! Free return shipping and 100% money back if there are any issues.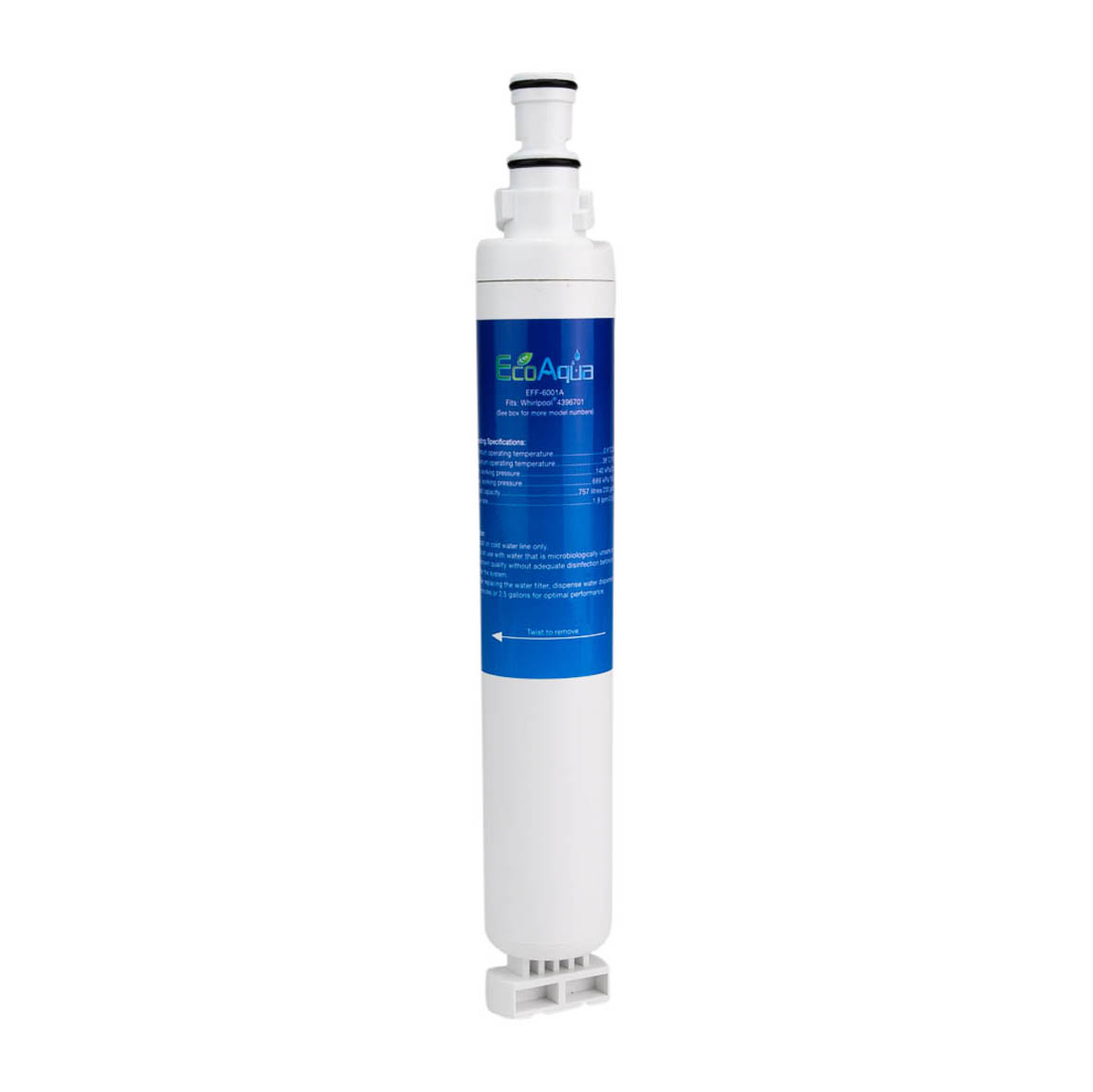 6 people in your area recently purchased this product!
Fast Shipping & Free Returns
100% Compatibility Guarantee
Frequently Purchased Together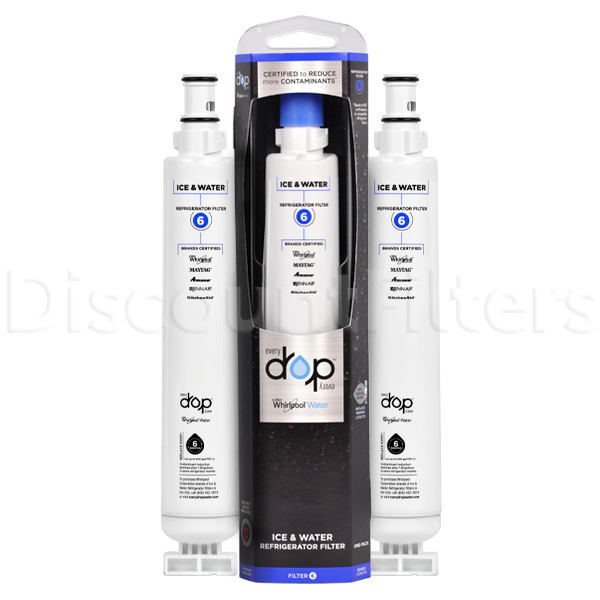 Product Details
The aftermarket EcoAqua EFF-6001A filter is used in refrigerators by Whirlpool, KitchenAid, Jenn-Air and others. It is designed to replace the Whirlpool # 4396701 filter. The EFF-6001A creates better tasting water for drinking and making beverages as well as clean, clearer, healthy ice.


Features:
High quality - inexpensive alternative to factory original filter
Easy installation and operation
Helps reduce chlorine taste and odor
Helps reduce contaminants found in tap water and improves its quality
Tested and certified by NSF International against NSF/ANSI Standard 42 for Materials and Structural Integrity Requirements
---
Popular Part Numbers
---
Installation Instructions
How To Install The 4396701 Filter:

Remove old filter cartridge by grasping and turning counter-clockwise until the filter is released from the filter head
Slide the filter cartridge cap onto the end of the new filter cartridge (after removing from old cartridge)
Insert filter into the compartment in the base grille, pushing until it stops
Rotate the cap clockwise 1/4 turn until it stops and it is in a horizontal position
Dispense water through the water dispenser for 2 minutes or until the water become clear. This will activate the system while clearing any trapped air in the water line
Replace filter every 6 months
---
Compatible Part Numbers
Search by your filter part number or appliance model number to verify compatibility
| Model or Part Number | Type |
| --- | --- |
| Fisher & Paykel RS36A72U1 | Refrigerator |
| Fisher & Paykel RS36A72U1N | Refrigerator |
| Fisher & Paykel RS36A80U1 | Refrigerator |
| Fisher & Paykel RS36A80U1N | Refrigerator |
| Fisher & Paykel RS36W80RU1 | Refrigerator |
| Fisher & Paykel RS36W80RU1N | Refrigerator |
| Fisher & Paykel RS90AU1 | Refrigerator |
| Fisher & Paykel RS9120WRU1 | Refrigerator |
| Jenn-Air JUD248CCCX00 | Refrigerator |
| Jenn-Air JUD248CCRS00 | Refrigerator |
| Jenn-Air JUD248CWRS00 | Refrigerator |
| Jenn-Air JUD248CWRS01 | Refrigerator |
| jenn-air JUD24FCACX | Refrigerator |
| jenn-air JUD24FCARS | Refrigerator |
| jenn-air JUD24FCERS | Refrigerator |
| jenn-air JUD24FRECX | Refrigerator |
| jenn-air JUD24FRERS | Refrigerator |
| Kenmore 10673202300 | Refrigerator |
| Kenmore 10673203300 | Refrigerator |
| Kenmore 10673204300 | Refrigerator |
| Kenmore 10673206300 | Refrigerator |
| Kenmore 10673209300 | Refrigerator |
| Kenmore 10673232300 | Refrigerator |
| Kenmore 10673233300 | Refrigerator |
| Kenmore 10673234300 | Refrigerator |
| Kenmore 10673236300 | Refrigerator |
| Kenmore 10673239300 | Refrigerator |
| Kenmore 10673902300 | Refrigerator |
| Kenmore 10673902301 | Refrigerator |
| Kenmore 10673903300 | Refrigerator |
| Kenmore 10673903301 | Refrigerator |
| Kenmore 10673904300 | Refrigerator |
| Kenmore 10673904301 | Refrigerator |
| Kenmore 10673906300 | Refrigerator |
| Kenmore 10673906301 | Refrigerator |
| Kenmore 10673909300 | Refrigerator |
| Kenmore 10673909301 | Refrigerator |
| Kenmore 10673932300 | Refrigerator |
| Kenmore 10673932301 | Refrigerator |
| Kenmore 10673933300 | Refrigerator |
| Kenmore 10673933301 | Refrigerator |
| Kenmore 10673934300 | Refrigerator |
| Kenmore 10673934301 | Refrigerator |
| Kenmore 10673936300 | Refrigerator |
| Kenmore 10673936301 | Refrigerator |
| Kenmore 10673939300 | Refrigerator |
| Kenmore 10673939301 | Refrigerator |
| Kenmore 10674202400 | Refrigerator |
| Kenmore 10674202401 | Refrigerator |
| Kenmore 10674202402 | Refrigerator |
| Kenmore 10674203400 | Refrigerator |
| Kenmore 10674203401 | Refrigerator |
| Kenmore 10674203402 | Refrigerator |
| Kenmore 10674204400 | Refrigerator |
| Kenmore 10674204401 | Refrigerator |
| Kenmore 10674204402 | Refrigerator |
| Kenmore 10674206400 | Refrigerator |
| Kenmore 10674206401 | Refrigerator |
| Kenmore 10674206402 | Refrigerator |
| Kenmore 10674209400 | Refrigerator |
| Kenmore 10674209401 | Refrigerator |
| Kenmore 10674209402 | Refrigerator |
| Kenmore 10674212400 | Refrigerator |
| Kenmore 10674212401 | Refrigerator |
| Kenmore 10674212402 | Refrigerator |
| Kenmore 10674213400 | Refrigerator |
| Kenmore 10674213401 | Refrigerator |
| Kenmore 10674213402 | Refrigerator |
| Kenmore 10674214400 | Refrigerator |
| Kenmore 10674214401 | Refrigerator |
| Kenmore 10674214402 | Refrigerator |
| Kenmore 10674216400 | Refrigerator |
| Kenmore 10674216401 | Refrigerator |
| Kenmore 10674216402 | Refrigerator |
| Kenmore 10674219400 | Refrigerator |
| Kenmore 10674219401 | Refrigerator |
| Kenmore 10674219402 | Refrigerator |
| Kenmore 10674252400 | Refrigerator |
| Kenmore 10674252401 | Refrigerator |
| Kenmore 10674252402 | Refrigerator |
| Kenmore 10674253400 | Refrigerator |
| Kenmore 10674253401 | Refrigerator |
| Kenmore 10674253402 | Refrigerator |
| Kenmore 10674254400 | Refrigerator |
| Kenmore 10674254401 | Refrigerator |
| Kenmore 10674254402 | Refrigerator |
| Kenmore 10674259400 | Refrigerator |
| Kenmore 10674259401 | Refrigerator |
| Kenmore 10674259402 | Refrigerator |
| Kenmore 10674262400 | Refrigerator |
| Kenmore 10674262401 | Refrigerator |
| Kenmore 10674262402 | Refrigerator |
| Kenmore 10674263400 | Refrigerator |
| Kenmore 10674263401 | Refrigerator |
| Kenmore 10674263402 | Refrigerator |
| Kenmore 10674264400 | Refrigerator |
| Kenmore 10674264401 | Refrigerator |
| Kenmore 10674264402 | Refrigerator |
| Kenmore 10674269400 | Refrigerator |
| Kenmore 10674269401 | Refrigerator |
| Kenmore 10674269402 | Refrigerator |
| Kenmore 10674282400 | Refrigerator |
| Kenmore 10674283400 | Refrigerator |
| Kenmore 10674284400 | Refrigerator |
| Kenmore 10674289400 | Refrigerator |
| Kenmore 10674292400 | Refrigerator |
| Kenmore 10674293400 | Refrigerator |
| Kenmore 10674294400 | Refrigerator |
| Kenmore 10674299400 | Refrigerator |
| Kenmore 10674902400 | Refrigerator |
| Kenmore 10674902401 | Refrigerator |
| Kenmore 10674903400 | Refrigerator |
| Kenmore 10674903401 | Refrigerator |
| Kenmore 10674904400 | Refrigerator |
| Kenmore 10674904401 | Refrigerator |
| Kenmore 10674906400 | Refrigerator |
| Kenmore 10674906401 | Refrigerator |
| Kenmore 10674909400 | Refrigerator |
| Kenmore 10674909401 | Refrigerator |
| Kenmore 10674912400 | Refrigerator |
| Kenmore 10674912401 | Refrigerator |
| Kenmore 10674913400 | Refrigerator |
| Kenmore 10674913401 | Refrigerator |
| Kenmore 10674914400 | Refrigerator |
| Kenmore 10674914401 | Refrigerator |
| Kenmore 10674916400 | Refrigerator |
| Kenmore 10674916401 | Refrigerator |
| Kenmore 10674919400 | Refrigerator |
| Kenmore 10674919401 | Refrigerator |
| Kenmore 10674952400 | Refrigerator |
| Kenmore 10674952401 | Refrigerator |
| Kenmore 10674953400 | Refrigerator |
| Kenmore 10674953401 | Refrigerator |
| Kenmore 10674954400 | Refrigerator |
| Kenmore 10674954401 | Refrigerator |
| Kenmore 10674959400 | Refrigerator |
| Kenmore 10674959401 | Refrigerator |
| Kenmore 10674962400 | Refrigerator |
| Kenmore 10674962401 | Refrigerator |
| Kenmore 10674963400 | Refrigerator |
| Kenmore 10674963401 | Refrigerator |
| Kenmore 10674964400 | Refrigerator |
| Kenmore 10674964401 | Refrigerator |
| Kenmore 10674969400 | Refrigerator |
| Kenmore 10674969401 | Refrigerator |
| Kenmore 10674982400 | Refrigerator |
| Kenmore 10674982401 | Refrigerator |
| Kenmore 10674983400 | Refrigerator |
| Kenmore 10674983401 | Refrigerator |
| Kenmore 10674984400 | Refrigerator |
| Kenmore 10674984401 | Refrigerator |
| Kenmore 10674989400 | Refrigerator |
| Kenmore 10674989401 | Refrigerator |
| Kenmore 10674992400 | Refrigerator |
| Kenmore 10674992401 | Refrigerator |
| Kenmore 10674993400 | Refrigerator |
| Kenmore 10674993401 | Refrigerator |
| Kenmore 10674994400 | Refrigerator |
| Kenmore 10674994401 | Refrigerator |
| Kenmore 10674999400 | Refrigerator |
| Kenmore 10674999401 | Refrigerator |
| Kenmore 10675222400 | Refrigerator |
| Kenmore 10675223400 | Refrigerator |
| Kenmore 10675224400 | Refrigerator |
| Kenmore 10675226400 | Refrigerator |
| Kenmore 10675229400 | Refrigerator |
| Kenmore 10675242400 | Refrigerator |
| Kenmore 10675243400 | Refrigerator |
| Kenmore 10675244400 | Refrigerator |
| Kenmore 10675246400 | Refrigerator |
| Kenmore 10675249400 | Refrigerator |
| Kenmore 10675922400 | Refrigerator |
| Kenmore 10675923400 | Refrigerator |
| Kenmore 10675924400 | Refrigerator |
| Kenmore 10675926400 | Refrigerator |
| Kenmore 10675929400 | Refrigerator |
| Kenmore 10675942400 | Refrigerator |
| Kenmore 10675943400 | Refrigerator |
| Kenmore 10675944400 | Refrigerator |
| Kenmore 10675946400 | Refrigerator |
| Kenmore 10675949400 | Refrigerator |
| Kenmore 10676232400 | Refrigerator |
| Kenmore 10676232401 | Refrigerator |
| Kenmore 10676232402 | Refrigerator |
| Kenmore 10676233400 | Refrigerator |
| Kenmore 10676233401 | Refrigerator |
| Kenmore 10676233402 | Refrigerator |
| Kenmore 10676234400 | Refrigerator |
| Kenmore 10676234401 | Refrigerator |
| Kenmore 10676234402 | Refrigerator |
| Kenmore 10676236400 | Refrigerator |
| Kenmore 10676236401 | Refrigerator |
| Kenmore 10676236402 | Refrigerator |
| Kenmore 10676239400 | Refrigerator |
| Kenmore 10676239401 | Refrigerator |
| Kenmore 10676239402 | Refrigerator |
| Kenmore 10676242400 | Refrigerator |
| Kenmore 10676242401 | Refrigerator |
| Kenmore 10676242402 | Refrigerator |
| Kenmore 10676243400 | Refrigerator |
| Kenmore 10676243401 | Refrigerator |
| Kenmore 10676243402 | Refrigerator |
| Kenmore 10676244400 | Refrigerator |
| Kenmore 10676244401 | Refrigerator |
| Kenmore 10676244402 | Refrigerator |
| Kenmore 10676246400 | Refrigerator |
| Kenmore 10676246401 | Refrigerator |
| Kenmore 10676246402 | Refrigerator |
| Kenmore 10676249400 | Refrigerator |
| Kenmore 10676249401 | Refrigerator |
| Kenmore 10676249402 | Refrigerator |
| Kenmore 10676932400 | Refrigerator |
| Kenmore 10676933400 | Refrigerator |
| Kenmore 10676934400 | Refrigerator |
| Kenmore 10676936400 | Refrigerator |
| Kenmore 10676939400 | Refrigerator |
| Kenmore 10676942400 | Refrigerator |
| Kenmore 10676943400 | Refrigerator |
| Kenmore 10676944400 | Refrigerator |
| Kenmore 10676946400 | Refrigerator |
| Kenmore 10676949400 | Refrigerator |
| Kenmore 10677222700 | Refrigerator |
| Kenmore 10677223700 | Refrigerator |
| Kenmore 10677224700 | Refrigerator |
| Kenmore 10677229700 | Refrigerator |
| Kenmore 10677232700 | Refrigerator |
| Kenmore 10677233700 | Refrigerator |
| Kenmore 10677234700 | Refrigerator |
| Kenmore 10677239700 | Refrigerator |
| Kenmore 10677922700 | Refrigerator |
| Kenmore 10677923700 | Refrigerator |
| Kenmore 10677924700 | Refrigerator |
| Kenmore 10677929700 | Refrigerator |
| Kenmore 10677932700 | Refrigerator |
| Kenmore 10677933700 | Refrigerator |
| Kenmore 10677934700 | Refrigerator |
| Kenmore 10677939700 | Refrigerator |
| Kenmore 10678212800 | Refrigerator |
| Kenmore 10678212801 | Refrigerator |
| Kenmore 10678213800 | Refrigerator |
| Kenmore 10678213801 | Refrigerator |
| Kenmore 10678214800 | Refrigerator |
| Kenmore 10678214801 | Refrigerator |
| Kenmore 10678219800 | Refrigerator |
| Kenmore 10678219801 | Refrigerator |
| Kenmore 10678222800 | Refrigerator |
| Kenmore 10678222801 | Refrigerator |
| Kenmore 10678223800 | Refrigerator |
| Kenmore 10678223801 | Refrigerator |
| Kenmore 10678224800 | Refrigerator |
| Kenmore 10678224801 | Refrigerator |
| Kenmore 10678229800 | Refrigerator |
| Kenmore 10678229801 | Refrigerator |
| Kenmore 10678232800 | Refrigerator |
| Kenmore 10678233800 | Refrigerator |
| Kenmore 10678234800 | Refrigerator |
| Kenmore 10678239800 | Refrigerator |
| Kenmore 10678912800 | Refrigerator |
| Kenmore 10678912801 | Refrigerator |
| Kenmore 10678913800 | Refrigerator |
| Kenmore 10678913801 | Refrigerator |
| Kenmore 10678914800 | Refrigerator |
| Kenmore 10678914801 | Refrigerator |
| Kenmore 10678919800 | Refrigerator |
| Kenmore 10678919801 | Refrigerator |
| Kenmore 10678922800 | Refrigerator |
| Kenmore 10678922801 | Refrigerator |
| Kenmore 10678923800 | Refrigerator |
| Kenmore 10678923801 | Refrigerator |
| Kenmore 10678924800 | Refrigerator |
| Kenmore 10678924801 | Refrigerator |
| Kenmore 10678929800 | Refrigerator |
| Kenmore 10678929801 | Refrigerator |
| Kenmore 10678932800 | Refrigerator |
| Kenmore 10678933800 | Refrigerator |
| Kenmore 10678934800 | Refrigerator |
| Kenmore 10678939800 | Refrigerator |
| Kenmore 73202 | Refrigerator |
| Kenmore 73203 | Refrigerator |
| Kenmore 73204 | Refrigerator |
| Kenmore 73206 | Refrigerator |
| Kenmore 73209 | Refrigerator |
| Kenmore 73232 | Refrigerator |
| Kenmore 73233 | Refrigerator |
| Kenmore 73234 | Refrigerator |
| Kenmore 73236 | Refrigerator |
| Kenmore 73239 | Refrigerator |
| Kenmore 73902 | Refrigerator |
| Kenmore 73903 | Refrigerator |
| Kenmore 73904 | Refrigerator |
| Kenmore 73906 | Refrigerator |
| Kenmore 73909 | Refrigerator |
| Kenmore 73932 | Refrigerator |
| Kenmore 73933 | Refrigerator |
| Kenmore 73934 | Refrigerator |
| Kenmore 73936 | Refrigerator |
| Kenmore 73939 | Refrigerator |
| Kenmore 74202 | Refrigerator |
| Kenmore 74203 | Refrigerator |
| Kenmore 74204 | Refrigerator |
| Kenmore 74206 | Refrigerator |
| Kenmore 74209 | Refrigerator |
| Kenmore 74212 | Refrigerator |
| Kenmore 74213 | Refrigerator |
| Kenmore 74214 | Refrigerator |
| Kenmore 74216 | Refrigerator |
| Kenmore 74219 | Refrigerator |
| Kenmore 74252 | Refrigerator |
| Kenmore 74253 | Refrigerator |
| Kenmore 74254 | Refrigerator |
| Kenmore 74259 | Refrigerator |
| Kenmore 74262 | Refrigerator |
| Kenmore 74263 | Refrigerator |
| Kenmore 74264 | Refrigerator |
| Kenmore 74269 | Refrigerator |
| Kenmore 74282 | Refrigerator |
| Kenmore 74283 | Refrigerator |
| Kenmore 74284 | Refrigerator |
| Kenmore 74289 | Refrigerator |
| Kenmore 74292 | Refrigerator |
| Kenmore 74293 | Refrigerator |
| Kenmore 74294 | Refrigerator |
| Kenmore 74299 | Refrigerator |
| Kenmore 74902 | Refrigerator |
| Kenmore 74903 | Refrigerator |
| Kenmore 74904 | Refrigerator |
| Kenmore 74906 | Refrigerator |
| Kenmore 74909 | Refrigerator |
| Kenmore 74912 | Refrigerator |
| Kenmore 74913 | Refrigerator |
| Kenmore 74914 | Refrigerator |
| Kenmore 74916 | Refrigerator |
| Kenmore 74919 | Refrigerator |
| Kenmore 74952 | Refrigerator |
| Kenmore 74953 | Refrigerator |
| Kenmore 74954 | Refrigerator |
| Kenmore 74959 | Refrigerator |
| Kenmore 74962 | Refrigerator |
| Kenmore 74963 | Refrigerator |
| Kenmore 74964 | Refrigerator |
| Kenmore 74969 | Refrigerator |
| Kenmore 74982 | Refrigerator |
| Kenmore 74983 | Refrigerator |
| Kenmore 74984 | Refrigerator |
| Kenmore 74989 | Refrigerator |
| Kenmore 74992 | Refrigerator |
| Kenmore 74993 | Refrigerator |
| Kenmore 74994 | Refrigerator |
| Kenmore 74999 | Refrigerator |
| Kenmore 75222 | Refrigerator |
| Kenmore 75223 | Refrigerator |
| Kenmore 75224 | Refrigerator |
| Kenmore 75226 | Refrigerator |
| Kenmore 75229 | Refrigerator |
| Kenmore 75242 | Refrigerator |
| Kenmore 75243 | Refrigerator |
| Kenmore 75244 | Refrigerator |
| Kenmore 75246 | Refrigerator |
| Kenmore 75249 | Refrigerator |
| Kenmore 75922 | Refrigerator |
| Kenmore 75923 | Refrigerator |
| Kenmore 75924 | Refrigerator |
| Kenmore 75926 | Refrigerator |
| Kenmore 75929 | Refrigerator |
| Kenmore 75942 | Refrigerator |
| Kenmore 75943 | Refrigerator |
| Kenmore 75944 | Refrigerator |
| Kenmore 75946 | Refrigerator |
| Kenmore 75949 | Refrigerator |
| Kenmore 76232 | Refrigerator |
| Kenmore 76233 | Refrigerator |
| Kenmore 76234 | Refrigerator |
| Kenmore 76236 | Refrigerator |
| Kenmore 76239 | Refrigerator |
| Kenmore 76242 | Refrigerator |
| Kenmore 76243 | Refrigerator |
| Kenmore 76244 | Refrigerator |
| Kenmore 76246 | Refrigerator |
| Kenmore 76249 | Refrigerator |
| Kenmore 76932 | Refrigerator |
| Kenmore 76933 | Refrigerator |
| Kenmore 76934 | Refrigerator |
| Kenmore 76936 | Refrigerator |
| Kenmore 76939 | Refrigerator |
| Kenmore 76942 | Refrigerator |
| Kenmore 76943 | Refrigerator |
| Kenmore 76944 | Refrigerator |
| Kenmore 76946 | Refrigerator |
| Kenmore 76949 | Refrigerator |
| Kenmore 77222 | Refrigerator |
| Kenmore 77223 | Refrigerator |
| Kenmore 77224 | Refrigerator |
| Kenmore 77229 | Refrigerator |
| Kenmore 77232 | Refrigerator |
| Kenmore 77233 | Refrigerator |
| Kenmore 77234 | Refrigerator |
| Kenmore 77239 | Refrigerator |
| Kenmore 77922 | Refrigerator |
| Kenmore 77923 | Refrigerator |
| Kenmore 77924 | Refrigerator |
| Kenmore 77929 | Refrigerator |
| Kenmore 77932 | Refrigerator |
| Kenmore 77933 | Refrigerator |
| Kenmore 77934 | Refrigerator |
| Kenmore 77939 | Refrigerator |
| Kenmore 78212 | Refrigerator |
| Kenmore 78213 | Refrigerator |
| Kenmore 78214 | Refrigerator |
| Kenmore 78219 | Refrigerator |
| Kenmore 78222 | Refrigerator |
| Kenmore 78223 | Refrigerator |
| Kenmore 78224 | Refrigerator |
| Kenmore 78229 | Refrigerator |
| Kenmore 78232 | Refrigerator |
| Kenmore 78233 | Refrigerator |
| Kenmore 78234 | Refrigerator |
| Kenmore 78239 | Refrigerator |
| Kenmore 78912 | Refrigerator |
| Kenmore 78913 | Refrigerator |
| Kenmore 78914 | Refrigerator |
| Kenmore 78919 | Refrigerator |
| Kenmore 78922 | Refrigerator |
| Kenmore 78923 | Refrigerator |
| Kenmore 78924 | Refrigerator |
| Kenmore 78929 | Refrigerator |
| Kenmore 78932 | Refrigerator |
| Kenmore 78933 | Refrigerator |
| Kenmore 78934 | Refrigerator |
| Kenmore 78939 | Refrigerator |
| KitchenAid KDDC24CVS | Refrigerator |
| KitchenAid KDDC24CVS00 | Refrigerator |
| KitchenAid KDDC24CVS01 | Refrigerator |
| KitchenAid KDDC24CVX01 | Refrigerator |
| KitchenAid KDDC24RVS | Refrigerator |
| KitchenAid KDDO24CVX | Refrigerator |
| KitchenAid KDDO24CVX00 | Refrigerator |
| KitchenAid KDDO24CVX01 | Refrigerator |
| KitchenAid KDDO24RVX | Refrigerator |
| KitchenAid KTLA19EMSS00 | Refrigerator |
| KitchenAid KTLA19EMSS01 | Refrigerator |
| KitchenAid KTLA19KRSS01 | Refrigerator |
| KitchenAid KTLA22EMSS | Refrigerator |
| KitchenAid KTLA22EMSS00 | Refrigerator |
| KitchenAid KTLA22EMSS01 | Refrigerator |
| KitchenAid KTLA22EMSS02 | Refrigerator |
| KitchenAid KTLA22EMSS03 | Refrigerator |
| KitchenAid KTLA22EMSS04 | Refrigerator |
| KitchenAid KTLA22KRSS02 | Refrigerator |
| KitchenAid KTRA19EMBL00 | Refrigerator |
| KitchenAid KTRA19EMBL01 | Refrigerator |
| KitchenAid KTRA19EMBT00 | Refrigerator |
| KitchenAid KTRA19EMBT01 | Refrigerator |
| KitchenAid KTRA19EMSS | Refrigerator |
| KitchenAid KTRA19EMSS00 | Refrigerator |
| KitchenAid KTRA19EMSS01 | Refrigerator |
| KitchenAid KTRA19EMWH00 | Refrigerator |
| KitchenAid KTRA19EMWH01 | Refrigerator |
| KitchenAid KTRA19KRSS01 | Refrigerator |
| KitchenAid KTRA22EMBL00 | Refrigerator |
| KitchenAid KTRA22EMBL01 | Refrigerator |
| KitchenAid KTRA22EMBL02 | Refrigerator |
| KitchenAid KTRA22EMBL03 | Refrigerator |
| KitchenAid KTRA22EMBT00 | Refrigerator |
| KitchenAid KTRA22EMBT01 | Refrigerator |
| KitchenAid KTRA22EMBT02 | Refrigerator |
| KitchenAid KTRA22EMBT03 | Refrigerator |
| KitchenAid KTRA22EMSS | Refrigerator |
| KitchenAid KTRA22EMSS00 | Refrigerator |
| KitchenAid KTRA22EMSS01 | Refrigerator |
| KitchenAid KTRA22EMSS02 | Refrigerator |
| KitchenAid KTRA22EMSS03 | Refrigerator |
| KitchenAid KTRA22EMSS04 | Refrigerator |
| KitchenAid KTRA22EMWH00 | Refrigerator |
| KitchenAid KTRA22EMWH01 | Refrigerator |
| KitchenAid KTRA22EMWH02 | Refrigerator |
| KitchenAid KTRA22EMWH03 | Refrigerator |
| KitchenAid KTRA22KRSS02 | Refrigerator |
| KitchenAid KTRC22EMBL00 | Refrigerator |
| KitchenAid KTRC22EMBL01 | Refrigerator |
| KitchenAid KTRC22EMBL02 | Refrigerator |
| KitchenAid KTRC22EMBL03 | Refrigerator |
| KitchenAid KTRC22EMBL04 | Refrigerator |
| KitchenAid KTRC22EMBL05 | Refrigerator |
| KitchenAid KTRC22EMBT00 | Refrigerator |
| KitchenAid KTRC22EMBT01 | Refrigerator |
| KitchenAid KTRC22EMBT02 | Refrigerator |
| KitchenAid KTRC22EMBT03 | Refrigerator |
| KitchenAid KTRC22EMBT04 | Refrigerator |
| KitchenAid KTRC22EMBT05 | Refrigerator |
| KitchenAid KTRC22EMSS | Refrigerator |
| KitchenAid KTRC22EMSS00 | Refrigerator |
| KitchenAid KTRC22EMSS01 | Refrigerator |
| KitchenAid KTRC22EMSS02 | Refrigerator |
| KitchenAid KTRC22EMSS03 | Refrigerator |
| KitchenAid KTRC22EMSS04 | Refrigerator |
| KitchenAid KTRC22EMSS05 | Refrigerator |
| KitchenAid KTRC22EMWH | Refrigerator |
| KitchenAid KTRC22EMWH00 | Refrigerator |
| KitchenAid KTRC22EMWH01 | Refrigerator |
| KitchenAid KTRC22EMWH02 | Refrigerator |
| KitchenAid KTRC22EMWH03 | Refrigerator |
| KitchenAid KTRC22EMWH04 | Refrigerator |
| KitchenAid KTRC22EMWH05 | Refrigerator |
| KitchenAid KTRC22KVSS | Refrigerator |
| KitchenAid KTRC22KVSS00 | Refrigerator |
| KitchenAid KTRC22KVSS01 | Refrigerator |
| KitchenAid KTRC22MMBL00 | Refrigerator |
| KitchenAid KTRC22MMBL01 | Refrigerator |
| KitchenAid KTRP19KRBT01 | Refrigerator |
| KitchenAid KTRP19KRWH01 | Refrigerator |
| KitchenAid KTRP22EMBL00 | Refrigerator |
| KitchenAid KTRP22EMBL01 | Refrigerator |
| KitchenAid KTRP22EMBL02 | Refrigerator |
| KitchenAid KTRP22EMBT00 | Refrigerator |
| KitchenAid KTRP22EMBT01 | Refrigerator |
| KitchenAid KTRP22EMBT02 | Refrigerator |
| KitchenAid KTRP22EMBT03 | Refrigerator |
| KitchenAid KTRP22EMBT04 | Refrigerator |
| KitchenAid KTRP22EMSS00 | Refrigerator |
| KitchenAid KTRP22EMSS01 | Refrigerator |
| KitchenAid KTRP22EMSS02 | Refrigerator |
| KitchenAid KTRP22EMWH00 | Refrigerator |
| KitchenAid KTRP22EMWH01 | Refrigerator |
| KitchenAid KTRP22EMWH02 | Refrigerator |
| KitchenAid KTRP22EMWH03 | Refrigerator |
| KitchenAid KTRP22EMWH04 | Refrigerator |
| KitchenAid KTRP22KRBT02 | Refrigerator |
| KitchenAid KTRP22KRWH02 | Refrigerator |
| KitchenAid KTRS22EMBL00 | Refrigerator |
| KitchenAid KTRS22EMBL01 | Refrigerator |
| KitchenAid KTRS22EMBT00 | Refrigerator |
| KitchenAid KTRS22EMBT01 | Refrigerator |
| KitchenAid KTRS22EMSS00 | Refrigerator |
| KitchenAid KTRS22EMSS01 | Refrigerator |
| KitchenAid KTRS22EMWH00 | Refrigerator |
| KitchenAid KTRS22EMWH01 | Refrigerator |
| KitchenAid KUDF204EPA | Refrigerator |
| KitchenAid KUDF204EPA00 | Refrigerator |
| KitchenAid KUDF204ESB | Refrigerator |
| KitchenAid KUDF204ESB00 | Refrigerator |
| KitchenAid KUDF204KPA | Refrigerator |
| Whirlpool 7GR2SHWXRL00 | Refrigerator |
| Whirlpool 7GR2SHWXRS00 | Refrigerator |
| Whirlpool ET1FHTXMB | Refrigerator |
| Whirlpool ET1FHTXMB00 | Refrigerator |
| Whirlpool ET1FHTXMB01 | Refrigerator |
| Whirlpool ET1FHTXMB02 | Refrigerator |
| Whirlpool ET1FHTXMB03 | Refrigerator |
| Whirlpool ET1FHTXMB04 | Refrigerator |
| Whirlpool ET1FHTXMQ | Refrigerator |
| Whirlpool ET1FHTXMQ00 | Refrigerator |
| Whirlpool ET1FHTXMQ01 | Refrigerator |
| Whirlpool ET1FHTXMQ02 | Refrigerator |
| Whirlpool ET1FHTXMQ03 | Refrigerator |
| Whirlpool ET1FHTXMQ04 | Refrigerator |
| Whirlpool ET1FHTXMT | Refrigerator |
| Whirlpool ET1FHTXMT00 | Refrigerator |
| Whirlpool ET1FHTXMT01 | Refrigerator |
| Whirlpool ET1FHTXMT02 | Refrigerator |
| Whirlpool ET1FHTXMT03 | Refrigerator |
| Whirlpool ET1FHTXMT04 | Refrigerator |
| Whirlpool ET2AHTXMQ | Refrigerator |
| Whirlpool ET2AHTXMQ00 | Refrigerator |
| Whirlpool ET2AHTXMQ01 | Refrigerator |
| Whirlpool ET2AHTXMQ02 | Refrigerator |
| Whirlpool ET2AHTXMT | Refrigerator |
| Whirlpool ET2AHTXMT00 | Refrigerator |
| Whirlpool ET2AHTXMT01 | Refrigerator |
| Whirlpool ET2AHTXMT02 | Refrigerator |
| Whirlpool ET9AHTXMQ | Refrigerator |
| Whirlpool ET9AHTXMQ00 | Refrigerator |
| Whirlpool ET9AHTXMQ01 | Refrigerator |
| Whirlpool ET9AHTXMQ02 | Refrigerator |
| Whirlpool ET9AHTXMT | Refrigerator |
| Whirlpool ET9AHTXMT00 | Refrigerator |
| Whirlpool ET9AHTXMT01 | Refrigerator |
| Whirlpool ET9AHTXMT02 | Refrigerator |
| Whirlpool ET9FHTXMQ | Refrigerator |
| Whirlpool ET9FHTXMQ00 | Refrigerator |
| Whirlpool ET9FHTXMQ01 | Refrigerator |
| Whirlpool ET9FHTXMQ02 | Refrigerator |
| Whirlpool ET9FHTXMQ03 | Refrigerator |
| Whirlpool ET9FHTXMT | Refrigerator |
| Whirlpool ET9FHTXMT00 | Refrigerator |
| Whirlpool ET9FHTXMT01 | Refrigerator |
| Whirlpool ET9FHTXMT02 | Refrigerator |
| Whirlpool ET9FHTXMT03 | Refrigerator |
| Whirlpool G2IXEFMWB00 | Refrigerator |
| Whirlpool G2IXEFMWB01 | Refrigerator |
| Whirlpool G2IXEFMWB02 | Refrigerator |
| Whirlpool G2IXEFMWB03 | Refrigerator |
| Whirlpool G2IXEFMWQ00 | Refrigerator |
| Whirlpool G2IXEFMWQ01 | Refrigerator |
| Whirlpool G2IXEFMWQ02 | Refrigerator |
| Whirlpool G2IXEFMWQ03 | Refrigerator |
| Whirlpool G2IXEFMWS00 | Refrigerator |
| Whirlpool G2IXEFMWS01 | Refrigerator |
| Whirlpool G2IXEFMWS02 | Refrigerator |
| Whirlpool G2IXEFMWS03 | Refrigerator |
| Whirlpool G9IXEFMWB00 | Refrigerator |
| Whirlpool G9IXEFMWB01 | Refrigerator |
| Whirlpool G9IXEFMWB02 | Refrigerator |
| Whirlpool G9IXEFMWQ00 | Refrigerator |
| Whirlpool G9IXEFMWQ01 | Refrigerator |
| Whirlpool G9IXEFMWQ02 | Refrigerator |
| Whirlpool G9IXEFMWS00 | Refrigerator |
| Whirlpool G9IXEFMWS01 | Refrigerator |
| Whirlpool G9IXEFMWS02 | Refrigerator |
| Whirlpool GR2FHTXTB | Refrigerator |
| Whirlpool GR2FHTXTB00 | Refrigerator |
| Whirlpool GR2FHTXTL | Refrigerator |
| Whirlpool GR2FHTXTL00 | Refrigerator |
| Whirlpool GR2FHTXTQ | Refrigerator |
| Whirlpool GR2FHTXTQ00 | Refrigerator |
| Whirlpool GR2FHTXTS | Refrigerator |
| Whirlpool GR2FHTXTS00 | Refrigerator |
| Whirlpool GR2FHTXVB | Refrigerator |
| Whirlpool GR2FHTXVB00 | Refrigerator |
| Whirlpool GR2FHTXVB01 | Refrigerator |
| Whirlpool GR2FHTXVL | Refrigerator |
| Whirlpool GR2FHTXVL00 | Refrigerator |
| Whirlpool GR2FHTXVL01 | Refrigerator |
| Whirlpool GR2FHTXVQ | Refrigerator |
| Whirlpool GR2FHTXVQ00 | Refrigerator |
| Whirlpool GR2FHTXVQ01 | Refrigerator |
| Whirlpool GR2FHTXVS | Refrigerator |
| Whirlpool GR2FHTXVS00 | Refrigerator |
| Whirlpool GR2FHTXVS01 | Refrigerator |
| Whirlpool GR2SHTXMB | Refrigerator |
| Whirlpool GR2SHTXMB00 | Refrigerator |
| Whirlpool GR2SHTXMB01 | Refrigerator |
| Whirlpool GR2SHTXML | Refrigerator |
| Whirlpool GR2SHTXML00 | Refrigerator |
| Whirlpool GR2SHTXML01 | Refrigerator |
| Whirlpool GR2SHTXMQ | Refrigerator |
| Whirlpool GR2SHTXMQ00 | Refrigerator |
| Whirlpool GR2SHTXMQ01 | Refrigerator |
| Whirlpool GR2SHTXMS | Refrigerator |
| Whirlpool GR2SHTXMS00 | Refrigerator |
| Whirlpool GR2SHTXMS01 | Refrigerator |
| Whirlpool GR2SHTXMT | Refrigerator |
| Whirlpool GR2SHTXMT00 | Refrigerator |
| Whirlpool GR2SHTXMT01 | Refrigerator |
| Whirlpool GR2SHWXPB | Refrigerator |
| Whirlpool GR2SHWXPB00 | Refrigerator |
| Whirlpool GR2SHWXPB01 | Refrigerator |
| Whirlpool GR2SHWXPB02 | Refrigerator |
| Whirlpool GR2SHWXPL | Refrigerator |
| Whirlpool GR2SHWXPL00 | Refrigerator |
| Whirlpool GR2SHWXPL01 | Refrigerator |
| Whirlpool GR2SHWXPL02 | Refrigerator |
| Whirlpool GR2SHWXPQ | Refrigerator |
| Whirlpool GR2SHWXPQ00 | Refrigerator |
| Whirlpool GR2SHWXPQ01 | Refrigerator |
| Whirlpool GR2SHWXPQ02 | Refrigerator |
| Whirlpool GR2SHWXPS | Refrigerator |
| Whirlpool GR2SHWXPS00 | Refrigerator |
| Whirlpool GR2SHWXPS01 | Refrigerator |
| Whirlpool GR2SHWXPS02 | Refrigerator |
| Whirlpool GR2SHWXPT | Refrigerator |
| Whirlpool GR2SHWXPT00 | Refrigerator |
| Whirlpool GR2SHWXPT01 | Refrigerator |
| Whirlpool GR2SHWXVB | Refrigerator |
| Whirlpool GR2SHWXVB00 | Refrigerator |
| Whirlpool GR2SHWXVB01 | Refrigerator |
| Whirlpool GR2SHWXVQ | Refrigerator |
| Whirlpool GR2SHWXVQ00 | Refrigerator |
| Whirlpool GR2SHWXVQ01 | Refrigerator |
| Whirlpool GR2SHWXVS | Refrigerator |
| Whirlpool GR2SHWXVS00 | Refrigerator |
| Whirlpool GR2SHWXVS01 | Refrigerator |
| Whirlpool GR9FHTXTB | Refrigerator |
| Whirlpool GR9FHTXTB00 | Refrigerator |
| Whirlpool GR9FHTXTL | Refrigerator |
| Whirlpool GR9FHTXTL00 | Refrigerator |
| Whirlpool GR9FHTXTQ | Refrigerator |
| Whirlpool GR9FHTXTQ00 | Refrigerator |
| Whirlpool GR9FHTXTS | Refrigerator |
| Whirlpool GR9FHTXTS00 | Refrigerator |
| Whirlpool GR9FHTXVB | Refrigerator |
| Whirlpool GR9FHTXVB00 | Refrigerator |
| Whirlpool GR9FHTXVB01 | Refrigerator |
| Whirlpool GR9FHTXVL | Refrigerator |
| Whirlpool GR9FHTXVL00 | Refrigerator |
| Whirlpool GR9FHTXVL01 | Refrigerator |
| Whirlpool GR9FHTXVQ | Refrigerator |
| Whirlpool GR9FHTXVQ00 | Refrigerator |
| Whirlpool GR9FHTXVQ01 | Refrigerator |
| Whirlpool GR9FHTXVS | Refrigerator |
| Whirlpool GR9FHTXVS00 | Refrigerator |
| Whirlpool GR9FHTXVS01 | Refrigerator |
| Whirlpool GT1NHWXPB | Refrigerator |
| Whirlpool GT1NHWXPB00 | Refrigerator |
| Whirlpool GT1NHWXPQ | Refrigerator |
| Whirlpool GT1NHWXPQ00 | Refrigerator |
| Whirlpool GT1NHWXPS | Refrigerator |
| Whirlpool GT1NHWXPS00 | Refrigerator |
| Whirlpool GT1NHWXPT | Refrigerator |
| Whirlpool GT1NHWXPT00 | Refrigerator |
| Whirlpool GT1PHWXPB | Refrigerator |
| Whirlpool GT1PHWXPB00 | Refrigerator |
| Whirlpool GT1PHWXPQ | Refrigerator |
| Whirlpool GT1PHWXPQ00 | Refrigerator |
| Whirlpool GT1PHWXPS | Refrigerator |
| Whirlpool GT1PHWXPS00 | Refrigerator |
| Whirlpool GT1SHTXMB | Refrigerator |
| Whirlpool GT1SHTXMB00 | Refrigerator |
| Whirlpool GT1SHTXMB01 | Refrigerator |
| Whirlpool GT1SHTXMB02 | Refrigerator |
| Whirlpool GT1SHTXMB03 | Refrigerator |
| Whirlpool GT1SHTXMB04 | Refrigerator |
| Whirlpool GT1SHTXMQ | Refrigerator |
| Whirlpool GT1SHTXMQ00 | Refrigerator |
| Whirlpool GT1SHTXMQ01 | Refrigerator |
| Whirlpool GT1SHTXMQ02 | Refrigerator |
| Whirlpool GT1SHTXMQ03 | Refrigerator |
| Whirlpool GT1SHTXMQ04 | Refrigerator |
| Whirlpool GT1SHTXMT | Refrigerator |
| Whirlpool GT1SHTXMT00 | Refrigerator |
| Whirlpool GT1SHTXMT01 | Refrigerator |
| Whirlpool GT1SHTXMT02 | Refrigerator |
| Whirlpool GT1SHTXMT03 | Refrigerator |
| Whirlpool GT1SHTXMT04 | Refrigerator |
| Whirlpool GT1SHWXPB | Refrigerator |
| Whirlpool GT1SHWXPB00 | Refrigerator |
| Whirlpool GT1SHWXPB01 | Refrigerator |
| Whirlpool GT1SHWXPB02 | Refrigerator |
| Whirlpool GT1SHWXPQ | Refrigerator |
| Whirlpool GT1SHWXPQ00 | Refrigerator |
| Whirlpool GT1SHWXPQ01 | Refrigerator |
| Whirlpool GT1SHWXPQ02 | Refrigerator |
| Whirlpool GT1SHWXPS | Refrigerator |
| Whirlpool GT1SHWXPS00 | Refrigerator |
| Whirlpool GT1SHWXPS01 | Refrigerator |
| Whirlpool GT1SHWXPS02 | Refrigerator |
| Whirlpool GT1SHWXPT | Refrigerator |
| Whirlpool GT1SHWXPT00 | Refrigerator |
| Whirlpool GT1SHWXPT01 | Refrigerator |
| Whirlpool GT1SHWXPT02 | Refrigerator |
| Whirlpool GT2MHTXRB | Refrigerator |
| Whirlpool GT2MHTXRB01 | Refrigerator |
| Whirlpool GT2MHTXRQ | Refrigerator |
| Whirlpool GT2MHTXRQ01 | Refrigerator |
| Whirlpool GT2MHTXRS | Refrigerator |
| Whirlpool GT2MHTXRS01 | Refrigerator |
| Whirlpool GT2MHTXRT | Refrigerator |
| Whirlpool GT2MHTXRT01 | Refrigerator |
| Whirlpool GT9MHTXRQ | Refrigerator |
| Whirlpool GT9MHTXRQ00 | Refrigerator |
| Whirlpool GT9MHTXRQ01 | Refrigerator |
| Whirlpool GT9MHTXRT | Refrigerator |
| Whirlpool GT9MHTXRT00 | Refrigerator |
| Whirlpool GT9MHTXRT01 | Refrigerator |
| WHIRLPOOL JUCFP242HL00 | Refrigerator |
| WHIRLPOOL JUCFP242HL01 | Refrigerator |
| WHIRLPOOL JUCFP242HM00 | Refrigerator |
| WHIRLPOOL JUCFP242HM01 | Refrigerator |
| WHIRLPOOL JUCFP242HX00 | Refrigerator |
| WHIRLPOOL JUCFP242HX01 | Refrigerator |
| WHIRLPOOL JUD248CCCX00 | Refrigerator |
| WHIRLPOOL JUD248CCRS00 | Refrigerator |
| WHIRLPOOL JUD248CWRS00 | Refrigerator |
| WHIRLPOOL JUD248CWRS01 | Refrigerator |
| WHIRLPOOL JUD24FCACX00 | Refrigerator |
| WHIRLPOOL JUD24FCARS00 | Refrigerator |
| WHIRLPOOL JUD24FCECX00 | Refrigerator |
| WHIRLPOOL JUD24FCERS00 | Refrigerator |
| WHIRLPOOL KDDC24CVS00 | Refrigerator |
| WHIRLPOOL KDDC24CVS01 | Refrigerator |
| WHIRLPOOL KDDC24CVX01 | Refrigerator |
| WHIRLPOOL KDDO24CVX00 | Refrigerator |
| WHIRLPOOL KDDO24CVX01 | Refrigerator |
| WHIRLPOOL KTLA19EMSS00 | Refrigerator |
| WHIRLPOOL KTLA19EMSS01 | Refrigerator |
| WHIRLPOOL KTLA22EMSS00 | Refrigerator |
| WHIRLPOOL KTLA22EMSS01 | Refrigerator |
| WHIRLPOOL KTLA22EMSS02 | Refrigerator |
| WHIRLPOOL KTLA22EMSS03 | Refrigerator |
| WHIRLPOOL KTLA22EMSS04 | Refrigerator |
| WHIRLPOOL KTRA19EMBL00 | Refrigerator |
| WHIRLPOOL KTRA19EMBL01 | Refrigerator |
| WHIRLPOOL KTRA19EMBT00 | Refrigerator |
| WHIRLPOOL KTRA19EMBT01 | Refrigerator |
| WHIRLPOOL KTRA19EMSS00 | Refrigerator |
| WHIRLPOOL KTRA19EMSS01 | Refrigerator |
| WHIRLPOOL KTRA19EMWH00 | Refrigerator |
| WHIRLPOOL KTRA19EMWH01 | Refrigerator |
| WHIRLPOOL KTRA22EMBL00 | Refrigerator |
| WHIRLPOOL KTRA22EMBL01 | Refrigerator |
| WHIRLPOOL KTRA22EMBL02 | Refrigerator |
| WHIRLPOOL KTRA22EMBL03 | Refrigerator |
| WHIRLPOOL KTRA22EMBT00 | Refrigerator |
| WHIRLPOOL KTRA22EMBT01 | Refrigerator |
| WHIRLPOOL KTRA22EMBT02 | Refrigerator |
| WHIRLPOOL KTRA22EMBT03 | Refrigerator |
| WHIRLPOOL KTRA22EMSS00 | Refrigerator |
| WHIRLPOOL KTRA22EMSS01 | Refrigerator |
| WHIRLPOOL KTRA22EMSS02 | Refrigerator |
| WHIRLPOOL KTRA22EMSS03 | Refrigerator |
| WHIRLPOOL KTRA22EMSS04 | Refrigerator |
| WHIRLPOOL KTRA22EMWH00 | Refrigerator |
| WHIRLPOOL KTRA22EMWH01 | Refrigerator |
| WHIRLPOOL KTRA22EMWH02 | Refrigerator |
| WHIRLPOOL KTRA22EMWH03 | Refrigerator |
| WHIRLPOOL KTRC22EMBL00 | Refrigerator |
| WHIRLPOOL KTRC22EMBL01 | Refrigerator |
| WHIRLPOOL KTRC22EMBL02 | Refrigerator |
| WHIRLPOOL KTRC22EMBL03 | Refrigerator |
| WHIRLPOOL KTRC22EMBL04 | Refrigerator |
| WHIRLPOOL KTRC22EMBL05 | Refrigerator |
| WHIRLPOOL KTRC22EMBT00 | Refrigerator |
| WHIRLPOOL KTRC22EMBT01 | Refrigerator |
| WHIRLPOOL KTRC22EMBT02 | Refrigerator |
| WHIRLPOOL KTRC22EMBT03 | Refrigerator |
| WHIRLPOOL KTRC22EMBT04 | Refrigerator |
| WHIRLPOOL KTRC22EMBT05 | Refrigerator |
| WHIRLPOOL KTRC22EMSS00 | Refrigerator |
| WHIRLPOOL KTRC22EMSS01 | Refrigerator |
| WHIRLPOOL KTRC22EMSS02 | Refrigerator |
| WHIRLPOOL KTRC22EMSS03 | Refrigerator |
| WHIRLPOOL KTRC22EMSS04 | Refrigerator |
| WHIRLPOOL KTRC22EMSS05 | Refrigerator |
| WHIRLPOOL KTRC22EMWH00 | Refrigerator |
| WHIRLPOOL KTRC22EMWH01 | Refrigerator |
| WHIRLPOOL KTRC22EMWH02 | Refrigerator |
| WHIRLPOOL KTRC22EMWH03 | Refrigerator |
| WHIRLPOOL KTRC22EMWH04 | Refrigerator |
| WHIRLPOOL KTRC22EMWH05 | Refrigerator |
| WHIRLPOOL KTRP22EMBL00 | Refrigerator |
| WHIRLPOOL KTRP22EMBL01 | Refrigerator |
| WHIRLPOOL KTRP22EMBL02 | Refrigerator |
| WHIRLPOOL KTRP22EMBT00 | Refrigerator |
| WHIRLPOOL KTRP22EMBT01 | Refrigerator |
| WHIRLPOOL KTRP22EMBT02 | Refrigerator |
| WHIRLPOOL KTRP22EMBT03 | Refrigerator |
| WHIRLPOOL KTRP22EMBT04 | Refrigerator |
| WHIRLPOOL KTRP22EMSS00 | Refrigerator |
| WHIRLPOOL KTRP22EMSS01 | Refrigerator |
| WHIRLPOOL KTRP22EMSS02 | Refrigerator |
| WHIRLPOOL KTRP22EMWH00 | Refrigerator |
| WHIRLPOOL KTRP22EMWH01 | Refrigerator |
| WHIRLPOOL KTRP22EMWH02 | Refrigerator |
| WHIRLPOOL KTRP22EMWH03 | Refrigerator |
| WHIRLPOOL KTRP22EMWH04 | Refrigerator |
| WHIRLPOOL KTRS22EMBL00 | Refrigerator |
| WHIRLPOOL KTRS22EMBL01 | Refrigerator |
| WHIRLPOOL KTRS22EMBT00 | Refrigerator |
| WHIRLPOOL KTRS22EMBT01 | Refrigerator |
| WHIRLPOOL KTRS22EMSS00 | Refrigerator |
| WHIRLPOOL KTRS22EMSS01 | Refrigerator |
| WHIRLPOOL KTRS22EMWH00 | Refrigerator |
| WHIRLPOOL KTRS22EMWH01 | Refrigerator |
| WHIRLPOOL KUDF204EPA00 | Refrigerator |
| WHIRLPOOL KUDF204EPA01 | Refrigerator |
| WHIRLPOOL KUDF204ESB00 | Refrigerator |
| WHIRLPOOL KUDF204ESB01 | Refrigerator |
| 046-9915 | Filter |
| 09915P | Filter |
| 2301706 | Filter |
| 4396701 | Filter |
| 4396702 | Filter |
| 4396703 | Filter |
| 4396706 | Filter |
| 46-9915 | Filter |
| 4609915000 | Filter |
| 469915 | Filter |
| 6701 | Filter |
| 9915 | Filter |
| 9915P | Filter |
| AFC-RF-W3 | Filter |
| CLCH125 | Filter |
| CW-W3 | Filter |
| EDR6D1 | Filter |
| EFF-6001A | Filter |
| FILTER 6 | Filter |
| FILTER6 | Filter |
| GS-W3 | Filter |
| L120V | Filter |
| L200 | Filter |
| L200V | Filter |
| LC200V | Filter |
| NL120V | Filter |
| NLC120V | Filter |
| RWF1021 | Filter |
| SGF-W10 | Filter |
| WF-1230A | Filter |
| WF-293 | Filter |
| WF-L120V | Filter |
| WF-L200 | Filter |
| WF-L200V | Filter |
| WF-LC200V | Filter |
| WF-NL120V | Filter |
| WF-NLC120V | Filter |
| WF293 | Filter |
| WFI-NL120V | Filter |
| WFINL120V | Filter |
| WFL120V | Filter |
| WFL200 | Filter |
| WFL200V | Filter |
| WFLC200V | Filter |
| WFNL120V | Filter |
| WFNLC120V | Filter |
| WSW-3 | Filter |