ClearChoice CLCH2533 | Our#: 180796
ClearChoice Universal Inline Water Filter

95 review(s)
ClearChoice CLCH2533 | Our#: 180796
Fast Shipping & Free Returns
100% Compatibility Guarantee
Compatibility guaranteed! Free return shipping and 100% money back if there are any issues.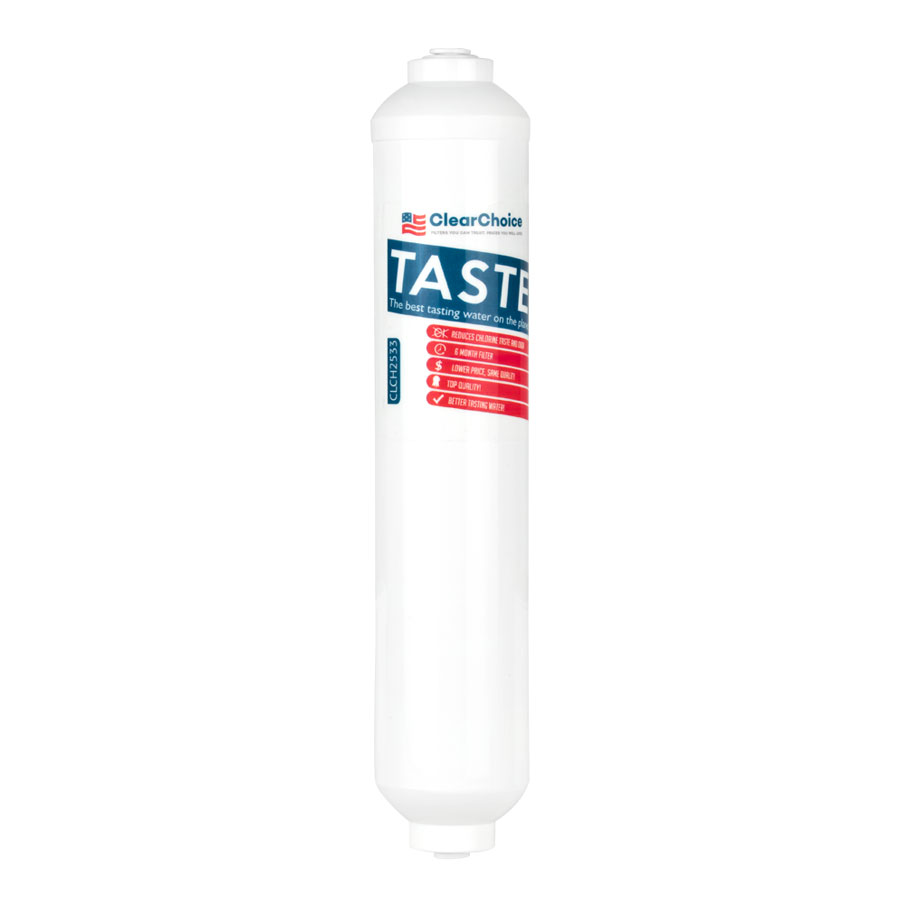 3 people in your area recently purchased this product!
Fast Shipping & Free Returns
100% Compatibility Guarantee
Frequently Purchased Together
Product Details
ClearChoice Universal Inline Water Filter
If your refrigerator does not include a built-in filtration system - you might be using an "inline" filter. An inline filter connects to the incoming water line for the refrigerator and filters the water that feeds the ice machine and water dispenser. You will often find an inline filter on the back of the refrigerator. The CLCH2533 is a universal replacement for many 10" filters.
The CLCH2533 filters comes with 1/4" "Quick Connect" ends, which will accept any 1/4" plumbing supply line - copper, poly, or cpvc water line. Simply push the line into the end of the filter - and you are done! The CLCH2533 uses coconut shell granular activated carbon technology to reduce unpleasant taste and odors.
Specifications:
Service Life - 6 months - 1 year / 2,000 Gallons
Max pressure - 125 PSIG
Min Pressure - 30 PSIG
Max Temp - 100 F
Min Temp - 35 F
Installation:

The CLCH2533 is a universal "inline" filter that can connect to any 1/4" OD water line.

1). Turn off cold water supply to refrigerator
2). Locate an easily accessible section of tubing between the shut-off valve and the refrigerator
3). Cut tubing using a tubing cutter for copper, use a sharp knife for plastic tubing
4). Cut tubing square, not on an angle (angle cuts can cause leaks)
5). Smooth any burrs on copper tubing with steel wool or a file
6). Insert tubing into inlet site of filter by pushing firmly until tubing stops and locks in place
7). Hold the filter over a bucket and turn on water supply - let water run until clear
8). Turn off water supply and connect tubing leading to refrigerator on the outlet side of the filter
9). Turn water back on and check for leaks
Videos help, so Click Here for our video on how to install the CLCH2533 filter.
---
Popular Part Numbers
---
Specifications
Capacity:
1500
Dimensions:
10" L X 2" Dia
Flow Rate:
.5 Gallons Per Minute
Plumbing Connections:
1/4" Quick Connect
Reduction Claim:
chlorine, taste, odors
Compatible Part Numbers
Search by your filter part number or appliance model number to verify compatibility
| Model or Part Number | Type |
| --- | --- |
| Fisher & Paykel RX216CT4X2 | Refrigerator |
| Frigidaire FRTD2021AS | Refrigerator |
| GE GCU23MITAFBB | Refrigerator |
| GE GIE17GSNRSS | Refrigerator |
| GE GIE18DTNRBB | Refrigerator |
| GE GIE18DTNRWW | Refrigerator |
| GE GIE18GCNRSA | Refrigerator |
| GE GIE18GSNRSS | Refrigerator |
| GE GIE18GTNRWW | Refrigerator |
| GE GIE19JSNRSS | Refrigerator |
| GE GSE25METACBB | Refrigerator |
| GE GSG25MIMBFBB | Refrigerator |
| GE GSG25MIMBFWW | Refrigerator |
| GE GSG25MIMCFBB | Refrigerator |
| GE GSG25MIMCFWW | Refrigerator |
| GE GSG25MIMDFBB | Refrigerator |
| GE GSG25MIMDFWW | Refrigerator |
| GE GSG25MIPAFBB | Refrigerator |
| GE GSG25MIPAFWW | Refrigerator |
| GE GSG25MIPCFBB | Refrigerator |
| GE GSG25MIPCFWW | Refrigerator |
| GE GSG25MIPDFBB | Refrigerator |
| GE GSG25MIPDFWW | Refrigerator |
| GE GSG25MIPHFBB | Refrigerator |
| GE GSG25MIPHFWW | Refrigerator |
| GE GSG25MISACBB | Refrigerator |
| GE GSG25MISACWW | Refrigerator |
| GE GSG25MISAFBB | Refrigerator |
| GE GSG25MISAFWW | Refrigerator |
| GE GSG25MISBCBB | Refrigerator |
| GE GSG25MISBCWW | Refrigerator |
| GE GTE19JTNRBB | Refrigerator |
| GE GTS18CCSERCC | Refrigerator |
| GE GTS19KSNRSS | Refrigerator |
| GE MCG23MIMHFBB | Refrigerator |
| GE MCG23MISAFBB | Refrigerator |
| GE MCG23MISBFBB | Refrigerator |
| GE PCG21SIMHFBS | Refrigerator |
| GE PCG23SJMFFBS | Refrigerator |
| GE PCP21SIMFFBS | Refrigerator |
| GE PSA22MIMCFBB | Refrigerator |
| GE PSA22MIMCFWW | Refrigerator |
| GE PSA22MIMDFBB | Refrigerator |
| GE PSA22MIMDFWW | Refrigerator |
| GE PSA22MIPAFBB | Refrigerator |
| GE PSA22MIPAFWW | Refrigerator |
| GE PSA22MIPCFBB | Refrigerator |
| GE PSA22MIPCFWW | Refrigerator |
| GE PSA22MIPDFBB | Refrigerator |
| GE PSA22MIPDFWW | Refrigerator |
| GE PSA22MIPHFBB | Refrigerator |
| GE PSA22MIPHFWW | Refrigerator |
| GE PSA22SIMCFBS | Refrigerator |
| GE PSA22SIMDFBS | Refrigerator |
| GE PSA22SIPAFBS | Refrigerator |
| GE PSA22SIPAFSS | Refrigerator |
| GE PSA22SIPCFBS | Refrigerator |
| GE PSA22SIPCFSS | Refrigerator |
| GE PSA22SIPDFBS | Refrigerator |
| GE PSA22SIPDFSS | Refrigerator |
| GE PSA22SIPHFBS | Refrigerator |
| GE PSA22SIRBFSS | Refrigerator |
| GE PSA22SIREFSS | Refrigerator |
| GE PSA25MIMCFBB | Refrigerator |
| GE PSA25MIMCFWW | Refrigerator |
| GE PSA25MIMDFBB | Refrigerator |
| GE PSA25MIMDFWW | Refrigerator |
| GE PSA25MIPAFBB | Refrigerator |
| GE PSA25MIPAFWW | Refrigerator |
| GE PSA25MIPCFBB | Refrigerator |
| GE PSA25MIPCFWW | Refrigerator |
| GE PSA25MIPDFBB | Refrigerator |
| GE PSA25MIPDFWW | Refrigerator |
| GE PSA25MIPHFBB | Refrigerator |
| GE PSA25MIPHFWW | Refrigerator |
| GE PSG22MIMBFBB | Refrigerator |
| GE PSG22MIMBFWW | Refrigerator |
| GE PSG22MIMCFBB | Refrigerator |
| GE PSG22MIMCFWW | Refrigerator |
| GE PSG22MIMDFBB | Refrigerator |
| GE PSG22MIMDFWW | Refrigerator |
| GE PSG22MIPAFBB | Refrigerator |
| GE PSG22MIPAFWW | Refrigerator |
| GE PSG22MIPCFBB | Refrigerator |
| GE PSG22MIPCFWW | Refrigerator |
| GE PSG22MIPDFBB | Refrigerator |
| GE PSG22MIPDFWW | Refrigerator |
| GE PSG22MIPHFBB | Refrigerator |
| GE PSG22MIPHFWW | Refrigerator |
| GE PSG22MISAFBB | Refrigerator |
| GE PSG22MISAFWW | Refrigerator |
| GE PSG22SIMBFBS | Refrigerator |
| GE PSG22SIMCFBS | Refrigerator |
| GE PSG22SIMDFBS | Refrigerator |
| GE PSG22SIPAFBS | Refrigerator |
| GE PSG22SIPAFSS | Refrigerator |
| GE PSG22SIPCFBS | Refrigerator |
| GE PSG22SIPCFSS | Refrigerator |
| GE PSG22SIPDFBS | Refrigerator |
| GE PSG22SIPDFSS | Refrigerator |
| GE PSG22SIPHFBS | Refrigerator |
| GE PSG22SIRBFSS | Refrigerator |
| GE PSG22SIREFSS | Refrigerator |
| GE PSG22SISAFSS | Refrigerator |
| GE PSG25MIMFCBB | Refrigerator |
| GE PSG25MIMFCWW | Refrigerator |
| GE PSG25MIMHCBB | Refrigerator |
| GE PSG25MIMHCWW | Refrigerator |
| GE PSG25MISACBB | Refrigerator |
| GE PSG25MISACWW | Refrigerator |
| GE PSG25SGMFCBS | Refrigerator |
| GE PSG27MIMACBB | Refrigerator |
| GE PSG27MIMACWW | Refrigerator |
| GE PSG27SIMACBS | Refrigerator |
| GE PSG27SIMHCBS | Refrigerator |
| Kenmore 59669272992 | Refrigerator |
| Kenmore 59669272993 | Refrigerator |
| Kenmore 59669274991 | Refrigerator |
| Kenmore 59669274992 | Refrigerator |
| Kenmore 59669279992 | Refrigerator |
| Kenmore 59669279993 | Refrigerator |
| Kenmore 59679272992 | Refrigerator |
| Kenmore 59679272993 | Refrigerator |
| Kenmore 59679274991 | Refrigerator |
| Kenmore 59679274992 | Refrigerator |
| Kenmore 59679279992 | Refrigerator |
| Kenmore 59679279993 | Refrigerator |
| LG LFC22770ST | Refrigerator |
| LG LRSES2706V | Refrigerator |
| Samsung RF18A5101SG | Refrigerator |
| Samsung RF18A5101SR | Refrigerator |
| Samsung RF18A5101WW | Refrigerator |
| Samsung RF20A5101SG | Refrigerator |
| Samsung RF20A5101SR | Refrigerator |
| Samsung RF20A5101WW | Refrigerator |
| Samsung RF220NCTASG | Refrigerator |
| Samsung RF220NCTASR | Refrigerator |
| Samsung RF23M8070SG | Refrigerator |
| Samsung RF23M8070SG/AA | Refrigerator |
| Samsung RF23M8090SG | Refrigerator |
| Samsung RF23M8090SG/AA | Refrigerator |
| Samsung RF23M8090SR | Refrigerator |
| Samsung RF23M8090SR/AA | Refrigerator |
| Samsung RF23M8570SR | Refrigerator |
| Samsung RF23M8570SR/AA | Refrigerator |
| Samsung RF23M8590SG | Refrigerator |
| Samsung RF23M8590SG/AA | Refrigerator |
| Samsung RF23M8590SR | Refrigerator |
| Samsung RF23M8590SR/AA | Refrigerator |
| Samsung RF23M8960MT/AA | Refrigerator |
| Samsung RF23M8960S4/AA | Refrigerator |
| Samsung RQ48T94B277 | Refrigerator |
| Samsung RS54HDRPBSR | Refrigerator |
| Samsung RS7667FHCBC | Refrigerator |
| Samsung RS7667FHCSL | Refrigerator |
| Samsung RS7667FHCSP | Refrigerator |
| Samsung RS7667FHCWW | Refrigerator |
| Samsung RS7677FHCBC | Refrigerator |
| Samsung RS7677FHCSL | Refrigerator |
| Samsung RS7778FHCSL | Refrigerator |
| Samsung RS7778FHCWW | Refrigerator |
| Samsung RSA1DTPE | Refrigerator |
| Samsung RSA1DTPE1/XES | Refrigerator |
| Samsung RSA1DTPN1 | Refrigerator |
| Samsung RSA1RTPN | Refrigerator |
| Samsung RSA1RTPN1/XEU | Refrigerator |
| Samsung RSA1SHPN | Refrigerator |
| Samsung RSA1SHPN1/XEU | Refrigerator |
| Samsung RSA1STMG | Refrigerator |
| Samsung RSA1STTC | Refrigerator |
| Samsung RSA1UHMG | Refrigerator |
| Samsung RSA1UHPE | Refrigerator |
| Samsung RSA1UTMG | Refrigerator |
| Samsung RSA1UTMG1 | Refrigerator |
| Samsung RSA1UTMG1/XEU | Refrigerator |
| Samsung RSA1UTNE | Refrigerator |
| Samsung RSA1UTPE | Refrigerator |
| Samsung RSA1UTSL | Refrigerator |
| Samsung RSA1UTTC | Refrigerator |
| Samsung RSA1UTVG | Refrigerator |
| Samsung RSA1UTWP | Refrigerator |
| Samsung RSA1WTMH | Refrigerator |
| Samsung RSA1WTMH1/XEU | Refrigerator |
| Samsung RSA1WTVG | Refrigerator |
| Samsung RSA1WTVG1/XEU | Refrigerator |
| Samsung RSA1ZHME | Refrigerator |
| Samsung RSA1ZHMG | Refrigerator |
| Samsung RSA1ZHMH | Refrigerator |
| Samsung RSA1ZHNE | Refrigerator |
| Samsung RSA1ZHPE | Refrigerator |
| Samsung RSA1ZHTS | Refrigerator |
| Samsung RSA1ZTMG | Refrigerator |
| Samsung RSA1ZTMH | Refrigerator |
| Samsung RSA1ZTPE | Refrigerator |
| Samsung RSA1ZTRE | Refrigerator |
| Samsung RSA1ZTSL | Refrigerator |
| Samsung RSA1ZTTS | Refrigerator |
| Samsung RSA1ZTVG | Refrigerator |
| Samsung RSA1ZTWP | Refrigerator |
| Samsung RT18M6215SG | Refrigerator |
| Samsung RT21M6213SG | Refrigerator |
| Samsung SRS565DHLS | Refrigerator |
| Samsung SRS582NLS | Refrigerator |
| Whirlpool WRB329DMBM | Refrigerator |
| Whirlpool WRB533CZJW | Refrigerator |
| Whirlpool WRB533CZJZ | Refrigerator |
| Whirlpool WRT106TFDW | Refrigerator |
| Whirlpool WRT108FZDB | Refrigerator |
| Whirlpool WRT112CZJW | Refrigerator |
| Whirlpool WRT112CZJZ | Refrigerator |
| Whirlpool WRT311FZDW | Refrigerator |
| Whirlpool WRT311FZDZ | Refrigerator |
| Whirlpool WRT312CZJW | Refrigerator |
| Whirlpool WRT348FMEZ | Refrigerator |
| Whirlpool WRT511SZDM | Refrigerator |
| Whirlpool WRT518SZFM | Refrigerator |
| Whirlpool WRT541SZDB | Refrigerator |
| Whirlpool WRT549SZDB | Refrigerator |
| 18001001 | Filter |
| 18001009 | Filter |
| 18001010 | Filter |
| 19950157 | Filter |
| 19950158 | Filter |
| 24500050 | Filter |
| 24500055 | Filter |
| 25004006 | Filter |
| 25004019 | Filter |
| 25004082 | Filter |
| 25004092 | Filter |
| 38446 | Filter |
| 3844609 | Filter |
| 4210359 | Filter |
| 4210508 | Filter |
| 4210573 | Filter |
| 4378411 | Filter |
| 4378442 | Filter |
| 43929245R | Filter |
| 4392949 | Filter |
| 4392949R | Filter |
| 4398411R | Filter |
| 46-38446 | Filter |
| 5303310266 | Filter |
| 5303917334 | Filter |
| 5303917335 | Filter |
| 5303917645 | Filter |
| 5304492441 | Filter |
| 5305510266 | Filter |
| AICRO | Filter |
| AICRO-JGK | Filter |
| AP10CL | Filter |
| AP717 | Filter |
| BL-9098 | Filter |
| BL-9808 | Filter |
| CL10PF5 | Filter |
| CL10RO-T33 | Filter |
| CL10ROT40-B | Filter |
| CLCH2533 | Filter |
| DA29-10105J | Filter |
| DD-7098 | Filter |
| EF4903 | Filter |
| EV9100-06 | Filter |
| EV9100-08 | Filter |
| FRS2031IAL | Filter |
| GS-10 | Filter |
| GS-10G | Filter |
| GXRTDR | Filter |
| IAC-10 | Filter |
| IAP-10 | Filter |
| IC-100 | Filter |
| ICF-10 | Filter |
| IF-35 | Filter |
| IF14C | Filter |
| IN-10 | Filter |
| INLINE | Filter |
| K2340-BB | Filter |
| K2533-JJ | Filter |
| K2540-BB | Filter |
| K5540-BB | Filter |
| KFU5755 | Filter |
| KG57U95 | Filter |
| R0000031 | Filter |
| R0182114 | Filter |
| R200 SERIES A | Filter |
| TS-10IL | Filter |
| VGS-215-CB5-B | Filter |
| WF-10 | Filter |
| WF283 | Filter |
| WFIR100 | Filter |
| WSF100 | Filter |