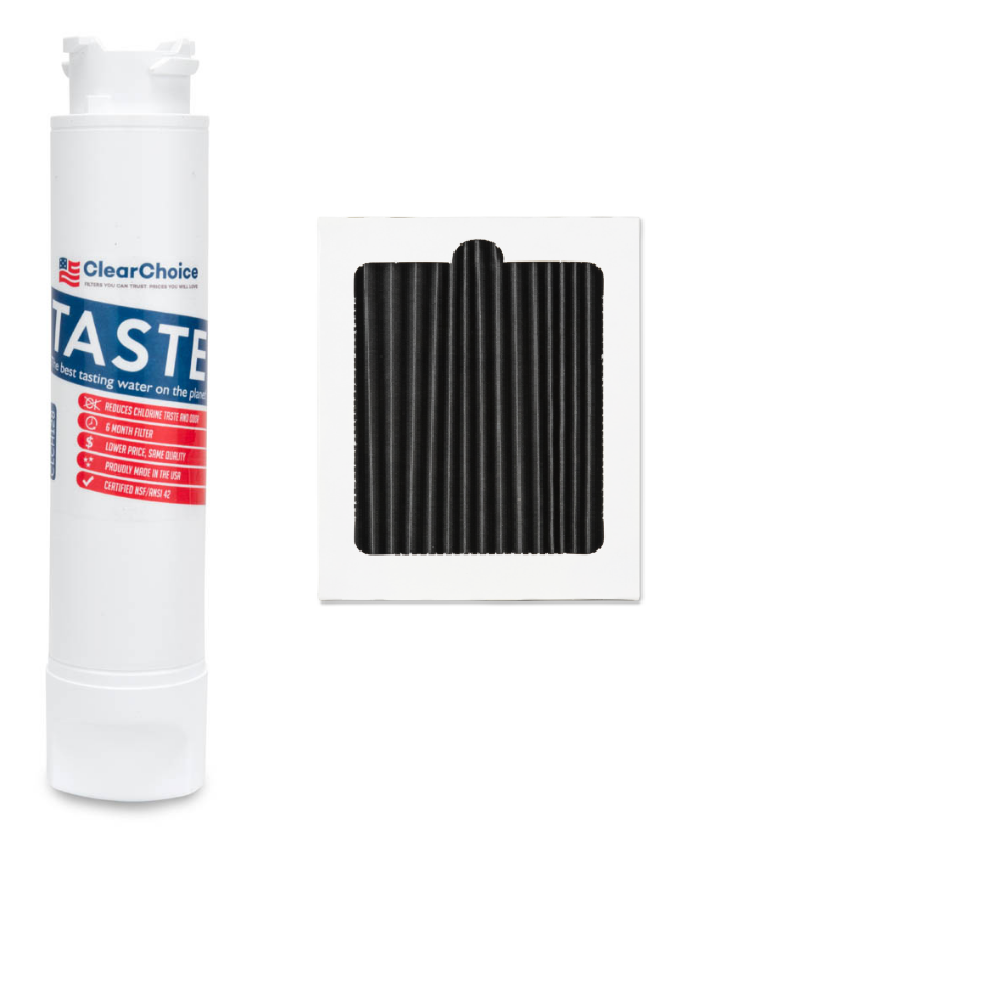 ClearChoice CLCH128 FAF006 | Our#: 190305
ClearChoice Combo Replacement for EPTWFU01 Water Filter and PAULTRA Air Filter

1 review(s)
ClearChoice CLCH128 FAF006 | Our#: 190305
Fast Shipping & Free Returns
100% Compatibility Guarantee
Compatibility guaranteed! Free return shipping and 100% money back if there are any issues.
Your purchase will help Support American jobs
4 people in your area recently purchased this product!
Fast Shipping & Free Returns
100% Compatibility Guarantee
Frequently Purchased Together
Product Details
ClearChoice Combo Replacement for EPTWFU01 Water Filter and PAULTRA Air Filter - Includes 1 CLCH128 EPTWFU01 Replacement and 1 FAF001 PAULTRA Replacement
The ClearChoice CLCH128 filter replaces the original Frigidaire PureSource Ultra II Filter / Electrolux PureAdvantage Ultra-U. It is used in Frigidaire/Electrolux Professional french door and some side-by-side refrigerators. The CLCH128 filter creates better tasting water for drinking and making beverages as well as clean, clearer, healthy ice.
AIRx Replacement for Frigidaire (PAULTRA) PureAir Ultra Replacement Air Filter Cartridge. Replaces filter in new model Frigidaire Gallery and Frigidaire Professional side by side and french door refrigerators with the PureAir Ultra II Air Filtration system.
Features:
Replacement filter for part number EPTWFU01 and PAULTRA
Easy installation and operation
CLCH128 helps reduce chlorine taste and odor in your water

AirX FAF001 refrigerator air eliminates foul odors from your refrigerator and freezer.

Helps reduce contaminants found in tap water and improves its quality
Made with pride in the USA
Water Filter Instructions for use:
Remove current filter and discard
Slide the new filter in with the grip oriented horizontally
Push the filter firmly and turn 90 degrees to the right until it snaps into place. The grip should now be oriented vertically
Run water through the dispenser for approximately 3 minutes or 1.5 gallons, to prime the filter before use
Air Filter Instructions for use:
STEP 1 - Push finger into serrated edge on each side and pull windows out. Discard.
STEP 2 - Insert Filter Cartridge into air filter receptacle
Press and hold the "Reset Air Filter" button on display for 3 seconds. When the indicator light turns off, the status has been reset
---
Value Comparison
---
Compatible Part
Numbers
#'s
Part number compatibility for the ClearChoice CLCH128 FAF006
Do you know your OEM part number? Use our search to cross-check it!
---
How To Install The ClearChoice CLCH128 FAF006 Filter:
How To Install Filter?
Installation Instructions:
Turn off the icemaker power switch
Remove the old filter by rotating it counterclockwise (to the left) 90 degrees to release it
Slide the new filter into the filter housing as far as it will go with the grip end horizontal and push lightly inward on the filter while rotating it clockwise (to the right)
Rotate the filter 90 degrees until it stops and the grip end is vertical
Press and hold the Water Filter reset button on the control panel for three seconds. When the display changes from Red to Green, the status has been reset
After replacing the water filter, flush the new filter by running water through the new filters for 3 minutes, then turn on the icemaker power switch
---
Search by your filter part number or appliance model number to verify compatibility
| Brand Name | Model Number | Type |
| --- | --- | --- |
| Electrolux | E23BC69SP | Refrigerator |
| Electrolux | E23BC69SPS | Refrigerator |
| Electrolux | E23BC69SPS0 | Refrigerator |
| Electrolux | E23BC69SPS1 | Refrigerator |
| Electrolux | EW28BS87SS | Refrigerator |
| Electrolux | EW28BS87SS0 | Refrigerator |
| Electrolux | EW28BS87SS1 | Refrigerator |
| Electrolux | EW28BS87SS2 | Refrigerator |
| Electrolux | EW28BS87SS3 | Refrigerator |
| FRIGIDAIRE | 20462151B | Refrigerator |
| FRIGIDAIRE | 90462157B | Refrigerator |
| Frigidaire | CFEH272ITD0 | Refrigerator |
| Frigidaire | CFEH272ITD1 | Refrigerator |
| Frigidaire | CFEH272ITS0 | Refrigerator |
| Frigidaire | CFEH272ITS1 | Refrigerator |
| Frigidaire | CFEH272ITW1 | Refrigerator |
| Frigidaire | DGHD2361TF0 | Refrigerator |
| Frigidaire | DGHD2361TF1 | Refrigerator |
| Frigidaire | DGHD2361TF2 | Refrigerator |
| Frigidaire | DGHD2361TF3 | Refrigerator |
| Frigidaire | DGHK2355TF0 | Refrigerator |
| Frigidaire | DGHX2655TF0 | Refrigerator |
| Frigidaire | DGHX2655TF5 | Refrigerator |
| Frigidaire | DGHX2655TF6 | Refrigerator |
| FRIGIDAIRE | DGHX2655TF8 | Refrigerator |
| FRIGIDAIRE | DGHX2655TF9 | Refrigerator |
| FRIGIDAIRE | DGHX2655TFA | Refrigerator |
| FRIGIDAIRE | DGHX2655TFB | Refrigerator |
| FRIGIDAIRE | DGHX2655TFC | Refrigerator |
| Frigidaire | FFBN1721TV | Refrigerator |
| Frigidaire | FFBN1721TV0 | Refrigerator |
| Frigidaire | FFHB2750TD | Refrigerator |
| Frigidaire | FFHB2750TD0 | Refrigerator |
| Frigidaire | FFHB2750TD1 | Refrigerator |
| Frigidaire | FFHB2750TD2 | Refrigerator |
| Frigidaire | FFHB2750TD3 | Refrigerator |
| Frigidaire | FFHB2750TD4 | Refrigerator |
| Frigidaire | FFHB2750TD5 | Refrigerator |
| FRIGIDAIRE | FFHB2750TD6 | Refrigerator |
| Frigidaire | FFHB2750TD7 | Refrigerator |
| FRIGIDAIRE | FFHB2750TD8 | Refrigerator |
| Frigidaire | FFHB2750TE | Refrigerator |
| Frigidaire | FFHB2750TE0 | Refrigerator |
| Frigidaire | FFHB2750TE1 | Refrigerator |
| Frigidaire | FFHB2750TE2 | Refrigerator |
| Frigidaire | FFHB2750TE3 | Refrigerator |
| Frigidaire | FFHB2750TE5 | Refrigerator |
| FRIGIDAIRE | FFHB2750TE6 | Refrigerator |
| FRIGIDAIRE | FFHB2750TE7 | Refrigerator |
| FRIGIDAIRE | FFHB2750TE8 | Refrigerator |
| Frigidaire | FFHB2750TP | Refrigerator |
| Frigidaire | FFHB2750TP0 | Refrigerator |
| Frigidaire | FFHB2750TP1 | Refrigerator |
| Frigidaire | FFHB2750TP2 | Refrigerator |
| Frigidaire | FFHB2750TP3 | Refrigerator |
| Frigidaire | FFHB2750TP4 | Refrigerator |
| Frigidaire | FFHB2750TP5 | Refrigerator |
| FRIGIDAIRE | FFHB2750TP6 | Refrigerator |
| FRIGIDAIRE | FFHB2750TP7 | Refrigerator |
| FRIGIDAIRE | FFHB2750TP8 | Refrigerator |
| Frigidaire | FFHB2750TS | Refrigerator |
| Frigidaire | FFHB2750TS0 | Refrigerator |
| Frigidaire | FFHB2750TS1 | Refrigerator |
| Frigidaire | FFHB2750TS2 | Refrigerator |
| Frigidaire | FFHB2750TS3 | Refrigerator |
| Frigidaire | FFHB2750TS5 | Refrigerator |
| Frigidaire | FFHB2750TS6 | Refrigerator |
| FRIGIDAIRE | FFHB2750TS7 | Refrigerator |
| FRIGIDAIRE | FFHB2750TS8 | Refrigerator |
| FRIGIDAIRE | FFHB2750TS9 | Refrigerator |
| Frigidaire | FFHD2250TD0 | Refrigerator |
| Frigidaire | FFHD2250TD1 | Refrigerator |
| Frigidaire | FFHD2250TD3 | Refrigerator |
| Frigidaire | FFHD2250TD4 | Refrigerator |
| Frigidaire | FFHD2250TD5 | Refrigerator |
| Frigidaire | FFHD2250TS | Refrigerator |
| Frigidaire | FFHD2250TS0 | Refrigerator |
| Frigidaire | FFHD2250TS1 | Refrigerator |
| Frigidaire | FFHD2250TS2 | Refrigerator |
| Frigidaire | FFHD2250TS3 | Refrigerator |
| Frigidaire | FFHD2250TS4 | Refrigerator |
| Frigidaire | FFHD2250TS5 | Refrigerator |
| FRIGIDAIRE | FFHD2250TS6 | Refrigerator |
| FRIGIDAIRE | FFHD2250TS7 | Refrigerator |
| FRIGIDAIRE | FFHD2250TS8 | Refrigerator |
| Frigidaire | FFHG2250TD0 | Refrigerator |
| Frigidaire | FFHG2250TD1 | Refrigerator |
| Frigidaire | FFHG2250TS0 | Refrigerator |
| Frigidaire | FFHG2250TS1 | Refrigerator |
| Frigidaire | FFHG2250TS2 | Refrigerator |
| Frigidaire | FFHN2750TD0 | Refrigerator |
| Frigidaire | FFHN2750TD1 | Refrigerator |
| Frigidaire | FFHN2750TD2 | Refrigerator |
| Frigidaire | FFHN2750TS | Refrigerator |
| Frigidaire | FFHN2750TS0 | Refrigerator |
| Frigidaire | FFHN2750TS1 | Refrigerator |
| Frigidaire | FFHN2750TS2 | Refrigerator |
| Frigidaire | FFHN2750TS3 | Refrigerator |
| FRIGIDAIRE | FFHN2750TS4 | Refrigerator |
| FRIGIDAIRE | FFHN2750TS5 | Refrigerator |
| FRIGIDAIRE | FFHN2750TS6 | Refrigerator |
| FRIGIDAIRE | FFHN2750TS7 | Refrigerator |
| Frigidaire | FFSC2323TS | Refrigerator |
| Frigidaire | FFSC2323TS0 | Refrigerator |
| Frigidaire | FFSC2323TS3 | Refrigerator |
| Frigidaire | FFSC2323TS4 | Refrigerator |
| FRIGIDAIRE | FFSC2323TS6 | Refrigerator |
| FRIGIDAIRE | FFSC2323TS7 | Refrigerator |
| FRIGIDAIRE | FFSC2323TS8 | Refrigerator |
| FRIGIDAIRE | FFSC2323TS9 | Refrigerator |
| FRIGIDAIRE | FFSC2323TSA | Refrigerator |
| FRIGIDAIRE | FG4H2272UF | Refrigerator |
| Frigidaire | FG4H2272UF  | Refrigerator |
| Frigidaire | FGHB2868TD | Refrigerator |
| Frigidaire | FGHB2868TD0 | Refrigerator |
| Frigidaire | FGHB2868TD1 | Refrigerator |
| Frigidaire | FGHB2868TD2 | Refrigerator |
| Frigidaire | FGHB2868TD3 | Refrigerator |
| Frigidaire | FGHB2868TD4 | Refrigerator |
| FRIGIDAIRE | FGHB2868TD5 | Refrigerator |
| FRIGIDAIRE | FGHB2868TD6 | Refrigerator |
| FRIGIDAIRE | FGHB2868TD8 | Refrigerator |
| Frigidaire | FGHB2868TE0 | Refrigerator |
| Frigidaire | FGHB2868TE1 | Refrigerator |
| Frigidaire | FGHB2868TE2 | Refrigerator |
| Frigidaire | FGHB2868TE3 | Refrigerator |
| Frigidaire | FGHB2868TE4 | Refrigerator |
| FRIGIDAIRE | FGHB2868TE5 | Refrigerator |
| Frigidaire | FGHB2868TF | Refrigerator |
| Frigidaire | FGHB2868TF0 | Refrigerator |
| Frigidaire | FGHB2868TF1 | Refrigerator |
| Frigidaire | FGHB2868TF2 | Refrigerator |
| Frigidaire | FGHB2868TF3 | Refrigerator |
| Frigidaire | FGHB2868TF4 | Refrigerator |
| Frigidaire | FGHB2868TF5 | Refrigerator |
| FRIGIDAIRE | FGHB2868TF6 | Refrigerator |
| FRIGIDAIRE | FGHB2868TF7 | Refrigerator |
| Frigidaire | FGHB2868TP0 | Refrigerator |
| Frigidaire | FGHB2868TP1 | Refrigerator |
| Frigidaire | FGHB2868TP2 | Refrigerator |
| Frigidaire | FGHB2868TP3 | Refrigerator |
| Frigidaire | FGHB2868TP4 | Refrigerator |
| FRIGIDAIRE | FGHB2868TP5 | Refrigerator |
| Frigidaire | FGHB2868TR2 | Refrigerator |
| Frigidaire | FGHD2368TD | Refrigerator |
| Frigidaire | FGHD2368TD0 | Refrigerator |
| Frigidaire | FGHD2368TD1 | Refrigerator |
| Frigidaire | FGHD2368TD2 | Refrigerator |
| Frigidaire | FGHD2368TD3 | Refrigerator |
| Frigidaire | FGHD2368TD4 | Refrigerator |
| Frigidaire | FGHD2368TD5 | Refrigerator |
| FRIGIDAIRE | FGHD2368TD6 | Refrigerator |
| FRIGIDAIRE | FGHD2368TD7 | Refrigerator |
| FRIGIDAIRE | FGHD2368TD8 | Refrigerator |
| Frigidaire | FGHD2368TF | Refrigerator |
| Frigidaire | FGHD2368TF0 | Refrigerator |
| Frigidaire | FGHD2368TF1 | Refrigerator |
| Frigidaire | FGHD2368TF2 | Refrigerator |
| Frigidaire | FGHD2368TF3 | Refrigerator |
| Frigidaire | FGHD2368TF4 | Refrigerator |
| Frigidaire | FGHD2368TF5 | Refrigerator |
| Frigidaire | FGHD2368TF6 | Refrigerator |
| Frigidaire | fghd2368tf7 | Refrigerator |
| FRIGIDAIRE | FGHD2368TF8 | Refrigerator |
| Frigidaire | FGHG2368TF | Refrigerator |
| Frigidaire | FGHG2368TF0 | Refrigerator |
| Frigidaire | FGHG2368TF1 | Refrigerator |
| Frigidaire | FGHG2368TF2 | Refrigerator |
| Frigidaire | FGHG2368TF3 | Refrigerator |
| FRIGIDAIRE | FGHG2368TF4 | Refrigerator |
| FRIGIDAIRE | FGHG2368TF5 | Refrigerator |
| FRIGIDAIRE | FGHG2368TF6 | Refrigerator |
| Frigidaire | FGHN2868TE0 | Refrigerator |
| Frigidaire | FGHN2868TE1 | Refrigerator |
| Frigidaire | FGHN2868TE2 | Refrigerator |
| Frigidaire | FGHN2868TF | Refrigerator |
| Frigidaire | FGHN2868TF0 | Refrigerator |
| Frigidaire | FGHN2868TF1 | Refrigerator |
| Frigidaire | FGHN2868TF2 | Refrigerator |
| FRIGIDAIRE | FGHN2868TF3 | Refrigerator |
| FRIGIDAIRE | FGHN2868TF4 | Refrigerator |
| FRIGIDAIRE | FGHN2868TF5 | Refrigerator |
| FRIGIDAIRE | FGHN2868TF6 | Refrigerator |
| Frigidaire | FGHN2868TP | Refrigerator |
| Frigidaire | FGHN2868TP0 | Refrigerator |
| Frigidaire | FGHN2868TP2 | Refrigerator |
| Frigidaire | FGSC2335TD | Refrigerator |
| Frigidaire | FGSC2335TD0 | Refrigerator |
| Frigidaire | FGSC2335TD0  | Refrigerator |
| Frigidaire | FGSC2335TD4 | Refrigerator |
| Frigidaire | FGSC2335TD5 | Refrigerator |
| Frigidaire | FGSC2335TD7 | Refrigerator |
| FRIGIDAIRE | FGSC2335TD8 | Refrigerator |
| FRIGIDAIRE | FGSC2335TD9 | Refrigerator |
| FRIGIDAIRE | FGSC2335TDA | Refrigerator |
| FRIGIDAIRE | FGSC2335TDB | Refrigerator |
| Frigidaire | FGSC2335TF | Refrigerator |
| Frigidaire | FGSC2335TF0 | Refrigerator |
| Frigidaire | FGSC2335TF4 | Refrigerator |
| Frigidaire | FGSC2335TF5 | Refrigerator |
| Frigidaire | FGSC2335TF7 | Refrigerator |
| FRIGIDAIRE | FGSC2335TF8 | Refrigerator |
| FRIGIDAIRE | FGSC2335TF9 | Refrigerator |
| FRIGIDAIRE | FGSC2335TFA | Refrigerator |
| FRIGIDAIRE | FGSC2335TFB | Refrigerator |
| Frigidaire | FGSS2635TD | Refrigerator |
| Frigidaire | FGSS2635TD0 | Refrigerator |
| Frigidaire | FGSS2635TD4 | Refrigerator |
| Frigidaire | FGSS2635TD5 | Refrigerator |
| FRIGIDAIRE | FGSS2635TD6 | Refrigerator |
| FRIGIDAIRE | FGSS2635TD7 | Refrigerator |
| FRIGIDAIRE | FGSS2635TD8 | Refrigerator |
| FRIGIDAIRE | FGSS2635TD9 | Refrigerator |
| Frigidaire | FGSS2635TE | Refrigerator |
| Frigidaire | FGSS2635TE0 | Refrigerator |
| Frigidaire | FGSS2635TE4 | Refrigerator |
| Frigidaire | FGSS2635TE5 | Refrigerator |
| FRIGIDAIRE | FGSS2635TE6 | Refrigerator |
| FRIGIDAIRE | FGSS2635TE7 | Refrigerator |
| FRIGIDAIRE | FGSS2635TE8 | Refrigerator |
| Frigidaire | FGSS2635TF | Refrigerator |
| Frigidaire | FGSS2635TF0 | Refrigerator |
| Frigidaire | FGSS2635TF1 | Refrigerator |
| Frigidaire | FGSS2635TF5 | Refrigerator |
| Frigidaire | FGSS2635TF6 | Refrigerator |
| FRIGIDAIRE | FGSS2635TF7 | Refrigerator |
| FRIGIDAIRE | FGSS2635TF8 | Refrigerator |
| FRIGIDAIRE | FGSS2635TF9 | Refrigerator |
| FRIGIDAIRE | FGSS2635TFA | Refrigerator |
| Frigidaire | FGSS2635TFB | Refrigerator |
| Frigidaire | FGSS2635TP | Refrigerator |
| Frigidaire | FGSS2635TP0 | Refrigerator |
| Frigidaire | FGSS2635TP4 | Refrigerator |
| Frigidaire | FGSS2635TP5 | Refrigerator |
| FRIGIDAIRE | FGSS2635TP6 | Refrigerator |
| FRIGIDAIRE | FGSS2635TP7 | Refrigerator |
| FRIGIDAIRE | FGSS2635TP8 | Refrigerator |
| Frigidaire | FPBC2277RF | Refrigerator |
| Frigidaire | FPBC2277RF0 | Refrigerator |
| Frigidaire | FPBC2277RF1 | Refrigerator |
| Frigidaire | FPBC2277RF2 | Refrigerator |
| Frigidaire | FPBC2277RF3 | Refrigerator |
| Frigidaire | FPBC2277RF4 | Refrigerator |
| Frigidaire | FPBC2277RF5 | Refrigerator |
| Frigidaire | FPBC2277RF7 | Refrigerator |
| Frigidaire | FPBC2277RF8 | Refrigerator |
| Frigidaire | FPBC2277RF9 | Refrigerator |
| Frigidaire | FPBC2277RFA | Refrigerator |
| Frigidaire | FPBC2277RFB | Refrigerator |
| Frigidaire | FPBC2277RFC | Refrigerator |
| Frigidaire | FPBC2277RFD | Refrigerator |
| Frigidaire | FPBC2277RFG | Refrigerator |
| Frigidaire | FPBC2277RFH | Refrigerator |
| Frigidaire | FPBC2277RFJ | Refrigerator |
| FRIGIDAIRE | FPBC2277RFK | Refrigerator |
| Frigidaire | FPBC2278UF | Refrigerator |
| Frigidaire | FPBC2278UF1 | Refrigerator |
| FRIGIDAIRE | FPBC2278UF3 | Refrigerator |
| FRIGIDAIRE | FPBC2278UF4 | Refrigerator |
| FRIGIDAIRE | FPBC2278UF5 | Refrigerator |
| FRIGIDAIRE | FPBC2278UF7 | Refrigerator |
| Frigidaire | FPBG2277RF | Refrigerator |
| Frigidaire | FPBG2277RF0 | Refrigerator |
| Frigidaire | FPBG2277RF1 | Refrigerator |
| Frigidaire | FPBG2277RF2 | Refrigerator |
| Frigidaire | FPBG2277RF3 | Refrigerator |
| Frigidaire | FPBG2277RF4 | Refrigerator |
| Frigidaire | FPBG2277RF5 | Refrigerator |
| Frigidaire | FPBG2277RF6 | Refrigerator |
| Frigidaire | FPBG2277RF7 | Refrigerator |
| Frigidaire | FPBG2277RF8 | Refrigerator |
| Frigidaire | FPBG2277RF9 | Refrigerator |
| Frigidaire | FPBG2278UF | Refrigerator |
| Frigidaire | FPBG2278UF1 | Refrigerator |
| FRIGIDAIRE | FPBG2278UF2 | Refrigerator |
| FRIGIDAIRE | FPBG2278UF3 | Refrigerator |
| FRIGIDAIRE | FPBG2278UF4 | Refrigerator |
| FRIGIDAIRE | FPBG2278UF5 | Refrigerator |
| Frigidaire | FPBS2777RF | Refrigerator |
| Frigidaire | FPBS2777RF0 | Refrigerator |
| Frigidaire | FPBS2777RF1 | Refrigerator |
| Frigidaire | FPBS2777RF2 | Refrigerator |
| Frigidaire | FPBS2777RF3 | Refrigerator |
| Frigidaire | FPBS2777RF4 | Refrigerator |
| Frigidaire | FPBS2777RF6 | Refrigerator |
| Frigidaire | FPBS2777RF9 | Refrigerator |
| Frigidaire | FPBS2777RFA | Refrigerator |
| Frigidaire | FPBS2777RFB | Refrigerator |
| Frigidaire | FPBS2777RFC | Refrigerator |
| Frigidaire | FPBS2777RFD | Refrigerator |
| Frigidaire | FPBS2777RFE | Refrigerator |
| Frigidaire | FPBS2777RFF | Refrigerator |
| Frigidaire | FPBS2777RFH | Refrigerator |
| Frigidaire | FPBS2777RFK | Refrigerator |
| Frigidaire | FPBS2778UF1 | Refrigerator |
| Frigidaire | FPBS2778UF1  | Refrigerator |
| FRIGIDAIRE | FPBS2778UF3 | Refrigerator |
| FRIGIDAIRE | FPBS2778UF4 | Refrigerator |
| FRIGIDAIRE | FPBS2778UF5 | Refrigerator |
| FRIGIDAIRE | FPBS2778UF6 | Refrigerator |
| FRIGIDAIRE | FPBS2778UF7 | Refrigerator |
| FRIGIDAIRE | FPBS2778UF8 | Refrigerator |
| FRIGIDAIRE | FPBS2778UF9 | Refrigerator |
| Frigidaire | FPSC2277RF | Refrigerator |
| Frigidaire | FPSC2277RF0 | Refrigerator |
| Frigidaire | FPSC2277RF1 | Refrigerator |
| Frigidaire | FPSC2277RF2 | Refrigerator |
| Frigidaire | FPSC2277RF5 | Refrigerator |
| FRIGIDAIRE | FPSC2277RFB | Refrigerator |
| Frigidaire | FPSC2278UF | Refrigerator |
| Frigidaire | FPSC2278UF1 | Refrigerator |
| Frigidaire | FPSC2278UF1  | Refrigerator |
| Frigidaire | FPSC2278UF5 | Refrigerator |
| FRIGIDAIRE | FPSC2278UF6 | Refrigerator |
| FRIGIDAIRE | FPSC2278UF7 | Refrigerator |
| FRIGIDAIRE | FPSC2278UF8 | Refrigerator |
| FRIGIDAIRE | FPSC2278UFA | Refrigerator |
| Frigidaire | FPSS2677RF | Refrigerator |
| Frigidaire | FPSS2677RF0 | Refrigerator |
| Frigidaire | FPSS2677RF1 | Refrigerator |
| FRIGIDAIRE | GRQC2255AF | Refrigerator |
| Frigidaire | LFHB2751TF0 | Refrigerator |
| Frigidaire | LFHB2751TF1 | Refrigerator |
| Frigidaire | LFHB2751TF2 | Refrigerator |
| Frigidaire | LFHB2751TF3 | Refrigerator |
| Frigidaire | LFHB2751TF4 | Refrigerator |
| Frigidaire | LFHB2751TF5 | Refrigerator |
| FRIGIDAIRE | LFHB2751TF6 | Refrigerator |
| Frigidaire | LFHB2751TF7 | Refrigerator |
| FRIGIDAIRE | LFHB2751TF8 | Refrigerator |
| FRIGIDAIRE | LFHD2251TF4 | Refrigerator |
| Frigidaire | LFHD2251TF5 | Refrigerator |
| FRIGIDAIRE | LFHD2251TF7 | Refrigerator |
| FRIGIDAIRE | LFHD2251TF8 | Refrigerator |
| Frigidaire | LFHG2251TF0 | Refrigerator |
| Frigidaire | LFHG2251TF2 | Refrigerator |
| Frigidaire | LFHG2251TF3 | Refrigerator |
| FRIGIDAIRE | LFHG2251TF4 | Refrigerator |
| FRIGIDAIRE | LFHG2251TF5 | Refrigerator |
| FRIGIDAIRE | LFHG2251TF6 | Refrigerator |
| Frigidaire | LFSC2324VF0 | Refrigerator |
| Frigidaire | LFSC2324VF1 | Refrigerator |
| FRIGIDAIRE | LFSC2324VF2 | Refrigerator |
| FRIGIDAIRE | LFSC2324VF3 | Refrigerator |
| FRIGIDAIRE | LFSC2324VF4 | Refrigerator |
| FRIGIDAIRE | LFSC2324VF5 | Refrigerator |
| FRIGIDAIRE | LFSC2324VF6 | Refrigerator |
| Frigidaire | LGHB2869TD0 | Refrigerator |
| Frigidaire | LGHB2869TD1 | Refrigerator |
| Frigidaire | LGHB2869TF0 | Refrigerator |
| Frigidaire | LGHB2869TF1 | Refrigerator |
| Frigidaire | LGHB2869TF3 | Refrigerator |
| Frigidaire | LGHB2869TF4 | Refrigerator |
| Frigidaire | LGHB2869TF5 | Refrigerator |
| FRIGIDAIRE | LGHB2869TF6 | Refrigerator |
| Frigidaire | LGHB2869TF7 | Refrigerator |
| FRIGIDAIRE | LGHB2869TF8 | Refrigerator |
| FRIGIDAIRE | LGHB2869TF9 | Refrigerator |
| Frigidaire | lghb2869tfs | Refrigerator |
| Frigidaire | LGHD2369TD0 | Refrigerator |
| Frigidaire | LGHD2369TD2 | Refrigerator |
| Frigidaire | LGHD2369TD3 | Refrigerator |
| Frigidaire | LGHD2369TF0 | Refrigerator |
| Frigidaire | LGHD2369TF1 | Refrigerator |
| Frigidaire | LGHD2369TF2 | Refrigerator |
| Frigidaire | LGHD2369TF3 | Refrigerator |
| Frigidaire | LGHD2369TF4 | Refrigerator |
| Frigidaire | LGHD2369TF5 | Refrigerator |
| FRIGIDAIRE | LGHD2369TF6 | Refrigerator |
| FRIGIDAIRE | LGHD2369TF7 | Refrigerator |
| FRIGIDAIRE | LGHD2369TF8 | Refrigerator |
| FRIGIDAIRE | LGHK2336TD5 | Refrigerator |
| FRIGIDAIRE | LGHK2336TD6 | Refrigerator |
| Frigidaire | LGHK2336TF0 | Refrigerator |
| Frigidaire | LGHK2336TF3 | Refrigerator |
| Frigidaire | LGHK2336TF4 | Refrigerator |
| FRIGIDAIRE | LGHK2336TF5 | Refrigerator |
| FRIGIDAIRE | LGHK2336TF6 | Refrigerator |
| FRIGIDAIRE | LGHK2336TF7 | Refrigerator |
| FRIGIDAIRE | LGHK2336TF8 | Refrigerator |
| Frigidaire | LGHX2636T | Refrigerator |
| Frigidaire | LGHX2636TD0 | Refrigerator |
| FRIGIDAIRE | LGHX2636TD8 | Refrigerator |
| FRIGIDAIRE | LGHX2636TD9 | Refrigerator |
| Frigidaire | LGHX2636TF0 | Refrigerator |
| Frigidaire | LGHX2636TF1 | Refrigerator |
| Frigidaire | LGHX2636TF2 | Refrigerator |
| Frigidaire | LGHX2636TF3 | Refrigerator |
| Frigidaire | LGHX2636TF4 | Refrigerator |
| Frigidaire | LGHX2636TF5 | Refrigerator |
| Frigidaire | LGHX2636TF7 | Refrigerator |
| Frigidaire | LGHX2636TF8 | Refrigerator |
| Frigidaire | LGHX2636TF9 | Refrigerator |
| FRIGIDAIRE | LGHX2636TFA | Refrigerator |
| Frigidaire | lghx2636tfb | Refrigerator |
| FRIGIDAIRE | PRMC2285AF | Refrigerator |