ClearChoice CLCH121 | Our#: 183005
3pk ULTRAWF Refrigerator Water Filter By ClearChoice

1772 review(s)
ClearChoice CLCH121 | Our#: 183005
Fast Shipping & Free Returns
100% Compatibility Guarantee
Compatibility guaranteed! Free return shipping and 100% money back if there are any issues.
Your purchase will help Support American jobs
Certified to the NSF/ANSI 42 Standard for the reduction of chlorine taste and odor.
43 people in your area recently purchased this product!
$

47.94
3

Filters for

$

15.98

each!
Fast Shipping & Free Returns
100% Compatibility Guarantee
Frequently Purchased Together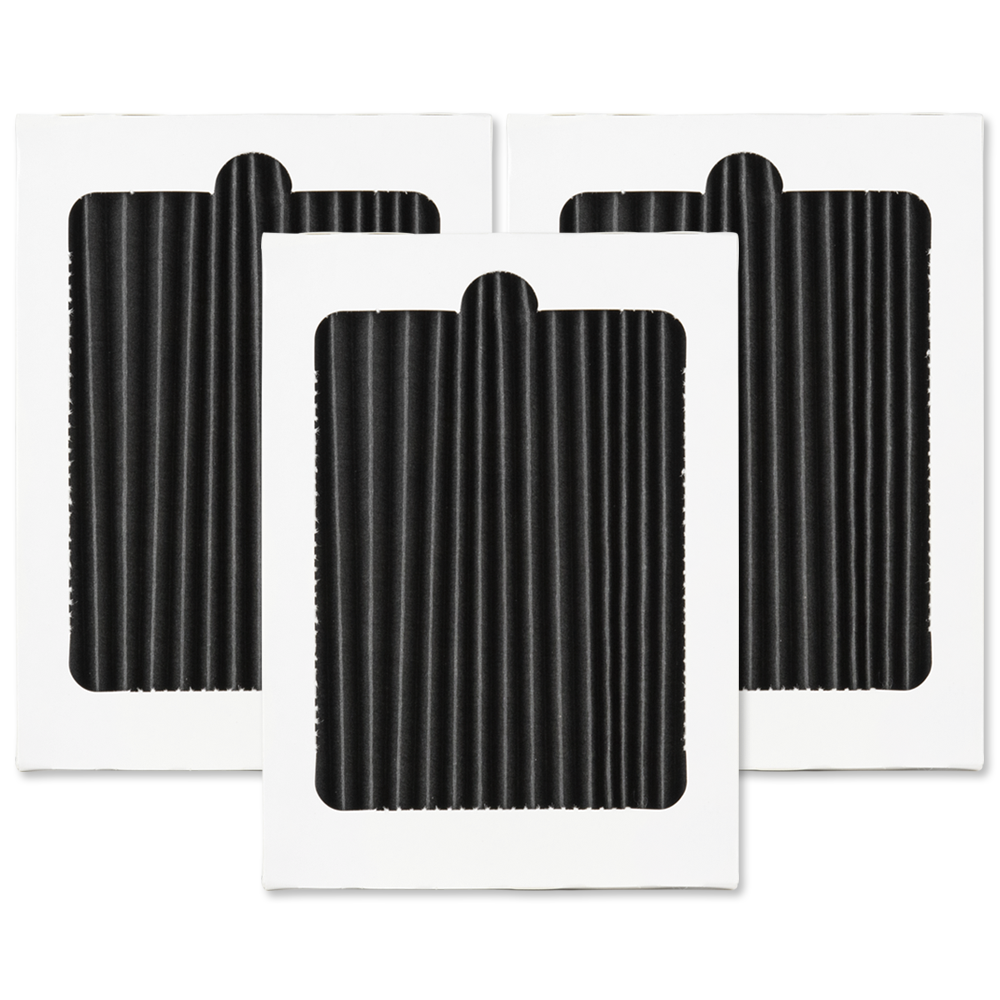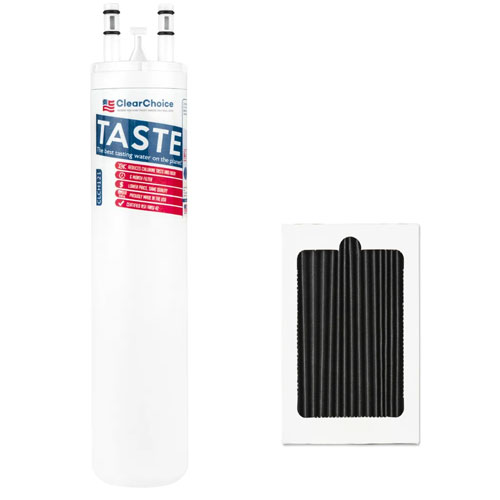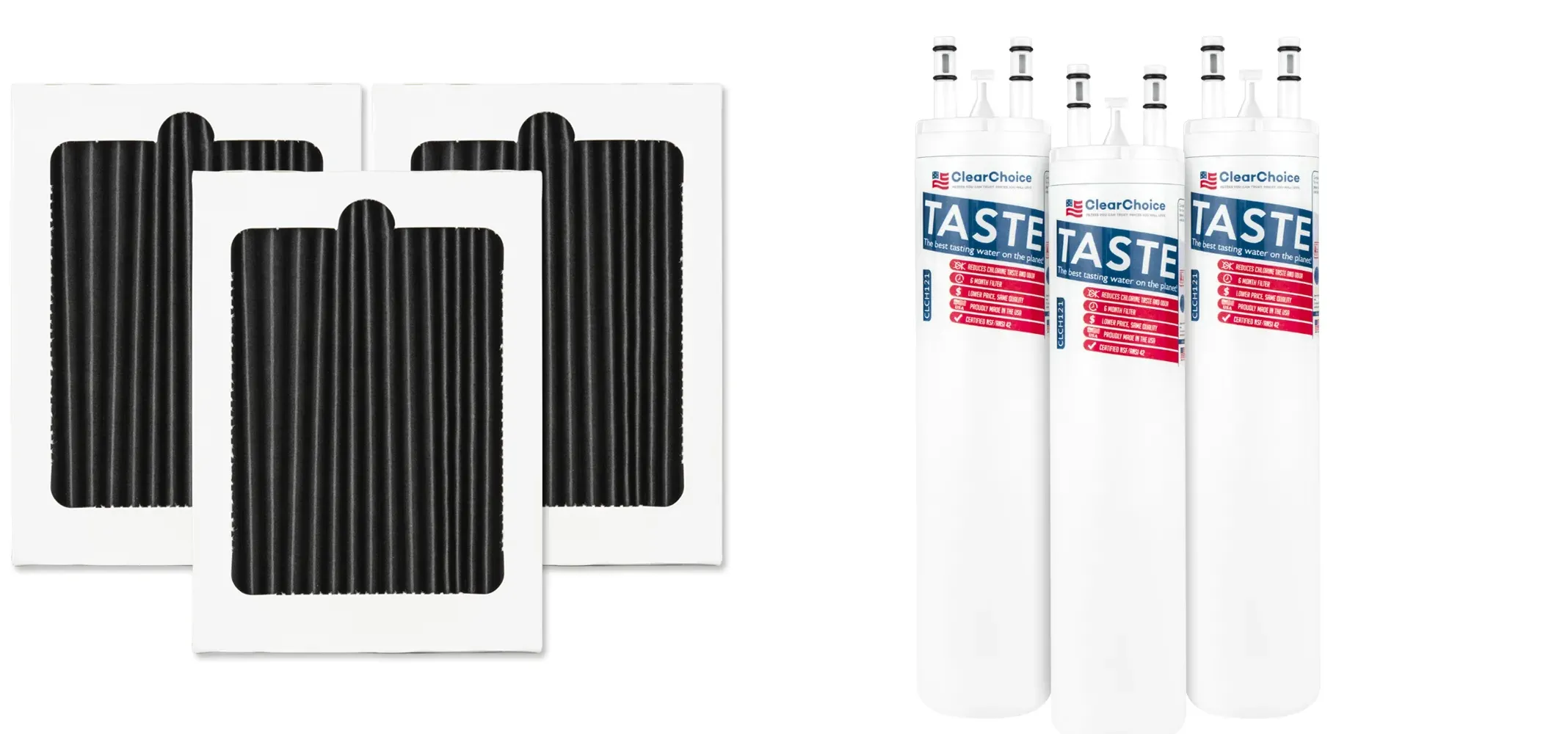 Product Details
The ClearChoice CLCH121 is a compatible filter replacement for the Frigidaire ULTRAWF - AKA PureSource Ultra. It fits refrigerators from Frigidaire, Electrolux, Kenmore, and others. This filter uses its activated carbon technology to deliver healthier and refreshing water and ice. The CLCH121 needs to be changed every six months or 300 gallons (whichever comes first).
Features:
Replacement filter for part number ULTRAWF, 46-9999 and more
Easy installation - just slide it in and push until you hear a "click"
Can be used in Sears, Frigidaire, and Kenmore refrigerators
Made with pride in the USA
---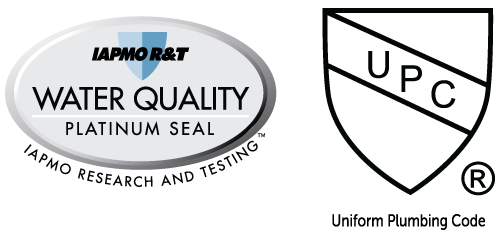 When used in the CLCH121-S system, certified by IAPMO R&T to NSF/ANSI 42 for the reduction of Chlorine, Taste & Odor. Also certified to NSF/ANSI 372 for Lead Free compliance. See
performance data sheet
for individual contaminants and reduction performance.
---
Activated Block Carbon Technology
The CLCH121 uses activated block carbon technology. Carbon is one of the most adsorptive substances, and its numerous and microscopic pores make it capable of adsorbing many microscopic contaminants. Adsorption is a chemical bond between the surface of the carbon and a molecule (contaminant).
Activated carbon is a carbonaceous, highly porous adsorptive medium that has a complex structure composed primarily of carbon atoms. The networks of pores in activated carbons are channels created within a rigid skeleton of disordered layers of carbon atoms, linked together by chemical bonds, stacked unevenly, creating a highly porous structure between the carbon layers. Activated carbon is able to attract and capture a whole host of contaminants, including chlorine and other organic chemical compounds.

---

Activated carbon means that the carbon has been treated at 1000°C with steam molecules to selectively burn holes into the carbonized raw material, creating a multitude of pores inside the carbonaceous matrix. This process creates so much surface area that a teaspoon of activated carbon has roughly the same surface area as a soccer field!

---

Activated block carbon, then, with its use of adsorption, is one of the most effective water filtration methods in use today.
---
Value Comparison
---
Compatible Part
Numbers
#'s
Part number compatibility for the ClearChoice CLCH121
Do you know your OEM part number? Use our search to cross-check it!
---
How To Install The ClearChoice CLCH121 Filter:
How To Install Filter?
Installation Instructions:
Turn Off the ice maker by raising the wire signal arm.
Remove the filter by pushing on the end/face of the filter.
Slide the old water filter cartridge straight out of the housing and discard it.
Using the alignment guide, slide the new filter gently into the filter housing. Push the filter in slowly until you hear the first "click." Once you hear the "click" stop pushing and the filter should lock in place.
Turn On the ice maker by lowering the wire signal arm.
Press and hold the Water Filter button on the Ice & Water Dispenser control panel for three seconds. When the display changes from Red to Green, the status has been reset.
After replacing the water filter and in order for the ice maker to work properly, it is necessary to clear air from water filter tubing. Once ice maker begins making ice, allow the bucket to fill completely, then discard the first TWO FULL buckets of ice. It will take at least two days to completely fill the bucket on regular ice making mode or 1 1/2 days on fast ice mode.
---
Search by your filter part number or appliance model number to verify compatibility
| Brand Name | Model Number | Type |
| --- | --- | --- |
| Crosley | CFD26SDS0 | Refrigerator |
| Crosley | CFD26WIS0 | Refrigerator |
| Crosley | CFD26WIS1 | Refrigerator |
| Crosley | CFD26WIS3 | Refrigerator |
| Crosley | CFD26WIS4 | Refrigerator |
| Crosley | CFD26WIS5 | Refrigerator |
| Crosley | CFD26WIS6 | Refrigerator |
| Crosley | CFD27SDPS0 | Refrigerator |
| Crosley | CFD27WIPB2 | Refrigerator |
| Crosley | CFD27WIPB3 | Refrigerator |
| Crosley | CFD27WIPS2 | Refrigerator |
| Crosley | CFD27WIPS3 | Refrigerator |
| Crosley | CFD27WIPW2 | Refrigerator |
| Crosley | CFD27WIPW3 | Refrigerator |
| Crosley | CFD28SDQS0 | Refrigerator |
| Crosley | CFD28SDS1 | Refrigerator |
| Crosley | CFD28SDS6 | Refrigerator |
| Crosley | CFD28SDS9 | Refrigerator |
| Crosley | CFD28WIB5 | Refrigerator |
| Crosley | CFD28WIB6 | Refrigerator |
| Crosley | CFD28WIB8 | Refrigerator |
| Crosley | CFD28WIB9 | Refrigerator |
| Crosley | CFD28WIBA | Refrigerator |
| Crosley | CFD28WIBB | Refrigerator |
| Crosley | CFD28WIBC | Refrigerator |
| Crosley | CFD28WIQB0 | Refrigerator |
| Crosley | CFD28WIQB1 | Refrigerator |
| Crosley | CFD28WIQB6 | Refrigerator |
| Crosley | CFD28WIQS0 | Refrigerator |
| Crosley | CFD28WIQS1 | Refrigerator |
| Crosley | CFD28WIQS6 | Refrigerator |
| Crosley | CFD28WIQW0 | Refrigerator |
| Crosley | CFD28WIQW1 | Refrigerator |
| Crosley | CFD28WIQW6 | Refrigerator |
| Crosley | CFD28WIS0 | Refrigerator |
| Crosley | CFD28WIS1 | Refrigerator |
| Crosley | CFD28WIS2 | Refrigerator |
| Crosley | CFD28WIS3 | Refrigerator |
| Crosley | CFD28WIS5 | Refrigerator |
| Crosley | CFD28WIS6 | Refrigerator |
| Crosley | CFD28WIS8 | Refrigerator |
| Crosley | CFD28WIS9 | Refrigerator |
| Crosley | CFD28WISA | Refrigerator |
| Crosley | CFD28WISB | Refrigerator |
| Crosley | CFD28WISC | Refrigerator |
| Crosley | CFD28WIW5 | Refrigerator |
| Crosley | CFD28WIW6 | Refrigerator |
| Crosley | CFD28WIW8 | Refrigerator |
| Crosley | CFD28WIW9 | Refrigerator |
| Crosley | CFD28WIWA | Refrigerator |
| Crosley | CFD28WIWB | Refrigerator |
| Crosley | CFD28WIWC | Refrigerator |
| Frigidaire | BGHS2634KE0 | Refrigerator |
| Frigidaire | BGHS2634KE1 | Refrigerator |
| Frigidaire | BGHS2634KE2 | Refrigerator |
| Frigidaire | BGHS2634KP0 | Refrigerator |
| Frigidaire | BGHS2634KP1 | Refrigerator |
| Frigidaire | BGHS2634KP2 | Refrigerator |
| Frigidaire | BGHS2644KF0 | Refrigerator |
| Frigidaire | BGHS2644KF1 | Refrigerator |
| Frigidaire | BGHS2644KF2 | Refrigerator |
| FRIGIDAIRE | CFD26SDS0 | Refrigerator |
| FRIGIDAIRE | CFD26WIS0 | Refrigerator |
| FRIGIDAIRE | CFD26WIS1 | Refrigerator |
| FRIGIDAIRE | CFD26WIS3 | Refrigerator |
| FRIGIDAIRE | CFD26WIS4 | Refrigerator |
| FRIGIDAIRE | CFD26WIS5 | Refrigerator |
| FRIGIDAIRE | CFD26WIS6 | Refrigerator |
| FRIGIDAIRE | CFD27SDPS0 | Refrigerator |
| FRIGIDAIRE | CFD27WIPB2 | Refrigerator |
| FRIGIDAIRE | CFD27WIPB3 | Refrigerator |
| FRIGIDAIRE | CFD27WIPS2 | Refrigerator |
| FRIGIDAIRE | CFD27WIPS3 | Refrigerator |
| FRIGIDAIRE | CFD27WIPW2 | Refrigerator |
| FRIGIDAIRE | CFD27WIPW3 | Refrigerator |
| FRIGIDAIRE | CFD28SDQS0 | Refrigerator |
| FRIGIDAIRE | CFD28SDS1 | Refrigerator |
| FRIGIDAIRE | CFD28SDS6 | Refrigerator |
| FRIGIDAIRE | CFD28SDS9 | Refrigerator |
| FRIGIDAIRE | CFD28WIB5 | Refrigerator |
| FRIGIDAIRE | CFD28WIB6 | Refrigerator |
| FRIGIDAIRE | CFD28WIB8 | Refrigerator |
| FRIGIDAIRE | CFD28WIB9 | Refrigerator |
| FRIGIDAIRE | CFD28WIBA | Refrigerator |
| FRIGIDAIRE | CFD28WIBB | Refrigerator |
| FRIGIDAIRE | CFD28WIBC | Refrigerator |
| FRIGIDAIRE | CFD28WIQB0 | Refrigerator |
| FRIGIDAIRE | CFD28WIQB1 | Refrigerator |
| FRIGIDAIRE | CFD28WIQB6 | Refrigerator |
| FRIGIDAIRE | CFD28WIQB8 | Refrigerator |
| FRIGIDAIRE | CFD28WIQB9 | Refrigerator |
| FRIGIDAIRE | CFD28WIQBA | Refrigerator |
| FRIGIDAIRE | CFD28WIQBC | Refrigerator |
| FRIGIDAIRE | CFD28WIQBE | Refrigerator |
| FRIGIDAIRE | CFD28WIQBF | Refrigerator |
| FRIGIDAIRE | CFD28WIQS0 | Refrigerator |
| FRIGIDAIRE | CFD28WIQS1 | Refrigerator |
| FRIGIDAIRE | CFD28WIQS6 | Refrigerator |
| FRIGIDAIRE | CFD28WIQS8 | Refrigerator |
| FRIGIDAIRE | CFD28WIQS9 | Refrigerator |
| FRIGIDAIRE | CFD28WIQSA | Refrigerator |
| FRIGIDAIRE | CFD28WIQSC | Refrigerator |
| FRIGIDAIRE | CFD28WIQSE | Refrigerator |
| FRIGIDAIRE | CFD28WIQW0 | Refrigerator |
| FRIGIDAIRE | CFD28WIQW1 | Refrigerator |
| FRIGIDAIRE | CFD28WIQW6 | Refrigerator |
| FRIGIDAIRE | CFD28WIQW8 | Refrigerator |
| FRIGIDAIRE | CFD28WIQW9 | Refrigerator |
| FRIGIDAIRE | CFD28WIQWA | Refrigerator |
| FRIGIDAIRE | CFD28WIQWC | Refrigerator |
| FRIGIDAIRE | CFD28WIQWE | Refrigerator |
| FRIGIDAIRE | CFD28WIQWF | Refrigerator |
| FRIGIDAIRE | CFD28WIS0 | Refrigerator |
| FRIGIDAIRE | CFD28WIS1 | Refrigerator |
| FRIGIDAIRE | CFD28WIS2 | Refrigerator |
| FRIGIDAIRE | CFD28WIS3 | Refrigerator |
| FRIGIDAIRE | CFD28WIS5 | Refrigerator |
| FRIGIDAIRE | CFD28WIS6 | Refrigerator |
| FRIGIDAIRE | CFD28WIS8 | Refrigerator |
| FRIGIDAIRE | CFD28WIS9 | Refrigerator |
| FRIGIDAIRE | CFD28WISA | Refrigerator |
| FRIGIDAIRE | CFD28WISB | Refrigerator |
| FRIGIDAIRE | CFD28WISC | Refrigerator |
| FRIGIDAIRE | CFD28WIW5 | Refrigerator |
| FRIGIDAIRE | CFD28WIW6 | Refrigerator |
| FRIGIDAIRE | CFD28WIW8 | Refrigerator |
| FRIGIDAIRE | CFD28WIW9 | Refrigerator |
| FRIGIDAIRE | CFD28WIWA | Refrigerator |
| FRIGIDAIRE | CFD28WIWB | Refrigerator |
| FRIGIDAIRE | CFD28WIWC | Refrigerator |
| Frigidaire | DGHF2360PF | Refrigerator |
| Frigidaire | DGHF2360PF0 | Refrigerator |
| Frigidaire | DGHF2360PF1 | Refrigerator |
| Frigidaire | DGHF2360PF2A | Refrigerator |
| Frigidaire | DGHF2360PF3A | Refrigerator |
| Frigidaire | DGHF2360PF4A | Refrigerator |
| Frigidaire | DGHF2360PF5A | Refrigerator |
| Frigidaire | DGHF2360PF6A | Refrigerator |
| Frigidaire | DGHF2360PF7A | Refrigerator |
| Frigidaire | DGHF2360PF8A | Refrigerator |
| FRIGIDAIRE | DGHF2360PF9A | Refrigerator |
| Frigidaire | dghf2360pfaa | Refrigerator |
| FRIGIDAIRE | DGHF2360PFBA | Refrigerator |
| Frigidaire | DGHS2634KB0 | Refrigerator |
| Frigidaire | DGHS2634KB2 | Refrigerator |
| Frigidaire | DGHS2634KB3 | Refrigerator |
| Frigidaire | DGHS2634KE1 | Refrigerator |
| Frigidaire | DGHS2634KE2 | Refrigerator |
| Frigidaire | DGHS2634KE3 | Refrigerator |
| Frigidaire | DGHS2634KP1 | Refrigerator |
| Frigidaire | DGHS2634KP2 | Refrigerator |
| Frigidaire | DGHS2634KP3 | Refrigerator |
| Frigidaire | DGHS2634KW0 | Refrigerator |
| Frigidaire | DGHS2634KW2 | Refrigerator |
| Frigidaire | DGHS2634KW3 | Refrigerator |
| Frigidaire | DGHS2644KF1 | Refrigerator |
| Frigidaire | DGHS2644KF2 | Refrigerator |
| Frigidaire | DGHS2644KF3 | Refrigerator |
| Frigidaire | DGHS2665KF | Refrigerator |
| Frigidaire | DGHS2665KF0 | Refrigerator |
| Frigidaire | DGHS2665KF2 | Refrigerator |
| Frigidaire | DGHX2355TF | Refrigerator |
| FRIGIDAIRE | DGHX2355TF0 | Refrigerator |
| FRIGIDAIRE | DGHX2355TF4 | Refrigerator |
| FRIGIDAIRE | DGHX2355TF5 | Refrigerator |
| Frigidaire | FDBC2250SS | Refrigerator |
| FRIGIDAIRE | FDBC2250SS0 | Refrigerator |
| Frigidaire | FDBG2250SS | Refrigerator |
| FRIGIDAIRE | FDBG2250SS0 | Refrigerator |
| FRIGIDAIRE | FDBN2750SS2 | Refrigerator |
| FRIGIDAIRE | FDBN2750SS3 | Refrigerator |
| FRIGIDAIRE | FDBN2750SS4 | Refrigerator |
| Frigidaire | FDBS2750SS | Refrigerator |
| FRIGIDAIRE | FDBS2750SS0 | Refrigerator |
| FRIGIDAIRE | FDBS2750SS1 | Refrigerator |
| Frigidaire | FFED2322QS | Refrigerator |
| Frigidaire | FFEG2322QS | Refrigerator |
| Frigidaire | FFEN2822QS | Refrigerator |
| frigidaire | FFHB2740PE | Refrigerator |
| Frigidaire | FFHB2740PE0 | Refrigerator |
| Frigidaire | FFHB2740PE1 | Refrigerator |
| Frigidaire | FFHB2740PE2 | Refrigerator |
| Frigidaire | FFHB2740PE3 | Refrigerator |
| Frigidaire | FFHB2740PE4 | Refrigerator |
| Frigidaire | FFHB2740PE5A | Refrigerator |
| Frigidaire | FFHB2740PE6A | Refrigerator |
| Frigidaire | FFHB2740PE7A | Refrigerator |
| Frigidaire | FFHB2740PE8A | Refrigerator |
| Frigidaire | FFHB2740PE9A | Refrigerator |
| Frigidaire | FFHB2740PEAA | Refrigerator |
| Frigidaire | FFHB2740PEBA | Refrigerator |
| FRIGIDAIRE | FFHB2740PECA | Refrigerator |
| FRIGIDAIRE | FFHB2740PEDA | Refrigerator |
| frigidaire | FFHB2740PP | Refrigerator |
| Frigidaire | FFHB2740PP0 | Refrigerator |
| Frigidaire | FFHB2740PP1 | Refrigerator |
| Frigidaire | FFHB2740PP2 | Refrigerator |
| Frigidaire | FFHB2740PP3 | Refrigerator |
| Frigidaire | FFHB2740PP4 | Refrigerator |
| Frigidaire | FFHB2740PP5A | Refrigerator |
| Frigidaire | FFHB2740PP6A | Refrigerator |
| Frigidaire | FFHB2740PP7A | Refrigerator |
| Frigidaire | FFHB2740PP8A | Refrigerator |
| Frigidaire | FFHB2740PP9A | Refrigerator |
| Frigidaire | FFHB2740PPAA | Refrigerator |
| Frigidaire | FFHB2740PPBA | Refrigerator |
| FRIGIDAIRE | FFHB2740PPCA | Refrigerator |
| FRIGIDAIRE | FFHB2740PPDA | Refrigerator |
| frigidaire | FFHB2740PS | Refrigerator |
| Frigidaire | FFHB2740PS0 | Refrigerator |
| Frigidaire | FFHB2740PS1 | Refrigerator |
| Frigidaire | FFHB2740PS2 | Refrigerator |
| Frigidaire | FFHB2740PS3 | Refrigerator |
| Frigidaire | FFHB2740PS4 | Refrigerator |
| Frigidaire | FFHB2740PS5 | Refrigerator |
| Frigidaire | FFHB2740PS6A | Refrigerator |
| Frigidaire | FFHB2740PS7A | Refrigerator |
| Frigidaire | FFHB2740PS8A | Refrigerator |
| Frigidaire | FFHB2740PS9A | Refrigerator |
| Frigidaire | FFHB2740PSAA | Refrigerator |
| Frigidaire | FFHB2740PSBA | Refrigerator |
| Frigidaire | FFHB2740PSCA | Refrigerator |
| FRIGIDAIRE | FFHB2740PSDA | Refrigerator |
| FRIGIDAIRE | FFHB2740PSEA | Refrigerator |
| frigidaire | FFHN2740PE | Refrigerator |
| Frigidaire | FFHN2740PE0 | Refrigerator |
| Frigidaire | FFHN2740PE1 | Refrigerator |
| Frigidaire | FFHN2740PE2A | Refrigerator |
| Frigidaire | FFHN2740PE3A | Refrigerator |
| Frigidaire | FFHN2740PE4A | Refrigerator |
| Frigidaire | FFHN2740PE5A | Refrigerator |
| Frigidaire | FFHN2740PE6A | Refrigerator |
| Frigidaire | FFHN2740PE8A | Refrigerator |
| Frigidaire | FFHN2740PE9A | Refrigerator |
| Frigidaire | FFHN2740PEAA | Refrigerator |
| FRIGIDAIRE | FFHN2740PECA | Refrigerator |
| frigidaire | FFHN2740PP | Refrigerator |
| Frigidaire | FFHN2740PP0 | Refrigerator |
| Frigidaire | FFHN2740PP1 | Refrigerator |
| Frigidaire | FFHN2740PP2A | Refrigerator |
| Frigidaire | FFHN2740PP3A | Refrigerator |
| Frigidaire | FFHN2740PP4A | Refrigerator |
| Frigidaire | FFHN2740PP5A | Refrigerator |
| Frigidaire | FFHN2740PP6A | Refrigerator |
| Frigidaire | FFHN2740PP8A | Refrigerator |
| Frigidaire | FFHN2740PP9A | Refrigerator |
| Frigidaire | FFHN2740PPAA | Refrigerator |
| FRIGIDAIRE | FFHN2740PPCA | Refrigerator |
| frigidaire | FFHN2740PS | Refrigerator |
| Frigidaire | FFHN2740PS0 | Refrigerator |
| Frigidaire | FFHN2740PS1 | Refrigerator |
| Frigidaire | FFHN2740PS2A | Refrigerator |
| Frigidaire | FFHN2740PS3A | Refrigerator |
| Frigidaire | FFHN2740PS4A | Refrigerator |
| Frigidaire | FFHN2740PS5A | Refrigerator |
| Frigidaire | FFHN2740PS6A | Refrigerator |
| Frigidaire | FFHN2740PS8A | Refrigerator |
| Frigidaire | FFHN2740PS9A | Refrigerator |
| Frigidaire | FFHN2740PSAA | Refrigerator |
| FRIGIDAIRE | FFHN2740PSCA | Refrigerator |
| frigidaire | FFHS2313LE | Refrigerator |
| frigidaire | Ffhs2313lm | Refrigerator |
| frigidaire | FFHS2313LP | Refrigerator |
| frigidaire | FFHS2313LS | Refrigerator |
| frigidaire | FFHS2611PF | Refrigerator |
| frigidaire | FFHT2117LB | Refrigerator |
| frigidaire | Ffht2126lb | Refrigerator |
| frigidaire | Ffsc2323le | Refrigerator |
| frigidaire | Ffsc2323lp | Refrigerator |
| frigidaire | FFUS2613LE | Refrigerator |
| frigidaire | FFUS2613LP | Refrigerator |
| frigidaire | FFUS2613LS | Refrigerator |
| Frigidaire | FGEB28D7QF | Refrigerator |
| FRIGIDAIRE | FGEB28D7QF0 | Refrigerator |
| Frigidaire | FGEB28D7RF | Refrigerator |
| FRIGIDAIRE | FGEB28D7RF0 | Refrigerator |
| FRIGIDAIRE | FGEB28D7RF2 | Refrigerator |
| Frigidaire | FGEX26D6QF | Refrigerator |
| FRIGIDAIRE | FGEX26D6QF0 | Refrigerator |
| Frigidaire | FGHB2735NE | Refrigerator |
| Frigidaire | FGHB2735NE2 | Refrigerator |
| Frigidaire | FGHB2735NE3 | Refrigerator |
| Frigidaire | FGHB2735NF | Refrigerator |
| Frigidaire | FGHB2735NF0 | Refrigerator |
| Frigidaire | FGHB2735NF2 | Refrigerator |
| Frigidaire | FGHB2735NF3 | Refrigerator |
| Frigidaire | FGHB2735NP | Refrigerator |
| Frigidaire | FGHB2735NP2 | Refrigerator |
| Frigidaire | FGHB2735NP3 | Refrigerator |
| frigidaire | Fghb2844le | Refrigerator |
| Frigidaire | FGHB2844LE1 | Refrigerator |
| Frigidaire | FGHB2844LE2 | Refrigerator |
| Frigidaire | FGHB2844LE3 | Refrigerator |
| Frigidaire | FGHB2844LE5 | Refrigerator |
| Frigidaire | FGHB2844LE6 | Refrigerator |
| Frigidaire | FGHB2844LE7 | Refrigerator |
| Frigidaire | FGHB2844LE8 | Refrigerator |
| Frigidaire | FGHB2844LEB | Refrigerator |
| Frigidaire | FGHB2844LEC | Refrigerator |
| Frigidaire | FGHB2844LED | Refrigerator |
| Frigidaire | FGHB2844LEG | Refrigerator |
| Frigidaire | FGHB2844LEH | Refrigerator |
| Frigidaire | FGHB2844LEJ | Refrigerator |
| frigidaire | Fghb2844lf | Refrigerator |
| Frigidaire | FGHB2844LF1 | Refrigerator |
| Frigidaire | FGHB2844LF2 | Refrigerator |
| Frigidaire | FGHB2844LF3 | Refrigerator |
| Frigidaire | FGHB2844LF4 | Refrigerator |
| Frigidaire | FGHB2844LF5 | Refrigerator |
| Frigidaire | FGHB2844LF6 | Refrigerator |
| Frigidaire | FGHB2844LF7 | Refrigerator |
| Frigidaire | FGHB2844LF8 | Refrigerator |
| Frigidaire | FGHB2844LFA | Refrigerator |
| Frigidaire | FGHB2844LFB | Refrigerator |
| Frigidaire | FGHB2844LFC | Refrigerator |
| Frigidaire | FGHB2844LFD | Refrigerator |
| Frigidaire | FGHB2844LFE | Refrigerator |
| Frigidaire | FGHB2844LFG | Refrigerator |
| Frigidaire | FGHB2844LM | Refrigerator |
| Frigidaire | FGHB2844LM1 | Refrigerator |
| Frigidaire | FGHB2844LM2 | Refrigerator |
| Frigidaire | FGHB2844LM3 | Refrigerator |
| Frigidaire | FGHB2844LM5 | Refrigerator |
| Frigidaire | FGHB2844LM6 | Refrigerator |
| Frigidaire | FGHB2844LM7 | Refrigerator |
| Frigidaire | FGHB2844LM8 | Refrigerator |
| Frigidaire | FGHB2844LMB | Refrigerator |
| frigidaire | Fghb2844lp | Refrigerator |
| Frigidaire | FGHB2844LP1 | Refrigerator |
| Frigidaire | FGHB2844LP2 | Refrigerator |
| Frigidaire | FGHB2844LP3 | Refrigerator |
| Frigidaire | FGHB2844LP5 | Refrigerator |
| Frigidaire | FGHB2844LP6 | Refrigerator |
| Frigidaire | FGHB2844LP7 | Refrigerator |
| Frigidaire | FGHB2844LP8 | Refrigerator |
| Frigidaire | FGHB2844LPB | Refrigerator |
| Frigidaire | FGHB2844LPC | Refrigerator |
| Frigidaire | FGHB2844LPD | Refrigerator |
| Frigidaire | FGHB2844LPE | Refrigerator |
| Frigidaire | FGHB2844LPF | Refrigerator |
| Frigidaire | FGHB2844LPG | Refrigerator |
| Frigidaire | FGHB2846LF | Refrigerator |
| Frigidaire | FGHB2846LF1 | Refrigerator |
| Frigidaire | FGHB2846LF2 | Refrigerator |
| Frigidaire | FGHB2846LF3 | Refrigerator |
| Frigidaire | FGHB2846LF5 | Refrigerator |
| Frigidaire | FGHB2846LF7 | Refrigerator |
| Frigidaire | FGHB2846LF8 | Refrigerator |
| Frigidaire | FGHB2846LF9 | Refrigerator |
| Frigidaire | FGHB2846LM | Refrigerator |
| Frigidaire | FGHB2846LM1 | Refrigerator |
| Frigidaire | FGHB2846LM2 | Refrigerator |
| Frigidaire | FGHB2846LM5 | Refrigerator |
| Frigidaire | FGHB2846LM7 | Refrigerator |
| frigidaire | FGHB2866PE | Refrigerator |
| Frigidaire | FGHB2866PE0 | Refrigerator |
| Frigidaire | FGHB2866PE1 | Refrigerator |
| Frigidaire | FGHB2866PE2 | Refrigerator |
| Frigidaire | FGHB2866PE3 | Refrigerator |
| Frigidaire | FGHB2866PE4 | Refrigerator |
| Frigidaire | FGHB2866PE5A | Refrigerator |
| Frigidaire | FGHB2866PE6A | Refrigerator |
| Frigidaire | FGHB2866PE7A | Refrigerator |
| Frigidaire | FGHB2866PE9A | Refrigerator |
| Frigidaire | FGHB2866PEAA | Refrigerator |
| Frigidaire | FGHB2866PEBA | Refrigerator |
| Frigidaire | FGHB2866PECA | Refrigerator |
| Frigidaire | FGHB2866PEDA | Refrigerator |
| Frigidaire | FGHB2866PEEA | Refrigerator |
| FRIGIDAIRE | FGHB2866PEHA | Refrigerator |
| Frigidaire | FGHB2866PF | Refrigerator |
| Frigidaire | FGHB2866PF0 | Refrigerator |
| Frigidaire | FGHB2866PF1 | Refrigerator |
| Frigidaire | FGHB2866PF2 | Refrigerator |
| Frigidaire | FGHB2866PF3 | Refrigerator |
| Frigidaire | FGHB2866PF4 | Refrigerator |
| Frigidaire | FGHB2866PF6 | Refrigerator |
| Frigidaire | FGHB2866PF7A | Refrigerator |
| Frigidaire | FGHB2866PF9A | Refrigerator |
| Frigidaire | FGHB2866PFAA | Refrigerator |
| Frigidaire | FGHB2866PFBA | Refrigerator |
| Frigidaire | FGHB2866PFCA | Refrigerator |
| Frigidaire | FGHB2866PFDA | Refrigerator |
| Frigidaire | FGHB2866PFEA | Refrigerator |
| Frigidaire | FGHB2866PFFA | Refrigerator |
| Frigidaire | FGHB2866PFGA | Refrigerator |
| Frigidaire | FGHB2866PFJA | Refrigerator |
| FRIGIDAIRE | FGHB2866PFLA | Refrigerator |
| FRIGIDAIRE | FGHB2866PFMA | Refrigerator |
| FRIGIDAIRE | FGHB2866PFNA | Refrigerator |
| frigidaire | FGHB2866PP | Refrigerator |
| Frigidaire | FGHB2866PP0 | Refrigerator |
| Frigidaire | FGHB2866PP1 | Refrigerator |
| Frigidaire | FGHB2866PP2 | Refrigerator |
| Frigidaire | FGHB2866PP3 | Refrigerator |
| Frigidaire | FGHB2866PP4 | Refrigerator |
| Frigidaire | FGHB2866PP5A | Refrigerator |
| Frigidaire | FGHB2866PP6A | Refrigerator |
| Frigidaire | FGHB2866PP7A | Refrigerator |
| Frigidaire | FGHB2866PP9A | Refrigerator |
| Frigidaire | FGHB2866PPAA | Refrigerator |
| Frigidaire | FGHB2866PPBA | Refrigerator |
| Frigidaire | FGHB2866PPCA | Refrigerator |
| Frigidaire | FGHB2866PPDA | Refrigerator |
| Frigidaire | FGHB2866PPEA | Refrigerator |
| FRIGIDAIRE | FGHB2866PPFA | Refrigerator |
| FRIGIDAIRE | FGHB2866PPHA | Refrigerator |
| Frigidaire | FGHB2867TD | Refrigerator |
| FRIGIDAIRE | FGHB2867TD0 | Refrigerator |
| FRIGIDAIRE | FGHB2867TD1 | Refrigerator |
| FRIGIDAIRE | FGHB2867TD2 | Refrigerator |
| FRIGIDAIRE | FGHB2867TD3 | Refrigerator |
| Frigidaire | FGHB2867TF | Refrigerator |
| FRIGIDAIRE | FGHB2867TF0 | Refrigerator |
| FRIGIDAIRE | FGHB2867TF3 | Refrigerator |
| Frigidaire | FGHB2869LE | Refrigerator |
| Frigidaire | FGHB2869LE1 | Refrigerator |
| Frigidaire | FGHB2869LE2 | Refrigerator |
| Frigidaire | FGHB2869LE4 | Refrigerator |
| Frigidaire | FGHB2869LE6 | Refrigerator |
| Frigidaire | FGHB2869LE7 | Refrigerator |
| Frigidaire | FGHB2869LE8 | Refrigerator |
| frigidaire | Fghb2869lf | Refrigerator |
| Frigidaire | FGHB2869LF1 | Refrigerator |
| Frigidaire | FGHB2869LF2 | Refrigerator |
| Frigidaire | FGHB2869LF3 | Refrigerator |
| Frigidaire | FGHB2869LF4 | Refrigerator |
| Frigidaire | FGHB2869LF6 | Refrigerator |
| Frigidaire | FGHB2869LF7 | Refrigerator |
| Frigidaire | FGHB2869LF8 | Refrigerator |
| Frigidaire | FGHB2869LF9 | Refrigerator |
| Frigidaire | FGHB2869LFA | Refrigerator |
| Frigidaire | FGHB2869LFB | Refrigerator |
| Frigidaire | FGHB2869LFC | Refrigerator |
| Frigidaire | FGHB2869LP | Refrigerator |
| Frigidaire | FGHB2869LP1 | Refrigerator |
| Frigidaire | FGHB2869LP2 | Refrigerator |
| Frigidaire | FGHB2869LP4 | Refrigerator |
| Frigidaire | FGHB2869LP6 | Refrigerator |
| Frigidaire | FGHB2869LP7 | Refrigerator |
| Frigidaire | FGHB2869LP8 | Refrigerator |
| Frigidaire | FGHB2878LE | Refrigerator |
| Frigidaire | FGHB2878LE1 | Refrigerator |
| Frigidaire | FGHB2878LE2 | Refrigerator |
| Frigidaire | FGHB2878LE3 | Refrigerator |
| Frigidaire | FGHB2878LP | Refrigerator |
| Frigidaire | FGHB2878LP1 | Refrigerator |
| Frigidaire | FGHB2878LP2 | Refrigerator |
| Frigidaire | FGHB2878LP3 | Refrigerator |
| frigidaire | FGHC2331PF | Refrigerator |
| Frigidaire | FGHC2331PF0 | Refrigerator |
| Frigidaire | FGHC2331PF2 | Refrigerator |
| Frigidaire | FGHC2331PF4 | Refrigerator |
| Frigidaire | FGHC2331PF5 | Refrigerator |
| Frigidaire | FGHC2331PF6 | Refrigerator |
| Frigidaire | FGHC2331PF7 | Refrigerator |
| Frigidaire | FGHC2331PF8 | Refrigerator |
| Frigidaire | FGHC2331PFAA | Refrigerator |
| FRIGIDAIRE | FGHC2331PFCA | Refrigerator |
| Frigidaire | FGHC2334KE | Refrigerator |
| Frigidaire | FGHC2334KE0 | Refrigerator |
| Frigidaire | FGHC2334KE1 | Refrigerator |
| Frigidaire | FGHC2334KE2 | Refrigerator |
| Frigidaire | FGHC2334KP | Refrigerator |
| Frigidaire | FGHC2334KP0 | Refrigerator |
| Frigidaire | FGHC2334KP1 | Refrigerator |
| Frigidaire | FGHC2334KP2 | Refrigerator |
| frigidaire | FGHC2342LF | Refrigerator |
| Frigidaire | fghc2342lf0 | Refrigerator |
| Frigidaire | fghc2342lf1 | Refrigerator |
| Frigidaire | fghc2342lf2 | Refrigerator |
| Frigidaire | fghc2342lf3 | Refrigerator |
| Frigidaire | FGHC2344KF | Refrigerator |
| Frigidaire | FGHC2344KF0 | Refrigerator |
| Frigidaire | FGHC2344KF1 | Refrigerator |
| Frigidaire | FGHC2344KF2 | Refrigerator |
| frigidaire | Fghc2345lf | Refrigerator |
| frigidaire | FGHC2355PF | Refrigerator |
| Frigidaire | FGHC2355PF | Refrigerator |
| Frigidaire | FGHC2355PF0 | Refrigerator |
| Frigidaire | FGHC2355PF0 | Refrigerator |
| Frigidaire | FGHC2355PF3 | Refrigerator |
| Frigidaire | FGHC2355PF3 | Refrigerator |
| Frigidaire | FGHC2355PF4 | Refrigerator |
| Frigidaire | FGHC2355PF4 | Refrigerator |
| Frigidaire | FGHC2355PF5 | Refrigerator |
| Frigidaire | FGHC2355PF5 | Refrigerator |
| Frigidaire | FGHC2355PF7 | Refrigerator |
| Frigidaire | FGHC2355PF7 | Refrigerator |
| Frigidaire | FGHC2355PF8 | Refrigerator |
| Frigidaire | FGHC2355PF8 | Refrigerator |
| Frigidaire | FGHC2355PF9A | Refrigerator |
| Frigidaire | FGHC2355PF9A | Refrigerator |
| Frigidaire | FGHC2355PFAB | Refrigerator |
| Frigidaire | FGHC2355PFAB | Refrigerator |
| Frigidaire | FGHC2355PFBB | Refrigerator |
| Frigidaire | FGHC2355PFBB | Refrigerator |
| Frigidaire | FGHC2355PFCC | Refrigerator |
| Frigidaire | FGHC2369KE | Refrigerator |
| Frigidaire | FGHC2369KE0 | Refrigerator |
| Frigidaire | FGHC2369KE1 | Refrigerator |
| Frigidaire | FGHC2369KE2 | Refrigerator |
| Frigidaire | FGHC2369KP | Refrigerator |
| Frigidaire | FGHC2369KP0 | Refrigerator |
| Frigidaire | FGHC2369KP1 | Refrigerator |
| Frigidaire | FGHC2369KP2 | Refrigerator |
| Frigidaire | FGHC2378LE | Refrigerator |
| Frigidaire | FGHC2378LE1 | Refrigerator |
| Frigidaire | FGHC2378LE3 | Refrigerator |
| Frigidaire | FGHC2378LP | Refrigerator |
| Frigidaire | FGHC2378LP1 | Refrigerator |
| Frigidaire | FGHC2378LP3 | Refrigerator |
| Frigidaire | FGHC2379KE | Refrigerator |
| Frigidaire | FGHC2379KE0 | Refrigerator |
| Frigidaire | FGHC2379KE1 | Refrigerator |
| Frigidaire | FGHC2379KE2 | Refrigerator |
| Frigidaire | FGHC2379KP | Refrigerator |
| Frigidaire | FGHC2379KP0 | Refrigerator |
| Frigidaire | FGHC2379KP1 | Refrigerator |
| Frigidaire | FGHC2379KP2 | Refrigerator |
| Frigidaire | FGHF2344ME | Refrigerator |
| Frigidaire | FGHF2344ME0 | Refrigerator |
| Frigidaire | FGHF2344ME1 | Refrigerator |
| Frigidaire | FGHF2344ME2 | Refrigerator |
| Frigidaire | FGHF2344ME3 | Refrigerator |
| Frigidaire | FGHF2344ME4 | Refrigerator |
| frigidaire | FGHF2344MF | Refrigerator |
| Frigidaire | FGHF2344MF0 | Refrigerator |
| Frigidaire | FGHF2344MF1 | Refrigerator |
| Frigidaire | FGHF2344MF2 | Refrigerator |
| Frigidaire | FGHF2344MF3 | Refrigerator |
| Frigidaire | FGHF2344MF4 | Refrigerator |
| Frigidaire | FGHF2344MF5 | Refrigerator |
| Frigidaire | FGHF2344MF6 | Refrigerator |
| Frigidaire | FGHF2344MF7 | Refrigerator |
| Frigidaire | FGHF2344MP | Refrigerator |
| Frigidaire | FGHF2344MP0 | Refrigerator |
| Frigidaire | FGHF2344MP1 | Refrigerator |
| Frigidaire | FGHF2344MP2 | Refrigerator |
| Frigidaire | FGHF2344MP3 | Refrigerator |
| Frigidaire | FGHF2344MP4 | Refrigerator |
| frigidaire | FGHF2366PF | Refrigerator |
| Frigidaire | FGHF2366PF0 | Refrigerator |
| Frigidaire | FGHF2366PF1 | Refrigerator |
| Frigidaire | FGHF2366PF2 | Refrigerator |
| Frigidaire | FGHF2366PF3 | Refrigerator |
| Frigidaire | FGHF2366PF5A | Refrigerator |
| Frigidaire | FGHF2366PF6A | Refrigerator |
| Frigidaire | FGHF2366PF7A | Refrigerator |
| Frigidaire | FGHF2366PF8A | Refrigerator |
| Frigidaire | FGHF2366PF9A | Refrigerator |
| Frigidaire | FGHF2366PFAA | Refrigerator |
| Frigidaire | FGHF2366PFBA | Refrigerator |
| FRIGIDAIRE | FGHF2366PFDA | Refrigerator |
| FRIGIDAIRE | FGHF2366PFEA | Refrigerator |
| FRIGIDAIRE | FGHF2366PFFA | Refrigerator |
| FRIGIDAIRE | FGHF2366PFHA | Refrigerator |
| Frigidaire | FGHF2367TD | Refrigerator |
| FRIGIDAIRE | FGHF2367TD0 | Refrigerator |
| FRIGIDAIRE | FGHF2367TD1 | Refrigerator |
| Frigidaire | FGHF2367TF | Refrigerator |
| FRIGIDAIRE | FGHF2367TF0 | Refrigerator |
| FRIGIDAIRE | FGHF2367TF1 | Refrigerator |
| Frigidaire | FGHF2369ME | Refrigerator |
| Frigidaire | FGHF2369ME0 | Refrigerator |
| Frigidaire | FGHF2369ME2 | Refrigerator |
| Frigidaire | FGHF2369ME3 | Refrigerator |
| Frigidaire | FGHF2369ME4 | Refrigerator |
| frigidaire | FGHF2369MF | Refrigerator |
| Frigidaire | FGHF2369MF0 | Refrigerator |
| Frigidaire | FGHF2369MF2 | Refrigerator |
| Frigidaire | FGHF2369MF3 | Refrigerator |
| Frigidaire | FGHF2369MF4 | Refrigerator |
| Frigidaire | FGHF2369MF5 | Refrigerator |
| Frigidaire | FGHF2369MF6 | Refrigerator |
| Frigidaire | FGHF2369MF7 | Refrigerator |
| Frigidaire | FGHF2369MP | Refrigerator |
| Frigidaire | FGHF2369MP0 | Refrigerator |
| Frigidaire | FGHF2369MP2 | Refrigerator |
| Frigidaire | FGHF2369MP3 | Refrigerator |
| Frigidaire | FGHF2369MP4 | Refrigerator |
| Frigidaire | FGHF2378ME | Refrigerator |
| Frigidaire | FGHF2378ME0 | Refrigerator |
| Frigidaire | FGHF2378MP | Refrigerator |
| Frigidaire | FGHF2378MP0 | Refrigerator |
| Frigidaire | FGHG2344ME | Refrigerator |
| Frigidaire | FGHG2344ME0 | Refrigerator |
| Frigidaire | FGHG2344ME1 | Refrigerator |
| Frigidaire | FGHG2344ME2 | Refrigerator |
| Frigidaire | FGHG2344ME3 | Refrigerator |
| Frigidaire | FGHG2344ME4 | Refrigerator |
| frigidaire | FGHG2344MF | Refrigerator |
| Frigidaire | FGHG2344MF0 | Refrigerator |
| Frigidaire | FGHG2344MF1 | Refrigerator |
| Frigidaire | FGHG2344MF2 | Refrigerator |
| Frigidaire | FGHG2344MF3 | Refrigerator |
| Frigidaire | FGHG2344MF4 | Refrigerator |
| Frigidaire | FGHG2344MF5 | Refrigerator |
| Frigidaire | FGHG2344MF6 | Refrigerator |
| Frigidaire | FGHG2344MF7 | Refrigerator |
| Frigidaire | FGHG2344MP | Refrigerator |
| Frigidaire | FGHG2344MP0 | Refrigerator |
| Frigidaire | FGHG2344MP1 | Refrigerator |
| Frigidaire | FGHG2344MP2 | Refrigerator |
| Frigidaire | FGHG2344MP3 | Refrigerator |
| Frigidaire | FGHG2344MP4 | Refrigerator |
| frigidaire | FGHG2366PF | Refrigerator |
| Frigidaire | FGHG2366PF0 | Refrigerator |
| Frigidaire | FGHG2366PF1A | Refrigerator |
| Frigidaire | FGHG2366PF2A | Refrigerator |
| Frigidaire | FGHG2366PF3A | Refrigerator |
| Frigidaire | FGHG2366PF4A | Refrigerator |
| Frigidaire | FGHG2366PF6A | Refrigerator |
| Frigidaire | FGHG2366PF7A | Refrigerator |
| FRIGIDAIRE | FGHG2366PFAA | Refrigerator |
| FRIGIDAIRE | FGHG2366PFBA | Refrigerator |
| FRIGIDAIRE | FGHG2366PFCA | Refrigerator |
| frigidaire | Fghn2844le | Refrigerator |
| Frigidaire | FGHN2844LE0 | Refrigerator |
| Frigidaire | FGHN2844LE1 | Refrigerator |
| Frigidaire | FGHN2844LE3 | Refrigerator |
| Frigidaire | FGHN2844LE4 | Refrigerator |
| Frigidaire | FGHN2844LE5 | Refrigerator |
| Frigidaire | FGHN2844LE6 | Refrigerator |
| Frigidaire | FGHN2844LE7 | Refrigerator |
| Frigidaire | FGHN2844LE8 | Refrigerator |
| Frigidaire | FGHN2844LE9 | Refrigerator |
| Frigidaire | FGHN2844LEA | Refrigerator |
| Frigidaire | FGHN2844LF | Refrigerator |
| Frigidaire | FGHN2844LF0 | Refrigerator |
| Frigidaire | FGHN2844LF1 | Refrigerator |
| Frigidaire | FGHN2844LF2 | Refrigerator |
| Frigidaire | FGHN2844LF3 | Refrigerator |
| Frigidaire | FGHN2844LF4 | Refrigerator |
| Frigidaire | FGHN2844LF5 | Refrigerator |
| Frigidaire | FGHN2844LF6 | Refrigerator |
| Frigidaire | FGHN2844LF7 | Refrigerator |
| Frigidaire | FGHN2844LF8 | Refrigerator |
| Frigidaire | FGHN2844LF9 | Refrigerator |
| Frigidaire | FGHN2844LFA | Refrigerator |
| Frigidaire | FGHN2844LM | Refrigerator |
| Frigidaire | FGHN2844LM0 | Refrigerator |
| Frigidaire | FGHN2844LM1 | Refrigerator |
| Frigidaire | FGHN2844LM3 | Refrigerator |
| Frigidaire | FGHN2844LM4 | Refrigerator |
| frigidaire | Fghn2844Lp | Refrigerator |
| Frigidaire | FGHN2844LP0 | Refrigerator |
| Frigidaire | FGHN2844LP1 | Refrigerator |
| Frigidaire | FGHN2844LP3 | Refrigerator |
| Frigidaire | FGHN2844LP4 | Refrigerator |
| Frigidaire | FGHN2844LP5 | Refrigerator |
| Frigidaire | FGHN2844LP6 | Refrigerator |
| Frigidaire | FGHN2844LP7 | Refrigerator |
| Frigidaire | FGHN2844LP8 | Refrigerator |
| Frigidaire | FGHN2844LP9 | Refrigerator |
| Frigidaire | FGHN2844LPA | Refrigerator |
| frigidaire | FGHN2866PE | Refrigerator |
| Frigidaire | FGHN2866PE0 | Refrigerator |
| Frigidaire | FGHN2866PE1 | Refrigerator |
| Frigidaire | FGHN2866PE3A | Refrigerator |
| Frigidaire | FGHN2866PE6A | Refrigerator |
| Frigidaire | FGHN2866PE7A | Refrigerator |
| FRIGIDAIRE | FGHN2866PEAA | Refrigerator |
| Frigidaire | FGHN2866PEDA | Refrigerator |
| FRIGIDAIRE | FGHN2866PEEA | Refrigerator |
| frigidaire | FGHN2866PF | Refrigerator |
| Frigidaire | FGHN2866PF0 | Refrigerator |
| Frigidaire | FGHN2866PF1 | Refrigerator |
| Frigidaire | FGHN2866PF2 | Refrigerator |
| Frigidaire | FGHN2866PF4A | Refrigerator |
| Frigidaire | FGHN2866PF5A | Refrigerator |
| Frigidaire | FGHN2866PF6A | Refrigerator |
| Frigidaire | FGHN2866PF7A | Refrigerator |
| Frigidaire | FGHN2866PF8A | Refrigerator |
| Frigidaire | FGHN2866PFBA | Refrigerator |
| Frigidaire | FGHN2866PFDA | Refrigerator |
| FRIGIDAIRE | FGHN2866PFEA | Refrigerator |
| FRIGIDAIRE | FGHN2866PFFA | Refrigerator |
| FRIGIDAIRE | FGHN2866PFGA | Refrigerator |
| FRIGIDAIRE | FGHN2866PFHA | Refrigerator |
| FRIGIDAIRE | FGHN2866PFJA | Refrigerator |
| frigidaire | FGHN2866PP | Refrigerator |
| Frigidaire | FGHN2866PP0 | Refrigerator |
| Frigidaire | FGHN2866PP1 | Refrigerator |
| Frigidaire | FGHN2866PP2 | Refrigerator |
| Frigidaire | FGHN2866PP3A | Refrigerator |
| Frigidaire | FGHN2866PP6A | Refrigerator |
| Frigidaire | FGHN2866PP7A | Refrigerator |
| FRIGIDAIRE | FGHN2866PPAA | Refrigerator |
| FRIGIDAIRE | FGHN2866PPEA | Refrigerator |
| frigidaire | Fghs2332le | Refrigerator |
| frigidaire | Fghs2332lp | Refrigerator |
| Frigidaire | FGHS2334KB | Refrigerator |
| Frigidaire | FGHS2334KB0 | Refrigerator |
| Frigidaire | FGHS2334KB1 | Refrigerator |
| Frigidaire | FGHS2334KB2 | Refrigerator |
| Frigidaire | FGHS2334KB3 | Refrigerator |
| Frigidaire | FGHS2334KB4 | Refrigerator |
| Frigidaire | FGHS2334KB5 | Refrigerator |
| Frigidaire | FGHS2334KE | Refrigerator |
| Frigidaire | FGHS2334KE0 | Refrigerator |
| Frigidaire | FGHS2334KE2 | Refrigerator |
| Frigidaire | FGHS2334KE3 | Refrigerator |
| Frigidaire | FGHS2334KE4 | Refrigerator |
| Frigidaire | FGHS2334KP | Refrigerator |
| Frigidaire | FGHS2334KP0 | Refrigerator |
| Frigidaire | FGHS2334KP2 | Refrigerator |
| Frigidaire | FGHS2334KP3 | Refrigerator |
| Frigidaire | FGHS2334KP4 | Refrigerator |
| Frigidaire | FGHS2334KQ0 | Refrigerator |
| Frigidaire | FGHS2334KQ2 | Refrigerator |
| Frigidaire | FGHS2334KQ3 | Refrigerator |
| Frigidaire | FGHS2334KQ4 | Refrigerator |
| Frigidaire | FGHS2334KW | Refrigerator |
| Frigidaire | FGHS2334KW0 | Refrigerator |
| Frigidaire | FGHS2334KW1 | Refrigerator |
| Frigidaire | FGHS2334KW2 | Refrigerator |
| Frigidaire | FGHS2334KW3 | Refrigerator |
| Frigidaire | FGHS2334KW4 | Refrigerator |
| frigidaire | Fghs2342lf | Refrigerator |
| Frigidaire | FGHS2344KF | Refrigerator |
| Frigidaire | FGHS2344KF0 | Refrigerator |
| Frigidaire | FGHS2344KF1 | Refrigerator |
| Frigidaire | FGHS2344KF2 | Refrigerator |
| Frigidaire | FGHS2344KF3 | Refrigerator |
| Frigidaire | FGHS2344KF4 | Refrigerator |
| Frigidaire | FGHS2355KE | Refrigerator |
| Frigidaire | FGHS2355KE1 | Refrigerator |
| Frigidaire | FGHS2355KE2 | Refrigerator |
| Frigidaire | FGHS2355KE4 | Refrigerator |
| Frigidaire | FGHS2355KP | Refrigerator |
| Frigidaire | FGHS2355KP1 | Refrigerator |
| Frigidaire | FGHS2355KP2 | Refrigerator |
| Frigidaire | FGHS2355KP4 | Refrigerator |
| frigidaire | FGHS2355PF | Refrigerator |
| Frigidaire | FGHS2355PF0 | Refrigerator |
| Frigidaire | FGHS2355PF1 | Refrigerator |
| Frigidaire | FGHS2355PF2 | Refrigerator |
| Frigidaire | FGHS2355PF4 | Refrigerator |
| Frigidaire | FGHS2355PF5A | Refrigerator |
| Frigidaire | FGHS2355PF6B | Refrigerator |
| Frigidaire | FGHS2365KF | Refrigerator |
| Frigidaire | FGHS2365KF1 | Refrigerator |
| Frigidaire | FGHS2365KF2 | Refrigerator |
| Frigidaire | FGHS2365KF4 | Refrigerator |
| Frigidaire | FGHS2365KF5 | Refrigerator |
| Frigidaire | FGHS2367KB | Refrigerator |
| Frigidaire | FGHS2367KB1 | Refrigerator |
| Frigidaire | FGHS2367KB2 | Refrigerator |
| Frigidaire | FGHS2367KB3 | Refrigerator |
| Frigidaire | FGHS2367KB4 | Refrigerator |
| Frigidaire | FGHS2367KE | Refrigerator |
| Frigidaire | FGHS2367KE1 | Refrigerator |
| Frigidaire | FGHS2367KE2 | Refrigerator |
| Frigidaire | FGHS2367KE3 | Refrigerator |
| Frigidaire | FGHS2367KE4 | Refrigerator |
| Frigidaire | FGHS2367KP | Refrigerator |
| Frigidaire | FGHS2367KP1 | Refrigerator |
| Frigidaire | FGHS2367KP2 | Refrigerator |
| Frigidaire | FGHS2367KP3 | Refrigerator |
| Frigidaire | FGHS2367KP4 | Refrigerator |
| Frigidaire | FGHS2367KW | Refrigerator |
| Frigidaire | FGHS2367KW1 | Refrigerator |
| Frigidaire | FGHS2367KW2 | Refrigerator |
| Frigidaire | FGHS2367KW3 | Refrigerator |
| Frigidaire | FGHS2367KW4 | Refrigerator |
| Frigidaire | FGHS2368LE | Refrigerator |
| Frigidaire | FGHS2368LE0 | Refrigerator |
| Frigidaire | FGHS2368LE2 | Refrigerator |
| Frigidaire | FGHS2368LE3 | Refrigerator |
| Frigidaire | FGHS2368LP | Refrigerator |
| Frigidaire | FGHS2368LP0 | Refrigerator |
| Frigidaire | FGHS2368LP1 | Refrigerator |
| Frigidaire | FGHS2368LP2 | Refrigerator |
| Frigidaire | FGHS2368LP3 | Refrigerator |
| Frigidaire | FGHS2368LP4 | Refrigerator |
| Frigidaire | FGHS2369KE | Refrigerator |
| Frigidaire | FGHS2369KE1 | Refrigerator |
| Frigidaire | FGHS2369KE2 | Refrigerator |
| Frigidaire | FGHS2369KE4 | Refrigerator |
| Frigidaire | FGHS2369KP | Refrigerator |
| Frigidaire | FGHS2369KP1 | Refrigerator |
| Frigidaire | FGHS2369KP2 | Refrigerator |
| Frigidaire | FGHS2369KP4 | Refrigerator |
| Frigidaire | FGHS2631FP4A | Refrigerator |
| frigidaire | FGHS2631PE | Refrigerator |
| Frigidaire | FGHS2631PE0 | Refrigerator |
| Frigidaire | FGHS2631PE1 | Refrigerator |
| Frigidaire | FGHS2631PE2 | Refrigerator |
| Frigidaire | FGHS2631PE3 | Refrigerator |
| Frigidaire | FGHS2631PE4A | Refrigerator |
| frigidaire | FGHS2631PF | Refrigerator |
| Frigidaire | FGHS2631PF | Refrigerator |
| Frigidaire | FGHS2631PF0 | Refrigerator |
| Frigidaire | FGHS2631PF0 | Refrigerator |
| Frigidaire | FGHS2631PF1 | Refrigerator |
| Frigidaire | FGHS2631PF1 | Refrigerator |
| Frigidaire | FGHS2631PF2 | Refrigerator |
| Frigidaire | FGHS2631PF2 | Refrigerator |
| Frigidaire | FGHS2631PF3 | Refrigerator |
| Frigidaire | FGHS2631PF3 | Refrigerator |
| Frigidaire | FGHS2631PF4A | Refrigerator |
| Frigidaire | FGHS2631PF4A | Refrigerator |
| Frigidaire | FGHS2631PF5A | Refrigerator |
| Frigidaire | FGHS2631PP | Refrigerator |
| frigidaire | FGHS2631PP | Refrigerator |
| Frigidaire | FGHS2631PP0 | Refrigerator |
| Frigidaire | FGHS2631PP0 | Refrigerator |
| Frigidaire | FGHS2631PP1 | Refrigerator |
| Frigidaire | FGHS2631PP1 | Refrigerator |
| Frigidaire | FGHS2631PP2 | Refrigerator |
| Frigidaire | FGHS2631PP2 | Refrigerator |
| Frigidaire | FGHS2631PP3 | Refrigerator |
| Frigidaire | FGHS2631PP3 | Refrigerator |
| Frigidaire | FGHS2631PP4A | Refrigerator |
| Frigidaire | FGHS2631PP4A | Refrigerator |
| Frigidaire | FGHS2634KB | Refrigerator |
| Frigidaire | FGHS2634KB0 | Refrigerator |
| Frigidaire | FGHS2634KB1 | Refrigerator |
| Frigidaire | FGHS2634KB2 | Refrigerator |
| Frigidaire | FGHS2634KE | Refrigerator |
| Frigidaire | FGHS2634KE0 | Refrigerator |
| Frigidaire | FGHS2634KE1 | Refrigerator |
| Frigidaire | FGHS2634KE2 | Refrigerator |
| Frigidaire | FGHS2634KP | Refrigerator |
| Frigidaire | FGHS2634KP0 | Refrigerator |
| Frigidaire | FGHS2634KP1 | Refrigerator |
| Frigidaire | FGHS2634KP2 | Refrigerator |
| Frigidaire | FGHS2634KQ | Refrigerator |
| Frigidaire | FGHS2634KQ0 | Refrigerator |
| Frigidaire | FGHS2634KQ1 | Refrigerator |
| Frigidaire | FGHS2634KQ2 | Refrigerator |
| Frigidaire | FGHS2634KW | Refrigerator |
| Frigidaire | FGHS2634KW0 | Refrigerator |
| Frigidaire | FGHS2634KW1 | Refrigerator |
| Frigidaire | FGHS2634KW2 | Refrigerator |
| Frigidaire | FGHS2644KF | Refrigerator |
| Frigidaire | FGHS2644KF0 | Refrigerator |
| Frigidaire | FGHS2644KF1 | Refrigerator |
| Frigidaire | FGHS2644KF2 | Refrigerator |
| Frigidaire | FGHS2644KF3 | Refrigerator |
| Frigidaire | FGHS2644KM0 | Refrigerator |
| Frigidaire | FGHS2644KM1 | Refrigerator |
| Frigidaire | FGHS2644KM2 | Refrigerator |
| Frigidaire | FGHS2644KM3 | Refrigerator |
| Frigidaire | FGHS2655KE | Refrigerator |
| Frigidaire | FGHS2655KE0 | Refrigerator |
| Frigidaire | FGHS2655KE1 | Refrigerator |
| Frigidaire | FGHS2655KE2 | Refrigerator |
| Frigidaire | FGHS2655KP | Refrigerator |
| Frigidaire | FGHS2655KP0 | Refrigerator |
| Frigidaire | FGHS2655KP1 | Refrigerator |
| Frigidaire | FGHS2655KP2 | Refrigerator |
| frigidaire | FGHS2655PF | Refrigerator |
| Frigidaire | FGHS2655PF | Refrigerator |
| Frigidaire | FGHS2655PF0 | Refrigerator |
| Frigidaire | FGHS2655PF0 | Refrigerator |
| Frigidaire | FGHS2655PF1 | Refrigerator |
| Frigidaire | FGHS2655PF1 | Refrigerator |
| Frigidaire | FGHS2655PF2 | Refrigerator |
| Frigidaire | FGHS2655PF2 | Refrigerator |
| Frigidaire | FGHS2655PF4 | Refrigerator |
| Frigidaire | FGHS2655PF4 | Refrigerator |
| Frigidaire | FGHS2655PF5A | Refrigerator |
| Frigidaire | FGHS2655PF5A | Refrigerator |
| Frigidaire | FGHS2655PF6B | Refrigerator |
| Frigidaire | FGHS2655PF6B | Refrigerator |
| Frigidaire | FGHS2665KF | Refrigerator |
| Frigidaire | FGHS2665KF0 | Refrigerator |
| Frigidaire | FGHS2665KF1 | Refrigerator |
| Frigidaire | FGHS2665KF2 | Refrigerator |
| Frigidaire | FGHS2665KF3 | Refrigerator |
| Frigidaire | FGHS2667KB | Refrigerator |
| Frigidaire | FGHS2667KB0 | Refrigerator |
| Frigidaire | FGHS2667KB1 | Refrigerator |
| Frigidaire | FGHS2667KB2 | Refrigerator |
| Frigidaire | FGHS2667KB3 | Refrigerator |
| Frigidaire | FGHS2667KB4 | Refrigerator |
| Frigidaire | FGHS2667KE | Refrigerator |
| Frigidaire | FGHS2667KE0 | Refrigerator |
| Frigidaire | FGHS2667KE1 | Refrigerator |
| Frigidaire | FGHS2667KE2 | Refrigerator |
| Frigidaire | FGHS2667KE3 | Refrigerator |
| Frigidaire | FGHS2667KE4 | Refrigerator |
| Frigidaire | FGHS2667KP | Refrigerator |
| Frigidaire | FGHS2667KP0 | Refrigerator |
| Frigidaire | FGHS2667KP1 | Refrigerator |
| Frigidaire | FGHS2667KP2 | Refrigerator |
| Frigidaire | FGHS2667KP3 | Refrigerator |
| Frigidaire | FGHS2667KP4 | Refrigerator |
| Frigidaire | FGHS2667KW | Refrigerator |
| Frigidaire | FGHS2667KW0 | Refrigerator |
| Frigidaire | FGHS2667KW1 | Refrigerator |
| Frigidaire | FGHS2667KW2 | Refrigerator |
| Frigidaire | FGHS2667KW3 | Refrigerator |
| Frigidaire | FGHS2667KW4 | Refrigerator |
| Frigidaire | FGHS2669KE | Refrigerator |
| Frigidaire | FGHS2669KE0 | Refrigerator |
| Frigidaire | FGHS2669KE1 | Refrigerator |
| Frigidaire | FGHS2669KE2 | Refrigerator |
| Frigidaire | FGHS2669KE3 | Refrigerator |
| Frigidaire | FGHS2669KE4 | Refrigerator |
| Frigidaire | FGHS2669KP | Refrigerator |
| Frigidaire | FGHS2669KP0 | Refrigerator |
| Frigidaire | FGHS2669KP1 | Refrigerator |
| Frigidaire | FGHS2669KP2 | Refrigerator |
| Frigidaire | FGHS2669KP3 | Refrigerator |
| Frigidaire | FGHS2669KP4 | Refrigerator |
| Frigidaire | FGHS2679KE | Refrigerator |
| Frigidaire | FGHS2679KE0 | Refrigerator |
| Frigidaire | FGHS2679KE1 | Refrigerator |
| Frigidaire | FGHS2679KE2 | Refrigerator |
| Frigidaire | FGHS2679KE3 | Refrigerator |
| Frigidaire | FGHS2679KP | Refrigerator |
| Frigidaire | FGHS2679KP0 | Refrigerator |
| Frigidaire | FGHS2679KP1 | Refrigerator |
| Frigidaire | FGHS2679KP2 | Refrigerator |
| Frigidaire | FGHS2679KP3 | Refrigerator |
| Frigidaire | FGSS2335TF | Refrigerator |
| Frigidaire | FGSS2335TF0 | Refrigerator |
| Frigidaire | FGSS2335TF1 | Refrigerator |
| Frigidaire | FGSS2335TF3 | Refrigerator |
| FRIGIDAIRE | FGSS2335TF4 | Refrigerator |
| FRIGIDAIRE | FGSS2335TF5 | Refrigerator |
| FRIGIDAIRE | FGSS2335TF6 | Refrigerator |
| FRIGIDAIRE | FGSS2335TF7 | Refrigerator |
| FRIGIDAIRE | FGSS2335TF9 | Refrigerator |
| FRIGIDAIRE | FGSS2335TFA | Refrigerator |
| Frigidaire | FGUB2642LE | Refrigerator |
| Frigidaire | FGUB2642LE0 | Refrigerator |
| Frigidaire | FGUB2642LE1 | Refrigerator |
| Frigidaire | FGUB2642LE2 | Refrigerator |
| Frigidaire | FGUB2642LE4 | Refrigerator |
| Frigidaire | FGUB2642LE5 | Refrigerator |
| Frigidaire | FGUB2642LE6 | Refrigerator |
| Frigidaire | FGUB2642LE7 | Refrigerator |
| Frigidaire | FGUB2642LE8 | Refrigerator |
| Frigidaire | FGUB2642LE9 | Refrigerator |
| frigidaire | FGUB2642LF | Refrigerator |
| Frigidaire | FGUB2642LF0 | Refrigerator |
| Frigidaire | FGUB2642LF1 | Refrigerator |
| Frigidaire | FGUB2642LF2 | Refrigerator |
| Frigidaire | FGUB2642LF4 | Refrigerator |
| Frigidaire | FGUB2642LF5 | Refrigerator |
| Frigidaire | FGUB2642LF6 | Refrigerator |
| Frigidaire | FGUB2642LF7 | Refrigerator |
| Frigidaire | FGUB2642LF8 | Refrigerator |
| Frigidaire | FGUB2642LF9 | Refrigerator |
| frigidaire | FGUB2642LP | Refrigerator |
| Frigidaire | FGUB2642LP0 | Refrigerator |
| Frigidaire | FGUB2642LP1 | Refrigerator |
| Frigidaire | FGUB2642LP2 | Refrigerator |
| Frigidaire | FGUB2642LP4 | Refrigerator |
| Frigidaire | FGUB2642LP5 | Refrigerator |
| Frigidaire | FGUB2642LP6 | Refrigerator |
| Frigidaire | FGUB2642LP7 | Refrigerator |
| Frigidaire | FGUB2642LP8 | Refrigerator |
| Frigidaire | FGUB2642LP9 | Refrigerator |
| Frigidaire | FGUN2642LE | Refrigerator |
| Frigidaire | FGUN2642LE0 | Refrigerator |
| Frigidaire | FGUN2642LE1 | Refrigerator |
| Frigidaire | FGUN2642LE2 | Refrigerator |
| Frigidaire | FGUN2642LE3 | Refrigerator |
| Frigidaire | FGUN2642LE4 | Refrigerator |
| Frigidaire | FGUN2642LE5 | Refrigerator |
| Frigidaire | FGUN2642LE6 | Refrigerator |
| Frigidaire | FGUN2642LE8 | Refrigerator |
| frigidaire | FGUN2642LF | Refrigerator |
| Frigidaire | FGUN2642LF0 | Refrigerator |
| Frigidaire | FGUN2642LF1 | Refrigerator |
| Frigidaire | FGUN2642LF2 | Refrigerator |
| Frigidaire | FGUN2642LF3 | Refrigerator |
| Frigidaire | FGUN2642LF4 | Refrigerator |
| Frigidaire | FGUN2642LF5 | Refrigerator |
| Frigidaire | FGUN2642LF6 | Refrigerator |
| Frigidaire | FGUN2642LF8 | Refrigerator |
| Frigidaire | FGUN2642LP | Refrigerator |
| Frigidaire | FGUN2642LP0 | Refrigerator |
| Frigidaire | FGUN2642LP1 | Refrigerator |
| Frigidaire | FGUN2642LP2 | Refrigerator |
| Frigidaire | FGUN2642LP3 | Refrigerator |
| Frigidaire | FGUN2642LP4 | Refrigerator |
| Frigidaire | FGUN2642LP5 | Refrigerator |
| Frigidaire | FGUN2642LP6 | Refrigerator |
| Frigidaire | FGUN2642LP8 | Refrigerator |
| frigidaire | Fgus2632le | Refrigerator |
| frigidaire | Fgus2632lp | Refrigerator |
| Frigidaire | FGUS2637LE | Refrigerator |
| Frigidaire | FGUS2637LE0 | Refrigerator |
| Frigidaire | FGUS2637LE1 | Refrigerator |
| Frigidaire | FGUS2637LE2 | Refrigerator |
| Frigidaire | FGUS2637LP | Refrigerator |
| Frigidaire | FGUS2637LP0 | Refrigerator |
| Frigidaire | FGUS2637LP1 | Refrigerator |
| Frigidaire | FGUS2637LP2 | Refrigerator |
| frigidaire | FGUS2642LF | Refrigerator |
| frigidaire | Fgus2645lf | Refrigerator |
| Frigidaire | FGUS2647LF | Refrigerator |
| Frigidaire | fgus2647lf0 | Refrigerator |
| Frigidaire | fgus2647lf1 | Refrigerator |
| Frigidaire | FGUS2647LF2 | Refrigerator |
| Frigidaire | FGUS2647LF3 | Refrigerator |
| Frigidaire | FGUS2666LE0 | Refrigerator |
| Frigidaire | FGUS2666LP0 | Refrigerator |
| Frigidaire | FGUS2676LE | Refrigerator |
| Frigidaire | FGUS2676LE0 | Refrigerator |
| Frigidaire | FGUS2676LE1 | Refrigerator |
| Frigidaire | FGUS2676LP | Refrigerator |
| Frigidaire | FGUS2676LP0 | Refrigerator |
| Frigidaire | FGUS2676LP1 | Refrigerator |
| Frigidaire | fphb2899lf | Refrigerator |
| Frigidaire | FPHB2899LF1 | Refrigerator |
| Frigidaire | FPHB2899LF2 | Refrigerator |
| Frigidaire | FPHB2899LF3 | Refrigerator |
| Frigidaire | FPHB2899LF4 | Refrigerator |
| Frigidaire | FPHB2899LF5 | Refrigerator |
| Frigidaire | FPHB2899LF6 | Refrigerator |
| Frigidaire | FPHB2899LF7 | Refrigerator |
| Frigidaire | FPHB2899LF8 | Refrigerator |
| Frigidaire | FPHB2899LF9 | Refrigerator |
| Frigidaire | FPHB2899LFA | Refrigerator |
| Frigidaire | FPHB2899LFB | Refrigerator |
| Frigidaire | FPHB2899LFC | Refrigerator |
| Frigidaire | FPHB2899LFD | Refrigerator |
| frigidaire | FPHB2899PF | Refrigerator |
| Frigidaire | FPHB2899PF0 | Refrigerator |
| Frigidaire | FPHB2899PF1 | Refrigerator |
| Frigidaire | FPHB2899PF2 | Refrigerator |
| Frigidaire | FPHB2899PF3 | Refrigerator |
| Frigidaire | FPHB2899PF4 | Refrigerator |
| Frigidaire | FPHB2899PF5 | Refrigerator |
| Frigidaire | FPHB2899PF6A | Refrigerator |
| Frigidaire | FPHB2899PF7A | Refrigerator |
| Frigidaire | FPHB2899PF8A | Refrigerator |
| frigidaire | FPHC2398LF | Refrigerator |
| Frigidaire | fphc2398lf1 | Refrigerator |
| Frigidaire | fphc2398lf2 | Refrigerator |
| Frigidaire | fphc2398lf3 | Refrigerator |
| Frigidaire | fphc2398lf4 | Refrigerator |
| Frigidaire | FPHC2399KF | Refrigerator |
| Frigidaire | FPHC2399KF0 | Refrigerator |
| Frigidaire | FPHC2399KF1 | Refrigerator |
| Frigidaire | FPHC2399KF2 | Refrigerator |
| Frigidaire | FPHC2399KF3 | Refrigerator |
| Frigidaire | FPHC2399KF4 | Refrigerator |
| Frigidaire | FPHC2399KF6 | Refrigerator |
| frigidaire | FPHC2399PF | Refrigerator |
| Frigidaire | FPHC2399PF0 | Refrigerator |
| Frigidaire | FPHC2399PF3 | Refrigerator |
| Frigidaire | FPHC2399PF4 | Refrigerator |
| Frigidaire | FPHC2399PF5 | Refrigerator |
| Frigidaire | FPHC2399PF7A | Refrigerator |
| frigidaire | FPHF2399MF | Refrigerator |
| Frigidaire | FPHF2399MF0 | Refrigerator |
| Frigidaire | FPHF2399MF1 | Refrigerator |
| Frigidaire | FPHF2399MF2 | Refrigerator |
| Frigidaire | FPHF2399MF3 | Refrigerator |
| Frigidaire | FPHF2399MF4 | Refrigerator |
| Frigidaire | FPHF2399MF5 | Refrigerator |
| Frigidaire | FPHF2399MF6 | Refrigerator |
| Frigidaire | FPHF2399MF7 | Refrigerator |
| frigidaire | FPHF2399PF | Refrigerator |
| Frigidaire | FPHF2399PF0 | Refrigerator |
| Frigidaire | FPHF2399PF1 | Refrigerator |
| Frigidaire | FPHF2399PF2 | Refrigerator |
| Frigidaire | FPHF2399PF3 | Refrigerator |
| Frigidaire | FPHF2399PF4 | Refrigerator |
| Frigidaire | FPHF2399PF5 | Refrigerator |
| Frigidaire | FPHF2399PF6 | Refrigerator |
| FRIGIDAIRE | FPHF2399PF7A | Refrigerator |
| frigidaire | FPHG2399MF | Refrigerator |
| Frigidaire | FPHG2399MF0 | Refrigerator |
| Frigidaire | FPHG2399MF1 | Refrigerator |
| Frigidaire | FPHG2399MF2 | Refrigerator |
| Frigidaire | FPHG2399MF3 | Refrigerator |
| Frigidaire | FPHG2399MF4 | Refrigerator |
| Frigidaire | FPHG2399MF5 | Refrigerator |
| Frigidaire | FPHG2399MF6 | Refrigerator |
| Frigidaire | FPHG2399MF7 | Refrigerator |
| frigidaire | FPHG2399PF | Refrigerator |
| Frigidaire | FPHG2399PF0 | Refrigerator |
| Frigidaire | FPHG2399PF1 | Refrigerator |
| Frigidaire | FPHG2399PF2A | Refrigerator |
| frigidaire | Fphn2899lf | Refrigerator |
| Frigidaire | FPHN2899LF0 | Refrigerator |
| Frigidaire | FPHN2899LF1 | Refrigerator |
| Frigidaire | FPHN2899LF2 | Refrigerator |
| Frigidaire | FPHN2899LF3 | Refrigerator |
| Frigidaire | FPHN2899LF4 | Refrigerator |
| Frigidaire | FPHN2899LF5 | Refrigerator |
| Frigidaire | FPHN2899LF6 | Refrigerator |
| Frigidaire | FPHN2899LF7 | Refrigerator |
| Frigidaire | FPHN2899LF9 | Refrigerator |
| frigidaire | Fphs2386lf | Refrigerator |
| Frigidaire | fphs2386lf0 | Refrigerator |
| Frigidaire | fphs2386lf1 | Refrigerator |
| Frigidaire | fphs2386lf2 | Refrigerator |
| Frigidaire | fphs2386lf3 | Refrigerator |
| Frigidaire | FPHS2386LF4 | Refrigerator |
| Frigidaire | FPHS2386LF5 | Refrigerator |
| Frigidaire | FPHS2386LF6 | Refrigerator |
| Frigidaire | FPHS2386LF7 | Refrigerator |
| Frigidaire | FPHS2387KF | Refrigerator |
| Frigidaire | FPHS2387KF1 | Refrigerator |
| Frigidaire | FPHS2387KF2 | Refrigerator |
| Frigidaire | FPHS2387KF3 | Refrigerator |
| Frigidaire | FPHS2387KF4 | Refrigerator |
| Frigidaire | FPHS2387KF5 | Refrigerator |
| Frigidaire | FPHS2387KF6 | Refrigerator |
| Frigidaire | FPHS2399KF | Refrigerator |
| Frigidaire | FPHS2399KF1 | Refrigerator |
| Frigidaire | FPHS2399KF2 | Refrigerator |
| Frigidaire | FPHS2399KF3 | Refrigerator |
| Frigidaire | FPHS2399KF4 | Refrigerator |
| Frigidaire | FPHS2399KF5 | Refrigerator |
| frigidaire | FPHS2399PF | Refrigerator |
| Frigidaire | FPHS2399PF0 | Refrigerator |
| Frigidaire | FPHS2399PF2 | Refrigerator |
| Frigidaire | FPHS2399PF3 | Refrigerator |
| Frigidaire | FPHS2399PF4A | Refrigerator |
| Frigidaire | FPHS2687KF | Refrigerator |
| Frigidaire | FPHS2687KF0 | Refrigerator |
| Frigidaire | FPHS2687KF1 | Refrigerator |
| Frigidaire | FPHS2687KF2 | Refrigerator |
| Frigidaire | FPHS2687KF3 | Refrigerator |
| Frigidaire | FPHS2687KF4 | Refrigerator |
| Frigidaire | FPHS2699KF | Refrigerator |
| Frigidaire | FPHS2699KF0 | Refrigerator |
| Frigidaire | FPHS2699KF1 | Refrigerator |
| Frigidaire | FPHS2699KF2 | Refrigerator |
| Frigidaire | FPHS2699KF3 | Refrigerator |
| Frigidaire | FPHS2699KF4 | Refrigerator |
| frigidaire | FPHS2699PF | Refrigerator |
| Frigidaire | FPHS2699PF0 | Refrigerator |
| Frigidaire | FPHS2699PF1 | Refrigerator |
| Frigidaire | FPHS2699PF2 | Refrigerator |
| Frigidaire | FPHS2699PF3 | Refrigerator |
| frigidaire | Fpus2686lf | Refrigerator |
| FRIGIDAIRE | FPUS2686LF0 | Refrigerator |
| FRIGIDAIRE | FPUS2686LF1 | Refrigerator |
| FRIGIDAIRE | FPUS2686LF2 | Refrigerator |
| FRIGIDAIRE | FPUS2686LF3 | Refrigerator |
| frigidaire | Fpus2698lf | Refrigerator |
| FRIGIDAIRE | FPUS2698LF0 | Refrigerator |
| FRIGIDAIRE | FPUS2698LF1 | Refrigerator |
| FRIGIDAIRE | FPUS2698LF2 | Refrigerator |
| FRIGIDAIRE | FPUS2698LF3 | Refrigerator |
| Frigidaire | LFHB2741PE0 | Refrigerator |
| Frigidaire | LFHB2741PE1 | Refrigerator |
| frigidaire | LFHB2741PF | Refrigerator |
| Frigidaire | LFHB2741PF0 | Refrigerator |
| Frigidaire | LFHB2741PF1 | Refrigerator |
| Frigidaire | LFHB2741PF2 | Refrigerator |
| Frigidaire | LFHB2741PF3 | Refrigerator |
| Frigidaire | LFHB2741PF4 | Refrigerator |
| Frigidaire | LFHB2741PF5A | Refrigerator |
| Frigidaire | LFHB2741PF6A | Refrigerator |
| Frigidaire | LFHB2741PF7A | Refrigerator |
| Frigidaire | LFHB2741PF8A | Refrigerator |
| Frigidaire | LFHB2741PF9A | Refrigerator |
| Frigidaire | LFHB2741PFAA | Refrigerator |
| Frigidaire | LFHB2741PFBA | Refrigerator |
| FRIGIDAIRE | LFHB2741PFCA | Refrigerator |
| FRIGIDAIRE | LFHB2741PFDA | Refrigerator |
| Frigidaire | LFHB2741PP0 | Refrigerator |
| Frigidaire | LFHB2741PP1 | Refrigerator |
| Frigidaire | LFHN2741PE0 | Refrigerator |
| Frigidaire | LFHN2741PF0 | Refrigerator |
| Frigidaire | LFHN2741PP0 | Refrigerator |
| frigidaire | LGHB2867PF | Refrigerator |
| Frigidaire | LGHB2867PF0 | Refrigerator |
| Frigidaire | LGHB2867PF2 | Refrigerator |
| Frigidaire | LGHB2867PF3 | Refrigerator |
| Frigidaire | LGHB2867PF4 | Refrigerator |
| Frigidaire | LGHB2867PF5 | Refrigerator |
| Frigidaire | LGHB2867PF6A | Refrigerator |
| Frigidaire | LGHB2867PF7A | Refrigerator |
| Frigidaire | LGHB2867PF8A | Refrigerator |
| Frigidaire | LGHB2867PFAA | Refrigerator |
| Frigidaire | LGHB2867PFBA | Refrigerator |
| Frigidaire | LGHB2867PFCA | Refrigerator |
| Frigidaire | LGHB2867PFDA | Refrigerator |
| Frigidaire | LGHB2867PFEA | Refrigerator |
| Frigidaire | LGHB2867PFGA | Refrigerator |
| Frigidaire | LGHB2867PFHA | Refrigerator |
| FRIGIDAIRE | LGHB2867PFIA | Refrigerator |
| FRIGIDAIRE | LGHB2867PFJA | Refrigerator |
| FRIGIDAIRE | LGHB2867PFLA | Refrigerator |
| Frigidaire | LGHB2867TD | Refrigerator |
| FRIGIDAIRE | LGHB2867TD0 | Refrigerator |
| Frigidaire | LGHB2869LF | Refrigerator |
| Frigidaire | LGHB2869LF1 | Refrigerator |
| Frigidaire | LGHB2869LF3 | Refrigerator |
| Frigidaire | LGHB2869LF4 | Refrigerator |
| Frigidaire | LGHB2869LF5 | Refrigerator |
| frigidaire | LGHC2342LE | Refrigerator |
| Frigidaire | LGHC2342LE1 | Refrigerator |
| Frigidaire | LGHC2342LE2 | Refrigerator |
| Frigidaire | LGHC2342LF | Refrigerator |
| Frigidaire | LGHC2342LF0 | Refrigerator |
| Frigidaire | LGHC2342LF1 | Refrigerator |
| Frigidaire | LGHC2342LF2 | Refrigerator |
| Frigidaire | LGHC2342LF3 | Refrigerator |
| Frigidaire | LGHC2342LP | Refrigerator |
| Frigidaire | LGHC2342LP1 | Refrigerator |
| Frigidaire | LGHC2342LP2 | Refrigerator |
| frigidaire | LGHN2844ME | Refrigerator |
| Frigidaire | LGHN2844ME0 | Refrigerator |
| Frigidaire | LGHN2844ME1 | Refrigerator |
| Frigidaire | LGHN2844ME2 | Refrigerator |
| Frigidaire | LGHN2844ME4 | Refrigerator |
| Frigidaire | LGHN2844ME5 | Refrigerator |
| frigidaire | LGHN2844MF | Refrigerator |
| Frigidaire | LGHN2844MF0 | Refrigerator |
| Frigidaire | LGHN2844MF1 | Refrigerator |
| Frigidaire | LGHN2844MF2 | Refrigerator |
| Frigidaire | LGHN2844MF4 | Refrigerator |
| Frigidaire | LGHN2844MF5 | Refrigerator |
| frigidaire | LGHN2844MP | Refrigerator |
| Frigidaire | LGHN2844MP0 | Refrigerator |
| Frigidaire | LGHN2844MP1 | Refrigerator |
| Frigidaire | LGHN2844MP2 | Refrigerator |
| Frigidaire | LGHN2844MP4 | Refrigerator |
| Frigidaire | LGHN2844MP5 | Refrigerator |
| Frigidaire | LGHS2634KE0 | Refrigerator |
| Frigidaire | LGHS2634KE1 | Refrigerator |
| Frigidaire | LGHS2634KE2 | Refrigerator |
| Frigidaire | LGHS2634KP0 | Refrigerator |
| Frigidaire | LGHS2634KP1 | Refrigerator |
| Frigidaire | LGHS2634KP2 | Refrigerator |
| Frigidaire | LGHS2644KM0 | Refrigerator |
| Frigidaire | LGHS2644KM1 | Refrigerator |
| Frigidaire | LGHS2644KM2 | Refrigerator |
| Frigidaire | LGHS2655KE0 | Refrigerator |
| Frigidaire | LGHS2655KE1 | Refrigerator |
| Frigidaire | LGHS2655KE2 | Refrigerator |
| Frigidaire | LGHS2655KP0 | Refrigerator |
| Frigidaire | LGHS2655KP1 | Refrigerator |
| Frigidaire | LGHS2655KP2 | Refrigerator |
| Frigidaire | LGHS2665KF0 | Refrigerator |
| Frigidaire | LGHS2665KF1 | Refrigerator |
| Frigidaire | LGHS2665KF2 | Refrigerator |
| Frigidaire | LGHS2667KE | Refrigerator |
| Frigidaire | LGHS2667KE0 | Refrigerator |
| Frigidaire | LGHS2667KP0 | Refrigerator |
| frigidaire | LGUB2642LE | Refrigerator |
| Frigidaire | LGUB2642LE3 | Refrigerator |
| Frigidaire | LGUB2642LE4 | Refrigerator |
| Frigidaire | LGUB2642LE5 | Refrigerator |
| Frigidaire | LGUB2642LE8 | Refrigerator |
| Frigidaire | LGUB2642LE9 | Refrigerator |
| frigidaire | LGUB2642LF | Refrigerator |
| Frigidaire | LGUB2642LF0 | Refrigerator |
| Frigidaire | LGUB2642LF1 | Refrigerator |
| Frigidaire | LGUB2642LF2 | Refrigerator |
| Frigidaire | LGUB2642LF3 | Refrigerator |
| Frigidaire | LGUB2642LF4 | Refrigerator |
| Frigidaire | LGUB2642LF5 | Refrigerator |
| Frigidaire | LGUB2642LF8 | Refrigerator |
| Frigidaire | LGUB2642LF9 | Refrigerator |
| Frigidaire | LGUB2642LP | Refrigerator |
| Frigidaire | LGUB2642LP3 | Refrigerator |
| Frigidaire | LGUB2642LP4 | Refrigerator |
| Frigidaire | LGUB2642LP5 | Refrigerator |
| Frigidaire | LGUB2642LP8 | Refrigerator |
| Frigidaire | LGUB2642LP9 | Refrigerator |
| Frigidaire | LGUS2646LE | Refrigerator |
| Frigidaire | LGUS2646LE0 | Refrigerator |
| Frigidaire | LGUS2646LF | Refrigerator |
| Frigidaire | LGUS2646LF0 | Refrigerator |
| Frigidaire | LGUS2646LP | Refrigerator |
| Frigidaire | LGUS2646LP0 | Refrigerator |
| FRIGIDAIRE | LPHS2687KF0 | Refrigerator |
| FRIGIDAIRE | LPHS2687KF1 | Refrigerator |
| FRIGIDAIRE | LPHS2687KF2 | Refrigerator |
| FRIGIDAIRE | LPHS2687KF4 | Refrigerator |
| Frigidaire | LPUS2686LF | Refrigerator |
| FRIGIDAIRE | LPUS2686LF0 | Refrigerator |
| FRIGIDAIRE | LPUS2686LF1 | Refrigerator |
| FRIGIDAIRE | XGHS2645KF1 | Refrigerator |
| FRIGIDAIRE | XGHS2645KF2 | Refrigerator |
| Kenmore | 253.7034341A | Refrigerator |
| Kenmore | 253.70413419 | Refrigerator |
| Kenmore | 253.70443210 | Refrigerator |
| Kenmore | 253.70443410 | Refrigerator |
| Kenmore | 253.70443411 | Refrigerator |
| Kenmore | 253.70443412 | Refrigerator |
| Kenmore | 253.70443413 | Refrigerator |
| Kenmore | 253.70443414 | Refrigerator |
| Kenmore | 253.70443415 | Refrigerator |
| Kenmore | 253.70443416 | Refrigerator |
| Kenmore | 253.70443417 | Refrigerator |
| Kenmore | 253.70443418 | Refrigerator |
| Kenmore | 253.70443419 | Refrigerator |
| Kenmore | 253.7044341A | Refrigerator |
| Kenmore | 253.7044341C | Refrigerator |
| Kenmore | 253.7044341D | Refrigerator |
| Kenmore | 253.7044341E | Refrigerator |
| Kenmore | 25370312214 | Refrigerator |
| Kenmore | 25370313214 | Refrigerator |
| Kenmore | 25370319214 | Refrigerator |
| Kenmore | 2537034 | Refrigerator |
| Kenmore | 25370343419 | Refrigerator |
| Kenmore | 2537044341c | Refrigerator |
| Kenmore | 25370447411 | Refrigerator |
| kenmore | 70342 | Refrigerator |
| kenmore | 70343 | Refrigerator |
| kenmore | 70349 | Refrigerator |
| kenmore | 70412 | Refrigerator |
| kenmore | 70413 | Refrigerator |
| kenmore | 70419 | Refrigerator |
| kenmore | 70423 | Refrigerator |
| kenmore | 70443 | Refrigerator |