ClearChoice CLCH111-L | Our#: 191180
ClearChoice Taste Plus Replacement for Whirlpool 8171413 Filter, 2-Pack
ClearChoice CLCH111-L | Our#: 191180
Fast Shipping & Free Returns
100% Compatibility Guarantee
Compatibility guaranteed! Free return shipping and 100% money back if there are any issues.
Your purchase will help Support American jobs
Certified to the NSF/ANSI 42 & 53 Standard for chlorine & lead reduction.
3 people in your area recently purchased this product!
$

26.20
(

2

Filters for $

52.40

)
Fast Shipping & Free Returns
100% Compatibility Guarantee
Frequently Purchased Together
Product Details
The ClearChoice Taste Plus CLCH111-L filter is used in select side-by-side and top-freezer refrigerators by Whirlpool and KitchenAid. It is designed to replace the factory part # 8171413, 8171414, EDR8D1 and others. The CLCH111-L filter uses advanced carbon block technology to reduce chlorine taste and odor. The filter media also include special additives which will reduce lead.
Helps reduce chlorine taste and odor
Contains special additives which reduce lead
Compatible with Whirlpool 8171413, EDR8D1 fridge filters at a fraction of the price
Helps reduce contaminants found in tap water and improves its quality
Made in the USA
---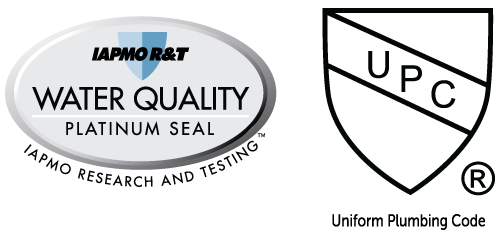 When used in the CLCH111-S system, certified by IAPMO R&T to NSF/ANSI 42 & 53 for the reduction of Chlorine, Taste & Odor, Lead and VOCs. Also certified to NSF/ANSI 372 for Lead Free compliance. See
performance data sheet
for individual contaminants and reduction performance.
---
Activated Block Carbon Technology
The CLCH111-L uses activated block carbon technology. Carbon is one of the most adsorptive substances, and its numerous and microscopic pores make it capable of adsorbing many microscopic contaminants. Adsorption is a chemical bond between the surface of the carbon and a molecule (contaminant).
Activated carbon is a carbonaceous, highly porous adsorptive medium that has a complex structure composed primarily of carbon atoms. The networks of pores in activated carbons are channels created within a rigid skeleton of disordered layers of carbon atoms, linked together by chemical bonds, stacked unevenly, creating a highly porous structure between the carbon layers. Activated carbon is able to attract and capture a whole host of contaminants, including chlorine and other organic chemical compounds.

---

Activated carbon means that the carbon has been treated at 1000°C with steam molecules to selectively burn holes into the carbonized raw material, creating a multitude of pores inside the carbonaceous matrix. This process creates so much surface area that a teaspoon of activated carbon has roughly the same surface area as a soccer field!

---

Activated block carbon, then, with its use of adsorption, is one of the most effective water filtration methods in use today.
---
Compatible Part
Numbers
#'s
Part number compatibility for the ClearChoice CLCH111-L
Do you know your OEM part number? Use our search to cross-check it!
---
How To Install The ClearChoice CLCH111-L Filter:
How To Install Filter?
How To Install The 8171413 Filter:
Turn old filter counterclockwise until cartridge stops.  Discard old filter
Push new cartridge into filter head
Turn cartridge clockwise until cartridge stops
Discard first 4 batches of ice after replacing cartridge and flush through water dispenser for at least three minutes
The water filter cartridge should be replaced after 200 gallons of water or six months of use, whichever comes first
Reset your change filter indicator if your fridge has one
---
Search by your filter part number or appliance model number to verify compatibility
| Brand Name | Model Number | Type |
| --- | --- | --- |
| Kenmore | 106.50512000 | Refrigerator |
| Kenmore | 106.50512001 | Refrigerator |
| Kenmore | 106.50512002 | Refrigerator |
| Kenmore | 106.50512003 | Refrigerator |
| Kenmore | 106.50517000 | Refrigerator |
| Kenmore | 106.50517001 | Refrigerator |
| Kenmore | 106.50517002 | Refrigerator |
| Kenmore | 106.50517003 | Refrigerator |
| Kenmore | 106.50522100 | Refrigerator |
| Kenmore | 106.50522101 | Refrigerator |
| Kenmore | 106.50522102 | Refrigerator |
| Kenmore | 106.50524100 | Refrigerator |
| Kenmore | 106.50524101 | Refrigerator |
| Kenmore | 106.50524102 | Refrigerator |
| Kenmore | 106.50532100 | Refrigerator |
| Kenmore | 106.50532101 | Refrigerator |
| Kenmore | 106.50532102 | Refrigerator |
| Kenmore | 106.50534100 | Refrigerator |
| Kenmore | 106.50534101 | Refrigerator |
| Kenmore | 106.50534102 | Refrigerator |
| Kenmore | 106.53502300 | Refrigerator |
| Kenmore | 106.53504300 | Refrigerator |
| Kenmore | 106.53512300 | Refrigerator |
| Kenmore | 106.53514300 | Refrigerator |
| Kenmore | 106.53522300 | Refrigerator |
| Kenmore | 106.53524300 | Refrigerator |
| Kenmore | 106.57202602 | Refrigerator |
| Kenmore | 106.57204602 | Refrigerator |
| Kenmore | 106.57206602 | Refrigerator |
| Kenmore | 106.57209602 | Refrigerator |
| Kenmore | 106.57212602 | Refrigerator |
| Kenmore | 106.57214602 | Refrigerator |
| Kenmore | 106.57216602 | Refrigerator |
| Kenmore | 106.57219602 | Refrigerator |
| Kenmore | 106.59212990 | Refrigerator |
| Kenmore | 106.59212991 | Refrigerator |
| Kenmore | 106.59217990 | Refrigerator |
| Kenmore | 106.59217991 | Refrigerator |
| Kenmore | 106.59232990 | Refrigerator |
| Kenmore | 106.59232991 | Refrigerator |
| Kenmore | 106.59237990 | Refrigerator |
| Kenmore | 106.59237991 | Refrigerator |
| Kenmore | 106.59512990 | Refrigerator |
| Kenmore | 106.59512991 | Refrigerator |
| Kenmore | 106.59512992 | Refrigerator |
| Kenmore | 106.59517990 | Refrigerator |
| Kenmore | 106.59517991 | Refrigerator |
| Kenmore | 106.59517992 | Refrigerator |
| Kenmore | 106.59532990 | Refrigerator |
| Kenmore | 106.59532991 | Refrigerator |
| Kenmore | 106.59532992 | Refrigerator |
| Kenmore | 106.59537990 | Refrigerator |
| Kenmore | 106.59537991 | Refrigerator |
| Kenmore | 106.59537992 | Refrigerator |
| Kenmore | 106.59582990 | Refrigerator |
| Kenmore | 106.59587990 | Refrigerator |
| Kenmore | 106.59589990 | Refrigerator |
| Kenmore | 106.63282300 | Refrigerator |
| Kenmore | 106.63282301 | Refrigerator |
| Kenmore | 106.63284300 | Refrigerator |
| Kenmore | 106.63284301 | Refrigerator |
| Kenmore | 106.63289300 | Refrigerator |
| Kenmore | 106.63289301 | Refrigerator |
| Kenmore | 106.63292300 | Refrigerator |
| Kenmore | 106.63292301 | Refrigerator |
| Kenmore | 106.63294300 | Refrigerator |
| Kenmore | 106.63294301 | Refrigerator |
| Kenmore | 106.63299300 | Refrigerator |
| Kenmore | 106.63299301 | Refrigerator |
| Kenmore | 106.63972300 | Refrigerator |
| Kenmore | 106.63972301 | Refrigerator |
| Kenmore | 106.63974300 | Refrigerator |
| Kenmore | 106.63974301 | Refrigerator |
| Kenmore | 106.63979300 | Refrigerator |
| Kenmore | 106.63979301 | Refrigerator |
| Kenmore | 106.63982300 | Refrigerator |
| Kenmore | 106.63982301 | Refrigerator |
| Kenmore | 106.63984300 | Refrigerator |
| Kenmore | 106.63984301 | Refrigerator |
| Kenmore | 106.63989300 | Refrigerator |
| Kenmore | 106.63989301 | Refrigerator |
| Kenmore | 106.70102000 | Refrigerator |
| Kenmore | 106.70102001 | Refrigerator |
| Kenmore | 106.70104000 | Refrigerator |
| Kenmore | 106.70104001 | Refrigerator |
| Kenmore | 106.71202100 | Refrigerator |
| Kenmore | 106.71202101 | Refrigerator |
| Kenmore | 106.71202102 | Refrigerator |
| Kenmore | 106.71203100 | Refrigerator |
| Kenmore | 106.71203101 | Refrigerator |
| Kenmore | 106.71203102 | Refrigerator |
| Kenmore | 106.71204100 | Refrigerator |
| Kenmore | 106.71204101 | Refrigerator |
| Kenmore | 106.71204102 | Refrigerator |
| Kenmore | 106.71209100 | Refrigerator |
| Kenmore | 106.71209101 | Refrigerator |
| Kenmore | 106.71209102 | Refrigerator |
| Kenmore | 106.72102100 | Refrigerator |
| Kenmore | 106.72102101 | Refrigerator |
| Kenmore | 106.72102107 | Refrigerator |
| Kenmore | 106.72104100 | Refrigerator |
| Kenmore | 106.72104101 | Refrigerator |
| Kenmore | 106.72104107 | Refrigerator |
| Kenmore | 106.72132100 | Refrigerator |
| Kenmore | 106.72132101 | Refrigerator |
| Kenmore | 106.72132107 | Refrigerator |
| Kenmore | 106.72134100 | Refrigerator |
| Kenmore | 106.72134101 | Refrigerator |
| Kenmore | 106.72134107 | Refrigerator |
| Kenmore | 106.72202200 | Refrigerator |
| Kenmore | 106.72202201 | Refrigerator |
| Kenmore | 106.72202202 | Refrigerator |
| Kenmore | 106.72203200 | Refrigerator |
| Kenmore | 106.72203201 | Refrigerator |
| Kenmore | 106.72203202 | Refrigerator |
| Kenmore | 106.72204200 | Refrigerator |
| Kenmore | 106.72204201 | Refrigerator |
| Kenmore | 106.72204202 | Refrigerator |
| Kenmore | 106.72206200 | Refrigerator |
| Kenmore | 106.72206201 | Refrigerator |
| Kenmore | 106.72206202 | Refrigerator |
| Kenmore | 106.72209200 | Refrigerator |
| Kenmore | 106.72209201 | Refrigerator |
| Kenmore | 106.72209202 | Refrigerator |
| Kenmore | 106.72902200 | Refrigerator |
| Kenmore | 106.72902201 | Refrigerator |
| Kenmore | 106.72902202 | Refrigerator |
| Kenmore | 106.72902207 | Refrigerator |
| Kenmore | 106.72903200 | Refrigerator |
| Kenmore | 106.72903201 | Refrigerator |
| Kenmore | 106.72903202 | Refrigerator |
| Kenmore | 106.72903207 | Refrigerator |
| Kenmore | 106.72904200 | Refrigerator |
| Kenmore | 106.72904201 | Refrigerator |
| Kenmore | 106.72904202 | Refrigerator |
| Kenmore | 106.72904207 | Refrigerator |
| Kenmore | 106.72906200 | Refrigerator |
| Kenmore | 106.72906201 | Refrigerator |
| Kenmore | 106.72906202 | Refrigerator |
| Kenmore | 106.72906207 | Refrigerator |
| Kenmore | 106.72909200 | Refrigerator |
| Kenmore | 106.72909201 | Refrigerator |
| Kenmore | 106.72909202 | Refrigerator |
| Kenmore | 106.72909207 | Refrigerator |
| Kenmore | 106.73282300 | Refrigerator |
| Kenmore | 106.73282301 | Refrigerator |
| Kenmore | 106.73284300 | Refrigerator |
| Kenmore | 106.73284301 | Refrigerator |
| Kenmore | 106.73289300 | Refrigerator |
| Kenmore | 106.73289301 | Refrigerator |
| Kenmore | 106.73292300 | Refrigerator |
| Kenmore | 106.73292301 | Refrigerator |
| Kenmore | 106.73294300 | Refrigerator |
| Kenmore | 106.73294301 | Refrigerator |
| Kenmore | 106.73299300 | Refrigerator |
| Kenmore | 106.73299301 | Refrigerator |
| Kenmore | 106.73972300 | Refrigerator |
| Kenmore | 106.73972301 | Refrigerator |
| Kenmore | 106.73974300 | Refrigerator |
| Kenmore | 106.73974301 | Refrigerator |
| Kenmore | 106.73979300 | Refrigerator |
| Kenmore | 106.73979301 | Refrigerator |
| Kenmore | 106.73982300 | Refrigerator |
| Kenmore | 106.73982301 | Refrigerator |
| Kenmore | 106.73984300 | Refrigerator |
| Kenmore | 106.73984301 | Refrigerator |
| Kenmore | 106.73989300 | Refrigerator |
| Kenmore | 106.73989301 | Refrigerator |
| Kenmore | 10650512000 | Refrigerator |
| Kenmore | 10650512001 | Refrigerator |
| Kenmore | 10650512002 | Refrigerator |
| Kenmore | 10650512003 | Refrigerator |
| Kenmore | 10650517000 | Refrigerator |
| Kenmore | 10650517001 | Refrigerator |
| Kenmore | 10650517002 | Refrigerator |
| Kenmore | 10650517003 | Refrigerator |
| Kenmore | 10650522100 | Refrigerator |
| Kenmore | 10650522101 | Refrigerator |
| Kenmore | 10650522102 | Refrigerator |
| Kenmore | 10650524100 | Refrigerator |
| Kenmore | 10650524101 | Refrigerator |
| Kenmore | 10650524102 | Refrigerator |
| Kenmore | 10650532100 | Refrigerator |
| Kenmore | 10650532101 | Refrigerator |
| Kenmore | 10650532102 | Refrigerator |
| Kenmore | 10650534100 | Refrigerator |
| Kenmore | 10650534101 | Refrigerator |
| Kenmore | 10650534102 | Refrigerator |
| Kenmore | 10653502300 | Refrigerator |
| Kenmore | 10653504300 | Refrigerator |
| Kenmore | 10653512300 | Refrigerator |
| Kenmore | 10653514300 | Refrigerator |
| Kenmore | 10653522300 | Refrigerator |
| Kenmore | 10653524300 | Refrigerator |
| Kenmore | 10659212990 | Refrigerator |
| Kenmore | 10659212991 | Refrigerator |
| Kenmore | 10659217990 | Refrigerator |
| Kenmore | 10659217991 | Refrigerator |
| Kenmore | 10659232990 | Refrigerator |
| Kenmore | 10659232991 | Refrigerator |
| Kenmore | 10659237990 | Refrigerator |
| Kenmore | 10659237991 | Refrigerator |
| Kenmore | 10659512990 | Refrigerator |
| Kenmore | 10659512991 | Refrigerator |
| Kenmore | 10659512992 | Refrigerator |
| Kenmore | 10659517990 | Refrigerator |
| Kenmore | 10659517991 | Refrigerator |
| Kenmore | 10659517992 | Refrigerator |
| Kenmore | 10659532990 | Refrigerator |
| Kenmore | 10659532991 | Refrigerator |
| Kenmore | 10659532992 | Refrigerator |
| Kenmore | 10659537990 | Refrigerator |
| Kenmore | 10659537991 | Refrigerator |
| Kenmore | 10659537992 | Refrigerator |
| Kenmore | 10663282300 | Refrigerator |
| Kenmore | 10663282301 | Refrigerator |
| Kenmore | 10663284300 | Refrigerator |
| Kenmore | 10663284301 | Refrigerator |
| Kenmore | 10663289300 | Refrigerator |
| Kenmore | 10663289301 | Refrigerator |
| Kenmore | 10663292300 | Refrigerator |
| Kenmore | 10663292301 | Refrigerator |
| Kenmore | 10663294300 | Refrigerator |
| Kenmore | 10663294301 | Refrigerator |
| Kenmore | 10663299300 | Refrigerator |
| Kenmore | 10663299301 | Refrigerator |
| Kenmore | 10663972300 | Refrigerator |
| Kenmore | 10663972301 | Refrigerator |
| Kenmore | 10663974300 | Refrigerator |
| Kenmore | 10663974301 | Refrigerator |
| Kenmore | 10663979300 | Refrigerator |
| Kenmore | 10663979301 | Refrigerator |
| Kenmore | 10663982300 | Refrigerator |
| Kenmore | 10663982301 | Refrigerator |
| Kenmore | 10663984300 | Refrigerator |
| Kenmore | 10663984301 | Refrigerator |
| Kenmore | 10663989300 | Refrigerator |
| Kenmore | 10663989301 | Refrigerator |
| Kenmore | 10670102000 | Refrigerator |
| Kenmore | 10670102001 | Refrigerator |
| Kenmore | 10670104000 | Refrigerator |
| Kenmore | 10670104001 | Refrigerator |
| Kenmore | 10671202100 | Refrigerator |
| Kenmore | 10671202101 | Refrigerator |
| Kenmore | 10671202102 | Refrigerator |
| Kenmore | 10671203100 | Refrigerator |
| Kenmore | 10671203101 | Refrigerator |
| Kenmore | 10671203102 | Refrigerator |
| Kenmore | 10671204100 | Refrigerator |
| Kenmore | 10671204101 | Refrigerator |
| Kenmore | 10671204102 | Refrigerator |
| Kenmore | 10671209100 | Refrigerator |
| Kenmore | 10671209101 | Refrigerator |
| Kenmore | 10671209102 | Refrigerator |
| Kenmore | 10672102100 | Refrigerator |
| Kenmore | 10672102101 | Refrigerator |
| Kenmore | 10672102107 | Refrigerator |
| Kenmore | 10672104100 | Refrigerator |
| Kenmore | 10672104101 | Refrigerator |
| Kenmore | 10672104107 | Refrigerator |
| Kenmore | 10672132100 | Refrigerator |
| Kenmore | 10672132101 | Refrigerator |
| Kenmore | 10672132107 | Refrigerator |
| Kenmore | 10672134100 | Refrigerator |
| Kenmore | 10672134101 | Refrigerator |
| Kenmore | 10672134107 | Refrigerator |
| Kenmore | 10672202200 | Refrigerator |
| Kenmore | 10672202201 | Refrigerator |
| Kenmore | 10672202202 | Refrigerator |
| Kenmore | 10672203200 | Refrigerator |
| Kenmore | 10672203201 | Refrigerator |
| Kenmore | 10672203202 | Refrigerator |
| Kenmore | 10672204200 | Refrigerator |
| Kenmore | 10672204201 | Refrigerator |
| Kenmore | 10672204202 | Refrigerator |
| Kenmore | 10672206200 | Refrigerator |
| Kenmore | 10672206201 | Refrigerator |
| Kenmore | 10672206202 | Refrigerator |
| Kenmore | 10672209200 | Refrigerator |
| Kenmore | 10672209201 | Refrigerator |
| Kenmore | 10672209202 | Refrigerator |
| Kenmore | 10672902200 | Refrigerator |
| Kenmore | 10672902201 | Refrigerator |
| Kenmore | 10672902202 | Refrigerator |
| Kenmore | 10672902207 | Refrigerator |
| Kenmore | 10672903200 | Refrigerator |
| Kenmore | 10672903201 | Refrigerator |
| Kenmore | 10672903202 | Refrigerator |
| Kenmore | 10672903207 | Refrigerator |
| Kenmore | 10672904200 | Refrigerator |
| Kenmore | 10672904201 | Refrigerator |
| Kenmore | 10672904202 | Refrigerator |
| Kenmore | 10672904207 | Refrigerator |
| Kenmore | 10672906200 | Refrigerator |
| Kenmore | 10672906201 | Refrigerator |
| Kenmore | 10672906202 | Refrigerator |
| Kenmore | 10672906207 | Refrigerator |
| Kenmore | 10672909200 | Refrigerator |
| Kenmore | 10672909201 | Refrigerator |
| Kenmore | 10672909202 | Refrigerator |
| Kenmore | 10672909207 | Refrigerator |
| Kenmore | 10673282300 | Refrigerator |
| Kenmore | 10673282301 | Refrigerator |
| Kenmore | 10673284300 | Refrigerator |
| Kenmore | 10673284301 | Refrigerator |
| Kenmore | 10673289300 | Refrigerator |
| Kenmore | 10673289301 | Refrigerator |
| Kenmore | 10673292300 | Refrigerator |
| Kenmore | 10673292301 | Refrigerator |
| Kenmore | 10673294300 | Refrigerator |
| Kenmore | 10673294301 | Refrigerator |
| Kenmore | 10673299300 | Refrigerator |
| Kenmore | 10673299301 | Refrigerator |
| Kenmore | 10673972300 | Refrigerator |
| Kenmore | 10673972301 | Refrigerator |
| Kenmore | 10673974300 | Refrigerator |
| Kenmore | 10673974301 | Refrigerator |
| Kenmore | 10673979300 | Refrigerator |
| Kenmore | 10673979301 | Refrigerator |
| Kenmore | 10673982300 | Refrigerator |
| Kenmore | 10673982301 | Refrigerator |
| Kenmore | 10673984300 | Refrigerator |
| Kenmore | 10673984301 | Refrigerator |
| Kenmore | 10673989300 | Refrigerator |
| Kenmore | 10673989301 | Refrigerator |
| Kenmore | 50512 | Refrigerator |
| Kenmore | 50517 | Refrigerator |
| Kenmore | 50522 | Refrigerator |
| Kenmore | 50524 | Refrigerator |
| Kenmore | 50532 | Refrigerator |
| Kenmore | 50534 | Refrigerator |
| Kenmore | 53502 | Refrigerator |
| Kenmore | 53504 | Refrigerator |
| Kenmore | 53512 | Refrigerator |
| Kenmore | 53514 | Refrigerator |
| Kenmore | 53522 | Refrigerator |
| Kenmore | 53524 | Refrigerator |
| Kenmore | 59212 | Refrigerator |
| Kenmore | 59217 | Refrigerator |
| Kenmore | 59512 | Refrigerator |
| Kenmore | 59517 | Refrigerator |
| Kenmore | 59532 | Refrigerator |
| Kenmore | 59537 | Refrigerator |
| Kenmore | 63282 | Refrigerator |
| Kenmore | 63284 | Refrigerator |
| Kenmore | 63289 | Refrigerator |
| Kenmore | 63292 | Refrigerator |
| Kenmore | 63294 | Refrigerator |
| Kenmore | 63299 | Refrigerator |
| Kenmore | 63972 | Refrigerator |
| Kenmore | 63974 | Refrigerator |
| Kenmore | 63979 | Refrigerator |
| Kenmore | 63982 | Refrigerator |
| Kenmore | 63984 | Refrigerator |
| Kenmore | 63989 | Refrigerator |
| Kenmore | 70102 | Refrigerator |
| Kenmore | 70104 | Refrigerator |
| Kenmore | 71202 | Refrigerator |
| Kenmore | 71203 | Refrigerator |
| Kenmore | 71204 | Refrigerator |
| Kenmore | 71209 | Refrigerator |
| Kenmore | 72102 | Refrigerator |
| Kenmore | 72104 | Refrigerator |
| Kenmore | 72132 | Refrigerator |
| Kenmore | 72134 | Refrigerator |
| Kenmore | 72142 | Refrigerator |
| Kenmore | 72144 | Refrigerator |
| Kenmore | 72152 | Refrigerator |
| Kenmore | 72153 | Refrigerator |
| Kenmore | 72154 | Refrigerator |
| Kenmore | 72159 | Refrigerator |
| Kenmore | 72163 | Refrigerator |
| Kenmore | 72202 | Refrigerator |
| Kenmore | 72203 | Refrigerator |
| Kenmore | 72204 | Refrigerator |
| Kenmore | 72206 | Refrigerator |
| Kenmore | 72209 | Refrigerator |
| Kenmore | 72262 | Refrigerator |
| Kenmore | 72264 | Refrigerator |
| Kenmore | 72272 | Refrigerator |
| Kenmore | 72274 | Refrigerator |
| Kenmore | 72292 | Refrigerator |
| Kenmore | 72293 | Refrigerator |
| Kenmore | 72294 | Refrigerator |
| Kenmore | 72299 | Refrigerator |
| Kenmore | 72902 | Refrigerator |
| Kenmore | 72903 | Refrigerator |
| Kenmore | 72904 | Refrigerator |
| Kenmore | 72906 | Refrigerator |
| Kenmore | 72909 | Refrigerator |
| Kenmore | 73282 | Refrigerator |
| Kenmore | 73284 | Refrigerator |
| Kenmore | 73289 | Refrigerator |
| Kenmore | 73292 | Refrigerator |
| Kenmore | 73294 | Refrigerator |
| Kenmore | 73299 | Refrigerator |
| Kenmore | 73972 | Refrigerator |
| Kenmore | 73974 | Refrigerator |
| Kenmore | 73979 | Refrigerator |
| Kenmore | 73982 | Refrigerator |
| Kenmore | 73984 | Refrigerator |
| Kenmore | 73989 | Refrigerator |
| KitchenAid | KTLA19ELSS00 | Refrigerator |
| KitchenAid | KTLA19ELSS01 | Refrigerator |
| KitchenAid | KTLA22ELSS00 | Refrigerator |
| KitchenAid | KTLA22ELSS01 | Refrigerator |
| KitchenAid | KTLA22ELSS02 | Refrigerator |
| KitchenAid | KTRA19ELBL00 | Refrigerator |
| KitchenAid | KTRA19ELBL01 | Refrigerator |
| KitchenAid | KTRA19ELBL03 | Refrigerator |
| KitchenAid | KTRA19ELBT00 | Refrigerator |
| KitchenAid | KTRA19ELBT01 | Refrigerator |
| KitchenAid | KTRA19ELBT02 | Refrigerator |
| KitchenAid | KTRA19ELSS00 | Refrigerator |
| KitchenAid | KTRA19ELSS01 | Refrigerator |
| KitchenAid | KTRA19ELWH00 | Refrigerator |
| KitchenAid | KTRA19ELWH01 | Refrigerator |
| KitchenAid | KTRA22ELBL00 | Refrigerator |
| KitchenAid | KTRA22ELBL01 | Refrigerator |
| KitchenAid | KTRA22ELBL02 | Refrigerator |
| KitchenAid | KTRA22ELBL03 | Refrigerator |
| KitchenAid | KTRA22ELBT00 | Refrigerator |
| KitchenAid | KTRA22ELBT01 | Refrigerator |
| KitchenAid | KTRA22ELBT02 | Refrigerator |
| KitchenAid | KTRA22ELSS00 | Refrigerator |
| KitchenAid | KTRA22ELSS01 | Refrigerator |
| KitchenAid | KTRA22ELSS02 | Refrigerator |
| KitchenAid | KTRA22ELWH00 | Refrigerator |
| KitchenAid | KTRA22ELWH01 | Refrigerator |
| KitchenAid | KTRA22ELWH02 | Refrigerator |
| KitchenAid | KTRC19ELBL00 | Refrigerator |
| KitchenAid | KTRC19ELBL01 | Refrigerator |
| KitchenAid | KTRC19ELBT00 | Refrigerator |
| KitchenAid | KTRC19ELBT01 | Refrigerator |
| KitchenAid | KTRC19ELSS00 | Refrigerator |
| KitchenAid | KTRC19ELSS01 | Refrigerator |
| KitchenAid | KTRC19ELWH00 | Refrigerator |
| KitchenAid | KTRC19ELWH01 | Refrigerator |
| KitchenAid | KTRC19KMBL00 | Refrigerator |
| KitchenAid | KTRC19KMBL01 | Refrigerator |
| KitchenAid | KTRC19KMBL02 | Refrigerator |
| KitchenAid | KTRC19KMBL03 | Refrigerator |
| KitchenAid | KTRC19KMBT00 | Refrigerator |
| KitchenAid | KTRC19KMBT01 | Refrigerator |
| KitchenAid | KTRC19KMBT02 | Refrigerator |
| KitchenAid | KTRC19KMBT03 | Refrigerator |
| KitchenAid | KTRC19KMSS00 | Refrigerator |
| KitchenAid | KTRC19KMSS01 | Refrigerator |
| KitchenAid | KTRC19KMSS02 | Refrigerator |
| KitchenAid | KTRC19KMSS03 | Refrigerator |
| KitchenAid | KTRC19KMWH00 | Refrigerator |
| KitchenAid | KTRC19KMWH01 | Refrigerator |
| KitchenAid | KTRC19KMWH02 | Refrigerator |
| KitchenAid | KTRC19KMWH03 | Refrigerator |
| KitchenAid | KTRC19MKBL00 | Refrigerator |
| KitchenAid | KTRC19MKBL01 | Refrigerator |
| KitchenAid | KTRC19MKBL02 | Refrigerator |
| KitchenAid | KTRC19MKBL03 | Refrigerator |
| KitchenAid | KTRC19MKBT00 | Refrigerator |
| KitchenAid | KTRC19MKBT01 | Refrigerator |
| KitchenAid | KTRC19MKBT02 | Refrigerator |
| KitchenAid | KTRC19MKBT03 | Refrigerator |
| KitchenAid | KTRC19MKSS00 | Refrigerator |
| KitchenAid | KTRC19MKSS01 | Refrigerator |
| KitchenAid | KTRC19MKSS02 | Refrigerator |
| KitchenAid | KTRC19MKSS03 | Refrigerator |
| KitchenAid | KTRC19MKWH00 | Refrigerator |
| KitchenAid | KTRC19MKWH01 | Refrigerator |
| KitchenAid | KTRC19MKWH02 | Refrigerator |
| KitchenAid | KTRC19MKWH03 | Refrigerator |
| KitchenAid | KTRC19MMBL00 | Refrigerator |
| KitchenAid | KTRC19MMBL01 | Refrigerator |
| KitchenAid | KTRC19MMBL02 | Refrigerator |
| KitchenAid | KTRC19MMBT00 | Refrigerator |
| KitchenAid | KTRC19MMBT01 | Refrigerator |
| KitchenAid | KTRC19MMBT02 | Refrigerator |
| KitchenAid | KTRC19MMSS00 | Refrigerator |
| KitchenAid | KTRC19MMSS01 | Refrigerator |
| KitchenAid | KTRC19MMSS02 | Refrigerator |
| KitchenAid | KTRC19MMWH00 | Refrigerator |
| KitchenAid | KTRC19MMWH01 | Refrigerator |
| KitchenAid | KTRC19MMWH02 | Refrigerator |
| KitchenAid | KTRC22EKBL00 | Refrigerator |
| KitchenAid | KTRC22EKBL01 | Refrigerator |
| KitchenAid | KTRC22EKBT00 | Refrigerator |
| KitchenAid | KTRC22EKBT01 | Refrigerator |
| KitchenAid | KTRC22EKSS00 | Refrigerator |
| KitchenAid | KTRC22EKSS01 | Refrigerator |
| KitchenAid | KTRC22EKWH00 | Refrigerator |
| KitchenAid | KTRC22EKWH01 | Refrigerator |
| KitchenAid | KTRC22ELBL00 | Refrigerator |
| KitchenAid | KTRC22ELBL01 | Refrigerator |
| KitchenAid | KTRC22ELBL02 | Refrigerator |
| KitchenAid | KTRC22ELBT00 | Refrigerator |
| KitchenAid | KTRC22ELBT01 | Refrigerator |
| KitchenAid | KTRC22ELBT02 | Refrigerator |
| KitchenAid | KTRC22ELSS00 | Refrigerator |
| KitchenAid | KTRC22ELSS01 | Refrigerator |
| KitchenAid | KTRC22ELSS02 | Refrigerator |
| KitchenAid | KTRC22ELWH00 | Refrigerator |
| KitchenAid | KTRC22ELWH01 | Refrigerator |
| KitchenAid | KTRC22ELWH02 | Refrigerator |
| KitchenAid | KTRC22KKBL00 | Refrigerator |
| KitchenAid | KTRC22KKBL01 | Refrigerator |
| KitchenAid | KTRC22KKBL02 | Refrigerator |
| KitchenAid | KTRC22KKBL03 | Refrigerator |
| KitchenAid | KTRC22KKBT00 | Refrigerator |
| KitchenAid | KTRC22KKBT01 | Refrigerator |
| KitchenAid | KTRC22KKBT02 | Refrigerator |
| KitchenAid | KTRC22KKBT03 | Refrigerator |
| KitchenAid | KTRC22KKSS00 | Refrigerator |
| KitchenAid | KTRC22KKSS01 | Refrigerator |
| KitchenAid | KTRC22KKSS02 | Refrigerator |
| KitchenAid | KTRC22KKSS03 | Refrigerator |
| KitchenAid | KTRC22KKWH00 | Refrigerator |
| KitchenAid | KTRC22KKWH01 | Refrigerator |
| KitchenAid | KTRC22KKWH02 | Refrigerator |
| KitchenAid | KTRC22KKWH03 | Refrigerator |
| KitchenAid | KTRC22KMBL00 | Refrigerator |
| KitchenAid | KTRC22KMBL01 | Refrigerator |
| KitchenAid | KTRC22KMBL02 | Refrigerator |
| KitchenAid | KTRC22KMBL03 | Refrigerator |
| KitchenAid | KTRC22KMBL05 | Refrigerator |
| KitchenAid | KTRC22KMBT00 | Refrigerator |
| KitchenAid | KTRC22KMBT01 | Refrigerator |
| KitchenAid | KTRC22KMBT02 | Refrigerator |
| KitchenAid | KTRC22KMBT03 | Refrigerator |
| KitchenAid | KTRC22KMBT05 | Refrigerator |
| KitchenAid | KTRC22KMSS | Refrigerator |
| KitchenAid | KTRC22KMSS00 | Refrigerator |
| KitchenAid | KTRC22KMSS01 | Refrigerator |
| KitchenAid | KTRC22KMSS02 | Refrigerator |
| KitchenAid | KTRC22KMSS03 | Refrigerator |
| KitchenAid | KTRC22KMSS05 | Refrigerator |
| KitchenAid | KTRC22KMWH | Refrigerator |
| KitchenAid | KTRC22KMWH00 | Refrigerator |
| KitchenAid | KTRC22KMWH01 | Refrigerator |
| KitchenAid | KTRC22KMWH02 | Refrigerator |
| KitchenAid | KTRC22KMWH03 | Refrigerator |
| KitchenAid | KTRC22KMWH05 | Refrigerator |
| KitchenAid | KTRP19KLBT00 | Refrigerator |
| KitchenAid | KTRP19KLBT01 | Refrigerator |
| KitchenAid | KTRP19KLWH00 | Refrigerator |
| KitchenAid | KTRP19KLWH01 | Refrigerator |
| KitchenAid | KTRP21KLBT00 | Refrigerator |
| KitchenAid | KTRP21KLBT01 | Refrigerator |
| KitchenAid | KTRP21KLWH00 | Refrigerator |
| KitchenAid | KTRP21KLWH01 | Refrigerator |
| KitchenAid | KTRP22EKBL01 | Refrigerator |
| KitchenAid | KTRP22EKBL02 | Refrigerator |
| KitchenAid | KTRP22EKBT00 | Refrigerator |
| KitchenAid | KTRP22EKBT01 | Refrigerator |
| KitchenAid | KTRP22EKBT02 | Refrigerator |
| KitchenAid | KTRP22EKSS01 | Refrigerator |
| KitchenAid | KTRP22EKSS02 | Refrigerator |
| KitchenAid | KTRP22EKWH00 | Refrigerator |
| KitchenAid | KTRP22EKWH01 | Refrigerator |
| KitchenAid | KTRP22EKWH02 | Refrigerator |
| KitchenAid | KTRS19ELBL00 | Refrigerator |
| KitchenAid | KTRS19ELBT00 | Refrigerator |
| KitchenAid | KTRS19ELWH00 | Refrigerator |
| KitchenAid | KTRS19KKBL00 | Refrigerator |
| KitchenAid | KTRS19KKBL03 | Refrigerator |
| KitchenAid | KTRS19KKBL04 | Refrigerator |
| KitchenAid | KTRS19KKBT00 | Refrigerator |
| KitchenAid | KTRS19KKBT01 | Refrigerator |
| KitchenAid | KTRS19KKBT02 | Refrigerator |
| KitchenAid | KTRS19KKBT03 | Refrigerator |
| KitchenAid | KTRS19KKBT04 | Refrigerator |
| KitchenAid | KTRS19KKSS03 | Refrigerator |
| KitchenAid | KTRS19KKSS04 | Refrigerator |
| KitchenAid | KTRS19KKWH00 | Refrigerator |
| KitchenAid | KTRS19KKWH01 | Refrigerator |
| KitchenAid | KTRS19KKWH02 | Refrigerator |
| KitchenAid | KTRS19KKWH03 | Refrigerator |
| KitchenAid | KTRS19KKWH04 | Refrigerator |
| KitchenAid | KTRS19KMBL00 | Refrigerator |
| KitchenAid | KTRS19KMBL01 | Refrigerator |
| KitchenAid | KTRS19KMBT00 | Refrigerator |
| KitchenAid | KTRS19KMBT01 | Refrigerator |
| KitchenAid | KTRS19KMSS00 | Refrigerator |
| KitchenAid | KTRS19KMSS01 | Refrigerator |
| KitchenAid | KTRS19KMWH00 | Refrigerator |
| KitchenAid | KTRS19KMWH01 | Refrigerator |
| KitchenAid | KTRS21ELBL00 | Refrigerator |
| KitchenAid | KTRS21ELBT00 | Refrigerator |
| KitchenAid | KTRS21ELWH00 | Refrigerator |
| KitchenAid | KTRS21KLBL00 | Refrigerator |
| KitchenAid | KTRS21KLBL01 | Refrigerator |
| KitchenAid | KTRS21KLBT00 | Refrigerator |
| KitchenAid | KTRS21KLBT01 | Refrigerator |
| KitchenAid | KTRS21KLSS00 | Refrigerator |
| KitchenAid | KTRS21KLSS01 | Refrigerator |
| KitchenAid | KTRS21KLWH00 | Refrigerator |
| KitchenAid | KTRS21KLWH01 | Refrigerator |
| KitchenAid | KTRS21KMBL00 | Refrigerator |
| KitchenAid | KTRS21KMBT00 | Refrigerator |
| KitchenAid | KTRS21KMSS00 | Refrigerator |
| KitchenAid | KTRS21KMWH00 | Refrigerator |
| KitchenAid | KTRS22ELBL00 | Refrigerator |
| KitchenAid | KTRS22ELBL01 | Refrigerator |
| KitchenAid | KTRS22ELBL02 | Refrigerator |
| KitchenAid | KTRS22ELBT00 | Refrigerator |
| KitchenAid | KTRS22ELBT01 | Refrigerator |
| KitchenAid | KTRS22ELBT02 | Refrigerator |
| KitchenAid | KTRS22ELSS02 | Refrigerator |
| KitchenAid | KTRS22ELWH00 | Refrigerator |
| KitchenAid | KTRS22ELWH01 | Refrigerator |
| KitchenAid | KTRS22ELWH02 | Refrigerator |
| Whirlpool | CS22AEXHN00 | Refrigerator |
| Whirlpool | CS22AEXHN01 | Refrigerator |
| Whirlpool | CS22AEXHN02 | Refrigerator |
| Whirlpool | CS22AEXHW00 | Refrigerator |
| Whirlpool | CS22AEXHW01 | Refrigerator |
| Whirlpool | CS22AEXHW02 | Refrigerator |
| Whirlpool | CS25AEXHN00 | Refrigerator |
| Whirlpool | CS25AEXHW00 | Refrigerator |
| Whirlpool | ED22PEXHB00 | Refrigerator |
| Whirlpool | ED22PEXHB01 | Refrigerator |
| Whirlpool | ED22PEXHB02 | Refrigerator |
| Whirlpool | ED22PEXHB03 | Refrigerator |
| Whirlpool | ED22PEXHT00 | Refrigerator |
| Whirlpool | ED22PEXHT01 | Refrigerator |
| Whirlpool | ED22PEXHT02 | Refrigerator |
| Whirlpool | ED22PEXHT03 | Refrigerator |
| Whirlpool | ED22PEXHW00 | Refrigerator |
| Whirlpool | ED22PEXHW01 | Refrigerator |
| Whirlpool | ED22PEXHW02 | Refrigerator |
| Whirlpool | ED22PEXHW03 | Refrigerator |
| Whirlpool | ED22TEXHN00 | Refrigerator |
| Whirlpool | ED22TEXHN01 | Refrigerator |
| Whirlpool | ED22TEXHN02 | Refrigerator |
| Whirlpool | ED22TEXHN03 | Refrigerator |
| Whirlpool | ED22TEXHN04 | Refrigerator |
| Whirlpool | ED22TEXHT02 | Refrigerator |
| Whirlpool | ED22TEXHT03 | Refrigerator |
| Whirlpool | ED22TEXHT04 | Refrigerator |
| Whirlpool | ED22TEXHW00 | Refrigerator |
| Whirlpool | ED22TEXHW01 | Refrigerator |
| Whirlpool | ED22TEXHW02 | Refrigerator |
| Whirlpool | ED22TEXHW03 | Refrigerator |
| Whirlpool | ED22TEXHW04 | Refrigerator |
| Whirlpool | ED22UEXHN02 | Refrigerator |
| Whirlpool | ED22UEXHT00 | Refrigerator |
| Whirlpool | ED22UEXHT01 | Refrigerator |
| Whirlpool | ED22UEXHT02 | Refrigerator |
| Whirlpool | ED22UEXHW00 | Refrigerator |
| Whirlpool | ED22UEXHW01 | Refrigerator |
| Whirlpool | ED22UEXHW02 | Refrigerator |
| Whirlpool | ED25CEXJB00 | Refrigerator |
| Whirlpool | ED25CEXJB01 | Refrigerator |
| Whirlpool | ED25CEXJT00 | Refrigerator |
| Whirlpool | ED25CEXJT01 | Refrigerator |
| Whirlpool | ED25CEXJW00 | Refrigerator |
| Whirlpool | ED25CEXJW01 | Refrigerator |
| Whirlpool | ED25PEXHB00 | Refrigerator |
| Whirlpool | ED25PEXHB01 | Refrigerator |
| Whirlpool | ED25PEXHB02 | Refrigerator |
| Whirlpool | ED25PEXHT00 | Refrigerator |
| Whirlpool | ED25PEXHT01 | Refrigerator |
| Whirlpool | ED25PEXHT02 | Refrigerator |
| Whirlpool | ED25PEXHW00 | Refrigerator |
| Whirlpool | ED25PEXHW01 | Refrigerator |
| Whirlpool | ED25PEXHW02 | Refrigerator |
| Whirlpool | ED25TEXHN00 | Refrigerator |
| Whirlpool | ED25TEXHN01 | Refrigerator |
| Whirlpool | ED25TEXHN02 | Refrigerator |
| Whirlpool | ED25TEXHN03 | Refrigerator |
| Whirlpool | ED25TEXHT02 | Refrigerator |
| Whirlpool | ED25TEXHT03 | Refrigerator |
| Whirlpool | ED25TEXHW00 | Refrigerator |
| Whirlpool | ED25TEXHW01 | Refrigerator |
| Whirlpool | ED25TEXHW02 | Refrigerator |
| Whirlpool | ED25TEXHW03 | Refrigerator |
| Whirlpool | ED25UEXHT00 | Refrigerator |
| Whirlpool | ED25UEXHT01 | Refrigerator |
| Whirlpool | ED25UEXHW00 | Refrigerator |
| Whirlpool | ED25UEXHW01 | Refrigerator |
| Whirlpool | ED27PEXHB00 | Refrigerator |
| Whirlpool | ED27PEXHB01 | Refrigerator |
| Whirlpool | ED27PEXHB02 | Refrigerator |
| Whirlpool | ED27PEXHT00 | Refrigerator |
| Whirlpool | ED27PEXHT01 | Refrigerator |
| Whirlpool | ED27PEXHT02 | Refrigerator |
| Whirlpool | ED27PEXHW00 | Refrigerator |
| Whirlpool | ED27PEXHW01 | Refrigerator |
| Whirlpool | ED27PEXHW02 | Refrigerator |
| Whirlpool | ED5GTFXKQ00 | Refrigerator |
| Whirlpool | ED5GTFXKQ01 | Refrigerator |
| Whirlpool | ED5GTFXKQ02 | Refrigerator |
| Whirlpool | ED5GTFXKT00 | Refrigerator |
| Whirlpool | ED5GTFXKT01 | Refrigerator |
| Whirlpool | ED5GTFXKT02 | Refrigerator |
| Whirlpool | ET1FTTXKB01 | Refrigerator |
| Whirlpool | ET1FTTXKB02 | Refrigerator |
| Whirlpool | ET1FTTXKB03 | Refrigerator |
| Whirlpool | ET1FTTXKQ00 | Refrigerator |
| Whirlpool | ET1FTTXKQ01 | Refrigerator |
| Whirlpool | ET1FTTXKQ02 | Refrigerator |
| Whirlpool | ET1FTTXKQ03 | Refrigerator |
| Whirlpool | ET1FTTXKT00 | Refrigerator |
| Whirlpool | ET1FTTXKT01 | Refrigerator |
| Whirlpool | ET1FTTXKT02 | Refrigerator |
| Whirlpool | ET1FTTXKT03 | Refrigerator |
| Whirlpool | ET2AHTXLQ00 | Refrigerator |
| Whirlpool | ET2AHTXLQ01 | Refrigerator |
| Whirlpool | ET2AHTXLT00 | Refrigerator |
| Whirlpool | ET2AHTXLT01 | Refrigerator |
| Whirlpool | ET9AHTXLQ00 | Refrigerator |
| Whirlpool | ET9AHTXLQ01 | Refrigerator |
| Whirlpool | ET9AHTXLQ02 | Refrigerator |
| Whirlpool | ET9AHTXLT00 | Refrigerator |
| Whirlpool | ET9AHTXLT01 | Refrigerator |
| Whirlpool | ET9AHTXLT02 | Refrigerator |
| Whirlpool | ET9FTTXLB00 | Refrigerator |
| Whirlpool | ET9FTTXLB10 | Refrigerator |
| Whirlpool | ET9FTTXLB11 | Refrigerator |
| Whirlpool | ET9FTTXLB12 | Refrigerator |
| Whirlpool | ET9FTTXLB13 | Refrigerator |
| Whirlpool | ET9FTTXLQ00 | Refrigerator |
| Whirlpool | ET9FTTXLQ10 | Refrigerator |
| Whirlpool | ET9FTTXLQ11 | Refrigerator |
| Whirlpool | ET9FTTXLQ12 | Refrigerator |
| Whirlpool | ET9FTTXLQ13 | Refrigerator |
| Whirlpool | ET9FTTXLT00 | Refrigerator |
| Whirlpool | ET9FTTXLT10 | Refrigerator |
| Whirlpool | ET9FTTXLT11 | Refrigerator |
| Whirlpool | ET9FTTXLT12 | Refrigerator |
| Whirlpool | ET9FTTXLT13 | Refrigerator |
| Whirlpool | GR2SHTXKB00 | Refrigerator |
| Whirlpool | GR2SHTXKB01 | Refrigerator |
| Whirlpool | GR2SHTXKB02 | Refrigerator |
| Whirlpool | GR2SHTXKB03 | Refrigerator |
| Whirlpool | GR2SHTXKL01 | Refrigerator |
| Whirlpool | GR2SHTXKL02 | Refrigerator |
| Whirlpool | GR2SHTXKL03 | Refrigerator |
| Whirlpool | GR2SHTXKQ00 | Refrigerator |
| Whirlpool | GR2SHTXKQ01 | Refrigerator |
| Whirlpool | GR2SHTXKQ02 | Refrigerator |
| Whirlpool | GR2SHTXKQ03 | Refrigerator |
| Whirlpool | GR2SHTXKS00 | Refrigerator |
| Whirlpool | GR2SHTXKS01 | Refrigerator |
| Whirlpool | GR2SHTXKS02 | Refrigerator |
| Whirlpool | GR2SHTXKS03 | Refrigerator |
| Whirlpool | GR2SHTXKT00 | Refrigerator |
| Whirlpool | GR2SHTXKT01 | Refrigerator |
| Whirlpool | GR2SHTXKT02 | Refrigerator |
| Whirlpool | GR2SHTXKT03 | Refrigerator |
| Whirlpool | GT1SHTXLB00 | Refrigerator |
| Whirlpool | GT1SHTXLB01 | Refrigerator |
| Whirlpool | GT1SHTXLQ00 | Refrigerator |
| Whirlpool | GT1SHTXLQ01 | Refrigerator |
| Whirlpool | GT1SHTXLT00 | Refrigerator |
| Whirlpool | GT1SHTXLT01 | Refrigerator |
| Whirlpool | GT9SHTXLB00 | Refrigerator |
| Whirlpool | GT9SHTXLB01 | Refrigerator |
| Whirlpool | GT9SHTXLQ00 | Refrigerator |
| Whirlpool | GT9SHTXLQ01 | Refrigerator |
| Whirlpool | GT9SHTXLT00 | Refrigerator |
| Whirlpool | GT9SHTXLT01 | Refrigerator |
| Whirlpool | RS25AEXLQ00 | Refrigerator |
| Whirlpool | RS25AFXMQ00 | Refrigerator |
| Whirlpool | SS22AEXHW00 | Refrigerator |
| Whirlpool | SS22AEXHW01 | Refrigerator |
| Whirlpool | SS22AEXHW02 | Refrigerator |
| Whirlpool | SS25AEXHW00 | Refrigerator |
| Whirlpool | SS25AEXHW01 | Refrigerator |
| Whirlpool | SS25AEXHW02 | Refrigerator |
| Whirlpool | SS25AEXHW03 | Refrigerator |
| Whirlpool | TS22AEXHW00 | Refrigerator |
| Whirlpool | TS22AEXHW01 | Refrigerator |
| Whirlpool | TS22AEXHW02 | Refrigerator |
| Whirlpool | TS22AEXHW03 | Refrigerator |
| Whirlpool | TS25AEXHW00 | Refrigerator |
| Whirlpool | TS25AEXHW01 | Refrigerator |
| Whirlpool | TS25AEXHW02 | Refrigerator |