ClearChoice CLCH108-COMBO | Our#: 187716
ClearChoice Replacement for LG LT800P Water Filter & LT120F Air Filter

6 review(s)
ClearChoice CLCH108-COMBO | Our#: 187716
Fast Shipping & Free Returns
100% Compatibility Guarantee
Compatibility guaranteed! Free return shipping and 100% money back if there are any issues.
Certified to the NSF/ANSI 42 Standard for the reduction of chlorine taste and odor.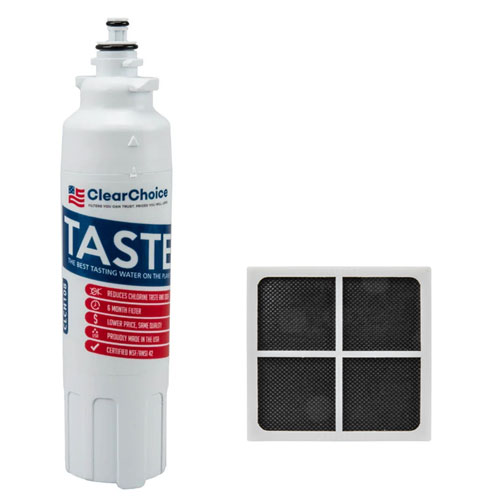 2 people in your area recently purchased this product!
Fast Shipping & Free Returns
100% Compatibility Guarantee
Frequently Purchased Together
Product Details
ClearChoice Replacement for LG LT800P Water Filter & LT120F Air Filter. Includes 1 Water Filter and 1 Air Filter for your LG Fridge.
The ClearChoice CLCH108 filter is used in select French Door refrigerators by LG and Kenmore. It is designed to replace the factory part # LT800P, ADQ73613401 and others. The CLCH108 filter uses advanced carbon block technology to reduce chlorine taste and odor. The replacement for the LT120F/ ADQ73214404 removes odors from the refrigerator
Helps reduce chlorine taste and odor
Compatible with LG LT800P, ADQ73613401 fridge filters at a fraction of the price
Air filter compatible with the ADQ73214404 at a fraction of the price
Replaces Kenmore part number 46-9490 (water) and 46-9918 (air)
Helps reduce contaminants found in tap water and improves its quality and improves the freshness of the air in your fridge
LG is a registered trademark of LG Electronics, Inc.. National Trade Supply, Inc, and DiscountFilters.com are not affiliated with LG Electronics, Inc. This is not a LG OEM product and is not covered under any LG manufacturer's warranty. Any use of the LG brand name or model designation for this product is made solely for purposes of demonstrating compatibility.
---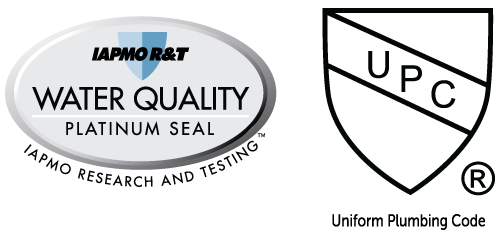 When used in the CLCH108-COMBO-S system, certified by IAPMO R&T to NSF/ANSI 42 for the reduction of Chlorine, Taste & Odor. Also certified to NSF/ANSI 372 for Lead Free compliance. See performance data sheet for individual contaminants and reduction performance.
---
---
Activated Block Carbon Technology
The CLCH108-COMBO uses activated block carbon technology. Carbon is one of the most adsorptive substances, and its numerous and microscopic pores make it capable of adsorbing many microscopic contaminants. Adsorption is a chemical bond between the surface of the carbon and a molecule (contaminant).
Activated carbon is a carbonaceous, highly porous adsorptive medium that has a complex structure composed primarily of carbon atoms. The networks of pores in activated carbons are channels created within a rigid skeleton of disordered layers of carbon atoms, linked together by chemical bonds, stacked unevenly, creating a highly porous structure between the carbon layers. Activated carbon is able to attract and capture a whole host of contaminants, including chlorine and other organic chemical compounds.

---

Activated carbon means that the carbon has been treated at 1000°C with steam molecules to selectively burn holes into the carbonized raw material, creating a multitude of pores inside the carbonaceous matrix. This process creates so much surface area that a teaspoon of activated carbon has roughly the same surface area as a soccer field!

---

Activated block carbon, then, with its use of adsorption, is one of the most effective water filtration methods in use today.