ClearChoice CLCH105-L | Our#: 183719
ClearChoice Replacement for Samsung DA29-00020B Filter - Lead Reduction, 3-Pack

125 review(s)
ClearChoice CLCH105-L | Our#: 183719
Free Shipping & Returns
100% Compatibility Guarantee
Compatibility guaranteed! Free return shipping and 100% money back if there are any issues.
Your purchase will help Support American jobs
Certified to the NSF/ANSI 42 & 53 Standard for chlorine & lead reduction.
8 people in your area recently purchased this product!
$

19.95
(

3

Filters for $

59.85

)
In Stock
Est. to ship Wednesday, Nov. 20th
Free Shipping & Returns
100% Compatibility Guarantee
Frequently Purchased Together
Product Details
The aftermarket ClearChoice CLCH105 filter is used in French Door and Side-by-Side refrigerators by Samsung. It is designed to replace the factory part # DA29-00019A, DA29-00020B and HAF-CIN. The CLCH105 filter uses advanced filtration media which captures and reduces chlorine, lead and other contaminants in your water. This filter has been System Tested and Certified by Envirotek Laboratories, Inc. against NSF/ANSI Standard 53 for reduction of Lead and Chloroform and against NSF/ANSI Standard 42 for Chloramine, Chlorine, Taste, and Odor.
Features:
High quality - inexpensive alternative to factory original filter
Made in the USA
Used in common french door and side-by-side refrigerators by Samsung
Easy installation and operation
Helps reduce chlorine taste and odor
Helps reduce contaminants found in tap water and improves its quality
Uses advanced activated carbon technology
---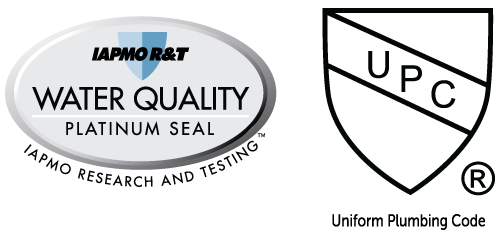 Certified by IAPMO R&T in model CLCH105-L against NSF/ANSI Standard 53 for specific performance claims. See performance data sheet for individual contaminants and reduction performance.
---
Value Comparison
---
Compatible Part
Numbers
#'s
Part number compatibility for the ClearChoice CLCH105-L
Do you know your OEM part number? Use our search to cross-check it!
---
How To Install The ClearChoice CLCH105-L Filter:
How To Install Filter?
How To Install The DA29-00020B Filter:

Shut off the main water supply valve to the refrigerator
Remove old cartridge by grasping firmly and twisting counterclockwise 1/4 turn
Push new filter into the filter receiver and turn 1/4 turn clockwise until it locks
Turn on the main water supply valve to the refrigerator
Flush the refrigerator water system after replacing the water filter cartridge.  Sputtering may occur until air is purged from water line and filter
Reset water filter status display - replace filter every 6 months
---