ClearChoice CLCH103 | Our#: 180493
ClearChoice Replacement for Samsung DA29-00003G Filter, 3-Pack

861 review(s)
ClearChoice CLCH103 | Our#: 180493
Fast Shipping & Free Returns
100% Compatibility Guarantee
Compatibility guaranteed! Free return shipping and 100% money back if there are any issues.
Your purchase will help Support American jobs
Certified to the NSF/ANSI 42 Standard for the reduction of chlorine taste and odor.
10 people in your area recently purchased this product!
$

23.98
(

3

Filters for $

71.95

)
Fast Shipping & Free Returns
100% Compatibility Guarantee
Frequently Purchased Together
Product Details
Samsung DA29-00003G Replacement Refrigerator Water Filter
The aftermarket ClearChoice CLCH103 is used in refrigerators by Samsung, Kenmore and others. It is designed to replace the DA29-00003A/B/G/F filter from Samsung. The CLCH103 or Samsung DA29-00003G filter creates better tasting water for drinking and making beverages as well as clean, clearer, healthy ice. It removes unwanted impurities like sand, dirt, chlorine and more. When your water leaves the water treatment plant, it travels underground to get to your home.
This is why it's important to replace your water filter at least every 6 months or sooner depending on usage. Discount Filters uses a form of activated carbon in our water filters to absorb those unwanted chemicals that can seep into your water. The result after the filtration process is cleaner, clearer, better tasting water and ice. Get your Samsung refrigerator water filter or ClearChoice replacement today and save. The replacement for the Samsung DA29-00003G is less expensive and just as effective. It's easy to install and has a 100% money back guarantee for up to one year.

Features:
High quality, cost-effective alternative to factory original
Easy installation and operation
Helps reduce chlorine taste and odor
Helps reduce contaminants found in tap water and improves its quality
Free shipping
Free returns
100% money back guarantee
---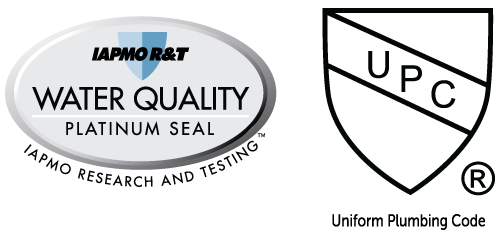 When used in the CLCH103-S system, certified by IAPMO R&T to NSF/ANSI 42 for the reduction of Chlorine, Taste & Odor. Also certified to NSF/ANSI 372 for Lead Free compliance. See
performance data sheet
for individual contaminants and reduction performance.
---
Activated Block Carbon Technology
The CLCH103 uses activated block carbon technology. Carbon is one of the most adsorptive substances, and its numerous and microscopic pores make it capable of adsorbing many microscopic contaminants. Adsorption is a chemical bond between the surface of the carbon and a molecule (contaminant).
Activated carbon is a carbonaceous, highly porous adsorptive medium that has a complex structure composed primarily of carbon atoms. The networks of pores in activated carbons are channels created within a rigid skeleton of disordered layers of carbon atoms, linked together by chemical bonds, stacked unevenly, creating a highly porous structure between the carbon layers. Activated carbon is able to attract and capture a whole host of contaminants, including chlorine and other organic chemical compounds.

---

Activated carbon means that the carbon has been treated at 1000°C with steam molecules to selectively burn holes into the carbonized raw material, creating a multitude of pores inside the carbonaceous matrix. This process creates so much surface area that a teaspoon of activated carbon has roughly the same surface area as a soccer field!

---

Activated block carbon, then, with its use of adsorption, is one of the most effective water filtration methods in use today.
---
Value Comparison
---
Compatible Part
Numbers
#'s
Part number compatibility for the ClearChoice CLCH103
Do you know your OEM part number? Use our search to cross-check it!
---
How To Install The ClearChoice CLCH103 Filter:
How To Install Filter?
How To Install The DA29-00003G Filter:
Remove old filter cartridge by grasping and turning to the left about 1/4 turn
Apply the month sticker (included) to the cartridge as a reminder to replace the filter with 6 months and remove red cap
Align unlabeled side of filter with the indictor line so that it can be inserted into the filter cover
Turn the cartridge 1/4 turn to the right to lock it into place - you will feel a stop and the locked symbol should now be lined up with the indicator line
Run water through the dispenser for 5 minutes to purge the system
Press and hold ice type and child lock button simultaneously to reset filter indicator if your fridge has one
---
Search by your filter part number or appliance model number to verify compatibility
| Brand Name | Model Number | Type |
| --- | --- | --- |
| Kenmore | 40140483800 | Refrigerator |
| Kenmore | 40141003010 | Refrigerator |
| Samsung | GSE4820SS | Refrigerator |
| samsung | RB195ACBP | Refrigerator |
| Samsung | RB195BSSB | Refrigerator |
| Samsung | RB195BSSB/AA | Refrigerator |
| Samsung | RB195BSSB/XAA | Refrigerator |
| samsung | RF221NCTABC | Refrigerator |
| samsung | RF221NCTASP | Refrigerator |
| samsung | RF221NCTASR | Refrigerator |
| samsung | RF221NCTAWW | Refrigerator |
| Samsung | RF237AARS | Refrigerator |
| Samsung | RF237AARS/XAA | Refrigerator |
| Samsung | RF263AEBP | Refrigerator |
| Samsung | RF263AEBP/AA | Refrigerator |
| Samsung | RF263AEBP/XAA | Refrigerator |
| Samsung | RF263AEPN | Refrigerator |
| Samsung | RF263AEPN/AA | Refrigerator |
| Samsung | RF263AEPN/XAA | Refrigerator |
| Samsung | RF263AERS | Refrigerator |
| Samsung | RF263AERS/AA | Refrigerator |
| Samsung | RF263AERS/XAA | Refrigerator |
| Samsung | RF263AERS/XAC | Refrigerator |
| Samsung | RF263AEWP | Refrigerator |
| Samsung | RF263AEWP/AA | Refrigerator |
| Samsung | RF263AEWP/XAA | Refrigerator |
| Samsung | RF263AFBP | Refrigerator |
| Samsung | RF263AFBP/AA | Refrigerator |
| Samsung | RF263AFRS | Refrigerator |
| Samsung | RF263AFRS/AA | Refrigerator |
| Samsung | RF263AFWP | Refrigerator |
| Samsung | RF263AFWP/AA | Refrigerator |
| Samsung | RF263AFWP/XAC | Refrigerator |
| Samsung | RF265AABP | Refrigerator |
| Samsung | RF265AABP/AA | Refrigerator |
| Samsung | RF265AABP/XAA | Refrigerator |
| Samsung | RF265AABP/XAC | Refrigerator |
| Samsung | RF265AARS | Refrigerator |
| Samsung | RF265AARS/AA | Refrigerator |
| Samsung | RF265AARS/XAA | Refrigerator |
| Samsung | RF265AARS/XAC | Refrigerator |
| Samsung | RF265AASH | Refrigerator |
| Samsung | RF265AASH/AA | Refrigerator |
| Samsung | RF265AASH/XAA | Refrigerator |
| Samsung | RF265AAWP | Refrigerator |
| Samsung | RF265AAWP/AA | Refrigerator |
| Samsung | RF265AAWP/XAA | Refrigerator |
| Samsung | RF265AAWP/XAC | Refrigerator |
| Samsung | RF265ABBP | Refrigerator |
| Samsung | RF265ABBP/AA | Refrigerator |
| Samsung | RF265ABBP/XAA | Refrigerator |
| Samsung | RF265ABBP/XAC | Refrigerator |
| Samsung | RF265ABPN | Refrigerator |
| Samsung | RF265ABPN/AA | Refrigerator |
| Samsung | RF265ABPN/XAA | Refrigerator |
| Samsung | RF265ABPN/XAC | Refrigerator |
| Samsung | RF265ABRS | Refrigerator |
| Samsung | RF265ABRS/AA | Refrigerator |
| Samsung | RF265ABRS/XAC | Refrigerator |
| Samsung | RF265ABWP | Refrigerator |
| Samsung | RF265ABWP/AA | Refrigerator |
| Samsung | RF265ABWP/XAA | Refrigerator |
| Samsung | RF265ABWP/XAC | Refrigerator |
| Samsung | RF265ACWP | Refrigerator |
| Samsung | RF265ACWP/XAA | Refrigerator |
| Samsung | RF265ACWP/XAC | Refrigerator |
| Samsung | RF266AABP | Refrigerator |
| Samsung | RF266AABP/AA | Refrigerator |
| Samsung | RF266AABP/XAA | Refrigerator |
| Samsung | RF266AARS | Refrigerator |
| Samsung | RF266AARS/AA | Refrigerator |
| Samsung | RF266AARS/XAA | Refrigerator |
| Samsung | RF266AASH | Refrigerator |
| Samsung | RF266AASH/AA | Refrigerator |
| Samsung | RF266AASH/XAA | Refrigerator |
| Samsung | RF266AAWP | Refrigerator |
| Samsung | RF266AAWP/AA | Refrigerator |
| Samsung | RF266AAWP/XAA | Refrigerator |
| Samsung | RF266AB | Refrigerator |
| Samsung | RF266ABBP | Refrigerator |
| Samsung | RF266ABBP/AA | Refrigerator |
| Samsung | RF266ABBP/XAA | Refrigerator |
| Samsung | RF266ABPN | Refrigerator |
| Samsung | RF266ABPN/AA | Refrigerator |
| Samsung | RF266ABPN/XAA | Refrigerator |
| Samsung | RF266ABRS | Refrigerator |
| Samsung | RF266ABRS/AA | Refrigerator |
| Samsung | RF266ABRS/XAA | Refrigerator |
| Samsung | RF266ABWP | Refrigerator |
| Samsung | RF266ABWP/AA | Refrigerator |
| Samsung | RF266ABWP/XAA | Refrigerator |
| Samsung | RF266ACPN | Refrigerator |
| Samsung | RF266ACPN/XAA | Refrigerator |
| Samsung | RF266AEBP | Refrigerator |
| Samsung | RF266AEBP/AA | Refrigerator |
| Samsung | RF266AEBP/XAA | Refrigerator |
| Samsung | RF266AEPN | Refrigerator |
| Samsung | RF266AEPN/AA | Refrigerator |
| Samsung | RF266AEPN/XAA | Refrigerator |
| Samsung | RF266AERS | Refrigerator |
| Samsung | RF266AERS/AA | Refrigerator |
| Samsung | RF266AERS/XAA | Refrigerator |
| Samsung | RF266AEWP | Refrigerator |
| Samsung | RF266AEWP/AA | Refrigerator |
| Samsung | RF266AEWP/XAA | Refrigerator |
| Samsung | RF266AFRS | Refrigerator |
| Samsung | RF266AFRS/AA | Refrigerator |
| Samsung | RF267AABP | Refrigerator |
| Samsung | RF267AABP/AA | Refrigerator |
| Samsung | RF267AABP/XAA | Refrigerator |
| Samsung | RF267AABP/XAC | Refrigerator |
| Samsung | RF267AARS | Refrigerator |
| Samsung | RF267AARS/AA | Refrigerator |
| Samsung | RF267AARS/XAA | Refrigerator |
| Samsung | RF267AARS/XAC | Refrigerator |
| Samsung | RF267AASH | Refrigerator |
| Samsung | RF267AASH/AA | Refrigerator |
| Samsung | RF267AASH/XAA | Refrigerator |
| Samsung | RF267AAWP | Refrigerator |
| Samsung | RF267AAWP/AA | Refrigerator |
| Samsung | RF267AAWP/XAA | Refrigerator |
| Samsung | RF267AAWP/XAC | Refrigerator |
| Samsung | RF267ABBP | Refrigerator |
| Samsung | RF267ABBP/AA | Refrigerator |
| Samsung | RF267ABBP/XAA | Refrigerator |
| Samsung | RF267ABBP/XAC | Refrigerator |
| Samsung | RF267ABPN | Refrigerator |
| Samsung | RF267ABPN/AA | Refrigerator |
| Samsung | RF267ABPN/XAA | Refrigerator |
| Samsung | RF267ABRS | Refrigerator |
| Samsung | RF267ABRS/AA | Refrigerator |
| Samsung | RF267ABRS/XAA | Refrigerator |
| Samsung | RF267ABRS/XAC | Refrigerator |
| Samsung | RF267ABRS/ZAA | Refrigerator |
| Samsung | RF267ABWP | Refrigerator |
| Samsung | RF267ABWP/AA | Refrigerator |
| Samsung | RF267ABWP/XAA | Refrigerator |
| Samsung | RF267ABWP/XAC | Refrigerator |
| Samsung | RF267AE | Refrigerator |
| Samsung | RF267AEBP | Refrigerator |
| Samsung | RF267AEBP/AA | Refrigerator |
| Samsung | RF267AEBP/XAA | Refrigerator |
| Samsung | RF267AEPN | Refrigerator |
| Samsung | RF267AEPN/AA | Refrigerator |
| Samsung | RF267AEPN/XAA | Refrigerator |
| Samsung | RF267AERS | Refrigerator |
| Samsung | RF267AERS/AA | Refrigerator |
| Samsung | RF267AERS/XAA | Refrigerator |
| Samsung | RF267AEWP | Refrigerator |
| Samsung | RF267AEWP/AA | Refrigerator |
| Samsung | RF267AEWP/XAA | Refrigerator |
| Samsung | RF267AFBP | Refrigerator |
| Samsung | RF267AFBP/AA | Refrigerator |
| Samsung | RF267AFRS | Refrigerator |
| Samsung | RF267AFRS/AA | Refrigerator |
| Samsung | RF267AFWP | Refrigerator |
| Samsung | RF267AFWP/AA | Refrigerator |
| Samsung | RF267HERS | Refrigerator |
| Samsung | RF267HERS/AA | Refrigerator |
| Samsung | RF268ABBP | Refrigerator |
| Samsung | RF268ABBP/AA | Refrigerator |
| Samsung | RF268ABBP/XAA | Refrigerator |
| Samsung | RF268ABPN | Refrigerator |
| Samsung | RF268ABPN/AA | Refrigerator |
| Samsung | RF268ABPN/XAA | Refrigerator |
| Samsung | RF268ABRS | Refrigerator |
| Samsung | RF268ABRS/AA | Refrigerator |
| Samsung | RF268ABRS/XAA | Refrigerator |
| Samsung | RF268ABRSXAA | Refrigerator |
| Samsung | RF268ABWP | Refrigerator |
| Samsung | RF268ABWP/AA | Refrigerator |
| Samsung | RF268ABWP/XAA | Refrigerator |
| Samsung | RF26DEPN | Refrigerator |
| Samsung | RF26DEPN/AA | Refrigerator |
| Samsung | RF26DEPN1/XAP | Refrigerator |
| Samsung | RF26DEPN2/XAP | Refrigerator |
| Samsung | RF26VABBP | Refrigerator |
| Samsung | RF26VABBP/AA | Refrigerator |
| Samsung | RF26VABBP/XAA | Refrigerator |
| Samsung | RF26VABPN | Refrigerator |
| Samsung | RF26VABPN/AA | Refrigerator |
| Samsung | RF26VABPN/XAA | Refrigerator |
| Samsung | RF26VABWP | Refrigerator |
| Samsung | RF26VABWP/AA | Refrigerator |
| Samsung | RF26VABWP/XAA | Refrigerator |
| Samsung | RF26XAEBP | Refrigerator |
| Samsung | RF26XAEBP/AA | Refrigerator |
| Samsung | RF26XAEBP/XAA | Refrigerator |
| Samsung | RF26XAEPN | Refrigerator |
| Samsung | RF26XAEPN/AA | Refrigerator |
| Samsung | RF26XAEPN/XAA | Refrigerator |
| Samsung | RF26XAERS | Refrigerator |
| Samsung | RF26XAERS/AA | Refrigerator |
| Samsung | RF26XAERS/XAA | Refrigerator |
| Samsung | RF26XAEWP | Refrigerator |
| Samsung | RF26XAEWP/AA | Refrigerator |
| Samsung | RF26XAEWP/XAA | Refrigerator |
| samsung | RF293HABP | Refrigerator |
| Samsung | RFG237AABP | Refrigerator |
| Samsung | RFG237AABP/AA | Refrigerator |
| Samsung | RFG237AABP/XAA | Refrigerator |
| Samsung | RFG237AAPN | Refrigerator |
| Samsung | RFG237AAPN/AA | Refrigerator |
| Samsung | RFG237AAPN/XAA | Refrigerator |
| Samsung | RFG237AARS | Refrigerator |
| Samsung | RFG237AARS/AA | Refrigerator |
| Samsung | RFG237AARS/XAA | Refrigerator |
| Samsung | RFG237AARS/XAC | Refrigerator |
| Samsung | RFG237AAWP | Refrigerator |
| Samsung | RFG237AAWP/AA | Refrigerator |
| Samsung | RFG237AAWP/XAA | Refrigerator |
| Samsung | RFG237ACRS | Refrigerator |
| Samsung | RFG237ACRS/AA | Refrigerator |
| Samsung | RFG237ACRS/XAC | Refrigerator |
| Samsung | RFG238AABP | Refrigerator |
| Samsung | RFG238AABP/AA | Refrigerator |
| Samsung | RFG238AABP/XAA | Refrigerator |
| Samsung | RFG238AAPN | Refrigerator |
| Samsung | RFG238AAPN/AA | Refrigerator |
| Samsung | RFG238AAPN/XAA | Refrigerator |
| Samsung | RFG238AARS | Refrigerator |
| Samsung | RFG238AARS/AA | Refrigerator |
| Samsung | RFG238AARS/XAA | Refrigerator |
| Samsung | RFG238AAWP | Refrigerator |
| Samsung | RFG238AAWP/AA | Refrigerator |
| Samsung | RFG238AAWP/XAA | Refrigerator |
| samsung | RFG23UEBP | Refrigerator |
| samsung | RFG23UERS | Refrigerator |
| Samsung | RFG295AABP | Refrigerator |
| Samsung | RFG295AABP/AA | Refrigerator |
| Samsung | RFG295AABP/XAA | Refrigerator |
| Samsung | RFG295AABP/XAC | Refrigerator |
| Samsung | RFG295AAPN | Refrigerator |
| Samsung | RFG295AAPN/AA | Refrigerator |
| Samsung | RFG295AAPN/XAA | Refrigerator |
| Samsung | RFG295AARS | Refrigerator |
| Samsung | RFG295AARS/AA | Refrigerator |
| Samsung | RFG295AARS/XAA | Refrigerator |
| Samsung | RFG295AARS/XAC | Refrigerator |
| Samsung | RFG295AAWP | Refrigerator |
| Samsung | RFG295AAWP/AA | Refrigerator |
| Samsung | RFG295AAWP/XAA | Refrigerator |
| Samsung | RFG295AAWP/XAC | Refrigerator |
| Samsung | RFG297 | Refrigerator |
| Samsung | RFG297AABP | Refrigerator |
| Samsung | RFG297AABP/AA | Refrigerator |
| Samsung | RFG297AABP/XAA | Refrigerator |
| Samsung | RFG297AABP/XAC | Refrigerator |
| Samsung | RFG297AAPN | Refrigerator |
| Samsung | RFG297AAPN/AA | Refrigerator |
| Samsung | RFG297AAPN/XAA | Refrigerator |
| Samsung | RFG297AARS | Refrigerator |
| Samsung | RFG297AARS/AA | Refrigerator |
| Samsung | RFG297AARS/XAA | Refrigerator |
| Samsung | RFG297AARS/XAC | Refrigerator |
| Samsung | RFG297AAWP | Refrigerator |
| Samsung | RFG297AAWP/AA | Refrigerator |
| Samsung | RFG297AAWP/XAA | Refrigerator |
| Samsung | RFG297AAWP/XAC | Refrigerator |
| Samsung | RFG297ACBP | Refrigerator |
| Samsung | RFG297ACBP/AA | Refrigerator |
| Samsung | RFG297ACBP/XAC | Refrigerator |
| Samsung | RFG297ACRS | Refrigerator |
| Samsung | RFG297ACRS/AA | Refrigerator |
| Samsung | RFG297ACRS/XAC | Refrigerator |
| Samsung | RFG297ACWP | Refrigerator |
| Samsung | RFG297ACWP/AA | Refrigerator |
| Samsung | RFG297ACWP/XAC | Refrigerator |
| Samsung | RFG298AABP | Refrigerator |
| Samsung | RFG298AABP/AA | Refrigerator |
| Samsung | RFG298AABP/XAA | Refrigerator |
| Samsung | RFG298AAPN | Refrigerator |
| Samsung | RFG298AAPN/AA | Refrigerator |
| Samsung | RFG298AAPN/XAA | Refrigerator |
| Samsung | RFG298AARS | Refrigerator |
| Samsung | RFG298AARS/AA | Refrigerator |
| Samsung | RFG298AARS/XAA | Refrigerator |
| Samsung | RFG298AAWP | Refrigerator |
| Samsung | RFG298AAWP/AA | Refrigerator |
| Samsung | RFG298AAWP/XAA | Refrigerator |
| Samsung | RFG299AARS | Refrigerator |
| Samsung | RFG299AARS/AA | Refrigerator |
| Samsung | RFG299AARS/XXA | Refrigerator |
| Samsung | RH269LBSH | Refrigerator |
| Samsung | RH269LBSH/AA | Refrigerator |
| Samsung | RH269LBSH/XAA | Refrigerator |
| Samsung | RM257ABBP | Refrigerator |
| Samsung | RM257ABBP/AA | Refrigerator |
| Samsung | RM257ABBP/XAA | Refrigerator |
| Samsung | RM257ABRS | Refrigerator |
| Samsung | RM257ABRS/AA | Refrigerator |
| Samsung | RM257ABRS/XAA | Refrigerator |
| Samsung | RM257ACPN | Refrigerator |
| Samsung | RM257ACPN/AA | Refrigerator |
| Samsung | RM257ACPN/XAA | Refrigerator |
| Samsung | RM257ACRS | Refrigerator |
| Samsung | RM257ACRS/AA | Refrigerator |
| Samsung | RM257ACRS/XAA | Refrigerator |
| Samsung | RM257ACRS/XAC | Refrigerator |
| Samsung | RS21HKLBG | Refrigerator |
| Samsung | RS21HKLBG/AA | Refrigerator |
| Samsung | RS21HKLBG1/XAP | Refrigerator |
| Samsung | RS21HKLBG1/XEM | Refrigerator |
| Samsung | RS21HKLMR | Refrigerator |
| Samsung | RS21HKLMR/AA | Refrigerator |
| Samsung | RS21HKLMR1/XAP | Refrigerator |
| Samsung | RS21HKLMR1/XEM | Refrigerator |
| Samsung | RS22HDHPNBC | Refrigerator |
| Samsung | RS22HDHPNBC/AA | Refrigerator |
| Samsung | RS22HDHPNSR | Refrigerator |
| Samsung | RS22HDHPNSR/AA | Refrigerator |
| Samsung | RS22HDHPNWW | Refrigerator |
| Samsung | RS22HDHPNWW/AA | Refrigerator |
| Samsung | RS2520SW | Refrigerator |
| Samsung | RS2520SW/AA | Refrigerator |
| Samsung | RS2520SW/XAA | Refrigerator |
| Samsung | RS2530BBP | Refrigerator |
| Samsung | RS2530BBP/AA | Refrigerator |
| Samsung | RS2530BBP/XAA | Refrigerator |
| Samsung | RS2530BSH | Refrigerator |
| Samsung | RS2530BSH/AA | Refrigerator |
| Samsung | RS2530BSH/XAA | Refrigerator |
| Samsung | RS2530BSH/XAC | Refrigerator |
| Samsung | RS2530BWP | Refrigerator |
| Samsung | RS2530BWP/AA | Refrigerator |
| Samsung | RS2530BWP/XAA | Refrigerator |
| Samsung | RS2530BWP/XAC | Refrigerator |
| Samsung | RS2531SW | Refrigerator |
| Samsung | RS2531SW/AA | Refrigerator |
| Samsung | RS2531SW/XAA | Refrigerator |
| Samsung | RS2533BB/XAA | Refrigerator |
| Samsung | RS2533SW | Refrigerator |
| Samsung | RS2533SW/AA | Refrigerator |
| Samsung | RS2533SW/XAA | Refrigerator |
| Samsung | RS2533SW/XAC | Refrigerator |
| Samsung | RS2533VK/XAA | Refrigerator |
| Samsung | RS2533VQ | Refrigerator |
| Samsung | RS2533VQ/AA | Refrigerator |
| Samsung | RS2533VQ/XAA | Refrigerator |
| Samsung | RS2534BB | Refrigerator |
| Samsung | RS2534BB/AA | Refrigerator |
| Samsung | RS2534BB/XAA | Refrigerator |
| Samsung | RS2534VQ | Refrigerator |
| Samsung | RS2534VQ/AA | Refrigerator |
| Samsung | RS2534VQ/XAA | Refrigerator |
| Samsung | RS2534WW | Refrigerator |
| Samsung | RS2534WW/AA | Refrigerator |
| Samsung | RS2534WW/XAA | Refrigerator |
| Samsung | RS253BABB | Refrigerator |
| Samsung | RS253BABB/AA | Refrigerator |
| Samsung | RS253BABB/XAA | Refrigerator |
| Samsung | RS253BASB | Refrigerator |
| Samsung | RS253BASB/AA | Refrigerator |
| Samsung | RS253BASB/XAA | Refrigerator |
| Samsung | RS253BAVQ | Refrigerator |
| Samsung | RS253BAVQ/AA | Refrigerator |
| Samsung | RS253BAVQ/XAA | Refrigerator |
| Samsung | RS253BAWW | Refrigerator |
| Samsung | RS253BAWW/AA | Refrigerator |
| Samsung | RS253BAWW/XAA | Refrigerator |
| Samsung | RS2542SH | Refrigerator |
| Samsung | RS2542SH/AA | Refrigerator |
| Samsung | RS2542SH/XAA | Refrigerator |
| Samsung | RS2544SL | Refrigerator |
| Samsung | RS2544SL/AA | Refrigerator |
| Samsung | RS2544SL/XAA | Refrigerator |
| Samsung | RS2545SH | Refrigerator |
| Samsung | RS2545SH/AA | Refrigerator |
| Samsung | RS2545SH/XAA | Refrigerator |
| Samsung | RS2545SH/XEM | Refrigerator |
| Samsung | RS2555BB | Refrigerator |
| Samsung | RS2555BB/AA | Refrigerator |
| Samsung | RS2555BB/XAA | Refrigerator |
| Samsung | RS2555SL | Refrigerator |
| Samsung | RS2555SL/AA | Refrigerator |
| Samsung | RS2555SL/XAA | Refrigerator |
| Samsung | RS2555SL/XAC | Refrigerator |
| Samsung | RS2555SW | Refrigerator |
| Samsung | RS2555SW/AA | Refrigerator |
| Samsung | RS2555SW/XAA | Refrigerator |
| Samsung | RS2556BB | Refrigerator |
| Samsung | RS2556BB/AA | Refrigerator |
| Samsung | RS2556BB/XAA | Refrigerator |
| Samsung | RS2556SH | Refrigerator |
| Samsung | RS2556SH/AA | Refrigerator |
| Samsung | RS2556SH/XAA | Refrigerator |
| Samsung | RS2556SW | Refrigerator |
| Samsung | RS2556SW/XAA | Refrigerator |
| Samsung | RS2556WW | Refrigerator |
| Samsung | RS2556WW/AA | Refrigerator |
| Samsung | RS2556WW/XAA | Refrigerator |
| Samsung | RS255BABB | Refrigerator |
| Samsung | RS255BABB/AA | Refrigerator |
| Samsung | RS255BABB/XAA | Refrigerator |
| Samsung | RS255BABB/XAC | Refrigerator |
| Samsung | RS255BASB | Refrigerator |
| Samsung | RS255BASB/AA | Refrigerator |
| Samsung | RS255BASB/XAA | Refrigerator |
| Samsung | RS255BAWW | Refrigerator |
| Samsung | RS2577BB | Refrigerator |
| Samsung | RS2577BB/AA | Refrigerator |
| Samsung | RS2577BB/XAA | Refrigerator |
| Samsung | RS2577SL | Refrigerator |
| Samsung | RS2577SL/AA | Refrigerator |
| Samsung | RS2577SL/XAA | Refrigerator |
| Samsung | RS2577SW | Refrigerator |
| Samsung | RS2577SW/AA | Refrigerator |
| Samsung | RS2577SW/XAA | Refrigerator |
| Samsung | RS2578BB | Refrigerator |
| Samsung | RS2578BB/AA | Refrigerator |
| Samsung | RS2578BB/XAA | Refrigerator |
| Samsung | RS2578SH | Refrigerator |
| Samsung | RS2578SH/AA | Refrigerator |
| Samsung | RS2578SH/XAA | Refrigerator |
| Samsung | RS2578WW | Refrigerator |
| Samsung | RS2578WW/AA | Refrigerator |
| Samsung | RS2578WW/XAA | Refrigerator |
| Samsung | RS257BARB | Refrigerator |
| Samsung | RS257BARB/AA | Refrigerator |
| Samsung | RS257BARB/XAA | Refrigerator |
| Samsung | RS257BARB/XAC | Refrigerator |
| Samsung | RS2621SH | Refrigerator |
| Samsung | RS2621SH/XAC | Refrigerator |
| Samsung | RS2621SW | Refrigerator |
| Samsung | RS2621SW/XAA | Refrigerator |
| Samsung | RS2621SW/XAC | Refrigerator |
| Samsung | RS2622SW | Refrigerator |
| Samsung | RS2622SW/AA | Refrigerator |
| Samsung | RS2622SW/XAA | Refrigerator |
| Samsung | RS2623BB | Refrigerator |
| Samsung | RS2623SL | Refrigerator |
| Samsung | RS2623SL/AA | Refrigerator |
| Samsung | RS2623SL/XAA | Refrigerator |
| Samsung | RS2623VQ | Refrigerator |
| Samsung | RS2623VQ/AA | Refrigerator |
| Samsung | RS2623VQ/XAA | Refrigerator |
| Samsung | RS2623WW | Refrigerator |
| Samsung | RS2623WW/AA | Refrigerator |
| Samsung | RS2623WW/XAA | Refrigerator |
| Samsung | RS2624WW | Refrigerator |
| Samsung | RS2630ASH | Refrigerator |
| Samsung | RS2630ASH/AA | Refrigerator |
| Samsung | RS2630ASH/XAA | Refrigerator |
| Samsung | RS2630AWW | Refrigerator |
| Samsung | RS2630AWW/AA | Refrigerator |
| Samsung | RS2630AWW/XAA | Refrigerator |
| Samsung | RS2630SH | Refrigerator |
| Samsung | RS2630SH/AA | Refrigerator |
| Samsung | RS2630SH/XAA | Refrigerator |
| Samsung | RS2630SHX/XAC | Refrigerator |
| Samsung | RS2630SW | Refrigerator |
| Samsung | RS2630SW/XAA | Refrigerator |
| Samsung | RS2630WW | Refrigerator |
| Samsung | RS2630WW/AA | Refrigerator |
| Samsung | RS2630WW/XAA | Refrigerator |
| Samsung | RS2630WW/XAC | Refrigerator |
| Samsung | RS263BBSH | Refrigerator |
| Samsung | RS263BBSH/AA | Refrigerator |
| Samsung | RS263BBSH/XAA | Refrigerator |
| Samsung | RS263BBWP | Refrigerator |
| Samsung | RS263BBWP/AA | Refrigerator |
| Samsung | RS263BBWP/XAA | Refrigerator |
| Samsung | RS2644SL | Refrigerator |
| Samsung | RS2644SL/AA | Refrigerator |
| Samsung | RS2644SL/XAA | Refrigerator |
| Samsung | RS2644SW | Refrigerator |
| Samsung | RS2644SW/XAA | Refrigerator |
| Samsung | RS264ABBP | Refrigerator |
| Samsung | RS264ABBP/AA | Refrigerator |
| Samsung | RS264ABBP/XAA | Refrigerator |
| Samsung | RS264ABRS | Refrigerator |
| Samsung | RS264ABRS/AA | Refrigerator |
| Samsung | RS264ABRS/XAA | Refrigerator |
| Samsung | RS264ABSH | Refrigerator |
| Samsung | RS264ABSH/AA | Refrigerator |
| Samsung | RS264ABSH/XAA | Refrigerator |
| Samsung | RS264ABWP | Refrigerator |
| Samsung | RS264ABWP/AA | Refrigerator |
| Samsung | RS264ABWP/XAA | Refrigerator |
| Samsung | RS265BBWP | Refrigerator |
| Samsung | RS265BBWP/AA | Refrigerator |
| Samsung | RS265BBWP/XAA | Refrigerator |
| Samsung | RS265LABP | Refrigerator |
| Samsung | RS265LABP/AA | Refrigerator |
| Samsung | RS265LABP/XAA | Refrigerator |
| Samsung | RS265LBBP | Refrigerator |
| Samsung | RS265LBBP/AA | Refrigerator |
| Samsung | RS265LBBP/XAA | Refrigerator |
| Samsung | RS265LBWP | Refrigerator |
| Samsung | RS265LBWP/AA | Refrigerator |
| Samsung | RS265LBWP/XAA | Refrigerator |
| Samsung | RS2666SL | Refrigerator |
| Samsung | RS2666SL/XAA | Refrigerator |
| Samsung | RS2666SW | Refrigerator |
| Samsung | RS2666SW/AA | Refrigerator |
| Samsung | RS2666SW/XAA | Refrigerator |
| Samsung | RS267BBBB | Refrigerator |
| Samsung | RS267BBBB/AA | Refrigerator |
| Samsung | RS267BBBB/XAA | Refrigerator |
| Samsung | RS267BBRS | Refrigerator |
| Samsung | RS267BBRS/AA | Refrigerator |
| Samsung | RS267BBRS/XAA | Refrigerator |
| Samsung | RS267BBSH | Refrigerator |
| Samsung | RS267BBSH/AA | Refrigerator |
| Samsung | RS267BBSH/XAA | Refrigerator |
| Samsung | RS267BBWP | Refrigerator |
| Samsung | RS267BBWP/AA | Refrigerator |
| Samsung | RS267BBWP/XAA | Refrigerator |
| Samsung | RS267LABB | Refrigerator |
| Samsung | RS267LABB/AA | Refrigerator |
| Samsung | RS267LABB/XAA | Refrigerator |
| Samsung | RS267LABP | Refrigerator |
| Samsung | RS267LABP/AA | Refrigerator |
| Samsung | RS267LABP/XAA | Refrigerator |
| Samsung | RS267LABP/XAC | Refrigerator |
| Samsung | RS267LARS | Refrigerator |
| Samsung | RS267LARS/AA | Refrigerator |
| Samsung | RS267LARS/XAA | Refrigerator |
| Samsung | RS267LASH | Refrigerator |
| Samsung | RS267LASH/AA | Refrigerator |
| Samsung | RS267LASH/XAA | Refrigerator |
| Samsung | RS267LASH/XAC | Refrigerator |
| Samsung | RS267LAWP | Refrigerator |
| Samsung | RS267LAWP/AA | Refrigerator |
| Samsung | RS267LAWP/XAA | Refrigerator |
| Samsung | RS267LAWP/XAC | Refrigerator |
| Samsung | RS267LAWW | Refrigerator |
| Samsung | RS267LAWW/AA | Refrigerator |
| Samsung | RS267LAWW/XAA | Refrigerator |
| Samsung | RS267LBBP | Refrigerator |
| Samsung | RS267LBBP/AA | Refrigerator |
| Samsung | RS267LBBP/XAA | Refrigerator |
| Samsung | RS267LBBP/XAC | Refrigerator |
| Samsung | RS267LBRS | Refrigerator |
| Samsung | RS267LBRS/AA | Refrigerator |
| Samsung | RS267LBRS/XAA | Refrigerator |
| Samsung | RS267LBRS/XAC | Refrigerator |
| Samsung | RS267LBSH | Refrigerator |
| Samsung | RS267LBSH/AA | Refrigerator |
| Samsung | RS267LBSH/XAA | Refrigerator |
| Samsung | RS269LARS | Refrigerator |
| Samsung | RS269LARS/AA | Refrigerator |
| Samsung | RS269LARS/XAA | Refrigerator |
| Samsung | RS269LARS/XAC | Refrigerator |
| Samsung | RS26XUSW | Refrigerator |
| Samsung | RS26XUSW/AA | Refrigerator |
| Samsung | RS26XUSW1/XEM | Refrigerator |
| Samsung | RS275ACBP | Refrigerator |
| Samsung | RS275ACBP/AA | Refrigerator |
| Samsung | RS275ACBP/XAA | Refrigerator |
| Samsung | RS275ACPN | Refrigerator |
| Samsung | RS275ACPN/AA | Refrigerator |
| Samsung | RS275ACRS | Refrigerator |
| Samsung | RS275ACRS/AA | Refrigerator |
| Samsung | RS275ACRS/XAA | Refrigerator |
| Samsung | RS275ACWP | Refrigerator |
| Samsung | RS275ACWP/AA | Refrigerator |
| Samsung | RS275ACWP/XAA | Refrigerator |
| Samsung | RS2777SL | Refrigerator |
| Samsung | RS2777SL/AA | Refrigerator |
| Samsung | RS2777SL/XAA | Refrigerator |
| Samsung | RS277ACBP | Refrigerator |
| Samsung | RS277ACBP/AA | Refrigerator |
| Samsung | RS277ACBP/XAA | Refrigerator |
| Samsung | RS277ACPN | Refrigerator |
| Samsung | RS277ACPN/AA | Refrigerator |
| Samsung | RS277ACPN/XXA | Refrigerator |
| Samsung | RS277ACRS | Refrigerator |
| Samsung | RS277ACRS/AA | Refrigerator |
| Samsung | RS277ACRS/XAA | Refrigerator |
| Samsung | RS277ACRS/XAC | Refrigerator |
| Samsung | RS277ACWP | Refrigerator |
| Samsung | RS277ACWP/AA | Refrigerator |
| Samsung | RS277ACWP/XAA | Refrigerator |
| Samsung | RS277ACWP/XAC | Refrigerator |
| Samsung | RS27FDBTNSR | Refrigerator |
| Samsung | RS27FDBTNSR/AA | Refrigerator |
| Samsung | RS27FDBTNSR/AC | Refrigerator |
| Samsung | RS27KGRS | Refrigerator |
| Samsung | RS27KGRS/AA | Refrigerator |
| Samsung | RSC6FWRS | Refrigerator |
| Samsung | RSC6FWRS/AA | Refrigerator |
| Samsung | RSC6FWRS1/XAP | Refrigerator |
| Samsung | RSC6FWSH | Refrigerator |
| Samsung | RSC6FWSH/AA | Refrigerator |
| Samsung | RSC6FWSH1/XAP | Refrigerator |
| Samsung | RSC6JWSH | Refrigerator |
| Samsung | RSC6JWSH/AA | Refrigerator |
| Samsung | RSC6JWSH1/XAP | Refrigerator |
| Samsung | RSC6JWSH1/XEM | Refrigerator |
| Samsung | RSC6JWWP | Refrigerator |
| Samsung | RSC6JWWP/AA | Refrigerator |
| Samsung | RSC6JWWP1/XAP | Refrigerator |
| Samsung | RSC6JWWP1/XEM | Refrigerator |
| Samsung | RSC6KWRS | Refrigerator |
| Samsung | RSC6KWRS/AA | Refrigerator |
| Samsung | RSC6KWRS1/XAP | Refrigerator |
| Samsung | RSC6KWRS1/XEM | Refrigerator |
| Samsung | RSG257AA | Refrigerator |
| Samsung | RSG257AABP | Refrigerator |
| Samsung | RSG257AABP/AA | Refrigerator |
| Samsung | RSG257AABP/XAA | Refrigerator |
| Samsung | RSG257AABP/XAC | Refrigerator |
| Samsung | RSG257AAPN | Refrigerator |
| Samsung | RSG257AAPN/AA | Refrigerator |
| Samsung | RSG257AAPN/XAA | Refrigerator |
| Samsung | RSG257AARS | Refrigerator |
| Samsung | RSG257AARS/AA | Refrigerator |
| Samsung | RSG257AARS/XAA | Refrigerator |
| Samsung | RSG257AARS/XAC | Refrigerator |
| Samsung | RSG257AAWP | Refrigerator |
| Samsung | RSG257AAWP/AA | Refrigerator |
| Samsung | RSG257AAWP/XAA | Refrigerator |
| Samsung | RSG257AAWP/XAC | Refrigerator |
| Samsung | RSG5FURS | Refrigerator |
| Samsung | RSG5FURS/AA | Refrigerator |
| Samsung | RSH1KLBG | Refrigerator |
| Samsung | RSH1KLBG1/XAP | Refrigerator |
| Samsung | RSH1KLBG1/XEM | Refrigerator |
| Samsung | RSH1KLMR | Refrigerator |
| Samsung | RSH1KLMR1/XAP | Refrigerator |
| Samsung | RSH1KLMR1/XEM | Refrigerator |
| Samsung | RSH3KTPE | Refrigerator |
| Samsung | RSH3KTPE1/XAP | Refrigerator |
| Samsung | RSH3KTRS | Refrigerator |
| Samsung | RSH3KTRS1/XAP | Refrigerator |
| Samsung | RSH3KTSW | Refrigerator |
| Samsung | RSH3KTSW1/XAP | Refrigerator |
| Samsung | SRT768VFHW | Refrigerator |
| Samsung | SRT768VFHW/AA | Refrigerator |
| Samsung | TS48WLUS | Refrigerator |
| Samsung | TS48WLUS/AA | Refrigerator |