ClearChoice CLCH101 | Our#: 184695
ClearChoice Replacement for UKF8001 Filter, 6-Pack

2483 review(s)
ClearChoice CLCH101 | Our#: 184695
Fast Shipping & Free Returns
100% Compatibility Guarantee
Compatibility guaranteed! Free return shipping and 100% money back if there are any issues.
Your purchase will help Support American jobs
Certified to the NSF/ANSI 42 Standard for the reduction of chlorine taste and odor.
10 people in your area recently purchased this product!
$

18.33
(

6

Filters for $

109.99

)
In Stock
Ships in 24 hours
Fast Shipping & Free Returns
100% Compatibility Guarantee
Frequently Purchased Together
Product Details
The aftermarket ClearChoice CLCH101 is used in refrigerators by Maytag, Whirlpool, KitchenAid, Amana, Jenn-Air, Viking and others. It is designed to replace the UKF8001/PuriClean II filter from Maytag. The CLCH101 filter creates better tasting water for drinking and making beverages as well as clean, clearer, healthy ice.

Features:
High quality, cost-effective alternative to factory original
Easy installation and operation
Helps reduce chlorine taste and odor
Helps reduce contaminants found in tap water and improves its quality
---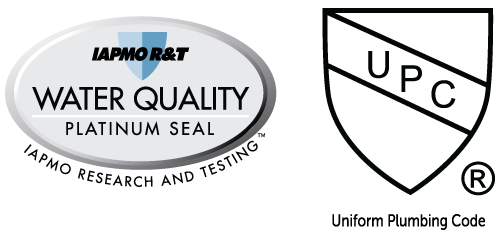 When used in the CLCH101-S system, certified by IAPMO R&T to NSF/ANSI 42 for the reduction of Chlorine, Taste & Odor. Also certified to NSF/ANSI 372 for Lead Free compliance. See
performance data sheet
for individual contaminants and reduction performance.
---
Activated Block Carbon Technology
The CLCH101 uses activated block carbon technology. Carbon is one of the most adsorptive substances, and its numerous and microscopic pores make it capable of adsorbing many microscopic contaminants. Adsorption is a chemical bond between the surface of the carbon and a molecule (contaminant).
Activated carbon is a carbonaceous, highly porous adsorptive medium that has a complex structure composed primarily of carbon atoms. The networks of pores in activated carbons are channels created within a rigid skeleton of disordered layers of carbon atoms, linked together by chemical bonds, stacked unevenly, creating a highly porous structure between the carbon layers. Activated carbon is able to attract and capture a whole host of contaminants, including chlorine and other organic chemical compounds.

---

Activated carbon means that the carbon has been treated at 1000°C with steam molecules to selectively burn holes into the carbonized raw material, creating a multitude of pores inside the carbonaceous matrix. This process creates so much surface area that a teaspoon of activated carbon has roughly the same surface area as a soccer field!

---

Activated block carbon, then, with its use of adsorption, is one of the most effective water filtration methods in use today.
---
Compatible Part
Numbers
#'s
Part number compatibility for the ClearChoice CLCH101
Do you know your OEM part number? Use our search to cross-check it!
---
How To Install The ClearChoice CLCH101 Filter:
How To Install Filter?
How To Install The UKF8001 Filter:
Remove old filter cartridge by grasping and gently turning counterclockwise until it releases from the filter head
Insert new filter into filter head and rotate clockwise until the filter stops. Close the filter cover
Run water continuously through dispenser for 4 gallons (approximately 5 minutes) until water runs steady and sputtering stops. NOTE: during initial use allow about a 1-2 minute delay in water dispersal to allow internal water tank to fill
Reset water filter change notification by following instructions in owners manual
---
Search by your filter part number or appliance model number to verify compatibility
| Brand Name | Model Number | Type |
| --- | --- | --- |
| aga | AMLFDR20 | Refrigerator |
| aga | AMLFDR20-BLK | Refrigerator |
| aga | AMLFDR20-CRN | Refrigerator |
| aga | AMLFDR20-IVY | Refrigerator |
| aga | AMLFDR20-SS | Refrigerator |
| aga | AMLFDR20-VWT | Refrigerator |
| aga | AMPROFD20 | Refrigerator |
| aga | AMPROFD20-SS | Refrigerator |
| Amana | ABB2222FEB11 | Refrigerator |
| Amana | ABB2222FED10 | Refrigerator |
| Amana | ABB2222FEQ11 | Refrigerator |
| Amana | ABB2222fEW11 | Refrigerator |
| Amana | ABC2037DEB | Refrigerator |
| Amana | ABC2037DEB14 | Refrigerator |
| Amana | ABC2037DEQ | Refrigerator |
| Amana | ABC2037DES | Refrigerator |
| Amana | ABC2037DEW | Refrigerator |
| Amana | ABC2037DEW14 | Refrigerator |
| Amana | ABC2037DPS | Refrigerator |
| Amana | ABC2037DTB | Refrigerator |
| Amana | ABC2037DTS | Refrigerator |
| Amana | ABC2037DTS14 | Refrigerator |
| Amana | ABC2037DTW | Refrigerator |
| Amana | ABD2233DEB | Refrigerator |
| Amana | ABD2233DEB14 | Refrigerator |
| Amana | ABD2233DEQ | Refrigerator |
| Amana | ABD2233DES | Refrigerator |
| Amana | ABD2233DEW | Refrigerator |
| Amana | ABD2233DEW14 | Refrigerator |
| Amana | ABD2533DEB | Refrigerator |
| Amana | ABD2533DEQ | Refrigerator |
| Amana | ABD2533DES | Refrigerator |
| Amana | ABD2533DEW | Refrigerator |
| Amana | ABL2037FES | Refrigerator |
| Amana | ABL2037FES12 | Refrigerator |
| Amana | ABL2233FES | Refrigerator |
| Amana | ABL2233FES12 | Refrigerator |
| Amana | ABL2533FES | Refrigerator |
| Amana | ABL2533FES12 | Refrigerator |
| Amana | ABR2037FES | Refrigerator |
| Amana | ABR2037FES12 | Refrigerator |
| Amana | ABR2233FES | Refrigerator |
| Amana | ABR2233FES12 | Refrigerator |
| Amana | ABR2533FES | Refrigerator |
| Amana | ABR2533FES12 | Refrigerator |
| Amana | AC2224GEKB12 | Refrigerator |
| Amana | AC2224GEKS13 | Refrigerator |
| Amana | AC2224GEKW12 | Refrigerator |
| Amana | AC2225GEKB13 | Refrigerator |
| Amana | AC2225GEKS14 | Refrigerator |
| Amana | AC2225GEKW13 | Refrigerator |
| Amana | AC2228HEKB13 | Refrigerator |
| Amana | AC2228HEKS14 | Refrigerator |
| Amana | AC2228HEKW13 | Refrigerator |
| Amana | ACD2232HRB | Refrigerator |
| Amana | ACD2232HRS | Refrigerator |
| Amana | ACD2232HRW | Refrigerator |
| Amana | ACD2234HRB | Refrigerator |
| Amana | ACD2234HRQ | Refrigerator |
| Amana | ACD2234HRS | Refrigerator |
| Amana | ACD2234HRW | Refrigerator |
| Amana | ACD2238HTS | Refrigerator |
| Amana | AFD2535DEB | Refrigerator |
| Amana | AFD2535DEB10 | Refrigerator |
| Amana | AFD2535DEB11 | Refrigerator |
| Amana | AFD2535DEB14 | Refrigerator |
| Amana | AFD2535DEB5 | Refrigerator |
| Amana | AFD2535DEB6 | Refrigerator |
| Amana | AFD2535DEB7 | Refrigerator |
| Amana | AFD2535DEB8 | Refrigerator |
| Amana | AFD2535DEB9 | Refrigerator |
| Amana | AFD2535DEQ | Refrigerator |
| Amana | AFD2535DEQ14 | Refrigerator |
| Amana | AFD2535DEQ5 | Refrigerator |
| Amana | AFD2535DEQ6 | Refrigerator |
| Amana | AFD2535DES | Refrigerator |
| Amana | AFD2535DEW | Refrigerator |
| Amana | AFD2535DEW10 | Refrigerator |
| Amana | AFD2535DEW11 | Refrigerator |
| Amana | AFD2535DEW14 | Refrigerator |
| Amana | AFD2535DEW5 | Refrigerator |
| Amana | AFD2535DEW6 | Refrigerator |
| Amana | AFD2535DEW7 | Refrigerator |
| Amana | AFD2535DEW8 | Refrigerator |
| Amana | AFD2535DEW9 | Refrigerator |
| Amana | AFD2535FES | Refrigerator |
| Amana | AFD2535FES11 | Refrigerator |
| Amana | AFD2535FES12 | Refrigerator |
| Amana | AFD2535FES3 | Refrigerator |
| Amana | AFD2535FES4 | Refrigerator |
| Amana | AFD2535FES5 | Refrigerator |
| Amana | AFD2535FES6 | Refrigerator |
| Amana | AFD2535FES7 | Refrigerator |
| Amana | AFD2535FES8 | Refrigerator |
| Amana | AFD2535FES9 | Refrigerator |
| Amana | AFI2538AEB | Refrigerator |
| Amana | AFI2538AEB00 | Refrigerator |
| Amana | AFI2538AEB12 | Refrigerator |
| Amana | AFI2538AEB13 | Refrigerator |
| Amana | AFI2538AEB3 | Refrigerator |
| Amana | AFI2538AEB4 | Refrigerator |
| Amana | AFI2538AEQ | Refrigerator |
| Amana | AFI2538AEQ00 | Refrigerator |
| Amana | AFI2538AEQ12 | Refrigerator |
| Amana | AFI2538AEQ13 | Refrigerator |
| Amana | AFI2538AEQ3 | Refrigerator |
| Amana | AFI2538AEQ4 | Refrigerator |
| Amana | AFI2538AES | Refrigerator |
| Amana | AFI2538AES00 | Refrigerator |
| Amana | AFI2538AES12 | Refrigerator |
| Amana | AFI2538AES13 | Refrigerator |
| Amana | AFI2538AES3 | Refrigerator |
| Amana | AFI2538AES4 | Refrigerator |
| Amana | AFI2538AES5 | Refrigerator |
| Amana | AFI2538AES6 | Refrigerator |
| Amana | AFI2538AEW | Refrigerator |
| Amana | AFI2538AEW00 | Refrigerator |
| Amana | AFI2538AEW12 | Refrigerator |
| Amana | AFI2538AEW13 | Refrigerator |
| Amana | AFI2538AEW3 | Refrigerator |
| Amana | AFI2538AEW4 | Refrigerator |
| Amana | AFI2539ERB00 | Refrigerator |
| Amana | AFI2539ERB01 | Refrigerator |
| Amana | AFI2539ERM00 | Refrigerator |
| Amana | AFI2539ERM01 | Refrigerator |
| Amana | AFI2539ERM02 | Refrigerator |
| Amana | AFI2539ERW00 | Refrigerator |
| Amana | AFI2539ERW01 | Refrigerator |
| Amana | ARB2257CB | Refrigerator |
| Amana | ARB2257CC | Refrigerator |
| Amana | ARB2257CSL | Refrigerator |
| Amana | ARB2257CSR | Refrigerator |
| Amana | ARB2257CW | Refrigerator |
| Amana | ARB2259CB | Refrigerator |
| Amana | ARB2259CC | Refrigerator |
| Amana | ARB2259CS | Refrigerator |
| Amana | ARB2259CW | Refrigerator |
| Amana | ARB2557CB | Refrigerator |
| Amana | ARB2557CC | Refrigerator |
| Amana | ARB2557CSL | Refrigerator |
| Amana | ARB2557CSR | Refrigerator |
| Amana | ARB2557CW | Refrigerator |
| Amana | ARB8057CB | Refrigerator |
| Amana | ARB8057CC | Refrigerator |
| Amana | ARB8057CSL | Refrigerator |
| Amana | ARB8057CSR | Refrigerator |
| Amana | ARB8057CW | Refrigerator |
| Amana | ARB9058CB | Refrigerator |
| Amana | ARB9058CS | Refrigerator |
| Amana | ARB9058CW | Refrigerator |
| Amana | ARB9059CS | Refrigerator |
| Amana | ARS2464BB | Refrigerator |
| Amana | ARS2464BC | Refrigerator |
| Amana | ARS2464BS | Refrigerator |
| Amana | ARS2464BW | Refrigerator |
| Amana | ARS2606BB | Refrigerator |
| Amana | ARS2606BC | Refrigerator |
| Amana | ARS2606BW | Refrigerator |
| Amana | ARS2661BB | Refrigerator |
| Amana | ARS2661BC | Refrigerator |
| Amana | ARS2661BS | Refrigerator |
| Amana | ARS2661BW | Refrigerator |
| Amana | ARS2664BB | Refrigerator |
| Amana | ARS2664BC | Refrigerator |
| Amana | ARS2664BS | Refrigerator |
| Amana | ARS2664BW | Refrigerator |
| Amana | ARS2667BB | Refrigerator |
| Amana | ARS2667BC | Refrigerator |
| Amana | ARS2667BS | Refrigerator |
| Amana | ARS2667BW | Refrigerator |
| Amana | ARS266KBB | Refrigerator |
| Amana | ARS266KBC | Refrigerator |
| Amana | ARS266KBW | Refrigerator |
| Amana | ARS266RBB | Refrigerator |
| Amana | ARS266RBC | Refrigerator |
| Amana | ARS266RBW | Refrigerator |
| Amana | ARS266ZBB | Refrigerator |
| Amana | ARS266ZBC | Refrigerator |
| Amana | ARS266ZBS | Refrigerator |
| Amana | ARS266ZBW | Refrigerator |
| Amana | ARS8265BB | Refrigerator |
| Amana | ARS8265BC | Refrigerator |
| Amana | ARS8265BS | Refrigerator |
| Amana | ARS8265BW | Refrigerator |
| Amana | ARS8267BB | Refrigerator |
| Amana | ARS8267BC | Refrigerator |
| Amana | ARS8267BS | Refrigerator |
| Amana | ARS8267BW | Refrigerator |
| Amana | ARS9265BB | Refrigerator |
| Amana | ARS9265BC | Refrigerator |
| Amana | ARS9265BW | Refrigerator |
| Amana | ARS9266BS | Refrigerator |
| Amana | ARS9268BB | Refrigerator |
| Amana | ARS9268BC | Refrigerator |
| Amana | ARS9268BW | Refrigerator |
| Amana | ARS9269BS | Refrigerator |
| Amana | ARSE664BB | Refrigerator |
| Amana | ARSE664BC | Refrigerator |
| Amana | ARSE664BS | Refrigerator |
| Amana | ARSE664BW | Refrigerator |
| Amana | ARSE665BB | Refrigerator |
| Amana | ARSE665BC | Refrigerator |
| Amana | ARSE665BS | Refrigerator |
| Amana | ARSE665BW | Refrigerator |
| Amana | ARSE667BB | Refrigerator |
| Amana | ARSE667BC | Refrigerator |
| Amana | ARSE667BS | Refrigerator |
| Amana | ARSE667BW | Refrigerator |
| Amana | ARSE66MBB | Refrigerator |
| Amana | ARSE66MBC | Refrigerator |
| Amana | ARSE66MBW | Refrigerator |
| Amana | ARSE66ZBB | Refrigerator |
| Amana | ARSE66ZBC | Refrigerator |
| Amana | ARSE66ZBS | Refrigerator |
| Amana | ARSE66ZBW | Refrigerator |
| Amana | ARSE67RBB | Refrigerator |
| Amana | ARSE67RBC | Refrigerator |
| Amana | ARSE67RBS | Refrigerator |
| Amana | ARSE67RBW | Refrigerator |
| Amana | AS2626GEKB13 | Refrigerator |
| Amana | AS2626GEKS14 | Refrigerator |
| Amana | AS2626GEKW13 | Refrigerator |
| Amana | AS2628HEKB13 | Refrigerator |
| Amana | ASD2324HEB | Refrigerator |
| Amana | ASD2324HEQ | Refrigerator |
| Amana | ASD2324HES | Refrigerator |
| Amana | ASD2324HEW | Refrigerator |
| Amana | ASD2325KEB | Refrigerator |
| Amana | ASD2325KEQ | Refrigerator |
| Amana | ASD2325KES | Refrigerator |
| Amana | ASD2325KEW | Refrigerator |
| Amana | ASD2326HEB | Refrigerator |
| Amana | ASD2326HEQ | Refrigerator |
| Amana | ASD2326HES | Refrigerator |
| Amana | ASD2326HEW | Refrigerator |
| Amana | ASD2328HEB | Refrigerator |
| Amana | ASD2328HEQ | Refrigerator |
| Amana | ASD2328HES | Refrigerator |
| Amana | ASD2328HEW | Refrigerator |
| Amana | ASD261RHRB | Refrigerator |
| Amana | ASD261RHRQ | Refrigerator |
| Amana | ASD261RHRS | Refrigerator |
| Amana | ASD261RHRW | Refrigerator |
| Amana | ASD2620HRB | Refrigerator |
| Amana | ASD2620HRQ | Refrigerator |
| Amana | ASD2620HRW | Refrigerator |
| Amana | ASD2620HRZ | Refrigerator |
| Amana | ASD2621KRB | Refrigerator |
| Amana | ASD2621KRW | Refrigerator |
| Amana | ASD2621KRZ | Refrigerator |
| Amana | ASD2622HRB | Refrigerator |
| Amana | ASD2622HRQ | Refrigerator |
| Amana | ASD2622HRS | Refrigerator |
| Amana | ASD2622HRW | Refrigerator |
| Amana | ASD2624HEB | Refrigerator |
| Amana | ASD2624HEQ | Refrigerator |
| Amana | ASD2624HES | Refrigerator |
| Amana | ASD2624HEW | Refrigerator |
| Amana | ASD2625KEB | Refrigerator |
| Amana | ASD2625KEQ | Refrigerator |
| Amana | ASD2625KES | Refrigerator |
| Amana | ASD2625KEW | Refrigerator |
| Amana | ASD2626HEB | Refrigerator |
| Amana | ASD2626HEQ | Refrigerator |
| Amana | ASD2626HES | Refrigerator |
| Amana | ASD2626HEW | Refrigerator |
| Amana | ASD2627KEB | Refrigerator |
| Amana | ASD2627KES | Refrigerator |
| Amana | ASD2627KEW | Refrigerator |
| Amana | ASD2628HEB | Refrigerator |
| Amana | ASD2628HEQ | Refrigerator |
| Amana | ASD2628HES | Refrigerator |
| Amana | ASD2628HEW | Refrigerator |
| Amana | ASD262RHRB | Refrigerator |
| Amana | ASD262RHRQ | Refrigerator |
| Amana | ASD262RHRS | Refrigerator |
| Amana | ASD262RHRW | Refrigerator |
| Amana | DRS2462BB | Refrigerator |
| Amana | DRS2462BC | Refrigerator |
| Amana | DRS2462BW | Refrigerator |
| Amana | DRS246RBB | Refrigerator |
| Amana | DRS246RBC | Refrigerator |
| Amana | DRS246RBW | Refrigerator |
| Amana | DRS2660BC | Refrigerator |
| Amana | DRS2660BW | Refrigerator |
| Amana | DRS2663BB | Refrigerator |
| Amana | DRS2663BC | Refrigerator |
| Amana | DRS2663BW | Refrigerator |
| Amana | DRSE663BB | Refrigerator |
| Amana | DRSE663BC | Refrigerator |
| Amana | DRSE663BW | Refrigerator |
| Bosch | B22CT80SNP | Refrigerator |
| Bosch | B22CT80SNP/01 | Refrigerator |
| Bosch | B22CT80SNS | Refrigerator |
| Bosch | B22CT80SNS/01 | Refrigerator |
| Bosch | B22CT80SNS01 | Refrigerator |
| Bosch | B22FT80SNS | Refrigerator |
| Bosch | B22FT80SNS/01 | Refrigerator |
| Crosley | CS26G7DQ | Refrigerator |
| Crosley | CS26G7DW | Refrigerator |
| Crosley | CS26G8DB | Refrigerator |
| Crosley | CS26G8DQ | Refrigerator |
| Crosley | CS26G8DW | Refrigerator |
| Crosley | CS26G8DZ | Refrigerator |
| Crosley | CS26G9DB | Refrigerator |
| Crosley | CS26G9DQ | Refrigerator |
| Crosley | CS26G9DW | Refrigerator |
| Crosley | CS26G9DZ | Refrigerator |
| dacor | EF36BNDF | Refrigerator |
| dacor | EF36BNF | Refrigerator |
| dacor | EF36BNNFSS | Refrigerator |
| dacor | EF36IWF | Refrigerator |
| dacor | EF36IWFSS | Refrigerator |
| dacor | EF36LNDF | Refrigerator |
| dacor | EF36LNF | Refrigerator |
| dacor | EF36RNDF | Refrigerator |
| dacor | EF36RNF | Refrigerator |
| dacor | EF42DBSS | Refrigerator |
| dacor | IF36BNDF | Refrigerator |
| dacor | IF36BNNFSF | Refrigerator |
| dacor | IF36INDF | Refrigerator |
| dacor | PF36BNDF | Refrigerator |
| dacor | PF36BNDFBK | Refrigerator |
| Jenn-Air | JBC2088HTB | Refrigerator |
| Jenn-Air | JBC2088HTW | Refrigerator |
| Jenn-Air | JBD2256HEB | Refrigerator |
| Jenn-Air | JBD2256HEW | Refrigerator |
| Jenn-Air | JBD2286KEB | Refrigerator |
| Jenn-Air | JBD2286KEB11 | Refrigerator |
| Jenn-Air | JBD2286KEB2 | Refrigerator |
| Jenn-Air | JBD2286KEB3 | Refrigerator |
| Jenn-Air | JBD2286KEW | Refrigerator |
| Jenn-Air | JBD2286KEW11 | Refrigerator |
| Jenn-Air | JBL2086HES | Refrigerator |
| Jenn-Air | JBL2088HES | Refrigerator |
| Jenn-Air | JBL2088HES13 | Refrigerator |
| Jenn-Air | JBL2088HES4 | Refrigerator |
| Jenn-Air | JBL2088HES5 | Refrigerator |
| Jenn-Air | JBL2088WEM0 | Refrigerator |
| Jenn-Air | JBL2088WEM1 | Refrigerator |
| Jenn-Air | JBL2256HES | Refrigerator |
| Jenn-Air | JBL2286KES | Refrigerator |
| Jenn-Air | JBL2286KES12 | Refrigerator |
| Jenn-Air | JBL2286KES3 | Refrigerator |
| Jenn-Air | JBR2086HES | Refrigerator |
| Jenn-Air | JBR2088HES | Refrigerator |
| Jenn-Air | JBR2088HES13 | Refrigerator |
| Jenn-Air | JBR2088HES4 | Refrigerator |
| Jenn-Air | JBR2088HES5 | Refrigerator |
| Jenn-Air | JBR2088WEM0 | Refrigerator |
| Jenn-Air | JBR2088WEM1 | Refrigerator |
| Jenn-Air | JBR2256HES | Refrigerator |
| Jenn-Air | JBR2286KES | Refrigerator |
| Jenn-Air | JBR2286KES12 | Refrigerator |
| Jenn-Air | JBR2286KES3 | Refrigerator |
| Jenn-Air | JCB2058GEB-PJCB2058GB1 | Refrigerator |
| Jenn-Air | JCB2058GEW-PJCB205 | Refrigerator |
| Jenn-Air | JCB2059GES-PJCB2059GS0 | Refrigerator |
| Jenn-Air | JCB2059GES-PJCB2059GS1 | Refrigerator |
| Jenn-Air | JCD2290HEB | Refrigerator |
| Jenn-Air | JCD2290HEQ | Refrigerator |
| Jenn-Air | JCD2290HES | Refrigerator |
| Jenn-Air | JCD2290HEW | Refrigerator |
| Jenn-Air | JCD2292HTB | Refrigerator |
| Jenn-Air | JCD2292HTW | Refrigerator |
| Jenn-Air | JCD2292KTB | Refrigerator |
| Jenn-Air | JCD2292KTW | Refrigerator |
| Jenn-Air | JCD2295HES | Refrigerator |
| Jenn-Air | JCD2295KEP | Refrigerator |
| Jenn-Air | JCD2295KES | Refrigerator |
| Jenn-Air | JCD2297KEF | Refrigerator |
| Jenn-Air | JCD2297KEY | Refrigerator |
| Jenn-Air | JFC2070KRB | Refrigerator |
| Jenn-Air | JFC2070KRB11 | Refrigerator |
| Jenn-Air | JFC2070KRS | Refrigerator |
| Jenn-Air | JFC2070KRS12 | Refrigerator |
| Jenn-Air | JFC2070KRW | Refrigerator |
| Jenn-Air | JFC2070KRW11 | Refrigerator |
| Jenn-Air | JFC2087HRP | Refrigerator |
| Jenn-Air | JFC2087HRS | Refrigerator |
| Jenn-Air | JFC2089BE | Refrigerator |
| Jenn-Air | JFC2089BEM | Refrigerator |
| Jenn-Air | JFC2089BEM00 | Refrigerator |
| Jenn-Air | JFC2089BEM01 | Refrigerator |
| Jenn-Air | JFC2089BEP | Refrigerator |
| Jenn-Air | JFC2089BEP00 | Refrigerator |
| Jenn-Air | JFC2089BEP01 | Refrigerator |
| Jenn-Air | JFC2089BPSS | Refrigerator |
| Jenn-Air | JFC2089BSS | Refrigerator |
| Jenn-Air | JFC2089HEP | Refrigerator |
| Jenn-Air | JFC2089HEP13 | Refrigerator |
| Jenn-Air | JFC2089HEP4 | Refrigerator |
| Jenn-Air | JFC2089HEP5 | Refrigerator |
| Jenn-Air | JFC2089HEP6 | Refrigerator |
| Jenn-Air | JFC2089HES | Refrigerator |
| Jenn-Air | JFC2089HES13 | Refrigerator |
| Jenn-Air | JFC2089HES4 | Refrigerator |
| Jenn-Air | JFC2089HES5 | Refrigerator |
| Jenn-Air | JFC2089HES6 | Refrigerator |
| Jenn-Air | JFC2089HPF | Refrigerator |
| Jenn-Air | JFC2089HPF12 | Refrigerator |
| Jenn-Air | JFC2089HPF3 | Refrigerator |
| Jenn-Air | JFC2089HPF4 | Refrigerator |
| Jenn-Air | JFC2089HPR10 | Refrigerator |
| Jenn-Air | JFC2089HPR11 | Refrigerator |
| Jenn-Air | JFC2089HPR2 | Refrigerator |
| Jenn-Air | JFC2089HPR3 | Refrigerator |
| Jenn-Air | JFC2089HPY | Refrigerator |
| Jenn-Air | JFC2089HPY12 | Refrigerator |
| Jenn-Air | JFC2089HPY3 | Refrigerator |
| Jenn-Air | JFC2089HPY4 | Refrigerator |
| Jenn-Air | JFC2089HTB | Refrigerator |
| Jenn-Air | JFC2089HTB12 | Refrigerator |
| Jenn-Air | JFC2089HTB3 | Refrigerator |
| Jenn-Air | JFC2089HTB4 | Refrigerator |
| Jenn-Air | JFC2089HTW | Refrigerator |
| Jenn-Air | JFC2089HTW12 | Refrigerator |
| Jenn-Air | JFC2089HTW3 | Refrigerator |
| Jenn-Air | JFC2089HTW4 | Refrigerator |
| Jenn-Air | JFC2089WEM | Refrigerator |
| Jenn-Air | JFC2089WEM0 | Refrigerator |
| Jenn-Air | JFC2089WEM1 | Refrigerator |
| Jenn-Air | JFC2089WEM11 | Refrigerator |
| Jenn-Air | JFC2089WEM2 | Refrigerator |
| Jenn-Air | JFC2089WEM3 | Refrigerator |
| Jenn-Air | JFC2089WEM4 | Refrigerator |
| Jenn-Air | JFC2089WEM5 | Refrigerator |
| Jenn-Air | JFC2089WEM6 | Refrigerator |
| Jenn-Air | JFC2089WEM7 | Refrigerator |
| Jenn-Air | JFC2089WEM9 | Refrigerator |
| Jenn-Air | JFC2089WEP0 | Refrigerator |
| Jenn-Air | JFC2089WEP1 | Refrigerator |
| Jenn-Air | JFC2089WEP11 | Refrigerator |
| Jenn-Air | JFC2089WEP2 | Refrigerator |
| Jenn-Air | JFC2089WEP3 | Refrigerator |
| Jenn-Air | JFC2089WEP4 | Refrigerator |
| Jenn-Air | JFC2089WEP5 | Refrigerator |
| Jenn-Air | JFC2089WEP6 | Refrigerator |
| Jenn-Air | JFC2089WEP7 | Refrigerator |
| Jenn-Air | JFC2089WEP9 | Refrigerator |
| Jenn-Air | JFC2089WTB0 | Refrigerator |
| Jenn-Air | JFC2089WTB1 | Refrigerator |
| Jenn-Air | JFC2089WTB2 | Refrigerator |
| Jenn-Air | JFC2089WTB3 | Refrigerator |
| Jenn-Air | JFC2089WTB4 | Refrigerator |
| Jenn-Air | JFC2089WTB5 | Refrigerator |
| Jenn-Air | JFC2089WTB7 | Refrigerator |
| Jenn-Air | JFC2089WTB9 | Refrigerator |
| Jenn-Air | JFC2089WTW0 | Refrigerator |
| Jenn-Air | JFC2089WTW1 | Refrigerator |
| Jenn-Air | JFC2089WTW2 | Refrigerator |
| Jenn-Air | JFC2290R | Refrigerator |
| Jenn-Air | JFC2290REM | Refrigerator |
| Jenn-Air | JFC2290REM00 | Refrigerator |
| Jenn-Air | JFC2290REP | Refrigerator |
| Jenn-Air | JFC2290REP00 | Refrigerator |
| Jenn-Air | JFC2290REPSS | Refrigerator |
| Jenn-Air | JFC2290RESS | Refrigerator |
| Jenn-Air | JFC2290REX | Refrigerator |
| Jenn-Air | JFC2290REY | Refrigerator |
| Jenn-Air | JFC2290REY00 | Refrigerator |
| Jenn-Air | JFC2290REYBK | Refrigerator |
| Jenn-Air | JFC2290RTB | Refrigerator |
| Jenn-Air | JFC2290RTB00 | Refrigerator |
| Jenn-Air | JFC2290VEM | Refrigerator |
| Jenn-Air | JFC2290VEM1 | Refrigerator |
| Jenn-Air | JFC2290VEM2 | Refrigerator |
| Jenn-Air | JFC2290VEM3 | Refrigerator |
| Jenn-Air | JFC2290VEM4 | Refrigerator |
| Jenn-Air | JFC2290VEM5 | Refrigerator |
| Jenn-Air | JFC2290VEM6 | Refrigerator |
| Jenn-Air | JFC2290VEM7 | Refrigerator |
| Jenn-Air | JFC2290VEM8 | Refrigerator |
| Jenn-Air | JFC2290VEP | Refrigerator |
| Jenn-Air | JFC2290VEP1 | Refrigerator |
| Jenn-Air | JFC2290VEP10 | Refrigerator |
| Jenn-Air | JFC2290VEP2 | Refrigerator |
| Jenn-Air | JFC2290VEP3 | Refrigerator |
| Jenn-Air | JFC2290VEP4 | Refrigerator |
| Jenn-Air | JFC2290VEP5 | Refrigerator |
| Jenn-Air | JFC2290VEP6 | Refrigerator |
| Jenn-Air | JFC2290VEP7 | Refrigerator |
| Jenn-Air | JFC2290VEP8 | Refrigerator |
| Jenn-Air | JFC2290VPF1 | Refrigerator |
| Jenn-Air | JFC2290VPF2 | Refrigerator |
| Jenn-Air | JFC2290VPF3 | Refrigerator |
| Jenn-Air | JFC2290VPF4 | Refrigerator |
| Jenn-Air | JFC2290VPF5 | Refrigerator |
| Jenn-Air | JFC2290VPR0 | Refrigerator |
| Jenn-Air | JFC2290VPR1 | Refrigerator |
| Jenn-Air | JFC2290VPR2 | Refrigerator |
| Jenn-Air | JFC2290VPR3 | Refrigerator |
| Jenn-Air | JFC2290VPR4 | Refrigerator |
| Jenn-Air | JFC2290VPY | Refrigerator |
| Jenn-Air | JFC2290VPY1 | Refrigerator |
| Jenn-Air | JFC2290VPY2 | Refrigerator |
| Jenn-Air | JFC2290VPY3 | Refrigerator |
| Jenn-Air | JFC2290VPY4 | Refrigerator |
| Jenn-Air | JFC2290VPY5 | Refrigerator |
| Jenn-Air | JFC2290VTB | Refrigerator |
| Jenn-Air | JFC2290VTB1 | Refrigerator |
| Jenn-Air | JFC2290VTB10 | Refrigerator |
| Jenn-Air | JFC2290VTB2 | Refrigerator |
| Jenn-Air | JFC2290VTB3 | Refrigerator |
| Jenn-Air | JFC2290VTB4 | Refrigerator |
| Jenn-Air | JFC2290VTB5 | Refrigerator |
| Jenn-Air | JFD2589KEP | Refrigerator |
| Jenn-Air | JFD2589KEP2 | Refrigerator |
| Jenn-Air | JFD2589KEP3 | Refrigerator |
| Jenn-Air | JFD2589KEP4 | Refrigerator |
| Jenn-Air | JFD2589KEP5 | Refrigerator |
| Jenn-Air | JFD2589KES | Refrigerator |
| Jenn-Air | JFD2589KES2 | Refrigerator |
| Jenn-Air | JFD2589KES3 | Refrigerator |
| Jenn-Air | JFD2589KES4 | Refrigerator |
| Jenn-Air | JFD2589KES5 | Refrigerator |
| Jenn-Air | JFI2089AE | Refrigerator |
| Jenn-Air | JFI2089AEB10 | Refrigerator |
| Jenn-Air | JFI2089AEB2 | Refrigerator |
| Jenn-Air | JFI2089AEP | Refrigerator |
| Jenn-Air | JFI2089AEP10 | Refrigerator |
| Jenn-Air | JFI2089AEP12 | Refrigerator |
| Jenn-Air | JFI2089AEP13 | Refrigerator |
| Jenn-Air | JFI2089AEP2 | Refrigerator |
| Jenn-Air | JFI2089AEP3 | Refrigerator |
| Jenn-Air | JFI2089AEP4 | Refrigerator |
| Jenn-Air | JFI2089AEP5 | Refrigerator |
| Jenn-Air | JFI2089AEP6 | Refrigerator |
| Jenn-Air | JFI2089AEP7 | Refrigerator |
| Jenn-Air | JFI2089AEP8 | Refrigerator |
| Jenn-Air | JFI2089AEP9 | Refrigerator |
| Jenn-Air | JFI2089AES10 | Refrigerator |
| Jenn-Air | JFI2089AES2 | Refrigerator |
| Jenn-Air | JFI2089AES3 | Refrigerator |
| Jenn-Air | JFI2089AEW10 | Refrigerator |
| Jenn-Air | JFI2089AEW2 | Refrigerator |
| Jenn-Air | JFI2089ATS10 | Refrigerator |
| Jenn-Air | JFI2089ATS2 | Refrigerator |
| Jenn-Air | JFI2089PSS | Refrigerator |
| Jenn-Air | JFI2089W | Refrigerator |
| Jenn-Air | JFI2089WES | Refrigerator |
| Jenn-Air | JFI2089WES0 | Refrigerator |
| Jenn-Air | JFI2089WES1 | Refrigerator |
| Jenn-Air | JFI2089WES10 | Refrigerator |
| Jenn-Air | JFI2089WES2 | Refrigerator |
| Jenn-Air | JFI2089WES3 | Refrigerator |
| Jenn-Air | JFI2089WES4 | Refrigerator |
| Jenn-Air | JFI2089WES5 | Refrigerator |
| Jenn-Air | JFI2089WES6 | Refrigerator |
| Jenn-Air | JFI2089WES8 | Refrigerator |
| Jenn-Air | JFI2089WES9 | Refrigerator |
| Jenn-Air | JFI2089WSS | Refrigerator |
| Jenn-Air | JFI2089WTS | Refrigerator |
| Jenn-Air | JFI2089WTS0 | Refrigerator |
| Jenn-Air | JFI2089WTS1 | Refrigerator |
| Jenn-Air | JFI2089WTS2 | Refrigerator |
| Jenn-Air | JFI2089WTS3 | Refrigerator |
| Jenn-Air | JFI2089WTS4 | Refrigerator |
| Jenn-Air | JFI2089WTS6 | Refrigerator |
| Jenn-Air | JFI2089WTS7 | Refrigerator |
| Jenn-Air | JFI2589AEP10 | Refrigerator |
| Jenn-Air | JFI2589AEP2 | Refrigerator |
| Jenn-Air | JFI2589AEP3 | Refrigerator |
| Jenn-Air | JFI2589AES10 | Refrigerator |
| Jenn-Air | JFI2589AES2 | Refrigerator |
| Jenn-Air | JFI2589AES3 | Refrigerator |
| Jenn-Air | JFX2597AEM | Refrigerator |
| Jenn-Air | JFX2597AEM0 | Refrigerator |
| Jenn-Air | JFX2597AEM2 | Refrigerator |
| Jenn-Air | JFX2597AEM3 | Refrigerator |
| Jenn-Air | JFX2597AEP | Refrigerator |
| Jenn-Air | JFX2597AEP0 | Refrigerator |
| Jenn-Air | JFX2597AEP2 | Refrigerator |
| Jenn-Air | JFX2597AEP3 | Refrigerator |
| Jenn-Air | JFX2897DRPS | Refrigerator |
| Jenn-Air | JS2428GEHB | Refrigerator |
| Jenn-Air | JS2628HEHB | Refrigerator |
| Jenn-Air | JS2628HEHB-PJS2628HHB0 | Refrigerator |
| Jenn-Air | JS2628HEKB | Refrigerator |
| Jenn-Air | JS2628HEKB13 | Refrigerator |
| Jenn-Air | JSD2690HEB | Refrigerator |
| Jenn-Air | JSD2690HES | Refrigerator |
| Jenn-Air | JSD2690HEW | Refrigerator |
| Jenn-Air | JSD2695KES | Refrigerator |
| Jenn-Air | JSD2695KGB | Refrigerator |
| Jenn-Air | JSD2695KGW | Refrigerator |
| Jenn-Air | JSD2697KEF | Refrigerator |
| Jenn-Air | JSD2697KEY | Refrigerator |
| Kenmore | 10672002010 | Refrigerator |
| Kenmore | 10672002011 | Refrigerator |
| Kenmore | 10672003010 | Refrigerator |
| Kenmore | 10672003016 | Refrigerator |
| Kenmore | 10672003017 | Refrigerator |
| Kenmore | 10672003018 | Refrigerator |
| Kenmore | 10672009010 | Refrigerator |
| Kenmore | 10672009011 | Refrigerator |
| Kenmore | 10672012010 | Refrigerator |
| Kenmore | 10672012010 Bottom Mount Refrigerator | Refrigerator |
| Kenmore | 10672013010 | Refrigerator |
| Kenmore | 10672013010 Bottom Mount Refrigerator | Refrigerator |
| Kenmore | 10672019010 | Refrigerator |
| Kenmore | 10672019010 Bottom Mount Refrigerator | Refrigerator |
| Kenmore | 1199748310 | Refrigerator |
| Kenmore | 50002 | Refrigerator |
| Kenmore | 50003 | Refrigerator |
| Kenmore | 50004 | Refrigerator |
| Kenmore | 50009 | Refrigerator |
| Kenmore | 50012 | Refrigerator |
| Kenmore | 50013 | Refrigerator |
| Kenmore | 50014 | Refrigerator |
| Kenmore | 50019 | Refrigerator |
| Kenmore | 51672 | Refrigerator |
| Kenmore | 51673 | Refrigerator |
| Kenmore | 51674 | Refrigerator |
| Kenmore | 51679 | Refrigerator |
| Kenmore | 52672 | Refrigerator |
| Kenmore | 52673 | Refrigerator |
| Kenmore | 52674 | Refrigerator |
| Kenmore | 52679 | Refrigerator |
| Kenmore | 53462 | Refrigerator |
| Kenmore | 53463 | Refrigerator |
| Kenmore | 53464 | Refrigerator |
| Kenmore | 53469 | Refrigerator |
| Kenmore | 55652 | Refrigerator |
| Kenmore | 55653 | Refrigerator |
| Kenmore | 55654 | Refrigerator |
| Kenmore | 55659 | Refrigerator |
| Kenmore | 55662 | Refrigerator |
| Kenmore | 55663 | Refrigerator |
| Kenmore | 55664 | Refrigerator |
| Kenmore | 55669 | Refrigerator |
| Kenmore | 57002 | Refrigerator |
| Kenmore | 57003 | Refrigerator |
| Kenmore | 57006 | Refrigerator |
| Kenmore | 57009 | Refrigerator |
| Kenmore | 57012 | Refrigerator |
| Kenmore | 57013 | Refrigerator |
| Kenmore | 57016 | Refrigerator |
| Kenmore | 57019 | Refrigerator |
| Kenmore | 57043 | Refrigerator |
| Kenmore | 57049 | Refrigerator |
| Kenmore | 57053 | Refrigerator |
| Kenmore | 57059 | Refrigerator |
| Kenmore | 57082 | Refrigerator |
| Kenmore | 57085 | Refrigerator |
| Kenmore | 57087 | Refrigerator |
| Kenmore | 57089 | Refrigerator |
| Kenmore | 57542 | Refrigerator |
| Kenmore | 57547 | Refrigerator |
| Kenmore | 57582 | Refrigerator |
| Kenmore | 57585 | Refrigerator |
| Kenmore | 57587 | Refrigerator |
| Kenmore | 58622 | Refrigerator |
| Kenmore | 58627 | Refrigerator |
| Kenmore | 58632 | Refrigerator |
| Kenmore | 58634 | Refrigerator |
| Kenmore | 58635 | Refrigerator |
| Kenmore | 58637 | Refrigerator |
| Kenmore | 58642 | Refrigerator |
| Kenmore | 58644 | Refrigerator |
| Kenmore | 58647 | Refrigerator |
| Kenmore | 596.500021 | Refrigerator |
| Kenmore | 596.500031 | Refrigerator |
| Kenmore | 596.500041 | Refrigerator |
| Kenmore | 596.500091 | Refrigerator |
| Kenmore | 596.500121 | Refrigerator |
| Kenmore | 596.500131 | Refrigerator |
| Kenmore | 596.500141 | Refrigerator |
| Kenmore | 596.500191 | Refrigerator |
| Kenmore | 596.52672201 | Refrigerator |
| Kenmore | 596.52672202 | Refrigerator |
| Kenmore | 596.52673201 | Refrigerator |
| Kenmore | 596.52673202 | Refrigerator |
| Kenmore | 596.52674201 | Refrigerator |
| Kenmore | 596.52674202 | Refrigerator |
| Kenmore | 596.52679201 | Refrigerator |
| Kenmore | 596.52679202 | Refrigerator |
| Kenmore | 596.534623 | Refrigerator |
| Kenmore | 596.53462301 | Refrigerator |
| Kenmore | 596.53462302 | Refrigerator |
| Kenmore | 596.534633 | Refrigerator |
| Kenmore | 596.53463301 | Refrigerator |
| Kenmore | 596.53463302 | Refrigerator |
| Kenmore | 596.534643 | Refrigerator |
| Kenmore | 596.53464301 | Refrigerator |
| Kenmore | 596.53464302 | Refrigerator |
| Kenmore | 596.534693 | Refrigerator |
| Kenmore | 596.53469301 | Refrigerator |
| Kenmore | 596.53469302 | Refrigerator |
| Kenmore | 596.722822 | Refrigerator |
| Kenmore | 596.72282202 | Refrigerator |
| Kenmore | 596.722832 | Refrigerator |
| Kenmore | 596.72283202 | Refrigerator |
| Kenmore | 596.722842 | Refrigerator |
| Kenmore | 596.72284202 | Refrigerator |
| Kenmore | 596.722892 | Refrigerator |
| Kenmore | 596.72289202 | Refrigerator |
| Kenmore | 596.735022 | Refrigerator |
| Kenmore | 596.73502201 | Refrigerator |
| Kenmore | 596.73502202 | Refrigerator |
| Kenmore | 596.735023 | Refrigerator |
| Kenmore | 596.735032 | Refrigerator |
| Kenmore | 596.73503201 | Refrigerator |
| Kenmore | 596.73503202 | Refrigerator |
| Kenmore | 596.735033 | Refrigerator |
| Kenmore | 596.735042 | Refrigerator |
| Kenmore | 596.73504201 | Refrigerator |
| Kenmore | 596.73504202 | Refrigerator |
| Kenmore | 596.735043 | Refrigerator |
| Kenmore | 596.735092 | Refrigerator |
| Kenmore | 596.73509201 | Refrigerator |
| Kenmore | 596.73509202 | Refrigerator |
| Kenmore | 596.735093 | Refrigerator |
| Kenmore | 596.755224 | Refrigerator |
| Kenmore | 596.755234 | Refrigerator |
| Kenmore | 596.755244 | Refrigerator |
| Kenmore | 596.755294 | Refrigerator |
| Kenmore | 596.755324 | Refrigerator |
| Kenmore | 596.755334 | Refrigerator |
| Kenmore | 596.755344 | Refrigerator |
| Kenmore | 596.755394 | Refrigerator |
| Kenmore | 596.765325 | Refrigerator |
| Kenmore | 596.765335 | Refrigerator |
| Kenmore | 596.765345 | Refrigerator |
| Kenmore | 596.765395 | Refrigerator |
| Kenmore | 59650002100 | Refrigerator |
| Kenmore | 59650002100 Side By Side Refrigerator | Refrigerator |
| Kenmore | 59650003100 | Refrigerator |
| Kenmore | 59650003100 Side By Side Refrigerator | Refrigerator |
| Kenmore | 59650004100 | Refrigerator |
| Kenmore | 59650004100 Side By Side Refrigerator | Refrigerator |
| Kenmore | 59650009100 | Refrigerator |
| Kenmore | 59650009100 Side By Side Refrigerator | Refrigerator |
| Kenmore | 59650012100 | Refrigerator |
| Kenmore | 59650012100 Side By Side Refrigerator | Refrigerator |
| Kenmore | 59650013100 | Refrigerator |
| Kenmore | 59650013100 Side By Side Refrigerator | Refrigerator |
| Kenmore | 59650014100 | Refrigerator |
| Kenmore | 59650014100 Side By Side Refrigerator | Refrigerator |
| Kenmore | 59650019100 | Refrigerator |
| Kenmore | 59650019100 Side By Side Refrigerator | Refrigerator |
| Kenmore | 59651672100 | Refrigerator |
| Kenmore | 59651672100 Side By Side Refrigerator | Refrigerator |
| Kenmore | 59651673100 | Refrigerator |
| Kenmore | 59651673100 Side By Side Refrigerator | Refrigerator |
| Kenmore | 59651674100 | Refrigerator |
| Kenmore | 59651674100 Side By Side Refrigerator | Refrigerator |
| Kenmore | 59651679100 | Refrigerator |
| Kenmore | 59651679100 Side By Side Refrigerator | Refrigerator |
| Kenmore | 59652672200 | Refrigerator |
| Kenmore | 59652672200 Side By Side Refrigerator | Refrigerator |
| Kenmore | 59652672201 | Refrigerator |
| Kenmore | 59652672201 Side By Side Refrigerator | Refrigerator |
| Kenmore | 59652672202 | Refrigerator |
| Kenmore | 59652672202 Side By Side Refrigerator | Refrigerator |
| Kenmore | 59652673200 | Refrigerator |
| Kenmore | 59652673200 Side By Side Refrigerator | Refrigerator |
| Kenmore | 59652673201 | Refrigerator |
| Kenmore | 59652673201 Side By Side Refrigerator | Refrigerator |
| Kenmore | 59652673202 | Refrigerator |
| Kenmore | 59652673202 Side By Side Refrigerator | Refrigerator |
| Kenmore | 59652674200 | Refrigerator |
| Kenmore | 59652674200 Side By Side Refrigerator | Refrigerator |
| Kenmore | 59652674201 | Refrigerator |
| Kenmore | 59652674201 Side By Side Refrigerator | Refrigerator |
| Kenmore | 59652674202 | Refrigerator |
| Kenmore | 59652674202 Side By Side Refrigerator | Refrigerator |
| Kenmore | 59652679200 | Refrigerator |
| Kenmore | 59652679200 Side By Side Refrigerator | Refrigerator |
| Kenmore | 59652679201 | Refrigerator |
| Kenmore | 59652679201 Side By Side Refrigerator | Refrigerator |
| Kenmore | 59652679202 | Refrigerator |
| Kenmore | 59652679202 Side By Side Refrigerator | Refrigerator |
| Kenmore | 59653462300 | Refrigerator |
| Kenmore | 59653462300 Side By Side Refrigerator | Refrigerator |
| Kenmore | 59653462301 | Refrigerator |
| Kenmore | 59653462301 Side By Side Refrigerator | Refrigerator |
| Kenmore | 59653462302 | Refrigerator |
| Kenmore | 59653462302 Side By Side Refrigerator | Refrigerator |
| Kenmore | 59653463300 | Refrigerator |
| Kenmore | 59653463300 Side By Side Refrigerator | Refrigerator |
| Kenmore | 59653463301 | Refrigerator |
| Kenmore | 59653463301 Side By Side Refrigerator | Refrigerator |
| Kenmore | 59653463302 | Refrigerator |
| Kenmore | 59653463302 Side By Side Refrigerator | Refrigerator |
| Kenmore | 59653464300 | Refrigerator |
| Kenmore | 59653464300 Side By Side Refrigerator | Refrigerator |
| Kenmore | 59653464301 | Refrigerator |
| Kenmore | 59653464301 Side By Side Refrigerator | Refrigerator |
| Kenmore | 59653464302 | Refrigerator |
| Kenmore | 59653464302 Side By Side Refrigerator | Refrigerator |
| Kenmore | 59653469300 | Refrigerator |
| Kenmore | 59653469300 Side By Side Refrigerator | Refrigerator |
| Kenmore | 59653469301 | Refrigerator |
| Kenmore | 59653469301 Side By Side Refrigerator | Refrigerator |
| Kenmore | 59653469302 | Refrigerator |
| Kenmore | 59653469302 Side By Side Refrigerator | Refrigerator |
| Kenmore | 59655652500 | Refrigerator |
| Kenmore | 59655653500 | Refrigerator |
| Kenmore | 59655654500 | Refrigerator |
| Kenmore | 59655659500 | Refrigerator |
| Kenmore | 59655662500 | Refrigerator |
| Kenmore | 59655663500 | Refrigerator |
| Kenmore | 59655664500 | Refrigerator |
| Kenmore | 59655669500 | Refrigerator |
| Kenmore | 59657002600 | Refrigerator |
| Kenmore | 59657003600 | Refrigerator |
| Kenmore | 59657006600 | Refrigerator |
| Kenmore | 59657009600 | Refrigerator |
| Kenmore | 59657012600 | Refrigerator |
| Kenmore | 59657013600 | Refrigerator |
| Kenmore | 59657016600 | Refrigerator |
| Kenmore | 59657019600 | Refrigerator |
| Kenmore | 59657043600 | Refrigerator |
| Kenmore | 59657049600 | Refrigerator |
| Kenmore | 59657053600 | Refrigerator |
| Kenmore | 59657059600 | Refrigerator |
| Kenmore | 59672002010 | Refrigerator |
| Kenmore | 59672002011 | Refrigerator |
| Kenmore | 59672002015 | Refrigerator |
| Kenmore | 59672003010 | Refrigerator |
| Kenmore | 59672003016 | Refrigerator |
| Kenmore | 59672003017 | Refrigerator |
| Kenmore | 59672003018 | Refrigerator |
| Kenmore | 59672009010 | Refrigerator |
| Kenmore | 59672009011 | Refrigerator |
| Kenmore | 59672012010 | Refrigerator |
| Kenmore | 59672012010 Bottom Mount Refrigerator | Refrigerator |
| Kenmore | 59672012011 | Refrigerator |
| Kenmore | 59672012011 Bottom Mount Refrigerator | Refrigerator |
| Kenmore | 59672013010 | Refrigerator |
| Kenmore | 59672013010 Bottom Mount Refrigerator | Refrigerator |
| Kenmore | 59672013011 | Refrigerator |
| Kenmore | 59672013011 Bottom Mount Refrigerator | Refrigerator |
| Kenmore | 59672019010 | Refrigerator |
| Kenmore | 59672019010 Bottom Mount Refrigerator | Refrigerator |
| Kenmore | 59672019011 | Refrigerator |
| Kenmore | 59672019011 Bottom Mount Refrigerator | Refrigerator |
| Kenmore | 59672282200 | Refrigerator |
| Kenmore | 59672282201 | Refrigerator |
| Kenmore | 59672282202 | Refrigerator |
| Kenmore | 59672283200 | Refrigerator |
| Kenmore | 59672283201 | Refrigerator |
| Kenmore | 59672283202 | Refrigerator |
| Kenmore | 59672284200 | Refrigerator |
| Kenmore | 59672284201 | Refrigerator |
| Kenmore | 59672284202 | Refrigerator |
| Kenmore | 59672289200 | Refrigerator |
| Kenmore | 59672289201 | Refrigerator |
| Kenmore | 59672289202 | Refrigerator |
| Kenmore | 59673502200 | Refrigerator |
| Kenmore | 59673502201 | Refrigerator |
| Kenmore | 59673502202 | Refrigerator |
| Kenmore | 59673502203 | Refrigerator |
| Kenmore | 59673502300 | Refrigerator |
| Kenmore | 59673503200 | Refrigerator |
| Kenmore | 59673503201 | Refrigerator |
| Kenmore | 59673503201 Elite Refrigerator | Refrigerator |
| Kenmore | 59673503202 | Refrigerator |
| Kenmore | 59673503202 Elite Refrigerator | Refrigerator |
| Kenmore | 59673503203 | Refrigerator |
| Kenmore | 59673503203 Elite Refrigerator | Refrigerator |
| Kenmore | 59673503300 | Refrigerator |
| Kenmore | 59673504200 | Refrigerator |
| Kenmore | 59673504201 | Refrigerator |
| Kenmore | 59673504202 | Refrigerator |
| Kenmore | 59673504203 | Refrigerator |
| Kenmore | 59673504300 | Refrigerator |
| Kenmore | 59673509200 | Refrigerator |
| Kenmore | 59673509201 | Refrigerator |
| Kenmore | 59673509202 | Refrigerator |
| Kenmore | 59673509203 | Refrigerator |
| Kenmore | 59673509300 | Refrigerator |
| Kenmore | 59675522400 | Refrigerator |
| Kenmore | 59675522400 Elite Refrigerator | Refrigerator |
| Kenmore | 59675523400 | Refrigerator |
| Kenmore | 59675523400 Elite Refrigerator | Refrigerator |
| Kenmore | 59675524400 | Refrigerator |
| Kenmore | 59675524400 Elite Refrigerator | Refrigerator |
| Kenmore | 59675529400 | Refrigerator |
| Kenmore | 59675529400 Elite Refrigerator | Refrigerator |
| Kenmore | 59675532400 | Refrigerator |
| Kenmore | 59675532400 Elite Refrigerator | Refrigerator |
| Kenmore | 59675533400 | Refrigerator |
| Kenmore | 59675533400 Elite Refrigerator | Refrigerator |
| Kenmore | 59675534400 | Refrigerator |
| Kenmore | 59675534400 Elite Refrigerator | Refrigerator |
| Kenmore | 59675539400 | Refrigerator |
| Kenmore | 59675539400 Elite Refrigerator | Refrigerator |
| Kenmore | 59676522500 | Refrigerator |
| Kenmore | 59676522500 Elite Refrigerator | Refrigerator |
| Kenmore | 59676523500 | Refrigerator |
| Kenmore | 59676523500 Elite Refrigerator | Refrigerator |
| Kenmore | 59676524500 | Refrigerator |
| Kenmore | 59676524500 Elite Refrigerator | Refrigerator |
| Kenmore | 59676529500 | Refrigerator |
| Kenmore | 59676529500 Elite Refrigerator | Refrigerator |
| Kenmore | 59676532500 | Refrigerator |
| Kenmore | 59676532500 Elite Refrigerator | Refrigerator |
| Kenmore | 59676533500 | Refrigerator |
| Kenmore | 59676533500 Elite Refrigerator | Refrigerator |
| Kenmore | 59676534500 | Refrigerator |
| Kenmore | 59676534500 Elite Refrigerator | Refrigerator |
| Kenmore | 59676539500 | Refrigerator |
| Kenmore | 59676539500 Elite Refrigerator | Refrigerator |
| Kenmore | 59676592600 | Refrigerator |
| Kenmore | 59676592600 Elite Refrigerator | Refrigerator |
| Kenmore | 59676592601 | Refrigerator |
| Kenmore | 59676592601 Elite Refrigerator | Refrigerator |
| Kenmore | 59676592701 | Refrigerator |
| Kenmore | 59676592701 Elite Refrigerator | Refrigerator |
| Kenmore | 59676593600 | Refrigerator |
| Kenmore | 59676593600 Elite Refrigerator | Refrigerator |
| Kenmore | 59676593601 | Refrigerator |
| Kenmore | 59676593601 Elite Refrigerator | Refrigerator |
| Kenmore | 59676593602 | Refrigerator |
| Kenmore | 59676593602 Elite Refrigerator | Refrigerator |
| Kenmore | 59676593702 | Refrigerator |
| Kenmore | 59676593702 Elite Refrigerator | Refrigerator |
| Kenmore | 59676594600 | Refrigerator |
| Kenmore | 59676594600 Elite Refrigerator | Refrigerator |
| Kenmore | 59676594601 | Refrigerator |
| Kenmore | 59676594601 Elite Refrigerator | Refrigerator |
| Kenmore | 59676594701 | Refrigerator |
| Kenmore | 59676594701 Elite Refrigerator | Refrigerator |
| Kenmore | 59676599600 | Refrigerator |
| Kenmore | 59676599600 Elite Refrigerator | Refrigerator |
| Kenmore | 59676599601 | Refrigerator |
| Kenmore | 59676599601 Elite Refrigerator | Refrigerator |
| Kenmore | 59676599701 | Refrigerator |
| Kenmore | 59676599701 Elite Refrigerator | Refrigerator |
| Kenmore | 59676602600 | Refrigerator |
| Kenmore | 59676602600 Elite Refrigerator | Refrigerator |
| Kenmore | 59676602601 | Refrigerator |
| Kenmore | 59676602601 Elite Refrigerator | Refrigerator |
| Kenmore | 59676602701 | Refrigerator |
| Kenmore | 59676602701 Elite Refrigerator | Refrigerator |
| Kenmore | 59676603600 | Refrigerator |
| Kenmore | 59676603600 Elite Refrigerator | Refrigerator |
| Kenmore | 59676603601 | Refrigerator |
| Kenmore | 59676603601 Elite Refrigerator | Refrigerator |
| Kenmore | 59676603702 | Refrigerator |
| Kenmore | 59676603702 Elite Refrigerator | Refrigerator |
| Kenmore | 59676604600 | Refrigerator |
| Kenmore | 59676604600 Elite Refrigerator | Refrigerator |
| Kenmore | 59676604601 | Refrigerator |
| Kenmore | 59676604601 Elite Refrigerator | Refrigerator |
| Kenmore | 59676604701 | Refrigerator |
| Kenmore | 59676604701 Elite Refrigerator | Refrigerator |
| Kenmore | 59676609600 | Refrigerator |
| Kenmore | 59676609600 Elite Refrigerator | Refrigerator |
| Kenmore | 59676609601 | Refrigerator |
| Kenmore | 59676609601 Elite Refrigerator | Refrigerator |
| Kenmore | 59676609701 | Refrigerator |
| Kenmore | 59676609701 Elite Refrigerator | Refrigerator |
| Kenmore | 59677532600 | Refrigerator |
| Kenmore | 59677532600 Bottom Mount Refrigerator | Refrigerator |
| Kenmore | 59677532601 | Refrigerator |
| Kenmore | 59677532603 | Refrigerator |
| Kenmore | 59677532603 Bottom Mount Refrigerator | Refrigerator |
| Kenmore | 59677532700 | Refrigerator |
| Kenmore | 59677532702 | Refrigerator |
| Kenmore | 59677533600 | Refrigerator |
| Kenmore | 59677533600 Bottom Mount Refrigerator | Refrigerator |
| Kenmore | 59677533602 | Refrigerator |
| Kenmore | 59677533603 | Refrigerator |
| Kenmore | 59677533603 Bottom Mount Refrigerator | Refrigerator |
| Kenmore | 59677533702 | Refrigerator |
| Kenmore | 59677539600 | Refrigerator |
| Kenmore | 59677539600 Bottom Mount Refrigerator | Refrigerator |
| Kenmore | 59677539602 | Refrigerator |
| Kenmore | 59677539603 | Refrigerator |
| Kenmore | 59677539603 Bottom Mount Refrigerator | Refrigerator |
| Kenmore | 59677592800 | Refrigerator |
| Kenmore | 59677592800 Elite Bottom Mount Refrigerator | Refrigerator |
| Kenmore | 59677592801 | Refrigerator |
| Kenmore | 59677592801 Elite Bottom Mount Refrigerator | Refrigerator |
| Kenmore | 59677592802 | Refrigerator |
| Kenmore | 59677592802 Elite Bottom Mount Refrigerator | Refrigerator |
| Kenmore | 59677592803 | Refrigerator |
| Kenmore | 59677592803 Elite Bottom Mount Refrigerator | Refrigerator |
| Kenmore | 59677593800 | Refrigerator |
| Kenmore | 59677593800 Elite Bottom Mount Refrigerator | Refrigerator |
| Kenmore | 59677593801 | Refrigerator |
| Kenmore | 59677593801 Elite Bottom Mount Refrigerator | Refrigerator |
| Kenmore | 59677593802 | Refrigerator |
| Kenmore | 59677593802 Elite Bottom Mount Refrigerator | Refrigerator |
| Kenmore | 59677593803 | Refrigerator |
| Kenmore | 59677593803 Elite Bottom Mount Refrigerator | Refrigerator |
| Kenmore | 59677594800 | Refrigerator |
| Kenmore | 59677594800 Elite Bottom Mount Refrigerator | Refrigerator |
| Kenmore | 59677594801 | Refrigerator |
| Kenmore | 59677594801 Elite Bottom Mount Refrigerator | Refrigerator |
| Kenmore | 59677594802 | Refrigerator |
| Kenmore | 59677594802 Elite Bottom Mount Refrigerator | Refrigerator |
| Kenmore | 59677594803 | Refrigerator |
| Kenmore | 59677594803 Elite Bottom Mount Refrigerator | Refrigerator |
| Kenmore | 59677596800 | Refrigerator |
| Kenmore | 59677596800 Elite Bottom Mount Refrigerator | Refrigerator |
| Kenmore | 59677596801 | Refrigerator |
| Kenmore | 59677596801 Elite Bottom Mount Refrigerator | Refrigerator |
| Kenmore | 59677596802 | Refrigerator |
| Kenmore | 59677596802 Elite Bottom Mount Refrigerator | Refrigerator |
| Kenmore | 59677596803 | Refrigerator |
| Kenmore | 59677596803 Elite Bottom Mount Refrigerator | Refrigerator |
| Kenmore | 59677599800 | Refrigerator |
| Kenmore | 59677599800 Elite Bottom Mount Refrigerator | Refrigerator |
| Kenmore | 59677599801 | Refrigerator |
| Kenmore | 59677599801 Elite Bottom Mount Refrigerator | Refrigerator |
| Kenmore | 59677599802 | Refrigerator |
| Kenmore | 59677599802 Elite Bottom Mount Refrigerator | Refrigerator |
| Kenmore | 59677599803 | Refrigerator |
| Kenmore | 59677599803 Elite Bottom Mount Refrigerator | Refrigerator |
| Kenmore | 59677599804 | Refrigerator |
| Kenmore | 59677599804 Elite Bottom Mount Refrigerator | Refrigerator |
| Kenmore | 59677602800 | Refrigerator |
| Kenmore | 59677602800 Elite Bottom Mount Refrigerator | Refrigerator |
| Kenmore | 59677602801 | Refrigerator |
| Kenmore | 59677602801 Elite Bottom Mount Refrigerator | Refrigerator |
| Kenmore | 59677602802 | Refrigerator |
| Kenmore | 59677602802 Elite Bottom Mount Refrigerator | Refrigerator |
| Kenmore | 59677602803 | Refrigerator |
| Kenmore | 59677602803 Elite Bottom Mount Refrigerator | Refrigerator |
| Kenmore | 59677602804 | Refrigerator |
| Kenmore | 59677602804 Elite Bottom Mount Refrigerator | Refrigerator |
| Kenmore | 59677603800 | Refrigerator |
| Kenmore | 59677603800 Elite Bottom Mount Refrigerator | Refrigerator |
| Kenmore | 59677603801 | Refrigerator |
| Kenmore | 59677603801 Elite Bottom Mount Refrigerator | Refrigerator |
| Kenmore | 59677603802 | Refrigerator |
| Kenmore | 59677603802 Elite Bottom Mount Refrigerator | Refrigerator |
| Kenmore | 59677603803 | Refrigerator |
| Kenmore | 59677603803 Elite Bottom Mount Refrigerator | Refrigerator |
| Kenmore | 59677603804 | Refrigerator |
| Kenmore | 59677603804 Elite Bottom Mount Refrigerator | Refrigerator |
| Kenmore | 59677604800 | Refrigerator |
| Kenmore | 59677604800 Elite Bottom Mount Refrigerator | Refrigerator |
| Kenmore | 59677604801 | Refrigerator |
| Kenmore | 59677604801 Elite Bottom Mount Refrigerator | Refrigerator |
| Kenmore | 59677604802 | Refrigerator |
| Kenmore | 59677604802 Elite Bottom Mount Refrigerator | Refrigerator |
| Kenmore | 59677606800 | Refrigerator |
| Kenmore | 59677606800 Elite Bottom Mount Refrigerator | Refrigerator |
| Kenmore | 59677606801 | Refrigerator |
| Kenmore | 59677606801 Elite Bottom Mount Refrigerator | Refrigerator |
| Kenmore | 59677606802 | Refrigerator |
| Kenmore | 59677606802 Elite Bottom Mount Refrigerator | Refrigerator |
| Kenmore | 59677609800 | Refrigerator |
| Kenmore | 59677609800 Elite Bottom Mount Refrigerator | Refrigerator |
| Kenmore | 59677609801 | Refrigerator |
| Kenmore | 59677609801 Elite Bottom Mount Refrigerator | Refrigerator |
| Kenmore | 59677609802 | Refrigerator |
| Kenmore | 59677609802 Elite Bottom Mount Refrigerator | Refrigerator |
| Kenmore | 59677609803 | Refrigerator |
| Kenmore | 59677609803 Elite Bottom Mount Refrigerator | Refrigerator |
| Kenmore | 59677609804 | Refrigerator |
| Kenmore | 59677609804 Elite Bottom Mount Refrigerator | Refrigerator |
| Kenmore | 59678332800 | Refrigerator |
| Kenmore | 59678332800 Elite Bottom Mount Refrigerator | Refrigerator |
| Kenmore | 59678332801 | Refrigerator |
| Kenmore | 59678332801 Elite Bottom Mount Refrigerator | Refrigerator |
| Kenmore | 59678332802 | Refrigerator |
| Kenmore | 59678332802 Elite Bottom Mount Refrigerator | Refrigerator |
| Kenmore | 59678333800 | Refrigerator |
| Kenmore | 59678333800 Bottom Mount Refrigerator | Refrigerator |
| Kenmore | 59678333801 | Refrigerator |
| Kenmore | 59678333801 Bottom Mount Refrigerator | Refrigerator |
| Kenmore | 59678333802 | Refrigerator |
| Kenmore | 59678333802 Bottom Mount Refrigerator | Refrigerator |
| Kenmore | 59678333803 | Refrigerator |
| Kenmore | 59678333803 Bottom Mount Refrigerator | Refrigerator |
| Kenmore | 59678339800 | Refrigerator |
| Kenmore | 59678339800 Elite Bottom Mount Refrigerator | Refrigerator |
| Kenmore | 59678339801 | Refrigerator |
| Kenmore | 59678339801 Elite Bottom Mount Refrigerator | Refrigerator |
| Kenmore | 59678339802 | Refrigerator |
| Kenmore | 59678339802 Bottom Mount Refrigerator | Refrigerator |
| Kenmore | 59678339803 | Refrigerator |
| Kenmore | 59678339803 Elite Bottom Mount Refrigerator | Refrigerator |
| Kenmore | 59678532800 | Refrigerator |
| Kenmore | 59678532800 Elite Bottom Mount Refrigerator | Refrigerator |
| Kenmore | 59678532801 | Refrigerator |
| Kenmore | 59678532801 Elite Bottom Mount Refrigerator | Refrigerator |
| Kenmore | 59678532802 | Refrigerator |
| Kenmore | 59678532802 Elite Bottom Mount Refrigerator | Refrigerator |
| Kenmore | 59678533800 | Refrigerator |
| Kenmore | 59678533800 Elite Bottom Mount Refrigerator | Refrigerator |
| Kenmore | 59678533801 | Refrigerator |
| Kenmore | 59678533801 Elite Bottom Mount Refrigerator | Refrigerator |
| Kenmore | 59678533802 | Refrigerator |
| Kenmore | 59678533802 Elite Bottom Mount Refrigerator | Refrigerator |
| Kenmore | 59678539800 | Refrigerator |
| Kenmore | 59678539800 Elite Bottom Mount Refrigerator | Refrigerator |
| Kenmore | 59678539801 | Refrigerator |
| Kenmore | 59678539801 Elite Bottom Mount Refrigerator | Refrigerator |
| Kenmore | 59678539802 | Refrigerator |
| Kenmore | 59678539802 Bottom Mount Refrigerator | Refrigerator |
| Kenmore | 59678539803 | Refrigerator |
| Kenmore | 59678539803 Elite Bottom Mount Refrigerator | Refrigerator |
| Kenmore | 59679242010 | Refrigerator |
| Kenmore | 59679242010 Bottom Mount Refrigerator | Refrigerator |
| Kenmore | 59679242011 | Refrigerator |
| Kenmore | 59679242011 Bottom Mount Refrigerator | Refrigerator |
| Kenmore | 59679242012 | Refrigerator |
| Kenmore | 59679242012 Bottom Mount Refrigerator | Refrigerator |
| Kenmore | 59679242013 | Refrigerator |
| Kenmore | 59679242013 Bottom Mount Refrigerator | Refrigerator |
| Kenmore | 59679243010 | Refrigerator |
| Kenmore | 59679243010 Bottom Mount Refrigerator | Refrigerator |
| Kenmore | 59679243011 | Refrigerator |
| Kenmore | 59679243011 Bottom Mount Refrigerator | Refrigerator |
| Kenmore | 59679243012 | Refrigerator |
| Kenmore | 59679243012 Bottom Mount Refrigerator | Refrigerator |
| Kenmore | 59679249010 | Refrigerator |
| Kenmore | 59679249010 Bottom Mount Refrigerator | Refrigerator |
| Kenmore | 59679249011 | Refrigerator |
| Kenmore | 59679249011 Bottom Mount Refrigerator | Refrigerator |
| Kenmore | 59679249012 | Refrigerator |
| Kenmore | 59679249012 Bottom Mount Refrigerator | Refrigerator |
| Kenmore | 59679249013 | Refrigerator |
| Kenmore | 59679249013 Bottom Mount Refrigerator | Refrigerator |
| Kenmore | 59679532010 | Refrigerator |
| Kenmore | 59679532010 Bottom Mount Refrigerator | Refrigerator |
| Kenmore | 59679532011 | Refrigerator |
| Kenmore | 59679532011 Bottom Mount Refrigerator | Refrigerator |
| Kenmore | 59679532012 | Refrigerator |
| Kenmore | 59679532012 Bottom Mount Refrigerator | Refrigerator |
| Kenmore | 59679532013 | Refrigerator |
| Kenmore | 59679532013 Bottom Mount Refrigerator | Refrigerator |
| Kenmore | 59679533010 | Refrigerator |
| Kenmore | 59679533010 Bottom Mount Refrigerator | Refrigerator |
| Kenmore | 59679533011 | Refrigerator |
| Kenmore | 59679533011 Bottom Mount Refrigerator | Refrigerator |
| Kenmore | 59679533012 | Refrigerator |
| Kenmore | 59679533012 Bottom Mount Refrigerator | Refrigerator |
| Kenmore | 59679533013 | Refrigerator |
| Kenmore | 59679533013 Bottom Mount Refrigerator | Refrigerator |
| Kenmore | 59679539010 | Refrigerator |
| Kenmore | 59679539010 Bottom Mount Refrigerator | Refrigerator |
| Kenmore | 59679539011 | Refrigerator |
| Kenmore | 59679539011 Bottom Mount Refrigerator | Refrigerator |
| Kenmore | 59679539012 | Refrigerator |
| Kenmore | 59679539012 Bottom Mount Refrigerator | Refrigerator |
| Kenmore | 59679539013 | Refrigerator |
| Kenmore | 59679542010 | Refrigerator |
| Kenmore | 59679542010 Bottom Mount Refrigerator | Refrigerator |
| Kenmore | 59679542011 | Refrigerator |
| Kenmore | 59679542011 Bottom Mount Refrigerator | Refrigerator |
| Kenmore | 59679543010 | Refrigerator |
| Kenmore | 59679543010 Bottom Mount Refrigerator | Refrigerator |
| Kenmore | 59679543011 | Refrigerator |
| Kenmore | 59679543011 Bottom Mount Refrigerator | Refrigerator |
| Kenmore | 59679543013 | Refrigerator |
| Kenmore | 59679543013 Bottom Mount Refrigerator | Refrigerator |
| Kenmore | 59679549010 | Refrigerator |
| Kenmore | 59679549010 Bottom Mount Refrigerator | Refrigerator |
| Kenmore | 59679549011 | Refrigerator |
| Kenmore | 59679549011 Bottom Mount Refrigerator | Refrigerator |
| Kenmore | 59679549012 | Refrigerator |
| Kenmore | 59679549012 Bottom Mount Refrigerator | Refrigerator |
| Kenmore | 59679553010 | Refrigerator |
| Kenmore | 59679553010 Bottom Mount Refrigerator | Refrigerator |
| Kenmore | 72002 | Refrigerator |
| Kenmore | 72003 | Refrigerator |
| Kenmore | 72009 | Refrigerator |
| Kenmore | 72012 | Refrigerator |
| Kenmore | 72013 | Refrigerator |
| Kenmore | 72019 | Refrigerator |
| Kenmore | 72282 | Refrigerator |
| Kenmore | 72283 | Refrigerator |
| Kenmore | 72284 | Refrigerator |
| Kenmore | 72289 | Refrigerator |
| Kenmore | 73502 | Refrigerator |
| Kenmore | 73503 | Refrigerator |
| Kenmore | 73504 | Refrigerator |
| Kenmore | 73509 | Refrigerator |
| Kenmore | 75522 | Refrigerator |
| Kenmore | 75522 Elite Refrigerator | Refrigerator |
| Kenmore | 75523 | Refrigerator |
| Kenmore | 75524 | Refrigerator |
| Kenmore | 75529 | Refrigerator |
| Kenmore | 75532 | Refrigerator |
| Kenmore | 75533 | Refrigerator |
| Kenmore | 75534 | Refrigerator |
| Kenmore | 75539 | Refrigerator |
| Kenmore | 76522 | Refrigerator |
| Kenmore | 76523 | Refrigerator |
| Kenmore | 76524 | Refrigerator |
| Kenmore | 76529 | Refrigerator |
| Kenmore | 76532 | Refrigerator |
| Kenmore | 76533 | Refrigerator |
| Kenmore | 76534 | Refrigerator |
| Kenmore | 76539 | Refrigerator |
| Kenmore | 76572 | Refrigerator |
| Kenmore | 76573 | Refrigerator |
| Kenmore | 76574 | Refrigerator |
| Kenmore | 76579 | Refrigerator |
| Kenmore | 76582 | Refrigerator |
| Kenmore | 76583 | Refrigerator |
| Kenmore | 76584 | Refrigerator |
| Kenmore | 76589 | Refrigerator |
| Kenmore | 76592 | Refrigerator |
| Kenmore | 76593 | Refrigerator |
| Kenmore | 76594 | Refrigerator |
| Kenmore | 76599 | Refrigerator |
| Kenmore | 76602 | Refrigerator |
| Kenmore | 76603 | Refrigerator |
| Kenmore | 76604 | Refrigerator |
| Kenmore | 76609 | Refrigerator |
| Kenmore | 77532 | Refrigerator |
| Kenmore | 77533 | Refrigerator |
| Kenmore | 77539 | Refrigerator |
| Kenmore | 77592 | Refrigerator |
| Kenmore | 77593 | Refrigerator |
| Kenmore | 77594 | Refrigerator |
| Kenmore | 77596 | Refrigerator |
| Kenmore | 77599 | Refrigerator |
| Kenmore | 77602 | Refrigerator |
| Kenmore | 77603 | Refrigerator |
| Kenmore | 77604 | Refrigerator |
| Kenmore | 77606 | Refrigerator |
| Kenmore | 77609 | Refrigerator |
| Kenmore | 78282 | Refrigerator |
| Kenmore | 78283 | Refrigerator |
| Kenmore | 78289 | Refrigerator |
| Kenmore | 78332 | Refrigerator |
| Kenmore | 78333 | Refrigerator |
| Kenmore | 78339 | Refrigerator |
| Kenmore | 78532 | Refrigerator |
| Kenmore | 78533 | Refrigerator |
| Kenmore | 78539 | Refrigerator |
| Kenmore | 78572 | Refrigerator |
| Kenmore | 78573 | Refrigerator |
| Kenmore | 78574 | Refrigerator |
| Kenmore | 78576 | Refrigerator |
| Kenmore | 78579 | Refrigerator |
| Kenmore | 78582 | Refrigerator |
| Kenmore | 78583 | Refrigerator |
| Kenmore | 78584 | Refrigerator |
| Kenmore | 78586 | Refrigerator |
| Kenmore | 78589 | Refrigerator |
| Kenmore | 79212 | Refrigerator |
| Kenmore | 79242 | Refrigerator |
| Kenmore | 79243 | Refrigerator |
| Kenmore | 79249 | Refrigerator |
| Kenmore | 79522 | Refrigerator |
| Kenmore | 79523 | Refrigerator |
| Kenmore | 79529 | Refrigerator |
| Kenmore | 79532 | Refrigerator |
| Kenmore | 79533 | Refrigerator |
| Kenmore | 79539 | Refrigerator |
| Kenmore | 79542 | Refrigerator |
| Kenmore | 79543 | Refrigerator |
| Kenmore | 79549 | Refrigerator |
| Kenmore | 79553 | Refrigerator |
| KitchenAid | KBFA20ERBL00 | Refrigerator |
| KitchenAid | KBFA20ERBL01 | Refrigerator |
| KitchenAid | KBFA20ERSS00 | Refrigerator |
| KitchenAid | KBFA20ERSS01 | Refrigerator |
| KitchenAid | KBFA20ERWH00 | Refrigerator |
| KitchenAid | KBFA20ERWH01 | Refrigerator |
| KitchenAid | KBFA25ERBL00 | Refrigerator |
| KitchenAid | KBFA25ERBL01 | Refrigerator |
| KitchenAid | KBFA25ERSS00 | Refrigerator |
| KitchenAid | KBFA25ERSS01 | Refrigerator |
| KitchenAid | KBFA25ERWH00 | Refrigerator |
| KitchenAid | KBFA25ERWH01 | Refrigerator |
| KitchenAid | KBFL25ETBL01 | Refrigerator |
| KitchenAid | KBFL25ETSS01 | Refrigerator |
| KitchenAid | KBFL25ETWH01 | Refrigerator |
| KitchenAid | KBFL25EVMS00 | Refrigerator |
| KitchenAid | KBFL25EVMS1 | Refrigerator |
| KitchenAid | KBFL25EVMS2 | Refrigerator |
| kitchenaid | KBFS20ECBL | Refrigerator |
| KitchenAid | KBFS20ECBL00 | Refrigerator |
| KitchenAid | KBFS20ECMS | Refrigerator |
| KitchenAid | KBFS20ECMS00 | Refrigerator |
| kitchenaid | KBFS20ECWH | Refrigerator |
| KitchenAid | KBFS20ECWH00 | Refrigerator |
| KitchenAid | KBFS20ETBL01 | Refrigerator |
| KitchenAid | KBFS20ETSS01 | Refrigerator |
| KitchenAid | KBFS20ETWH01 | Refrigerator |
| kitchenaid | KBFS20EVBL | Refrigerator |
| KitchenAid | KBFS20EVBL00 | Refrigerator |
| KitchenAid | KBFS20EVBL1 | Refrigerator |
| KitchenAid | KBFS20EVBL2 | Refrigerator |
| KitchenAid | KBFS20EVBL3 | Refrigerator |
| KitchenAid | KBFS20EVBL4 | Refrigerator |
| KitchenAid | KBFS20EVBL5 | Refrigerator |
| KitchenAid | KBFS20EVBL6 | Refrigerator |
| KitchenAid | KBFS20EVBL8 | Refrigerator |
| KitchenAid | KBFS20EVMS | Refrigerator |
| KitchenAid | KBFS20EVMS00 | Refrigerator |
| KitchenAid | KBFS20EVMS1 | Refrigerator |
| KitchenAid | KBFS20EVMS11 | Refrigerator |
| KitchenAid | KBFS20EVMS13 | Refrigerator |
| KitchenAid | KBFS20EVMS2 | Refrigerator |
| KitchenAid | KBFS20EVMS3 | Refrigerator |
| KitchenAid | KBFS20EVMS4 | Refrigerator |
| KitchenAid | KBFS20EVMS5 | Refrigerator |
| KitchenAid | KBFS20EVMS6 | Refrigerator |
| KitchenAid | KBFS20EVMS7 | Refrigerator |
| KitchenAid | KBFS20EVMS8 | Refrigerator |
| KitchenAid | KBFS20EVMS9 | Refrigerator |
| KitchenAid | KBFS20EVWH | Refrigerator |
| KitchenAid | KBFS20EVWH00 | Refrigerator |
| KitchenAid | KBFS20EVWH1 | Refrigerator |
| KitchenAid | KBFS20EVWH10 | Refrigerator |
| KitchenAid | KBFS20EVWH2 | Refrigerator |
| KitchenAid | KBFS20EVWH3 | Refrigerator |
| KitchenAid | KBFS20EVWH4 | Refrigerator |
| KitchenAid | KBFS20EVWH5 | Refrigerator |
| KitchenAid | KBFS20EVWH6 | Refrigerator |
| KitchenAid | KBFS20EVWH8 | Refrigerator |
| KitchenAid | KBFS22ECBL | Refrigerator |
| KitchenAid | KBFS22ECBL00 | Refrigerator |
| KitchenAid | KBFS22ECMS | Refrigerator |
| KitchenAid | KBFS22ECMS00 | Refrigerator |
| KitchenAid | KBFS22ECWH | Refrigerator |
| KitchenAid | KBFS22ECWH00 | Refrigerator |
| kitchenaid | KBFS22EWBL | Refrigerator |
| KitchenAid | KBFS22EWBL1 | Refrigerator |
| KitchenAid | KBFS22EWBL2 | Refrigerator |
| KitchenAid | KBFS22EWBL3 | Refrigerator |
| KitchenAid | KBFS22EWBL5 | Refrigerator |
| KitchenAid | KBFS22EWBL7 | Refrigerator |
| KitchenAid | KBFS22EWMS | Refrigerator |
| KitchenAid | KBFS22EWMS1 | Refrigerator |
| KitchenAid | KBFS22EWMS3 | Refrigerator |
| KitchenAid | KBFS22EWMS4 | Refrigerator |
| KitchenAid | KBFS22EWMS5 | Refrigerator |
| KitchenAid | KBFS22EWMS7 | Refrigerator |
| KitchenAid | KBFS22EWMS9 | Refrigerator |
| kitchenaid | Kbfs22ewwh | Refrigerator |
| KitchenAid | KBFS22EWWH1 | Refrigerator |
| KitchenAid | KBFS22EWWH2 | Refrigerator |
| KitchenAid | KBFS22EWWH3 | Refrigerator |
| KitchenAid | KBFS22EWWH5 | Refrigerator |
| KitchenAid | KBFS22EWWH7 | Refrigerator |
| KitchenAid | KBFS25ECBL | Refrigerator |
| KitchenAid | KBFS25ECBL00 | Refrigerator |
| KitchenAid | KBFS25ECMS | Refrigerator |
| KitchenAid | KBFS25ECMS00 | Refrigerator |
| KitchenAid | KBFS25ECWH | Refrigerator |
| KitchenAid | KBFS25ECWH00 | Refrigerator |
| KitchenAid | KBFS25ETBL01 | Refrigerator |
| KitchenAid | KBFS25ETSS00 | Refrigerator |
| KitchenAid | KBFS25ETSS01 | Refrigerator |
| KitchenAid | KBFS25ETWH01 | Refrigerator |
| KitchenAid | KBFS25EVBL | Refrigerator |
| KitchenAid | KBFS25EVBL0 | Refrigerator |
| KitchenAid | KBFS25EVBL00 | Refrigerator |
| KitchenAid | KBFS25EVBL1 | Refrigerator |
| KitchenAid | KBFS25EVBL2 | Refrigerator |
| KitchenAid | KBFS25EVMS0 | Refrigerator |
| KitchenAid | KBFS25EVMS00 | Refrigerator |
| KitchenAid | KBFS25EVMS1 | Refrigerator |
| KitchenAid | KBFS25EVMS2 | Refrigerator |
| KitchenAid | KBFS25EVMS3 | Refrigerator |
| KitchenAid | KBFS25EVMS4 | Refrigerator |
| KitchenAid | KBFS25EVSS0 | Refrigerator |
| KitchenAid | KBFS25EVSS00 | Refrigerator |
| KitchenAid | KBFS25EVWH0 | Refrigerator |
| KitchenAid | KBFS25EVWH00 | Refrigerator |
| KitchenAid | KBFS25EVWH1 | Refrigerator |
| KitchenAid | KBFS25EVWH2 | Refrigerator |
| kitchenaid | KBFS25EWBL | Refrigerator |
| KitchenAid | KBFS25EWBL0 | Refrigerator |
| KitchenAid | KBFS25EWBL1 | Refrigerator |
| KitchenAid | KBFS25EWBL2 | Refrigerator |
| KitchenAid | KBFS25EWBL3 | Refrigerator |
| KitchenAid | KBFS25EWBL4 | Refrigerator |
| KitchenAid | KBFS25EWBL5 | Refrigerator |
| KitchenAid | KBFS25EWBL7 | Refrigerator |
| KitchenAid | KBFS25EWBL9 | Refrigerator |
| KitchenAid | KBFS25EWMS | Refrigerator |
| KitchenAid | KBFS25EWMS0 | Refrigerator |
| KitchenAid | KBFS25EWMS1 | Refrigerator |
| KitchenAid | KBFS25EWMS10 | Refrigerator |
| KitchenAid | KBFS25EWMS2 | Refrigerator |
| KitchenAid | KBFS25EWMS3 | Refrigerator |
| KitchenAid | KBFS25EWMS4 | Refrigerator |
| KitchenAid | KBFS25EWMS5 | Refrigerator |
| KitchenAid | KBFS25EWMS6 | Refrigerator |
| KitchenAid | KBFS25EWMS8 | Refrigerator |
| kitchenaid | KBFS25EWWH | Refrigerator |
| KitchenAid | KBFS25EWWH0 | Refrigerator |
| KitchenAid | KBFS25EWWH1 | Refrigerator |
| KitchenAid | KBFS25EWWH2 | Refrigerator |
| KitchenAid | KBFS25EWWH3 | Refrigerator |
| KitchenAid | KBFS25EWWH4 | Refrigerator |
| KitchenAid | KBFS25EWWH5 | Refrigerator |
| KitchenAid | KBFS25EWWH7 | Refrigerator |
| KitchenAid | KBFS25EWWH9 | Refrigerator |
| KitchenAid | KBLA20EMSS | Refrigerator |
| KitchenAid | KBLA20EMSS00 | Refrigerator |
| KitchenAid | KBLA20ERSS | Refrigerator |
| KitchenAid | KBLA20ERSS00 | Refrigerator |
| KitchenAid | KBLA20ERSS01 | Refrigerator |
| KitchenAid | KBLA22ERSS00 | Refrigerator |
| KitchenAid | KBLA22ERSS01 | Refrigerator |
| KitchenAid | KBLA22KLSS00 | Refrigerator |
| KitchenAid | KBLA22KLSS01 | Refrigerator |
| KitchenAid | KBLA22KMSS | Refrigerator |
| KitchenAid | KBLA22KMSS00 | Refrigerator |
| KitchenAid | KBLA22KRSS00 | Refrigerator |
| KitchenAid | KBLA22KRSS01 | Refrigerator |
| KitchenAid | KBLC36FKB00 | Refrigerator |
| KitchenAid | KBLC36FKB01 | Refrigerator |
| KitchenAid | KBLC36FKB02 | Refrigerator |
| KitchenAid | KBLS19KCMS | Refrigerator |
| KitchenAid | KBLS19KCMS00 | Refrigerator |
| KitchenAid | KBLS19KTMS0 | Refrigerator |
| KitchenAid | KBLS19KTMS1 | Refrigerator |
| KitchenAid | KBLS19KTMS2 | Refrigerator |
| KitchenAid | KBLS19KTMS3 | Refrigerator |
| KitchenAid | KBLS19KTSS00 | Refrigerator |
| KitchenAid | KBLS19KTSS01 | Refrigerator |
| KitchenAid | KBLS19KTSS2 | Refrigerator |
| KitchenAid | KBLS19KTSS3 | Refrigerator |
| KitchenAid | KBLS19KTSS4 | Refrigerator |
| KitchenAid | KBLS19KTSS5 | Refrigerator |
| KitchenAid | KBLS20ETSS | Refrigerator |
| KitchenAid | KBLS20ETSS00 | Refrigerator |
| KitchenAid | KBLS20ETSS01 | Refrigerator |
| KitchenAid | KBLS20ETSS11 | Refrigerator |
| KitchenAid | KBLS20EVMS00 | Refrigerator |
| KitchenAid | KBLS20EVMS1 | Refrigerator |
| KitchenAid | KBLS20EVMS2 | Refrigerator |
| KitchenAid | KBLS20EVMS3 | Refrigerator |
| KitchenAid | KBLS20EVMS4 | Refrigerator |
| KitchenAid | KBLS20EVMS5 | Refrigerator |
| KitchenAid | KBLS22ETSS | Refrigerator |
| KitchenAid | KBLS22ETSS00 | Refrigerator |
| KitchenAid | KBLS22ETSS01 | Refrigerator |
| KitchenAid | KBLS22ETSS11 | Refrigerator |
| KitchenAid | KBLS22EVMS00 | Refrigerator |
| KitchenAid | KBLS22EVMS1 | Refrigerator |
| KitchenAid | KBLS22EVMS2 | Refrigerator |
| KitchenAid | KBLS22EVMS3 | Refrigerator |
| KitchenAid | KBLS22KCMS | Refrigerator |
| KitchenAid | KBLS22KCMS00 | Refrigerator |
| KitchenAid | KBLS22KTSS | Refrigerator |
| KitchenAid | KBLS22KTSS00 | Refrigerator |
| KitchenAid | KBLS22KTSS01 | Refrigerator |
| KitchenAid | KBLS22KTSS11 | Refrigerator |
| KitchenAid | KBLS22KVSS | Refrigerator |
| KitchenAid | KBLS22KVSS00 | Refrigerator |
| KitchenAid | KBLS22KVSS1 | Refrigerator |
| KitchenAid | KBLS22KVSS2 | Refrigerator |
| KitchenAid | KBLS22KVSS3 | Refrigerator |
| KitchenAid | KBLS22KVSS4 | Refrigerator |
| kitchenaid | KBLS22KWMS | Refrigerator |
| KitchenAid | KBLS22KWMS4 | Refrigerator |
| KitchenAid | KBLS22KWMS5 | Refrigerator |
| KitchenAid | KBLS22KWMS6 | Refrigerator |
| KitchenAid | KBRA20ELBL00 | Refrigerator |
| KitchenAid | KBRA20ELBL01 | Refrigerator |
| KitchenAid | KBRA20ELBT00 | Refrigerator |
| KitchenAid | KBRA20ELBT01 | Refrigerator |
| KitchenAid | KBRA20ELSS00 | Refrigerator |
| KitchenAid | KBRA20ELSS01 | Refrigerator |
| KitchenAid | KBRA20ELWH00 | Refrigerator |
| KitchenAid | KBRA20ELWH01 | Refrigerator |
| KitchenAid | KBRA20EMBL00 | Refrigerator |
| KitchenAid | KBRA20EMBT00 | Refrigerator |
| KitchenAid | KBRA20EMSS00 | Refrigerator |
| KitchenAid | KBRA20EMWH00 | Refrigerator |
| KitchenAid | KBRA20ERBL | Refrigerator |
| KitchenAid | KBRA20ERBL00 | Refrigerator |
| KitchenAid | KBRA20ERBL01 | Refrigerator |
| KitchenAid | KBRA20ERSS | Refrigerator |
| KitchenAid | KBRA20ERSS00 | Refrigerator |
| KitchenAid | KBRA20ERSS01 | Refrigerator |
| KitchenAid | KBRA20ERWH00 | Refrigerator |
| KitchenAid | KBRA20ERWH01 | Refrigerator |
| KitchenAid | KBRA22ERBL00 | Refrigerator |
| KitchenAid | KBRA22ERBL01 | Refrigerator |
| KitchenAid | KBRA22ERSS00 | Refrigerator |
| KitchenAid | KBRA22ERSS01 | Refrigerator |
| KitchenAid | KBRA22ERWH | Refrigerator |
| KitchenAid | KBRA22ERWH00 | Refrigerator |
| KitchenAid | KBRA22ERWH01 | Refrigerator |
| KitchenAid | KBRA22KRBL00 | Refrigerator |
| KitchenAid | KBRA22KRBL01 | Refrigerator |
| KitchenAid | KBRA22KRSS | Refrigerator |
| KitchenAid | KBRA22KRSS00 | Refrigerator |
| KitchenAid | KBRA22KRSS01 | Refrigerator |
| KitchenAid | KBRA22KRWH00 | Refrigerator |
| KitchenAid | KBRA22KRWH01 | Refrigerator |
| KitchenAid | KBRL22EVMS4 | Refrigerator |
| KitchenAid | KBRP20ELSS00 | Refrigerator |
| KitchenAid | KBRP20ELSS01 | Refrigerator |
| KitchenAid | KBRP20EMSS00 | Refrigerator |
| KitchenAid | KBRP20ERSS | Refrigerator |
| KitchenAid | KBRP20ERSS00 | Refrigerator |
| KitchenAid | KBRP20ERSS01 | Refrigerator |
| KitchenAid | KBRP20ERSS02 | Refrigerator |
| KitchenAid | KBRS19KCMS | Refrigerator |
| KitchenAid | KBRS19KCMS00 | Refrigerator |
| KitchenAid | KBRS19KTBL | Refrigerator |
| KitchenAid | KBRS19KTBL00 | Refrigerator |
| KitchenAid | KBRS19KTBL01 | Refrigerator |
| KitchenAid | KBRS19KTBL2 | Refrigerator |
| KitchenAid | KBRS19KTBL3 | Refrigerator |
| KitchenAid | KBRS19KTBL4 | Refrigerator |
| KitchenAid | KBRS19KTBL5 | Refrigerator |
| KitchenAid | KBRS19KTBL6 | Refrigerator |
| KitchenAid | KBRS19KTBL7 | Refrigerator |
| KitchenAid | KBRS19KTMS0 | Refrigerator |
| KitchenAid | KBRS19KTMS1 | Refrigerator |
| KitchenAid | KBRS19KTMS2 | Refrigerator |
| KitchenAid | KBRS19KTMS3 | Refrigerator |
| KitchenAid | KBRS19KTSS | Refrigerator |
| KitchenAid | KBRS19KTSS00 | Refrigerator |
| KitchenAid | KBRS19KTSS01 | Refrigerator |
| KitchenAid | KBRS19KTSS2 | Refrigerator |
| KitchenAid | KBRS19KTSS3 | Refrigerator |
| KitchenAid | KBRS19KTSS4 | Refrigerator |
| KitchenAid | KBRS19KTSS5 | Refrigerator |
| KitchenAid | KBRS19KTWH | Refrigerator |
| KitchenAid | KBRS19KTWH00 | Refrigerator |
| KitchenAid | KBRS19KTWH01 | Refrigerator |
| KitchenAid | KBRS19KTWH2 | Refrigerator |
| KitchenAid | KBRS19KTWH3 | Refrigerator |
| KitchenAid | KBRS19KTWH4 | Refrigerator |
| KitchenAid | KBRS19KTWH5 | Refrigerator |
| KitchenAid | KBRS19KTWH6 | Refrigerator |
| KitchenAid | KBRS19KTWH7 | Refrigerator |
| KitchenAid | KBRS20ETBL | Refrigerator |
| KitchenAid | KBRS20ETBL00 | Refrigerator |
| KitchenAid | KBRS20ETBL01 | Refrigerator |
| KitchenAid | KBRS20ETBL11 | Refrigerator |
| KitchenAid | KBRS20ETSS00 | Refrigerator |
| KitchenAid | KBRS20ETSS01 | Refrigerator |
| KitchenAid | KBRS20ETSS11 | Refrigerator |
| KitchenAid | KBRS20ETWH00 | Refrigerator |
| KitchenAid | KBRS20ETWH01 | Refrigerator |
| KitchenAid | KBRS20ETWH11 | Refrigerator |
| KitchenAid | KBRS20EVBL | Refrigerator |
| KitchenAid | KBRS20EVBL00 | Refrigerator |
| KitchenAid | KBRS20EVBL1 | Refrigerator |
| KitchenAid | KBRS20EVBL2 | Refrigerator |
| KitchenAid | KBRS20EVBL3 | Refrigerator |
| KitchenAid | KBRS20EVBL4 | Refrigerator |
| KitchenAid | KBRS20EVMS00 | Refrigerator |
| KitchenAid | KBRS20EVMS1 | Refrigerator |
| KitchenAid | KBRS20EVMS2 | Refrigerator |
| KitchenAid | KBRS20EVMS3 | Refrigerator |
| KitchenAid | KBRS20EVMS4 | Refrigerator |
| KitchenAid | KBRS20EVMS5 | Refrigerator |
| KitchenAid | KBRS20EVMS6 | Refrigerator |
| KitchenAid | KBRS20EVWH00 | Refrigerator |
| KitchenAid | KBRS20EVWH1 | Refrigerator |
| KitchenAid | KBRS20EVWH2 | Refrigerator |
| KitchenAid | KBRS20EVWH3 | Refrigerator |
| KitchenAid | KBRS22ETBL | Refrigerator |
| KitchenAid | KBRS22ETBL00 | Refrigerator |
| KitchenAid | KBRS22ETBL01 | Refrigerator |
| KitchenAid | KBRS22ETBL11 | Refrigerator |
| KitchenAid | KBRS22ETSS | Refrigerator |
| KitchenAid | KBRS22ETSS00 | Refrigerator |
| KitchenAid | KBRS22ETSS01 | Refrigerator |
| KitchenAid | KBRS22ETSS11 | Refrigerator |
| KitchenAid | KBRS22ETWH | Refrigerator |
| KitchenAid | KBRS22ETWH00 | Refrigerator |
| KitchenAid | KBRS22ETWH01 | Refrigerator |
| KitchenAid | KBRS22ETWH11 | Refrigerator |
| KitchenAid | KBRS22EVBL00 | Refrigerator |
| KitchenAid | KBRS22EVBL1 | Refrigerator |
| KitchenAid | KBRS22EVBL2 | Refrigerator |
| KitchenAid | KBRS22EVMS00 | Refrigerator |
| KitchenAid | KBRS22EVMS1 | Refrigerator |
| KitchenAid | KBRS22EVMS2 | Refrigerator |
| KitchenAid | KBRS22EVMS3 | Refrigerator |
| KitchenAid | KBRS22EVMS4 | Refrigerator |
| KitchenAid | KBRS22EVWH | Refrigerator |
| KitchenAid | KBRS22EVWH00 | Refrigerator |
| KitchenAid | KBRS22EVWH1 | Refrigerator |
| KitchenAid | KBRS22EVWH2 | Refrigerator |
| KitchenAid | KBRS22KCMS | Refrigerator |
| KitchenAid | KBRS22KCMS00 | Refrigerator |
| KitchenAid | KBRS22KTBL | Refrigerator |
| KitchenAid | KBRS22KTBL00 | Refrigerator |
| KitchenAid | KBRS22KTBL01 | Refrigerator |
| KitchenAid | KBRS22KTBL11 | Refrigerator |
| KitchenAid | KBRS22KTSS | Refrigerator |
| KitchenAid | KBRS22KTSS00 | Refrigerator |
| KitchenAid | KBRS22KTSS01 | Refrigerator |
| KitchenAid | KBRS22KTSS11 | Refrigerator |
| KitchenAid | KBRS22KTWH | Refrigerator |
| KitchenAid | KBRS22KTWH00 | Refrigerator |
| KitchenAid | KBRS22KTWH01 | Refrigerator |
| KitchenAid | KBRS22KTWH11 | Refrigerator |
| KitchenAid | KBRS22KWBL | Refrigerator |
| KitchenAid | KBRS22KWBL4 | Refrigerator |
| KitchenAid | KBRS22KWBL5 | Refrigerator |
| KitchenAid | KBRS22KWBL6 | Refrigerator |
| KitchenAid | KBRS22KWBL7 | Refrigerator |
| KitchenAid | KBRS22KWMS | Refrigerator |
| KitchenAid | KBRS22KWMS4 | Refrigerator |
| KitchenAid | KBRS22KWMS5 | Refrigerator |
| KitchenAid | KBRS22KWMS6 | Refrigerator |
| kitchenaid | KBRS22KWWH | Refrigerator |
| KitchenAid | KBWS19KCBL | Refrigerator |
| KitchenAid | KBWS19KCWH | Refrigerator |
| KitchenAid | KBWS22KCBL | Refrigerator |
| KitchenAid | KBWS22KCWH | Refrigerator |
| KitchenAid | KFC022EVBL | Refrigerator |
| KitchenAid | KFC022EVBL1 | Refrigerator |
| KitchenAid | KFC022EVBL4 | Refrigerator |
| KitchenAid | KFCO22EVBL | Refrigerator |
| KitchenAid | KFCO22EVBL00 | Refrigerator |
| KitchenAid | KFCO22EVBL1 | Refrigerator |
| KitchenAid | KFCO22EVBL2 | Refrigerator |
| KitchenAid | KFCO22EVBL3 | Refrigerator |
| KitchenAid | KFCO22EVBL4 | Refrigerator |
| KitchenAid | KFCO22EVBL5 | Refrigerator |
| KitchenAid | KFCP22EXMP | Refrigerator |
| KitchenAid | KFCP22EXMP1 | Refrigerator |
| KitchenAid | KFCP22EXMP2 | Refrigerator |
| KitchenAid | KFCP22EXMP3 | Refrigerator |
| KitchenAid | KFCP22EXMP4 | Refrigerator |
| KitchenAid | KFCP22EXMP5 | Refrigerator |
| KitchenAid | KFCS22EVBL | Refrigerator |
| KitchenAid | KFCS22EVBL00 | Refrigerator |
| KitchenAid | KFCS22EVBL1 | Refrigerator |
| KitchenAid | KFCS22EVBL2 | Refrigerator |
| KitchenAid | KFCS22EVBL3 | Refrigerator |
| KitchenAid | KFCS22EVBL4 | Refrigerator |
| KitchenAid | KFCS22EVBL5 | Refrigerator |
| KitchenAid | KFCS22EVMS | Refrigerator |
| KitchenAid | KFCS22EVMS00 | Refrigerator |
| KitchenAid | KFCS22EVMS1 | Refrigerator |
| KitchenAid | KFCS22EVMS2 | Refrigerator |
| KitchenAid | KFCS22EVMS3 | Refrigerator |
| KitchenAid | KFCS22EVMS4 | Refrigerator |
| KitchenAid | KFCS22EVMS5 | Refrigerator |
| KitchenAid | KFCS22EVMS6 | Refrigerator |
| KitchenAid | KFCS22EVMS7 | Refrigerator |
| KitchenAid | KFCS22EVMS8 | Refrigerator |
| kitchenaid | KFCS22EVW | Refrigerator |
| KitchenAid | KFCS22EVWH | Refrigerator |
| KitchenAid | KFCS22EVWH00 | Refrigerator |
| KitchenAid | KFCS22EVWH1 | Refrigerator |
| KitchenAid | KFCS22EVWH2 | Refrigerator |
| KitchenAid | KFCS22EVWH3 | Refrigerator |
| KitchenAid | KFCS22EVWH4 | Refrigerator |
| KitchenAid | KFCS22EVWH5 | Refrigerator |
| KitchenAid | KFIL27CXMP0 | Refrigerator |
| kitchenaid | KFIL27CXMS | Refrigerator |
| KitchenAid | KFIL27CXMS0 | Refrigerator |
| KitchenAid | KFIL27CXMS1 | Refrigerator |
| KitchenAid | KFIL27CXMS2 | Refrigerator |
| KitchenAid | KFIL27CXMS3 | Refrigerator |
| KitchenAid | KFIL27CXMS4 | Refrigerator |
| KitchenAid | KFIL27CXMS5 | Refrigerator |
| KitchenAid | KFIS20XVBL | Refrigerator |
| KitchenAid | KFIS20XVBL00 | Refrigerator |
| KitchenAid | KFIS20XVBL1 | Refrigerator |
| KitchenAid | KFIS20XVBL2 | Refrigerator |
| KitchenAid | KFIS20XVBL3 | Refrigerator |
| KitchenAid | KFIS20XVBL4 | Refrigerator |
| KitchenAid | KFIS20XVBL5 | Refrigerator |
| KitchenAid | KFIS20XVBL6 | Refrigerator |
| KitchenAid | KFIS20XVBL7 | Refrigerator |
| KitchenAid | KFIS20XVBL8 | Refrigerator |
| KitchenAid | KFIS20XVMS | Refrigerator |
| KitchenAid | KFIS20XVMS00 | Refrigerator |
| KitchenAid | KFIS20XVMS1 | Refrigerator |
| KitchenAid | KFIS20XVMS10 | Refrigerator |
| KitchenAid | KFIS20XVMS11 | Refrigerator |
| KitchenAid | KFIS20XVMS2 | Refrigerator |
| KitchenAid | KFIS20XVMS3 | Refrigerator |
| KitchenAid | KFIS20XVMS4 | Refrigerator |
| KitchenAid | KFIS20XVMS5 | Refrigerator |
| KitchenAid | KFIS20XVMS6 | Refrigerator |
| KitchenAid | KFIS20XVMS7 | Refrigerator |
| KitchenAid | KFIS20XVMS8 | Refrigerator |
| KitchenAid | KFIS20XVWH | Refrigerator |
| KitchenAid | KFIS20XVWH00 | Refrigerator |
| KitchenAid | KFIS20XVWH1 | Refrigerator |
| KitchenAid | KFIS20XVWH2 | Refrigerator |
| KitchenAid | KFIS20XVWH3 | Refrigerator |
| KitchenAid | KFIS20XVWH4 | Refrigerator |
| KitchenAid | KFIS20XVWH5 | Refrigerator |
| KitchenAid | KFIS20XVWH7 | Refrigerator |
| KitchenAid | KFIS20XVWH8 | Refrigerator |
| KitchenAid | KFIS25XVBL00 | Refrigerator |
| KitchenAid | KFIS25XVBL1 | Refrigerator |
| KitchenAid | KFIS25XVBL2 | Refrigerator |
| KitchenAid | KFIS25XVBL3 | Refrigerator |
| KitchenAid | KFIS25XVBL4 | Refrigerator |
| KitchenAid | KFIS25XVBL5 | Refrigerator |
| KitchenAid | KFIS25XVBL6 | Refrigerator |
| KitchenAid | KFIS25XVMS | Refrigerator |
| KitchenAid | KFIS25XVMS00 | Refrigerator |
| KitchenAid | KFIS25XVMS1 | Refrigerator |
| KitchenAid | KFIS25XVMS10 | Refrigerator |
| KitchenAid | KFIS25XVMS2 | Refrigerator |
| KitchenAid | KFIS25XVMS4 | Refrigerator |
| KitchenAid | KFIS25XVMS5 | Refrigerator |
| KitchenAid | KFIS25XVMS6 | Refrigerator |
| KitchenAid | KFIS25XVMS7 | Refrigerator |
| KitchenAid | KFIS25XVMS8 | Refrigerator |
| KitchenAid | KFIS25XVMS9 | Refrigerator |
| KitchenAid | KFIS25XVWH00 | Refrigerator |
| KitchenAid | KFIS25XVWH1 | Refrigerator |
| KitchenAid | KFIS25XVWH2 | Refrigerator |
| KitchenAid | KFIS25XVWH3 | Refrigerator |
| KitchenAid | KFIS25XVWH4 | Refrigerator |
| KitchenAid | KFIS25XVWH5 | Refrigerator |
| KitchenAid | KFIS25XVWH6 | Refrigerator |
| KitchenAid | KFIS27CXBL0 | Refrigerator |
| KitchenAid | KFIS27CXBL1 | Refrigerator |
| KitchenAid | KFIS27CXBL2 | Refrigerator |
| KitchenAid | KFIS27CXBL3 | Refrigerator |
| KitchenAid | KFIS27CXMS | Refrigerator |
| KitchenAid | KFIS27CXMS0 | Refrigerator |
| KitchenAid | KFIS27CXMS1 | Refrigerator |
| KitchenAid | KFIS27CXMS2 | Refrigerator |
| KitchenAid | KFIS27CXMS3 | Refrigerator |
| KitchenAid | KFIS27CXMS4 | Refrigerator |
| KitchenAid | KFIS27CXMS5 | Refrigerator |
| KitchenAid | KFIS27CXMS6 | Refrigerator |
| KitchenAid | KFIS27CXWH0 | Refrigerator |
| KitchenAid | KFIS27CXWH1 | Refrigerator |
| KitchenAid | KFIS27CXWH2 | Refrigerator |
| KitchenAid | KFIS27CXWH3 | Refrigerator |
| kitchenaid | KFIS29PBMS | Refrigerator |
| KitchenAid | KFXL25RYMS0 | Refrigerator |
| KitchenAid | KFXL25RYMS1 | Refrigerator |
| KitchenAid | KFXL25RYMS2 | Refrigerator |
| KitchenAid | KFXL25RYMS4 | Refrigerator |
| KitchenAid | KFXS25RYBL | Refrigerator |
| KitchenAid | KFXS25RYBL0 | Refrigerator |
| KitchenAid | KFXS25RYBL1 | Refrigerator |
| KitchenAid | KFXS25RYBL2 | Refrigerator |
| KitchenAid | KFXS25RYBL4 | Refrigerator |
| KitchenAid | KFXS25RYBL5 | Refrigerator |
| KitchenAid | KFXS25RYMS | Refrigerator |
| KitchenAid | KFXS25RYMS0 | Refrigerator |
| KitchenAid | KFXS25RYMS1 | Refrigerator |
| KitchenAid | KFXS25RYMS2 | Refrigerator |
| KitchenAid | KFXS25RYMS4 | Refrigerator |
| KitchenAid | KFXS25RYMS5 | Refrigerator |
| KitchenAid | KFXS25RYWH | Refrigerator |
| KitchenAid | KFXS25RYWH0 | Refrigerator |
| KitchenAid | KFXS25RYWH1 | Refrigerator |
| KitchenAid | KFXS25RYWH2 | Refrigerator |
| KitchenAid | KFXS25RYWH4 | Refrigerator |
| KitchenAid | KFXS25RYWH5 | Refrigerator |
| KitchenAid | KRBL102ESS | Refrigerator |
| KitchenAid | KRBL109ESS | Refrigerator |
| KitchenAid | KRBR102ESS | Refrigerator |
| KitchenAid | KRBR109ESS | Refrigerator |
| KitchenAid | KRBX109EBL | Refrigerator |
| KitchenAid | KRBX109EWH | Refrigerator |
| KitchenAid | KRFC300EBL | Refrigerator |
| KitchenAid | KRFC300EBL00 | Refrigerator |
| KitchenAid | KRFC300EBL01 | Refrigerator |
| KitchenAid | KRFC300EBS | Refrigerator |
| KitchenAid | KRFC300EBS00 | Refrigerator |
| KitchenAid | KRFC300ESS | Refrigerator |
| KitchenAid | KRFC300ESS00 | Refrigerator |
| KitchenAid | KRFC300ESS01 | Refrigerator |
| KitchenAid | KRFC300ESS02 | Refrigerator |
| KitchenAid | KRFC300ESS03 | Refrigerator |
| KitchenAid | KRFC300ESS04 | Refrigerator |
| KitchenAid | KRFC300ESS05 | Refrigerator |
| KitchenAid | KRFC300ESS06 | Refrigerator |
| KitchenAid | KRFC300ESS07 | Refrigerator |
| KitchenAid | KRFC300ESS08 | Refrigerator |
| KitchenAid | KRFC300ESS09 | Refrigerator |
| KitchenAid | KRFC300EWH | Refrigerator |
| KitchenAid | KRFC300EWH00 | Refrigerator |
| KitchenAid | KRFC300EWH01 | Refrigerator |
| KitchenAid | KRFC302EBL00 | Refrigerator |
| KitchenAid | KRFC302EBS | Refrigerator |
| KitchenAid | KRFC302EBS00 | Refrigerator |
| KitchenAid | KRFC302EPA | Refrigerator |
| KitchenAid | KRFC302EPA00 | Refrigerator |
| KitchenAid | KRFC302ESS | Refrigerator |
| KitchenAid | KRFC302ESS00 | Refrigerator |
| KitchenAid | KRFC302EWH00 | Refrigerator |
| KitchenAid | KRFC400EBL00 | Refrigerator |
| KitchenAid | KRFC400ESS | Refrigerator |
| KitchenAid | KRFC400ESS00 | Refrigerator |
| KitchenAid | KRFC400ESS01 | Refrigerator |
| KitchenAid | KRFC400EWH00 | Refrigerator |
| KitchenAid | KRFC90100B2 | Refrigerator |
| KitchenAid | KRFC90100B3 | Refrigerator |
| KitchenAid | KRFC90100B4 | Refrigerator |
| KitchenAid | KRFC90100B5 | Refrigerator |
| KitchenAid | KRFF302EBL | Refrigerator |
| KitchenAid | KRFF302EBL00 | Refrigerator |
| KitchenAid | KRFF302EBL01 | Refrigerator |
| KitchenAid | KRFF302EBS | Refrigerator |
| KitchenAid | KRFF302EBS00 | Refrigerator |
| KitchenAid | KRFF302ESS | Refrigerator |
| KitchenAid | KRFF302ESS00 | Refrigerator |
| KitchenAid | KRFF302ESS01 | Refrigerator |
| KitchenAid | KRFF302EWH | Refrigerator |
| KitchenAid | KRFF302EWH00 | Refrigerator |
| KitchenAid | KRFF302EWH01 | Refrigerator |
| KitchenAid | KRFF305EBL | Refrigerator |
| KitchenAid | KRFF305EBL00 | Refrigerator |
| KitchenAid | KRFF305EBS | Refrigerator |
| KitchenAid | KRFF305EBS00 | Refrigerator |
| KitchenAid | KRFF305ESS | Refrigerator |
| KitchenAid | KRFF305ESS00 | Refrigerator |
| KitchenAid | KRFF305EWH | Refrigerator |
| KitchenAid | KRFF305EWH00 | Refrigerator |
| Maytag | 5MFI267AA000 | Refrigerator |
| Maytag | 5MFX257AA000 | Refrigerator |
| Maytag | 5VMFI267AA00 | Refrigerator |
| Maytag | 5VMFX257AA00 | Refrigerator |
| Maytag | 7MI2569VEM1 | Refrigerator |
| Maytag | 7MI2569VEM10 | Refrigerator |
| Maytag | 7MI2569VEM2 | Refrigerator |
| Maytag | 7MI2569VEM3 | Refrigerator |
| Maytag | CSD2610KR | Refrigerator |
| Maytag | CSD2610KRW | Refrigerator |
| Maytag | GC2223GEKB | Refrigerator |
| Maytag | GC2223GEKW | Refrigerator |
| Maytag | GC2224GEKB | Refrigerator |
| Maytag | GC2224GEKW | Refrigerator |
| Maytag | GC2225GEK3 | Refrigerator |
| Maytag | GC2225GEK9 | Refrigerator |
| Maytag | GC2225GEKB | Refrigerator |
| Maytag | GC2227HEKW | Refrigerator |
| Maytag | GS2325GEKB | Refrigerator |
| Maytag | GS2625GEKB | Refrigerator |
| Maytag | MAD2650KES | Refrigerator |
| Maytag | MBF1953DEE | Refrigerator |
| Maytag | MBF1953DEH | Refrigerator |
| Maytag | MBF1953DEM | Refrigerator |
| maytag | MBF1953YEB | Refrigerator |
| Maytag | MBF1958DEE | Refrigerator |
| Maytag | MBF1958DEH | Refrigerator |
| Maytag | MBF1958DEM | Refrigerator |
| maytag | MBF1958XEB | Refrigerator |
| maytag | MBF1958XEW | Refrigerator |
| Maytag | MBF2258DEE | Refrigerator |
| Maytag | MBF2258DEH | Refrigerator |
| Maytag | MBF2258DEM | Refrigerator |
| maytag | MBF2258XEB | Refrigerator |
| maytag | MBF2258XEW | Refrigerator |
| Maytag | MBL2258XES | Refrigerator |
| maytag | MBR1953YES | Refrigerator |
| Maytag | MBR2258XES | Refrigerator |
| Maytag | MCD2257HEB | Refrigerator |
| Maytag | MCD2257HEQ | Refrigerator |
| Maytag | MCD2257HES | Refrigerator |
| Maytag | MCD2257HEW | Refrigerator |
| Maytag | MCD2257HEX | Refrigerator |
| Maytag | MCD2257KES | Refrigerator |
| Maytag | MF12570FEZ12 | Refrigerator |
| Maytag | MFC2061HEB | Refrigerator |
| Maytag | MFC2061HEB13 | Refrigerator |
| Maytag | MFC2061HEB4 | Refrigerator |
| Maytag | MFC2061HEB5 | Refrigerator |
| Maytag | MFC2061HES | Refrigerator |
| Maytag | MFC2061HEW | Refrigerator |
| Maytag | MFC2061HEW13 | Refrigerator |
| Maytag | MFC2061HEW4 | Refrigerator |
| Maytag | MFC2061HEW5 | Refrigerator |
| Maytag | MFC2061KEQ | Refrigerator |
| Maytag | MFC2061KES | Refrigerator |
| Maytag | MFC2061KES10 | Refrigerator |
| Maytag | MFC2061KES12 | Refrigerator |
| Maytag | MFC2061KES14 | Refrigerator |
| Maytag | MFC2061KES3 | Refrigerator |
| Maytag | MFC2061KES4 | Refrigerator |
| Maytag | MFC2061KES5 | Refrigerator |
| Maytag | MFC2061KES6 | Refrigerator |
| Maytag | MFC2061KES7 | Refrigerator |
| Maytag | MFC2061KES8 | Refrigerator |
| Maytag | MFC2061KES9 | Refrigerator |
| Maytag | MFC2062DEM | Refrigerator |
| Maytag | MFC2062DEM00 | Refrigerator |
| Maytag | MFC2062DEM01 | Refrigerator |
| Maytag | MFC2062FEZ00 | Refrigerator |
| Maytag | MFC2062FEZ01 | Refrigerator |
| Maytag | MFC2062VE | Refrigerator |
| Maytag | MFD20BCZXB | Refrigerator |
| Maytag | MFD20BCZXS | Refrigerator |
| Maytag | MFD20BCZXW | Refrigerator |
| Maytag | MFD2560HEB | Refrigerator |
| Maytag | MFD2560HEQ | Refrigerator |
| Maytag | MFD2560HES | Refrigerator |
| Maytag | MFD2560HEW | Refrigerator |
| Maytag | MFD2561HEB | Refrigerator |
| Maytag | MFD2561HEQ | Refrigerator |
| Maytag | MFD2561HEQ14 | Refrigerator |
| Maytag | MFD2561HES | Refrigerator |
| Maytag | MFD2561HEW | Refrigerator |
| Maytag | MFD2561KES | Refrigerator |
| Maytag | MFD2562KEB | Refrigerator |
| Maytag | MFD2562KEB10 | Refrigerator |
| Maytag | MFD2562KEB11 | Refrigerator |
| Maytag | MFD2562KES | Refrigerator |
| Maytag | MFD2562KES10 | Refrigerator |
| Maytag | MFD2562KES11 | Refrigerator |
| Maytag | MFD2562KEW | Refrigerator |
| Maytag | MFD2562KEW10 | Refrigerator |
| Maytag | MFD2562KEW11 | Refrigerator |
| Maytag | MFD2562VE | Refrigerator |
| Maytag | MFD2562VEA | Refrigerator |
| Maytag | MFD2562VEA1 | Refrigerator |
| Maytag | MFD2562VEA10 | Refrigerator |
| Maytag | MFD2562VEA2 | Refrigerator |
| Maytag | MFD2562VEB | Refrigerator |
| Maytag | MFD2562VEB1 | Refrigerator |
| Maytag | MFD2562VEB10 | Refrigerator |
| Maytag | MFD2562VEB2 | Refrigerator |
| Maytag | MFD2562VEB3 | Refrigerator |
| Maytag | MFD2562VEB4 | Refrigerator |
| Maytag | MFD2562VEB6 | Refrigerator |
| Maytag | MFD2562VEB9 | Refrigerator |
| Maytag | MFD2562VEM | Refrigerator |
| Maytag | MFD2562VEM1 | Refrigerator |
| Maytag | MFD2562VEM10 | Refrigerator |
| Maytag | MFD2562VEM11 | Refrigerator |
| Maytag | MFD2562VEM2 | Refrigerator |
| Maytag | MFD2562VEM3 | Refrigerator |
| Maytag | MFD2562VEM4 | Refrigerator |
| Maytag | MFD2562VEM5 | Refrigerator |
| Maytag | MFD2562VEM7 | Refrigerator |
| Maytag | MFD2562VEM8 | Refrigerator |
| Maytag | MFD2562VEM9 | Refrigerator |
| Maytag | MFD2562VEW | Refrigerator |
| Maytag | MFD2562VEW1 | Refrigerator |
| Maytag | MFD2562VEW10 | Refrigerator |
| Maytag | MFD2562VEW2 | Refrigerator |
| Maytag | MFD2562VEW3 | Refrigerator |
| Maytag | MFD2562VEW5 | Refrigerator |
| Maytag | MFD2562VEW6 | Refrigerator |
| Maytag | MFD2562VEW8 | Refrigerator |
| Maytag | MFF2258DEE | Refrigerator |
| Maytag | MFF2258DEH | Refrigerator |
| Maytag | MFF2258DEM | Refrigerator |
| Maytag | MFF2258VEB | Refrigerator |
| Maytag | MFF2258VEM | Refrigerator |
| Maytag | MFF2258VEW | Refrigerator |
| Maytag | MFF2558DEE | Refrigerator |
| Maytag | MFF2558DEH | Refrigerator |
| Maytag | MFF2558DEM | Refrigerator |
| maytag | MFF2558VEW | Refrigerator |
| Maytag | MFI2067AEB | Refrigerator |
| Maytag | MFI2067AEB12 | Refrigerator |
| Maytag | MFI2067AEB13 | Refrigerator |
| Maytag | MFI2067AEB4 | Refrigerator |
| Maytag | MFI2067AEB5 | Refrigerator |
| Maytag | MFI2067AEQ | Refrigerator |
| Maytag | MFI2067AEQ12 | Refrigerator |
| Maytag | MFI2067AEQ13 | Refrigerator |
| Maytag | MFI2067AEQ4 | Refrigerator |
| Maytag | MFI2067AES | Refrigerator |
| Maytag | MFI2067AES11 | Refrigerator |
| Maytag | MFI2067AES12 | Refrigerator |
| Maytag | MFI2067AES13 | Refrigerator |
| Maytag | MFI2067AES4 | Refrigerator |
| Maytag | MFI2067AES5 | Refrigerator |
| Maytag | MFI2067AES6 | Refrigerator |
| Maytag | MFI2067AES7 | Refrigerator |
| Maytag | MFI2067AES8 | Refrigerator |
| Maytag | MFI2067AEW | Refrigerator |
| Maytag | MFI2067AEW12 | Refrigerator |
| Maytag | MFI2067AEW13 | Refrigerator |
| Maytag | MFI2067AEW4 | Refrigerator |
| Maytag | MFI2069VE | Refrigerator |
| Maytag | MFI2266AEB | Refrigerator |
| Maytag | MFI2266AEB10 | Refrigerator |
| Maytag | MFI2266AEB11 | Refrigerator |
| Maytag | MFI2266AEQ | Refrigerator |
| Maytag | MFI2266AEQ10 | Refrigerator |
| Maytag | MFI2266AEQ11 | Refrigerator |
| Maytag | MFI2266AES | Refrigerator |
| Maytag | MFI2266AES10 | Refrigerator |
| Maytag | MFI2266AES11 | Refrigerator |
| Maytag | MFI2266AEU | Refrigerator |
| Maytag | MFI2266AEU10 | Refrigerator |
| Maytag | MFI2266AEU11 | Refrigerator |
| Maytag | MFI2266AEW | Refrigerator |
| Maytag | MFI2266AEW10 | Refrigerator |
| Maytag | MFI2266AEW11 | Refrigerator |
| maytag | MFI2269DRE | Refrigerator |
| Maytag | MFI2269DRE00 | Refrigerator |
| Maytag | MFI2269DRE01 | Refrigerator |
| maytag | MFI2269DRH | Refrigerator |
| Maytag | MFI2269DRH00 | Refrigerator |
| Maytag | MFI2269DRH01 | Refrigerator |
| maytag | MFI2269DRM | Refrigerator |
| Maytag | MFI2269DRM00 | Refrigerator |
| Maytag | MFI2269DRM01 | Refrigerator |
| Maytag | MFI2269FRB | Refrigerator |
| Maytag | MFI2269FRB00 | Refrigerator |
| Maytag | MFI2269FRB01 | Refrigerator |
| Maytag | MFI2269FRE00 | Refrigerator |
| Maytag | MFI2269FRE01 | Refrigerator |
| Maytag | MFI2269FRH00 | Refrigerator |
| Maytag | MFI2269FRH01 | Refrigerator |
| Maytag | MFI2269FRW | Refrigerator |
| Maytag | MFI2269FRW00 | Refrigerator |
| Maytag | MFI2269FRZ | Refrigerator |
| Maytag | MFI2269FRZ00 | Refrigerator |
| Maytag | MFI2269FRZ01 | Refrigerator |
| Maytag | MFI2269FRZ02 | Refrigerator |
| Maytag | mfi2269v3m7 | Refrigerator |
| Maytag | MFI2269VE | Refrigerator |
| Maytag | MFI2269VEA | Refrigerator |
| Maytag | MFI2269VEA1 | Refrigerator |
| Maytag | MFI2269VEA10 | Refrigerator |
| Maytag | MFI2269VEB | Refrigerator |
| Maytag | MFI2269VEB1 | Refrigerator |
| Maytag | MFI2269VEB10 | Refrigerator |
| Maytag | MFI2269VEB2 | Refrigerator |
| Maytag | MFI2269VEB3 | Refrigerator |
| Maytag | MFI2269VEB4 | Refrigerator |
| Maytag | MFI2269VEB6 | Refrigerator |
| Maytag | MFI2269VEB7 | Refrigerator |
| Maytag | MFI2269VEB8 | Refrigerator |
| Maytag | MFI2269VEB9 | Refrigerator |
| Maytag | MFI2269VEM | Refrigerator |
| Maytag | MFI2269VEM1 | Refrigerator |
| Maytag | MFI2269VEM10 | Refrigerator |
| Maytag | MFI2269VEM11 | Refrigerator |
| Maytag | MFI2269VEM2 | Refrigerator |
| Maytag | MFI2269VEM3 | Refrigerator |
| Maytag | MFI2269VEM4 | Refrigerator |
| Maytag | MFI2269VEM5 | Refrigerator |
| Maytag | MFI2269VEM6 | Refrigerator |
| Maytag | MFI2269VEM7 | Refrigerator |
| Maytag | MFI2269VEM8 | Refrigerator |
| Maytag | MFI2269VEM9 | Refrigerator |
| Maytag | MFI2269VEQ | Refrigerator |
| Maytag | MFI2269VEQ1 | Refrigerator |
| Maytag | MFI2269VEQ10 | Refrigerator |
| Maytag | MFI2269VEQ2 | Refrigerator |
| Maytag | MFI2269VEQ3 | Refrigerator |
| Maytag | MFI2269VEQ4 | Refrigerator |
| Maytag | MFI2269VEQ5 | Refrigerator |
| Maytag | MFI2269VEQ7 | Refrigerator |
| Maytag | MFI2269VEQ8 | Refrigerator |
| Maytag | MFI2269VEW | Refrigerator |
| Maytag | MFI2269VEW1 | Refrigerator |
| Maytag | MFI2269VEW10 | Refrigerator |
| Maytag | MFI2269VEW2 | Refrigerator |
| Maytag | MFI2269VEW3 | Refrigerator |
| Maytag | MFI2269VEW4 | Refrigerator |
| Maytag | MFI2269VEW5 | Refrigerator |
| Maytag | MFI2269VEW7 | Refrigerator |
| Maytag | MFI2269VEW8 | Refrigerator |
| Maytag | MFI2568AEB | Refrigerator |
| Maytag | MFI2568AEB12 | Refrigerator |
| Maytag | MFI2568AEB13 | Refrigerator |
| Maytag | MFI2568AEQ | Refrigerator |
| Maytag | MFI2568AEQ12 | Refrigerator |
| Maytag | MFI2568AEQ13 | Refrigerator |
| Maytag | MFI2568AES | Refrigerator |
| Maytag | MFI2568AES12 | Refrigerator |
| Maytag | MFI2568AES13 | Refrigerator |
| Maytag | MFI2568AEW | Refrigerator |
| Maytag | MFI2568AEW12 | Refrigerator |
| Maytag | MFI2568AEW13 | Refrigerator |
| Maytag | MFI2569VE | Refrigerator |
| Maytag | MFI2569VEA | Refrigerator |
| Maytag | MFI2569VEA1 | Refrigerator |
| Maytag | MFI2569VEA10 | Refrigerator |
| Maytag | MFI2569VEA2 | Refrigerator |
| Maytag | MFI2569VEB | Refrigerator |
| Maytag | MFI2569VEB0 | Refrigerator |
| Maytag | MFI2569VEB1 | Refrigerator |
| Maytag | MFI2569VEB10 | Refrigerator |
| Maytag | MFI2569VEB2 | Refrigerator |
| Maytag | MFI2569VEB3 | Refrigerator |
| Maytag | MFI2569VEB4 | Refrigerator |
| Maytag | MFI2569VEM | Refrigerator |
| Maytag | MFI2569VEM0 | Refrigerator |
| Maytag | MFI2569VEM1 | Refrigerator |
| Maytag | MFI2569VEM10 | Refrigerator |
| Maytag | MFI2569VEM2 | Refrigerator |
| Maytag | MFI2569VEM3 | Refrigerator |
| Maytag | MFI2569VEM4 | Refrigerator |
| Maytag | MFI2569VEQ | Refrigerator |
| Maytag | MFI2569VEQ1 | Refrigerator |
| Maytag | MFI2569VEQ10 | Refrigerator |
| Maytag | MFI2569VEQ2 | Refrigerator |
| Maytag | MFI2569VEW | Refrigerator |
| Maytag | MFI2569VEW1 | Refrigerator |
| Maytag | MFI2569VEW10 | Refrigerator |
| Maytag | MFI2569VEW2 | Refrigerator |
| Maytag | MFI2569YEB0 | Refrigerator |
| Maytag | MFI2569YEB1 | Refrigerator |
| Maytag | MFI2569YEB2 | Refrigerator |
| Maytag | MFI2569YEM0 | Refrigerator |
| Maytag | MFI2569YEM1 | Refrigerator |
| Maytag | MFI2569YEM2 | Refrigerator |
| Maytag | MFI2569YEW0 | Refrigerator |
| Maytag | MFI2569YEW1 | Refrigerator |
| Maytag | MFI2569YEW2 | Refrigerator |
| Maytag | MFI2570FEB | Refrigerator |
| Maytag | MFI2570FEB00 | Refrigerator |
| Maytag | MFI2570FEE00 | Refrigerator |
| Maytag | MFI2570FEE01 | Refrigerator |
| Maytag | MFI2570FEH00 | Refrigerator |
| Maytag | MFI2570FEH01 | Refrigerator |
| Maytag | MFI2570FEW | Refrigerator |
| Maytag | MFI2570FEW00 | Refrigerator |
| Maytag | MFI2570FEZ | Refrigerator |
| Maytag | MFI2570FEZ00 | Refrigerator |
| Maytag | MFI2570FEZ01 | Refrigerator |
| Maytag | MFI2570FEZ02 | Refrigerator |
| Maytag | MFI2570FEZ03 | Refrigerator |
| Maytag | MFI2570FEZ04 | Refrigerator |
| Maytag | MFI2570FEZ05 | Refrigerator |
| Maytag | MFI2570FEZ07 | Refrigerator |
| Maytag | MFI2571XEB | Refrigerator |
| Maytag | MFI2571XEM | Refrigerator |
| Maytag | MFI2571XEW | Refrigerator |
| Maytag | MFI2665XEB | Refrigerator |
| Maytag | MFI2665XEB0 | Refrigerator |
| Maytag | MFI2665XEB1 | Refrigerator |
| Maytag | MFI2665XEB4 | Refrigerator |
| Maytag | MFI2665XEB5 | Refrigerator |
| Maytag | MFI2665XEB6 | Refrigerator |
| Maytag | MFI2665XEB7 | Refrigerator |
| Maytag | MFI2665XEM | Refrigerator |
| Maytag | MFI2665XEM0 | Refrigerator |
| Maytag | MFI2665XEM1 | Refrigerator |
| Maytag | MFI2665XEM5 | Refrigerator |
| Maytag | MFI2665XEM6 | Refrigerator |
| Maytag | MFI2665XEM7 | Refrigerator |
| Maytag | MFI2665XEM8 | Refrigerator |
| Maytag | MFI2665XEW | Refrigerator |
| Maytag | MFI2665XEW0 | Refrigerator |
| Maytag | MFI2665XEW1 | Refrigerator |
| Maytag | MFI2665XEW4 | Refrigerator |
| Maytag | MFI2665XEW5 | Refrigerator |
| Maytag | MFI2665XEW6 | Refrigerator |
| Maytag | MFI2665XEW7 | Refrigerator |
| Maytag | MFI2670XEB | Refrigerator |
| Maytag | MFI2670XEB0 | Refrigerator |
| Maytag | MFI2670XEB1 | Refrigerator |
| Maytag | MFI2670XEB4 | Refrigerator |
| Maytag | MFI2670XEB5 | Refrigerator |
| Maytag | MFI2670XEB6 | Refrigerator |
| Maytag | MFI2670XEB8 | Refrigerator |
| Maytag | MFI2670XEB9 | Refrigerator |
| Maytag | MFI2670XEM | Refrigerator |
| Maytag | MFI2670XEM0 | Refrigerator |
| Maytag | MFI2670XEM1 | Refrigerator |
| Maytag | MFI2670XEM10 | Refrigerator |
| Maytag | MFI2670XEM4 | Refrigerator |
| Maytag | MFI2670XEM5 | Refrigerator |
| Maytag | MFI2670XEM6 | Refrigerator |
| Maytag | MFI2670XEM7 | Refrigerator |
| Maytag | MFI2670XEM9 | Refrigerator |
| Maytag | MFI2670XEW | Refrigerator |
| Maytag | MFI2670XEW0 | Refrigerator |
| Maytag | MFI2670XEW1 | Refrigerator |
| Maytag | MFI2670XEW4 | Refrigerator |
| Maytag | MFI2670XEW5 | Refrigerator |
| Maytag | MFI2670XEW6 | Refrigerator |
| Maytag | MFI2670XEW8 | Refrigerator |
| Maytag | MFI2670XEW9 | Refrigerator |
| Maytag | MFT2771WEB | Refrigerator |
| Maytag | MFT2771WEB0 | Refrigerator |
| Maytag | MFT2771WEB1 | Refrigerator |
| Maytag | MFT2771WEM | Refrigerator |
| Maytag | MFT2771WEM0 | Refrigerator |
| Maytag | MFT2771WEM1 | Refrigerator |
| Maytag | MFT2771WEM2 | Refrigerator |
| Maytag | MFT2771WEM3 | Refrigerator |
| Maytag | MFT2771WEW | Refrigerator |
| Maytag | MFT2771WEW0 | Refrigerator |
| Maytag | MFT2771WEW1 | Refrigerator |
| Maytag | MFT2771XEB0 | Refrigerator |
| Maytag | MFT2771XEB1 | Refrigerator |
| Maytag | MFT2771XEM0 | Refrigerator |
| Maytag | MFT2771XEM1 | Refrigerator |
| Maytag | MFT2771XEW0 | Refrigerator |
| Maytag | MFT2771XEW1 | Refrigerator |
| Maytag | MFX2570AEB | Refrigerator |
| Maytag | MFX2570AEB0 | Refrigerator |
| Maytag | MFX2570AEB3 | Refrigerator |
| Maytag | MFX2570AEB4 | Refrigerator |
| Maytag | MFX2570AEB5 | Refrigerator |
| Maytag | MFX2570AEM | Refrigerator |
| Maytag | MFX2570AEM0 | Refrigerator |
| Maytag | MFX2570AEM3 | Refrigerator |
| Maytag | MFX2570AEM4 | Refrigerator |
| Maytag | MFX2570AEM5 | Refrigerator |
| Maytag | MFX2570AEW | Refrigerator |
| Maytag | MFX2570AEW0 | Refrigerator |
| Maytag | MFX2570AEW3 | Refrigerator |
| Maytag | MFX2570AEW4 | Refrigerator |
| Maytag | MFX2570AEW5 | Refrigerator |
| Maytag | MFX2570XEB0 | Refrigerator |
| Maytag | MFX2571XEB0 | Refrigerator |
| Maytag | MFX2571XEB1Q | Refrigerator |
| Maytag | MFX2571XEM0 | Refrigerator |
| Maytag | MFX2571XEM1 | Refrigerator |
| Maytag | MFX2571XEW0 | Refrigerator |
| Maytag | MFX2571XEW1 | Refrigerator |
| Maytag | MSD1641KEB | Refrigerator |
| Maytag | MSD2351GEB | Refrigerator |
| Maytag | MSD2351HEB | Refrigerator |
| Maytag | MSD2351HEQ | Refrigerator |
| Maytag | MSD2351HES | Refrigerator |
| Maytag | MSD2351HEW | Refrigerator |
| Maytag | MSD2351KES | Refrigerator |
| Maytag | MSD2352KEB | Refrigerator |
| Maytag | MSD2352KES | Refrigerator |
| Maytag | MSD2352KEW | Refrigerator |
| Maytag | MSD2353HEB | Refrigerator |
| Maytag | MSD2353HEQ | Refrigerator |
| Maytag | MSD2353HES | Refrigerator |
| Maytag | MSD2353HEW | Refrigerator |
| Maytag | MSD2353ZEW | Refrigerator |
| Maytag | MSD2355HEB | Refrigerator |
| Maytag | MSD2355HEQ | Refrigerator |
| Maytag | MSD2355HES | Refrigerator |
| Maytag | MSD2355HEW | Refrigerator |
| Maytag | MSD2357HEB | Refrigerator |
| Maytag | MSD2357HEQ | Refrigerator |
| Maytag | MSD2357HES | Refrigerator |
| Maytag | MSD2357HEW | Refrigerator |
| Maytag | MSD2359KEB | Refrigerator |
| Maytag | MSD2359KEQ | Refrigerator |
| Maytag | MSD2359KES | Refrigerator |
| Maytag | MSD2359KEW | Refrigerator |
| Maytag | MSD2640KEW | Refrigerator |
| Maytag | MSD2641KEB | Refrigerator |
| Maytag | MSD2641KES | Refrigerator |
| Maytag | MSD2641KEU | Refrigerator |
| Maytag | MSD2641KEW | Refrigerator |
| Maytag | MSD264RHEB | Refrigerator |
| Maytag | MSD264RHEQ | Refrigerator |
| Maytag | MSD264RHES | Refrigerator |
| Maytag | MSD264RHEW | Refrigerator |
| Maytag | MSD2650HEB | Refrigerator |
| Maytag | MSD2650HEQ | Refrigerator |
| Maytag | MSD2650HES | Refrigerator |
| Maytag | MSD2650HEW | Refrigerator |
| Maytag | MSD2650HEZ | Refrigerator |
| Maytag | MSD2650KES | Refrigerator |
| Maytag | MSD2650KEU | Refrigerator |
| Maytag | MSD2651HEB | Refrigerator |
| Maytag | MSD2651HEQ | Refrigerator |
| Maytag | MSD2651HES | Refrigerator |
| Maytag | MSD2651HEW | Refrigerator |
| Maytag | MSD2651KES | Refrigerator |
| Maytag | MSD2651KEU | Refrigerator |
| Maytag | MSD2651KGB | Refrigerator |
| Maytag | MSD2651KGW | Refrigerator |
| Maytag | MSD2652KEB | Refrigerator |
| Maytag | MSD2652KES | Refrigerator |
| Maytag | MSD2652KEU | Refrigerator |
| Maytag | MSD2652KEW | Refrigerator |
| Maytag | MSD2652KGB | Refrigerator |
| Maytag | MSD2652KGW | Refrigerator |
| Maytag | MSD2655HEB | Refrigerator |
| Maytag | MSD2655HEQ | Refrigerator |
| Maytag | MSD2655HES | Refrigerator |
| Maytag | MSD2655HEW | Refrigerator |
| Maytag | MSD2656KES | Refrigerator |
| Maytag | MSD2656KEU | Refrigerator |
| Maytag | MSD2656KGB | Refrigerator |
| Maytag | MSD2656KGW | Refrigerator |
| Maytag | MSD2657HEB | Refrigerator |
| Maytag | MSD2657HEQ | Refrigerator |
| Maytag | MSD2657HES | Refrigerator |
| Maytag | MSD2657HEW | Refrigerator |
| Maytag | MSD2659KEB | Refrigerator |
| Maytag | MSD2659KEQ | Refrigerator |
| Maytag | MSD2659KES | Refrigerator |
| Maytag | MSD2659KEW | Refrigerator |
| Maytag | MSD265MHEB | Refrigerator |
| Maytag | MSD265MHEQ | Refrigerator |
| Maytag | MSD265MHES | Refrigerator |
| Maytag | MSD265MHEW | Refrigerator |
| Maytag | MSD265MKES | Refrigerator |
| Maytag | MSD265RHEB | Refrigerator |
| Maytag | MSD265RHEQ | Refrigerator |
| Maytag | MSD265RHES | Refrigerator |
| Maytag | MSD265RHEW | Refrigerator |
| Maytag | MSD2660KES | Refrigerator |
| Maytag | MSD2660KGB | Refrigerator |
| Maytag | MSD2660KGW | Refrigerator |
| Maytag | MZD2660ZRW | Refrigerator |
| Maytag | MZD2663KEB | Refrigerator |
| Maytag | MZD2663KEQ | Refrigerator |
| Maytag | MZD2663KES | Refrigerator |
| Maytag | MZD2663KEW | Refrigerator |
| Maytag | MZD2665HEB | Refrigerator |
| Maytag | MZD2665HEQ | Refrigerator |
| Maytag | MZD2665HES | Refrigerator |
| Maytag | MZD2665HEW | Refrigerator |
| Maytag | MZD2666KEB | Refrigerator |
| Maytag | MZD2666KES | Refrigerator |
| Maytag | MZD2666KEW | Refrigerator |
| Maytag | MZD2667HEB | Refrigerator |
| Maytag | MZD2667HEQ | Refrigerator |
| Maytag | MZD2667HES | Refrigerator |
| Maytag | MZD2667HEW | Refrigerator |
| Maytag | MZD2669KEB | Refrigerator |
| Maytag | MZD2669KEQ | Refrigerator |
| Maytag | MZD2669KES | Refrigerator |
| Maytag | MZD2669KEW | Refrigerator |
| Maytag | MZD3665HEB | Refrigerator |
| Maytag | PSD243LGRQ | Refrigerator |
| Maytag | PSD243LGRW | Refrigerator |
| Maytag | PSD2453GRQ | Refrigerator |
| Maytag | PSD2453GRW | Refrigerator |
| Maytag | PSD262LHEB | Refrigerator |
| Maytag | PSD262LHEW | Refrigerator |
| Maytag | PSD262LHEZ | Refrigerator |
| Maytag | PSD263LHEQ | Refrigerator |
| Maytag | PSD263LHEW | Refrigerator |
| Maytag | PSD263LHRQ | Refrigerator |
| Maytag | PSD263LHRW | Refrigerator |
| Maytag | PSD264LGRB | Refrigerator |
| Maytag | PSD264LGRQ | Refrigerator |
| Maytag | PSD264LGRW | Refrigerator |
| Maytag | PSD265LGES | Refrigerator |
| Maytag | PSD266LHEB | Refrigerator |
| Maytag | PSD266LHEQ | Refrigerator |
| Maytag | PSD266LHES | Refrigerator |
| Maytag | PSD266LHEW | Refrigerator |
| Maytag | PSD267LHES | Refrigerator |
| Maytag | PSD268LGEB | Refrigerator |
| Maytag | PSD268LGEQ | Refrigerator |
| Maytag | PSD268LGES | Refrigerator |
| Maytag | PSD268LGEW | Refrigerator |
| Maytag | PSD268LGQE | Refrigerator |
| Maytag | PSD269LHEB | Refrigerator |
| Maytag | PSD269LHEQ | Refrigerator |
| Maytag | PSD269LHES | Refrigerator |
| Maytag | PSD269LHEW | Refrigerator |
| Whirlpool | 5GI6FARAF000 | Refrigerator |
| Whirlpool | 5GI6FARAF001 | Refrigerator |
| Whirlpool | 5GX0FHTXAF01 | Refrigerator |
| Whirlpool | 7GI5FSAXVY00 | Refrigerator |
| Whirlpool | 7GI5FSAXVY1 | Refrigerator |
| Whirlpool | 7GI5FSAXVY2 | Refrigerator |
| Whirlpool | 7GI5FSAXVY3 | Refrigerator |
| Whirlpool | 7GI5FSAXVY4 | Refrigerator |
| whirlpool | EB9SHKXVQ | Refrigerator |
| Whirlpool | EF36IWFSSS0 | Refrigerator |
| Whirlpool | EF36IWFSSS1 | Refrigerator |
| Whirlpool | EF36IWFSSS2 | Refrigerator |
| Whirlpool | G20EFSB2313 | Refrigerator |
| Whirlpool | G20EFSB23S10 | Refrigerator |
| Whirlpool | G20EFSB23S4 | Refrigerator |
| Whirlpool | G20EFSB23S5 | Refrigerator |
| Whirlpool | G20EFSB23S6 | Refrigerator |
| Whirlpool | G20EFSB23S7 | Refrigerator |
| Whirlpool | G20EFSB23S8 | Refrigerator |
| Whirlpool | G20EFSB23S9 | Refrigerator |
| Whirlpool | G25EFSB2313 | Refrigerator |
| Whirlpool | G25EFSB23S4 | Refrigerator |
| Whirlpool | G25EFSB23S5 | Refrigerator |
| Whirlpool | G25EFSB23S6 | Refrigerator |
| Whirlpool | G25EFSB23S7 | Refrigerator |
| Whirlpool | G25EFSB23S8 | Refrigerator |
| Whirlpool | G25EFSB23S9 | Refrigerator |
| Whirlpool | G32027WEKB11 | Refrigerator |
| Whirlpool | G32027WEKB3 | Refrigerator |
| Whirlpool | G32027WEKB4 | Refrigerator |
| whirlpool | GB2FHDXWB | Refrigerator |
| whirlpool | GB2FHDXWQ | Refrigerator |
| whirlpool | GB2FHDXWS | Refrigerator |
| Whirlpool | GB2SHTXTB00 | Refrigerator |
| Whirlpool | GB2SHTXTB01 | Refrigerator |
| Whirlpool | GB2SHTXTB02 | Refrigerator |
| Whirlpool | GB2SHTXTB03 | Refrigerator |
| Whirlpool | GB2SHTXTB11 | Refrigerator |
| Whirlpool | GB2SHTXTL01 | Refrigerator |
| Whirlpool | GB2SHTXTL11 | Refrigerator |
| Whirlpool | GB2SHTXTQ00 | Refrigerator |
| Whirlpool | GB2SHTXTQ01 | Refrigerator |
| Whirlpool | GB2SHTXTQ02 | Refrigerator |
| Whirlpool | GB2SHTXTQ03 | Refrigerator |
| Whirlpool | GB2SHTXTQ11 | Refrigerator |
| Whirlpool | GB2SHTXTS00 | Refrigerator |
| Whirlpool | GB2SHTXTS01 | Refrigerator |
| Whirlpool | GB2SHTXTS02 | Refrigerator |
| Whirlpool | GB2SHTXTS03 | Refrigerator |
| Whirlpool | GB2SHTXTS04 | Refrigerator |
| Whirlpool | GB2SHTXTS05 | Refrigerator |
| Whirlpool | GB2SHTXTS11 | Refrigerator |
| Whirlpool | GB2SHTXTT00 | Refrigerator |
| Whirlpool | GB2SHTXTT01 | Refrigerator |
| Whirlpool | GB2SHTXTT11 | Refrigerator |
| whirlpool | GB9FHDXWB | Refrigerator |
| whirlpool | GB9FHDXWQ | Refrigerator |
| whirlpool | GB9FHDXWS | Refrigerator |
| Whirlpool | GI0FSAXVA00 | Refrigerator |
| Whirlpool | GI0FSAXVA01 | Refrigerator |
| whirlpool | GI0FSAXVB | Refrigerator |
| Whirlpool | GI0FSAXVB00 | Refrigerator |
| Whirlpool | GI0FSAXVB01 | Refrigerator |
| Whirlpool | GI0FSAXVB02 | Refrigerator |
| Whirlpool | GI0FSAXVB03 | Refrigerator |
| Whirlpool | GI0FSAXVB04 | Refrigerator |
| Whirlpool | GI0FSAXVB05 | Refrigerator |
| Whirlpool | GI0FSAXVB06 | Refrigerator |
| Whirlpool | GI0FSAXVB07 | Refrigerator |
| Whirlpool | GI0FSAXVB08 | Refrigerator |
| Whirlpool | GI0FSAXVB09 | Refrigerator |
| Whirlpool | GI0FSAXVQ00 | Refrigerator |
| Whirlpool | GI0FSAXVQ01 | Refrigerator |
| Whirlpool | GI0FSAXVY | Refrigerator |
| Whirlpool | GI0FSAXVY00 | Refrigerator |
| Whirlpool | GI0FSAXVY01 | Refrigerator |
| Whirlpool | GI0FSAXVY010 | Refrigerator |
| Whirlpool | GI0FSAXVY011 | Refrigerator |
| Whirlpool | GI0FSAXVY012 | Refrigerator |
| Whirlpool | GI0FSAXVY02 | Refrigerator |
| Whirlpool | GI0FSAXVY03 | Refrigerator |
| Whirlpool | GI0FSAXVY04 | Refrigerator |
| Whirlpool | GI0FSAXVY05 | Refrigerator |
| Whirlpool | GI0FSAXVY06 | Refrigerator |
| Whirlpool | GI0FSAXVY07 | Refrigerator |
| Whirlpool | GI0FSAXVY08 | Refrigerator |
| Whirlpool | GI5FSAXVA00 | Refrigerator |
| Whirlpool | GI5FSAXVA01 | Refrigerator |
| Whirlpool | GI5FSAXVB00 | Refrigerator |
| Whirlpool | GI5FSAXVB01 | Refrigerator |
| Whirlpool | GI5FSAXVB02 | Refrigerator |
| Whirlpool | GI5FSAXVQ00 | Refrigerator |
| Whirlpool | GI5FSAXVQ01 | Refrigerator |
| Whirlpool | GI5FSAXVS01 | Refrigerator |
| Whirlpool | GI5FSAXVS02 | Refrigerator |
| Whirlpool | GI5FSAXVY00 | Refrigerator |
| Whirlpool | GI5FSAXVY01 | Refrigerator |
| Whirlpool | GI5FSAXVY02 | Refrigerator |
| Whirlpool | GI5FSAXVY04 | Refrigerator |
| Whirlpool | GI5FSAXVY05 | Refrigerator |
| Whirlpool | GI5FVAXVB00 | Refrigerator |
| Whirlpool | GI5FVAXVB01 | Refrigerator |
| Whirlpool | GI5FVAXVB02 | Refrigerator |
| Whirlpool | GI5FVAXVB03 | Refrigerator |
| Whirlpool | GI5FVAXVB04 | Refrigerator |
| Whirlpool | GI5FVAXVL00 | Refrigerator |
| Whirlpool | GI5FVAXVL01 | Refrigerator |
| Whirlpool | GI5FVAXVL02 | Refrigerator |
| Whirlpool | GI5FVAXVQ00 | Refrigerator |
| Whirlpool | GI5FVAXVQ01 | Refrigerator |
| Whirlpool | GI5FVAXVQ02 | Refrigerator |
| Whirlpool | GI5FVAXYB00 | Refrigerator |
| Whirlpool | GI5FVAXYQ00 | Refrigerator |
| Whirlpool | GI5FVAXYY00 | Refrigerator |
| Whirlpool | GI5SVAXVB00 | Refrigerator |
| Whirlpool | GI5SVAXVB01 | Refrigerator |
| Whirlpool | GI5SVAXVB02 | Refrigerator |
| Whirlpool | GI5SVAXVB03 | Refrigerator |
| Whirlpool | GI5SVAXVL00 | Refrigerator |
| Whirlpool | GI5SVAXVL01 | Refrigerator |
| Whirlpool | GI5SVAXVQ00 | Refrigerator |
| Whirlpool | GI5SVAXVQ01 | Refrigerator |
| Whirlpool | GI5SVAXVQ02 | Refrigerator |
| Whirlpool | GI5SVAXVQ03 | Refrigerator |
| whirlpool | Gi6farxxb | Refrigerator |
| Whirlpool | GI6FARXXB00 | Refrigerator |
| Whirlpool | GI6FARXXB02 | Refrigerator |
| Whirlpool | GI6FARXXB03 | Refrigerator |
| Whirlpool | GI6FARXXB04 | Refrigerator |
| Whirlpool | GI6FARXXB05 | Refrigerator |
| Whirlpool | GI6FARXXB06 | Refrigerator |
| Whirlpool | GI6FARXXB07 | Refrigerator |
| whirlpool | GI6FARXXF | Refrigerator |
| Whirlpool | GI6FARXXF00 | Refrigerator |
| Whirlpool | GI6FARXXF01 | Refrigerator |
| Whirlpool | GI6FARXXF02 | Refrigerator |
| Whirlpool | GI6FARXXF04 | Refrigerator |
| Whirlpool | GI6FARXXF05 | Refrigerator |
| Whirlpool | GI6FARXXF06 | Refrigerator |
| whirlpool | gi6farxxq | Refrigerator |
| Whirlpool | GI6FARXXQ00 | Refrigerator |
| Whirlpool | GI6FARXXQ02 | Refrigerator |
| Whirlpool | GI6FARXXQ03 | Refrigerator |
| Whirlpool | GI6FARXXQ04 | Refrigerator |
| Whirlpool | GI6FARXXQ05 | Refrigerator |
| Whirlpool | GI6FARXXQ06 | Refrigerator |
| Whirlpool | GI6FARXXQ07 | Refrigerator |
| whirlpool | Gi6farxxy | Refrigerator |
| Whirlpool | GI6FARXXY00 | Refrigerator |
| Whirlpool | GI6FARXXY02 | Refrigerator |
| Whirlpool | GI6FARXXY03 | Refrigerator |
| Whirlpool | GI6FARXXY04 | Refrigerator |
| Whirlpool | GI6FARXXY05 | Refrigerator |
| Whirlpool | GI6FARXXY06 | Refrigerator |
| Whirlpool | GI6FARXXY07 | Refrigerator |
| Whirlpool | GI6FARXXY08 | Refrigerator |
| whirlpool | GI6FDRXXB | Refrigerator |
| Whirlpool | GI6FDRXXB00 | Refrigerator |
| Whirlpool | GI6FDRXXB01 | Refrigerator |
| Whirlpool | GI6FDRXXB02 | Refrigerator |
| Whirlpool | GI6FDRXXB03 | Refrigerator |
| Whirlpool | GI6FDRXXB04 | Refrigerator |
| Whirlpool | GI6FDRXXB05 | Refrigerator |
| Whirlpool | GI6FDRXXB06 | Refrigerator |
| Whirlpool | GI6FDRXXB08 | Refrigerator |
| Whirlpool | GI6FDRXXB09 | Refrigerator |
| whirlpool | GI6FDRXXQ | Refrigerator |
| Whirlpool | GI6FDRXXQ00 | Refrigerator |
| Whirlpool | GI6FDRXXQ01 | Refrigerator |
| Whirlpool | GI6FDRXXQ02 | Refrigerator |
| Whirlpool | GI6FDRXXQ03 | Refrigerator |
| Whirlpool | GI6FDRXXQ04 | Refrigerator |
| Whirlpool | GI6FDRXXQ05 | Refrigerator |
| Whirlpool | GI6FDRXXQ06 | Refrigerator |
| Whirlpool | GI6FDRXXQ08 | Refrigerator |
| Whirlpool | GI6FDRXXQ09 | Refrigerator |
| whirlpool | GI6FDRXXY | Refrigerator |
| Whirlpool | GI6FDRXXY00 | Refrigerator |
| Whirlpool | GI6FDRXXY01 | Refrigerator |
| Whirlpool | GI6FDRXXY010 | Refrigerator |
| Whirlpool | GI6FDRXXY02 | Refrigerator |
| Whirlpool | GI6FDRXXY03 | Refrigerator |
| Whirlpool | GI6FDRXXY04 | Refrigerator |
| Whirlpool | GI6FDRXXY05 | Refrigerator |
| Whirlpool | GI6FDRXXY06 | Refrigerator |
| Whirlpool | GI6FDRXXY07 | Refrigerator |
| Whirlpool | GI6FDRXXY09 | Refrigerator |
| Whirlpool | GI6SARXXF00 | Refrigerator |
| Whirlpool | GI6SARXXF01 | Refrigerator |
| Whirlpool | GI6SARXXF02 | Refrigerator |
| Whirlpool | GI6SARXXF03 | Refrigerator |
| Whirlpool | GI6SARXXF04 | Refrigerator |
| Whirlpool | GI6SARXXF05 | Refrigerator |
| Whirlpool | GI6SARXXF06 | Refrigerator |
| whirlpool | GI6SDRXXB | Refrigerator |
| Whirlpool | GI6SDRXXB00 | Refrigerator |
| Whirlpool | GI6SDRXXB01 | Refrigerator |
| Whirlpool | GI6SDRXXB02 | Refrigerator |
| Whirlpool | GI6SDRXXB03 | Refrigerator |
| Whirlpool | GI6SDRXXB04 | Refrigerator |
| Whirlpool | GI6SDRXXB06 | Refrigerator |
| whirlpool | GI6SDRXXQ | Refrigerator |
| Whirlpool | GI6SDRXXQ00 | Refrigerator |
| Whirlpool | GI6SDRXXQ01 | Refrigerator |
| Whirlpool | GI6SDRXXQ02 | Refrigerator |
| Whirlpool | GI6SDRXXQ03 | Refrigerator |
| Whirlpool | GI6SDRXXQ04 | Refrigerator |
| Whirlpool | GI6SDRXXQ06 | Refrigerator |
| Whirlpool | GI6SDRXXV00 | Refrigerator |
| Whirlpool | GI6SDRXXV01 | Refrigerator |
| Whirlpool | GI6SDRXXY00 | Refrigerator |
| Whirlpool | GI6SDRXXY01 | Refrigerator |
| Whirlpool | GI6SDRXXY02 | Refrigerator |
| Whirlpool | GI6SDRXXY03 | Refrigerator |
| Whirlpool | GI6SDRXXY04 | Refrigerator |
| Whirlpool | GI6SDRXXY05 | Refrigerator |
| Whirlpool | GI6SDRXXY06 | Refrigerator |
| Whirlpool | GI6SDRXXY07 | Refrigerator |
| Whirlpool | GI7FVCXWA00 | Refrigerator |
| Whirlpool | GI7FVCXWA01 | Refrigerator |
| Whirlpool | GI7FVCXWA03 | Refrigerator |
| Whirlpool | GI7FVCXWB00 | Refrigerator |
| Whirlpool | GI7FVCXWB01 | Refrigerator |
| Whirlpool | GI7FVCXWB03 | Refrigerator |
| Whirlpool | GI7FVCXWQ00 | Refrigerator |
| Whirlpool | GI7FVCXWQ01 | Refrigerator |
| Whirlpool | GI7FVCXWQ03 | Refrigerator |
| Whirlpool | GI7FVCXWY00 | Refrigerator |
| Whirlpool | GI7FVCXWY01 | Refrigerator |
| Whirlpool | GI7FVCXWY02 | Refrigerator |
| Whirlpool | GI7FVCXWY03 | Refrigerator |
| Whirlpool | GI7FVCXWY05 | Refrigerator |
| Whirlpool | GI7FVCXXA00 | Refrigerator |
| Whirlpool | GI7FVCXXA01 | Refrigerator |
| Whirlpool | GI7FVCXXB00 | Refrigerator |
| Whirlpool | GI7FVCXXB01 | Refrigerator |
| Whirlpool | GI7FVCXXQ00 | Refrigerator |
| Whirlpool | GI7FVCXXQ01 | Refrigerator |
| Whirlpool | GI7FVCXXY00 | Refrigerator |
| Whirlpool | GI7FVCXXY01 | Refrigerator |
| Whirlpool | GI7FVCXXY02 | Refrigerator |
| Whirlpool | GI7FVCXXY03 | Refrigerator |
| whirlpool | GX2FHDXVB | Refrigerator |
| whirlpool | GX2FHDXVQ | Refrigerator |
| whirlpool | GX2FHDXVY | Refrigerator |
| whirlpool | GX5FHDXVB | Refrigerator |
| whirlpool | GX5FHDXVQ | Refrigerator |
| Whirlpool | GX5FHTXTB00 | Refrigerator |
| Whirlpool | GX5FHTXTB01 | Refrigerator |
| Whirlpool | GX5FHTXTB11 | Refrigerator |
| Whirlpool | GX5FHTXTL01 | Refrigerator |
| Whirlpool | GX5FHTXTL11 | Refrigerator |
| Whirlpool | GX5FHTXTQ00 | Refrigerator |
| Whirlpool | GX5FHTXTQ01 | Refrigerator |
| Whirlpool | GX5FHTXTQ11 | Refrigerator |
| Whirlpool | GX5FHTXTS00 | Refrigerator |
| Whirlpool | GX5FHTXTS01 | Refrigerator |
| Whirlpool | GX5FHTXTS11 | Refrigerator |
| Whirlpool | GX5FHTXTT00 | Refrigerator |
| Whirlpool | GX5FHTXTT01 | Refrigerator |
| Whirlpool | GX5FHTXTT11 | Refrigerator |
| Whirlpool | GX5FHTXVA00 | Refrigerator |
| Whirlpool | GX5FHTXVA02 | Refrigerator |
| Whirlpool | GX5FHTXVB00 | Refrigerator |
| Whirlpool | GX5FHTXVB04 | Refrigerator |
| Whirlpool | GX5FHTXVB08 | Refrigerator |
| whirlpool | GX5FHTXVQ | Refrigerator |
| Whirlpool | GX5FHTXVQ00 | Refrigerator |
| Whirlpool | GX5FHTXVQ02 | Refrigerator |
| Whirlpool | GX5FHTXVQ07 | Refrigerator |
| whirlpool | GX5FHTXVY | Refrigerator |
| Whirlpool | GX5FHTXVY00 | Refrigerator |
| Whirlpool | GX5FHTXVY010 | Refrigerator |
| Whirlpool | GX5SHTXTB00 | Refrigerator |
| Whirlpool | GX5SHTXTB01 | Refrigerator |
| Whirlpool | GX5SHTXTB11 | Refrigerator |
| Whirlpool | GX5SHTXTL01 | Refrigerator |
| Whirlpool | GX5SHTXTL11 | Refrigerator |
| Whirlpool | GX5SHTXTQ00 | Refrigerator |
| Whirlpool | GX5SHTXTQ01 | Refrigerator |
| Whirlpool | GX5SHTXTQ11 | Refrigerator |
| Whirlpool | GX5SHTXTS00 | Refrigerator |
| Whirlpool | GX5SHTXTS01 | Refrigerator |
| Whirlpool | GX5SHTXTS11 | Refrigerator |
| Whirlpool | GX5SHTXTT00 | Refrigerator |
| Whirlpool | GX5SHTXTT01 | Refrigerator |
| Whirlpool | GX5SHTXTT11 | Refrigerator |
| whirlpool | GZ25FSRXYY | Refrigerator |
| Whirlpool | GZ25FSRXYY1 | Refrigerator |
| Whirlpool | GZ25FSRXYY2 | Refrigerator |
| Whirlpool | GZ25FSRXYY4 | Refrigerator |
| Whirlpool | GZ25FSRXYY5 | Refrigerator |
| Whirlpool | GZ25FSRXYY6 | Refrigerator |
| Whirlpool | GZ25FSRXYY7 | Refrigerator |
| Whirlpool | GZ2626GEKB13 | Refrigerator |
| Whirlpool | GZ2626GEKS13 | Refrigerator |
| Whirlpool | GZ2626GEKW13 | Refrigerator |
| Whirlpool | MFI2570FEZ06 | Refrigerator |
| Whirlpool | WRB322DMBB | Refrigerator |
| Whirlpool | WRB322DMBM | Refrigerator |
| Whirlpool | WRF535SMBB | Refrigerator |
| Whirlpool | WRF535SMBM | Refrigerator |
| Whirlpool | WRF535SMBW | Refrigerator |
| Whirlpool | WRF535SWBB | Refrigerator |
| Whirlpool | WRF535SWBB00 | Refrigerator |
| Whirlpool | WRF535SWBM | Refrigerator |
| Whirlpool | WRF535SWBM00 | Refrigerator |
| Whirlpool | WRF535SWBW | Refrigerator |
| Whirlpool | WRF535SWBW00 | Refrigerator |
| Whirlpool | WRF535SWHV | Refrigerator |
| Whirlpool | WRF535SWHZ | Refrigerator |
| Whirlpool | WRF540CWBB | Refrigerator |
| Whirlpool | WRF540CWBB00 | Refrigerator |
| Whirlpool | WRF540CWBB01 | Refrigerator |
| Whirlpool | WRF540CWBM | Refrigerator |
| Whirlpool | WRF540CWBM00 | Refrigerator |
| Whirlpool | WRF540CWBM01 | Refrigerator |
| Whirlpool | WRF540CWBW | Refrigerator |
| Whirlpool | WRF540CWBW00 | Refrigerator |
| Whirlpool | WRF540CWBW01 | Refrigerator |
| Whirlpool | WRF555SDFZ00 | Refrigerator |
| Whirlpool | WRF555SDFZ01 | Refrigerator |
| Whirlpool | WRF555SDFZ02 | Refrigerator |
| Whirlpool | WRF555SDFZ03 | Refrigerator |
| Whirlpool | WRF555SDFZ04 | Refrigerator |
| Whirlpool | WRF555SDFZ05 | Refrigerator |
| Whirlpool | WRF555SDFZ06 | Refrigerator |
| Whirlpool | WRF555SDFZ07 | Refrigerator |
| Whirlpool | wrf555sdfz08 | Refrigerator |
| Whirlpool | WRF555SDFZ09 | Refrigerator |
| Whirlpool | WRF555SDFZ11 | Refrigerator |
| Whirlpool | WRF555SDFZ110 | Refrigerator |
| Whirlpool | WRF555SDHV01 | Refrigerator |
| whirlpool | WRF989SDAM | Refrigerator |
| whirlpool | WRT771REYW | Refrigerator |
| Whirlpool | WRX7355DBM00 | Refrigerator |
| Whirlpool | WRX7355DHZ | Refrigerator |
| Whirlpool | WRX7355DHZ00 | Refrigerator |
| Whirlpool | WRX7355DHZ01 | Refrigerator |
| Whirlpool | WRX7355DHZ02 | Refrigerator |
| Whirlpool | WRX735SDBE00 | Refrigerator |
| Whirlpool | WRX735SDBE01 | Refrigerator |
| Whirlpool | WRX735SDBE02 | Refrigerator |
| Whirlpool | WRX735SDBH00 | Refrigerator |
| Whirlpool | WRX735SDBH01 | Refrigerator |
| Whirlpool | WRX735SDBH02 | Refrigerator |
| Whirlpool | WRX735SDBM | Refrigerator |
| Whirlpool | WRX735SDBM00 | Refrigerator |
| Whirlpool | WRX735SDBM02 | Refrigerator |
| Whirlpool | WRX735SDBM03 | Refrigerator |
| Whirlpool | WRX735SDBM04 | Refrigerator |
| Whirlpool | WRX735SDH | Refrigerator |
| Whirlpool | WRX735SDHB | Refrigerator |
| Whirlpool | WRX735SDHB00 | Refrigerator |
| Whirlpool | WRX735SDHB01 | Refrigerator |
| Whirlpool | WRX735SDHB02 | Refrigerator |
| Whirlpool | WRX735SDHV00 | Refrigerator |
| Whirlpool | WRX735SDHV01 | Refrigerator |
| Whirlpool | WRX735SDHV02 | Refrigerator |
| Whirlpool | WRX735SDHW00 | Refrigerator |
| Whirlpool | WRX735SDHW01 | Refrigerator |
| Whirlpool | WRX735SDHW02 | Refrigerator |
| Whirlpool | WRX735SDHZ | Refrigerator |
| Whirlpool | WRX735SDHZ00 | Refrigerator |
| Whirlpool | WRX735SDHZ01 | Refrigerator |
| Whirlpool | WRX735SDHZ02 | Refrigerator |
| Whirlpool | WRX735SDHZ03 | Refrigerator |