ClearChoice CLCH101 | Our#: 180377
ClearChoice Replacement for UKF8001 Filter, 2-Pack

2651 review(s)
ClearChoice CLCH101 | Our#: 180377
Fast Shipping & Free Returns
100% Compatibility Guarantee
Compatibility guaranteed! Free return shipping and 100% money back if there are any issues.
Your purchase will help Support American jobs
Certified to the NSF/ANSI 42 Standard for the reduction of chlorine taste and odor.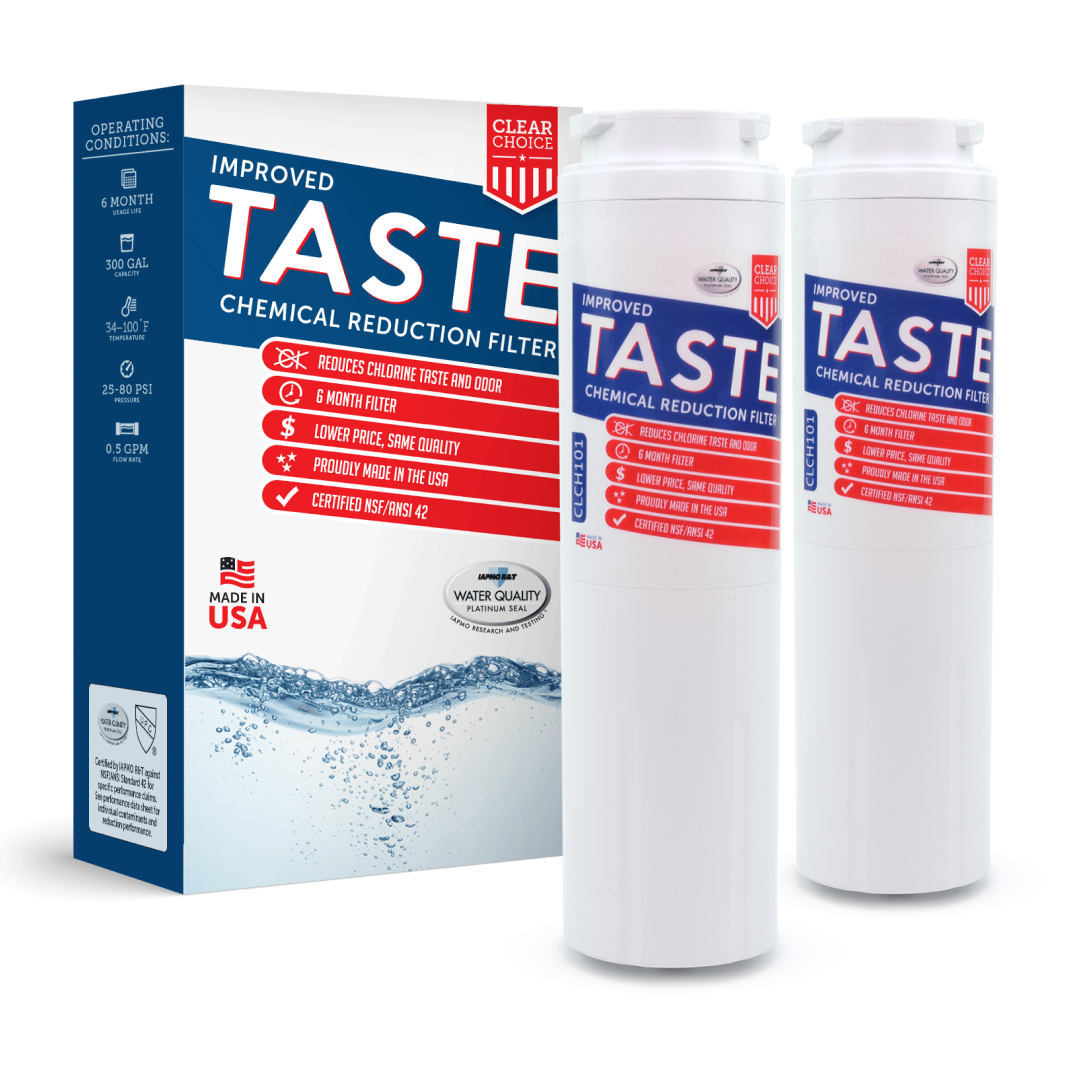 14 people in your area recently purchased this product!
$

26.98
(

2

Filters for $

53.95

)
In Stock
Ships in 24 hours
Fast Shipping & Free Returns
100% Compatibility Guarantee
Frequently Purchased Together
Product Details
The ClearChoice CLCH101 refrigerator water filter replaces part numbers UKF8001, EDR4RXD1, and others. It is compatible with Whirlpool®, Maytag®, Amana®, KitchenAid® and JennAir® refrigerators.
Uses advanced activated carbon technology
Creates better tasting water and ice
Inexpensive alternative to factory original part
Made with pride in the

USA

Certified to NSF/ANSI Standard 42 for the reduction of chlorine taste and odor
---
Popular Part Numbers
---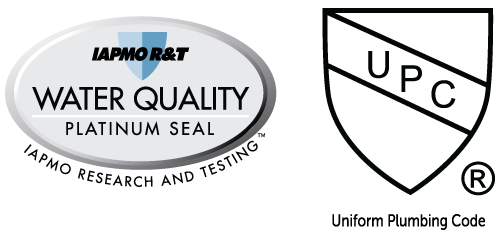 When used in the CLCH101-S system, certified by IAPMO R&T to NSF/ANSI 42 for the reduction of Chlorine, Taste & Odor. Also certified to NSF/ANSI 372 for Lead Free compliance. See
performance data sheet
for individual contaminants and reduction performance.
---
Installation Instructions
How To Install The UKF8001 Filter:
Remove old filter cartridge by grasping and gently turning counterclockwise until it releases from the filter head
Insert new filter into filter head and rotate clockwise until the filter stops. Close the filter cover
Run water continuously through dispenser for 4 gallons (approximately 5 minutes) until water runs steady and sputtering stops. NOTE: during initial use allow about a 1-2 minute delay in water dispersal to allow internal water tank to fill
Reset water filter change notification by following instructions in owners manual
---
Compatible Part Numbers
Search by your filter part number or appliance model number to verify compatibility
| Model or Part Number | Type |
| --- | --- |
| aga AMLFDR20 | Refrigerator |
| aga AMLFDR20-BLK | Refrigerator |
| aga AMLFDR20-CRN | Refrigerator |
| aga AMLFDR20-IVY | Refrigerator |
| aga AMLFDR20-SS | Refrigerator |
| aga AMLFDR20-VWT | Refrigerator |
| aga AMPROFD20 | Refrigerator |
| aga AMPROFD20-SS | Refrigerator |
| Amana ABB2222FEB11 | Refrigerator |
| Amana ABB2222FED10 | Refrigerator |
| Amana ABB2222FEQ11 | Refrigerator |
| Amana ABB2222FEW11 | Refrigerator |
| Amana ABC2037DEB | Refrigerator |
| Amana ABC2037DEB14 | Refrigerator |
| Amana ABC2037DEQ | Refrigerator |
| Amana ABC2037DES | Refrigerator |
| Amana ABC2037DEW | Refrigerator |
| Amana ABC2037DEW14 | Refrigerator |
| Amana ABC2037DPS | Refrigerator |
| Amana ABC2037DTB | Refrigerator |
| Amana ABC2037DTS | Refrigerator |
| Amana ABC2037DTS14 | Refrigerator |
| Amana ABC2037DTW | Refrigerator |
| Amana ABD2233DEB | Refrigerator |
| Amana ABD2233DEB14 | Refrigerator |
| Amana ABD2233DEQ | Refrigerator |
| Amana ABD2233DES | Refrigerator |
| Amana ABD2233DEW | Refrigerator |
| Amana ABD2233DEW14 | Refrigerator |
| Amana ABD2533DEB | Refrigerator |
| Amana ABD2533DEQ | Refrigerator |
| Amana ABD2533DES | Refrigerator |
| Amana ABD2533DEW | Refrigerator |
| Amana ABL2037FES | Refrigerator |
| Amana ABL2037FES12 | Refrigerator |
| Amana ABL2233FES | Refrigerator |
| Amana ABL2233FES12 | Refrigerator |
| Amana ABL2533FES | Refrigerator |
| Amana ABL2533FES12 | Refrigerator |
| Amana ABR2037FES | Refrigerator |
| Amana ABR2037FES12 | Refrigerator |
| Amana ABR2233FES | Refrigerator |
| Amana ABR2233FES12 | Refrigerator |
| Amana ABR2533FES | Refrigerator |
| Amana ABR2533FES12 | Refrigerator |
| Amana AC2224GEKB12 | Refrigerator |
| Amana AC2224GEKS13 | Refrigerator |
| Amana AC2224GEKW12 | Refrigerator |
| Amana AC2225GEKB13 | Refrigerator |
| Amana AC2225GEKS14 | Refrigerator |
| Amana AC2225GEKW13 | Refrigerator |
| Amana AC2228HEKB13 | Refrigerator |
| Amana AC2228HEKS14 | Refrigerator |
| Amana AC2228HEKW13 | Refrigerator |
| Amana ACD2232HRB | Refrigerator |
| Amana ACD2232HRS | Refrigerator |
| Amana ACD2232HRW | Refrigerator |
| Amana ACD2234HRB | Refrigerator |
| Amana ACD2234HRQ | Refrigerator |
| Amana ACD2234HRS | Refrigerator |
| Amana ACD2234HRW | Refrigerator |
| Amana ACD2238HTS | Refrigerator |
| Amana AFD2535DEB | Refrigerator |
| Amana AFD2535DEB10 | Refrigerator |
| Amana AFD2535DEB11 | Refrigerator |
| Amana AFD2535DEB14 | Refrigerator |
| Amana AFD2535DEB5 | Refrigerator |
| Amana AFD2535DEB6 | Refrigerator |
| Amana AFD2535DEB7 | Refrigerator |
| Amana AFD2535DEB8 | Refrigerator |
| Amana AFD2535DEB9 | Refrigerator |
| Amana AFD2535DEQ | Refrigerator |
| Amana AFD2535DEQ14 | Refrigerator |
| Amana AFD2535DEQ5 | Refrigerator |
| Amana AFD2535DEQ6 | Refrigerator |
| Amana AFD2535DES | Refrigerator |
| Amana AFD2535DEW | Refrigerator |
| Amana AFD2535DEW10 | Refrigerator |
| Amana AFD2535DEW11 | Refrigerator |
| Amana AFD2535DEW14 | Refrigerator |
| Amana AFD2535DEW5 | Refrigerator |
| Amana AFD2535DEW6 | Refrigerator |
| Amana AFD2535DEW7 | Refrigerator |
| Amana AFD2535DEW8 | Refrigerator |
| Amana AFD2535DEW9 | Refrigerator |
| Amana AFD2535FES | Refrigerator |
| Amana AFD2535FES11 | Refrigerator |
| Amana AFD2535FES12 | Refrigerator |
| Amana AFD2535FES3 | Refrigerator |
| Amana AFD2535FES4 | Refrigerator |
| Amana AFD2535FES5 | Refrigerator |
| Amana AFD2535FES6 | Refrigerator |
| Amana AFD2535FES7 | Refrigerator |
| Amana AFD2535FES8 | Refrigerator |
| Amana AFD2535FES9 | Refrigerator |
| Amana AFI2538AEB | Refrigerator |
| Amana AFI2538AEB00 | Refrigerator |
| Amana AFI2538AEB12 | Refrigerator |
| Amana AFI2538AEB13 | Refrigerator |
| Amana AFI2538AEB3 | Refrigerator |
| Amana AFI2538AEB4 | Refrigerator |
| Amana AFI2538AEQ | Refrigerator |
| Amana AFI2538AEQ00 | Refrigerator |
| Amana AFI2538AEQ12 | Refrigerator |
| Amana AFI2538AEQ13 | Refrigerator |
| Amana AFI2538AEQ3 | Refrigerator |
| Amana AFI2538AEQ4 | Refrigerator |
| Amana AFI2538AES | Refrigerator |
| Amana AFI2538AES00 | Refrigerator |
| Amana AFI2538AES12 | Refrigerator |
| Amana AFI2538AES13 | Refrigerator |
| Amana AFI2538AES3 | Refrigerator |
| Amana AFI2538AES4 | Refrigerator |
| Amana AFI2538AES5 | Refrigerator |
| Amana AFI2538AES6 | Refrigerator |
| Amana AFI2538AEW | Refrigerator |
| Amana AFI2538AEW00 | Refrigerator |
| Amana AFI2538AEW12 | Refrigerator |
| Amana AFI2538AEW13 | Refrigerator |
| Amana AFI2538AEW3 | Refrigerator |
| Amana AFI2538AEW4 | Refrigerator |
| Amana AFI2539ERB00 | Refrigerator |
| Amana AFI2539ERB01 | Refrigerator |
| Amana AFI2539ERM00 | Refrigerator |
| Amana AFI2539ERM01 | Refrigerator |
| Amana AFI2539ERM02 | Refrigerator |
| Amana AFI2539ERW00 | Refrigerator |
| Amana AFI2539ERW01 | Refrigerator |
| Amana ARB2257CB | Refrigerator |
| Amana ARB2257CC | Refrigerator |
| Amana ARB2257CSL | Refrigerator |
| Amana ARB2257CSR | Refrigerator |
| Amana ARB2257CW | Refrigerator |
| Amana ARB2259CB | Refrigerator |
| Amana ARB2259CC | Refrigerator |
| Amana ARB2259CS | Refrigerator |
| Amana ARB2259CW | Refrigerator |
| Amana ARB2557CB | Refrigerator |
| Amana ARB2557CC | Refrigerator |
| Amana ARB2557CSL | Refrigerator |
| Amana ARB2557CSR | Refrigerator |
| Amana ARB2557CW | Refrigerator |
| Amana ARB8057CB | Refrigerator |
| Amana ARB8057CC | Refrigerator |
| Amana ARB8057CSL | Refrigerator |
| Amana ARB8057CSR | Refrigerator |
| Amana ARB8057CW | Refrigerator |
| Amana ARB9058CB | Refrigerator |
| Amana ARB9058CS | Refrigerator |
| Amana ARB9058CW | Refrigerator |
| Amana ARB9059CS | Refrigerator |
| Amana ARS2464BB | Refrigerator |
| Amana ARS2464BC | Refrigerator |
| Amana ARS2464BS | Refrigerator |
| Amana ARS2464BW | Refrigerator |
| Amana ARS2606BB | Refrigerator |
| Amana ARS2606BC | Refrigerator |
| Amana ARS2606BW | Refrigerator |
| Amana ARS2661BB | Refrigerator |
| Amana ARS2661BC | Refrigerator |
| Amana ARS2661BS | Refrigerator |
| Amana ARS2661BW | Refrigerator |
| Amana ARS2664BB | Refrigerator |
| Amana ARS2664BC | Refrigerator |
| Amana ARS2664BS | Refrigerator |
| Amana ARS2664BW | Refrigerator |
| Amana ARS2667BB | Refrigerator |
| Amana ARS2667BC | Refrigerator |
| Amana ARS2667BS | Refrigerator |
| Amana ARS2667BW | Refrigerator |
| Amana ARS266KBB | Refrigerator |
| Amana ARS266KBC | Refrigerator |
| Amana ARS266KBW | Refrigerator |
| Amana ARS266RBB | Refrigerator |
| Amana ARS266RBC | Refrigerator |
| Amana ARS266RBW | Refrigerator |
| Amana ARS266ZBB | Refrigerator |
| Amana ARS266ZBC | Refrigerator |
| Amana ARS266ZBS | Refrigerator |
| Amana ARS266ZBW | Refrigerator |
| Amana ARS8265BB | Refrigerator |
| Amana ARS8265BC | Refrigerator |
| Amana ARS8265BS | Refrigerator |
| Amana ARS8265BW | Refrigerator |
| Amana ARS8267BB | Refrigerator |
| Amana ARS8267BC | Refrigerator |
| Amana ARS8267BS | Refrigerator |
| Amana ARS8267BW | Refrigerator |
| Amana ARS9265BB | Refrigerator |
| Amana ARS9265BC | Refrigerator |
| Amana ARS9265BW | Refrigerator |
| Amana ARS9266BS | Refrigerator |
| Amana ARS9268BB | Refrigerator |
| Amana ARS9268BC | Refrigerator |
| Amana ARS9268BW | Refrigerator |
| Amana ARS9269BS | Refrigerator |
| Amana ARSE664BB | Refrigerator |
| Amana ARSE664BC | Refrigerator |
| Amana ARSE664BS | Refrigerator |
| Amana ARSE664BW | Refrigerator |
| Amana ARSE665BB | Refrigerator |
| Amana ARSE665BC | Refrigerator |
| Amana ARSE665BS | Refrigerator |
| Amana ARSE665BW | Refrigerator |
| Amana ARSE667BB | Refrigerator |
| Amana ARSE667BC | Refrigerator |
| Amana ARSE667BS | Refrigerator |
| Amana ARSE667BW | Refrigerator |
| Amana ARSE66MBB | Refrigerator |
| Amana ARSE66MBC | Refrigerator |
| Amana ARSE66MBW | Refrigerator |
| Amana ARSE66ZBB | Refrigerator |
| Amana ARSE66ZBC | Refrigerator |
| Amana ARSE66ZBS | Refrigerator |
| Amana ARSE66ZBW | Refrigerator |
| Amana ARSE67RBB | Refrigerator |
| Amana ARSE67RBC | Refrigerator |
| Amana ARSE67RBS | Refrigerator |
| Amana ARSE67RBW | Refrigerator |
| Amana AS2626GEKB13 | Refrigerator |
| Amana AS2626GEKS14 | Refrigerator |
| Amana AS2626GEKW13 | Refrigerator |
| Amana AS2628HEKB13 | Refrigerator |
| Amana ASD2324HEB | Refrigerator |
| Amana ASD2324HEQ | Refrigerator |
| Amana ASD2324HES | Refrigerator |
| Amana ASD2324HEW | Refrigerator |
| Amana ASD2325KEB | Refrigerator |
| Amana ASD2325KEQ | Refrigerator |
| Amana ASD2325KES | Refrigerator |
| Amana ASD2325KEW | Refrigerator |
| Amana ASD2326HEB | Refrigerator |
| Amana ASD2326HEQ | Refrigerator |
| Amana ASD2326HES | Refrigerator |
| Amana ASD2326HEW | Refrigerator |
| Amana ASD2328HEB | Refrigerator |
| Amana ASD2328HEQ | Refrigerator |
| Amana ASD2328HES | Refrigerator |
| Amana ASD2328HEW | Refrigerator |
| Amana ASD261RHRB | Refrigerator |
| Amana ASD261RHRQ | Refrigerator |
| Amana ASD261RHRS | Refrigerator |
| Amana ASD261RHRW | Refrigerator |
| Amana ASD2620HRB | Refrigerator |
| Amana ASD2620HRQ | Refrigerator |
| Amana ASD2620HRW | Refrigerator |
| Amana ASD2620HRZ | Refrigerator |
| Amana ASD2621KRB | Refrigerator |
| Amana ASD2621KRW | Refrigerator |
| Amana ASD2621KRZ | Refrigerator |
| Amana ASD2622HRB | Refrigerator |
| Amana ASD2622HRQ | Refrigerator |
| Amana ASD2622HRS | Refrigerator |
| Amana ASD2622HRW | Refrigerator |
| Amana ASD2624HEB | Refrigerator |
| Amana ASD2624HEQ | Refrigerator |
| Amana ASD2624HES | Refrigerator |
| Amana ASD2624HEW | Refrigerator |
| Amana ASD2625KEB | Refrigerator |
| Amana ASD2625KEQ | Refrigerator |
| Amana ASD2625KES | Refrigerator |
| Amana ASD2625KEW | Refrigerator |
| Amana ASD2626HEB | Refrigerator |
| Amana ASD2626HEQ | Refrigerator |
| Amana ASD2626HES | Refrigerator |
| Amana ASD2626HEW | Refrigerator |
| Amana ASD2627KEB | Refrigerator |
| Amana ASD2627KES | Refrigerator |
| Amana ASD2627KEW | Refrigerator |
| Amana ASD2628HEB | Refrigerator |
| Amana ASD2628HEQ | Refrigerator |
| Amana ASD2628HES | Refrigerator |
| Amana ASD2628HEW | Refrigerator |
| Amana ASD262RHRB | Refrigerator |
| Amana ASD262RHRQ | Refrigerator |
| Amana ASD262RHRS | Refrigerator |
| Amana ASD262RHRW | Refrigerator |
| Amana DRS2462BB | Refrigerator |
| Amana DRS2462BC | Refrigerator |
| Amana DRS2462BW | Refrigerator |
| Amana DRS246RBB | Refrigerator |
| Amana DRS246RBC | Refrigerator |
| Amana DRS246RBW | Refrigerator |
| Amana DRS2660BC | Refrigerator |
| Amana DRS2660BW | Refrigerator |
| Amana DRS2663BB | Refrigerator |
| Amana DRS2663BC | Refrigerator |
| Amana DRS2663BW | Refrigerator |
| Amana DRSE663BB | Refrigerator |
| Amana DRSE663BC | Refrigerator |
| Amana DRSE663BW | Refrigerator |
| Bosch B22CT80SNP | Refrigerator |
| Bosch B22CT80SNP/01 | Refrigerator |
| Bosch B22CT80SNS | Refrigerator |
| Bosch B22CT80SNS/01 | Refrigerator |
| Bosch B22CT80SNS01 | Refrigerator |
| Bosch B22FT80SNS | Refrigerator |
| Bosch B22FT80SNS/01 | Refrigerator |
| Crosley CS26G7DQ | Refrigerator |
| Crosley CS26G7DW | Refrigerator |
| Crosley CS26G8DB | Refrigerator |
| Crosley CS26G8DQ | Refrigerator |
| Crosley CS26G8DW | Refrigerator |
| Crosley CS26G8DZ | Refrigerator |
| Crosley CS26G9DB | Refrigerator |
| Crosley CS26G9DQ | Refrigerator |
| Crosley CS26G9DW | Refrigerator |
| Crosley CS26G9DZ | Refrigerator |
| dacor EF36BNDF | Refrigerator |
| dacor EF36BNF | Refrigerator |
| dacor EF36BNNFSS | Refrigerator |
| dacor EF36IWF | Refrigerator |
| dacor EF36IWFSS | Refrigerator |
| dacor EF36LNDF | Refrigerator |
| dacor EF36LNF | Refrigerator |
| dacor EF36RNDF | Refrigerator |
| dacor EF36RNF | Refrigerator |
| dacor EF42DBSS | Refrigerator |
| dacor IF36BNDF | Refrigerator |
| dacor IF36BNNFSF | Refrigerator |
| dacor IF36INDF | Refrigerator |
| dacor PF36BNDF | Refrigerator |
| dacor PF36BNDFBK | Refrigerator |
| Jenn-Air JBC2088HTB | Refrigerator |
| Jenn-Air JBC2088HTW | Refrigerator |
| Jenn-Air JBD2256HEB | Refrigerator |
| Jenn-Air JBD2256HEW | Refrigerator |
| Jenn-Air JBD2286KEB | Refrigerator |
| Jenn-Air JBD2286KEB11 | Refrigerator |
| Jenn-Air JBD2286KEB2 | Refrigerator |
| Jenn-Air JBD2286KEB3 | Refrigerator |
| Jenn-Air JBD2286KEW | Refrigerator |
| Jenn-Air JBD2286KEW11 | Refrigerator |
| Jenn-Air JBL2086HES | Refrigerator |
| Jenn-Air JBL2088HES | Refrigerator |
| Jenn-Air JBL2088HES13 | Refrigerator |
| Jenn-Air JBL2088HES4 | Refrigerator |
| Jenn-Air JBL2088HES5 | Refrigerator |
| Jenn-Air JBL2088WEM0 | Refrigerator |
| Jenn-Air JBL2088WEM1 | Refrigerator |
| Jenn-Air JBL2256HES | Refrigerator |
| Jenn-Air JBL2286KES | Refrigerator |
| Jenn-Air JBL2286KES12 | Refrigerator |
| Jenn-Air JBL2286KES3 | Refrigerator |
| Jenn-Air JBR2086HES | Refrigerator |
| Jenn-Air JBR2088HES | Refrigerator |
| Jenn-Air JBR2088HES13 | Refrigerator |
| Jenn-Air JBR2088HES4 | Refrigerator |
| Jenn-Air JBR2088HES5 | Refrigerator |
| Jenn-Air JBR2088WEM0 | Refrigerator |
| Jenn-Air JBR2088WEM1 | Refrigerator |
| Jenn-Air JBR2256HES | Refrigerator |
| Jenn-Air JBR2286KES | Refrigerator |
| Jenn-Air JBR2286KES12 | Refrigerator |
| Jenn-Air JBR2286KES3 | Refrigerator |
| Jenn-Air JCB2058GEB-PJCB2058GB1 | Refrigerator |
| Jenn-Air JCB2058GEW-PJCB205 | Refrigerator |
| Jenn-Air JCB2059GES-PJCB2059GS0 | Refrigerator |
| Jenn-Air JCB2059GES-PJCB2059GS1 | Refrigerator |
| Jenn-Air JCD2290HEB | Refrigerator |
| Jenn-Air JCD2290HEQ | Refrigerator |
| Jenn-Air JCD2290HES | Refrigerator |
| Jenn-Air JCD2290HEW | Refrigerator |
| Jenn-Air JCD2292HTB | Refrigerator |
| Jenn-Air JCD2292HTW | Refrigerator |
| Jenn-Air JCD2292KTB | Refrigerator |
| Jenn-Air JCD2292KTW | Refrigerator |
| Jenn-Air JCD2295HES | Refrigerator |
| Jenn-Air JCD2295KEP | Refrigerator |
| Jenn-Air JCD2295KES | Refrigerator |
| Jenn-Air JCD2297KEF | Refrigerator |
| Jenn-Air JCD2297KEY | Refrigerator |
| Jenn-Air JFC2070KRB | Refrigerator |
| Jenn-Air JFC2070KRB11 | Refrigerator |
| Jenn-Air JFC2070KRS | Refrigerator |
| Jenn-Air JFC2070KRS12 | Refrigerator |
| Jenn-Air JFC2070KRW | Refrigerator |
| Jenn-Air JFC2070KRW11 | Refrigerator |
| Jenn-Air JFC2087HRP | Refrigerator |
| Jenn-Air JFC2087HRS | Refrigerator |
| Jenn-Air JFC2089BE | Refrigerator |
| Jenn-Air JFC2089BEM | Refrigerator |
| Jenn-Air JFC2089BEM00 | Refrigerator |
| Jenn-Air JFC2089BEM01 | Refrigerator |
| Jenn-Air JFC2089BEP | Refrigerator |
| Jenn-Air JFC2089BEP00 | Refrigerator |
| Jenn-Air JFC2089BEP01 | Refrigerator |
| Jenn-Air JFC2089BPSS | Refrigerator |
| Jenn-Air JFC2089BSS | Refrigerator |
| Jenn-Air JFC2089HEP | Refrigerator |
| Jenn-Air JFC2089HEP13 | Refrigerator |
| Jenn-Air JFC2089HEP4 | Refrigerator |
| Jenn-Air JFC2089HEP5 | Refrigerator |
| Jenn-Air JFC2089HEP6 | Refrigerator |
| Jenn-Air JFC2089HES | Refrigerator |
| Jenn-Air JFC2089HES13 | Refrigerator |
| Jenn-Air JFC2089HES4 | Refrigerator |
| Jenn-Air JFC2089HES5 | Refrigerator |
| Jenn-Air JFC2089HES6 | Refrigerator |
| Jenn-Air JFC2089HPF | Refrigerator |
| Jenn-Air JFC2089HPF12 | Refrigerator |
| Jenn-Air JFC2089HPF3 | Refrigerator |
| Jenn-Air JFC2089HPF4 | Refrigerator |
| Jenn-Air JFC2089HPR10 | Refrigerator |
| Jenn-Air JFC2089HPR11 | Refrigerator |
| Jenn-Air JFC2089HPR2 | Refrigerator |
| Jenn-Air JFC2089HPR3 | Refrigerator |
| Jenn-Air JFC2089HPY | Refrigerator |
| Jenn-Air JFC2089HPY12 | Refrigerator |
| Jenn-Air JFC2089HPY3 | Refrigerator |
| Jenn-Air JFC2089HPY4 | Refrigerator |
| Jenn-Air JFC2089HTB | Refrigerator |
| Jenn-Air JFC2089HTB12 | Refrigerator |
| Jenn-Air JFC2089HTB3 | Refrigerator |
| Jenn-Air JFC2089HTB4 | Refrigerator |
| Jenn-Air JFC2089HTW | Refrigerator |
| Jenn-Air JFC2089HTW12 | Refrigerator |
| Jenn-Air JFC2089HTW3 | Refrigerator |
| Jenn-Air JFC2089HTW4 | Refrigerator |
| Jenn-Air JFC2089WEM | Refrigerator |
| Jenn-Air JFC2089WEM0 | Refrigerator |
| Jenn-Air JFC2089WEM1 | Refrigerator |
| Jenn-Air JFC2089WEM11 | Refrigerator |
| Jenn-Air JFC2089WEM2 | Refrigerator |
| Jenn-Air JFC2089WEM3 | Refrigerator |
| Jenn-Air JFC2089WEM4 | Refrigerator |
| Jenn-Air JFC2089WEM5 | Refrigerator |
| Jenn-Air JFC2089WEM6 | Refrigerator |
| Jenn-Air JFC2089WEM7 | Refrigerator |
| Jenn-Air JFC2089WEM9 | Refrigerator |
| Jenn-Air JFC2089WEP0 | Refrigerator |
| Jenn-Air JFC2089WEP1 | Refrigerator |
| Jenn-Air JFC2089WEP11 | Refrigerator |
| Jenn-Air JFC2089WEP2 | Refrigerator |
| Jenn-Air JFC2089WEP3 | Refrigerator |
| Jenn-Air JFC2089WEP4 | Refrigerator |
| Jenn-Air JFC2089WEP5 | Refrigerator |
| Jenn-Air JFC2089WEP6 | Refrigerator |
| Jenn-Air JFC2089WEP7 | Refrigerator |
| Jenn-Air JFC2089WEP9 | Refrigerator |
| Jenn-Air JFC2089WTB0 | Refrigerator |
| Jenn-Air JFC2089WTB1 | Refrigerator |
| Jenn-Air JFC2089WTB2 | Refrigerator |
| Jenn-Air JFC2089WTB3 | Refrigerator |
| Jenn-Air JFC2089WTB4 | Refrigerator |
| Jenn-Air JFC2089WTB5 | Refrigerator |
| Jenn-Air JFC2089WTB7 | Refrigerator |
| Jenn-Air JFC2089WTB9 | Refrigerator |
| Jenn-Air JFC2089WTW0 | Refrigerator |
| Jenn-Air JFC2089WTW1 | Refrigerator |
| Jenn-Air JFC2089WTW2 | Refrigerator |
| Jenn-Air JFC2290R | Refrigerator |
| Jenn-Air JFC2290REM | Refrigerator |
| Jenn-Air JFC2290REM00 | Refrigerator |
| Jenn-Air JFC2290REP | Refrigerator |
| Jenn-Air JFC2290REP00 | Refrigerator |
| Jenn-Air JFC2290REPSS | Refrigerator |
| Jenn-Air JFC2290RESS | Refrigerator |
| Jenn-Air JFC2290REX | Refrigerator |
| Jenn-Air JFC2290REY | Refrigerator |
| Jenn-Air JFC2290REY00 | Refrigerator |
| Jenn-Air JFC2290REYBK | Refrigerator |
| Jenn-Air JFC2290RTB | Refrigerator |
| Jenn-Air JFC2290RTB00 | Refrigerator |
| Jenn-Air JFC2290VEM | Refrigerator |
| Jenn-Air JFC2290VEM1 | Refrigerator |
| Jenn-Air JFC2290VEM2 | Refrigerator |
| Jenn-Air JFC2290VEM3 | Refrigerator |
| Jenn-Air JFC2290VEM4 | Refrigerator |
| Jenn-Air JFC2290VEM5 | Refrigerator |
| Jenn-Air JFC2290VEM6 | Refrigerator |
| Jenn-Air JFC2290VEM7 | Refrigerator |
| Jenn-Air JFC2290VEM8 | Refrigerator |
| Jenn-Air JFC2290VEP | Refrigerator |
| Jenn-Air JFC2290VEP1 | Refrigerator |
| Jenn-Air JFC2290VEP10 | Refrigerator |
| Jenn-Air JFC2290VEP2 | Refrigerator |
| Jenn-Air JFC2290VEP3 | Refrigerator |
| Jenn-Air JFC2290VEP4 | Refrigerator |
| Jenn-Air JFC2290VEP5 | Refrigerator |
| Jenn-Air JFC2290VEP6 | Refrigerator |
| Jenn-Air JFC2290VEP7 | Refrigerator |
| Jenn-Air JFC2290VEP8 | Refrigerator |
| Jenn-Air JFC2290VPF1 | Refrigerator |
| Jenn-Air JFC2290VPF2 | Refrigerator |
| Jenn-Air JFC2290VPF3 | Refrigerator |
| Jenn-Air JFC2290VPF4 | Refrigerator |
| Jenn-Air JFC2290VPF5 | Refrigerator |
| Jenn-Air JFC2290VPR0 | Refrigerator |
| Jenn-Air JFC2290VPR1 | Refrigerator |
| Jenn-Air JFC2290VPR2 | Refrigerator |
| Jenn-Air JFC2290VPR3 | Refrigerator |
| Jenn-Air JFC2290VPR4 | Refrigerator |
| Jenn-Air JFC2290VPY | Refrigerator |
| Jenn-Air JFC2290VPY1 | Refrigerator |
| Jenn-Air JFC2290VPY2 | Refrigerator |
| Jenn-Air JFC2290VPY3 | Refrigerator |
| Jenn-Air JFC2290VPY4 | Refrigerator |
| Jenn-Air JFC2290VPY5 | Refrigerator |
| Jenn-Air JFC2290VTB | Refrigerator |
| Jenn-Air JFC2290VTB1 | Refrigerator |
| Jenn-Air JFC2290VTB10 | Refrigerator |
| Jenn-Air JFC2290VTB2 | Refrigerator |
| Jenn-Air JFC2290VTB3 | Refrigerator |
| Jenn-Air JFC2290VTB4 | Refrigerator |
| Jenn-Air JFC2290VTB5 | Refrigerator |
| Jenn-Air JFD2589KEP | Refrigerator |
| Jenn-Air JFD2589KEP2 | Refrigerator |
| Jenn-Air JFD2589KEP3 | Refrigerator |
| Jenn-Air JFD2589KEP4 | Refrigerator |
| Jenn-Air JFD2589KEP5 | Refrigerator |
| Jenn-Air JFD2589KES | Refrigerator |
| Jenn-Air JFD2589KES2 | Refrigerator |
| Jenn-Air JFD2589KES3 | Refrigerator |
| Jenn-Air JFD2589KES4 | Refrigerator |
| Jenn-Air JFD2589KES5 | Refrigerator |
| Jenn-Air JFI2089AE | Refrigerator |
| Jenn-Air JFI2089AEB10 | Refrigerator |
| Jenn-Air JFI2089AEB2 | Refrigerator |
| Jenn-Air JFI2089AEP | Refrigerator |
| Jenn-Air JFI2089AEP10 | Refrigerator |
| Jenn-Air JFI2089AEP12 | Refrigerator |
| Jenn-Air JFI2089AEP13 | Refrigerator |
| Jenn-Air JFI2089AEP2 | Refrigerator |
| Jenn-Air JFI2089AEP3 | Refrigerator |
| Jenn-Air JFI2089AEP4 | Refrigerator |
| Jenn-Air JFI2089AEP5 | Refrigerator |
| Jenn-Air JFI2089AEP6 | Refrigerator |
| Jenn-Air JFI2089AEP7 | Refrigerator |
| Jenn-Air JFI2089AEP8 | Refrigerator |
| Jenn-Air JFI2089AEP9 | Refrigerator |
| Jenn-Air JFI2089AES10 | Refrigerator |
| Jenn-Air JFI2089AES2 | Refrigerator |
| Jenn-Air JFI2089AES3 | Refrigerator |
| Jenn-Air JFI2089AEW10 | Refrigerator |
| Jenn-Air JFI2089AEW2 | Refrigerator |
| Jenn-Air JFI2089ATS10 | Refrigerator |
| Jenn-Air JFI2089ATS2 | Refrigerator |
| Jenn-Air JFI2089PSS | Refrigerator |
| Jenn-Air JFI2089W | Refrigerator |
| Jenn-Air JFI2089WES | Refrigerator |
| Jenn-Air JFI2089WES0 | Refrigerator |
| Jenn-Air JFI2089WES1 | Refrigerator |
| Jenn-Air JFI2089WES10 | Refrigerator |
| Jenn-Air JFI2089WES2 | Refrigerator |
| Jenn-Air JFI2089WES3 | Refrigerator |
| Jenn-Air JFI2089WES4 | Refrigerator |
| Jenn-Air JFI2089WES5 | Refrigerator |
| Jenn-Air JFI2089WES6 | Refrigerator |
| Jenn-Air JFI2089WES8 | Refrigerator |
| Jenn-Air JFI2089WES9 | Refrigerator |
| Jenn-Air JFI2089WSS | Refrigerator |
| Jenn-Air JFI2089WTS | Refrigerator |
| Jenn-Air JFI2089WTS0 | Refrigerator |
| Jenn-Air JFI2089WTS1 | Refrigerator |
| Jenn-Air JFI2089WTS2 | Refrigerator |
| Jenn-Air JFI2089WTS3 | Refrigerator |
| Jenn-Air JFI2089WTS4 | Refrigerator |
| Jenn-Air JFI2089WTS6 | Refrigerator |
| Jenn-Air JFI2089WTS7 | Refrigerator |
| Jenn-Air JFI2589AEP10 | Refrigerator |
| Jenn-Air JFI2589AEP2 | Refrigerator |
| Jenn-Air JFI2589AEP3 | Refrigerator |
| Jenn-Air JFI2589AES10 | Refrigerator |
| Jenn-Air JFI2589AES2 | Refrigerator |
| Jenn-Air JFI2589AES3 | Refrigerator |
| Jenn-Air JFX2597AEM | Refrigerator |
| Jenn-Air JFX2597AEM0 | Refrigerator |
| Jenn-Air JFX2597AEM2 | Refrigerator |
| Jenn-Air JFX2597AEM3 | Refrigerator |
| Jenn-Air JFX2597AEP | Refrigerator |
| Jenn-Air JFX2597AEP0 | Refrigerator |
| Jenn-Air JFX2597AEP2 | Refrigerator |
| Jenn-Air JFX2597AEP3 | Refrigerator |
| Jenn-Air JFX2897DRPS | Refrigerator |
| Jenn-Air JS2428GEHB | Refrigerator |
| Jenn-Air JS2628HEHB | Refrigerator |
| Jenn-Air JS2628HEHB-PJS2628HHB0 | Refrigerator |
| Jenn-Air JS2628HEKB | Refrigerator |
| Jenn-Air JS2628HEKB13 | Refrigerator |
| Jenn-Air JSD2690HEB | Refrigerator |
| Jenn-Air JSD2690HES | Refrigerator |
| Jenn-Air JSD2690HEW | Refrigerator |
| Jenn-Air JSD2695KES | Refrigerator |
| Jenn-Air JSD2695KGB | Refrigerator |
| Jenn-Air JSD2695KGW | Refrigerator |
| Jenn-Air JSD2697KEF | Refrigerator |
| Jenn-Air JSD2697KEY | Refrigerator |
| Kenmore 10672002010 | Refrigerator |
| Kenmore 10672002011 | Refrigerator |
| Kenmore 10672003010 | Refrigerator |
| Kenmore 10672003016 | Refrigerator |
| Kenmore 10672003017 | Refrigerator |
| Kenmore 10672003018 | Refrigerator |
| Kenmore 10672009010 | Refrigerator |
| Kenmore 10672009011 | Refrigerator |
| Kenmore 10672012010 | Refrigerator |
| Kenmore 10672013010 | Refrigerator |
| Kenmore 10672019010 | Refrigerator |
| Kenmore 1199748310 | Refrigerator |
| Kenmore 50002 | Refrigerator |
| Kenmore 50003 | Refrigerator |
| Kenmore 50004 | Refrigerator |
| Kenmore 50009 | Refrigerator |
| Kenmore 50012 | Refrigerator |
| Kenmore 50013 | Refrigerator |
| Kenmore 50014 | Refrigerator |
| Kenmore 50019 | Refrigerator |
| Kenmore 51672 | Refrigerator |
| Kenmore 51673 | Refrigerator |
| Kenmore 51674 | Refrigerator |
| Kenmore 51679 | Refrigerator |
| Kenmore 52672 | Refrigerator |
| Kenmore 52673 | Refrigerator |
| Kenmore 52674 | Refrigerator |
| Kenmore 52679 | Refrigerator |
| Kenmore 53462 | Refrigerator |
| Kenmore 53463 | Refrigerator |
| Kenmore 53464 | Refrigerator |
| Kenmore 53469 | Refrigerator |
| Kenmore 55652 | Refrigerator |
| Kenmore 55653 | Refrigerator |
| Kenmore 55654 | Refrigerator |
| Kenmore 55659 | Refrigerator |
| Kenmore 55662 | Refrigerator |
| Kenmore 55663 | Refrigerator |
| Kenmore 55664 | Refrigerator |
| Kenmore 55669 | Refrigerator |
| Kenmore 57002 | Refrigerator |
| Kenmore 57003 | Refrigerator |
| Kenmore 57006 | Refrigerator |
| Kenmore 57009 | Refrigerator |
| Kenmore 57012 | Refrigerator |
| Kenmore 57013 | Refrigerator |
| Kenmore 57016 | Refrigerator |
| Kenmore 57019 | Refrigerator |
| Kenmore 57043 | Refrigerator |
| Kenmore 57049 | Refrigerator |
| Kenmore 57053 | Refrigerator |
| Kenmore 57059 | Refrigerator |
| Kenmore 57082 | Refrigerator |
| Kenmore 57085 | Refrigerator |
| Kenmore 57087 | Refrigerator |
| Kenmore 57089 | Refrigerator |
| Kenmore 57542 | Refrigerator |
| Kenmore 57547 | Refrigerator |
| Kenmore 57582 | Refrigerator |
| Kenmore 57585 | Refrigerator |
| Kenmore 57587 | Refrigerator |
| Kenmore 58622 | Refrigerator |
| Kenmore 58627 | Refrigerator |
| Kenmore 58632 | Refrigerator |
| Kenmore 58634 | Refrigerator |
| Kenmore 58635 | Refrigerator |
| Kenmore 58637 | Refrigerator |
| Kenmore 58642 | Refrigerator |
| Kenmore 58644 | Refrigerator |
| Kenmore 58647 | Refrigerator |
| Kenmore 596.500021 | Refrigerator |
| Kenmore 596.500031 | Refrigerator |
| Kenmore 596.500041 | Refrigerator |
| Kenmore 596.500091 | Refrigerator |
| Kenmore 596.500121 | Refrigerator |
| Kenmore 596.500131 | Refrigerator |
| Kenmore 596.500141 | Refrigerator |
| Kenmore 596.500191 | Refrigerator |
| Kenmore 596.52672201 | Refrigerator |
| Kenmore 596.52672202 | Refrigerator |
| Kenmore 596.52673201 | Refrigerator |
| Kenmore 596.52673202 | Refrigerator |
| Kenmore 596.52674201 | Refrigerator |
| Kenmore 596.52674202 | Refrigerator |
| Kenmore 596.52679201 | Refrigerator |
| Kenmore 596.52679202 | Refrigerator |
| Kenmore 596.534623 | Refrigerator |
| Kenmore 596.53462301 | Refrigerator |
| Kenmore 596.53462302 | Refrigerator |
| Kenmore 596.534633 | Refrigerator |
| Kenmore 596.53463301 | Refrigerator |
| Kenmore 596.53463302 | Refrigerator |
| Kenmore 596.534643 | Refrigerator |
| Kenmore 596.53464301 | Refrigerator |
| Kenmore 596.53464302 | Refrigerator |
| Kenmore 596.534693 | Refrigerator |
| Kenmore 596.53469301 | Refrigerator |
| Kenmore 596.53469302 | Refrigerator |
| Kenmore 596.722822 | Refrigerator |
| Kenmore 596.72282202 | Refrigerator |
| Kenmore 596.722832 | Refrigerator |
| Kenmore 596.72283202 | Refrigerator |
| Kenmore 596.722842 | Refrigerator |
| Kenmore 596.72284202 | Refrigerator |
| Kenmore 596.722892 | Refrigerator |
| Kenmore 596.72289202 | Refrigerator |
| Kenmore 596.735022 | Refrigerator |
| Kenmore 596.73502201 | Refrigerator |
| Kenmore 596.73502202 | Refrigerator |
| Kenmore 596.735023 | Refrigerator |
| Kenmore 596.735032 | Refrigerator |
| Kenmore 596.73503201 | Refrigerator |
| Kenmore 596.73503202 | Refrigerator |
| Kenmore 596.735033 | Refrigerator |
| Kenmore 596.735042 | Refrigerator |
| Kenmore 596.73504201 | Refrigerator |
| Kenmore 596.73504202 | Refrigerator |
| Kenmore 596.735043 | Refrigerator |
| Kenmore 596.735092 | Refrigerator |
| Kenmore 596.73509201 | Refrigerator |
| Kenmore 596.73509202 | Refrigerator |
| Kenmore 596.735093 | Refrigerator |
| Kenmore 596.755224 | Refrigerator |
| Kenmore 596.755234 | Refrigerator |
| Kenmore 596.755244 | Refrigerator |
| Kenmore 596.755294 | Refrigerator |
| Kenmore 596.755324 | Refrigerator |
| Kenmore 596.755334 | Refrigerator |
| Kenmore 596.755344 | Refrigerator |
| Kenmore 596.755394 | Refrigerator |
| Kenmore 596.765325 | Refrigerator |
| Kenmore 596.765335 | Refrigerator |
| Kenmore 596.765345 | Refrigerator |
| Kenmore 596.765395 | Refrigerator |
| Kenmore 59650002100 | Refrigerator |
| Kenmore 59650003100 | Refrigerator |
| Kenmore 59650004100 | Refrigerator |
| Kenmore 59650009100 | Refrigerator |
| Kenmore 59650012100 | Refrigerator |
| Kenmore 59650013100 | Refrigerator |
| Kenmore 59650014100 | Refrigerator |
| Kenmore 59650019100 | Refrigerator |
| Kenmore 59651672100 | Refrigerator |
| Kenmore 59651673100 | Refrigerator |
| Kenmore 59651674100 | Refrigerator |
| Kenmore 59651679100 | Refrigerator |
| Kenmore 59652672200 | Refrigerator |
| Kenmore 59652672201 | Refrigerator |
| Kenmore 59652672202 | Refrigerator |
| Kenmore 59652673200 | Refrigerator |
| Kenmore 59652673201 | Refrigerator |
| Kenmore 59652673202 | Refrigerator |
| Kenmore 59652674200 | Refrigerator |
| Kenmore 59652674201 | Refrigerator |
| Kenmore 59652674202 | Refrigerator |
| Kenmore 59652679200 | Refrigerator |
| Kenmore 59652679201 | Refrigerator |
| Kenmore 59652679202 | Refrigerator |
| Kenmore 59653462300 | Refrigerator |
| Kenmore 59653462301 | Refrigerator |
| Kenmore 59653462302 | Refrigerator |
| Kenmore 59653463300 | Refrigerator |
| Kenmore 59653463301 | Refrigerator |
| Kenmore 59653463302 | Refrigerator |
| Kenmore 59653464300 | Refrigerator |
| Kenmore 59653464301 | Refrigerator |
| Kenmore 59653464302 | Refrigerator |
| Kenmore 59653469300 | Refrigerator |
| Kenmore 59653469301 | Refrigerator |
| Kenmore 59653469302 | Refrigerator |
| Kenmore 59655652500 | Refrigerator |
| Kenmore 59655653500 | Refrigerator |
| Kenmore 59655654500 | Refrigerator |
| Kenmore 59655659500 | Refrigerator |
| Kenmore 59655662500 | Refrigerator |
| Kenmore 59655663500 | Refrigerator |
| Kenmore 59655664500 | Refrigerator |
| Kenmore 59655669500 | Refrigerator |
| Kenmore 59657002600 | Refrigerator |
| Kenmore 59657003600 | Refrigerator |
| Kenmore 59657006600 | Refrigerator |
| Kenmore 59657009600 | Refrigerator |
| Kenmore 59657012600 | Refrigerator |
| Kenmore 59657013600 | Refrigerator |
| Kenmore 59657016600 | Refrigerator |
| Kenmore 59657019600 | Refrigerator |
| Kenmore 59657043600 | Refrigerator |
| Kenmore 59657049600 | Refrigerator |
| Kenmore 59657053600 | Refrigerator |
| Kenmore 59657059600 | Refrigerator |
| Kenmore 59672002010 | Refrigerator |
| Kenmore 59672002011 | Refrigerator |
| Kenmore 59672002015 | Refrigerator |
| Kenmore 59672003010 | Refrigerator |
| Kenmore 59672003016 | Refrigerator |
| Kenmore 59672003017 | Refrigerator |
| Kenmore 59672003018 | Refrigerator |
| Kenmore 59672009010 | Refrigerator |
| Kenmore 59672009011 | Refrigerator |
| Kenmore 59672012010 | Refrigerator |
| Kenmore 59672012011 | Refrigerator |
| Kenmore 59672013010 | Refrigerator |
| Kenmore 59672013011 | Refrigerator |
| Kenmore 59672019010 | Refrigerator |
| Kenmore 59672019011 | Refrigerator |
| Kenmore 59672282200 | Refrigerator |
| Kenmore 59672282201 | Refrigerator |
| Kenmore 59672282202 | Refrigerator |
| Kenmore 59672283200 | Refrigerator |
| Kenmore 59672283201 | Refrigerator |
| Kenmore 59672283202 | Refrigerator |
| Kenmore 59672284200 | Refrigerator |
| Kenmore 59672284201 | Refrigerator |
| Kenmore 59672284202 | Refrigerator |
| Kenmore 59672289200 | Refrigerator |
| Kenmore 59672289201 | Refrigerator |
| Kenmore 59672289202 | Refrigerator |
| Kenmore 59673502200 | Refrigerator |
| Kenmore 59673502201 | Refrigerator |
| Kenmore 59673502202 | Refrigerator |
| Kenmore 59673502203 | Refrigerator |
| Kenmore 59673502300 | Refrigerator |
| Kenmore 59673503200 | Refrigerator |
| Kenmore 59673503201 | Refrigerator |
| Kenmore 59673503202 | Refrigerator |
| Kenmore 59673503203 | Refrigerator |
| Kenmore 59673503300 | Refrigerator |
| Kenmore 59673504200 | Refrigerator |
| Kenmore 59673504201 | Refrigerator |
| Kenmore 59673504202 | Refrigerator |
| Kenmore 59673504203 | Refrigerator |
| Kenmore 59673504300 | Refrigerator |
| Kenmore 59673509200 | Refrigerator |
| Kenmore 59673509201 | Refrigerator |
| Kenmore 59673509202 | Refrigerator |
| Kenmore 59673509203 | Refrigerator |
| Kenmore 59673509300 | Refrigerator |
| Kenmore 59675522400 | Refrigerator |
| Kenmore 59675523400 | Refrigerator |
| Kenmore 59675524400 | Refrigerator |
| Kenmore 59675529400 | Refrigerator |
| Kenmore 59675532400 | Refrigerator |
| Kenmore 59675533400 | Refrigerator |
| Kenmore 59675534400 | Refrigerator |
| Kenmore 59675539400 | Refrigerator |
| Kenmore 59676522500 | Refrigerator |
| Kenmore 59676523500 | Refrigerator |
| Kenmore 59676524500 | Refrigerator |
| Kenmore 59676529500 | Refrigerator |
| Kenmore 59676532500 | Refrigerator |
| Kenmore 59676533500 | Refrigerator |
| Kenmore 59676534500 | Refrigerator |
| Kenmore 59676539500 | Refrigerator |
| Kenmore 59676592600 | Refrigerator |
| Kenmore 59676592601 | Refrigerator |
| Kenmore 59676592701 | Refrigerator |
| Kenmore 59676593600 | Refrigerator |
| Kenmore 59676593601 | Refrigerator |
| Kenmore 59676593602 | Refrigerator |
| Kenmore 59676593702 | Refrigerator |
| Kenmore 59676594600 | Refrigerator |
| Kenmore 59676594601 | Refrigerator |
| Kenmore 59676594701 | Refrigerator |
| Kenmore 59676599600 | Refrigerator |
| Kenmore 59676599601 | Refrigerator |
| Kenmore 59676599701 | Refrigerator |
| Kenmore 59676602600 | Refrigerator |
| Kenmore 59676602601 | Refrigerator |
| Kenmore 59676602701 | Refrigerator |
| Kenmore 59676603600 | Refrigerator |
| Kenmore 59676603601 | Refrigerator |
| Kenmore 59676603702 | Refrigerator |
| Kenmore 59676604600 | Refrigerator |
| Kenmore 59676604601 | Refrigerator |
| Kenmore 59676604701 | Refrigerator |
| Kenmore 59676609600 | Refrigerator |
| Kenmore 59676609601 | Refrigerator |
| Kenmore 59676609701 | Refrigerator |
| Kenmore 59677532600 | Refrigerator |
| Kenmore 59677532601 | Refrigerator |
| Kenmore 59677532603 | Refrigerator |
| Kenmore 59677532700 | Refrigerator |
| Kenmore 59677532702 | Refrigerator |
| Kenmore 59677533600 | Refrigerator |
| Kenmore 59677533602 | Refrigerator |
| Kenmore 59677533603 | Refrigerator |
| Kenmore 59677533702 | Refrigerator |
| Kenmore 59677539600 | Refrigerator |
| Kenmore 59677539602 | Refrigerator |
| Kenmore 59677539603 | Refrigerator |
| Kenmore 59677592800 | Refrigerator |
| Kenmore 59677592801 | Refrigerator |
| Kenmore 59677592802 | Refrigerator |
| Kenmore 59677592803 | Refrigerator |
| Kenmore 59677593800 | Refrigerator |
| Kenmore 59677593801 | Refrigerator |
| Kenmore 59677593802 | Refrigerator |
| Kenmore 59677593803 | Refrigerator |
| Kenmore 59677594800 | Refrigerator |
| Kenmore 59677594801 | Refrigerator |
| Kenmore 59677594802 | Refrigerator |
| Kenmore 59677594803 | Refrigerator |
| Kenmore 59677596800 | Refrigerator |
| Kenmore 59677596801 | Refrigerator |
| Kenmore 59677596802 | Refrigerator |
| Kenmore 59677596803 | Refrigerator |
| Kenmore 59677599800 | Refrigerator |
| Kenmore 59677599801 | Refrigerator |
| Kenmore 59677599802 | Refrigerator |
| Kenmore 59677599803 | Refrigerator |
| Kenmore 59677599804 | Refrigerator |
| Kenmore 59677602800 | Refrigerator |
| Kenmore 59677602801 | Refrigerator |
| Kenmore 59677602802 | Refrigerator |
| Kenmore 59677602803 | Refrigerator |
| Kenmore 59677602804 | Refrigerator |
| Kenmore 59677603800 | Refrigerator |
| Kenmore 59677603801 | Refrigerator |
| Kenmore 59677603802 | Refrigerator |
| Kenmore 59677603803 | Refrigerator |
| Kenmore 59677603804 | Refrigerator |
| Kenmore 59677604800 | Refrigerator |
| Kenmore 59677604801 | Refrigerator |
| Kenmore 59677604802 | Refrigerator |
| Kenmore 59677606800 | Refrigerator |
| Kenmore 59677606801 | Refrigerator |
| Kenmore 59677606802 | Refrigerator |
| Kenmore 59677609800 | Refrigerator |
| Kenmore 59677609801 | Refrigerator |
| Kenmore 59677609802 | Refrigerator |
| Kenmore 59677609803 | Refrigerator |
| Kenmore 59677609804 | Refrigerator |
| Kenmore 59678332800 | Refrigerator |
| Kenmore 59678332801 | Refrigerator |
| Kenmore 59678332802 | Refrigerator |
| Kenmore 59678333800 | Refrigerator |
| Kenmore 59678333801 | Refrigerator |
| Kenmore 59678333802 | Refrigerator |
| Kenmore 59678333803 | Refrigerator |
| Kenmore 59678339800 | Refrigerator |
| Kenmore 59678339801 | Refrigerator |
| Kenmore 59678339802 | Refrigerator |
| Kenmore 59678339803 | Refrigerator |
| Kenmore 59678532800 | Refrigerator |
| Kenmore 59678532801 | Refrigerator |
| Kenmore 59678532802 | Refrigerator |
| Kenmore 59678533800 | Refrigerator |
| Kenmore 59678533801 | Refrigerator |
| Kenmore 59678533802 | Refrigerator |
| Kenmore 59678539800 | Refrigerator |
| Kenmore 59678539801 | Refrigerator |
| Kenmore 59678539802 | Refrigerator |
| Kenmore 59678539803 | Refrigerator |
| Kenmore 59679242010 | Refrigerator |
| Kenmore 59679242011 | Refrigerator |
| Kenmore 59679242012 | Refrigerator |
| Kenmore 59679242013 | Refrigerator |
| Kenmore 59679243010 | Refrigerator |
| Kenmore 59679243011 | Refrigerator |
| Kenmore 59679243012 | Refrigerator |
| Kenmore 59679249010 | Refrigerator |
| Kenmore 59679249011 | Refrigerator |
| Kenmore 59679249012 | Refrigerator |
| Kenmore 59679249013 | Refrigerator |
| Kenmore 59679532010 | Refrigerator |
| Kenmore 59679532011 | Refrigerator |
| Kenmore 59679532012 | Refrigerator |
| Kenmore 59679532013 | Refrigerator |
| Kenmore 59679533010 | Refrigerator |
| Kenmore 59679533011 | Refrigerator |
| Kenmore 59679533012 | Refrigerator |
| Kenmore 59679533013 | Refrigerator |
| Kenmore 59679539010 | Refrigerator |
| Kenmore 59679539011 | Refrigerator |
| Kenmore 59679539012 | Refrigerator |
| Kenmore 59679539013 | Refrigerator |
| Kenmore 59679542010 | Refrigerator |
| Kenmore 59679542011 | Refrigerator |
| Kenmore 59679543010 | Refrigerator |
| Kenmore 59679543011 | Refrigerator |
| Kenmore 59679543013 | Refrigerator |
| Kenmore 59679549010 | Refrigerator |
| Kenmore 59679549011 | Refrigerator |
| Kenmore 59679549012 | Refrigerator |
| Kenmore 59679553010 | Refrigerator |
| Kenmore 72002 | Refrigerator |
| Kenmore 72003 | Refrigerator |
| Kenmore 72009 | Refrigerator |
| Kenmore 72012 | Refrigerator |
| Kenmore 72013 | Refrigerator |
| Kenmore 72019 | Refrigerator |
| Kenmore 72282 | Refrigerator |
| Kenmore 72283 | Refrigerator |
| Kenmore 72284 | Refrigerator |
| Kenmore 72289 | Refrigerator |
| Kenmore 73502 | Refrigerator |
| Kenmore 73503 | Refrigerator |
| Kenmore 73504 | Refrigerator |
| Kenmore 73509 | Refrigerator |
| Kenmore 75522 | Refrigerator |
| Kenmore 75523 | Refrigerator |
| Kenmore 75524 | Refrigerator |
| Kenmore 75529 | Refrigerator |
| Kenmore 75532 | Refrigerator |
| Kenmore 75533 | Refrigerator |
| Kenmore 75534 | Refrigerator |
| Kenmore 75539 | Refrigerator |
| Kenmore 76522 | Refrigerator |
| Kenmore 76523 | Refrigerator |
| Kenmore 76524 | Refrigerator |
| Kenmore 76529 | Refrigerator |
| Kenmore 76532 | Refrigerator |
| Kenmore 76533 | Refrigerator |
| Kenmore 76534 | Refrigerator |
| Kenmore 76539 | Refrigerator |
| Kenmore 76572 | Refrigerator |
| Kenmore 76573 | Refrigerator |
| Kenmore 76574 | Refrigerator |
| Kenmore 76579 | Refrigerator |
| Kenmore 76582 | Refrigerator |
| Kenmore 76583 | Refrigerator |
| Kenmore 76584 | Refrigerator |
| Kenmore 76589 | Refrigerator |
| Kenmore 76592 | Refrigerator |
| Kenmore 76593 | Refrigerator |
| Kenmore 76594 | Refrigerator |
| Kenmore 76599 | Refrigerator |
| Kenmore 76602 | Refrigerator |
| Kenmore 76603 | Refrigerator |
| Kenmore 76604 | Refrigerator |
| Kenmore 76609 | Refrigerator |
| Kenmore 77532 | Refrigerator |
| Kenmore 77533 | Refrigerator |
| Kenmore 77539 | Refrigerator |
| Kenmore 77592 | Refrigerator |
| Kenmore 77593 | Refrigerator |
| Kenmore 77594 | Refrigerator |
| Kenmore 77596 | Refrigerator |
| Kenmore 77599 | Refrigerator |
| Kenmore 77602 | Refrigerator |
| Kenmore 77603 | Refrigerator |
| Kenmore 77604 | Refrigerator |
| Kenmore 77606 | Refrigerator |
| Kenmore 77609 | Refrigerator |
| Kenmore 78282 | Refrigerator |
| Kenmore 78283 | Refrigerator |
| Kenmore 78289 | Refrigerator |
| Kenmore 78332 | Refrigerator |
| Kenmore 78333 | Refrigerator |
| Kenmore 78339 | Refrigerator |
| Kenmore 78532 | Refrigerator |
| Kenmore 78533 | Refrigerator |
| Kenmore 78539 | Refrigerator |
| Kenmore 78572 | Refrigerator |
| Kenmore 78573 | Refrigerator |
| Kenmore 78574 | Refrigerator |
| Kenmore 78576 | Refrigerator |
| Kenmore 78579 | Refrigerator |
| Kenmore 78582 | Refrigerator |
| Kenmore 78583 | Refrigerator |
| Kenmore 78584 | Refrigerator |
| Kenmore 78586 | Refrigerator |
| Kenmore 78589 | Refrigerator |
| Kenmore 79212 | Refrigerator |
| Kenmore 79242 | Refrigerator |
| Kenmore 79243 | Refrigerator |
| Kenmore 79249 | Refrigerator |
| Kenmore 79522 | Refrigerator |
| Kenmore 79523 | Refrigerator |
| Kenmore 79529 | Refrigerator |
| Kenmore 79532 | Refrigerator |
| Kenmore 79533 | Refrigerator |
| Kenmore 79539 | Refrigerator |
| Kenmore 79542 | Refrigerator |
| Kenmore 79543 | Refrigerator |
| Kenmore 79549 | Refrigerator |
| Kenmore 79553 | Refrigerator |
| KitchenAid KBFA20ERBL00 | Refrigerator |
| KitchenAid KBFA20ERBL01 | Refrigerator |
| KitchenAid KBFA20ERSS00 | Refrigerator |
| KitchenAid KBFA20ERSS01 | Refrigerator |
| KitchenAid KBFA20ERWH00 | Refrigerator |
| KitchenAid KBFA20ERWH01 | Refrigerator |
| KitchenAid KBFA25ERBL00 | Refrigerator |
| KitchenAid KBFA25ERBL01 | Refrigerator |
| KitchenAid KBFA25ERSS00 | Refrigerator |
| KitchenAid KBFA25ERSS01 | Refrigerator |
| KitchenAid KBFA25ERWH00 | Refrigerator |
| KitchenAid KBFA25ERWH01 | Refrigerator |
| KitchenAid KBFL25ETBL01 | Refrigerator |
| KitchenAid KBFL25ETSS01 | Refrigerator |
| KitchenAid KBFL25ETWH01 | Refrigerator |
| KitchenAid KBFL25EVMS00 | Refrigerator |
| KitchenAid KBFL25EVMS1 | Refrigerator |
| KitchenAid KBFL25EVMS2 | Refrigerator |
| kitchenaid KBFS20ECBL | Refrigerator |
| KitchenAid KBFS20ECBL00 | Refrigerator |
| KitchenAid KBFS20ECMS | Refrigerator |
| KitchenAid KBFS20ECMS00 | Refrigerator |
| kitchenaid KBFS20ECWH | Refrigerator |
| KitchenAid KBFS20ECWH00 | Refrigerator |
| KitchenAid KBFS20ETBL01 | Refrigerator |
| KitchenAid KBFS20ETSS01 | Refrigerator |
| KitchenAid KBFS20ETWH01 | Refrigerator |
| kitchenaid KBFS20EVBL | Refrigerator |
| KitchenAid KBFS20EVBL00 | Refrigerator |
| KitchenAid KBFS20EVBL1 | Refrigerator |
| KitchenAid KBFS20EVBL2 | Refrigerator |
| KitchenAid KBFS20EVBL3 | Refrigerator |
| KitchenAid KBFS20EVBL4 | Refrigerator |
| KitchenAid KBFS20EVBL5 | Refrigerator |
| KitchenAid KBFS20EVBL6 | Refrigerator |
| KitchenAid KBFS20EVBL8 | Refrigerator |
| KitchenAid KBFS20EVMS | Refrigerator |
| KitchenAid KBFS20EVMS00 | Refrigerator |
| KitchenAid KBFS20EVMS1 | Refrigerator |
| KitchenAid KBFS20EVMS11 | Refrigerator |
| KitchenAid KBFS20EVMS13 | Refrigerator |
| KitchenAid KBFS20EVMS2 | Refrigerator |
| KitchenAid KBFS20EVMS3 | Refrigerator |
| KitchenAid KBFS20EVMS4 | Refrigerator |
| KitchenAid KBFS20EVMS5 | Refrigerator |
| KitchenAid KBFS20EVMS6 | Refrigerator |
| KitchenAid KBFS20EVMS7 | Refrigerator |
| KitchenAid KBFS20EVMS8 | Refrigerator |
| KitchenAid KBFS20EVMS9 | Refrigerator |
| KitchenAid KBFS20EVWH | Refrigerator |
| KitchenAid KBFS20EVWH00 | Refrigerator |
| KitchenAid KBFS20EVWH1 | Refrigerator |
| KitchenAid KBFS20EVWH10 | Refrigerator |
| KitchenAid KBFS20EVWH2 | Refrigerator |
| KitchenAid KBFS20EVWH3 | Refrigerator |
| KitchenAid KBFS20EVWH4 | Refrigerator |
| KitchenAid KBFS20EVWH5 | Refrigerator |
| KitchenAid KBFS20EVWH6 | Refrigerator |
| KitchenAid KBFS20EVWH8 | Refrigerator |
| KitchenAid KBFS22ECBL | Refrigerator |
| KitchenAid KBFS22ECBL00 | Refrigerator |
| KitchenAid KBFS22ECMS | Refrigerator |
| KitchenAid KBFS22ECMS00 | Refrigerator |
| KitchenAid KBFS22ECWH | Refrigerator |
| KitchenAid KBFS22ECWH00 | Refrigerator |
| kitchenaid KBFS22EWBL | Refrigerator |
| KitchenAid KBFS22EWBL1 | Refrigerator |
| KitchenAid KBFS22EWBL2 | Refrigerator |
| KitchenAid KBFS22EWBL3 | Refrigerator |
| KitchenAid KBFS22EWBL5 | Refrigerator |
| KitchenAid KBFS22EWBL7 | Refrigerator |
| KitchenAid KBFS22EWMS | Refrigerator |
| KitchenAid KBFS22EWMS1 | Refrigerator |
| KitchenAid KBFS22EWMS3 | Refrigerator |
| KitchenAid KBFS22EWMS4 | Refrigerator |
| KitchenAid KBFS22EWMS5 | Refrigerator |
| KitchenAid KBFS22EWMS7 | Refrigerator |
| KitchenAid KBFS22EWMS9 | Refrigerator |
| kitchenaid KBFS22EWWH | Refrigerator |
| KitchenAid KBFS22EWWH1 | Refrigerator |
| KitchenAid KBFS22EWWH2 | Refrigerator |
| KitchenAid KBFS22EWWH3 | Refrigerator |
| KitchenAid KBFS22EWWH5 | Refrigerator |
| KitchenAid KBFS22EWWH7 | Refrigerator |
| KitchenAid KBFS25ECBL | Refrigerator |
| KitchenAid KBFS25ECBL00 | Refrigerator |
| KitchenAid KBFS25ECMS | Refrigerator |
| KitchenAid KBFS25ECMS00 | Refrigerator |
| KitchenAid KBFS25ECWH | Refrigerator |
| KitchenAid KBFS25ECWH00 | Refrigerator |
| KitchenAid KBFS25ETBL01 | Refrigerator |
| KitchenAid KBFS25ETSS00 | Refrigerator |
| KitchenAid KBFS25ETSS01 | Refrigerator |
| KitchenAid KBFS25ETWH01 | Refrigerator |
| KitchenAid KBFS25EVBL | Refrigerator |
| KitchenAid KBFS25EVBL0 | Refrigerator |
| KitchenAid KBFS25EVBL00 | Refrigerator |
| KitchenAid KBFS25EVBL1 | Refrigerator |
| KitchenAid KBFS25EVBL2 | Refrigerator |
| KitchenAid KBFS25EVMS0 | Refrigerator |
| KitchenAid KBFS25EVMS00 | Refrigerator |
| KitchenAid KBFS25EVMS1 | Refrigerator |
| KitchenAid KBFS25EVMS2 | Refrigerator |
| KitchenAid KBFS25EVMS3 | Refrigerator |
| KitchenAid KBFS25EVMS4 | Refrigerator |
| KitchenAid KBFS25EVSS0 | Refrigerator |
| KitchenAid KBFS25EVSS00 | Refrigerator |
| KitchenAid KBFS25EVWH0 | Refrigerator |
| KitchenAid KBFS25EVWH00 | Refrigerator |
| KitchenAid KBFS25EVWH1 | Refrigerator |
| KitchenAid KBFS25EVWH2 | Refrigerator |
| kitchenaid KBFS25EWBL | Refrigerator |
| KitchenAid KBFS25EWBL0 | Refrigerator |
| KitchenAid KBFS25EWBL1 | Refrigerator |
| KitchenAid KBFS25EWBL2 | Refrigerator |
| KitchenAid KBFS25EWBL3 | Refrigerator |
| KitchenAid KBFS25EWBL4 | Refrigerator |
| KitchenAid KBFS25EWBL5 | Refrigerator |
| KitchenAid KBFS25EWBL7 | Refrigerator |
| KitchenAid KBFS25EWBL9 | Refrigerator |
| KitchenAid KBFS25EWMS | Refrigerator |
| KitchenAid KBFS25EWMS0 | Refrigerator |
| KitchenAid KBFS25EWMS1 | Refrigerator |
| KitchenAid KBFS25EWMS10 | Refrigerator |
| KitchenAid KBFS25EWMS2 | Refrigerator |
| KitchenAid KBFS25EWMS3 | Refrigerator |
| KitchenAid KBFS25EWMS4 | Refrigerator |
| KitchenAid KBFS25EWMS5 | Refrigerator |
| KitchenAid KBFS25EWMS6 | Refrigerator |
| KitchenAid KBFS25EWMS8 | Refrigerator |
| kitchenaid KBFS25EWWH | Refrigerator |
| KitchenAid KBFS25EWWH0 | Refrigerator |
| KitchenAid KBFS25EWWH1 | Refrigerator |
| KitchenAid KBFS25EWWH2 | Refrigerator |
| KitchenAid KBFS25EWWH3 | Refrigerator |
| KitchenAid KBFS25EWWH4 | Refrigerator |
| KitchenAid KBFS25EWWH5 | Refrigerator |
| KitchenAid KBFS25EWWH7 | Refrigerator |
| KitchenAid KBFS25EWWH9 | Refrigerator |
| KitchenAid KBLA20EMSS | Refrigerator |
| KitchenAid KBLA20EMSS00 | Refrigerator |
| KitchenAid KBLA20ERSS | Refrigerator |
| KitchenAid KBLA20ERSS00 | Refrigerator |
| KitchenAid KBLA20ERSS01 | Refrigerator |
| KitchenAid KBLA22ERSS00 | Refrigerator |
| KitchenAid KBLA22ERSS01 | Refrigerator |
| KitchenAid KBLA22KLSS00 | Refrigerator |
| KitchenAid KBLA22KLSS01 | Refrigerator |
| KitchenAid KBLA22KMSS | Refrigerator |
| KitchenAid KBLA22KMSS00 | Refrigerator |
| KitchenAid KBLA22KRSS00 | Refrigerator |
| KitchenAid KBLA22KRSS01 | Refrigerator |
| KitchenAid KBLC36FKB00 | Refrigerator |
| KitchenAid KBLC36FKB01 | Refrigerator |
| KitchenAid KBLC36FKB02 | Refrigerator |
| KitchenAid KBLS19KCMS | Refrigerator |
| KitchenAid KBLS19KCMS00 | Refrigerator |
| KitchenAid KBLS19KTMS0 | Refrigerator |
| KitchenAid KBLS19KTMS1 | Refrigerator |
| KitchenAid KBLS19KTMS2 | Refrigerator |
| KitchenAid KBLS19KTMS3 | Refrigerator |
| KitchenAid KBLS19KTSS00 | Refrigerator |
| KitchenAid KBLS19KTSS01 | Refrigerator |
| KitchenAid KBLS19KTSS2 | Refrigerator |
| KitchenAid KBLS19KTSS3 | Refrigerator |
| KitchenAid KBLS19KTSS4 | Refrigerator |
| KitchenAid KBLS19KTSS5 | Refrigerator |
| KitchenAid KBLS20ETSS | Refrigerator |
| KitchenAid KBLS20ETSS00 | Refrigerator |
| KitchenAid KBLS20ETSS01 | Refrigerator |
| KitchenAid KBLS20ETSS11 | Refrigerator |
| KitchenAid KBLS20EVMS00 | Refrigerator |
| KitchenAid KBLS20EVMS1 | Refrigerator |
| KitchenAid KBLS20EVMS2 | Refrigerator |
| KitchenAid KBLS20EVMS3 | Refrigerator |
| KitchenAid KBLS20EVMS4 | Refrigerator |
| KitchenAid KBLS20EVMS5 | Refrigerator |
| KitchenAid KBLS22ETSS | Refrigerator |
| KitchenAid KBLS22ETSS00 | Refrigerator |
| KitchenAid KBLS22ETSS01 | Refrigerator |
| KitchenAid KBLS22ETSS11 | Refrigerator |
| KitchenAid KBLS22EVMS00 | Refrigerator |
| KitchenAid KBLS22EVMS1 | Refrigerator |
| KitchenAid KBLS22EVMS2 | Refrigerator |
| KitchenAid KBLS22EVMS3 | Refrigerator |
| KitchenAid KBLS22KCMS | Refrigerator |
| KitchenAid KBLS22KCMS00 | Refrigerator |
| KitchenAid KBLS22KTSS | Refrigerator |
| KitchenAid KBLS22KTSS00 | Refrigerator |
| KitchenAid KBLS22KTSS01 | Refrigerator |
| KitchenAid KBLS22KTSS11 | Refrigerator |
| KitchenAid KBLS22KVSS | Refrigerator |
| KitchenAid KBLS22KVSS00 | Refrigerator |
| KitchenAid KBLS22KVSS1 | Refrigerator |
| KitchenAid KBLS22KVSS2 | Refrigerator |
| KitchenAid KBLS22KVSS3 | Refrigerator |
| KitchenAid KBLS22KVSS4 | Refrigerator |
| kitchenaid KBLS22KWMS | Refrigerator |
| KitchenAid KBLS22KWMS4 | Refrigerator |
| KitchenAid KBLS22KWMS5 | Refrigerator |
| KitchenAid KBLS22KWMS6 | Refrigerator |
| KitchenAid KBRA20ELBL00 | Refrigerator |
| KitchenAid KBRA20ELBL01 | Refrigerator |
| KitchenAid KBRA20ELBT00 | Refrigerator |
| KitchenAid KBRA20ELBT01 | Refrigerator |
| KitchenAid KBRA20ELSS00 | Refrigerator |
| KitchenAid KBRA20ELSS01 | Refrigerator |
| KitchenAid KBRA20ELWH00 | Refrigerator |
| KitchenAid KBRA20ELWH01 | Refrigerator |
| KitchenAid KBRA20EMBL00 | Refrigerator |
| KitchenAid KBRA20EMBT00 | Refrigerator |
| KitchenAid KBRA20EMSS00 | Refrigerator |
| KitchenAid KBRA20EMWH00 | Refrigerator |
| KitchenAid KBRA20ERBL | Refrigerator |
| KitchenAid KBRA20ERBL00 | Refrigerator |
| KitchenAid KBRA20ERBL01 | Refrigerator |
| KitchenAid KBRA20ERSS | Refrigerator |
| KitchenAid KBRA20ERSS00 | Refrigerator |
| KitchenAid KBRA20ERSS01 | Refrigerator |
| KitchenAid KBRA20ERWH00 | Refrigerator |
| KitchenAid KBRA20ERWH01 | Refrigerator |
| KitchenAid KBRA22ERBL00 | Refrigerator |
| KitchenAid KBRA22ERBL01 | Refrigerator |
| KitchenAid KBRA22ERSS00 | Refrigerator |
| KitchenAid KBRA22ERSS01 | Refrigerator |
| KitchenAid KBRA22ERWH | Refrigerator |
| KitchenAid KBRA22ERWH00 | Refrigerator |
| KitchenAid KBRA22ERWH01 | Refrigerator |
| KitchenAid KBRA22KRBL00 | Refrigerator |
| KitchenAid KBRA22KRBL01 | Refrigerator |
| KitchenAid KBRA22KRSS | Refrigerator |
| KitchenAid KBRA22KRSS00 | Refrigerator |
| KitchenAid KBRA22KRSS01 | Refrigerator |
| KitchenAid KBRA22KRWH00 | Refrigerator |
| KitchenAid KBRA22KRWH01 | Refrigerator |
| KitchenAid KBRL22EVMS4 | Refrigerator |
| KitchenAid KBRP20ELSS00 | Refrigerator |
| KitchenAid KBRP20ELSS01 | Refrigerator |
| KitchenAid KBRP20EMSS00 | Refrigerator |
| KitchenAid KBRP20ERSS | Refrigerator |
| KitchenAid KBRP20ERSS00 | Refrigerator |
| KitchenAid KBRP20ERSS01 | Refrigerator |
| KitchenAid KBRP20ERSS02 | Refrigerator |
| KitchenAid KBRS19KCMS | Refrigerator |
| KitchenAid KBRS19KCMS00 | Refrigerator |
| KitchenAid KBRS19KTBL | Refrigerator |
| KitchenAid KBRS19KTBL00 | Refrigerator |
| KitchenAid KBRS19KTBL01 | Refrigerator |
| KitchenAid KBRS19KTBL2 | Refrigerator |
| KitchenAid KBRS19KTBL3 | Refrigerator |
| KitchenAid KBRS19KTBL4 | Refrigerator |
| KitchenAid KBRS19KTBL5 | Refrigerator |
| KitchenAid KBRS19KTBL6 | Refrigerator |
| KitchenAid KBRS19KTBL7 | Refrigerator |
| KitchenAid KBRS19KTMS0 | Refrigerator |
| KitchenAid KBRS19KTMS1 | Refrigerator |
| KitchenAid KBRS19KTMS2 | Refrigerator |
| KitchenAid KBRS19KTMS3 | Refrigerator |
| KitchenAid KBRS19KTSS | Refrigerator |
| KitchenAid KBRS19KTSS00 | Refrigerator |
| KitchenAid KBRS19KTSS01 | Refrigerator |
| KitchenAid KBRS19KTSS2 | Refrigerator |
| KitchenAid KBRS19KTSS3 | Refrigerator |
| KitchenAid KBRS19KTSS4 | Refrigerator |
| KitchenAid KBRS19KTSS5 | Refrigerator |
| KitchenAid KBRS19KTWH | Refrigerator |
| KitchenAid KBRS19KTWH00 | Refrigerator |
| KitchenAid KBRS19KTWH01 | Refrigerator |
| KitchenAid KBRS19KTWH2 | Refrigerator |
| KitchenAid KBRS19KTWH3 | Refrigerator |
| KitchenAid KBRS19KTWH4 | Refrigerator |
| KitchenAid KBRS19KTWH5 | Refrigerator |
| KitchenAid KBRS19KTWH6 | Refrigerator |
| KitchenAid KBRS19KTWH7 | Refrigerator |
| KitchenAid KBRS20ETBL | Refrigerator |
| KitchenAid KBRS20ETBL00 | Refrigerator |
| KitchenAid KBRS20ETBL01 | Refrigerator |
| KitchenAid KBRS20ETBL11 | Refrigerator |
| KitchenAid KBRS20ETSS00 | Refrigerator |
| KitchenAid KBRS20ETSS01 | Refrigerator |
| KitchenAid KBRS20ETSS11 | Refrigerator |
| KitchenAid KBRS20ETWH00 | Refrigerator |
| KitchenAid KBRS20ETWH01 | Refrigerator |
| KitchenAid KBRS20ETWH11 | Refrigerator |
| KitchenAid KBRS20EVBL | Refrigerator |
| KitchenAid KBRS20EVBL00 | Refrigerator |
| KitchenAid KBRS20EVBL1 | Refrigerator |
| KitchenAid KBRS20EVBL2 | Refrigerator |
| KitchenAid KBRS20EVBL3 | Refrigerator |
| KitchenAid KBRS20EVBL4 | Refrigerator |
| KitchenAid KBRS20EVMS00 | Refrigerator |
| KitchenAid KBRS20EVMS1 | Refrigerator |
| KitchenAid KBRS20EVMS2 | Refrigerator |
| KitchenAid KBRS20EVMS3 | Refrigerator |
| KitchenAid KBRS20EVMS4 | Refrigerator |
| KitchenAid KBRS20EVMS5 | Refrigerator |
| KitchenAid KBRS20EVMS6 | Refrigerator |
| KitchenAid KBRS20EVWH00 | Refrigerator |
| KitchenAid KBRS20EVWH1 | Refrigerator |
| KitchenAid KBRS20EVWH2 | Refrigerator |
| KitchenAid KBRS20EVWH3 | Refrigerator |
| KitchenAid KBRS22ETBL | Refrigerator |
| KitchenAid KBRS22ETBL00 | Refrigerator |
| KitchenAid KBRS22ETBL01 | Refrigerator |
| KitchenAid KBRS22ETBL11 | Refrigerator |
| KitchenAid KBRS22ETSS | Refrigerator |
| KitchenAid KBRS22ETSS00 | Refrigerator |
| KitchenAid KBRS22ETSS01 | Refrigerator |
| KitchenAid KBRS22ETSS11 | Refrigerator |
| KitchenAid KBRS22ETWH | Refrigerator |
| KitchenAid KBRS22ETWH00 | Refrigerator |
| KitchenAid KBRS22ETWH01 | Refrigerator |
| KitchenAid KBRS22ETWH11 | Refrigerator |
| KitchenAid KBRS22EVBL00 | Refrigerator |
| KitchenAid KBRS22EVBL1 | Refrigerator |
| KitchenAid KBRS22EVBL2 | Refrigerator |
| KitchenAid KBRS22EVMS00 | Refrigerator |
| KitchenAid KBRS22EVMS1 | Refrigerator |
| KitchenAid KBRS22EVMS2 | Refrigerator |
| KitchenAid KBRS22EVMS3 | Refrigerator |
| KitchenAid KBRS22EVMS4 | Refrigerator |
| KitchenAid KBRS22EVWH | Refrigerator |
| KitchenAid KBRS22EVWH00 | Refrigerator |
| KitchenAid KBRS22EVWH1 | Refrigerator |
| KitchenAid KBRS22EVWH2 | Refrigerator |
| KitchenAid KBRS22KCMS | Refrigerator |
| KitchenAid KBRS22KCMS00 | Refrigerator |
| KitchenAid KBRS22KTBL | Refrigerator |
| KitchenAid KBRS22KTBL00 | Refrigerator |
| KitchenAid KBRS22KTBL01 | Refrigerator |
| KitchenAid KBRS22KTBL11 | Refrigerator |
| KitchenAid KBRS22KTSS | Refrigerator |
| KitchenAid KBRS22KTSS00 | Refrigerator |
| KitchenAid KBRS22KTSS01 | Refrigerator |
| KitchenAid KBRS22KTSS11 | Refrigerator |
| KitchenAid KBRS22KTWH | Refrigerator |
| KitchenAid KBRS22KTWH00 | Refrigerator |
| KitchenAid KBRS22KTWH01 | Refrigerator |
| KitchenAid KBRS22KTWH11 | Refrigerator |
| KitchenAid KBRS22KWBL | Refrigerator |
| KitchenAid KBRS22KWBL4 | Refrigerator |
| KitchenAid KBRS22KWBL5 | Refrigerator |
| KitchenAid KBRS22KWBL6 | Refrigerator |
| KitchenAid KBRS22KWBL7 | Refrigerator |
| KitchenAid KBRS22KWMS | Refrigerator |
| KitchenAid KBRS22KWMS4 | Refrigerator |
| KitchenAid KBRS22KWMS5 | Refrigerator |
| KitchenAid KBRS22KWMS6 | Refrigerator |
| kitchenaid KBRS22KWWH | Refrigerator |
| KitchenAid KBWS19KCBL | Refrigerator |
| KitchenAid KBWS19KCWH | Refrigerator |
| KitchenAid KBWS22KCBL | Refrigerator |
| KitchenAid KBWS22KCWH | Refrigerator |
| KitchenAid KFC022EVBL | Refrigerator |
| KitchenAid KFC022EVBL1 | Refrigerator |
| KitchenAid KFC022EVBL4 | Refrigerator |
| KitchenAid KFCO22EVBL | Refrigerator |
| KitchenAid KFCO22EVBL00 | Refrigerator |
| KitchenAid KFCO22EVBL1 | Refrigerator |
| KitchenAid KFCO22EVBL2 | Refrigerator |
| KitchenAid KFCO22EVBL3 | Refrigerator |
| KitchenAid KFCO22EVBL4 | Refrigerator |
| KitchenAid KFCO22EVBL5 | Refrigerator |
| KitchenAid KFCP22EXMP | Refrigerator |
| KitchenAid KFCP22EXMP1 | Refrigerator |
| KitchenAid KFCP22EXMP2 | Refrigerator |
| KitchenAid KFCP22EXMP3 | Refrigerator |
| KitchenAid KFCP22EXMP4 | Refrigerator |
| KitchenAid KFCP22EXMP5 | Refrigerator |
| KitchenAid KFCS22EVBL | Refrigerator |
| KitchenAid KFCS22EVBL00 | Refrigerator |
| KitchenAid KFCS22EVBL1 | Refrigerator |
| KitchenAid KFCS22EVBL2 | Refrigerator |
| KitchenAid KFCS22EVBL3 | Refrigerator |
| KitchenAid KFCS22EVBL4 | Refrigerator |
| KitchenAid KFCS22EVBL5 | Refrigerator |
| KitchenAid KFCS22EVMS | Refrigerator |
| KitchenAid KFCS22EVMS00 | Refrigerator |
| KitchenAid KFCS22EVMS1 | Refrigerator |
| KitchenAid KFCS22EVMS2 | Refrigerator |
| KitchenAid KFCS22EVMS3 | Refrigerator |
| KitchenAid KFCS22EVMS4 | Refrigerator |
| KitchenAid KFCS22EVMS5 | Refrigerator |
| KitchenAid KFCS22EVMS6 | Refrigerator |
| KitchenAid KFCS22EVMS7 | Refrigerator |
| KitchenAid KFCS22EVMS8 | Refrigerator |
| kitchenaid KFCS22EVW | Refrigerator |
| KitchenAid KFCS22EVWH | Refrigerator |
| KitchenAid KFCS22EVWH00 | Refrigerator |
| KitchenAid KFCS22EVWH1 | Refrigerator |
| KitchenAid KFCS22EVWH2 | Refrigerator |
| KitchenAid KFCS22EVWH3 | Refrigerator |
| KitchenAid KFCS22EVWH4 | Refrigerator |
| KitchenAid KFCS22EVWH5 | Refrigerator |
| KitchenAid KFIL27CXMP0 | Refrigerator |
| kitchenaid KFIL27CXMS | Refrigerator |
| KitchenAid KFIL27CXMS0 | Refrigerator |
| KitchenAid KFIL27CXMS1 | Refrigerator |
| KitchenAid KFIL27CXMS2 | Refrigerator |
| KitchenAid KFIL27CXMS3 | Refrigerator |
| KitchenAid KFIL27CXMS4 | Refrigerator |
| KitchenAid KFIL27CXMS5 | Refrigerator |
| KitchenAid KFIS20XVBL | Refrigerator |
| KitchenAid KFIS20XVBL00 | Refrigerator |
| KitchenAid KFIS20XVBL1 | Refrigerator |
| KitchenAid KFIS20XVBL2 | Refrigerator |
| KitchenAid KFIS20XVBL3 | Refrigerator |
| KitchenAid KFIS20XVBL4 | Refrigerator |
| KitchenAid KFIS20XVBL5 | Refrigerator |
| KitchenAid KFIS20XVBL6 | Refrigerator |
| KitchenAid KFIS20XVBL7 | Refrigerator |
| KitchenAid KFIS20XVBL8 | Refrigerator |
| KitchenAid KFIS20XVMS | Refrigerator |
| KitchenAid KFIS20XVMS00 | Refrigerator |
| KitchenAid KFIS20XVMS1 | Refrigerator |
| KitchenAid KFIS20XVMS10 | Refrigerator |
| KitchenAid KFIS20XVMS11 | Refrigerator |
| KitchenAid KFIS20XVMS2 | Refrigerator |
| KitchenAid KFIS20XVMS3 | Refrigerator |
| KitchenAid KFIS20XVMS4 | Refrigerator |
| KitchenAid KFIS20XVMS5 | Refrigerator |
| KitchenAid KFIS20XVMS6 | Refrigerator |
| KitchenAid KFIS20XVMS7 | Refrigerator |
| KitchenAid KFIS20XVMS8 | Refrigerator |
| KitchenAid KFIS20XVWH | Refrigerator |
| KitchenAid KFIS20XVWH00 | Refrigerator |
| KitchenAid KFIS20XVWH1 | Refrigerator |
| KitchenAid KFIS20XVWH2 | Refrigerator |
| KitchenAid KFIS20XVWH3 | Refrigerator |
| KitchenAid KFIS20XVWH4 | Refrigerator |
| KitchenAid KFIS20XVWH5 | Refrigerator |
| KitchenAid KFIS20XVWH7 | Refrigerator |
| KitchenAid KFIS20XVWH8 | Refrigerator |
| KitchenAid KFIS25XVBL00 | Refrigerator |
| KitchenAid KFIS25XVBL1 | Refrigerator |
| KitchenAid KFIS25XVBL2 | Refrigerator |
| KitchenAid KFIS25XVBL3 | Refrigerator |
| KitchenAid KFIS25XVBL4 | Refrigerator |
| KitchenAid KFIS25XVBL5 | Refrigerator |
| KitchenAid KFIS25XVBL6 | Refrigerator |
| KitchenAid KFIS25XVMS | Refrigerator |
| KitchenAid KFIS25XVMS00 | Refrigerator |
| KitchenAid KFIS25XVMS1 | Refrigerator |
| KitchenAid KFIS25XVMS10 | Refrigerator |
| KitchenAid KFIS25XVMS2 | Refrigerator |
| KitchenAid KFIS25XVMS4 | Refrigerator |
| KitchenAid KFIS25XVMS5 | Refrigerator |
| KitchenAid KFIS25XVMS6 | Refrigerator |
| KitchenAid KFIS25XVMS7 | Refrigerator |
| KitchenAid KFIS25XVMS8 | Refrigerator |
| KitchenAid KFIS25XVMS9 | Refrigerator |
| KitchenAid KFIS25XVWH00 | Refrigerator |
| KitchenAid KFIS25XVWH1 | Refrigerator |
| KitchenAid KFIS25XVWH2 | Refrigerator |
| KitchenAid KFIS25XVWH3 | Refrigerator |
| KitchenAid KFIS25XVWH4 | Refrigerator |
| KitchenAid KFIS25XVWH5 | Refrigerator |
| KitchenAid KFIS25XVWH6 | Refrigerator |
| KitchenAid KFIS27CXBL0 | Refrigerator |
| KitchenAid KFIS27CXBL1 | Refrigerator |
| KitchenAid KFIS27CXBL2 | Refrigerator |
| KitchenAid KFIS27CXBL3 | Refrigerator |
| KitchenAid KFIS27CXMS | Refrigerator |
| KitchenAid KFIS27CXMS0 | Refrigerator |
| KitchenAid KFIS27CXMS1 | Refrigerator |
| KitchenAid KFIS27CXMS2 | Refrigerator |
| KitchenAid KFIS27CXMS3 | Refrigerator |
| KitchenAid KFIS27CXMS4 | Refrigerator |
| KitchenAid KFIS27CXMS5 | Refrigerator |
| KitchenAid KFIS27CXMS6 | Refrigerator |
| KitchenAid KFIS27CXWH0 | Refrigerator |
| KitchenAid KFIS27CXWH1 | Refrigerator |
| KitchenAid KFIS27CXWH2 | Refrigerator |
| KitchenAid KFIS27CXWH3 | Refrigerator |
| kitchenaid KFIS29PBMS | Refrigerator |
| KitchenAid KFXL25RYMS0 | Refrigerator |
| KitchenAid KFXL25RYMS1 | Refrigerator |
| KitchenAid KFXL25RYMS2 | Refrigerator |
| KitchenAid KFXL25RYMS4 | Refrigerator |
| KitchenAid KFXS25RYBL | Refrigerator |
| KitchenAid KFXS25RYBL0 | Refrigerator |
| KitchenAid KFXS25RYBL1 | Refrigerator |
| KitchenAid KFXS25RYBL2 | Refrigerator |
| KitchenAid KFXS25RYBL4 | Refrigerator |
| KitchenAid KFXS25RYBL5 | Refrigerator |
| KitchenAid KFXS25RYMS | Refrigerator |
| KitchenAid KFXS25RYMS0 | Refrigerator |
| KitchenAid KFXS25RYMS1 | Refrigerator |
| KitchenAid KFXS25RYMS2 | Refrigerator |
| KitchenAid KFXS25RYMS4 | Refrigerator |
| KitchenAid KFXS25RYMS5 | Refrigerator |
| KitchenAid KFXS25RYWH | Refrigerator |
| KitchenAid KFXS25RYWH0 | Refrigerator |
| KitchenAid KFXS25RYWH1 | Refrigerator |
| KitchenAid KFXS25RYWH2 | Refrigerator |
| KitchenAid KFXS25RYWH4 | Refrigerator |
| KitchenAid KFXS25RYWH5 | Refrigerator |
| KitchenAid KRBL102ESS | Refrigerator |
| KitchenAid KRBL109ESS | Refrigerator |
| KitchenAid KRBR102ESS | Refrigerator |
| KitchenAid KRBR109ESS | Refrigerator |
| KitchenAid KRBX109EBL | Refrigerator |
| KitchenAid KRBX109EWH | Refrigerator |
| KitchenAid KRFC300EBL | Refrigerator |
| KitchenAid KRFC300EBL00 | Refrigerator |
| KitchenAid KRFC300EBL01 | Refrigerator |
| KitchenAid KRFC300EBS | Refrigerator |
| KitchenAid KRFC300EBS00 | Refrigerator |
| KitchenAid KRFC300ESS | Refrigerator |
| KitchenAid KRFC300ESS00 | Refrigerator |
| KitchenAid KRFC300ESS01 | Refrigerator |
| KitchenAid KRFC300ESS02 | Refrigerator |
| KitchenAid KRFC300ESS03 | Refrigerator |
| KitchenAid KRFC300ESS04 | Refrigerator |
| KitchenAid KRFC300ESS05 | Refrigerator |
| KitchenAid KRFC300ESS06 | Refrigerator |
| KitchenAid KRFC300ESS07 | Refrigerator |
| KitchenAid KRFC300ESS08 | Refrigerator |
| KitchenAid KRFC300ESS09 | Refrigerator |
| KitchenAid KRFC300EWH | Refrigerator |
| KitchenAid KRFC300EWH00 | Refrigerator |
| KitchenAid KRFC300EWH01 | Refrigerator |
| KitchenAid KRFC302EBL00 | Refrigerator |
| KitchenAid KRFC302EBS | Refrigerator |
| KitchenAid KRFC302EBS00 | Refrigerator |
| KitchenAid KRFC302EPA | Refrigerator |
| KitchenAid KRFC302EPA00 | Refrigerator |
| KitchenAid KRFC302ESS | Refrigerator |
| KitchenAid KRFC302ESS00 | Refrigerator |
| KitchenAid KRFC302ESS01 | Refrigerator |
| KitchenAid KRFC302ESS02 | Refrigerator |
| KitchenAid KRFC302ESS03 | Refrigerator |
| KitchenAid KRFC302ESS04 | Refrigerator |
| KitchenAid KRFC302ESS05 | Refrigerator |
| KitchenAid KRFC302ESS06 | Refrigerator |
| KitchenAid KRFC302ESS07 | Refrigerator |
| KitchenAid KRFC302ESS08 | Refrigerator |
| KitchenAid KRFC302EWH00 | Refrigerator |
| KitchenAid KRFC400EBL00 | Refrigerator |
| KitchenAid KRFC400ESS | Refrigerator |
| KitchenAid KRFC400ESS00 | Refrigerator |
| KitchenAid KRFC400ESS01 | Refrigerator |
| KitchenAid KRFC400EWH00 | Refrigerator |
| KitchenAid KRFC90100B2 | Refrigerator |
| KitchenAid KRFC90100B3 | Refrigerator |
| KitchenAid KRFC90100B4 | Refrigerator |
| KitchenAid KRFC90100B5 | Refrigerator |
| KitchenAid KRFF302EBL | Refrigerator |
| KitchenAid KRFF302EBL00 | Refrigerator |
| KitchenAid KRFF302EBL01 | Refrigerator |
| KitchenAid KRFF302EBS | Refrigerator |
| KitchenAid KRFF302EBS00 | Refrigerator |
| KitchenAid KRFF302ESS | Refrigerator |
| KitchenAid KRFF302ESS00 | Refrigerator |
| KitchenAid KRFF302ESS01 | Refrigerator |
| KitchenAid KRFF302EWH | Refrigerator |
| KitchenAid KRFF302EWH00 | Refrigerator |
| KitchenAid KRFF302EWH01 | Refrigerator |
| KitchenAid KRFF305EBL | Refrigerator |
| KitchenAid KRFF305EBL00 | Refrigerator |
| KitchenAid KRFF305EBS | Refrigerator |
| KitchenAid KRFF305EBS00 | Refrigerator |
| KitchenAid KRFF305ESS | Refrigerator |
| KitchenAid KRFF305ESS00 | Refrigerator |
| KitchenAid KRFF305ESS01 | Refrigerator |
| KitchenAid KRFF305ESS03 | Refrigerator |
| KitchenAid KRFF305ESS04 | Refrigerator |
| KitchenAid KRFF305EWH | Refrigerator |
| KitchenAid KRFF305EWH00 | Refrigerator |
| Maytag 5MFI267AA000 | Refrigerator |
| Maytag 5MFX257AA000 | Refrigerator |
| Maytag 5VMFI267AA00 | Refrigerator |
| Maytag 5VMFX257AA00 | Refrigerator |
| Maytag 7MI2569VEM1 | Refrigerator |
| Maytag 7MI2569VEM10 | Refrigerator |
| Maytag 7MI2569VEM2 | Refrigerator |
| Maytag 7MI2569VEM3 | Refrigerator |
| Maytag CSD2610KR | Refrigerator |
| Maytag CSD2610KRW | Refrigerator |
| Maytag GC2223GEKB | Refrigerator |
| Maytag GC2223GEKW | Refrigerator |
| Maytag GC2224GEKB | Refrigerator |
| Maytag GC2224GEKW | Refrigerator |
| Maytag GC2225GEK3 | Refrigerator |
| Maytag GC2225GEK9 | Refrigerator |
| Maytag GC2225GEKB | Refrigerator |
| Maytag GC2227HEKW | Refrigerator |
| Maytag GS2325GEKB | Refrigerator |
| Maytag GS2625GEKB | Refrigerator |
| Maytag MAD2650KES | Refrigerator |
| Maytag MBF1953DEE | Refrigerator |
| Maytag MBF1953DEH | Refrigerator |
| Maytag MBF1953DEM | Refrigerator |
| maytag MBF1953YEB | Refrigerator |
| Maytag MBF1958DEE | Refrigerator |
| Maytag MBF1958DEH | Refrigerator |
| Maytag MBF1958DEM | Refrigerator |
| maytag MBF1958XEB | Refrigerator |
| maytag MBF1958XEW | Refrigerator |
| Maytag MBF2258DEE | Refrigerator |
| Maytag MBF2258DEH | Refrigerator |
| Maytag MBF2258DEM | Refrigerator |
| maytag MBF2258XEB | Refrigerator |
| maytag MBF2258XEW | Refrigerator |
| Maytag MBL2258XES | Refrigerator |
| maytag MBR1953YES | Refrigerator |
| Maytag MBR2258XES | Refrigerator |
| Maytag MCD2257HEB | Refrigerator |
| Maytag MCD2257HEQ | Refrigerator |
| Maytag MCD2257HES | Refrigerator |
| Maytag MCD2257HEW | Refrigerator |
| Maytag MCD2257HEX | Refrigerator |
| Maytag MCD2257KES | Refrigerator |
| Maytag MF12570FEZ12 | Refrigerator |
| Maytag MFC2061HEB | Refrigerator |
| Maytag MFC2061HEB13 | Refrigerator |
| Maytag MFC2061HEB4 | Refrigerator |
| Maytag MFC2061HEB5 | Refrigerator |
| Maytag MFC2061HES | Refrigerator |
| Maytag MFC2061HEW | Refrigerator |
| Maytag MFC2061HEW13 | Refrigerator |
| Maytag MFC2061HEW4 | Refrigerator |
| Maytag MFC2061HEW5 | Refrigerator |
| Maytag MFC2061KEQ | Refrigerator |
| Maytag MFC2061KES | Refrigerator |
| Maytag MFC2061KES10 | Refrigerator |
| Maytag MFC2061KES12 | Refrigerator |
| Maytag MFC2061KES14 | Refrigerator |
| Maytag MFC2061KES3 | Refrigerator |
| Maytag MFC2061KES4 | Refrigerator |
| Maytag MFC2061KES5 | Refrigerator |
| Maytag MFC2061KES6 | Refrigerator |
| Maytag MFC2061KES7 | Refrigerator |
| Maytag MFC2061KES8 | Refrigerator |
| Maytag MFC2061KES9 | Refrigerator |
| Maytag MFC2062DEM | Refrigerator |
| Maytag MFC2062DEM00 | Refrigerator |
| Maytag MFC2062DEM01 | Refrigerator |
| Maytag MFC2062FEZ00 | Refrigerator |
| Maytag MFC2062FEZ01 | Refrigerator |
| Maytag MFC2062VE | Refrigerator |
| Maytag MFD20BCZXB | Refrigerator |
| Maytag MFD20BCZXS | Refrigerator |
| Maytag MFD20BCZXW | Refrigerator |
| Maytag MFD2560HEB | Refrigerator |
| Maytag MFD2560HEQ | Refrigerator |
| Maytag MFD2560HES | Refrigerator |
| Maytag MFD2560HEW | Refrigerator |
| Maytag MFD2561HEB | Refrigerator |
| Maytag MFD2561HEQ | Refrigerator |
| Maytag MFD2561HEQ14 | Refrigerator |
| Maytag MFD2561HES | Refrigerator |
| Maytag MFD2561HEW | Refrigerator |
| Maytag MFD2561KES | Refrigerator |
| Maytag MFD2562KEB | Refrigerator |
| Maytag MFD2562KEB10 | Refrigerator |
| Maytag MFD2562KEB11 | Refrigerator |
| Maytag MFD2562KES | Refrigerator |
| Maytag MFD2562KES10 | Refrigerator |
| Maytag MFD2562KES11 | Refrigerator |
| Maytag MFD2562KEW | Refrigerator |
| Maytag MFD2562KEW10 | Refrigerator |
| Maytag MFD2562KEW11 | Refrigerator |
| Maytag MFD2562VE | Refrigerator |
| Maytag MFD2562VEA | Refrigerator |
| Maytag MFD2562VEA1 | Refrigerator |
| Maytag MFD2562VEA10 | Refrigerator |
| Maytag MFD2562VEA2 | Refrigerator |
| Maytag MFD2562VEB | Refrigerator |
| Maytag MFD2562VEB1 | Refrigerator |
| Maytag MFD2562VEB10 | Refrigerator |
| Maytag MFD2562VEB2 | Refrigerator |
| Maytag MFD2562VEB3 | Refrigerator |
| Maytag MFD2562VEB4 | Refrigerator |
| Maytag MFD2562VEB6 | Refrigerator |
| Maytag MFD2562VEB9 | Refrigerator |
| Maytag MFD2562VEM | Refrigerator |
| Maytag MFD2562VEM1 | Refrigerator |
| Maytag MFD2562VEM10 | Refrigerator |
| Maytag MFD2562VEM11 | Refrigerator |
| Maytag MFD2562VEM2 | Refrigerator |
| Maytag MFD2562VEM3 | Refrigerator |
| Maytag MFD2562VEM4 | Refrigerator |
| Maytag MFD2562VEM5 | Refrigerator |
| Maytag MFD2562VEM7 | Refrigerator |
| Maytag MFD2562VEM8 | Refrigerator |
| Maytag MFD2562VEM9 | Refrigerator |
| Maytag MFD2562VEW | Refrigerator |
| Maytag MFD2562VEW1 | Refrigerator |
| Maytag MFD2562VEW10 | Refrigerator |
| Maytag MFD2562VEW2 | Refrigerator |
| Maytag MFD2562VEW3 | Refrigerator |
| Maytag MFD2562VEW5 | Refrigerator |
| Maytag MFD2562VEW6 | Refrigerator |
| Maytag MFD2562VEW8 | Refrigerator |
| Maytag MFF2258DEE | Refrigerator |
| Maytag MFF2258DEH | Refrigerator |
| Maytag MFF2258DEM | Refrigerator |
| Maytag MFF2258VEB | Refrigerator |
| Maytag MFF2258VEM | Refrigerator |
| Maytag MFF2258VEW | Refrigerator |
| Maytag MFF2558DEE | Refrigerator |
| Maytag MFF2558DEH | Refrigerator |
| Maytag MFF2558DEM | Refrigerator |
| maytag MFF2558VEW | Refrigerator |
| Maytag MFI2067AEB | Refrigerator |
| Maytag MFI2067AEB12 | Refrigerator |
| Maytag MFI2067AEB13 | Refrigerator |
| Maytag MFI2067AEB4 | Refrigerator |
| Maytag MFI2067AEB5 | Refrigerator |
| Maytag MFI2067AEQ | Refrigerator |
| Maytag MFI2067AEQ12 | Refrigerator |
| Maytag MFI2067AEQ13 | Refrigerator |
| Maytag MFI2067AEQ4 | Refrigerator |
| Maytag MFI2067AES | Refrigerator |
| Maytag MFI2067AES11 | Refrigerator |
| Maytag MFI2067AES12 | Refrigerator |
| Maytag MFI2067AES13 | Refrigerator |
| Maytag MFI2067AES4 | Refrigerator |
| Maytag MFI2067AES5 | Refrigerator |
| Maytag MFI2067AES6 | Refrigerator |
| Maytag MFI2067AES7 | Refrigerator |
| Maytag MFI2067AES8 | Refrigerator |
| Maytag MFI2067AEW | Refrigerator |
| Maytag MFI2067AEW12 | Refrigerator |
| Maytag MFI2067AEW13 | Refrigerator |
| Maytag MFI2067AEW4 | Refrigerator |
| Maytag MFI2069VE | Refrigerator |
| Maytag MFI2266AEB | Refrigerator |
| Maytag MFI2266AEB10 | Refrigerator |
| Maytag MFI2266AEB11 | Refrigerator |
| Maytag MFI2266AEQ | Refrigerator |
| Maytag MFI2266AEQ10 | Refrigerator |
| Maytag MFI2266AEQ11 | Refrigerator |
| Maytag MFI2266AES | Refrigerator |
| Maytag MFI2266AES10 | Refrigerator |
| Maytag MFI2266AES11 | Refrigerator |
| Maytag MFI2266AEU | Refrigerator |
| Maytag MFI2266AEU10 | Refrigerator |
| Maytag MFI2266AEU11 | Refrigerator |
| Maytag MFI2266AEW | Refrigerator |
| Maytag MFI2266AEW10 | Refrigerator |
| Maytag MFI2266AEW11 | Refrigerator |
| maytag MFI2269DRE | Refrigerator |
| Maytag MFI2269DRE00 | Refrigerator |
| Maytag MFI2269DRE01 | Refrigerator |
| maytag MFI2269DRH | Refrigerator |
| Maytag MFI2269DRH00 | Refrigerator |
| Maytag MFI2269DRH01 | Refrigerator |
| maytag MFI2269DRM | Refrigerator |
| Maytag MFI2269DRM00 | Refrigerator |
| Maytag MFI2269DRM01 | Refrigerator |
| Maytag MFI2269FRB | Refrigerator |
| Maytag MFI2269FRB00 | Refrigerator |
| Maytag MFI2269FRB01 | Refrigerator |
| Maytag MFI2269FRE00 | Refrigerator |
| Maytag MFI2269FRE01 | Refrigerator |
| Maytag MFI2269FRH00 | Refrigerator |
| Maytag MFI2269FRH01 | Refrigerator |
| Maytag MFI2269FRW | Refrigerator |
| Maytag MFI2269FRW00 | Refrigerator |
| Maytag MFI2269FRZ | Refrigerator |
| Maytag MFI2269FRZ00 | Refrigerator |
| Maytag MFI2269FRZ01 | Refrigerator |
| Maytag MFI2269FRZ02 | Refrigerator |
| Maytag MFI2269V3M7 | Refrigerator |
| Maytag MFI2269VE | Refrigerator |
| Maytag MFI2269VEA | Refrigerator |
| Maytag MFI2269VEA1 | Refrigerator |
| Maytag MFI2269VEA10 | Refrigerator |
| Maytag MFI2269VEB | Refrigerator |
| Maytag MFI2269VEB1 | Refrigerator |
| Maytag MFI2269VEB10 | Refrigerator |
| Maytag MFI2269VEB2 | Refrigerator |
| Maytag MFI2269VEB3 | Refrigerator |
| Maytag MFI2269VEB4 | Refrigerator |
| Maytag MFI2269VEB6 | Refrigerator |
| Maytag MFI2269VEB7 | Refrigerator |
| Maytag MFI2269VEB8 | Refrigerator |
| Maytag MFI2269VEB9 | Refrigerator |
| Maytag MFI2269VEM | Refrigerator |
| Maytag MFI2269VEM1 | Refrigerator |
| Maytag MFI2269VEM10 | Refrigerator |
| Maytag MFI2269VEM11 | Refrigerator |
| Maytag MFI2269VEM2 | Refrigerator |
| Maytag MFI2269VEM3 | Refrigerator |
| Maytag MFI2269VEM4 | Refrigerator |
| Maytag MFI2269VEM5 | Refrigerator |
| Maytag MFI2269VEM6 | Refrigerator |
| Maytag MFI2269VEM7 | Refrigerator |
| Maytag MFI2269VEM8 | Refrigerator |
| Maytag MFI2269VEM9 | Refrigerator |
| Maytag MFI2269VEQ | Refrigerator |
| Maytag MFI2269VEQ1 | Refrigerator |
| Maytag MFI2269VEQ10 | Refrigerator |
| Maytag MFI2269VEQ2 | Refrigerator |
| Maytag MFI2269VEQ3 | Refrigerator |
| Maytag MFI2269VEQ4 | Refrigerator |
| Maytag MFI2269VEQ5 | Refrigerator |
| Maytag MFI2269VEQ7 | Refrigerator |
| Maytag MFI2269VEQ8 | Refrigerator |
| Maytag MFI2269VEW | Refrigerator |
| Maytag MFI2269VEW1 | Refrigerator |
| Maytag MFI2269VEW10 | Refrigerator |
| Maytag MFI2269VEW2 | Refrigerator |
| Maytag MFI2269VEW3 | Refrigerator |
| Maytag MFI2269VEW4 | Refrigerator |
| Maytag MFI2269VEW5 | Refrigerator |
| Maytag MFI2269VEW7 | Refrigerator |
| Maytag MFI2269VEW8 | Refrigerator |
| Maytag MFI2568AEB | Refrigerator |
| Maytag MFI2568AEB12 | Refrigerator |
| Maytag MFI2568AEB13 | Refrigerator |
| Maytag MFI2568AEQ | Refrigerator |
| Maytag MFI2568AEQ12 | Refrigerator |
| Maytag MFI2568AEQ13 | Refrigerator |
| Maytag MFI2568AES | Refrigerator |
| Maytag MFI2568AES12 | Refrigerator |
| Maytag MFI2568AES13 | Refrigerator |
| Maytag MFI2568AEW | Refrigerator |
| Maytag MFI2568AEW12 | Refrigerator |
| Maytag MFI2568AEW13 | Refrigerator |
| Maytag MFI2569VE | Refrigerator |
| Maytag MFI2569VEA | Refrigerator |
| Maytag MFI2569VEA1 | Refrigerator |
| Maytag MFI2569VEA10 | Refrigerator |
| Maytag MFI2569VEA2 | Refrigerator |
| Maytag MFI2569VEB | Refrigerator |
| Maytag MFI2569VEB0 | Refrigerator |
| Maytag MFI2569VEB1 | Refrigerator |
| Maytag MFI2569VEB10 | Refrigerator |
| Maytag MFI2569VEB2 | Refrigerator |
| Maytag MFI2569VEB3 | Refrigerator |
| Maytag MFI2569VEB4 | Refrigerator |
| Maytag MFI2569VEM | Refrigerator |
| Maytag MFI2569VEM0 | Refrigerator |
| Maytag MFI2569VEM1 | Refrigerator |
| Maytag MFI2569VEM10 | Refrigerator |
| Maytag MFI2569VEM2 | Refrigerator |
| Maytag MFI2569VEM3 | Refrigerator |
| Maytag MFI2569VEM4 | Refrigerator |
| Maytag MFI2569VEQ | Refrigerator |
| Maytag MFI2569VEQ1 | Refrigerator |
| Maytag MFI2569VEQ10 | Refrigerator |
| Maytag MFI2569VEQ2 | Refrigerator |
| Maytag MFI2569VEW | Refrigerator |
| Maytag MFI2569VEW1 | Refrigerator |
| Maytag MFI2569VEW10 | Refrigerator |
| Maytag MFI2569VEW2 | Refrigerator |
| Maytag MFI2569YEB0 | Refrigerator |
| Maytag MFI2569YEB1 | Refrigerator |
| Maytag MFI2569YEB2 | Refrigerator |
| Maytag MFI2569YEM0 | Refrigerator |
| Maytag MFI2569YEM1 | Refrigerator |
| Maytag MFI2569YEM2 | Refrigerator |
| Maytag MFI2569YEW0 | Refrigerator |
| Maytag MFI2569YEW1 | Refrigerator |
| Maytag MFI2569YEW2 | Refrigerator |
| Maytag MFI2570FEB | Refrigerator |
| Maytag MFI2570FEB00 | Refrigerator |
| Maytag MFI2570FEE00 | Refrigerator |
| Maytag MFI2570FEE01 | Refrigerator |
| Maytag MFI2570FEH00 | Refrigerator |
| Maytag MFI2570FEH01 | Refrigerator |
| Maytag MFI2570FEW | Refrigerator |
| Maytag MFI2570FEW00 | Refrigerator |
| Maytag MFI2570FEZ | Refrigerator |
| Maytag MFI2570FEZ00 | Refrigerator |
| Maytag MFI2570FEZ01 | Refrigerator |
| Maytag MFI2570FEZ02 | Refrigerator |
| Maytag MFI2570FEZ03 | Refrigerator |
| Maytag MFI2570FEZ04 | Refrigerator |
| Maytag MFI2570FEZ05 | Refrigerator |
| Maytag MFI2570FEZ07 | Refrigerator |
| Maytag MFI2571XEB | Refrigerator |
| Maytag MFI2571XEM | Refrigerator |
| Maytag MFI2571XEW | Refrigerator |
| Maytag MFI2665XEB | Refrigerator |
| Maytag MFI2665XEB0 | Refrigerator |
| Maytag MFI2665XEB1 | Refrigerator |
| Maytag MFI2665XEB4 | Refrigerator |
| Maytag MFI2665XEB5 | Refrigerator |
| Maytag MFI2665XEB6 | Refrigerator |
| Maytag MFI2665XEB7 | Refrigerator |
| Maytag MFI2665XEM | Refrigerator |
| Maytag MFI2665XEM0 | Refrigerator |
| Maytag MFI2665XEM1 | Refrigerator |
| Maytag MFI2665XEM5 | Refrigerator |
| Maytag MFI2665XEM6 | Refrigerator |
| Maytag MFI2665XEM7 | Refrigerator |
| Maytag MFI2665XEM8 | Refrigerator |
| Maytag MFI2665XEW | Refrigerator |
| Maytag MFI2665XEW0 | Refrigerator |
| Maytag MFI2665XEW1 | Refrigerator |
| Maytag MFI2665XEW4 | Refrigerator |
| Maytag MFI2665XEW5 | Refrigerator |
| Maytag MFI2665XEW6 | Refrigerator |
| Maytag MFI2665XEW7 | Refrigerator |
| Maytag MFI2670XEB | Refrigerator |
| Maytag MFI2670XEB0 | Refrigerator |
| Maytag MFI2670XEB1 | Refrigerator |
| Maytag MFI2670XEB4 | Refrigerator |
| Maytag MFI2670XEB5 | Refrigerator |
| Maytag MFI2670XEB6 | Refrigerator |
| Maytag MFI2670XEB8 | Refrigerator |
| Maytag MFI2670XEB9 | Refrigerator |
| Maytag MFI2670XEM | Refrigerator |
| Maytag MFI2670XEM0 | Refrigerator |
| Maytag MFI2670XEM1 | Refrigerator |
| Maytag MFI2670XEM10 | Refrigerator |
| Maytag MFI2670XEM4 | Refrigerator |
| Maytag MFI2670XEM5 | Refrigerator |
| Maytag MFI2670XEM6 | Refrigerator |
| Maytag MFI2670XEM7 | Refrigerator |
| Maytag MFI2670XEM9 | Refrigerator |
| Maytag MFI2670XEW | Refrigerator |
| Maytag MFI2670XEW0 | Refrigerator |
| Maytag MFI2670XEW1 | Refrigerator |
| Maytag MFI2670XEW4 | Refrigerator |
| Maytag MFI2670XEW5 | Refrigerator |
| Maytag MFI2670XEW6 | Refrigerator |
| Maytag MFI2670XEW8 | Refrigerator |
| Maytag MFI2670XEW9 | Refrigerator |
| Maytag MFT2771WEB | Refrigerator |
| Maytag MFT2771WEB0 | Refrigerator |
| Maytag MFT2771WEB1 | Refrigerator |
| Maytag MFT2771WEM | Refrigerator |
| Maytag MFT2771WEM0 | Refrigerator |
| Maytag MFT2771WEM1 | Refrigerator |
| Maytag MFT2771WEM2 | Refrigerator |
| Maytag MFT2771WEM3 | Refrigerator |
| Maytag MFT2771WEW | Refrigerator |
| Maytag MFT2771WEW0 | Refrigerator |
| Maytag MFT2771WEW1 | Refrigerator |
| Maytag MFT2771XEB0 | Refrigerator |
| Maytag MFT2771XEB1 | Refrigerator |
| Maytag MFT2771XEM0 | Refrigerator |
| Maytag MFT2771XEM1 | Refrigerator |
| Maytag MFT2771XEW0 | Refrigerator |
| Maytag MFT2771XEW1 | Refrigerator |
| Maytag MFX2570AEB | Refrigerator |
| Maytag MFX2570AEB0 | Refrigerator |
| Maytag MFX2570AEB3 | Refrigerator |
| Maytag MFX2570AEB4 | Refrigerator |
| Maytag MFX2570AEB5 | Refrigerator |
| Maytag MFX2570AEM | Refrigerator |
| Maytag MFX2570AEM0 | Refrigerator |
| Maytag MFX2570AEM3 | Refrigerator |
| Maytag MFX2570AEM4 | Refrigerator |
| Maytag MFX2570AEM5 | Refrigerator |
| Maytag MFX2570AEW | Refrigerator |
| Maytag MFX2570AEW0 | Refrigerator |
| Maytag MFX2570AEW3 | Refrigerator |
| Maytag MFX2570AEW4 | Refrigerator |
| Maytag MFX2570AEW5 | Refrigerator |
| Maytag MFX2570XEB0 | Refrigerator |
| Maytag MFX2571XEB0 | Refrigerator |
| Maytag MFX2571XEB1Q | Refrigerator |
| Maytag MFX2571XEM0 | Refrigerator |
| Maytag MFX2571XEM1 | Refrigerator |
| Maytag MFX2571XEW0 | Refrigerator |
| Maytag MFX2571XEW1 | Refrigerator |
| Maytag MSD1641KEB | Refrigerator |
| Maytag MSD2351GEB | Refrigerator |
| Maytag MSD2351HEB | Refrigerator |
| Maytag MSD2351HEQ | Refrigerator |
| Maytag MSD2351HES | Refrigerator |
| Maytag MSD2351HEW | Refrigerator |
| Maytag MSD2351KES | Refrigerator |
| Maytag MSD2352KEB | Refrigerator |
| Maytag MSD2352KES | Refrigerator |
| Maytag MSD2352KEW | Refrigerator |
| Maytag MSD2353HEB | Refrigerator |
| Maytag MSD2353HEQ | Refrigerator |
| Maytag MSD2353HES | Refrigerator |
| Maytag MSD2353HEW | Refrigerator |
| Maytag MSD2353ZEW | Refrigerator |
| Maytag MSD2355HEB | Refrigerator |
| Maytag MSD2355HEQ | Refrigerator |
| Maytag MSD2355HES | Refrigerator |
| Maytag MSD2355HEW | Refrigerator |
| Maytag MSD2357HEB | Refrigerator |
| Maytag MSD2357HEQ | Refrigerator |
| Maytag MSD2357HES | Refrigerator |
| Maytag MSD2357HEW | Refrigerator |
| Maytag MSD2359KEB | Refrigerator |
| Maytag MSD2359KEQ | Refrigerator |
| Maytag MSD2359KES | Refrigerator |
| Maytag MSD2359KEW | Refrigerator |
| Maytag MSD2640KEW | Refrigerator |
| Maytag MSD2641KEB | Refrigerator |
| Maytag MSD2641KES | Refrigerator |
| Maytag MSD2641KEU | Refrigerator |
| Maytag MSD2641KEW | Refrigerator |
| Maytag MSD264RHEB | Refrigerator |
| Maytag MSD264RHEQ | Refrigerator |
| Maytag MSD264RHES | Refrigerator |
| Maytag MSD264RHEW | Refrigerator |
| Maytag MSD2650HEB | Refrigerator |
| Maytag MSD2650HEQ | Refrigerator |
| Maytag MSD2650HES | Refrigerator |
| Maytag MSD2650HEW | Refrigerator |
| Maytag MSD2650HEZ | Refrigerator |
| Maytag MSD2650KES | Refrigerator |
| Maytag MSD2650KEU | Refrigerator |
| Maytag MSD2651HEB | Refrigerator |
| Maytag MSD2651HEQ | Refrigerator |
| Maytag MSD2651HES | Refrigerator |
| Maytag MSD2651HEW | Refrigerator |
| Maytag MSD2651KES | Refrigerator |
| Maytag MSD2651KEU | Refrigerator |
| Maytag MSD2651KGB | Refrigerator |
| Maytag MSD2651KGW | Refrigerator |
| Maytag MSD2652KEB | Refrigerator |
| Maytag MSD2652KES | Refrigerator |
| Maytag MSD2652KEU | Refrigerator |
| Maytag MSD2652KEW | Refrigerator |
| Maytag MSD2652KGB | Refrigerator |
| Maytag MSD2652KGW | Refrigerator |
| Maytag MSD2655HEB | Refrigerator |
| Maytag MSD2655HEQ | Refrigerator |
| Maytag MSD2655HES | Refrigerator |
| Maytag MSD2655HEW | Refrigerator |
| Maytag MSD2656KES | Refrigerator |
| Maytag MSD2656KEU | Refrigerator |
| Maytag MSD2656KGB | Refrigerator |
| Maytag MSD2656KGW | Refrigerator |
| Maytag MSD2657HEB | Refrigerator |
| Maytag MSD2657HEQ | Refrigerator |
| Maytag MSD2657HES | Refrigerator |
| Maytag MSD2657HEW | Refrigerator |
| Maytag MSD2659KEB | Refrigerator |
| Maytag MSD2659KEQ | Refrigerator |
| Maytag MSD2659KES | Refrigerator |
| Maytag MSD2659KEW | Refrigerator |
| Maytag MSD265MHEB | Refrigerator |
| Maytag MSD265MHEQ | Refrigerator |
| Maytag MSD265MHES | Refrigerator |
| Maytag MSD265MHEW | Refrigerator |
| Maytag MSD265MKES | Refrigerator |
| Maytag MSD265RHEB | Refrigerator |
| Maytag MSD265RHEQ | Refrigerator |
| Maytag MSD265RHES | Refrigerator |
| Maytag MSD265RHEW | Refrigerator |
| Maytag MSD2660KES | Refrigerator |
| Maytag MSD2660KGB | Refrigerator |
| Maytag MSD2660KGW | Refrigerator |
| Maytag MZD2660ZRW | Refrigerator |
| Maytag MZD2663KEB | Refrigerator |
| Maytag MZD2663KEQ | Refrigerator |
| Maytag MZD2663KES | Refrigerator |
| Maytag MZD2663KEW | Refrigerator |
| Maytag MZD2665HEB | Refrigerator |
| Maytag MZD2665HEQ | Refrigerator |
| Maytag MZD2665HES | Refrigerator |
| Maytag MZD2665HEW | Refrigerator |
| Maytag MZD2666KEB | Refrigerator |
| Maytag MZD2666KES | Refrigerator |
| Maytag MZD2666KEW | Refrigerator |
| Maytag MZD2667HEB | Refrigerator |
| Maytag MZD2667HEQ | Refrigerator |
| Maytag MZD2667HES | Refrigerator |
| Maytag MZD2667HEW | Refrigerator |
| Maytag MZD2669KEB | Refrigerator |
| Maytag MZD2669KEQ | Refrigerator |
| Maytag MZD2669KES | Refrigerator |
| Maytag MZD2669KEW | Refrigerator |
| Maytag MZD3665HEB | Refrigerator |
| Maytag PSD243LGRQ | Refrigerator |
| Maytag PSD243LGRW | Refrigerator |
| Maytag PSD2453GRQ | Refrigerator |
| Maytag PSD2453GRW | Refrigerator |
| Maytag PSD262LHEB | Refrigerator |
| Maytag PSD262LHEW | Refrigerator |
| Maytag PSD262LHEZ | Refrigerator |
| Maytag PSD263LHEQ | Refrigerator |
| Maytag PSD263LHEW | Refrigerator |
| Maytag PSD263LHRQ | Refrigerator |
| Maytag PSD263LHRW | Refrigerator |
| Maytag PSD264LGRB | Refrigerator |
| Maytag PSD264LGRQ | Refrigerator |
| Maytag PSD264LGRW | Refrigerator |
| Maytag PSD265LGES | Refrigerator |
| Maytag PSD266LHEB | Refrigerator |
| Maytag PSD266LHEQ | Refrigerator |
| Maytag PSD266LHES | Refrigerator |
| Maytag PSD266LHEW | Refrigerator |
| Maytag PSD267LHES | Refrigerator |
| Maytag PSD268LGEB | Refrigerator |
| Maytag PSD268LGEQ | Refrigerator |
| Maytag PSD268LGES | Refrigerator |
| Maytag PSD268LGEW | Refrigerator |
| Maytag PSD268LGQE | Refrigerator |
| Maytag PSD269LHEB | Refrigerator |
| Maytag PSD269LHEQ | Refrigerator |
| Maytag PSD269LHES | Refrigerator |
| Maytag PSD269LHEW | Refrigerator |
| Whirlpool 5GI6FARAF000 | Refrigerator |
| Whirlpool 5GI6FARAF001 | Refrigerator |
| Whirlpool 5GX0FHTXAF01 | Refrigerator |
| Whirlpool 7GI5FSAXVY00 | Refrigerator |
| Whirlpool 7GI5FSAXVY1 | Refrigerator |
| Whirlpool 7GI5FSAXVY2 | Refrigerator |
| Whirlpool 7GI5FSAXVY3 | Refrigerator |
| Whirlpool 7GI5FSAXVY4 | Refrigerator |
| whirlpool EB9SHKXVQ | Refrigerator |
| Whirlpool EF36IWFSSS0 | Refrigerator |
| Whirlpool EF36IWFSSS1 | Refrigerator |
| Whirlpool EF36IWFSSS2 | Refrigerator |
| Whirlpool G20EFSB2313 | Refrigerator |
| Whirlpool G20EFSB23S10 | Refrigerator |
| Whirlpool G20EFSB23S4 | Refrigerator |
| Whirlpool G20EFSB23S5 | Refrigerator |
| Whirlpool G20EFSB23S6 | Refrigerator |
| Whirlpool G20EFSB23S7 | Refrigerator |
| Whirlpool G20EFSB23S8 | Refrigerator |
| Whirlpool G20EFSB23S9 | Refrigerator |
| Whirlpool G25EFSB2313 | Refrigerator |
| Whirlpool G25EFSB23S4 | Refrigerator |
| Whirlpool G25EFSB23S5 | Refrigerator |
| Whirlpool G25EFSB23S6 | Refrigerator |
| Whirlpool G25EFSB23S7 | Refrigerator |
| Whirlpool G25EFSB23S8 | Refrigerator |
| Whirlpool G25EFSB23S9 | Refrigerator |
| Whirlpool G32027WEKB11 | Refrigerator |
| Whirlpool G32027WEKB3 | Refrigerator |
| Whirlpool G32027WEKB4 | Refrigerator |
| whirlpool GB2FHDXWB | Refrigerator |
| whirlpool GB2FHDXWQ | Refrigerator |
| whirlpool GB2FHDXWS | Refrigerator |
| Whirlpool GB2SHTXTB00 | Refrigerator |
| Whirlpool GB2SHTXTB01 | Refrigerator |
| Whirlpool GB2SHTXTB02 | Refrigerator |
| Whirlpool GB2SHTXTB03 | Refrigerator |
| Whirlpool GB2SHTXTB11 | Refrigerator |
| Whirlpool GB2SHTXTL01 | Refrigerator |
| Whirlpool GB2SHTXTL11 | Refrigerator |
| Whirlpool GB2SHTXTQ00 | Refrigerator |
| Whirlpool GB2SHTXTQ01 | Refrigerator |
| Whirlpool GB2SHTXTQ02 | Refrigerator |
| Whirlpool GB2SHTXTQ03 | Refrigerator |
| Whirlpool GB2SHTXTQ11 | Refrigerator |
| Whirlpool GB2SHTXTS00 | Refrigerator |
| Whirlpool GB2SHTXTS01 | Refrigerator |
| Whirlpool GB2SHTXTS02 | Refrigerator |
| Whirlpool GB2SHTXTS03 | Refrigerator |
| Whirlpool GB2SHTXTS04 | Refrigerator |
| Whirlpool GB2SHTXTS05 | Refrigerator |
| Whirlpool GB2SHTXTS11 | Refrigerator |
| Whirlpool GB2SHTXTT00 | Refrigerator |
| Whirlpool GB2SHTXTT01 | Refrigerator |
| Whirlpool GB2SHTXTT11 | Refrigerator |
| whirlpool GB9FHDXWB | Refrigerator |
| whirlpool GB9FHDXWQ | Refrigerator |
| whirlpool GB9FHDXWS | Refrigerator |
| Whirlpool GI0FSAXVA00 | Refrigerator |
| Whirlpool GI0FSAXVA01 | Refrigerator |
| whirlpool GI0FSAXVB | Refrigerator |
| Whirlpool GI0FSAXVB00 | Refrigerator |
| Whirlpool GI0FSAXVB01 | Refrigerator |
| Whirlpool GI0FSAXVB02 | Refrigerator |
| Whirlpool GI0FSAXVB03 | Refrigerator |
| Whirlpool GI0FSAXVB04 | Refrigerator |
| Whirlpool GI0FSAXVB05 | Refrigerator |
| Whirlpool GI0FSAXVB06 | Refrigerator |
| Whirlpool GI0FSAXVB07 | Refrigerator |
| Whirlpool GI0FSAXVB08 | Refrigerator |
| Whirlpool GI0FSAXVB09 | Refrigerator |
| Whirlpool GI0FSAXVQ00 | Refrigerator |
| Whirlpool GI0FSAXVQ01 | Refrigerator |
| Whirlpool GI0FSAXVY | Refrigerator |
| Whirlpool GI0FSAXVY00 | Refrigerator |
| Whirlpool GI0FSAXVY01 | Refrigerator |
| Whirlpool GI0FSAXVY010 | Refrigerator |
| Whirlpool GI0FSAXVY011 | Refrigerator |
| Whirlpool GI0FSAXVY012 | Refrigerator |
| Whirlpool GI0FSAXVY02 | Refrigerator |
| Whirlpool GI0FSAXVY03 | Refrigerator |
| Whirlpool GI0FSAXVY04 | Refrigerator |
| Whirlpool GI0FSAXVY05 | Refrigerator |
| Whirlpool GI0FSAXVY06 | Refrigerator |
| Whirlpool GI0FSAXVY07 | Refrigerator |
| Whirlpool GI0FSAXVY08 | Refrigerator |
| Whirlpool GI5FSAXVA00 | Refrigerator |
| Whirlpool GI5FSAXVA01 | Refrigerator |
| Whirlpool GI5FSAXVB00 | Refrigerator |
| Whirlpool GI5FSAXVB01 | Refrigerator |
| Whirlpool GI5FSAXVB02 | Refrigerator |
| Whirlpool GI5FSAXVQ00 | Refrigerator |
| Whirlpool GI5FSAXVQ01 | Refrigerator |
| Whirlpool GI5FSAXVS01 | Refrigerator |
| Whirlpool GI5FSAXVS02 | Refrigerator |
| Whirlpool GI5FSAXVY00 | Refrigerator |
| Whirlpool GI5FSAXVY01 | Refrigerator |
| Whirlpool GI5FSAXVY02 | Refrigerator |
| Whirlpool GI5FSAXVY04 | Refrigerator |
| Whirlpool GI5FSAXVY05 | Refrigerator |
| Whirlpool GI5FVAXVB00 | Refrigerator |
| Whirlpool GI5FVAXVB01 | Refrigerator |
| Whirlpool GI5FVAXVB02 | Refrigerator |
| Whirlpool GI5FVAXVB03 | Refrigerator |
| Whirlpool GI5FVAXVB04 | Refrigerator |
| Whirlpool GI5FVAXVL00 | Refrigerator |
| Whirlpool GI5FVAXVL01 | Refrigerator |
| Whirlpool GI5FVAXVL02 | Refrigerator |
| Whirlpool GI5FVAXVQ00 | Refrigerator |
| Whirlpool GI5FVAXVQ01 | Refrigerator |
| Whirlpool GI5FVAXVQ02 | Refrigerator |
| Whirlpool GI5FVAXYB00 | Refrigerator |
| Whirlpool GI5FVAXYQ00 | Refrigerator |
| Whirlpool GI5FVAXYY00 | Refrigerator |
| Whirlpool GI5SVAXVB00 | Refrigerator |
| Whirlpool GI5SVAXVB01 | Refrigerator |
| Whirlpool GI5SVAXVB02 | Refrigerator |
| Whirlpool GI5SVAXVB03 | Refrigerator |
| Whirlpool GI5SVAXVL00 | Refrigerator |
| Whirlpool GI5SVAXVL01 | Refrigerator |
| Whirlpool GI5SVAXVQ00 | Refrigerator |
| Whirlpool GI5SVAXVQ01 | Refrigerator |
| Whirlpool GI5SVAXVQ02 | Refrigerator |
| Whirlpool GI5SVAXVQ03 | Refrigerator |
| whirlpool GI6FARXXB | Refrigerator |
| Whirlpool GI6FARXXB00 | Refrigerator |
| Whirlpool GI6FARXXB02 | Refrigerator |
| Whirlpool GI6FARXXB03 | Refrigerator |
| Whirlpool GI6FARXXB04 | Refrigerator |
| Whirlpool GI6FARXXB05 | Refrigerator |
| Whirlpool GI6FARXXB06 | Refrigerator |
| Whirlpool GI6FARXXB07 | Refrigerator |
| whirlpool GI6FARXXF | Refrigerator |
| Whirlpool GI6FARXXF00 | Refrigerator |
| Whirlpool GI6FARXXF01 | Refrigerator |
| Whirlpool GI6FARXXF02 | Refrigerator |
| Whirlpool GI6FARXXF04 | Refrigerator |
| Whirlpool GI6FARXXF05 | Refrigerator |
| Whirlpool GI6FARXXF06 | Refrigerator |
| whirlpool GI6FARXXQ | Refrigerator |
| Whirlpool GI6FARXXQ00 | Refrigerator |
| Whirlpool GI6FARXXQ02 | Refrigerator |
| Whirlpool GI6FARXXQ03 | Refrigerator |
| Whirlpool GI6FARXXQ04 | Refrigerator |
| Whirlpool GI6FARXXQ05 | Refrigerator |
| Whirlpool GI6FARXXQ06 | Refrigerator |
| Whirlpool GI6FARXXQ07 | Refrigerator |
| whirlpool GI6FARXXY | Refrigerator |
| Whirlpool GI6FARXXY00 | Refrigerator |
| Whirlpool GI6FARXXY02 | Refrigerator |
| Whirlpool GI6FARXXY03 | Refrigerator |
| Whirlpool GI6FARXXY04 | Refrigerator |
| Whirlpool GI6FARXXY05 | Refrigerator |
| Whirlpool GI6FARXXY06 | Refrigerator |
| Whirlpool GI6FARXXY07 | Refrigerator |
| Whirlpool GI6FARXXY08 | Refrigerator |
| whirlpool GI6FDRXXB | Refrigerator |
| Whirlpool GI6FDRXXB00 | Refrigerator |
| Whirlpool GI6FDRXXB01 | Refrigerator |
| Whirlpool GI6FDRXXB02 | Refrigerator |
| Whirlpool GI6FDRXXB03 | Refrigerator |
| Whirlpool GI6FDRXXB04 | Refrigerator |
| Whirlpool GI6FDRXXB05 | Refrigerator |
| Whirlpool GI6FDRXXB06 | Refrigerator |
| Whirlpool GI6FDRXXB08 | Refrigerator |
| Whirlpool GI6FDRXXB09 | Refrigerator |
| whirlpool GI6FDRXXQ | Refrigerator |
| Whirlpool GI6FDRXXQ00 | Refrigerator |
| Whirlpool GI6FDRXXQ01 | Refrigerator |
| Whirlpool GI6FDRXXQ02 | Refrigerator |
| Whirlpool GI6FDRXXQ03 | Refrigerator |
| Whirlpool GI6FDRXXQ04 | Refrigerator |
| Whirlpool GI6FDRXXQ05 | Refrigerator |
| Whirlpool GI6FDRXXQ06 | Refrigerator |
| Whirlpool GI6FDRXXQ08 | Refrigerator |
| Whirlpool GI6FDRXXQ09 | Refrigerator |
| whirlpool GI6FDRXXY | Refrigerator |
| Whirlpool GI6FDRXXY00 | Refrigerator |
| Whirlpool GI6FDRXXY01 | Refrigerator |
| Whirlpool GI6FDRXXY010 | Refrigerator |
| Whirlpool GI6FDRXXY02 | Refrigerator |
| Whirlpool GI6FDRXXY03 | Refrigerator |
| Whirlpool GI6FDRXXY04 | Refrigerator |
| Whirlpool GI6FDRXXY05 | Refrigerator |
| Whirlpool GI6FDRXXY06 | Refrigerator |
| Whirlpool GI6FDRXXY07 | Refrigerator |
| Whirlpool GI6FDRXXY09 | Refrigerator |
| Whirlpool GI6SARXXF00 | Refrigerator |
| Whirlpool GI6SARXXF01 | Refrigerator |
| Whirlpool GI6SARXXF02 | Refrigerator |
| Whirlpool GI6SARXXF03 | Refrigerator |
| Whirlpool GI6SARXXF04 | Refrigerator |
| Whirlpool GI6SARXXF05 | Refrigerator |
| Whirlpool GI6SARXXF06 | Refrigerator |
| whirlpool GI6SDRXXB | Refrigerator |
| Whirlpool GI6SDRXXB00 | Refrigerator |
| Whirlpool GI6SDRXXB01 | Refrigerator |
| Whirlpool GI6SDRXXB02 | Refrigerator |
| Whirlpool GI6SDRXXB03 | Refrigerator |
| Whirlpool GI6SDRXXB04 | Refrigerator |
| Whirlpool GI6SDRXXB06 | Refrigerator |
| whirlpool GI6SDRXXQ | Refrigerator |
| Whirlpool GI6SDRXXQ00 | Refrigerator |
| Whirlpool GI6SDRXXQ01 | Refrigerator |
| Whirlpool GI6SDRXXQ02 | Refrigerator |
| Whirlpool GI6SDRXXQ03 | Refrigerator |
| Whirlpool GI6SDRXXQ04 | Refrigerator |
| Whirlpool GI6SDRXXQ06 | Refrigerator |
| Whirlpool GI6SDRXXV00 | Refrigerator |
| Whirlpool GI6SDRXXV01 | Refrigerator |
| Whirlpool GI6SDRXXY00 | Refrigerator |
| Whirlpool GI6SDRXXY01 | Refrigerator |
| Whirlpool GI6SDRXXY02 | Refrigerator |
| Whirlpool GI6SDRXXY03 | Refrigerator |
| Whirlpool GI6SDRXXY04 | Refrigerator |
| Whirlpool GI6SDRXXY05 | Refrigerator |
| Whirlpool GI6SDRXXY06 | Refrigerator |
| Whirlpool GI6SDRXXY07 | Refrigerator |
| Whirlpool GI7FVCXWA00 | Refrigerator |
| Whirlpool GI7FVCXWA01 | Refrigerator |
| Whirlpool GI7FVCXWA03 | Refrigerator |
| Whirlpool GI7FVCXWB00 | Refrigerator |
| Whirlpool GI7FVCXWB01 | Refrigerator |
| Whirlpool GI7FVCXWB03 | Refrigerator |
| Whirlpool GI7FVCXWQ00 | Refrigerator |
| Whirlpool GI7FVCXWQ01 | Refrigerator |
| Whirlpool GI7FVCXWQ03 | Refrigerator |
| Whirlpool GI7FVCXWY00 | Refrigerator |
| Whirlpool GI7FVCXWY01 | Refrigerator |
| Whirlpool GI7FVCXWY02 | Refrigerator |
| Whirlpool GI7FVCXWY03 | Refrigerator |
| Whirlpool GI7FVCXWY05 | Refrigerator |
| Whirlpool GI7FVCXXA00 | Refrigerator |
| Whirlpool GI7FVCXXA01 | Refrigerator |
| Whirlpool GI7FVCXXB00 | Refrigerator |
| Whirlpool GI7FVCXXB01 | Refrigerator |
| Whirlpool GI7FVCXXQ00 | Refrigerator |
| Whirlpool GI7FVCXXQ01 | Refrigerator |
| Whirlpool GI7FVCXXY00 | Refrigerator |
| Whirlpool GI7FVCXXY01 | Refrigerator |
| Whirlpool GI7FVCXXY02 | Refrigerator |
| Whirlpool GI7FVCXXY03 | Refrigerator |
| whirlpool GX2FHDXVB | Refrigerator |
| whirlpool GX2FHDXVQ | Refrigerator |
| whirlpool GX2FHDXVY | Refrigerator |
| whirlpool GX5FHDXVB | Refrigerator |
| whirlpool GX5FHDXVQ | Refrigerator |
| Whirlpool GX5FHTXTB00 | Refrigerator |
| Whirlpool GX5FHTXTB01 | Refrigerator |
| Whirlpool GX5FHTXTB11 | Refrigerator |
| Whirlpool GX5FHTXTL01 | Refrigerator |
| Whirlpool GX5FHTXTL11 | Refrigerator |
| Whirlpool GX5FHTXTQ00 | Refrigerator |
| Whirlpool GX5FHTXTQ01 | Refrigerator |
| Whirlpool GX5FHTXTQ11 | Refrigerator |
| Whirlpool GX5FHTXTS00 | Refrigerator |
| Whirlpool GX5FHTXTS01 | Refrigerator |
| Whirlpool GX5FHTXTS11 | Refrigerator |
| Whirlpool GX5FHTXTT00 | Refrigerator |
| Whirlpool GX5FHTXTT01 | Refrigerator |
| Whirlpool GX5FHTXTT11 | Refrigerator |
| Whirlpool GX5FHTXVA00 | Refrigerator |
| Whirlpool GX5FHTXVA02 | Refrigerator |
| Whirlpool GX5FHTXVB00 | Refrigerator |
| Whirlpool GX5FHTXVB04 | Refrigerator |
| Whirlpool GX5FHTXVB08 | Refrigerator |
| whirlpool GX5FHTXVQ | Refrigerator |
| Whirlpool GX5FHTXVQ00 | Refrigerator |
| Whirlpool GX5FHTXVQ02 | Refrigerator |
| Whirlpool GX5FHTXVQ07 | Refrigerator |
| whirlpool GX5FHTXVY | Refrigerator |
| Whirlpool GX5FHTXVY00 | Refrigerator |
| Whirlpool GX5FHTXVY010 | Refrigerator |
| Whirlpool GX5SHTXTB00 | Refrigerator |
| Whirlpool GX5SHTXTB01 | Refrigerator |
| Whirlpool GX5SHTXTB11 | Refrigerator |
| Whirlpool GX5SHTXTL01 | Refrigerator |
| Whirlpool GX5SHTXTL11 | Refrigerator |
| Whirlpool GX5SHTXTQ00 | Refrigerator |
| Whirlpool GX5SHTXTQ01 | Refrigerator |
| Whirlpool GX5SHTXTQ11 | Refrigerator |
| Whirlpool GX5SHTXTS00 | Refrigerator |
| Whirlpool GX5SHTXTS01 | Refrigerator |
| Whirlpool GX5SHTXTS11 | Refrigerator |
| Whirlpool GX5SHTXTT00 | Refrigerator |
| Whirlpool GX5SHTXTT01 | Refrigerator |
| Whirlpool GX5SHTXTT11 | Refrigerator |
| whirlpool GZ25FSRXYY | Refrigerator |
| Whirlpool GZ25FSRXYY1 | Refrigerator |
| Whirlpool GZ25FSRXYY2 | Refrigerator |
| Whirlpool GZ25FSRXYY4 | Refrigerator |
| Whirlpool GZ25FSRXYY5 | Refrigerator |
| Whirlpool GZ25FSRXYY6 | Refrigerator |
| Whirlpool GZ25FSRXYY7 | Refrigerator |
| Whirlpool GZ2626GEKB13 | Refrigerator |
| Whirlpool GZ2626GEKS13 | Refrigerator |
| Whirlpool GZ2626GEKW13 | Refrigerator |
| Whirlpool MFI2570FEZ06 | Refrigerator |
| Whirlpool WRB322DMBB | Refrigerator |
| Whirlpool WRB322DMBM | Refrigerator |
| Whirlpool WRF535SMBB | Refrigerator |
| Whirlpool WRF535SMBM | Refrigerator |
| Whirlpool WRF535SMBW | Refrigerator |
| Whirlpool WRF535SWBB | Refrigerator |
| Whirlpool WRF535SWBB00 | Refrigerator |
| Whirlpool WRF535SWBM | Refrigerator |
| Whirlpool WRF535SWBM00 | Refrigerator |
| Whirlpool WRF535SWBW | Refrigerator |
| Whirlpool WRF535SWBW00 | Refrigerator |
| Whirlpool WRF535SWHV | Refrigerator |
| Whirlpool WRF535SWHZ | Refrigerator |
| Whirlpool WRF535SWHZ00 | Refrigerator |
| Whirlpool WRF535SWHZ01 | Refrigerator |
| Whirlpool WRF535SWHZ02 | Refrigerator |
| Whirlpool WRF535SWHZ03 | Refrigerator |
| Whirlpool WRF535SWHZ04 | Refrigerator |
| Whirlpool WRF535SWHZ05 | Refrigerator |
| Whirlpool WRF535SWHZ06 | Refrigerator |
| Whirlpool WRF535SWHZ07 | Refrigerator |
| Whirlpool WRF535SWHZO1 | Refrigerator |
| Whirlpool WRF535SWHZO2 | Refrigerator |
| Whirlpool WRF535SWHZO3 | Refrigerator |
| Whirlpool WRF535SWHZO4 | Refrigerator |
| Whirlpool WRF535SWHZO5 | Refrigerator |
| Whirlpool WRF535SWHZO6 | Refrigerator |
| Whirlpool WRF535SWHZO7 | Refrigerator |
| Whirlpool WRF535SWHZOO | Refrigerator |
| Whirlpool WRF540CWBB | Refrigerator |
| Whirlpool WRF540CWBB00 | Refrigerator |
| Whirlpool WRF540CWBB01 | Refrigerator |
| Whirlpool WRF540CWBM | Refrigerator |
| Whirlpool WRF540CWBM00 | Refrigerator |
| Whirlpool WRF540CWBM01 | Refrigerator |
| Whirlpool WRF540CWBW | Refrigerator |
| Whirlpool WRF540CWBW00 | Refrigerator |
| Whirlpool WRF540CWBW01 | Refrigerator |
| Whirlpool WRF555SDFZ00 | Refrigerator |
| Whirlpool WRF555SDFZ01 | Refrigerator |
| Whirlpool WRF555SDFZ02 | Refrigerator |
| Whirlpool WRF555SDFZ03 | Refrigerator |
| Whirlpool WRF555SDFZ04 | Refrigerator |
| Whirlpool WRF555SDFZ05 | Refrigerator |
| Whirlpool WRF555SDFZ06 | Refrigerator |
| Whirlpool WRF555SDFZ07 | Refrigerator |
| Whirlpool WRF555SDFZ08 | Refrigerator |
| Whirlpool WRF555SDFZ09 | Refrigerator |
| Whirlpool WRF555SDFZ11 | Refrigerator |
| Whirlpool WRF555SDFZ110 | Refrigerator |
| Whirlpool WRF555SDHB00 | Refrigerator |
| Whirlpool WRF555SDHB01 | Refrigerator |
| Whirlpool WRF555SDHB02 | Refrigerator |
| Whirlpool WRF555SDHB03 | Refrigerator |
| Whirlpool WRF555SDHB04 | Refrigerator |
| Whirlpool WRF555SDHV00 | Refrigerator |
| Whirlpool WRF555SDHV01 | Refrigerator |
| Whirlpool WRF555SDHV02 | Refrigerator |
| Whirlpool WRF555SDHV03 | Refrigerator |
| Whirlpool WRF555SDHV04 | Refrigerator |
| Whirlpool WRF555SDHW00 | Refrigerator |
| Whirlpool WRF555SDHW01 | Refrigerator |
| Whirlpool WRF555SDHW02 | Refrigerator |
| Whirlpool WRF555SDHW03 | Refrigerator |
| Whirlpool WRF555SDHW04 | Refrigerator |
| whirlpool WRF989SDAM | Refrigerator |
| whirlpool WRT771REYW | Refrigerator |
| Whirlpool WRX7355DBM00 | Refrigerator |
| Whirlpool WRX7355DHZ | Refrigerator |
| Whirlpool WRX7355DHZ00 | Refrigerator |
| Whirlpool WRX7355DHZ01 | Refrigerator |
| Whirlpool WRX7355DHZ02 | Refrigerator |
| Whirlpool WRX735SDBE00 | Refrigerator |
| Whirlpool WRX735SDBE01 | Refrigerator |
| Whirlpool WRX735SDBE02 | Refrigerator |
| Whirlpool WRX735SDBH00 | Refrigerator |
| Whirlpool WRX735SDBH01 | Refrigerator |
| Whirlpool WRX735SDBH02 | Refrigerator |
| Whirlpool WRX735SDBM | Refrigerator |
| Whirlpool WRX735SDBM00 | Refrigerator |
| Whirlpool WRX735SDBM02 | Refrigerator |
| Whirlpool WRX735SDBM03 | Refrigerator |
| Whirlpool WRX735SDBM04 | Refrigerator |
| Whirlpool WRX735SDH | Refrigerator |
| Whirlpool WRX735SDHB | Refrigerator |
| Whirlpool WRX735SDHB00 | Refrigerator |
| Whirlpool WRX735SDHB01 | Refrigerator |
| Whirlpool WRX735SDHB02 | Refrigerator |
| Whirlpool WRX735SDHV00 | Refrigerator |
| Whirlpool WRX735SDHV01 | Refrigerator |
| Whirlpool WRX735SDHV02 | Refrigerator |
| Whirlpool WRX735SDHW00 | Refrigerator |
| Whirlpool WRX735SDHW01 | Refrigerator |
| Whirlpool WRX735SDHW02 | Refrigerator |
| Whirlpool WRX735SDHZ | Refrigerator |
| Whirlpool WRX735SDHZ00 | Refrigerator |
| Whirlpool WRX735SDHZ01 | Refrigerator |
| Whirlpool WRX735SDHZ02 | Refrigerator |
| Whirlpool WRX735SDHZ03 | Refrigerator |
| Whirlpool WRX735SDHZ07 | Refrigerator |
| Whirlpool WXR735SDBM | Refrigerator |
| Whirlpool WXR735SDBM00 | Refrigerator |
| 101412 | Filter |
| 101412-B | Filter |
| 101412-C | Filter |
| 101412-D | Filter |
| 101413-0610 | Filter |
| 1014130610 | Filter |
| 101414-B | Filter |
| 101414B | Filter |
| 101641-0610 | Filter |
| 101641-A | Filter |
| 1016410610 | Filter |
| 101641A | Filter |
| 11023581 | Filter |
| 12004484 | Filter |
| 12589201 | Filter |
| 12589203 | Filter |
| 12589206 | Filter |
| 12589208 | F |