ClearChoice CLCH100 | Our#: 180390
ClearChoice Replacement for Whirlpool 4396508 Filter, 2-Pack

1624 review(s)
ClearChoice CLCH100 | Our#: 180390
Fast Shipping & Free Returns
100% Compatibility Guarantee
Compatibility guaranteed! Free return shipping and 100% money back if there are any issues.
Your purchase will help Support American jobs
Certified to the NSF/ANSI 42 Standard for the reduction of chlorine taste and odor.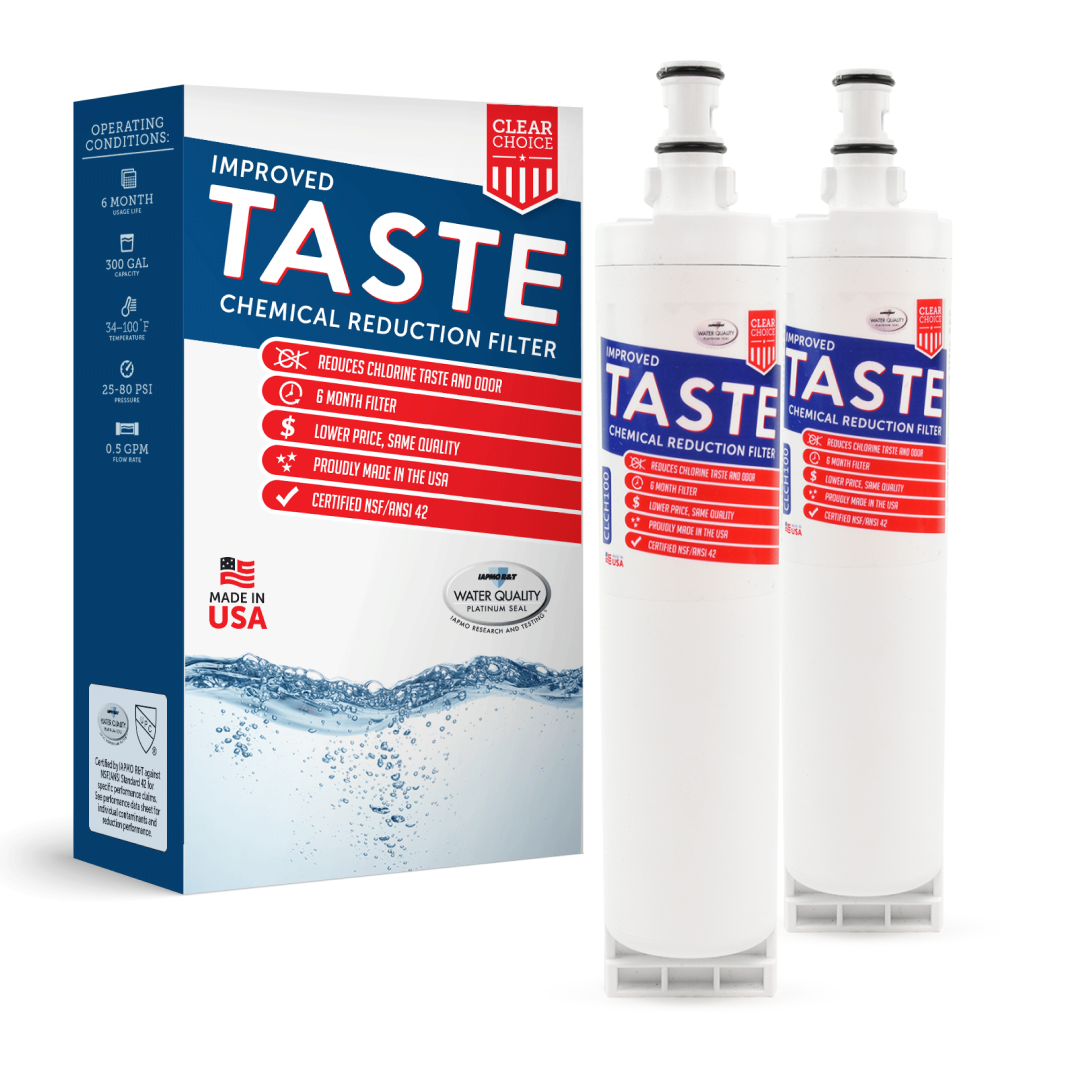 7 people in your area recently purchased this product!
$

26.98
(

2

Filters for $

53.95

)
Fast Shipping & Free Returns
100% Compatibility Guarantee
Frequently Purchased Together
Product Details
The ClearChoice CLCH100 refrigerator water filter replaces part numbers 4396508, 4396510, EDR5RXD1, and others. It is compatible with Whirlpool®, Maytag®, Amana®, KitchenAid® and JennAir® refrigerators.
Uses advanced activated carbon technology
Used in side-by-side refrigerators - installed in bottom grille
Creates better tasting water and ice
Inexpensive alternative to factory original part
Made with pride in the

USA

Certified to NSF/ANSI Standard 42 for the reduction of chlorine taste and odor
---
Popular Part Numbers
---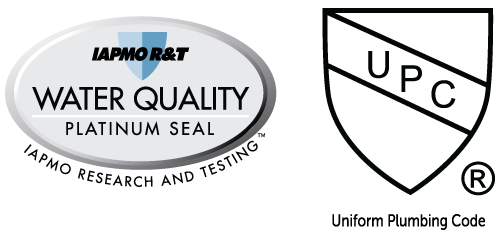 When used in the CLCH100-S system, certified by IAPMO R&T to NSF/ANSI 42 for the reduction of Chlorine, Taste & Odor. Also certified to NSF/ANSI 372 for Lead Free compliance. See
performance data sheet
for individual contaminants and reduction performance.
---
Installation Instructions
How To Install The 4396508 Filter:

Turn off icemaker
Remove old filter by rotating cap about 1/4 turn counter-clockwise
Pull the old filter cartridge out
Remove the cartridge grille cap by sliding it off the end of the old cartridge
Slide the cartridge grille cap onto the new cartridge
With the new cartridge cap in the vertical position, insert the new filter cartridge into the base grille
Rotate the cap clockwise to a horizontal position
Flush three gallons of water through the filter cartridge before use
Turn on the icemaker
---
Compatible Part Numbers
Search by your filter part number or appliance model number to verify compatibility
Model or Part Number
Type
Crosley CDE4205AYJ
Refrigerator
Crosley CDE4205AYW
Refrigerator
Crosley CDE4205AZJ
Refrigerator
Crosley CDE4205AZW
Refrigerator
Crosley CS22AFXKB05
Refrigerator
Crosley CS22AFXKB06
Refrigerator
Crosley CS22AFXKQ01
Refrigerator
Crosley CS22AFXKQ03
Refrigerator
Crosley CS22AFXKQ04
Refrigerator
Crosley CS22AFXKQ06
Refrigerator
Crosley CS22AFXKS05
Refrigerator
Crosley CS22AFXKS06
Refrigerator
Crosley CS22AFXKT01
Refrigerator
Crosley CS22AFXKT03
Refrigerator
Crosley CS22AFXKT04
Refrigerator
Crosley CS22AFXKT06
Refrigerator
Crosley CS22CFXTB00
Refrigerator
Crosley CS22CFXTB01
Refrigerator
Crosley CS22CFXTQ00
Refrigerator
Crosley CS22CFXTQ01
Refrigerator
Crosley CS22CFXTQ02
Refrigerator
Crosley CS22CFXTS00
Refrigerator
Crosley CS22CFXTS01
Refrigerator
Crosley CS22CFXTS02
Refrigerator
Crosley CS22CFXTS03
Refrigerator
Crosley CS22CFXTS05
Refrigerator
Crosley CS22CFXTT00
Refrigerator
Crosley CS22CFXTT01
Refrigerator
Crosley CS22CFXTT02
Refrigerator
Crosley CS25AFXKQ00
Refrigerator
Crosley CS25AFXKQ01
Refrigerator
Crosley CS25AFXKQ03
Refrigerator
Crosley CS25AFXKQ04
Refrigerator
Crosley CS25AFXKQ05
Refrigerator
Crosley CS25AFXKT01
Refrigerator
Crosley CS25AFXKT02
Refrigerator
Crosley CS25AFXKT03
Refrigerator
Crosley CS25AFXKT05
Refrigerator
Crosley CS25CFXTQ00
Refrigerator
Crosley CS25CFXTQ01
Refrigerator
Crosley CS25CFXTQ02
Refrigerator
Estate TS22AFXKQ00
Refrigerator
Estate TS22AFXKQ01
Refrigerator
Estate TS22AFXKQ03
Refrigerator
Estate TS22AFXKQ04
Refrigerator
Estate TS22AFXKQ05
Refrigerator
Estate TS22AFXKQ06
Refrigerator
Estate TS22AFXKQ07
Refrigerator
Estate TS22AFXKQ08
Refrigerator
Estate TS22AFXKT05
Refrigerator
Estate TS22AFXKT06
Refrigerator
Estate TS22AFXKT07
Refrigerator
Estate TS22AFXKT08
Refrigerator
Estate TS22AGXNQ00
Refrigerator
Estate TS22AGXNT00
Refrigerator
Estate TS22CFXTQ00
Refrigerator
Estate TS25AFXHW00
Refrigerator
Estate TS25AFXKQ00
Refrigerator
Estate TS25AFXKQ01
Refrigerator
Estate TS25AFXKQ02
Refrigerator
Estate TS25AFXKQ03
Refrigerator
Estate TS25AFXKQ04
Refrigerator
Estate TS25AFXKQ05
Refrigerator
Estate TS25AFXKQ07
Refrigerator
Estate TS25AFXKQ08
Refrigerator
Estate TS25AFXKS02
Refrigerator
Estate TS25AFXKS03
Refrigerator
Estate TS25AFXKS04
Refrigerator
Estate TS25AFXKS05
Refrigerator
Estate TS25AFXKS07
Refrigerator
Estate TS25AFXKS08
Refrigerator
Estate TS25AFXKT00
Refrigerator
Estate TS25AFXKT01
Refrigerator
Estate TS25AFXKT02
Refrigerator
Estate TS25AFXKT03
Refrigerator
Estate TS25AFXKT04
Refrigerator
Estate TS25AFXKT05
Refrigerator
Estate TS25AFXKT07
Refrigerator
Estate TS25AFXKT08
Refrigerator
Estate TS25AGXNQ00
Refrigerator
Estate TS25AGXNS00
Refrigerator
Estate TS25AGXNT00
Refrigerator
Estate TS25AGXRD00
Refrigerator
Estate TS25AGXRD01
Refrigerator
Estate TS25AGXRD02
Refrigerator
Estate TS25CFXTQ00
Refrigerator
Estate TS25CFXTQ01
Refrigerator
Estate TS25CFXTQ02
Refrigerator
Estate TS25CGXTD00
Refrigerator
Estate TS25CGXTD01
Refrigerator
Estate TS25CGXTD02
Refrigerator
Estate TS25CGXTD03
Refrigerator
Estate TS25CGXTD04
Refrigerator
ikea ID5HHEXVS05
Refrigerator
ikea ID5HHEXWS03
Refrigerator
Kenmore 106.50502990
Refrigerator
Kenmore 106.50503990
Refrigerator
Kenmore 106.50504990
Refrigerator
Kenmore 106.50509990
Refrigerator
Kenmore 106.58282890
Refrigerator
Kenmore 106.58285890
Refrigerator
Kenmore 106.58287890
Refrigerator
Kenmore 106.58582890
Refrigerator
Kenmore 106.58585890
Refrigerator
Kenmore 106.58587890
Refrigerator
Kenmore 106.58782890
Refrigerator
Kenmore 106.58785890
Refrigerator
Kenmore 106.58787890
Refrigerator
Kenmore 10650202990
Refrigerator
Kenmore 10650202991
Refrigerator
Kenmore 10650202992
Refrigerator
Kenmore 10650202993
Refrigerator
Kenmore 10650203990
Refrigerator
Kenmore 10650203991
Refrigerator
Kenmore 10650203992
Refrigerator
Kenmore 10650203993
Refrigerator
Kenmore 10650204990
Refrigerator
Kenmore 10650204991
Refrigerator
Kenmore 10650204992
Refrigerator
Kenmore 10650204993
Refrigerator
Kenmore 10650209990
Refrigerator
Kenmore 10650209991
Refrigerator
Kenmore 10650209992
Refrigerator
Kenmore 10650209993
Refrigerator
Kenmore 10650252000
Refrigerator
Kenmore 10650252001
Refrigerator
Kenmore 10650252002
Refrigerator
Kenmore 10650254000
Refrigerator
Kenmore 10650254001
Refrigerator
Kenmore 10650254002
Refrigerator
Kenmore 10650257000
Refrigerator
Kenmore 10650257001
Refrigerator
Kenmore 10650259000
Refrigerator
Kenmore 10650259001
Refrigerator
Kenmore 10650259002
Refrigerator
Kenmore 10650262990
Refrigerator
Kenmore 10650262991
Refrigerator
Kenmore 10650262992
Refrigerator
Kenmore 10650262993
Refrigerator
Kenmore 10650264990
Refrigerator
Kenmore 10650264991
Refrigerator
Kenmore 10650264992
Refrigerator
Kenmore 10650264993
Refrigerator
Kenmore 10650267990
Refrigerator
Kenmore 10650267991
Refrigerator
Kenmore 10650267992
Refrigerator
Kenmore 10650269990
Refrigerator
Kenmore 10650269991
Refrigerator
Kenmore 10650269992
Refrigerator
Kenmore 10650269993
Refrigerator
Kenmore 10650502990
Refrigerator
Kenmore 10650502991
Refrigerator
Kenmore 10650503990
Refrigerator
Kenmore 10650503991
Refrigerator
Kenmore 10650504990
Refrigerator
Kenmore 10650504991
Refrigerator
Kenmore 10650509990
Refrigerator
Kenmore 10650509991
Refrigerator
Kenmore 10650542000
Refrigerator
Kenmore 10650542001
Refrigerator
Kenmore 10650544000
Refrigerator
Kenmore 10650544001
Refrigerator
Kenmore 10650552000
Refrigerator
Kenmore 10650552001
Refrigerator
Kenmore 10650554000
Refrigerator
Kenmore 10650554001
Refrigerator
Kenmore 10650557000
Refrigerator
Kenmore 10650557001
Refrigerator
Kenmore 10650559000
Refrigerator
Kenmore 10650559001
Refrigerator
Kenmore 10650562990
Refrigerator
Kenmore 10650562991
Refrigerator
Kenmore 10650562992
Refrigerator
Kenmore 10650564990
Refrigerator
Kenmore 10650564991
Refrigerator
Kenmore 10650564992
Refrigerator
Kenmore 10650567990
Refrigerator
Kenmore 10650567991
Refrigerator
Kenmore 10650567992
Refrigerator
Kenmore 10650569990
Refrigerator
Kenmore 10650569991
Refrigerator
Kenmore 10650569992
Refrigerator
Kenmore 10650582000
Refrigerator
Kenmore 10650582001
Refrigerator
Kenmore 10650584000
Refrigerator
Kenmore 10650584001
Refrigerator
Kenmore 10650585000
Refrigerator
Kenmore 10650585001
Refrigerator
Kenmore 10650589000
Refrigerator
Kenmore 10650589001
Refrigerator
Kenmore 10650592000
Refrigerator
Kenmore 10650592001
Refrigerator
Kenmore 10650592002
Refrigerator
Kenmore 10650592003
Refrigerator
Kenmore 10650593000
Refrigerator
Kenmore 10650593001
Refrigerator
Kenmore 10650593002
Refrigerator
Kenmore 10650593003
Refrigerator
Kenmore 10650594000
Refrigerator
Kenmore 10650594001
Refrigerator
Kenmore 10650594002
Refrigerator
Kenmore 10650594003
Refrigerator
Kenmore 10650599000
Refrigerator
Kenmore 10650599001
Refrigerator
Kenmore 10650599002
Refrigerator
Kenmore 10650599003
Refrigerator
Kenmore 10650782000
Refrigerator
Kenmore 10650782001
Refrigerator
Kenmore 10650784000
Refrigerator
Kenmore 10650784001
Refrigerator
Kenmore 10650785000
Refrigerator
Kenmore 10650785001
Refrigerator
Kenmore 10650789000
Refrigerator
Kenmore 10650789001
Refrigerator
Kenmore 10650792000
Refrigerator
Kenmore 10650792001
Refrigerator
Kenmore 10650792002
Refrigerator
Kenmore 10650793000
Refrigerator
Kenmore 10650793001
Refrigerator
Kenmore 10650793002
Refrigerator
Kenmore 10650794000
Refrigerator
Kenmore 10650794001
Refrigerator
Kenmore 10650794002
Refrigerator
Kenmore 10650799000
Refrigerator
Kenmore 10650799001
Refrigerator
Kenmore 10650799002
Refrigerator
Kenmore 10651042100
Refrigerator
Kenmore 10651042101
Refrigerator
Kenmore 10651044100
Refrigerator
Kenmore 10651044101
Refrigerator
Kenmore 10651049100
Refrigerator
Kenmore 10651049101
Refrigerator
Kenmore 10651062100
Refrigerator
Kenmore 10651062101
Refrigerator
Kenmore 10651064100
Refrigerator
Kenmore 10651064101
Refrigerator
Kenmore 10651069100
Refrigerator
Kenmore 10651069101
Refrigerator
Kenmore 10651212100
Refrigerator
Kenmore 10651214100
Refrigerator
Kenmore 10651222100
Refrigerator
Kenmore 10651224100
Refrigerator
Kenmore 10651252101
Refrigerator
Kenmore 10651252102
Refrigerator
Kenmore 10651252103
Refrigerator
Kenmore 10651252104
Refrigerator
Kenmore 10651254101
Refrigerator
Kenmore 10651254102
Refrigerator
Kenmore 10651254103
Refrigerator
Kenmore 10651254104
Refrigerator
Kenmore 10651259101
Refrigerator
Kenmore 10651259102
Refrigerator
Kenmore 10651259103
Refrigerator
Kenmore 10651259104
Refrigerator
Kenmore 10651262101
Refrigerator
Kenmore 10651262102
Refrigerator
Kenmore 10651262103
Refrigerator
Kenmore 10651262104
Refrigerator
Kenmore 10651262105
Refrigerator
Kenmore 10651264101
Refrigerator
Kenmore 10651264102
Refrigerator
Kenmore 10651264103
Refrigerator
Kenmore 10651264104
Refrigerator
Kenmore 10651264105
Refrigerator
Kenmore 10651269101
Refrigerator
Kenmore 10651269102
Refrigerator
Kenmore 10651269103
Refrigerator
Kenmore 10651269104
Refrigerator
Kenmore 10651269105
Refrigerator
Kenmore 10651272200
Refrigerator
Kenmore 10651272201
Refrigerator
Kenmore 10651274200
Refrigerator
Kenmore 10651274201
Refrigerator
Kenmore 10651282200
Refrigerator
Kenmore 10651282201
Refrigerator
Kenmore 10651284200
Refrigerator
Kenmore 10651284201
Refrigerator
Kenmore 10651512100
Refrigerator
Kenmore 10651512101
Refrigerator
Kenmore 10651514100
Refrigerator
Kenmore 10651514101
Refrigerator
Kenmore 10651522100
Refrigerator
Kenmore 10651524100
Refrigerator
Kenmore 10651542100
Refrigerator
Kenmore 10651544100
Refrigerator
Kenmore 10651552100
Refrigerator
Kenmore 10651552101
Refrigerator
Kenmore 10651552102
Refrigerator
Kenmore 10651552103
Refrigerator
Kenmore 10651552104
Refrigerator
Kenmore 10651554100
Refrigerator
Kenmore 10651554101
Refrigerator
Kenmore 10651554102
Refrigerator
Kenmore 10651554103
Refrigerator
Kenmore 10651554104
Refrigerator
Kenmore 10651559100
Refrigerator
Kenmore 10651559101
Refrigerator
Kenmore 10651559102
Refrigerator
Kenmore 10651559103
Refrigerator
Kenmore 10651559104
Refrigerator
Kenmore 10651562100
Refrigerator
Kenmore 10651562101
Refrigerator
Kenmore 10651562102
Refrigerator
Kenmore 10651562103
Refrigerator
Kenmore 10651562104
Refrigerator
Kenmore 10651564100
Refrigerator
Kenmore 10651564101
Refrigerator
Kenmore 10651564102
Refrigerator
Kenmore 10651564103
Refrigerator
Kenmore 10651564104
Refrigerator
Kenmore 10651569101
Refrigerator
Kenmore 10651569102
Refrigerator
Kenmore 10651569103
Refrigerator
Kenmore 10651569104
Refrigerator
Kenmore 10651572200
Refrigerator
Kenmore 10651572201
Refrigerator
Kenmore 10651574200
Refrigerator
Kenmore 10651574201
Refrigerator
Kenmore 10651582200
Refrigerator
Kenmore 10651582201
Refrigerator
Kenmore 10651584200
Refrigerator
Kenmore 10651584201
Refrigerator
Kenmore 10651742100
Refrigerator
Kenmore 10651744100
Refrigerator
Kenmore 10652202100
Refrigerator
Kenmore 10652202101
Refrigerator
Kenmore 10652203100
Refrigerator
Kenmore 10652203101
Refrigerator
Kenmore 10652204100
Refrigerator
Kenmore 10652204101
Refrigerator
Kenmore 10652209100
Refrigerator
Kenmore 10652209101
Refrigerator
Kenmore 10652222100
Refrigerator
Kenmore 10652222101
Refrigerator
Kenmore 10652222102
Refrigerator
Kenmore 10652224100
Refrigerator
Kenmore 10652224101
Refrigerator
Kenmore 10652224102
Refrigerator
Kenmore 10652232101
Refrigerator
Kenmore 10652234101
Refrigerator
Kenmore 10652242101
Refrigerator
Kenmore 10652244101
Refrigerator
Kenmore 10652252100
Refrigerator
Kenmore 10652254100
Refrigerator
Kenmore 10652259100
Refrigerator
Kenmore 10652262100
Refrigerator
Kenmore 10652264100
Refrigerator
Kenmore 10652269100
Refrigerator
Kenmore 10652272201
Refrigerator
Kenmore 10652272202
Refrigerator
Kenmore 10652274201
Refrigerator
Kenmore 10652274202
Refrigerator
Kenmore 10652282200
Refrigerator
Kenmore 10652282201
Refrigerator
Kenmore 10652282202
Refrigerator
Kenmore 10652284200
Refrigerator
Kenmore 10652284201
Refrigerator
Kenmore 10652284202
Refrigerator
Kenmore 10652292100
Refrigerator
Kenmore 10652293100
Refrigerator
Kenmore 10652294100
Refrigerator
Kenmore 10652299100
Refrigerator
Kenmore 10652522100
Refrigerator
Kenmore 10652522101
Refrigerator
Kenmore 10652524100
Refrigerator
Kenmore 10652524101
Refrigerator
Kenmore 10652532101
Refrigerator
Kenmore 10652534101
Refrigerator
Kenmore 10652542100
Refrigerator
Kenmore 10652542101
Refrigerator
Kenmore 10652542102
Refrigerator
Kenmore 10652544100
Refrigerator
Kenmore 10652544101
Refrigerator
Kenmore 10652544102
Refrigerator
Kenmore 10652552100
Refrigerator
Kenmore 10652554100
Refrigerator
Kenmore 10652559100
Refrigerator
Kenmore 10652562100
Refrigerator
Kenmore 10652564100
Refrigerator
Kenmore 10652569100
Refrigerator
Kenmore 10652572201
Refrigerator
Kenmore 10652572202
Refrigerator
Kenmore 10652574201
Refrigerator
Kenmore 10652574202
Refrigerator
Kenmore 10652582200
Refrigerator
Kenmore 10652582201
Refrigerator
Kenmore 10652582202
Refrigerator
Kenmore 10652583201
Refrigerator
Kenmore 10652583202
Refrigerator
Kenmore 10652584200
Refrigerator
Kenmore 10652584201
Refrigerator
Kenmore 10652584202
Refrigerator
Kenmore 10652602100
Refrigerator
Kenmore 10652602101
Refrigerator
Kenmore 10652603100
Refrigerator
Kenmore 10652603101
Refrigerator
Kenmore 10652604100
Refrigerator
Kenmore 10652604101
Refrigerator
Kenmore 10652609100
Refrigerator
Kenmore 10652609101
Refrigerator
Kenmore 10652692100
Refrigerator
Kenmore 10652693100
Refrigerator
Kenmore 10652694100
Refrigerator
Kenmore 10652699100
Refrigerator
Kenmore 10652702100
Refrigerator
Kenmore 10652702101
Refrigerator
Kenmore 10652703100
Refrigerator
Kenmore 10652703101
Refrigerator
Kenmore 10652704100
Refrigerator
Kenmore 10652704101
Refrigerator
Kenmore 10652709100
Refrigerator
Kenmore 10652709101
Refrigerator
Kenmore 10652752100
Refrigerator
Kenmore 10652754100
Refrigerator
Kenmore 10652759100
Refrigerator
Kenmore 10652762100
Refrigerator
Kenmore 10652764100
Refrigerator
Kenmore 10652769100
Refrigerator
Kenmore 10652792100
Refrigerator
Kenmore 10652793100
Refrigerator
Kenmore 10652794100
Refrigerator
Kenmore 10652799100
Refrigerator
Kenmore 10653202200
Refrigerator
Kenmore 10653202201
Refrigerator
Kenmore 10653202202
Refrigerator
Kenmore 10653203200
Refrigerator
Kenmore 10653203201
Refrigerator
Kenmore 10653203202
Refrigerator
Kenmore 10653204200
Refrigerator
Kenmore 10653204201
Refrigerator
Kenmore 10653204202
Refrigerator
Kenmore 10653206200
Refrigerator
Kenmore 10653206201
Refrigerator
Kenmore 10653206202
Refrigerator
Kenmore 10653209200
Refrigerator
Kenmore 10653209201
Refrigerator
Kenmore 10653209202
Refrigerator
Kenmore 10653232300
Refrigerator
Kenmore 10653234300
Refrigerator
Kenmore 10653242300
Refrigerator
Kenmore 10653244300
Refrigerator
Kenmore 10653252200
Refrigerator
Kenmore 10653252201
Refrigerator
Kenmore 10653252202
Refrigerator
Kenmore 10653254200
Refrigerator
Kenmore 10653254201
Refrigerator
Kenmore 10653254202
Refrigerator
Kenmore 10653259200
Refrigerator
Kenmore 10653259201
Refrigerator
Kenmore 10653259202
Refrigerator
Kenmore 10653262200
Refrigerator
Kenmore 10653262201
Refrigerator
Kenmore 10653262202
Refrigerator
Kenmore 10653264200
Refrigerator
Kenmore 10653264201
Refrigerator
Kenmore 10653264202
Refrigerator
Kenmore 10653269200
Refrigerator
Kenmore 10653269201
Refrigerator
Kenmore 10653269202
Refrigerator
Kenmore 10653270300
Refrigerator
Kenmore 10653270301
Refrigerator
Kenmore 10653272300
Refrigerator
Kenmore 10653272301
Refrigerator
Kenmore 10653276300
Refrigerator
Kenmore 10653292200
Refrigerator
Kenmore 10653292201
Refrigerator
Kenmore 10653292202
Refrigerator
Kenmore 10653293200
Refrigerator
Kenmore 10653293201
Refrigerator
Kenmore 10653293202
Refrigerator
Kenmore 10653294200
Refrigerator
Kenmore 10653294201
Refrigerator
Kenmore 10653294202
Refrigerator
Kenmore 10653299200
Refrigerator
Kenmore 10653299201
Refrigerator
Kenmore 10653299202
Refrigerator
Kenmore 10653552200
Refrigerator
Kenmore 10653552201
Refrigerator
Kenmore 10653552202
Refrigerator
Kenmore 10653554200
Refrigerator
Kenmore 10653554201
Refrigerator
Kenmore 10653554202
Refrigerator
Kenmore 10653559200
Refrigerator
Kenmore 10653559201
Refrigerator
Kenmore 10653559202
Refrigerator
Kenmore 10653562200
Refrigerator
Kenmore 10653562201
Refrigerator
Kenmore 10653562202
Refrigerator
Kenmore 10653564200
Refrigerator
Kenmore 10653564201
Refrigerator
Kenmore 10653564202
Refrigerator
Kenmore 10653569200
Refrigerator
Kenmore 10653569201
Refrigerator
Kenmore 10653569202
Refrigerator
Kenmore 10653602200
Refrigerator
Kenmore 10653602201
Refrigerator
Kenmore 10653602202
Refrigerator
Kenmore 10653603200
Refrigerator
Kenmore 10653603201
Refrigerator
Kenmore 10653603202
Refrigerator
Kenmore 10653604200
Refrigerator
Kenmore 10653604201
Refrigerator
Kenmore 10653604202
Refrigerator
Kenmore 10653606200
Refrigerator
Kenmore 10653606201
Refrigerator
Kenmore 10653606202
Refrigerator
Kenmore 10653609200
Refrigerator
Kenmore 10653609201
Refrigerator
Kenmore 10653609202
Refrigerator
Kenmore 10653644300
Refrigerator
Kenmore 10653692200
Refrigerator
Kenmore 10653692201
Refrigerator
Kenmore 10653692202
Refrigerator
Kenmore 10653693200
Refrigerator
Kenmore 10653693201
Refrigerator
Kenmore 10653693202
Refrigerator
Kenmore 10653694200
Refrigerator
Kenmore 10653694201
Refrigerator
Kenmore 10653694202
Refrigerator
Kenmore 10653699200
Refrigerator
Kenmore 10653699201
Refrigerator
Kenmore 10653699202
Refrigerator
Kenmore 10653702200
Refrigerator
Kenmore 10653702201
Refrigerator
Kenmore 10653702202
Refrigerator
Kenmore 10653703200
Refrigerator
Kenmore 10653703201
Refrigerator
Kenmore 10653703202
Refrigerator
Kenmore 10653704200
Refrigerator
Kenmore 10653704201
Refrigerator
Kenmore 10653704202
Refrigerator
Kenmore 10653706200
Refrigerator
Kenmore 10653706201
Refrigerator
Kenmore 10653706202
Refrigerator
Kenmore 10653709200
Refrigerator
Kenmore 10653709201
Refrigerator
Kenmore 10653709202
Refrigerator
Kenmore 10653752200
Refrigerator
Kenmore 10653752201
Refrigerator
Kenmore 10653752202
Refrigerator
Kenmore 10653754200
Refrigerator
Kenmore 10653754201
Refrigerator
Kenmore 10653754202
Refrigerator
Kenmore 10653759200
Refrigerator
Kenmore 10653759201
Refrigerator
Kenmore 10653759202
Refrigerator
Kenmore 10653762200
Refrigerator
Kenmore 10653762201
Refrigerator
Kenmore 10653762202
Refrigerator
Kenmore 10653764200
Refrigerator
Kenmore 10653764201
Refrigerator
Kenmore 10653764202
Refrigerator
Kenmore 10653769200
Refrigerator
Kenmore 10653769201
Refrigerator
Kenmore 10653769202
Refrigerator
Kenmore 10653792200
Refrigerator
Kenmore 10653792201
Refrigerator
Kenmore 10653792202
Refrigerator
Kenmore 10653793200
Refrigerator
Kenmore 10653793201
Refrigerator
Kenmore 10653793202
Refrigerator
Kenmore 10653794200
Refrigerator
Kenmore 10653794201
Refrigerator
Kenmore 10653794202
Refrigerator
Kenmore 10653799200
Refrigerator
Kenmore 10653799201
Refrigerator
Kenmore 10653799202
Refrigerator
Kenmore 10654032400
Refrigerator
Kenmore 10654034400
Refrigerator
Kenmore 10654036400
Refrigerator
Kenmore 10654039400
Refrigerator
Kenmore 10654042400
Refrigerator
Kenmore 10654044400
Refrigerator
Kenmore 10654046400
Refrigerator
Kenmore 10654049400
Refrigerator
Kenmore 10654232400
Refrigerator
Kenmore 10654234400
Refrigerator
Kenmore 10654236400
Refrigerator
Kenmore 10654239400
Refrigerator
Kenmore 10654242400
Refrigerator
Kenmore 10654244400
Refrigerator
Kenmore 10654246400
Refrigerator
Kenmore 10654249400
Refrigerator
Kenmore 10654282200
Refrigerator
Kenmore 10654282201
Refrigerator
Kenmore 10654284200
Refrigerator
Kenmore 10654284201
Refrigerator
Kenmore 10654292400
Refrigerator
Kenmore 10654532400
Refrigerator
Kenmore 10654534400
Refrigerator
Kenmore 10654536400
Refrigerator
Kenmore 10654539400
Refrigerator
Kenmore 10654542400
Refrigerator
Kenmore 10654544400
Refrigerator
Kenmore 10654546400
Refrigerator
Kenmore 10654549400
Refrigerator
Kenmore 10654689300
Refrigerator
Kenmore 10655242400
Refrigerator
Kenmore 10655244400
Refrigerator
Kenmore 10655249400
Refrigerator
Kenmore 10655422501
Refrigerator
Kenmore 10655502400
Refrigerator
Kenmore 10655504400
Refrigerator
Kenmore 10655509400
Refrigerator
Kenmore 10655512400
Refrigerator
Kenmore 10655514400
Refrigerator
Kenmore 10655519400
Refrigerator
Kenmore 10655542400
Refrigerator
Kenmore 10655542401
Refrigerator
Kenmore 10655544400
Refrigerator
Kenmore 10655544401
Refrigerator
Kenmore 10655546401
Refrigerator
Kenmore 10655546402
Refrigerator
Kenmore 10655549400
Refrigerator
Kenmore 10655549401
Refrigerator
Kenmore 10655562501
Refrigerator
Kenmore 10655622500
Refrigerator
Kenmore 10655622501
Refrigerator
Kenmore 10655632500
Refrigerator
Kenmore 10655632501
Refrigerator
Kenmore 10655634500
Refrigerator
Kenmore 10655634501
Refrigerator
Kenmore 10655639500
Refrigerator
Kenmore 10655639501
Refrigerator
Kenmore 10655642500
Refrigerator
Kenmore 10655642501
Refrigerator
Kenmore 10655644500
Refrigerator
Kenmore 10655644501
Refrigerator
Kenmore 10655649500
Refrigerator
Kenmore 10655649501
Refrigerator
Kenmore 10656342500
Refrigerator
Kenmore 10656344500
Refrigerator
Kenmore 10656346500
Refrigerator
Kenmore 10656349500
Refrigerator
Kenmore 10656352500
Refrigerator
Kenmore 10656354500
Refrigerator
Kenmore 10656356500
Refrigerator
Kenmore 10656359500
Refrigerator
Kenmore 10656612500
Refrigerator
Kenmore 10656619500
Refrigerator
Kenmore 10656622500
Refrigerator
Kenmore 10656629500
Refrigerator
Kenmore 10656642500
Refrigerator
Kenmore 10656644500
Refrigerator
Kenmore 10656646500
Refrigerator
Kenmore 10656649500
Refrigerator
Kenmore 10656652500
Refrigerator
Kenmore 10656654500
Refrigerator
Kenmore 10656656500
Refrigerator
Kenmore 10656659500
Refrigerator
Kenmore 10657202600
Refrigerator
Kenmore 10657202602
Refrigerator
Kenmore 10657204600
Refrigerator
Kenmore 10657204602
Refrigerator
Kenmore 10657206600
Refrigerator
Kenmore 10657206601
Refrigerator
Kenmore 10657206602
Refrigerator
Kenmore 10657209600
Refrigerator
Kenmore 10657209602
Refrigerator
Kenmore 10657212600
Refrigerator
Kenmore 10657212602
Refrigerator
Kenmore 10657214600
Refrigerator
Kenmore 10657214602
Refrigerator
Kenmore 10657216600
Refrigerator
Kenmore 10657216601
Refrigerator
Kenmore 10657216602
Refrigerator
Kenmore 10657219600
Refrigerator
Kenmore 10657219602
Refrigerator
Kenmore 10657342700
Refrigerator
Kenmore 10657342701
Refrigerator
Kenmore 10657402600
Refrigerator
Kenmore 10657404600
Refrigerator
Kenmore 10657406600
Refrigerator
Kenmore 10657409600
Refrigerator
Kenmore 10657412600
Refrigerator
Kenmore 10657414600
Refrigerator
Kenmore 10657416600
Refrigerator
Kenmore 10657419600
Refrigerator
Kenmore 10658282890
Refrigerator
Kenmore 10658282891
Refrigerator
Kenmore 10658282892
Refrigerator
Kenmore 10658285890
Refrigerator
Kenmore 10658285891
Refrigerator
Kenmore 10658285892
Refrigerator
Kenmore 10658287890
Refrigerator
Kenmore 10658287891
Refrigerator
Kenmore 10658287892
Refrigerator
Kenmore 10658582890
Refrigerator
Kenmore 10658582891
Refrigerator
Kenmore 10658582892
Refrigerator
Kenmore 10658585890
Refrigerator
Kenmore 10658585891
Refrigerator
Kenmore 10658585892
Refrigerator
Kenmore 10658587890
Refrigerator
Kenmore 10658587891
Refrigerator
Kenmore 10658587892
Refrigerator
Kenmore 10658599890
Refrigerator
Kenmore 10658599891
Refrigerator
Kenmore 10658599892
Refrigerator
Kenmore 10658599893
Refrigerator
Kenmore 10658782890
Refrigerator
Kenmore 10658782891
Refrigerator
Kenmore 10658782892
Refrigerator
Kenmore 10658785890
Refrigerator
Kenmore 10658785891
Refrigerator
Kenmore 10658785892
Refrigerator
Kenmore 10658787890
Refrigerator
Kenmore 10658787891
Refrigerator
Kenmore 10658787892
Refrigerator
Kenmore 10659062990
Refrigerator
Kenmore 10659062991
Refrigerator
Kenmore 10659062992
Refrigerator
Kenmore 10659062993
Refrigerator
Kenmore 10659062994
Refrigerator
Kenmore 10659064993
Refrigerator
Kenmore 10659064994
Refrigerator
Kenmore 10659067990
Refrigerator
Kenmore 10659067991
Refrigerator
Kenmore 10659067992
Refrigerator
Kenmore 10659067993
Refrigerator
Kenmore 10659067994
Refrigerator
Kenmore 10659069990
Refrigerator
Kenmore 10659069991
Refrigerator
Kenmore 10659069992
Refrigerator
Kenmore 10659069993
Refrigerator
Kenmore 10659069994
Refrigerator
Kenmore 10659082890
Refrigerator
Kenmore 10659082891
Refrigerator
Kenmore 10659082892
Refrigerator
Kenmore 10659082893
Refrigerator
Kenmore 10659082894
Refrigerator
Kenmore 10659084894
Refrigerator
Kenmore 10659085890
Refrigerator
Kenmore 10659085891
Refrigerator
Kenmore 10659085892
Refrigerator
Kenmore 10659085893
Refrigerator
Kenmore 10659085894
Refrigerator
Kenmore 10659087890
Refrigerator
Kenmore 10659087891
Refrigerator
Kenmore 10659087892
Refrigerator
Kenmore 10659087893
Refrigerator
Kenmore 10659087894
Refrigerator
Kenmore 10659092990
Refrigerator
Kenmore 10659092991
Refrigerator
Kenmore 10659092992
Refrigerator
Kenmore 10659092993
Refrigerator
Kenmore 10659092994
Refrigerator
Kenmore 10659094993
Refrigerator
Kenmore 10659094994
Refrigerator
Kenmore 10659097990
Refrigerator
Kenmore 10659097991
Refrigerator
Kenmore 10659097992
Refrigerator
Kenmore 10659097993
Refrigerator
Kenmore 10659097994
Refrigerator
Kenmore 10659099990
Refrigerator
Kenmore 10659099991
Refrigerator
Kenmore 10659099992
Refrigerator
Kenmore 10659099993
Refrigerator
Kenmore 10659099994
Refrigerator
Kenmore 10659202990
Refrigerator
Kenmore 10659202991
Refrigerator
Kenmore 10659202992
Refrigerator
Kenmore 10659202993
Refrigerator
Kenmore 10659204992
Refrigerator
Kenmore 10659204993
Refrigerator
Kenmore 10659207990
Refrigerator
Kenmore 10659207991
Refrigerator
Kenmore 10659207992
Refrigerator
Kenmore 10659207993
Refrigerator
Kenmore 10659209990
Refrigerator
Kenmore 10659209991
Refrigerator
Kenmore 10659209992
Refrigerator
Kenmore 10659209993
Refrigerator
Kenmore 10659262990
Refrigerator
Kenmore 10659267990
Refrigerator
Kenmore 10659269990
Refrigerator
Kenmore 10659282990
Refrigerator
Kenmore 10659287990
Refrigerator
Kenmore 10659289990
Refrigerator
Kenmore 10659292990
Refrigerator
Kenmore 10659292991
Refrigerator
Kenmore 10659292992
Refrigerator
Kenmore 10659292993
Refrigerator
Kenmore 10659292994
Refrigerator
Kenmore 10659294993
Refrigerator
Kenmore 10659294994
Refrigerator
Kenmore 10659297990
Refrigerator
Kenmore 10659297991
Refrigerator
Kenmore 10659297992
Refrigerator
Kenmore 10659297993
Refrigerator
Kenmore 10659297994
Refrigerator
Kenmore 10659299990
Refrigerator
Kenmore 10659299991
Refrigerator
Kenmore 10659299992
Refrigerator
Kenmore 10659299993
Refrigerator
Kenmore 10659299994
Refrigerator
Kenmore 10659502990
Refrigerator
Kenmore 10659502991
Refrigerator
Kenmore 10659502992
Refrigerator
Kenmore 10659502993
Refrigerator
Kenmore 10659504993
Refrigerator
Kenmore 10659507990
Refrigerator
Kenmore 10659507991
Refrigerator
Kenmore 10659507992
Refrigerator
Kenmore 10659507993
Refrigerator
Kenmore 10659509990
Refrigerator
Kenmore 10659509991
Refrigerator
Kenmore 10659509992
Refrigerator
Kenmore 10659509993
Refrigerator
Kenmore 10659562990
Refrigerator
Kenmore 10659567990
Refrigerator
Kenmore 10659568990
Refrigerator
Kenmore 10659569990
Refrigerator
Kenmore 10659582990
Refrigerator
Kenmore 10659587990
Refrigerator
Kenmore 10659589990
Refrigerator
Kenmore 10659592990
Refrigerator
Kenmore 10659592991
Refrigerator
Kenmore 10659592992
Refrigerator
Kenmore 10659592993
Refrigerator
Kenmore 10659594993
Refrigerator
Kenmore 10659597990
Refrigerator
Kenmore 10659597991
Refrigerator
Kenmore 10659597992
Refrigerator
Kenmore 10659597993
Refrigerator
Kenmore 10659599990
Refrigerator
Kenmore 10659599991
Refrigerator
Kenmore 10659599992
Refrigerator
Kenmore 10659599993
Refrigerator
Kenmore 10659702990
Refrigerator
Kenmore 10659702991
Refrigerator
Kenmore 10659702992
Refrigerator
Kenmore 10659702993
Refrigerator
Kenmore 10659704993
Refrigerator
Kenmore 10659707990
Refrigerator
Kenmore 10659707991
Refrigerator
Kenmore 10659707992
Refrigerator
Kenmore 10659707993
Refrigerator
Kenmore 10659709990
Refrigerator
Kenmore 10659709991
Refrigerator
Kenmore 10659709992
Refrigerator
Kenmore 10659709993
Refrigerator
Kenmore 10659762990
Refrigerator
Kenmore 10659762991
Refrigerator
Kenmore 10659767990
Refrigerator
Kenmore 10659767991
Refrigerator
Kenmore 10659769990
Refrigerator
Kenmore 10659769991
Refrigerator
Kenmore 10659782990
Refrigerator
Kenmore 10659782991
Refrigerator
Kenmore 10659787990
Refrigerator
Kenmore 10659787991
Refrigerator
Kenmore 10659789990
Refrigerator
Kenmore 10659789991
Refrigerator
Kenmore 10659792990
Refrigerator
Kenmore 10659792991
Refrigerator
Kenmore 10659792992
Refrigerator
Kenmore 10659792993
Refrigerator
Kenmore 10659794993
Refrigerator
Kenmore 10659797990
Refrigerator
Kenmore 10659797991
Refrigerator
Kenmore 10659797992
Refrigerator
Kenmore 10659797993
Refrigerator
Kenmore 10659799990
Refrigerator
Kenmore 10659799991
Refrigerator
Kenmore 10659799992
Refrigerator
Kenmore 10659799993
Refrigerator
Kenmore 10661569100
Refrigerator
Kenmore 50202
Refrigerator
Kenmore 50203
Refrigerator
Kenmore 50204
Refrigerator
Kenmore 50209
Refrigerator
Kenmore 50252
Refrigerator
Kenmore 50254
Refrigerator
Kenmore 50257
Refrigerator
Kenmore 50259
Refrigerator
Kenmore 50262
Refrigerator
Kenmore 50264
Refrigerator
Kenmore 50267
Refrigerator
Kenmore 50269
Refrigerator
Kenmore 50502
Refrigerator
Kenmore 50503
Refrigerator
Kenmore 50504
Refrigerator
Kenmore 50509
Refrigerator
Kenmore 50542
Refrigerator
Kenmore 50544
Refrigerator
Kenmore 50552
Refrigerator
Kenmore 50554
Refrigerator
Kenmore 50557
Refrigerator
Kenmore 50559
Refrigerator
Kenmore 50562
Refrigerator
Kenmore 50564
Refrigerator
Kenmore 50567
Refrigerator
Kenmore 50569
Refrigerator
Kenmore 50582
Refrigerator
Kenmore 50584
Refrigerator
Kenmore 50585
Refrigerator
Kenmore 50589
Refrigerator
Kenmore 50592
Refrigerator
Kenmore 50593
Refrigerator
Kenmore 50594
Refrigerator
Kenmore 50599
Refrigerator
Kenmore 50782
Refrigerator
Kenmore 50784
Refrigerator
Kenmore 50785
Refrigerator
Kenmore 50789
Refrigerator
Kenmore 50792
Refrigerator
Kenmore 50793
Refrigerator
Kenmore 50794
Refrigerator
Kenmore 50799
Refrigerator
Kenmore 51042
Refrigerator
Kenmore 51044
Refrigerator
Kenmore 51049
Refrigerator
Kenmore 51062
Refrigerator
Kenmore 51064
Refrigerator
Kenmore 51069
Refrigerator
Kenmore 51212
Refrigerator
Kenmore 51214
Refrigerator
Kenmore 51222
Refrigerator
Kenmore 51224
Refrigerator
Kenmore 51252
Refrigerator
Kenmore 51254
Refrigerator
Kenmore 51259
Refrigerator
Kenmore 51262
Refrigerator
Kenmore 51264
Refrigerator
Kenmore 51269
Refrigerator
Kenmore 51272
Refrigerator
Kenmore 51274
Refrigerator
Kenmore 51282
Refrigerator
Kenmore 51284
Refrigerator
Kenmore 51512
Refrigerator
Kenmore 51514
Refrigerator
Kenmore 51522
Refrigerator
Kenmore 51524
Refrigerator
Kenmore 51542
Refrigerator
Kenmore 51544
Refrigerator
Kenmore 51552
Refrigerator
Kenmore 51554
Refrigerator
Kenmore 51559
Refrigerator
Kenmore 51562
Refrigerator
Kenmore 51564
Refrigerator
Kenmore 51569
Refrigerator
Kenmore 51572
Refrigerator
Kenmore 51574
Refrigerator
Kenmore 51582
Refrigerator
Kenmore 51584
Refrigerator
Kenmore 51742
Refrigerator
Kenmore 51744
Refrigerator
Kenmore 52202
Refrigerator
Kenmore 52203
Refrigerator
Kenmore 52204
Refrigerator
Kenmore 52209
Refrigerator
Kenmore 52222
Refrigerator
Kenmore 52224
Refrigerator
Kenmore 52232
Refrigerator
Kenmore 52234
Refrigerator
Kenmore 52242
Refrigerator
Kenmore 52244
Refrigerator
Kenmore 52252
Refrigerator
Kenmore 52254
Refrigerator
Kenmore 52259
Refrigerator
Kenmore 52262
Refrigerator
Kenmore 52264
Refrigerator
Kenmore 52269
Refrigerator
Kenmore 52272
Refrigerator
Kenmore 52274
Refrigerator
Kenmore 52282
Refrigerator
Kenmore 52284
Refrigerator
Kenmore 52292
Refrigerator
Kenmore 52293
Refrigerator
Kenmore 52294
Refrigerator
Kenmore 52299
Refrigerator
Kenmore 52522
Refrigerator
Kenmore 52524
Refrigerator
Kenmore 52532
Refrigerator
Kenmore 52534
Refrigerator
Kenmore 52542
Refrigerator
Kenmore 52544
Refrigerator
Kenmore 52552
Refrigerator
Kenmore 52554
Refrigerator
Kenmore 52559
Refrigerator
Kenmore 52562
Refrigerator
Kenmore 52564
Refrigerator
Kenmore 52569
Refrigerator
Kenmore 52572
Refrigerator
Kenmore 52574
Refrigerator
Kenmore 52582
Refrigerator
Kenmore 52583
Refrigerator
Kenmore 52584
Refrigerator
Kenmore 52602
Refrigerator
Kenmore 52603
Refrigerator
Kenmore 52604
Refrigerator
Kenmore 52609
Refrigerator
Kenmore 52692
Refrigerator
Kenmore 52693
Refrigerator
Kenmore 52694
Refrigerator
Kenmore 52699
Refrigerator
Kenmore 52702
Refrigerator
Kenmore 52703
Refrigerator
Kenmore 52704
Refrigerator
Kenmore 52709
Refrigerator
Kenmore 52752
Refrigerator
Kenmore 52754
Refrigerator
Kenmore 52759
Refrigerator
Kenmore 52762
Refrigerator
Kenmore 52764
Refrigerator
Kenmore 52769
Refrigerator
Kenmore 52792
Refrigerator
Kenmore 52793
Refrigerator
Kenmore 52794
Refrigerator
Kenmore 52799
Refrigerator
Kenmore 53202
Refrigerator
Kenmore 53203
Refrigerator
Kenmore 53204
Refrigerator
Kenmore 53206
Refrigerator
Kenmore 53209
Refrigerator
Kenmore 53252
Refrigerator
Kenmore 53254
Refrigerator
Kenmore 53259
Refrigerator
Kenmore 53262
Refrigerator
Kenmore 53264
Refrigerator
Kenmore 53269
Refrigerator
Kenmore 53270
Refrigerator
Kenmore 53272
Refrigerator
Kenmore 53276
Refrigerator
Kenmore 53292
Refrigerator
Kenmore 53293
Refrigerator
Kenmore 53294
Refrigerator
Kenmore 53299
Refrigerator
Kenmore 53552
Refrigerator
Kenmore 53554
Refrigerator
Kenmore 53559
Refrigerator
Kenmore 53562
Refrigerator
Kenmore 53564
Refrigerator
Kenmore 53569
Refrigerator
Kenmore 53602
Refrigerator
Kenmore 53603
Refrigerator
Kenmore 53604
Refrigerator
Kenmore 53606
Refrigerator
Kenmore 53609
Refrigerator
Kenmore 53692
Refrigerator
Kenmore 53693
Refrigerator
Kenmore 53694
Refrigerator
Kenmore 53699
Refrigerator
Kenmore 53702
Refrigerator
Kenmore 53703
Refrigerator
Kenmore 53704
Refrigerator
Kenmore 53706
Refrigerator
Kenmore 53709
Refrigerator
Kenmore 53752
Refrigerator
Kenmore 53754
Refrigerator
Kenmore 53759
Refrigerator
Kenmore 53762
Refrigerator
Kenmore 53764
Refrigerator
Kenmore 53769
Refrigerator
Kenmore 53792
Refrigerator
Kenmore 53793
Refrigerator
Kenmore 53794
Refrigerator
Kenmore 53799
Refrigerator
Kenmore 54032
Refrigerator
Kenmore 54034
Refrigerator
Kenmore 54036
Refrigerator
Kenmore 54039
Refrigerator
Kenmore 54042
Refrigerator
Kenmore 54044
Refrigerator
Kenmore 54046
Refrigerator
Kenmore 54049
Refrigerator
Kenmore 54232
Refrigerator
Kenmore 54234
Refrigerator
Kenmore 54236
Refrigerator
Kenmore 54239
Refrigerator
Kenmore 54242
Refrigerator
Kenmore 54244
Refrigerator
Kenmore 54246
Refrigerator
Kenmore 54249
Refrigerator
Kenmore 54282
Refrigerator
Kenmore 54284
Refrigerator
Kenmore 54292
Refrigerator
Kenmore 54532
Refrigerator
Kenmore 54534
Refrigerator
Kenmore 54536
Refrigerator
Kenmore 54539
Refrigerator
Kenmore 54542
Refrigerator
Kenmore 54544
Refrigerator
Kenmore 54546
Refrigerator
Kenmore 54549
Refrigerator
Kenmore 55242
Refrigerator
Kenmore 55244
Refrigerator
Kenmore 55249
Refrigerator
Kenmore 55422
Refrigerator
Kenmore 55502
Refrigerator
Kenmore 55504
Refrigerator
Kenmore 55509
Refrigerator
Kenmore 55512
Refrigerator
Kenmore 55514
Refrigerator
Kenmore 55519
Refrigerator
Kenmore 55542
Refrigerator
Kenmore 55544
Refrigerator
Kenmore 55546
Refrigerator
Kenmore 55549
Refrigerator
Kenmore 55562
Refrigerator
Kenmore 55622
Refrigerator
Kenmore 55632
Refrigerator
Kenmore 55634
Refrigerator
Kenmore 55639
Refrigerator
Kenmore 55642
Refrigerator
Kenmore 55644
Refrigerator
Kenmore 55649
Refrigerator
Kenmore 56342
Refrigerator
Kenmore 56344
Refrigerator
Kenmore 56346
Refrigerator
Kenmore 56349
Refrigerator
Kenmore 56352
Refrigerator
Kenmore 56354
Refrigerator
Kenmore 56356
Refrigerator
Kenmore 56359
Refrigerator
Kenmore 56612
Refrigerator
Kenmore 56619
Refrigerator
Kenmore 56622
Refrigerator
Kenmore 56629
Refrigerator
Kenmore 56642
Refrigerator
Kenmore 56644
Refrigerator
Kenmore 56646
Refrigerator
Kenmore 56649
Refrigerator
Kenmore 56652
Refrigerator
Kenmore 56654
Refrigerator
Kenmore 56656
Refrigerator
Kenmore 56659
Refrigerator
Kenmore 57051
Refrigerator
Kenmore 57058
Refrigerator
Kenmore 57071
Refrigerator
Kenmore 57075
Refrigerator
Kenmore 57077
Refrigerator
Kenmore 57202
Refrigerator
Kenmore 57204
Refrigerator
Kenmore 57206
Refrigerator
Kenmore 57209
Refrigerator
Kenmore 57212
Refrigerator
Kenmore 57214
Refrigerator
Kenmore 57216
Refrigerator
Kenmore 57219
Refrigerator
Kenmore 57262
Refrigerator
Kenmore 57267
Refrigerator
Kenmore 57282
Refrigerator
Kenmore 57285
Refrigerator
Kenmore 57287
Refrigerator
Kenmore 57342
Refrigerator
Kenmore 57402
Refrigerator
Kenmore 57404
Refrigerator
Kenmore 57406
Refrigerator
Kenmore 57409
Refrigerator
Kenmore 57412
Refrigerator
Kenmore 57414
Refrigerator
Kenmore 57416
Refrigerator
Kenmore 57419
Refrigerator
Kenmore 57562
Refrigerator
Kenmore 57567
Refrigerator
Kenmore 57572
Refrigerator
Kenmore 57575
Refrigerator
Kenmore 57577
Refrigerator
Kenmore 57579
Refrigerator
Kenmore 57752
Refrigerator
Kenmore 57762
Refrigerator
Kenmore 57765
Refrigerator
Kenmore 57767
Refrigerator
Kenmore 58212
Refrigerator
Kenmore 58214
Refrigerator
Kenmore 58219
Refrigerator
Kenmore 58242
Refrigerator
Kenmore 58247
Refrigerator
Kenmore 58282
Refrigerator
Kenmore 58285
Refrigerator
Kenmore 58287
Refrigerator
Kenmore 58582
Refrigerator
Kenmore 58585
Refrigerator
Kenmore 58587
Refrigerator
Kenmore 58599
Refrigerator
Kenmore 58782
Refrigerator
Kenmore 58785
Refrigerator
Kenmore 58787
Refrigerator
Kenmore 59062
Refrigerator
Kenmore 59064
Refrigerator
Kenmore 59067
Refrigerator
Kenmore 59069
Refrigerator
Kenmore 59082
Refrigerator
Kenmore 59084
Refrigerator
Kenmore 59085
Refrigerator
Kenmore 59087
Refrigerator
Kenmore 59092
Refrigerator
Kenmore 59094
Refrigerator
Kenmore 59097
Refrigerator
Kenmore 59099
Refrigerator
Kenmore 59202
Refrigerator
Kenmore 59204
Refrigerator
Kenmore 59207
Refrigerator
Kenmore 59209
Refrigerator
Kenmore 59262
Refrigerator
Kenmore 59267
Refrigerator
Kenmore 59269
Refrigerator
Kenmore 59282
Refrigerator
Kenmore 59287
Refrigerator
Kenmore 59289
Refrigerator
Kenmore 59292
Refrigerator
Kenmore 59294
Refrigerator
Kenmore 59297
Refrigerator
Kenmore 59299
Refrigerator
Kenmore 59502
Refrigerator
Kenmore 59504
Refrigerator
Kenmore 59507
Refrigerator
Kenmore 59509
Refrigerator
Kenmore 59562
Refrigerator
Kenmore 59567
Refrigerator
Kenmore 59568
Refrigerator
Kenmore 59569
Refrigerator
Kenmore 59582
Refrigerator
Kenmore 59587
Refrigerator
Kenmore 59589
Refrigerator
Kenmore 59592
Refrigerator
Kenmore 59594
Refrigerator
Kenmore 59597
Refrigerator
Kenmore 59599
Refrigerator
Kenmore 59702
Refrigerator
Kenmore 59704
Refrigerator
Kenmore 59707
Refrigerator
Kenmore 59709
Refrigerator
Kenmore 59762
Refrigerator
Kenmore 59767
Refrigerator
Kenmore 59769
Refrigerator
Kenmore 59782
Refrigerator
Kenmore 59787
Refrigerator
Kenmore 59789
Refrigerator
Kenmore 59792
Refrigerator
Kenmore 59794
Refrigerator
Kenmore 59797
Refrigerator
Kenmore 59799
Refrigerator
Kenmore 61569
Refrigerator
KitchenAid KBBP100LSS
Refrigerator
KitchenAid KBBP100LSS0
Refrigerator
KitchenAid KBFU271TSS
Refrigerator
KitchenAid KBFU271TSS00
Refrigerator
KitchenAid KBFU271VSS
Refrigerator
KitchenAid KBFU271VSS00
Refrigerator
KitchenAid KBLC36FKS00
Refrigerator
KitchenAid KBLC36FKS01
Refrigerator
KitchenAid KBLC36FKS02
Refrigerator
KitchenAid KBLC36FMS
Refrigerator
KitchenAid KBLC36FMS00
Refrigerator
KitchenAid KBLC36FMS01
Refrigerator
KitchenAid KBLC36FMS02
Refrigerator
KitchenAid KBLO36FMX
Refrigerator
KitchenAid KBLO36FMX00
Refrigerator
KitchenAid KBLO36FMX01
Refrigerator
KitchenAid KBLO36FMX02
Refrigerator
KitchenAid KBLP36FKS00
Refrigerator
KitchenAid KBLP36FKS01
Refrigerator
KitchenAid KBLP36FKS02
Refrigerator
KitchenAid KBLP36FMS00
Refrigerator
KitchenAid KBLP36FMS02
Refrigerator
KitchenAid KBLS36FKB00
Refrigerator
KitchenAid KBLS36FKB01
Refrigerator
KitchenAid KBLS36FKB02
Refrigerator
KitchenAid KBLS36FKT00
Refrigerator
KitchenAid KBLS36FKT01
Refrigerator
KitchenAid KBLS36FKT02
Refrigerator
KitchenAid KBLS36FKW00
Refrigerator
KitchenAid KBLS36FKW01
Refrigerator
KitchenAid KBLS36FKW02
Refrigerator
KitchenAid KBLS36FKX00
Refrigerator
KitchenAid KBLS36FKX01
Refrigerator
KitchenAid KBLS36FKX02
Refrigerator
KitchenAid KBLS36FMB00
Refrigerator
KitchenAid KBLS36FMB01
Refrigerator
KitchenAid KBLS36FMB02
Refrigerator
KitchenAid KBLS36FMX
Refrigerator
KitchenAid KBLS36FMX00
Refrigerator
KitchenAid KBLS36FMX01
Refrigerator
KitchenAid KBLS36FMX02
Refrigerator
KitchenAid KBLV36FPM01
Refrigerator
KitchenAid KBLV36FPM02
Refrigerator
KitchenAid KBLV36FPS01
Refrigerator
KitchenAid KBLV36FPS02
Refrigerator
KitchenAid KBRC36FKB00
Refrigerator
KitchenAid KBRC36FKB01
Refrigerator
KitchenAid KBRC36FKB02
Refrigerator
KitchenAid KBRC36FKS00
Refrigerator
KitchenAid KBRC36FKS01
Refrigerator
KitchenAid KBRC36FKS02
Refrigerator
KitchenAid KBRC36FKU00
Refrigerator
KitchenAid KBRC36FKU01
Refrigerator
KitchenAid KBRC36FKU02
Refrigerator
KitchenAid KBRC36FMS
Refrigerator
KitchenAid KBRC36FMS00
Refrigerator
KitchenAid KBRC36FMS01
Refrigerator
KitchenAid KBRC36FMS02
Refrigerator
KitchenAid KBRO36FMX
Refrigerator
KitchenAid KBRO36FMX00
Refrigerator
KitchenAid KBRO36FMX01
Refrigerator
KitchenAid KBRO36FMX02
Refrigerator
KitchenAid KBRP36FKS00
Refrigerator
KitchenAid KBRP36FKS01
Refrigerator
KitchenAid KBRP36FKS02
Refrigerator
KitchenAid KBRP36FMS
Refrigerator
KitchenAid KBRP36FMS00
Refrigerator
KitchenAid KBRP36FMS01
Refrigerator
KitchenAid KBRP36FMS02
Refrigerator
KitchenAid KBRS36FKB00
Refrigerator
KitchenAid KBRS36FKB01
Refrigerator
KitchenAid KBRS36FKB02
Refrigerator
KitchenAid KBRS36FKT00
Refrigerator
KitchenAid KBRS36FKT01
Refrigerator
KitchenAid KBRS36FKT02
Refrigerator
KitchenAid KBRS36FKW00
Refrigerator
KitchenAid KBRS36FKW01
Refrigerator
KitchenAid KBRS36FKW02
Refrigerator
KitchenAid KBRS36FKX00
Refrigerator
KitchenAid KBRS36FKX01
Refrigerator
KitchenAid KBRS36FKX02
Refrigerator
KitchenAid KBRS36FMB00
Refrigerator
KitchenAid KBRS36FMB01
Refrigerator
KitchenAid KBRS36FMB02
Refrigerator
KitchenAid KBRS36FMX
Refrigerator
KitchenAid KBRS36FMX00
Refrigerator
KitchenAid KBRS36FMX01
Refrigerator
KitchenAid KBRS36FMX02
Refrigerator
KitchenAid KBRV36FPM01
Refrigerator
KitchenAid KBRV36FPM02
Refrigerator
KitchenAid KBRV36FPS01
Refrigerator
KitchenAid KBRV36FPS02
Refrigerator
KitchenAid KBUDT4270A
Refrigerator
KitchenAid KBUDT4270A02
Refrigerator
KitchenAid KBULT3661A
Refrigerator
KitchenAid KBULT3661A02
Refrigerator
KitchenAid KBURT3665E
Refrigerator
KitchenAid KBURT3665E01
Refrigerator
KitchenAid KFBP102LSS0
Refrigerator
KitchenAid KFFU271TSS
Refrigerator
KitchenAid KFFU271TSS00
Refrigerator
KitchenAid KLBP36FKS01
Refrigerator
KitchenAid KSBP25FJSS00
Refrigerator
KitchenAid KSBP25FJSS01
Refrigerator
KitchenAid KSBP25FKSS
Refrigerator
KitchenAid KSBP25FKSS00
Refrigerator
KitchenAid KSBP25FKSS01
Refrigerator
KitchenAid KSBP25FKSS02
Refrigerator
KitchenAid KSBS25FJBL00
Refrigerator
KitchenAid KSBS25FJBL01
Refrigerator
KitchenAid KSBS25FJBT00
Refrigerator
KitchenAid KSBS25FJBT01
Refrigerator
KitchenAid KSBS25FJWH00
Refrigerator
KitchenAid KSBS25FJWH01
Refrigerator
KitchenAid KSBS25FKBL00
Refrigerator
KitchenAid KSBS25FKBL01
Refrigerator
KitchenAid KSBS25FKBL02
Refrigerator
KitchenAid KSBS25FKBT00
Refrigerator
KitchenAid KSBS25FKBT01
Refrigerator
KitchenAid KSBS25FKBT02
Refrigerator
KitchenAid KSBS25FKSS02
Refrigerator
KitchenAid KSBS25FKWH00
Refrigerator
KitchenAid KSBS25FKWH01
Refrigerator
KitchenAid KSBS25FKWH02
Refrigerator
KitchenAid KSCS25FJSS00
Refrigerator
KitchenAid KSCS25FJSS01
Refrigerator
KitchenAid KSCS25FKBL01
Refrigerator
KitchenAid KSCS25FKBL02
Refrigerator
KitchenAid KSCS25FKBT01
Refrigerator
KitchenAid KSCS25FKBT02
Refrigerator
KitchenAid KSCS25FKSS
Refrigerator
KitchenAid KSCS25FKSS00
Refrigerator
KitchenAid KSCS25FKSS01
Refrigerator
KitchenAid KSCS25FKSS02
Refrigerator
KitchenAid KSCS25FKWH01
Refrigerator
KitchenAid KSCS25FKWH02
Refrigerator
KitchenAid KSFS25FJBL00
Refrigerator
KitchenAid KSFS25FJBL01
Refrigerator
KitchenAid KSFS25FJBT00
Refrigerator
KitchenAid KSFS25FJBT01
Refrigerator
KitchenAid KSFS25FJWH00
Refrigerator
KitchenAid KSFS25FJWH01
Refrigerator
KitchenAid KSFS25FKBL00
Refrigerator
KitchenAid KSFS25FKBL01
Refrigerator
KitchenAid KSFS25FKBL02
Refrigerator
KitchenAid KSFS25FKBT00
Refrigerator
KitchenAid KSFS25FKBT01
Refrigerator
KitchenAid KSFS25FKBT02
Refrigerator
KitchenAid KSFS25FKWH00
Refrigerator
KitchenAid KSFS25FKWH01
Refrigerator
KitchenAid KSFS25FKWH02
Refrigerator
KitchenAid KSR125ETSS00
Refrigerator
KitchenAid KSRA22CNBL00
Refrigerator
KitchenAid KSRA22CNBL01
Refrigerator
KitchenAid KSRA22CNBL02
Refrigerator
KitchenAid KSRA22CNBT00
Refrigerator
KitchenAid KSRA22CNBT01
Refrigerator
KitchenAid KSRA22CNBT02
Refrigerator
KitchenAid KSRA22CNSS
Refrigerator
KitchenAid KSRA22CNSS00
Refrigerator
KitchenAid KSRA22CNSS01
Refrigerator
KitchenAid KSRA22CNSS02
Refrigerator
KitchenAid KSRA22CNWH00
Refrigerator
KitchenAid KSRA22CNWH01
Refrigerator
KitchenAid KSRA22CNWH02
Refrigerator
KitchenAid KSRA22FKBL00
Refrigerator
KitchenAid KSRA22FKBL01
Refrigerator
KitchenAid KSRA22FKBT00
Refrigerator
KitchenAid KSRA22FKBT01
Refrigerator
KitchenAid KSRA22FKSS00
Refrigerator
KitchenAid KSRA22FKSS01
Refrigerator
KitchenAid KSRA22FKWH00
Refrigerator
KitchenAid KSRA22FKWH01
Refrigerator
KitchenAid KSRA22ILBL00
Refrigerator
KitchenAid KSRA22ILBL01
Refrigerator
KitchenAid KSRA22ILBL02
Refrigerator
KitchenAid KSRA22ILBL03
Refrigerator
KitchenAid KSRA22ILBL13
Refrigerator
KitchenAid KSRA22ILBT00
Refrigerator
KitchenAid KSRA22ILBT01
Refrigerator
KitchenAid KSRA22ILBT02
Refrigerator
KitchenAid KSRA22ILBT03
Refrigerator
KitchenAid KSRA22ILBT13
Refrigerator
KitchenAid KSRA22ILSS00
Refrigerator
KitchenAid KSRA22ILSS01
Refrigerator
KitchenAid KSRA22ILSS02
Refrigerator
KitchenAid KSRA22ILSS03
Refrigerator
KitchenAid KSRA22ILSS13
Refrigerator
KitchenAid KSRA22ILWH00
Refrigerator
KitchenAid KSRA22ILWH01
Refrigerator
KitchenAid KSRA22ILWH02
Refrigerator
KitchenAid KSRA22ILWH03
Refrigerator
KitchenAid KSRA22ILWH13
Refrigerator
KitchenAid KSRA22KKBL00
Refrigerator
KitchenAid KSRA22KKBL01
Refrigerator
KitchenAid KSRA22KKBL02
Refrigerator
KitchenAid KSRA22KKBT00
Refrigerator
KitchenAid KSRA22KKBT01
Refrigerator
KitchenAid KSRA22KKBT02
Refrigerator
KitchenAid KSRA22KKSS00
Refrigerator
KitchenAid KSRA22KKSS01
Refrigerator
KitchenAid KSRA22KKSS02
Refrigerator
KitchenAid KSRA22KKWH00
Refrigerator
KitchenAid KSRA22KKWH01
Refrigerator
KitchenAid KSRA22KKWH02
Refrigerator
KitchenAid KSRA22KNSS
Refrigerator
KitchenAid KSRA22KNSS00
Refrigerator
KitchenAid KSRA22KNSS01
Refrigerator
KitchenAid KSRA25CNBL00
Refrigerator
KitchenAid KSRA25CNBL01
Refrigerator
KitchenAid KSRA25CNBL02
Refrigerator
KitchenAid KSRA25CNBT00
Refrigerator
KitchenAid KSRA25CNBT01
Refrigerator
KitchenAid KSRA25CNBT02
Refrigerator
KitchenAid KSRA25CNBU00
Refrigerator
KitchenAid KSRA25CNBU01
Refrigerator
KitchenAid KSRA25CNLK00
Refrigerator
KitchenAid KSRA25CNLK01
Refrigerator
KitchenAid KSRA25CNSS
Refrigerator
KitchenAid KSRA25CNSS00
Refrigerator
KitchenAid KSRA25CNSS01
Refrigerator
KitchenAid KSRA25CNSS02
Refrigerator
KitchenAid KSRA25CNWH00
Refrigerator
KitchenAid KSRA25CNWH01
Refrigerator
KitchenAid KSRA25CNWH02
Refrigerator
KitchenAid KSRA25FKBL00
Refrigerator
KitchenAid KSRA25FKBL01
Refrigerator
KitchenAid KSRA25FKBT00
Refrigerator
KitchenAid KSRA25FKBT01
Refrigerator
KitchenAid KSRA25FKSS00
Refrigerator
KitchenAid KSRA25FKSS01
Refrigerator
KitchenAid KSRA25FKWH00
Refrigerator
KitchenAid KSRA25FKWH01
Refrigerator
KitchenAid KSRA25ILBL00
Refrigerator
KitchenAid KSRA25ILBL01
Refrigerator
KitchenAid KSRA25ILBL02
Refrigerator
KitchenAid KSRA25ILBL03
Refrigerator
KitchenAid KSRA25ILBL13
Refrigerator
KitchenAid KSRA25ILBT00
Refrigerator
KitchenAid KSRA25ILBT01
Refrigerator
KitchenAid KSRA25ILBT02
Refrigerator
KitchenAid KSRA25ILBT03
Refrigerator
KitchenAid KSRA25ILBT13
Refrigerator
KitchenAid KSRA25ILBU03
Refrigerator
KitchenAid KSRA25ILBU13
Refrigerator
KitchenAid KSRA25ILSS
Refrigerator
KitchenAid KSRA25ILSS00
Refrigerator
KitchenAid KSRA25ILSS01
Refrigerator
KitchenAid KSRA25ILSS02
Refrigerator
KitchenAid KSRA25ILSS03
Refrigerator
KitchenAid KSRA25ILSS13
Refrigerator
KitchenAid KSRA25ILWH00
Refrigerator
KitchenAid KSRA25ILWH01
Refrigerator
KitchenAid KSRA25ILWH02
Refrigerator
KitchenAid KSRA25ILWH03
Refrigerator
KitchenAid KSRA25ILWH13
Refrigerator
KitchenAid KSRA25KKBT00
Refrigerator
KitchenAid KSRA25KKBT01
Refrigerator
KitchenAid KSRA25KKBT02
Refrigerator
KitchenAid KSRA25KKBT12
Refrigerator
KitchenAid KSRA25KKSS00
Refrigerator
KitchenAid KSRA25KKSS01
Refrigerator
KitchenAid KSRA25KKSS02
Refrigerator
KitchenAid KSRA25KKSS12
Refrigerator
KitchenAid KSRA25KKWH00
Refrigerator
KitchenAid KSRA25KKWH01
Refrigerator
KitchenAid KSRA25KKWH02
Refrigerator
KitchenAid KSRA25KKWH12
Refrigerator
KitchenAid KSRA25KNSS00
Refrigerator
KitchenAid KSRA25KNSS01
Refrigerator
KitchenAid KSRA25PNBL00
Refrigerator
KitchenAid KSRA25PNBT00
Refrigerator
KitchenAid KSRA25PNLK00
Refrigerator
KitchenAid KSRA25PNSS00
Refrigerator
KitchenAid KSRA25PNWH00
Refrigerator
KitchenAid KSRB22FGBL00
Refrigerator
KitchenAid KSRB22FGSS00
Refrigerator
KitchenAid KSRB22FGWH00
Refrigerator
KitchenAid KSRB22FHBL00
Refrigerator
KitchenAid KSRB22FHBL01
Refrigerator
KitchenAid KSRB22FHBL02
Refrigerator
KitchenAid KSRB22FHBL03
Refrigerator
KitchenAid KSRB22FHBL04
Refrigerator
KitchenAid KSRB22FHBL05
Refrigerator
KitchenAid KSRB22FHBL06
Refrigerator
KitchenAid KSRB22FHBT01
Refrigerator
KitchenAid KSRB22FHBT02
Refrigerator
KitchenAid KSRB22FHBT03
Refrigerator
KitchenAid KSRB22FHBT04
Refrigerator
KitchenAid KSRB22FHBT05
Refrigerator
KitchenAid KSRB22FHBT06
Refrigerator
KitchenAid KSRB22FHSS00
Refrigerator
KitchenAid KSRB22FHSS01
Refrigerator
KitchenAid KSRB22FHSS02
Refrigerator
KitchenAid KSRB22FHSS03
Refrigerator
KitchenAid KSRB22FHSS04
Refrigerator
KitchenAid KSRB22FHSS05
Refrigerator
KitchenAid KSRB22FHSS06
Refrigerator
KitchenAid KSRB22FHWH00
Refrigerator
KitchenAid KSRB22FHWH01
Refrigerator
KitchenAid KSRB22FHWH02
Refrigerator
KitchenAid KSRB22FHWH03
Refrigerator
KitchenAid KSRB22FHWH04
Refrigerator
KitchenAid KSRB22FHWH05
Refrigerator
KitchenAid KSRB22FHWH06
Refrigerator
KitchenAid KSRB22FKBL00
Refrigerator
KitchenAid KSRB22FKBL01
Refrigerator
KitchenAid KSRB22FKBL02
Refrigerator
KitchenAid KSRB22FKBL03
Refrigerator
KitchenAid KSRB22FKBL04
Refrigerator
KitchenAid KSRB22FKBL14
Refrigerator
KitchenAid KSRB22FKSS00
Refrigerator
KitchenAid KSRB22FKSS01
Refrigerator
KitchenAid KSRB22FKSS02
Refrigerator
KitchenAid KSRB22FKSS03
Refrigerator
KitchenAid KSRB22FKSS04
Refrigerator
KitchenAid KSRB22FKSS14
Refrigerator
KitchenAid KSRB22FNSS
Refrigerator
KitchenAid KSRB22FNSS00
Refrigerator
KitchenAid KSRB22FRBX00
Refrigerator
KitchenAid KSRB22FRBX01
Refrigerator
KitchenAid KSRB22FRBX02
Refrigerator
KitchenAid KSRB25FGBL00
Refrigerator
KitchenAid KSRB25FGBT00
Refrigerator
KitchenAid KSRB25FGSS00
Refrigerator
KitchenAid KSRB25FGWH00
Refrigerator
KitchenAid KSRB25FHBL00
Refrigerator
KitchenAid KSRB25FHBL01
Refrigerator
KitchenAid KSRB25FHBL02
Refrigerator
KitchenAid KSRB25FHBL03
Refrigerator
KitchenAid KSRB25FHBL04
Refrigerator
KitchenAid KSRB25FHBL05
Refrigerator
KitchenAid KSRB25FHBT00
Refrigerator
KitchenAid KSRB25FHBT01
Refrigerator
KitchenAid KSRB25FHBT02
Refrigerator
KitchenAid KSRB25FHBT03
Refrigerator
KitchenAid KSRB25FHBT04
Refrigerator
KitchenAid KSRB25FHBT05
Refrigerator
KitchenAid KSRB25FHSS00
Refrigerator
KitchenAid KSRB25FHSS01
Refrigerator
KitchenAid KSRB25FHSS02
Refrigerator
KitchenAid KSRB25FHSS03
Refrigerator
KitchenAid KSRB25FHSS04
Refrigerator
KitchenAid KSRB25FHSS05
Refrigerator
KitchenAid KSRB25FHWH00
Refrigerator
KitchenAid KSRB25FHWH01
Refrigerator
KitchenAid KSRB25FHWH02
Refrigerator
KitchenAid KSRB25FHWH03
Refrigerator
KitchenAid KSRB25FHWH04
Refrigerator
KitchenAid KSRB25FHWH05
Refrigerator
KitchenAid KSRB25FKBL00
Refrigerator
KitchenAid KSRB25FKBL01
Refrigerator
KitchenAid KSRB25FKBL02
Refrigerator
KitchenAid KSRB25FKBL03
Refrigerator
KitchenAid KSRB25FKBL04
Refrigerator
KitchenAid KSRB25FKBL14
Refrigerator
KitchenAid KSRB25FKSS00
Refrigerator
KitchenAid KSRB25FKSS01
Refrigerator
KitchenAid KSRB25FKSS02
Refrigerator
KitchenAid KSRB25FKSS03
Refrigerator
KitchenAid KSRB25FKSS04
Refrigerator
KitchenAid KSRB25FKSS14
Refrigerator
KitchenAid KSRB25FNSS
Refrigerator
KitchenAid KSRB25FNSS00
Refrigerator
KitchenAid KSRB25FRBX
Refrigerator
KitchenAid KSRB25FRBX00
Refrigerator
KitchenAid KSRB25FRBX01
Refrigerator
KitchenAid KSRB25FRBX02
Refrigerator
KitchenAid KSRB27FGBL00
Refrigerator
KitchenAid KSRB27FGSS00
Refrigerator
KitchenAid KSRB27FGWH00
Refrigerator
KitchenAid KSRB27FHBL00
Refrigerator
KitchenAid KSRB27FHBL01
Refrigerator
KitchenAid KSRB27FHBL02
Refrigerator
KitchenAid KSRB27FHBL03
Refrigerator
KitchenAid KSRB27FHBL04
Refrigerator
KitchenAid KSRB27FHBL05
Refrigerator
KitchenAid KSRB27FHBT01
Refrigerator
KitchenAid KSRB27FHBT02
Refrigerator
KitchenAid KSRB27FHBT03
Refrigerator
KitchenAid KSRB27FHBT04
Refrigerator
KitchenAid KSRB27FHBT05
Refrigerator
KitchenAid KSRB27FHSS00
Refrigerator
KitchenAid KSRB27FHSS01
Refrigerator
KitchenAid KSRB27FHSS02
Refrigerator
KitchenAid KSRB27FHSS03
Refrigerator
KitchenAid KSRB27FHSS04
Refrigerator
KitchenAid KSRB27FHSS05
Refrigerator
KitchenAid KSRB27FHWH00
Refrigerator
KitchenAid KSRB27FHWH01
Refrigerator
KitchenAid KSRB27FHWH02
Refrigerator
KitchenAid KSRB27FHWH03
Refrigerator
KitchenAid KSRB27FHWH04
Refrigerator
KitchenAid KSRB27FHWH05
Refrigerator
KitchenAid KSRD22FKBL03
Refrigerator
KitchenAid KSRD22FKBL04
Refrigerator
KitchenAid KSRD22FKBL14
Refrigerator
KitchenAid KSRD22FKBL15
Refrigerator
KitchenAid KSRD22FKBL16
Refrigerator
KitchenAid KSRD22FKBT01
Refrigerator
KitchenAid KSRD22FKBT02
Refrigerator
KitchenAid KSRD22FKBT03
Refrigerator
KitchenAid KSRD22FKBT04
Refrigerator
KitchenAid KSRD22FKBT14
Refrigerator
KitchenAid KSRD22FKBT15
Refrigerator
KitchenAid KSRD22FKBT16
Refrigerator
KitchenAid KSRD22FKSS03
Refrigerator
KitchenAid KSRD22FKSS04
Refrigerator
KitchenAid KSRD22FKSS14
Refrigerator
KitchenAid KSRD22FKSS15
Refrigerator
KitchenAid KSRD22FKSS16
Refrigerator
KitchenAid KSRD22FKST
Refrigerator
KitchenAid KSRD22FKST15
Refrigerator
KitchenAid KSRD22FKST16
Refrigerator
KitchenAid KSRD22FKST17
Refrigerator
KitchenAid KSRD22FKST18
Refrigerator
KitchenAid KSRD22FKST19
Refrigerator
KitchenAid KSRD22FKWH01
Refrigerator
KitchenAid KSRD22FKWH02
Refrigerator
KitchenAid KSRD22FKWH03
Refrigerator
KitchenAid KSRD22FKWH04
Refrigerator
KitchenAid KSRD22FKWH14
Refrigerator
KitchenAid KSRD22FKWH15
Refrigerator
KitchenAid KSRD22FKWH16
Refrigerator
KitchenAid KSRD22FTST01
Refrigerator
KitchenAid KSRD22FTST02
Refrigerator
KitchenAid KSRD22FTST03
Refrigerator
KitchenAid KSRD25FKBL03
Refrigerator
KitchenAid KSRD25FKBL04
Refrigerator
KitchenAid KSRD25FKBL14
Refrigerator
KitchenAid KSRD25FKBL15
Refrigerator
KitchenAid KSRD25FKBL16
Refrigerator
KitchenAid KSRD25FKBT01
Refrigerator
KitchenAid KSRD25FKBT02
Refrigerator
KitchenAid KSRD25FKBT03
Refrigerator
KitchenAid KSRD25FKBT04
Refrigerator
KitchenAid KSRD25FKBT14
Refrigerator
KitchenAid KSRD25FKBT15
Refrigerator
KitchenAid KSRD25FKBT16
Refrigerator
KitchenAid KSRD25FKSS03
Refrigerator
KitchenAid KSRD25FKSS04
Refrigerator
KitchenAid KSRD25FKSS14
Refrigerator
KitchenAid KSRD25FKSS15
Refrigerator
KitchenAid KSRD25FKSS16
Refrigerator
KitchenAid KSRD25FKST15
Refrigerator
KitchenAid KSRD25FKST16
Refrigerator
KitchenAid KSRD25FKWH01
Refrigerator
KitchenAid KSRD25FKWH02
Refrigerator
KitchenAid KSRD25FKWH03
Refrigerator
KitchenAid KSRD25FKWH04
Refrigerator
KitchenAid KSRD25FKWH14
Refrigerator
KitchenAid KSRD25FKWH15
Refrigerator
KitchenAid KSRD25FKWH16
Refrigerator
KitchenAid KSRD27FKBT01
Refrigerator
KitchenAid KSRD27FKWH01
Refrigerator
KitchenAid KSRE22FHBT00
Refrigerator
KitchenAid KSRE22FHBT01
Refrigerator
KitchenAid KSRE22FHBT02
Refrigerator
KitchenAid KSRE22FHWH00
Refrigerator
KitchenAid KSRE22FHWH01
Refrigerator
KitchenAid KSRE22FHWH02
Refrigerator
KitchenAid KSRE25FHBT00
Refrigerator
KitchenAid KSRE25FHBT01
Refrigerator
KitchenAid KSRE25FHBT02
Refrigerator
KitchenAid KSRE25FHWH00
Refrigerator
KitchenAid KSRE25FHWH01
Refrigerator
KitchenAid KSRE25FHWH02
Refrigerator
KitchenAid KSRE27FHBT00
Refrigerator
KitchenAid KSRE27FHBT01
Refrigerator
KitchenAid KSRE27FHBT02
Refrigerator
KitchenAid KSRE27FHWH00
Refrigerator
KitchenAid KSRE27FHWH01
Refrigerator
KitchenAid KSRE27FHWH02
Refrigerator
KitchenAid KSRG22FKBL01
Refrigerator
KitchenAid KSRG22FKBL02
Refrigerator
KitchenAid KSRG22FKBL03
Refrigerator
KitchenAid KSRG22FKBL04
Refrigerator
KitchenAid KSRG22FKBL05
Refrigerator
KitchenAid KSRG22FKBL15
Refrigerator
KitchenAid KSRG22FKBL17
Refrigerator
KitchenAid KSRG22FKBL18
Refrigerator
KitchenAid KSRG22FKBL19
Refrigerator
KitchenAid KSRG22FKBT01
Refrigerator
KitchenAid KSRG22FKBT02
Refrigerator
KitchenAid KSRG22FKBT03
Refrigerator
KitchenAid KSRG22FKBT04
Refrigerator
KitchenAid KSRG22FKBT05
Refrigerator
KitchenAid KSRG22FKBT15
Refrigerator
KitchenAid KSRG22FKBT17
Refrigerator
KitchenAid KSRG22FKBT18
Refrigerator
KitchenAid KSRG22FKBT19
Refrigerator
KitchenAid KSRG22FKSS
Refrigerator
KitchenAid KSRG22FKSS01
Refrigerator
KitchenAid KSRG22FKSS02
Refrigerator
KitchenAid KSRG22FKSS03
Refrigerator
KitchenAid KSRG22FKSS04
Refrigerator
KitchenAid KSRG22FKSS05
Refrigerator
KitchenAid KSRG22FKSS15
Refrigerator
KitchenAid KSRG22FKSS17
Refrigerator
KitchenAid KSRG22FKSS18
Refrigerator
KitchenAid KSRG22FKSS19
Refrigerator
KitchenAid KSRG22FKWH
Refrigerator
KitchenAid KSRG22FKWH01
Refrigerator
KitchenAid KSRG22FKWH02
Refrigerator
KitchenAid KSRG22FKWH03
Refrigerator
KitchenAid KSRG22FKWH04
Refrigerator
KitchenAid KSRG22FKWH05
Refrigerator
KitchenAid KSRG22FKWH15
Refrigerator
KitchenAid KSRG22FKWH17
Refrigerator
KitchenAid KSRG22FKWH18
Refrigerator
KitchenAid KSRG22FKWH19
Refrigerator
KitchenAid KSRG25FKBL01
Refrigerator
KitchenAid KSRG25FKBL02
Refrigerator
KitchenAid KSRG25FKBL03
Refrigerator
KitchenAid KSRG25FKBL04
Refrigerator
KitchenAid KSRG25FKBL05
Refrigerator
KitchenAid KSRG25FKBL15
Refrigerator
KitchenAid KSRG25FKBL16
Refrigerator
KitchenAid KSRG25FKBL17
Refrigerator
KitchenAid KSRG25FKBL18
Refrigerator
KitchenAid KSRG25FKBT01
Refrigerator
KitchenAid KSRG25FKBT02
Refrigerator
KitchenAid KSRG25FKBT03
Refrigerator
KitchenAid KSRG25FKBT04
Refrigerator
KitchenAid KSRG25FKBT05
Refrigerator
KitchenAid KSRG25FKBT15
Refrigerator
KitchenAid KSRG25FKBT16
Refrigerator
KitchenAid KSRG25FKBT17
Refrigerator
KitchenAid KSRG25FKBT18
Refrigerator
KitchenAid KSRG25FKSS
Refrigerator
KitchenAid KSRG25FKSS01
Refrigerator
KitchenAid KSRG25FKSS02
Refrigerator
KitchenAid KSRG25FKSS03
Refrigerator
KitchenAid KSRG25FKSS04
Refrigerator
KitchenAid KSRG25FKSS05
Refrigerator
KitchenAid KSRG25FKSS15
Refrigerator
KitchenAid KSRG25FKSS16
Refrigerator
KitchenAid KSRG25FKSS17
Refrigerator
KitchenAid KSRG25FKSS18
Refrigerator
KitchenAid KSRG25FKST
Refrigerator
KitchenAid KSRG25FKST16
Refrigerator
KitchenAid KSRG25FKST17
Refrigerator
KitchenAid KSRG25FKST18
Refrigerator
KitchenAid KSRG25FKST19
Refrigerator
KitchenAid KSRG25FKWH01
Refrigerator
KitchenAid KSRG25FKWH02
Refrigerator
KitchenAid KSRG25FKWH03
Refrigerator
KitchenAid KSRG25FKWH04
Refrigerator
KitchenAid KSRG25FKWH05
Refrigerator
KitchenAid KSRG25FKWH15
Refrigerator
KitchenAid KSRG25FKWH16
Refrigerator
KitchenAid KSRG25FKWH17
Refrigerator
KitchenAid KSRG25FKWH18
Refrigerator
KitchenAid KSRG27FKBL01
Refrigerator
KitchenAid KSRG27FKBL02
Refrigerator
KitchenAid KSRG27FKBL03
Refrigerator
KitchenAid KSRG27FKBL04
Refrigerator
KitchenAid KSRG27FKBT01
Refrigerator
KitchenAid KSRG27FKBT02
Refrigerator
KitchenAid KSRG27FKBT03
Refrigerator
KitchenAid KSRG27FKBT04
Refrigerator
KitchenAid KSRG27FKWH01
Refrigerator
KitchenAid KSRG27FKWH02
Refrigerator
KitchenAid KSRG27FKWH03
Refrigerator
KitchenAid KSRG27FKWH04
Refrigerator
KitchenAid KSRI22FNBL00
Refrigerator
KitchenAid KSRI22FNBL01
Refrigerator
KitchenAid KSRI22FNBT00
Refrigerator
KitchenAid KSRI22FNBT01
Refrigerator
KitchenAid KSRI22FNSS00
Refrigerator
KitchenAid KSRI22FNSS01
Refrigerator
KitchenAid KSRI22FNST00
Refrigerator
KitchenAid KSRI22FNST01
Refrigerator
KitchenAid KSRI22FNWH00
Refrigerator
KitchenAid KSRI22FNWH01
Refrigerator
KitchenAid KSRI25FNBL00
Refrigerator
KitchenAid KSRI25FNBL01
Refrigerator
KitchenAid KSRI25FNBT00
Refrigerator
KitchenAid KSRI25FNBT01
Refrigerator
KitchenAid KSRI25FNSS00
Refrigerator
KitchenAid KSRI25FNSS01
Refrigerator
KitchenAid KSRI25FNST
Refrigerator
KitchenAid KSRI25FNST00
Refrigerator
KitchenAid KSRI25FNST01
Refrigerator
KitchenAid KSRI25FNST02
Refrigerator
KitchenAid KSRI25FNWH
Refrigerator
KitchenAid KSRI25FNWH00
Refrigerator
KitchenAid KSRI25FNWH01
Refrigerator
KitchenAid KSRJ22CNBL00
Refrigerator
KitchenAid KSRJ22CNBT00
Refrigerator
KitchenAid KSRJ22CNSS00
Refrigerator
KitchenAid KSRJ22CNST00
Refrigerator
KitchenAid KSRJ22CNWH00
Refrigerator
KitchenAid KSRJ22IMST00
Refrigerator
KitchenAid KSRJ22IMST10
Refrigerator
KitchenAid KSRJ25CNBL00
Refrigerator
KitchenAid KSRJ25CNBL01
Refrigerator
KitchenAid KSRJ25CNBT00
Refrigerator
KitchenAid KSRJ25CNBT01
Refrigerator
KitchenAid KSRJ25CNSS00
Refrigerator
KitchenAid KSRJ25CNSS01
Refrigerator
KitchenAid KSRJ25CNST
Refrigerator
KitchenAid KSRJ25CNST00
Refrigerator
KitchenAid KSRJ25CNST01
Refrigerator
KitchenAid KSRJ25CNWH00
Refrigerator
KitchenAid KSRJ25CNWH01
Refrigerator
KitchenAid KSRJ25IMST00
Refrigerator
KitchenAid KSRJ25IMST10
Refrigerator
KitchenAid KSRK22ILBL02
Refrigerator
KitchenAid KSRK22ILBL03
Refrigerator
KitchenAid KSRK22ILBL13
Refrigerator
KitchenAid KSRK22ILBT02
Refrigerator
KitchenAid KSRK22ILBT03
Refrigerator
KitchenAid KSRK22ILBT13
Refrigerator
KitchenAid KSRK22ILSS02
Refrigerator
KitchenAid KSRK22ILSS03
Refrigerator
KitchenAid KSRK22ILSS13
Refrigerator
KitchenAid KSRK22ILWH02
Refrigerator
KitchenAid KSRK22ILWH03
Refrigerator
KitchenAid KSRK22ILWH13
Refrigerator
KitchenAid KSRK22XLBL00
Refrigerator
KitchenAid KSRK22XLBT00
Refrigerator
KitchenAid KSRK22XLSS00
Refrigerator
KitchenAid KSRK22XLWH00
Refrigerator
KitchenAid KSRK25ILBL02
Refrigerator
KitchenAid KSRK25ILBL03
Refrigerator
KitchenAid KSRK25ILBL13
Refrigerator
KitchenAid KSRK25ILBT02
Refrigerator
KitchenAid KSRK25ILBT03
Refrigerator
KitchenAid KSRK25ILBT13
Refrigerator
KitchenAid KSRK25ILSS01
Refrigerator
KitchenAid KSRK25ILSS02
Refrigerator
KitchenAid KSRK25ILSS03
Refrigerator
KitchenAid KSRK25ILSS13
Refrigerator
KitchenAid KSRK25ILWH02
Refrigerator
KitchenAid KSRK25ILWH03
Refrigerator
KitchenAid KSRK25ILWH13
Refrigerator
KitchenAid KSRK25XLBL00
Refrigerator
KitchenAid KSRK25XLBL10
Refrigerator
KitchenAid KSRK25XLBT00
Refrigerator
KitchenAid KSRK25XLBT10
Refrigerator
KitchenAid KSRK25XLSS00
Refrigerator
KitchenAid KSRK25XLSS10
Refrigerator
KitchenAid KSRK25XLWH00
Refrigerator
KitchenAid KSRK25XLWH10
Refrigerator
KitchenAid KSRL25FTBL00
Refrigerator
KitchenAid KSRL25FTMS00
Refrigerator
KitchenAid KSRL25FTSS00
Refrigerator
KitchenAid KSRL25FTST00
Refrigerator
KitchenAid KSRL25FTWH00
Refrigerator
KitchenAid KSRP22FNBL00
Refrigerator
KitchenAid KSRP22FNBL01
Refrigerator
KitchenAid KSRP22FNBT00
Refrigerator
KitchenAid KSRP22FNBT01
Refrigerator
KitchenAid KSRP22FNSS
Refrigerator
KitchenAid KSRP22FNSS00
Refrigerator
KitchenAid KSRP22FNSS01
Refrigerator
KitchenAid KSRP22FNWH00
Refrigerator
KitchenAid KSRP22FNWH01
Refrigerator
KitchenAid KSRP25FNBL
Refrigerator
KitchenAid KSRP25FNBL00
Refrigerator
KitchenAid KSRP25FNBL01
Refrigerator
KitchenAid KSRP25FNBT00
Refrigerator
KitchenAid KSRP25FNBT01
Refrigerator
KitchenAid KSRP25FNSS
Refrigerator
KitchenAid KSRP25FNSS00
Refrigerator
KitchenAid KSRP25FNSS01
Refrigerator
KitchenAid KSRP25FNST00
Refrigerator
KitchenAid KSRP25FNST01
Refrigerator
KitchenAid KSRP25FNWH
Refrigerator
KitchenAid KSRP25FNWH00
Refrigerator
KitchenAid KSRP25FNWH01
Refrigerator
KitchenAid KSRS22FGAL00
Refrigerator
KitchenAid KSRS22FGAL01
Refrigerator
KitchenAid KSRS22FGAL05
Refrigerator
KitchenAid KSRS22FGBL00
Refrigerator
KitchenAid KSRS22FGBL01
Refrigerator
KitchenAid KSRS22FGBL02
Refrigerator
KitchenAid KSRS22FGBL03
Refrigerator
KitchenAid KSRS22FGBL04
Refrigerator
KitchenAid KSRS22FGBL05
Refrigerator
KitchenAid KSRS22FGBT00
Refrigerator
KitchenAid KSRS22FGBT01
Refrigerator
KitchenAid KSRS22FGBT02
Refrigerator
KitchenAid KSRS22FGBT03
Refrigerator
KitchenAid KSRS22FGBT04
Refrigerator
KitchenAid KSRS22FGBT05
Refrigerator
KitchenAid KSRS22FGSS11
Refrigerator
KitchenAid KSRS22FGSS13
Refrigerator
KitchenAid KSRS22FGSS14
Refrigerator
KitchenAid KSRS22FGSS15
Refrigerator
KitchenAid KSRS22FGWH00
Refrigerator
KitchenAid KSRS22FGWH01
Refrigerator
KitchenAid KSRS22FGWH02
Refrigerator
KitchenAid KSRS22FGWH03
Refrigerator
KitchenAid KSRS22FGWH04
Refrigerator
KitchenAid KSRS22FGWH05
Refrigerator
KitchenAid KSRS22KGAL00
Refrigerator
KitchenAid KSRS22KGAL04
Refrigerator
KitchenAid KSRS22KGBL00
Refrigerator
KitchenAid KSRS22KGBL04
Refrigerator
KitchenAid KSRS22KGBT01
Refrigerator
KitchenAid KSRS22KGBT02
Refrigerator
KitchenAid KSRS22KGBT03
Refrigerator
KitchenAid KSRS22KGBT04
Refrigerator
KitchenAid KSRS22KGWH00
Refrigerator
KitchenAid KSRS22KGWH01
Refrigerator
KitchenAid KSRS22KGWH02
Refrigerator
KitchenAid KSRS22KGWH03
Refrigerator
KitchenAid KSRS22KGWH04
Refrigerator
KitchenAid KSRS22QGAL00
Refrigerator
KitchenAid KSRS22QGBL0
Refrigerator
KitchenAid KSRS22QGBL00
Refrigerator
KitchenAid KSRS22QGBL01
Refrigerator
KitchenAid KSRS22QGBL02
Refrigerator
KitchenAid KSRS22QGBL03
Refrigerator
KitchenAid KSRS22QGBT0
Refrigerator
KitchenAid KSRS22QGBT01
Refrigerator
KitchenAid KSRS22QGBT02
Refrigerator
KitchenAid KSRS22QGBT03
Refrigerator
KitchenAid KSRS22QGWH00
Refrigerator
KitchenAid KSRS22QGWH01
Refrigerator
KitchenAid KSRS22QGWH02
Refrigerator
KitchenAid KSRS22QGWH03
Refrigerator
KitchenAid KSRS25CHBL00
Refrigerator
KitchenAid KSRS25CHBL01
Refrigerator
KitchenAid KSRS25CHBT00
Refrigerator
KitchenAid KSRS25CHBT01
Refrigerator
KitchenAid KSRS25CHSS00
Refrigerator
KitchenAid KSRS25CHSS01
Refrigerator
KitchenAid KSRS25CHWH00
Refrigerator
KitchenAid KSRS25CHWH01
Refrigerator
KitchenAid KSRS25CKBL01
Refrigerator
KitchenAid KSRS25CKBL02
Refrigerator
KitchenAid KSRS25CKBL03
Refrigerator
KitchenAid KSRS25CKBT01
Refrigerator
KitchenAid KSRS25CKBT02
Refrigerator
KitchenAid KSRS25CKBT03
Refrigerator
KitchenAid KSRS25CKSS01
Refrigerator
KitchenAid KSRS25CKSS02
Refrigerator
KitchenAid KSRS25CKSS03
Refrigerator
KitchenAid KSRS25CKWH01
Refrigerator
KitchenAid KSRS25CKWH02
Refrigerator
KitchenAid KSRS25CKWH03
Refrigerator
KitchenAid KSRS25CNBL
Refrigerator
KitchenAid KSRS25CNBL00
Refrigerator
KitchenAid KSRS25CNBT00
Refrigerator
KitchenAid KSRS25CNLK00
Refrigerator
KitchenAid KSRS25CNSS
Refrigerator
KitchenAid KSRS25CNSS00
Refrigerator
KitchenAid KSRS25CNWH00
Refrigerator
KitchenAid KSRS25FGAL00
Refrigerator
KitchenAid KSRS25FGAL01
Refrigerator
KitchenAid KSRS25FGBL00
Refrigerator
KitchenAid KSRS25FGBL01
Refrigerator
KitchenAid KSRS25FGBL02
Refrigerator
KitchenAid KSRS25FGBL03
Refrigerator
KitchenAid KSRS25FGBL04
Refrigerator
KitchenAid KSRS25FGBT00
Refrigerator
KitchenAid KSRS25FGBT01
Refrigerator
KitchenAid KSRS25FGBT02
Refrigerator
KitchenAid KSRS25FGBT03
Refrigerator
KitchenAid KSRS25FGBT04
Refrigerator
KitchenAid KSRS25FGSS11
Refrigerator
KitchenAid KSRS25FGSS13
Refrigerator
KitchenAid KSRS25FGSS14
Refrigerator
KitchenAid KSRS25FGSS15
Refrigerator
KitchenAid KSRS25FGWH00
Refrigerator
KitchenAid KSRS25FGWH01
Refrigerator
KitchenAid KSRS25FGWH02
Refrigerator
KitchenAid KSRS25FGWH03
Refrigerator
KitchenAid KSRS25FGWH04
Refrigerator
KitchenAid KSRS25FKBL02
Refrigerator
KitchenAid KSRS25FKSS02
Refrigerator
KitchenAid KSRS25IHBL00
Refrigerator
KitchenAid KSRS25IHBL02
Refrigerator
KitchenAid KSRS25IHBT00
Refrigerator
KitchenAid KSRS25IHBT02
Refrigerator
KitchenAid KSRS25IHBU00
Refrigerator
KitchenAid KSRS25IHBU02
Refrigerator
KitchenAid KSRS25IHSS00
Refrigerator
KitchenAid KSRS25IHSS02
Refrigerator
KitchenAid KSRS25IHWH00
Refrigerator
KitchenAid KSRS25IHWH02
Refrigerator
KitchenAid KSRS25IKBL00
Refrigerator
KitchenAid KSRS25IKBL01
Refrigerator
KitchenAid KSRS25IKBL03
Refrigerator
KitchenAid KSRS25IKBT00
Refrigerator
KitchenAid KSRS25IKBT01
Refrigerator
KitchenAid KSRS25IKBT03
Refrigerator
KitchenAid KSRS25IKBU00
Refrigerator
KitchenAid KSRS25IKBU01
Refrigerator
KitchenAid KSRS25IKBU03
Refrigerator
KitchenAid KSRS25IKSS00
Refrigerator
KitchenAid KSRS25IKSS01
Refrigerator
KitchenAid KSRS25IKSS03
Refrigerator
KitchenAid KSRS25IKWH00
Refrigerator
KitchenAid KSRS25IKWH01
Refrigerator
KitchenAid KSRS25IKWH03
Refrigerator
KitchenAid KSRS25ILBL00
Refrigerator
KitchenAid KSRS25ILBL01
Refrigerator
KitchenAid KSRS25ILBL02
Refrigerator
KitchenAid KSRS25ILBL03
Refrigerator
KitchenAid KSRS25ILBL13
Refrigerator
KitchenAid KSRS25ILBT00
Refrigerator
KitchenAid KSRS25ILBT01
Refrigerator
KitchenAid KSRS25ILBT02
Refrigerator
KitchenAid KSRS25ILBT03
Refrigerator
KitchenAid KSRS25ILBT13
Refrigerator
KitchenAid KSRS25ILBU00
Refrigerator
KitchenAid KSRS25ILBU01
Refrigerator
KitchenAid KSRS25ILBU02
Refrigerator
KitchenAid KSRS25ILSS00
Refrigerator
KitchenAid KSRS25ILSS01
Refrigerator
KitchenAid KSRS25ILSS02
Refrigerator
KitchenAid KSRS25ILSS03
Refrigerator
KitchenAid KSRS25ILSS13
Refrigerator
KitchenAid KSRS25ILWH00
Refrigerator
KitchenAid KSRS25ILWH01
Refrigerator
KitchenAid KSRS25ILWH02
Refrigerator
KitchenAid KSRS25ILWH03
Refrigerator
KitchenAid KSRS25ILWH13
Refrigerator
KitchenAid KSRS25KGAL00
Refrigerator
KitchenAid KSRS25KGBL00
Refrigerator
KitchenAid KSRS25KGBL01
Refrigerator
KitchenAid KSRS25KGBL02
Refrigerator
KitchenAid KSRS25KGBL03
Refrigerator
KitchenAid KSRS25KGBT01
Refrigerator
KitchenAid KSRS25KGBT02
Refrigerator
KitchenAid KSRS25KGBT03
Refrigerator
KitchenAid KSRS25KGWH00
Refrigerator
KitchenAid KSRS25KGWH01
Refrigerator
KitchenAid KSRS25KGWH02
Refrigerator
KitchenAid KSRS25KGWH03
Refrigerator
KitchenAid KSRS25PNBL00
Refrigerator
KitchenAid KSRS25PNBT00
Refrigerator
KitchenAid KSRS25PNLK00
Refrigerator
KitchenAid KSRS25PNSS00
Refrigerator
KitchenAid KSRS25PNWH00
Refrigerator
KitchenAid KSRS27CNBL00
Refrigerator
KitchenAid KSRS27CNBT00
Refrigerator
KitchenAid KSRS27CNSS
Refrigerator
KitchenAid KSRS27CNSS00
Refrigerator
KitchenAid KSRS27CNWH00
Refrigerator
KitchenAid KSRS27FGAL00
Refrigerator
KitchenAid KSRS27FGAL01
Refrigerator
KitchenAid KSRS27FGBL00
Refrigerator
KitchenAid KSRS27FGBL01
Refrigerator
KitchenAid KSRS27FGBL02
Refrigerator
KitchenAid KSRS27FGBL03
Refrigerator
KitchenAid KSRS27FGBL04
Refrigerator
KitchenAid KSRS27FGBT00
Refrigerator
KitchenAid KSRS27FGBT01
Refrigerator
KitchenAid KSRS27FGBT02
Refrigerator
KitchenAid KSRS27FGBT03
Refrigerator
KitchenAid KSRS27FGBT04
Refrigerator
KitchenAid KSRS27FGSS11
Refrigerator
KitchenAid KSRS27FGSS13
Refrigerator
KitchenAid KSRS27FGSS14
Refrigerator
KitchenAid KSRS27FGWH00
Refrigerator
KitchenAid KSRS27FGWH01
Refrigerator
KitchenAid KSRS27FGWH02
Refrigerator
KitchenAid KSRS27FGWH03
Refrigerator
KitchenAid KSRS27FGWH04
Refrigerator
KitchenAid KSRS27IHBL00
Refrigerator
KitchenAid KSRS27IHBL02
Refrigerator
KitchenAid KSRS27IHBT00
Refrigerator
KitchenAid KSRS27IHBT02
Refrigerator
KitchenAid KSRS27IHSS00
Refrigerator
KitchenAid KSRS27IHSS02
Refrigerator
KitchenAid KSRS27IHWH00
Refrigerator
KitchenAid KSRS27IHWH02
Refrigerator
KitchenAid KSRS27IKBL01
Refrigerator
KitchenAid KSRS27IKBL02
Refrigerator
KitchenAid KSRS27IKBT01
Refrigerator
KitchenAid KSRS27IKBT02
Refrigerator
KitchenAid KSRS27IKSS01
Refrigerator
KitchenAid KSRS27IKSS02
Refrigerator
KitchenAid KSRS27IKWH01
Refrigerator
KitchenAid KSRS27IKWH02
Refrigerator
KitchenAid KSRS27ILBL00
Refrigerator
KitchenAid KSRS27ILBL01
Refrigerator
KitchenAid KSRS27ILBL02
Refrigerator
KitchenAid KSRS27ILBL03
Refrigerator
KitchenAid KSRS27ILBL13
Refrigerator
KitchenAid KSRS27ILBT00
Refrigerator
KitchenAid KSRS27ILBT01
Refrigerator
KitchenAid KSRS27ILBT02
Refrigerator
KitchenAid KSRS27ILBT03
Refrigerator
KitchenAid KSRS27ILBT13
Refrigerator
KitchenAid KSRS27ILSS00
Refrigerator
KitchenAid KSRS27ILSS01
Refrigerator
KitchenAid KSRS27ILSS02
Refrigerator
KitchenAid KSRS27ILSS03
Refrigerator
KitchenAid KSRS27ILSS13
Refrigerator
KitchenAid KSRS27ILWH00
Refrigerator
KitchenAid KSRS27ILWH01
Refrigerator
KitchenAid KSRS27ILWH02
Refrigerator
KitchenAid KSRS27ILWH03
Refrigerator
KitchenAid KSRS27ILWH13
Refrigerator
KitchenAid KSRU22FKBL01
Refrigerator
KitchenAid KSRU22FKBL02
Refrigerator
KitchenAid KSRU22FKBL03
Refrigerator
KitchenAid KSRU22FKBT01
Refrigerator
KitchenAid KSRU22FKBT02
Refrigerator
KitchenAid KSRU22FKBT03
Refrigerator
KitchenAid KSRU22FKBT04
Refrigerator
KitchenAid KSRU22FKWH01
Refrigerator
KitchenAid KSRU22FKWH02
Refrigerator
KitchenAid KSRU22FKWH03
Refrigerator
KitchenAid KSRU22FKWH04
Refrigerator
KitchenAid KSRU25FKBL01
Refrigerator
KitchenAid KSRU25FKBL02
Refrigerator
KitchenAid KSRU25FKBL03
Refrigerator
KitchenAid KSRU25FKBT01
Refrigerator
KitchenAid KSRU25FKBT02
Refrigerator
KitchenAid KSRU25FKBT03
Refrigerator
KitchenAid KSRU25FKWH01
Refrigerator
KitchenAid KSRU25FKWH02
Refrigerator
KitchenAid KSRU25FKWH03
Refrigerator
KitchenAid KSRU25ILBL01
Refrigerator
KitchenAid KSRU25ILBT01
Refrigerator
KitchenAid KSRU25ILBU01
Refrigerator
KitchenAid KSRU25ILSS01
Refrigerator
KitchenAid KSRU25ILWH01
Refrigerator
KitchenAid KSRV25FHBL00
Refrigerator
KitchenAid KSRV25FHBL01
Refrigerator
KitchenAid KSRV25FHBT00
Refrigerator
KitchenAid KSRV25FHBT01
Refrigerator
KitchenAid KSRV25FHWH00
Refrigerator
KitchenAid KSRV25FHWH01
Refrigerator
KitchenAid KSRW22FHBL02
Refrigerator
KitchenAid KSRW22FHBT02
Refrigerator
KitchenAid KSRW22FHWH02
Refrigerator
KitchenAid KSRW25FHBL00
Refrigerator
KitchenAid KSRW25FHBL01
Refrigerator
KitchenAid KSRW25FHBL02
Refrigerator
KitchenAid KSRW25FHBT00
Refrigerator
KitchenAid KSRW25FHBT01
Refrigerator
KitchenAid KSRW25FHBT02
Refrigerator
KitchenAid KSRW25FHWH00
Refrigerator
KitchenAid KSRW25FHWH01
Refrigerator
KitchenAid KSRW25FHWH02
Refrigerator
KitchenAid KSRX22FNBL01
Refrigerator
KitchenAid KSRX22FNBT01
Refrigerator
KitchenAid KSRX22FNST01
Refrigerator
KitchenAid KSRX22FNWH01
Refrigerator
KitchenAid KSRX25FNBL01
Refrigerator
KitchenAid KSRX25FNBT01
Refrigerator
KitchenAid KSRX25FNST
Refrigerator
KitchenAid KSRX25FNST01
Refrigerator
KitchenAid KSRX25FNST03
Refrigerator
KitchenAid KSRX25FNWH01
Refrigerator
KitchenAid KSSC36FJB00
Refrigerator
KitchenAid KSSC36FJS00
Refrigerator
KitchenAid KSSC36FJT00
Refrigerator
KitchenAid KSSC36FJW00
Refrigerator
KitchenAid KSSC36FKB00
Refrigerator
KitchenAid KSSC36FKB01
Refrigerator
KitchenAid KSSC36FKB02
Refrigerator
KitchenAid KSSC36FKS00
Refrigerator
KitchenAid KSSC36FKS01
Refrigerator
KitchenAid KSSC36FKS02
Refrigerator
KitchenAid KSSC36FMS
Refrigerator
KitchenAid KSSC36FMS00
Refrigerator
KitchenAid KSSC36FMS01
Refrigerator
KitchenAid KSSC36FMS02
Refrigerator
KitchenAid KSSC36FMS03
Refrigerator
KitchenAid KSSC36QKS00
Refrigerator
KitchenAid KSSC36QKS01
Refrigerator
KitchenAid KSSC36QKS02
Refrigerator
KitchenAid KSSC36QMS
Refrigerator
KitchenAid KSSC36QMS00
Refrigerator
KitchenAid KSSC36QMS01
Refrigerator
KitchenAid KSSC36QMS02
Refrigerator
KitchenAid KSSC36QMS03
Refrigerator
KitchenAid KSSC42FJB00
Refrigerator
KitchenAid KSSC42FJS00
Refrigerator
KitchenAid KSSC42FJT00
Refrigerator
KitchenAid KSSC42FJW00
Refrigerator
KitchenAid KSSC42FKB00
Refrigerator
KitchenAid KSSC42FKB01
Refrigerator
KitchenAid KSSC42FKB02
Refrigerator
KitchenAid KSSC42FKS00
Refrigerator
KitchenAid KSSC42FKS01
Refrigerator
KitchenAid KSSC42FKS02
Refrigerator
KitchenAid KSSC42FMS
Refrigerator
KitchenAid KSSC42FMS00
Refrigerator
KitchenAid KSSC42FMS01
Refrigerator
KitchenAid KSSC42FMS02
Refrigerator
KitchenAid KSSC42FMS03
Refrigerator
KitchenAid KSSC42QKS00
Refrigerator
KitchenAid KSSC42QKS01
Refrigerator
KitchenAid KSSC42QKS02
Refrigerator
KitchenAid KSSC42QMS
Refrigerator
KitchenAid KSSC42QMS00
Refrigerator
KitchenAid KSSC42QMS01
Refrigerator
KitchenAid KSSC42QMS02
Refrigerator
KitchenAid KSSC42QMS03
Refrigerator
KitchenAid KSSC42QMU00
Refrigerator
KitchenAid KSSC42QMU01
Refrigerator
KitchenAid KSSC48FJB00
Refrigerator
KitchenAid KSSC48FJS00
Refrigerator
KitchenAid KSSC48FJT00
Refrigerator
KitchenAid KSSC48FJW00
Refrigerator
KitchenAid KSSC48FKB00
Refrigerator
KitchenAid KSSC48FKB01
Refrigerator
KitchenAid KSSC48FKB02
Refrigerator
KitchenAid KSSC48FKS00
Refrigerator
KitchenAid KSSC48FKS01
Refrigerator
KitchenAid KSSC48FKS02
Refrigerator
KitchenAid KSSC48FMS
Refrigerator
KitchenAid KSSC48FMS00
Refrigerator
KitchenAid KSSC48FMS01
Refrigerator
KitchenAid KSSC48FMS02
Refrigerator
KitchenAid KSSC48FMS03
Refrigerator
KitchenAid KSSC48QKS00
Refrigerator
KitchenAid KSSC48QKS01
Refrigerator
KitchenAid KSSC48QKS02
Refrigerator
KitchenAid KSSC48QMS
Refrigerator
KitchenAid KSSC48QMS00
Refrigerator
KitchenAid KSSC48QMS01
Refrigerator
KitchenAid KSSC48QMS02
Refrigerator
KitchenAid KSSC48QMS03
Refrigerator
KitchenAid KSSO36FMX00
Refrigerator
KitchenAid KSSO36FMX01
Refrigerator
KitchenAid KSSO36FMX02
Refrigerator
KitchenAid KSSO36FMX03
Refrigerator
KitchenAid KSSO36QMB00
Refrigerator
KitchenAid KSSO36QMB01
Refrigerator
KitchenAid KSSO36QMB02
Refrigerator
KitchenAid KSSO36QMB03
Refrigerator
KitchenAid KSSO36QMW00
Refrigerator
KitchenAid KSSO36QMW01
Refrigerator
KitchenAid KSSO36QMX01
Refrigerator
KitchenAid KSSO36QMX02
Refrigerator
KitchenAid KSSO42FMX00
Refrigerator
KitchenAid KSSO42FMX01
Refrigerator
KitchenAid KSSO42FMX02
Refrigerator
KitchenAid KSSO42FMX03
Refrigerator
KitchenAid KSSO42QMB
Refrigerator
KitchenAid KSSO42QMB00
Refrigerator
KitchenAid KSSO42QMB01
Refrigerator
KitchenAid KSSO42QMB02
Refrigerator
KitchenAid KSSO42QMB03
Refrigerator
KitchenAid KSSO42QMW00
Refrigerator
KitchenAid KSSO42QMW01
Refrigerator
KitchenAid KSSO42QMX01
Refrigerator
KitchenAid KSSO42QMX02
Refrigerator
KitchenAid KSSO48FMX
Refrigerator
KitchenAid KSSO48FMX00
Refrigerator
KitchenAid KSSO48FMX01
Refrigerator
KitchenAid KSSO48FMX02
Refrigerator
KitchenAid KSSO48FMX03
Refrigerator
KitchenAid KSSO48QMB00
Refrigerator
KitchenAid KSSO48QMB01
Refrigerator
KitchenAid KSSO48QMB02
Refrigerator
KitchenAid KSSO48QMB03
Refrigerator
KitchenAid KSSO48QMW00
Refrigerator
KitchenAid KSSO48QMW01
Refrigerator
KitchenAid KSSO48QMX01
Refrigerator
KitchenAid KSSO48QMX02
Refrigerator
KitchenAid KSSP36QJS00
Refrigerator
KitchenAid KSSP36QKS00
Refrigerator
KitchenAid KSSP36QKS01
Refrigerator
KitchenAid KSSP36QKS02
Refrigerator
KitchenAid KSSP36QMS
Refrigerator
KitchenAid KSSP36QMS00
Refrigerator
KitchenAid KSSP36QMS01
Refrigerator
KitchenAid KSSP36QMS02
Refrigerator
KitchenAid KSSP36QMS03
Refrigerator
KitchenAid KSSP42QJS00
Refrigerator
KitchenAid KSSP42QKS00
Refrigerator
KitchenAid KSSP42QKS01
Refrigerator
KitchenAid KSSP42QKS02
Refrigerator
KitchenAid KSSP42QMS00
Refrigerator
KitchenAid KSSP42QMS01
Refrigerator
KitchenAid KSSP42QMS02
Refrigerator
KitchenAid KSSP42QMS03
Refrigerator
KitchenAid KSSP48QJS00
Refrigerator
KitchenAid KSSP48QKS00
Refrigerator
KitchenAid KSSP48QKS01
Refrigerator
KitchenAid KSSP48QKS02
Refrigerator
KitchenAid KSSP48QMS00
Refrigerator
KitchenAid KSSP48QMS01
Refrigerator
KitchenAid KSSP48QMS02
Refrigerator
KitchenAid KSSP48QMS03
Refrigerator
KitchenAid KSSS36FJB00
Refrigerator
KitchenAid KSSS36FJT00
Refrigerator
KitchenAid KSSS36FJW00
Refrigerator
KitchenAid KSSS36FJX00
Refrigerator
KitchenAid KSSS36FKB00
Refrigerator
KitchenAid KSSS36FKB01
Refrigerator
KitchenAid KSSS36FKB02
Refrigerator
KitchenAid KSSS36FKT00
Refrigerator
KitchenAid KSSS36FKT01
Refrigerator
KitchenAid KSSS36FKT02
Refrigerator
KitchenAid KSSS36FKW00
Refrigerator
KitchenAid KSSS36FKW01
Refrigerator
KitchenAid KSSS36FKW02
Refrigerator
KitchenAid KSSS36FKX00
Refrigerator
KitchenAid KSSS36FKX01
Refrigerator
KitchenAid KSSS36FKX02
Refrigerator
KitchenAid KSSS36FMB00
Refrigerator
KitchenAid KSSS36FMB01
Refrigerator
KitchenAid KSSS36FMB02
Refrigerator
KitchenAid KSSS36FMX
Refrigerator
KitchenAid KSSS36FMX00
Refrigerator
KitchenAid KSSS36FMX01
Refrigerator
KitchenAid KSSS36FMX02
Refrigerator
KitchenAid KSSS36FMX03
Refrigerator
KitchenAid KSSS36QJB00
Refrigerator
KitchenAid KSSS36QJS00
Refrigerator
KitchenAid KSSS36QJT00
Refrigerator
KitchenAid KSSS36QJW00
Refrigerator
KitchenAid KSSS36QJX00
Refrigerator
KitchenAid KSSS36QKB00
Refrigerator
KitchenAid KSSS36QKB01
Refrigerator
KitchenAid KSSS36QKB02
Refrigerator
KitchenAid KSSS36QKT00
Refrigerator
KitchenAid KSSS36QKT01
Refrigerator
KitchenAid KSSS36QKT02
Refrigerator
KitchenAid KSSS36QKW00
Refrigerator
KitchenAid KSSS36QKW01
Refrigerator
KitchenAid KSSS36QKW02
Refrigerator
KitchenAid KSSS36QKX00
Refrigerator
KitchenAid KSSS36QKX01
Refrigerator
KitchenAid KSSS36QKX02
Refrigerator
KitchenAid KSSS36QMB00
Refrigerator
KitchenAid KSSS36QMB01
Refrigerator
KitchenAid KSSS36QMB02
Refrigerator
KitchenAid KSSS36QMB03
Refrigerator
KitchenAid KSSS36QMW00
Refrigerator
KitchenAid KSSS36QMW01
Refrigerator
KitchenAid KSSS36QMW02
Refrigerator
KitchenAid KSSS36QMW03
Refrigerator
KitchenAid KSSS36QMX00
Refrigerator
KitchenAid KSSS36QMX01
Refrigerator
KitchenAid KSSS36QMX02
Refrigerator
KitchenAid KSSS36QMX03
Refrigerator
KitchenAid KSSS42FJB00
Refrigerator
KitchenAid KSSS42FJT00
Refrigerator
KitchenAid KSSS42FJW00
Refrigerator
KitchenAid KSSS42FJX00
Refrigerator
KitchenAid KSSS42FKB00
Refrigerator
KitchenAid KSSS42FKB01
Refrigerator
KitchenAid KSSS42FKB02
Refrigerator
KitchenAid KSSS42FKT00
Refrigerator
KitchenAid KSSS42FKT01
Refrigerator
KitchenAid KSSS42FKT02
Refrigerator
KitchenAid KSSS42FKW00
Refrigerator
KitchenAid KSSS42FKW01
Refrigerator
KitchenAid KSSS42FKW02
Refrigerator
KitchenAid KSSS42FKX00
Refrigerator
KitchenAid KSSS42FKX01
Refrigerator
KitchenAid KSSS42FKX02
Refrigerator
KitchenAid KSSS42FMB00
Refrigerator
KitchenAid KSSS42FMB01
Refrigerator
KitchenAid KSSS42FMB02
Refrigerator
KitchenAid KSSS42FMX
Refrigerator
KitchenAid KSSS42FMX00
Refrigerator
KitchenAid KSSS42FMX01
Refrigerator
KitchenAid KSSS42FMX02
Refrigerator
KitchenAid KSSS42FMX03
Refrigerator
KitchenAid KSSS42QJB00
Refrigerator
KitchenAid KSSS42QJT00
Refrigerator
KitchenAid KSSS42QJW00
Refrigerator
KitchenAid KSSS42QJX00
Refrigerator
KitchenAid KSSS42QKB00
Refrigerator
KitchenAid KSSS42QKB01
Refrigerator
KitchenAid KSSS42QKB02
Refrigerator
KitchenAid KSSS42QKT00
Refrigerator
KitchenAid KSSS42QKT01
Refrigerator
KitchenAid KSSS42QKT02
Refrigerator
KitchenAid KSSS42QKW00
Refrigerator
KitchenAid KSSS42QKW01
Refrigerator
KitchenAid KSSS42QKW02
Refrigerator
KitchenAid KSSS42QKX00
Refrigerator
KitchenAid KSSS42QKX01
Refrigerator
KitchenAid KSSS42QKX02
Refrigerator
KitchenAid KSSS42QMB
Refrigerator
KitchenAid KSSS42QMB00
Refrigerator
KitchenAid KSSS42QMB01
Refrigerator
KitchenAid KSSS42QMB02
Refrigerator
KitchenAid KSSS42QMB03
Refrigerator
KitchenAid KSSS42QMW00
Refrigerator
KitchenAid KSSS42QMW01
Refrigerator
KitchenAid KSSS42QMW02
Refrigerator
KitchenAid KSSS42QMW03
Refrigerator
KitchenAid KSSS42QMX00
Refrigerator
KitchenAid KSSS42QMX01
Refrigerator
KitchenAid KSSS42QMX02
Refrigerator
KitchenAid KSSS42QMX03
Refrigerator
KitchenAid KSSS48FJB00
Refrigerator
KitchenAid KSSS48FJT00
Refrigerator
KitchenAid KSSS48FJW00
Refrigerator
KitchenAid KSSS48FJX00
Refrigerator
KitchenAid KSSS48FKB00
Refrigerator
KitchenAid KSSS48FKB01
Refrigerator
KitchenAid KSSS48FKB02
Refrigerator
KitchenAid KSSS48FKT00
Refrigerator
KitchenAid KSSS48FKT01
Refrigerator
KitchenAid KSSS48FKT02
Refrigerator
KitchenAid KSSS48FKW00
Refrigerator
KitchenAid KSSS48FKW01
Refrigerator
KitchenAid KSSS48FKW02
Refrigerator
KitchenAid KSSS48FKX00
Refrigerator
KitchenAid KSSS48FKX01
Refrigerator
KitchenAid KSSS48FKX02
Refrigerator
KitchenAid KSSS48FMB00
Refrigerator
KitchenAid KSSS48FMB01
Refrigerator
KitchenAid KSSS48FMB02
Refrigerator
KitchenAid KSSS48FMX00
Refrigerator
KitchenAid KSSS48FMX01
Refrigerator
KitchenAid KSSS48FMX02
Refrigerator
KitchenAid KSSS48FMX03
Refrigerator
KitchenAid KSSS48FMXO3
Refrigerator
KitchenAid KSSS48QJB00
Refrigerator
KitchenAid KSSS48QJT00
Refrigerator
KitchenAid KSSS48QJW00
Refrigerator
KitchenAid KSSS48QJX00
Refrigerator
KitchenAid KSSS48QKB00
Refrigerator
KitchenAid KSSS48QKB01
Refrigerator
KitchenAid KSSS48QKB02
Refrigerator
KitchenAid KSSS48QKT00
Refrigerator
KitchenAid KSSS48QKT01
Refrigerator
KitchenAid KSSS48QKT02
Refrigerator
KitchenAid KSSS48QKW00
Refrigerator
KitchenAid KSSS48QKW01
Refrigerator
KitchenAid KSSS48QKW02
Refrigerator
KitchenAid KSSS48QKX00
Refrigerator
KitchenAid KSSS48QKX01
Refrigerator
KitchenAid KSSS48QKX02
Refrigerator
KitchenAid KSSS48QMB00
Refrigerator
KitchenAid KSSS48QMB01
Refrigerator
KitchenAid KSSS48QMB02
Refrigerator
KitchenAid KSSS48QMB03
Refrigerator
KitchenAid KSSS48QMW00
Refrigerator
KitchenAid KSSS48QMW01
Refrigerator
KitchenAid KSSS48QMW02
Refrigerator
KitchenAid KSSS48QMW03
Refrigerator
KitchenAid KSSS48QMX00
Refrigerator
KitchenAid KSSS48QMX01
Refrigerator
KitchenAid KSSS48QMX02
Refrigerator
KitchenAid KSSS48QMX03
Refrigerator
KitchenAid KSSV42FMM00
Refrigerator
KitchenAid KSSV42FMM01
Refrigerator
KitchenAid KSSV42FMM02
Refrigerator
KitchenAid KSSV42FMS00
Refrigerator
KitchenAid KSSV42FMS01
Refrigerator
KitchenAid KSSV42FMS02
Refrigerator
Maytag MAH14PDAAL
Refrigerator
Maytag MAH14PDAAQ
Refrigerator
Maytag MAH14PDAAW
Refrigerator
Maytag MAH14PDABL
Refrigerator
Maytag MAH14PDABW
Refrigerator
Maytag MAH14PDAEW
Refrigerator
Maytag MAH14PDAGW
Refrigerator
Maytag MAH14PDBAW
Refrigerator
Maytag MAH14PDBEW
Refrigerator
Maytag MAH14PDBGW
Refrigerator
Maytag MAH14PDCBQ
Refrigerator
Maytag MAH14PDCBW
Refrigerator
Maytag MAH14PDDWW
Refrigerator
Maytag MAH14PDSAW
Refrigerator
Maytag MAH14PNAEW
Refrigerator
Maytag MAH14PNAGW
Refrigerator
Maytag MAH14PNAWW
Refrigerator
Maytag MAH14PNBAW
Refrigerator
Maytag MAH14PNBEW
Refrigerator
Maytag MAH14PNBGW
Refrigerator
Maytag MAH14PNSAW
Refrigerator
Maytag MAH14PRAWW
Refrigerator
Maytag MAH14PSAAW
Refrigerator
Maytag MAH20PDA3W
Refrigerator
Maytag MAH20PDAWQ
Refrigerator
Maytag MAH20PDAWW
Refrigerator
Maytag MAH20PDCXQ
Refrigerator
Maytag MAH20PDCXW
Refrigerator
Maytag MAH20PNAWW
Refrigerator
Maytag MAH20PRAWW
Refrigerator
Maytag MAH20PRDWW
Refrigerator
Maytag MAH20PSAWW
Refrigerator
Maytag MAH21PDA3W
Refrigerator
Maytag MAH21PDAGW
Refrigerator
Maytag MAH21PDAWQ
Refrigerator
Maytag MAH21PDAWW
Refrigerator
Maytag MAH21PDCXQ
Refrigerator
Maytag MAH21PDCXW
Refrigerator
Maytag MAH21PDD3W
Refrigerator
Maytag MAH21PDDGW
Refrigerator
Maytag MAH21PDDWQ
Refrigerator
Maytag MAH21PDDWW
Refrigerator
Maytag MAH21PDDXW
Refrigerator
Maytag MAH21PNAGW
Refrigerator
Maytag MAH21PNAWW
Refrigerator
Maytag MAH21PNDGW
Refrigerator
Maytag MAH21PNDWW
Refrigerator
Maytag MAH21PRAWQ
Refrigerator
Maytag MAH21PRAWW
Refrigerator
Maytag MAH21PRDWW
Refrigerator
Maytag MAH21PSAWW
Refrigerator
Maytag MAH21PSDWW
Refrigerator
Maytag MAH3000AAW
Refrigerator
Maytag MAH3000AEW
Refrigerator
Maytag MAH3000AGW
Refrigerator
Maytag MAH3000AKW
Refrigerator
Maytag MAH3000AWA
Refrigerator
Maytag MAH3000AWQ
Refrigerator
Maytag MAH3000AWW
Refrigerator
Maytag MAH3000BGW
Refrigerator
Maytag MAH4000AWQ
Refrigerator
Maytag MAH4000AWW
Refrigerator
Maytag MAH4000BWQ
Refrigerator
Maytag MAH4000BWW
Refrigerator
Maytag MAH5500AWW
Refrigerator
Maytag MAH5500BWQ
Refrigerator
Maytag MAH5500BWW
Refrigerator
Maytag MAH55FLBWQ
Refrigerator
Maytag MAH55FLBWW
Refrigerator
Maytag MAH6500AWQ
Refrigerator
Maytag MAH6500AWW
Refrigerator
Maytag MAH7500AWQ
Refrigerator
Maytag MAH7500AWW
Refrigerator
Maytag MAH7550AAW
Refrigerator
Maytag MAH7550AGW
Refrigerator
Maytag MDE14PDACL
Refrigerator
Maytag MDE14PDACQ
Refrigerator
Maytag MDE14PDACW
Refrigerator
Maytag MDE14PDADL
Refrigerator
Maytag MDE14PDADW
Refrigerator
Maytag MDE14PDAGW
Refrigerator
Maytag MDE14PNAGW
Refrigerator
Maytag MDE14PNAYW
Refrigerator
Maytag MDE14PNAZW
Refrigerator
Maytag MDE14PRAYW
Refrigerator
Maytag MDE14PRAZW
Refrigerator
Maytag MDE14PSADW
Refrigerator
Maytag MDE16CSAGW
Refrigerator
Maytag MDE16CSAKA
Refrigerator
Maytag MDE16CSAKQ
Refrigerator
Maytag MDE16CSAYA
Refrigerator
Maytag MDE16CSAYQ
Refrigerator
Maytag MDE16CSAYW
Refrigerator
Maytag MDE16CSAZA
Refrigerator
Maytag MDE16CSAZQ
Refrigerator
Maytag MDE16CSAZW
Refrigerator
Maytag MDE16CSDGW
Refrigerator
Maytag MDE16CSDYW
Refrigerator
Maytag MDE16CSDZW
Refrigerator
Maytag MDE16MNAGW
Refrigerator
Maytag MDE16MNAYW
Refrigerator
Maytag MDE16MNAZW
Refrigerator
Maytag MDE16MNDGW
Refrigerator
Maytag MDE16MNDYW
Refrigerator
Maytag MDE16MNDZW
Refrigerator
Maytag MDE16PDAGW
Refrigerator
Maytag MDE16PDAUW
Refrigerator
Maytag MDE16PDAYA
Refrigerator
Maytag MDE16PDAYQ
Refrigerator
Maytag MDE16PDAYW
Refrigerator
Maytag MDE16PDAZW
Refrigerator
Maytag MDE16PDCZW
Refrigerator
Maytag MDE16PDDGW
Refrigerator
Maytag MDE16PDDYW
Refrigerator
Maytag MDE16PDDZW
Refrigerator
Maytag MDE16PRAGW
Refrigerator
Maytag MDE16PRAYW
Refrigerator
Maytag MDE16PRAZW
Refrigerator
Maytag MDE16PRDYW
Refrigerator
Maytag MDE16PRDZW
Refrigerator
Maytag MDE16PSAZW
Refrigerator
Maytag MDE16PSDZW
Refrigerator
Maytag MDE21PDAGW
Refrigerator
Maytag MDE21PDAYQ
Refrigerator
Maytag MDE21PDAYW
Refrigerator
Maytag MDE21PDDGW
Refrigerator
Maytag MDE21PDDYW
Refrigerator
Maytag MDE21PNAGW
Refrigerator
Maytag MDE21PNAYW
Refrigerator
Maytag MDE21PNAZW
Refrigerator
Maytag MDE21PNDGW
Refrigerator
Maytag MDE21PNDYW
Refrigerator
Maytag MDE21PNDZW
Refrigerator
Maytag MDE21PRAYW
Refrigerator
Maytag MDE21PRDYW
Refrigerator
Maytag MDE2300AYW
Refrigerator
Maytag MDE2300AZW
Refrigerator
Maytag MDE2301AYW
Refrigerator
Maytag MDE2301AZW
Refrigerator
Maytag MDE2500AYW
Refrigerator
Maytag MDE2500AZW
Refrigerator
Maytag MDE2600AYW
Refrigerator
Maytag MDE3000AYA
Refrigerator
Maytag MDE3000AYW
Refrigerator
Maytag MDE3000AZA
Refrigerator