Bosch 12033030 | Our#: 190585
Bosch UltraClarity® Pro BORPLFTR50 Refrigerator Filter

11 review(s)
Bosch 12033030 | Our#: 190585
Fast Shipping & Free Returns
100% Compatibility Guarantee
NSF/ANSI 42 and 53
Compatibility guaranteed! Free return shipping and 100% money back if there are any issues.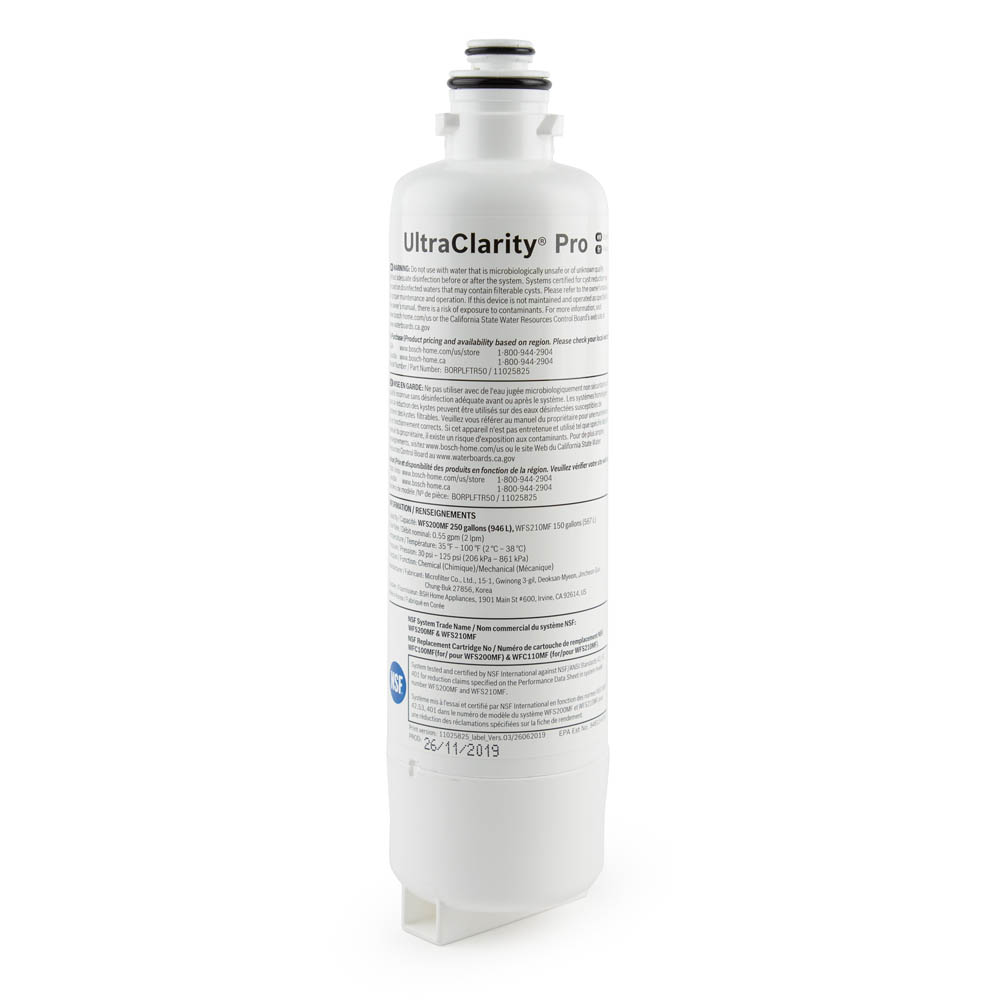 5 people in your area recently purchased this product!
In Stock
Ships in 24 hours
Fast Shipping & Free Returns
100% Compatibility Guarantee
NSF/ANSI 42 and 53
Frequently Purchased Together
Product Details
The factory original Bosch BORPLFTR50 (AKA (12033030, 12028325, 11025825, 11032531, BORPLFTR55, REPLFLTR55, RA450022) UltraClarity Pro Ice & Water Filter is used in refrigerators by Bosch,and others. The 12033030 filter creates better tasting water for drinking and making beverages as well as clean, clearer, healthy ice.

Features:
Original OEM product
Easy installation and operation
Helps reduce chlorine taste and odor
Helps reduce contaminants found in tap water and improves its quality
Tested by NSF International against Standard 42 for the reduction of chlorine taste and odor and particulate
Tested by NSF International against Standard 53 for the reduction of lead, cysts, turbidity and other chemicals and impurities
---
Popular Part Numbers
---
Installation Instructions
1. Reach into the lower recess of the filter cover, pull forwards slightly and move to the bottom left.
2. Turn the filter 90° counterclockwise and remove.
3. Insert the new filter in the filter opening to the stop and turn 90° clockwise as far as it will go.
4. Move the filter cover up to the right again and slide back as far as it will go.
---
Specifications
Capacity:
240 Gallons (or 6 months)
Certifications:
NSF/ANSI 42 and 53
Dimensions:
8.25" L x 2.0" Dia.
Flow Rate:
0.75 Gallons Per Minute
Micron Rating:
0.5
Reduction Claims:
Chlorine 97.5%
Reduction Claims:
Cysts 99.99%
Reduction Claims:
Particulates (Class 1) 99.0%
Reduction Claims:
Turbidity 98.8%
Compatible Part Numbers
Search by your filter part number or appliance model number to verify compatibility
| Model or Part Number | Type |
| --- | --- |
| Bosch B18IF905SP | Refrigerator |
| Bosch B20CS30SNS | Refrigerator |
| Bosch B26FT50SNS | Refrigerator |
| Bosch B30BB935SS | Refrigerator |
| Bosch B30IB905SP | Refrigerator |
| Bosch B36BT935NS | Refrigerator |
| Bosch B36CD50SNB | Refrigerator |
| Bosch B36CD50SNB/01 | Refrigerator |
| Bosch B36CD50SNB/02 | Refrigerator |
| Bosch B36CD50SNB/03 | Refrigerator |
| Bosch B36CD50SNB/04 | Refrigerator |
| Bosch B36CD50SNS | Refrigerator |
| Bosch B36CD50SNS/01 | Refrigerator |
| Bosch B36CD50SNS/02 | Refrigerator |
| Bosch B36CD50SNS/03 | Refrigerator |
| Bosch B36CL80ENS | Refrigerator |
| Bosch B36CL80SNS | Refrigerator |
| Bosch B36CL81ENG | Refrigerator |
| Bosch B36CT80SNB | Refrigerator |
| Bosch B36CT80SNS | Refrigerator |
| Bosch B36CT81SNS | Refrigerator |
| Bosch B36FD50SNS | Refrigerator |
| Bosch B36IT905NP | Refrigerator |
| thermador T36FT810NS | Refrigerator |
| 11025825 | Filter |
| 11032531 | Filter |
| 11041954 | Filter |
| 11050659 | Filter |
| 12028325 | Filter |
| 12033030 | Filter |
| 12036454 | Filter |
| 17005582 | Filter |
| BORPLFTR50 | Filter |
| BORPLFTR55 | Filter |
| EFF-6015A | Filter |
| REPLFLTR55 | Filter |
| ULTRACLARITY PRO | Filter |