Frigidaire PAULTRA | Our#: 180273
Frigidaire PAULTRA PureAir Ultra Air Refrigerator Air Filter, 2-Pack

24 review(s)
Frigidaire PAULTRA | Our#: 180273
Fast Shipping & Free Returns
100% Compatibility Guarantee
Factory original part from Frigidaire
Eliminates unwanted odors from your refrigerator and freezer
Traps, neutralizes and removes odor-causing molecules
Lasts up to 6 months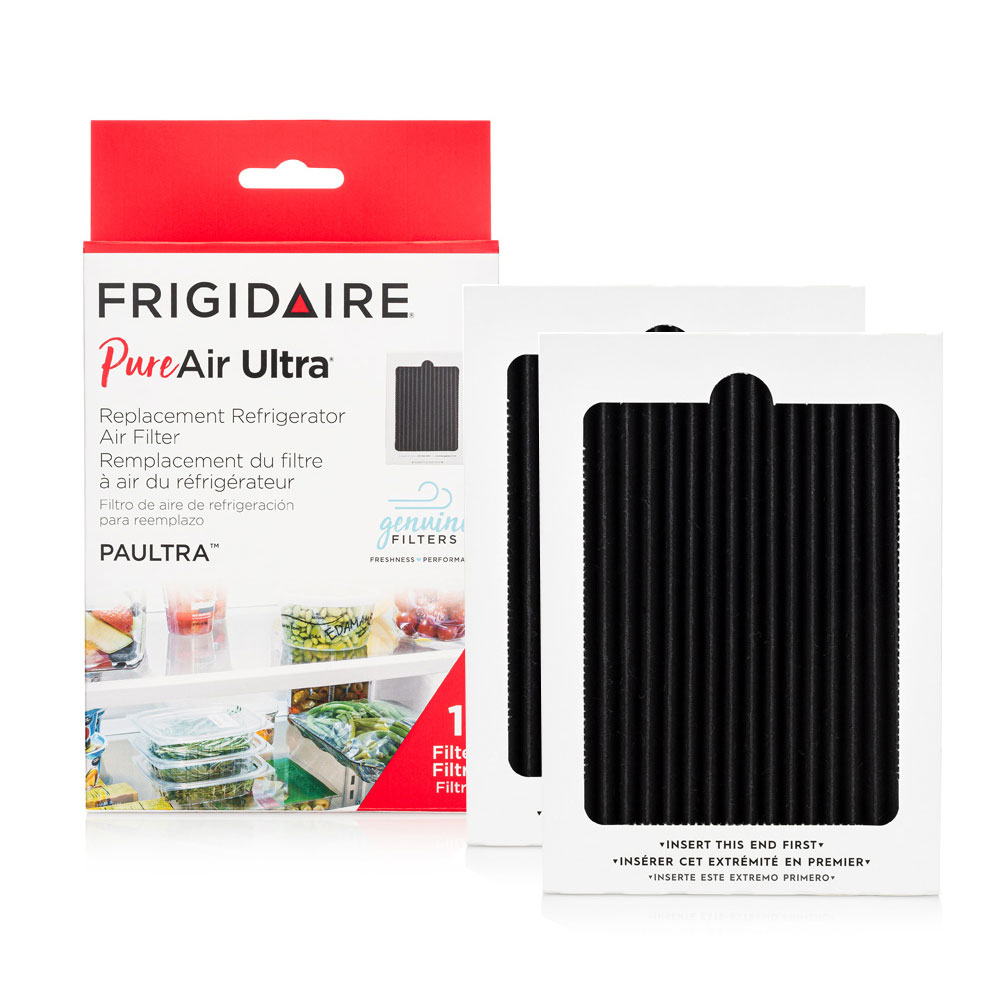 2 people in your area recently purchased this product!
$

18.45
(

2

Filters for $

36.90

)
Fast Shipping & Free Returns
100% Compatibility Guarantee
Frequently Purchased Together
Product Details
This factory original part fits new Frigidaire Gallery and Frigidaire Professional side by side and french door refrigerators with the PureSource Ultra Air Filtration system. Using an exclusive combination of baking soda, activated carbon and zeolites, the Frigidaire PureAir filter traps, neutralizes and removes odor-causing molecules.
Helps remove onion, garlic, fish and other strong odors
Helps prevent odor cross-contamination of foods
Makes ice taste better
Easy to change
Dimensions - 6.75" H X 5" W X .5" D
Lasts up to 6 months

---
Compatible Part Numbers
Search by your filter part number or appliance model number to verify compatibility
| Model or Part Number | Type |
| --- | --- |
| Electrolux E23BC68JPS0 | Refrigerator |
| Electrolux E23BC68JPS1 | Refrigerator |
| Electrolux E23BC68JPS3 | Refrigerator |
| Electrolux E23BC68JPSFA | Refrigerator |
| Electrolux E23BC68JSS0 | Refrigerator |
| Electrolux E23BC68JSS1 | Refrigerator |
| Electrolux E23BC69SPS1 | Refrigerator |
| Electrolux E23BC69SPS2 | Refrigerator |
| Electrolux E23BC69SPS3 | Refrigerator |
| Electrolux E23BC78IPS0 | Refrigerator |
| Electrolux E23BC78IPS1 | Refrigerator |
| Electrolux E23BC78IPS2 | Refrigerator |
| Electrolux E23BC78IPS3 | Refrigerator |
| Electrolux E23BC78IPS4 | Refrigerator |
| Electrolux E23BC78IPS5 | Refrigerator |
| Electrolux E23BC78IPS6 | Refrigerator |
| Electrolux E23BC78IPS7 | Refrigerator |
| Electrolux E23BC78ISS0 | Refrigerator |
| Electrolux E23BC78ISS4 | Refrigerator |
| Electrolux E23BC78ISS5 | Refrigerator |
| Electrolux E23BC78ISS6 | Refrigerator |
| Electrolux E23BC78ISS7 | Refrigerator |
| Electrolux E23BC79SPS1 | Refrigerator |
| Electrolux E23BC79SPS4 | Refrigerator |
| Electrolux E24RD75HPS0 | Refrigerator |
| Electrolux E24RD75HPS1 | Refrigerator |
| Electrolux E24RD75HSS0 | Refrigerator |
| Electrolux E24RD75HSS1 | Refrigerator |
| Electrolux E24RD75KPS0 | Refrigerator |
| Electrolux E24RD75KSS0 | Refrigerator |
| Electrolux E32AF75JPS0 | Refrigerator |
| Electrolux E32AF75JPS1 | Refrigerator |
| Electrolux E32AF75JPS2 | Refrigerator |
| Electrolux E32AF85PQSA | Refrigerator |
| Electrolux E32AF85PQSB | Refrigerator |
| Electrolux E32AF85PQSC | Refrigerator |
| Electrolux E32AF85PQSE | Refrigerator |
| Electrolux E32AR75JPS0 | Refrigerator |
| Electrolux E32AR75JPS1 | Refrigerator |
| Electrolux E32AR85PQSD | Refrigerator |
| Electrolux E32AR85PQSF | Refrigerator |
| Electrolux EI23BC32SS2 | Refrigerator |
| Electrolux EI23BC32SS3 | Refrigerator |
| Electrolux EI23BC32SS4 | Refrigerator |
| Electrolux EI23BC36IB0 | Refrigerator |
| Electrolux EI23BC36IB1 | Refrigerator |
| Electrolux EI23BC36IB2 | Refrigerator |
| Electrolux EI23BC36IB4 | Refrigerator |
| Electrolux EI23BC36IS0 | Refrigerator |
| Electrolux EI23BC36IS1 | Refrigerator |
| Electrolux EI23BC36IS2 | Refrigerator |
| Electrolux EI23BC36IS3 | Refrigerator |
| Electrolux EI23BC36IS4 | Refrigerator |
| Electrolux EI23BC36IW0 | Refrigerator |
| Electrolux EI23BC36IW1 | Refrigerator |
| Electrolux EI23BC36IW2 | Refrigerator |
| Electrolux EI23BC36IW4 | Refrigerator |
| Electrolux EI23BC37SS2 | Refrigerator |
| Electrolux EI23BC37SS3 | Refrigerator |
| Electrolux EI23BC37SS4 | Refrigerator |
| Electrolux EI23BC51IB0 | Refrigerator |
| Electrolux EI23BC51IB1 | Refrigerator |
| Electrolux EI23BC51IB2 | Refrigerator |
| Electrolux EI23BC51IB4 | Refrigerator |
| Electrolux EI23BC51IS0 | Refrigerator |
| Electrolux EI23BC51IS1 | Refrigerator |
| Electrolux EI23BC51IS2 | Refrigerator |
| Electrolux EI23BC51IS3 | Refrigerator |
| Electrolux EI23BC51IS4 | Refrigerator |
| Electrolux EI23BC51IW0 | Refrigerator |
| Electrolux EI23BC51IW1 | Refrigerator |
| Electrolux EI23BC51IW2 | Refrigerator |
| Electrolux EI23BC51IW4 | Refrigerator |
| Electrolux EI23BC55IB1 | Refrigerator |
| Electrolux EI23BC55IS1 | Refrigerator |
| Electrolux EI23BC55IW1 | Refrigerator |
| Electrolux EI23BC56IB0 | Refrigerator |
| Electrolux EI23BC56IB1 | Refrigerator |
| Electrolux EI23BC56IB2 | Refrigerator |
| Electrolux EI23BC56IB3 | Refrigerator |
| Electrolux EI23BC56IB4 | Refrigerator |
| Electrolux EI23BC56IB6 | Refrigerator |
| Electrolux EI23BC56IB7 | Refrigerator |
| Electrolux EI23BC56IB8 | Refrigerator |
| Electrolux EI23BC56IS0 | Refrigerator |
| Electrolux EI23BC56IS1 | Refrigerator |
| Electrolux EI23BC56IS2 | Refrigerator |
| Electrolux EI23BC56IS3 | Refrigerator |
| Electrolux EI23BC56IS4 | Refrigerator |
| Electrolux EI23BC56IS5 | Refrigerator |
| Electrolux EI23BC56IS6 | Refrigerator |
| Electrolux EI23BC56IS7 | Refrigerator |
| Electrolux EI23BC56IS8 | Refrigerator |
| Electrolux EI23BC56IW0 | Refrigerator |
| Electrolux EI23BC56IW1 | Refrigerator |
| Electrolux EI23BC56IW2 | Refrigerator |
| Electrolux EI23BC56IW3 | Refrigerator |
| Electrolux EI23BC56IW6 | Refrigerator |
| Electrolux EI23BC56IW7 | Refrigerator |
| Electrolux EI23BC56IW8 | Refrigerator |
| Electrolux EI23BC82SS1 | Refrigerator |
| Electrolux EI23BC82SS2 | Refrigerator |
| Electrolux EI23BC82SS3 | Refrigerator |
| Electrolux EI23CS35KB0 | Refrigerator |
| Electrolux EI23CS35KS0 | Refrigerator |
| Electrolux EI23CS35KS4A | Refrigerator |
| Electrolux EI23CS35KW0 | Refrigerator |
| Electrolux EI23CS55GB2 | Refrigerator |
| Electrolux EI23CS55GB3 | Refrigerator |
| Electrolux EI23CS55GB4 | Refrigerator |
| Electrolux EI23CS55GB5 | Refrigerator |
| Electrolux EI23CS55GB6 | Refrigerator |
| Electrolux EI23CS55GB7 | Refrigerator |
| Electrolux EI23CS55GS2 | Refrigerator |
| Electrolux EI23CS55GS3 | Refrigerator |
| Electrolux EI23CS55GS4 | Refrigerator |
| Electrolux EI23CS55GS5 | Refrigerator |
| Electrolux EI23CS55GS6 | Refrigerator |
| Electrolux EI23CS55GS7 | Refrigerator |
| Electrolux EI23CS55GW2 | Refrigerator |
| Electrolux EI23CS55GW3 | Refrigerator |
| Electrolux EI23CS55GW4 | Refrigerator |
| Electrolux EI23CS55GW5 | Refrigerator |
| Electrolux EI23CS55GW6 | Refrigerator |
| Electrolux EI23CS55GW7 | Refrigerator |
| Electrolux EI23CS65KS0 | Refrigerator |
| Electrolux EI23SS55HS1 | Refrigerator |
| Electrolux EI24BC10QS0 | Refrigerator |
| Electrolux EI24BC10QS1 | Refrigerator |
| Electrolux EI24BC65GS1 | Refrigerator |
| Electrolux EI24BL10QS0 | Refrigerator |
| Electrolux EI24BL10QS1 | Refrigerator |
| Electrolux EI24RD65HS1 | Refrigerator |
| Electrolux EI24RD65KS0 | Refrigerator |
| Electrolux EI26SS30JB0 | Refrigerator |
| Electrolux EI26SS30JB1 | Refrigerator |
| Electrolux EI26SS30JS0 | Refrigerator |
| Electrolux EI26SS30JS1 | Refrigerator |
| Electrolux EI26SS30JW0 | Refrigerator |
| Electrolux EI26SS30JW1 | Refrigerator |
| Electrolux EI26SS35JB0 | Refrigerator |
| Electrolux EI26SS35JB1 | Refrigerator |
| Electrolux EI26SS35JS0 | Refrigerator |
| Electrolux EI26SS35JS1 | Refrigerator |
| Electrolux EI26SS35JW0 | Refrigerator |
| Electrolux EI26SS35JW1 | Refrigerator |
| Electrolux EI26SS55GB1 | Refrigerator |
| Electrolux EI26SS55GB2 | Refrigerator |
| Electrolux EI26SS55GB3 | Refrigerator |
| Electrolux EI26SS55GB4 | Refrigerator |
| Electrolux EI26SS55GB5 | Refrigerator |
| Electrolux EI26SS55GB6 | Refrigerator |
| Electrolux EI26SS55GS1 | Refrigerator |
| Electrolux EI27BS26JB0 | Refrigerator |
| Electrolux EI27BS26JB1 | Refrigerator |
| Electrolux EI27BS26JB3 | Refrigerator |
| Electrolux EI27BS26JB4 | Refrigerator |
| Electrolux EI27BS26JS0 | Refrigerator |
| Electrolux EI27BS26JS1 | Refrigerator |
| Electrolux EI27BS26JS3 | Refrigerator |
| Electrolux EI27BS26JS4 | Refrigerator |
| Electrolux EI27BS26JW0 | Refrigerator |
| Electrolux EI27BS26JW1 | Refrigerator |
| Electrolux EI27BS26JW3 | Refrigerator |
| Electrolux EI27BS26JW4 | Refrigerator |
| Electrolux EI28BS36IB0 | Refrigerator |
| Electrolux EI28BS36IB1 | Refrigerator |
| Electrolux EI28BS36IB2 | Refrigerator |
| Electrolux EI28BS36IB4 | Refrigerator |
| Electrolux EI28BS36IS0 | Refrigerator |
| Electrolux EI28BS36IS1 | Refrigerator |
| Electrolux EI28BS36IS2 | Refrigerator |
| Electrolux EI28BS36IS3 | Refrigerator |
| Electrolux EI28BS36IS4 | Refrigerator |
| Electrolux EI28BS36IW0 | Refrigerator |
| Electrolux EI28BS36IW1 | Refrigerator |
| Electrolux EI28BS36IW2 | Refrigerator |
| Electrolux EI28BS36IW4 | Refrigerator |
| Electrolux EI28BS51IB0 | Refrigerator |
| Electrolux EI28BS51IB1 | Refrigerator |
| Electrolux EI28BS51IB2 | Refrigerator |
| Electrolux EI28BS51IB4 | Refrigerator |
| Electrolux EI28BS51IS0 | Refrigerator |
| Electrolux EI28BS51IS1 | Refrigerator |
| Electrolux EI28BS51IS2 | Refrigerator |
| Electrolux EI28BS51IS3 | Refrigerator |
| Electrolux EI28BS51IS4 | Refrigerator |
| Electrolux EI28BS51IW0 | Refrigerator |
| Electrolux EI28BS51IW1 | Refrigerator |
| Electrolux EI28BS51IW2 | Refrigerator |
| Electrolux EI28BS51IW4 | Refrigerator |
| Electrolux EI28BS55IB0 | Refrigerator |
| Electrolux EI28BS55IB1 | Refrigerator |
| Electrolux EI28BS55IS0 | Refrigerator |
| Electrolux EI28BS55IS1 | Refrigerator |
| Electrolux EI28BS55IW0 | Refrigerator |
| Electrolux EI28BS55IW1 | Refrigerator |
| Electrolux EI28BS56IB0 | Refrigerator |
| Electrolux EI28BS56IB1 | Refrigerator |
| Electrolux EI28BS56IB2 | Refrigerator |
| Electrolux EI28BS56IB3 | Refrigerator |
| Electrolux EI28BS56IB4 | Refrigerator |
| Electrolux EI28BS56IB5 | Refrigerator |
| Electrolux EI28BS56IB6 | Refrigerator |
| Electrolux EI28BS56IB8 | Refrigerator |
| Electrolux EI28BS56IB9 | Refrigerator |
| Electrolux EI28BS56IBA | Refrigerator |
| Electrolux EI28BS56IBB | Refrigerator |
| Electrolux EI28BS56IS0 | Refrigerator |
| Electrolux EI28BS56IS1 | Refrigerator |
| Electrolux EI28BS56IS2 | Refrigerator |
| Electrolux EI28BS56IS3 | Refrigerator |
| Electrolux EI28BS56IS4 | Refrigerator |
| Electrolux EI28BS56IS5 | Refrigerator |
| Electrolux EI28BS56IS6 | Refrigerator |
| Electrolux EI28BS56IS7 | Refrigerator |
| Electrolux EI28BS56IS8 | Refrigerator |
| Electrolux EI28BS56IS9 | Refrigerator |
| Electrolux EI28BS56ISA | Refrigerator |
| Electrolux EI28BS56ISB | Refrigerator |
| Electrolux EI28BS56IW0 | Refrigerator |
| Electrolux EI28BS56IW1 | Refrigerator |
| Electrolux EI28BS56IW2 | Refrigerator |
| Electrolux EI28BS56IW3 | Refrigerator |
| Electrolux EI28BS56IW4 | Refrigerator |
| Electrolux EI28BS56IW5 | Refrigerator |
| Electrolux EI28BS56IW8 | Refrigerator |
| Electrolux EI28BS56IW9 | Refrigerator |
| Electrolux EI28BS56IWA | Refrigerator |
| Electrolux EI28BS56IWB | Refrigerator |
| Electrolux EI32AF65JS0 | Refrigerator |
| Electrolux EI32AF65JS1 | Refrigerator |
| Electrolux EI32AF65JS2 | Refrigerator |
| Electrolux EI32AF65JS3 | Refrigerator |
| Electrolux EI32AF80QSA | Refrigerator |
| Electrolux EI32AF80QSB | Refrigerator |
| Electrolux EI32AF80QSC | Refrigerator |
| Electrolux EI32AF80QSD | Refrigerator |
| Electrolux EI32AF80QSE | Refrigerator |
| Electrolux EI32AR65JS0 | Refrigerator |
| Electrolux EI32AR65JS1 | Refrigerator |
| Electrolux EI32AR80QSD | Refrigerator |
| Electrolux EI32AR80QSE | Refrigerator |
| Electrolux EI32AR80QSG | Refrigerator |
| Electrolux EW23BC70IB0 | Refrigerator |
| Electrolux EW23BC70IB1 | Refrigerator |
| Electrolux EW23BC70IS0 | Refrigerator |
| Electrolux EW23BC70IS1 | Refrigerator |
| Electrolux EW23BC70IW0 | Refrigerator |
| Electrolux EW23BC70IW1 | Refrigerator |
| Electrolux EW23BC71IB0 | Refrigerator |
| Electrolux EW23BC71IB1 | Refrigerator |
| Electrolux EW23BC71IB2 | Refrigerator |
| Electrolux EW23BC71IB3 | Refrigerator |
| Electrolux EW23BC71IB4 | Refrigerator |
| Electrolux EW23BC71IB6 | Refrigerator |
| Electrolux EW23BC71IB7 | Refrigerator |
| Electrolux EW23BC71IB8 | Refrigerator |
| Electrolux EW23BC71IS0 | Refrigerator |
| Electrolux EW23BC71IS1 | Refrigerator |
| Electrolux EW23BC71IS2 | Refrigerator |
| Electrolux EW23BC71IS3 | Refrigerator |
| Electrolux EW23BC71IS4 | Refrigerator |
| Electrolux EW23BC71IS5 | Refrigerator |
| Electrolux EW23BC71IS6 | Refrigerator |
| Electrolux EW23BC71IS7 | Refrigerator |
| Electrolux EW23BC71IS8 | Refrigerator |
| Electrolux EW23BC71IW0 | Refrigerator |
| Electrolux EW23BC71IW1 | Refrigerator |
| Electrolux EW23BC71IW2 | Refrigerator |
| Electrolux EW23BC71IW3 | Refrigerator |
| Electrolux EW23BC71IW4 | Refrigerator |
| Electrolux EW23BC71IW6 | Refrigerator |
| Electrolux EW23BC71IW7 | Refrigerator |
| Electrolux EW23BC71IW8 | Refrigerator |
| Electrolux EW23BC87SS1 | Refrigerator |
| Electrolux EW23BC87SS2 | Refrigerator |
| Electrolux EW23BC87SS3 | Refrigerator |
| Electrolux EW23BC87SS4 | Refrigerator |
| Electrolux EW23CS65GB2 | Refrigerator |
| Electrolux EW23CS65GB3 | Refrigerator |
| Electrolux EW23CS65GB4 | Refrigerator |
| Electrolux EW23CS65GS2 | Refrigerator |
| Electrolux EW23CS65GS3 | Refrigerator |
| Electrolux EW23CS65GS4 | Refrigerator |
| Electrolux EW23CS65GW2 | Refrigerator |
| Electrolux EW23CS65GW3 | Refrigerator |
| Electrolux EW23CS65GW4 | Refrigerator |
| Electrolux EW23CS70IB1 | Refrigerator |
| Electrolux EW23CS70IB2 | Refrigerator |
| Electrolux EW23CS70IB3 | Refrigerator |
| Electrolux EW23CS70IB4 | Refrigerator |
| Electrolux EW23CS70IS1 | Refrigerator |
| Electrolux EW23CS70IS2 | Refrigerator |
| Electrolux EW23CS70IS3 | Refrigerator |
| Electrolux EW23CS70IS4 | Refrigerator |
| Electrolux EW23CS70IW1 | Refrigerator |
| Electrolux EW23CS70IW2 | Refrigerator |
| Electrolux EW23CS70IW3 | Refrigerator |
| Electrolux EW23CS70IW4 | Refrigerator |
| Electrolux EW23SS65HB2 | Refrigerator |
| Electrolux EW23SS65HB3 | Refrigerator |
| Electrolux EW23SS65HB4 | Refrigerator |
| Electrolux EW23SS65HB5 | Refrigerator |
| Electrolux EW23SS65HS2 | Refrigerator |
| Electrolux EW23SS65HS3 | Refrigerator |
| Electrolux EW23SS65HS4 | Refrigerator |
| Electrolux EW23SS65HS5 | Refrigerator |
| Electrolux EW23SS65HS6 | Refrigerator |
| Electrolux EW23SS65HW2 | Refrigerator |
| Electrolux EW23SS65HW3 | Refrigerator |
| Electrolux EW23SS65HW4 | Refrigerator |
| Electrolux EW23SS65HW5 | Refrigerator |
| Electrolux EW26SS65GB1 | Refrigerator |
| Electrolux EW26SS65GB2 | Refrigerator |
| Electrolux EW26SS65GB3 | Refrigerator |
| Electrolux EW26SS65GB4 | Refrigerator |
| Electrolux EW26SS65GS1 | Refrigerator |
| Electrolux EW26SS65GS2 | Refrigerator |
| Electrolux EW26SS65GS3 | Refrigerator |
| Electrolux EW26SS65GS4 | Refrigerator |
| Electrolux EW26SS65GW1 | Refrigerator |
| Electrolux EW26SS65GW2 | Refrigerator |
| Electrolux EW26SS65GW3 | Refrigerator |
| Electrolux EW26SS65GW4 | Refrigerator |
| Electrolux EW26SS70IB1 | Refrigerator |
| Electrolux EW26SS70IB2 | Refrigerator |
| Electrolux EW26SS70IB3 | Refrigerator |
| Electrolux EW26SS70IB4 | Refrigerator |
| Electrolux EW26SS70IS1 | Refrigerator |
| Electrolux EW26SS70IS2 | Refrigerator |
| Electrolux EW26SS70IS3 | Refrigerator |
| Electrolux EW26SS70IS4 | Refrigerator |
| Electrolux EW26SS70IW1 | Refrigerator |
| Electrolux EW26SS70IW2 | Refrigerator |
| Electrolux EW26SS70IW3 | Refrigerator |
| Electrolux EW26SS70IW4 | Refrigerator |
| Electrolux EW26SS85KS2 | Refrigerator |
| Electrolux EW28BS70IB0 | Refrigerator |
| Electrolux EW28BS70IB1 | Refrigerator |
| Electrolux EW28BS70IS0 | Refrigerator |
| Electrolux EW28BS70IS1 | Refrigerator |
| Electrolux EW28BS70IW0 | Refrigerator |
| Electrolux EW28BS70IW1 | Refrigerator |
| Electrolux EW28BS71IB0 | Refrigerator |
| Electrolux EW28BS71IB1 | Refrigerator |
| Electrolux EW28BS71IB2 | Refrigerator |
| Electrolux EW28BS71IB3 | Refrigerator |
| Electrolux EW28BS71IB4 | Refrigerator |
| Electrolux EW28BS71IB5 | Refrigerator |
| Electrolux EW28BS71IB6 | Refrigerator |
| Electrolux EW28BS71IB8 | Refrigerator |
| Electrolux EW28BS71IB9 | Refrigerator |
| Electrolux EW28BS71IBA | Refrigerator |
| Electrolux EW28BS71IBB | Refrigerator |
| Electrolux EW28BS71IS0 | Refrigerator |
| Electrolux EW28BS71IS1 | Refrigerator |
| Electrolux EW28BS71IS2 | Refrigerator |
| Electrolux EW28BS71IS3 | Refrigerator |
| Electrolux EW28BS71IS4 | Refrigerator |
| Electrolux EW28BS71IS5 | Refrigerator |
| Electrolux EW28BS71IS6 | Refrigerator |
| Electrolux EW28BS71IS7 | Refrigerator |
| Electrolux EW28BS71IS8 | Refrigerator |
| Electrolux EW28BS71IS9 | Refrigerator |
| Electrolux EW28BS71ISA | Refrigerator |
| Electrolux EW28BS71ISB | Refrigerator |
| Electrolux EW28BS71IW0 | Refrigerator |
| Electrolux EW28BS71IW1 | Refrigerator |
| Electrolux EW28BS71IW2 | Refrigerator |
| Electrolux EW28BS71IW3 | Refrigerator |
| Electrolux EW28BS71IW4 | Refrigerator |
| Electrolux EW28BS71IW5 | Refrigerator |
| Electrolux EW28BS71IW6 | Refrigerator |
| Electrolux EW28BS71IW8 | Refrigerator |
| Electrolux EW28BS71IW9 | Refrigerator |
| Electrolux EW28BS71IWA | Refrigerator |
| Electrolux EW28BS71IWB | Refrigerator |
| Electrolux EW28BS87SS2 | Refrigerator |
| Electrolux EW28BS87SS3 | Refrigerator |
| Electrolux FGFU19F6QFA | Refrigerator |
| Electrolux FGFU19F6QFB | Refrigerator |
| Electrolux FPFU19F8QFA | Refrigerator |
| Electrolux FPFU19F8RFA | Refrigerator |
| Electrolux FPFU19F8RFB | Refrigerator |
| Electrolux FPFU19F8RFC | Refrigerator |
| Electrolux FPUH19D7LF2 | Refrigerator |
| Frigidaire DGHF2360PF | Refrigerator |
| Frigidaire DGHF2360PFBA | Refrigerator |
| Frigidaire DGHK2355TF | Refrigerator |
| Frigidaire DGHK2355TF0 | Refrigerator |
| Frigidaire DGHS2665KF | Refrigerator |
| Frigidaire DGHS2665KF0 | Refrigerator |
| Frigidaire DGHS2665KF2 | Refrigerator |
| Frigidaire DGHX2355TF | Refrigerator |
| Frigidaire DGHX2355TF0 | Refrigerator |
| Frigidaire DGHX2355TF4 | Refrigerator |
| Frigidaire DGHX2355TF5 | Refrigerator |
| Frigidaire DGHX2655TF | Refrigerator |
| Frigidaire DGHX2655TF0 | Refrigerator |
| Frigidaire DGHX2655TF5 | Refrigerator |
| Frigidaire DGHX2655TF6 | Refrigerator |
| Frigidaire DGUS2635LE | Refrigerator |
| Frigidaire DGUS2635LE0 | Refrigerator |
| Frigidaire DGUS2635LE1 | Refrigerator |
| Frigidaire DGUS2635LP | Refrigerator |
| Frigidaire DGUS2635LP0 | Refrigerator |
| Frigidaire DGUS2635LP1 | Refrigerator |
| Frigidaire DGUS2645LF | Refrigerator |
| Frigidaire DGUS2645LF0 | Refrigerator |
| Frigidaire E23BC68JPS | Refrigerator |
| Frigidaire E23BC68JSS | Refrigerator |
| Frigidaire E23BC69SPS | Refrigerator |
| Frigidaire E23BC78IPS | Refrigerator |
| Frigidaire E23BC78ISS | Refrigerator |
| Frigidaire E23BC79SPS | Refrigerator |
| Frigidaire E24RD50QS | Refrigerator |
| Frigidaire E24RD75HPS | Refrigerator |
| Frigidaire E24RD75HSS | Refrigerator |
| Frigidaire E24RD75KPS | Refrigerator |
| Frigidaire E24WC75HPS | Refrigerator |
| Frigidaire E24WC75HSS | Refrigerator |
| Frigidaire E32AF75JPS | Refrigerator |
| Frigidaire E32AF85PQS | Refrigerator |
| Frigidaire E32AR75JPS | Refrigerator |
| Frigidaire E32AR85PQS | Refrigerator |
| Frigidaire EI23BC30KB | Refrigerator |
| Frigidaire EI23BC30KS | Refrigerator |
| Frigidaire EI23BC30KW | Refrigerator |
| Frigidaire EI23BC32SS | Refrigerator |
| Frigidaire EI23BC35KB | Refrigerator |
| Frigidaire EI23BC35KS | Refrigerator |
| Frigidaire EI23BC35KW | Refrigerator |
| Frigidaire EI23BC36IB | Refrigerator |
| Frigidaire EI23BC36IS | Refrigerator |
| Frigidaire EI23BC36IW | Refrigerator |
| Frigidaire EI23BC37SS | Refrigerator |
| Frigidaire EI23BC51IB | Refrigerator |
| Frigidaire EI23BC51IS | Refrigerator |
| Frigidaire EI23BC51IW | Refrigerator |
| Frigidaire EI23BC55IB | Refrigerator |
| Frigidaire EI23BC55IS | Refrigerator |
| Frigidaire EI23BC55IW | Refrigerator |
| Frigidaire EI23BC56IB | Refrigerator |
| Frigidaire EI23BC56IS | Refrigerator |
| Frigidaire EI23BC56IW | Refrigerator |
| Frigidaire EI23BC60KS | Refrigerator |
| Frigidaire EI23BC65KS | Refrigerator |
| Frigidaire EI23BC80KS | Refrigerator |
| Frigidaire EI23BC82SS | Refrigerator |
| Frigidaire EI23CS35KB | Refrigerator |
| Frigidaire EI23CS35KS | Refrigerator |
| Frigidaire EI23CS35KW | Refrigerator |
| Frigidaire EI23CS55GB | Refrigerator |
| Frigidaire EI23CS55GS | Refrigerator |
| Frigidaire EI23CS55GW | Refrigerator |
| Frigidaire EI23CS65KS | Refrigerator |
| Frigidaire EI23SS55HB | Refrigerator |
| Frigidaire EI23SS55HS | Refrigerator |
| Frigidaire EI23SS55HW | Refrigerator |
| Frigidaire EI24BC10QS | Refrigerator |
| Frigidaire EI24BC65GS | Refrigerator |
| Frigidaire EI24BL10QS | Refrigerator |
| Frigidaire EI24RD10QS | Refrigerator |
| Frigidaire EI24RD65HS | Refrigerator |
| Frigidaire EI24RD65KS | Refrigerator |
| Frigidaire EI24WC65GS | Refrigerator |
| Frigidaire EI24WC75HS | Refrigerator |
| Frigidaire EI26SS30JB | Refrigerator |
| Frigidaire EI26SS30JS | Refrigerator |
| Frigidaire EI26SS30JW | Refrigerator |
| Frigidaire EI26SS55GB | Refrigerator |
| Frigidaire EI26SS55GS | Refrigerator |
| Frigidaire EI26SS55GW | Refrigerator |
| Frigidaire EI27BS16JB | Refrigerator |
| Frigidaire EI27BS16JS | Refrigerator |
| Frigidaire EI27BS16JW | Refrigerator |
| Frigidaire EI27BS26JB | Refrigerator |
| Frigidaire EI27BS26JS | Refrigerator |
| Frigidaire EI27BS26JW | Refrigerator |
| Frigidaire EI28BS36IB | Refrigerator |
| Frigidaire EI28BS36IS | Refrigerator |
| Frigidaire EI28BS36IW | Refrigerator |
| Frigidaire EI28BS51IB | Refrigerator |
| Frigidaire EI28BS51IS | Refrigerator |
| Frigidaire EI28BS51IW | Refrigerator |
| Frigidaire EI28BS55IB | Refrigerator |
| Frigidaire EI28BS55IS | Refrigerator |
| Frigidaire EI28BS55IW | Refrigerator |
| Frigidaire EI28BS56IB | Refrigerator |
| Frigidaire EI28BS56IS | Refrigerator |
| Frigidaire EI28BS56IW | Refrigerator |
| Frigidaire EI28BS65KS | Refrigerator |
| Frigidaire EI28BS80KS | Refrigerator |
| Frigidaire EI32AF65JS | Refrigerator |
| Frigidaire EI32AF80QS | Refrigerator |
| Frigidaire EI32AR65JS | Refrigerator |
| Frigidaire EI32AR80QS | Refrigerator |
| Frigidaire EW23BC70IB | Refrigerator |
| Frigidaire EW23BC70IS | Refrigerator |
| Frigidaire EW23BC70IW | Refrigerator |
| Frigidaire EW23BC71IB | Refrigerator |
| Frigidaire EW23BC71IS | Refrigerator |
| Frigidaire EW23BC71IW | Refrigerator |
| Frigidaire EW23BC85KS | Refrigerator |
| Frigidaire EW23BC87SS | Refrigerator |
| Frigidaire EW23CS65GB | Refrigerator |
| Frigidaire EW23CS65GS | Refrigerator |
| Frigidaire EW23CS65GW | Refrigerator |
| Frigidaire EW23CS70IB | Refrigerator |
| Frigidaire EW23CS70IS | Refrigerator |
| Frigidaire EW23CS70IW | Refrigerator |
| Frigidaire EW23CS75QS | Refrigerator |
| Frigidaire EW23CS85KS | Refrigerator |
| Frigidaire EW23SS65HB | Refrigerator |
| Frigidaire EW23SS65HS | Refrigerator |
| Frigidaire EW23SS65HW | Refrigerator |
| Frigidaire EW26SS65GB | Refrigerator |
| Frigidaire EW26SS65GS | Refrigerator |
| Frigidaire EW26SS65GW | Refrigerator |
| Frigidaire EW26SS70IB | Refrigerator |
| Frigidaire EW26SS70IS | Refrigerator |
| Frigidaire EW26SS70IW | Refrigerator |
| Frigidaire EW26SS75QS | Refrigerator |
| Frigidaire EW26SS85KS | Refrigerator |
| Frigidaire EW28BS70IB | Refrigerator |
| Frigidaire EW28BS70IS | Refrigerator |
| Frigidaire EW28BS70IW | Refrigerator |
| Frigidaire EW28BS71IB | Refrigerator |
| Frigidaire EW28BS71IS | Refrigerator |
| Frigidaire EW28BS71IW | Refrigerator |
| Frigidaire EW28BS85KS | Refrigerator |
| Frigidaire EW28BS87SS | Refrigerator |
| Frigidaire FDBC2250SS | Refrigerator |
| Frigidaire FDBG2250SS | Refrigerator |
| Frigidaire FDBS2750SS | Refrigerator |
| Frigidaire FFHB2740PE | Refrigerator |
| Frigidaire FFHB2740PP | Refrigerator |
| Frigidaire FFHB2740PS | Refrigerator |
| Frigidaire FFHN2740PE | Refrigerator |
| Frigidaire FFHN2740PP | Refrigerator |
| Frigidaire FFHN2740PS | Refrigerator |
| Frigidaire FFHS2313LE | Refrigerator |
| Frigidaire FFHS2313LM | Refrigerator |
| Frigidaire FFHS2313LP | Refrigerator |
| Frigidaire FFHS2313LS | Refrigerator |
| Frigidaire FFHS2622MB | Refrigerator |
| Frigidaire FFHS2622MH | Refrigerator |
| Frigidaire FFHS2622MM | Refrigerator |
| Frigidaire FFHS2622MQ | Refrigerator |
| Frigidaire FFHS2622MS | Refrigerator |
| Frigidaire FFHS2622MW | Refrigerator |
| Frigidaire FFSC2323TS | Refrigerator |
| Frigidaire FFSC2323TS0 | Refrigerator |
| Frigidaire FFSC2323TS3 | Refrigerator |
| Frigidaire FFSC2323TS4 | Refrigerator |
| Frigidaire FFSS2314QE | Refrigerator |
| Frigidaire FFSS2314QP | Refrigerator |
| Frigidaire FFSS2314QS | Refrigerator |
| Frigidaire FFSS2614QE | Refrigerator |
| Frigidaire FFSS2614QP | Refrigerator |
| Frigidaire FFSS2614QS | Refrigerator |
| Frigidaire FGEB28D7QF | Refrigerator |
| Frigidaire FGEB28D7RF | Refrigerator |
| Frigidaire FGEX26D6QF | Refrigerator |
| Frigidaire FGFU19F6QF | Refrigerator |
| Frigidaire FGFU19F6QFC | Refrigerator |
| Frigidaire FGFU19F6QFD | Refrigerator |
| Frigidaire FGHB2735NE | Refrigerator |
| Frigidaire FGHB2735NF | Refrigerator |
| Frigidaire FGHB2735NP | Refrigerator |
| Frigidaire FGHB2844LE | Refrigerator |
| Frigidaire FGHB2844LF | Refrigerator |
| Frigidaire FGHB2844LM | Refrigerator |
| Frigidaire FGHB2844LP | Refrigerator |
| Frigidaire FGHB2846LF | Refrigerator |
| Frigidaire FGHB2846LM | Refrigerator |
| Frigidaire FGHB2866PE | Refrigerator |
| Frigidaire FGHB2866PF | Refrigerator |
| Frigidaire FGHB2866PP | Refrigerator |
| Frigidaire FGHB2867TD | Refrigerator |
| Frigidaire FGHB2867TD1 | Refrigerator |
| Frigidaire FGHB2867TD2 | Refrigerator |
| Frigidaire FGHB2867TD3 | Refrigerator |
| Frigidaire FGHB2867TF | Refrigerator |
| Frigidaire FGHB2867TF0 | Refrigerator |
| Frigidaire FGHB2867TF3 | Refrigerator |
| Frigidaire FGHB2869LE | Refrigerator |
| Frigidaire FGHB2869LE1 | Refrigerator |
| Frigidaire FGHB2869LE2 | Refrigerator |
| Frigidaire FGHB2869LE4 | Refrigerator |
| Frigidaire FGHB2869LF | Refrigerator |
| Frigidaire FGHB2869LF1 | Refrigerator |
| Frigidaire FGHB2869LF2 | Refrigerator |
| Frigidaire FGHB2869LF3 | Refrigerator |
| Frigidaire FGHB2869LF4 | Refrigerator |
| Frigidaire FGHB2869LP | Refrigerator |
| Frigidaire FGHB2869LP1 | Refrigerator |
| Frigidaire FGHB2869LP2 | Refrigerator |
| Frigidaire FGHB2869LP4 | Refrigerator |
| Frigidaire FGHB2878LE | Refrigerator |
| Frigidaire FGHB2878LE1 | Refrigerator |
| Frigidaire FGHB2878LE2 | Refrigerator |
| Frigidaire FGHB2878LE3 | Refrigerator |
| Frigidaire FGHB2878LP | Refrigerator |
| Frigidaire FGHB2878LP1 | Refrigerator |
| Frigidaire FGHB2878LP2 | Refrigerator |
| Frigidaire FGHB2878LP3 | Refrigerator |
| Frigidaire FGHC2331PF | Refrigerator |
| Frigidaire FGHC2331PF0 | Refrigerator |
| Frigidaire FGHC2331PF7 | Refrigerator |
| Frigidaire FGHC2331PFAA | Refrigerator |
| Frigidaire FGHC2335LE | Refrigerator |
| Frigidaire FGHC2335LE0 | Refrigerator |
| Frigidaire FGHC2335LE1 | Refrigerator |
| Frigidaire FGHC2335LE2 | Refrigerator |
| Frigidaire FGHC2335LP | Refrigerator |
| Frigidaire FGHC2335LP0 | Refrigerator |
| Frigidaire FGHC2335LP1 | Refrigerator |
| Frigidaire FGHC2335LP2 | Refrigerator |
| Frigidaire FGHC2344KF | Refrigerator |
| Frigidaire FGHC2345LF | Refrigerator |
| Frigidaire FGHC2345LF0 | Refrigerator |
| Frigidaire FGHC2345LF1 | Refrigerator |
| Frigidaire FGHC2345LF2 | Refrigerator |
| Frigidaire FGHC2345LF3 | Refrigerator |
| Frigidaire FGHC2355PF | Refrigerator |
| Frigidaire FGHC2369KE | Refrigerator |
| Frigidaire FGHC2369KE0 | Refrigerator |
| Frigidaire FGHC2369KE1 | Refrigerator |
| Frigidaire FGHC2369KE2 | Refrigerator |
| Frigidaire FGHC2369KP | Refrigerator |
| Frigidaire FGHC2369KP0 | Refrigerator |
| Frigidaire FGHC2369KP1 | Refrigerator |
| Frigidaire FGHC2369KP2 | Refrigerator |
| Frigidaire FGHC2378LE | Refrigerator |
| Frigidaire FGHC2378LE1 | Refrigerator |
| Frigidaire FGHC2378LE3 | Refrigerator |
| Frigidaire FGHC2378LP | Refrigerator |
| Frigidaire FGHC2378LP1 | Refrigerator |
| Frigidaire FGHC2378LP3 | Refrigerator |
| Frigidaire FGHC2379KE | Refrigerator |
| Frigidaire FGHC2379KE0 | Refrigerator |
| Frigidaire FGHC2379KE1 | Refrigerator |
| Frigidaire FGHC2379KE2 | Refrigerator |
| Frigidaire FGHC2379KP | Refrigerator |
| Frigidaire FGHC2379KP0 | Refrigerator |
| Frigidaire FGHC2379KP1 | Refrigerator |
| Frigidaire FGHC2379KP2 | Refrigerator |
| Frigidaire FGHF2366PF | Refrigerator |
| Frigidaire FGHF2366PFFA | Refrigerator |
| Frigidaire FGHF2366PFHA | Refrigerator |
| Frigidaire FGHF2367TD | Refrigerator |
| Frigidaire FGHF2367TD0 | Refrigerator |
| Frigidaire FGHF2367TD1 | Refrigerator |
| Frigidaire FGHF2367TF | Refrigerator |
| Frigidaire FGHF2367TF0 | Refrigerator |
| Frigidaire FGHF2367TF1 | Refrigerator |
| Frigidaire FGHF2369ME | Refrigerator |
| Frigidaire FGHF2369MF | Refrigerator |
| Frigidaire FGHF2369MP | Refrigerator |
| Frigidaire FGHF2378ME | Refrigerator |
| Frigidaire FGHF2378ME0 | Refrigerator |
| Frigidaire FGHF2378MP | Refrigerator |
| Frigidaire FGHF2378MP0 | Refrigerator |
| Frigidaire FGHG2366PF | Refrigerator |
| Frigidaire FGHG2366PFCA | Refrigerator |
| Frigidaire FGHN2866PE | Refrigerator |
| Frigidaire FGHN2866PEEA | Refrigerator |
| Frigidaire FGHN2866PF | Refrigerator |
| Frigidaire FGHN2866PFJA | Refrigerator |
| Frigidaire FGHN2866PP | Refrigerator |
| Frigidaire FGHN2866PPAA | Refrigerator |
| Frigidaire FGHS2355KE | Refrigerator |
| Frigidaire FGHS2355KE1 | Refrigerator |
| Frigidaire FGHS2355KE2 | Refrigerator |
| Frigidaire FGHS2355KE4 | Refrigerator |
| Frigidaire FGHS2355KP | Refrigerator |
| Frigidaire FGHS2355KP1 | Refrigerator |
| Frigidaire FGHS2355KP2 | Refrigerator |
| Frigidaire FGHS2355KP4 | Refrigerator |
| Frigidaire FGHS2355PF | Refrigerator |
| Frigidaire FGHS2365KF | Refrigerator |
| Frigidaire FGHS2365KF1 | Refrigerator |
| Frigidaire FGHS2365KF2 | Refrigerator |
| Frigidaire FGHS2365KF4 | Refrigerator |
| Frigidaire FGHS2365KF5 | Refrigerator |
| Frigidaire FGHS2367KB | Refrigerator |
| Frigidaire FGHS2367KB1 | Refrigerator |
| Frigidaire FGHS2367KB2 | Refrigerator |
| Frigidaire FGHS2367KB3 | Refrigerator |
| Frigidaire FGHS2367KB4 | Refrigerator |
| Frigidaire FGHS2367KE | Refrigerator |
| Frigidaire FGHS2367KE1 | Refrigerator |
| Frigidaire FGHS2367KE2 | Refrigerator |
| Frigidaire FGHS2367KE3 | Refrigerator |
| Frigidaire FGHS2367KE4 | Refrigerator |
| Frigidaire FGHS2367KP | Refrigerator |
| Frigidaire FGHS2367KP1 | Refrigerator |
| Frigidaire FGHS2367KP2 | Refrigerator |
| Frigidaire FGHS2367KP3 | Refrigerator |
| Frigidaire FGHS2367KP4 | Refrigerator |
| Frigidaire FGHS2367KW | Refrigerator |
| Frigidaire FGHS2367KW1 | Refrigerator |
| Frigidaire FGHS2367KW2 | Refrigerator |
| Frigidaire FGHS2367KW3 | Refrigerator |
| Frigidaire FGHS2367KW4 | Refrigerator |
| Frigidaire FGHS2368LE | Refrigerator |
| Frigidaire FGHS2368LE0 | Refrigerator |
| Frigidaire FGHS2368LE2 | Refrigerator |
| Frigidaire FGHS2368LE3 | Refrigerator |
| Frigidaire FGHS2368LP | Refrigerator |
| Frigidaire FGHS2368LP0 | Refrigerator |
| Frigidaire FGHS2368LP1 | Refrigerator |
| Frigidaire FGHS2368LP2 | Refrigerator |
| Frigidaire FGHS2368LP3 | Refrigerator |
| Frigidaire FGHS2369KE | Refrigerator |
| Frigidaire FGHS2369KE1 | Refrigerator |
| Frigidaire FGHS2369KE2 | Refrigerator |
| Frigidaire FGHS2369KE4 | Refrigerator |
| Frigidaire FGHS2369KP | Refrigerator |
| Frigidaire FGHS2369KP1 | Refrigerator |
| Frigidaire FGHS2369KP2 | Refrigerator |
| Frigidaire FGHS2369KP4 | Refrigerator |
| Frigidaire FGHS2631PE | Refrigerator |
| Frigidaire FGHS2631PF | Refrigerator |
| Frigidaire FGHS2631PF5A | Refrigerator |
| Frigidaire FGHS2631PP | Refrigerator |
| Frigidaire FGHS2655KE | Refrigerator |
| Frigidaire FGHS2655KE0 | Refrigerator |
| Frigidaire FGHS2655KE1 | Refrigerator |
| Frigidaire FGHS2655KE2 | Refrigerator |
| Frigidaire FGHS2655KP | Refrigerator |
| Frigidaire FGHS2655KP0 | Refrigerator |
| Frigidaire FGHS2655KP1 | Refrigerator |
| Frigidaire FGHS2655KP2 | Refrigerator |
| Frigidaire FGHS2655PF | Refrigerator |
| Frigidaire FGHS2665KF | Refrigerator |
| Frigidaire FGHS2665KF0 | Refrigerator |
| Frigidaire FGHS2665KF1 | Refrigerator |
| Frigidaire FGHS2665KF2 | Refrigerator |
| Frigidaire FGHS2665KF3 | Refrigerator |
| Frigidaire FGHS2667KB | Refrigerator |
| Frigidaire FGHS2667KB0 | Refrigerator |
| Frigidaire FGHS2667KB1 | Refrigerator |
| Frigidaire FGHS2667KB2 | Refrigerator |
| Frigidaire FGHS2667KB3 | Refrigerator |
| Frigidaire FGHS2667KB4 | Refrigerator |
| Frigidaire FGHS2667KE | Refrigerator |
| Frigidaire FGHS2667KE0 | Refrigerator |
| Frigidaire FGHS2667KE1 | Refrigerator |
| Frigidaire FGHS2667KE2 | Refrigerator |
| Frigidaire FGHS2667KE3 | Refrigerator |
| Frigidaire FGHS2667KP | Refrigerator |
| Frigidaire FGHS2667KW | Refrigerator |
| Frigidaire FGHS2669KE | Refrigerator |
| Frigidaire FGHS2669KE4 | Refrigerator |
| Frigidaire FGHS2669KP | Refrigerator |
| Frigidaire FGHS2669KP4 | Refrigerator |
| Frigidaire FGHS2679KE | Refrigerator |
| Frigidaire FGHS2679KE1 | Refrigerator |
| Frigidaire FGHS2679KE2 | Refrigerator |
| Frigidaire FGHS2679KE3 | Refrigerator |
| Frigidaire FGHS2679KP | Refrigerator |
| Frigidaire FGHS2679KP0 | Refrigerator |
| Frigidaire FGHS2679KP1 | Refrigerator |
| Frigidaire FGHS2679KP2 | Refrigerator |
| Frigidaire FGHS2679KP3 | Refrigerator |
| Frigidaire FGRU19F6QF | Refrigerator |
| Frigidaire FGRU19F6QFC | Refrigerator |
| Frigidaire FGRU19F6QFD | Refrigerator |
| Frigidaire FGRU19F6QFE | Refrigerator |
| Frigidaire FGSC2335TD | Refrigerator |
| Frigidaire FGSC2335TD0 | Refrigerator |
| Frigidaire FGSC2335TD4 | Refrigerator |
| Frigidaire FGSC2335TD5 | Refrigerator |
| Frigidaire FGSC2335TF | Refrigerator |
| Frigidaire FGSC2335TF0 | Refrigerator |
| Frigidaire FGSC2335TF4 | Refrigerator |
| Frigidaire FGSC2335TF5 | Refrigerator |
| Frigidaire FGSS2335TF | Refrigerator |
| Frigidaire FGSS2335TF0 | Refrigerator |
| Frigidaire FGSS2335TF1 | Refrigerator |
| Frigidaire FGSS2335TF3 | Refrigerator |
| Frigidaire FGSS2635TD | Refrigerator |
| Frigidaire FGSS2635TD0 | Refrigerator |
| Frigidaire FGSS2635TD4 | Refrigerator |
| Frigidaire FGSS2635TD5 | Refrigerator |
| Frigidaire FGSS2635TE | Refrigerator |
| Frigidaire FGSS2635TE0 | Refrigerator |
| Frigidaire FGSS2635TE4 | Refrigerator |
| Frigidaire FGSS2635TE5 | Refrigerator |
| Frigidaire FGSS2635TF | Refrigerator |
| Frigidaire FGSS2635TF0 | Refrigerator |
| Frigidaire FGSS2635TF1 | Refrigerator |
| Frigidaire FGSS2635TF5 | Refrigerator |
| Frigidaire FGSS2635TF6 | Refrigerator |
| Frigidaire FGSS2635TP | Refrigerator |
| Frigidaire FGSS2635TP0 | Refrigerator |
| Frigidaire FGSS2635TP4 | Refrigerator |
| Frigidaire FGSS2635TP5 | Refrigerator |
| Frigidaire FGUS2635LE | Refrigerator |
| Frigidaire FGUS2635LE0 | Refrigerator |
| Frigidaire FGUS2635LE1 | Refrigerator |
| Frigidaire FGUS2635LP | Refrigerator |
| Frigidaire FGUS2635LP0 | Refrigerator |
| Frigidaire FGUS2635LP1 | Refrigerator |
| Frigidaire FGUS2637LE | Refrigerator |
| Frigidaire FGUS2637LE0 | Refrigerator |
| Frigidaire FGUS2637LE1 | Refrigerator |
| Frigidaire FGUS2637LP | Refrigerator |
| Frigidaire FGUS2637LP0 | Refrigerator |
| Frigidaire FGUS2637LP1 | Refrigerator |
| Frigidaire FGUS2645LF | Refrigerator |
| Frigidaire FGUS2645LF0 | Refrigerator |
| Frigidaire FGUS2645LF1 | Refrigerator |
| Frigidaire FGUS2647LF | Refrigerator |
| Frigidaire FGUS2647LF0 | Refrigerator |
| Frigidaire FGUS2647LF1 | Refrigerator |
| Frigidaire FGUS2666LE0 | Refrigerator |
| Frigidaire FGUS2666LP0 | Refrigerator |
| Frigidaire FGUS2676LE | Refrigerator |
| Frigidaire FGUS2676LE0 | Refrigerator |
| Frigidaire FGUS2676LE1 | Refrigerator |
| Frigidaire FGUS2676LP | Refrigerator |
| Frigidaire FGUS2676LP0 | Refrigerator |
| Frigidaire FGUS2676LP1 | Refrigerator |
| Frigidaire FPBC2277RF | Refrigerator |
| Frigidaire FPBC2277RF0 | Refrigerator |
| Frigidaire FPBC2277RFB | Refrigerator |
| Frigidaire FPBC2277RFC | Refrigerator |
| Frigidaire FPBC2277RFD | Refrigerator |
| Frigidaire FPBC2277RFG | Refrigerator |
| Frigidaire FPBC2277RFH | Refrigerator |
| Frigidaire FPBC2277RFJ | Refrigerator |
| Frigidaire FPBG2277RF | Refrigerator |
| Frigidaire FPBG2277RF0 | Refrigerator |
| Frigidaire FPBG2277RF1 | Refrigerator |
| Frigidaire FPBG2277RF3 | Refrigerator |
| Frigidaire FPBG2277RF6 | Refrigerator |
| Frigidaire FPBG2277RF7 | Refrigerator |
| Frigidaire FPBG2277RF9 | Refrigerator |
| Frigidaire FPBS2777RF | Refrigerator |
| Frigidaire FPBS2777RF0 | Refrigerator |
| Frigidaire FPBS2777RFD | Refrigerator |
| Frigidaire FPBS2777RFE | Refrigerator |
| Frigidaire FPBS2777RFF | Refrigerator |
| Frigidaire FPBS2777RFH | Refrigerator |
| Frigidaire FPBS2777RFK | Refrigerator |
| Frigidaire FPFU19F8QF | Refrigerator |
| Frigidaire FPFU19F8RF | Refrigerator |
| Frigidaire FPFU19F8RFD | Refrigerator |
| Frigidaire FPFU19F8RFE | Refrigerator |
| Frigidaire FPGU19F8TF | Refrigerator |
| Frigidaire FPHB2899LF | Refrigerator |
| Frigidaire FPHB2899LF1 | Refrigerator |
| Frigidaire FPHB2899LF2 | Refrigerator |
| Frigidaire FPHB2899LF3 | Refrigerator |
| Frigidaire FPHB2899LF4 | Refrigerator |
| Frigidaire FPHB2899LF5 | Refrigerator |
| Frigidaire FPHB2899PF | Refrigerator |
| Frigidaire FPHC2398LF | Refrigerator |
| Frigidaire FPHC2398LF1 | Refrigerator |
| Frigidaire FPHC2398LF2 | Refrigerator |
| Frigidaire FPHC2398LF3 | Refrigerator |
| Frigidaire FPHC2399KF | Refrigerator |
| Frigidaire FPHC2399KF0 | Refrigerator |
| Frigidaire FPHC2399KF1 | Refrigerator |
| Frigidaire FPHC2399KF2 | Refrigerator |
| Frigidaire FPHC2399KF3 | Refrigerator |
| Frigidaire FPHC2399KF4 | Refrigerator |
| Frigidaire FPHC2399PF | Refrigerator |
| Frigidaire FPHF2399MF | Refrigerator |
| Frigidaire FPHF2399MF0 | Refrigerator |
| Frigidaire FPHF2399PF | Refrigerator |
| Frigidaire FPHG2399MF | Refrigerator |
| Frigidaire FPHG2399MF0 | Refrigerator |
| Frigidaire FPHG2399MF1 | Refrigerator |
| Frigidaire FPHG2399PF | Refrigerator |
| Frigidaire FPHN2899LF | Refrigerator |
| Frigidaire FPHN2899LF0 | Refrigerator |
| Frigidaire FPHN2899LF1 | Refrigerator |
| Frigidaire FPHN2899LF2 | Refrigerator |
| Frigidaire FPHN2899LF3 | Refrigerator |
| Frigidaire FPHS2386LF | Refrigerator |
| Frigidaire FPHS2386LF0 | Refrigerator |
| Frigidaire FPHS2386LF1 | Refrigerator |
| Frigidaire FPHS2386LF2 | Refrigerator |
| Frigidaire FPHS2387KF | Refrigerator |
| Frigidaire FPHS2387KF1 | Refrigerator |
| Frigidaire FPHS2387KF2 | Refrigerator |
| Frigidaire FPHS2387KF3 | Refrigerator |
| Frigidaire FPHS2387KF4 | Refrigerator |
| Frigidaire FPHS2387KF5 | Refrigerator |
| Frigidaire FPHS2387KF6 | Refrigerator |
| Frigidaire FPHS2399KF | Refrigerator |
| Frigidaire FPHS2399KF1 | Refrigerator |
| Frigidaire FPHS2399KF2 | Refrigerator |
| Frigidaire FPHS2399KF3 | Refrigerator |
| Frigidaire FPHS2399KF4 | Refrigerator |
| Frigidaire FPHS2399KF5 | Refrigerator |
| Frigidaire FPHS2399PF | Refrigerator |
| Frigidaire FPHS2687KF | Refrigerator |
| Frigidaire FPHS2687KF0 | Refrigerator |
| Frigidaire FPHS2687KF1 | Refrigerator |
| Frigidaire FPHS2687KF2 | Refrigerator |
| Frigidaire FPHS2687KF3 | Refrigerator |
| Frigidaire FPHS2687KF4 | Refrigerator |
| Frigidaire FPHS2699KF | Refrigerator |
| Frigidaire FPHS2699KF0 | Refrigerator |
| Frigidaire FPHS2699KF1 | Refrigerator |
| Frigidaire FPHS2699KF2 | Refrigerator |
| Frigidaire FPHS2699KF3 | Refrigerator |
| Frigidaire FPHS2699KF4 | Refrigerator |
| Frigidaire FPHS2699PF | Refrigerator |
| Frigidaire FPRH19D7LF | Refrigerator |
| Frigidaire FPRH19D7LF0 | Refrigerator |
| Frigidaire FPRH19D7LF1 | Refrigerator |
| Frigidaire FPRU19F8QF | Refrigerator |
| Frigidaire FPRU19F8RF | Refrigerator |
| Frigidaire FPRU19F8RFD | Refrigerator |
| Frigidaire FPRU19F8RFE | Refrigerator |
| Frigidaire FPRU19F8RFF | Refrigerator |
| Frigidaire FPRU19F8RFG | Refrigerator |
| Frigidaire FPSC2277RF | Refrigerator |
| Frigidaire FPSC2277RF5 | Refrigerator |
| Frigidaire FPSC2278UF | Refrigerator |
| Frigidaire FPSC2278UF1 | Refrigerator |
| Frigidaire FPSS2677RF | Refrigerator |
| Frigidaire FPSS2677RF1 | Refrigerator |
| Frigidaire FPUH19D7LF | Refrigerator |
| Frigidaire FPUH19D7LF0 | Refrigerator |
| Frigidaire FPUH19D7LF1 | Refrigerator |
| Frigidaire FPUS2686LF | Refrigerator |
| Frigidaire FPUS2686LF0 | Refrigerator |
| Frigidaire FPUS2686LF1 | Refrigerator |
| Frigidaire FPUS2698LF | Refrigerator |
| Frigidaire FPUS2698LF0 | Refrigerator |
| Frigidaire FPUS2698LF1 | Refrigerator |
| Frigidaire LFSC2324VF | Refrigerator |
| Frigidaire LGHB2867PF | Refrigerator |
| Frigidaire LGHB2867PFIA | Refrigerator |
| Frigidaire LGHB2867PFLA | Refrigerator |
| Frigidaire LGHB2867TD | Refrigerator |
| Frigidaire LGHB2869LF | Refrigerator |
| Frigidaire LGHB2869LF1 | Refrigerator |
| Frigidaire LGHB2869LF3 | Refrigerator |
| Frigidaire LGHB2869LF4 | Refrigerator |
| Frigidaire LGHB2869LF5 | Refrigerator |
| Frigidaire LGHK2336TD | Refrigerator |
| Frigidaire LGHK2336TF | Refrigerator |
| Frigidaire LGHK2336TF0 | Refrigerator |
| Frigidaire LGHK2336TF3 | Refrigerator |
| Frigidaire LGHK2336TF4 | Refrigerator |
| Frigidaire LGHS2655KE0 | Refrigerator |
| Frigidaire LGHS2655KE1 | Refrigerator |
| Frigidaire LGHS2655KE2 | Refrigerator |
| Frigidaire LGHS2655KP0 | Refrigerator |
| Frigidaire LGHS2655KP1 | Refrigerator |
| Frigidaire LGHS2655KP2 | Refrigerator |
| Frigidaire LGHS2665KF0 | Refrigerator |
| Frigidaire LGHS2665KF1 | Refrigerator |
| Frigidaire LGHS2665KF2 | Refrigerator |
| Frigidaire LGHS2667KE | Refrigerator |
| Frigidaire LGHS2667KE0 | Refrigerator |
| Frigidaire LGHS2667KP0 | Refrigerator |
| Frigidaire LGHX2636TD | Refrigerator |
| Frigidaire LGHX2636TD0 | Refrigerator |
| Frigidaire LGHX2636TF | Refrigerator |
| Frigidaire LGHX2636TF0 | Refrigerator |
| Frigidaire LGHX2636TF4 | Refrigerator |
| Frigidaire LGHX2636TF5 | Refrigerator |
| Frigidaire LGUS2646LE | Refrigerator |
| Frigidaire LGUS2646LE0 | Refrigerator |
| Frigidaire LGUS2646LF | Refrigerator |
| Frigidaire LGUS2646LF0 | Refrigerator |
| Frigidaire LGUS2646LP | Refrigerator |
| Frigidaire LGUS2646LP0 | Refrigerator |
| Frigidaire LPHS2687KF0 | Refrigerator |
| Frigidaire LPHS2687KF1 | Refrigerator |
| Frigidaire LPHS2687KF2 | Refrigerator |
| Frigidaire LPHS2687KF4 | Refrigerator |
| Frigidaire LPUS2686LF | Refrigerator |
| Frigidaire LPUS2686LF1 | Refrigerator |
| Kenmore 253.4474311 | Refrigerator |
| Kenmore 253.4474311 | Refrigerator |
| Kenmore 253.4475311 | Refrigerator |
| Kenmore 253.4475311 | Refrigerator |
| Kenmore 253.7034221 | Refrigerator |
| Kenmore 253.7034241 | Refrigerator |
| Kenmore 253.7034241 | Refrigerator |
| Kenmore 253.7034241 | Refrigerator |
| Kenmore 253.7034241 | Refrigerator |
| Kenmore 253.7034241 | Refrigerator |
| Kenmore 253.7034241A | Refrigerator |
| Kenmore 253.7034241B | Refrigerator |
| Kenmore 253.7034241C | Refrigerator |
| Kenmore 253.7034241D | Refrigerator |
| Kenmore 253.7034241E | Refrigerator |
| Kenmore 253.7034241F | Refrigerator |
| Kenmore 253.7034241G | Refrigerator |
| Kenmore 253.7034242 | Refrigerator |
| Kenmore 253.7034242 | Refrigerator |
| Kenmore 253.7034242 | Refrigerator |
| Kenmore 253.7034242 | Refrigerator |
| Kenmore 253.7034242 | Refrigerator |
| Kenmore 253.7034321 | Refrigerator |
| Kenmore 253.7034341 | Refrigerator |
| Kenmore 253.7034341 | Refrigerator |
| Kenmore 253.7034341 | Refrigerator |
| Kenmore 253.7034341 | Refrigerator |
| Kenmore 253.7034341 | Refrigerator |
| Kenmore 253.7034341A | Refrigerator |
| Kenmore 253.7034341B | Refrigerator |
| Kenmore 253.7034341C | Refrigerator |
| Kenmore 253.7034341D | Refrigerator |
| Kenmore 253.7034341E | Refrigerator |
| Kenmore 253.7034341F | Refrigerator |
| Kenmore 253.7034341G | Refrigerator |
| Kenmore 253.7034342 | Refrigerator |
| Kenmore 253.7034342 | Refrigerator |
| Kenmore 253.7034342 | Refrigerator |
| Kenmore 253.7034342 | Refrigerator |
| Kenmore 253.7034342 | Refrigerator |
| Kenmore 253.7034741 | Refrigerator |
| Kenmore 253.7034741 | Refrigerator |
| Kenmore 253.7034921 | Refrigerator |
| Kenmore 253.7034941 | Refrigerator |
| Kenmore 253.7034941 | Refrigerator |
| Kenmore 253.7034941 | Refrigerator |
| Kenmore 253.7034941 | Refrigerator |
| Kenmore 253.7034941 | Refrigerator |
| Kenmore 253.7034941A | Refrigerator |
| Kenmore 253.7034941B | Refrigerator |
| Kenmore 253.7034941C | Refrigerator |
| Kenmore 253.7034941D | Refrigerator |
| Kenmore 253.7034941G | Refrigerator |
| Kenmore 253.7034942 | Refrigerator |
| Kenmore 253.7034942 | Refrigerator |
| Kenmore 253.7034942 | Refrigerator |
| Kenmore 253.7034942 | Refrigerator |
| Kenmore 253.7034942 | Refrigerator |
| Kenmore 253.7041241 | Refrigerator |
| Kenmore 253.7041241 | Refrigerator |
| Kenmore 253.7041241 | Refrigerator |
| Kenmore 253.7041241 | Refrigerator |
| Kenmore 253.7041241 | Refrigerator |
| Kenmore 253.7041241A | Refrigerator |
| Kenmore 253.7041241B | Refrigerator |
| Kenmore 253.7041241C | Refrigerator |
| Kenmore 253.7041241D | Refrigerator |
| Kenmore 253.7041242 | Refrigerator |
| Kenmore 253.7041242 | Refrigerator |
| Kenmore 253.7041242 | Refrigerator |
| Kenmore 253.7041242 | Refrigerator |
| Kenmore 253.7041341 | Refrigerator |
| Kenmore 253.7041341 | Refrigerator |
| Kenmore 253.7041341 | Refrigerator |
| Kenmore 253.7041341 | Refrigerator |
| Kenmore 253.7041341 | Refrigerator |
| Kenmore 253.7041341A | Refrigerator |
| Kenmore 253.7041341B | Refrigerator |
| Kenmore 253.7041341C | Refrigerator |
| Kenmore 253.7041341D | Refrigerator |
| Kenmore 253.7041341F | Refrigerator |
| Kenmore 253.7041342 | Refrigerator |
| Kenmore 253.7041342 | Refrigerator |
| Kenmore 253.7041342 | Refrigerator |
| Kenmore 253.7041342 | Refrigerator |
| Kenmore 253.7041741 | Refrigerator |
| Kenmore 253.7041741 | Refrigerator |
| Kenmore 253.7041941 | Refrigerator |
| Kenmore 253.7041941 | Refrigerator |
| Kenmore 253.7041941 | Refrigerator |
| Kenmore 253.7041941 | Refrigerator |
| Kenmore 253.7041941 | Refrigerator |
| Kenmore 253.7041941A | Refrigerator |
| Kenmore 253.7041941B | Refrigerator |
| Kenmore 253.7041941C | Refrigerator |
| Kenmore 253.7041941D | Refrigerator |
| Kenmore 253.7041942 | Refrigerator |
| Kenmore 253.7041942 | Refrigerator |
| Kenmore 253.7041942 | Refrigerator |
| Kenmore 253.7041942 | Refrigerator |
| Kenmore 253.7042341 | Refrigerator |
| Kenmore 253.7042341 | Refrigerator |
| Kenmore 253.7042341 | Refrigerator |
| Kenmore 253.7042341 | Refrigerator |
| Kenmore 253.7042341 | Refrigerator |
| Kenmore 253.7042341A | Refrigerator |
| Kenmore 253.7042341B | Refrigerator |
| Kenmore 253.7042342 | Refrigerator |
| Kenmore 253.7042342 | Refrigerator |
| Kenmore 253.7042342 | Refrigerator |
| Kenmore 253.7042342 | Refrigerator |
| Kenmore 253.7042342 | Refrigerator |
| Kenmore 253.7044321 | Refrigerator |
| Kenmore 253.7044341 | Refrigerator |
| Kenmore 253.7044341 | Refrigerator |
| Kenmore 253.7044341 | Refrigerator |
| Kenmore 253.7044341 | Refrigerator |
| Kenmore 253.7044341 | Refrigerator |
| Kenmore 253.7044341A | Refrigerator |
| Kenmore 253.7044341C | Refrigerator |
| Kenmore 253.7044341D | Refrigerator |
| Kenmore 253.7044342 | Refrigerator |
| Kenmore 253.7044342 | Refrigerator |
| Kenmore 253.7044342 | Refrigerator |
| Kenmore 253.7044342 | Refrigerator |
| Kenmore 253.7044741 | Refrigerator |
Replaces These Filters:
Electrolux:
241754001
241754002
242047801
242061001
EAFCBF
Frigidaire:
PAULTRA
PartSelect:
PS1993820
Tier1:
RAF1150