Frigidaire FRPAPKRF | Our#: 199282
Frigidaire PureAir FRPAPKRF Produce Keeper Refill (PK-1), 2-Pack

1 review(s)
Frigidaire FRPAPKRF | Our#: 199282
Fast Shipping & Free Returns
100% Compatibility Guarantee
PK-1 refill packet for Frigidaire Produce Keeper products
Absorbs ethylene gas from fruits and vegetables, the natural gas that causes produce to ripen quicker
Experience freshness for 6 months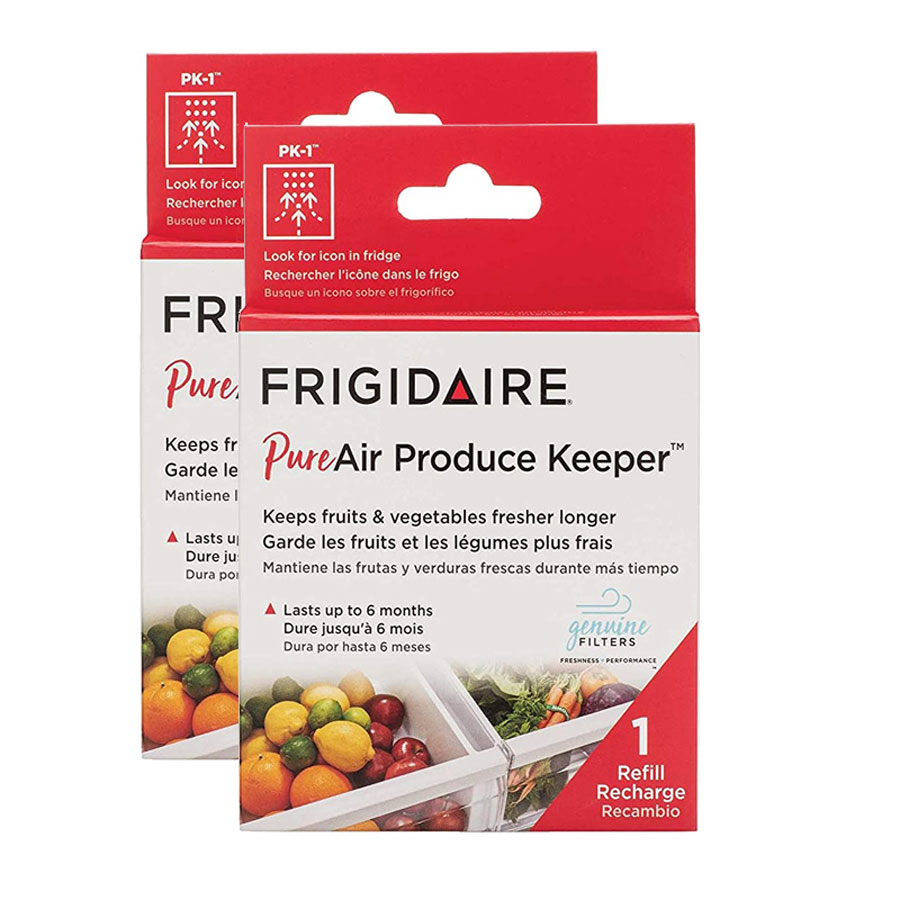 6 people in your area recently purchased this product!
$

11.00
(

2

Refills for $

22.00

)
In Stock
Ships in 24 hours
Fast Shipping & Free Returns
100% Compatibility Guarantee
Frequently Purchased Together
Product Details
Keep fruits and vegetables fresher longer with PureAir Produce Keeper. This produce keeper absorbs ethylene gas from fruits and vegetables, the natural gas that causes produce to ripen quicker. Reduce food waste, save money and enjoy fresh tasting produce with a longer storage life.
FEATURES:
Insert unopened packet into holder
Also known as the Electrolux ELPAPKRF
Compatible with select Frigidaire Gallery and Professional side-by-side and French door refrigerators and Professional single-door refrigerators
Lasts up to 6 months
---
Compatible Part Numbers
Search by your filter part number or appliance model number to verify compatibility
| Model or Part Number | Type |
| --- | --- |
| Frigidaire FPRU19F7WF | Refrigerator |
| Frigidaire FRFC2323AS | Refrigerator |
| Frigidaire FRFC232LAF | Refrigerator |
| Frigidaire FRFG232LAF | Refrigerator |
| Frigidaire FRFN2823AS | Refrigerator |
| Frigidaire FRFS2823AD | Refrigerator |
| Frigidaire FRFS2823AS | Refrigerator |
| Frigidaire FRFS2823AW | Refrigerator |
| Frigidaire FRFS282LAF | Refrigerator |
| Frigidaire FRPU19F8WF | Refrigerator |
| Frigidaire GRFC2353AD | Refrigerator |
| Frigidaire GRFC2353AF | Refrigerator |
| Frigidaire GRFG2353AF | Refrigerator |
| Frigidaire GRFN2853AF | Refrigerator |
| Frigidaire GRFS2853AD | Refrigerator |
| Frigidaire GRFS2853AF | Refrigerator |
| Frigidaire GRSC2352AD | Refrigerator |
| Frigidaire GRSC2352AF | Refrigerator |
| Frigidaire GRSS2352AF | Refrigerator |
| Frigidaire GRSS2652AD | Refrigerator |
| Frigidaire GRSS2652AF | Refrigerator |
| Frigidaire PRFC2383AF | Refrigerator |
| Frigidaire PRFG2383AF | Refrigerator |
| Frigidaire PRFS2883AF | Refrigerator |
| Frigidaire PRSC2222AF | Refrigerator |