American Metal RLP1102 | Our#: 112128
Aluminum/Carbon/Lens Range Hood Filter -11 1/2" x 11 3/4" x 3/8" - 3-1/2" Lens

19 review(s)
American Metal RLP1102 | Our#: 112128
Free Shipping & Returns
100% Compatibility Guarantee
Aluminum/Carbon/Lens Range Hood Filter -11 1/2" x 11 3/4" x 3/8- 3-1/2" Lens . Replaces Rangeaire 610046, Whirlpool 883149
4 people in your area recently purchased this product!
$

16.08
(

2

Filters for $

32.15

)
Free Shipping & Returns
100% Compatibility Guarantee
Frequently Purchased Together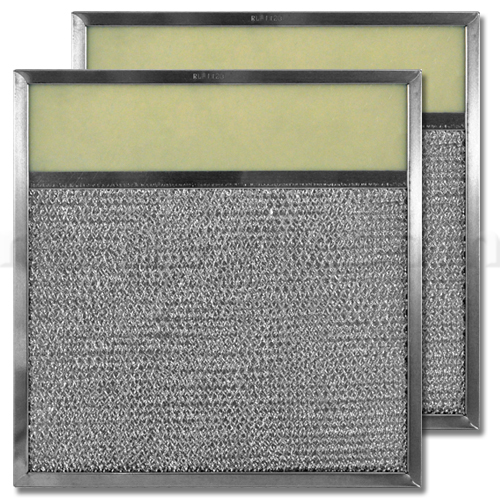 Product Details
Aluminum/Carbon/Lens Range Hood Filter -11 1/2" x 11 3/4" x 3/8- 3-1/2" Lens

(overall filter size is 11-1/2" X 11-3/4" with lens occupying ~3-5/8" of long side)
PART CROSS REFERENCE:

RANGEAIRE:
610046

WHIRLPOOL:
883149

Filters grease and odor. Used in non-ducted range hoods. Is not washable. Replace every 6-12 months. Constructed of layered expanded, bonded aluminum and a carbon poly pad with a plastic light diffuser, in an aluminum frame.
---
Filter is compatible with the following brand models & types:
Is your filter in the list? Search to find out.
| Brand Name | Model Number | Type |
| --- | --- | --- |
| BROAN | R610050 | FILTER |
| RANGEAIRE | 610046 | FILTER |
| RANGEAIRE | 610050 | FILTER |
| WHIRLPOOL | 883149 | FILTER |
| WHIRLPOOL | RH2024XLW1 | RANGE HOOD |
| WHIRLPOOL | RH2030WXW0 | RANGE HOOD |
| WHIRLPOOL | RH2030XDB0 | RANGE HOOD |
| WHIRLPOOL | RH2030XDB1 | RANGE HOOD |
| WHIRLPOOL | RH2030XDQ0 | RANGE HOOD |
| WHIRLPOOL | RH2030XDQ1 | RANGE HOOD |
| WHIRLPOOL | RH2030XDS0 | RANGE HOOD |
| WHIRLPOOL | RH2030XDS1 | RANGE HOOD |
| WHIRLPOOL | RH2030XDZ0 | RANGE HOOD |
| WHIRLPOOL | RH2030XDZ1 | RANGE HOOD |
| WHIRLPOOL | RH2030XJB1 | RANGE HOOD |
| WHIRLPOOL | RH2030XJB2 | RANGE HOOD |
| WHIRLPOOL | RH2030XJQ0 | RANGE HOOD |
| WHIRLPOOL | RH2030XJQ1 | RANGE HOOD |
| WHIRLPOOL | RH2030XJQ2 | RANGE HOOD |
| WHIRLPOOL | RH2030XJT0 | RANGE HOOD |
| WHIRLPOOL | RH2030XJT1 | RANGE HOOD |
| WHIRLPOOL | RH2030XJT2 | RANGE HOOD |
| WHIRLPOOL | RH2030XJZ1 | RANGE HOOD |
| WHIRLPOOL | RH2030XJZ2 | RANGE HOOD |
| WHIRLPOOL | RH2030XLW1 | RANGE HOOD |
| WHIRLPOOL | RH2030XXW0 | RANGE HOOD |
| WHIRLPOOL | RH2036XLW1 | RANGE HOOD |
| WHIRLPOOL | RH2036XXW0 | RANGE HOOD |
| WHIRLPOOL | RH2324XDQ0 | RANGE HOOD |
| WHIRLPOOL | RH2324XDQ1 | RANGE HOOD |
| WHIRLPOOL | RH2324XJQ0 | RANGE HOOD |
| WHIRLPOOL | RH2324XJQ1 | RANGE HOOD |
| WHIRLPOOL | RH2324XJQ2 | RANGE HOOD |
| WHIRLPOOL | RH2330XDB0 | RANGE HOOD |
| WHIRLPOOL | RH2330XDB1 | RANGE HOOD |
| WHIRLPOOL | RH2330XDQ0 | RANGE HOOD |
| WHIRLPOOL | RH2330XDQ1 | RANGE HOOD |
| WHIRLPOOL | RH2330XDZ0 | RANGE HOOD |
| WHIRLPOOL | RH2330XDZ1 | RANGE HOOD |
| WHIRLPOOL | RH2330XJB1 | RANGE HOOD |
| WHIRLPOOL | RH2330XJB2 | RANGE HOOD |
| WHIRLPOOL | RH2330XJQ0 | RANGE HOOD |
| WHIRLPOOL | RH2330XJQ1 | RANGE HOOD |
| WHIRLPOOL | RH2330XJQ2 | RANGE HOOD |
| WHIRLPOOL | RH2330XJT0 | RANGE HOOD |
| WHIRLPOOL | RH2330XJT1 | RANGE HOOD |
| WHIRLPOOL | RH2330XJT2 | RANGE HOOD |
| WHIRLPOOL | RH2330XJZ0 | RANGE HOOD |
| WHIRLPOOL | RH2330XJZ1 | RANGE HOOD |
| WHIRLPOOL | RH2330XJZ2 | RANGE HOOD |
| WHIRLPOOL | RH2330XLW1 | RANGE HOOD |
| WHIRLPOOL | RH2330XLW2 | RANGE HOOD |
| WHIRLPOOL | RH2330XXW0 | RANGE HOOD |
| WHIRLPOOL | RH2336XDQ0 | RANGE HOOD |
| WHIRLPOOL | RH2336XDQ1 | RANGE HOOD |
| WHIRLPOOL | RH2336XJQ0 | RANGE HOOD |
| WHIRLPOOL | RH2336XJQ1 | RANGE HOOD |
| WHIRLPOOL | RH2336XJQ2 | RANGE HOOD |
| WHIRLPOOL | RH2624XDQ0 | RANGE HOOD |
| WHIRLPOOL | RH2624XDQ1 | RANGE HOOD |
| WHIRLPOOL | RH2624XJQ1 | RANGE HOOD |
| WHIRLPOOL | RH2624XJQ2 | RANGE HOOD |
| WHIRLPOOL | RH2624XLW1 | RANGE HOOD |
| WHIRLPOOL | RH2630XDB0 | RANGE HOOD |
| WHIRLPOOL | RH2630XDB1 | RANGE HOOD |
| WHIRLPOOL | RH2630XDQ0 | RANGE HOOD |
| WHIRLPOOL | RH2630XDQ1 | RANGE HOOD |
| WHIRLPOOL | RH2630XDZ0 | RANGE HOOD |
| WHIRLPOOL | RH2630XDZ1 | RANGE HOOD |
| WHIRLPOOL | RH2630XJB0 | RANGE HOOD |
| WHIRLPOOL | RH2630XJB1 | RANGE HOOD |
| WHIRLPOOL | RH2630XJB2 | RANGE HOOD |
| WHIRLPOOL | RH2630XJQ0 | RANGE HOOD |
| WHIRLPOOL | RH2630XJQ1 | RANGE HOOD |
| WHIRLPOOL | RH2630XJQ2 | RANGE HOOD |
| WHIRLPOOL | RH2630XJT0 | RANGE HOOD |
| WHIRLPOOL | RH2630XJT1 | RANGE HOOD |
| WHIRLPOOL | RH2630XJT2 | RANGE HOOD |
| WHIRLPOOL | RH2630XJZ0 | RANGE HOOD |
| WHIRLPOOL | RH2630XJZ1 | RANGE HOOD |
| WHIRLPOOL | RH2630XJZ2 | RANGE HOOD |
| WHIRLPOOL | RH2630XLW1 | RANGE HOOD |
| WHIRLPOOL | RH2636XDQ0 | RANGE HOOD |
| WHIRLPOOL | RH2636XDQ1 | RANGE HOOD |
| WHIRLPOOL | RH2636XJQ0 | RANGE HOOD |
| WHIRLPOOL | RH2636XJQ1 | RANGE HOOD |
| WHIRLPOOL | RH2636XJQ2 | RANGE HOOD |
| WHIRLPOOL | RH2724XDQ0 | RANGE HOOD |
| WHIRLPOOL | RH2724XDQ1 | RANGE HOOD |
| WHIRLPOOL | RH2724XDS0 | RANGE HOOD |
| WHIRLPOOL | RH2724XDS1 | RANGE HOOD |
| WHIRLPOOL | RH2724XDZ0 | RANGE HOOD |
| WHIRLPOOL | RH2724XDZ1 | RANGE HOOD |
| WHIRLPOOL | RH2724XWW0 | RANGE HOOD |
| WHIRLPOOL | RH2724XWW1 | RANGE HOOD |
| WHIRLPOOL | RH2724XXW0 | RANGE HOOD |
| WHIRLPOOL | RH2730XDB0 | RANGE HOOD |
| WHIRLPOOL | RH2730XDB1 | RANGE HOOD |
| WHIRLPOOL | RH2730XDQ0 | RANGE HOOD |
| WHIRLPOOL | RH2730XDQ1 | RANGE HOOD |
| WHIRLPOOL | RH2730XDS0 | RANGE HOOD |
| WHIRLPOOL | RH2730XDS1 | RANGE HOOD |
| WHIRLPOOL | RH2730XDZ0 | RANGE HOOD |
| WHIRLPOOL | RH2730XDZ1 | RANGE HOOD |
| WHIRLPOOL | RH2730XWW0 | RANGE HOOD |
| WHIRLPOOL | RH2730XWW1 | RANGE HOOD |
| WHIRLPOOL | RH2730XXW0 | RANGE HOOD |
| WHIRLPOOL | RH2736XDB0 | RANGE HOOD |
| WHIRLPOOL | RH2736XDB1 | RANGE HOOD |
| WHIRLPOOL | RH2736XDQ0 | RANGE HOOD |
| WHIRLPOOL | RH2736XDQ1 | RANGE HOOD |
| WHIRLPOOL | RH2736XDS0 | RANGE HOOD |
| WHIRLPOOL | RH2736XDS1 | RANGE HOOD |
| WHIRLPOOL | RH2736XDZ0 | RANGE HOOD |
| WHIRLPOOL | RH2736XDZ1 | RANGE HOOD |
| WHIRLPOOL | RH3730XYQ0 | RANGE HOOD |
| WHIRLPOOL | RH3736XYQ0 | RANGE HOOD |
| WHIRLPOOL | RH4730XDB0 | RANGE HOOD |
| WHIRLPOOL | RH4730XDB2 | RANGE HOOD |
| WHIRLPOOL | RH4730XDQ0 | RANGE HOOD |
| WHIRLPOOL | RH4730XDQ1 | RANGE HOOD |
| WHIRLPOOL | RH4730XDQ2 | RANGE HOOD |
| WHIRLPOOL | RH4730XDS0 | RANGE HOOD |
| WHIRLPOOL | RH4730XDS2 | RANGE HOOD |
| WHIRLPOOL | RH4730XDT2 | RANGE HOOD |
| WHIRLPOOL | RH4730XDZ0 | RANGE HOOD |
| WHIRLPOOL | RH4730XDZ2 | RANGE HOOD |
| WHIRLPOOL | RH4730XWA2 | RANGE HOOD |
| WHIRLPOOL | RH4730XWB2 | RANGE HOOD |
| WHIRLPOOL | RH4730XWS2 | RANGE HOOD |
| WHIRLPOOL | RH4730XWW0 | RANGE HOOD |
| WHIRLPOOL | RH4730XWW1 | RANGE HOOD |
| WHIRLPOOL | RH4730XWW2 | RANGE HOOD |
| WHIRLPOOL | RH4736XDB0 | RANGE HOOD |
| WHIRLPOOL | RH4736XDB1 | RANGE HOOD |
| WHIRLPOOL | RH4736XDB2 | RANGE HOOD |
| WHIRLPOOL | RH4736XDQ0 | RANGE HOOD |
| WHIRLPOOL | RH4736XDQ2 | RANGE HOOD |
| WHIRLPOOL | RH4736XDS0 | RANGE HOOD |
| WHIRLPOOL | RH4736XDS1 | RANGE HOOD |
| WHIRLPOOL | RH4736XDS2 | RANGE HOOD |
| WHIRLPOOL | RH4736XDT2 | RANGE HOOD |
| WHIRLPOOL | RH4736XDX0 | RANGE HOOD |
| WHIRLPOOL | RH4736XDZ2 | RANGE HOOD |
| WHIRLPOOL | RH4736XWA2 | RANGE HOOD |
| WHIRLPOOL | RH4736XWB2 | RANGE HOOD |
| WHIRLPOOL | RH4736XWS2 | RANGE HOOD |
| WHIRLPOOL | RH4736XWW0 | RANGE HOOD |
| WHIRLPOOL | RH4736XWW1 | RANGE HOOD |
| WHIRLPOOL | RH4736XWW2 | RANGE HOOD |
| WHIRLPOOL | RH4930XDB0 | RANGE HOOD |
| WHIRLPOOL | RH4930XDB1 | RANGE HOOD |
| WHIRLPOOL | RH4930XDB2 | RANGE HOOD |
| WHIRLPOOL | RH4930XDQ0 | RANGE HOOD |
| WHIRLPOOL | RH4930XDQ1 | RANGE HOOD |
| WHIRLPOOL | RH4930XDQ2 | RANGE HOOD |
| WHIRLPOOL | RH4930XDS0 | RANGE HOOD |
| WHIRLPOOL | RH4930XDS1 | RANGE HOOD |
| WHIRLPOOL | RH4930XDS2 | RANGE HOOD |
| WHIRLPOOL | RH4930XDZ0 | RANGE HOOD |
| WHIRLPOOL | RH4930XDZ1 | RANGE HOOD |
| WHIRLPOOL | RH4930XDZ2 | RANGE HOOD |
| WHIRLPOOL | RH4930XWQ0 | RANGE HOOD |
| WHIRLPOOL | RH4930XWQ1 | RANGE HOOD |
| WHIRLPOOL | RH4930XWW0 | RANGE HOOD |
| WHIRLPOOL | RH4930XWW1 | RANGE HOOD |
| WHIRLPOOL | RH4931XWW0 | RANGE HOOD |
| WHIRLPOOL | RH4931XWW1 | RANGE HOOD |
| WHIRLPOOL | RH4936XDB0 | RANGE HOOD |
| WHIRLPOOL | RH4936XDB1 | RANGE HOOD |
| WHIRLPOOL | RH4936XDB2 | RANGE HOOD |
| WHIRLPOOL | RH4936XDQ0 | RANGE HOOD |
| WHIRLPOOL | RH4936XDQ1 | RANGE HOOD |
| WHIRLPOOL | RH4936XDQ2 | RANGE HOOD |
| WHIRLPOOL | RH4936XDS0 | RANGE HOOD |
| WHIRLPOOL | RH4936XDS1 | RANGE HOOD |
| WHIRLPOOL | RH4936XDS2 | RANGE HOOD |
| WHIRLPOOL | RH4936XDZ0 | RANGE HOOD |
| WHIRLPOOL | RH4936XDZ1 | RANGE HOOD |
| WHIRLPOOL | RH4936XDZ2 | RANGE HOOD |
| WHIRLPOOL | RH4936XWQ0 | RANGE HOOD |
| WHIRLPOOL | RH4936XWQ1 | RANGE HOOD |
| WHIRLPOOL | RH4936XWW0 | RANGE HOOD |
| WHIRLPOOL | RH4936XWW1 | RANGE HOOD |