American Metal RHF1109 | Our#: 172418
Aluminum Range Hood Filter - 11 3/8" x 14" x 3/32" - 6-Pack
American Metal RHF1109 | Our#: 172418
Fast Shipping & Free Returns
100% Compatibility Guarantee
Aluminum Range Hood Filter -11-3/8" x 14" x 3/32"
Used in ducted and non-ducted range hoods, microwave ovens and other applications requiring air cleaning
Aluminum filters trap grease and dust particles before they reach the exhaust fan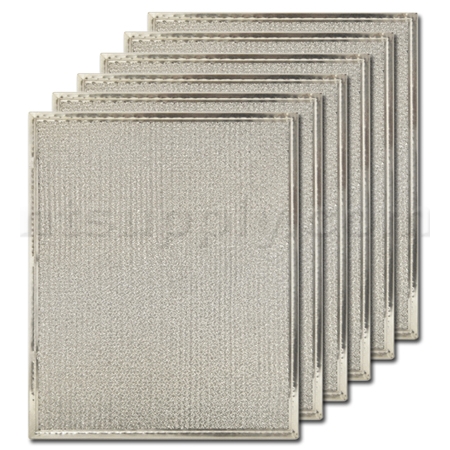 6 people in your area recently purchased this product!
$

9.38
(

6

Filters for $

56.26

)
Fast Shipping & Free Returns
100% Compatibility Guarantee
Frequently Purchased Together
Product Details
Aluminum Range Hood Filter - 11 3/8" x 14" x 3/32"
Aluminum filters trap grease and dust particles before they reach the exhaust fan. The aluminum mesh media is made of multilayered, slit and expanded sheets of aluminum which are staggered to form thousands of effective grease holding baffles.
FEATURES:
Used in ducted and non-ducted range hoods, microwave ovens and other applications requiring air cleaning.
May be washed.
Constructed of layered expanded, bonded, aluminum mesh in an aluminum frame.
Average Air Resistance - 64%.
Clean Resistance - .06" w.c.
Dust Holding Capacity - 44 grams/square foot
Replace every 6-12 months
---
Compatible Part Numbers
Search by your filter part number or appliance model number to verify compatibility
| Model or Part Number | Type |
| --- | --- |
| ADMIRAL A89L-4-R | Range Hood |
| GE JGP18BEVBB | Range Hood |
| GE JGP389BEVBB | Range Hood |
| GE JGP389WEVWW | Range Hood |
| GE JGP979BEF1BB | Range Hood |
| GE JGP979BEF2BB | Range Hood |
| GE JGP979SEF1SS | Range Hood |
| GE JGP979SEF2SS | Range Hood |
| GE JGP979WEF1WW | Range Hood |
| GE JGP979WEF2WW | Range Hood |
| GE JP380BVBB | Range Hood |
| JENN-AIR 12103 | Range Hood |
| JENN-AIR 12104 | Range Hood |
| JENN-AIR 22001 | Range Hood |
| JENN-AIR 22112 | Range Hood |
| JENN-AIR 22113 | Range Hood |
| JENN-AIR 22116 | Range Hood |
| JENN-AIR 22305 | Range Hood |
| JENN-AIR 22401 | Range Hood |
| JENN-AIR 2300 | Range Hood |
| JENN-AIR 2300ERS | Range Hood |
| JENN-AIR 2320ERS | Range Hood |
| JENN-AIR 2325ERS | Range Hood |
| JENN-AIR 2350EGS | Range Hood |
| JENN-AIR 2360 | Range Hood |
| JENN-AIR 2360EGS | Range Hood |
| JENN-AIR 2361EGS | Range Hood |
| JENN-AIR 2365 | Range Hood |
| JENN-AIR 2365EGN | Range Hood |
| JENN-AIR 2365EGS | Range Hood |
| JENN-AIR 2366 | Range Hood |
| JENN-AIR 2370 | Range Hood |
| JENN-AIR 2370EGS | Range Hood |
| JENN-AIR 2375ERS | Range Hood |
| JENN-AIR 2380EGS | Range Hood |
| JENN-AIR 2385EGN | Range Hood |
| JENN-AIR 2385EGS | Range Hood |
| JENN-AIR 2390ERS | Range Hood |
| JENN-AIR 2475 | Range Hood |
| JENN-AIR 2480 | Range Hood |
| JENN-AIR 2485 | Range Hood |
| JENN-AIR 2490 | Range Hood |
| JENN-AIR 2650 | Range Hood |
| JENN-AIR 3860ERS | Range Hood |
| JENN-AIR 3875ERS | Range Hood |
| JENN-AIR 3890ERS | Range Hood |
| JENN-AIR 87848 | Range Hood |
| JENN-AIR 87849 | Range Hood |
| JENN-AIR 88353 | Range Hood |
| JENN-AIR 88353-8 | Range Hood |
| JENN-AIR 88889 | Range Hood |
| JENN-AIR 88890 | Range Hood |
| JENN-AIR 88891 | Range Hood |
| JENN-AIR 89353 | Range Hood |
| JENN-AIR 89353-8 | Range Hood |
| JENN-AIR 89889 | Range Hood |
| JENN-AIR 89890 | Range Hood |
| JENN-AIR 89891 | Range Hood |
| JENN-AIR C100 | Range Hood |
| JENN-AIR C101 | Range Hood |
| JENN-AIR C101-C | Range Hood |
| JENN-AIR C101-J | Range Hood |
| JENN-AIR C102 | Range Hood |
| JENN-AIR C106 | Range Hood |
| JENN-AIR C106-C | Range Hood |
| JENN-AIR C116 | Range Hood |
| JENN-AIR C116-C | Range Hood |
| JENN-AIR C200 | Range Hood |
| JENN-AIR C201 | Range Hood |
| JENN-AIR C201-C | Range Hood |
| JENN-AIR C202 | Range Hood |
| JENN-AIR C202-C | Range Hood |
| JENN-AIR C203 | Range Hood |
| JENN-AIR C203-C | Range Hood |
| JENN-AIR C206 | Range Hood |
| JENN-AIR C206-C | Range Hood |
| JENN-AIR C206B | Range Hood |
| JENN-AIR C206B-C | Range Hood |
| JENN-AIR C206W | Range Hood |
| JENN-AIR C206W-C | Range Hood |
| JENN-AIR C220 | Range Hood |
| JENN-AIR C221 | Range Hood |
| JENN-AIR C221-C | Range Hood |
| JENN-AIR C221-J | Range Hood |
| JENN-AIR C222 | Range Hood |
| JENN-AIR C226 | Range Hood |
| JENN-AIR C226W-C | Range Hood |
| JENN-AIR C228 | Range Hood |
| JENN-AIR C228B-C | Range Hood |
| JENN-AIR C228W | Range Hood |
| JENN-AIR C228W-C | Range Hood |
| JENN-AIR C236 | Range Hood |
| JENN-AIR C236-C | Range Hood |
| JENN-AIR C236B | Range Hood |
| JENN-AIR C236B-C | Range Hood |
| JENN-AIR C236B-E | Range Hood |
| JENN-AIR C236NGB | Range Hood |
| JENN-AIR C236NGW | Range Hood |
| JENN-AIR C236W | Range Hood |
| JENN-AIR C236W-C | Range Hood |
| JENN-AIR C236W-E | Range Hood |
| JENN-AIR C238 | Range Hood |
| JENN-AIR C238B-C | Range Hood |
| JENN-AIR C300 | Range Hood |
| JENN-AIR C301 | Range Hood |
| JENN-AIR C301-C | Range Hood |
| JENN-AIR C302 | Range Hood |
| JENN-AIR C306 | Range Hood |
| JENN-AIR C306-C | Range Hood |
| JENN-AIR C316 | Range Hood |
| JENN-AIR C316-C | Range Hood |
| JENN-AIR C316W | Range Hood |
| JENN-AIR C316W-C | Range Hood |
| JENN-AIR CG100B | Range Hood |
| JENN-AIR CG100L | Range Hood |
| JENN-AIR CG100S | Range Hood |
| JENN-AIR CG106B | Range Hood |
| JENN-AIR CG106B-C | Range Hood |
| JENN-AIR CG106L | Range Hood |
| JENN-AIR CG106S | Range Hood |
| JENN-AIR CG106S-C | Range Hood |
| JENN-AIR CG200 | Range Hood |
| JENN-AIR CG200B | Range Hood |
| JENN-AIR CG200L | Range Hood |
| JENN-AIR CG205W | Range Hood |
| JENN-AIR CG206B | Range Hood |
| JENN-AIR CG206B-C | Range Hood |
| JENN-AIR CG206B-E | Range Hood |
| JENN-AIR CG206L | Range Hood |
| JENN-AIR CG206L-C | Range Hood |
| JENN-AIR CG206S | Range Hood |
| JENN-AIR CG206S-C | Range Hood |
| JENN-AIR CVE1400B | Range Hood |
| JENN-AIR CVE1400B-C | Range Hood |
| JENN-AIR CVE1400W | Range Hood |
| JENN-AIR CVE1400W-C | Range Hood |
| JENN-AIR CVE407B | Range Hood |
| JENN-AIR CVE407B-C | Range Hood |
| JENN-AIR CVE407W | Range Hood |
| JENN-AIR CVE407W-C | Range Hood |
| JENN-AIR CVE4180B | Range Hood |
| JENN-AIR CVE4180B-C | Range Hood |
| JENN-AIR CVE4180S | Range Hood |
| JENN-AIR CVE4180S-C | Range Hood |
| JENN-AIR CVE4180W | Range Hood |
| JENN-AIR CVE4180W-C | Range Hood |
| JENN-AIR CVE4270B | Range Hood |
| JENN-AIR CVE4270B-C | Range Hood |
| JENN-AIR CVE4270S | Range Hood |
| JENN-AIR CVE4270S-C | Range Hood |
| JENN-AIR CVE4270W | Range Hood |
| JENN-AIR CVE4270W-C | Range Hood |
| JENN-AIR CVE4370B | Range Hood |
| JENN-AIR CVE4370W | Range Hood |
| JENN-AIR CVG316B | Range Hood |
| JENN-AIR CVG316W | Range Hood |
| JENN-AIR CVG4100B | Range Hood |
| JENN-AIR CVG4280B | Range Hood |
| JENN-AIR CVG4280S | Range Hood |
| JENN-AIR CVG4280W | Range Hood |
| JENN-AIR CVG4380B | Range Hood |
| JENN-AIR CVG4380P | Range Hood |
| JENN-AIR CVG4380PD | Range Hood |
| JENN-AIR CVG4380PF | Range Hood |
| JENN-AIR CVG4380PG | Range Hood |
| JENN-AIR CVG4380PK | Range Hood |
| JENN-AIR CVG4380PR | Range Hood |
| JENN-AIR CVG4380PU | Range Hood |
| JENN-AIR CVG4380W | Range Hood |
| JENN-AIR G0206B-8 | Range Hood |
| JENN-AIR G100 | Range Hood |
| JENN-AIR G101 | Range Hood |
| JENN-AIR G102 | Range Hood |
| JENN-AIR G103 | Range Hood |
| JENN-AIR GO106 | Range Hood |
| JENN-AIR GO106B | Range Hood |
| JENN-AIR GO106B-8 | Range Hood |
| JENN-AIR GO206 | Range Hood |
| JENN-AIR GO206B | Range Hood |
| JENN-AIR GO206B-8 | Range Hood |
| JENN-AIR JED7430AAB | Range Hood |
| JENN-AIR JED8130ADB | Range Hood |
| JENN-AIR JED8130ADW | Range Hood |
| JENN-AIR JED8230ADB | Range Hood |
| JENN-AIR JED8230ADS | Range Hood |
| JENN-AIR JED8230ADW | Range Hood |
| JENN-AIR JED8345ADB | Range Hood |
| JENN-AIR JED8345ADW | Range Hood |
| JENN-AIR JGD8130ADB | Range Hood |
| JENN-AIR JGD8130ADS | Range Hood |
| JENN-AIR JGD8130ADW | Range Hood |
| JENN-AIR JGD8345ADB | Range Hood |
| JENN-AIR JGD8345ADW | Range Hood |
| JENN-AIR JGD8348ADP | Range Hood |
| JENN-AIR JGD8348BDP | Range Hood |
| JENN-AIR JGD8348CDP | Range Hood |
| JENN-AIR R200 | Range Hood |
| JENN-AIR R201 | Range Hood |
| JENN-AIR R201-C | Range Hood |
| JENN-AIR W238 | Range Hood |
| Kenmore 62912103 | Range Hood |
| Kenmore 62912104 | Range Hood |
| Kenmore 62922001 | Range Hood |
| Kenmore 62922112 | Range Hood |
| Kenmore 62922113 | Range Hood |
| Kenmore 62922116 | Range Hood |
| Kenmore 62922401 | Range Hood |
| Kenmore 629CG200 | Range Hood |
| MAGIC CHEF 89L-4 | Range Hood |
| MAGIC CHEF 89L-6 | Range Hood |
| MAYTAG CSG9900AAB | Range Hood |
| MAYTAG CSG9900AAE | Range Hood |
| WHIRLPOOL SC8720EDW0 | Range Hood |
| All-Filters G-8518 | Range Hood Filter |
| AMERICAN METAL FILTER CO RHF1109 | Range Hood Filter |
| Broan 99010243 | Range Hood Filter |
| Estate 707929 | Range Hood Filter |
| Hardwick 707929 | Range Hood Filter |
| Hardwick 708929 | Range Hood Filter |
| JENN-AIR 707929 | Range Hood Filter |
| JENN-AIR 99010243 | Range Hood Filter |
| Kitchenaid 707929 | Range Hood Filter |
| MAGIC CHEF 707929 | Range Hood Filter |
| MAGIC CHEF 708929 | Range Hood Filter |
| MAYTAG 707929 | Range Hood Filter |
| MAYTAG 708929 | Range Hood Filter |
| WHIRLPOOL 707929 | Range Hood Filter |