American Metal RHF0525 | Our#: 196281
Aluminum Range Hood Filter - 5-15/16" X 13-3/8" X 3/32", 6-Pack
American Metal RHF0525 | Our#: 196281
Fast Shipping & Free Returns
100% Compatibility Guarantee
Aluminum Range Hood Filter -5-15/16" X 13-3/8" X 3/32"
Used in ducted and non-ducted range hoods, microwave ovens and other applications requiring air cleaning
Aluminum filters trap grease and dust particles before they reach the exhaust fan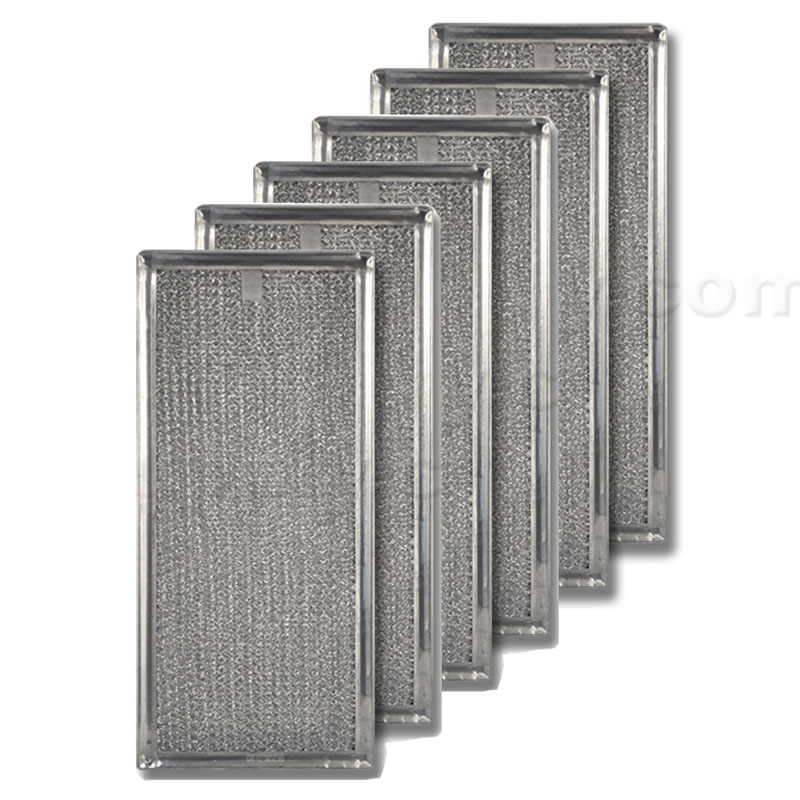 5 people in your area recently purchased this product!
$

7.89
(

6

Filters for $

47.36

)
Fast Shipping & Free Returns
100% Compatibility Guarantee
Frequently Purchased Together
Product Details
Aluminum Range Hood Filter - 5-15/16" X 13-3/8" X 3/32"
Aluminum filters trap grease and dust particles before they reach the exhaust fan. The aluminum mesh media is made of multilayered, slit and expanded sheets of aluminum which are staggered to form thousands of effective grease holding baffles.
FEATURES:
Used in ducted and non-ducted range hoods, microwave ovens and other applications requiring air cleaning.
May be washed.
Constructed of layered expanded, bonded, aluminum mesh in an aluminum frame.
Average Air Resistance - 64%.
Clean Resistance - .06" w.c.
Dust Holding Capacity - 44 grams/square foot
Replace every 6-12 months
---
Compatible Part Numbers
Search by your filter part number or appliance model number to verify compatibility
| Model or Part Number | Type |
| --- | --- |
| Amana AMV1150VAB1 | Microwave Oven |
| Amana AMV1150VAB2 | Microwave Oven |
| Amana AMV1150VAB3 | Microwave Oven |
| Amana AMV1150VAD1 | Microwave Oven |
| Amana AMV1150VAD2 | Microwave Oven |
| Amana AMV1150VAD3 | Microwave Oven |
| Amana AMV1150VAQ1 | Microwave Oven |
| Amana AMV1150VAQ2 | Microwave Oven |
| Amana AMV1150VAQ3 | Microwave Oven |
| Amana AMV1150VAS1 | Microwave Oven |
| Amana AMV1150VAS2 | Microwave Oven |
| Amana AMV1150VAS3 | Microwave Oven |
| Amana AMV1150VAW1 | Microwave Oven |
| Amana AMV1150VAW2 | Microwave Oven |
| Amana AMV1150VAW3 | Microwave Oven |
| AMANA AMV1154BAB | Microwave Oven |
| AMANA AMV1154BAQ | Microwave Oven |
| AMANA AMV1154BAS | Microwave Oven |
| AMANA AMV1154BAW | Microwave Oven |
| AMANA AMV1154BAZ | Microwave Oven |
| Amana AMV2174VAB4 | Microwave Oven |
| Amana AMV2174VAB5 | Microwave Oven |
| Amana AMV2174VAB6 | Microwave Oven |
| Amana AMV2174VAD4 | Microwave Oven |
| Amana AMV2174VAD5 | Microwave Oven |
| Amana AMV2174VAD6 | Microwave Oven |
| Amana AMV2174VAS4 | Microwave Oven |
| Amana AMV2174VAS5 | Microwave Oven |
| Amana AMV2174VAS6 | Microwave Oven |
| Amana AMV2174VAW4 | Microwave Oven |
| Amana AMV2174VAW5 | Microwave Oven |
| Amana AMV2174VAW6 | Microwave Oven |
| AMANA AMV5164BAB | Microwave Oven |
| AMANA AMV5164BAQ | Microwave Oven |
| AMANA AMV5164BAS | Microwave Oven |
| AMANA AMV5164BAW | Microwave Oven |
| AMANA AMV5164BCB | Microwave Oven |
| AMANA AMV5164BCS | Microwave Oven |
| AMANA AMV5164BCW | Microwave Oven |
| AMANA AMV5206BAB | Microwave Oven |
| AMANA AMV5206BAS | Microwave Oven |
| AMANA AMV5206BAW | Microwave Oven |
| AMANA AMV6167BDB | Microwave Oven |
| AMANA AMV6167BDS | Microwave Oven |
| Amana YAMV1160VAB2 | Microwave Oven |
| Amana YAMV1160VAB3 | Microwave Oven |
| Amana YAMV1160VAB4 | Microwave Oven |
| Amana YAMV1160VAB5 | Microwave Oven |
| Amana YAMV1160VAS2 | Microwave Oven |
| Amana YAMV1160VAS3 | Microwave Oven |
| Amana YAMV1160VAS4 | Microwave Oven |
| Amana YAMV1160VAS5 | Microwave Oven |
| Amana YAMV1160VAW2 | Microwave Oven |
| Amana YAMV1160VAW3 | Microwave Oven |
| Amana YAMV1160VAW4 | Microwave Oven |
| Amana YAMV1160VAW5 | Microwave Oven |
| Estate THM14XMB0 | Microwave Oven |
| Estate THM14XMQ0 | Microwave Oven |
| Estate THM14XMT0 | Microwave Oven |
| Estate TMH14XMB0 | Microwave Oven |
| Estate TMH14XMB1 | Microwave Oven |
| Estate TMH14XMB2 | Microwave Oven |
| Estate TMH14XMB3 | Microwave Oven |
| Estate TMH14XMB4 | Microwave Oven |
| Estate TMH14XMD0 | Microwave Oven |
| Estate TMH14XMD1 | Microwave Oven |
| Estate TMH14XMD2 | Microwave Oven |
| Estate TMH14XMQ1 | Microwave Oven |
| Estate TMH14XMQ2 | Microwave Oven |
| Estate TMH14XMQ3 | Microwave Oven |
| Estate TMH14XMQ4 | Microwave Oven |
| Estate TMH14XMS1 | Microwave Oven |
| Estate TMH14XMS2 | Microwave Oven |
| Estate TMH14XMS3 | Microwave Oven |
| Estate TMH14XMS4 | Microwave Oven |
| Estate TMH14XMT1 | Microwave Oven |
| Estate TMH14XMT2 | Microwave Oven |
| Estate TMH14XMT3 | Microwave Oven |
| Estate TMH14XMT4 | Microwave Oven |
| Estate TMH16XSB7 | Microwave Oven |
| Estate TMH16XSB8 | Microwave Oven |
| Estate TMH16XSB9 | Microwave Oven |
| Estate TMH16XSD6 | Microwave Oven |
| Estate TMH16XSD7 | Microwave Oven |
| Estate TMH16XSD8 | Microwave Oven |
| Estate TMH16XSQ6 | Microwave Oven |
| Estate TMH16XSQ7 | Microwave Oven |
| Estate TMH16XSQ8 | Microwave Oven |
| Estate TMH16XST4 | Microwave Oven |
| Estate TMH16XST5 | Microwave Oven |
| Estate TMH16XST6 | Microwave Oven |
| GE DVM1850DM2BB | Microwave Oven |
| GE DVM1850DM2WW | Microwave Oven |
| GE DVM1850DM3BB | Microwave Oven |
| GE DVM1850DM3WW | Microwave Oven |
| GE DVM1850DM4BB | Microwave Oven |
| GE DVM1850DM4WW | Microwave Oven |
| GE DVM1850DMBB01 | Microwave Oven |
| GE DVM1850DMWW01 | Microwave Oven |
| GE DVM1850MM2BG | Microwave Oven |
| GE DVM1850MM3BG | Microwave Oven |
| GE DVM1850MM4BG | Microwave Oven |
| GE DVM1850MMBG01 | Microwave Oven |
| GE DVM1850SM2SS | Microwave Oven |
| GE DVM1850SM3SS | Microwave Oven |
| GE DVM1850SM4SS | Microwave Oven |
| GE DVM1850SMSS01 | Microwave Oven |
| GE EMO3000HBB04 | Microwave Oven |
| GE EMO3000HBB05 | Microwave Oven |
| GE EMO3000HCC04 | Microwave Oven |
| GE EMO3000HCC05 | Microwave Oven |
| GE EMO3000HSS04 | Microwave Oven |
| GE EMO3000HSS05 | Microwave Oven |
| GE EMO3000HWW04 | Microwave Oven |
| GE EMO3000HWW05 | Microwave Oven |
| GE EMO4000JBB04 | Microwave Oven |
| GE EMO4000JBB05 | Microwave Oven |
| GE EMO4000JCC04 | Microwave Oven |
| GE EMO4000JCC05 | Microwave Oven |
| GE EMO4000JSS04 | Microwave Oven |
| GE EMO4000JSS05 | Microwave Oven |
| GE EMO4000JWW04 | Microwave Oven |
| GE EMO4000JWW05 | Microwave Oven |
| GE EVM1750DM2BB | Microwave Oven |
| GE EVM1750DM2CC | Microwave Oven |
| GE EVM1750DM2WW | Microwave Oven |
| GE EVM1750DMBB01 | Microwave Oven |
| GE EVM1750DMCC01 | Microwave Oven |
| GE EVM1750DMWW01 | Microwave Oven |
| GE EVM1750DP1BB | Microwave Oven |
| GE EVM1750DP1WW | Microwave Oven |
| GE EVM1750SM2SS | Microwave Oven |
| GE EVM1750SMSS01 | Microwave Oven |
| GE EVM1750SP1SS | Microwave Oven |
| GE HDM1853BJ05 | Microwave Oven |
| GE HDM1853BJ06 | Microwave Oven |
| GE HDM1853GL01 | Microwave Oven |
| GE HDM1853SJ05 | Microwave Oven |
| GE HDM1853SJ06 | Microwave Oven |
| GE HDM1853WJ05 | Microwave Oven |
| GE HDM1853WJ06 | Microwave Oven |
| GE HVM1540DN1BB | Microwave Oven |
| GE HVM1540DN1WW | Microwave Oven |
| GE HVM1540DN2BB | Microwave Oven |
| GE HVM1540DN2WW | Microwave Oven |
| GE HVM1540DP1BB | Microwave Oven |
| GE HVM1540DP1WW | Microwave Oven |
| GE HVM1540LN1CS | Microwave Oven |
| GE HVM1540LN2CS | Microwave Oven |
| GE HVM1540LP1CS | Microwave Oven |
| GE HVM1540SN1SS | Microwave Oven |
| GE HVM1540SN2SS | Microwave Oven |
| GE HVM1540SN3SS | Microwave Oven |
| GE HVM1540SP1SS | Microwave Oven |
| GE HVM1750DM1CC | Microwave Oven |
| GE HVM1750DM2BB | Microwave Oven |
| GE HVM1750DM2CC | Microwave Oven |
| GE HVM1750DM2WW | Microwave Oven |
| GE HVM1750DMBB01 | Microwave Oven |
| GE HVM1750DMWW01 | Microwave Oven |
| GE HVM1750DP1BB | Microwave Oven |
| GE HVM1750DP1CC | Microwave Oven |
| GE HVM1750DP1WW | Microwave Oven |
| GE HVM1750SM2SS | Microwave Oven |
| GE HVM1750SMSS01 | Microwave Oven |
| GE HVM1750SP1SS | Microwave Oven |
| GE JNM1541DN1BB | Microwave Oven |
| GE JNM1541DN1CC | Microwave Oven |
| GE JNM1541DN1WW | Microwave Oven |
| GE JNM1541DN2BB | Microwave Oven |
| GE JNM1541DN2CC | Microwave Oven |
| GE JNM1541DN2WW | Microwave Oven |
| GE JNM1541DP1BB | Microwave Oven |
| GE JNM1541DP1CC | Microwave Oven |
| GE JNM1541DP1WW | Microwave Oven |
| GE JNM1541LP1CS | Microwave Oven |
| GE JNM1541MN1SA | Microwave Oven |
| GE JNM1541MP1SA | Microwave Oven |
| GE JNM1541SN1SS | Microwave Oven |
| GE JNM1541SN2SS | Microwave Oven |
| GE JNM1541SP1SS | Microwave Oven |
| GE JNM1731DM2BB | Microwave Oven |
| GE JNM1731DM2CC | Microwave Oven |
| GE JNM1731DM2WW | Microwave Oven |
| GE JNM1731DMBB01 | Microwave Oven |
| GE JNM1731DMCC01 | Microwave Oven |
| GE JNM1731DMWW01 | Microwave Oven |
| GE JNM1731DP1BB | Microwave Oven |
| GE JNM1731DP1CC | Microwave Oven |
| GE JNM1731DP1WW | Microwave Oven |
| GE JNM1851DM2BB | Microwave Oven |
| GE JNM1851DM2CC | Microwave Oven |
| GE JNM1851DM2WW | Microwave Oven |
| GE JNM1851DM3BB | Microwave Oven |
| GE JNM1851DM3CC | Microwave Oven |
| GE JNM1851DM3WW | Microwave Oven |
| GE JNM1851DM4BB | Microwave Oven |
| GE JNM1851DM4CC | Microwave Oven |
| GE JNM1851DM4WW | Microwave Oven |
| GE JNM1851DMBB01 | Microwave Oven |
| GE JNM1851DMCC01 | Microwave Oven |
| GE JNM1851DMWW01 | Microwave Oven |
| GE JNM1851SM2SS | Microwave Oven |
| GE JNM1851SM3SS | Microwave Oven |
| GE JNM1851SM4SS | Microwave Oven |
| GE JNM1851SMSS01 | Microwave Oven |
| GE JVM1430BD03 | Microwave Oven |
| GE JVM1430WD03 | Microwave Oven |
| GE JVM1440BH04 | Microwave Oven |
| GE JVM1440CK01 | Microwave Oven |
| GE JVM1440LK02 | Microwave Oven |
| GE JVM1440SH03 | Microwave Oven |
| GE JVM1440WH04 | Microwave Oven |
| GE JVM1441BH04 | Microwave Oven |
| GE JVM1441CJ04 | Microwave Oven |
| GE JVM1441SH03 | Microwave Oven |
| GE JVM1441WH04 | Microwave Oven |
| GE JVM1443BK02 | Microwave Oven |
| GE JVM1443LK02 | Microwave Oven |
| GE JVM1443WK02 | Microwave Oven |
| GE JVM1530DM1BB | Microwave Oven |
| GE JVM1530DM1WW | Microwave Oven |
| GE JVM1540DN1BB | Microwave Oven |
| GE JVM1540DN1CC | Microwave Oven |
| GE JVM1540DN1WW | Microwave Oven |
| GE JVM1540DN2BB | Microwave Oven |
| GE JVM1540DN2CC | Microwave Oven |
| GE JVM1540DN2WW | Microwave Oven |
| GE JVM1540DP1BB | Microwave Oven |
| GE JVM1540DP1CC | Microwave Oven |
| GE JVM1540DP1WW | Microwave Oven |
| GE JVM1540LN1CS | Microwave Oven |
| GE JVM1540LN2CS | Microwave Oven |
| GE JVM1540LP1CS | Microwave Oven |
| GE JVM1540SN1SS | Microwave Oven |
| GE JVM1540SN2SS | Microwave Oven |
| GE JVM1540SP1SS | Microwave Oven |
| GE JVM1650BH04 | Microwave Oven |
| GE JVM1650BH05 | Microwave Oven |
| GE JVM1650CH04 | Microwave Oven |
| GE JVM1650CH05 | Microwave Oven |
| GE JVM1650SH04 | Microwave Oven |
| GE JVM1650SH05 | Microwave Oven |
| GE JVM1650WH04 | Microwave Oven |
| GE JVM1650WH05 | Microwave Oven |
| GE JVM1653BH04 | Microwave Oven |
| GE JVM1653BH05 | Microwave Oven |
| GE JVM1653SH04 | Microwave Oven |
| GE JVM1653SH05 | Microwave Oven |
| GE JVM1653WH04 | Microwave Oven |
| GE JVM1653WH05 | Microwave Oven |
| GE JVM1660BH04 | Microwave Oven |
| GE JVM1660CH04 | Microwave Oven |
| GE JVM1660SH04 | Microwave Oven |
| GE JVM1660WH04 | Microwave Oven |
| GE JVM1730DM2BB | Microwave Oven |
| GE JVM1730DM2CC | Microwave Oven |
| GE JVM1730DM2WW | Microwave Oven |
| GE JVM1730DMBB01 | Microwave Oven |
| GE JVM1730DMCC01 | Microwave Oven |
| GE JVM1730DMWW01 | Microwave Oven |
| GE JVM1730DP1BB | Microwave Oven |
| GE JVM1730DP1CC | Microwave Oven |
| GE JVM1730DP1WW | Microwave Oven |
| GE JVM1740DM2BB | Microwave Oven |
| GE JVM1740DM2CC | Microwave Oven |
| GE JVM1740DM2WW | Microwave Oven |
| GE JVM1740DMBB01 | Microwave Oven |
| GE JVM1740DMCC01 | Microwave Oven |
| GE JVM1740DMWW01 | Microwave Oven |
| GE JVM1740DP1BB | Microwave Oven |
| GE JVM1740DP1CC | Microwave Oven |
| GE JVM1740DP1WW | Microwave Oven |
| GE JVM1740SM2SS | Microwave Oven |
| GE JVM1740SMSS01 | Microwave Oven |
| GE JVM1740SP1SS | Microwave Oven |
| GE JVM1750DM1BB | Microwave Oven |
| GE JVM1750DM1CC | Microwave Oven |
| GE JVM1750DM1WW | Microwave Oven |
| GE JVM1750DM2BB | Microwave Oven |
| GE JVM1750DM2CC | Microwave Oven |
| GE JVM1750DM2WW | Microwave Oven |
| GE JVM1750DMBB01 | Microwave Oven |
| GE JVM1750DMCC01 | Microwave Oven |
| GE JVM1750DMWW01 | Microwave Oven |
| GE JVM1750DP1BB | Microwave Oven |
| GE JVM1750DP1CC | Microwave Oven |
| GE JVM1750DP1WW | Microwave Oven |
| GE JVM1750SM1SS | Microwave Oven |
| GE JVM1750SM2SS | Microwave Oven |
| GE JVM1750SMSS01 | Microwave Oven |
| GE JVM1750SP1SS | Microwave Oven |
| GE JVM1752DP1BB | Microwave Oven |
| GE JVM1752DP1WW | Microwave Oven |
| GE JVM1752SP1SS | Microwave Oven |
| GE JVM1840DR1BB | Microwave Oven |
| GE JVM1840DR1WW | Microwave Oven |
| GE JVM1850BH05 | Microwave Oven |
| GE JVM1850BH06 | Microwave Oven |
| GE JVM1850CH05 | Microwave Oven |
| GE JVM1850CH06 | Microwave Oven |
| GE JVM1850DM2BB | Microwave Oven |
| GE JVM1850DM2CC | Microwave Oven |
| GE JVM1850DM2WW | Microwave Oven |
| GE JVM1850DM3BB | Microwave Oven |
| GE JVM1850DM3CC | Microwave Oven |
| GE JVM1850DM3WW | Microwave Oven |
| GE JVM1850DM4BB | Microwave Oven |
| GE JVM1850DM4CC | Microwave Oven |
| GE JVM1850DM4WW | Microwave Oven |
| GE JVM1850DMBB01 | Microwave Oven |
| GE JVM1850DMCC01 | Microwave Oven |
| GE JVM1850DMWW01 | Microwave Oven |
| GE JVM1850SH05 | Microwave Oven |
| GE JVM1850SH06 | Microwave Oven |
| GE JVM1850SM2SS | Microwave Oven |
| GE JVM1850SM3SS | Microwave Oven |
| GE JVM1850SM4SS | Microwave Oven |
| GE JVM1850SMSS01 | Microwave Oven |
| GE JVM1850WH05 | Microwave Oven |
| GE JVM1850WH06 | Microwave Oven |
| GE JVM1851BH05 | Microwave Oven |
| GE JVM1851BH06 | Microwave Oven |
| GE JVM1851CH05 | Microwave Oven |
| GE JVM1851CH06 | Microwave Oven |
| GE JVM1851SH05 | Microwave Oven |
| GE JVM1851SH06 | Microwave Oven |
| GE JVM1851WH05 | Microwave Oven |
| GE JVM1851WH06 | Microwave Oven |
| GE JVM1870BF05 | Microwave Oven |
| GE JVM1870BF06 | Microwave Oven |
| GE JVM1870BF07 | Microwave Oven |
| GE JVM1870BF08 | Microwave Oven |
| GE JVM1870CF05 | Microwave Oven |
| GE JVM1870CF06 | Microwave Oven |
| GE JVM1870CF07 | Microwave Oven |
| GE JVM1870CF08 | Microwave Oven |
| GE JVM1870SK02 | Microwave Oven |
| GE JVM1870SK03 | Microwave Oven |
| GE JVM1870SK04 | Microwave Oven |
| GE JVM1870SK05 | Microwave Oven |
| GE JVM1870WF05 | Microwave Oven |
| GE JVM1870WF06 | Microwave Oven |
| GE JVM1870WF07 | Microwave Oven |
| GE JVM1870WF08 | Microwave Oven |
| GE JVM1871SK02 | Microwave Oven |
| GE JVM1871SK03 | Microwave Oven |
| GE JVM1871SK04 | Microwave Oven |
| GE JVM1871SK05 | Microwave Oven |
| GE LVM1540DN1BB | Microwave Oven |
| GE LVM1540DN1WW | Microwave Oven |
| GE LVM1540LN1CS | Microwave Oven |
| GE LVM1540SN1SS | Microwave Oven |
| GE LVM1750DM1BB | Microwave Oven |
| GE LVM1750DM1WW | Microwave Oven |
| GE LVM1750DM2BB | Microwave Oven |
| GE LVM1750DM2WW | Microwave Oven |
| GE LVM1750DP1BB | Microwave Oven |
| GE LVM1750DP1WW | Microwave Oven |
| GE LVM1750SM1SS | Microwave Oven |
| GE LVM1750SM2SS | Microwave Oven |
| GE LVM1750SP1SS | Microwave Oven |
| GE PNM1871SM1SS | Microwave Oven |
| GE PNM1871SM2SS | Microwave Oven |
| GE PNM1871SM3SS | Microwave Oven |
| GE PVM1870DM1BB | Microwave Oven |
| GE PVM1870DM1CC | Microwave Oven |
| GE PVM1870DM1WW | Microwave Oven |
| GE PVM1870DM2BB | Microwave Oven |
| GE PVM1870DM2CC | Microwave Oven |
| GE PVM1870DM2WW | Microwave Oven |
| GE PVM1870DM3BB | Microwave Oven |
| GE PVM1870DM3CC | Microwave Oven |
| GE PVM1870DM3WW | Microwave Oven |
| GE PVM1870SM1SS | Microwave Oven |
| GE PVM1870SM2SS | Microwave Oven |
| GE PVM1870SM3SS | Microwave Oven |
| GE PVM1873SN1SS | Microwave Oven |
| GE PVM1873SN2SS | Microwave Oven |
| GE RVM1435BJ01 | Microwave Oven |
| GE RVM1435BK01 | Microwave Oven |
| GE RVM1435CJ01 | Microwave Oven |
| GE RVM1435CK01 | Microwave Oven |
| GE RVM1435SK01 | Microwave Oven |
| GE RVM1435WJ01 | Microwave Oven |
| GE RVM1435WK01 | Microwave Oven |
| GE RVM1535DM1BB | Microwave Oven |
| GE RVM1535DM1CC | Microwave Oven |
| GE RVM1535DM1WW | Microwave Oven |
| GE RVM1535MM1SA | Microwave Oven |
| GE RVM1635BJ01 | Microwave Oven |
| GE RVM1635BK01 | Microwave Oven |
| GE RVM1635CJ01 | Microwave Oven |
| GE RVM1635CK01 | Microwave Oven |
| GE RVM1635SK01 | Microwave Oven |
| GE RVM1635WJ01 | Microwave Oven |
| GE RVM1635WK01 | Microwave Oven |
| JENN-AIR JMV8166BAB | Microwave Oven |
| JENN-AIR JMV8166BAS | Microwave Oven |
| JENN-AIR JMV8166BAW | Microwave Oven |
| JENN-AIR JMV8208BAB | Microwave Oven |
| JENN-AIR JMV8208BAS | Microwave Oven |
| JENN-AIR JMV8208BAW | Microwave Oven |
| JENN-AIR JMV8208BCB | Microwave Oven |
| JENN-AIR JMV8208BCS | Microwave Oven |
| JENN-AIR JMV8208BCW | Microwave Oven |
| Jenn-Air JMV8208CB1 | Microwave Oven |
| Jenn-Air JMV8208CB2 | Microwave Oven |
| Jenn-Air JMV8208CB3 | Microwave Oven |
| Jenn-Air JMV8208CB4 | Microwave Oven |
| Jenn-Air JMV8208CB5 | Microwave Oven |
| Jenn-Air JMV8208CB6 | Microwave Oven |
| Jenn-Air JMV8208CS2 | Microwave Oven |
| Jenn-Air JMV8208CS3 | Microwave Oven |
| Jenn-Air JMV8208CS4 | Microwave Oven |
| Jenn-Air JMV8208CS5 | Microwave Oven |
| Jenn-Air JMV8208CS6 | Microwave Oven |
| Jenn-Air JMV8208WB0 | Microwave Oven |
| Jenn-Air JMV8208WP0 | Microwave Oven |
| Jenn-Air JMV8208WS0 | Microwave Oven |
| Jenn-Air JMV8208WW0 | Microwave Oven |
| JENN-AIR JMV9169BAB | Microwave Oven |
| JENN-AIR JMV9169BAP | Microwave Oven |
| JENN-AIR JMV9169BAS | Microwave Oven |
| JENN-AIR JMV9169BAW | Microwave Oven |
| Jenn-Air JMV9186WB1 | Microwave Oven |
| Jenn-Air JMV9186WP1 | Microwave Oven |
| Jenn-Air JMV9186WR1 | Microwave Oven |
| Jenn-Air JMV9186WS1 | Microwave Oven |
| Jenn-Air JMV9186WW1 | Microwave Oven |
| Jenn-Air JMV9196CB2 | Microwave Oven |
| Jenn-Air JMV9196CB3 | Microwave Oven |
| Jenn-Air JMV9196CB4 | Microwave Oven |
| Jenn-Air JMV9196CB5 | Microwave Oven |
| Jenn-Air JMV9196CB6 | Microwave Oven |
| Jenn-Air JMV9196CS2 | Microwave Oven |
| Jenn-Air JMV9196CS3 | Microwave Oven |
| Jenn-Air JMV9196CS4 | Microwave Oven |
| Jenn-Air JMV9196CS5 | Microwave Oven |
| Jenn-Air YJMV8208WB0 | Microwave Oven |
| Jenn-Air YJMV8208WS0 | Microwave Oven |
| Jenn-Air YJMV9196CB2 | Microwave Oven |
| Jenn-Air YJMV9196CB3 | Microwave Oven |
| Jenn-Air YJMV9196CB4 | Microwave Oven |
| Jenn-Air YJMV9196CB5 | Microwave Oven |
| Jenn-Air YJMV9196CS1 | Microwave Oven |
| Jenn-Air YJMV9196CS2 | Microwave Oven |
| Jenn-Air YJMV9196CS3 | Microwave Oven |
| Jenn-Air YJMV9196CS4 | Microwave Oven |
| Kenmore 66560601000 | Microwave Oven |
| Kenmore 66560609000 | Microwave Oven |
| Kenmore 66560612000 | Microwave Oven |
| Kenmore 66560617000 | Microwave Oven |
| Kenmore 66560619000 | Microwave Oven |
| Kenmore 66561601100 | Microwave Oven |
| Kenmore 66561609100 | Microwave Oven |
| Kenmore 66561612100 | Microwave Oven |
| Kenmore 66561612101 | Microwave Oven |
| Kenmore 66561614100 | Microwave Oven |
| Kenmore 66561614101 | Microwave Oven |
| Kenmore 66561617100 | Microwave Oven |
| Kenmore 66561617101 | Microwave Oven |
| Kenmore 66561619100 | Microwave Oven |
| Kenmore 66561619101 | Microwave Oven |
| Kenmore 66561622100 | Microwave Oven |
| Kenmore 66561624100 | Microwave Oven |
| Kenmore 66561627100 | Microwave Oven |
| Kenmore 66561629100 | Microwave Oven |
| Kenmore 66561632100 | Microwave Oven |
| Kenmore 66561639100 | Microwave Oven |
| Kenmore 66561701100 | Microwave Oven |
| Kenmore 66561709100 | Microwave Oven |
| Kenmore 66562612200 | Microwave Oven |
| Kenmore 66562612201 | Microwave Oven |
| Kenmore 66562612300 | Microwave Oven |
| Kenmore 66562612301 | Microwave Oven |
| Kenmore 66562614200 | Microwave Oven |
| Kenmore 66562614201 | Microwave Oven |
| Kenmore 66562614300 | Microwave Oven |
| Kenmore 66562614301 | Microwave Oven |
| Kenmore 66562619200 | Microwave Oven |
| Kenmore 66562619201 | Microwave Oven |
| Kenmore 66562619300 | Microwave Oven |
| Kenmore 66562619301 | Microwave Oven |
| Kenmore 66568600890 | Microwave Oven |
| Kenmore 66568600891 | Microwave Oven |
| Kenmore 66568600991 | Microwave Oven |
| Kenmore 66568600992 | Microwave Oven |
| Kenmore 66568601890 | Microwave Oven |
| Kenmore 66568601891 | Microwave Oven |
| Kenmore 66568601991 | Microwave Oven |
| Kenmore 66568601992 | Microwave Oven |
| Kenmore 66568602890 | Microwave Oven |
| Kenmore 66568602891 | Microwave Oven |
| Kenmore 66568602991 | Microwave Oven |
| Kenmore 66568602992 | Microwave Oven |
| Kenmore 66568610890 | Microwave Oven |
| Kenmore 66568610891 | Microwave Oven |
| Kenmore 66568610991 | Microwave Oven |
| Kenmore 66568611890 | Microwave Oven |
| Kenmore 66568611991 | Microwave Oven |
| Kenmore 66568612890 | Microwave Oven |
| Kenmore 66568612891 | Microwave Oven |
| Kenmore 66568612991 | Microwave Oven |
| Kenmore 66568680890 | Microwave Oven |
| Kenmore 66568680891 | Microwave Oven |
| Kenmore 66568680991 | Microwave Oven |
| Kenmore 66568681890 | Microwave Oven |
| Kenmore 66568681891 | Microwave Oven |
| Kenmore 66568681991 | Microwave Oven |
| Kenmore 66568682890 | Microwave Oven |
| Kenmore 66568682891 | Microwave Oven |
| Kenmore 66568682991 | Microwave Oven |
| KitchenAid KHMC1857BBL0 | Microwave Oven |
| KitchenAid KHMC1857BBL1 | Microwave Oven |
| KitchenAid KHMC1857BSP0 | Microwave Oven |
| KitchenAid KHMC1857BSP1 | Microwave Oven |
| KitchenAid KHMC1857BSS0 | Microwave Oven |
| KitchenAid KHMC1857BSS1 | Microwave Oven |
| KitchenAid KHMC1857BWH0 | Microwave Oven |
| KitchenAid KHMC1857BWH1 | Microwave Oven |
| KitchenAid KHMC1857WBL0 | Microwave Oven |
| KitchenAid KHMC1857WSS0 | Microwave Oven |
| KitchenAid KHMC1857WWH0 | Microwave Oven |
| KitchenAid KHMC1857XSP0 | Microwave Oven |
| KitchenAid KHMS1857WBL0 | Microwave Oven |
| KitchenAid KHMS1857WSS0 | Microwave Oven |
| KitchenAid KHMS1857WWH0 | Microwave Oven |
| KitchenAid KHMS2040BB2 | Microwave Oven |
| KitchenAid KHMS2040BBL0 | Microwave Oven |
| KitchenAid KHMS2040BBL1 | Microwave Oven |
| KitchenAid KHMS2040BSS0 | Microwave Oven |
| KitchenAid KHMS2040BSS1 | Microwave Oven |
| KitchenAid KHMS2040BW2 | Microwave Oven |
| KitchenAid KHMS2040BWH0 | Microwave Oven |
| KitchenAid KHMS2040BWH1 | Microwave Oven |
| KitchenAid KHMS2040WBL0 | Microwave Oven |
| KitchenAid KHMS2040WBL1 | Microwave Oven |
| KitchenAid KHMS2040WBL2 | Microwave Oven |
| KitchenAid KHMS2040WSS0 | Microwave Oven |
| KitchenAid KHMS2040WSS1 | Microwave Oven |
| KitchenAid KHMS2040WSS2 | Microwave Oven |
| KitchenAid KHMS2040WSS3 | Microwave Oven |
| KitchenAid KHMS2040WWH0 | Microwave Oven |
| KitchenAid KHMS2040WWH1 | Microwave Oven |
| KitchenAid KHMS2040WWH2 | Microwave Oven |
| KitchenAid KMHS120EBL4 | Microwave Oven |
| KitchenAid KMHS120EBL5 | Microwave Oven |
| KitchenAid KMHS120EBL6 | Microwave Oven |
| KitchenAid KMHS120EBL7 | Microwave Oven |
| KitchenAid KMHS120EBL8 | Microwave Oven |
| KitchenAid KMHS120EBS0 | Microwave Oven |
| KitchenAid KMHS120EBS1 | Microwave Oven |
| KitchenAid KMHS120EBS2 | Microwave Oven |
| KitchenAid KMHS120EBS3 | Microwave Oven |
| KitchenAid KMHS120EBS4 | Microwave Oven |
| KitchenAid KMHS120ESS4 | Microwave Oven |
| KitchenAid KMHS120ESS5 | Microwave Oven |
| KitchenAid KMHS120ESS6 | Microwave Oven |
| KitchenAid KMHS120ESS7 | Microwave Oven |
| KitchenAid KMHS120EWH4 | Microwave Oven |
| KitchenAid KMHS120EWH5 | Microwave Oven |
| KitchenAid KMHS120EWH6 | Microwave Oven |
| KitchenAid KMHS120EWH7 | Microwave Oven |
| KitchenAid KMHS120EWH8 | Microwave Oven |
| KitchenAid YKHMS2040BS0 | Microwave Oven |
| KitchenAid YKHMS2040WS1 | Microwave Oven |
| KitchenAid YKHMS2040WS3 | Microwave Oven |
| KitchenAid YKMHS120EB3 | Microwave Oven |
| KitchenAid YKMHS120EB4 | Microwave Oven |
| KitchenAid YKMHS120EB5 | Microwave Oven |
| KitchenAid YKMHS120EB6 | Microwave Oven |
| KitchenAid YKMHS120EBS0 | Microwave Oven |
| KitchenAid YKMHS120EBS1 | Microwave Oven |
| KitchenAid YKMHS120EBS2 | Microwave Oven |
| KitchenAid YKMHS120EBS3 | Microwave Oven |
| KitchenAid YKMHS120ES3 | Microwave Oven |
| KitchenAid YKMHS120ES4 | Microwave Oven |
| KitchenAid YKMHS120ES5 | Microwave Oven |
| KitchenAid YKMHS120ES6 | Microwave Oven |
| KitchenAid YKMHS120ES7 | Microwave Oven |
| KitchenAid YKMHS120EW3 | Microwave Oven |
| KitchenAid YKMHS120EW4 | Microwave Oven |
| KitchenAid YKMHS120EW5 | Microwave Oven |
| KitchenAid YKMHS120EW6 | Microwave Oven |
| KitchenAid YKMHS120EW7 | Microwave Oven |
| Maytag AMV1150VAB0 | Microwave Oven |
| Maytag AMV1150VAB4 | Microwave Oven |
| Maytag AMV1150VAB5 | Microwave Oven |
| Maytag AMV1150VAB6 | Microwave Oven |
| Maytag AMV1150VAD0 | Microwave Oven |
| Maytag AMV1150VAD4 | Microwave Oven |
| Maytag AMV1150VAQ0 | Microwave Oven |
| Maytag AMV1150VAQ4 | Microwave Oven |
| Maytag AMV1150VAS0 | Microwave Oven |
| Maytag AMV1150VAS4 | Microwave Oven |
| Maytag AMV1150VAS5 | Microwave Oven |
| Maytag AMV1150VAS6 | Microwave Oven |
| Maytag AMV1150VAW0 | Microwave Oven |
| Maytag AMV1150VAW4 | Microwave Oven |
| Maytag AMV1150VAW5 | Microwave Oven |
| Maytag AMV1150VAW6 | Microwave Oven |
| Maytag AMV1160VAB2 | Microwave Oven |
| Maytag AMV1160VAB3 | Microwave Oven |
| Maytag AMV1160VAB4 | Microwave Oven |
| Maytag AMV1160VAD2 | Microwave Oven |
| Maytag AMV1160VAD3 | Microwave Oven |
| Maytag AMV1160VAD4 | Microwave Oven |
| Maytag AMV1160VAS2 | Microwave Oven |
| Maytag AMV1160VAS3 | Microwave Oven |
| Maytag AMV1160VAS4 | Microwave Oven |
| Maytag AMV1160VAW2 | Microwave Oven |
| Maytag AMV1160VAW3 | Microwave Oven |
| Maytag AMV1160VAW4 | Microwave Oven |
| Maytag AMV2174VAB2 | Microwave Oven |
| Maytag AMV2174VAB3 | Microwave Oven |
| Maytag AMV2174VAD2 | Microwave Oven |
| Maytag AMV2174VAD3 | Microwave Oven |
| Maytag AMV2174VAS2 | Microwave Oven |
| Maytag AMV2174VAS3 | Microwave Oven |
| Maytag AMV2174VAW2 | Microwave Oven |
| Maytag AMV2174VAW3 | Microwave Oven |
| Maytag AMV2175CB0 | Microwave Oven |
| Maytag AMV2175CS0 | Microwave Oven |
| Maytag AMV2175CW0 | Microwave Oven |
| Maytag AMV2307PFB0 | Microwave Oven |
| Maytag AMV2307PFS0 | Microwave Oven |
| Maytag AMV2307PFW0 | Microwave Oven |
| Maytag AMV3204VAB0 | Microwave Oven |
| Maytag AMV3204VAB1 | Microwave Oven |
| Maytag AMV3204VAQ0 | Microwave Oven |
| Maytag AMV3204VAS0 | Microwave Oven |
| Maytag AMV3204VAS1 | Microwave Oven |
| Maytag AMV3204VAW1 | Microwave Oven |
| Maytag AMV6502REB0 | Microwave Oven |
| Maytag AMV6502RES0 | Microwave Oven |
| Maytag AMV6502REW0 | Microwave Oven |
| MAYTAG JMV8186AAB14 | Microwave Oven |
| MAYTAG JMV8186AAB16 | Microwave Oven |
| MAYTAG JMV8186AAS14 | Microwave Oven |
| MAYTAG JMV8186AAS16 | Microwave Oven |
| MAYTAG JMV8186AAW15 | Microwave Oven |
| MAYTAG JMV8186AAW17 | Microwave Oven |
| MAYTAG JMV8208BAB14 | Microwave Oven |
| MAYTAG JMV8208BAB17 | Microwave Oven |
| MAYTAG JMV8208BAS14 | Microwave Oven |
| MAYTAG JMV8208BAS17 | Microwave Oven |
| MAYTAG JMV8208BAW15 | Microwave Oven |
| MAYTAG JMV8208BAW18 | Microwave Oven |
| MAYTAG JMV8208BCB14 | Microwave Oven |
| MAYTAG JMV8208BCB17 | Microwave Oven |
| MAYTAG JMV8208BCB18 | Microwave Oven |
| MAYTAG JMV8208BCS14 | Microwave Oven |
| MAYTAG JMV8208BCS17 | Microwave Oven |
| MAYTAG JMV8208BCS18 | Microwave Oven |
| MAYTAG JMV8208BCW15 | Microwave Oven |
| MAYTAG JMV8208BCW18 | Microwave Oven |
| MAYTAG JMV8208BCW19 | Microwave Oven |
| Maytag JMV8208CB0 | Microwave Oven |
| Maytag JMV8208CS0 | Microwave Oven |
| MAYTAG JMV8208DB00 | Microwave Oven |
| MAYTAG JMV8208DP00 | Microwave Oven |
| MAYTAG JMV8208DS00 | Microwave Oven |
| MAYTAG JMV8208DW00 | Microwave Oven |
| Maytag JMV8208WB1 | Microwave Oven |
| Maytag JMV8208WP1 | Microwave Oven |
| Maytag JMV8208WS1 | Microwave Oven |
| Maytag JMV8208WW1 | Microwave Oven |
| Maytag JMV9186WB0 | Microwave Oven |
| Maytag JMV9186WB2 | Microwave Oven |
| Maytag JMV9186WP0 | Microwave Oven |
| Maytag JMV9186WP2 | Microwave Oven |
| Maytag JMV9186WR0 | Microwave Oven |
| Maytag JMV9186WR2 | Microwave Oven |
| Maytag JMV9186WS0 | Microwave Oven |
| Maytag JMV9186WS2 | Microwave Oven |
| Maytag JMV9186WW0 | Microwave Oven |
| Maytag JMV9186WW2 | Microwave Oven |
| Maytag JMV9196CB0 | Microwave Oven |
| Maytag JMV9196CB1 | Microwave Oven |
| Maytag JMV9196CS0 | Microwave Oven |
| Maytag JMV9196CS1 | Microwave Oven |
| MAYTAG MMV1153BAB | Microwave Oven |
| MAYTAG MMV1153BAB15 | Microwave Oven |
| MAYTAG MMV1153BAS | Microwave Oven |
| MAYTAG MMV1153BAS15 | Microwave Oven |
| MAYTAG MMV1153BAW | Microwave Oven |
| MAYTAG MMV1153BAW16 | Microwave Oven |
| Maytag MMV1153WB0 | Microwave Oven |
| Maytag MMV1153WB1 | Microwave Oven |
| Maytag MMV1153WB2 | Microwave Oven |
| Maytag MMV1153WS0 | Microwave Oven |
| Maytag MMV1153WS1 | Microwave Oven |
| Maytag MMV1153WS2 | Microwave Oven |
| Maytag MMV1153WW0 | Microwave Oven |
| Maytag MMV1153WW1 | Microwave Oven |
| Maytag MMV1153WW2 | Microwave Oven |
| MAYTAG MMV1163DB00 | Microwave Oven |
| MAYTAG MMV1163DS00 | Microwave Oven |
| MAYTAG MMV1163DW00 | Microwave Oven |
| Maytag MMV1164WB0 | Microwave Oven |
| Maytag MMV1164WB1 | Microwave Oven |
| Maytag MMV1164WB2 | Microwave Oven |
| Maytag MMV1164WB3 | Microwave Oven |
| Maytag MMV1164WB4 | Microwave Oven |
| Maytag MMV1164WB5 | Microwave Oven |
| Maytag MMV1164WB6 | Microwave Oven |
| Maytag MMV1164WS0 | Microwave Oven |
| Maytag MMV1164WS1 | Microwave Oven |
| Maytag MMV1164WS2 | Microwave Oven |
| Maytag MMV1164WS3 | Microwave Oven |
| Maytag MMV1164WS4 | Microwave Oven |
| Maytag MMV1164WS5 | Microwave Oven |
| Maytag MMV1164WS6 | Microwave Oven |
| Maytag MMV1164WS7 | Microwave Oven |
| Maytag MMV1164WW0 | Microwave Oven |
| Maytag MMV1164WW1 | Microwave Oven |
| Maytag MMV1164WW2 | Microwave Oven |
| Maytag MMV1164WW3 | Microwave Oven |
| Maytag MMV1164WW4 | Microwave Oven |
| Maytag MMV1164WW5 | Microwave Oven |
| Maytag MMV1164WW6 | Microwave Oven |
| Maytag MMV1174DE0 | Microwave Oven |
| Maytag MMV1174DE1 | Microwave Oven |
| Maytag MMV1174DE2 | Microwave Oven |
| Maytag MMV1174DE3 | Microwave Oven |
| Maytag MMV1174DE4 | Microwave Oven |
| Maytag MMV1174DH0 | Microwave Oven |
| Maytag MMV1174DH1 | Microwave Oven |
| Maytag MMV1174DH2 | Microwave Oven |
| Maytag MMV1174DH3 | Microwave Oven |
| Maytag MMV1174DH4 | Microwave Oven |
| Maytag MMV1174DS0 | Microwave Oven |
| Maytag MMV1174DS1 | Microwave Oven |
| Maytag MMV1174DS2 | Microwave Oven |
| Maytag MMV1174DS3 | Microwave Oven |
| Maytag MMV1174DS4 | Microwave Oven |
| Maytag MMV1174FB0 | Microwave Oven |
| Maytag MMV1174FB2 | Microwave Oven |
| Maytag MMV1174FS0 | Microwave Oven |
| Maytag MMV1174FW0 | Microwave Oven |
| Maytag MMV1174FW1 | Microwave Oven |
| Maytag MMV1174FW2 | Microwave Oven |
| Maytag MMV1174FZ0 | Microwave Oven |
| Maytag MMV1174FZ1 | Microwave Oven |
| Maytag MMV1174FZ2 | Microwave Oven |
| MAYTAG MMV4203DB00 | Microwave Oven |
| MAYTAG MMV4203DQ00 | Microwave Oven |
| MAYTAG MMV4203DS00 | Microwave Oven |
| MAYTAG MMV4203DW00 | Microwave Oven |
| Maytag MMV4203WB0 | Microwave Oven |
| Maytag MMV4203WB1 | Microwave Oven |
| Maytag MMV4203WB2 | Microwave Oven |
| Maytag MMV4203WB3 | Microwave Oven |
| Maytag MMV4203WQ0 | Microwave Oven |
| Maytag MMV4203WQ1 | Microwave Oven |
| Maytag MMV4203WQ2 | Microwave Oven |
| Maytag MMV4203WQ3 | Microwave Oven |
| Maytag MMV4203WS0 | Microwave Oven |
| Maytag MMV4203WS1 | Microwave Oven |
| Maytag MMV4203WS2 | Microwave Oven |
| Maytag MMV4203WS3 | Microwave Oven |
| Maytag MMV4203WW0 | Microwave Oven |
| Maytag MMV4203WW1 | Microwave Oven |
| Maytag MMV4203WW2 | Microwave Oven |
| Maytag MMV4203WW3 | Microwave Oven |
| MAYTAG MMV4205BAB | Microwave Oven |
| MAYTAG MMV4205BAB14 | Microwave Oven |
| MAYTAG MMV4205BAB17 | Microwave Oven |
| MAYTAG MMV4205BAQ | Microwave Oven |
| MAYTAG MMV4205BAQ14 | Microwave Oven |
| MAYTAG MMV4205BAQ17 | Microwave Oven |
| MAYTAG MMV4205BAS | Microwave Oven |
| MAYTAG MMV4205BAS14 | Microwave Oven |
| MAYTAG MMV4205BAS17 | Microwave Oven |
| MAYTAG MMV4205BAW | Microwave Oven |
| MAYTAG MMV4205BAW15 | Microwave Oven |
| MAYTAG MMV4205BAW18 | Microwave Oven |
| Maytag MMV4205DB0 | Microwave Oven |
| Maytag MMV4205DB1 | Microwave Oven |
| Maytag MMV4205DB2 | Microwave Oven |
| Maytag MMV4205DB3 | Microwave Oven |
| Maytag MMV4205DB4 | Microwave Oven |
| Maytag MMV4205DE0 | Microwave Oven |
| Maytag MMV4205DE1 | Microwave Oven |
| Maytag MMV4205DE2 | Microwave Oven |
| Maytag MMV4205DE3 | Microwave Oven |
| Maytag MMV4205DE4 | Microwave Oven |
| Maytag MMV4205DH0 | Microwave Oven |
| Maytag MMV4205DH1 | Microwave Oven |
| Maytag MMV4205DH2 | Microwave Oven |
| Maytag MMV4205DH3 | Microwave Oven |
| Maytag MMV4205DH4 | Microwave Oven |
| Maytag MMV4205DS0 | Microwave Oven |
| Maytag MMV4205DS1 | Microwave Oven |
| Maytag MMV4205DS2 | Microwave Oven |
| Maytag MMV4205DS3 | Microwave Oven |
| Maytag MMV4205DS4 | Microwave Oven |
| Maytag MMV4205DW0 | Microwave Oven |
| Maytag MMV4205DW1 | Microwave Oven |
| Maytag MMV4205DW2 | Microwave Oven |
| Maytag MMV4205DW3 | Microwave Oven |
| Maytag MMV4205DW4 | Microwave Oven |
| Maytag MMV4205FB0 | Microwave Oven |
| Maytag MMV4205FB1 | Microwave Oven |
| Maytag MMV4205FB2 | Microwave Oven |
| Maytag MMV4205FB3 | Microwave Oven |
| Maytag MMV4205FB4 | Microwave Oven |
| Maytag MMV4205FB5 | Microwave Oven |
| Maytag MMV4205FB6 | Microwave Oven |
| Maytag MMV4205FW0 | Microwave Oven |
| Maytag MMV4205FW1 | Microwave Oven |
| Maytag MMV4205FW2 | Microwave Oven |
| Maytag MMV4205FW3 | Microwave Oven |
| Maytag MMV4205FW4 | Microwave Oven |
| Maytag MMV4205FW5 | Microwave Oven |
| Maytag MMV4205FW6 | Microwave Oven |
| Maytag MMV4205FZ0 | Microwave Oven |
| Maytag MMV4205FZ1 | Microwave Oven |
| Maytag MMV4205FZ2 | Microwave Oven |
| Maytag MMV4205FZ3 | Microwave Oven |
| Maytag MMV4205FZ4 | Microwave Oven |
| Maytag MMV4205FZ5 | Microwave Oven |
| Maytag MMV4205FZ6 | Microwave Oven |
| Maytag MMV4206BB0 | Microwave Oven |
| Maytag MMV4206BB1 | Microwave Oven |
| Maytag MMV4206BS0 | Microwave Oven |
| Maytag MMV4206BS1 | Microwave Oven |
| Maytag MMV4206BW0 | Microwave Oven |
| Maytag MMV4206BW1 | Microwave Oven |
| Maytag MMV4206FB0 | Microwave Oven |
| Maytag MMV4206FB1 | Microwave Oven |
| Maytag MMV4206FB2 | Microwave Oven |
| Maytag MMV4206FB3 | Microwave Oven |
| Maytag MMV4206FB4 | Microwave Oven |
| Maytag MMV4206FB5 | Microwave Oven |
| Maytag MMV4206FW0 | Microwave Oven |
| Maytag MMV4206FW1 | Microwave Oven |
| Maytag MMV4206FW2 | Microwave Oven |
| Maytag MMV4206FW3 | Microwave Oven |
| Maytag MMV4206FW4 | Microwave Oven |
| Maytag MMV4206FW5 | Microwave Oven |
| Maytag MMV4206FZ0 | Microwave Oven |
| Maytag MMV4206FZ1 | Microwave Oven |
| Maytag MMV4206FZ2 | Microwave Oven |
| Maytag MMV4206FZ3 | Microwave Oven |
| Maytag MMV4206FZ4 | Microwave Oven |
| Maytag MMV4206FZ5 | Microwave Oven |
| Maytag MMV4206HK0 | Microwave Oven |
| MAYTAG MMV5165BAB | Microwave Oven |
| MAYTAG MMV5165BAB14 | Microwave Oven |
| MAYTAG MMV5165BAB15 | Microwave Oven |
| MAYTAG MMV5165BAS | Microwave Oven |
| MAYTAG MMV5165BAS14 | Microwave Oven |
| MAYTAG MMV5165BAS15 | Microwave Oven |
| MAYTAG MMV5165BAW | Microwave Oven |
| MAYTAG MMV5165BAW15 | Microwave Oven |
| MAYTAG MMV5165BAW16 | Microwave Oven |
| MAYTAG MMV5201DB00 | Microwave Oven |
| MAYTAG MMV5201DS00 | Microwave Oven |
| MAYTAG MMV5201DW00 | Microwave Oven |
| MAYTAG MMV5207BAB | Microwave Oven |
| MAYTAG MMV5207BAB14 | Microwave Oven |
| MAYTAG MMV5207BAB17 | Microwave Oven |
| MAYTAG MMV5207BAQ | Microwave Oven |
| MAYTAG MMV5207BAQ14 | Microwave Oven |
| MAYTAG MMV5207BAQ17 | Microwave Oven |
| MAYTAG MMV5207BAS | Microwave Oven |
| MAYTAG MMV5207BAS14 | Microwave Oven |
| MAYTAG MMV5207BAS17 | Microwave Oven |
| MAYTAG MMV5207BAW | Microwave Oven |
| MAYTAG MMV5207BAW15 | Microwave Oven |
| MAYTAG MMV5207BAW18 | Microwave Oven |
| MAYTAG MMV5207BCB | Microwave Oven |
| MAYTAG MMV5207BCB14 | Microwave Oven |
| MAYTAG MMV5207BCB17 | Microwave Oven |
| MAYTAG MMV5207BCB18 | Microwave Oven |
| MAYTAG MMV5207BCQ | Microwave Oven |
| MAYTAG MMV5207BCQ14 | Microwave Oven |
| MAYTAG MMV5207BCQ17 | Microwave Oven |
| MAYTAG MMV5207BCQ18 | Microwave Oven |
| MAYTAG MMV5207BCS | Microwave Oven |
| MAYTAG MMV5207BCS14 | Microwave Oven |
| MAYTAG MMV5207BCS17 | Microwave Oven |
| MAYTAG MMV5207BCS18 | Microwave Oven |
| MAYTAG MMV5207BCW | Microwave Oven |
| MAYTAG MMV5207BCW15 | Microwave Oven |
| MAYTAG MMV5207BCW18 | Microwave Oven |
| MAYTAG MMV5207BCW19 | Microwave Oven |
| Maytag MMV5208WB0 | Microwave Oven |
| Maytag MMV5208WB1 | Microwave Oven |
| Maytag MMV5208WQ0 | Microwave Oven |
| Maytag MMV5208WQ1 | Microwave Oven |
| Maytag MMV5208WS0 | Microwave Oven |
| Maytag MMV5208WS1 | Microwave Oven |
| Maytag MMV5208WW0 | Microwave Oven |
| Maytag MMV5208WW1 | Microwave Oven |
| Maytag MMV5219DE0 | Microwave Oven |
| Maytag MMV5219DE1 | Microwave Oven |
| Maytag MMV5219DE2 | Microwave Oven |
| Maytag MMV5219DE3 | Microwave Oven |
| Maytag MMV5219DE4 | Microwave Oven |
| Maytag MMV5219DH0 | Microwave Oven |
| Maytag MMV5219DH1 | Microwave Oven |
| Maytag MMV5219DH2 | Microwave Oven |
| Maytag MMV5219DH3 | Microwave Oven |
| Maytag MMV5219DH4 | Microwave Oven |
| Maytag MMV5219DS0 | Microwave Oven |
| Maytag MMV5219DS1 | Microwave Oven |
| Maytag MMV5219DS2 | Microwave Oven |
| Maytag MMV5219DS3 | Microwave Oven |
| Maytag MMV5219DS4 | Microwave Oven |
| Maytag MMV5219FB0 | Microwave Oven |
| Maytag MMV5219FB1 | Microwave Oven |
| Maytag MMV5219FB2 | Microwave Oven |
| Maytag MMV5219FB3 | Microwave Oven |
| Maytag MMV5219FW0 | Microwave Oven |
| Maytag MMV5219FW1 | Microwave Oven |
| Maytag MMV5219FW2 | Microwave Oven |
| Maytag MMV5219FW3 | Microwave Oven |
| Maytag MMV5219FZ0 | Microwave Oven |
| Maytag MMV5219FZ1 | Microwave Oven |
| Maytag MMV5219FZ2 | Microwave Oven |
| Maytag MMV5219FZ3 | Microwave Oven |
| Maytag MMV5220FB0 | Microwave Oven |
| Maytag MMV5220FB1 | Microwave Oven |
| Maytag MMV5220FB2 | Microwave Oven |
| Maytag MMV5220FB3 | Microwave Oven |
| Maytag MMV5220FB4 | Microwave Oven |
| Maytag MMV5220FW0 | Microwave Oven |
| Maytag MMV5220FW1 | Microwave Oven |
| Maytag MMV5220FW2 | Microwave Oven |
| Maytag MMV5220FW3 | Microwave Oven |
| Maytag MMV5220FW4 | Microwave Oven |
| Maytag MMV5220FZ0 | Microwave Oven |
| Maytag MMV5220FZ1 | Microwave Oven |
| Maytag MMV5220FZ2 | Microwave Oven |
| Maytag MMV5220FZ3 | Microwave Oven |
| Maytag MMV5220FZ4 | Microwave Oven |
| Maytag MMV5220FZ5 | Microwave Oven |
| Maytag MMV6180WB0 | Microwave Oven |
| Maytag MMV6180WB1 | Microwave Oven |
| Maytag MMV6180WB2 | Microwave Oven |
| Maytag MMV6180WS0 | Microwave Oven |
| Maytag MMV6180WS1 | Microwave Oven |
| Maytag MMV6180WS2 | Microwave Oven |
| Maytag MMV6180WW0 | Microwave Oven |
| Maytag MMV6180WW1 | Microwave Oven |
| Maytag MMV6180WW2 | Microwave Oven |
| Maytag MMV6186WB0 | Microwave Oven |
| Maytag MMV6186WS0 | Microwave Oven |
| Maytag MMV6186WW0 | Microwave Oven |
| MAYTAG UMV1152CAB | Microwave Oven |
| MAYTAG UMV1152CAQ | Microwave Oven |
| MAYTAG UMV1152CAS | Microwave Oven |
| MAYTAG UMV1152CAW | Microwave Oven |
| Maytag YAMV1160VAB1 | Microwave Oven |
| Maytag YAMV1160VAB6 | Microwave Oven |
| Maytag YAMV1160VAS1 | Microwave Oven |
| Maytag YAMV1160VAS6 | Microwave Oven |
| Maytag YAMV1160VAW1 | Microwave Oven |
| Maytag YAMV1160VAW6 | Microwave Oven |
| Maytag YAMV1170VES0 | Microwave Oven |
| Maytag YAMV2307PFS0 | Microwave Oven |
| Maytag YAMV2307PFW0 | Microwave Oven |
| MAYTAG YJMV8208DB00 | Microwave Oven |
| MAYTAG YJMV8208DS00 | Microwave Oven |
| Maytag YJMV9196CB0 | Microwave Oven |
| Maytag YJMV9196CS0 | Microwave Oven |
| Maytag YMMV1174DS0 | Microwave Oven |
| Maytag YMMV1174FZ0 | Microwave Oven |
| Maytag YMMV1174FZ1 | Microwave Oven |
| Maytag YMMV1174HK0 | Microwave Oven |
| MAYTAG YMMV4203DB00 | Microwave Oven |
| MAYTAG YMMV4203DS00 | Microwave Oven |
| MAYTAG YMMV4203DW00 | Microwave Oven |
| Maytag YMMV4203WB0 | Microwave Oven |
| Maytag YMMV4203WB1 | Microwave Oven |
| Maytag YMMV4203WB2 | Microwave Oven |
| Maytag YMMV4203WB3 | Microwave Oven |
| Maytag YMMV4203WB4 | Microwave Oven |
| Maytag YMMV4203WS0 | Microwave Oven |
| Maytag YMMV4203WS1 | Microwave Oven |
| Maytag YMMV4203WS2 | Microwave Oven |
| Maytag YMMV4203WS3 | Microwave Oven |
| Maytag YMMV4203WS4 | Microwave Oven |
| Maytag YMMV4203WW1 | Microwave Oven |
| Maytag YMMV4203WW2 | Microwave Oven |
| Maytag YMMV4203WW3 | Microwave Oven |
| Maytag YMMV4203WW4 | Microwave Oven |
| Maytag YMMV4203WWO | Microwave Oven |
| Maytag YMMV4205DB0 | Microwave Oven |
| Maytag YMMV4205DB1 | Microwave Oven |
| Maytag YMMV4205DB2 | Microwave Oven |
| Maytag YMMV4205DB3 | Microwave Oven |
| Maytag YMMV4205DE0 | Microwave Oven |
| Maytag YMMV4205DE1 | Microwave Oven |
| Maytag YMMV4205DE2 | Microwave Oven |
| Maytag YMMV4205DE3 | Microwave Oven |
| Maytag YMMV4205DH0 | Microwave Oven |
| Maytag YMMV4205DH1 | Microwave Oven |
| Maytag YMMV4205DH2 | Microwave Oven |
| Maytag YMMV4205DH3 | Microwave Oven |
| Maytag YMMV4205DS0 | Microwave Oven |
| Maytag YMMV4205DS1 | Microwave Oven |
| Maytag YMMV4205DS2 | Microwave Oven |
| Maytag YMMV4205DS3 | Microwave Oven |
| Maytag YMMV4205DW0 | Microwave Oven |
| Maytag YMMV4205DW1 | Microwave Oven |
| Maytag YMMV4205DW2 | Microwave Oven |
| Maytag YMMV4205DW3 | Microwave Oven |
| Maytag YMMV4205FB0 | Microwave Oven |
| Maytag YMMV4205FB1 | Microwave Oven |
| Maytag YMMV4205FB2 | Microwave Oven |
| Maytag YMMV4205FB3 | Microwave Oven |
| Maytag YMMV4205FB4 | Microwave Oven |
| Maytag YMMV4205FB5 | Microwave Oven |
| Maytag YMMV4205FW0 | Microwave Oven |
| Maytag YMMV4205FW1 | Microwave Oven |
| Maytag YMMV4205FW2 | Microwave Oven |
| Maytag YMMV4205FW3 | Microwave Oven |
| Maytag YMMV4205FW4 | Microwave Oven |
| Maytag YMMV4205FW5 | Microwave Oven |
| Maytag YMMV4205FZ0 | Microwave Oven |
| Maytag YMMV4205FZ1 | Microwave Oven |
| Maytag YMMV4205FZ3 | Microwave Oven |
| Maytag YMMV4205FZ5 | Microwave Oven |
| Maytag YMMV4206FB0 | Microwave Oven |
| Maytag YMMV4206FB1 | Microwave Oven |
| Maytag YMMV4206FB2 | Microwave Oven |
| Maytag YMMV4206FB3 | Microwave Oven |
| Maytag YMMV4206FB4 | Microwave Oven |
| Maytag YMMV4206FW0 | Microwave Oven |
| Maytag YMMV4206FW1 | Microwave Oven |
| Maytag YMMV4206FW2 | Microwave Oven |
| Maytag YMMV4206FW3 | Microwave Oven |
| Maytag YMMV4206FW4 | Microwave Oven |
| Maytag YMMV4206FZ0 | Microwave Oven |
| Maytag YMMV4206FZ1 | Microwave Oven |
| Maytag YMMV4206FZ2 | Microwave Oven |
| Maytag YMMV4206FZ3 | Microwave Oven |
| Maytag YMMV4206FZ4 | Microwave Oven |
| Maytag YMMV4206HK0 | Microwave Oven |
| Maytag YMMV5208WB0 | Microwave Oven |
| Maytag YMMV5208WB1 | Microwave Oven |
| Maytag YMMV5208WS0 | Microwave Oven |
| Maytag YMMV5208WS1 | Microwave Oven |
| Maytag YMMV5208WW0 | Microwave Oven |
| Maytag YMMV5208WW1 | Microwave Oven |
| ROPER MHE14RFB0 | Microwave Oven |
| ROPER MHE14RFQ0 | Microwave Oven |
| ROPER MHE14XMB0 | Microwave Oven |
| ROPER MHE14XMB1 | Microwave Oven |
| ROPER MHE14XMB2 | Microwave Oven |
| ROPER MHE14XMB3 | Microwave Oven |
| ROPER MHE14XMB4 | Microwave Oven |
| ROPER MHE14XMD0 | Microwave Oven |
| ROPER MHE14XMD1 | Microwave Oven |
| ROPER MHE14XMD2 | Microwave Oven |
| ROPER MHE14XMQ0 | Microwave Oven |
| ROPER MHE14XMQ1 | Microwave Oven |
| ROPER MHE14XMQ2 | Microwave Oven |
| ROPER MHE14XMQ3 | Microwave Oven |
| ROPER MHE14XMQ4 | Microwave Oven |
| Samsung SMH7174BC | Microwave Oven |
| Samsung SMH7174BE | Microwave Oven |
| Samsung SMH7174BE/XAA | Microwave Oven |
| Samsung SMH7174CC | Microwave Oven |
| Samsung SMH7174WC | Microwave Oven |
| Samsung SMH7174WE | Microwave Oven |
| Samsung SMH7174WE/XAA | Microwave Oven |
| Samsung SMH7175BC | Microwave Oven |
| Samsung SMH7175BE | Microwave Oven |
| Samsung SMH7175BE/XAA | Microwave Oven |
| Samsung SMH7175CC | Microwave Oven |
| Samsung SMH7175WC | Microwave Oven |
| Samsung SMH7175WE | Microwave Oven |
| Samsung SMH7175WE/XAA | Microwave Oven |
| Samsung SMH7177STE | Microwave Oven |
| Samsung SMH7178STD | Microwave Oven |
| Samsung SMH7178STE | Microwave Oven |
| Samsung SMV9165BC | Microwave Oven |
| Samsung SMV9165SC | Microwave Oven |
| WHIRLPOOL GH4155XPB0 | Microwave Oven |
| WHIRLPOOL GH4155XPB1 | Microwave Oven |
| WHIRLPOOL GH4155XPB2 | Microwave Oven |
| WHIRLPOOL GH4155XPB3 | Microwave Oven |
| WHIRLPOOL GH4155XPQ0 | Microwave Oven |
| WHIRLPOOL GH4155XPQ1 | Microwave Oven |
| WHIRLPOOL GH4155XPQ2 | Microwave Oven |
| WHIRLPOOL GH4155XPQ3 | Microwave Oven |
| WHIRLPOOL GH4155XPS0 | Microwave Oven |
| WHIRLPOOL GH4155XPS1 | Microwave Oven |
| WHIRLPOOL GH4155XPS2 | Microwave Oven |
| WHIRLPOOL GH4155XPS3 | Microwave Oven |
| WHIRLPOOL GH4155XPT0 | Microwave Oven |
| WHIRLPOOL GH4155XPT1 | Microwave Oven |
| WHIRLPOOL GH4155XPT2 | Microwave Oven |
| WHIRLPOOL GH4155XPT3 | Microwave Oven |
| WHIRLPOOL GH7145XFB0 | Microwave Oven |
| WHIRLPOOL GH7145XFB1 | Microwave Oven |
| WHIRLPOOL GH7145XFQ0 | Microwave Oven |
| WHIRLPOOL GH7145XFQ1 | Microwave Oven |
| WHIRLPOOL GH7145XFT0 | Microwave Oven |
| WHIRLPOOL GH7145XFT1 | Microwave Oven |
| WHIRLPOOL GH7145XFZ0 | Microwave Oven |
| WHIRLPOOL GH7145XFZ1 | Microwave Oven |
| WHIRLPOOL GH8155XJB0 | Microwave Oven |
| WHIRLPOOL GH8155XJB1 | Microwave Oven |
| WHIRLPOOL GH8155XJQ0 | Microwave Oven |
| WHIRLPOOL GH8155XJQ1 | Microwave Oven |
| WHIRLPOOL GH8155XJT0 | Microwave Oven |
| WHIRLPOOL GH8155XJT1 | Microwave Oven |
| WHIRLPOOL GH8155XJZ0 | Microwave Oven |
| WHIRLPOOL GH8155XJZ1 | Microwave Oven |
| WHIRLPOOL GH8155XMB0 | Microwave Oven |
| WHIRLPOOL GH8155XMB2 | Microwave Oven |
| WHIRLPOOL GH8155XMQ0 | Microwave Oven |
| WHIRLPOOL GH8155XMQ2 | Microwave Oven |
| WHIRLPOOL GH8155XMT0 | Microwave Oven |
| WHIRLPOOL GH8155XMT2 | Microwave Oven |
| Whirlpool GMH3204XVB0 | Microwave Oven |
| Whirlpool GMH3204XVB1 | Microwave Oven |
| Whirlpool GMH3204XVB2 | Microwave Oven |
| Whirlpool GMH3204XVB3 | Microwave Oven |
| Whirlpool GMH3204XVQ0 | Microwave Oven |
| Whirlpool GMH3204XVQ1 | Microwave Oven |
| Whirlpool GMH3204XVQ2 | Microwave Oven |
| Whirlpool GMH3204XVQ3 | Microwave Oven |
| Whirlpool GMH3204XVS0 | Microwave Oven |
| Whirlpool GMH3204XVS1 | Microwave Oven |
| Whirlpool GMH3204XVS2 | Microwave Oven |
| Whirlpool GMH3204XVS3 | Microwave Oven |
| Whirlpool GMH5184VAQ0 | Microwave Oven |
| Whirlpool GMH5184XVB0 | Microwave Oven |
| Whirlpool GMH5184XVB1 | Microwave Oven |
| Whirlpool GMH5184XVQ0 | Microwave Oven |
| Whirlpool GMH5184XVQ1 | Microwave Oven |
| Whirlpool GMH5184XVS0 | Microwave Oven |
| Whirlpool GMH5184XVS1 | Microwave Oven |
| Whirlpool GMH5184XVT0 | Microwave Oven |
| Whirlpool GMH5184XVT1 | Microwave Oven |
| Whirlpool GMH5205XVB0 | Microwave Oven |
| Whirlpool GMH5205XVB1 | Microwave Oven |
| Whirlpool GMH5205XVQ0 | Microwave Oven |
| Whirlpool GMH5205XVQ1 | Microwave Oven |
| Whirlpool GMH5205XVS0 | Microwave Oven |
| Whirlpool GMH5205XVS1 | Microwave Oven |
| Whirlpool GMH5205XVT0 | Microwave Oven |
| Whirlpool GMH5205XVT1 | Microwave Oven |
| Whirlpool GMH6185XVB0 | Microwave Oven |
| Whirlpool GMH6185XVB1 | Microwave Oven |
| Whirlpool GMH6185XVB2 | Microwave Oven |
| Whirlpool GMH6185XVB3 | Microwave Oven |
| Whirlpool GMH6185XVQ0 | Microwave Oven |
| Whirlpool GMH6185XVQ1 | Microwave Oven |
| Whirlpool GMH6185XVQ2 | Microwave Oven |
| Whirlpool GMH6185XVQ3 | Microwave Oven |
| Whirlpool GMH6185XVS0 | Microwave Oven |
| Whirlpool GMH6185XVS1 | Microwave Oven |
| Whirlpool GMH6185XVS2 | Microwave Oven |
| Whirlpool GMH6185XVS3 | Microwave Oven |
| Whirlpool IMH1205AB0 | Microwave Oven |
| Whirlpool IMH1205AS0 | Microwave Oven |
| WHIRLPOOL IMH15XRQ1 | Microwave Oven |
| WHIRLPOOL IMH15XRQ2 | Microwave Oven |
| WHIRLPOOL IMH15XRS1 | Microwave Oven |
| WHIRLPOOL IMH15XRS2 | Microwave Oven |
| Whirlpool IMH15XVQ1 | Microwave Oven |
| Whirlpool IMH15XVQ2 | Microwave Oven |
| Whirlpool IMH15XVQ3 | Microwave Oven |
| Whirlpool IMH15XVQ4 | Microwave Oven |
| Whirlpool IMH15XVQ5 | Microwave Oven |
| Whirlpool IMH16XVQ2 | Microwave Oven |
| Whirlpool IMH16XVS2 | Microwave Oven |
| Whirlpool IMH16XWQ0 | Microwave Oven |
| Whirlpool IMH16XWQ0I | Microwave Oven |
| Whirlpool IMH16XWQ1 | Microwave Oven |
| Whirlpool IMH16XWQ2 | Microwave Oven |
| Whirlpool IMH16XWQ3 | Microwave Oven |
| Whirlpool IMH16XWQ4 | Microwave Oven |
| Whirlpool IMH16XWS0 | Microwave Oven |
| Whirlpool IMH16XWS1 | Microwave Oven |
| Whirlpool IMH16XWS2 | Microwave Oven |
| Whirlpool IMH16XWS3 | Microwave Oven |
| Whirlpool IMH16XWS4 | Microwave Oven |
| Whirlpool IMH2205AS0 | Microwave Oven |
| Whirlpool IMH2205AW0 | Microwave Oven |
| WHIRLPOOL IOR14XRD0 | Microwave Oven |
| WHIRLPOOL IOR14XRD1 | Microwave Oven |
| WHIRLPOOL IOR14XRD2 | Microwave Oven |
| WHIRLPOOL IRH32000 | Microwave Oven |
| WHIRLPOOL IRH32001 | Microwave Oven |
| WHIRLPOOL IRH32002 | Microwave Oven |
| Whirlpool KHMC1857WBL1 | Microwave Oven |
| Whirlpool KHMC1857WSS1 | Microwave Oven |
| Whirlpool KHMC1857WWH1 | Microwave Oven |
| Whirlpool KHMC1857XSP1 | Microwave Oven |
| WHIRLPOOL KHMS145JBL0 | Microwave Oven |
| WHIRLPOOL KHMS145JBS0 | Microwave Oven |
| WHIRLPOOL KHMS145JBT0 | Microwave Oven |
| WHIRLPOOL KHMS145JWH0 | Microwave Oven |
| WHIRLPOOL KHMS145KSS0 | Microwave Oven |
| WHIRLPOOL KHMS145KSS1 | Microwave Oven |
| WHIRLPOOL KHMS147HBL0 | Microwave Oven |
| WHIRLPOOL KHMS147HBL1 | Microwave Oven |
| WHIRLPOOL KHMS147HBL2 | Microwave Oven |
| WHIRLPOOL KHMS147HBT0 | Microwave Oven |
| WHIRLPOOL KHMS147HBT1 | Microwave Oven |
| WHIRLPOOL KHMS147HBT2 | Microwave Oven |
| WHIRLPOOL KHMS147HSS0 | Microwave Oven |
| WHIRLPOOL KHMS147HSS1 | Microwave Oven |
| WHIRLPOOL KHMS147HSS2 | Microwave Oven |
| WHIRLPOOL KHMS147HWH0 | Microwave Oven |
| WHIRLPOOL KHMS147HWH1 | Microwave Oven |
| WHIRLPOOL KHMS147HWH2 | Microwave Oven |
| WHIRLPOOL KHMS147KSS0 | Microwave Oven |
| WHIRLPOOL KHMS147KSS1 | Microwave Oven |
| WHIRLPOOL KHMS155LBL0 | Microwave Oven |
| WHIRLPOOL KHMS155LBL1 | Microwave Oven |
| WHIRLPOOL KHMS155LBL2 | Microwave Oven |
| WHIRLPOOL KHMS155LBL3 | Microwave Oven |
| WHIRLPOOL KHMS155LBT0 | Microwave Oven |
| WHIRLPOOL KHMS155LBT1 | Microwave Oven |
| WHIRLPOOL KHMS155LBT2 | Microwave Oven |
| WHIRLPOOL KHMS155LBT3 | Microwave Oven |
| WHIRLPOOL KHMS155LSS0 | Microwave Oven |
| WHIRLPOOL KHMS155LSS1 | Microwave Oven |
| WHIRLPOOL KHMS155LSS2 | Microwave Oven |
| WHIRLPOOL KHMS155LSS3 | Microwave Oven |
| WHIRLPOOL KHMS155LSS4 | Microwave Oven |
| WHIRLPOOL KHMS155LWH0 | Microwave Oven |
| WHIRLPOOL KHMS155LWH1 | Microwave Oven |
| WHIRLPOOL KHMS155LWH2 | Microwave Oven |
| WHIRLPOOL KHMS155LWH3 | Microwave Oven |
| Whirlpool KMHS120EBL0 | Microwave Oven |
| Whirlpool KMHS120EBL1 | Microwave Oven |
| Whirlpool KMHS120EBL2 | Microwave Oven |
| Whirlpool KMHS120EBL3 | Microwave Oven |
| Whirlpool KMHS120ESS0 | Microwave Oven |
| Whirlpool KMHS120ESS1 | Microwave Oven |
| Whirlpool KMHS120ESS2 | Microwave Oven |
| Whirlpool KMHS120ESS3 | Microwave Oven |
| Whirlpool KMHS120EWH0 | Microwave Oven |
| Whirlpool KMHS120EWH1 | Microwave Oven |
| Whirlpool KMHS120EWH2 | Microwave Oven |
| Whirlpool KMHS120EWH3 | Microwave Oven |
| WHIRLPOOL MH1140XMB0 | Microwave Oven |
| WHIRLPOOL MH1140XMB1 | Microwave Oven |
| WHIRLPOOL MH1140XMB2 | Microwave Oven |
| WHIRLPOOL MH1140XMB3 | Microwave Oven |
| WHIRLPOOL MH1140XMB4 | Microwave Oven |
| WHIRLPOOL MH1140XMQ0 | Microwave Oven |
| WHIRLPOOL MH1140XMQ1 | Microwave Oven |
| WHIRLPOOL MH1140XMQ2 | Microwave Oven |
| WHIRLPOOL MH1140XMQ3 | Microwave Oven |
| WHIRLPOOL MH1140XMQ4 | Microwave Oven |
| WHIRLPOOL MH1141XMB0 | Microwave Oven |
| WHIRLPOOL MH1141XMB1 | Microwave Oven |
| WHIRLPOOL MH1141XMB2 | Microwave Oven |
| WHIRLPOOL MH1141XMB3 | Microwave Oven |
| WHIRLPOOL MH1141XMB4 | Microwave Oven |
| WHIRLPOOL MH1141XMQ0 | Microwave Oven |
| WHIRLPOOL MH1141XMQ1 | Microwave Oven |
| WHIRLPOOL MH1141XMQ2 | Microwave Oven |
| WHIRLPOOL MH1141XMQ3 | Microwave Oven |
| WHIRLPOOL MH1141XMQ4 | Microwave Oven |
| WHIRLPOOL MH1150XMB0 | Microwave Oven |
| WHIRLPOOL MH1150XMB1 | Microwave Oven |
| WHIRLPOOL MH1150XMB2 | Microwave Oven |
| WHIRLPOOL MH1150XMB3 | Microwave Oven |
| WHIRLPOOL MH1150XMB4 | Microwave Oven |
| WHIRLPOOL MH1150XMQ0 | Microwave Oven |
| WHIRLPOOL MH1150XMQ1 | Microwave Oven |
| WHIRLPOOL MH1150XMQ2 | Microwave Oven |
| WHIRLPOOL MH1150XMQ3 | Microwave Oven |
| WHIRLPOOL MH1150XMQ4 | Microwave Oven |
| WHIRLPOOL MH1150XMS0 | Microwave Oven |
| WHIRLPOOL MH1150XMS1 | Microwave Oven |
| WHIRLPOOL MH1150XMS2 | Microwave Oven |
| WHIRLPOOL MH1150XMS3 | Microwave Oven |
| WHIRLPOOL MH1150XMS4 | Microwave Oven |
| WHIRLPOOL MH1150XMT0 | Microwave Oven |
| WHIRLPOOL MH1150XMT1 | Microwave Oven |
| WHIRLPOOL MH1150XMT2 | Microwave Oven |
| WHIRLPOOL MH1150XMT3 | Microwave Oven |
| WHIRLPOOL MH1150XMT4 | Microwave Oven |
| WHIRLPOOL MH2155XPB0 | Microwave Oven |
| WHIRLPOOL MH2155XPB1 | Microwave Oven |
| WHIRLPOOL MH2155XPB2 | Microwave Oven |
| WHIRLPOOL MH2155XPB3 | Microwave Oven |
| WHIRLPOOL MH2155XPQ0 | Microwave Oven |
| WHIRLPOOL MH2155XPQ1 | Microwave Oven |
| WHIRLPOOL MH2155XPQ2 | Microwave Oven |
| WHIRLPOOL MH2155XPQ3 | Microwave Oven |
| WHIRLPOOL MH2155XPS0 | Microwave Oven |
| WHIRLPOOL MH2155XPS1 | Microwave Oven |
| WHIRLPOOL MH2155XPS2 | Microwave Oven |
| WHIRLPOOL MH2155XPS3 | Microwave Oven |
| WHIRLPOOL MH2155XPT0 | Microwave Oven |
| WHIRLPOOL MH2155XPT1 | Microwave Oven |
| WHIRLPOOL MH2155XPT2 | Microwave Oven |
| WHIRLPOOL MH2155XPT3 | Microwave Oven |
| WHIRLPOOL MH6140XFB0 | Microwave Oven |
| WHIRLPOOL MH6140XFB1 | Microwave Oven |
| WHIRLPOOL MH6140XFQ0 | Microwave Oven |
| WHIRLPOOL MH6140XFQ1 | Microwave Oven |
| WHIRLPOOL MH7140XFB0 | Microwave Oven |
| WHIRLPOOL MH7140XFB1 | Microwave Oven |
| WHIRLPOOL MH7140XFQ0 | Microwave Oven |
| WHIRLPOOL MH7140XFQ1 | Microwave Oven |
| WHIRLPOOL MH7140XFZ0 | Microwave Oven |
| WHIRLPOOL MH7140XFZ1 | Microwave Oven |
| WHIRLPOOL MH7155XMB0 | Microwave Oven |
| WHIRLPOOL MH7155XMQ0 | Microwave Oven |
| WHIRLPOOL MH7155XMS0 | Microwave Oven |
| WHIRLPOOL MH7155XMT0 | Microwave Oven |
| WHIRLPOOL MH8150XJB0 | Microwave Oven |
| WHIRLPOOL MH8150XJB1 | Microwave Oven |
| WHIRLPOOL MH8150XJQ0 | Microwave Oven |
| WHIRLPOOL MH8150XJQ1 | Microwave Oven |
| WHIRLPOOL MH8150XJT0 | Microwave Oven |
| WHIRLPOOL MH8150XJT1 | Microwave Oven |
| WHIRLPOOL MH8150XJZ0 | Microwave Oven |
| WHIRLPOOL MH8150XJZ1 | Microwave Oven |
| WHIRLPOOL MH8150XMB0 | Microwave Oven |
| WHIRLPOOL MH8150XMB2 | Microwave Oven |
| WHIRLPOOL MH8150XMQ0 | Microwave Oven |
| WHIRLPOOL MH8150XMQ2 | Microwave Oven |
| WHIRLPOOL MH8150XMT0 | Microwave Oven |
| WHIRLPOOL MH8150XMT2 | Microwave Oven |
| WHIRLPOOL MH8150XMZ0 | Microwave Oven |
| WHIRLPOOL MH8150XMZ2 | Microwave Oven |
| WHIRLPOOL TMH14XMB0 | Microwave Oven |
| WHIRLPOOL TMH14XMQ0 | Microwave Oven |
| WHIRLPOOL TMH14XMT0 | Microwave Oven |
| WHIRLPOOL UMV1152CAB16 | Microwave Oven |
| WHIRLPOOL UMV1152CAQ16 | Microwave Oven |
| WHIRLPOOL UMV1152CAS16 | Microwave Oven |
| WHIRLPOOL UMV1152CAW17 | Microwave Oven |
| Whirlpool UMV1160CB0 | Microwave Oven |
| Whirlpool UMV1160CB1 | Microwave Oven |
| Whirlpool UMV1160CB2 | Microwave Oven |
| Whirlpool UMV1160CB3 | Microwave Oven |
| Whirlpool UMV1160CB4 | Microwave Oven |
| Whirlpool UMV1160CB5 | Microwave Oven |
| Whirlpool UMV1160CB6 | Microwave Oven |
| Whirlpool UMV1160CS0 | Microwave Oven |
| Whirlpool UMV1160CS1 | Microwave Oven |
| Whirlpool UMV1160CS2 | Microwave Oven |
| Whirlpool UMV1160CS3 | Microwave Oven |
| Whirlpool UMV1160CS4 | Microwave Oven |
| Whirlpool UMV1160CS5 | Microwave Oven |
| Whirlpool UMV1160CS6 | Microwave Oven |
| Whirlpool UMV1160CS7 | Microwave Oven |
| Whirlpool UMV1160CW0 | Microwave Oven |
| Whirlpool UMV1160CW1 | Microwave Oven |
| Whirlpool UMV1160CW2 | Microwave Oven |
| Whirlpool UMV1160CW3 | Microwave Oven |
| Whirlpool UMV1160CW4 | Microwave Oven |
| Whirlpool UMV1160CW5 | Microwave Oven |
| Whirlpool UMV1160CW6 | Microwave Oven |
| Whirlpool UMV1160FB0 | Microwave Oven |
| Whirlpool UMV1160FS0 | Microwave Oven |
| Whirlpool UMV1160FW0 | Microwave Oven |
| WHIRLPOOL UMV2186AAB14 | Microwave Oven |
| WHIRLPOOL UMV2186AAB16 | Microwave Oven |
| WHIRLPOOL UMV2186AAS14 | Microwave Oven |
| WHIRLPOOL UMV2186AAS16 | Microwave Oven |
| WHIRLPOOL UMV2186AAW15 | Microwave Oven |
| WHIRLPOOL UMV2186AAW17 | Microwave Oven |
| Whirlpool WMH1162XVB2 | Microwave Oven |
| Whirlpool WMH1162XVB3 | Microwave Oven |
| Whirlpool WMH1162XVB4 | Microwave Oven |
| Whirlpool WMH1162XVD2 | Microwave Oven |
| Whirlpool WMH1162XVD3 | Microwave Oven |
| Whirlpool WMH1162XVD4 | Microwave Oven |
| Whirlpool WMH1162XVQ2 | Microwave Oven |
| Whirlpool WMH1162XVQ3 | Microwave Oven |
| Whirlpool WMH1162XVQ4 | Microwave Oven |
| Whirlpool WMH1162XVS2 | Microwave Oven |
| Whirlpool WMH1162XVS3 | Microwave Oven |
| Whirlpool WMH1162XVS4 | Microwave Oven |
| Whirlpool WMH1163XVB0 | Microwave Oven |
| Whirlpool WMH1163XVB1 | Microwave Oven |
| Whirlpool WMH1163XVB2 | Microwave Oven |
| Whirlpool WMH1163XVB3 | Microwave Oven |
| Whirlpool WMH1163XVB4 | Microwave Oven |
| Whirlpool WMH1163XVB5 | Microwave Oven |
| Whirlpool WMH1163XVD0 | Microwave Oven |
| Whirlpool WMH1163XVD1 | Microwave Oven |
| Whirlpool WMH1163XVD2 | Microwave Oven |
| Whirlpool WMH1163XVD3 | Microwave Oven |
| Whirlpool WMH1163XVD4 | Microwave Oven |
| Whirlpool WMH1163XVD5 | Microwave Oven |
| Whirlpool WMH1163XVQ0 | Microwave Oven |
| Whirlpool WMH1163XVQ1 | Microwave Oven |
| Whirlpool WMH1163XVQ2 | Microwave Oven |
| Whirlpool WMH1163XVQ3 | Microwave Oven |
| Whirlpool WMH1163XVQ4 | Microwave Oven |
| Whirlpool WMH1163XVQ5 | Microwave Oven |
| Whirlpool WMH1163XVS0 | Microwave Oven |
| Whirlpool WMH1163XVS1 | Microwave Oven |
| Whirlpool WMH1163XVS2 | Microwave Oven |
| Whirlpool WMH1163XVS3 | Microwave Oven |
| Whirlpool WMH1163XVS4 | Microwave Oven |
| Whirlpool WMH1163XVS5 | Microwave Oven |
| Whirlpool WMH1163XVS6 | Microwave Oven |
| Whirlpool WMH1164XVS2 | Microwave Oven |
| Whirlpool WMH1164XVS3 | Microwave Oven |
| Whirlpool WMH1164XWS0 | Microwave Oven |
| Whirlpool WMH1164XWS1 | Microwave Oven |
| Whirlpool WMH1164XWS2 | Microwave Oven |
| Whirlpool WMH1164XWS3 | Microwave Oven |
| Whirlpool WMH1164XWS4 | Microwave Oven |
| Whirlpool WMH1164XWS5 | Microwave Oven |
| Whirlpool WMH1164XWS6 | Microwave Oven |
| Whirlpool WMH2175XVB1 | Microwave Oven |
| Whirlpool WMH2175XVB2 | Microwave Oven |
| Whirlpool WMH2175XVB3 | Microwave Oven |
| Whirlpool WMH2175XVB4 | Microwave Oven |
| Whirlpool WMH2175XVB5 | Microwave Oven |
| Whirlpool WMH2175XVQ1 | Microwave Oven |
| Whirlpool WMH2175XVQ2 | Microwave Oven |
| Whirlpool WMH2175XVQ3 | Microwave Oven |
| Whirlpool WMH2175XVQ4 | Microwave Oven |
| Whirlpool WMH2175XVQ5 | Microwave Oven |
| Whirlpool WMH2175XVS1 | Microwave Oven |
| Whirlpool WMH2175XVS2 | Microwave Oven |
| Whirlpool WMH2175XVS3 | Microwave Oven |
| Whirlpool WMH2175XVS4 | Microwave Oven |
| Whirlpool WMH2175XVS5 | Microwave Oven |
| Whirlpool WMH2175XVS6 | Microwave Oven |
| Whirlpool WMH2175XVS7 | Microwave Oven |
| Whirlpool WMH2175XVT1 | Microwave Oven |
| Whirlpool WMH2175XVT2 | Microwave Oven |
| Whirlpool WMH2175XVT3 | Microwave Oven |
| Whirlpool WMH2175XVT4 | Microwave Oven |
| Whirlpool WMH2175XVT5 | Microwave Oven |
| Whirlpool WMH2205XVB0 | Microwave Oven |
| Whirlpool WMH2205XVB1 | Microwave Oven |
| Whirlpool WMH2205XVQ0 | Microwave Oven |
| Whirlpool WMH2205XVQ1 | Microwave Oven |
| Whirlpool WMH2205XVS0 | Microwave Oven |
| Whirlpool WMH2205XVS1 | Microwave Oven |
| Whirlpool WMH31017AB0 | Microwave Oven |
| Whirlpool WMH31017AB1 | Microwave Oven |
| Whirlpool WMH31017AB2 | Microwave Oven |
| Whirlpool WMH31017AB3 | Microwave Oven |
| Whirlpool WMH31017AB4 | Microwave Oven |
| Whirlpool WMH31017AB5 | Microwave Oven |
| Whirlpool WMH31017AD0 | Microwave Oven |
| Whirlpool WMH31017AD1 | Microwave Oven |
| Whirlpool WMH31017AD2 | Microwave Oven |
| Whirlpool WMH31017AD3 | Microwave Oven |
| Whirlpool WMH31017AD4 | Microwave Oven |
| Whirlpool WMH31017AD5 | Microwave Oven |
| Whirlpool WMH31017AS0 | Microwave Oven |
| Whirlpool WMH31017AS1 | Microwave Oven |
| Whirlpool WMH31017AS2 | Microwave Oven |
| Whirlpool WMH31017AS3 | Microwave Oven |
| Whirlpool WMH31017AS4 | Microwave Oven |
| Whirlpool WMH31017AS5 | Microwave Oven |
| Whirlpool WMH31017AW0 | Microwave Oven |
| Whirlpool WMH31017AW1 | Microwave Oven |
| Whirlpool WMH31017AW2 | Microwave Oven |
| Whirlpool WMH31017AW3 | Microwave Oven |
| Whirlpool WMH31017AW4 | Microwave Oven |
| Whirlpool WMH31017AW5 | Microwave Oven |
| Whirlpool WMH31017FB0 | Microwave Oven |
| Whirlpool WMH31017FB1 | Microwave Oven |
| Whirlpool WMH31017FB2 | Microwave Oven |
| Whirlpool WMH31017FD0 | Microwave Oven |
| Whirlpool WMH31017FD1 | Microwave Oven |
| Whirlpool WMH31017FD2 | Microwave Oven |
| Whirlpool WMH31017FS0 | Microwave Oven |
| Whirlpool WMH31017FS1 | Microwave Oven |
| Whirlpool WMH31017FS2 | Microwave Oven |
| Whirlpool WMH31017FW0 | Microwave Oven |
| Whirlpool WMH31017FW1 | Microwave Oven |
| Whirlpool WMH31017FW2 | Microwave Oven |
| Whirlpool WMH31017HB0 | Microwave Oven |
| Whirlpool WMH31017HB1 | Microwave Oven |
| Whirlpool WMH31017HB2 | Microwave Oven |
| Whirlpool WMH31017HS0 | Microwave Oven |
| Whirlpool WMH31017HS1 | Microwave Oven |
| Whirlpool WMH31017HS2 | Microwave Oven |
| Whirlpool WMH31017HW0 | Microwave Oven |
| Whirlpool WMH31017HW1 | Microwave Oven |
| Whirlpool WMH31017HW2 | Microwave Oven |
| Whirlpool WMH31017HZ0 | Microwave Oven |
| Whirlpool WMH31017HZ1 | Microwave Oven |
| Whirlpool WMH31017HZ2 | Microwave Oven |
| Whirlpool WMH3205XVB0 | Microwave Oven |
| Whirlpool WMH3205XVB1 | Microwave Oven |
| Whirlpool WMH3205XVB2 | Microwave Oven |
| Whirlpool WMH3205XVQ0 | Microwave Oven |
| Whirlpool WMH3205XVQ1 | Microwave Oven |
| Whirlpool WMH3205XVQ2 | Microwave Oven |
| Whirlpool WMH3205XVS0 | Microwave Oven |
| Whirlpool WMH3205XVS1 | Microwave Oven |
| Whirlpool WMH3205XVS2 | Microwave Oven |
| Whirlpool WMH32517AB0 | Microwave Oven |
| Whirlpool WMH32517AB1 | Microwave Oven |
| Whirlpool WMH32517AB2 | Microwave Oven |
| Whirlpool WMH32517AS0 | Microwave Oven |
| Whirlpool WMH32517AS1 | Microwave Oven |
| Whirlpool WMH32517AS2 | Microwave Oven |
| Whirlpool WMH32517AT0 | Microwave Oven |
| Whirlpool WMH32517AT1 | Microwave Oven |
| Whirlpool WMH32517AT2 | Microwave Oven |
| Whirlpool WMH32517AW0 | Microwave Oven |
| Whirlpool WMH32517AW1 | Microwave Oven |
| Whirlpool WMH32517AW2 | Microwave Oven |
| Whirlpool WMH32519CB0 | Microwave Oven |
| Whirlpool WMH32519CB1 | Microwave Oven |
| Whirlpool WMH32519CB2 | Microwave Oven |
| Whirlpool WMH32519CS0 | Microwave Oven |
| Whirlpool WMH32519CS1 | Microwave Oven |
| Whirlpool WMH32519CS2 | Microwave Oven |
| Whirlpool WMH32519CT0 | Microwave Oven |
| Whirlpool WMH32519CT1 | Microwave Oven |
| Whirlpool WMH32519CT2 | Microwave Oven |
| Whirlpool WMH32519CW0 | Microwave Oven |
| Whirlpool WMH32519CW1 | Microwave Oven |
| Whirlpool WMH32519CW2 | Microwave Oven |
| Whirlpool WMH32519FB0 | Microwave Oven |
| Whirlpool WMH32519FB1 | Microwave Oven |
| Whirlpool WMH32519FB2 | Microwave Oven |
| Whirlpool WMH32519FB3 | Microwave Oven |
| Whirlpool WMH32519FS0 | Microwave Oven |
| Whirlpool WMH32519FS1 | Microwave Oven |
| Whirlpool WMH32519FS2 | Microwave Oven |
| Whirlpool WMH32519FS3 | Microwave Oven |
| Whirlpool WMH32519FT0 | Microwave Oven |
| Whirlpool WMH32519FT1 | Microwave Oven |
| Whirlpool WMH32519FT2 | Microwave Oven |
| Whirlpool WMH32519FT3 | Microwave Oven |
| Whirlpool WMH32519FW0 | Microwave Oven |
| Whirlpool WMH32519FW1 | Microwave Oven |
| Whirlpool WMH32519FW2 | Microwave Oven |
| Whirlpool WMH32519FW3 | Microwave Oven |
| Whirlpool WMH32519FWB0 | Microwave Oven |
| Whirlpool WMH32519FWT0 | Microwave Oven |
| Whirlpool WMH32519FZ0 | Microwave Oven |
| Whirlpool WMH32519FZ1 | Microwave Oven |
| Whirlpool WMH32519FZ2 | Microwave Oven |
| Whirlpool WMH32519FZ3 | Microwave Oven |
| Whirlpool WMH32519HB0 | Microwave Oven |
| Whirlpool WMH32519HB1 | Microwave Oven |
| Whirlpool WMH32519HB2 | Microwave Oven |
| Whirlpool WMH32519HT0 | Microwave Oven |
| Whirlpool WMH32519HT1 | Microwave Oven |
| Whirlpool WMH32519HT2 | Microwave Oven |
| Whirlpool WMH32519HV0 | Microwave Oven |
| Whirlpool WMH32519HV1 | Microwave Oven |
| Whirlpool WMH32519HV2 | Microwave Oven |
| Whirlpool WMH32519HV3 | Microwave Oven |
| Whirlpool WMH32519HW0 | Microwave Oven |
| Whirlpool WMH32519HW1 | Microwave Oven |
| Whirlpool WMH32519HW2 | Microwave Oven |
| Whirlpool WMH32519HZ0 | Microwave Oven |
| Whirlpool WMH32519HZ1 | Microwave Oven |
| Whirlpool WMH32519HZ2 | Microwave Oven |
| Whirlpool WMH32519HZ3 | Microwave Oven |
| Whirlpool WMH32L19AS0 | Microwave Oven |
| Whirlpool WMH32L19AS1 | Microwave Oven |
| Whirlpool WMH53520AB0 | Microwave Oven |
| Whirlpool WMH53520AB1 | Microwave Oven |
| Whirlpool WMH53520AE0 | Microwave Oven |
| Whirlpool WMH53520AE1 | Microwave Oven |
| Whirlpool WMH53520AH0 | Microwave Oven |
| Whirlpool WMH53520AH1 | Microwave Oven |
| Whirlpool WMH53520AS0 | Microwave Oven |
| Whirlpool WMH53520AS1 | Microwave Oven |
| Whirlpool WMH53520AW0 | Microwave Oven |
| Whirlpool WMH53520AW1 | Microwave Oven |
| Whirlpool WMH53520CB0 | Microwave Oven |
| Whirlpool WMH53520CB1 | Microwave Oven |
| Whirlpool WMH53520CB2 | Microwave Oven |
| Whirlpool WMH53520CB3 | Microwave Oven |
| Whirlpool WMH53520CB4 | Microwave Oven |
| Whirlpool WMH53520CB5 | Microwave Oven |
| Whirlpool WMH53520CB6 | Microwave Oven |
| Whirlpool WMH53520CE0 | Microwave Oven |
| Whirlpool WMH53520CE1 | Microwave Oven |
| Whirlpool WMH53520CE2 | Microwave Oven |
| Whirlpool WMH53520CE3 | Microwave Oven |
| Whirlpool WMH53520CE4 | Microwave Oven |
| Whirlpool WMH53520CE5 | Microwave Oven |
| Whirlpool WMH53520CE6 | Microwave Oven |
| Whirlpool WMH53520CH0 | Microwave Oven |
| Whirlpool WMH53520CH1 | Microwave Oven |
| Whirlpool WMH53520CH2 | Microwave Oven |
| Whirlpool WMH53520CH3 | Microwave Oven |
| Whirlpool WMH53520CH4 | Microwave Oven |
| Whirlpool WMH53520CH5 | Microwave Oven |
| Whirlpool WMH53520CH6 | Microwave Oven |
| Whirlpool WMH53520CS0 | Microwave Oven |
| Whirlpool WMH53520CS1 | Microwave Oven |
| Whirlpool WMH53520CS2 | Microwave Oven |
| Whirlpool WMH53520CS3 | Microwave Oven |
| Whirlpool WMH53520CS4 | Microwave Oven |
| Whirlpool WMH53520CS5 | Microwave Oven |
| Whirlpool WMH53520CS6 | Microwave Oven |
| Whirlpool WMH53520CS7 | Microwave Oven |
| Whirlpool WMH53520CW0 | Microwave Oven |
| Whirlpool WMH53520CW1 | Microwave Oven |
| Whirlpool WMH53520CW2 | Microwave Oven |
| Whirlpool WMH53520CW3 | Microwave Oven |
| Whirlpool WMH53520CW4 | Microwave Oven |
| Whirlpool WMH53520CW5 | Microwave Oven |
| Whirlpool WMH53520CW6 | Microwave Oven |
| Whirlpool WMH53521HB0 | Microwave Oven |
| Whirlpool WMH53521HB1 | Microwave Oven |
| Whirlpool WMH53521HB2 | Microwave Oven |
| Whirlpool WMH53521HB3 | Microwave Oven |
| Whirlpool WMH53521HV0 | Microwave Oven |
| Whirlpool WMH53521HV1 | Microwave Oven |
| Whirlpool WMH53521HV2 | Microwave Oven |
| Whirlpool WMH53521HV3 | Microwave Oven |
| Whirlpool WMH53521HW0 | Microwave Oven |
| Whirlpool WMH53521HW1 | Microwave Oven |
| Whirlpool WMH53521HW2 | Microwave Oven |
| Whirlpool WMH53521HW3 | Microwave Oven |
| Whirlpool WMH53521HZ0 | Microwave Oven |
| Whirlpool WMH53521HZ1 | Microwave Oven |
| Whirlpool WMH53521HZ2 | Microwave Oven |
| Whirlpool WMH53521HZ3 | Microwave Oven |
| Whirlpool WMH54521HS0 | Microwave Oven |
| Whirlpool WMH54521HS1 | Microwave Oven |
| Whirlpool WMH54521HS2 | Microwave Oven |
| Whirlpool WMH54521HS3 | Microwave Oven |
| Whirlpool WMH73L20AS0 | Microwave Oven |
| Whirlpool WMH73L20AS1 | Microwave Oven |
| Whirlpool WMH75520AB0 | Microwave Oven |
| Whirlpool WMH75520AS0 | Microwave Oven |
| Whirlpool WMH75520AW0 | Microwave Oven |
| Whirlpool WMH76718AB0 | Microwave Oven |
| Whirlpool WMH76718AB1 | Microwave Oven |
| Whirlpool WMH76718AS0 | Microwave Oven |
| Whirlpool WMH76718AS1 | Microwave Oven |
| Whirlpool WMH76718AW0 | Microwave Oven |
| Whirlpool WMH76718AW1 | Microwave Oven |
| WHIRLPOOL YGH7145XFB1 | Microwave Oven |
| WHIRLPOOL YGH7145XFB2 | Microwave Oven |
| WHIRLPOOL YGH7145XFQ1 | Microwave Oven |
| WHIRLPOOL YGH7145XFQ2 | Microwave Oven |
| WHIRLPOOL YGH8155XJB0 | Microwave Oven |
| WHIRLPOOL YGH8155XJQ0 | Microwave Oven |
| WHIRLPOOL YGH8155XJT0 | Microwave Oven |
| WHIRLPOOL YGH8155XMB0 | Microwave Oven |
| WHIRLPOOL YGH8155XMB1 | Microwave Oven |
| WHIRLPOOL YGH8155XMB2 | Microwave Oven |
| WHIRLPOOL YGH8155XMQ0 | Microwave Oven |
| WHIRLPOOL YGH8155XMQ1 | Microwave Oven |
| WHIRLPOOL YGH8155XMQ2 | Microwave Oven |
| WHIRLPOOL YGH8155XMT0 | Microwave Oven |
| WHIRLPOOL YGH8155XMT1 | Microwave Oven |
| WHIRLPOOL YGH8155XMT2 | Microwave Oven |
| Whirlpool YGMH6185XVB0 | Microwave Oven |
| Whirlpool YGMH6185XVQ0 | Microwave Oven |
| Whirlpool YGMH6185XVS0 | Microwave Oven |
| WHIRLPOOL YKHMS145JBL1 | Microwave Oven |
| WHIRLPOOL YKHMS145JBS1 | Microwave Oven |
| WHIRLPOOL YKHMS145JBT1 | Microwave Oven |
| WHIRLPOOL YKHMS145JWH1 | Microwave Oven |
| WHIRLPOOL YKHMS147HBL2 | Microwave Oven |
| WHIRLPOOL YKHMS147HSS2 | Microwave Oven |
| WHIRLPOOL YKHMS147HWH2 | Microwave Oven |
| WHIRLPOOL YKHMS155LBL0 | Microwave Oven |
| WHIRLPOOL YKHMS155LBL1 | Microwave Oven |
| WHIRLPOOL YKHMS155LBL2 | Microwave Oven |
| WHIRLPOOL YKHMS155LBT0 | Microwave Oven |
| WHIRLPOOL YKHMS155LBT1 | Microwave Oven |
| WHIRLPOOL YKHMS155LBT2 | Microwave Oven |
| WHIRLPOOL YKHMS155LSS0 | Microwave Oven |
| WHIRLPOOL YKHMS155LSS1 | Microwave Oven |
| WHIRLPOOL YKHMS155LSS2 | Microwave Oven |
| WHIRLPOOL YKHMS155LWH0 | Microwave Oven |
| WHIRLPOOL YKHMS155LWH1 | Microwave Oven |
| WHIRLPOOL YKHMS155LWH2 | Microwave Oven |
| Whirlpool YKHMS2040BS1 | Microwave Oven |
| Whirlpool YKHMS2040BS2 | Microwave Oven |
| Whirlpool YKHMS2040WB0 | Microwave Oven |
| Whirlpool YKHMS2040WS0 | Microwave Oven |
| Whirlpool YKHMS2040WW0 | Microwave Oven |
| Whirlpool YKMHS120EB0 | Microwave Oven |
| Whirlpool YKMHS120EB1 | Microwave Oven |
| Whirlpool YKMHS120EB2 | Microwave Oven |
| Whirlpool YKMHS120ES0 | Microwave Oven |
| Whirlpool YKMHS120ES1 | Microwave Oven |
| Whirlpool YKMHS120ES2 | Microwave Oven |
| Whirlpool YKMHS120EW0 | Microwave Oven |
| Whirlpool YKMHS120EW1 | Microwave Oven |
| Whirlpool YKMHS120EW2 | Microwave Oven |
| WHIRLPOOL YMH1141XMB0 | Microwave Oven |
| WHIRLPOOL YMH1141XMB1 | Microwave Oven |
| WHIRLPOOL YMH1141XMB2 | Microwave Oven |
| WHIRLPOOL YMH1141XMB3 | Microwave Oven |
| WHIRLPOOL YMH1141XMQ0 | Microwave Oven |
| WHIRLPOOL YMH1141XMQ1 | Microwave Oven |
| WHIRLPOOL YMH1141XMQ2 | Microwave Oven |
| WHIRLPOOL YMH1141XMQ3 | Microwave Oven |
| WHIRLPOOL YMH1150XMS0 | Microwave Oven |
| WHIRLPOOL YMH1150XMS1 | Microwave Oven |
| WHIRLPOOL YMH1150XMS2 | Microwave Oven |
| WHIRLPOOL YMH1150XMS3 | Microwave Oven |
| Whirlpool YMH2175XSB6 | Microwave Oven |
| Whirlpool YMH2175XSQ5 | Microwave Oven |
| Whirlpool YMH2175XSS5 | Microwave Oven |
| WHIRLPOOL YMH6140XFB2 | Microwave Oven |
| WHIRLPOOL YMH6140XFQ2 | Microwave Oven |
| WHIRLPOOL YMH7140XFB1 | Microwave Oven |
| WHIRLPOOL YMH7140XFB2 | Microwave Oven |
| WHIRLPOOL YMH7140XFQ1 | Microwave Oven |
| WHIRLPOOL YMH7140XFQ2 | Microwave Oven |
| WHIRLPOOL YMH7155XMB0 | Microwave Oven |
| WHIRLPOOL YMH7155XMB1 | Microwave Oven |
| WHIRLPOOL YMH7155XMB2 | Microwave Oven |
| WHIRLPOOL YMH7155XMQ0 | Microwave Oven |
| WHIRLPOOL YMH7155XMQ1 | Microwave Oven |
| WHIRLPOOL YMH7155XMQ2 | Microwave Oven |
| WHIRLPOOL YMH7155XMS0 | Microwave Oven |
| WHIRLPOOL YMH7155XMS1 | Microwave Oven |
| WHIRLPOOL YMH7155XMS2 | Microwave Oven |
| Whirlpool YWMH1162XVB1 | Microwave Oven |
| Whirlpool YWMH1162XVB2 | Microwave Oven |
| Whirlpool YWMH1162XVB3 | Microwave Oven |
| Whirlpool YWMH1162XVB4 | Microwave Oven |
| Whirlpool YWMH1162XVB5 | Microwave Oven |
| Whirlpool YWMH1162XVQ1 | Microwave Oven |
| Whirlpool YWMH1162XVQ2 | Microwave Oven |
| Whirlpool YWMH1162XVQ3 | Microwave Oven |
| Whirlpool YWMH1162XVQ4 | Microwave Oven |
| Whirlpool YWMH1162XVQ5 | Microwave Oven |
| Whirlpool YWMH1162XVS1 | Microwave Oven |
| Whirlpool YWMH1162XVS2 | Microwave Oven |
| Whirlpool YWMH1162XVS3 | Microwave Oven |
| Whirlpool YWMH1162XVS4 | Microwave Oven |
| Whirlpool YWMH1162XVS5 | Microwave Oven |
| Whirlpool YWMH2205XVB0 | Microwave Oven |
| Whirlpool YWMH2205XVB1 | Microwave Oven |
| Whirlpool YWMH2205XVQ0 | Microwave Oven |
| Whirlpool YWMH2205XVQ1 | Microwave Oven |
| Whirlpool YWMH2205XVQ2 | Microwave Oven |
| Whirlpool YWMH2205XVQ3 | Microwave Oven |
| Whirlpool YWMH2205XVS0 | Microwave Oven |
| Whirlpool YWMH2205XVS1 | Microwave Oven |
| Whirlpool YWMH2205XVS2 | Microwave Oven |
| Whirlpool YWMH2205XVS3 | Microwave Oven |
| Whirlpool YWMH31017AB0 | Microwave Oven |
| Whirlpool YWMH31017AB1 | Microwave Oven |
| Whirlpool YWMH31017AB2 | Microwave Oven |
| Whirlpool YWMH31017AB3 | Microwave Oven |
| Whirlpool YWMH31017AB4 | Microwave Oven |
| Whirlpool YWMH31017AB5 | Microwave Oven |
| Whirlpool YWMH31017AS0 | Microwave Oven |
| Whirlpool YWMH31017AS1 | Microwave Oven |
| Whirlpool YWMH31017AS2 | Microwave Oven |
| Whirlpool YWMH31017AS3 | Microwave Oven |
| Whirlpool YWMH31017AS4 | Microwave Oven |
| Whirlpool YWMH31017AS5 | Microwave Oven |
| Whirlpool YWMH31017AW0 | Microwave Oven |
| Whirlpool YWMH31017AW1 | Microwave Oven |
| Whirlpool YWMH31017AW2 | Microwave Oven |
| Whirlpool YWMH31017AW3 | Microwave Oven |
| Whirlpool YWMH31017AW4 | Microwave Oven |
| Whirlpool YWMH31017AW5 | Microwave Oven |
| Whirlpool YWMH31017FB0 | Microwave Oven |
| Whirlpool YWMH31017FB1 | Microwave Oven |
| Whirlpool YWMH31017FS0 | Microwave Oven |
| Whirlpool YWMH31017FS1 | Microwave Oven |
| Whirlpool YWMH31017FW0 | Microwave Oven |
| Whirlpool YWMH31017FW1 | Microwave Oven |
| Whirlpool YWMH31017HB0 | Microwave Oven |
| Whirlpool YWMH31017HB1 | Microwave Oven |
| Whirlpool YWMH31017HS0 | Microwave Oven |
| Whirlpool YWMH31017HS1 | Microwave Oven |
| Whirlpool YWMH31017HW0 | Microwave Oven |
| Whirlpool YWMH31017HW1 | Microwave Oven |
| Whirlpool YWMH31017HZ0 | Microwave Oven |
| Whirlpool YWMH31017HZ1 | Microwave Oven |
| Whirlpool YWMH32519HB0 | Microwave Oven |
| Whirlpool YWMH32519HB1 | Microwave Oven |
| Whirlpool YWMH32519HT0 | Microwave Oven |
| Whirlpool YWMH32519HT1 | Microwave Oven |
| Whirlpool YWMH32519HV0 | Microwave Oven |
| Whirlpool YWMH32519HV1 | Microwave Oven |
| Whirlpool YWMH32519HV2 | Microwave Oven |
| Whirlpool YWMH32519HW0 | Microwave Oven |
| Whirlpool YWMH32519HW1 | Microwave Oven |
| Whirlpool YWMH32519HZ0 | Microwave Oven |
| Whirlpool YWMH32519HZ1 | Microwave Oven |
| Whirlpool YWMH32519HZ2 | Microwave Oven |
| Whirlpool YWMH53520AH0 | Microwave Oven |
| Whirlpool YWMH53520AH1 | Microwave Oven |
| Whirlpool YWMH53520AS0 | Microwave Oven |
| Whirlpool YWMH53520AS1 | Microwave Oven |
| Whirlpool YWMH53520CB0 | Microwave Oven |
| Whirlpool YWMH53520CB1 | Microwave Oven |
| Whirlpool YWMH53520CB2 | Microwave Oven |
| Whirlpool YWMH53520CB3 | Microwave Oven |
| Whirlpool YWMH53520CB4 | Microwave Oven |
| Whirlpool YWMH53520CB5 | Microwave Oven |
| Whirlpool YWMH53520CE0 | Microwave Oven |
| Whirlpool YWMH53520CE1 | Microwave Oven |
| Whirlpool YWMH53520CE2 | Microwave Oven |
| Whirlpool YWMH53520CE3 | Microwave Oven |
| Whirlpool YWMH53520CE4 | Microwave Oven |
| Whirlpool YWMH53520CE5 | Microwave Oven |
| Whirlpool YWMH53520CH0 | Microwave Oven |
| Whirlpool YWMH53520CH1 | Microwave Oven |
| Whirlpool YWMH53520CH2 | Microwave Oven |
| Whirlpool YWMH53520CH3 | Microwave Oven |
| Whirlpool YWMH53520CH4 | Microwave Oven |
| Whirlpool YWMH53520CH5 | Microwave Oven |
| Whirlpool YWMH53520CS0 | Microwave Oven |
| Whirlpool YWMH53520CS1 | Microwave Oven |
| Whirlpool YWMH53520CS2 | Microwave Oven |
| Whirlpool YWMH53520CS3 | Microwave Oven |
| Whirlpool YWMH53520CS4 | Microwave Oven |
| Whirlpool YWMH53520CS5 | Microwave Oven |
| Whirlpool YWMH53520CW0 | Microwave Oven |
| Whirlpool YWMH53520CW1 | Microwave Oven |
| Whirlpool YWMH53520CW2 | Microwave Oven |
| Whirlpool YWMH53520CW3 | Microwave Oven |
| Whirlpool YWMH53520CW4 | Microwave Oven |
| Whirlpool YWMH53520CW5 | Microwave Oven |
| Whirlpool YWMH53521HB1 | Microwave Oven |
| Whirlpool YWMH53521HB2 | Microwave Oven |
| Whirlpool YWMH53521HV1 | Microwave Oven |
| Whirlpool YWMH53521HV2 | Microwave Oven |
| Whirlpool YWMH53521HW1 | Microwave Oven |
| Whirlpool YWMH53521HW2 | Microwave Oven |
| Whirlpool YWMH53521HZ1 | Microwave Oven |
| Whirlpool YWMH53521HZ2 | Microwave Oven |
| Whirlpool YWMH76718AB0 | Microwave Oven |
| Whirlpool YWMH76718AB1 | Microwave Oven |
| Whirlpool YWMH76718AB2 | Microwave Oven |
| Whirlpool YWMH76718AS0 | Microwave Oven |
| Whirlpool YWMH76718AS1 | Microwave Oven |
| Whirlpool YWMH76718AS2 | Microwave Oven |
| All-Filters G-6802 | Range Hood Filter |
| Amana 6802A | Range Hood Filter |
| AMERICAN METAL FILTER CO RHF0525 | Range Hood Filter |
| APPLIANCE PARTS AP2148491 | Range Hood Filter |
| APPLIANCE PARTS PS466987 | Range Hood Filter |
| Electrolux 5304456090 | Range Hood Filter |
| Electrolux 5304465235 | Range Hood Filter |
| Electrolux PS2333776 | Range Hood Filter |
| Estate 6802A | Range Hood Filter |
| Estate 8169758 | Range Hood Filter |
| Estate W10208631A | Range Hood Filter |
| Frigidaire 5304456090 | Range Hood Filter |
| Frigidaire 5304465235 | Range Hood Filter |
| Frigidaire PS2333776 | Range Hood Filter |
| GE WB06X10596 | Range Hood Filter |
| Hardwick 6802A | Range Hood Filter |
| Hardwick W10208631A | Range Hood Filter |
| HD Supply 555524 | Range Hood Filter |
| Kitchenaid W10208631A | Range Hood Filter |
| Magic Chef 6802A | Range Hood Filter |
| Magic Chef W10208631A | Range Hood Filter |
| Maytag 6802A | Range Hood Filter |
| Maytag W10208631A | Range Hood Filter |
| Samsung 6802A | Range Hood Filter |
| Samsung DE63-00196A | Range Hood Filter |
| Samsung DE63-00196B | Range Hood Filter |
| WHIRLPOOL 8169758 | Range Hood Filter |
| Whirlpool W10208631A | Range Hood Filter |