American Metal RHF0503 | Our#: 172419
Aluminum Range Hood Filter - 5-1/8" X 7-5/8" X 1/8" Pull Tab, Center - Short Side - 6-Pack

27 review(s)
American Metal RHF0503 | Our#: 172419
Fast Shipping & Free Returns
100% Compatibility Guarantee
Aluminum Range Hood Filter - 5-1/8" X 7-5/8" X 1/8" Pull Tab, Center - Short Side - 6-Pack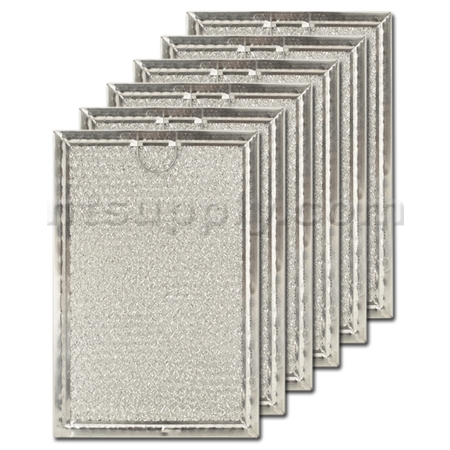 5 people in your area recently purchased this product!
$

6.85
(

6

Filters for $

41.11

)
Fast Shipping & Free Returns
100% Compatibility Guarantee
Frequently Purchased Together
Product Details
Aluminum Range Hood Filter - 5-1/8" X 7-5/8" X 1/8" Pull Tab, Center - Short Side

PART CROSS REFERENCE:


Whirlpool 4358853
Maycor 57001104
LG 2B72705B, 2B72705C, 5230W1A012B, 5230W1A012A, 5230W1A012C, 5230W1A01B
GE WB06X10309 (2 pack) or WB06X10359
Attributes:
Contains an aluminum foil pad between two pieces of expanded aluminum.

Usage:
This washable aluminum filter is used in ducted and ductless range hoods and microwave ovens to remove grease from the air.

Maintenance:
We recommend that the filter be washed as often as required to prevent grease build up and a resultant decrease in air flow. Soak in a solution of hot water and degreaser for 10-20 minutes. Agitate gently to remove loosened grease. A residue of grease on the filter after washing is acceptable as this helps retain grease.
---
Compatible Part Numbers
Search by your filter part number or appliance model number to verify compatibility
| Model or Part Number | Type |
| --- | --- |
| GE CVM1790SS1SS | Range Hood |
| GE HVM1540DM1BB | Range Hood |
| GE HVM1540DM1WW | Range Hood |
| GE HVM1540DM2BB | Range Hood |
| GE HVM1540DM2WW | Range Hood |
| GE HVM1540LM1CS | Range Hood |
| GE HVM1540LM2CS | Range Hood |
| GE HVM1540SM1SS | Range Hood |
| GE HVM1540SM2SS | Range Hood |
| GE JNM1541DM1BB | Range Hood |
| GE JNM1541DM1CC | Range Hood |
| GE JNM1541DM1WW | Range Hood |
| GE JNM1541DM2BB | Range Hood |
| GE JNM1541DM2CC | Range Hood |
| GE JNM1541DM2WW | Range Hood |
| GE JNM1541DM3BB | Range Hood |
| GE JNM1541DM3CC | Range Hood |
| GE JNM1541DM3WW | Range Hood |
| GE JNM1541DM4BB | Range Hood |
| GE JNM1541DM4CC | Range Hood |
| GE JNM1541DM4WW | Range Hood |
| GE JNM1541DM5BB | Range Hood |
| GE JNM1541DM5CC | Range Hood |
| GE JNM1541DM5WW | Range Hood |
| GE JNM1541SM1SS | Range Hood |
| GE JNM1541SM2SS | Range Hood |
| GE JNM1541SM3SS | Range Hood |
| GE JNM1541SM4SS | Range Hood |
| GE JNM1541SM5SS | Range Hood |
| GE JVM1533BD05 | Range Hood |
| GE JVM1533WD05 | Range Hood |
| GE JVM1540DM1BB | Range Hood |
| GE JVM1540DM1CC | Range Hood |
| GE JVM1540DM1WW | Range Hood |
| GE JVM1540DM2BB | Range Hood |
| GE JVM1540DM2CC | Range Hood |
| GE JVM1540DM2WW | Range Hood |
| GE JVM1540DM3BB | Range Hood |
| GE JVM1540DM3CC | Range Hood |
| GE JVM1540DM3WW | Range Hood |
| GE JVM1540DM4BB | Range Hood |
| GE JVM1540DM4CC | Range Hood |
| GE JVM1540DM4WW | Range Hood |
| GE JVM1540DM5BB | Range Hood |
| GE JVM1540DM5CC | Range Hood |
| GE JVM1540DM5WW | Range Hood |
| GE JVM1540LM1CS | Range Hood |
| GE JVM1540LM2CS | Range Hood |
| GE JVM1540LM3CS | Range Hood |
| GE JVM1540LM4CS | Range Hood |
| GE JVM1540LM5CS | Range Hood |
| GE JVM1540SM1SS | Range Hood |
| GE JVM1540SM2SS | Range Hood |
| GE JVM1540SM3SS | Range Hood |
| GE JVM1540SM4SS | Range Hood |
| GE JVM1540SM5SS | Range Hood |
| GE JVM1542BF03 | Range Hood |
| GE JVM1542WF03 | Range Hood |
| GE JVM1630BH001 | Range Hood |
| GE JVM1630BH002 | Range Hood |
| GE JVM1630BH003 | Range Hood |
| GE JVM1630BJ01 | Range Hood |
| GE JVM1630BJ02 | Range Hood |
| GE JVM1630BJ03 | Range Hood |
| GE JVM1630CH001 | Range Hood |
| GE JVM1630CH002 | Range Hood |
| GE JVM1630CH003 | Range Hood |
| GE JVM1630CJ01 | Range Hood |
| GE JVM1630CJ02 | Range Hood |
| GE JVM1630CJ03 | Range Hood |
| GE JVM1630WH001 | Range Hood |
| GE JVM1630WH002 | Range Hood |
| GE JVM1630WH003 | Range Hood |
| GE JVM1630WJ01 | Range Hood |
| GE JVM1630WJ02 | Range Hood |
| GE JVM1630WJ03 | Range Hood |
| GE JVM1631BH001 | Range Hood |
| GE JVM1631BH002 | Range Hood |
| GE JVM1631BH003 | Range Hood |
| GE JVM1631BJ01 | Range Hood |
| GE JVM1631BJ02 | Range Hood |
| GE JVM1631BJ03 | Range Hood |
| GE JVM1631CH001 | Range Hood |
| GE JVM1631CH002 | Range Hood |
| GE JVM1631CH003 | Range Hood |
| GE JVM1631CJ01 | Range Hood |
| GE JVM1631CJ02 | Range Hood |
| GE JVM1631CJ03 | Range Hood |
| GE JVM1631WH001 | Range Hood |
| GE JVM1631WH002 | Range Hood |
| GE JVM1631WH003 | Range Hood |
| GE JVM1631WJ01 | Range Hood |
| GE JVM1631WJ02 | Range Hood |
| GE JVM1631WJ03 | Range Hood |
| GE JVM1640AH01 | Range Hood |
| GE JVM1640AJ01 | Range Hood |
| GE JVM1640AJ02 | Range Hood |
| GE JVM1640BH001 | Range Hood |
| GE JVM1640BJ01 | Range Hood |
| GE JVM1640BJ02 | Range Hood |
| GE JVM1640BJ03 | Range Hood |
| GE JVM1640CH001 | Range Hood |
| GE JVM1640CJ01 | Range Hood |
| GE JVM1640CJ02 | Range Hood |
| GE JVM1640CJ03 | Range Hood |
| GE JVM1640SJ01 | Range Hood |
| GE JVM1640SJ02 | Range Hood |
| GE JVM1640SJ03 | Range Hood |
| GE JVM1640WH001 | Range Hood |
| GE JVM1640WJ01 | Range Hood |
| GE JVM1640WJ02 | Range Hood |
| GE JVM1640WJ03 | Range Hood |
| GE JVM1653BH06 | Range Hood |
| GE JVM1653SH06 | Range Hood |
| GE JVM1653WH06 | Range Hood |
| GE PVM1790DR1BB | Range Hood |
| GE PVM1790DR1CC | Range Hood |
| GE PVM1790DR1WW | Range Hood |
| GE PVM1790SR1SS | Range Hood |
| GE ZSA1202RSS01 | Range Hood |
| AMANA AMV1162AAB | Microwave Oven |
| AMANA AMV1162AAQ | Microwave Oven |
| AMANA AMV1162AAS | Microwave Oven |
| AMANA AMV1162AAW | Microwave Oven |
| AMANA AMV5164AAB | Microwave Oven |
| AMANA AMV5164AAQ | Microwave Oven |
| AMANA AMV5164AAS | Microwave Oven |
| AMANA AMV5164AAW | Microwave Oven |
| AMANA AMV5164ACB | Microwave Oven |
| AMANA AMV5164ACS | Microwave Oven |
| AMANA AMV5164ACW | Microwave Oven |
| Estate TMH14XLB0 | Microwave Oven |
| Estate TMH14XLB1 | Microwave Oven |
| Estate TMH14XLQ0 | Microwave Oven |
| Estate TMH14XLT0 | Microwave Oven |
| Estate TMH14XLT1 | Microwave Oven |
| JENN-AIR M439B0 | Microwave Oven |
| JENN-AIR M439B1 | Microwave Oven |
| JENN-AIR M439W0 | Microwave Oven |
| JENN-AIR M439W1 | Microwave Oven |
| KitchenAid KHMC107BAL0 | Microwave Oven |
| KitchenAid KHMC107BAL4 | Microwave Oven |
| KitchenAid KHMC107BAL5 | Microwave Oven |
| KitchenAid KHMC107BBL0 | Microwave Oven |
| KitchenAid KHMC107BBL4 | Microwave Oven |
| KitchenAid KHMC107BBL5 | Microwave Oven |
| KitchenAid KHMC107BWH0 | Microwave Oven |
| KitchenAid KHMC107BWH4 | Microwave Oven |
| KitchenAid KHMC107BWH5 | Microwave Oven |
| KitchenAid KHMC107EAL0 | Microwave Oven |
| KitchenAid KHMC107EBL0 | Microwave Oven |
| KitchenAid KHMC107EBL1 | Microwave Oven |
| KitchenAid KHMC107EBL2 | Microwave Oven |
| KitchenAid KHMC107EBT0 | Microwave Oven |
| KitchenAid KHMC107EBT1 | Microwave Oven |
| KitchenAid KHMC107EBT2 | Microwave Oven |
| KitchenAid KHMC107EWH0 | Microwave Oven |
| KitchenAid KHMC107EWH1 | Microwave Oven |
| KitchenAid KHMS105BAL0 | Microwave Oven |
| KitchenAid KHMS105BAL1 | Microwave Oven |
| KitchenAid KHMS105BAL2 | Microwave Oven |
| KitchenAid KHMS105BAL4 | Microwave Oven |
| KitchenAid KHMS105BAL5 | Microwave Oven |
| KitchenAid KHMS105BAL6 | Microwave Oven |
| KitchenAid KHMS105BBL0 | Microwave Oven |
| KitchenAid KHMS105BBL1 | Microwave Oven |
| KitchenAid KHMS105BBL2 | Microwave Oven |
| KitchenAid KHMS105BBL4 | Microwave Oven |
| KitchenAid KHMS105BBL5 | Microwave Oven |
| KitchenAid KHMS105BBL6 | Microwave Oven |
| KitchenAid KHMS105BWH0 | Microwave Oven |
| KitchenAid KHMS105BWH1 | Microwave Oven |
| KitchenAid KHMS105BWH2 | Microwave Oven |
| KitchenAid KHMS105BWH4 | Microwave Oven |
| KitchenAid KHMS105BWH5 | Microwave Oven |
| KitchenAid KHMS105BWH6 | Microwave Oven |
| KitchenAid KHMS105EAL0 | Microwave Oven |
| KitchenAid KHMS105EBL0 | Microwave Oven |
| KitchenAid KHMS105EBS0 | Microwave Oven |
| KitchenAid KHMS105ESB0 | Microwave Oven |
| KitchenAid KHMS105EWH0 | Microwave Oven |
| KitchenAid KHWS105BBL0 | Microwave Oven |
| MAGIC CHEF MODW1A | Microwave Oven |
| MAGIC CHEF MODW1V | Microwave Oven |
| MAYTAG MMV1153AAB | Microwave Oven |
| MAYTAG MMV1153AAW | Microwave Oven |
| MAYTAG UMV1152BAB | Microwave Oven |
| MAYTAG UMV1152BAQ | Microwave Oven |
| MAYTAG UMV1152BAS | Microwave Oven |
| MAYTAG UMV1152BAW | Microwave Oven |
| MAYTAG VM12AB | Microwave Oven |
| MAYTAG VM12AM | Microwave Oven |
| MAYTAG VM12AV | Microwave Oven |
| MAYTAG VM12AV-1 | Microwave Oven |
| ROPER MHE11RDB0 | Microwave Oven |
| ROPER MHE11RDB4 | Microwave Oven |
| ROPER MHE11RDB5 | Microwave Oven |
| ROPER MHE11RDQ0 | Microwave Oven |
| ROPER MHE11RDQ4 | Microwave Oven |
| ROPER MHE11RDQ5 | Microwave Oven |
| ROPER MHE11REB0 | Microwave Oven |
| ROPER MHE11REB1 | Microwave Oven |
| ROPER MHE11REQ0 | Microwave Oven |
| ROPER MHE11REQ1 | Microwave Oven |
| ROPER MHE13XHB0 | Microwave Oven |
| ROPER MHE13XHB1 | Microwave Oven |
| ROPER MHE13XHQ0 | Microwave Oven |
| ROPER MHE13XHQ1 | Microwave Oven |
| ROPER MHE13XKB0 | Microwave Oven |
| ROPER MHE13XKQ0 | Microwave Oven |
| ROPER MHE14XKB0 | Microwave Oven |
| ROPER MHE14XKB1 | Microwave Oven |
| ROPER MHE14XKB2 | Microwave Oven |
| ROPER MHE14XKQ0 | Microwave Oven |
| ROPER MHE14XKQ1 | Microwave Oven |
| ROPER MHE14XKQ2 | Microwave Oven |
| WHIRLPOOL 4361 | Microwave Oven |
| WHIRLPOOL GH7155XHS0 | Microwave Oven |
| WHIRLPOOL GH7155XHS1 | Microwave Oven |
| WHIRLPOOL GH7155XKB0 | Microwave Oven |
| WHIRLPOOL GH7155XKQ0 | Microwave Oven |
| WHIRLPOOL GH7155XKT0 | Microwave Oven |
| WHIRLPOOL GH9115XEB0 | Microwave Oven |
| WHIRLPOOL GH9115XEB1 | Microwave Oven |
| WHIRLPOOL GH9115XEB2 | Microwave Oven |
| WHIRLPOOL GH9115XEQ0 | Microwave Oven |
| WHIRLPOOL GH9115XEQ1 | Microwave Oven |
| WHIRLPOOL KHMC107BAL0 | Microwave Oven |
| WHIRLPOOL KHMC107BAL4 | Microwave Oven |
| WHIRLPOOL KHMC107BAL5 | Microwave Oven |
| WHIRLPOOL KHMC107BBL0 | Microwave Oven |
| WHIRLPOOL KHMC107BBL4 | Microwave Oven |
| WHIRLPOOL KHMC107BBL5 | Microwave Oven |
| WHIRLPOOL KHMC107BWH0 | Microwave Oven |
| WHIRLPOOL KHMC107BWH4 | Microwave Oven |
| WHIRLPOOL KHMC107BWH5 | Microwave Oven |
| WHIRLPOOL KHMC107EAL0 | Microwave Oven |
| WHIRLPOOL KHMC107EBL0 | Microwave Oven |
| WHIRLPOOL KHMC107EBL1 | Microwave Oven |
| WHIRLPOOL KHMC107EBL2 | Microwave Oven |
| WHIRLPOOL KHMC107EBT0 | Microwave Oven |
| WHIRLPOOL KHMC107EBT1 | Microwave Oven |
| WHIRLPOOL KHMC107EBT2 | Microwave Oven |
| WHIRLPOOL KHMC107EWH0 | Microwave Oven |
| WHIRLPOOL KHMC107EWH1 | Microwave Oven |
| WHIRLPOOL KHMS105BAL0 | Microwave Oven |
| WHIRLPOOL KHMS105BAL1 | Microwave Oven |
| WHIRLPOOL KHMS105BAL2 | Microwave Oven |
| WHIRLPOOL KHMS105BAL4 | Microwave Oven |
| WHIRLPOOL KHMS105BAL5 | Microwave Oven |
| WHIRLPOOL KHMS105BAL6 | Microwave Oven |
| WHIRLPOOL KHMS105BBL0 | Microwave Oven |
| WHIRLPOOL KHMS105BBL1 | Microwave Oven |
| WHIRLPOOL KHMS105BBL2 | Microwave Oven |
| WHIRLPOOL KHMS105BBL4 | Microwave Oven |
| WHIRLPOOL KHMS105BBL5 | Microwave Oven |
| WHIRLPOOL KHMS105BBL6 | Microwave Oven |
| WHIRLPOOL KHMS105BWH0 | Microwave Oven |
| WHIRLPOOL KHMS105BWH1 | Microwave Oven |
| WHIRLPOOL KHMS105BWH2 | Microwave Oven |
| WHIRLPOOL KHMS105BWH4 | Microwave Oven |
| WHIRLPOOL KHMS105BWH5 | Microwave Oven |
| WHIRLPOOL KHMS105BWH6 | Microwave Oven |
| WHIRLPOOL KHMS105EAL0 | Microwave Oven |
| WHIRLPOOL KHMS105EBL0 | Microwave Oven |
| WHIRLPOOL KHMS105EBS0 | Microwave Oven |
| WHIRLPOOL KHMS105ESB0 | Microwave Oven |
| WHIRLPOOL KHMS105EWH0 | Microwave Oven |
| WHIRLPOOL MH6110XBB0 | Microwave Oven |
| WHIRLPOOL MH6110XBB1 | Microwave Oven |
| WHIRLPOOL MH6110XBB2 | Microwave Oven |
| WHIRLPOOL MH6110XBB3 | Microwave Oven |
| WHIRLPOOL MH6110XBB4 | Microwave Oven |
| WHIRLPOOL MH6110XBB5 | Microwave Oven |
| WHIRLPOOL MH6110XBB6 | Microwave Oven |
| WHIRLPOOL MH6110XBQ0 | Microwave Oven |
| WHIRLPOOL MH6110XBQ1 | Microwave Oven |
| WHIRLPOOL MH6110XBQ2 | Microwave Oven |
| WHIRLPOOL MH6110XBQ3 | Microwave Oven |
| WHIRLPOOL MH6110XBQ4 | Microwave Oven |
| WHIRLPOOL MH6110XBQ5 | Microwave Oven |
| WHIRLPOOL MH6110XBQ6 | Microwave Oven |
| WHIRLPOOL MH6110XEB0 | Microwave Oven |
| WHIRLPOOL MH6110XEB1 | Microwave Oven |
| WHIRLPOOL MH6110XEQ0 | Microwave Oven |
| WHIRLPOOL MH6110XEQ1 | Microwave Oven |
| WHIRLPOOL MH6130XEB0 | Microwave Oven |
| WHIRLPOOL MH6130XEB1 | Microwave Oven |
| WHIRLPOOL MH6130XEB2 | Microwave Oven |
| WHIRLPOOL MH6130XEQ0 | Microwave Oven |
| WHIRLPOOL MH6130XEQ1 | Microwave Oven |
| WHIRLPOOL MH6130XEQ2 | Microwave Oven |
| WHIRLPOOL MH6140XKB0 | Microwave Oven |
| WHIRLPOOL MH6140XKB1 | Microwave Oven |
| WHIRLPOOL MH6140XKB2 | Microwave Oven |
| WHIRLPOOL MH6140XKQ0 | Microwave Oven |
| WHIRLPOOL MH6140XKQ1 | Microwave Oven |
| WHIRLPOOL MH6140XKQ2 | Microwave Oven |
| WHIRLPOOL MH6141XKB0 | Microwave Oven |
| WHIRLPOOL MH6141XKB1 | Microwave Oven |
| WHIRLPOOL MH6141XKB2 | Microwave Oven |
| WHIRLPOOL MH6141XKQ0 | Microwave Oven |
| WHIRLPOOL MH6141XKQ1 | Microwave Oven |
| WHIRLPOOL MH6141XKQ2 | Microwave Oven |
| WHIRLPOOL MH6150XHB0 | Microwave Oven |
| WHIRLPOOL MH6150XHB1 | Microwave Oven |
| WHIRLPOOL MH6150XHQ0 | Microwave Oven |
| WHIRLPOOL MH6150XHQ1 | Microwave Oven |
| WHIRLPOOL MH6150XHT0 | Microwave Oven |
| WHIRLPOOL MH6150XHT1 | Microwave Oven |
| WHIRLPOOL MH6150XLB0 | Microwave Oven |
| WHIRLPOOL MH6150XLB1 | Microwave Oven |
| WHIRLPOOL MH6150XLQ0 | Microwave Oven |
| WHIRLPOOL MH6150XLQ1 | Microwave Oven |
| WHIRLPOOL MH6150XLS0 | Microwave Oven |
| WHIRLPOOL MH6150XLS1 | Microwave Oven |
| WHIRLPOOL MH6150XLT0 | Microwave Oven |
| WHIRLPOOL MH6150XLT1 | Microwave Oven |
| WHIRLPOOL MH6150XMB0 | Microwave Oven |
| WHIRLPOOL MH6150XMB1 | Microwave Oven |
| WHIRLPOOL MH6150XMQ0 | Microwave Oven |
| WHIRLPOOL MH6150XMQ1 | Microwave Oven |
| WHIRLPOOL MH6150XMS0 | Microwave Oven |
| WHIRLPOOL MH6150XMS1 | Microwave Oven |
| WHIRLPOOL MH6150XMT0 | Microwave Oven |
| WHIRLPOOL MH6150XMT1 | Microwave Oven |
| WHIRLPOOL MH6151XHB0 | Microwave Oven |
| WHIRLPOOL MH6151XHB1 | Microwave Oven |
| WHIRLPOOL MH6151XHQ0 | Microwave Oven |
| WHIRLPOOL MH6151XHQ1 | Microwave Oven |
| WHIRLPOOL MH6151XHT0 | Microwave Oven |
| WHIRLPOOL MH6151XHT1 | Microwave Oven |
| WHIRLPOOL MH7110XBB0 | Microwave Oven |
| WHIRLPOOL MH7110XBB1 | Microwave Oven |
| WHIRLPOOL MH7110XBB2 | Microwave Oven |
| WHIRLPOOL MH7110XBB3 | Microwave Oven |
| WHIRLPOOL MH7110XBB4 | Microwave Oven |
| WHIRLPOOL MH7110XBB5 | Microwave Oven |
| WHIRLPOOL MH7110XBB6 | Microwave Oven |
| WHIRLPOOL MH7110XBQ0 | Microwave Oven |
| WHIRLPOOL MH7110XBQ1 | Microwave Oven |
| WHIRLPOOL MH7110XBQ2 | Microwave Oven |
| WHIRLPOOL MH7110XBQ3 | Microwave Oven |
| WHIRLPOOL MH7110XBQ4 | Microwave Oven |
| WHIRLPOOL MH7110XBQ5 | Microwave Oven |
| WHIRLPOOL MH7110XBQ6 | Microwave Oven |
| WHIRLPOOL MH7110XBQ8 | Microwave Oven |
| WHIRLPOOL MH7115XBB0 | Microwave Oven |
| WHIRLPOOL MH7115XBB1 | Microwave Oven |
| WHIRLPOOL MH7115XBB2 | Microwave Oven |
| WHIRLPOOL MH7115XBB4 | Microwave Oven |
| WHIRLPOOL MH7115XBB5 | Microwave Oven |
| WHIRLPOOL MH7115XBB6 | Microwave Oven |
| WHIRLPOOL MH7115XBQ0 | Microwave Oven |
| WHIRLPOOL MH7115XBQ1 | Microwave Oven |
| WHIRLPOOL MH7115XBQ2 | Microwave Oven |
| WHIRLPOOL MH7115XBQ4 | Microwave Oven |
| WHIRLPOOL MH7115XBQ5 | Microwave Oven |
| WHIRLPOOL MH7115XBQ6 | Microwave Oven |
| Whirlpool MH7115XBZ0 | Microwave Oven |
| WHIRLPOOL MH7115XBZ1 | Microwave Oven |
| WHIRLPOOL MH7115XBZ2 | Microwave Oven |
| WHIRLPOOL MH7115XBZ4 | Microwave Oven |
| WHIRLPOOL MH7115XBZ5 | Microwave Oven |
| WHIRLPOOL MH7115XBZ6 | Microwave Oven |
| WHIRLPOOL MH7116XBB6 | Microwave Oven |
| WHIRLPOOL MH7130XEB0 | Microwave Oven |
| WHIRLPOOL MH7130XEB1 | Microwave Oven |
| WHIRLPOOL MH7130XEB2 | Microwave Oven |
| WHIRLPOOL MH7130XEQ0 | Microwave Oven |
| WHIRLPOOL MH7130XEQ1 | Microwave Oven |
| WHIRLPOOL MH7130XEQ2 | Microwave Oven |
| WHIRLPOOL MH7130XEQ3 | Microwave Oven |
| WHIRLPOOL MH7130XEZ0 | Microwave Oven |
| WHIRLPOOL MH7130XEZ1 | Microwave Oven |
| WHIRLPOOL MH7130XEZ2 | Microwave Oven |
| WHIRLPOOL MH7135XEB0 | Microwave Oven |
| WHIRLPOOL MH7135XEB1 | Microwave Oven |
| WHIRLPOOL MH7135XEB2 | Microwave Oven |
| WHIRLPOOL MH7135XEQ0 | Microwave Oven |
| WHIRLPOOL MH7135XEQ1 | Microwave Oven |
| WHIRLPOOL MH7135XEQ2 | Microwave Oven |
| WHIRLPOOL MH7155XBZ0 | Microwave Oven |
| WHIRLPOOL MH9115XBB0 | Microwave Oven |
| WHIRLPOOL MH9115XBB1 | Microwave Oven |
| WHIRLPOOL MH9115XBB2 | Microwave Oven |
| WHIRLPOOL MH9115XBB4 | Microwave Oven |
| WHIRLPOOL MH9115XBB5 | Microwave Oven |
| WHIRLPOOL MH9115XBQ0 | Microwave Oven |
| WHIRLPOOL MH9115XBQ1 | Microwave Oven |
| WHIRLPOOL MH9115XBQ2 | Microwave Oven |
| WHIRLPOOL MH9115XBQ4 | Microwave Oven |
| WHIRLPOOL MH9115XBQ5 | Microwave Oven |
| WHIRLPOOL MH9115XEB0 | Microwave Oven |
| WHIRLPOOL MH9115XEQ0 | Microwave Oven |
| WHIRLPOOL MHE11RDB6 | Microwave Oven |
| WHIRLPOOL MHE11RDQ6 | Microwave Oven |
| WHIRLPOOL YGH7155XHS1 | Microwave Oven |
| All-Filters G-5012 | Range Hood Filter |
| Amana 4358853 | Range Hood Filter |
| AMERICAN METAL FILTER CO RHF0503 | Range Hood Filter |
| APPLIANCE PARTS AP2928255 | Range Hood Filter |
| APPLIANCE PARTS PS364628 | Range Hood Filter |
| Estate 4358853 | Range Hood Filter |
| Estate 56001069 | Range Hood Filter |
| GE WB06X10309 | Range Hood Filter |
| GE WB06X10359 | Range Hood Filter |
| GE WB06X10654 | Range Hood Filter |
| GE WB6X10309 | Range Hood Filter |
| GE WB6X10359 | Range Hood Filter |
| Hardwick 4358853 | Range Hood Filter |
| HD Supply 247110 | Range Hood Filter |
| KitchenAid 4358853 | Range Hood Filter |
| KitchenAid 56001069 | Range Hood Filter |
| LG 2B72705B | Range Hood Filter |
| LG 2B72705C | Range Hood Filter |
| LG 5230W1A002A | Range Hood Filter |
| LG 5230W1A012A | Range Hood Filter |
| LG 5230W1A012B | Range Hood Filter |
| LG 5230W1A012C | Range Hood Filter |
| LG 5230W1A01B | Range Hood Filter |
| MAGIC CHEF 4358853 | Range Hood Filter |
| Maycor 57001104 | Range Hood Filter |
| Maytag 4358853 | Range Hood Filter |
| WHIRLPOOL 4358853 | Range Hood Filter |
| WHIRLPOOL 56001069 | Range Hood Filter |