American Metal RBF0801 | Our#: 172408
Aluminum Range Hood Filter - 8 3/4" x 10 1/2" x 3/32" - 6-Pack

1 review(s)
American Metal RBF0801 | Our#: 172408
Fast Shipping & Free Returns
100% Compatibility Guarantee
Aluminum Range Hood Filter -8 3/4" x 10 1/2" x 3/32"
Used in ducted and non-ducted range hoods, microwave ovens and other applications requiring air cleaning
Aluminum filters trap grease and dust particles before they reach the exhaust fan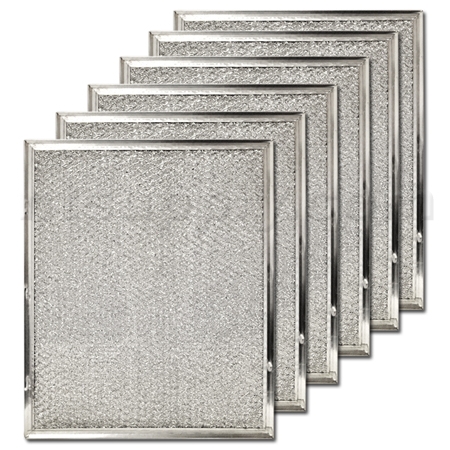 This product is currently unavailable.
The American Metal RBF0801 that you're looking for is so popular right now, it is not available at the moment. Enter your email address and we'll keep you updated when it's in stock.
Fast Shipping & Free Returns
100% Compatibility Guarantee
Frequently Purchased Together
Product Details
Aluminum Range Hood Filter - 8 3/4" x 10 1/2" x 3/32"
Aluminum filters trap grease and dust particles before they reach the exhaust fan. The aluminum mesh media is made of multilayered, slit and expanded sheets of aluminum which are staggered to form thousands of effective grease holding baffles.
FEATURES:
Used in ducted and non-ducted range hoods, microwave ovens and other applications requiring air cleaning.
May be washed.
Constructed of layered expanded, bonded, aluminum mesh in an aluminum frame.
Average Air Resistance - 64%.
Clean Resistance - .06" w.c.
Dust Holding Capacity - 44 grams/square foot
Replace every 6-12 months
---
Compatible Part Numbers
Search by your filter part number or appliance model number to verify compatibility
| Model or Part Number | Type |
| --- | --- |
| Broan 11000 | Range Hood |
| Broan 41000 | Range Hood |
| Broan 46000 | Range Hood |
| Broan F40000 | Range Hood |
| Kenmore 23350941590 | Range Hood |
| Kenmore 23350944590 | Range Hood |
| Kenmore 23350949590 | Range Hood |
| Kenmore 23351040590 | Range Hood |
| Kenmore 23351041590 | Range Hood |
| Kenmore 23351044590 | Range Hood |
| Kenmore 23351049590 | Range Hood |
| Kenmore 2335108012 | Range Hood |
| Kenmore 2335108910 | Range Hood |
| Kenmore 23351141590 | Range Hood |
| Kenmore 23351144590 | Range Hood |
| Kenmore 23351344590 | Range Hood |
| Kenmore 23351345590 | Range Hood |
| Kenmore 23351348590 | Range Hood |
| Kenmore 2335137813 | Range Hood |
| Kenmore 2335138910 | Range Hood |
| Kenmore 2335138911 | Range Hood |
| Kenmore 2335138912 | Range Hood |
| Kenmore 23351540590 | Range Hood |
| Kenmore 23351544590 | Range Hood |
| Kenmore 23351545590 | Range Hood |
| Kenmore 23351640590 | Range Hood |
| Kenmore 23351644590 | Range Hood |
| Kenmore 23351645590 | Range Hood |
| Kenmore 23351648590 | Range Hood |
| Kenmore 23351649590 | Range Hood |
| Kenmore 2335167812 | Range Hood |
| Kenmore 23351740590 | Range Hood |
| Kenmore 23351744590 | Range Hood |
| Kenmore 23351745590 | Range Hood |
| Kenmore 23351749590 | Range Hood |
| Kenmore 23351840590 | Range Hood |
| Kenmore 23351840591 | Range Hood |
| Kenmore 23351841590 | Range Hood |
| Kenmore 23351841591 | Range Hood |
| Kenmore 23351844100 | Range Hood |
| Kenmore 23351844591 | Range Hood |
| Kenmore 23351848590 | Range Hood |
| Kenmore 23351848591 | Range Hood |
| Kenmore 2335188411 | Range Hood |
| Kenmore 2335188610 | Range Hood |
| Kenmore 2335188910 | Range Hood |
| Kenmore 2335188911 | Range Hood |
| Kenmore 233518910 | Range Hood |
| Kenmore 23351898 | Range Hood |
| Kenmore 23351899 | Range Hood |
| Kenmore 23353245590 | Range Hood |
| Kenmore 23353345590 | Range Hood |
| Kenmore 2335337813 | Range Hood |
| Kenmore 2335338910 | Range Hood |
| Kenmore 2335338911 | Range Hood |
| Kenmore 2335978012 | Range Hood |
| WHIRLPOOL IH1300RQ0 | Range Hood |
| WHIRLPOOL IH1300RQ1 | Range Hood |
| WHIRLPOOL IH1300WQ0 | Range Hood |
| WHIRLPOOL IH3302RS0 | Range Hood |
| WHIRLPOOL IH3302RS1 | Range Hood |
| WHIRLPOOL IH3302WQ0 | Range Hood |
| WHIRLPOOL IH3302WS0 | Range Hood |
| WHIRLPOOL IH3362RQ0 | Range Hood |
| WHIRLPOOL IH3362RQ1 | Range Hood |
| WHIRLPOOL IH3362RS0 | Range Hood |
| WHIRLPOOL IH3362RS1 | Range Hood |
| WHIRLPOOL RH2324XJQ0 | Range Hood |
| WHIRLPOOL RH2324XJQ3 | Range Hood |
| WHIRLPOOL RH2330XJB0 | Range Hood |
| WHIRLPOOL RH2330XJB3 | Range Hood |
| WHIRLPOOL RH2330XJQ0 | Range Hood |
| WHIRLPOOL RH2330XJQ3 | Range Hood |
| WHIRLPOOL RH2330XJT0 | Range Hood |
| WHIRLPOOL RH2330XJT3 | Range Hood |
| WHIRLPOOL RH2336XJQ0 | Range Hood |
| WHIRLPOOL RH2336XJQ3 | Range Hood |
| WHIRLPOOL RH2624XJQ0 | Range Hood |
| WHIRLPOOL RH2624XJQ3 | Range Hood |
| WHIRLPOOL RH2630XJB0 | Range Hood |
| WHIRLPOOL RH2630XJB3 | Range Hood |
| WHIRLPOOL RH2630XJQ0 | Range Hood |
| WHIRLPOOL RH2630XJQ3 | Range Hood |
| WHIRLPOOL RH2630XJT0 | Range Hood |
| WHIRLPOOL RH2630XJT3 | Range Hood |
| WHIRLPOOL RH2636XJQ0 | Range Hood |
| WHIRLPOOL RH2636XJQ3 | Range Hood |
| WHIRLPOOL RH3730XLB0 | Range Hood |
| WHIRLPOOL RH3730XLB3 | Range Hood |
| WHIRLPOOL RH3730XLQ0 | Range Hood |
| WHIRLPOOL RH3730XLQ3 | Range Hood |
| WHIRLPOOL RH3730XLS0 | Range Hood |
| WHIRLPOOL RH3730XLS3 | Range Hood |
| WHIRLPOOL RH3730XLT0 | Range Hood |
| WHIRLPOOL RH3730XLT3 | Range Hood |
| WHIRLPOOL RH3736XLB0 | Range Hood |
| WHIRLPOOL RH3736XLB3 | Range Hood |
| WHIRLPOOL RH3736XLQ0 | Range Hood |
| WHIRLPOOL RH3736XLQ3 | Range Hood |
| WHIRLPOOL RH3736XLS0 | Range Hood |
| WHIRLPOOL RH3736XLS3 | Range Hood |
| WHIRLPOOL RH3736XLT0 | Range Hood |
| WHIRLPOOL RH3736XLT3 | Range Hood |
| WHIRLPOOL UXT4230AAB0 | Range Hood |
| WHIRLPOOL UXT4230AAQ0 | Range Hood |
| WHIRLPOOL UXT4230AAS0 | Range Hood |
| WHIRLPOOL UXT4230AAW0 | Range Hood |
| WHIRLPOOL UXT4236AAB0 | Range Hood |
| WHIRLPOOL UXT4236AAQ0 | Range Hood |
| WHIRLPOOL UXT4236AAS0 | Range Hood |
| WHIRLPOOL UXT4236AAW0 | Range Hood |
| WHIRLPOOL YRH2330XJB0 | Range Hood |
| WHIRLPOOL YRH2330XJQ0 | Range Hood |
| AIR KING RF-35S | Range Hood Filter |
| All-Filters G-8504 | Range Hood Filter |
| AMERICAN METAL FILTER CO RBF0801 | Range Hood Filter |
| BROAN 97006931 | Range Hood Filter |
| BROAN 99010121 | Range Hood Filter |
| BROAN 99010189 | Range Hood Filter |
| BROAN BP29 | Range Hood Filter |
| BROAN S97006931 | Range Hood Filter |
| CALORIC 88150 | Range Hood Filter |
| CROSLEY 97006931 | Range Hood Filter |
| ESTATE 4341977 | Range Hood Filter |
| ESTATE 47001062 | Range Hood Filter |
| GAFFERS-STATLER 10-6128 | Range Hood Filter |
| GE 97006931 | Range Hood Filter |
| HD SUPPLY 246850 | Range Hood Filter |
| KENMORE 4341977 | Range Hood Filter |
| KENMORE 97006931 | Range Hood Filter |
| KENMORE S97006931 | Range Hood Filter |
| KITCHENAID 4341977 | Range Hood Filter |
| KITCHENAID 47001062 | Range Hood Filter |
| MAINTENANCE WAREHOUSE 246850 | Range Hood Filter |
| NAUTILUS 97006931 | Range Hood Filter |
| NUTONE BP29 | Range Hood Filter |
| NUTONE K7589 | Range Hood Filter |
| ROPER 97006931 | Range Hood Filter |
| WHIRLPOOL 4341977 | Range Hood Filter |
| WHIRLPOOL 47001062 | Range Hood Filter |