All-Filters G-8542 | Our#: 196590
Aluminum Range Hood Filter - 5" x 12-1/2" x 1/8", 6-Pack
All-Filters G-8542 | Our#: 196590
Fast Shipping & Free Returns
100% Compatibility Guarantee
Aluminum Range Hood Filter -- 5" x 12-1/2" x 1/8"
Used in ducted and non-ducted range hoods, microwave ovens and other applications requiring air cleaning
Aluminum filters trap grease and dust particles before they reach the exhaust fan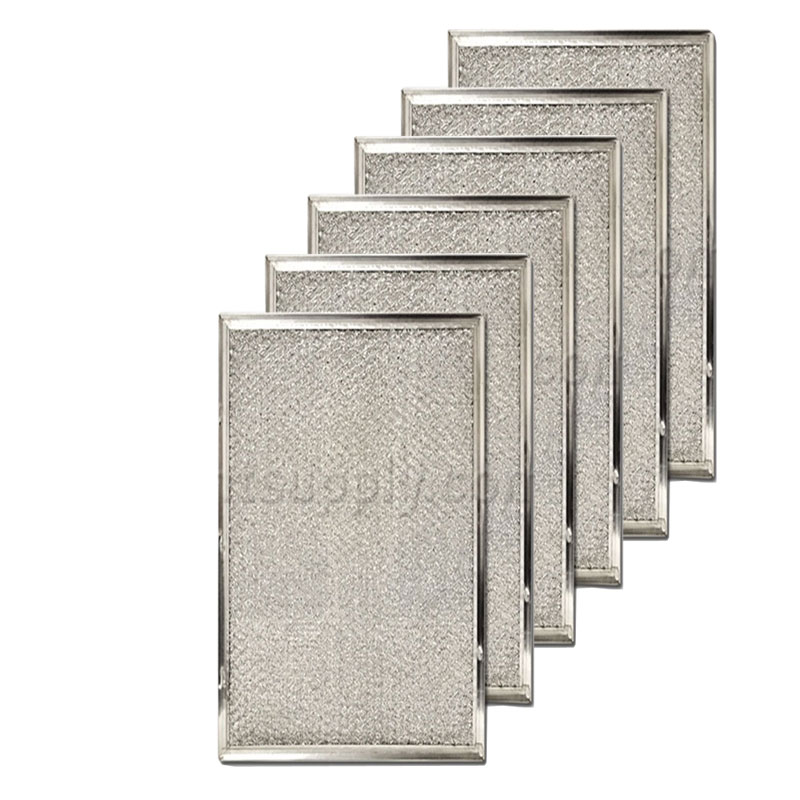 2 people in your area recently purchased this product!
$

7.02
(

6

Filters for $

42.10

)
Fast Shipping & Free Returns
100% Compatibility Guarantee
Frequently Purchased Together
Product Details
Aluminum Range Hood Filter - 5" x 12-1/2" x 1/8"
Aluminum filters trap grease and dust particles before they reach the exhaust fan. The aluminum mesh media is made of multilayered, slit and expanded sheets of aluminum which are staggered to form thousands of effective grease holding baffles.
FEATURES:
Used in ducted and non-ducted range hoods, microwave ovens and other applications requiring air cleaning.
May be washed.
Constructed of layered expanded, bonded, aluminum mesh in an aluminum frame.
Average Air Resistance - 64%.
Clean Resistance - .06" w.c.
Dust Holding Capacity - 44 grams/square foot
Replace every 6-12 months
---
Compatible Part Numbers
Search by your filter part number or appliance model number to verify compatibility
| Model or Part Number | Type |
| --- | --- |
| GE 107RHV786J | Microwave Oven |
| GE J765*01 | Microwave Oven |
| GE J765*03 | Microwave Oven |
| GE J792*L1 | Microwave Oven |
| GE JHC56*D1 | Microwave Oven |
| GE JHC56*VA | Microwave Oven |
| GE JHC56*VB | Microwave Oven |
| GE JHC56G*D1 | Microwave Oven |
| GE JHC56G*D2 | Microwave Oven |
| GE JHP56*D1 | Microwave Oven |
| GE JHP56*V8 | Microwave Oven |
| GE JHP56*VA | Microwave Oven |
| GE JHP56G*C1 | Microwave Oven |
| GE JHP56G*D1 | Microwave Oven |
| GE JHP56G*D2 | Microwave Oven |
| GE JHP56G*D3 | Microwave Oven |
| GE JHP56G*H2 | Microwave Oven |
| GE JHP56G*J1 | Microwave Oven |
| GE JHP56G*J2 | Microwave Oven |
| GE JHP56G*J3 | Microwave Oven |
| GE JHP56G*M1 | Microwave Oven |
| GE JHP56G*V6 | Microwave Oven |
| GE JHP56GN1 | Microwave Oven |
| GE JHP56GN2 | Microwave Oven |
| GE JHP56GN3AD | Microwave Oven |
| GE JHP56GN3WH | Microwave Oven |
| GE JHP56GN4AD | Microwave Oven |
| GE JHP56GN4WH | Microwave Oven |
| GE JHP56GN5AD | Microwave Oven |
| GE JHP56GN5WH | Microwave Oven |
| GE JHP56GN6AD | Microwave Oven |
| GE JHP56GN6WH | Microwave Oven |
| GE JHP56GN7AD | Microwave Oven |
| GE JHP56GN7WH | Microwave Oven |
| GE JHP56N*K1 | Microwave Oven |
| GE JHP56N*K2 | Microwave Oven |
| GE JHP56N*K3 | Microwave Oven |
| GE JHP56N*K4 | Microwave Oven |
| GE JHP56V*K1 | Microwave Oven |
| GE JHP56V*K2 | Microwave Oven |
| GE JHP56V*K3 | Microwave Oven |
| GE JHP56V*K4 | Microwave Oven |
| GE JHP60G*01 | Microwave Oven |
| GE JHP60G*02 | Microwave Oven |
| GE JHP60G*03 | Microwave Oven |
| GE JHP60G*04 | Microwave Oven |
| GE JHP61G*H2 | Microwave Oven |
| GE JHP61G*J1 | Microwave Oven |
| GE JHP62G*M1 | Microwave Oven |
| GE JHP62GN1 | Microwave Oven |
| GE JHP62GN2 | Microwave Oven |
| GE JHP62GN3AD | Microwave Oven |
| GE JHP62GN3WH | Microwave Oven |
| GE JHP62GN4AD | Microwave Oven |
| GE JHP62GN4WH | Microwave Oven |
| GE JHP62GN5AD | Microwave Oven |
| GE JHP62GN5WH | Microwave Oven |
| GE JHP62GN6AD | Microwave Oven |
| GE JHP62GN6WH | Microwave Oven |
| GE JHP62N*K1 | Microwave Oven |
| GE JHP62N*K2 | Microwave Oven |
| GE JHP62N*K3 | Microwave Oven |
| GE JHP62N*K4 | Microwave Oven |
| GE JHP62N*K5 | Microwave Oven |
| GE JHP62V*K1 | Microwave Oven |
| GE JHP62V*K2 | Microwave Oven |
| GE JHP62V*K3 | Microwave Oven |
| GE JHP62V*K4 | Microwave Oven |
| GE JHP62V*K5 | Microwave Oven |
| GE JHP63G*H1 | Microwave Oven |
| GE JHP63G*J1 | Microwave Oven |
| GE JHP63G*J2 | Microwave Oven |
| GE JHP63G*J3 | Microwave Oven |
| GE JHP63G*M1 | Microwave Oven |
| GE JHP63GN1 | Microwave Oven |
| GE JHP63GN2 | Microwave Oven |
| GE JHP63GN3AD | Microwave Oven |
| GE JHP63GN3WH | Microwave Oven |
| GE JHP63GN4AD | Microwave Oven |
| GE JHP63GN4WH | Microwave Oven |
| GE JHP63GN5AD | Microwave Oven |
| GE JHP63GN5WH | Microwave Oven |
| GE JHP63V*K1 | Microwave Oven |
| GE JHP63V*K2 | Microwave Oven |
| GE JHP63V*K3 | Microwave Oven |
| GE JHP63V*K4 | Microwave Oven |
| GE JHP63V*K5 | Microwave Oven |
| GE JHP64G*L1 | Microwave Oven |
| GE JHP64V*L1 | Microwave Oven |
| GE JHP65G*01 | Microwave Oven |
| GE JHP65G*02 | Microwave Oven |
| GE JHP65G*D1 | Microwave Oven |
| GE JHP66G*01 | Microwave Oven |
| GE JHP66G*02 | Microwave Oven |
| GE JHP67G*D1 | Microwave Oven |
| GE JHP67G*D2 | Microwave Oven |
| GE JHP67G*D3 | Microwave Oven |
| GE JHP67G*H2 | Microwave Oven |
| GE JHP67G*V5 | Microwave Oven |
| GE JHP68G*01 | Microwave Oven |
| GE JHP68G*02 | Microwave Oven |
| GE JHP69G*H2 | Microwave Oven |
| GE JHP69G*J1 | Microwave Oven |
| GE JHP69GN1 | Microwave Oven |
| GE JHP69GN2 | Microwave Oven |
| GE JHP69GN3AD | Microwave Oven |
| GE JHP69GN3WH | Microwave Oven |
| GE JHP69GN4AD | Microwave Oven |
| GE JHP69GN4WH | Microwave Oven |
| GE JHP70G*M1 | Microwave Oven |
| GE JHP70GN1 | Microwave Oven |
| GE JHP70GN2 | Microwave Oven |
| GE JHP70GN3AD | Microwave Oven |
| GE JHP70GN3WH | Microwave Oven |
| GE JHP70GN4AD | Microwave Oven |
| GE JHP70GN4WH | Microwave Oven |
| GE JHP70GN5AD | Microwave Oven |
| GE JHP70GN5WH | Microwave Oven |
| GE JHP70N*K1 | Microwave Oven |
| GE JHP70N*K2 | Microwave Oven |
| GE JHP70N*K3 | Microwave Oven |
| GE JHP70N*K4 | Microwave Oven |
| GE JHP70N*K5 | Microwave Oven |
| GE JHP70V*K1 | Microwave Oven |
| GE JHP70V*K2 | Microwave Oven |
| GE JHP70V*K3 | Microwave Oven |
| GE JHP70V*K4 | Microwave Oven |
| GE JHP70V*K5 | Microwave Oven |
| GE JHP75G*01 | Microwave Oven |
| GE JHP75G*02 | Microwave Oven |
| GE JHP75G*03 | Microwave Oven |
| GE JHP75G*D1 | Microwave Oven |
| GE JHP97G*D1 | Microwave Oven |
| GE JHP97G*Y2 | Microwave Oven |
| GE JHP97G*Y3 | Microwave Oven |
| GE JHP97G*Y5 | Microwave Oven |
| GE JHP97G*Y6 | Microwave Oven |
| GE JHP98G*Y2 | Microwave Oven |
| GE JHP98G*Y3 | Microwave Oven |
| GE JHP98G*Y4 | Microwave Oven |
| GE JHP98G*Y5 | Microwave Oven |
| GE JV387*01 | Microwave Oven |
| GE RH758*V8 | Microwave Oven |
| GE RH758*V9 | Microwave Oven |
| GE RH758G*D1 | Microwave Oven |
| GE RH758G*D2 | Microwave Oven |
| GE RH758G*D3 | Microwave Oven |
| GE RH758G*H1 | Microwave Oven |
| GE RH758G*H2 | Microwave Oven |
| GE RH758G*J1 | Microwave Oven |
| GE RH758G*J2 | Microwave Oven |
| GE RH758G*J3 | Microwave Oven |
| GE RH758G*M1 | Microwave Oven |
| GE RH758V*K1 | Microwave Oven |
| GE RH758V*K2 | Microwave Oven |
| GE RH758V*K3 | Microwave Oven |
| GE RH758V*K4 | Microwave Oven |
| GE RH960G*01 | Microwave Oven |
| GE RH960G*02 | Microwave Oven |
| GE RH960G*03 | Microwave Oven |
| GE RH960G*04 | Microwave Oven |
| GE RH961G*H1 | Microwave Oven |
| GE RH961G*H2 | Microwave Oven |
| GE RH961G*J1 | Microwave Oven |
| GE RH962G*M1 | Microwave Oven |
| GE RH962N*K3 | Microwave Oven |
| GE RH962N*K4 | Microwave Oven |
| GE RH962N*K5 | Microwave Oven |
| GE RH962V*K1 | Microwave Oven |
| GE RH962V*K2 | Microwave Oven |
| GE RH962V*K4 | Microwave Oven |
| GE RH962V*K5 | Microwave Oven |
| GE RH966G*D1 | Microwave Oven |
| GE RH966G*Y2 | Microwave Oven |
| GE RH966G*Y3 | Microwave Oven |
| GE RH966G*Y4 | Microwave Oven |
| GE RH966G*Y5 | Microwave Oven |
| GE RH966G*Y6 | Microwave Oven |
| GE RH967G*01 | Microwave Oven |
| GE RH967G*D1 | Microwave Oven |
| All-Filters G-8542 | Range Hood Filter |
| AMERICAN METAL FILTER CO RHF0501 | Range Hood Filter |
| APPLIANCE PARTS 248187 | Range Hood Filter |
| APPLIANCE PARTS 340628 | Range Hood Filter |
| APPLIANCE PARTS AH241956 | Range Hood Filter |
| APPLIANCE PARTS AP2010134 | Range Hood Filter |
| APPLIANCE PARTS EA241956 | Range Hood Filter |
| APPLIANCE PARTS PS241956 | Range Hood Filter |
| Bosch 1025921 | Range Hood Filter |
| Bosch 19-19-150 | Range Hood Filter |
| Bosch 487073 | Range Hood Filter |
| GE WB02X1666 | Range Hood Filter |
| GE WB2X1666 | Range Hood Filter |