AIRx HUM1 | Our#: 186447
AIRx Ideal Comfort Self-Adjusting Humidifier

19 review(s)
AIRx HUM1 | Our#: 186447
Fast Shipping & Free Returns
100% Compatibility Guarantee
Self Adjusts to your desired humidity level
Handles small or large rooms - 300 sq. ft.
Can run two days on one fill - 6.2 Liter (1.6 gallon) capacity
Aroma output option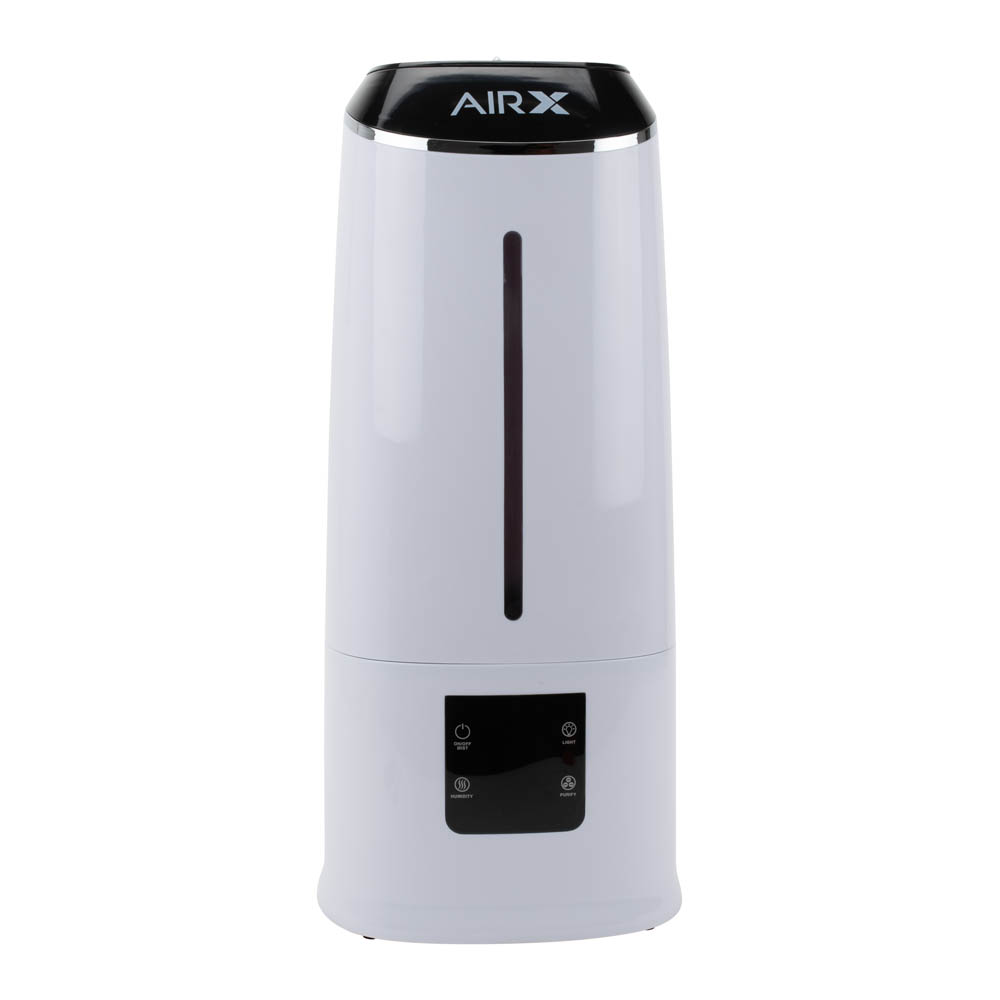 This product is currently unavailable.
The AIRx HUM1 that you're looking for is so popular right now, it is not available at the moment. Enter your email address and we'll keep you updated when it's in stock.
Fast Shipping & Free Returns
100% Compatibility Guarantee
Frequently Purchased Together
Product Details
We researched, studied and read all the expert reviews to come up with the best all around room humidifier. Here are all the features that we found to be important:
Ample humidity output - handles rooms up to 300 sq. ft.
Adjustable humidity output - three output levels
Easy to operate - four very intuitive buttons.
Perfect humidity level - built in Humidistat allows you to set your desired humidity level - no dryness, no mold, no sweaty windows
Long run time without refilling - 12 hours at full output, 1day at medium and 2 days at low setting
Safe around children and pets - cool mist ultrasonic won't heat water - no scalding
Easy to clean and fill - water tank with handle fits in the kitchen sink or tub. Easy clean reservoir
Improves sleep - soothes nose and throat. Silent operation. Control panel dims after use.
No mold growth - antimicrobial cartridge inhibits mold growth in the unit. Never needs replacing
Inexpensive to operate - no expensive filters or wicks to replace. Only 25 watts - Ultrasonic is ultra-efficient
Won't add heat to the room - doesn't heat the water like a warm mist humidifier. Cool mist is best for lungs
Dimensions: 18" H x 7 1/2" W x 6 1/2" D
Capacity: 6.2 Liters (about 1.6 gallons)
Power: 25 Watts
Other great features include: Washable air filter under the base doubles as aroma oil pad. Night light can be turned on for children's room. Has an air cleaning feature with ion generator. Will auto shut off if water runs out.
Remote control is included but it is not necessary for operation. It requires CR2025 battery which is not included.

*Note - The 360 degree nozzle fits tightly. It is easier to move once mist has flowed through it. You can pull it out by pulling up on the outlet and then reinserting in the direction you desire. If it is still too difficult, you can push it out from the backside with an object such as a pen or pencil.
Quoted from Consumer Reports: "Dry air can cause dry eyes, itchy throat, dry skin and even furniture damage. Ideally, indoor humidity should be 30 to 50 percent. But without humidification assistance, that level can drop to 10 percent in winter. Cold air holds less moisture and dries out even more when heated by furnaces or wood fires. Having too much moisture in the air is just as bad as having too little, and that can cause condensation on your windows or worse. Too much moisture can also cause mold to develop. That's why we recommend buying a humidifier with a humidistat that shuts off the unit when it reaches a preset humidity level. Due to risk of burns, some pediatricians caution against using warm mist units near children."
---
Additional Information
---