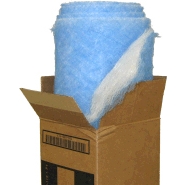 Lennox 30025 | Our#: 112941
Lennox 30025 Hammock Filter Material 36" x 20 Foot Roll (LB-71461)

1 review(s)
Lennox 30025 | Our#: 112941
Fast Shipping & Free Returns
100% Compatibility Guarantee
- Lennox Fiberglass Roll Filter Media - 36 Inches Wide By 20 Feet Long By 1 Inch Thick - Cut To Fit AmerGlas hammock filter material.
This product is currently unavailable.
The Lennox 30025 that you're looking for is so popular right now, it is not available at the moment. Enter your email address and we'll keep you updated when it's in stock.
Fast Shipping & Free Returns
100% Compatibility Guarantee
Frequently Purchased Together
Product Details
Lennox 30025 Hammock Filter Material 36" x 20 Foot Roll (LB-71461)

Cut To Fit Ameriglas hammock filter material lennox roll filters, For air conditioning and central heating systems with hammock filter frames
FEATURES:
Cut to size.
Easy to install.
Lasts up to 60 days.
Viscosine adhesive coating on the fiberglass captures airborne particles.

SPECIFICATIONS:
Nominal Dimensions: 36"x 20`x 1"
---
Lennox® and Healthy Climate® are registered trademarks of Lennox International Inc.. National Trade Supply, Inc, DiscountFilters.com and AIRx are not affiliated with Lennox International Inc.